If you were to ask Oregonians what defines Oregon's coastal towns, you'd probably get a myriad of different answers. Is it the panoramic, historical lighthouses dotting the coastline that make Oregon's beaches so special? Or, rather, is it the sheer cliffs and rugged landscapes that define the essence of the Oregon coast?
In truth, it's all of the above. Whether it's lighthouses or cliffs, Oregon has an incredible coastline. From the warm dunes in the south to the trendy towns further north, the array of diverse landscapes and scenery is breathtaking.
With such a great selection of beaches, it's often difficult to figure out which one to visit.
Whether you're an Oregon local looking for a new beach or you're traveling from far away, we've curated our favorite Oregon coast towns so you can spend more time enjoying your trip and less time figuring out where to go. With that in mind, let's dive right in…
The Best Oregon Coast Towns
---
We could go on and on about Oregon's coast and the charming communities that stretch along the scenic shoreline, but for now, we've started off with 17 of our favorite Oregon beach towns AND the best adventures in the area. After all, not all of the area's beaches are the type of beaches you come to bask under the sun, so we've got you sorted on what you should do there.
→ If you don't have a lot of time, do this Oregon Coast day trip from Portland to see the best of the coast with a local.
1. Astoria, Oregon
As the oldest town in the state, Astoria is one of Oregon's most iconic coastal towns.
The settlement was formed along the mouth of the Columbia River in 1811 and features gorgeous Victorian-era homes perched along the hillside. It's historic, it's scenic, but above all, Astoria holds some of the most exciting outdoor adventures along the entire Oregon Coast.
Thanks to its location near the Pacific Ocean and the border of Washington, this Oregon coast town draws visitors from near and far to hike wooded trails, discover old forts and shipwrecks, and explore the state parks that surround the city. Oh, and did we mention this town was the set for the Goonies?
Here are some of our favorite outdoor activities in Astoria:
Explore Trails in Cape Disappointment State Park
Contrary to its gloomy name, Cape Disappointment State Park offers some incredible views and well-maintained trails. We particularly recommend the North Head trail, as you'll get panoramic views of the historic North Head lighthouse in addition to a refreshing walk through the lush coastal forest.
It's a bit of a stretch to say that it's in Astoria, as you'll have to drive across the Columbia River into Washington to access the park. That being said, the state park is less than a half-hour drive from Astoria, and the trails are well worth your time.
Check Out Fort Stevens State Park
Fort Stevens State Park is an old military fort located about 20 minutes from Astoria. It was built to protect the mouth of the Columbia River, and some of the original fortifications remain to this day.
The military installments are cool, but the park also has some great hiking trails through dense forests, freshwater lakes, and even a sandy beach with an old shipwreck washed along its shore!
Troll for Salmon at Buoy 10
For those not familiar with Oregon salmon fishing lingo, Buoy 10 is widely known as the most productive salmon fishery in Oregon.
To clarify, Buoy 10 isn't a river: it's a swath of water on the Columbia River near Astoria. Because it's so close to the ocean, fish coming into the Buoy 10 area will be feisty, fresh, and aggressive – all the things that make up a high-quality catch!
Buoy 10 is most popular from late July through October, when both chinook and coho salmon are available.
---
READ MORE: 11 Adventurous Things to do in Astoria
---
Places to Stay Near Astoria Beach:
Campgrounds: Astoria / Warrenton / Seaside KOA Resort | Fort Stevens State Park
2. Seaside, Oregon (A Popular Oregon Coast Town for Portlanders)
Searching for the perfect beach day along the Oregon coast? Set your GPS for Seaside.
This gorgeous beach town lacks some of the cool rock formations that other Oregon coast towns offer, but the wide sandy beaches are perfect for bumming, boogie boarding, and sandcastle making.
The town is quite touristy and glitzy, but there are also plenty of uncrowded trails to hike, quiet rivers to paddle, and big waves to catch. Seaside is a paradise for those who know what to look for, and it's one of the few Oregon coast towns that lets you have it all.
Here are some of our favorite adventures in Seaside:
Kayak the Necanicum River
The Necanicum River flows through Seaside directly into the ocean, offering some great kayaking and paddle boarding opportunities. There are multiple places in town to rent kayaks or paddleboards, and it's one of the best adventures within city limits.
If you're able, the stretch of river on the beach is particularly stunning – just make sure your kayak renter allows you to go to that reach of the river.
Hike the Tillamook Head Trail
Offering views of one of the most splendid lighthouses on the Oregon Coast, the Tillamook Head Trail is a must for anyone visiting Seaside.
It's wedged right between Seaside and Cannon Beach and is a great option for hikers coming from either location.
At just over six miles round trip, it isn't going to be the most difficult day hike, but you can count on at least a few hours to enjoy all the scenery and comfortably complete the trail.
Conquer the Saddle Mountain Hike
For more great views, tackle the Saddle Mountain hike. This 5.2-mile trek is a bit more moderate, and there is a pretty intense incline of 1900 feet.
But don't be deterred. The views here are unlike any other in the area, and on a clear day, you can see all the way from the Pacific Ocean to Mount Hood.
Places to Stay Near Seaside Beach:
Campgrounds: Seaside RV Resort, North Side | Seaside RV Resort
---
READ MORE: 13 Adventurous Things To Do Around Seaside, Oregon
---
3. Cannon Beach, Oregon (One of The Most Popular Oregon Coast Towns)
Often regarded as one of the best beaches in the entire world, Cannon Beach is an absolute must when visiting Oregon's coast.
It's the epitome of a classic beach town: picturesque, quaint, and memorable. Haystack Rock stands out as a coastal landmark, but almost everything about this beach begs to be admired.
What's more, there's a ton to do here for outdoor lovers, with scenic sites and opportunities for adventure around every turn.
Here are our absolute favorite adventures to treat yourself to during a trip to this Oregon coast town:
Explore Ecola State Park
Ecola State Park is a wildly popular state park located in the heart of Cannon Beach. It offers a great complex of trails and views to explore, making it a fantastic option for adventurers wanting a classic Oregon coast experience.
Before you decide to head out to the park, understand that it can get pretty busy, and parking space can be tough. If you're here on a weekend, leaving extra early (or late, because who doesn't love sunsets) can pay off tremendously.
---
READ MORE: Your Guide to Ecola State Park on the Oregon Coast
---
Hike to Neahkahnie Mountain
About thirty minutes south of Cannon Beach, Neahkahnie Mountain is one of the most beautiful hikes on the Oregon coast. Boasting panoramic views up and down the coastline, Neahkahnie is a local favorite.
You can approach this one of two ways: from the north or from the south.
The hike ends up close to 6 miles round-trip from the north trailhead, and from the south, it'll top out right around 3 miles round-trip, making for a much shorter and quicker day hike.
There's no shame in whichever option you choose. Regardless, you'll be met with jaw-dropping views once you reach the peak.
Kayak Ecola Creek
If you're into kayaking, Ecola Creek isn't one to miss. It runs straight into the Pacific Ocean, but the true kayaking action happens a little bit further upstream. The creek is small and easily navigable, with some of the most spectacular scenery the Oregon Coast has to offer.
The one drawback to all this is that kayak rentals are not available on Ecola Creek. If do you have your own kayaks, this is a great option (and you'll probably have it all to yourself).
If you're looking to rent, we'd recommend kayaking the Necanicum River in Seaside (see more above), just a few minutes from Cannon Beach
Walk to Haystack Rock
It would be silly to call this one a hike, but the short jaunt along the beach to Haystack Rock is one worth taking. Access the beach wherever you can (there are plenty of access points in and around town), then walk to the giant, lone rock in the ocean. It's that simple!
At low tide, you'll be able to walk around the tide pools and see some cool aquatic life around the rock. As the tide comes in, the waves engulf the base of the rock, but it's no less beautiful.
Places to Stay Near Cannon Beach:
Campgrounds: Wright's for Camping
---
READ MORE: 14 Adventurous Things To Do in Cannon Beach
---
4. Manzanita Beach, Oregon
Manzanita is the definition of a quaint oceanside village, with an itty bitty population and unspoiled scenery everywhere you look.
It's less frequented than Cannon Beach to the north, with easy access to the nearby Oswald West State Park and Nehalem Bay – both hubs for adventures of all kinds.
If you're looking for an underrated and beautiful town on the Oregon Coast with plenty of exciting outdoor pursuits to keep you entertained, Manzanita just may be the perfect choice for you.
Here are a few of the many adventures that we'd recommend in Manzanita:
Kayak and Camp at Nehalem Bay
Making its way directly into the Pacific Ocean, Nehalem Bay is more reminiscent of a river than a bay. Fairly narrow (as far as bays go, that is) and quite shallow throughout most of its entirety, Nehalem is one of our favorite bays on the coast to camp and kayak on.
It isn't very rough and offers plenty of access, and it's just a quick drive south from Manzanita.
Nehalem Bay State Park is at the center of it all, offering trails, areas to camp, and access points for kayakers.
Discover Oswald West State Park
Oswald West is a state park that truly offers it all. Whether you want to hike epic trails, enjoy a scenic picnic, or even shred some waves, Oswald West State Park is a must.
Short Sand Beach is the center point of the park, with soft sand for bumming, great waves for surfing and paddleboarding, and trailheads to lead you to some of the best lookouts in the state.
---
RELATED: 19 Must-Visit Oregon Coast State Parks
---
Hike to Cape Falcon (One of Our Fav Oregon Coast Town Hikes!)
One of the most popular trails in the area, the Cape Falcon Trail, is a 4.6-mile hike that is truly a stunner. A waterfall halfway through the hike and a meadow with a view at the end make this one of our absolute favorite hikes on the Oregon Coast.
If you're particularly interested in exploring, there are some additional branching trails once you've reached the end of the official trail. These will take you in different directions along the coastline, offering opportunities to get to unique viewpoints and explore some of the interesting caves to the north.
---
READ MORE: Hiking the Cape Falcon Trail on the Oregon Coast
---
Places to Stay Near Manzanita Beach:
Campgrounds: Nehalem Falls Campground | Jetty Fishery Marina & RV Park
5. Tillamook Bay, Oregon (The "Cheesiest" Oregon Coast Town)
While it's probably best known for its dairy industry, Tillamook Bay has a lot more on offer than just its (amazing) cheese factory.
Located on stunning Tillamook Bay (the product of more than a half dozen major rivers and tributaries), Tillamook is a unique town when it comes to adventuring and scenery.
There are hundreds of miles of trails on both the land and in the rivers, plus a gorgeous state forest that often goes undiscovered in lieu of other pursuits (remember that cheese factory we were telling you about?).
Here are a few of the most rewarding things to do in this Oregon coast town:
Hike in Cape Lookout State Park
Great hiking trails and even better ocean views are all things you'll be rewarded with at Cape Lookout State Park. Just south of Tillamook, it offers serene views up and down the coast, and the trails in the park are relatively short and easy.
Cape Lookout State Park isn't one to miss if you're interested in hiking with some great scenery as a backdrop.
Tackle the Trails at Tillamook State Forest
For more scenic trails along Oregon's coast, check out Tillamook State Forest. Over 80 miles of trails run through new and old-growth forests in this area, with options for hikers of every skill set.
In addition to the plethora of trails, there are also numerous campgrounds within the state forest, making it the perfect place to call home during your time in Tillamook. The best part is that many of the trails start right from the campgrounds!
---
RELATED: 11 Stunning Things To Do on the North Oregon Coast
---
Places to Stay Near Tillamook Bay:
Campgrounds: Cape Lookout State Park Campground | Netarts Bay RV Park & Marina
6. Pacific City Beach, Oregon
For adventurers who want to do it all and see it all, there's no better town along the Oregon coast than Pacific City. Throwback craft brews on the beach, try your hand at hang gliding, or climb up the towering sand dunes for some epic views (just not in that order, probably).
Nestled just beneath the large headland of Cape Kiwanda, Pacific City is popular with Oregon locals from all over. It offers great views, restaurants, and plenty of outdoor adventures close to the city.
Here are a few of the best adventures in Pacific City:
Climb the Giant Sand Dune
When you arrive at Pacific City, there will be no ambiguity as to which sand dune we're referring to; the towering dune can be seen from miles away and is one of the most unique attractions on the Oregon Coast.
The dune sits along the scenic Cape Kiwanda, just north of Pacific City Proper. There's not really a designated trail to the top; rather, this one is best improvised.
Looks can be deceiving, and what seems like a relatively easy climb can get pretty tiring due to the incline of the slope. But the views from the top are nearly unparalleled by any other viewpoint on the Oregon Coast, and the dune alone is enough to make Pacific City one of the best beaches in Oregon.
---
READ MORE: Exploring Cape Kiwanda Near Pacific City, Oregon
---
Rent a Paddle Board on the Nestucca River
Many Oregon coast towns are characterized by some sort of river flowing through them, and Pacific City is no exception. The Nestucca is a gem of a river, with fishing, kayaking, and swimming on offer.
We recommend renting a paddleboard or kayak and exploring some of the dramatic scenery that the Nestucca has to offer. Just like many other rivers on the Oregon Coast, you'll be met with many different kinds of terrain and scenery as you explore up and down the river.
Cruise the Beach in your Car
The beaches in the Pacific City area are some of the few in Oregon where vehicles are allowed. In the town of Pacific City itself, many people will park their cars along the beach and enjoy the views from the comfort of their vehicles.
Remember that not all cars are capable of driving on the beach – 4WD or AWD are strongly recommended. You don't want to find yourself in some sticky (well, mostly sandy) situations!
Places to Stay Near Pacific City Beach:
Campgrounds: Sandbeach Campground | Hart's Camp Airstream Hotel & RV Park
---
READ MORE: 11 Adventurous Things To Do in Pacific City
---
7. Neskowin Beach, Oregon
Offering more solitude and equally impressive views as its cousin to the north (Pacific City), Neskowin is one of the best Oregon coast towns. The town is quaint, yet it has a couple of stellar restaurants and nearly endless opportunities for adventure.
Even though the town isn't huge and lodging options can be limited, it has a fantastic beach that often gets overlooked. Put simply, Neskowin is, without a doubt, worth your time.
Here are some of our favorite adventures in this Oregon coast town:
Climb Proposal Rock and The Ghost Forest
Once you're on the beach in Neskowin, you shouldn't have much trouble identifying Proposal Rock; the lonesome icon stands out along the waterfront with the ghost forest just next to it! Though there aren't any officially maintained trails here, there are plenty of footpaths on the rock that can be followed by intrepid adventurers during low tide.
As with any adventure involving steep cliffs and deep water, exercise caution when attempting Proposal Rock. There is a rope hanging down from the side of the rock for those wanting some help up (or down), but only those in great physical condition should attempt the climb.
The views from the top are incredible, so climbing is worthwhile for the few who feel confident enough to ascend this iconic slab!
Hike Hart's Cove Trail
*currently closed! Check for updates
This gorgeous trail isn't right in the heart of Neskowin, and you'll need to drive about 15-20 minutes south of the town to reach the trailhead itself. The trail is certainly worth the short drive, and the views from the summit are unparalleled.
The hike doesn't gain or lose a drastic amount of elevation, and while it's steep at times, the Hart's Cove Trail hike is accessible to people of all ages. It's a truly moderate trek, and at 5.3 miles, this trail makes for a perfect day hike.
Places to Stay Near Neskowin Beach:
Campgrounds: Neskowin Creek RV Resort
8. Lincoln City Beach, Oregon
Beach bum or adrenaline seeker? Who said you can't be a little bit of both? Lincoln City offers visitors plenty of options for chilling AND adventuring – a true 'choose-your-own-adventure' kind of town.
Lincoln City is a well-known destination for day trips from Portland and Salem. With Devil's Lake to the north and Siletz Bay just a bit further south, its place on the map is part of what makes Lincoln City so appealing.
The town's scenic beach, coupled with the natural features in the area, make Lincoln City one of the most loved Oregon coastal towns, and it's certainly worth checking out on your next trip road trip through the area.
---
READ MORE: 15 Adventurous Things To Do in Lincoln City
---
Here are some of our favorite adventures in Lincoln City:
Kayak Siletz Bay
One of the most drop-dead gorgeous bays on the entire Oregon Coast, Siletz Bay isn't one to miss.
An expansive beach and some oceanfront restaurants complete the overall aesthetic, and you won't get tired of things to look at while you're paddling.
There's a lone spot near the bay's east end where you can rent kayaks or boats to enjoy your day out on the water.
Hike Gods Thumb
Looking north from Lincoln City Beach, you may notice a rock formation at the end. Many admire it from afar, not realizing that it's actually one of the coolest hikes in this Oregon coast town.
The God's Thumb Hike is a 4-mile out-and-back hike that provides stunning views over Lincoln City Beach.
---
RELATED: Your Guide to The God's Thumb Hike in Lincoln City
---
Camp at Devil's Lake
Not to be confused with the Devil's Lake located near Bend in central Oregon, Devil's Lake in Lincoln City is an excellent spot to camp. From hiking to fishing and kayaking, there are plenty of things to do in and around this scenic lake.
It's located very close to downtown Lincoln City, so a quick stop for some grub or a drink won't be too far away.
Places to Stay Near Lincoln City Beach:
Campgrounds: Devil's Lake State Recreation Area | Lincoln City KOA Journey
---
RELATED: 17 Cool Oregon Coast Campgrounds to Stay At
---
9. Depoe Bay (THE Oregon Coast Town for Whale Watching!)
Of all the coastal towns in Oregon, there's no better place for whale watching than Depoe Bay.
Don't let the itty bitty harbor fool you. Large marine life flock here like clockwork between March and December, as do the tourists to witness the incredible events.
Once you've seen enough whale tails, you can park your bum on the beach, hike some scenic trails, or hit up the local winery!
Here are some of the best things to do in Depoe Bay:
Watch for Whales at the Otter Crest State Scenic Viewpoint
One of the best places for whale watching in Depoe Bay is the Otter Crest State Scenic Viewpoint. Take in views of the ocean and scenic Cape Foulweather from over 500 feet above the sea.
This is also an excellent spot for soaking in views of the Devil's Punchbowl.
To access the Otter Crest State Scenic Viewpoint, head south along Highway 101. Look for a turn-off to the right – the entrance will likely be hidden amongst dense foliage, so keep your eyes peeled!
If you can, plan your trip around the whale-watching season – between March and December.
Enjoy the Natural Beauty of Fogarty Creek State Recreation Area
Even if you're not in town for whale watching, Depoe Bay offers a plethora of fun outdoor adventures. Fogarty Creek State Recreation Area is where freshwater and ocean meet in a serene, forested setting.
This peaceful park boasts a grassy day-use area, a long sand beach, and a series of wooden footbridges. You can spend your day hunting for washed-up driftwood on the beach, exploring tide pools, or birdwatching along one of the park's trails.
Explore Beverly Beach State Park
Beverly Beach State Park is the perfect spot to park your bum on sunny days. It's also a great place to park your campervan overnight if you plan on exploring Depoe Bay for more than a single afternoon.
From the park, you'll have easy access to other cool spots around town, including the historic lighthouse and a collapsed sea cave. The park is also known for hosting some great waves for surfing, scenic beachside trails, and excellent wildlife-watching opportunities (yes, including whales!).
---
READ MORE: Beverly Beach State Park—Camp, Surf, Hike!
---
Places to Stay Near Depoe Bay:
Campgrounds: Beverly Beach State Park
10. Newport, Oregon
Equal parts eclectic and iconic, Newport is often thought of as the capital of the Oregon coast.
Travelers curious about the mysteries of the Pacific Ocean will adore the sights of Newport. It's a fantastic place to view marine life and surreal coastal formations, and the town's scenic viewpoints help you spot migrating whales and other species just offshore.
This charming Oregon coastal town also has a splash of Victorian architecture, some epic engineering marvels, and plenty of spots to grab a good beer in between sightseeing.
Here are some awesome places to check out around Newport:
Discover the Yaquina Head Outstanding Natural Area
The area's star attraction is the 93 ft Yaquina Head Lighthouse perched on a basalt rock headland. Standing at the top of Oregon's tallest lighthouse gives you sweeping views of the Pacific Ocean and coastal landscape.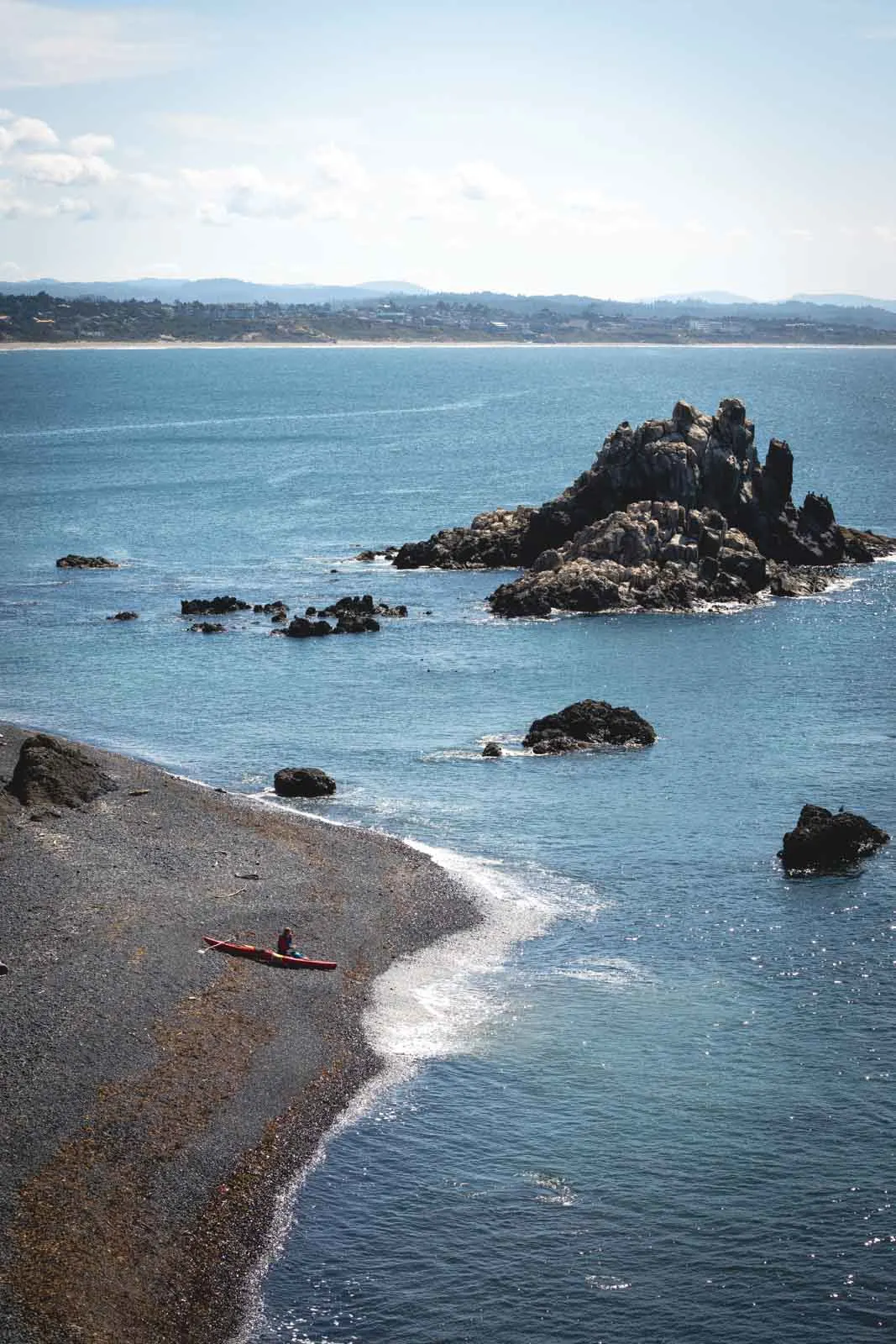 If you visit during the whale migration, Yaquina gives you a great chance to see these incredible creatures. Closer to the shoreline, tide pools help you discover other marine critters that live around the Oregon coast.
Devil's Punch Bowl
One of the coolest spots along the Oregon coast, the Devil's Punch Bowl, is a geologic treasure. Shaped like a giant punch bowl carved into the rocks, the rock formation fills with water during violent storms.
The thunderous roar of the waves rushing into the punch bowl provides a glimpse into Mother Nature's power. When you're not being enchanted by the crashing water, Devil's Punch Bowl makes yet another scenic viewpoint for whale watching.
Places to Stay Near Newport:
Campgrounds: South Beach State Park | Beverly Beach State Park
---
READ MORE: 13 Adventurous Things to Do in Newport, Oregon
---
11. Yachats, Oregon
The wonders of Oregon's coastal towns are far from a well-kept secret. But there are still a few spots that fly under the radar. Welcome to Yachats.
Situated off the scenic Highway 101, Yachats is one of Oregon's hidden coastal gems. While you may be tempted to pass through the tiny town without stopping, those who spend some time in Yachats will find plenty of reasons to stick around for a day or two.
Yachats lays on the small-town charm thick. From local diners serving up fresh catches of the day to incredible seascapes and a plethora of outdoor offerings, Yachats is not to be missed.
Cape Perpetua
After meandering through Yachats, head south to Cape Perpetua. The curved road here is the highest accessible viewpoint by car in the entire state, which equates to unmatched views of the rugged coast below.
After taking in the scenery from the viewpoint, you can hike over 26 miles of trails, drive between scenic lookout points, or explore the rich and varied tidepools. There is also a stunning campground between the ocean and the forest if one day here isn't enough.
Thors Well
One of the biggest draws to Yachats and Cape Perpetua is Thors Well. Also known as 'the Drainpipe to the Pacific' and 'the Gate to Hell,' this oceanic sinkhole has been baffling onlookers for centuries.
The pit is seemingly endless, but in reality, it's only 20 feet deep. So when the waves hit the well, you can expect an epic water show, especially during high tide. The spray can often reach around 20 feet, so you may want to keep your distance if you plan on staying dry!
---
READ MORE: Visiting Thor's Well in Cape Perpetua, Oregon
---
Places to Stay Near Yachats:
Campgrounds: Cape Perpetua Campground
12. Florence Beach, Oregon
Found right in the middle of the Oregon Coast, Florence is at the center of all the action. With raging waterfalls, tall dunes, and rugged cliffisde trails, this Oregon coast town is the place to be if you want to get the adrenaline pumping.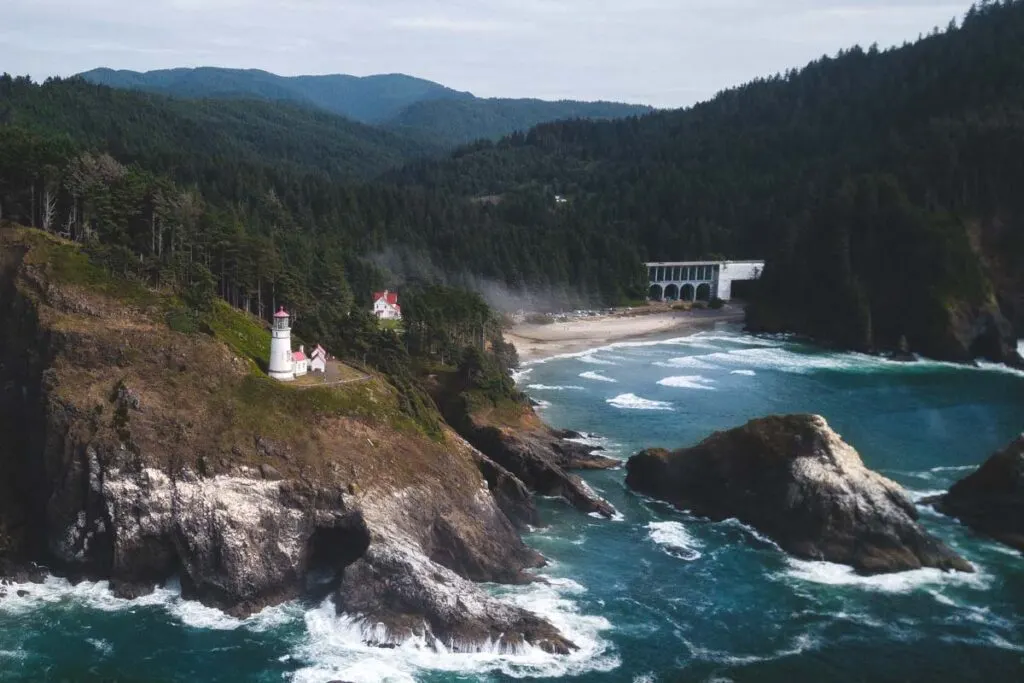 The scenery here rivals some of the best on the rest of the coast, and there are plenty of things to keep you entertained as you admire the sights.
Here are the top adventures to try in Florence:
Rent a Dune Buggy
Renting a dune buggy to roam the dunes is one of the most exhilarating adventures in Florence. You won't find many options for this exhilarating activity further north, so take advantage while you're in the area!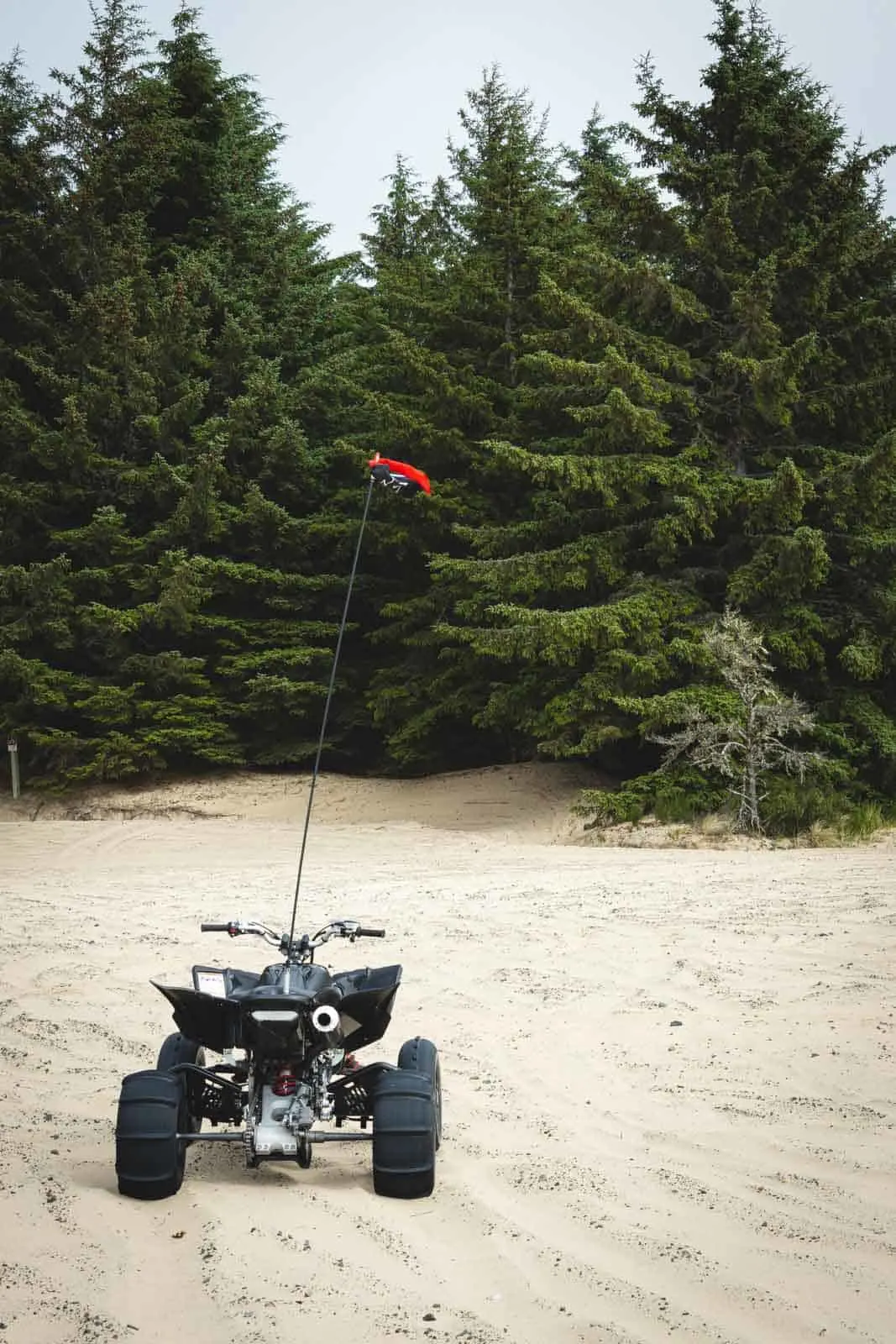 A pro tip for those prone to motion sickness: take some medication before you hop in a buggy. As weird as it may seem, motion sickness can be extremely common when you're in a dune buggy. That said, it's a blast, and we recommend it to anyone looking for a good time in Florence.
---
RELATED: Your Adventure Guide to The Oregon Dunes
---
Kayak the Siltcoos River
The Siltcoos River is hands down the best kayaking spot in Florence. It'll take you through some lush coastal forest scenery, and the current isn't too strong.
It's a great option for kayakers of all levels, and whether you love kayaking or simply want to try something new on your beach vacation, the Siltcoos is the place for you. The river starts at Siltcoos Lake, which is one of the few lakes in Oregon that gets a salmon run!
Hike the Heceta Head to Hobbit Beach Trail
The Hobbit Trail, quite fittingly named after the popular Lord of the Rings characters, doesn't disappoint when it comes to scenery. A gorgeous beach, a historic lighthouse, and sweeping ocean views are all in store on this trail.
At just under 4 miles round-trip, this is a great side excursion for adventurers interested in a great hike that won't take all day. The parking lot here can get pretty full, so plan for a weekday or early morning to make sure you get a spot. Read more on how to explore Heceta Head!
---
RELATED: 11 Oregon Lighthouses and the Adventures Nearby
---
Hike to Kentucky Falls
While most Oregon coast towns are renowned for their pretty coastal views, Florence offers visitors the chance to see a different side of the state without venturing too far from Route 101.
Kentucky Falls sits within the lush Siuslaw National Forest. You'll need to hike about 3.5 miles roundtrip through verdant, old-growth forest to reach the falls, which are actually three thundering waterfalls.
---
RELATED: 9 Amazing Waterfalls Near Eugene, Oregon
---
Places to Stay Near Florence Beach:
Campgrounds: Heceta Beach RV Park | Jessie M. Honeyman Memorial State Park Campground
---
READ MORE: 9 Adventurous Things To Do in Florence, Oregon
---
13. Coos Bay, Oregon
Combine one part historic charm, one part outdoor adventure, and one part epic scenery, and boom – you've got Coos Bay.
With a population of just over 16,000, Coos Bay is one of the "bigger" cities along the Oregon coast. Many adventure seekers choose to make Coos Bay their home base while exploring the coast thanks to the abundance of entertainment and accommodation options.
There are a plethora of state parks around Coos Bay, along with soft sand beaches, scenic hiking trails, and fruitful fishing holes.
Here are some of our favorite spots to explore in Coos Bay:
Get the Adrenaline Pumping at Oregon Dunes National Recreation Area
One of the biggest draws to Coos Bay is the dramatic Oregon Dunes National Recreation Area. Situated just outside the city, this massive 40-mile stretch of sand boasts an esoteric mix of forest, ocean, and desert. The quickest way to enter the dunes from Coos Bay is via Horsefall Beach.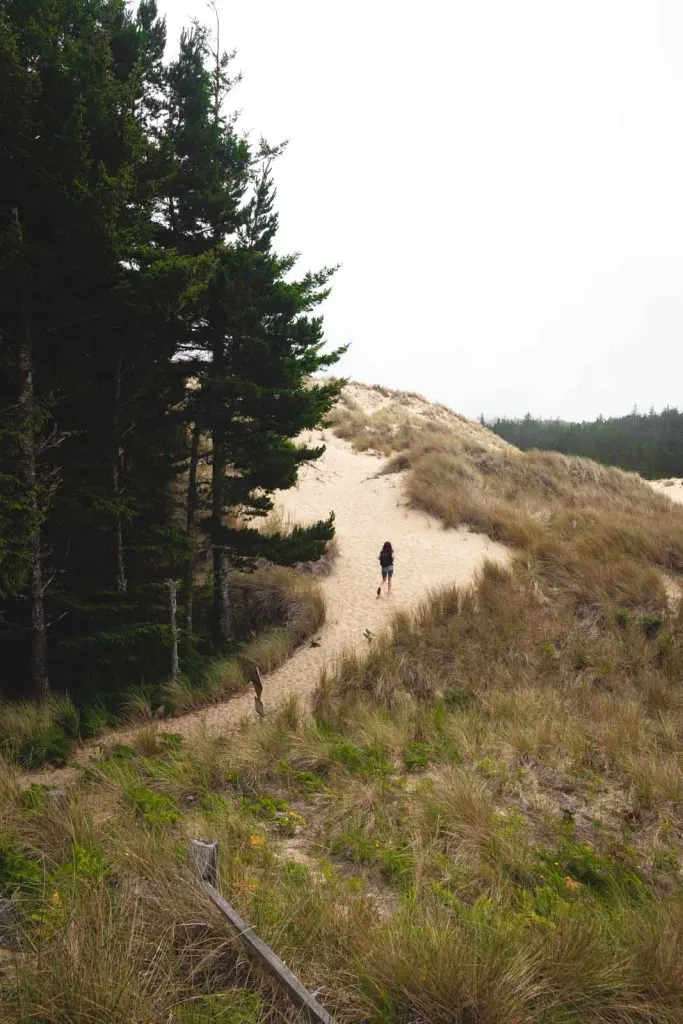 While there are plenty of hiking trails within the recreation area, one of the most thrilling ways to get around the dunes is via OHV. You could also spend the day here sandboarding, taking a dune buggy tour, or paddling along the shoreline.
Wander Through Golden & Silver Falls State Natural Area
It may feel wrong to leave the ocean in the rearview, but if you crave a change of scenery while exploring Oregon's coastal towns, check out Golden & Silver Falls State Natural Area.
This hidden gem of a park is well off the beaten path (about 30 miles from Route 101) and features miles of incredible hiking trails – many of which you will likely have all to yourself! The views from the trails are breathtaking, with massive waterfalls and dense forests making up the bulk of the scenery.
Places to Stay Near Coos Bay:
Campgrounds: Sunset Bay State Park
---
RELATED: A Legendary Oregon Coast Road Trip—35 Stops & 3 Itineraries
---
14. Bandon Beach, Oregon (Another Popular Oregon Coast Town!)
Bandon Beach is next level when it comes to scenery and cozy, coastal town vibes.
Beloved for its dramatic rock formations, this Oregon coast town entices nature lovers and geology nerds alike. Legendary tales surround Face Rock State Scenic Viewpoint, and its tidal flats draw birdwatchers to the area.
Comfortable year-round temperatures make Brandon Beach a hotspot for fishing, hiking, and cycling. You can also admire the sea stacks and rugged cliffs from lighthouses or partake in the annual shellfish and cranberry harvests.
Here are some of our favorite things to do in this beautiful Oregon beach town:
Explore Bullards Beach State Park
Located at the Coquille River, Bullards Beach State Park features hiking and biking trails, a horse camp, and some great fishing spots. Get an intense workout by cycling through thick sand or hiking around sweeping dunes.
You could also head to the Coquille River Lighthouse to view impressive seaside views and Pacific waves crashing into the rocky shoreline. Year-round camping makes Bullards Beach a solid base to explore the entire area.
Hike Around the Several State Parks Near Bandon
Bandon Beach visitors are lucky to have a cluster of state parks nearby, all with beautiful hiking trails and scenic viewpoints in hefty doses.
Sunset Bay State Park is a favorite, with its hidden coves, dramatic sea cliffs, and coastal forests. Wander the trails at Sunset Bay, then look for whales at Cape Arago State Park or discover the Japanese-style garden at Shore Acres State Park.
---
READ MORE: 9 Cool Adventures Around Bandon Beach, Oregon
---
Places to Stay Near Bandon Beach:
Campgrounds: Bullards Beach State Park | Sunset Bay State Park
15. Port Orford (The Most Under Rated Oregon Coast Town)
Surrounded by gorgeous white sand beaches, impressive rock formations, and staggering mountain scenes, Port Orford is the embodiment of Oregon's coastal beauty.
There is plenty here to entertain even the most adventurous travelers, including state parks, beaches, trails, and enough raw beauty to keep you coming back time and time again.
With its bustling harbor, boutique shops, and cute local eateries, this is the perfect stop for anyone who wants to couple unspoiled nature with some awesome creature comforts.
Here are the best things to do around one of Oregon's best southern cities.
Explore Cape Blanco State Park
Cape Blanco is one of the most secluded state parks in Oregon. With the remoteness comes unmatched raw beauty, which is best observed by hiking along one of the park's scenic trails. If you have time for just one, make it to the Pacific View Trail.
While you're in the park, don't miss your chance to view the iconic Cape Blanco Lighthouse. This beautiful lighthouse holds many titles, including the southernmost, westernmost, and oldest continually operated lighthouse in Oregon!
Discover Humbug Mountain State Park
Humbug Mountain is all about hiking. The park is home to one of the highest mountains in the state, offering hikers sweeping views from 1730 feet above the sea. There are also thick forests, trickling creeks, sandy beaches, and a cozy campsite for overnight travelers.
If you're up for a challenge, the Humbug Mountain Loop Trail will reward you with some of the best views in Oregon.
Floras Lake State Natural Area
One of the perks of visiting southern Oregon is that it's criminally underrated. Floras Lake State Natural Area is incredibly stunning, yet not that many people know about it!
Take advantage of the solitude as you conquer scenic trails (there are plenty of them to choose from), go paddleboarding or windsurfing on Floras Lake, or spend some time beachcombing along the sandy shoreline.
Places to Stay Near Port Orford:
Campgrounds: Camp Blanco RV Park | Elk River Campground
---
READ MORE: 7 Adventurous Things to Do Around Port Orford, Oregon
---
16. Gold Beach, Oregon
Maybe you're planning on extending your road trip further south into California. Or perhaps you've heard lore of the unique adventures in southern Oregon. Either way, Gold Beach is the golden ticket.
Not too far from the Oregon-California border, this incredible Oregon coast town boasts a host of perks that you won't find in many of the state's other beach towns: warmer weather, vast dunes, and the mighty Rogue River.
There are plenty of awesome outdoor activities on offer in Golden Beach, and whether you're looking for adventurous pursuits or a relaxing getaway, this southerly coast town will not disappoint.
Here are some of our favorite adventures in Gold Beach:
Jet Boat the Rogue River
A trip to Gold Beach wouldn't be quite complete without jet boating the Rogue River. A local tourism icon and fun-filled experience, jet boating a coastal river like the Rogue is an adventure you'd be hard-pressed to find anywhere else in Oregon.
You'll whiz by plenty of lush coastal forest scenery along the way, and we haven't heard of anyone who's regretted this trip.
Warning: the jet boating experience isn't cheap, but it's worth every penny!
Enjoy Scenic Views Along Cape Sebastian & Mouth of Pistol River
The Cape Sebastian Trail, located just a few minutes south of Gold Beach itself, is one of the most rewarding hikes on the Oregon Coast.
The 3-mile trail consistently delivers panoramic views of Cape Sebastian and the Pacific before making a final descent to a picturesque beach.
Bring a picnic basket and a blanket, because this beach is great for relaxing. The trail descends fairly steeply down to the beach, so be ready for some pretty intense switchbacks on the way back up.
Regardless of elevation gain, the Cape Sebastian Trail is a fairly easy and remarkably scenic trail, and it's a Gold Beach gem.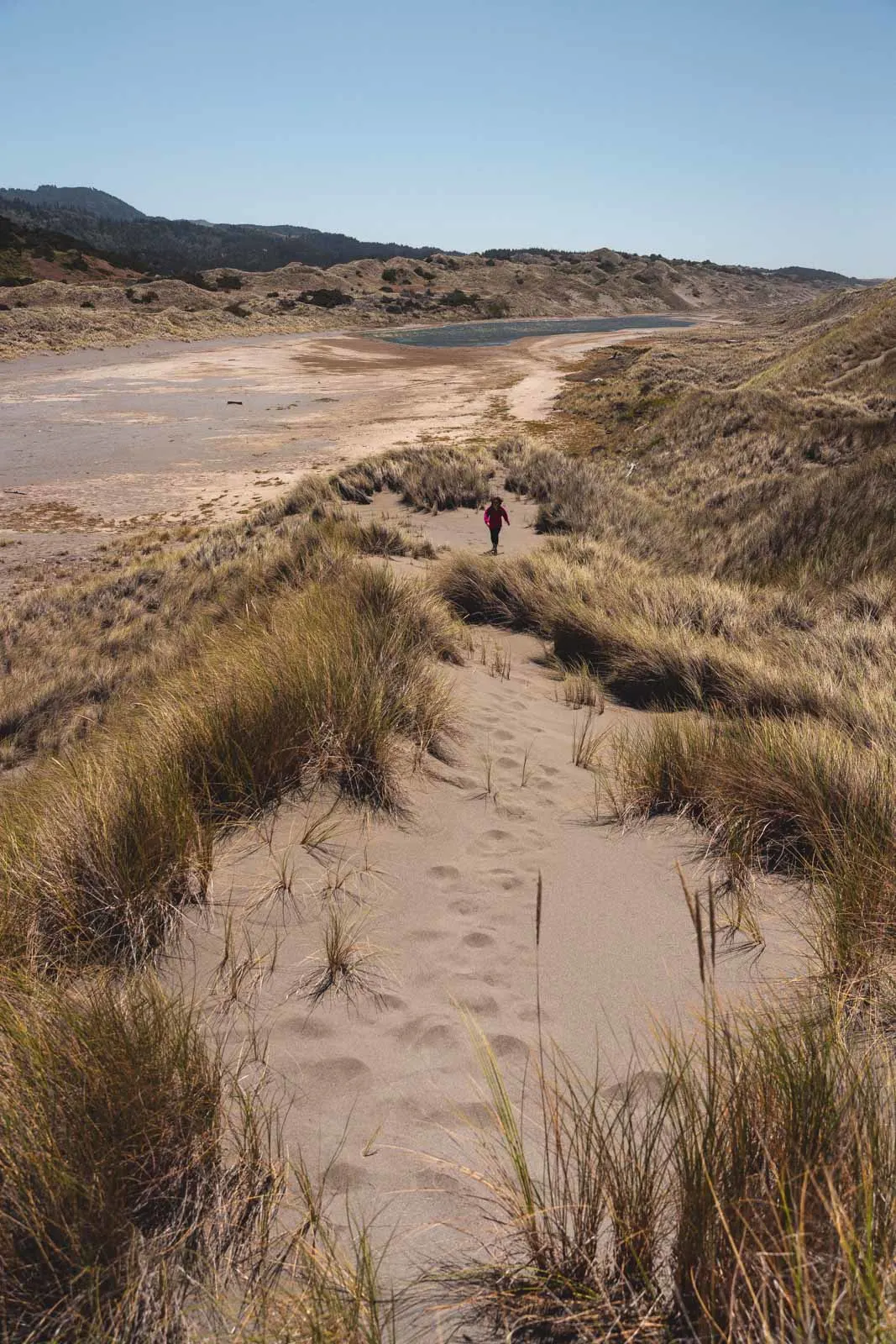 Just down the way is the spectacular Mount of Pistol River and a gorgeous beach that requires some scrambling over sand dunes before you get to shore. Take a stroll towards your left, where you'll see tons of sea stacks in the distance – you'll only have the share the beautiful location with some seagulls!
Sam H. Boardman State Scenic Corridor
While you're in the area, check out Samuel H Boardman. This stunning spot features vistas of sea stacks sprinkled along the coastlines and the rushing tides hitting the cliffsides.
This is one of the more popular hiking areas along the Oregon coast, but it's much loved for a reason! The entire corridor is incredibly scenic, and there are some trails that aren't as crowded if you're looking for a quieter hike.
---
READ MORE: Hiking the Samuel H. Boardman State Scenic Corridor
---
Book a Charter Boat and Go Salmon Fishing
Because of the presence of the Rogue, Gold Beach is an Oregon Coast icon when it comes to fishing. The river gets strong salmon and steelhead runs, and it's somewhat of a landmark for anglers across the entire state.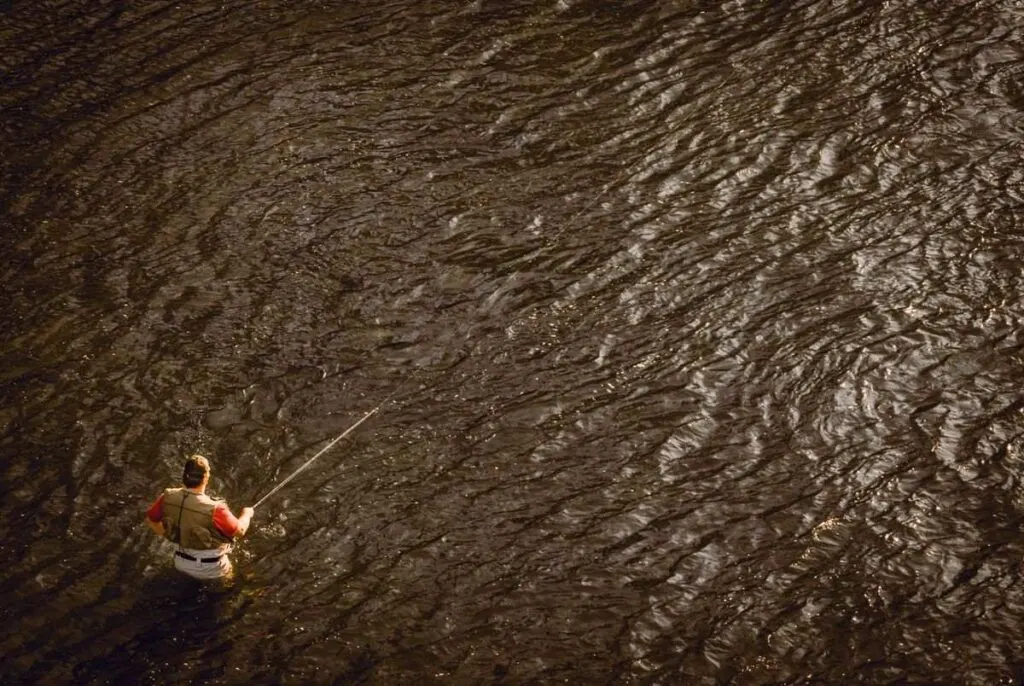 There are plenty of charters in Gold Beach, and the type of fishing you'll do will depend on the time of year.
Salmon fishing is mainly contained to spring and late summer through fall, but bottom fishing in the ocean can be significantly more versatile. If the salmon aren't running, you'll be sure to have a blast bottom fishing.
Places to Stay Near Gold Beach:
Campgrounds: Indian Creek Campground | Rogue Pacific RV Park & Vacation Rentals
---
READ MORE: 15 Adventurous Things To Do Around Gold Beach, Oregon
---
17. Brookings Beach, Oregon (the Most Southern Oregon Coast Town)
If I had to guess, I'd say that Brookings probably isn't on your Oregon Coast bucket list. Heck, most Oregon natives don't know that much about it!
This is the state's southernmost town, and it has somewhat of a mysterious quality to it. Because it's so far from Portland (and most other major cities in Oregon, for that matter), it doesn't get discussed very often.
But Brookings is an absolute gem, and it shouldn't be overlooked by any adventurer serious about exploring all that the Oregon Coast has to offer.
Brookings offers unique scenery and generally warmer temperatures than some of the coastal towns further north, and there's plenty to do here.
Here are a few of our favorite adventures at this Oregon coast town:
Hike and Relax at Chetco Point Park
An oceanside park offering trails, picnic tables, and scenic ocean views, Chetco Point Park is one of our favorite adventuring opportunities in Brookings.
The park isn't very big, and the trails aren't very long, but this area is a blast to explore. It's always a pleasure to revel in the southern Oregon Coast scenery, and Chetco Point Park is one of the best places to do just that.
Hike the Harris Beach Trail
Harris Beach State Park is one of the most popular attractions in Brookings, and for good reason. From ocean views and picnic areas to mountain bike trails and brimming tide pools, it offers just about anything anyone could possibly want from the Oregon Coast.
You can roam around the rocks and stroll along the beach—It's hard to beat the trails with Oregon Coast scenery as your backdrop!
See Redwoods
Redwoods? In Oregon? Who knew?! A lot of people associate redwoods with California. But you can also see Redwoods in Oregon if you journey far enough into the southern part of the state.
There are several trails on the outskirts of Brookings that boast Redwoods, and they're all pretty short and easy! If you're already in this area, it is basically a crime not to go and check out these massive trees.
Hop Over to California
If you've got the time, keep heading south on Highway 101 and take a road trip through northern Cali. Obviously, Oregon is for adventure, but there's no denying that northern California holds some great gems too!
More scenic hiking trails, different impressive viewpoints, and plenty of iconic parks are just a few things that await in the Golden State. You'll hit Crescent City first, which is just about 30 minutes south of Brookings and a great intro into Northern California.
---
READ MORE: 21+ Adventurous Things to Do on a Northern California Road Trip
---
Places to Stay Near Brookings Beach:
Campgrounds: Harris Beach State Recreation Area Campground | Driftwood RV Park
---
READ MORE: 7 Adventurous Things to do in Brookings, Oregon
---
It's no surprise that Oregon's coastal towns are considered some of the most spectacular in the country.
Intriguing cultural and food scenes, along with the limitless supply of outdoor adventures, are what make the Oregon Coast so special. It's a paradise for outdoor adventure lovers, and you'll likely not see some of the same scenery anywhere else.
If you're planning an extended trip out to the Oregon Coast or are just trying to find a new beach for the weekend, the towns listed here provide the absolute best adventure opportunities and scenery that the dramatic Oregon Coast has to offer.
Explore a beach or three, and have fun doing it!
→ If you don't have a lot of time, do this Oregon Coast day trip from Portland to see the best of the coast with a local.
If you need more help planning your trip here, our Oregon Coast road trip post will help you do exactly that. We have sample itineraries and maps for you to steal too! And these are our favorite Oregon coast hikes too.
Check out more of what Oregon's coast has to offer and see what other adventures Oregon has for you to discover.