It's hard to put into words how epic Cape Perpetua is, offering everything from crazy rock formations spouting water high into the sky, to views that stretch for miles.
There are two ways to explore the main attractions and points of interest in Cape Perpetua, and how you decide to do it will depend on how much time you have and how energetic you're feeling.
If you're feeling eager and ready to get that blood pumping, much of the area can be traversed on foot, with 26 miles of trails, or alternatively, you can pretty much drive right up to almost every pretty point. It's a win-win!
Exploring Cape Perpetua Scenic Area
---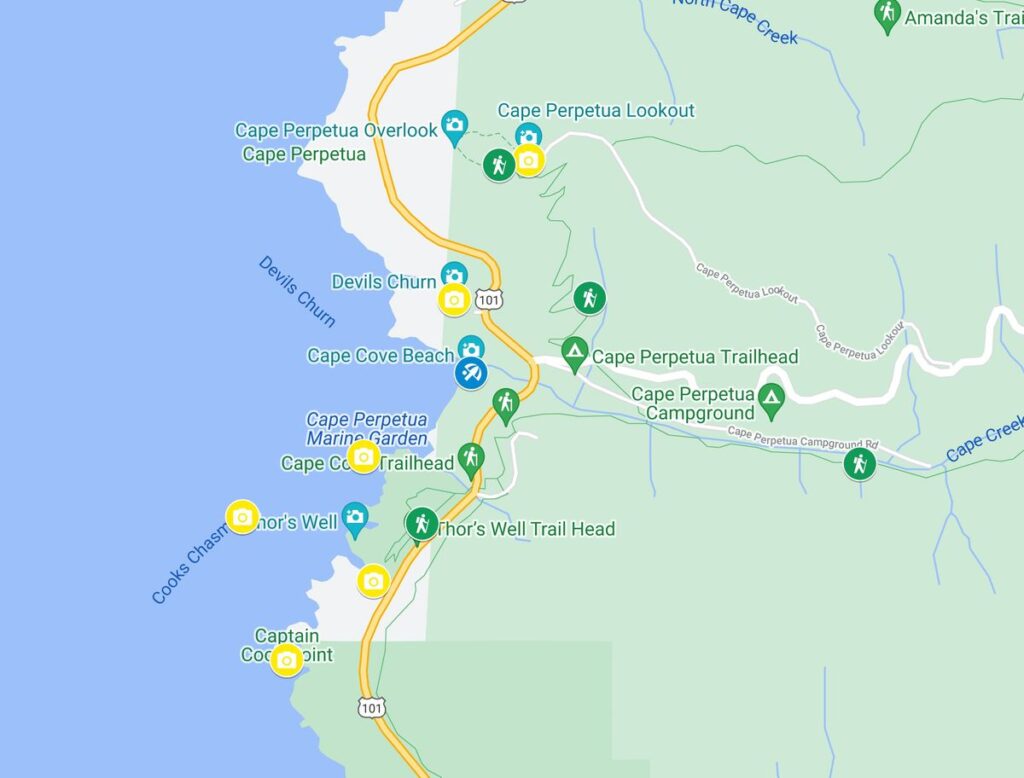 1. Thors Well at Cape Perpetua
One of the biggest draws to Cape Perpetua is Thor's Well, or as it's rather aptly named, the 'Gate to Hell'. This seemingly endless pit is actually 20 feet deep, but when the waves crash in, which they often do, you'll be treated to a ferocious display of water. This often shoots around 20 feet into the air, so don't get too close!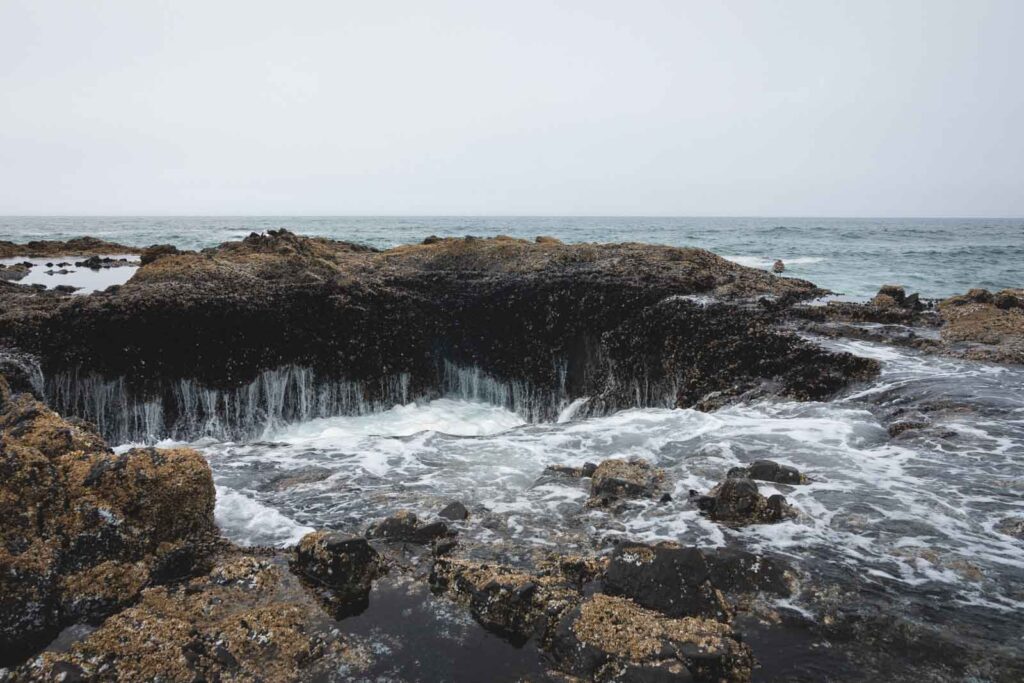 You can pretty much see the well from the parking lot if you're in a rush, but most people venture out of the car down to the well or take the half-mile Captain Cook Trail.
---
READ MORE: Visiting Thor's Well in Cape Perpetua, Oregon
---
2. Cape Perpetua Lookout
Distance: 0.4 miles
Type of Trail: Loop
Difficulty: Easy
What's a visit to a scenic area without a lookout? Capture the magic of the area in a glance at Cape Perpetua Lookout by following the short Whispering Spruce Trail, which is only 0.4 miles long at the summit of the point.
You'll be able to see for 70 miles around you up and down the coast, and of course the postcard-worthy shot of the curved road that hugs the coast. It's pretty epic for such a short walk. The great thing is that it's accessible by car, despite the fact it sits 800 feet above sea level.
3. Spouting Horn, Cook's Chasm, Captain Cook Point
Distance: 0.6 miles
Type of Trail: Loop
Difficulty: Easy
Take in a ton of awesome sights in this one hike. The Captain Cook Trail is located near Thor's Well, and takes you through the most epic coastal stops in Cape Perpetua Scenic Area, from thick forest to the incessant pounding of the sea.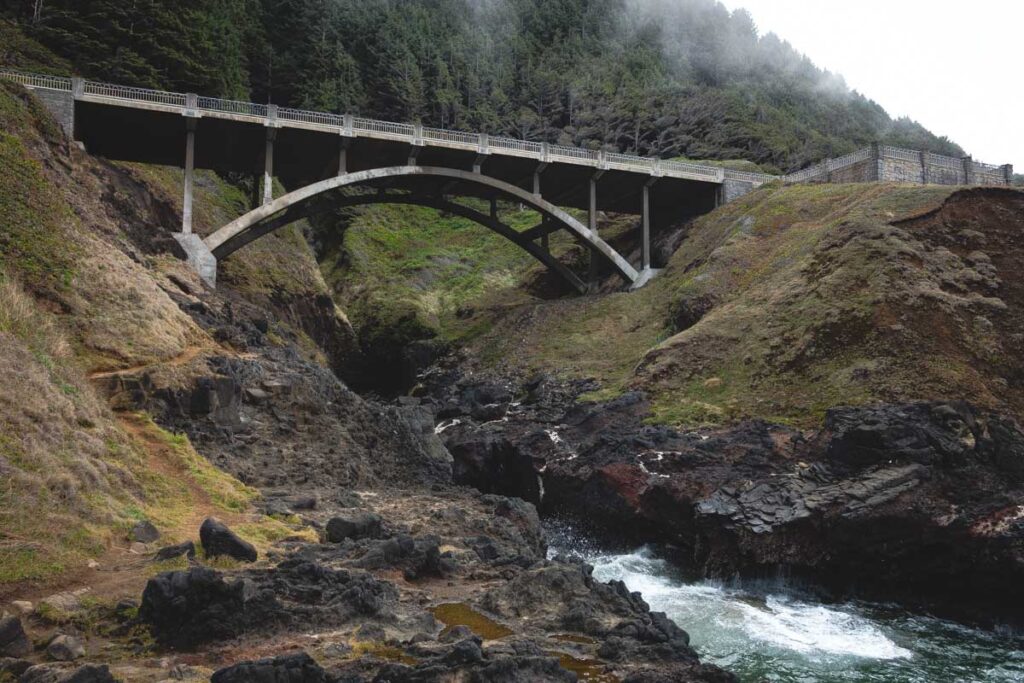 You'll head down to the tide pools, and past the Spouting Horn, where the ocean really does some showing off, spraying high into the sky.
4. Cape Cove
Distance: 1 mile
Type of Trail: Out and back
Difficulty: Easy
The best way to describe Cape Cove is a little pocket beach, a perfect little sandy gem, where the trail takes you past wind twisted coastal trees. From Devil's Churn, you can opt to take the Trail of the Restless Waters.
The trail switchbacks through the forest, offering stunning views along the way. There is alternatively a pullout at Milepost 167, so you won't have far to carry your picnic.
5. Devil's Churn
Distance: 0.4 miles
Type of Trail: Loop
Difficulty: Easy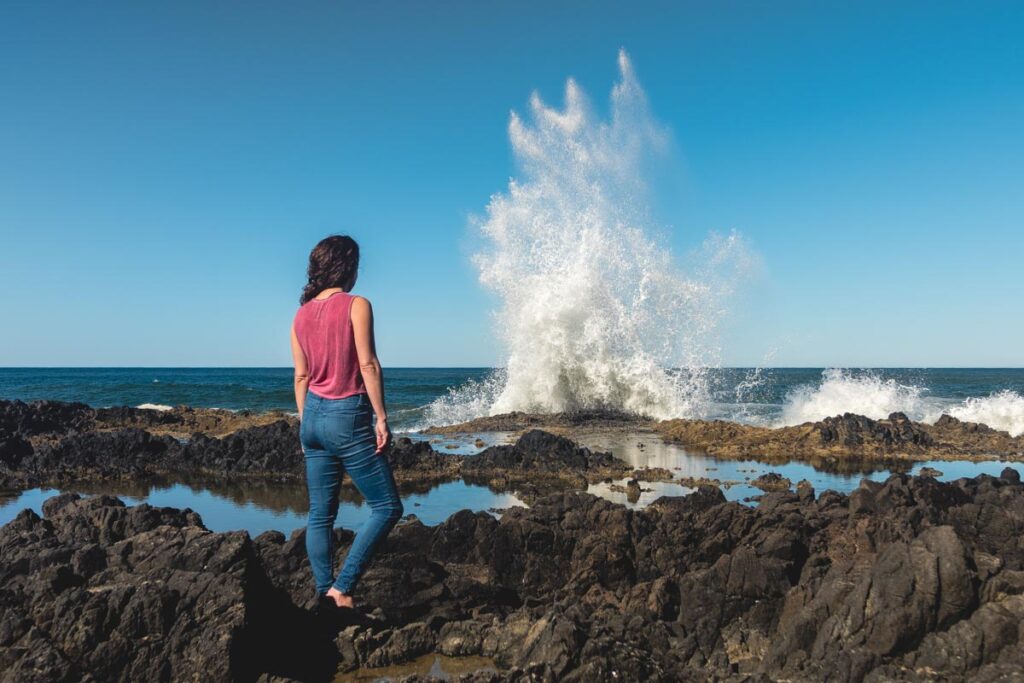 The Devil's Churn is another example of how the sea has carefully crafted the rocks over time, causing a high fissure in the shore, foaming and filling with every huge wave. It's incredibly powerful, and a little bit scary, and can be found by taking the 0.4-mile Trail of the Restless Waters.
6. Saint Perpetua Trail
Distance: 2.7 miles
Type of Trail: Out and back
Difficulty: Moderate
The Saint Perpetua Trail will take you to, what is without a doubt, the most incredible view in the park. It may be a leg burner, but at least you can say you have earned your views!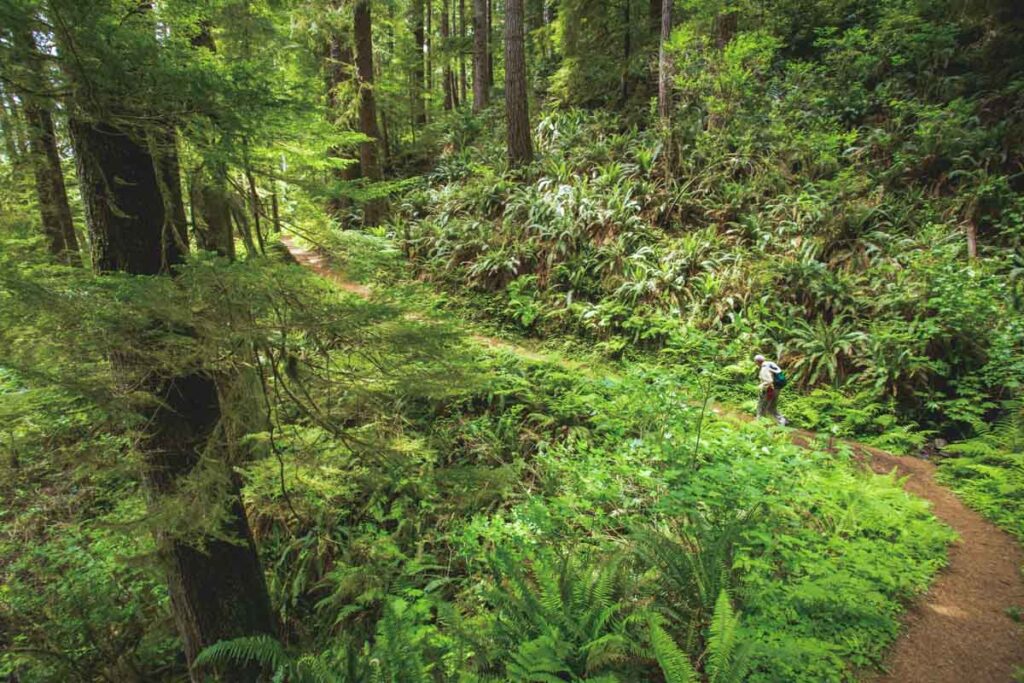 You'll have to tackle several switchbacks through the lush, old-growth forest but it won't be long before you'll catch glimpses of the ocean again. You'll get the famed views mentioned above at the Lookout along with several other gorgeous overlooks that you can't drive up to.
7. St Perpetua and Giant Spruce Trail
Distance: 4.4 miles
Type of Trail: Out and back
Difficulty: Moderate
Up for stretching those legs? There a longer hike in the park that will combine lots of the spots in this list into one epic super hike.
The St Perpetua and Giant Spruce Trail combine incredible viewpoints with, as the name suggests, towering spruce trees. The trail takes you to THE Giant Spruce, an incredible 500-year-old tree that stands over 185 feet tall with a circumference of over 40 feet.
If this combination hike is a little too long for you, you could separate it into several smaller hikes like the Whispering Spruce, Saint Perpetua, and Giant Spruce trails.
8. Tide Pooling at Cape Perpetua
If there is one thing Cape Perpetua does well, it's tide pooling. Rich and varied marine life is in abundance in these little pools, despite the fact they get battered and swirled every time the tide changes. Bring some sturdy shoes as the rocks can be slippery, and of course, check the tides before you venture out as it can be dangerous.
9. Camping at Cape Perpetua
Cape Perpetua offers some pretty sweet camping options, located on the banks of Cape Creek. It is perfectly located between ocean and forest, so you have the best of both worlds when you wake up in the morning!
Nearby Cape Perpetua
Heceta Head
All but impossible to miss, Heceta Head is one of the most prominent landmarks on the coast, so if you are only a short drive away, it would be almost rude not to visit!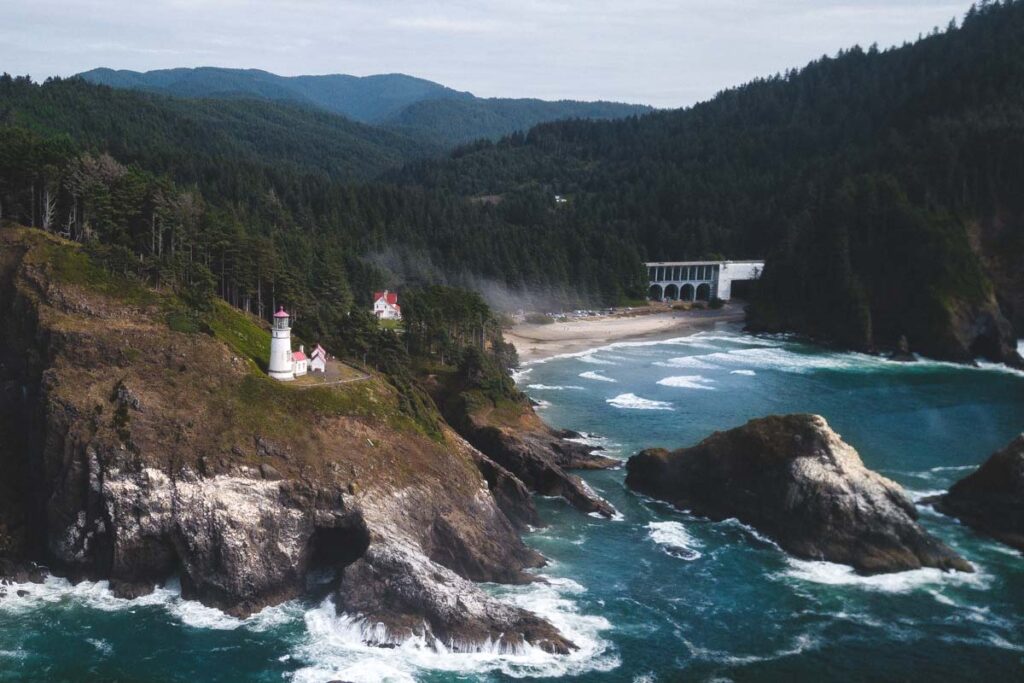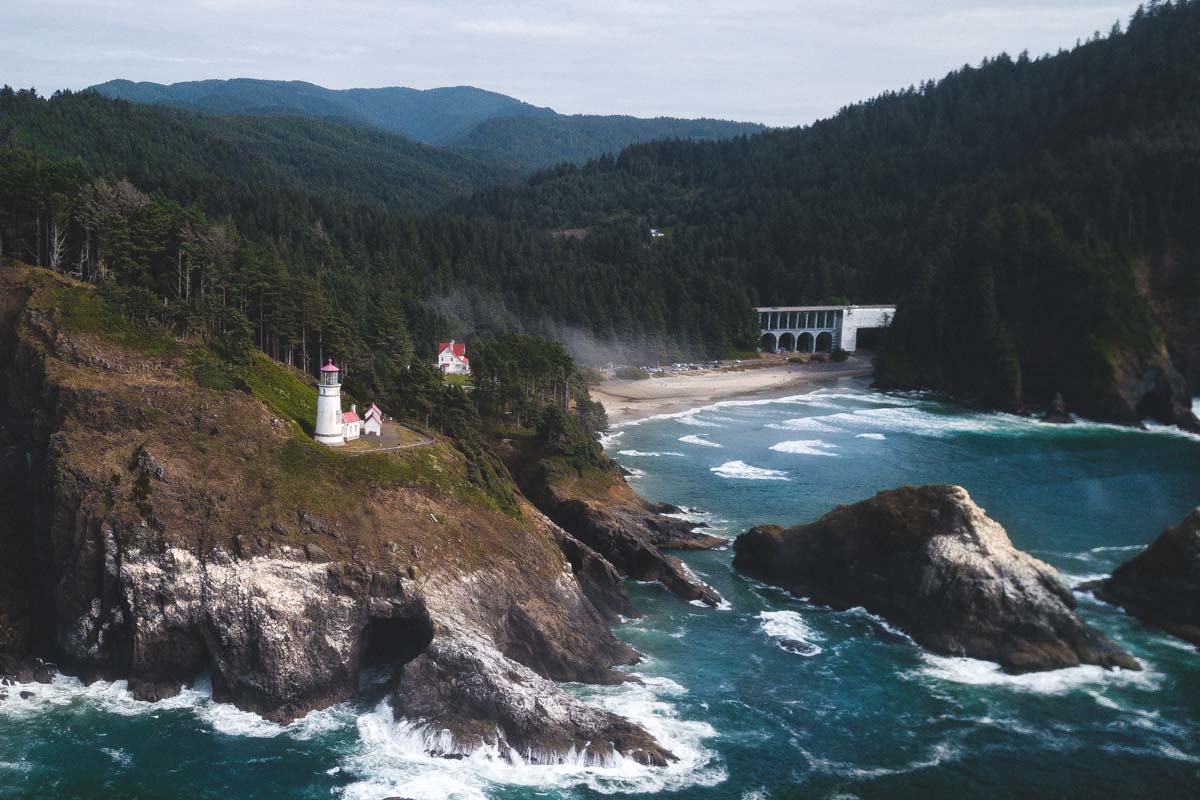 Plus, you can get to the head and its lighthouse just off of Highway 101. It's an easy little adventure, complete with beautiful beaches, stunning vistas, and a lighthouse that is almost posing for a photo.
---
READ MORE: Exploring Heceta Head Lighthouse, Beach, and Trail!
---
Newport
Newport, the capital of the Oregon Coast is the perfect place to visit if you're missing those cool city vibes. Hit the streets and explore this funky little town, or use it at a base to head out on wildlife watching trips, take a hike or, most commonly, take your board out and hit the surf.
---
READ MORE: 13 Adventurous Things to Do in Newport, Oregon
---
Yachats
Chill out and relax in the small town of Yachats, just a short trip from Cape Perpetua. Take in the seascape while trying some tasty culinary delights, Yachats is a real Oregon Coast gem.
Oregon Dunes
Want to see one of the coolest spots on the Oregon Coast? The Oregon dunes will not let you down. In fact, you'll feel like you are in the middle of the desert as you take in one of the biggest expanses of temperate sand dunes in the world. There are plenty of ways to explore, so check it out.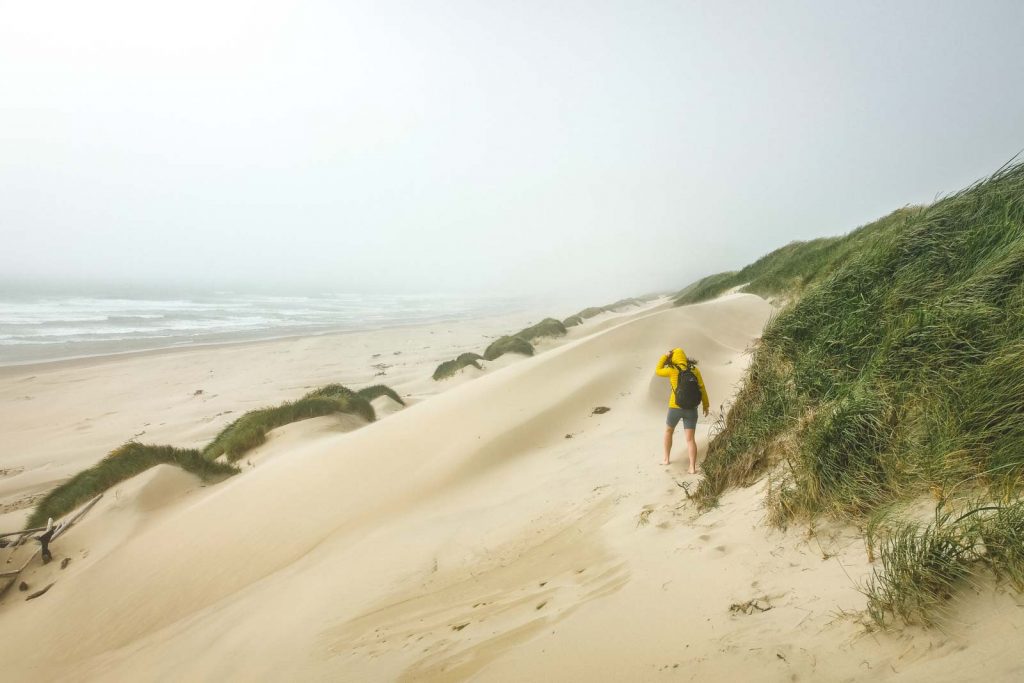 ---
READ MORE: Your Adventure Guide to The Oregon Dunes
---
More Things to Do on The Oregon Coast
We hope this post helped you better explore Cape Perpetua! Check out more posts on the Oregon Coast and even more adventures around the state.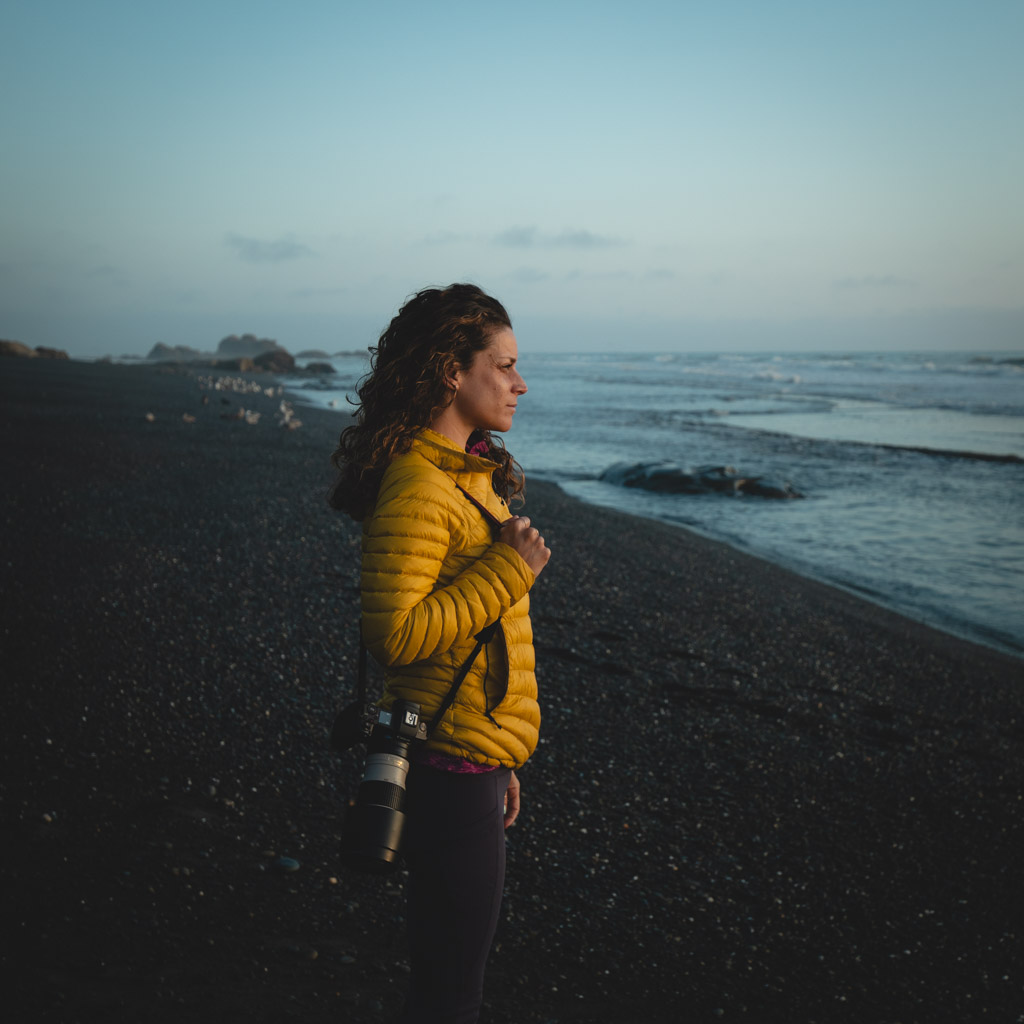 I've been perpetually traveling and living around the world for years but it's hard to beat Oregon and the PNW. After years of road-tripping the area, I guess you can say I know it pretty well! When I'm not writing guides for you, you can catch me somewhere petting a dog, attempting to surf, hiking a volcano, or stuffing my face with bread and cheese.