Thor's Well is one of Oregon's most incredible, unique, and popular attractions. This "well" in the rocks set along the Pacific is a must-visit if you're cruising down the Oregon Coast!
Before you head out, there are a few things to know before visiting Thor's Well and some tips for what else to see in the area.
Thor's Well
---
Thor's Well is located right off Highway 101/Oregon Coast Highway just outside of Yachats, Oregon. You can park right here and see Thor's Well from the parking lot if you're in a rush. Do note that the parking lot isn't all that big, and this spot can get pretty busy.
✋ HOLD UP! Don't Forget…
You need some wheels! It's nearly impossible to get around the USA and check out the best adventures without a car! Here are our top recommendations…
🚗 Rent a car
If you don't have your own, renting a car is your best bet!
🚐 Rent a home on wheels
For the more adventurous, rent a van or RV and ditch the hotel.
Visiting Thor's Well
Thor's Well is an old sea cave that has collapsed, creating almost a "drainage pipe" to the ocean. It's a seemingly bottomless hole that thrashes and sprays water as the waves crash in and out.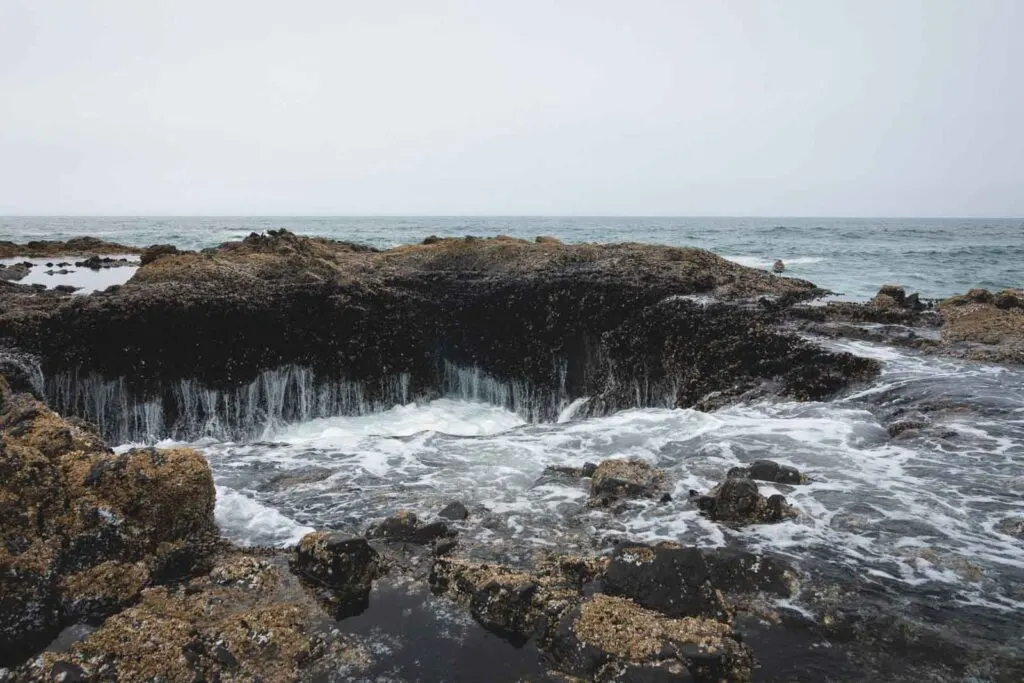 It's quite a spectacular sight when the wave hits Thor's Well! The water jets out and then gets swallowed back down the hole again.
Thor's Well is set on a long basalt shoreline. From the parking lot, you'll need to walk down the short path to get up close. You can do the short walk down to Thor's Well or make a little half-mile loop on the Captain Cook trail that takes you over to a few other views over Cape Perpetua.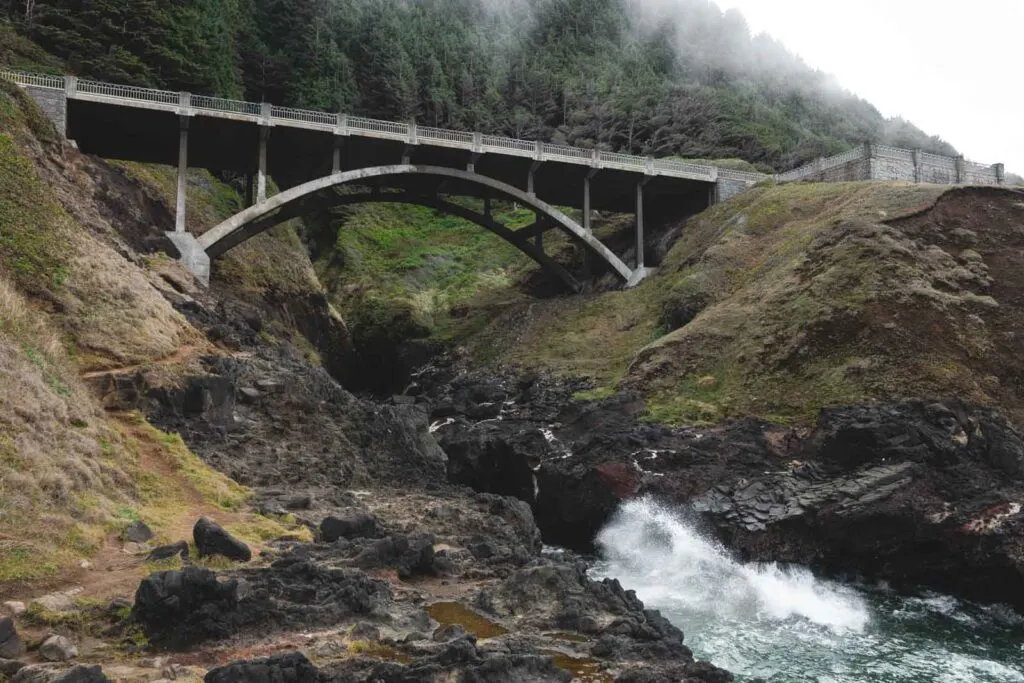 You'll notice to the left a small overpass bridge and just beneath it, another wonder of nature, Spouting Horn in the Cook Chasm. There is a gorgeous view of an ocean blowhole where the waves crash in the cave, which then spouts the seawater right back out, spraying into the air!
There's also a view from the bridge looking down and out at the chasm; just walk over from the parking lot.
---
RELATED: A Legendary Oregon Coast Road Trip – 35 Stops & 3 Itineraries
---
Warnings About Thor's Well!
This beautiful area of Cape Perpetua can be seen just a few minutes from the parking lot but do note that you're walking on jagged and slippery volcanic rock.
There is a risk of injury while wandering the craggy terrain, so step with care. Additionally, there are many tide pools and possible sea creatures on the rocks, so take even more care roaming around Thor's Well.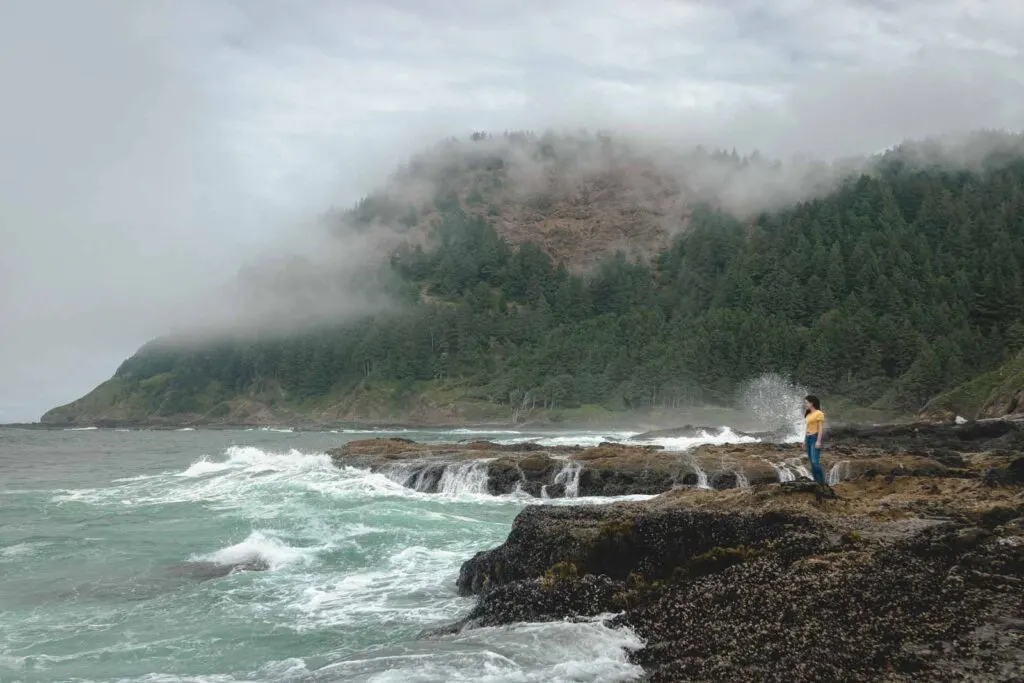 In addition to watching your step, you must also be hyper-aware of your surrounding at all times. This is the Oregon Coast, which is beautiful but also dangerous. Sneaker waves are a possibility and could really injure someone or worse. There have been accidents here.
Watch out if you wander along the outskirts of the basalt terrain where the waves are crashing in as well. Just because a few waves have been small doesn't mean that they will stay consistent; the tides are constantly changing.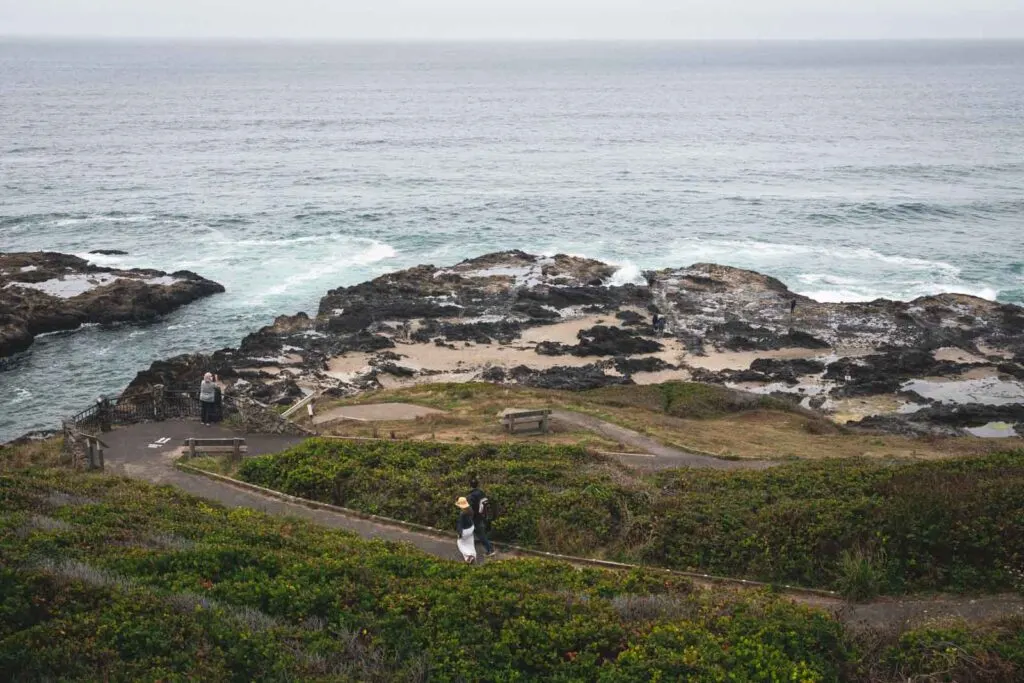 It's also worth noting that you can view Thor's Well from afar. It won't be as spectacular as being up close; however, this is an option for those who can't make it down to the rocks to view up close. You can see Thor's Well in the distance from the parking lot or even from a spot on the path walking down.
---
RELATED: 9 Things to Do in Cape Perpetua, Oregon
---
Best Time To Visit Thor's Well
It's best to view Thor's Well at high tide or when there's a storm coming through for a real show (but be extra careful!). For a safer visit, high tide on a calm day would be best.
Always make sure to assess the weather and the waves along the coast for a moment before heading straight to the rocks.
You can check the tide schedule here for Thor's Well.
Tips for Thor's Well
Wear good shoes! The volcanic rock you will be walking on isn't very forgiving.
You'll get a bit wet. Thor's Well spouts out water and mist, and your feet will be stepping on wet rocks with puddles too.
Photographers – you'll need a steady hand, lens cloths, a tripod, and extra coverage if possible because there will be spray and possibly even a soaking depending on how close you get and how much Thor's Well spits out.
Don't forget to take care when exploring, check the tides, and be aware of the weather.
Don't skip the chance to wander to Cook's Chasm and the extra viewpoints on the short trail too.
What's Near Thor's Well
Cape Perpetua – Actually, Thor's Well is in Cape Perpetua, and it's just one of the awesome things to do in this State Scenic Area. There are plenty more trails with stunning views and a campsite here too. The Cape Perpetua Overlook is a beautiful and easy viewpoint to visit.
Devil's Churn – Just one minute north of the parking lot for Thor's Well and also in Cape Perpetua, is another site worth taking a peek into, the Devil's Churn! There are incredible tide pools and more spitting and spouting of the Pacific Ocean against another collapsed sea cave.
Yachats – This cute town has a beautiful promenade lined with quaint shops, scrumptious eateries, and you can hop on a whale watching tour from here.
Heceta Head – Just 15 minutes south, you'll hit Heceta Head Lighthouse, possibly Oregon's most stunning lighthouse, and a trail to Hobbit Beach just behind it.
RECOMMENDED OREGON ADVENTURE GEAR:
Tried and tested gear that we use around Oregon and the PNW!
Hiking and Camping
Road Trip
Clothing Gear
Car Rental:
More Things to Do on The Oregon Coast
We hope this post helped you better explore Thor's Well! Check out more posts on the Oregon Coast and even more adventures around the state.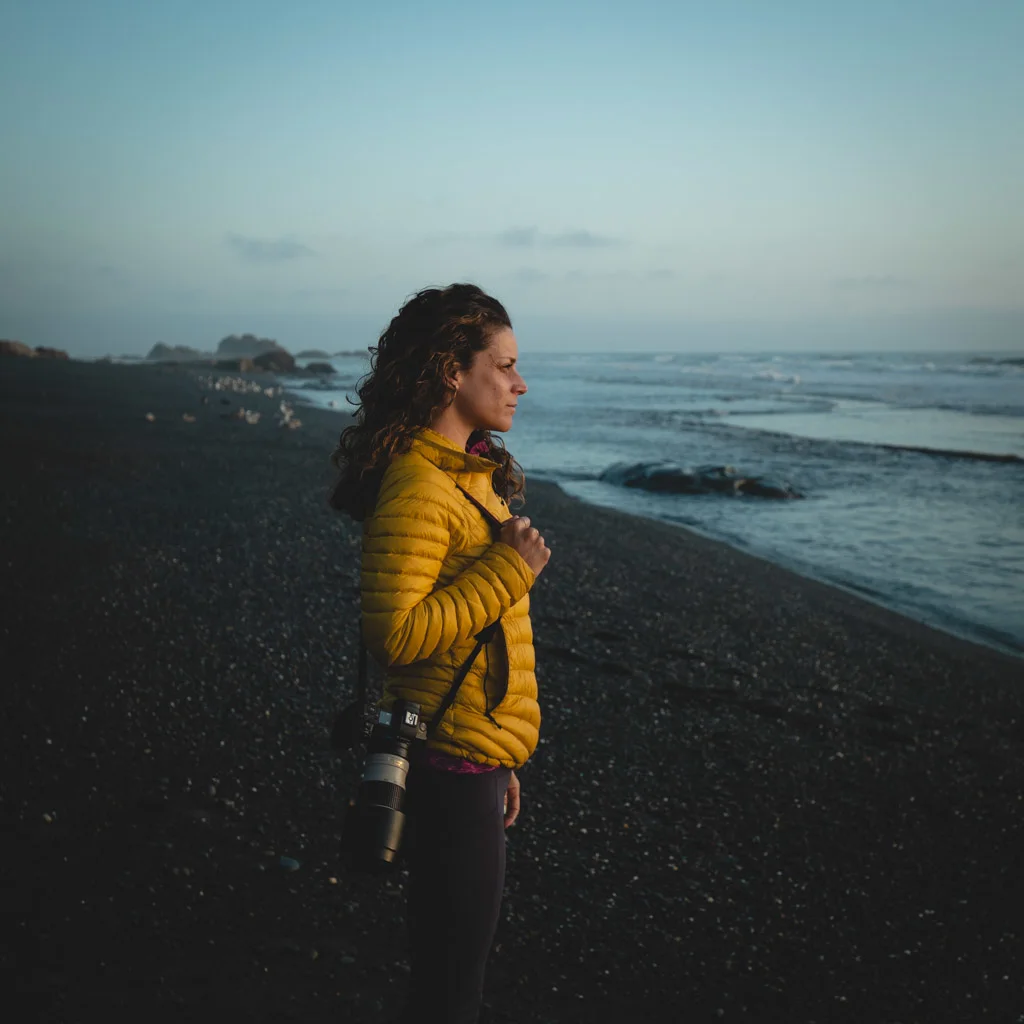 I've been perpetually traveling and living around the world for years but it's hard to beat Oregon and the PNW. After years of road-tripping the area, I guess you can say I know it pretty well! When I'm not writing guides for you, you can catch me somewhere petting a dog, attempting to surf, hiking a volcano, or stuffing my face with bread and cheese.