Waves of the dramatic Pacific ocean? Check.
Viewpoints from tall cliffs? Check.
Gorgeous golden beaches? Check.
Surfing spots? Check!
The Oregon coastline near Portland has it all!
With incredible scenery and fun coastal towns with a great vibe, it's well worth doing an Oregon coast day trip from Portland or the surrounding area.
Like any day trip, it's essential to research the place before you go thoroughly, so you can be sure to not miss the highlights and decide whether to drive independently or do a tour.
Luckily, we've done all the hard work for you and have detailed everything you need to know about an Oregon Coast day trip in this post!
How To Get To the Oregon Coast From Portland
It's generally around a one-and-a-half-hour drive to the coast from Portland, and it's a fairly easy drive along main roads. However, the exact timing can vary depending on where you're going.
To get to Ecola State Park, you'll need to take the US 26-E for around 80 miles; it'll take you one and a half hours.
Oswald West State Park, on the other hand, is a little further south; to reach it, you'll drive to the end of the US 26-E and turn south when you get to the end of the road.
Astoria, however, is further north and takes just under two hours to drive; the best route is up the I-5 S and US 30-E.
Tillamook is the southernmost part of this section of the Oregon coastline, and it's around an hour and twenty minutes from Portland, via the US-26 E and OR-6 E.
If you don't have your car, plenty of car hire companies are available in downtown Portland.
Here are our most recommended:
✋ HOLD UP! Don't Forget…
You need some wheels! It's nearly impossible to get around the USA and check out the best adventures without a car! Here are our top recommendations…
🚗 Rent a car
If you don't have your own, renting a car is your best bet!
🚐 Rent a home on wheels
For the more adventurous, rent a van or RV and ditch the hotel.
Or, if you don't want to drive, the other option is to take a tour. We'll detail these later on!
Don't want to wait and want to see the top tour options now? Check these two out:
The Main Areas to Visit on The Oregon Coast on a Day Trip if You're Driving
There are quite a few destinations to visit within easy reach of Portland. You won't have time to see all of these spots in a day, but read through the following and see which one you're feeling the most!
You'd really only get to truly see one to two of these areas with just a day, so choose wisely or stay the night on the coast.
---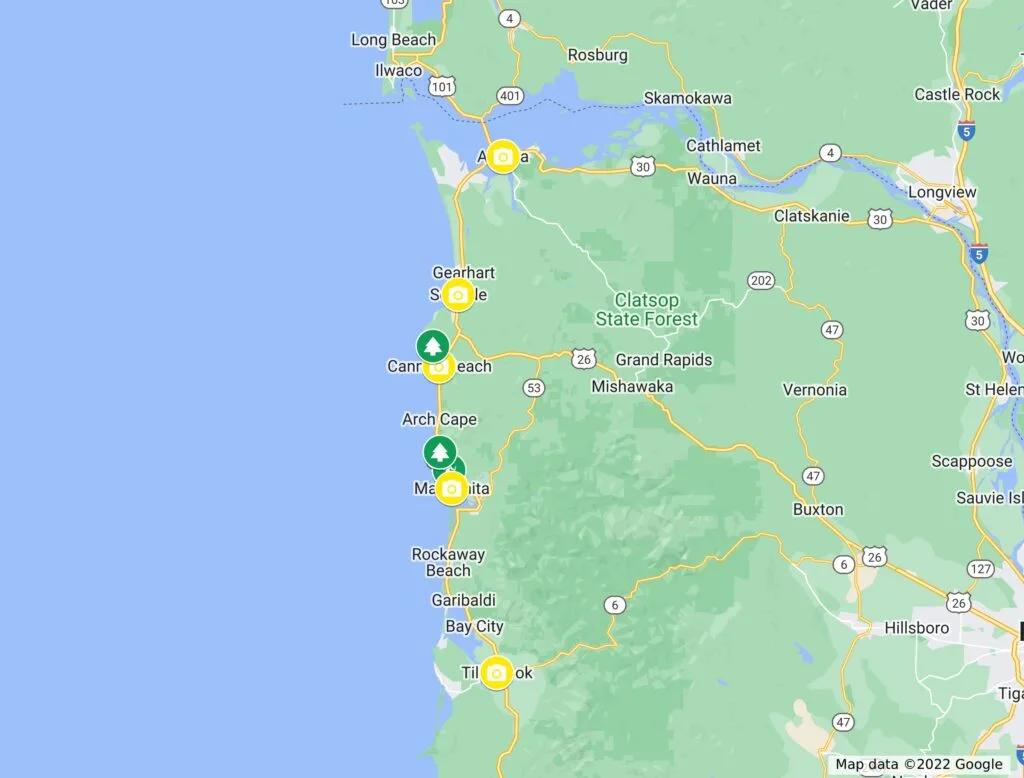 Astoria
Astoria is a classic coastal town, sitting just over the border from Washington. It's super close to places like the historical Fort Stevens State Park or the beautiful Cape Disappointment State Park, which is actually over the bridge in Washington.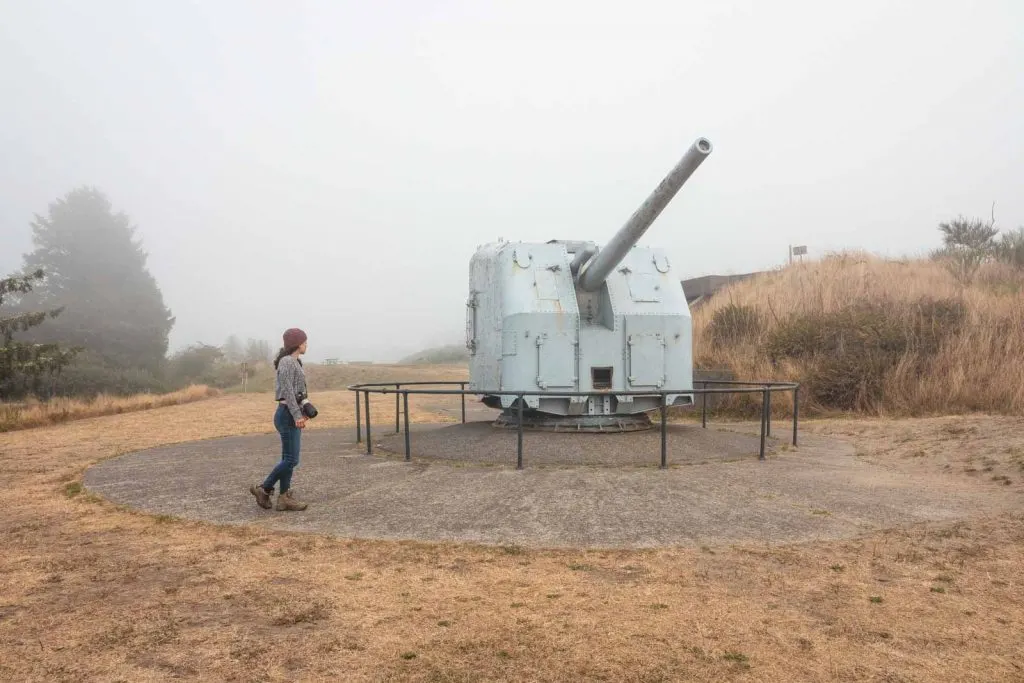 It's popular with anglers, as the rivers and sea have some of the finest fishing in the country. It's the oldest city west of the Rockies, with beautiful surrounding forests and an almost Scandinavian feel.
---
READ MORE: 11 Adventurous Things To Do in Astoria, Oregon
---
Seaside
The appropriately-named Seaside is a unique town to visit along the Oregon coast. Enjoy wide sweeping beaches and lush evergreen forests here; it's also an incredible place to catch the sunset.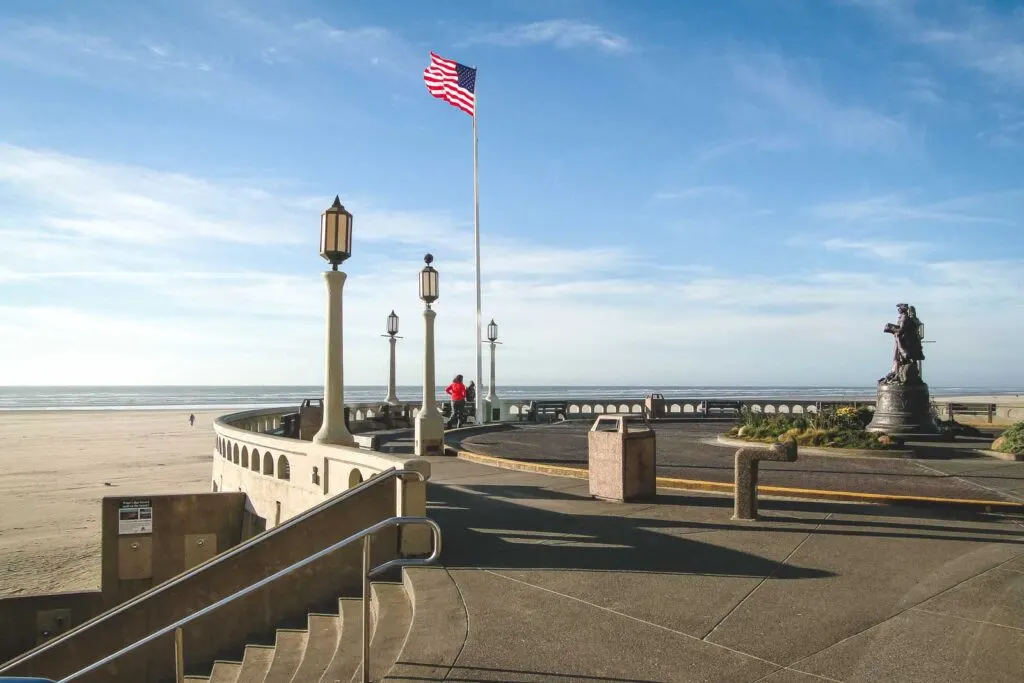 It doesn't have the dramatic cliffs that you'll find in other areas of the coastline, but it's worth visiting for seeing a different side of the beachfront area.
---
READ MORE: 13 Adventurous Things to Do Around Seaside, Oregon
---
Ecola State Park
Gaze at lovely vistas of the blue ocean, craggy rocks, and lush vegetation as you hike through Ecola State Park, which occupies nine miles of coastline and winds around Tillamook Head. Enjoy Ecola Point, which views the Tillamook Lighthouse and the ever-popular Indian Beach, a much-loved surf spot.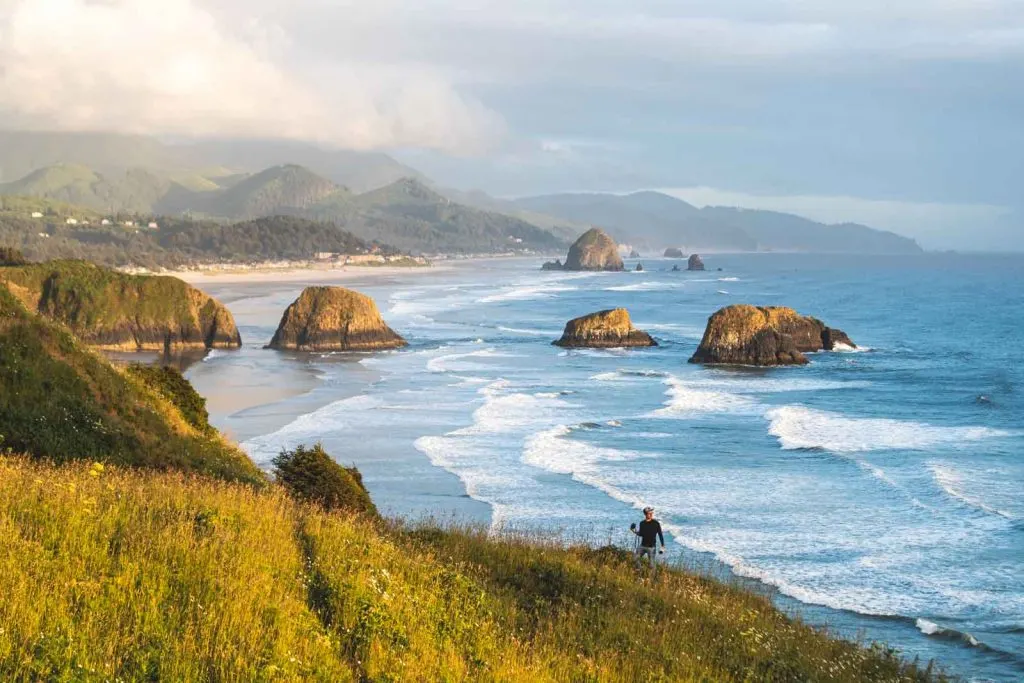 Although Ecola State Park is famous for beaches and surfing, there are plenty of hikes here that will lead you through its beautiful nature and to gorgeous viewpoints where you can enjoy the sea and sand vistas.
---
READ MORE: Your Guide to Ecola State Park on the Oregon Coast
---
Cannon Beach (The Most Popular Oregon Coast Day Trip From Portland)
Cannon Beach is one of the best spots on the Oregon coastline. While it's famous for the dramatic Haystack Rock, this isn't a hidden gem – it's one of the most popular beaches near Portland! However, there's plenty of room in the sand, so you should have space to roll out your towel.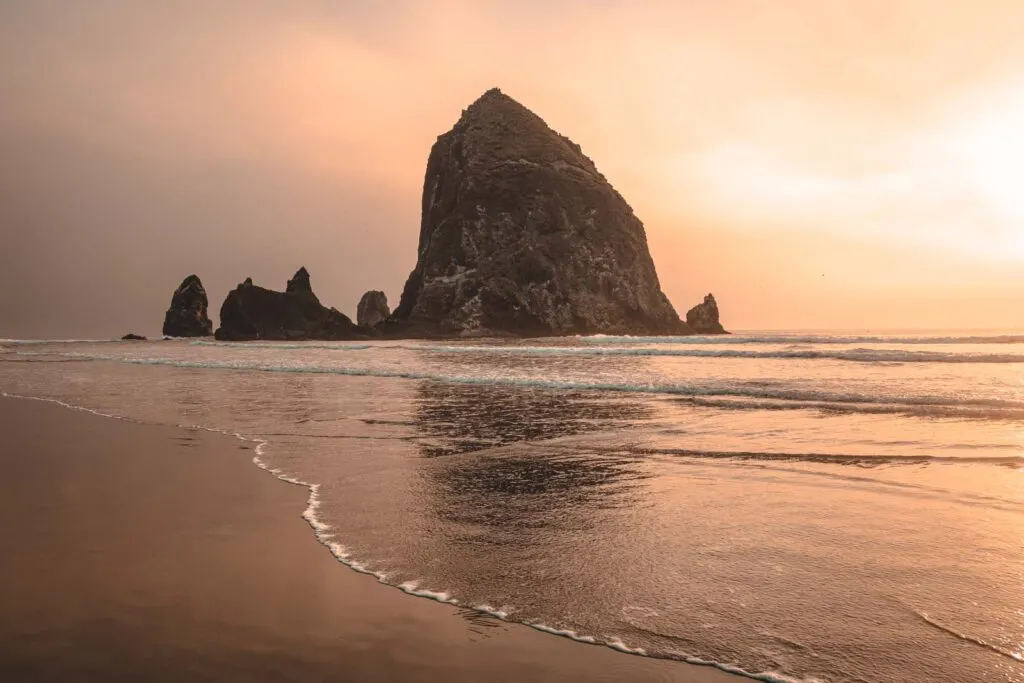 Cannon Beach is the name for both the town and the actual beach, and it's famous for its extensive sands and dramatic waves. Visit to enjoy the gorgeous monoliths, sunbathe or surf at the beach, or go birdwatching!
Come by Haystack Rock around low tide to see which creature your spot in the tidepools and if you're here in summer keep your eyes peeled for Tuft Puffins!
---
READ MORE: 14 Adventurous Things To Do in Cannon Beach
---
Oswald West State Park
Oswald West State Park has an incredible secluded beach called Short Sands Beach, nicknamed 'Shorty's' by the locals. It's one of the most popular surfing destinations in the state.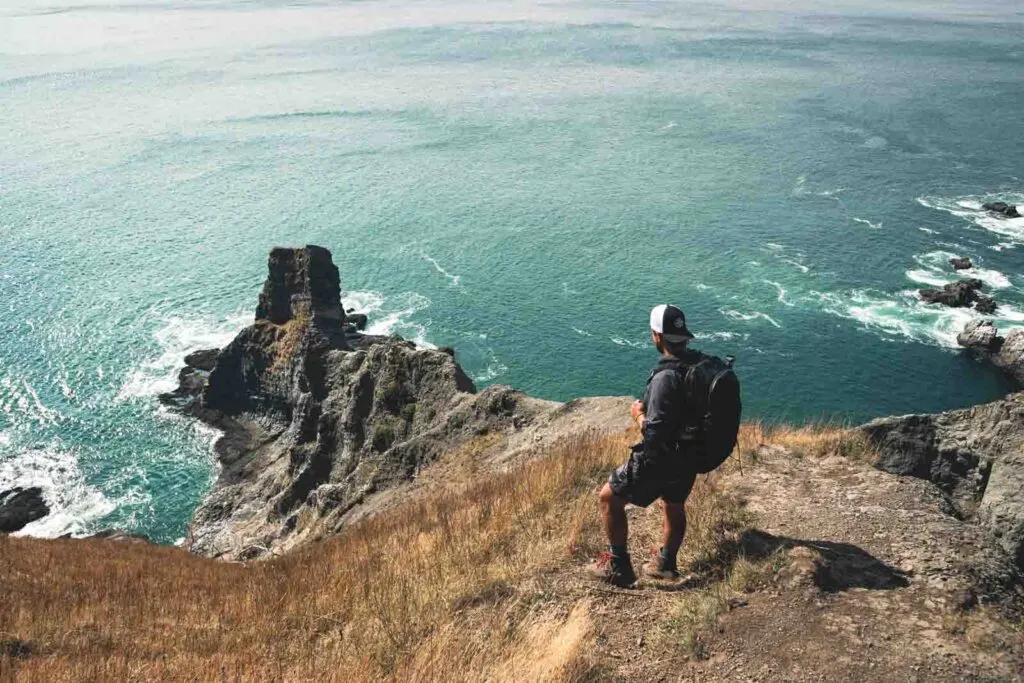 The coastal park is also covered in temperate rainforest, making it ideal for hiking (especially during the summer when you need some shade!). Some hikes will come out to glorious viewpoints with incredible vistas!
Our favorite hike in the area is the Cape Falcon Trail which takes you right up to Short Sand Beach before you head up the cliffs for some epic views.
---
READ MORE: Your Guide to Oswald West State Park
---
Manzanita
Manzanita is a gorgeous beach that's not visited as much as other beaches, like Cannon Beach. It's ideal for those who want to get away from the crowds.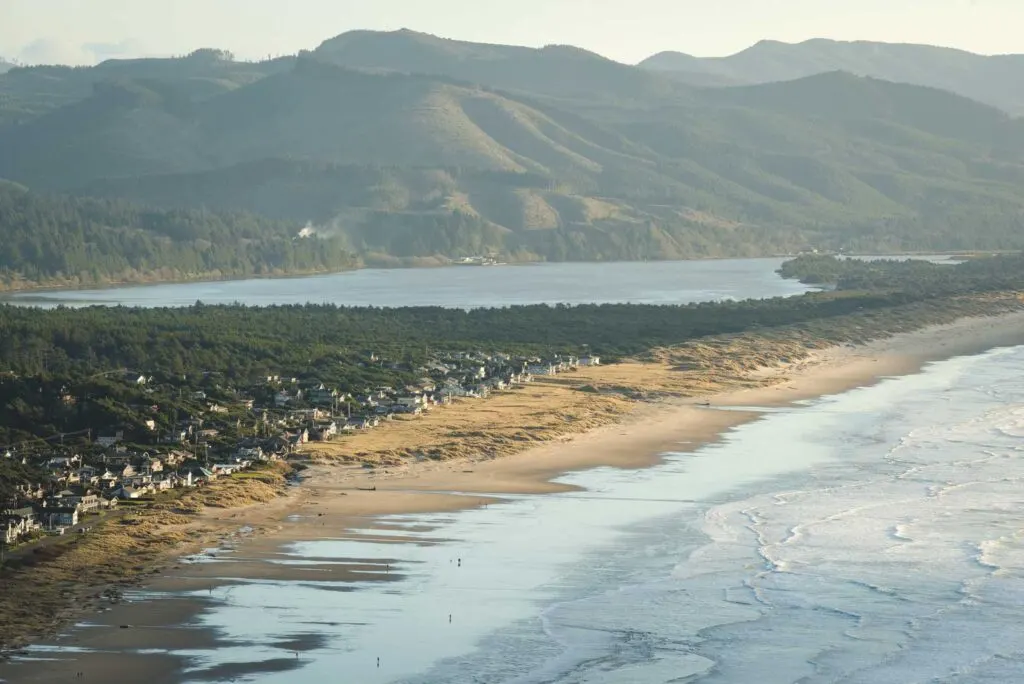 The bay area has excellent fishing opportunities; if you're an angler, you can find steelhead trout, sturgeon, and Chinook salmon here.
With turquoise waters and golden sands, landmarked by craggy rocks, and the looming Neahkahnie Mountain, this glorious beach is well worth a spot on your day trip itinerary.
---
RELATED: 17 Most Scenic Oregon Coast Towns (And What to Do There!)
---
Neahkahnie Mountain
Neahkahnie Mountain stands at the end of Manzanita Beach, and it's a popular hike in the area where you can admire an incredible view! The hike up Neahkahnie Mountain starts at the southern trailhead and is a 2.6-mile out and back trail.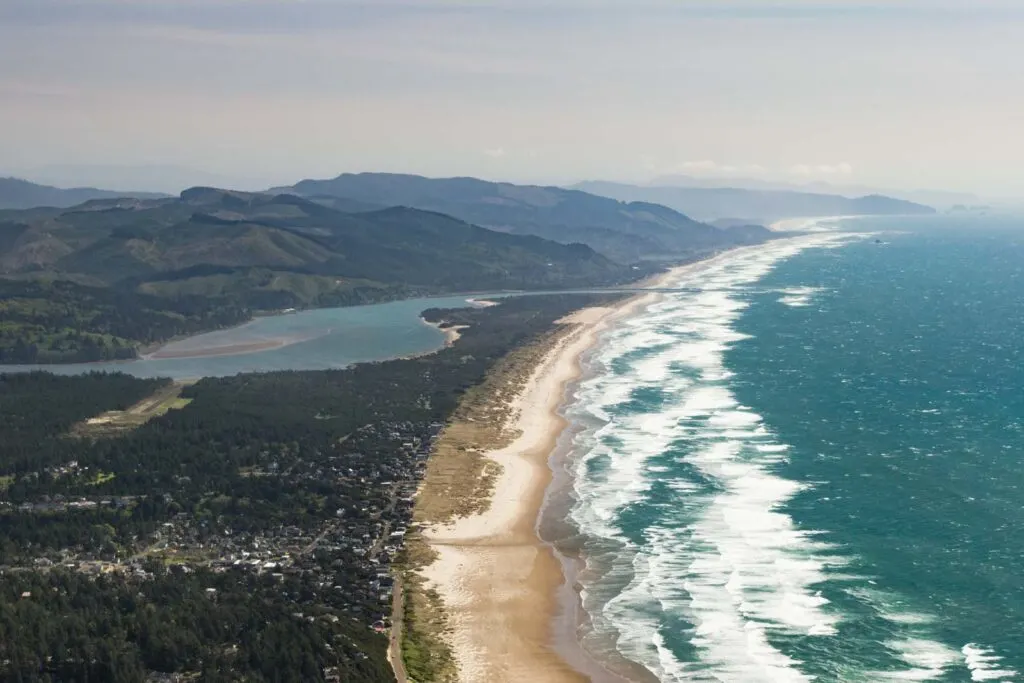 It's moderately difficult going up and can be a bit complicated going down with lots of roots to navigate, but the trail is well maintained, and the views make it all worthwhile!
---
RELATED: 37 of The Best Oregon Hikes You've Got to Check Out
---
Tillamook (The Last Spot For an Oregon Coast Day Trip)
Tillamook Bay is the furthest south beach town viable as a day trip from Portland. It's most famous for the Tillamook Creamery Visitor Center, making delicious cheese and ice cream products. It's worth visiting while you're in town!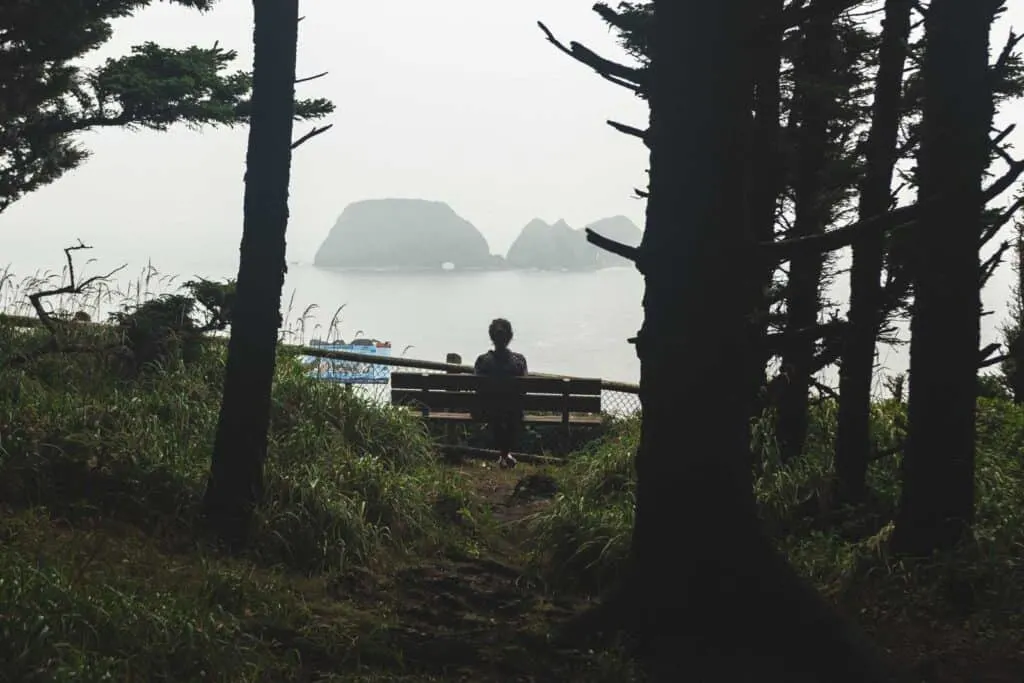 However, there's much more to Tillamook than its creamery. In this town, you can explore coastal wetlands at the Sitka Sedge State Park, hike around the Three Capes Scenic Loop, take in this part of the Oregon Coast Scenic Railroad, and much more! This will all of course take you beyond a day though, so you'll have to pick and choose your favorite spots.
---
RELATED: 7 Tillamook State Forest Hikes to Tackle
---
Not Driving? Don't Want to Rent A Car? Do an Oregon Coast Tour Day Trip!
If you don't have your own car, the only real way to see the coastline near Portland is by doing a guided tour. The best part of these tours is that they are easily booked, pick you up and drop you off from Portland, and will save you time and cash on renting a vehicle!
They will also squeeze in a ton more places than you'd get to see yourself as well since they know exactly where to go and have organized everything to a T.
Here are two of the best Oregon coast tours:
Oregon Coast Tour From Portland Option #1
This tour takes around seven and a half hours and will take you from central Portland to the coastline (and back again!).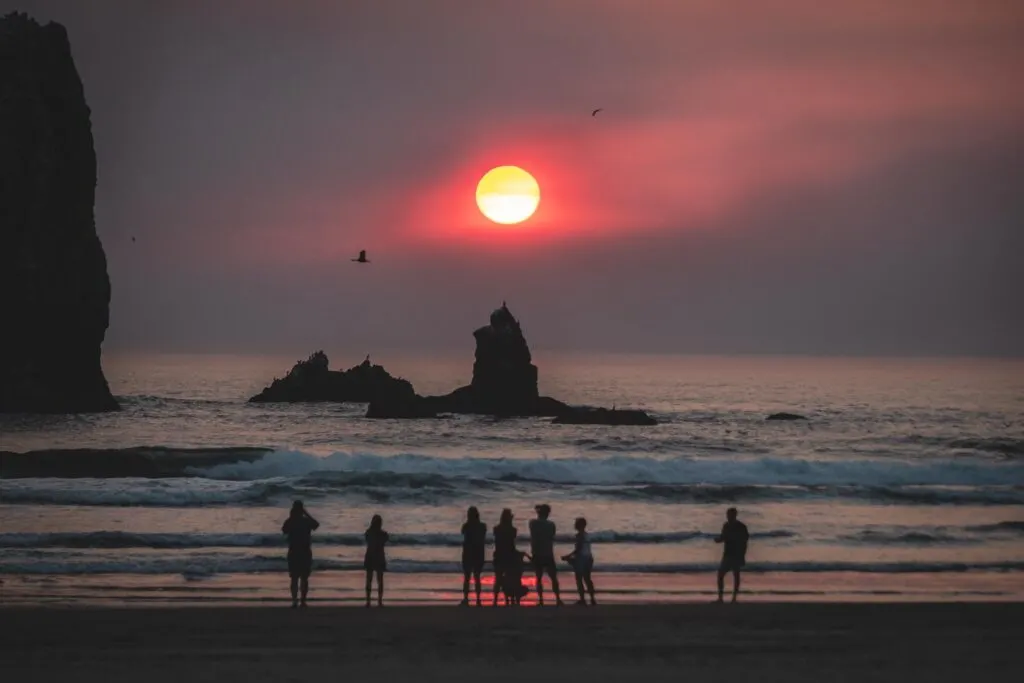 Visit Ecola State Park, admire Haystack Rock, take lunch by Cannon Beach, hike up Neahkahnie Mountain and check out the view and explore Oswald West State Park.
Oregon Coast Day Trip From Portland Option #2
This tour is relatively similar but stops in different places from the other tour. Before deciding which tour to opt for, you could research each destination and see which one you're most interested in!
The first stop on this tour is the Camp 18 Museum, with vintage logging machines and a self-propelled steam crane. It's a great stop if you want to learn a little about the region's history while visiting the Oregon coastline.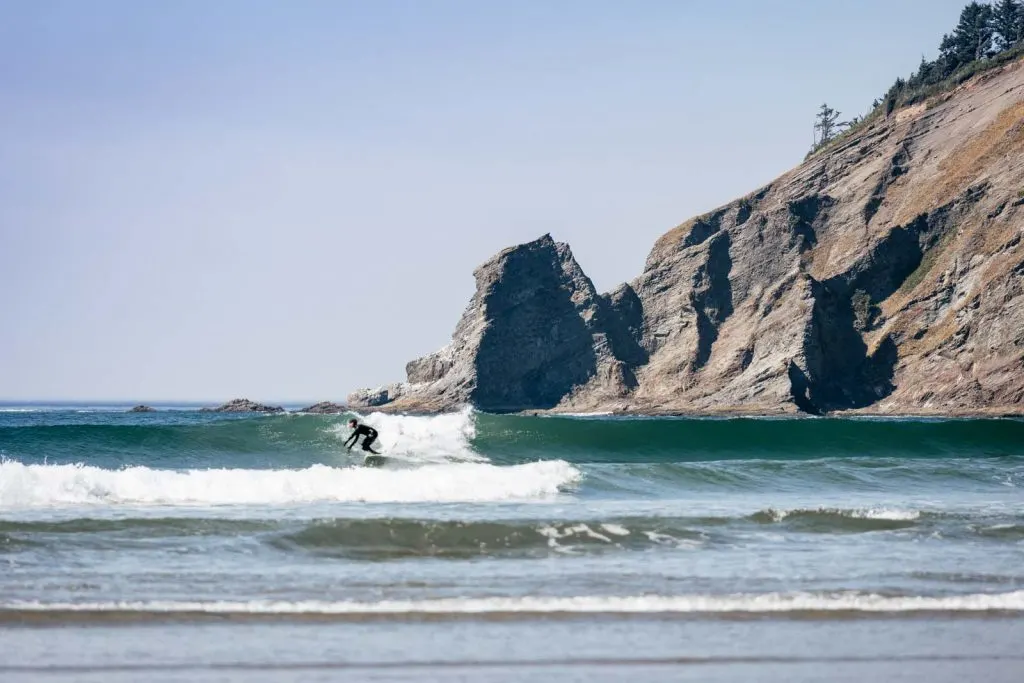 You'll also visit Ecola State Park, Cannon Beach, and Neahkahnie Mountain and check out the lesser-known Manzanita Beach and the lovely Short Sands Beach in Oswald State Park.
This could be one of the best Oregon beach tours if you want your visit to include some history as well as some beaches.
---
RELATED: 13 Portland Tours for The Adventurous!
---
So an Oregon Coast Tours OR Oregon Coast Day Trip?
Doing an Oregon Coast day trip from Portland will help you see some of the best of the west coast, with broad sandy beaches and a dramatic rocky coastline.
There are state parks, cute seaside towns, hiking trails making their way to epic viewpoints, and some of the best surf spots in the USA. But which one is best in your situation?
We think it totally depends on you and really if you have a car or are willing to rent one!
Here's where to check on some rental vehicles. If you do an Outdoorsy rental, you can stay along the coast for LONGER without hotel expenses! If not, just rent a regular car for the day.
If you want the easiest option and don't have a car or want to rent, grabbing a tour is your best bet. These are the most recommended tours in the area, they pack in the most, will save you on car rental expenses, and do literally all the work for you! All you need to do is choose which one of the two?
It'll be hard to fit it into a day, but if you're just in Portland for a vacation or don't have the time for a longer trip, it's worth heading out just for a day trip to the Oregon coast.
We hope this post helped you plan your Oregon coast tour! Before you go, check out other things you can do on the Oregon coast and more adventures near Portland.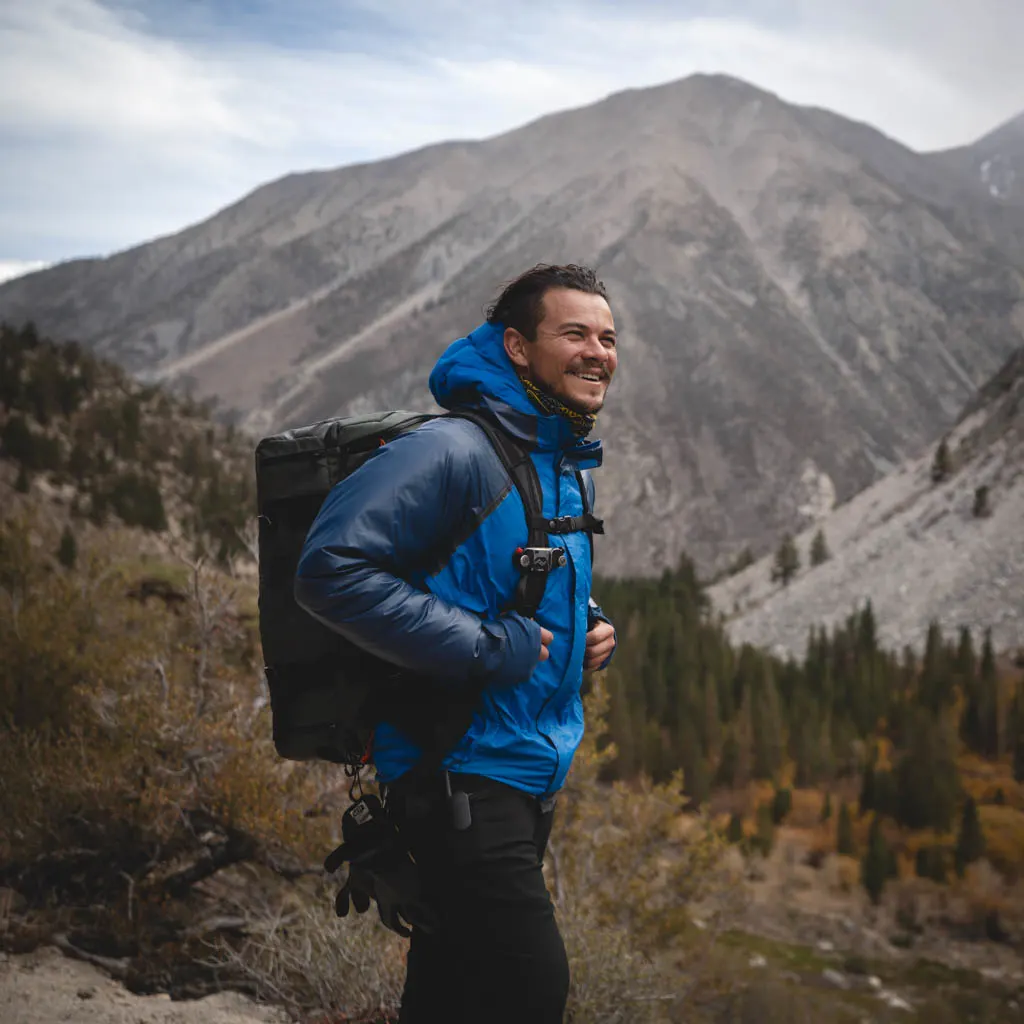 Oregon native and explorer at heart. Loves tackling expeditions around the world and drinking a good beer at the end of the day. PNW obsessed, VW nerd, and surf or snow riding fanatic.