Seaside, Oregon, nestled in the northern corner of the state, is a perfect place to have it all. A stroll on the promenade will acquaint you with the charming beachside town and the eateries will fuel you for the adventures that await.
From excellent surf to epic hiking trails and historical forts to incredible wildlife, here are some of the best things to do in Seaside!
Adventurous Things to Do in Seaside, Oregon
---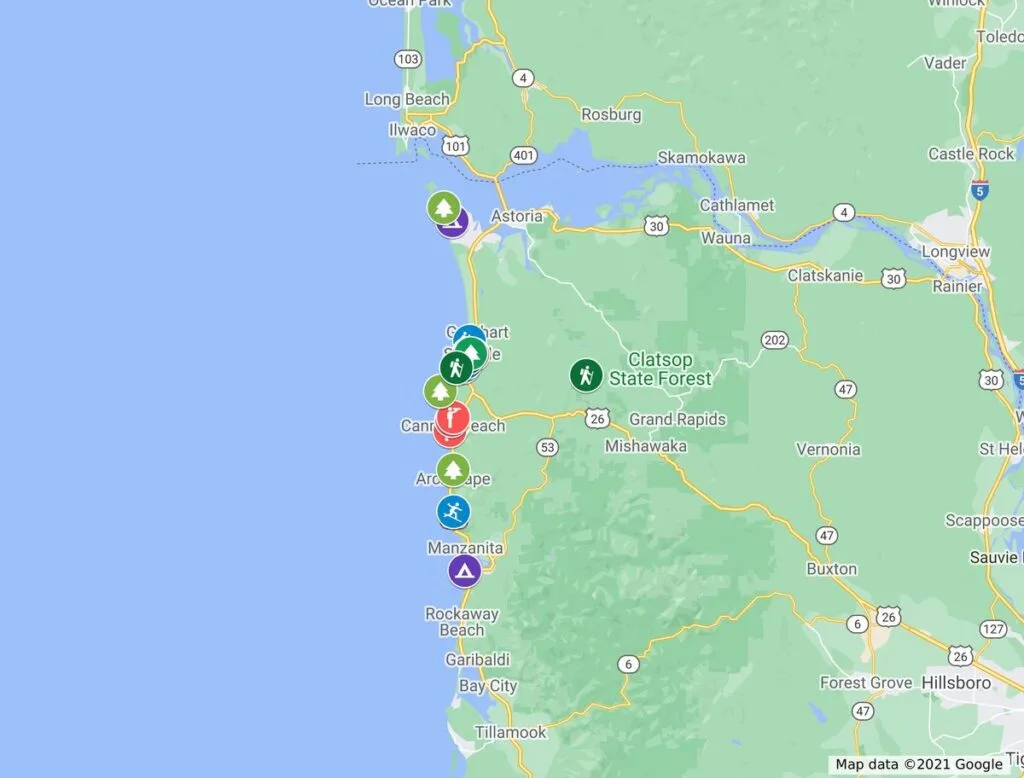 1. Saddle Mountain Hike
Take the 5.2-mile round trip up Saddle Mountain to be greeted with some breathtaking views along the way. It is quite a climb, as you'll be gaining 1900 feet, which makes it a moderate hike.
When you reach the top, you should be able to see all the way from the Pacific Ocean to Mount Hood and the mountainous landscape of Washington state. It is the highest point in the northern half of the Coast Range, with sweeping 360-degree vistas.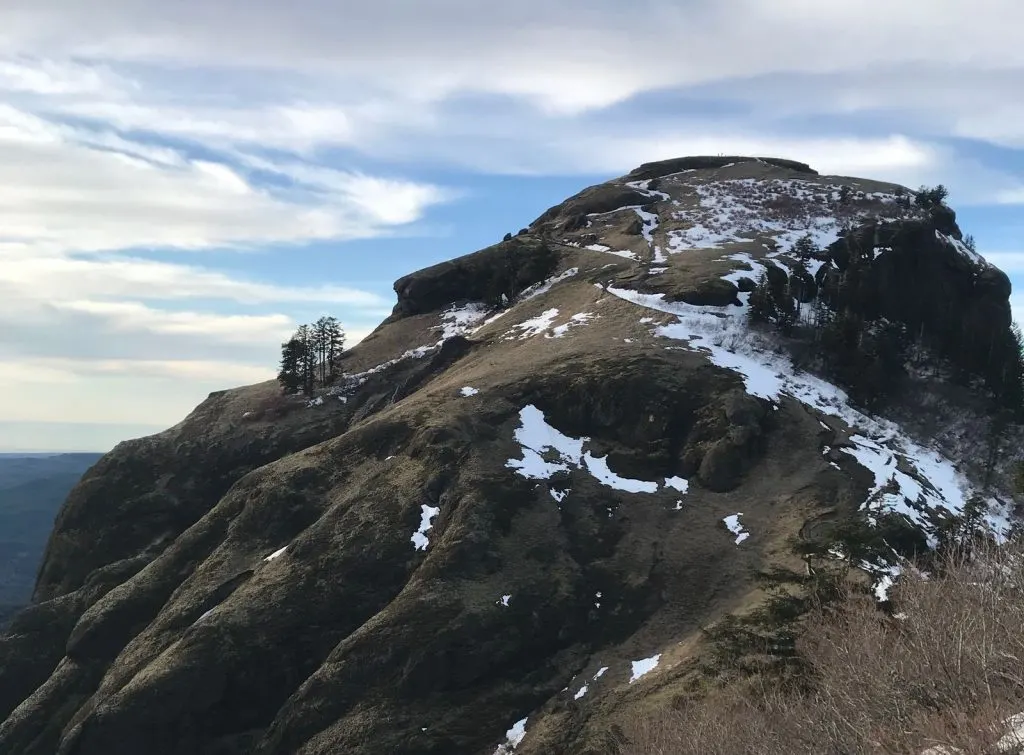 On a clear day, you should see Mt. Rainier, Mt. St Helens, Mt. Hood, Mt. Adams, and Mt. Jefferson, plus of course the ocean. The trail is easy to follow and is in good condition, with some exploring available at the summit if you still feel up for it.
Once you park in the parking lot, the trail begins in the campsite area on a paved trail. Before long, the paved trail will end, and you'll enter a lush forest filled with red alder trees, Douglas fir, and Sitka spruce.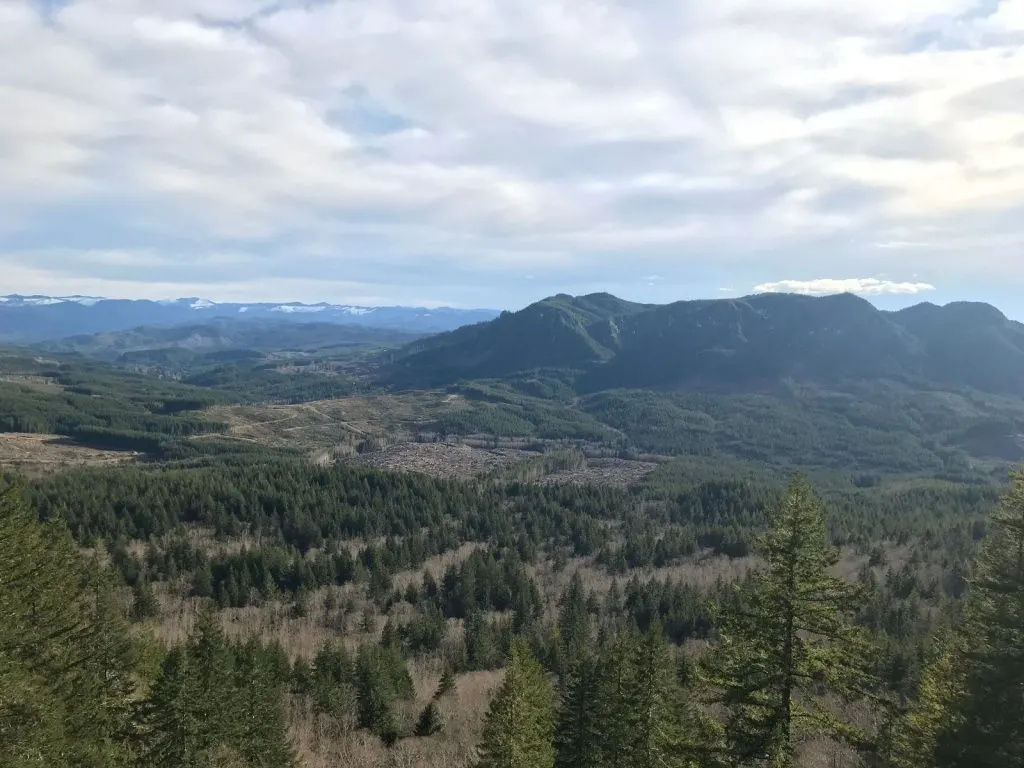 As you switchback up the hillside, you'll pass some vast, house-sized boulders. After a lot of climbing, you'll begin to see what this hike's hype is all about, as you will start to get some epic views.
Then you will see a viewpoint wrapped by a metal railing – you've made it to the 3,283-foot summit.
---
RELATED: How To Do an Oregon Coast Day Trip From Portland
---
2. Tillamook Head National Recreation Trail
For those up for a longer hike, the Tillamook Head National Recreation Trail is a 19.8km out and back trail. This incredible trail takes you all the way to Tillamook Head via Ecola State Park, starting at the car park of Indian Beach.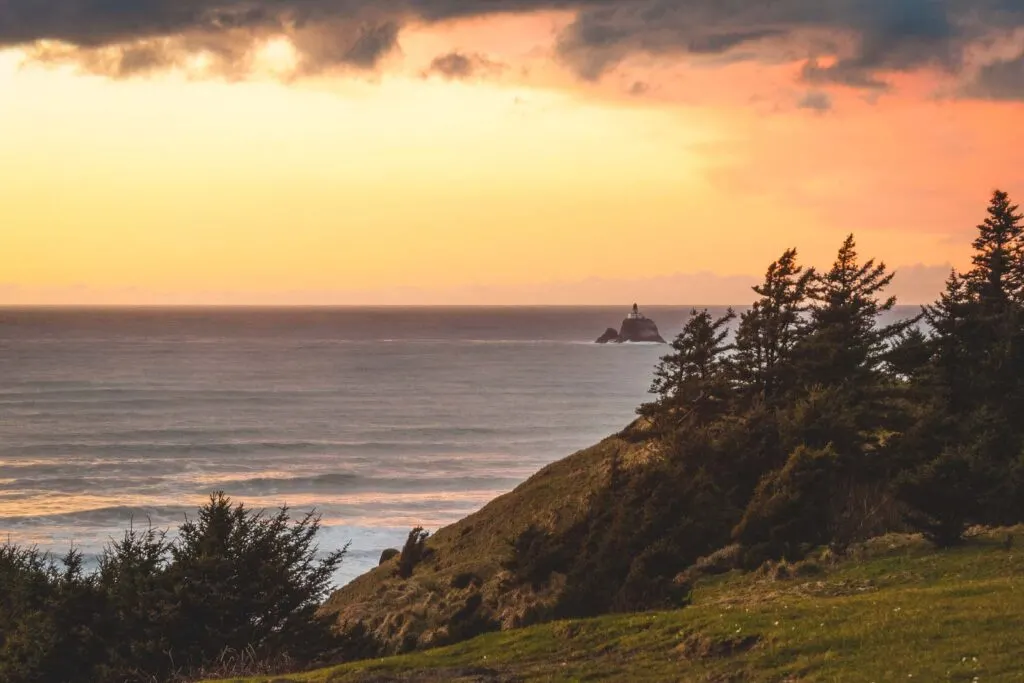 To start with, the path is wide and graveled, but before long, you'll head into old-growth spruce and alder woods. The dramatic hike will take you all the way to the thousand-foot cliff of Tillamook Head, overlooking the craggy islands below.
Looking out to sea, you should be able to spot 'Terrible Tilly,' a lighthouse sitting on a rock just off the coast, getting its name from repeatedly getting hit by battering storms. After getting your fill of the views from the cape's tip, you could make the short detour to Clarks Point of View Viewpoint for a different perspective of the landscape.
---
RELATED: 11 Oregon Lighthouses & The Adventures Nearby
---
3. Seaside Promenade Walk
More of a stroll than a hike, the promenade walk is still one of the most popular things to do in Seaside, Oregon. This longstanding favorite is a 1.5-mile paved walkway. The prom lines the ocean, making for a lovely way to start the day or watch an evening's sunset.
With the sea on one side and charming, oceanfront cottages on the other, it is a picture-perfect place for a walk or cycle. Along the prom, there are many different places where you can access the beach and dunes.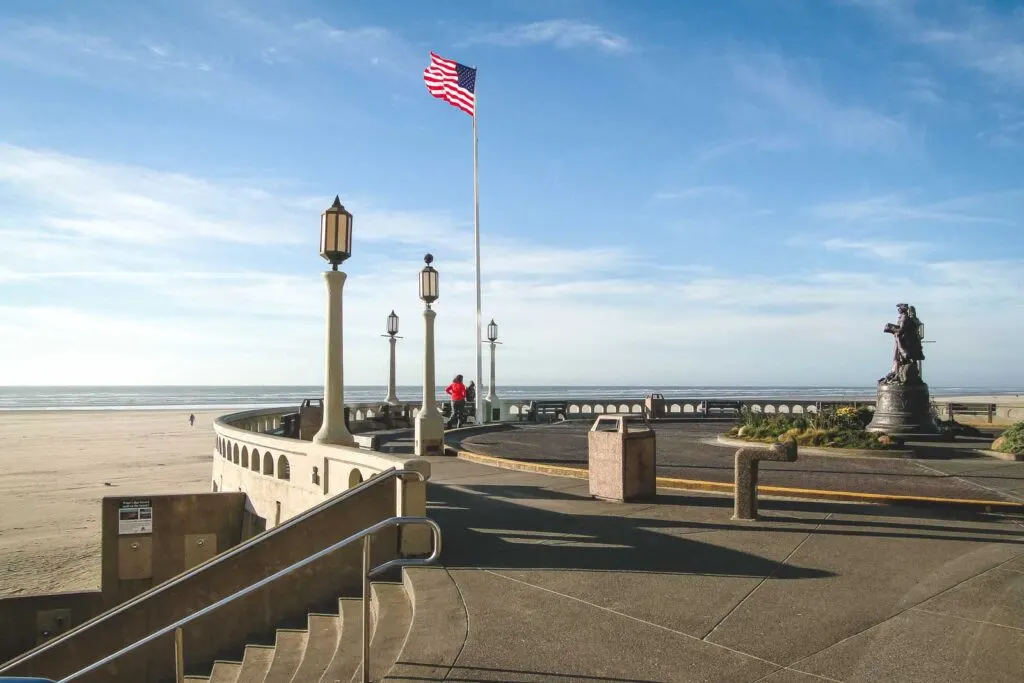 The prom has been around since the 1920s and has been a popular town attraction since. There is parking close by and plenty of benches for you to enjoy a coffee from one of the many coffee shops. There are also many lodging options and places to grab a bite to eat.
The Historic Seaside Promenade stretches from Avenue U on the south end of town to 12th Avenue on the north end of town. It is 15 feet wide, meaning there is plenty of room for the many walkers, joggers, cyclists, dogs, and strollers that take to the Prom every single day.
For a cold craft draft and some banging food while sitting in a theater check out Sisu Brewery!
---
RELATED: 11 Stunning Things To Do on the North Oregon Coast
---
4. Fort Stevens State Park
Fort Stevens is often described as one of Oregon's best state parks, making it one of the best things to do in Seaside, Oregon. The park is nestled in the northwest of the state, at the mouth of the Columbia River, and has enough to do and see to last at least a few days, if not the whole week.
Spanning 4,300 acres, there is enough room for everyone. Two of the biggest human-made attractions in the park are the shipwreck that lies hauntingly on the beach, and the primary military defense system on the Columbia.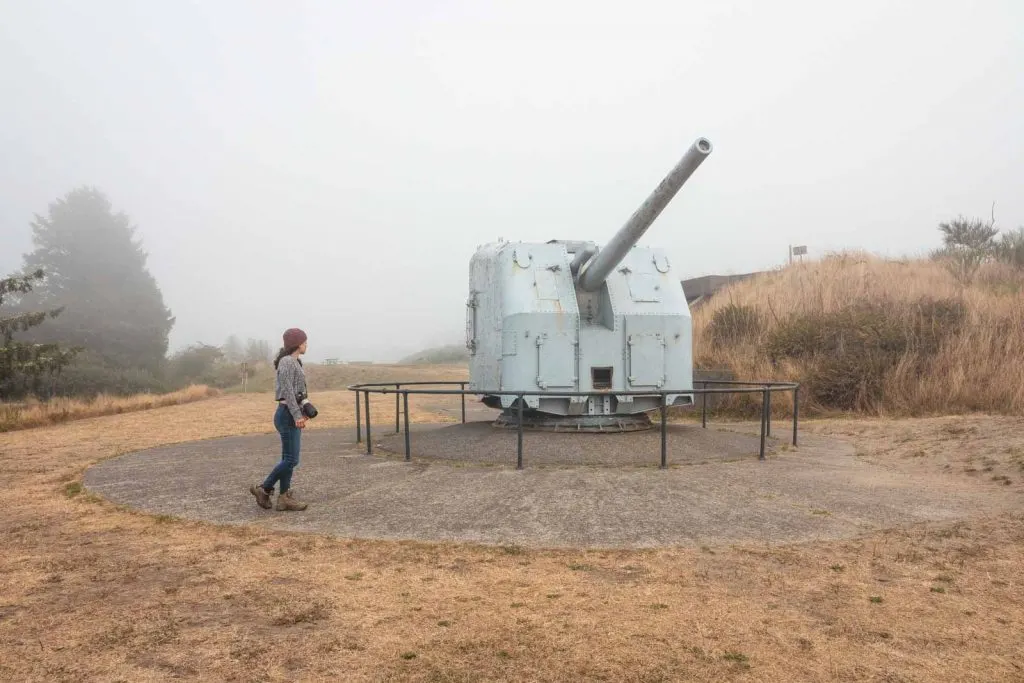 When it comes to natural attractions, you'll be spoilt for choice – it's where the sea, forest, and river collide.
Miles of trails wind their way around the forests, over towering dunes, and along the coast. A 9-mile loop surrounds Fort Stevens, popular with both hikers and cyclists, with many connector trails offering access to another 10-miles of hiking fun. There is also a network of paved, mostly leveled out biking trails for keen cyclists, which makes getting around the park easy. There is even a disk golf course amongst the relics!
The park is perfect for whale watching; starting in mid-December, it is quite common to see gray whales making their way along the coast. It's home to a wide variety of other wildlife as well, year-round, so be sure to pack your binoculars.
---
RELATED: 19 Must-Visit Oregon Coast State Parks
---
5. Hug Point State Park
Hug Point is one of the most scenic spots on the Oregon Coast. Covering 43 acres, it is relatively small, but there is a lot packed into a small space.
One of the main attractions here is the beautiful waterfall that cascades right down onto the beach. With a bit of a scramble, you can reach the reservoir above that feeds the waterfall.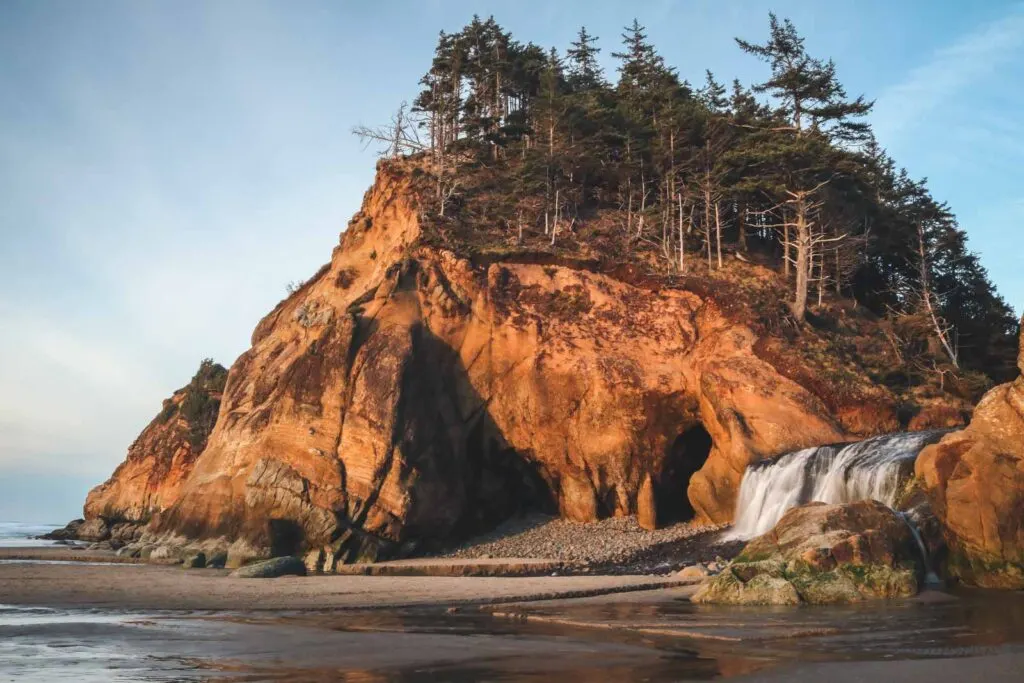 The Pacific's pounding waves have carved out several explorable caves, cliffs, and tide pools. One of the most notable geological features is Haystack Rock, one of the most iconic landmarks on the coast.
When in the area at low tide, you may be able to pick out the old stagecoach trail, a route taken by travelers before the highway was built. Be sure to check the time times, as it is possible to get stranded. The number of picnic areas inland are the perfect spot for a bite to eat before going off to explore what else there is to do in Seaside, Oregon.
---
READ MORE: Your Guide to Hug Point State Recreation Site
---
6. Ecola State Park
Beautiful Ecola State Park perches dramatically on the edge of Tillamook Head and is a hiking and sightseeing Mecca. It is one of the most beautiful things to do in Seaside, Oregon.
It is home to one of Oregon's most famous viewpoints, overlooking the many beaches, coves, rock formations, and capes that run for many miles to the south. Many walking trails provide access to yet more stunning vantage points, such as Tillamook Lighthouse sitting on a lone rock just offshore.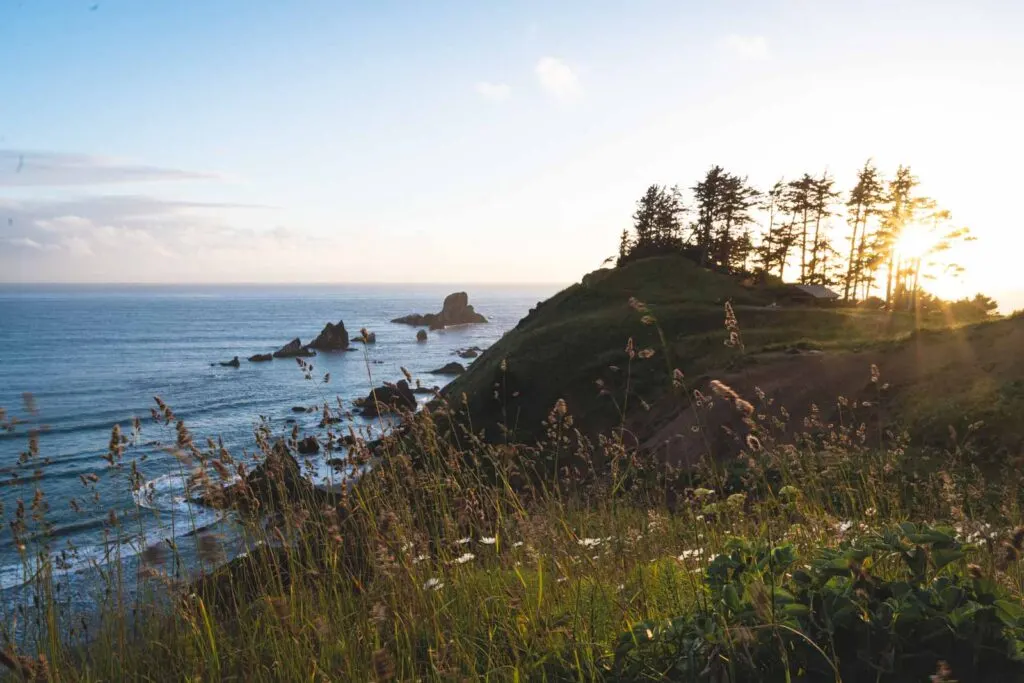 Indian Beach to the other side of the park is a very popular spot for surfers who head there to make the most of the impressive waves. There are picnic benches in both areas of the park so that you can enjoy some food with dramatic coastal and beach views.
In terms of hiking, the park contains an 8-mile stretch of the Oregon Coast Trail. Indian Beach also connects to the 2.5-mile Clatsop Loop Trail.
---
READ MORE: Your Guide to Ecola State Park on the Oregon Coast
---
7. Kayaking
For those that love getting out on the water, the prime spot for kayaking near Seaside is on the Necanicum River. While on the water, you have a good chance of spotting some local wildlife, so watch out for elk, beaver, otters, and any number of migratory sea birds.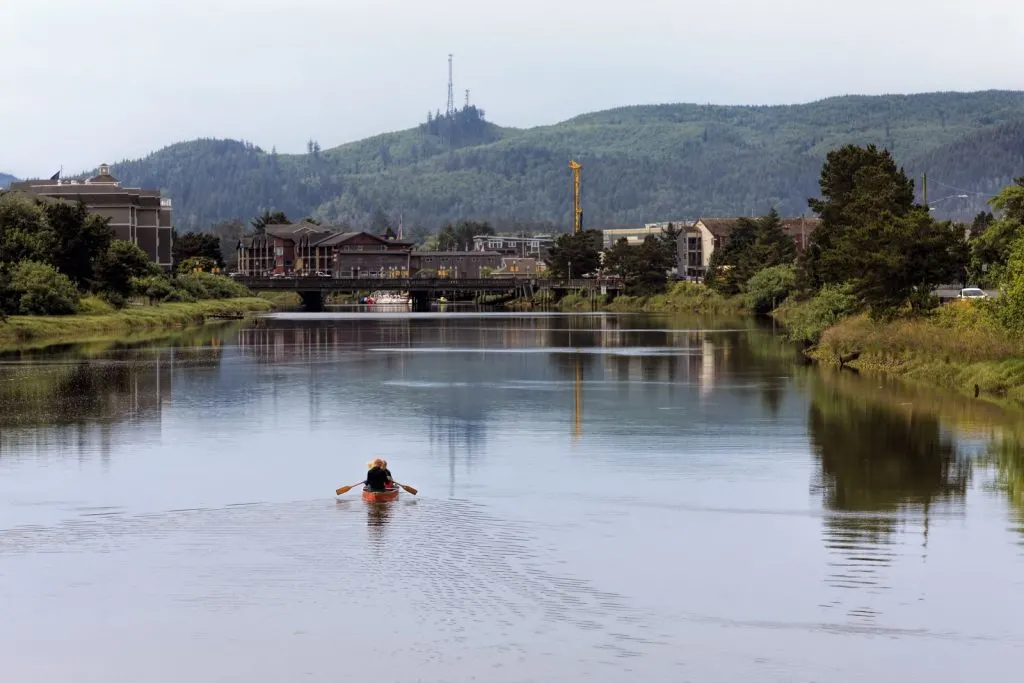 Kayaking in these scenic waterways will give you a different perspective of this beautiful part of Oregon. If you don't have your own kayak, there are rentals at Quatat Marine Park in downtown Seaside, where there is also a public boat launch to get you down onto the water.
For those with a bit of kayaking experience, you can get an extra thrill by kayaking from the mouth of the river's estuary into the Pacific's roaring surf. It is such a fun thing to do in Seaside, Oregon, so hop onto the water and give it a go.
8. Surfing
The north coast of Oregon has some of the best breaks in the Pacific Northwest, so it is no surprise that Seaside is a surfing hot spot and one of the most popular things to do in Seaside, Oregon. There are plenty of local surf shops that provide lessons and rentals and advise how and where to hone your skills.
Seaside Cove is one of the most popular places for surfing here. The sandy beach meets the rocks, and although it's great for surfing, be aware that the water is pretty cold so be sure to bring a wetsuit! Water temperatures vary from 49-58 F, so if you forget yours, make sure you rent one from one of the Seaside surf shops.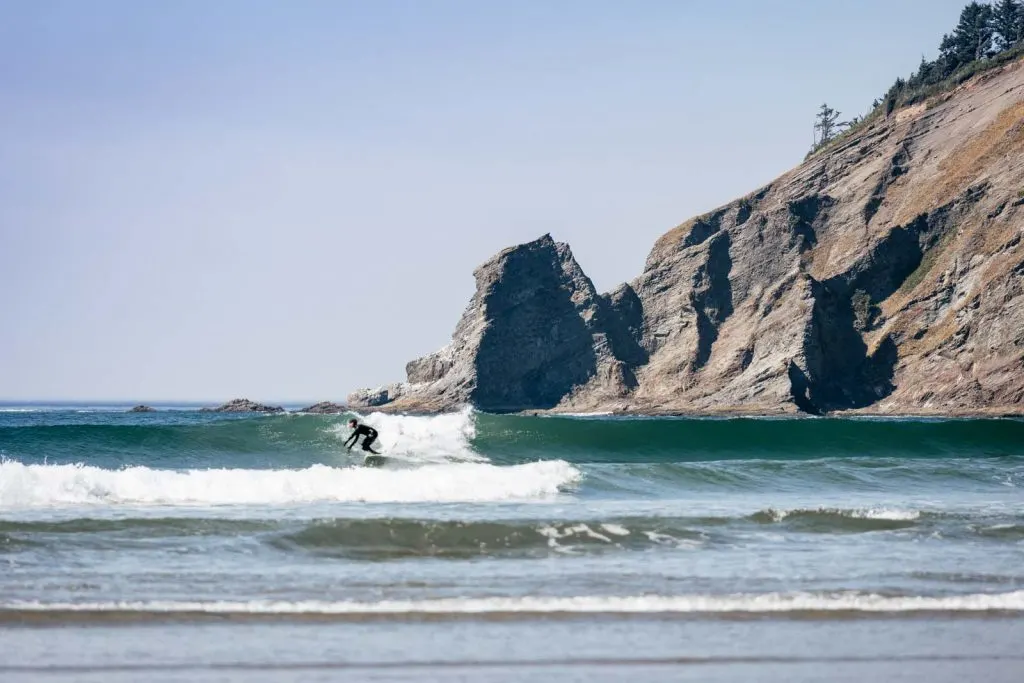 Big and stormy surf is often found here in the winter, whereas the surf is smaller and more gentle in the summer, providing opportunities for a range of experience levels. Where you surf depends on your level of expertise. Beginners should start on Seaside Beach in front of Avenue U, as there are lifeguards.
Short Sand Beach at Oswald West State Park is another good spot as it offers protection from the winds and has a very gradual bottom. If you are an expert, then it's all about timing, as you can get some great waves at all of these spots.
---
RELATED: 23 Amazing Beaches in Oregon and What To Do Nearby
---
9. Cannon Beach
Cannon Beach is one of Oregon's most popular coastal destinations, and for good reason! The beach is well known for being one of the most stunning, with a diverse range of activities for all to enjoy.
Head out onto the sand for a nice gentle stroll, take a beach bike ride, take in the views, or even fly some kites if the conditions are right.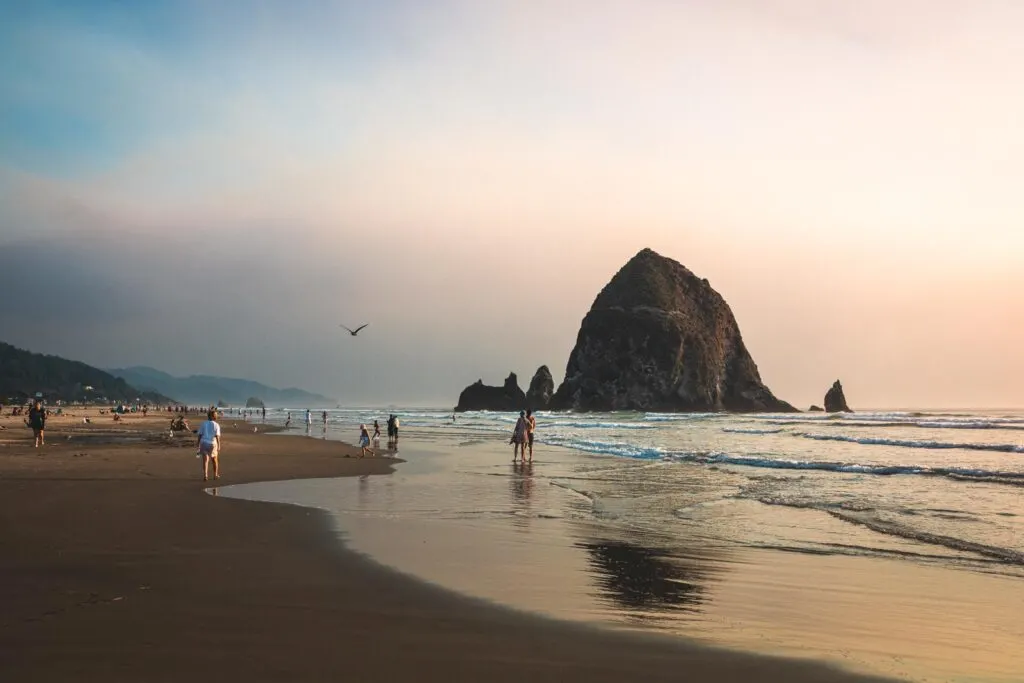 To the south, you should be able to spot Haystack Rock, standing proud at 235-feet tall. At the base of Haystack Rock, there is an assortment of tidal pools just waiting to be explored.
You can either explore these tidal pools on your own or take a trip with a guide. The rock and surrounding area are also home to a lot of seabirds, including Tufted Puffins.
10. Quatat Park
Quatat Park in Seaside is a lovely place to pass the time. Water-bound explorers can take to the helm of various watercraft, including kayaks, paddleboats, and swan boats. The beautiful waterways of the area have a lot to enjoy; in the summer, you may paddle past a park concert or view the blue or green herons that line the banks.
Stand up paddleboards or floating trikes are other options for exploring the waterways. The mellow waters and easy-to-load dock mean it is the perfect spot for beginners and families, making it a thing to do in Seaside, Oregon, for everyone.
11. Wildlife Viewing
Spotting a whale out in the ocean is a truly magical experience. There are dedicated whale watching stations at Ecola State Park. From mid-December to mid-January, around 20,000 gray whales travel south past Seaside and then travel back in late March.
Although these are the peak whale watching times, there is still a chance of watching these majestic creatures in the summer and fall, as many whales still feed along the coast.
No matter what time of year you visit Seaside, Oregon, you are sure to spot some wildlife. Eagle enthusiasts should head to the Necanicum estuary and watch the skies, where 20-acres of free space just north of downtown offers some great birdwatching opportunities.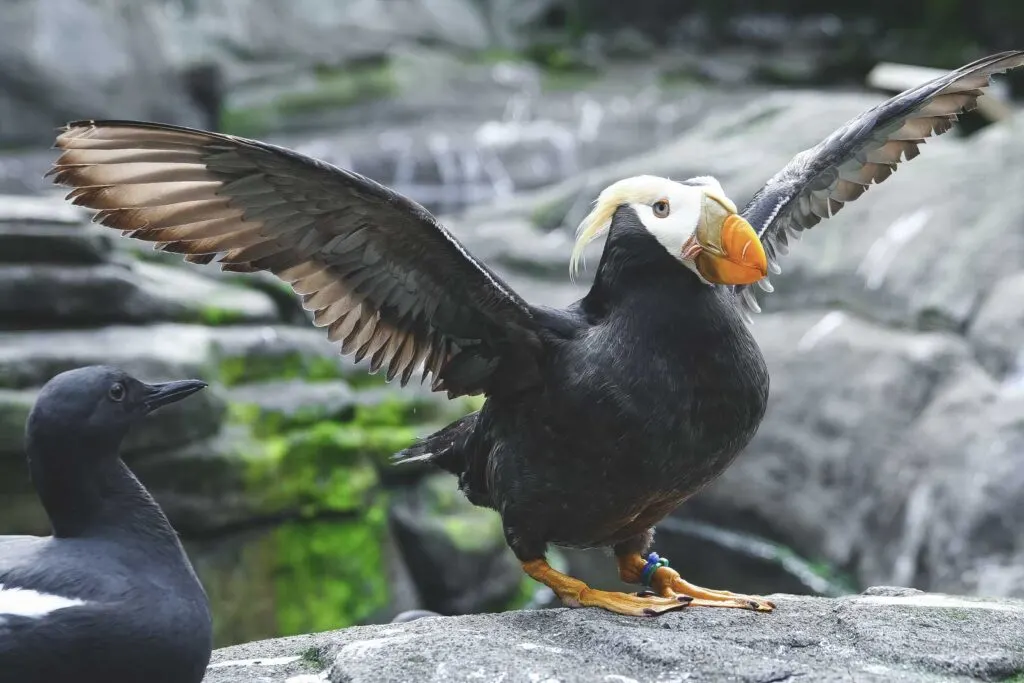 It's not just eagles that bird watchers should look out for. Huge colonies of seabirds crowd in the offshore rocks, with Tufted Puffins often spotted at Haystack Rock. April through July are your best months to catch them hanging around!
Lots of colorful and interesting sealife fills the tidal pools at low tide. As the waves recede, a strange and diverse environment is revealed.
Keep your eyes out for bright sea stars clinging to the rocks; green anemones, crabs, snails, sea slugs, and corals can also be spotted by the keen-eyed. One of the most accessible intertidal zones to explore is at the base of Haystack Rock.
Heading slightly inland, herds of Roosevelt Elk graze on the coastal meadows and emerge from the dense clutches of the rainforest. Elk are most often spotted in the early mornings or late evenings, and some of the most common spots they are sighted are the meadows at Ecola State Park, the grassy areas of Les Shirley Park, and along the north side of Ecola Creek.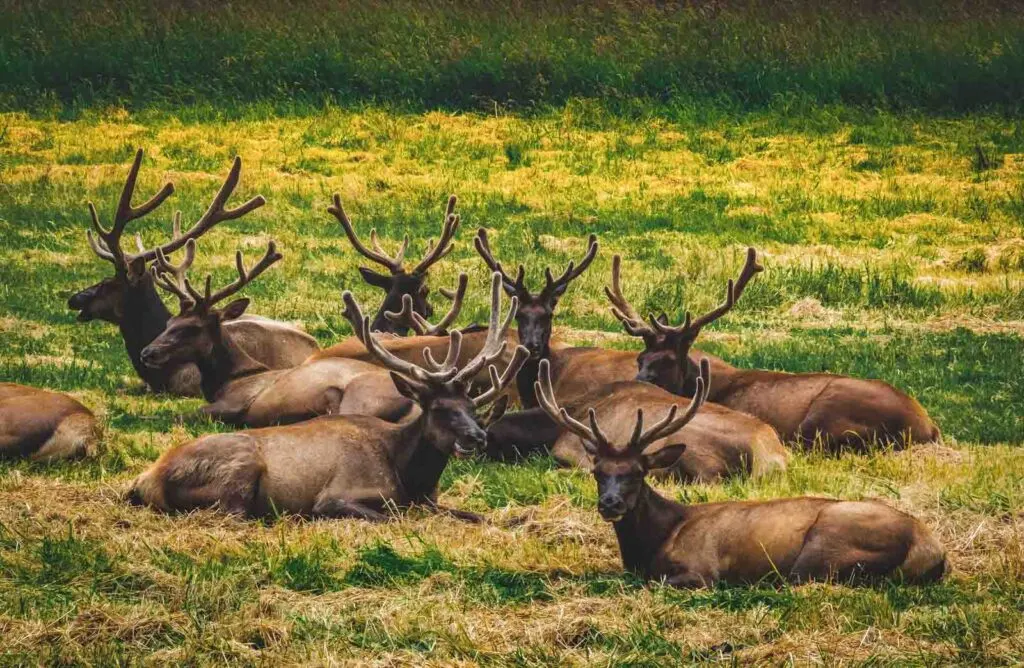 Seals and sea lions can sometimes be spotted off the shore from the beaches or the coastal rocks' viewpoints. From tiny hummingbirds to huge whales, there certainly is a lot of wildlife to be spotted at this part of the coast.
12. Ashore Hotel for a Soak
After all the hiking, biking, and sightseeing adventures on this part of the coastline, one of the best ways to wind down and relax is at the Ashore Hotel's Saline Soaking pools. The pool offers a truly relaxing experience, as you can soak away your aches and pains, head to the dry sauna, and invigorate your senses for your next big day out.
The pool has the added benefit of being heated, so you can even use it in the coldest months. Compared to more traditional pools, saline pools are better for the environment and healthier to have a dip in.
13. Downtown Seaside Eateries
The town of Seaside is full of places to eat and drink, especially when it comes to selling some of the finest seafood around. Foodies will delight as local chefs cook up wonders with the bounty collected from the local area. It is the perfect place to sample some Pacific seafood for yourself, such as locally smoked salmon and arguably the best clam chowder in the world.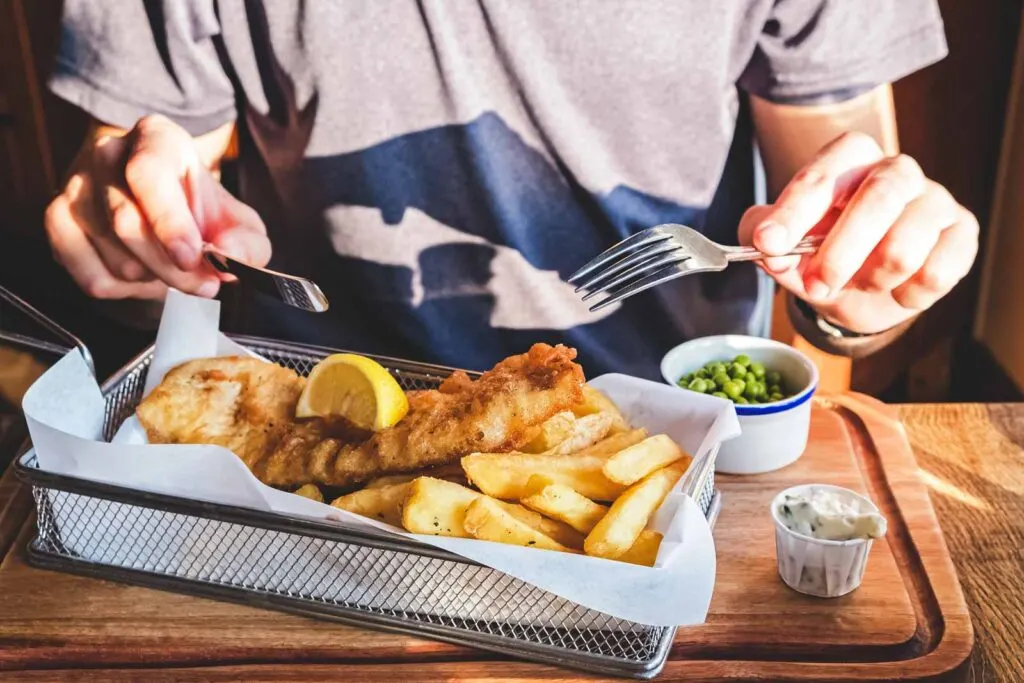 There are some seriously good places to chow down, but one of our favorites is the Sisu Brewery. As you would imagine, the brewery offers plenty of beer and is located inside the historic Times Theatre in the heart of Seaside.
You'll find the Silver-toned fermenting tanks right behind the big screen that shows the latest sporting matches. You can pop in for a brew, enjoy a meal, or even a movie here.
The town has long been known for street foods such as elephant ears, saltwater taffy, and ice cream, but as a whole, the eclectic dining scene really is flourishing. Although seafood is commonplace, the town also offers plenty of traditional American food, Italian restaurants, various pubs, bakeries, and ethnic restaurants, so you'll be spoilt for choice.
Accommodation & Camping Around Seaside, Oregon
There are plenty of choices, but state park campgrounds aren't as abundant in this area of the Oregon Coast, so here are two of our favorites/the closest to Seaside plus some holiday homes and hotels for those needing a bit more than a parking spot for the night!
Sea Glass Inn – This spacious studio has been renovated for a bright and airy feel. There's a small kitchenette, dining room, and a fireplace in the bedroom. You'll be a short walk from the Promenade and downtown Seaside.
RiverWalk Cozy Condo – This spacious two-bedroom condo is a great choice for groups or families, with room for up to five people. It features a large modern kitchen, flat-screen TV, and balcony with views of the Necancium River. It's pet friendly too.
Inn at the Shore – This small hotel sits at the south end of the Seaside promenade, with views out over the Pacific Ocean and Tillamook Head. All rooms come with a balcony, and the large suites include a kitchen. The hotel is dog-friendly so your pet can join you!
---
RELATED: 25 Cool Oregon Coast Campgrounds to Stay at
---
Fort Stevens State Park – Fort Stevens State Park has the largest campground in the Oregon State Park system. It has more than 500 campsites for you to choose from, with 11 deluxe cabins and 15 yurts if you're looking for a more relaxing camping experience.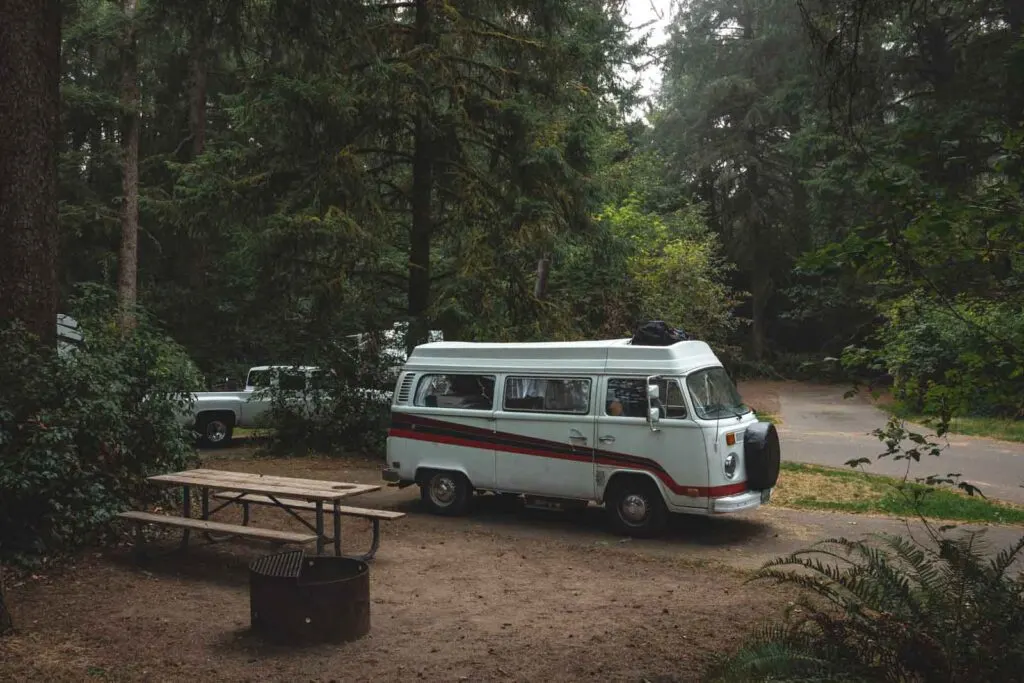 174 of the sites are full-hookup, with 36 of these being pull-through, and there are 302 electric sites that have water, 11 of which are pull-through. There is also a group camp. The campsite is conveniently located near the beach for easy access to the water.
Nehalem Bay State Park – Nehalem Bay has a pretty large campground, with 265 electrical sites with water. There are also 18 yurts, 9 of which are pet friendly.
The park has flush toilets with showers and an RV dump station, meeting hall, playgrounds, and a ranger station. In addition to the individual camping sites, there is also a horse camp with 17 primitive sites, an airport camp with fly-in sites.
We hope this post helped you better explore Seaside! Check out more posts on the Oregon Coast and even more adventures around the state.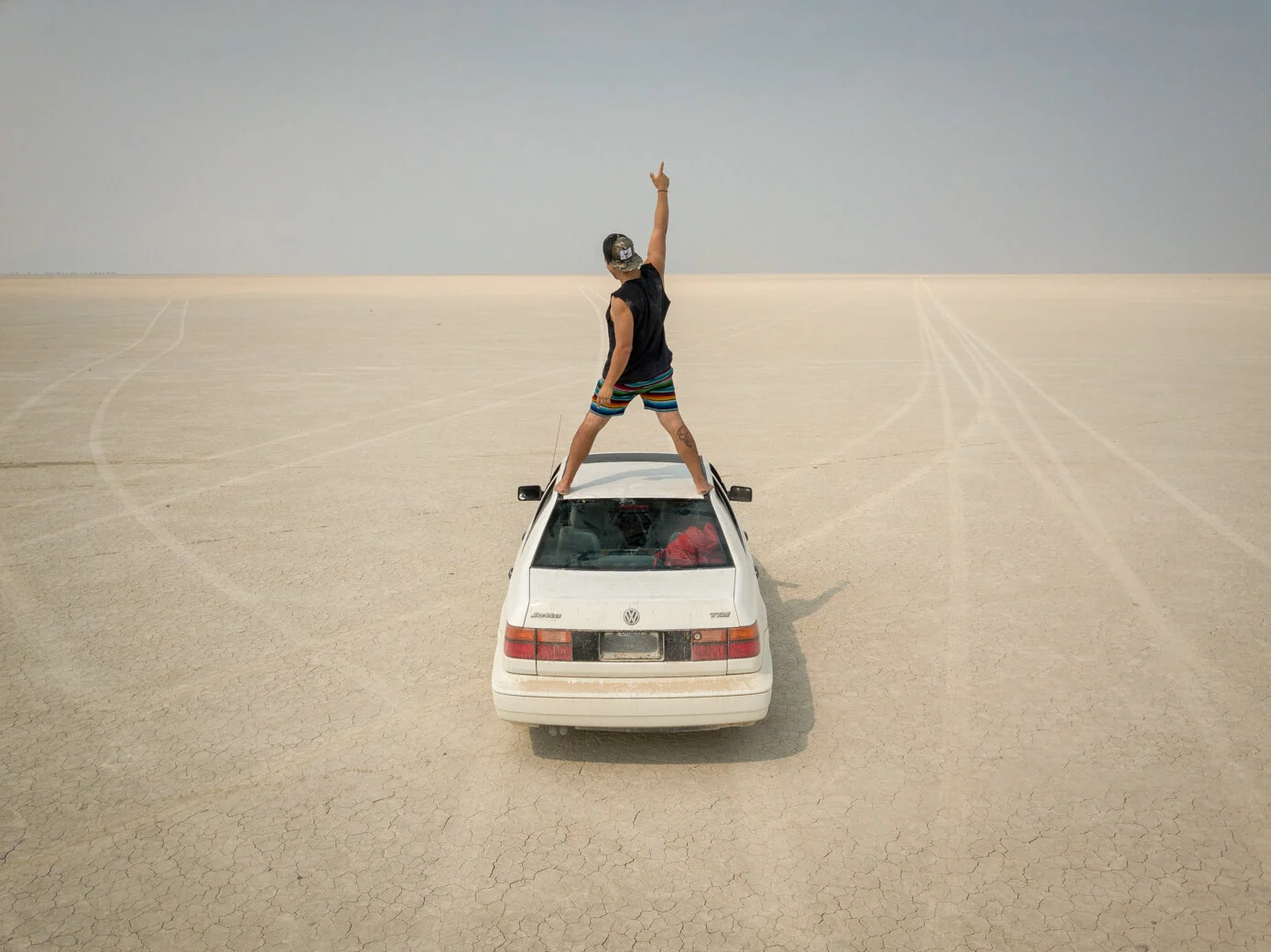 Oregon native and explorer at heart. Loves tackling expeditions around the world and drinking a good beer at the end of the day. PNW obsessed, VW nerd, and surf or snow riding fanatic.