You'll see it towering in the distance from Portland and even on a really clear day all the way from Bend—Mount Hood is the star of the show here in Oregon.
And when you visit, you'll want to enjoy Mount Hood from all angles. Locals from Portland flock here to escape the bustle of the city and visitors come for the views and challenges the mighty mountain offers.
There's one thing that's for sure, you'll get some great views and waterfalls on your hikes in Mount Hood, and we will show you some of your best options…
9 Mount Hood Hikes and Waterfalls We Love
---
There are TONS of hikes in Mount Hood but if you're looking for the best hikes in the area with your limited amount of time, this list is for you! Should you only have a few days in Mount Hood, you can fit most of these hikes in.
Here are some great hikes with views, lakes, and waterfalls in Mount Hood.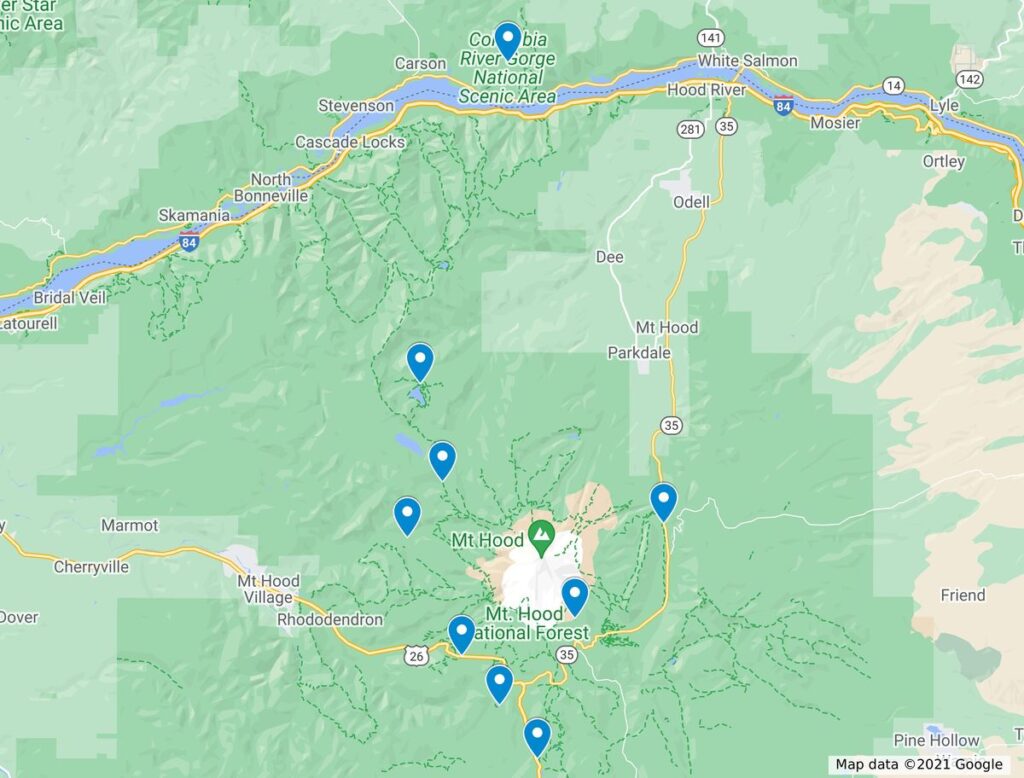 ✋ HOLD UP! Don't Forget…
You need some wheels! It's nearly impossible to get around the USA and check out the best adventures without a car! Here are our top recommendations…
🚗 Rent a car
If you don't have your own, renting a car is your best bet!
🚐 Rent a home on wheels
For the more adventurous, rent a van or RV and ditch the hotel.
Don't Forget This!
A lot of the best adventures around Oregon will require a Northwest Pass. You can easily get one delivered straight to your door. Grab it now before you leave!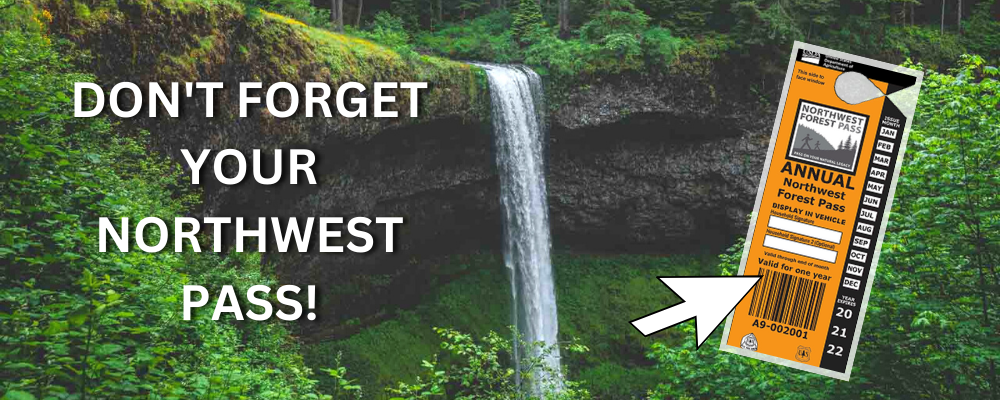 1. Bald Mountain
Distance: 6.7 miles
Type of Trail: Out and Back
Difficulty: Moderate
Rated moderate but relatively easy. It's mostly shaded and you get most of your elevation gain in the beginning. A series of switchback through a thick forest eventually leads you to peek through the bushes of Mount Hood.
Going further into the woods with only slight inclines you eventually reach a choice of going to the summit or going around the mountain. We decided to walk around the mountain towards Mount Hood.
The best views come to sight when you emerge from the forest and out to the open with grand views of Mount Hood just in front of you. You can continue on the hike and then loop back.
2. Tom Dick and Harry Trail
Distance: 9.0 miles
Type of Trail: Out and Back
Difficulty: Moderate
The Tom, Dick and Harry Mountain is an exceptional hike in Mount Hood with two great features.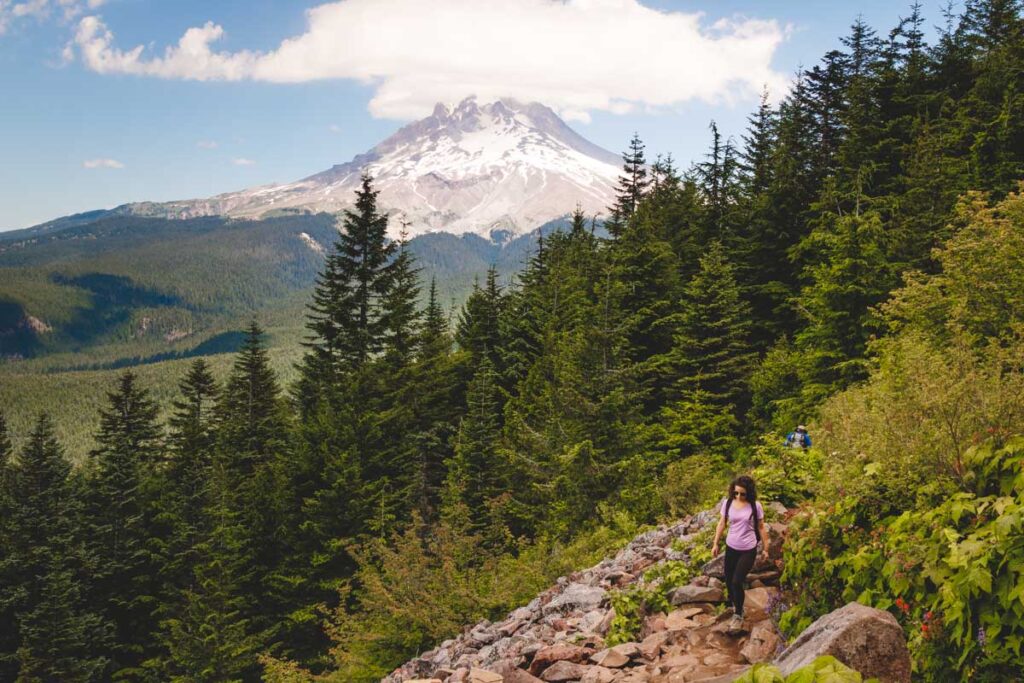 The trail takes you through Mirror Lake loop first where you can get some incredible views of Mount Hood and if you're lucky, a reflection in the lake. There's a campground here if you have a free night and want to enjoy sleeping under the stars!
While many people stop here and go back to their car, you should continue hiking up the mountain where you'll get those views that just don't get old, the mighty Mount Hood in all of its glory, and bonus: adorable chipmunks too!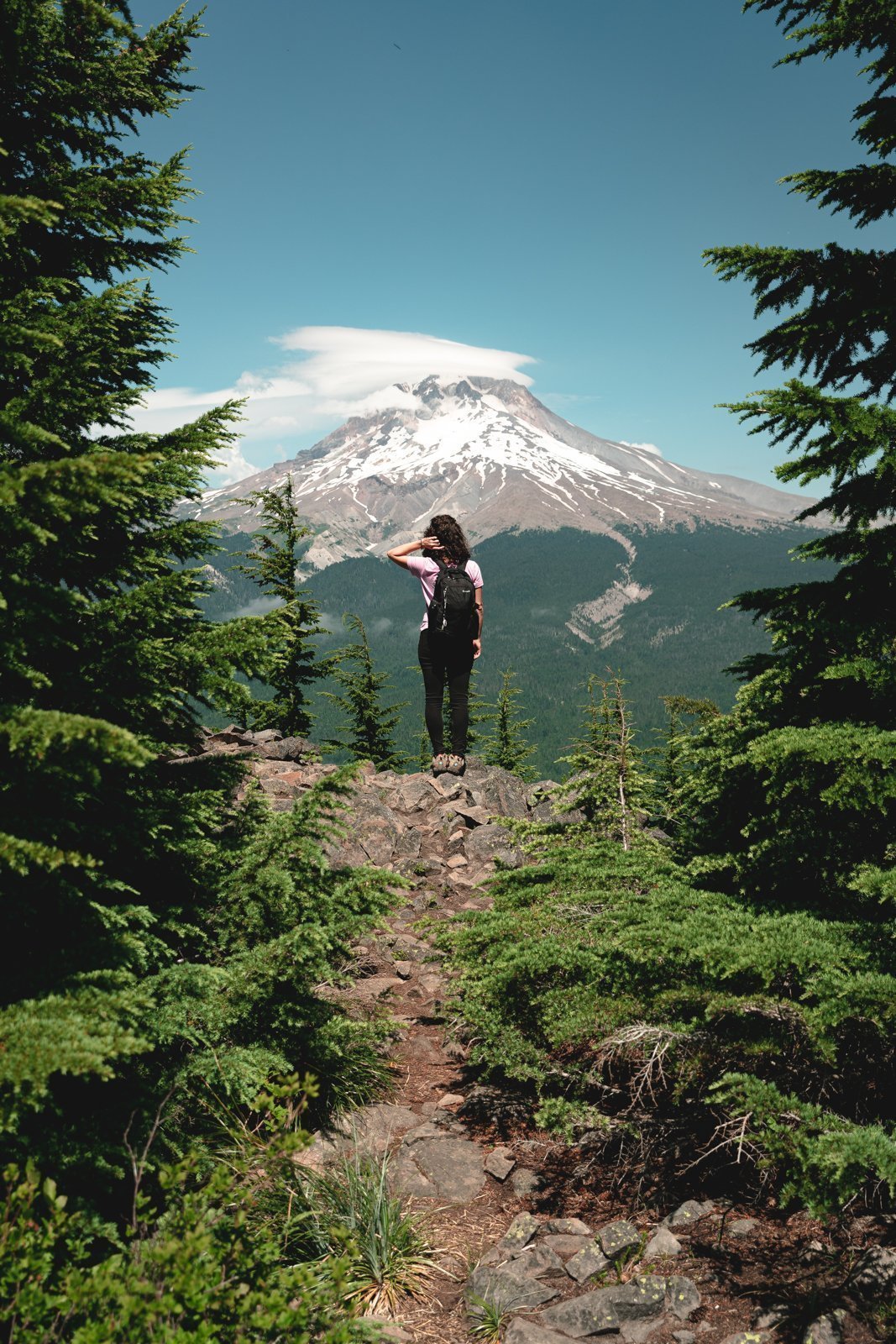 There's a viewpoint and then a bit further is the summit but it does get a bit sketchier to navigate. Here's a guide on hiking Tom, Dick, and Harry Mountain.
---
RELATED: The Tom Dick and Harry Trail and Mirror Lake Loop in Mount Hood
---
Lake Hikes Around Mount Hood
The lakes around Mount Hood are AMAZING and all provide epic views and if it's a calm day, reflection shots on the lake. Two Mount Hoods are better than one, right?
3. Trillium Lake Loop
Distance: 1.9 miles
Type of Trail: Loop
Difficulty: Easy
An easy yet stunningly rewarding hike in Mount Hood is Trillium Lake. It's short and anyone can do it but at the time of writing the trail has some construction going on and the loop is no longer a loop. You can hike on either side of the lake though.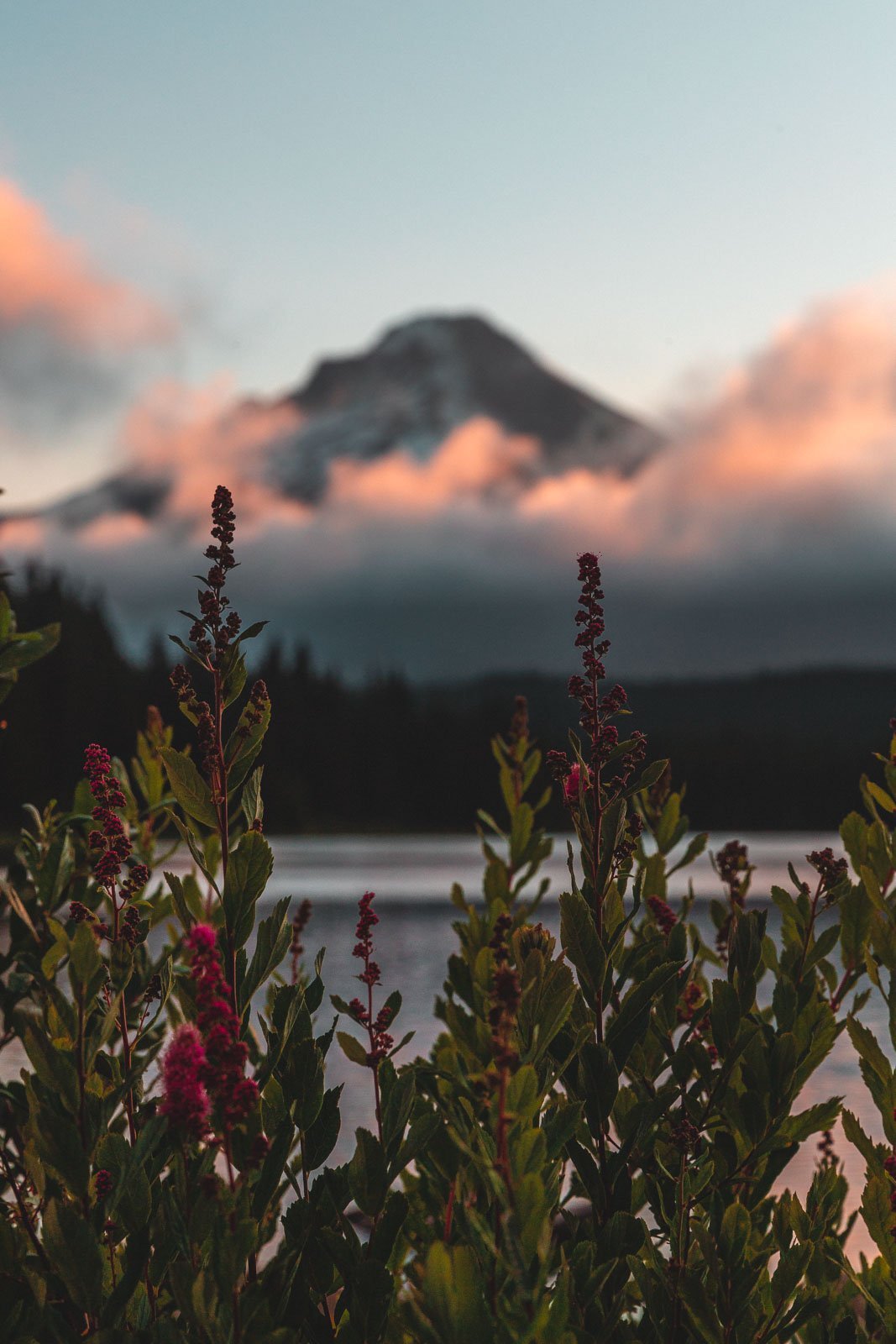 After your short hike, you can relax lakeside on the mini beaches dotted along the shore and watch Mount Hood's reflection come in and out from the lake's surface with the winds.
Trillium Lake Campground would be an excellent spot to stay for the night and it would make for quite the spectacle at sunset and sunrise. Do make sure to book your night ahead of time in the summers to get a spot. And please feel free to bring any other fun toys like your kayak or SUP board to the lake!
---
READ MORE: Checking Out Trillium Lake: Paddling, Hiking, and Camping
---
4. Lost Lake
Distance: 3.7 miles
Type of Trail: Out and Back
Difficulty: Moderate
I hope we're not getting sick of Mount Hood yet, are we? Because Lost Lake is another opportunity to see the glorious Mount Hood and his massively impressive reflection in another sparkling lake… I know, I know, how is it possible to have so many beautiful spots and views of this mountain, right?!
If your feet are aching after all the other hikes around Mount Hood, you can always switch it up and go for a dip in the lake or have a kayak or SUP sesh. Lost Lake also has campgrounds if you want to stay awhile.
---
RELATED: 9 Things To Do at Mount Hood For Adventurers!
---
5. Frog Lake
Frog Lake actually doesn't have a hike around it, however, there are numerous trailheads from Frog Lake. Scamper up to Twin Lakes or Frog Butte to work those glutes.
If you're also looking for another lake to camp at or put your board in Frog Lake just may be the spot for you, and of course, a complimentary view of Mount Hood in the distance is included.
---
RELATED: 17+ of the Best Lakes in Oregon for Adventures & Camping
---
Mount Hood Waterfall Hikes
Are these some of the best hikes around Mount Hood? That's for you to decide but personally, if you have a waterfall waiting for me at the end of the hike, I'm going to be very happy! None of these Mount Hood waterfall hikes are particularly hard to get to either.
6. Tamanawas Falls
Distance: 3.4 miles
Type of Trail: Out and Back
Difficulty: Moderate
Tamanwas Falls is a relatively easy hike in Mount Hood to take on. It's on the east side of the mountain and doesn't have mountain views but instead, a stunning waterfall. The hike takes you through a forest and then there's a bit of a rock scramble towards the end.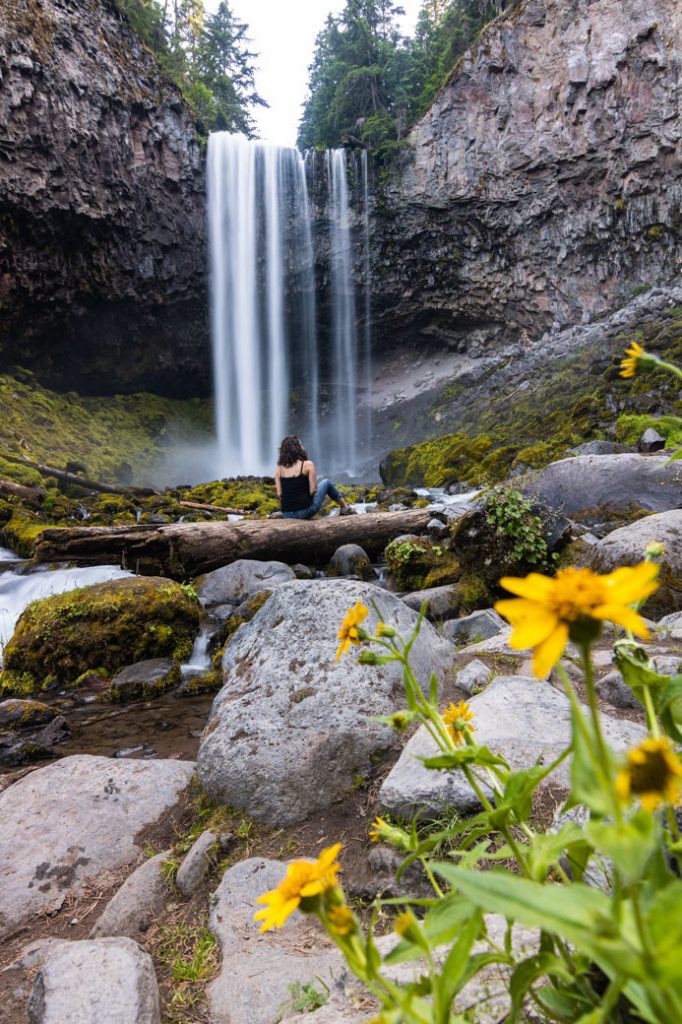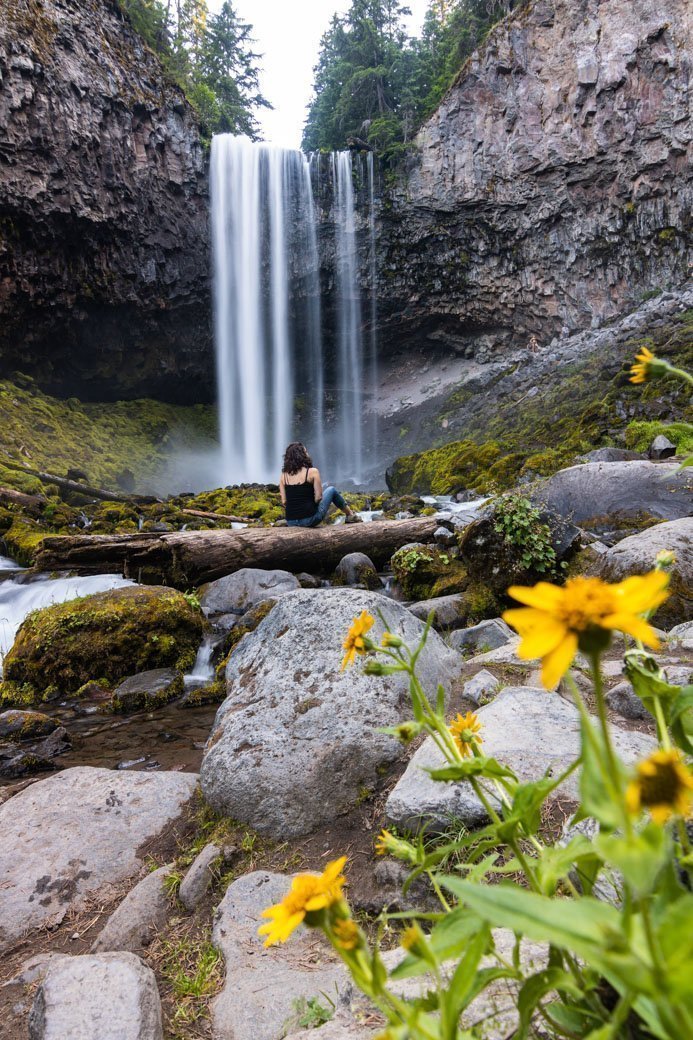 The falls are quite striking and you can go behind it if you'd like. Follow the rocky pathway on the right and do take care on the wet boulders. You can get wet on the way up, depending on the winds. We got a bit wet coming up the side but it was more than worth it.
---
READ MORE: Hiking the Gorgeous Tamanawas Falls Trail
---
7. Umbrella Falls and Sahalie Falls
Distance: 3.4 miles
Type of Trail: Out & Back
Difficulty: Moderate
This Mount Hood hike is relatively easy for everyone to take on and Umbrella Falls is the most majestic of the two if you need to cut the hike short. There are a few steep areas with some loose ground and a few bridges to walk across.
Considering the trail isn't as busy as some of the other trails in Mount Hood it can get a bit overground in some sections so perhaps use an offline map like Maps.Me or Alltrails to stay on track.
8. Ramona Falls
Distance: 7.1 miles
Type of Trail: Loop
Difficulty: Moderate
The striking scenery on the Ramona Falls Loop makes it one of the most popular trails in the Mount Hood area. However at 7.1 miles long it's not something you should do on a whim. It's going to take up a big chunk of your day, so you'll need to plan accordingly.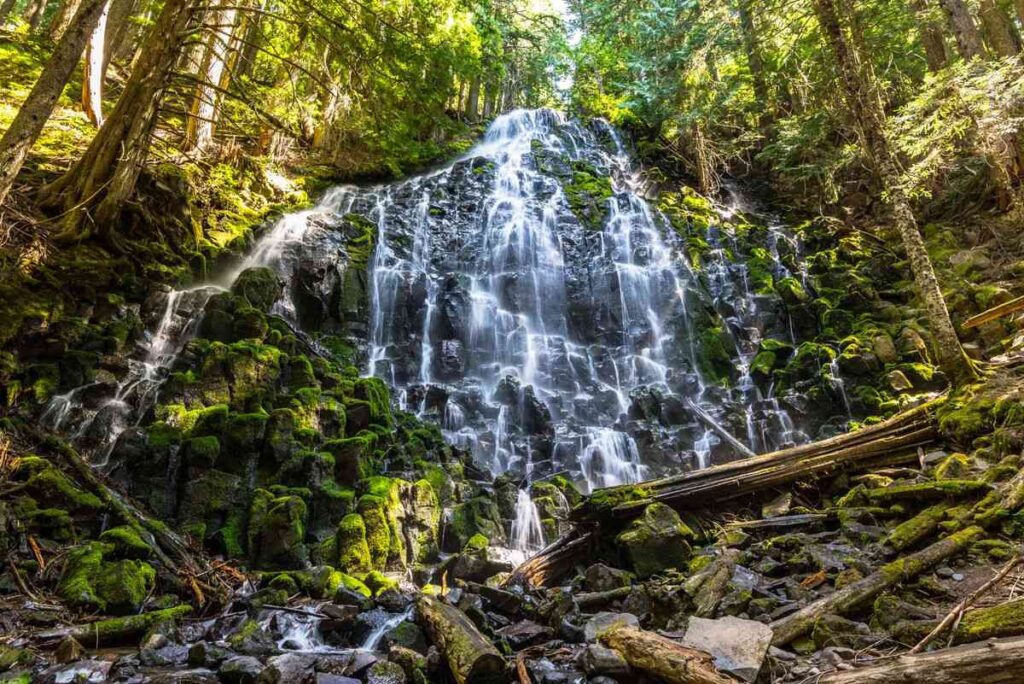 The hike is rated as moderate, but the elevation gain is gradual, and the hardest section is right at the beginning. On the way to the stunning 120-feet falls you'll walk through green forests, cross rivers, and take in views of Mount Hood.
---
RELATED: 10 Hikes to Waterfalls Near Portland—That Are Open Now!
---
9. Columbia River Gorge
Multiple hikes
If these Mount Hood trails have piqued your interest, we can't recommend nearby Columbia River Gorge enough. This area has a huge list of hikes to explore, including even more epic waterfalls.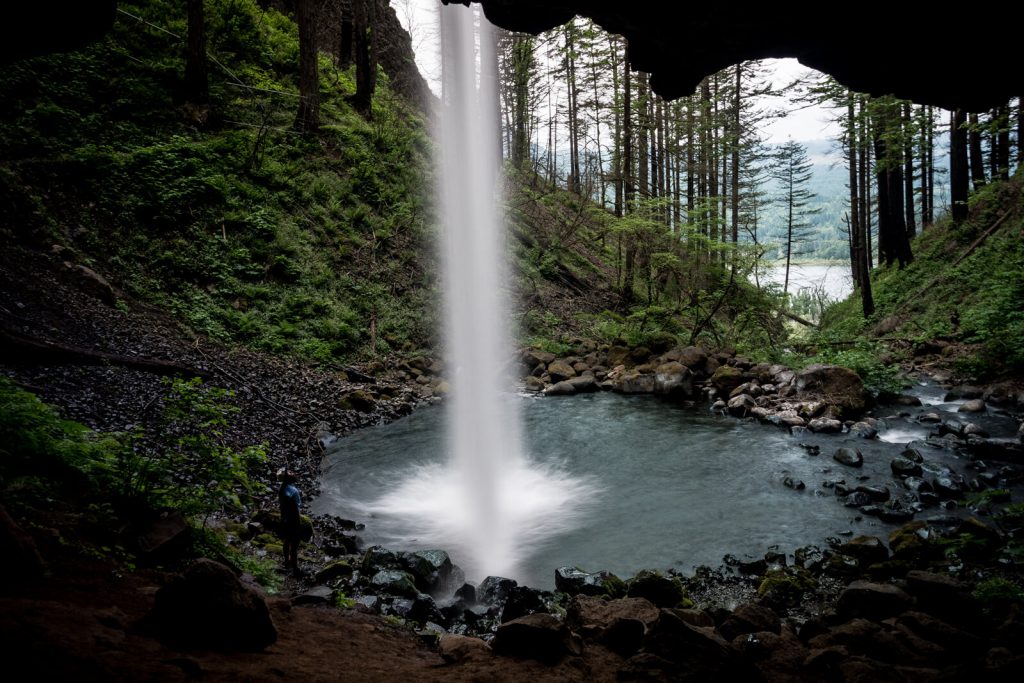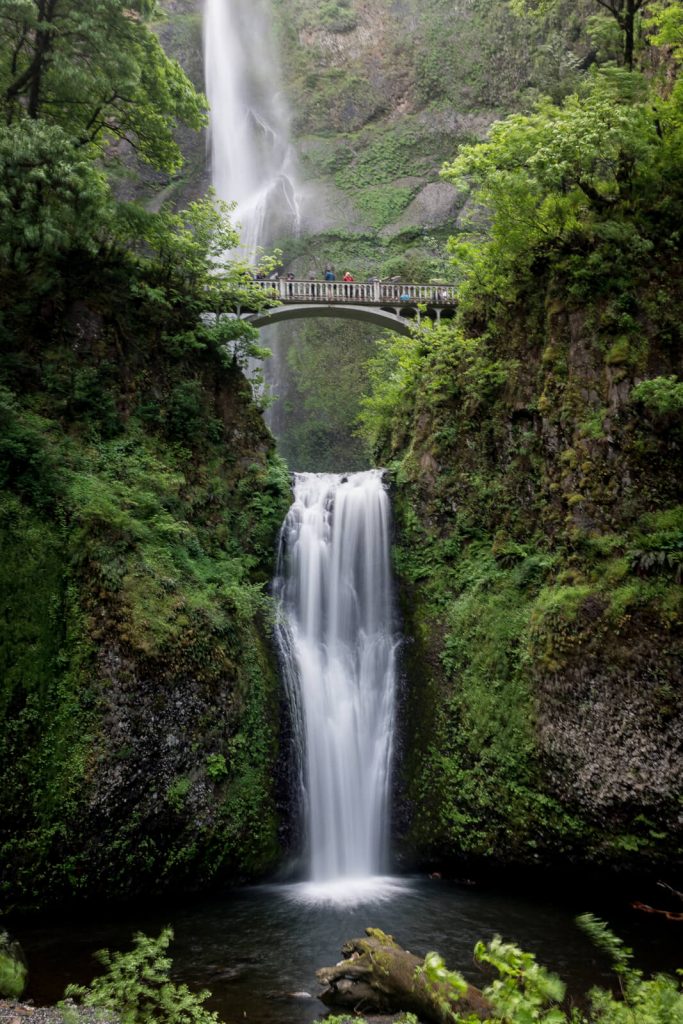 We have an entire guide on all the hikes in Columbia River Gorge, so you can literally spend a whole week between the Gorge and Mount Hood area hiking and waterfall chasing. If you don't have that much time, try the shorter walks to Bridal Veil Falls or Ponytail Falls.
---
READ MORE: 25 Columbia River Gorge Hikes + Other Adventures
---
Tips for Hiking Mount Hood
You will need a Northwest Pass for most of these hikes, so be sure to grab one prior to heading out.
Always double check the hikes in this area to be sure if they are open or closed, particuarly in the winter months.
Make sure you're wearing the right hiking shoes for these hikes, bring enough water, and wear that sunscreen.
If you're visiting in winter, you may need a Sno-Park permit.
Camping around Mount Hood, particularly on the weekends, gets very busy. Try to make your reservations at campsites and lodges way ahead of time.
The nearest towns to Mount Hood are Mount Hood Village, Rhododendron, and Government Camp.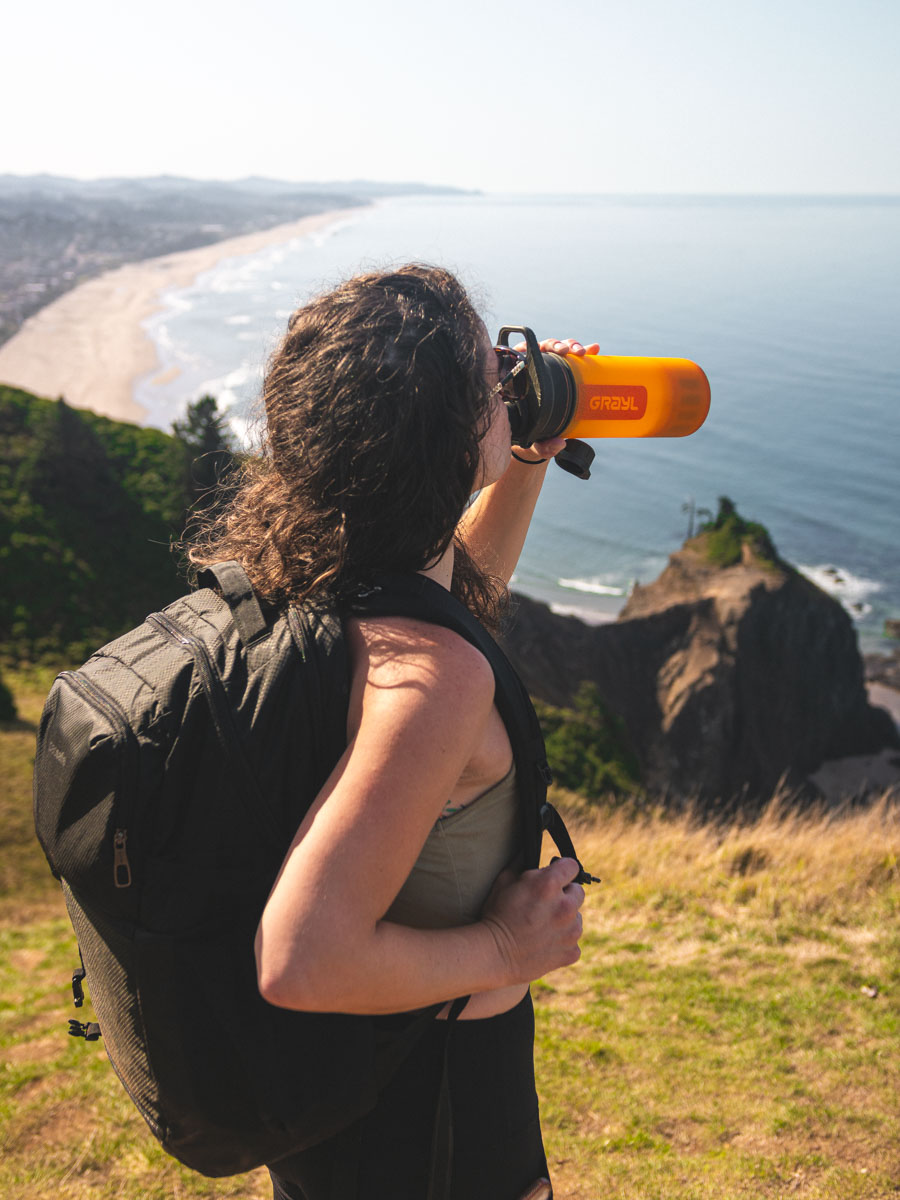 RECOMMENDED OREGON ADVENTURE GEAR:
Tried and tested gear that we use around Oregon and the PNW!
Hiking and Camping
Road Trip
Clothing Gear
Car Rental:
Where to Stay in Mount Hood
There are tons of options across the board, from campsites to luxury vacation homes!
Campsites Around Mount Hood
Nottingham Camp
I'm so happy we stumbled upon this campsite last minute! There are private little coves for your tent and car right along a stream and you get your own little firepit too. There are no water, electricity or sewer hookups available at this site.
Price: $21
More Info: Website
Sherwood Campground
Sherwood Campground is further down the road and is located on the East Fork Hood River. The campsites here are quite close together and had little privacy so it wouldn't be my first choice to stay here.
Price: $21
More Info: Website
Trillium Lake Campground
Trillium Lake Campground sits next to beautiful Trillium Lake at an elevation of 3,600 feet, and offers dozens of single and double sites for tents and RVs. There are lots of parking available, boat ramps, a fishing pier, and a boardwalk.
If you are here in high season, book a spot ahead at Trillium Lake Camp because it's highly sought after.
Price: $22-$45
More Info: Website
---
RELATED: What to Do at Mount Hood in Winter
---
Glamping and Cabins Near Mount Hood
Mount Hood Base Camp
This 1930s cabin has all the charm of its original build but has been updated with all the modern comforts you might need. Over two stories you'll find a large living space with a fireplace, a full kitchen, and two bedrooms – plus a third detached bedroom behind the cabin.
Private Cabin With Hot Tub
This dog-friendly cabin at the base of Mount Hood has a wood-burning stove to keep the inside cozy, and a hot tub to relax in after a day of adventure.
Romantic Mount Hood Cabin
A cozy cabin with touches of home that is nestled in the Mt. Hood National Forest and is the perfect backdrop for any romantic getaway. Relax in the hot tub under a canopy of trees.
We hope this post helped you plan your hikes in Mount Hood! Here are more awesome adventures in Oregon and around Portland too.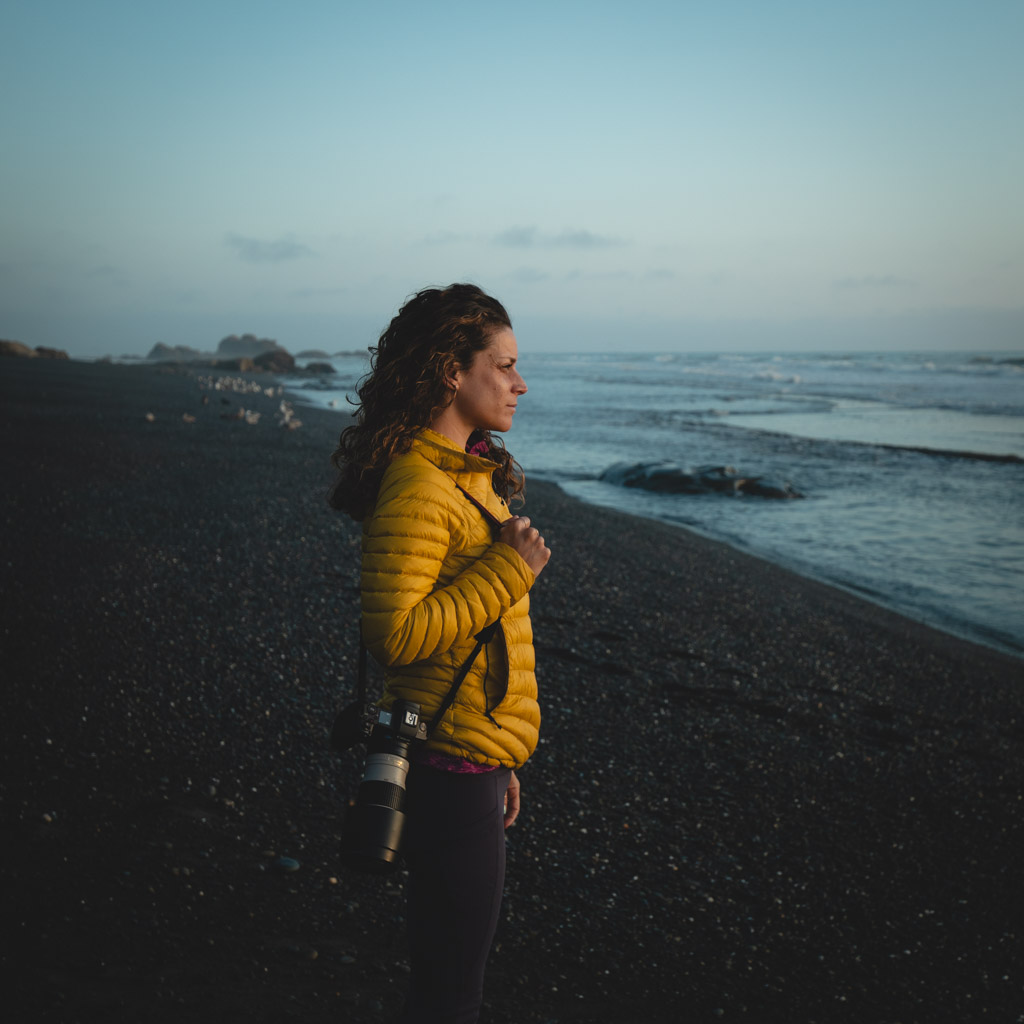 I've been perpetually traveling and living around the world for years but it's hard to beat Oregon and the PNW. After years of road-tripping the area, I guess you can say I know it pretty well! When I'm not writing guides for you, you can catch me somewhere petting a dog, attempting to surf, hiking a volcano, or stuffing my face with bread and cheese.