We are serious—This really will be your go-to list for all your adventurous things to do in Oregon!
Not only are we pretty well versed with Oregon specifically, but we love anything in the outdoors and activities that make us sweat. Yeah, we even like to get home a bit dirty too. What's an adventure if you come back clean anyway?
So while we have some pretty cool cities in the State, you won't find anything near a skyscraper here.
We wanted to compile all of our epic adventures into one massive list, which we will be updating (the adventure never ends), and we hope to share it all with you too.
Grab your backpack, a swimsuit, hiking shoes, and whatever other adventure gear you got. Oregon will gladly accommodate all of your adventure needs.
The Best and Most Adventurous Things to Do in Oregon
---
Below, we listed everything we've done here at Oregon is for Adventure as well as a few things on our very long and never-ending list. This list is not in any special order beyond the region; everything is amazing, so have fun!
PS – Clicking any links in this post will bring you to a more comprehensive post on that particular adventure to help you plan better.
As usual, we made you a map for your convenience to help you better plan your Oregon adventures. We sectioned everything off into four areas — the Coast, near Portland, Central, and East (we know this isn't exact but four sections seems more manageable!). We'll be adding more adventurous things to this list as we explore more of our beautiful state.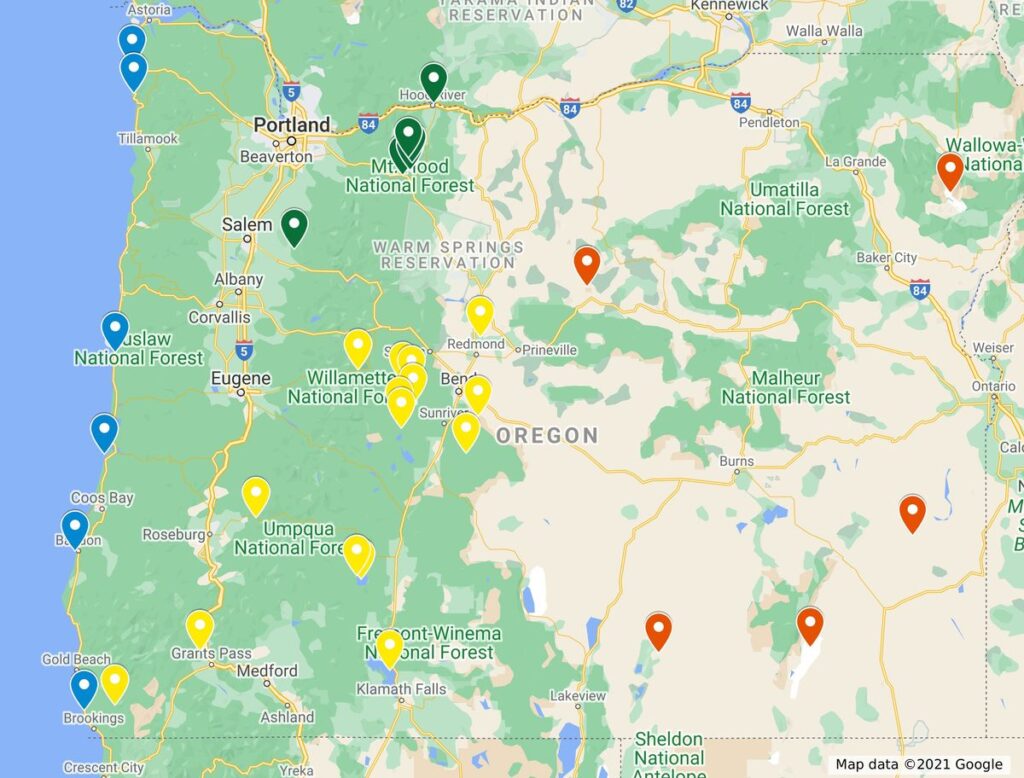 Adventurous Things to Do on the Oregon Coast
1. Bandon Beach Fat Bike Ride
Explore one of the most beautiful shorelines in the world on a fast-paced Oregon adventure. This 19-mile excursion down rugged coastline at Bandon Beach will be a test of wits and endurance.
Pedal alongside crashing waves, towering rock formations, and sloping dunes. Being this close to the mighty Pacific gives you an incredible glimpse of the power the oceans possess.
---
READ MORE: 9 Cool Adventures Near Bandon Beach, Oregon
---
RECOMMENDED GEAR:
2. See the Dramatic Coast of Ecola State Park
Reaching this piece of rugged Oregon coastline is a hop and skip from Portland and a popular stopping point on an Oregon Coast road trip.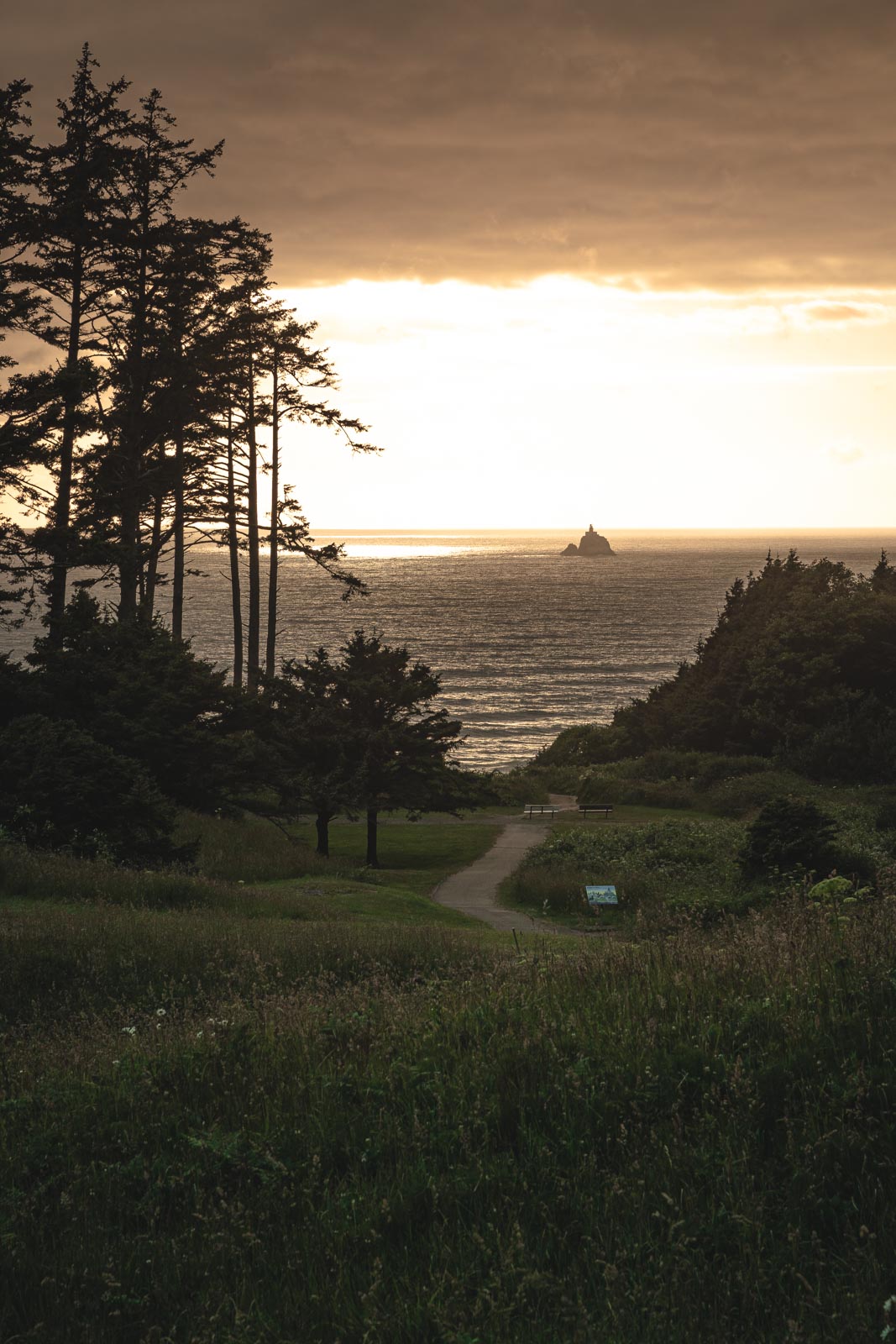 Lush rain forests, sweeping ocean views, and diverse wildlife make this a playground for nature lovers. Wander through the greenery or stick to craggy rocks piled on the shoreline. Hiking, surfing, and bird watching will keep you busy from sunrise to sundown.
---
READ MORE: Your Guide to Ecola State Park on the Oregon Coast
---
3. ATV on the Oregon Coast Dunes
Buckle up for an adrenaline-pumping ride through dazzling sand dunes while gazing at the ocean. Some of the largest sand dunes in the country overlook the mighty Pacific Ocean. Twists turns and death-defying leaps make this action-packed excursion an exciting way to discover the things to do on the Oregon coast.
4. Hike the Samuel H. Boardman State Scenic Corridor
​This exhilarating hike along the Oregon coastline offers some of the best scenery anywhere in the state. Most trails dotting the corridor span only a few miles but take you to breathtaking ocean vistas and even a secret beach.
Reaching the Natural Bridges is a daring challenge but rewards you with incredible panoramic views of verdant forests rising above craggy landscapes. You can end the unforgettable journey with a photogenic sunset or keep on trekking until you reach rolling sand dunes.
---
RELATED: Hiking the Samuel H. Boardman State Scenic Corridor
---
5. Surf at Oswald West State Park
Nestled alongside beautiful forests, the gorgeous coastline at Short Sand Beach provides a surfing paradise. Ride the crashing waves of the Pacific or go for a brisk hike within the trees. Oregonians call the beach "Shorty's" since reaching the shore only requires a short walk through the forest.
6. Hike the Oregon Coast Trail
The granddaddy of hikes along the rugged Oregon coast is the illustrious Oregon Coast Trail. 382-miles of surreal natural beauty lining the Pacific Ocean offers a life-changing experience. Rocky cliffs, gorgeous beaches, and tranquil forests line the path that spans from the Columbia River up to California.
Whether you hike the trail in its entirety or explore sections one at a time, you're in for a spectacular journey. If you would rather see the Oregon Coast by car, check out our legendary Oregon Coast road trip itineraries.
Read More About Things to Do on Oregon's Coast
→ If you don't have a lot of time, do this Oregon Coast day trip from Portland to see the best of the coast with a local.
Where To Stay on the Oregon Coast
Fort Stevens State Park: Located in Astoria in northwest Oregon, Fort Stevens State Park is a converted military space and is now one of the largest Oregon coast campgrounds with 500 spaces.
Sunset Bay State Park: Sunset Bay State Park is a beautiful place to camp, with towering cliffs and sandy beaches, and it has sites available by the beach. Choose to stay in a tent, RV, or for something a little fancier, there are a few yurts available to rent.
Adorable Seaside Cottage: This dog-friendly cottage is close to the beach and town in beautiful Cannon Beach. It offers amenities like a gas fireplace and a flat-screen cable TV.
Captain's Quarters: Located on the southern Oregon Coast in Brookings, Captain's Quarters is a cute cottage with a hot tub. It is conveniently located close to the beach and downtown.
Adventurous Things To Do Near Portland
7. Hike the Trail of Ten Falls at Silver Falls State Park
Easily among the most glorious hikes in Oregon, the Trail of Ten Falls is a scenic getaway for nature lovers. The name of the trek says it all as you march past ten majestic waterfalls through an extensive canyon.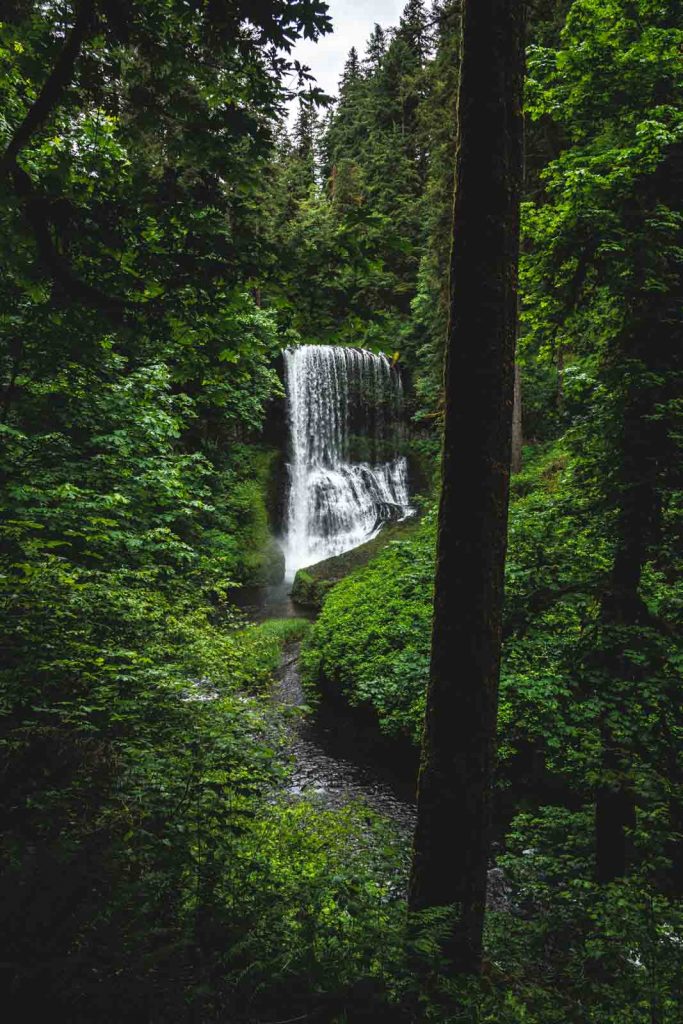 Silver Falls State Park ranks as the state's largest park and boasts many of the most thrilling things to do in Oregon. Verdant forests, craggy cliffs, and diverse flora create awe-inspiring backdrops during your hike.
If you don't have access to a vehicle or if you are traveling by yourself and want to meet other people, take this excellent tour from Portland to hike the Trail of Ten Falls at Silver Falls State Park.
---
RELATED: Your Guide to Silver Falls State Park—the Trail of 10 Falls & More
---
8. Experience Skibowl Cosmic Tubing
Skiing down the slopes of Mt. Hood in winter at night is a surreal experience you have to see to believe. Skibowl is an electrifying spectacle of LED lights, laser light displays, and energetic airwaves along Oregon's most famous peak. Nowhere else in the country do you have as many slopes to conquer during the chilly winter nights.
9. Spring Skiing at Timberline Lodge
Nestled along Mt. Hood, the legendary Timberline Lodge is the place to be for a late-season ski trip. With over 40 runs, 1400 acres of snow and five well-maintained terrain parks, you'll have a field day exploring Timberline's slopes.
Plus, having a longer ski season than any resort in the United States makes Timberline a prime target for alpine thrill-seekers. Stomach-turning drops and a cornucopia of pipes and rails make this a skier's playground.
---
RELATED: Crater Lake Rim Drive: Everything You Need to Know!
---
10. Climb Mt. Hood
No other adventure in Oregon tops the reward of summiting the highest peak of the state. Reaching the summit of the 11,249-foot mountain is not for the faint of heart and requires tremendous skill and determination.
However, thousands of savvy mountaineers each year have their eyes set on breathtaking vistas from the roof of Oregon. Winding through thick forests and crossing formidable glaciers, the climb requires equipment, and every precaution must be taken.
---
RELATED: 7 Awesome Mount Hood Hikes (Including Waterfall Hikes)
---
11. Hike the Timberline Trail (A Classic Thing to do in Oregon!)
This exhilarating hike around Mt. Hood gives you spectacular views of Oregon's tallest mountain. Seasoned trekkers will be licking their chops on roughly 40-miles of continuously changing terrain.
From thick vegetation and winding rivers to rugged volcanic peaks, there is no shortage of Oregon's wondrous diversity. Intense elevation changes and numerous water crossings make this one of the greatest treks for adventurous hikers.
12. Workouts and Waterfalls on the Columbia River
No trip to The Dalles, Oregon is complete without a day of serenity along the beautiful Columbia River. Feel the wind in your hair and take in the sights of the Columbia River Gorge on a stand-up paddleboard (SUP). This innovative mode of transportation is fabulous exercise while gazing at rolling hills and verdant forests in the distance.
Join a yoga session right on the banks of the river for a more relaxing time and find complete Zen. Nature enthusiasts will fall in love with the abundance of waterfalls on nearby hikes. There are tons of trails along the Gorge, and a lot of them have the high reward of reaching a gorgeous waterfall at the end of them.
Read More About More The Things to Do Near Portland
→ If you don't have a lot of time, do this half-day hiking tour to the best waterfalls in the Columbia River Gorge from Portland.
Where To Stay Near Portland
Ainsworth State Park: Ainsworth Campground is located right in Ainsworth State Park, at the western end of the Columbia River Gorge. There are about 40 full-hookup spots you can reserve along with six walk-in tent sites.
Trillium Lake Campground: Trillium Lake Campground sits next to beautiful Trillium Lake at an elevation of 3,600 feet, and offers dozens of single and double sites for tents and RVs.
Tiny House With Lofted Views of the Forest: This unique tiny house is surrounded by trees and has a woodsy interior. Enjoy the forest views from the lofted bed.
Tiny Forest Cabin: This tiny forest cabin is close to Portland while still being secluded and peaceful. The loft bedroom has a skylight so you can see the trees from the comfort of the cozy bed.
Adventurous Things to Do Near Central Oregon
13. Snowshoe or Cross-Country Ski Crater Lake
The unmistakable Crater Lake takes on a new persona during the harsh winter and offers daredevils an invigorating challenge. Pick your activity of choice and encircle the 33-mile rim loop for the journey of a lifetime.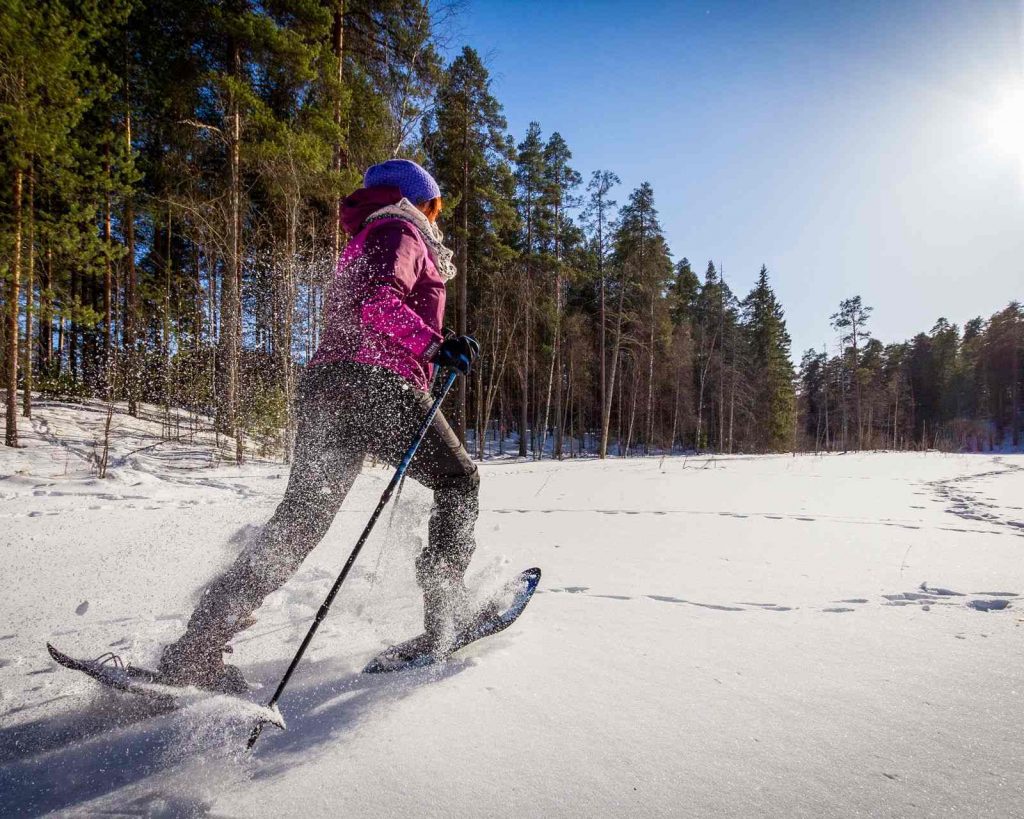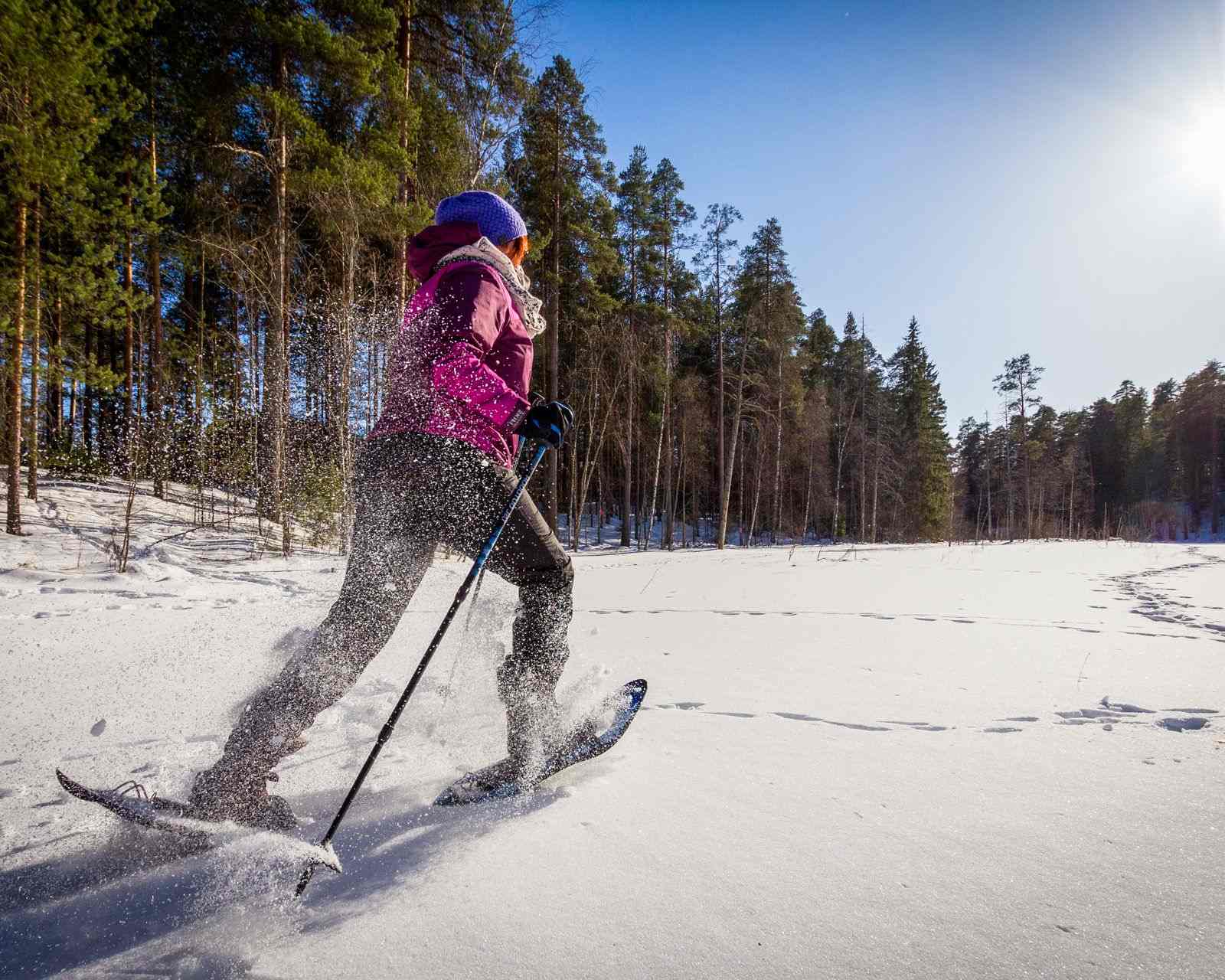 Winter snowshoeing is a great thing to do in Oregon
Be prepared for extreme conditions as Crater Lake National Park experiences 40+ feet of snowfall per year. Avalanches, blizzards, and iced paths stand in the way of this multi-day expedition. Ascend to the top of Watchman Peak for an out of this world panorama of Crater Lake.
14. Whitewater Rapids on the Rogue River
Oregon is a goldmine for whitewater rafting, and the scenic wilderness of Rogue River ranks among the best. Navigating rapids like 'Ol Slippery Rock' and 'The Surf Wave' provide tons of high-paced action on the water. Plus, the immaculate views of Hellgate Canyon are some of the prettiest panoramas in the state.
Take on class II-IV rapids or enjoy a relaxing jet tour to see more of the remarkable cliffs above.
→ Take this scenic half-day rafting tour of the Rogue River from Merlin.
15. Ride the Oregon Scenic Bikeways
Cyclists will be grinning from ear to ear with a bevy of scenic routes designed exclusively for them. Go further on two wheels than ever before with phenomenal journeys like the Twin Bridges Scenic Bikeway and the Tualatin Valley Scenic Bikeway.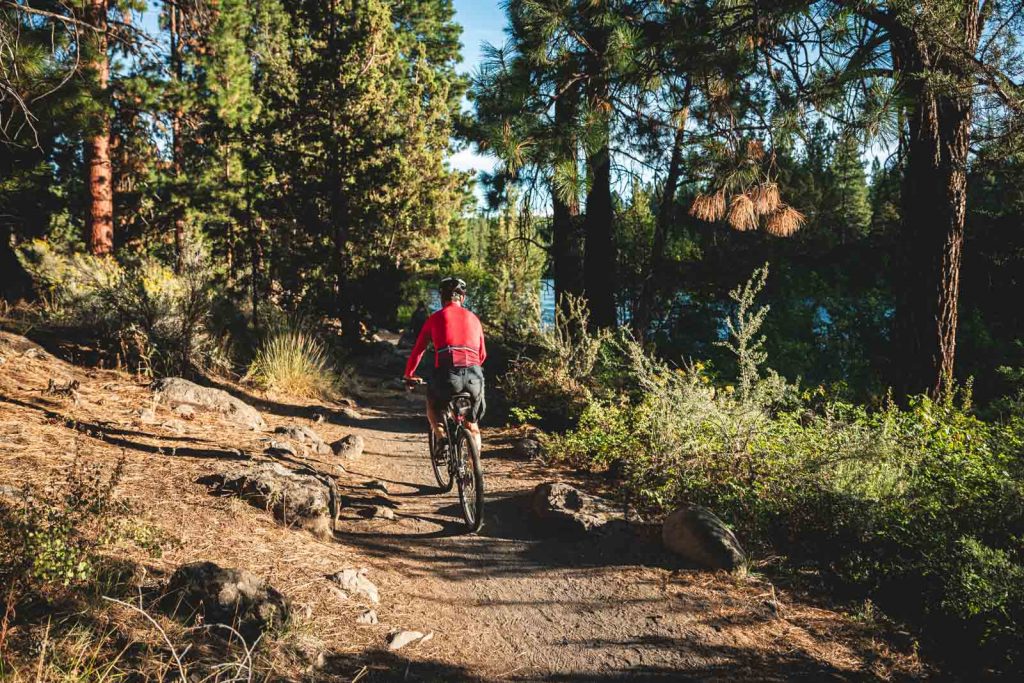 Mountain biking is also a thrilling thing to do in Oregon. We have some killer trails.
The crown jewel of Oregon's bike expeditions is the relentless McKenzie Pass Scenic Bikeway. Spanning 38-miles, you'll ride through fertile forests, desolate landscapes, and along the McKenzie River.
With dozens of magnificent bikeways at your disposal, you're guaranteed an epic bike adventure in Oregon.
16. Embark on Thrilling Whitewater Rafting Trips
Some of the most death-defying things to do in Oregon are located on its majestic rivers. You'll find daring class III and IV rapids all over the state and other trips that provide a more peaceful ride.
Upper Klamath is a heart-pounding journey with glimpses of the old frontier, while the McKenzie River is one of the more laid-back trips. Whether you're looking to push the limits or simply gaze at magnificent landscapes, there is a whitewater rafting trip for you.
---
RELATED: 7 Awesome Things To Do in Klamath Falls, Oregon
---
17. Look up at Ancient Redwood Trees
Nestled along the Chetco River in Brookings, the resilient Redwoods have flourished for upwards of a thousand years. Stroll along the Redwood Nature Trail for a glimpse of these majestic beauties. The forest floor is dotted with diverse flora as the natural skyscrapers tower above you.
18. Hike to Paulina Peak
Seasoned trekkers will fall in love with the scenic vistas at the summit of Paulina Peak. This difficult hike soars to the highest point of the Newberry National Volcanic Monument and delivers unbelievable views of the rugged landscapes.
Enjoy the magnificent scenery of Paulina Lake and spot Bend miles in the distance. Relax at the soothing Paulina Lake Hot Springs to recover from the challenging hike and spend the night at one of the lakeside campgrounds.
19. See the Wonders of McKenzie River Trail
Pristine forests, cascading waterfalls, and mind-blowing lava rock make this trail one of the most versatile things to do in Oregon. The trail spans roughly 25-miles, and you have numerous ways to conquer the path.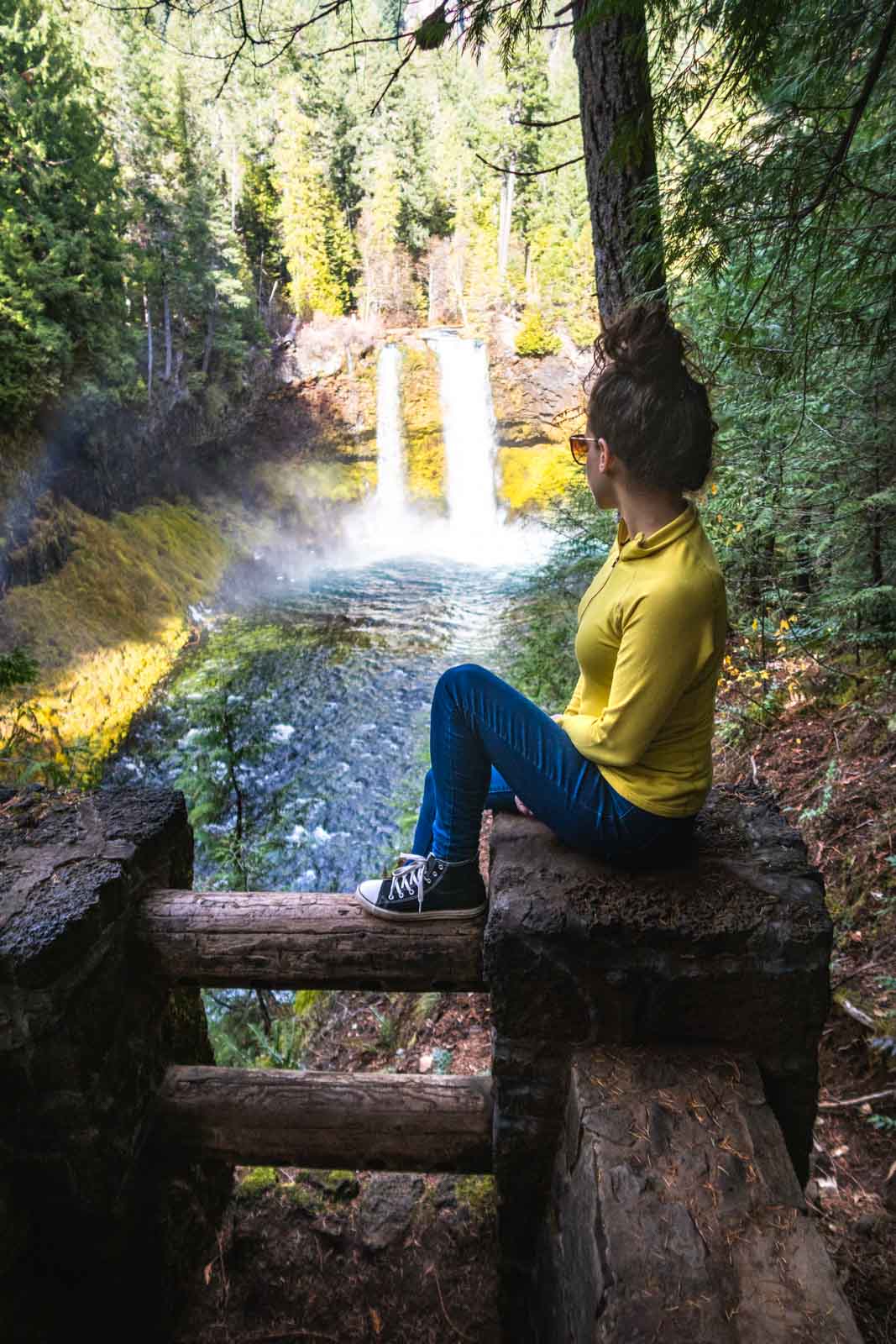 Tackle the trail on foot by slowly hiking to enjoy the towering Douglas-firs or run for an exciting challenge. Mountain biking is a popular alternative since the McKenzie River Trail is incredibly bike-friendly. Check out our post on some of the highlights along this track—Blue Pool and Sahalie and Koosah Falls.
20. Fly Fish on the North Umpqua River
The waters of the North Umpqua River are the ultimate spot in Oregon to catch lots of native underwater species. Steelhead is the prize catch of the river, and the North Umpqua has several splendid fishing spots. Surrounded by the enchanting Umpqua Forest, it's heaven on Earth for experienced anglers.
21. Summit South Sister & Broken Top
Ascend to the heavens at South Sister, Oregon's third-tallest mountain. The trail along the mountain's slope presents a steep climb but is doable for non-technical mountaineers. The magnificent views atop the frigid peak offer some of the most remarkable views in Oregon.
Broken Top does not have as strenuous of a climb like South Sister but gives you plenty of stellar views. Stop every now and then to admire the neighboring mountains and the shimmering Cascade Lakes. A gorgeous aqua-blue lake is a fulfilling reward at the peak of the volcano.
These are just two of our favorite mountains in Oregon, but there are plenty more hikes and things to do in Bend!
---
READ MORE: Your Guide to Hiking South Sister in Bend, Oregon
---
22. Behold the Crater Lake Rim (Popular Thing to do in Oregon!)
Crater Lake Rim is a truly spellbinding sight that can be enjoyed on foot, bicycle, or car. Capture astonishing panoramas of the caldera from numerous vantage points and the rugged slopes surrounding the lake.
Veer off the 33-mile route for adventurous hiking paths that lead to marvelous rock formations and cascading waterfalls. This is the State's only National Park, and it's definitely a thing to do in Oregon that you shouldn't miss.
---
RELATED: Things to Do at Crater Lake National Park: Hikes, Camping & When to Visit
---
23. Nordic Ski Mt. Bachelor
Wintertime is ski time, and Mt. Bachelor gives thrill junkies a high-speed adventure in Oregon. Located just west of Bend, Mt. Bachelor is one of the highest-rated Nordic ski destinations in the United States.
Thick blankets of snow provide endless terrain along the slopes of the volcano. If you're a rookie on skis, there are a variety of Nordic lessons offered to guide you.
---
RELATED: What to Do at Mount Bachelor in Winter
---
24. Heli Tour Around Cascade Lakes
Soar to the skies and experience a hair-raising aerial adventure in Oregon that will take your breath away. Gain a stunning perspective of the snow-lined peaks of the Cascade Range and its shimmering lakes. Magnificent vistas of stratovolcanoes, meandering rivers, and lush forests make this a must-see for any trip to Oregon.
25. Play in the Cascade Lakes
Pack up the car in Bend and set off for one of Oregon's best recreation areas. Drive down the wonderous Cascade Lakes Scenic Byway and enjoy the dreamy mountain vistas.
You'll find numerous campgrounds with popular sites, including Elk Lake, Lava Lakes, and Todd Lake. Kayaking, boating, swimming, hiking, fly-fishing, and wildlife sightings are among the top activities enjoyed along each lake's peaceful shores.
With snow-lined peaks and radiant forests surrounding you in every direction, the Cascade Lakes is an alpine paradise.
If you don't have any toys (kayak, SUP, boat) head to either Lava or Elk Lakes and they will rent you some.
---
RELATED: Exploring the Cascade Lakes in Oregon—Hiking, Camping, & Water Sports
---
26. Hike & Climb at Smith Rock State Park
The jagged cliffs of Smith Rock State Park have been a treasure for rock climbers for decades. With thousands of climbs at your disposal, there is no limit to the gorgeous views you'll find.
Take this excellent rock-climbing tour in Smith Rock State Park if you are a beginner or if you don't have gear with you.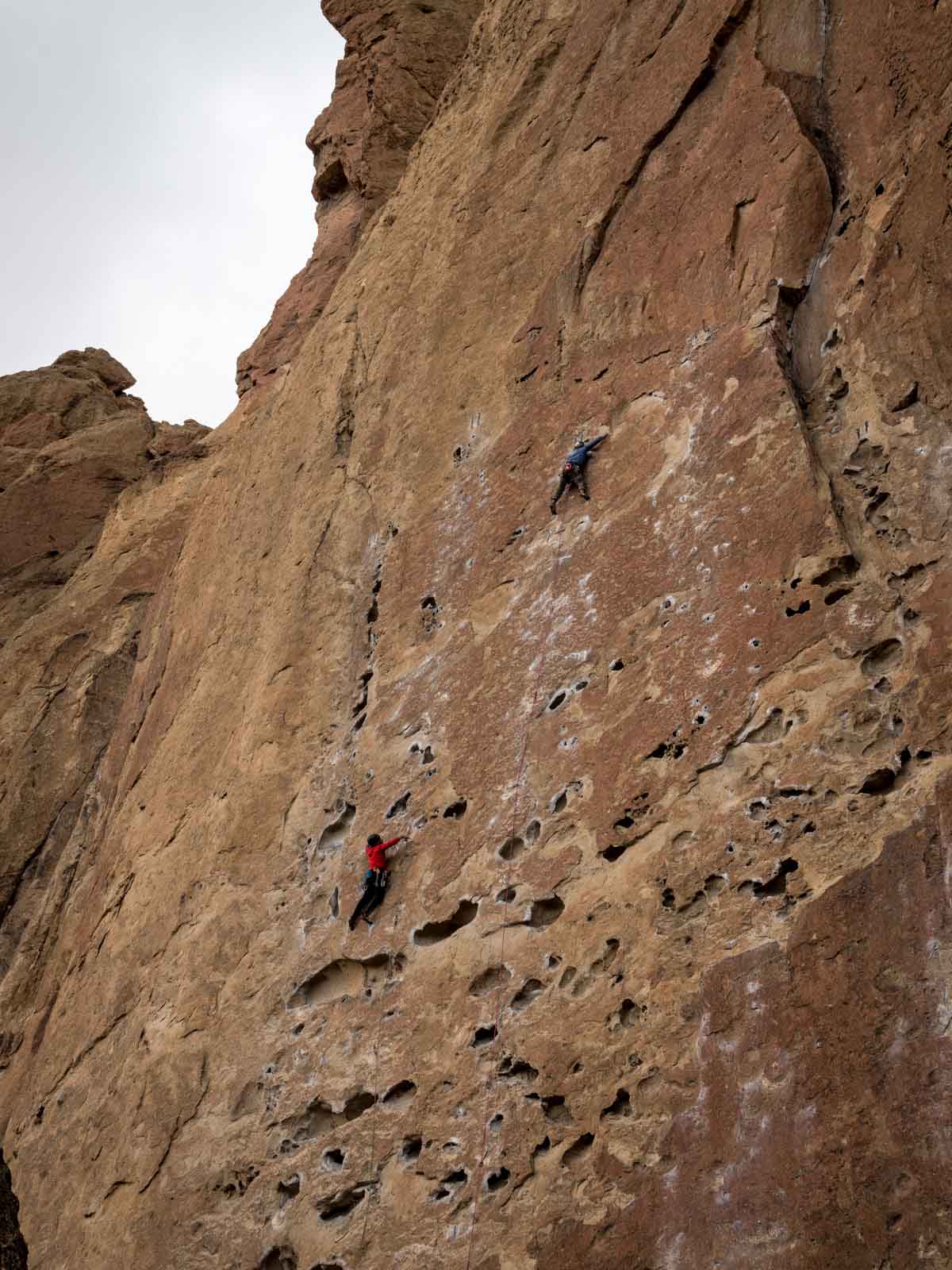 ---
RELATED: A Guide to Smith Rock State Park's Hikes, Misery Ridge Trail & More
---
27. Discover Oregon's Stunning Caves
Don't assume all the fun is above ground in Oregon! Geologic wonders flourish in a vast network of underground caves and provide thrilling excursions.
Oregon Caves National Monument is a must-see due to its meandering trails and marble rock formations. Feel the chills of the Arnold Ice Cave or gaze at the beams of light penetrating Skylight Cave.
---
RELATED: How to Get to Skylight Cave in Oregon
---
Read About More Things to Do in Central Oregon
Where To Stay in Central Oregon
Bend-Sunriver RV Campground: This friendly campground can be found on the Little Deschutes River, and offers cabins, cottages, and yurts to rent as well as RV and tent sites.
Tumalo State Park Campground: This beautiful campground is on the banks of the Deschutes River. There are full hookup sites, lots of tent sites, and a couple of pet-friendly yurts.
Hummingbird Cottage: Hummingbird Cottage is an adorable craftsman-style Bungalow in a quiet part of Bend that is close to breweries, hikes, and more.
Tall Pines A-Frame: This cute A-Frame in La Pine sits on an acre of Ponderosa Pine and has a full kitchen, bathroom, and two bedrooms.
Adventurous Things to Do in Eastern Oregon
28. See the Painted Hills
Elegant strands of ravishing colors decorate the mountainous landscapes of the Painted Hills. Iridescent shades of gold, red, black, and orange shine through millions of years of geologic evolution.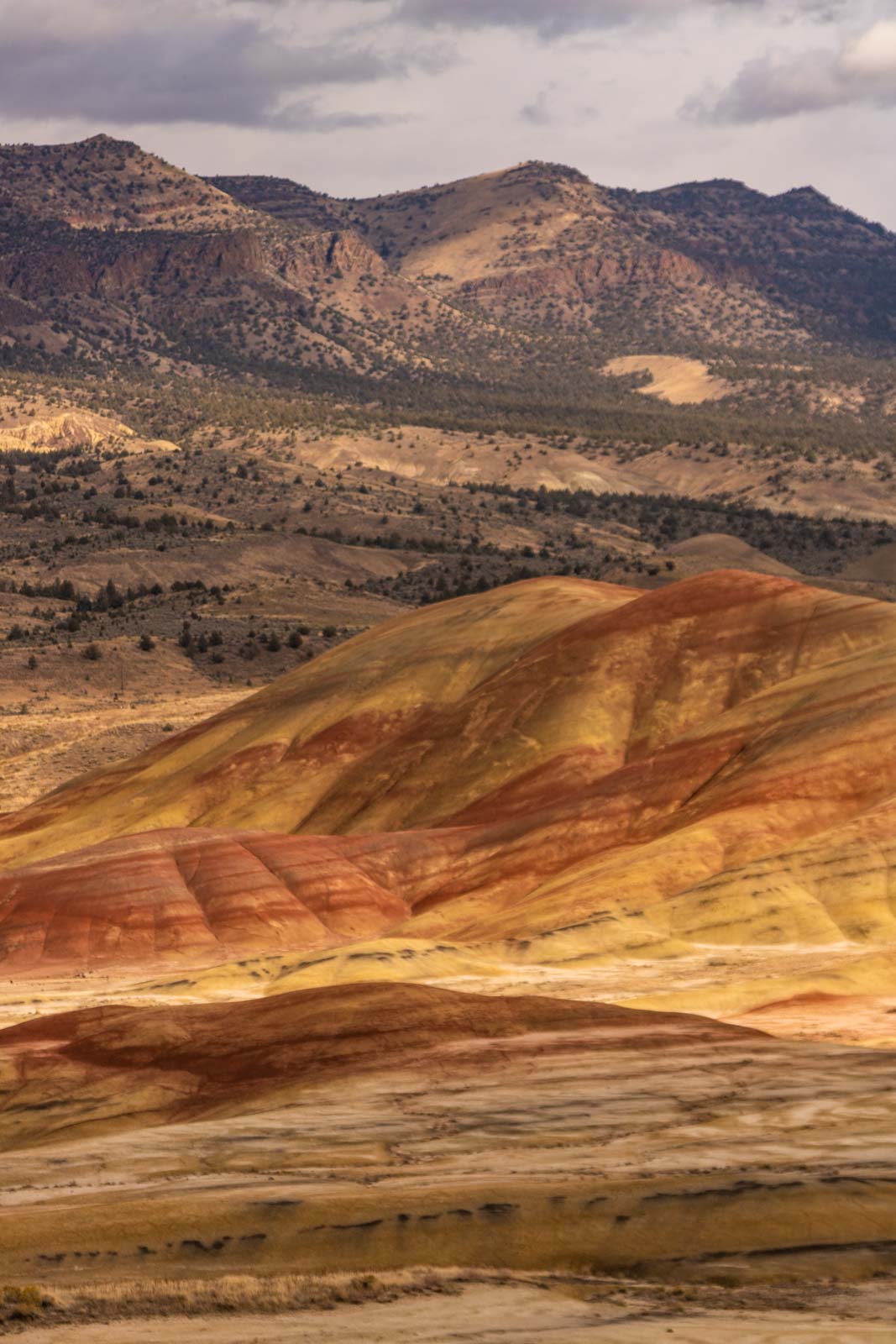 29. Motorcycle Through Southeast Oregon
Rev up your engine and embark on a life-changing road trip through southeast Oregon. Towering mountain ranges, forested valleys, and the high desert provide gorgeous backdrops on your ride.
Admire the beautiful Steens Mountain, see the pine and Douglas firs of Umatilla Forest and witness the remarkable colors of the John Day Fossil Beds. Remote towns and dramatic scenery make this one of Oregon's most liberating rides. Check out the incredible "Best Week of Oregon" tour for an unbelievable eastern Oregon itinerary.
30. Explore the Wallowa Mountains (An Underrated Thing to do in Oregon!)
The dramatic scenery of the Wallowas offers an endless selection of the best adventures in Oregon. Nature enthusiasts will be living a dream come true, exploring picturesque snow-capped peaks, alpine lakes, and enchanting rivers.
This little slice of heaven is nestled in Oregon's northeast corner, and only sparsely populated towns fill the landscapes. Outdoor activities like backpacking, kayaking, fly fishing, paragliding, and much more will keep you busy for months, if not years.
Alternatively, simply take in the majestic scenery by riding the train, the Wallowa Lake Tramway, or even alongside adorable llamas.
31. Unbeatable Stargazing
Many of Oregon's most beautiful destinations are located hundreds of miles away from any metropolis. That means you'll have no light pollution standing in the way of a magical show underneath the night sky.
The wide-open skies of Alvord Desert and the isolated Steens Mountain are two renowned sites to possibly see the Milky Way. For a closer look into the solar system, the Pine Mountain Observatory has powerful telescopes for visitors to use.
→ Take this alpine stargazing photography and winery tour from Baker City in Eastern Oregon.
32. Rest Your Muscles at the Hot Springs
Oregon is a hiker's paradise, and that means lots of explorers ambling back to camp with achy muscles. What better way to recover from an adventurous hike than taking a dip in a refreshing hot spring?
The volcanic activity ensures you'll have tons of hot springs no matter where you are in Oregon. From the secluded Wall Creek Warm Springs to the terraced pools of Umpqua Hot Springs, relaxation is only a short trip away.
33. Escape Reality at Steens Mountain
Steens Mountain is set in one of the most isolated and undiscovered parts of Oregon. That's what makes it such an incredible place to witness some of the most dramatic landscapes in the state.
Drive the mind-blowing Steens Mountain Loop, which traverses through the barren Alvord Desert and onward to glacial surfaces. Hop out of the car and venture down the Wildhorse Lake Trail for sensational vistas.
34. Camp in Alvord Desert (One of our FAV Things to do in Oregon!)
The dried-up, cracked landscape that spans miles in the southeast Oregon desert is simply a magical experience. Nothing remains in this desolate terrain, and not many travelers make it this far.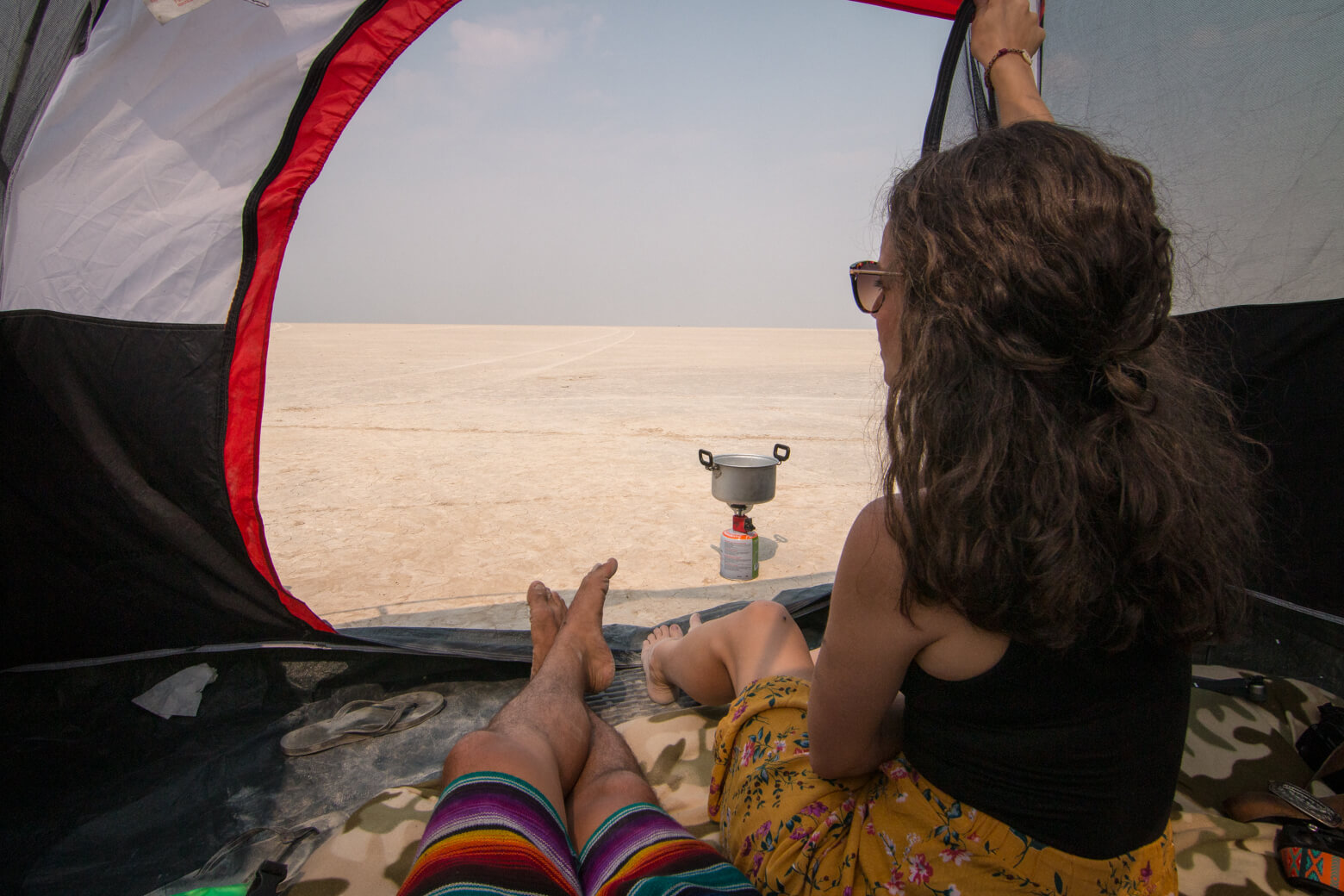 What has been left behind is now one of Oregon's most mesmerizing camping sites. The flat, remote lakebed gives you picture-perfect views of the night sky and calming silence.
If you're not sure where to begin, we have provided all the needed tips for a night of camping in Alvord Desert.
35. Explore the Owyhee Canyonlands
See what it feels like to go back in time and step into the shoes of the western frontiers who first explored the Oregon wilderness. That's the aura that these mighty canyons and rocky columns possess.
There is no shortage of ways to enjoy Owyhee's splendor, including hiking, fishing, camping, and hot springs. Perhaps the most thrilling excursion is the class III and IV rapids cutting through "Oregon's Grand Canyon." Navigating the rushing waters while staring at the soaring cliffs and rocky spires is a heart-racing experience.
Get the rundown on every exhilarating activity in the Owyhee Canyonlands for an unbeatable Oregon adventure.
Read About More Adventurous Things to Do in East Oregon
Where To Stay in Eastern Oregon
Alvord Desert: You can camp out in the Alvord Desert for free – and there's even a hot spring nearby too! This is hands down one of the coolest spots to go camping in Oregon. Read our guide on camping in the Alvord Desert.
Wallowa Lake State Park: This campsite is located just south of Wallowa Lake and offers 89 tent sites, lots of RV sites with hookups, and even a few yurts and cabins. Most of the campsite closes in winter though, so plan accordingly.
Rich's Camp Cabin: Stay in a cute cabin right by a peaceful creek in the Elkhorn Mountains of Eastern Oregon. Rich's Camp Cabin has everything you need for a comfortable stay.
Eagle Cap Chalets: Stay in a rustic but comfortable cottage at Eagle Cap Chalets on a forested property near Wallowa Lake. There is an outdoor pool and hot tub on-site for guest use.
Other Adventurous Things to Do in Oregon
36. Taste Beer in Bend (or Anywhere for That Matter)
Your taste buds are in for an Oregon adventure as well! No other place in the United States boasts as many breweries as Bend. There are over 30 to choose from, and you'll want to try them all after you sample one delicious draft.
Local brews have received global praise, and Bend residents started vying for the title "Beer City USA." Who could blame them with new microbreweries popping up left and right?
Just make sure to get a healthy dose of physical activity after your tasting (like something on this list). Aside from Bend killing it on the beer scene, let's just be real—It's almost impossible to have a bad beer in Oregon, so go wild and try any random brewery you wish.
→ Take this guided city and brewery tour in Bend to experience the best the city has to offer.
37. Camp at a Fire Tower Lookout
What could be more exhilarating than surveying miles of pristine forests from the mountaintops? Fire lookouts have been a nature lover's dream job, but technology has led to their decline.
Thankfully, these scenic overlooks can still be used to enjoy Oregon's natural beauty. Gold Butte Lookout, Fall Mountain Lookout, and Indian Ridge Lookout are just a handful of the coveted viewing huts.
A unique thing to do in Oregon is renting one of these towers for a night of camping. For more information on how to organize this authentic experience, visit here.
38. Take off on a Glorious Oregon Road Trip (The Best Way to See All the Things to do in Oregon)
Oregon is filled with astonishing natural wonders in every corner! Sometimes, relying on public transportation simply does not get the job done to appreciate the beauty of the state fully. That's why hopping in the car and going on a scenic drive is the best thing to do in Oregon to witness its spectacular diversity.
One iconic journey that is a must-see is an Oregon Coast road trip. The rugged coastline is one of the best places to really see the majestic landscapes dotted across the state. From the lush forests of the northern coast to the ocean vistas of the central coast and the rocky shores of the southern coast, the amount of breathtaking sites is unreal.
Another life-changing adventure to embark on is an eastern Oregon road trip. This is where the versatility of Oregon's landscapes starts to show off. This thrilling ride will take you through snow-capped peaks, alpine lakes, pristine meadows, towering canyons, fertile forests, and into the high desert.
More of Our Favorite Places in Oregon
We can't wait to update this list with more of our favorite things to do in Oregon! Don't forget to check out our more specific posts mentioned above or here on our Oregon adventure blog roll.