The lakes in Oregon are definitely next level, there's no doubt about it.
The lakes here are often flanked with deep verdant forests, watched over by towering mountains, and have a variety of incredible adventures at its doorway. We've gathered our favorite lakes around this wonderful state so you know exactly where to visit but we didn't stop there…
We've included tons of information on all the great adventures you can experience from or at that lake and provided some camping options for you as well.
17+ of The Best Lakes in Oregon
---
We hope you find this list incredibly helpful and here is a map of all the recommended lakes for you to get a better visual of where they are.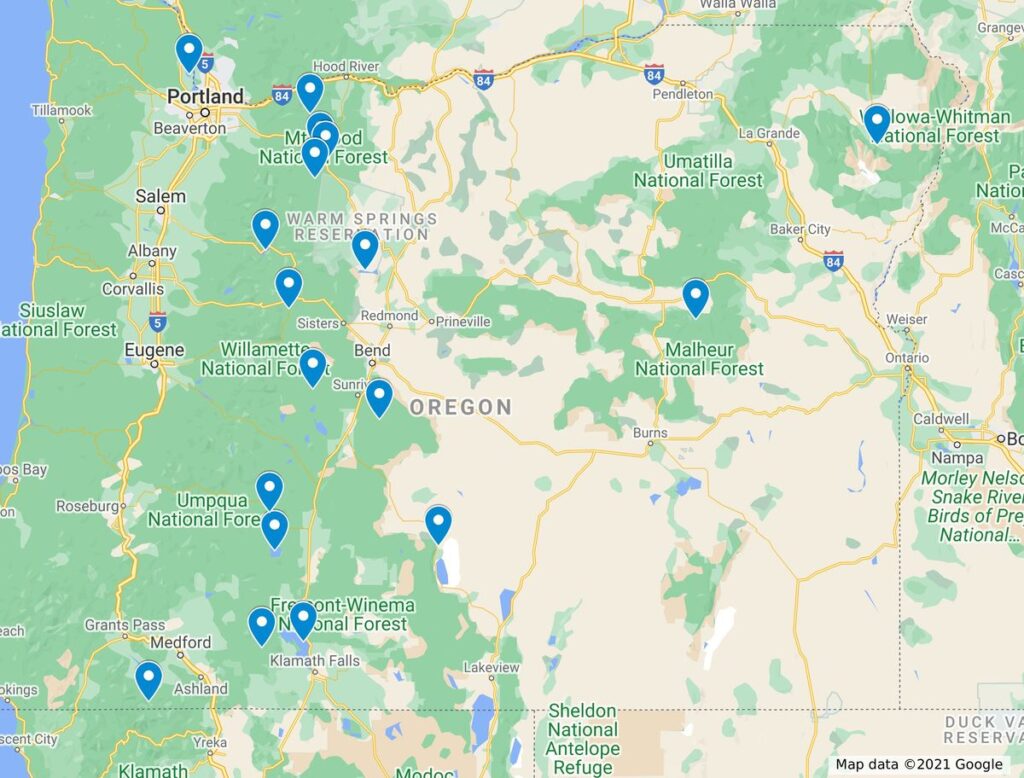 1. Crater Lake (The Most Popular Lake in Oregon)
When looking at lakes in Oregon, the one that most often comes to mind is Crater Lake. At 529 meters, it is the deepest lake in the country and is very well known for its stunning royal blue colored waters and rich surrounding landscape. The lake was formed around 7,500 years ago when the top of Mount Mazama collapsed, and today sits in Crater Lake National Park drawing visitors in from miles around.
There are plenty of things to do in and around the lake, but in the summer months, one of the most popular activities is visiting the two islands in the center of the lake by boat tour. Have a mini explore of the islands and then head back to shore. There are also plenty of hiking trails around the shores that offer various views of the water and islands, many of which make great photos for avid photographers.
Wizard Summit hike will take you up a rocky climb to the top of Wizard Island allowing you to take in some panoramic views, following this, a 0.3-mile path leads around the 90-foot crater at the summit. Cleetwood Cove is the only legal access to the shore of Crater Lake, and reaching the cove from the trail should take around 90 minutes. For those that are up for a little more of a challenge, take the 4.4-mile hike up to Mount Scott, the park's highest peak, offering a different perspective of the lake.
For those with more limited time take the Sun Notch trail which is just 0.8 miles long. This short, uphill walk will take you through a meadow to the rim of Crater Lake, plus will give you great views of Phantom Ship. Other shorter walks around the lake include Castle Crest, The Pinnacles and the 2-mile trek to Plaikni Falls.
Camping at Crater Lake
The best option when it comes to camping near Crater Lake is in Crater Lake National Park itself. The park has two developed campgrounds, Mazama and Lost Creek Campgrounds, which are both located in a forested area south of the lake. You can book camping at Mazama Campground online, while the other is first come first served only.
Other Nearby Accommodation:
Aspen Inn | Cabin on Klamath Lake | Red Blanket Cabin
---
RELATED: Things to Do at Crater Lake National Park: Hikes, Camping & When to Visit
---
2. Trillium Lake (Perhaps The Most Photogenic Lake in Oregon)
Despite being man-made, Trillium Lake is beautiful, sitting within the Mount Hood National Forest. When looking at photos of Mount Hood, this lake will undoubtedly feature multiple times thanks to the way that the mountain is reflected perfectly within the lake's waters, making it one of the best lakes in Oregon when it comes to views.
People of all hiking abilities should be able to enjoy the short hiking trail around the lake which covers 3km. Other than taking the Lake Loop Trail, another recreational activity people love using the lake for is fishing. The Oregon Department of Fish and Wildlife regularly stock the lake through the summer months with plenty of trout.
Covering 60 acres, it is easily accessible by bank or boat. Many people come to simply gaze at the rhododendron rimmed shores with the mountain in the background.
---
READ MORE: Checking Out Trillium Lake: Paddling, Hiking, and Camping
---
Camping at Trillium Lake
Trillium Lake Campground is the most obvious choice for those visiting the lake, as not only is it close to the water, but also has spectacular views of Mt. Hood. This is a popular photography spot in Oregon, and camping overnight to get those sunset and sunrise shots would be wise.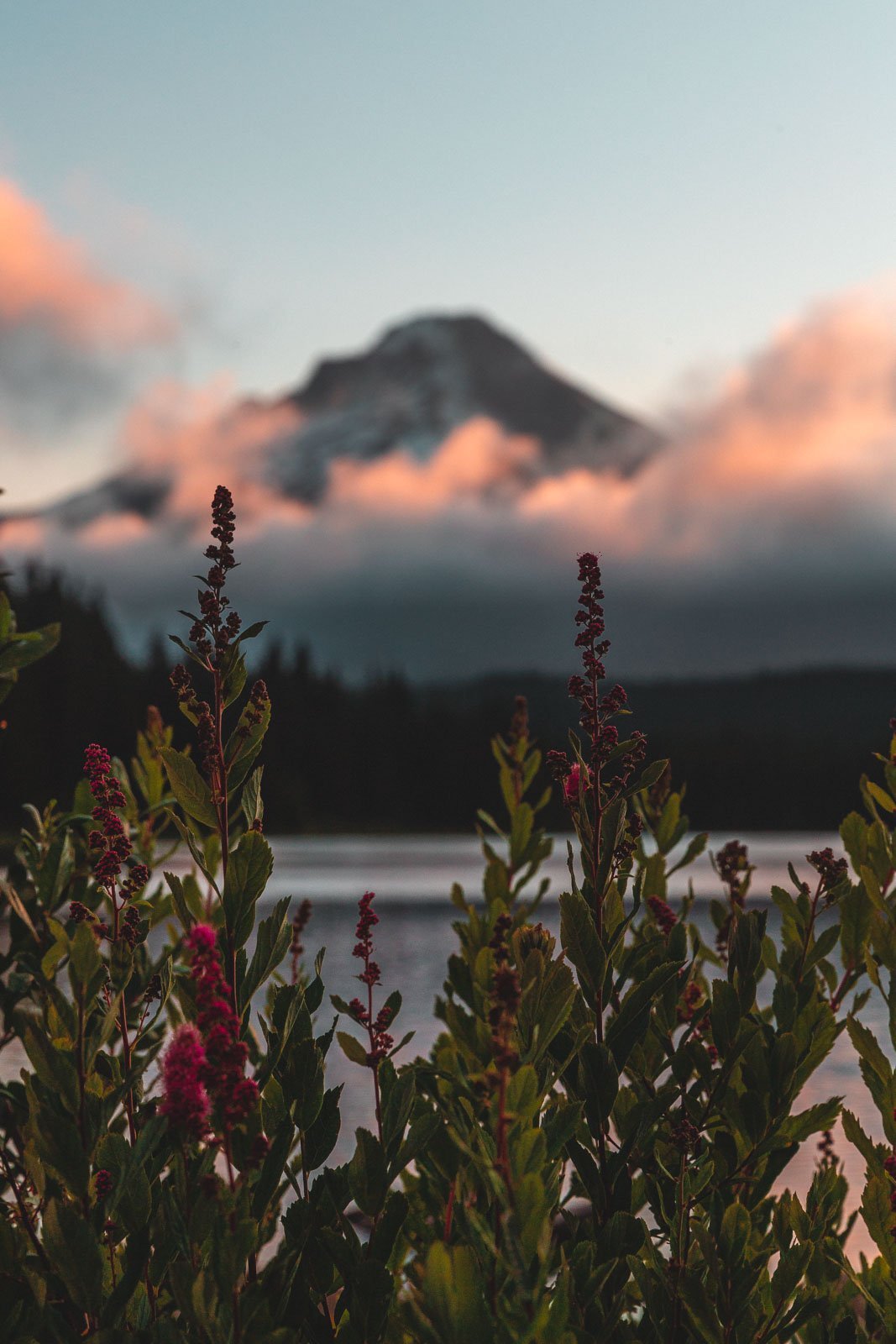 There are lots of double and single sites for tent and RV camping, with drinking water and vault toilets available. The campsites here can get booked out in the summer months.
Other Nearby Accommodation:
Cozy Mountain Cabin | Timberline Lodge | Wy'East Nest
→ Trillium Lake is gorgeous in winter too – do a guided snowshoeing tour around the lake followed by local beer in Government Camp.
RECOMMENDED GEAR:
3. Paulina Lake
Paulina Lake is the larger of the two lakes that sit in the Newberry Crater and is a popular spot for enjoying a range of recreational activities. Getting out on the water is a must, and most people bring canoes, kayaks, and paddleboards to enjoy the scenery with friends.
Many people also visit this lake in Oregon for its fishing opportunities as there is an abundance of Kokanee salmon, brown trout, rainbow trout, blue chub, and tui chub. You can hire boats during the summer from Paulina Lake Lodge, as well as moorage, gas, and oil.
There is also a coffee bar here, and the staff are happy to give advice on the best fishing or boating spots. In the winter, there are more than 150 miles of groomed snowmobile trails, as well as several ungroomed cross-country trails.
Camping at Paulina Lake
There are a couple of options when it comes to camping at Paulina Lake. The most obvious choice is often Paulina Lake Campground, providing sites for all sorts of camping, whether you are in a small tent or large RV. There are picnic areas, nearby shoreline trails, drinking water, and flush toilets.
Another option is Little Crater Campground, which has 49 sites, all of which perch on a ledge right on the lake, meaning you'll only have a very short walk to the water from your site. There are vault toilets, picnic areas, and drinking water here too, so both are great options.
Other Nearby Accommodation:
Tall Pines A-Frame Cabin | Sunriver Resort | Cozy Cabin LaPine
4. Upper Klamath Lake
This huge lake is Oregon's largest body of fresh water, covering a huge 24,906 hectares. It sits in the center of the state surrounded by mountains and forests. It is very picturesque and there is a good chance of spotting some wildlife around its shores.
Due to its size, it is one of the best sailing lakes in North America, with plenty of room for everyone to enjoy the water. For those that are not sailors, kayaking and canoeing are also popular, making it one of the best lakes in Oregon for boating enthusiasts.
The Upper Klamath Canoe Trail provides a marked 9.5 trail through a beautiful freshwater marsh, and canoes and skiffs can be rented from Rocky Point Resort. It's just one of many wonderful things to do in Klamath Falls.
Camping at Upper Klamath Lake
One of the nearest campgrounds to Upper Klamath Lake is Odessa Campground. It is a small campground with only 6 sites, but there is plenty of privacy thanks to the large ponderosa pines, as well as a small boat ramp. Another option is Klamath Falls KOA which is centrally located in Klamath Falls. There are more amenities at this site such as a pool, pavilion and cable TV.
Other Nearby Accommodation:
Cozy Cabin | Cabin 1 on Klamath Lake | Chalet at Running Y Ranch
---
RELATED: 10 Waterfalls Near Klamath Falls You've Got to See!
---
5. Clear Lake
Clear Lake is the headwater of McKenzie River. As well as being visually stunning, it is a great place to go freshwater diving as the bottom of the lake is covered in amazingly preserved trees that were killed during a volcanic eruption that occurred thousands of years ago.
At an altitude of 3,000 feet, its temperature is just above freezing which helps to keep the trees petrified, and as the name suggests, has crystal clear waters. For those not up to diving, kayakers and canoers can paddle across the lake and still get a close-up view of the treetops.
Rowboats are available to rent, or you can launch your own for a small fee. The lake is surrounded by a 4.6-mile loop trail, the front of which is called the Clear Lake Trail and the back the McKenzie River Trail, which is a flat and easy hike, with the backside of the lake trail weaving through lava fields.
For those up for a bit more of a challenge, you could continue on the McKenzie River Trail, a renowned 26-mile biking and hiking trail.
---
RELATED: Your Guide to Exploring Clear Lake, Oregon
---
Camping at Clear Lake
When visiting Clear Lake it is best to stay the night at Clear Lake Campground, which offers shady sites for both tents and RVs. Although utility hookups are not available, there are still toilets and drinking water, plus you can purchase firewood directly from the campsite. For a bit more of a luxurious option, you could always get a cabin at Clear Lake Resort.
Other Nearby Accommodation:
Riverfront Sanctuary Log Cabin | McKenzie Riverfront Cabin | Quiet & Romantic Cabin Getaway on McKenzie River
6. Wallowa Lake
Wallowa is a ribbon lake that is surrounded by the Wallowa Mountains, and its crystal clear waters call visitors for miles around to simply enjoy its beauty. You can hike the miles of trails that surround the lake for some beautiful panoramas and insight into Oregon's wilderness.
Bring a boat for a paddle and a swimsuit for a dip in the summer months. For a unique view of this lake in Oregon, take the Wallowa Lake Tramway to the top of Mt Howard, it climbs to about 3,700 feet, and enjoy the 2-mile hiking loop at the top standing shoulder to shoulder with a number of mountains.
Camping at Wallowa Lake
You can stay directly in Wallowa Lake State Park when visiting this lake. There are 121 hookup sites, 88 non-hookup sites as well as other camping areas such as yurts and group tent areas to the south of the lake. To the north is 5 Peaks RV Park, a much smaller privately owned park in the heart of the Wallowa Mountains. All sites have 50 and 30 amp power, water, sewer, cable TV, wifi and more.
Other Nearby Accommodation:
Cow Camp Cottage | Eagle Cap Chalets | The Wilderness Inn
---
READ MORE: A Comprehensive Guide to Visiting Wallowa Lake State Park—Adventures and Camping
---
7. Sturgeon Lake
With hundreds of secluded inlets and coves to explore, Sturgeon Lake makes a great spot for canoeing, kayaking, and SUPing. On clear days, you may even be able to have views of Mount Hood in the distance. You can hire boats directly from the marina at the lake, including fishing boats with motors.
Alternatively, you can hire all sorts of watercraft at nearby Pigeon Lake, and go through the lock to Sturgeon Lake, opening up your options to include jetskis, paddleboards, pontoons, and kayaks.
This lake is also a hotspot for birdwatchers, as more than 200 species of bird call the waters and the surrounding shores their homes, such as bald eagles and great blue herons. When hiking in the area, one of the best routes to follow is the Oak Island Look Hike. During this hike, you will pass The Narrows, which is a channel that connects the lake to its West Arm, and overall covers a fairly easy 2.8 miles, with only a 10 feet elevation gain.
Camping at Sturgeon Lake
One of the nearest campgrounds to this lake is Island Cove RV Park, offering campers full hookups surrounded by 6 acres of tranquil park, bordered by a wildlife refuge. There is even a convenience store onsite so you can stock up on supplies.
Other Nearby Accommodation:
Floating House on Columbia River With Kayaks | Best Western Oak Meadows Inn
8. Cascade Lakes (A Pocket of INCREDIBLE Lakes in Oregon)
Central Oregon's Cascade Lakes are some of the most well-known lakes in Oregon, all of which can be accessed and viewed by taking the incredible 66 miles historical Cascade Lakes Scenic Byway. The Cascade Lakes are made up of 12 beautiful alpine lakes, offering something for everyone.
Hikers and photographers should head to Todd, Sparks or Devils Lake where, at the start of the warmer weather, come alive with wildflowers and stunning alpine views. For those that enjoy fishing, Hosmer and Davis are the most popular lakes which are both ideal for fly and barbless-hook fishing as they are flush with fish.
The first lake in the chain is Todd Lake, with Davis Lake finishing up the chain. You could spend weeks exploring all of what these lakes have to offer. Picture walking or driving through an ancient volcanic landscape, surrounded by shimmering alpine lakes and beautiful forests.
Take the reins and go for a horse trail ride around Todd Lake, cast a line at Hosmer Lake, rent a stand-up paddleboard and explore the waters of Cultus Lake or take a hike around the picturesque Devil's Lake, there is something for everyone to enjoy.
Elk Lake is the most built-up area on the Cascades Highway, in fact, it is almost a resort. It has plenty of amenities and places offering SUP rentals. The water at the lakeshore is shallow and is a hotspot for a range of watersports.
The ultimate hike in the area is arguably South Sister, the most prominent peak in all of Bend. The hike is very strenuous and takes 12 miles roundtrip, but the views from the peak are incredible. For something a little less strenuous, take the 4-mile hike up Tumalo Mountain which offers views of North, Middle and South Sister, as well as Mt Bachelor and Broken Top Mountain.
For an easy hike, try the Lucky Lake Trail, an easy 3-mile roundtrip finishing in a pretty lake. When visiting Oregon, the Cascade Lake range is one of the best natural landscapes to visit in Oregon.
Short on time? Book this excursion up to the Cascades for an epic day of kayaking!
Camping at Cascade Lakes in Oregon
As the Cascade Lakes region covers a large area, there are plenty of options when it comes to finding a place to spend the night. There are all sorts of campgrounds, whether you like sites with lots of amenities or something a little bit more off-grid.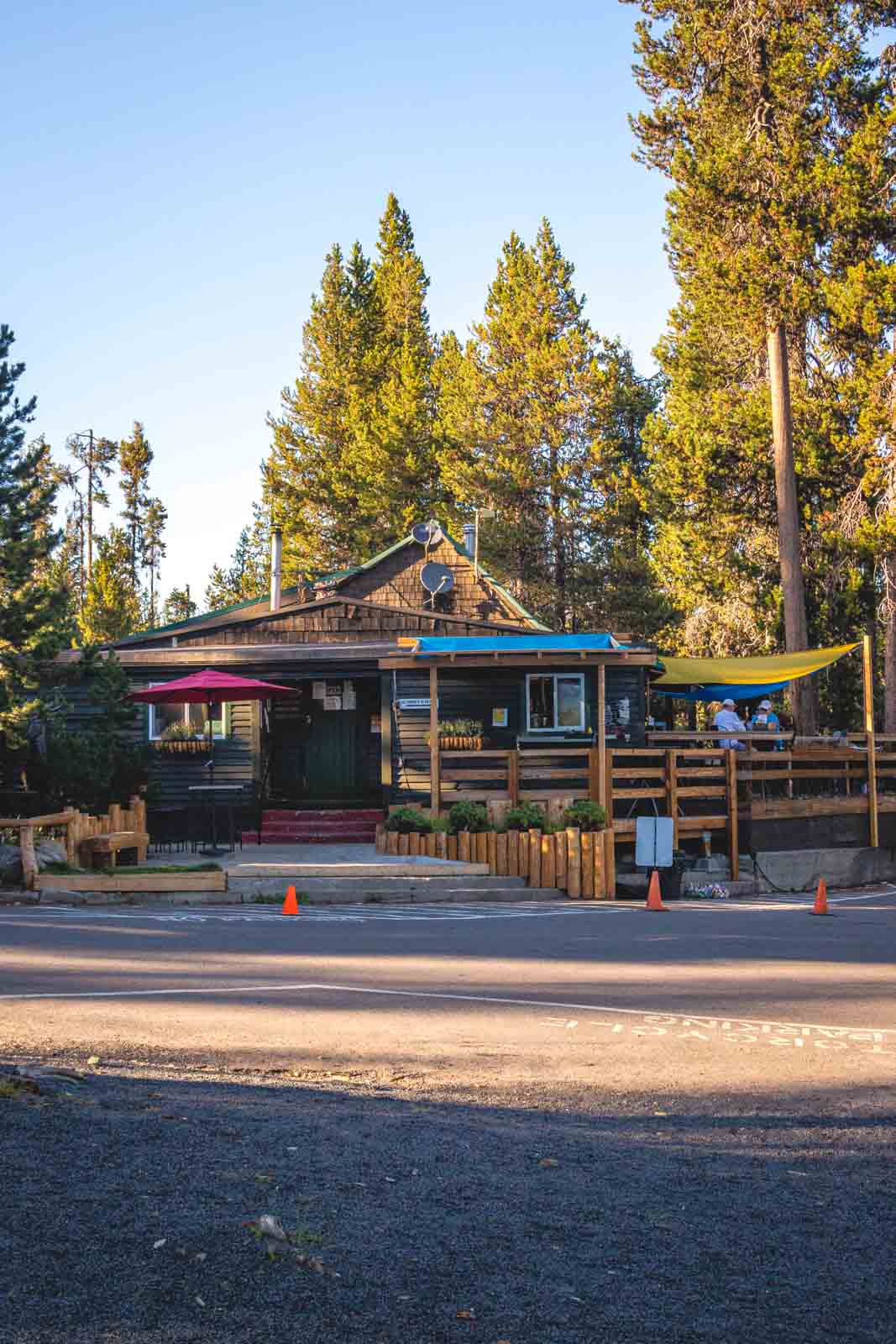 A few of the best options in the region include Lava Lakes Campground, Elk Lake Campground, Point Campground, Little Fawn Campground, South Campground, Mallard Marsh Campground, and Todd Lake campground to name just a few. All offer different amenities and prices, so it is worth doing some research to decide which is best for you.
Other Nearby Accommodation:
Elk Lake Resort | Sunriver Resort | Cozy Cabin LaPine
---
READ MORE: Exploring the Cascade Lakes in Oregon—Hiking, Camping, & Water Sports
---
9. Lost Lake
Sitting within the Mount Hood National Forest, Lost Lake is a popular recreational lake with stunning views of the mountain from most angles. There is no development around the shores which help to add to its beauty. It is known as being the best lake in Oregon for its sunsets and sunrises, drawing in photographers from miles around. In fact, it is arguably the most photographed lake in the whole of Oregon.
Boat rental is available at the campgrounds around the lake, with canoes, kayaks, wooden boats, metal fishing boats, and stand-up paddleboards available. Other activities include hiking, with trails ranging from 1/4 mile to over 100 miles, bird watching, berry picking, swimming, stargazing and hunting for waterfalls.
Camping at Lost Lake
There are several options when it comes to camping around Lost Lake but the best is Lost Lake Campground. The campground is adjacent to a full-service resort and has a wide variety of campsites available. There is a general store onsite as well as pit toilets, and drinking water. One of the best things about this campground is the beautiful views of Mt. Hood.
Other Nearby Accommodation:
Mt Hood Cabin With Hot Tub | Lost Lake Resort | Cooper Spur Mountain Resort
10. Diamond Lake
Diamond Lake sits within the Klamath Basin, covering 2,824 acres, it is surrounded by firs and pine and is jaw-droppingly beautiful as well as being very serene.
An 11-mile paved bicycle trail surrounds the lake with provides a great birding route, with access to meadow, forest, and high elevation riparian habits. Summer activities include trout fishing, swimming, hiking, water sports, boating, and horseback riding.
In the colder months, the park transforms into a winter wonderland, with snowmobiling, cross country skiing, snowshoeing and sliding on the tubing hill. Diamond Lake resort offers fishing boat rentals with motors, as well as patio boat rentals which are ideal if traveling with a family or group.
Traveling alone or as a pair? Rent a paddleboat, which is a classic way to tour Diamond Lake, or for something a little more random, a bumper boat rental could be a fun choice.
To really earn your refreshing dip in Diamond Lake, take on the Mount Thielsen hike, that beautiful pointy mountain you see in the distance, first.
Camping at Diamond Lake
Diamond Lake RV Park is an option when visiting the lake, covering 22 wooded acres, it contains 110 full hookup sites with restrooms, picnic tables, and showers. Diamond Lake Campground is another option, with 238 campsites surrounded by conifer trees along the eastern shores of the lake.
There is social lakeshore camping as well as some more secluded in-shore sites with drinking water, toilets, showers, and garbage disposal all available.
Other Nearby Accommodation:
Caz's Cozy Cabin | Snow Pine Retreat Cabin | Dawson House Lodge
---
RELATED: Diamond Lake and Mount Thielsen Hike
---
11. Frog Lake
Frog Lake may be small, but it is no less beautiful than some of its larger counterparts. The name comes from the fact that in the summer, it is home to tens of thousands of tiny tadpoles, plus, you'll also see a kaleidoscope of butterflies.
Despite the tadpoles, Frog Lake is great for swimming, especially as in some spots the waters are quite shallow for a long way out.
It is stocked hatchery rainbow trout, with fishing spots located all around the shores. Short, flat trails surround the shores, perfect for all levels or hiking, or you can access the Pacific Crest Trail from here.
Camping at Frog Lake
Located at the north end of the lake is Frog Lake Campground, and although it is somewhat rustic, it is a good place to stay from immediate access to the lake. There are just over 30 sites for tent and RV camping, although utility hookups are not available, there are toilets and drinking water.
Other Nearby Accommodation:
Mt. Hood Cabin | Knotty Pine Cabin | Best Western Mt. Hood Inn
12. Billy Chinook Lake
Billy Chinook Lake has a slightly different look to some of the other lakes in Oregon, sitting within a canyon that was carved by three rivers about 11 million years ago. The lake covers 1,600 hectares and is popular for all sorts of boating activities such as jet skiing, sailing, and water skiing.
Surrounding the lake is the picturesque Cove Palisades State Park, which features camping facilities, picnic areas, and boating rentals so you can have a full day out on the lake. One of the best ways to really appreciate the park and the lake is to take a kayak tour which takes around 2-3 hours to complete.
The tour will take you around the 800-foot basalt cliffs that rim the Deschutes River arm of Lake Billy Chinook while learning about the local geology, area history and the types of animals and plants that can be found in the high desert.
Camping at Billy Chinook Lake in Oregon
Perry South Campground sits on the shores of the lake in Deschutes National Forest, filled with picnic areas and scenic overlooks, with many conveniences such as drinking water and toilets. Camping is also available at the Cove Palisades State Park, with the choice of either the Crooked River Campground or the Deschutes Campground, both of which have over 80 sites.
Other Nearby Accommodation:
Crooked River Ranch Cabins | Grand Cabin With Hot Tub & Views
---
RELATED: A Guide to Smith Rock State Park's Hikes, Misery Ridge Trail & More
---
13. Applegate Lake
Applegate Lake is often referred to as an angler's paradise and is surrounded by the impressive Rogue River National Forest in Jackson Country.
The cold waters are home to a wide variety of fish including coho salmon, rainbow trout, chinook, and steelhead trout. In addition to fishing, the many hiking trails boast incredible views of Collings Mountain, Stein Butte and Kinney Mountain, as well as the lake itself.
One of the best ways to see the beauty of the lake is to take the 6.4 easy loop trail around part of the lake's peninsula, to go around the entire lake the trail is 17.8 miles long, two-thirds of which is along a trail and a third is following paved roads.
Alternatively, you could try Collings Mountain Loop Trail, taking a loop up to the Big Foot Trap, or Grouse Loop trail which is a little steeper, making a loop of 2.8 miles. Another popular trail is the Stein Butte Trail which starts at Seattle Bar for 4.9 miles through wildflowers, wildlife, and views of the surrounding mountains and lake.
Camping at Applegate Lake
There are quite a few options for camping at Applegate Lake, one of which is Hart-Tish Campground which has shaded tent sites with campfires and lake views. Jackson Campground is located just up from the Applegate River and has modern restrooms and swimming areas.
Other options near the lake are tent camping at Watkins Campground, ideal for those that just want to keep things simple, Carberry Campground, Seattle Bar Campground, and Squaw Lakes Campground.
Other Nearby Accommodation:
Applegate Cabin | Hummingbird Estate Wine and Suites | Lithia Springs Resort
14. Lake of the Woods (Underrated Lake in Oregon)
Lake of the Woods is not as well known as some of the other bigger lakes in Oregon, but this natural lake still spans 1,250 acres in the Fremon-Winema National Forest. The lake has been named for its dense surrounding woodlands and forest, offering an idyllic escape for lovers of the great outdoors.
Discover the wooded trails and winding forest paths that make their way around the Lake of the Woods, there are also several mountain climbs that will award an avid hiker with unparalleled views of the forest and lake. The famous Pacific Crest trailhead is only 5 minutes away from the lake, so you could also combine this with your visit.
Despite being remote, it is a haven for all types of water sports lovers, with canoeing, kayaking, paddle-boarding, tubing, sailing, swimming, and water-skiing all popular activities.
To make things even easier, you can hire boats right from the lakeshore, including patio boats, aluminum fishing boats, pedal boats, single or double kayaks, and paddleboats.
Nature lovers are also drawn to the area thanks to the large wetland areas that make up part of the shore.
Camping at Lake of the Woods
Whether you are staying in a tent or a trailer, Lake of the Woods Mountain Lodge and Resort is a good spot to set up camp and explore the lake. There are three campgrounds to choose from in this area, Aspen Point, Sunset and Four Mile Lake Campground, all of which are in a wooded setting.
Other Nearby Accommodation:
Cozy Cabin by Lake of the Woods | Crater Lake Getaway-Rocky Point Resort | Klamath Falls Cabin
15. Summer Lake
Summer Lake varies in size greatly depending on the season and most of the action is actually outside of this lake. It's incredible scenic to drive around with the Fremont–Winema National Forest in the background.
Just down the road are some hiking trails to enjoy and after a day of exploring, you can visit one of Oregon's hot springs, Summer Lake Hot Springs, for a nice soak.
Camping at Summer Lake
Although there are no campsites directly around the lake, there are campgrounds nearby, such as the Summer Lake Wildlife Area. Primitive tent sites are available here, and Summer Lake Hot Springs has a few rustic cabins if you're feeling like a break from tent-life.

Read our guide to Summer Lake, Oregon.
Other Nearby Accommodation:
Rustic Log Home | Squirrelville Cabin | Summer Lake Hot Springs
---
RELATED: 29 Awesome Things to Do on an Eastern Oregon Road Trip
---
16. Detroit Lake
Although not a natural lake in Oregon, the reservoir of Detroit Lake is still pretty spectacular. Covering 1,400 hectares, it was created by the damming of the North Santiam River, and stores water for both Salen and Detroit.
There are two gorgeous state parks on the north side of the lake, Detroit Lake State Park and Mongold State Park which are great places to explore on foot, while swimming, boating, and fishing are also fun activities.
There are seven different campsites around the lake so you can wake up to some stunning views of one of the best lakes in Oregon without having to travel very far. Because of the number of campsites, it is a good lake to add to any Oregon road trip.
A great way to get a glimpse of the lake from above is to take the Stahlman Point Trail, which winds its way through the Douglas-fir forest, with the trail ending in a lookout point with views of the lake, the towns of Detroit and Idanha, and Mt. Jefferson.
The hike starts from the lake's south shore and runs for a 4.5 miles round-trip which gradually climbs.

Camping at Detroit Lake in Oregon
One of the best campsites around Detroit Lake is the one in the State Recreation Area on the northern shore of the lake. A 2.7-mile hiking trail runs the perimeter of the campground which offers nearly 300 sites, some of which are full-hookup, while others are tent only.
Other Nearby Accommodation:
Farmland Guest Cottage | Riverfront Cottage | Bali House
17. Strawberry Lake
Sitting within the Strawberry Mountain Wilderness Area of the Blue Mountains, naturally formed and surrounded by lush forest is Strawberry Lake. Hiking around the lake is extremely popular, with a number of trails, with some leading from the lake all the way up to the top of Strawberry Mountain for stunning views of the surrounding landscape.
Although you can't access the lake in the winter months by road, for those up for a winter adventure, you can still get to it by cross country skiing and snowshoeing which all adds to the adventure. Plus, fishing can be enjoyed year-round as the lake is regularly stocked with rainbow trout and brook trout.
Camping at Strawberry Lake
Just a short distance away from the lake is Strawberry Campground, located on the edge of the Strawberry Mountain Wilderness. The sites are in a beautiful wooded area, and the start of the Strawberry Basin Trailhead can be found here.
Other Nearby Accommodation:
Dixie Creek Tiny Home | Dreamers Lodge
---
READ MORE: Your Guide to the Strawberry Mountain Wilderness
---
18. Timothy Lake
There is nothing better than enjoying a summer afternoon on the banks of one of the largest lakes in Mount Hood National Forest. The lake really is a paddler's paradise, with plenty of open water to feel the wind in your hair and coves to explore and enjoy a little peace and tranquility.
The view of the mountain over the body of water is pretty impressive, and there are some big campgrounds around the shores.
This lake is ideal for those that like to while away the summer days floating on a lake under the watchful eye of a gorgeous mountain peak either as part of a mountain and lakes adventure or as just a day out with friends and family. Boat rentals are available from the lakeshore and come with the boat, paddles and personal floatation devices.
It is also one of the few lakes in Mt. Hood National Forest that allows for motorized boating thanks to its larger size, so this can be a lot of fun.

Camping at Timothy Lake
There are many campgrounds surrounding Timothy Lake, all of which have different opening and closing dates. Gone Creek Campground and Oak Fork Campground are in the southeastern corner of the lake, while Hoodview Campground is on the southern tip. Pine Point Campground is next to the Pine Point day-use area, so has plenty of amenities, as well as a group camp area.
The North Arm Campground is a smaller, more private campground on the north end of the lake and lastly, Meditation Point Campground offers a few primitive, private sites right by the lake.
Other Nearby Accommodation:
Mt. Hood Cabin | Cozy Mountain Cabin | Best Western Mt. Hood Inn
More Lakes in Oregon
OK, so we could go on and on forever because there are just that many great lakes in Oregon. Here are a few more quick runner ups…
Morraine and Teadrop Lake in Bend, Oregon. You can see these if you go on one of our favorite hikes in Bend, South Sister.
Mirror Lake is another great spot. You can just walk around the short loop but we recommend continuing up to the Tom, Dick, and Harry summit for an epic view.
Owyhee Lake is fab for fishing and camping lakeside but the hikes and bizarre landscapes of the Owyhee Canyonlands are what make this spot awesome.
Which of these lakes in Oregon are you running to visit?! Here are more epic adventures around Oregon to check out.