Clear Lake is a sparkling jewel in the Willamette National Forest or Oregon. This beautiful body of water was formed from a volcanic eruption around 3000 years ago.
The lava flow from the eruption dammed the lake and remains on a stretch of the shoreline today.
The waters filled up slowly, leaving the trees of the forest still standing under the water. The spring's cold waters preserved many of these trees, and some of these trees can still be seen under the water today.
Here's everything you can do at Clear Lake, Oregon.
Clear Lake, Oregon
---
As the name suggests, the lake is famous for its crystal clear waters that are predominantly fed by the underground springs that are flowing all year round. The lake and the springs form the headwaters of the McKenzie River.
Although many people only stop at the lake for a short while before beginning the well-known McKenzie River Trail, there is so much to do here. Hiking, biking, kayaking, camping, and diving are all popular activities, so it is worth sticking around for a day or two.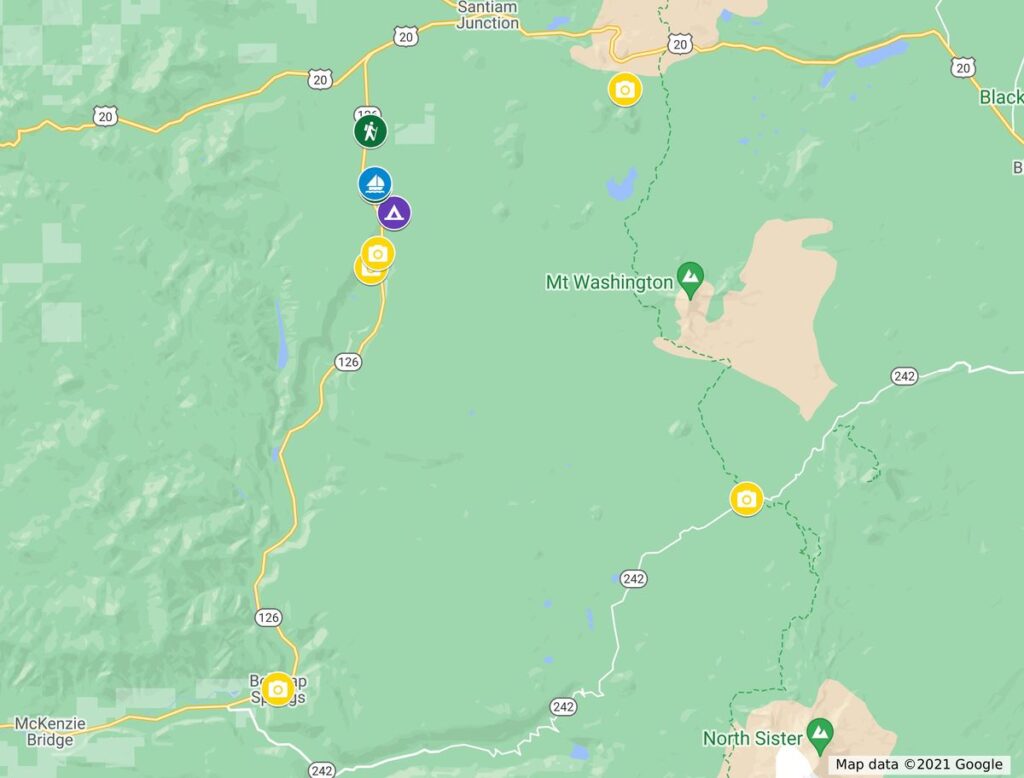 Hiking Trails at Clear Lake
There are two trails here, one easy one all around the lake and the McKenzie River Trail that brings you to other gorgeous areas near Clear Lake.
Clear Lake Loop
Distance: 4.6 miles
Type of Trail: Loop
Difficulty: Easy
The landscape around Clear Lake is stunning; therefore, you should take some time to take in the lay of the land on the Clear Lake Loop Trail. The trek is 4.6 miles long and is flat and family-friendly, twisting its way around the lake's western edge through dense old-growth forest.
There are some interesting interpretive signs along the route that will tell you a little more about the landscape's interesting geology. At one point, you'll cross a bridge that spans the McKenzie River at the outlet of Clear Lake, a great chance to admire the striking visibility of the lake waters.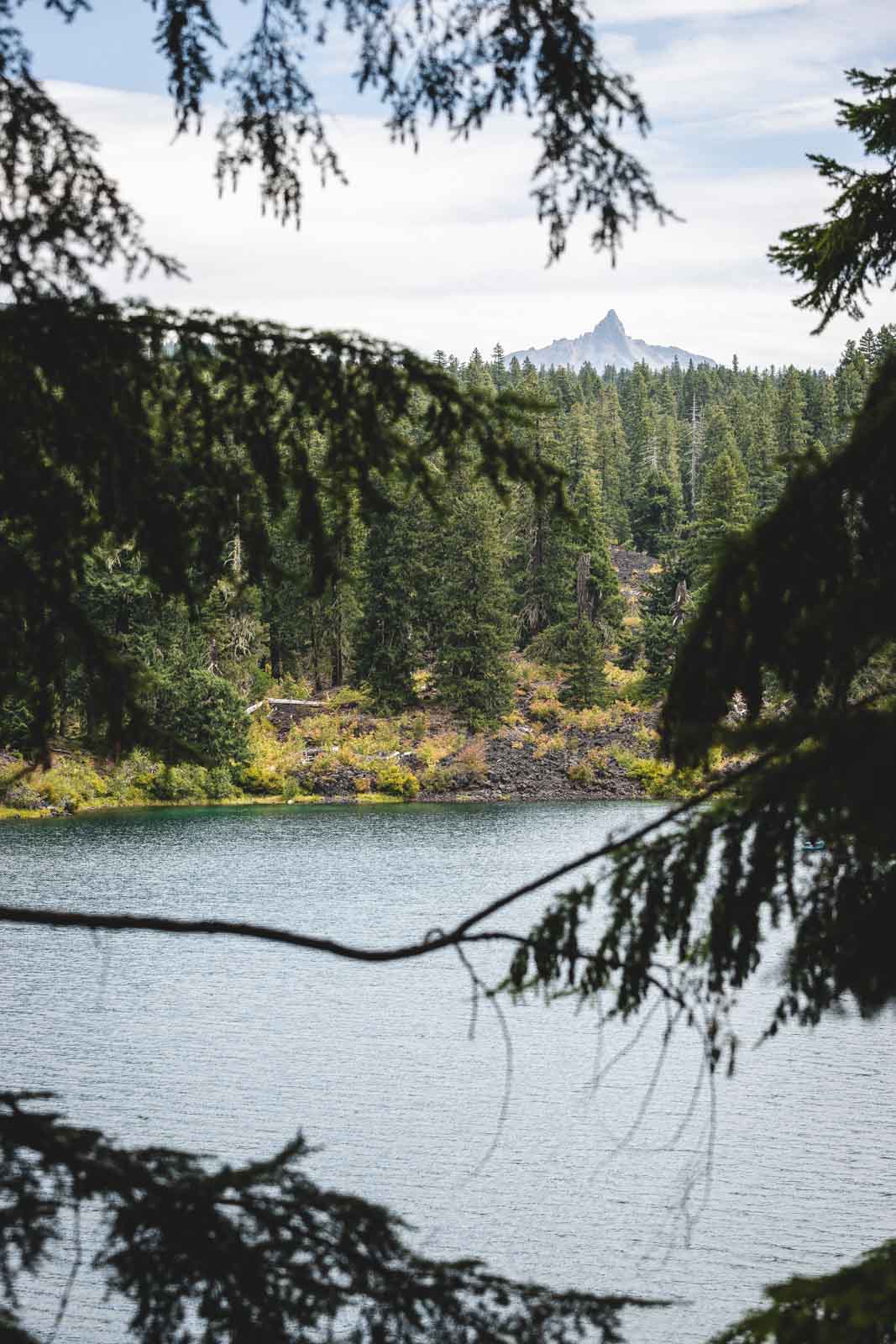 You'll also walk right past the Great Spring, a few feet below the trail. This is where the water flows right out of the ground at several sources to fill the lake and pushes water right out to the other side to start the McKenzie River.
The trail offers beautiful lake views at every turn, and there are plenty of benches that strategically provide places to rest and gaze out over the views. The trail forms part of the McKenzie River Trail, which continues along the river for 26 miles, ideal if you are looking for a longer, multi-day hike.
McKenzie River Trail
Distance: 26 miles
Type of Trail: Point to point
Difficulty: Hard
This incredible trail is a world-class destination for hikers and mountain bikers alike. The singletrack runs across lava fields and old-growth forest, crossing streams and running past some incredible waterfalls. A little further along the trail, you will find two of the McKenzie River's most incredible waterfalls, Sahalie and Koosah Falls.
You can park very close to these falls and take just a short walk to the viewing platforms. If you are feeling up to it, you can take a longer hike to give you further views of the cascading water.
Going even further on the trail brings you to the famous Blue Pool, some hot springs, and campsites too.
---
RELATED: Exploring the Sahalie and Koosah Falls Hiking Loop
---
Diving at Clear Lake
The incredibly clear waters of Clear Lake make it a premier diving location. Heading beneath the water, you'll enter an alien world of a preserved forest, perfectly frozen in time. You may even see a few sunken boats.
The visibility of over 100 feet means that you'll be able to see the surface when you are at a max depth of 100 feet in the underwater spring holes at the bottom of the lake. The water is so clear that you will feel as though you are swimming in a giant swimming pool; be aware that it is freezing and dangerous if you are not properly prepared.
The biggest draw here is the sunken forest, where 80-foot tall tree trunks can be seen jutting up towards the surface. Another interesting feature is the huge potholes at the lake's bottom where the cold water pushes up from the basalt rocks.
As there are no motorized boats allowed on the water, you won't have to worry about the water being too rough, although you will have to look out for lures and lines as it is a popular fishing spot.
You can dive in the lake all year round as the temperature does not change, even when the ground is covered in snow.
Do note that you should be a certified diver or go with a guide. You can rent gear in Salem, Portland, or Bend. There are no rentals at Clear Lake, but you're welcome to bring your own.
Kayaking and Boating at Clear Lake
What's a day at a lake without a boat? You can rent rowboats from Clear Lake Resort to take out on the water, or you can bring your own non-motorized watercraft and pay the small launch fee. The lake is the perfect size to enjoy on a stand-up paddleboard, kayak, or canoe, and there is some gorgeous scenery to admire while you paddle along.
Two boat ramps offer access to the lake, the most popular one at Clear Lake Resort. Try the one at Cold Water Cove if you're looking to avoid the crowds.
Boating offers a good alternative for experiencing the lake's clarity if you don't fancy diving, as you can check out the lake's depth from the boat, and you may be able to see some of the incredible underwater landscape from the surface. Eagles, osprey, and other wildlife can often be spotted from the water as well.
Bike Trails
Both the McKenzie River Trail and the Clear Lake Loop Trail are popular for bikers as they offer a perfect balance of flatter terrain mixed with some more challenging elements through lava fields.
The loop offers a good opportunity for a smaller mountain biking adventure for those that don't want to do the whole River Trail.
More info on biking at Clear Lake can be found here.
---
RELATED: Your Guide to Hiking The McKenzie River Trail
---
Lodging and Camping at Clear Lake, Oregon
One of the best places to camp to ensure you are as near to the lake as possible is Coldwater Cove Campground. The campground is open from late May through to mid-October and is located on the lake's east end.
This campground is ideal if you fancy waking up to stunning views of the turquoise lake and the 3000-year-old lava fields. On a clear day, you may even be able to get a glimpse of the Three Sisters and Mount Washington.
The campground has both single and double campsites, all of which come with a picnic table and campfire ring. There are also vault toilets, trash collection, and drinking water.
Clear Lake Resort is another option for staying near the lake. The resort has a series of scenic cabins that offer a more comfortable way to spend the night.
Other Rentals Near Clear Lake
East of Clear Lake in Black Butte Ranch, Aspen House is a timber-lined chalet-style stay with all the mod cons. The three-bedroom cabin has an outdoor deck with a grill for summer and a cozy wood fire for winter.
For a mini country retreat, check out Kramer's Korner in Black Butte Ranch. Located on a quiet street, it features a small deck with views of the beautiful cascade mountains.
Your four-legged friend can join you at the pet-friendly Bitter Root Cabin. This rustic three-bedroom home has timber-lined walls in a chalet style, with a large deck overlooking the surrounding forest.
What's Near Clear Lake?
There are plenty of things to do nearby that you can combine with your trip to Clear Lake, Oregon. Many of the great adventures are along the McKenzie River and have been mentioned above, but here are a few more…
Belknap Springs – These hot springs are located just down Highway 126 and are in stark contrast to the cold waters of Clear Lake. It is a great place to unwind and relax, and you'll also find a restaurant and lodge here.
---
RELATED: 13 Oregon Hot Springs to Soothe Your Post-Hike Muscles
---
Hoodoo Ski Area – This area truly is a winter playground. If you have a passion for winter sports, this is the place to head. You can enjoy sledding, downhill skiing, snowmobiling, cross country skiing, and snowboarding.
McKenzie Pass-Santiam Scenic Byway – This road is 82 miles long and lets you explore the incredible area of Willamette and Deschutes National Forest. Overall the drive will take around 2 hours, and along the way, you can admire the incredible snow-capped Cascade mountains, rich forest, and incredible lava fields.
More Things to do in Central Oregon
We hope this helped you plan your trip but don't leave yet! There's more to see in Central Oregon and more adventures in Oregon to be had.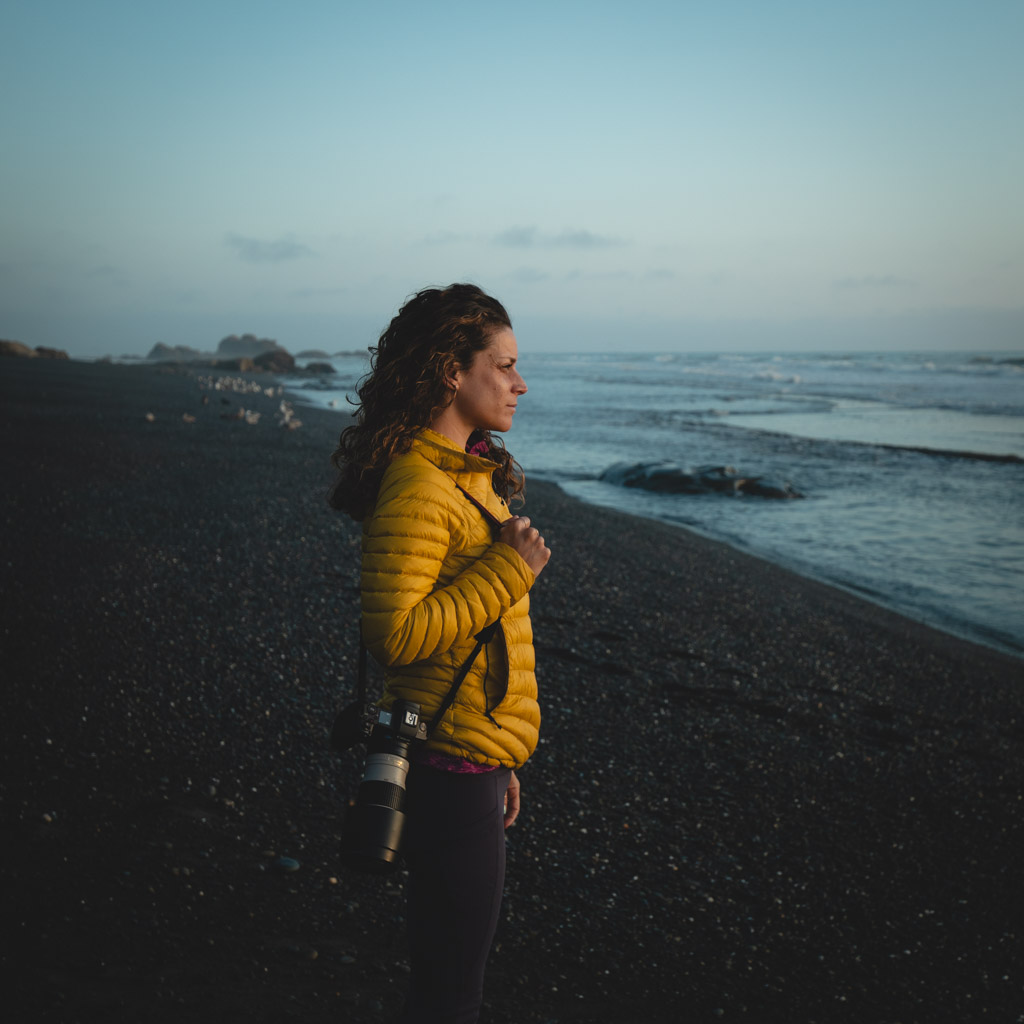 I've been perpetually traveling and living around the world for years but it's hard to beat Oregon and the PNW. After years of road-tripping the area, I guess you can say I know it pretty well! When I'm not writing guides for you, you can catch me somewhere petting a dog, attempting to surf, hiking a volcano, or stuffing my face with bread and cheese.