Boasting deep blue water and dozens of panoramic hikes, Crater Lake is one of Oregon's most awe-inspiring landmarks. The lake was formed by the destructive eruption of Mount Mazama almost 8 thousand years ago that formed the 1,949-foot deep crater we now know as Crater Lake.
With so many things to do at Crater Lake, it has become a national landmark and an icon for both locals and travelers alike. What's more, it's located in one of Oregon's most adventure-filled regions, meaning there's plenty to do other than stare at the tranquil waters of the lake itself.
Things To Do at Crater Lake National Park
---
Below you'll find some of the best hikes in Crater Lake, where to swim (if you dare), how to get to Wizard Island and where to stay near the lake. Here's a handy map for you to see where everything is too.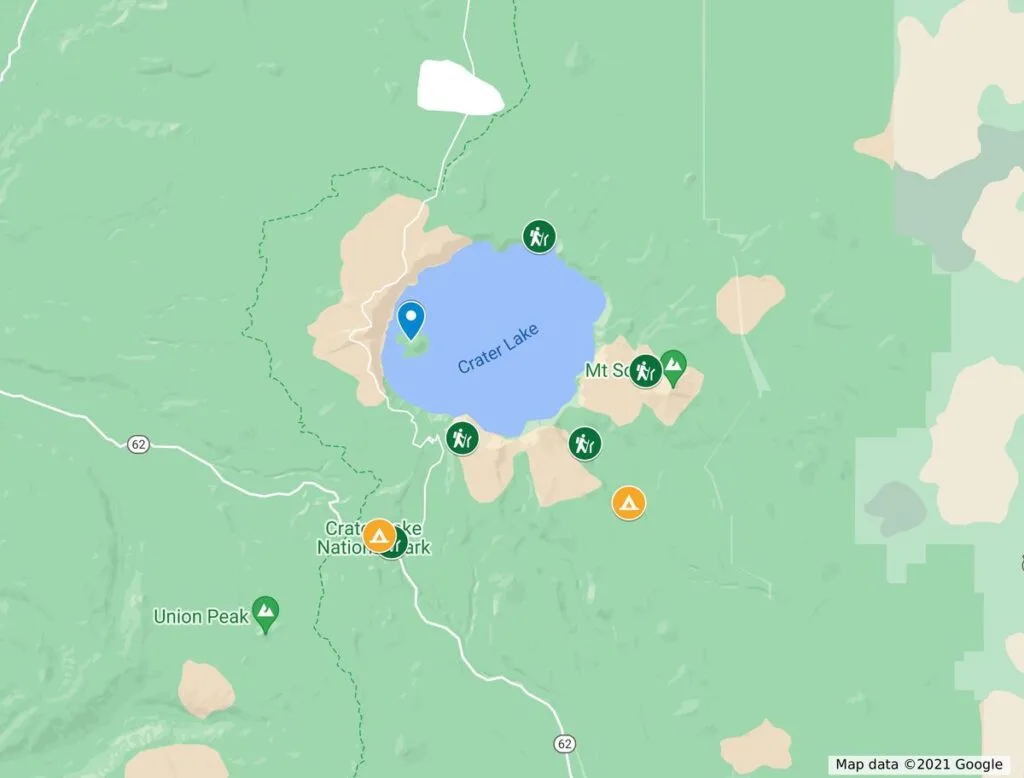 Getting Into Crater Lake
Crater Lake is a national park and requires an entrance fee. You can arrive and buy a pass that lasts one week and costs $30. However, if you plan to visit other national parks this year, it's cheaper to purchase the America the Beautiful Pass.
This pass costs $80, and you get to go to any national park in the country for a whole year! So depending on your plan, grabbing this pass now might make more sense. You can get your pass here.
Hikes Near Crater Lake National Park
Hiking around Crater Lake is hard to beat. Whether you're taking a lesser-traveled canyon trek or you're traversing the rim around the lake, gorgeous views abound. Here are a few of our favorite hikes in the park:
Mount Scott Trail
Distance: 4.2 miles
Type of Trail: Out & Back
Difficulty: Moderate
The Mount Scott Trail is short and sweet, making it one of the most popular hikes in the park. It's also a great one for the whole family to explore.
The hike up Mount Scott will take you to the highest point around Crater Lake, and you'll get views of the lake as well as surrounding peaks. This isn't one to be missed; although there can be crowds at times, the views at the end of the hike are well worth the trip.
Garfield Peak Trail
Distance: 3.4 miles
Type of Trail: Out & Back
Difficulty: Moderate
The views from Garfield Peak aren't drastically different from those on Mount Scott, as this is another traverse along the edge of Crater Lake. This trail is slightly shorter, though, and makes for a great day hike in the park.
If you're looking for an easy hike that'll reward you with panoramic views of Crater Lake and the surrounding scenery, the Garfield Peak Trail is a great one. This trail tends to be slightly less popular than the Mount Scott Trail, so it's the better of the two on weekends and holidays.
Annie Creek Canyon Trail
Distance: 2.1 miles
Type of Trail: Loop
Difficulty: Moderate
This trail is different from the majority of hikes in Crater Lake National Park – instead of panoramic views of Crater Lake, you get unique canyon views as you hike along Annie Creek.
It's a hidden gem within the park and a great place to go if you want to escape the crowds. Annie Creek Canyon has some interesting geological formations that make this canyon hike even more special.
It's hard to go wrong on this trail at Crater Lake. It's a great spot to check out if you've seen enough of Crater Lake and are ready to experience more of what the region has to offer!
Cleetwood Cove Trail
Distance: 2.1 miles
Type of Trail: Out & Back
Difficulty: Moderate
If you want to take a dip in the deep blue (and freezing!) waters of Crater Lake, Cleetwood Cove Trail is a hike to check out. We think it's one of the best hikes in Crater Lake National Park for a reason; it's the only established trail with access to the lakeshore since most areas around the lake are very steep and inaccessible.
Because the Cleetwood Cove Trail allows you to get down to the water, it's a very popular hike with swimmers. If you're feeling adventurous, try cliff jumping – there are a few spots at the end of the trail that are great if you want to jump into the water.
Of course, make sure to be cautious and know your limits. The water of Crater Lake is extremely cold, and it can be a big shock when you first get in.
Cleetwood Cove Trail is an all-around great spot to check out if you want to get a little closer to the lake to cool off on a hot summer day. There are a few steep switchbacks that may be difficult for some hikers.
---
READ MORE: How to Hike Cleetwood Cove Trail in Crater Lake National Park
---
Plaikni Falls Trail
Distance: 2 miles
Type of Trail: Out & Back
Difficulty: Easy
The trail to Plaikni Falls, much like the Annie Creek trail, offers different scenery than the typical panoramic views of Crater Lake. It's a short and sweet hike, but it's a refreshing hike that'll take you through lush greenery to a vibrant waterfall.
One of the main advantages of this trail is that, particularly during peak tourist season, the Plaikni Falls trail isn't as popular as some of the trails that traverse the rim of Crater Lake. If you're looking for shade and solitude, this is certainly one to try out.
---
READ MORE: 9 Best Crater Lake Hikes You've Got to Take On!
---
Driving Crater Lake's Scenic Rim Road
If you're at all familiar with the geography of Crater Lake, you'll know that the lake is surrounded by mountainous peaks that comprise the "rim" around the lake. Cruising along Rim Drive is one of our favorite things to do at Crater Lake – the drive traverses the rim of the lake and gives you panoramic views of meadows, forests, and mountains.
The drive is 33 miles in total and passes more than 30 overlooks, making this drive an excellent option if you're planning to spend an entire day exploring and checking out the various vistas and overlooks along the way.
---
READ MORE: Crater Lake Rim Drive: Everything You Need to Know!
---
Swimming at Crater Lake
We've mentioned this a little bit already, but access to the lakeshore of Crater Lake is nearly impossible, save one trail: the Cleetwood Cove trail. We've got more information about that in the section of the hikes of this article, but the Cleetwood Cove trail will take you down to a gorgeous cove with excellent access to Crater Lake's water.
This isn't a true swimming destination; Crater Lake's water is ice cold, and you won't be comfortable for very long in the water. It is, however, great for those hot summer days when nothing is more refreshing than a dip in the lake. Swimming and cliff jumping are some of the most popular things to do at Crater Lake during the summer, so expect to share the lake with some company if you do head down to swim in the summer.
---
RELATED: 17+ of the Best Lakes in Oregon for Adventures & Camping
---
Exploring Wizard Island
As soon as you get to Crater Lake, one of the first things you'll notice is the prominence of a solitary island in the corner of the lake. This island is called Wizard Island, and it's a unique environmental feature that makes for one of the most popular things to do in the park. Boat trips to the island are offered, and on these boat trips, you'll get three hours to enjoy your time exploring the island.
A few things to note about taking a boat to Wizard Island at Crater Lake:
You need to hike to and from the dock! It's a 2 miles trek round trip one mile down and another mile back up. This is the only way to get a boat to the island. This is the same trail as the Cleetwood Cove hike mentioned above.
The boats are available from July 14 – September 3, 2019.
There's an option for a full lake boat tour or just a boat ride to the island and back.
Getting a boat to Wizard Island does depend on weather and cancellations do happen.
Because of the hike to the dock, you'll need to start your trek down around an hour or so before your scheduled boat ride.
What to do once you're there? If you're brave enough, swimming is allowed and wonderfully icy cool on a hot summer's day. There's also that cone hill on the island which is hikeable as well. It's a 2.2 mile, moderate trek to the top for some stunning vistas over the blue water.
Fishing is also allowed from the shore of Wizard Island, making this likely the best place to fish in Crater Lake National Park. You can also fish at Cleetwood Cove, but the area is generally so crowded with swimmers that fishing is difficult. One thing is for sure, be sure to check out Wizard Island! It's one of the many beautiful features that make Crater Lake such a unique place to visit.
Lodging and Camping Near Crater Lake National Park
Camping at Crater Lake National Park is always a fun experience – the wildlife and nature in the area are fun to check out, and the climate at Crater Lake is fairly warm and dry. The Mazama and Lost Creek campgrounds are the two developed campgrounds in the park, and they're great spots to pitch a tent.
Be aware that camping in Crater Lake National Park is extremely popular, and it's smart to make a reservation online before you head out – there are quite a few undeveloped campsites in the area, but if you want a spot at Mazama or Lost Creek during the summer you will likely have to reserve a site in advance.
If camping isn't your thing, there are also some excellent vacation homes and lodges to stay at nearby:
Cabin on Klamath Lake – This rustic 1940s lakefront cabin has a full kitchen, two bedrooms, and a front deck with seating and views of the lake.
Red Blanket Cabin – This custom-built cabin is located on a wooded property and has two bedrooms, a front porch with Adirondack chairs, and a fire pit.
Aspen Inn – This cozy and quaint inn offers private rooms, suites, and chalets, some of which have living rooms and simple kitchenettes.
Heartland Ranch – A 250-acre horse ranch that offers accommodation in traditional Native American tipis for an unforgettable experience. The tipis are rustic and you will have access to a propane heated shower and port a potty.
When to Visit Crater Lake National Park
In reality, Crater Lake is stunning to visit all four seasons out of the year, but each season brings special scenery and considerations to take into account. Here are the details about visiting Crater Lake during the different seasons of the year.
Visiting Crater Lake in Summer
The most popular season to visit Crater Lake is summer and it's a great time to stop by the park for a wide variety of reasons. Hot summer temperatures make swimming in the lake and relaxing in the area a blast, and all the snow from winter and spring will have melted, meaning that hiking trails are accessible.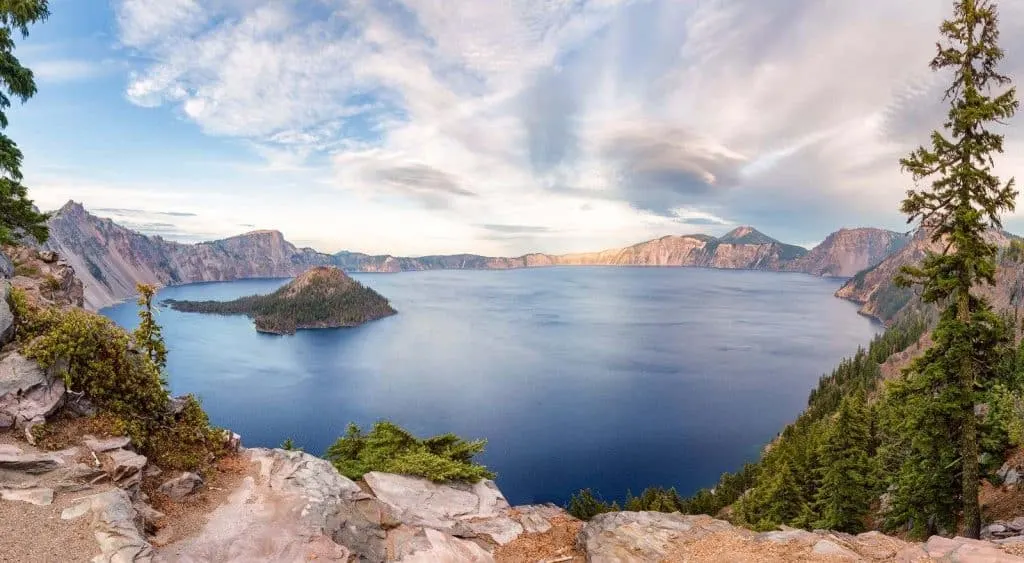 Because summer is the most popular season, you're likely to see plenty of other people during your summertime visit to Crater Lake. This park doesn't get nearly as crowded as some other national parks, but it can still get pretty congested. If solitude is what you're looking for, try visiting in the fall or the spring to find the park nearly empty.
Visiting Crater Lake in Fall
Oregon isn't a state known for its fall colors, but there is still limited fall foliage around Crater Lake that's worth checking out. Better than the fall foliage, perhaps, is the fact that tourism at Crater Lake drops off dramatically after September – if you choose to visit in the fall, you might be one of the only ones at the park!
Snow doesn't typically fall at Crater Lake until November or December, so most trails will still be snow-free during your fall visit – this makes fall a perfect time to enjoy trails and scenic views without the summer crowds.
---
RELATED: 37 of the Best Oregon Hikes You've Got to Check Out
---
Visiting Crater Lake in Winter
There's not a more stunning winter destination in Oregon than Crater Lake. Snow-capped peaks contrast beautifully with the deep blue water, and Crater Lake during winter is a beauty to behold.
During winter, however, your recreational opportunities around the lake are significantly more limited. Snow cover makes many hiking trails difficult or inaccessible, and the roads to the lake can be very snowy and icy – make sure you're ready to drive through some winter conditions!
The Rim Road is closed during winters, just a small portion in the south remains open. Check here for more road info around Crater Lake.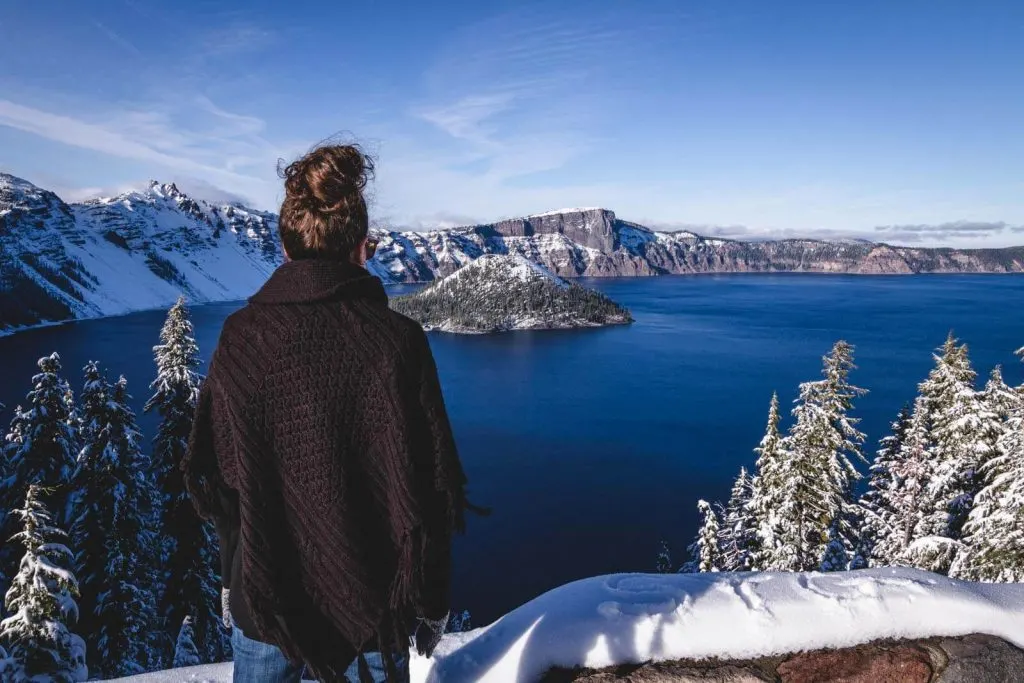 If you're more interested in the scenery of the lake itself and don't mind the cold, winter rivals summer for being the best season of the year to visit Crater Lake. There are hardly any people visiting the lake in the winter, so this is another time to find some solitude.
For winter games, skiing and snowshoeing are both possible here as well, it's a favorite thing to do in winter in Oregon.
Visiting Crater Lake in Spring
Once the snow starts to melt in February and March, Crater Lake again becomes a very popular location to visit. Spring colors abound, and because Crater Lake is in Central Oregon, it doesn't rain too often – this makes spring a great time to visit Crater Lake.
Hiking trails will often be pretty muddy and wet throughout the spring due to melting snow, but they're still accessible and will be less crowded for those who don't mind getting a little dirty.
Where Are You Headed After Crater Lake?
North
South
Crater Lake National Park is a true gem, and it's got something for everyone. We can't recommend it enough; this summer (or any other season, for that matter!) make it a goal to get out to Crater Lake and experience all that Oregon has to offer!
More Things to do in Central Oregon
We hope this guide helped you plan some fun things to do at Crater Lake! Be sure to check out our other hiking in Oregon posts and other adventures around Oregon.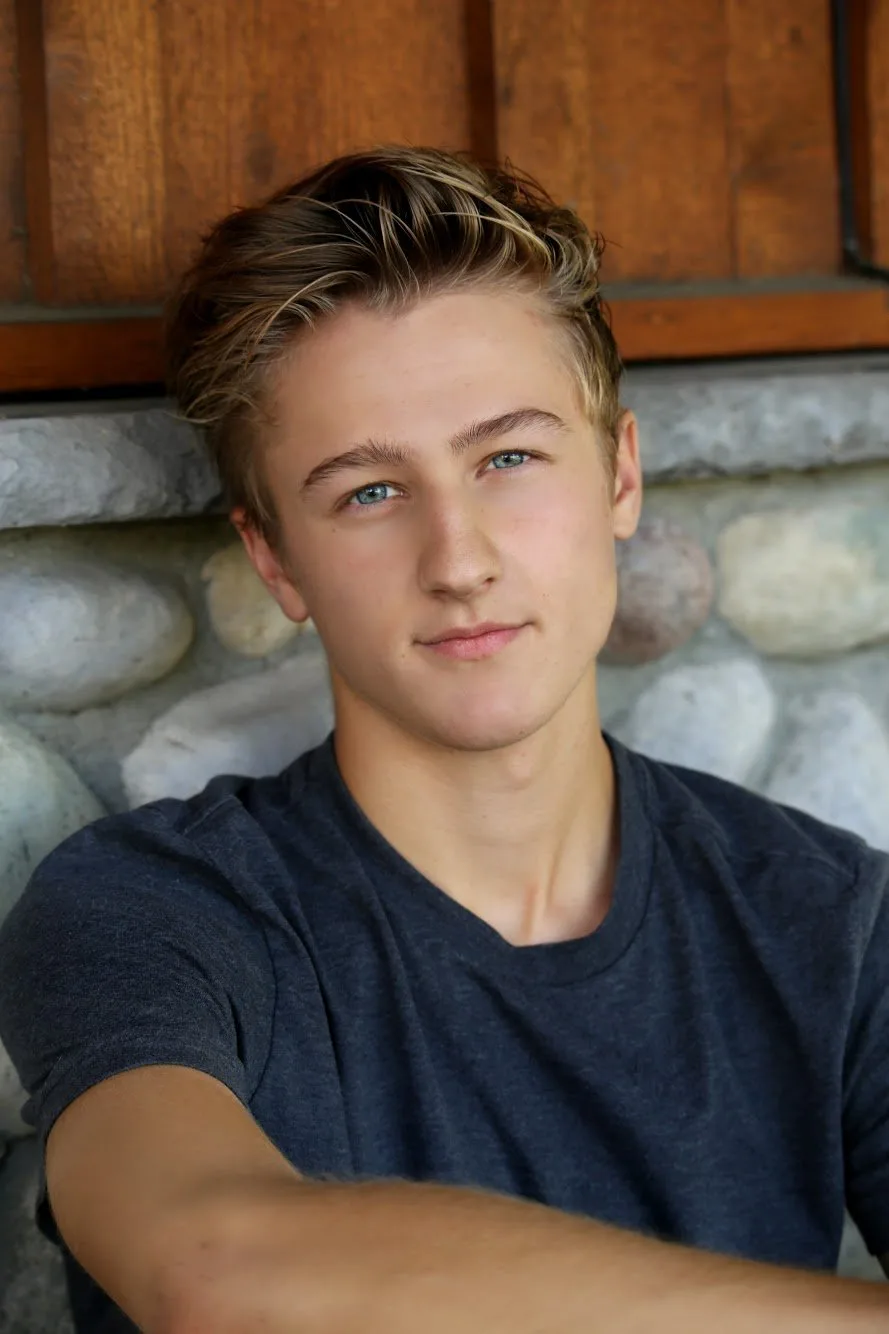 Born and raised in Oregon, I'm an outdoor enthusiast, fly fisherman, and travel writer; I love to share adventures one article at a time.