When finding the perfect hotel in Cannon Beach, Oregon, for your trip, it can be hard to narrow down your options. With so many places to choose from, it's crucial to find one that offers exceptional amenities and excellent service while still staying within your budget—Oh, and be close to the action!
Luckily, we've done the hard work for you and narrowed down the best hotels in Cannon Beach! Whether you're looking for budget-friendly options or something that exudes luxury, you're sure to find something that fits your needs on our list.
The Best Hotels in Cannon Beach
---
In a hurry? No prob! Here's a quick rundown of some of the best places to stay in Cannon Beach.
About Cannon Beach, Oregon
Nestled along the captivating Oregon Coast, Cannon Beach has earned its reputation as the state's most beloved beach destination. With its iconic Haystack Rock rising majestically from the ocean, Cannon Beach has not only been celebrated as one of the best Oregon beach towns but one of the best beach towns in the U.S. by none other than Nat Geo.
As you step foot on its shores, you'll be enchanted by hidden coves, thriving tide pools, and endless stretches of pristine coastline. This is one of our fav beach towns, and I've been personally visiting these shores since I was a toddler!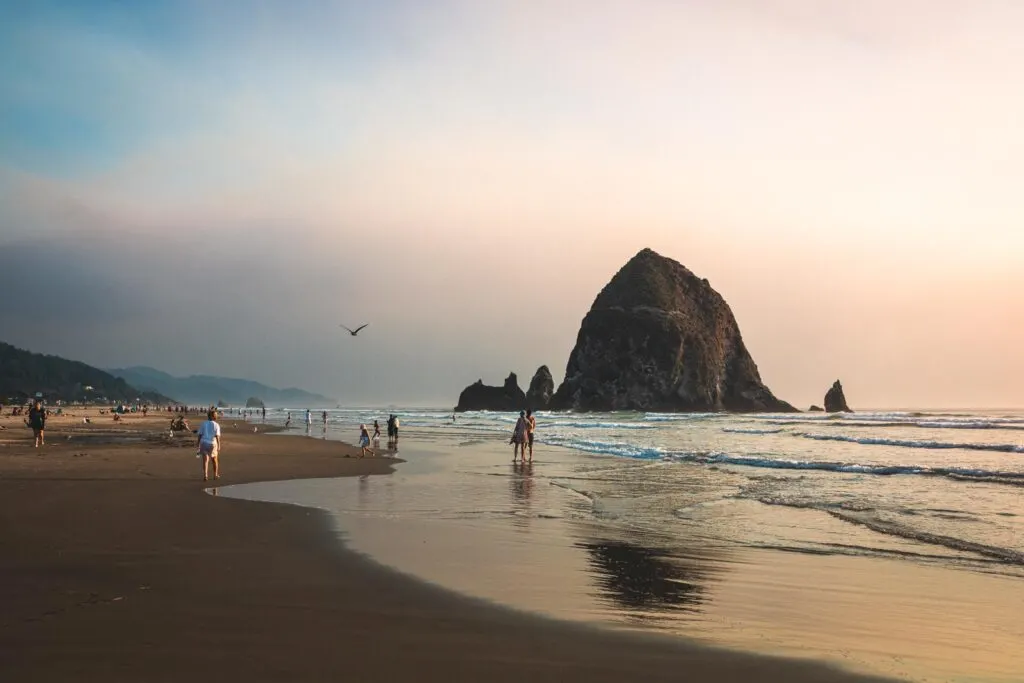 Whether you're seeking outdoor adventures, breathtaking viewpoints, or encounters with fascinating marine and birdlife, Cannon Beach promises a wealth of unforgettable experiences.
Below is just a quick run down of our favorite things to do in Cannon Beach before we get into the best hotels!
Things to Do Near Your Hotel in Cannon Beach:
Haystack Rock is an iconic attraction, and at low tide, visitors can explore tide pools teeming with sea stars and other fascinating creatures. Watch out for puffins too! Speaking of…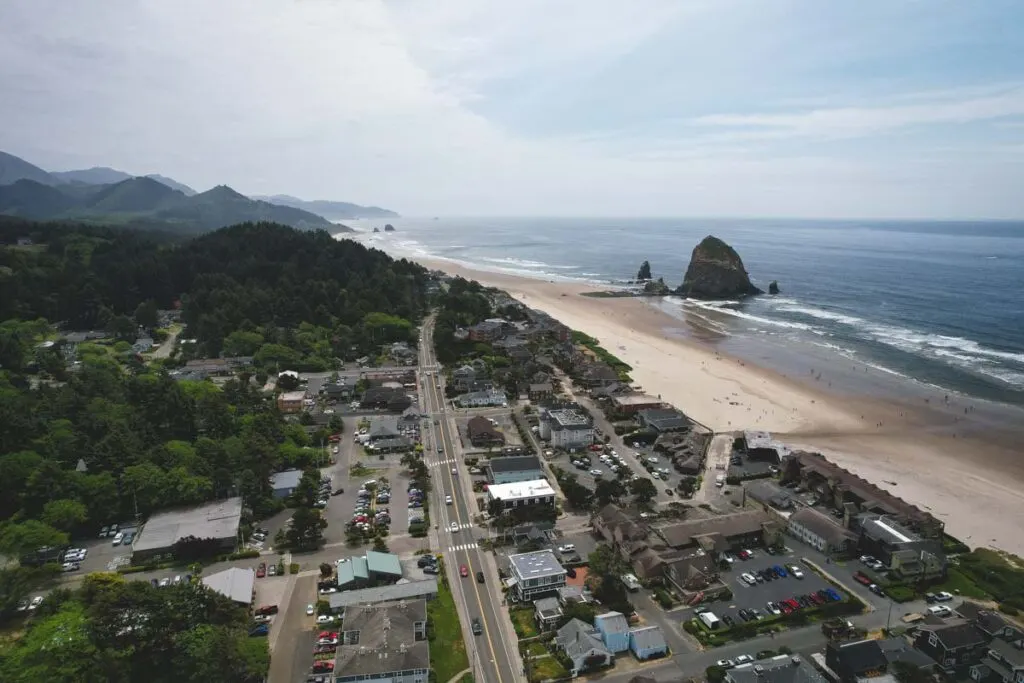 Cannon Beach is a paradise for wildlife watchers, with numerous seabird colonies, Tufted Puffins at Haystack Rock, Bald Eagles, and around 18,000 Gray Whales migrating past the shore every spring and winter.
Ecola State Park, just right of Cannon Beach, is a must-visit spot. It offers stunning viewpoints, excellent surfing, hiking, wildlife watching, and tide pool exploring along the Tillamook Head National Recreation Trail.
Hug Point State Recreation Site features deep-sea caves, a seasonal waterfall, and beautiful cliffs along the beach. Take a leisurely walk to admire the incredible cliffs and explore sea caves.
Oswald West State Park stretches along four miles of the Oregon Coast and boasts dense rainforests to wander, breathtaking ocean views, and secluded sandy beaches.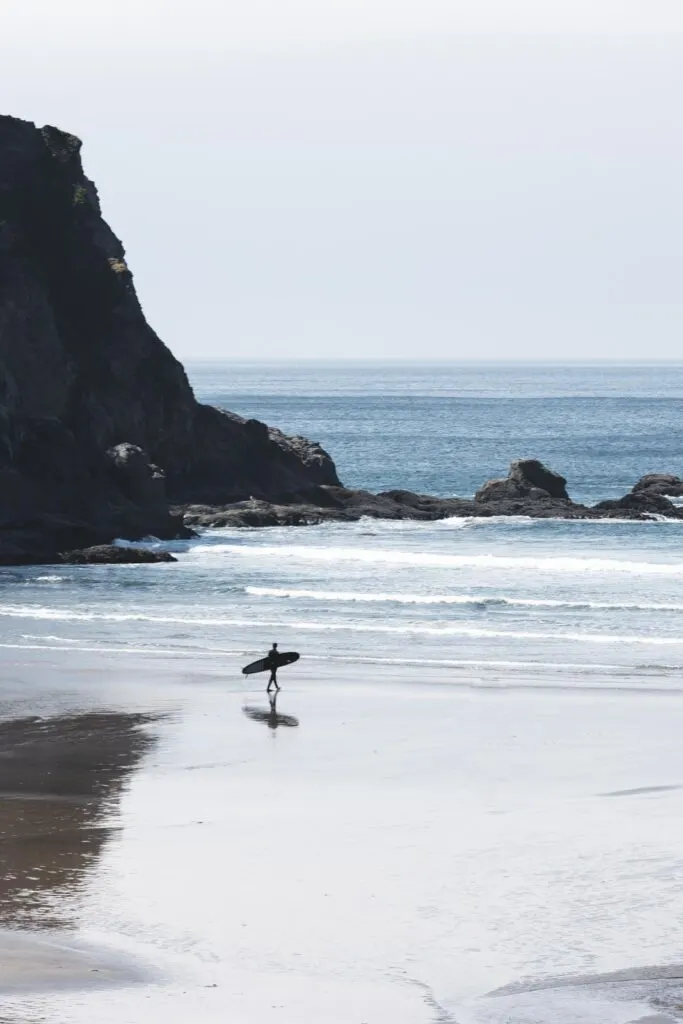 Short Sand Beach, located in a sheltered cove in Oswald West, is a hotspot for surfers, including locals from the Portland area like me! But it's also a beautiful place to relax, go skimboarding, boogie boarding, fly a kite, or paddle.
The Cape Falcon Hike offers a scenic 2-mile coastal forest hike with stunning views of the Pacific Ocean.
The Neahkahnie Mountain Hike takes you to the exposed summit of Neahkahnie Mountain, offering breathtaking views of the Pacific Ocean.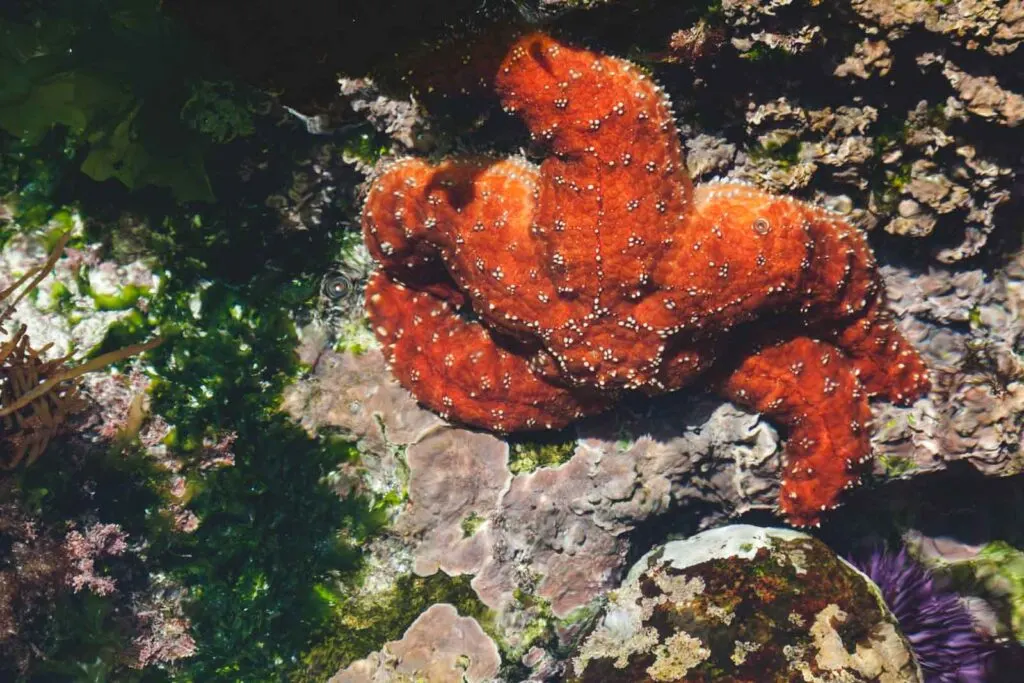 Arcadia Beach State Recreation Site offers an opportunity to explore tide pools filled with colorful marine life, including sea stars, sea anemones, hermit crabs, mussels, and more.
Devil's Cauldron is a must-see for its impressive cove bordered by towering cliffs that plunge into the ocean, creating a spectacular sight.
Best Places to Stay in Cannon Beach
1. Hallmark Resort & Spa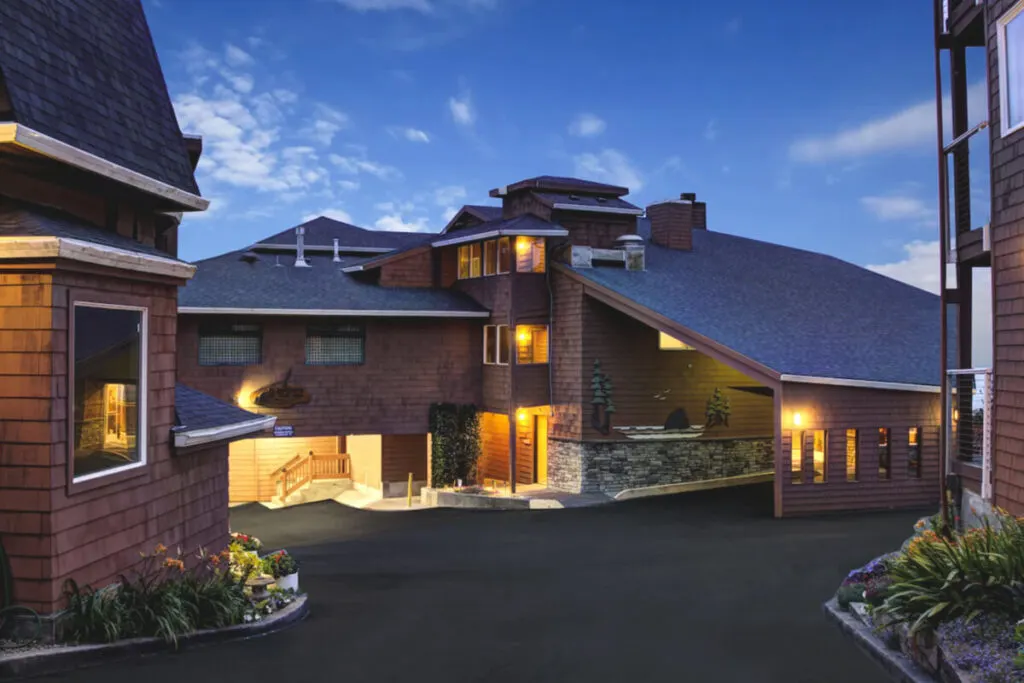 Located on the beachfront, the Hallmark Resort & Spa offers guests stunning ocean views and direct beach access. The resort features a full-service spa, a fitness center, an indoor pool, and a hot tub. Guests can choose between standard rooms, suites, or cottages, all featuring comfortable beds, flat-screen TVs, and a mini-fridge.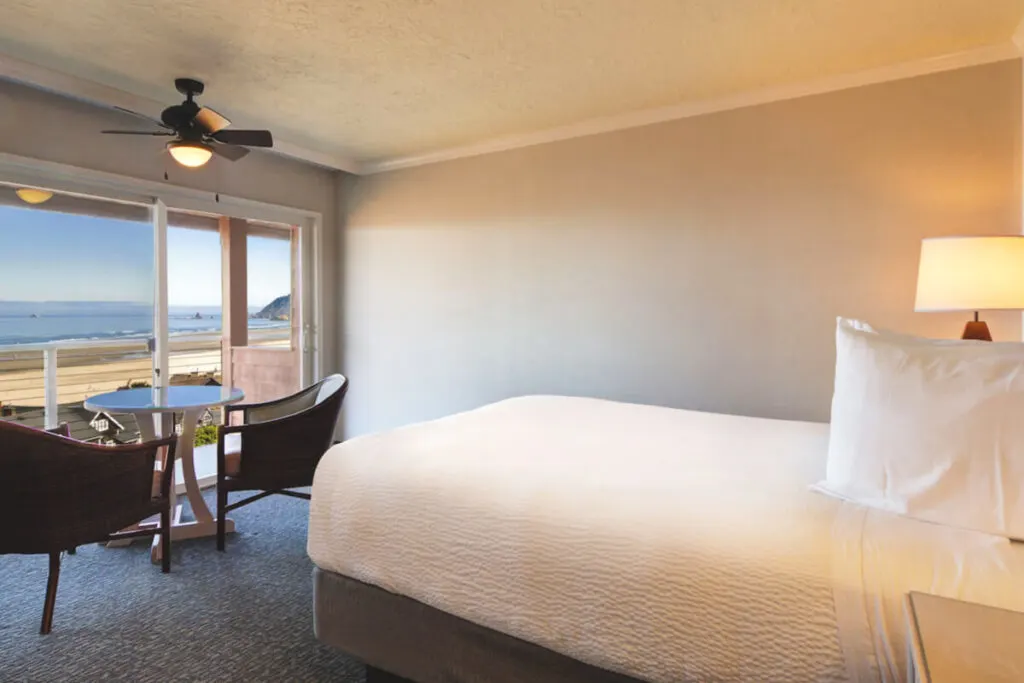 This resort boasts excellent reviews and is especially helpful for families who want to stay hassle-free. It can be considered a mid-range hotel.
CHECK PRICE:
2. The Wayside Inn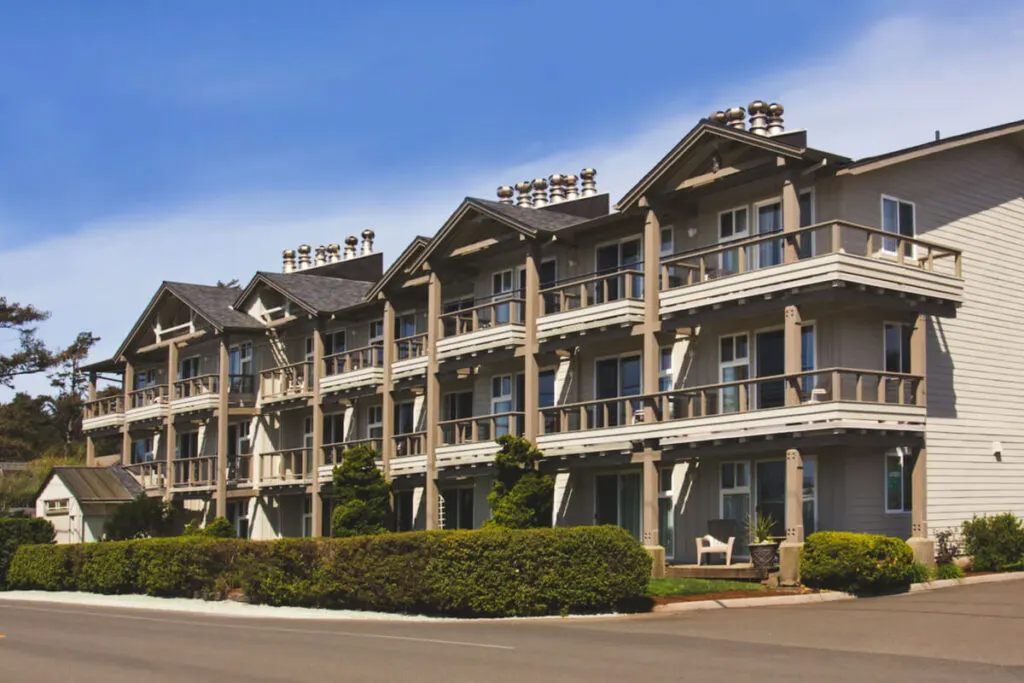 The Wayside Inn is just two blocks from the beach and offers a spacious room full of contemporary designs. It's one best places to stay in Cannon Beach! This overly pet-friendly inn features comfortable beds, flat-screen TVs, and free Wi-Fi to make your stay comfortable.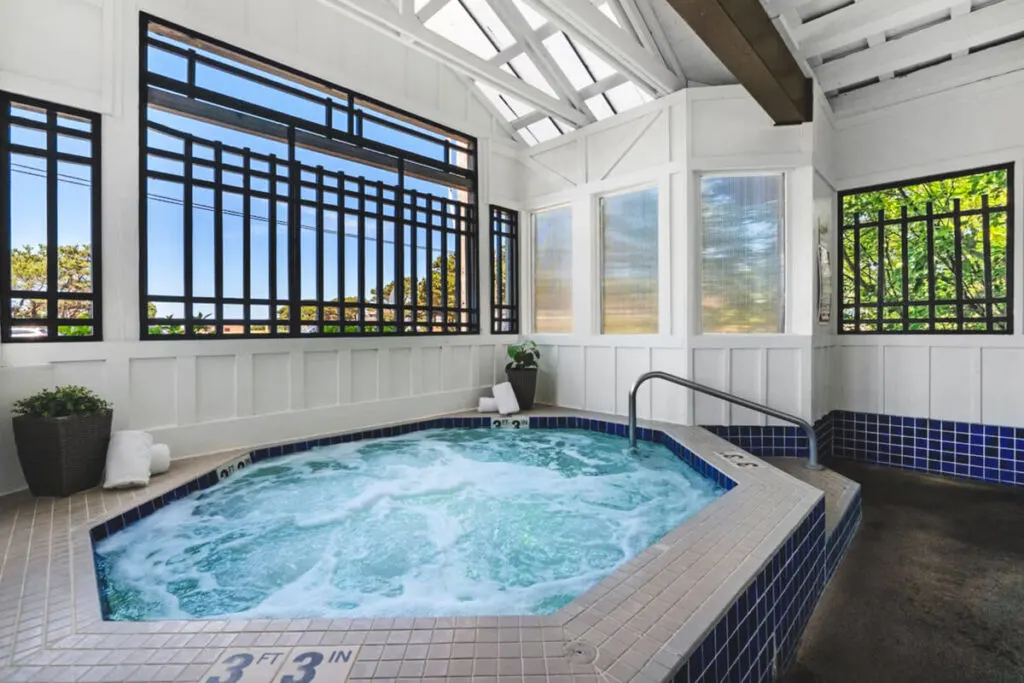 Guests can also enjoy the heated indoor pool and relax in the hot tub. This inn offers very affordable pricing and has a fantastic staff. This hotel is a budget-friendly option.
CHECK PRICE:
3. Surfsand Resort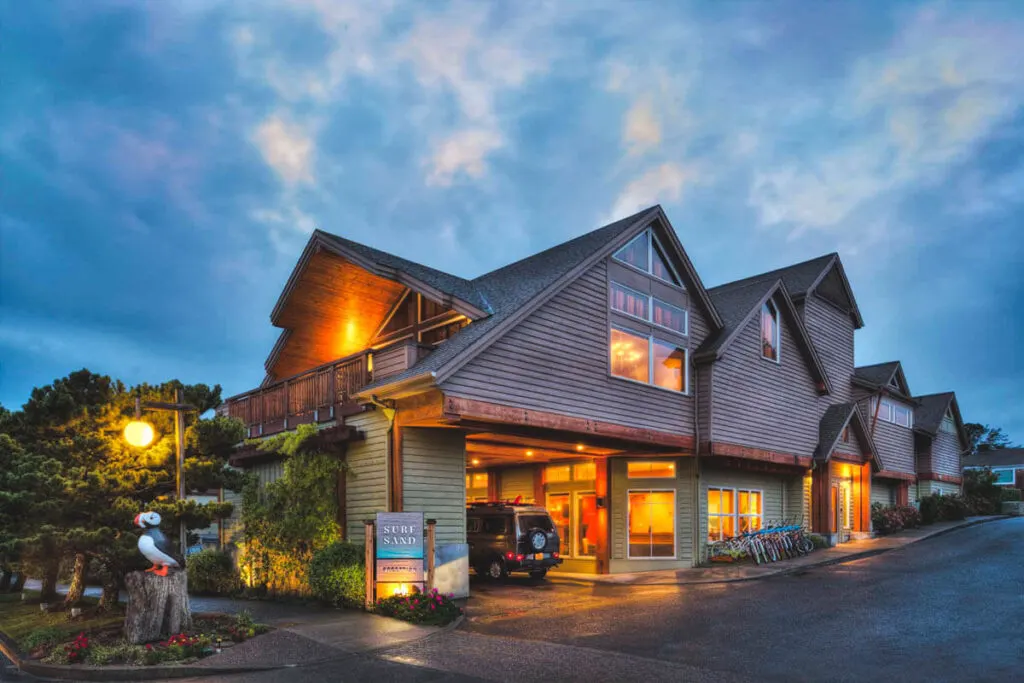 Surfsand Resort is located on the beachfront, and this luxurious hotel in Cannon Beach boasts amazing views of the sea. The resort offers numerous features, including a fitness center, hot tub, an onsite bar, a game room, and free Wi-Fi.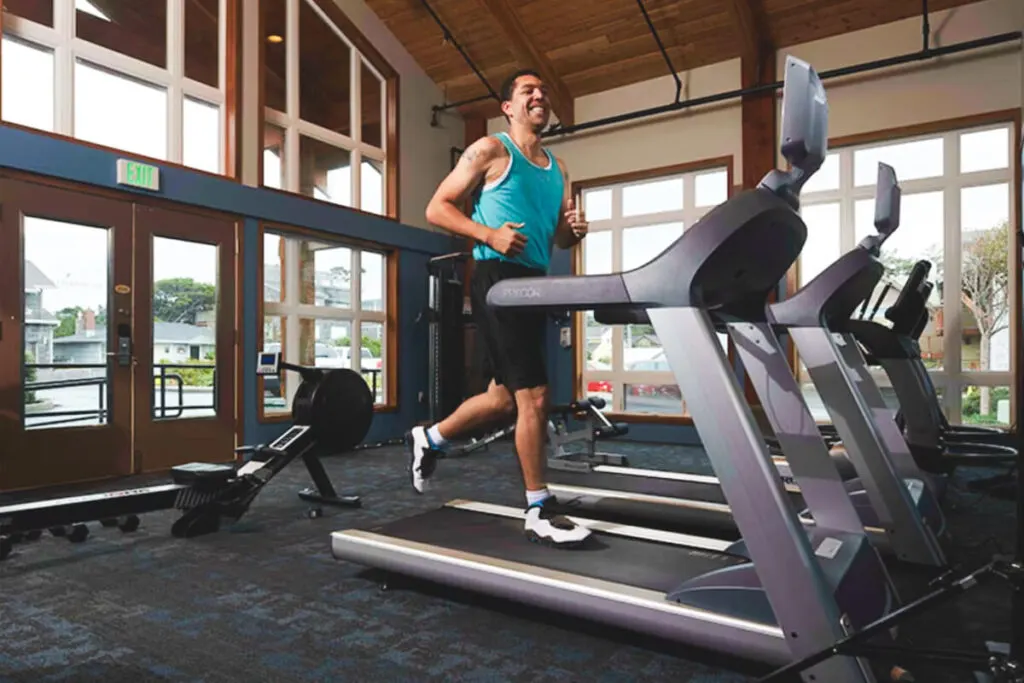 Rooms are provided with luxurious décor, comfortable furniture, and cozy fireplaces. This higher-end hotel in Cannon Beach just might be the getaway you need!
CHECK PRICE:
4. The Inn at Arch Cape
The Inn at Arch Cape is a hotel near Cannon Beach and offers a secluded setting perfect for a romantic getaway or a quiet trip. The inn features a hot tub surrounded by lush greenery, beautiful gardens, and scenic views.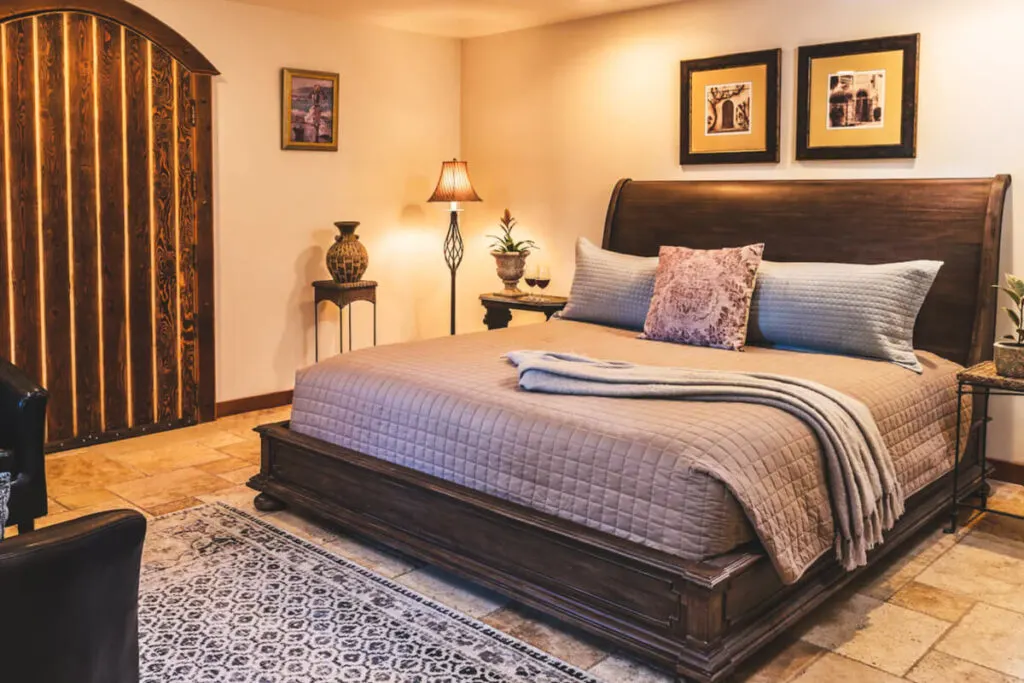 The cozy, rich, and open rooms are tastefully decorated, and each has its private bathroom, outdoor patios, and access to the magnificent garden. Guests can enjoy free Wi-Fi and gourmet breakfast. This inn offers luxurious accommodations just a 4-minute walk from Cannon Beach.
CHECK PRICE:
5. Tolovana Inn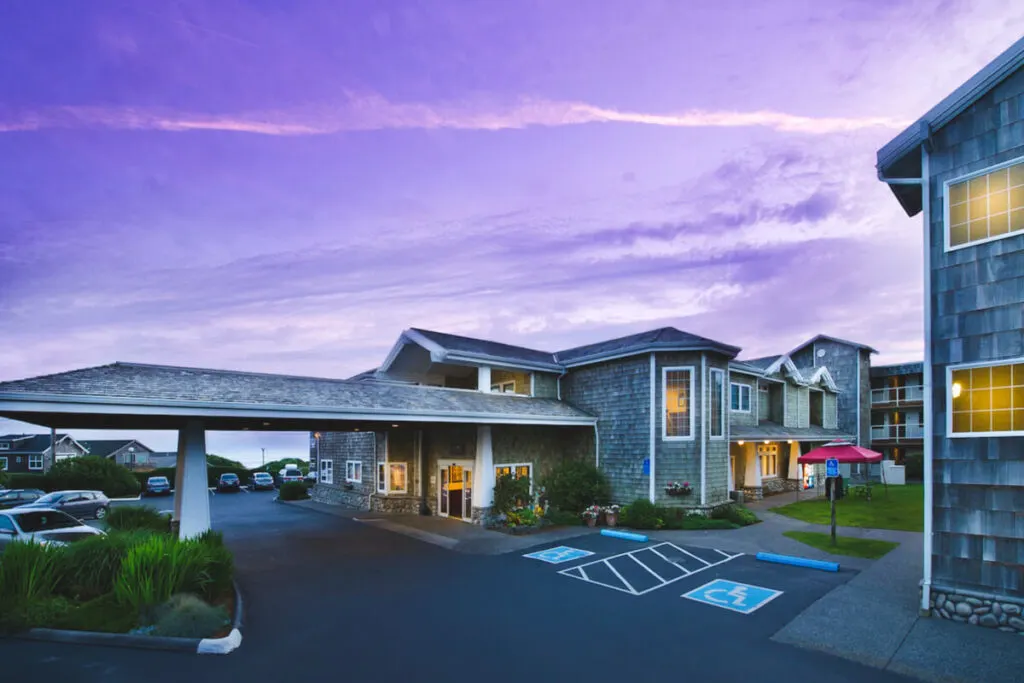 Tolovana Inn is one of the best places to stay in Cannon Beach and is one mile south of Haystack Rock and about 2 miles south of the main town center. You'll get breathtaking oceanfront rooms and suites here! The resort amenities include a saltwater indoor pool, spa tub, sauna, and fitness center, making it an excellent base for active travelers.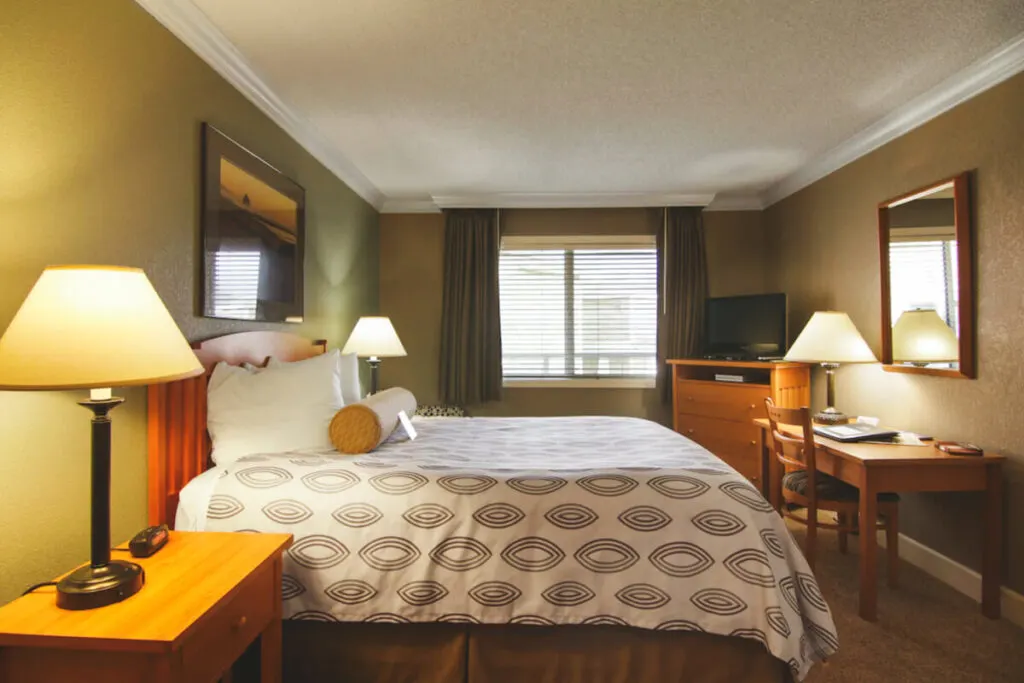 The perfectly styled rooms feature comfortable bedding, small kitchens, and flat-screen TVs. Many guests enjoy the ocean views from their private balcony. This spot is a mid-range option for a hotel in Cannon Beach.
CHECK PRICE:
6. Inn at Cannon Beach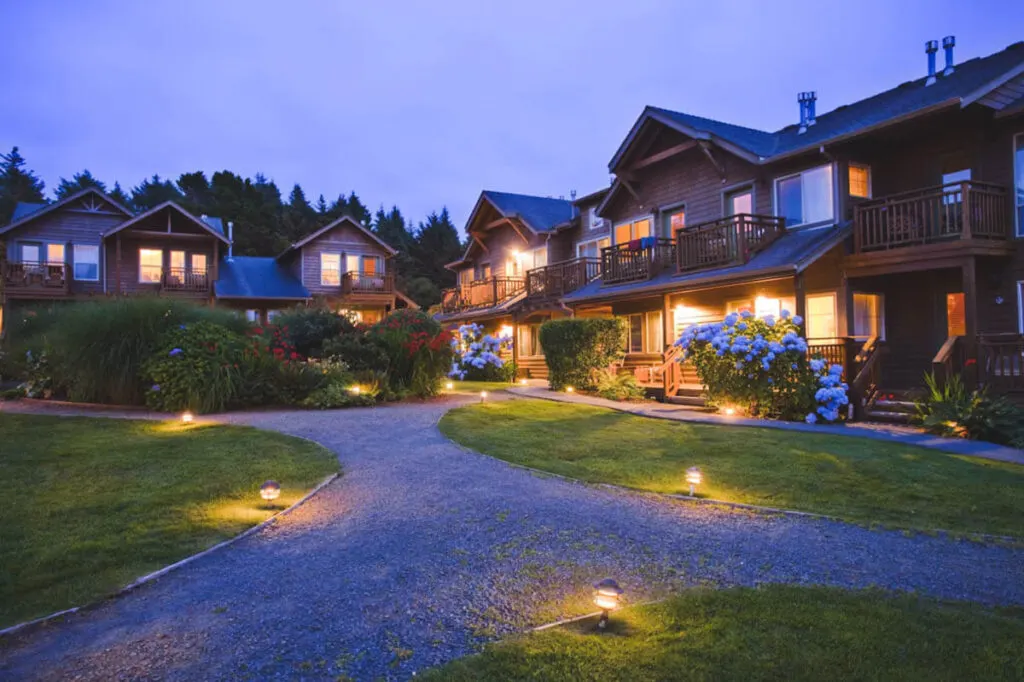 The Inn at Cannon Beach isn't just located two minutes from the beach— it's also known for its friendliness and excellent hospitality!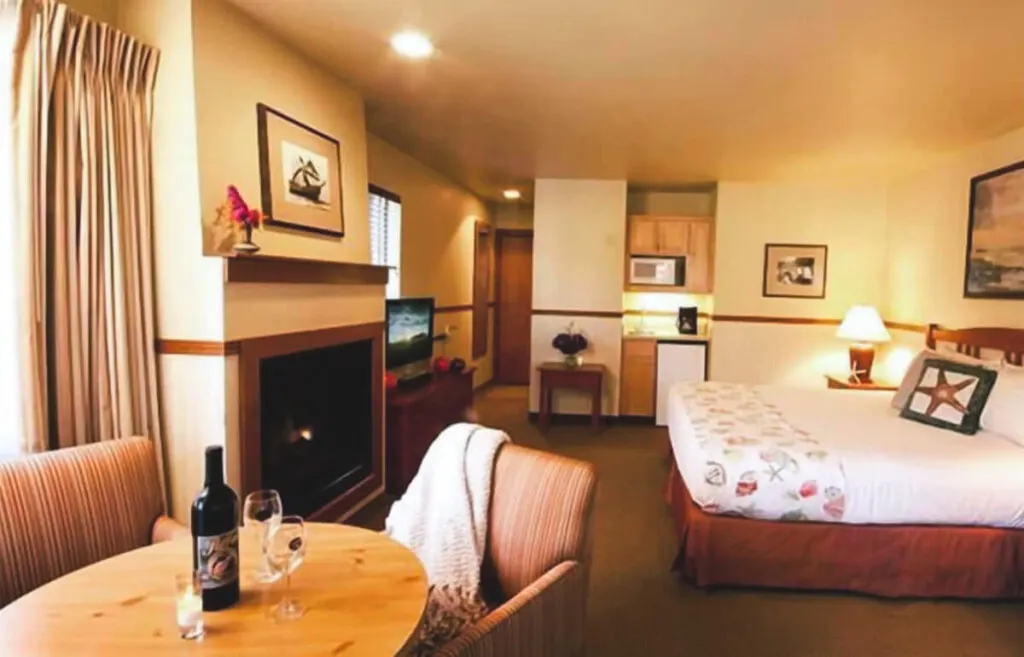 The inn features rooms with a fireplace, king-sized beds, private balconies, and amenities such as flat-screen TVs and free Wi-Fi. Couples looking for a romantic getaway will appreciate the outdoor spaces, perfect for unwinding with a view. This spot is a bit more of a mid-range hotel.
CHECK PRICE:
7. Webb's Scenic Surf Resort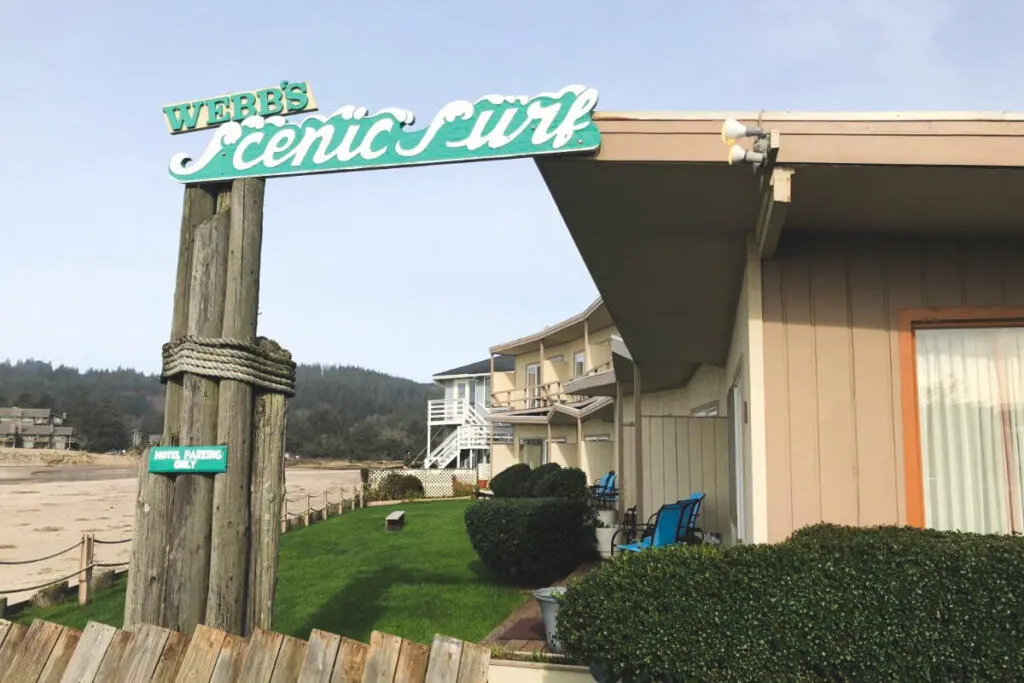 Webb's Scenic Surf Resort is situated close to the beach and is an excellent hotel in Cannon Beach for families and couples looking for a relaxing vacation. These are beautiful suites with stunning sea views straight from your terrace.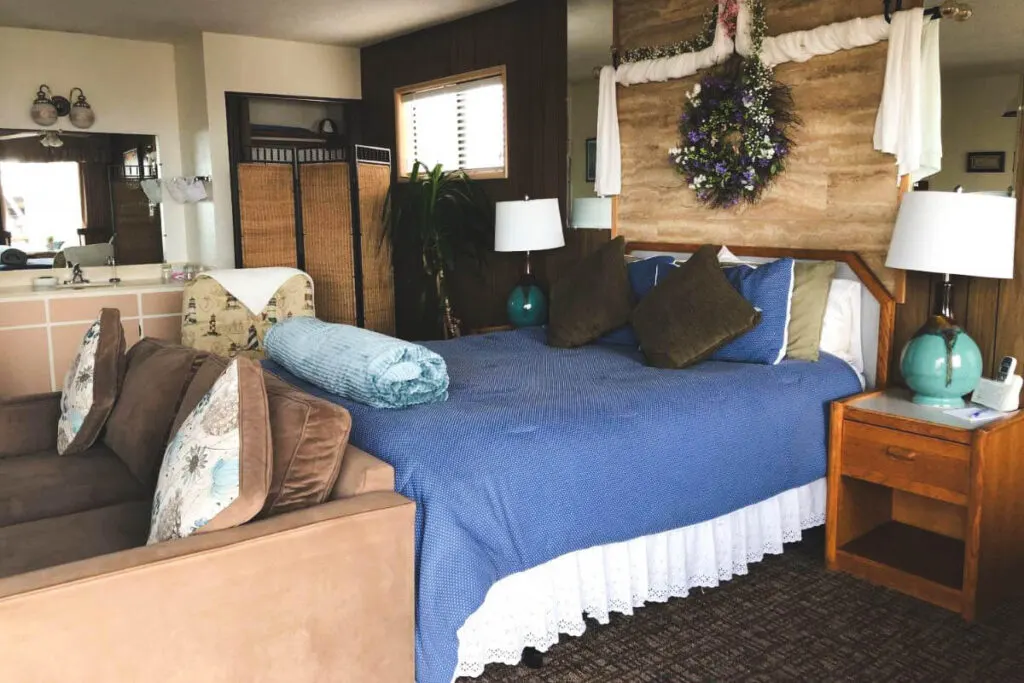 You won't get a generic room here, it will feel more like a home! You'll also be located right in the middle of the action at this mid-range hotel in Cannon Beach.
CHECK PRICE:
8. The Ocean Lodge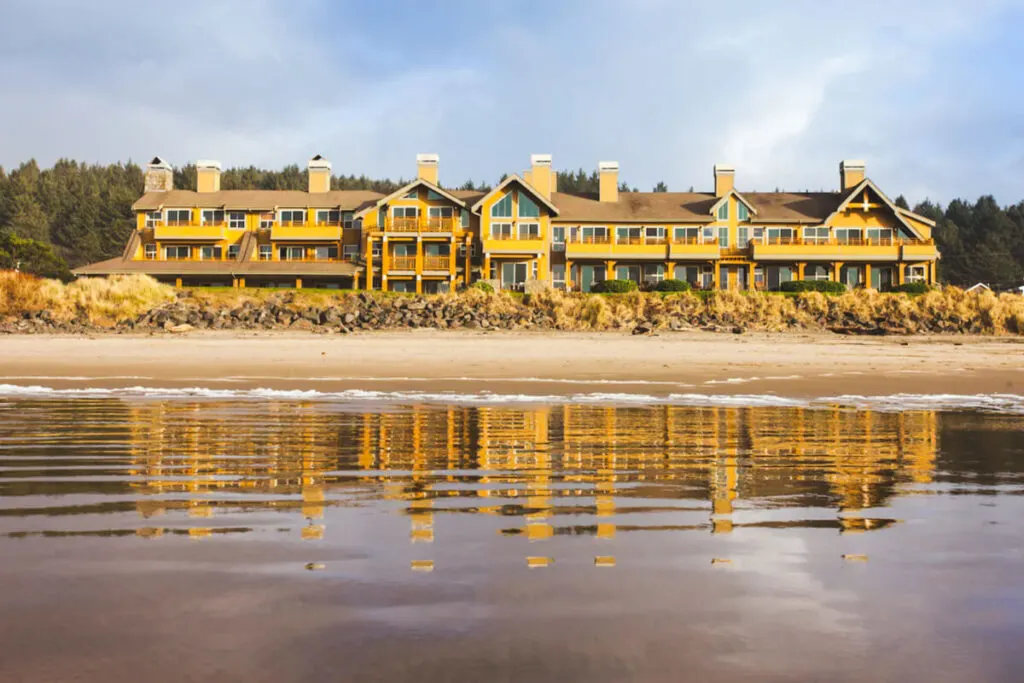 Looking for a cozy coastal retreat? Consider The Ocean Lodge, a 3.5-star hotel nestled in Tolovana Park. You'll be treated to a complimentary continental breakfast, a serene garden, and a library to unwind. The hotel offers free WiFi in all rooms, along with convenient amenities like laundry facilities and a welcoming lobby fireplace.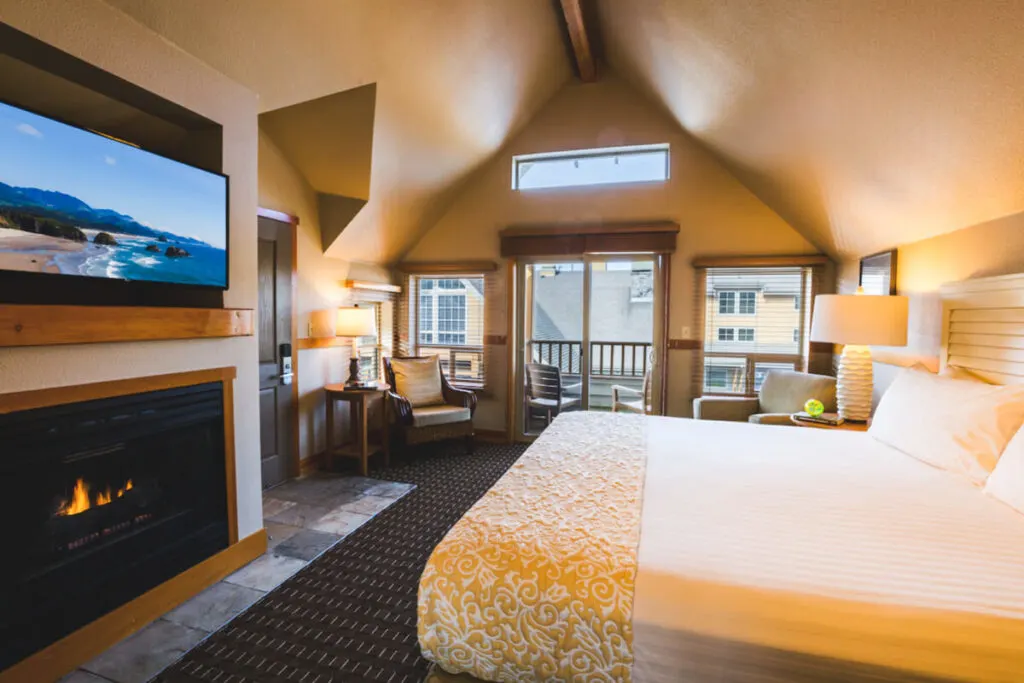 Benefit from perks such as free self-parking, a 24-hour front desk, and assistance with tours and tickets. The 45 comfortable rooms boast fireplaces, premium bedding, and thoughtful extras like bathrobes. Additionally, you'll find features such as kitchenettes and even a pet-friendly policy at this higher-end lodge.
CHECK PRICE:
9. La Bella Vita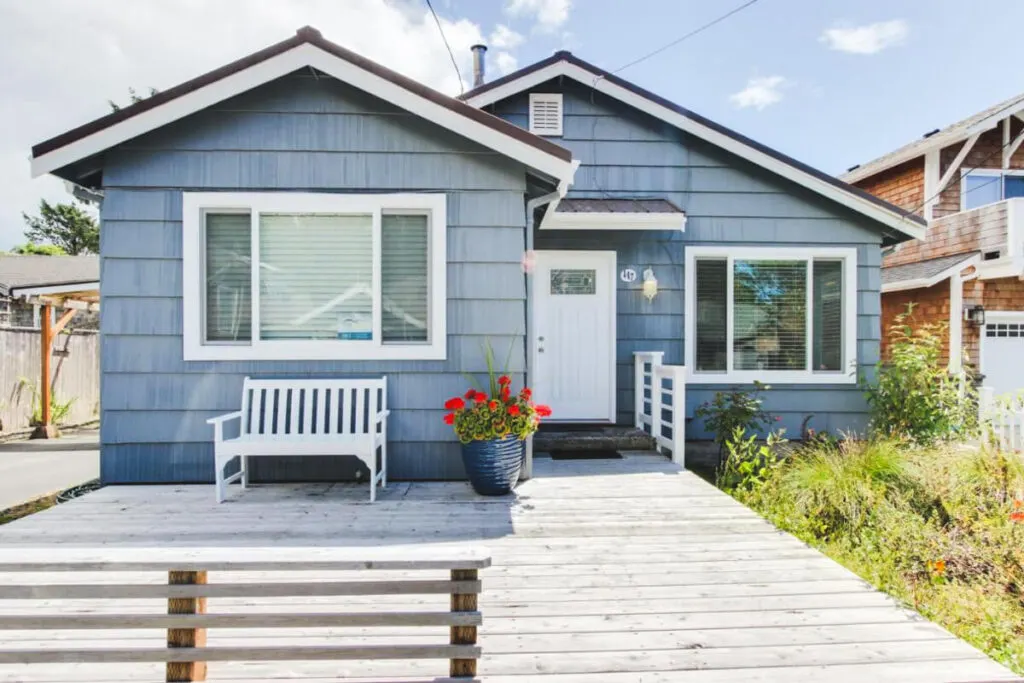 Welcome to La Bella Vita, an adorable and charming hotel in Cannon Beach ideal for a coastal getaway with family or friends (and even up to two dogs). Just a short walk from the Pacific Ocean, it offers easy beach access and shopping opportunities.
The living room boasts cozy seating and a wood fireplace with a flatscreen TV, while the kitchen/dining area is fully equipped for budget-friendly meals. With two bedrooms and four comfortable beds, it accommodates up to six guests (maximum four adults).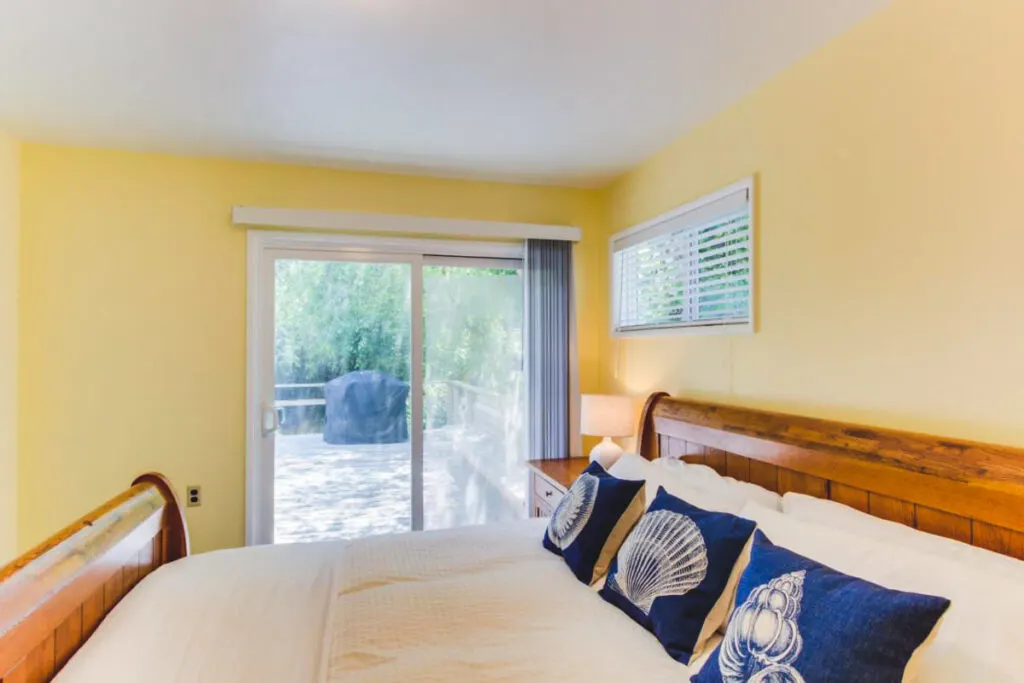 Enjoy the convenience of a full bathroom and a heated outdoor shower for rinsing off sandy feet. This budget-friendly holiday home promises comfort and coastal charm for a memorable stay.
CHECK PRICE:
10. Charming Cannon Beach Cottage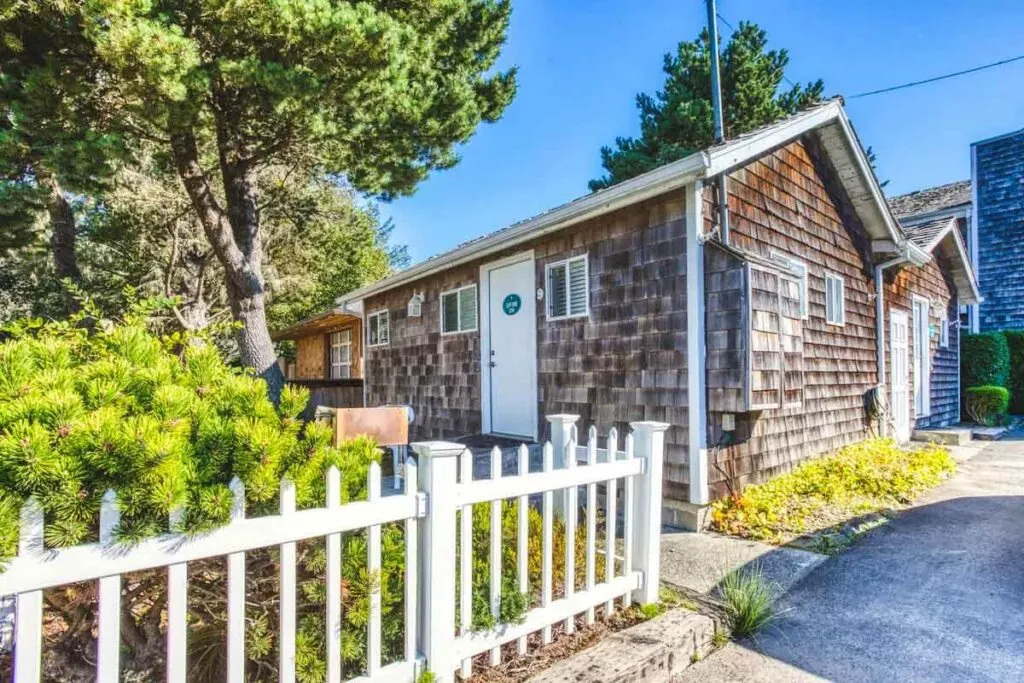 Welcome to this cozy and smartly designed Cannon Beach vacation rental, just steps from the sandy beach and a short stroll to downtown shops and galleries. This dog-friendly retreat accommodates up to three guests.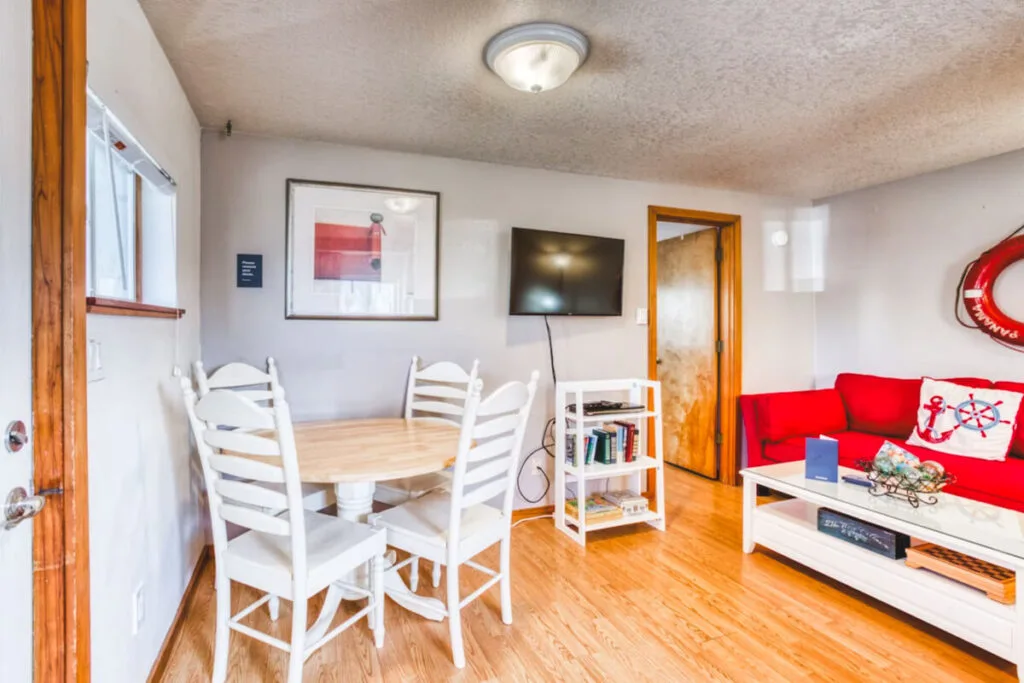 Enjoy the well-equipped kitchen and dining area, relax on the comfy sofa with cable TV, and rest peacefully in the bedroom with a queen bed. The bathroom includes a tub/shower combo, and laundry facilities are available nearby. Experience comfort, affordability, and charm in this compact getaway, perfect for a memorable stay on the beautiful Oregon coast.
CHECK PRICE:
11. The Happy Clam Oceanfront Property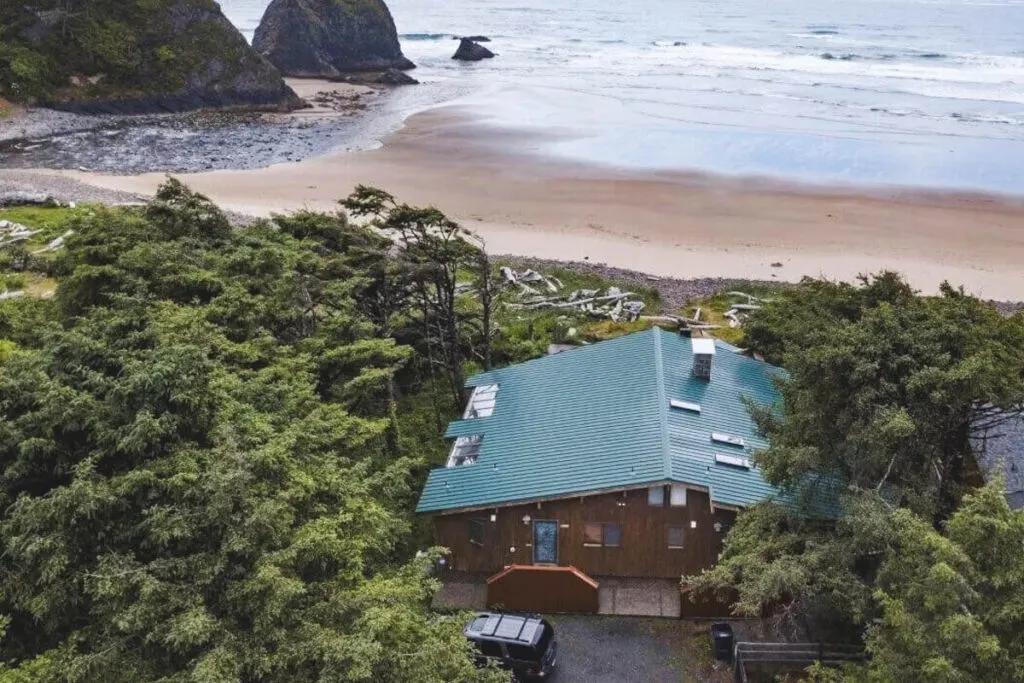 Welcome to this stunning cedar beachfront home with floor-to-ceiling windows offering breathtaking ocean views. Enjoy the spacious back deck, hammock, and private beach access. Nestled near Oswald West State Park, experience privacy and natural beauty.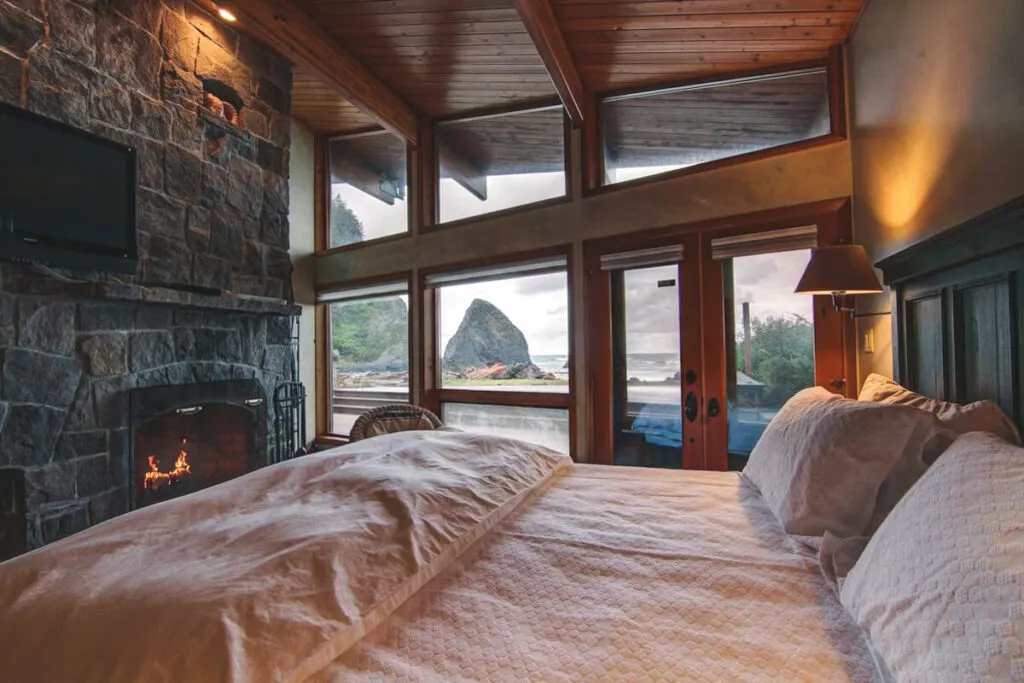 The house features a well-equipped kitchen, large stone fireplace, and five cozy bedrooms. Relax in the luxurious primary bedroom with ocean views and a gas fireplace. Each bathroom is well-appointed, and amenities are provided. Experience the perfect beach retreat in luxury with a dash of tranquility and coastal charm.
CHECK PRICE:
Cannon Beach, Oregon offers visitors the perfect destination for a peaceful, laid-back retreat no matter the season. The hotels listed above provide travelers with amazing accommodation options at different price ranges. If you find you want to keep browsing, here are more of the most recommended places to stay in Cannon Beach
MORE ACCOMMODATION OPTIONS IN CANNON BEACH:
We hope this helped you find a hotel in Cannon Beach that suits you!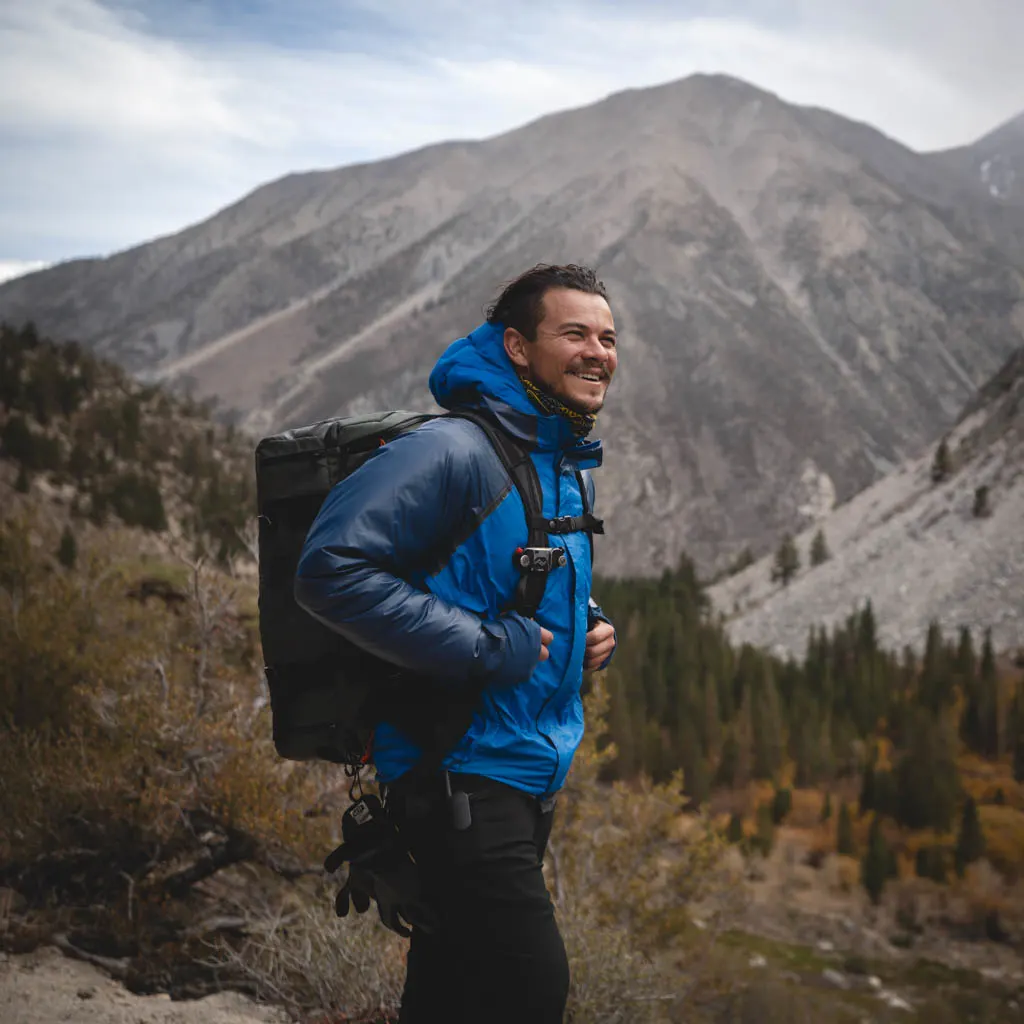 Oregon native and explorer at heart. Loves tackling expeditions around the world and drinking a good beer at the end of the day. PNW obsessed, VW nerd, and surf or snow riding fanatic.