We can't lie, writing up this ultimate itinerary for an Oregon road trip was HARD.
We couldn't stop, we kept writing and writing, and next thing you know, we came out with this monster Oregon itinerary that could last you around a MONTH. Yes, an entire month around Oregon.
As epic as that would be, we know that not everyone has 30 days to traverse our massive, stunning, and truly adventurous state.
With that said, we weren't going to deprive you of choices! So, welcome, this just may one of the longest and craziest posts on road-tripping Oregon out there.
Don't get intimidated; we laid everything out very easily for you to pick and choose and personally curate your own legendary Oregon road trip.
Fill up your gas, grab your supplies, and head on out!
Your Ultimate Oregon Road Trip Itinerary
---
For the sake of ease, we've sliced up Oregon into four sections. The Coast, Central, Near Portland, and then East Oregon.
We know this split isn't an accurate representation of how Oregon is divided, but we think a good chunk of people reading this may not be from Oregon and, therefore, can digest the vastness of the state a bit easier this way.
Of course, as per usual, we also offer you a handy little map because visuals are ALWAYS better when planning out a road trip, always.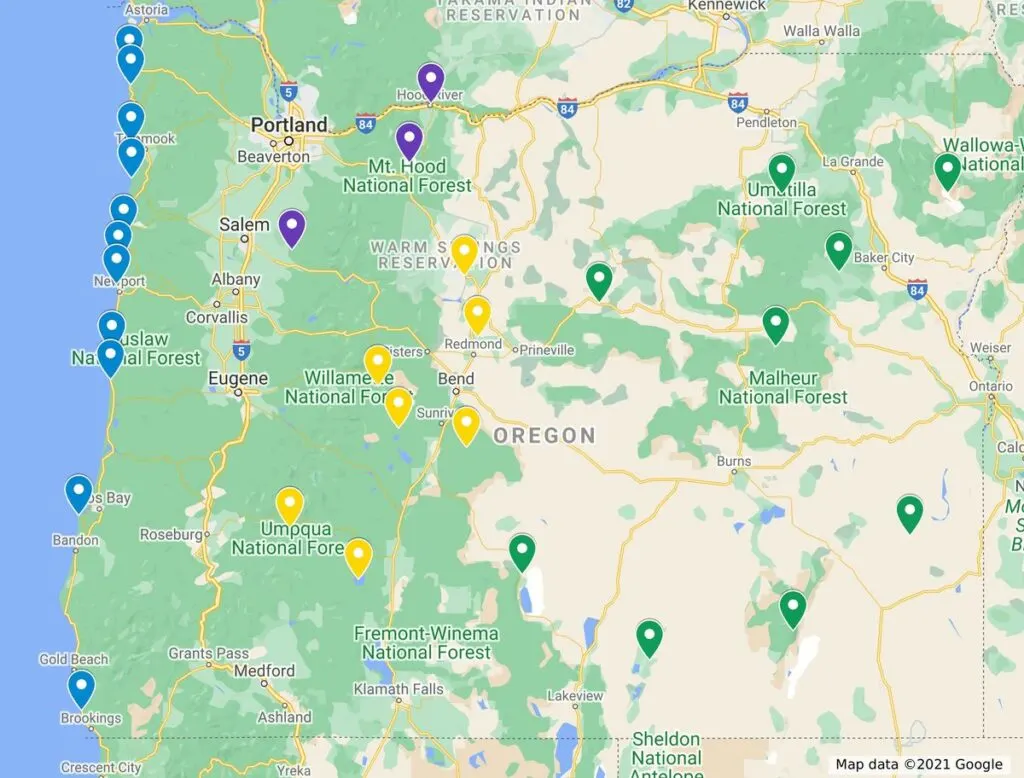 Below you're going to read about some of our favorite highlights from each section of Oregon, and each section will need at least a week to ride through and experience. You may not be able to hit up every highlight we have here, but we had to give you some choices.
We've also included the number of days next to each spot. Do note, this is the absolutely MINIMUM amount of time you'd need. Most will state one or two days, and we mean an entire day or two.
This will just give you a taste of the area, or if it's small enough, a single day may really be all you need.
Also note this is not included driving. Again, it's a full day of exploring, hiking, rock climbing, out on the lake with your sport of choice, etc… Please add in driving days as needed.
As we like to mention here often, particularly from visitors to the USA, our country is freakin huge, dudes! Like, mega massive. So please plan accordingly.
Driving around the USA, and yes, that means Oregon too, requires more time than you think. Always add on an hour or so to the estimation Google Maps gives you to be safe.
We've also added in tons of additional links through this post which give you a deeper dive into a lot of the places and areas mentioned here so click those for more info.
Anyway, let's get this Oregon road trip rolling! Right?
Oregon Coast Road Trip Itinerary
The rugged Oregon coastline is one of those places that feels like you're living in a dream. Stretching for over 360-miles against the wild Pacific Ocean, the Oregon Coast is loaded with awe-inspiring natural scenery and vibrant communities.
From its serene beaches to towering sea stacks, each section of the coast will keep you on the edge of your seat during your Oregon road trip.
Sandy beaches, craggy cliffs, scenic viewpoints, lush forests, alluring tide pools, shipwrecks, rolling sand dunes, and monstrous waves are all accessible just off the highway. What more could you want for a life-changing Oregon itinerary?
Have your camera ready and explore the picturesque coastline that has captured the hearts of Oregon lovers everywhere!
Ecola State Park – 1 Day
Explore the never-ending hiking trails through its tranquil forests like the Clatsop Loop and Crescent trails.
Capture a breathtaking panorama at one of Oregon's most famous viewpoints. From atop the cliffside, you have the perfect angle of towering rock formations rising out of the ocean.
Head to Indian Beach to spot tide pools and have a relaxing picnic while you listen to the waves crash against the shore.
---
READ MORE: Your Guide to Ecola State Park on the Oregon Coast
---
Arch Cape – 1 Day
Experience blissful solitude while feeling the sand between your toes on this pristine shoreline.
Explore the enchanting caves, gorgeous waterfall and shallow tide pools of Hug Point State Park.
Get a brilliant bird's eye view of the Pacific Ocean, long stretches of the coastline and the coastal town of Manzanita at the Neahkahnie Viewpoint.
Cape Meares – 1 Day
Add a detour along the Three Capes Scenic Route to your Oregon itinerary for a sensational drive down the Tillamook coastline. The journey takes you to Cape Lookout and Cape Kiwanda for miraculous views of verdant forests and sand dunes.
Go bird watching to see colonies of nesting murres and other beautiful avian species.
Wander inside the Cape Meares Lighthouse for a thrilling view on the cliffside roughly 200-feet above the ocean.
---
RELATED: Three Capes Scenic Route on the Oregon Coast
---
Sand Lake Recreational Area – 1 Day
Go off-roading through sand dunes in between the crashing waves of the Pacific and a coniferous forest.
Spend the night camping at this enormous lake of sand and witness a dreamy sunrise against the ocean.
Lincoln City – 1 Day
Spend the night at one of the most scenic Oregon coast towns by camping at Devil's Lake near downtown Lincoln City. The lake offers a wide range of outdoor activities such as fishing, kayaking, and hiking.
Enjoy a day on the water at Siletz Bay by kayaking, boating or fishing on its tranquil shores.
Hike the God's Thumb via the Knoll, one of the most breathtaking Oregon Coast hikes. The end of the trail features a peculiar basalt formation shaped like a thumb offering sensational views of the coastline.
Check out the interesting statue of Abraham Lincoln and waltz through the town's Historical Museum.
---
READ MORE: Your Guide to the God's Thumb Hike Near Lincoln City
---
Depoe Bay – 1 Day
Stop by the Whale Watching Capital of the Oregon Coast during this Oregon road trip to search for majestic gray whales.
Just south of the whale hotspot, you'll find the roaring power of the Devil's Punchbowl. This enormous bowl was created by collapsed sea caves and gives you a glimpse of the ocean's power with its ferocious waves.
Yaquina Head – 1 Day
Tour the Yaquina Head Lighthouse, the tallest and most historic lighthouse in Oregon. Tickets to the lighthouse are on a limited basis but the panoramic views of the structure perched along the scenic bluffs are some of the best on the entire Oregon coast.
Hike the rocky shoreline beneath the lighthouse to spot whales, seals, eagles and beguiling tide pools.
Cape Perpetua – 1 Day
Drive to the highest Oregon coast viewpoint accessible by car and stand in awe of the hair-raising vista overlooking the horizon. You'll be standing 800-feet above the crashing waves of the Pacific Ocean and this stop on your Oregon itinerary will make your heart skip a beat.
Marvel at the geologic formations of Thor's Well and Devil's Churn. Thor's Well is a seemingly bottomless pit sucking waves into its grasp and Devil's Churn will overwhelm you with the force of tenacious waves pounding a rocky inlet.
---
RELATED: 9 Things to Do in Cape Perpetua, Oregon
---
Sea Lion Caves – 1 Day
Ride the elevator to the depths of the largest sea caves in the United States. Keep in mind that this includes a fee of $14.
Spot adorable sea lions lounging inside the massive cave system. If your Oregon road trip is during the winter, then there is a great chance you'll see hundreds of these amazing creatures.
Head to the nearby Heceta Head Lighthouse for a remarkable view standing atop a rocky cliff.
Shore Acres State Park – 1 Day
Stand at the park's scenic viewpoint and witness thunderous waves pounding the jagged rock formations on the coastline.
Wander the grounds of a former mansion to smell the radiant flora of rose gardens and a Japanese-style garden.
Walk along the shores of Simpson Beach and relax at its isolated cove.
Samuel H. Boardman State Scenic Corridor – 1 Day
Explore the miles of beautiful coastal trails the Samuel H. Boardman State Scenic Corridor has to offer. The Lone Ranch South Trail is an easy trek offering breathtaking seaside vistas and the Whales Head Beach Trail meanders to one of the most peaceful beaches in the corridor.
Hike to the Natural Bridges for spectacular views of geologic structures and spruce-tree forests.
Enjoy the serenity of Secret Beach and gaze at the towering rock formations nestled along the shore.
Before continuing your Oregon road trip, peek through the forest and watch a gorgeous sunset at Arch Rock.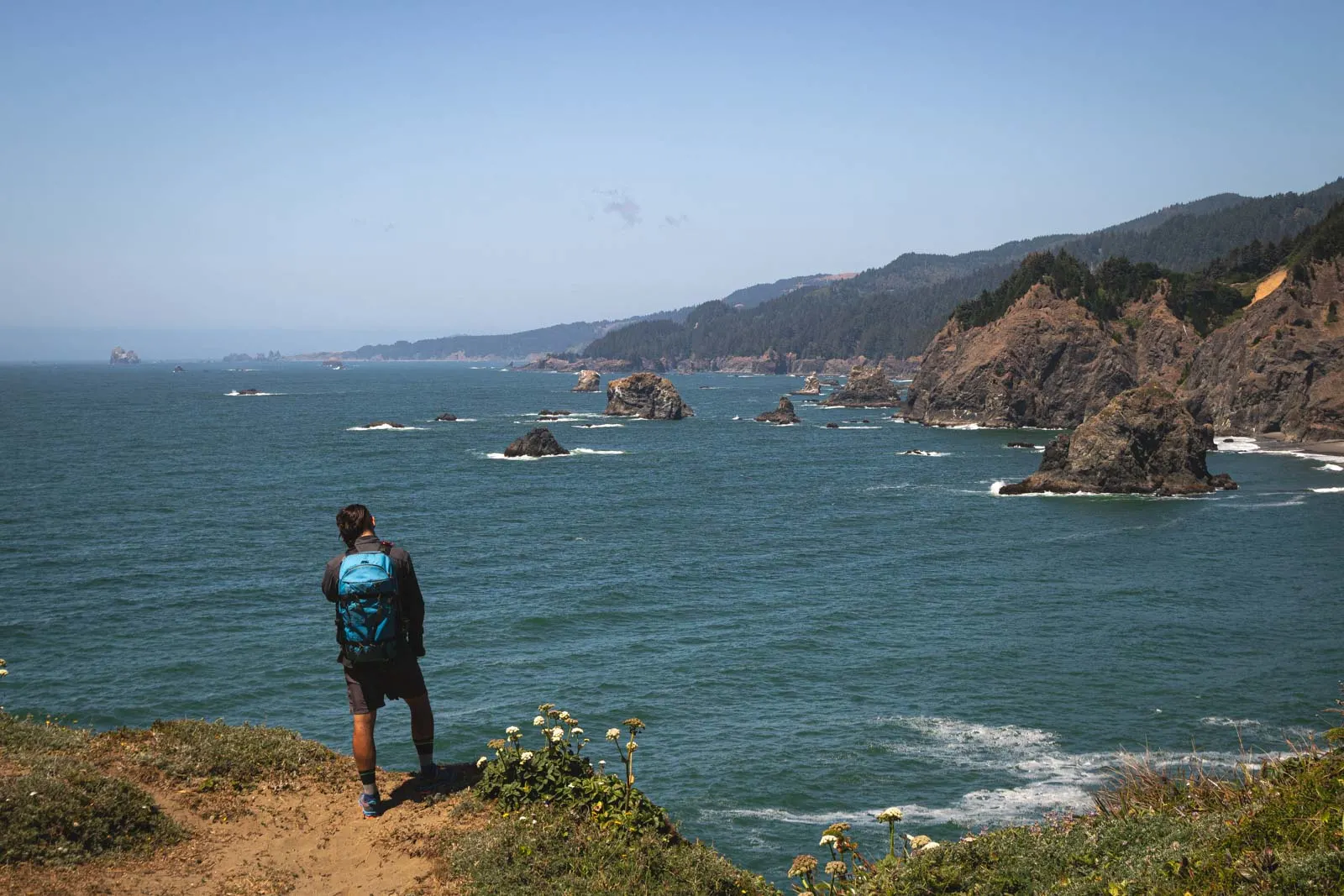 ---
RELATED:
Southern Oregon Coast: 13 Epic Stops—Bandon to Brookings!
17 Breathtaking Oregon Coast Hikes
A Legendary Oregon Coast Road Trip—35 Stops & 3 Itineraries
11 Most Scenic Oregon Coast Towns (And What to Do There!)
17 Cool Oregon Coast Camping Spots To Stay At
---
→ If you don't have a lot of time, do this Oregon Coast day trip from Portland to see the best of the coast with a local.
Where to Stay on the Oregon Coast
Recommended Places:
Campgrounds: Wright's for Camping | Devil's Lake State Recreation Area | Harris Beach State Recreation Area Campground
Near Portland, Oregon Road Trip Itinerary
We love Portland, naturally. But we love the places on the outside of Portland way more.
Cascading waterfalls galore, a cornucopia of excellent hikes, and the majestic Mount Hood just on the outskirts of the city make Portland a playground for Oregon adventurers.
After you're done stuffing your face with Voodoo donuts and taking the iconic "Portland is weird" sign selfie, then get out and do something in nature!
The furthest you'll drive from Portland to anything in this section is only about two hours one way. You'll be gobsmacked by the things to do just outside the concrete jungle of Portland.
Mount Hood – 2 Days
Enjoy spectacular views of Oregon's tallest mountain from all angles by embarking on many awesome Mount Hood hikes. Some of the best hikes include the Tom Dick and Harry Trail and Mirror Lake Loop, Lost Lake, Tamanawas Falls, and the Trillium Lake Loop and they all give you glorious vistas of Oregon's most famous peak.
Summit the craggy pinnacle and have the exhilarating feeling of standing on the roof of Oregon.
If you have a snow-filled Oregon itinerary, experience Mount Hood in winter by skiing or snowboarding down its slopes. Just be aware of possible road closures in the area around the mountain during winter.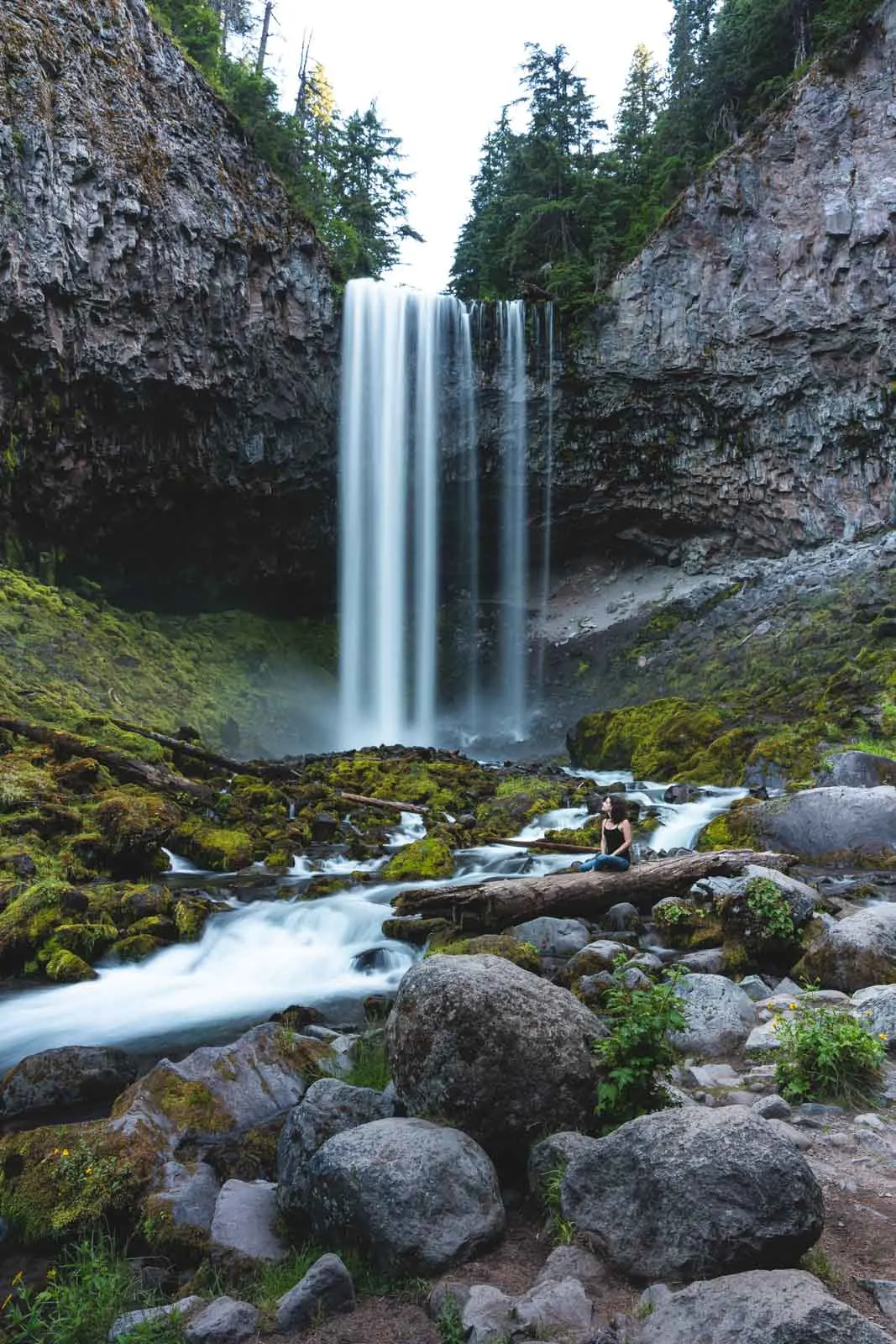 → If you don't have a lot of time, do this Mount Hood Day Trip from Portland to see the best of the area.
Silver Falls State Park – 1 Day
Hike the Trail of Ten Falls to experience one of the most beautiful hikes near Portland. The 7.6-mile loop passes ten alluring waterfalls and is considered one of Oregon's natural wonders.
Hit the park's backcountry trails for mountain biking and horseback riding adventures.
Spend the night at the campground and listen to the soothing sounds of the waterfalls before continuing your Oregon road trip.
→ You can also take this awesome tour to Silver Falls State Park to hike the Trail of Ten Falls from Portland.
Columbia River Gorge – 1 Day
Capture the perfect snapshot of Oregon's most famous waterfall in all her glory—Multnomah Falls
Discover more cascading waterfalls in the Columbia River Gorge by hiking the Wahkeena-Multnomah Loop. This invigorating trek takes you through lush vegetation, volcanic cliffs and far away from the crowds.
---
RELATED:
17 of the Best Places for Camping Near Portland
19+ Awesome Hikes Near Portland to Escape the Bustle
What to Do At Mount Hood in Winter
A Guide to The Columbia River Gorge
---
→ If you don't have a lot of time, do this highly rated half-day tour from Portland to see the best waterfalls in the Columbia River Gorge.
Where to Stay Near Portland
Recommended Places:
Campgrounds: Beaver Campground | The Vintages Trailer Resort | Oxbow Regional Park
Central Oregon Road Trip Itinerary
When it comes to jaw-dropping natural scenery, it's impossible to replicate the magic that central Oregon presents. There's a reason why many of the state's most iconic sights are in this dynamic region.
From the majestic Cascade peaks to the tumbling waterfalls of the Columbia River Gorge, Central Oregon has it all.
This portion of your Oregon road trip transports you to several of the state's tallest mountains, evergreen forests, crystalline lakes, and mysterious craters. The biggest challenge will be narrowing down your Oregon itinerary to fit your schedule.
Central Oregon's diversity is simply unmatched and traveling down its scenic byways will show off its splendor at every turn.
If you're looking to experience Oregon at its absolute finest, central Oregon has got you covered!
Deschutes River – 1 Day
Climb into a raft and float down the Deschutes River for an afternoon of total relaxation.
Enjoy more exciting activities by the river like kayaking, fishing or even take a crack at surfing.
Hike the Deschutes River South Canyon Trail or the Deschutes River Trail Loop for a delightful stroll by the river.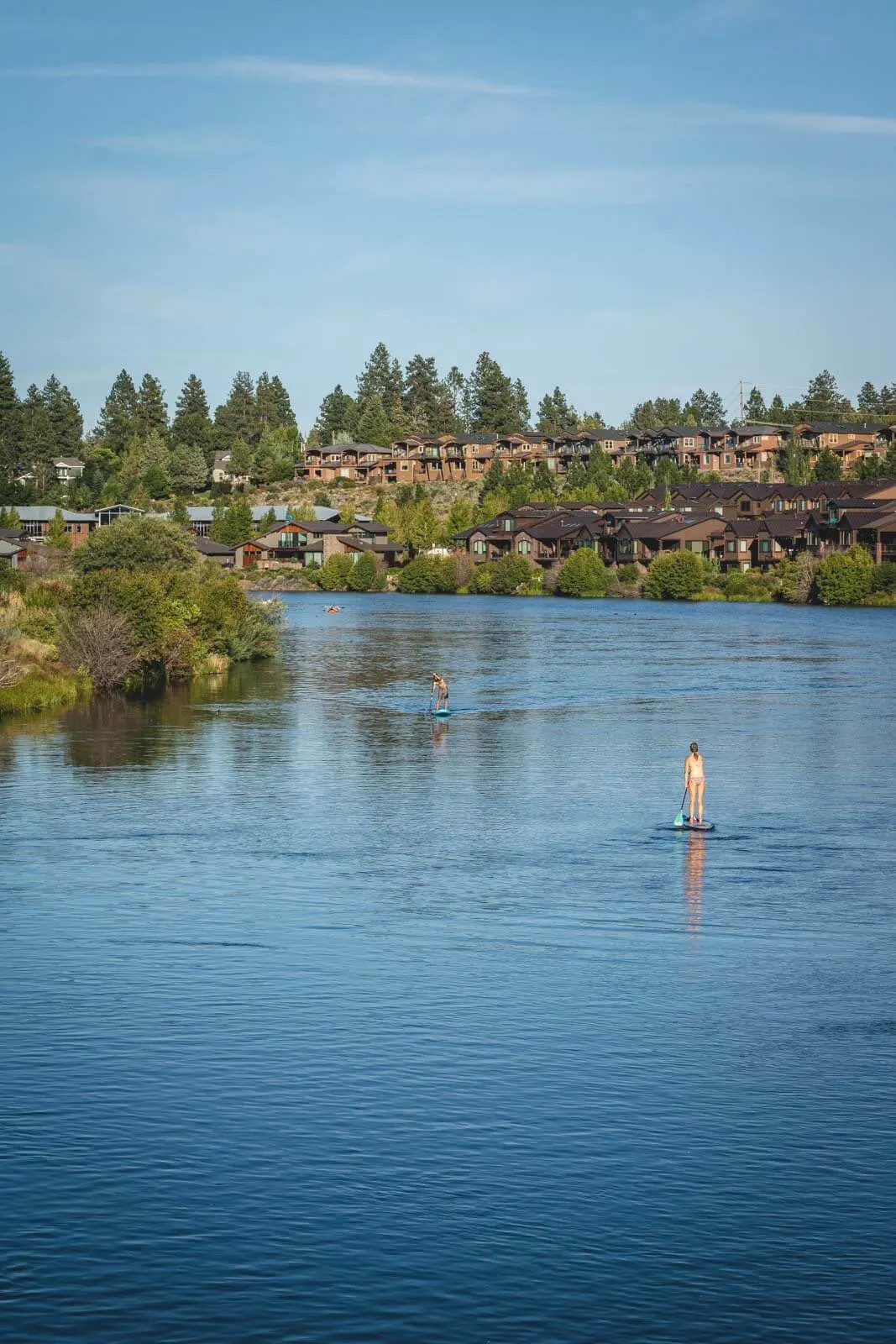 Umpqua National Forest – 1 Day
Camp in the tranquil forest and hike through pine trees, wildflowers and dense vegetation to reach many mesmerizing waterfalls. The Toketee Falls Trail, Watson Falls Trail and Lemolo Falls Trail are among the scenic paths in Umpqua National Forest.
Venture down the Twin Lakes Trail for sensational views of dazzling lakes and find the perfect spot for a picnic.
Soak in the terraced pools of the Umpqua Hot Springs and watch the peaceful flow of the Umpqua River.
Kayak on the shimmering waters of Diamond Lake as the 'lightning rod' Mount Thielsen towers above you. For an action-packed expedition to include on your Oregon road trip, get your adrenaline pumping on the Mount Thielsen hike to reach the summit of the jagged peak.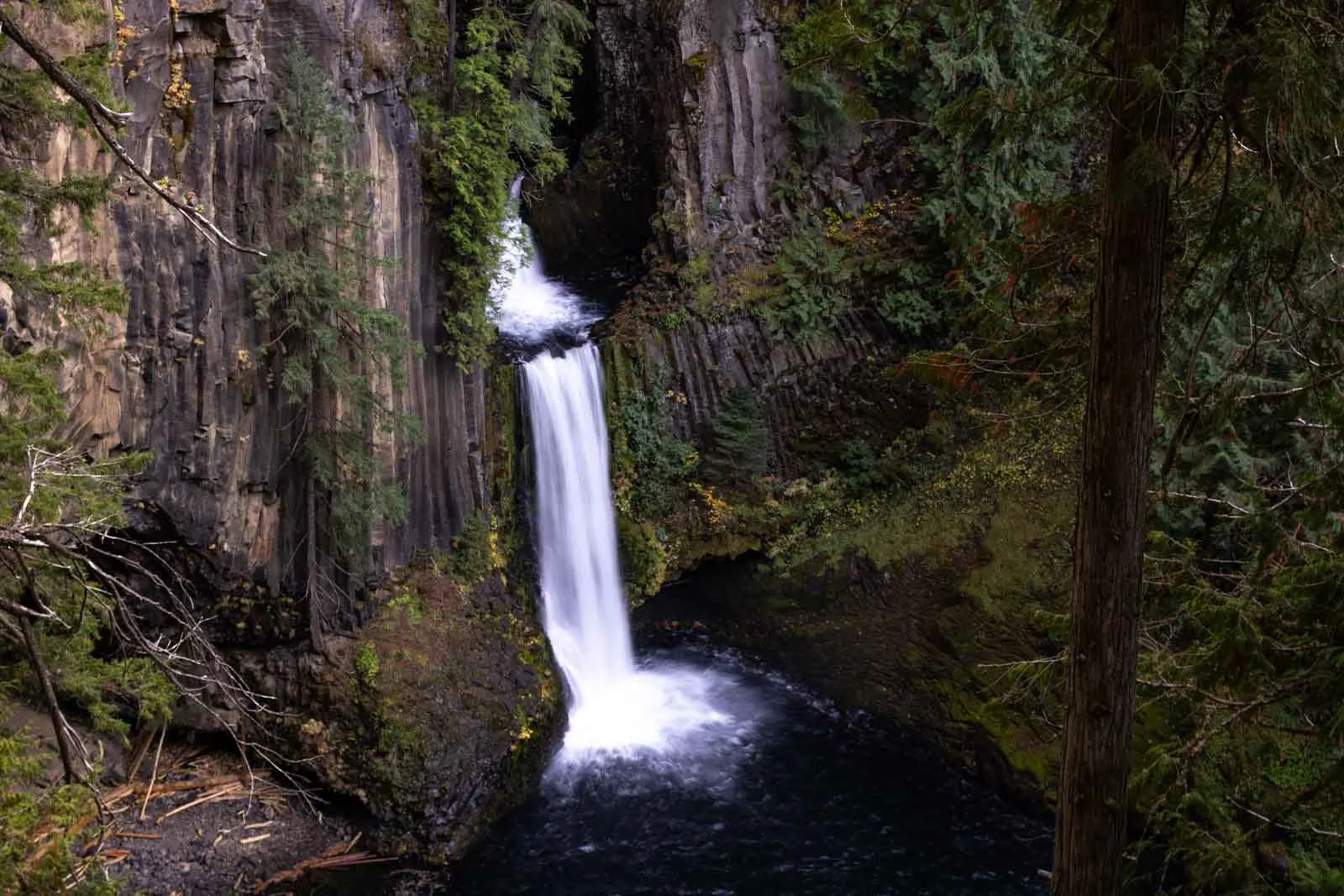 Smith Rock State Park – 1 Day
Hike along the Crooked River and gaze at the craggy pinnacles rising high into the sky.
Test your endurance by climbing Misery Ridge and watch rock climbers test their wits at the oddly shaped Monkey Face.
Learn how to rock climb yourself since this stop on your Oregon itinerary is the premier location in the state for the sport.
Marvel at golden eagles, rattlesnakes, otters and other beautiful wildlife that call these sharp canyons home.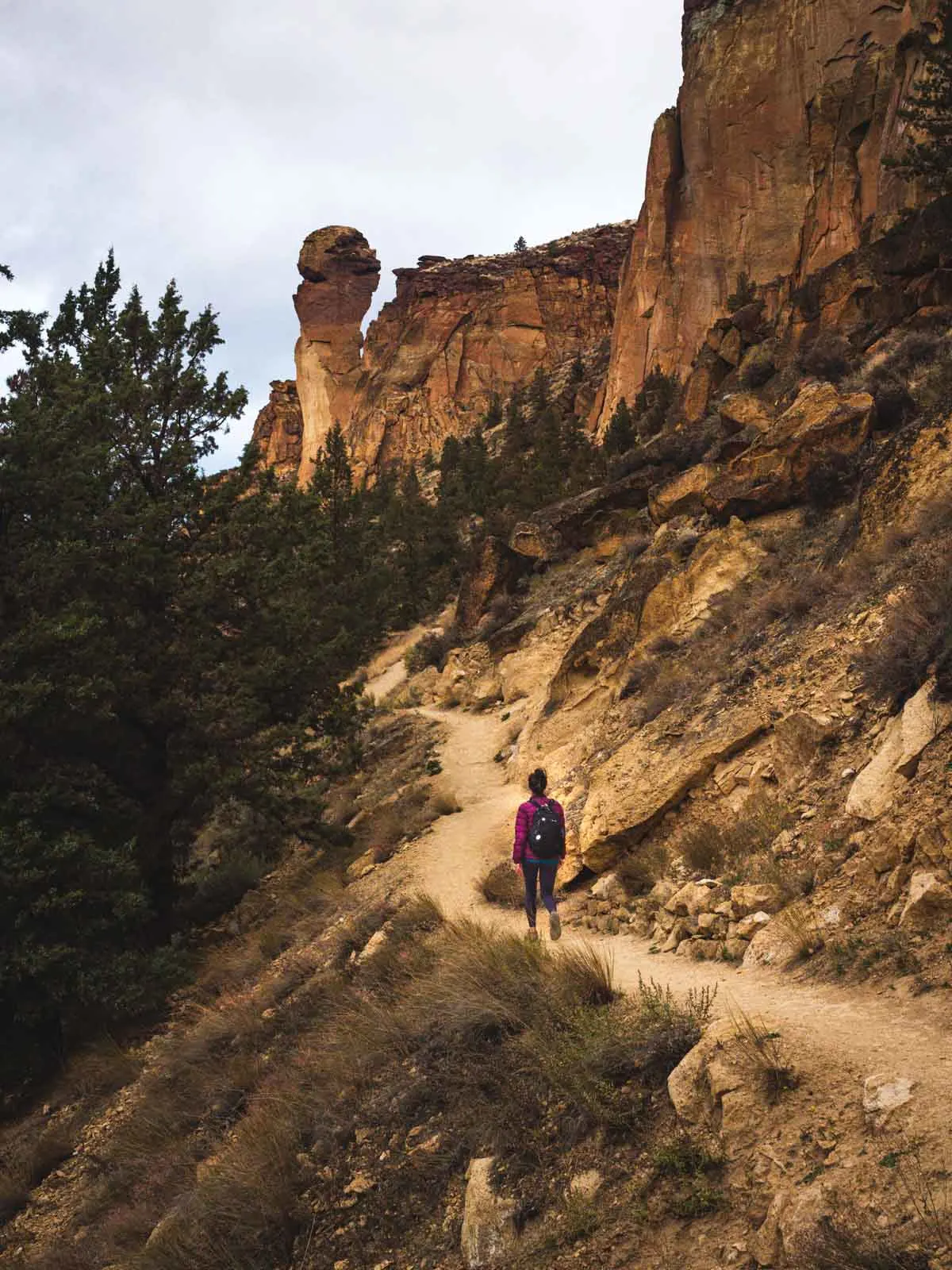 → If you are interested in rock-climbing, there is an excellent rock-climbing tour in Smith Rock State Park.
Cascade Lakes Scenic Byway – 1 Day
Visit the sparkling lakes decorating this famous driving route such as Todd Lake, Sparks Lake and Elk Lake. This 66-mile highway takes you from the vibrant city of Bend to some of the most popular getaways in central Oregon.
Stand in awe of the snow-capped Cascade peaks overlooking the alpine lakes lining the byway. Mount Bachelor, Broken Top Mountain and South Sister are a few of the iconic mountaintops in perfect sight.
Enjoy an abundance of outdoor activities by the lakes such as fishing, hiking, mountain biking and paddling.
You have countless camping options to include in your Oregon road trip for an extended stay near the byway.
Three Sisters Wilderness – 1-2 Days
Gear up for one of the ultimate challenges on this Oregon road trip by tackling the South Sister Trail. This 12.2-mile trek takes you to the peak of Oregon's third-highest mountain and rewards you with jaw-dropping vistas of the nearby peaks.
Take on another daring expedition by trekking the Broken Top Trail to No Name Lake and Bend Glacier. This thrilling hike will take you through subalpine forest and provide a close encounter with Broken Top's serrated pinnacles.
If you have time, hike part of the Three Sisters Loop to marvel at the area's volcanic landscapes.
---
RELATED: Your Guide to Hiking South Sister in Bend, Oregon
---
Newberry Crater National Volcanic Monument – 1 Day
Admire the otherworldly geologic landscapes and the remnants of powerful volcanic blasts from thousands of years ago at Newberry National Volcanic Monument.
Hop on your mountain bike and ride around the Newberry caldera using the rim trail.
Hike the Paulina Peak Trail to experience one of the best Oregon hikes and possibly the most awe-inspiring vista in central Oregon. The views here give you 360-degree views of Paulina Lake, the Big Obsidian Flow and other peaks of the Oregon Cascades.
---
READ MORE: Your Guide to Newberry National Volcanic Monument
---
Crater Lake – 1 Day
Include the Rim Drive on your Oregon road trip to conquer the 33-mile loop that circles the caldera rim.
Hike the Garfield Peak Trail for incredible scenery overlooking the deep-blue hues of the lake and the surrounding Cascade peaks. You'll have a spectacular view of Phantom Ship, Wizard Island, and other beautiful landmarks.
Head to Cleetwood Cove for an interesting vantage of the lake from inside the caldera.
---
RELATED:
A Guide to Smith Rock State Park's Hikes, Misery Ridge Trail & More
An Adventurer's Guide to Things to Do in Bend, Oregon
The Tamolitch Blue Pool Hike + Sahalie and Koosah Falls
---
Where to Stay in Central Oregon
Recommended Places:
Campgrounds: Elk Lake Campground | Jasper Point Campground | Redmond/Central Oregon KOA
Eastern Oregon Road Trip Itinerary
Very few people are in the loop of the majestic scenery decorating the eastern half of Oregon. And it's a shame that this section of the state doesn't receive the same hype as its coast and Cascade brethren.
Sparkling lakes, snow-capped mountaintops, mesmerizing deserts, craggy gorges, verdant forests, striking canyons, rejuvenating hot springs and some of the best stargazing on the planet.
With this much jaw-dropping natural beauty, it's hard to fathom that this is the least discovered region of Oregon. Maybe it's best to keep it that way to preserve this wild canvas of untouched terrain.
It may sound cliché to wander off the beaten path, but that is exactly the type of adventure eastern Oregon provides on your Oregon road trip.
Wallowa Mountains – 2 Days
Explore the rugged terrain of the Wallowa Lake State Park by trekking the Hurricane Creek Trail or para-glide above the park for a once-in-a-lifetime experience.
Swim in the pristine waters of Wallowa Lake surrounded by dense forests and rugged peaks. Its crystalline waters are a beautiful spot for snorkeling, or you can sunbathe on the sandy shores for a tan.
Ride the Wallowa Lake Tramway for unbelievable mountain vistas.
Trek the Mirror Lake to Eagle Cap Trail to reach the summit of Eagle Cap. Enjoy the sensational views of alpine lakes, beautiful forests and glaciated valleys.
Grab your paddle and steer around jagged boulders in the exhilarating class III and IV rapids of Eagle Creek.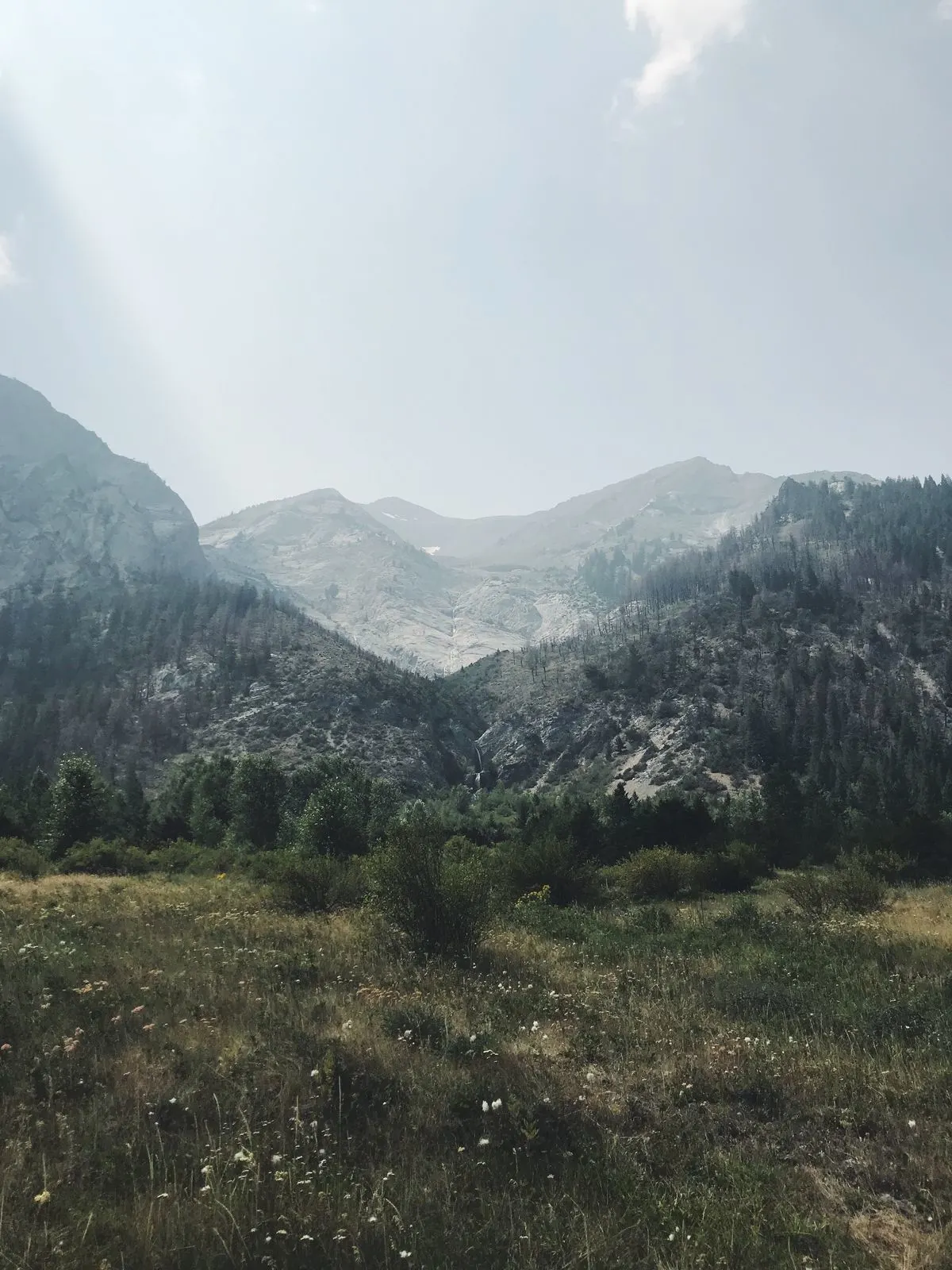 Sumpter – 1 Day
Dress up like Wild West characters at the charming Sumpter Stockade Motel.
Learn about Oregon's rich gold mining history with a visit to the Sumpter Valley Dredge.
Spend an exhilarating day riding around on an ATV before hopping back on the highway.
→ While in Sumpter, head to nearby Baker City to do some stargazing and wine tasting on this fantastic tour.
Mitchell – 1-2 Days
Hike through the Ochoco National Forest for remarkable images of lush forests, bewildering geologic formations and vibrant wildlife. Its tranquil waterways are the perfect outlet for a fishing or boating excursion.
Discover the otherworldly beauty of the Painted Hills, one of Oregon's greatest natural treasures. The layered bands of yellow, red, orange and gold make the perfect stop on your Oregon itinerary to marvel at the state's alien-like landscapes.
Explore the hiking trails less-visited around the John Day Fossil Beds area to study Oregon's ancient history. Sheep Rock and the Clarno Unit are both a must for geology lovers.
Strawberry Mountains – 1 Day
Unleash your adventurous spirit by hiking through the less-traveled Strawberry Mountain Wilderness. This nature lover's playground is teeming with alpine lakes, sharp peaks, blooming wildflowers and an abundance of wildlife.
Reach the peak of Strawberry Mountain for one of the most liberating summits on your Oregon road trip. The heart-racing vistas hear make you feel like you're on top of the world.
Unwind in the great outdoors at the crystal clear waters of Strawberry Lake. This is an ideal camping spot for your Oregon itinerary with its lush forests, rugged mountains and quality fishing.
Umatilla National Forest – 1 Day
Spend the night at Jubilee Lake Campground for another beautiful night underneath the stars during your Oregon road trip. Jubilee Lake is a peaceful hideout deep in the forest and a wonderful spot to escape the scorching temperatures of summer.
Enjoy a tranquil ride down the class II rapids of the Grande Ronde River and gaze at the steep canyons rising above you.
Watch for deer, bighorn sheep, eagles and other wildlife (including rattlers) on the roughly 30-mile Wenaha River Trail. The meandering river, towering cliffs and tranquil forests make this a fantastic backcountry adventure to add to your Oregon itinerary.
Owyhee Canyonlands – 1-2 Days
Experience one of Oregon's most exciting whitewater rafting excursions on the Owyhee River. The class III and IV rapids snake between basalt columns and red-rock cliffs creating an unbelievable ride.
Explore some of Oregon's most isolated hiking trails through the Owyhee Canyons and marvel at the sheer-canyon walls soaring above you.
Make the Owyhee Canyonlands another one of your camping sites on your Oregon itinerary for a stellar night of stargazing.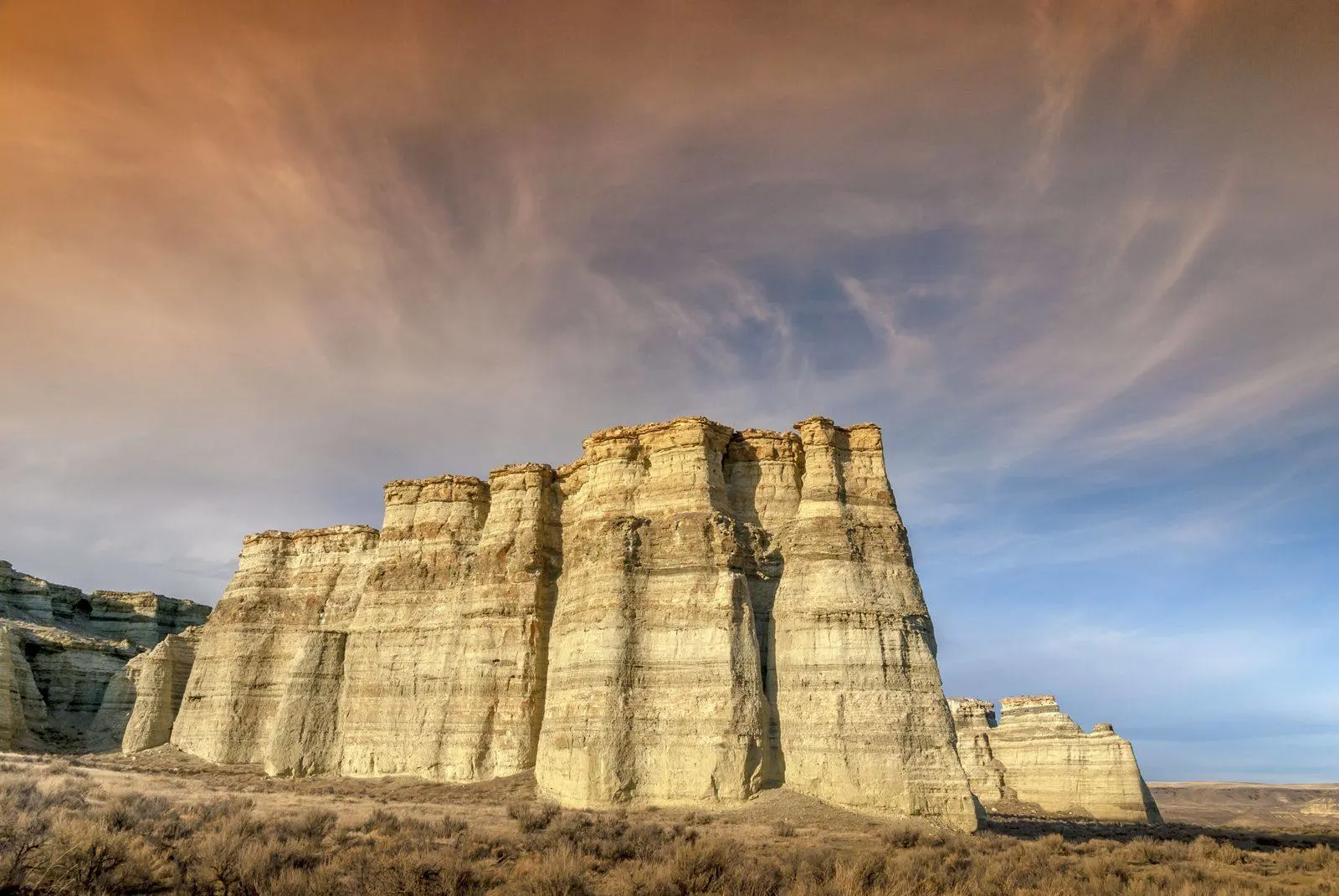 Steens Mountain – 1-2 Days
Push your adrenaline to the max by driving the 60-mile Steens Mountain Loop, one of the most thrilling routes to add on your Oregon road trip. This scenic route will leave you speechless with its contrasting landscapes of glacial gorges and barren deserts while taking you to elevations of nearly 10,000-feet.
Capture a breathtaking panorama on the Wildhorse Lake Trail. The views of the glaciated valley and steep canyons offer one of the top vistas you'll see on this Oregon road trip.
Camp in the Alvord Desert to experience complete solitude in the Oregon wilderness. Make sure to visit Alvord Hot Springs to soak any aching muscles before hitting the road again.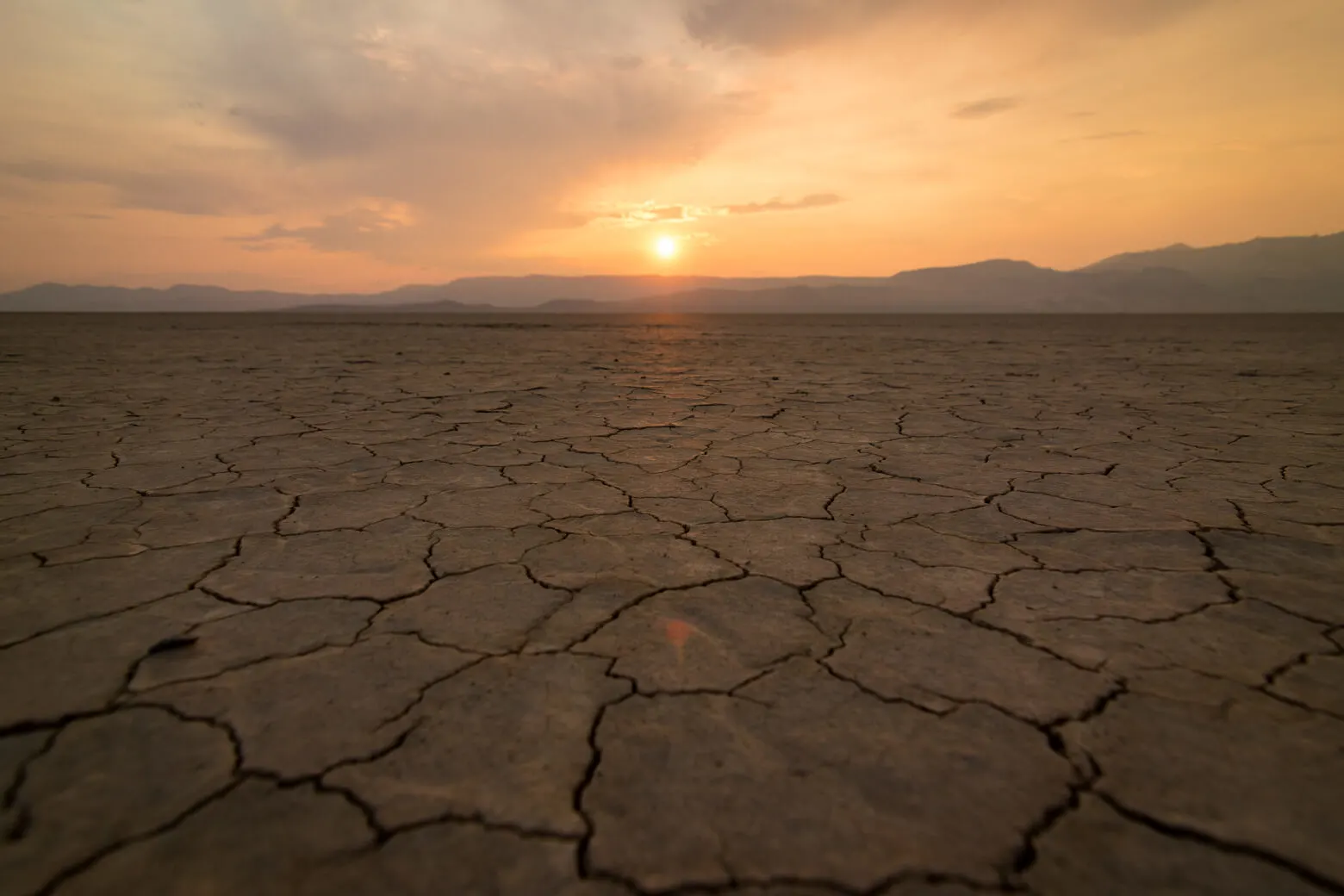 Hart Mountain – 1 Day
Wash off the dust from Oregon's extensive desert by soaking in the relaxing Hart Mountain Hot Springs. Camping is free at the hot springs so make sure to arrive early if this is an overnight stay on your Oregon itinerary.
Wander the hiking trails of the National Antelope Refuge and spot a plethora of wildlife in their natural habitat.
Jump on your dirt bike or motorcycle to ride the desolate dirt trails cutting through the landscape.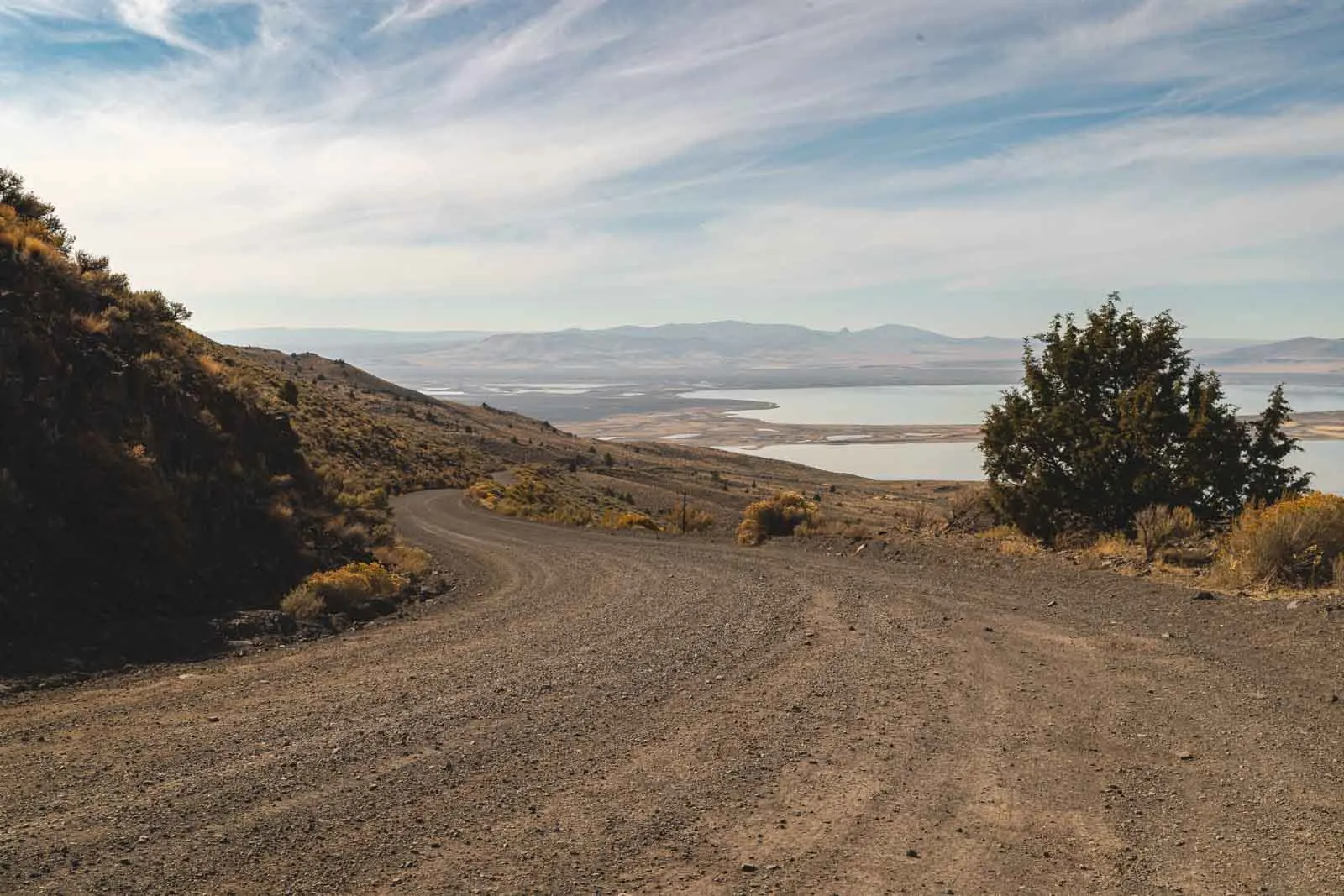 Summer Lake – 1 Day
Go bird watching in the wetlands of the lake and marvel at the area's geothermal wonders.
Gaze at the sensational mountain scenery while you soak in the soothing pools at the Summer Lake Hot Springs.
Drive the car out to Fort Rock for an enchanting sunset at this puzzling volcanic landmark.
---
RELATED:
29 Awesome Things to Do on an Eastern Oregon Road Trip
Exploring the Owyhee Canyonlands: Hiking, Rafting, & Camping
A Guide to Hart Mountain Hot Springs & What to Do in the Area
A Comprehensive Guide to Visiting Wallowa Lake State Park—Adventures and Camping
7 Awesome Things To Do in Sumpter, Oregon
---
Where to Stay in Eastern Oregon
Recommended Places:
Campgrounds: Wallowa Lake State Park | Strawberry Campground | Jubilee Lake Campground
An Oregon Road Trip Itinerary
It's safe to say all the above is just scratching the surface of what you can see on an Oregon road trip! With that said, everything mentioned above would take about a month to actually experience. Yep, a whole goddamn month!
Oregon is not a small state and it takes a long time to traverse.
I'd encourage you to check out our more specific Oregon road trips depending on the region you're most interested in.
Each area mentioned above deserves at least a week of exploring. And when we say a week, we mean a week of actual exploring!
The driving can take up a really large chunk of the day so we'd advise you to tack on an extra few days on top of the week to account for driving or rest days.
Extending your road trip to our neighbors? Check these posts out!
Tips for Your Oregon Road Trip
If you're looking to save a buck, download Gas Buddy App. As a rule of thumb, always fill up at the bigger towns when you can. The smaller towns often cost more, and if you pay by card, you may have a transaction fee on top of it.
I'll say it once more just in case, Oregon is not small! It will take you longer than you think to get places. I know my fellow Americans will get it but if you're a visitor, our country and our states are insanely big. I can't stress it enough, it will take you longer than you think.
If you plan on visiting many of the places on this list, just get a parks pass instead of paying $5 randomly here and there for parking. The pass is $30 and you can display it and forget it.
Bring food! Having to find food, particularly for breakfast and lunch, will eat up a considerable chunk of your day. Don't waste hours on eating. Have snacks, sandwiches, and other quick things to munch on throughout the day and then save eating out for dinner.
As far as budgeting goes, you can do this Oregon road trip on a modest budget. Many state parks have campgrounds that range from $15 to $25 per night. Check out these Oregon campgrounds.
If you're here in the peak season (summer months) campsites and hotels get booked out so make sure to book sooner rather than later.
Be careful driving at night, particularly on the lonely roads. Animals like to come out and play. It's best to keep your driving during daylight hours.
If you're coming to Oregon in winter, or even just before/after, be aware of road closures.
For car rentals, we always check here.
We hope this helped you plan some fun road trips in Oregon! Be sure to check out our other posts on road trips and adventures in Oregon.