When it comes to wintertime on Mt. Bachelor, there's only one place that will satisfy all your adventurous needs.
The Mt. Bachelor ski resort has a massive variety of skiing and snowboarding runs, miles of nordic trails, tubing lanes, and even a guided dog sled ride. Mt. Bachelor also enjoys one of the longest seasons of any ski resort in the northwest: it's open from the end of November through May.
That means there are plenty of opportunities to have some winter fun on this mountain—even after the winter is over.
Our Guide to Mount Bachelor in Winter
---
If you're visiting Bend in winter, the ultimate place to immerse yourself in a snowy winter wonderland is Mount Bachelor! Sitting to the side of the gorgeous Three Sisters, this inactive volcano is where locals and tourists flee to the second there's enough snow on it.
The town of Bend literally has "Pray for Snow" posters plastered all around town in preparation for heading out in the Cascade Mountains to play for the next few months.
We hope our quick guide to the area help plan your visit to Mount Bachelor!
RECOMMENDED GEAR:
---
RELATED: Our Ultimate Guide to Winter in Oregon
---
Snowboarding and Skiing on Mount Bachelor
If there's one word to describe snowboarding and skiing on Mt. Bachelor, it's huge. The ski resort is the fifth-largest in the nation and covers over 4,300 acres of skiable area. And vertically, the resort spans 3,365 feet in elevation from the parking areas to the summit.
Plus, the summit is the actual summit of the mountain. The aptly titled Summit chair takes you all the way to the top and lets you gaze across miles of the surrounding area.
Runs towards the top of the mountain are exposed to the sun and can be exhilarating. Runs further down enter the tree line and let you zip through the wintry forest.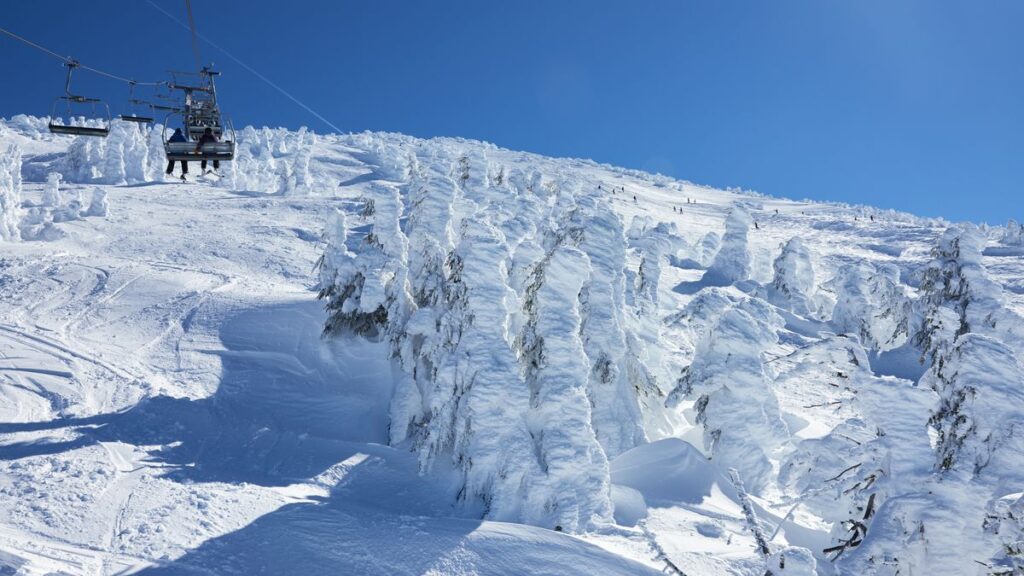 There are a total of 11 lifts on the mountain and 101 different runs down it. There's everything from easy slopes to cliffs, moguls, and bowls.
The area is so vast that you have a good chance of finding some fresh powder if you want to.
And as far as difficulty goes, there's a good variety. 15% of the runs are rated as easy, 35% are intermediate, 30% of runs are difficult, and 20% are extreme. The lifts that take you to these runs have either triple or quad seating, so the lines move fast.
---
RELATED: 13 Ski Areas & Resorts in Oregon for Winter Fun
---
Woodward
As you explore the slopes, you'll come across a number of different park terrain areas. These have all been set up by Woodward, an action sports company famous in the industry. The areas are known as Woodward Mountain Parks.
Each park offers something different and caters to a different experience level. Right next to the Sunrise parking lot you'll find the Start Park. This park is free for anyone to start learning tricks on (no lift ticket required), and it has a conveyor carpet that takes riders back to the top.
However, beyond this point, you'll need a lift ticket or pass to access any other Woodward terrain.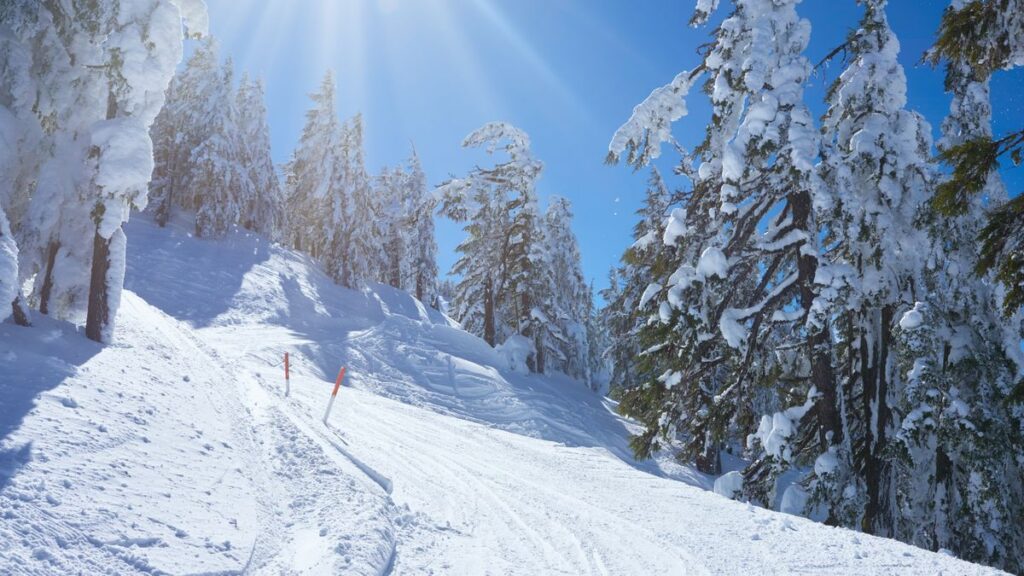 Next, there are two progression parks that have medium-sized obstacles and are meant for building skills. After that, the network of Woodward park terrain crisscrosses along the mountain and culminates in a superpipe and performance venue for pro riders.
Lessons
If you're not quite ready to go pro, that's OK. The folks at Mt. Bachelor have years of experience and offer lessons in a variety of formats. The Gravity School encompasses camps for different ages plus group and private lessons that happen throughout the season.
They even have a Mountain Rippers program for kids 3.5 to 5 years old. Peak pricing for the first 90-minute private lesson is $230 (it's $125 off-peak). After that, 90-minute lessons are $115 each.
Passes, Lift Tickets, Rentals
A two-day lift ticket is $194 for an adult (19-64 years old). Mt. Bachelor announces single-day pricing just before the season opens at the end of November, though it's reasonable to expect they will be around $100.
Also, if you're planning on making more than a handful of trips to the mountain, you can pick up a season pass. An adult pass for the full season with no blackout dates is $1199 for the 2019/2020 season.
You also have the option to get a midweek pass that lets you ski or snowboard from Monday through Friday. It lasts the whole season but excludes the week after Christmas. The midweek pass is $819.
Mt. Bachelor offers a number of different choices when it comes to renting equipment. There are "sport" and "performance" options for both skis and snowboards, plus a junior rental set. Prices will be posted as closer to the season at Mt. Bachelor's rental page.
Of course, if you have your own gear, that will save you a few bucks. You'll definitely need gloves, ski goggles, snow pants, and a jacket.
---
RELATED: What to do at Mount Hood in Winter
---
Cross-country Skiing and Snowshoeing on Mt. Bachelor
Being the mega-resort that it is, Mt. Bachelor has a number of options for cross-country skiing and snowshoeing.
Check out this amazing snowshoeing tour!
Nordic Trails
Mt. Bachelor has dozens of miles of nordic trails. These trails are all groomed by machines and track set each night. Most of the trails—69%—have a cross-country terrain rating of "more difficult."
The area is a favorite of many nordic enthusiasts from all around. And with over 400 inches of average snowfall, you're sure to enjoy skiing through soft snow.
A full-day adult trail pass is $24, while an afternoon pass is $19. You're able to get a season pass just for the Nordic Center, and that is priced at $389. A full rental package is also reasonably priced at $32.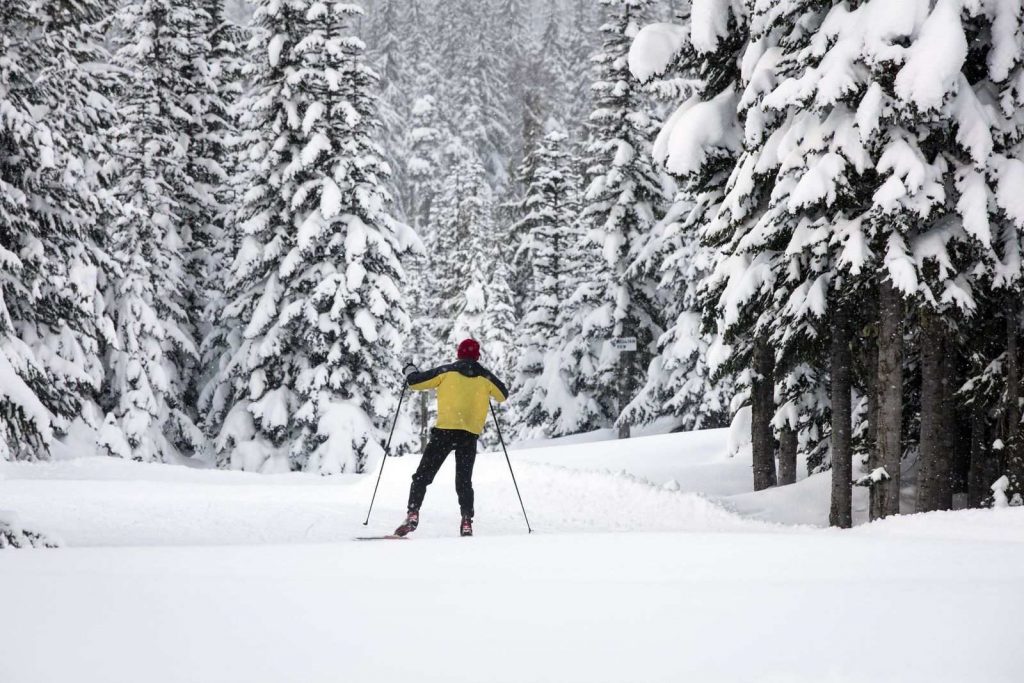 You can get lessons at the Nordic Center whether you're just a beginner or a serious skier. The center offers both private and group lessons throughout the season. Moreover, the trees, sunshine, and snow provide an enchanting classroom setting.
Mt. Bachelor Snowshoeing
About 6 miles of Nordic trails are available for snowshoeing, and a $24 snowshoe rental package gives you access to these trails. You can also enjoy a free, ranger-led snowshoe tour.
It leaves from the West Village lodge area and is an hour and a half long. Along the trip, your guide will teach you all about the winter ecology of the area.
Wanderlust Off-trail Snowshoe Tours
Wanderlust is a tour company based in Bend that offers off-trail snowshoe tours tailored to your experience level. The tours explore the wilderness around Mt. Bachelor and the Deschutes National Forest.
The tour includes snowshoes plus some hot cocoa. Tours last about four hours and are a great way to explore the pristine Mt. Bachelor area.
Snowblast Tubing
Now, no huge mountain resort would be complete without a section for good old tubing. So Mt. Bachelor fills this need with the Snowblast Tubing Park.
The park has six wide lanes that bring you down an 800-foot hill. And along the way down you'll slide over groomed rollers that might let you catch some air.
Even if you're great at snowboarding or skiing, tubing is still a lot of fun.
So how much does it cost? An adult (over 13 years old) will pay $25 for two hours or $45 for the whole day. That becomes $20 and $35 for youth, though kids do have to be 42″ tall. Also, specific holiday periods tack an extra $5 to those prices.
Sled Dog Rides on Mt. Bachelor
You can take a sled dog tour through the magical winter wonderland of the mountain. How cool is that? Tours are led by a dog sled team with professional mushers.
The experience is called the Oregon Trail of Dreams and it's owned and operated by Rachael Scdoris and her family of Iditarod-experienced mushers.
Tickets are sold for one, two, or three people and cost $200, $275, and $325 respectively. Also, holiday periods increase the price by $25.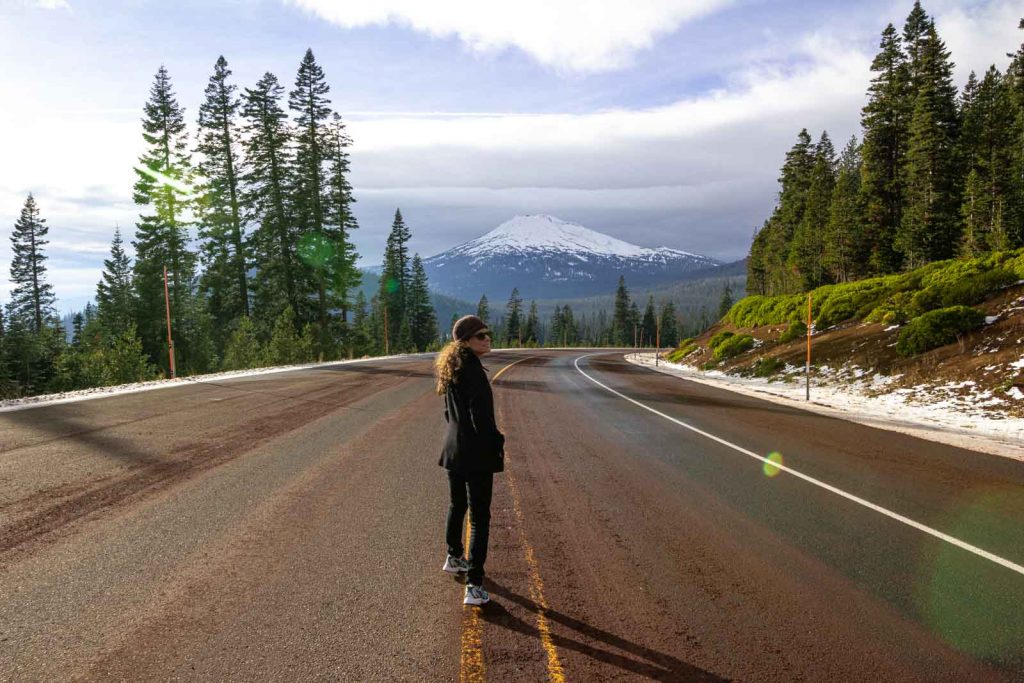 The standard tour lasts about an hour and also gives you the chance to participate in watering and feeding the dogs.
If you really want to go all out, you can do a Marathon Trip. This version covers 26 miles of terrain, includes lunch on the trail, and lasts about four hours. You can book this two-person experience for $650.
Mt. Bachelor Helicopter Tour
Lastly, there's an activity for those who want to savor the whole mountain at once. This is none other than the Winter Wonderland Helicopter Tour.
This sky-bound tour takes you around Mt. Bachelor and gives you gorgeous views of the other Cascade mountains. Looking out to the snow-capped peak and down on the wintry forest is a unique experience.
So how much will this excursion cost? The starting price is $799, and that covers up to three people.
If you want the helicopter to pick you up from your luxury hotel, that adds $299 to the total. Not only that, but you can also take a naturalist guide with you to illuminate the geology of the area. And that add-on is $75.
While season passes and lift tickets on Mt. Bachelor can be a bit spendy, the resort covers a huge area and gives you a lot to explore. Also, it's only a few minutes away from the city of Bend, which makes a great home base for winter excursions on Mt. Bachelor.
Best Places to Stay Around Mount Bachelor in Winter
Seventh Mountain Resort
This resort offers an incredibly convenient location, situated between Bend and the slopes of Mount Bachelor. Your private 2-bedroom condo summons up chalet style with wood-line walls and vaulted ceilings. It features a full kitchen and private deck with views over the mountain.
Cottage at Baker Pond
For winter on the water, check out this charming 1-bedroom cottage. It's situated right on the edge of Baker Pond, where you can ice skate if it gets cold enough. On the large back deck, you can make dinner on the barbecue, or slip into the hot tub after a day skiing.
Westside Cottage
Location is key at this light and bright one-bedroom cottage. You can walk to the river in 5 minutes, and you're perfectly placed to access both downtown and the Newport area with its many restaurants. Outside is a private fenced-in patio with a grill.
Old Mill Townhouse
Even in winter, you'll have plenty of natural light in this beautiful split-level townhouse. There's a private patio with a barbecue, or you can cozy up around the fireplace in the living room. You'll be within easy walking distance of the Old Mill district and downtown.
---
RELATED: Our Ultimate Guide to Winter in Oregon
---
More Things To Do During Winter in Oregon
We hope this post helped you plan your winter activities at Mount Bachelor! Check out more great activities near Bend and other fun adventures in Oregon.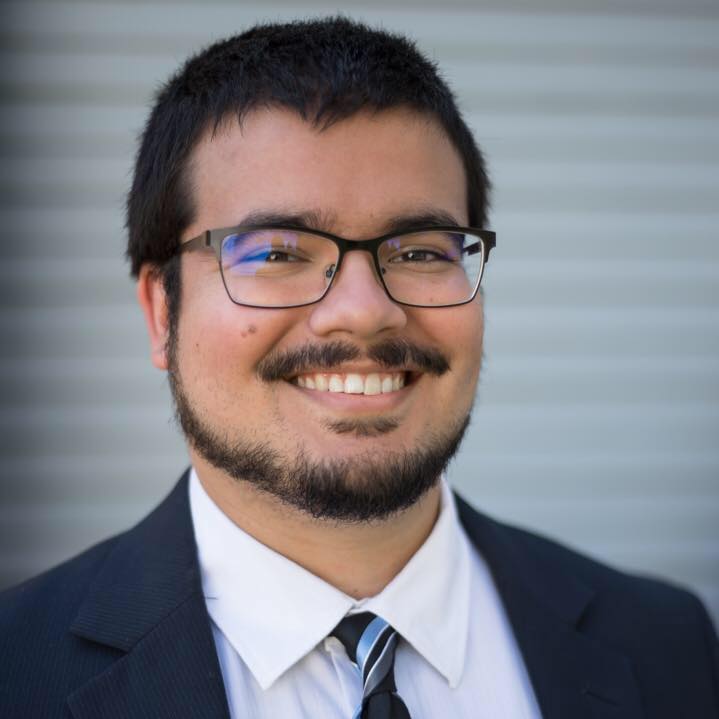 Brogan is a jazz guitarist and freelance content writer living in Portland, OR. His favorite spot in nature is Soapstone Lake. When he can't get outside to go hiking, he enjoys watching Anime and cooking.