From skiing or snowboarding at Timberline and Meadows to enjoying hot cocoa and giant maple bars in Government Camp, few things compare to the treasures you can find on Mount Hood in the winter.
Here's our guide to all the activities you can enjoy at Mount Hood in winter—Grab your gloves and beanie and get ready to hit the slopes!
Our Guide to Mt. Hood in Winter
---
Welcome to the highest point in Oregon, Mount Hood! Soaring over 11,000 feet in the air, this is the fourth tallest mountain in the Cascade Range and is a potentially active volcano. It's only a mere 50 miles from Portland and is frequented by adventurers escaping the city's dreary winter for snow-filled fun.
While hiking around Mount Hood in summer is an excellent way to experience the beauty in the area, don't think there's nothing happening around here in winter. There are a plethora of activities at Mount Hood in winter just trade in your hiking shoes for your winter boots and you'll be set to go!
Here is everything you can do at Mount Hood in winter.
RECOMMENDED GEAR:
---
RELATED: Our Ultimate Guide to Winter in Oregon
---
Skiing and Snowboarding on Mt. Hood
Mt. Hood is a great place for skiing and snowboarding, whether you're just learning or you're on the ski team. There are a number of different spots that offer chairlifts, rentals, and beginner to advanced runs.
Skibowl at Mount Hood
As you're coming up the mountain from Portland, Skibowl is the first place you'll pass by. In the summer it offers a huge alpine slide, but in the winter it's famous for snowboard and ski runs that are great for people with beginner to intermediate skills. It even has a decent number of advanced and expert runs.
Skibowl also has a few park sections (jumps, rails, obstacles) for getting tricky. Even though many of the runs are geared towards casual riders, it's also a favorite spot for those who want to shred.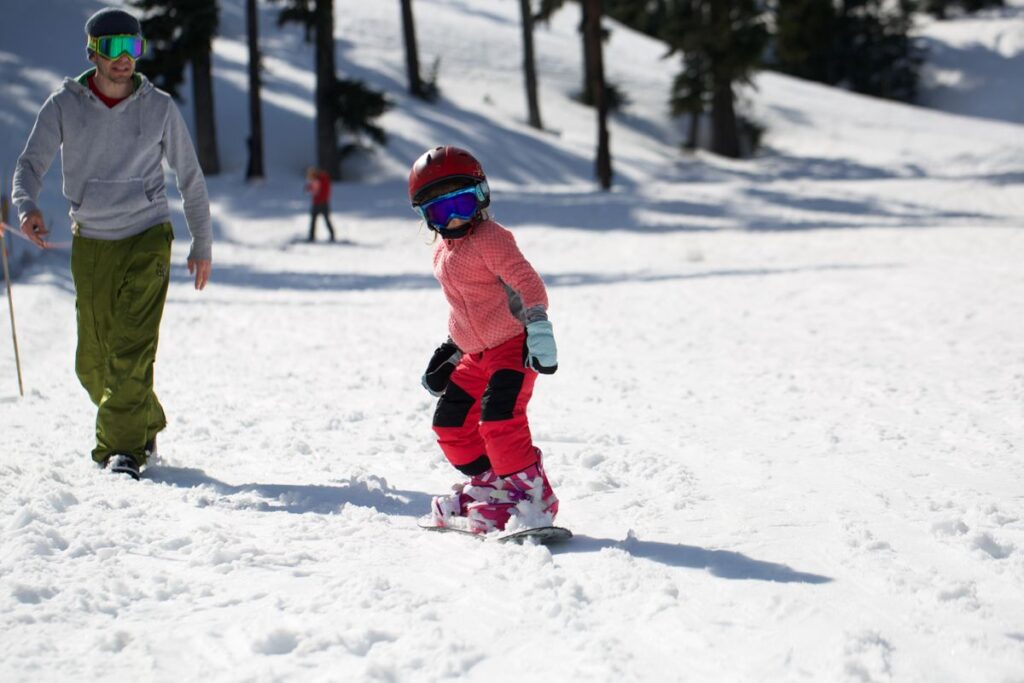 Skibowl has 65 total runs that cover 960 acres of the mountainside. The Upper Bowl lift will set you on a 5,027 ft peak with plenty of black diamond runs to make your way through.
Tickets/rentals: An all-day adult ticket will cost about $70 while tickets during peak times (winter break, MLK Weekend and President's Day Weekend) will be a few bucks more. You can also go for a shorter section of the day and save a bit of money. An all-day adult rental package for skiing or snowboarding costs $68. Skibowl also offers ski and snowboard lessons for different skill levels.
Summit Ski Area at Mount Hood
If you want to have a relaxed time while learning to ski, Summit Ski Area is the place to go. The park offers one chair lift with about ten different runs and is perfect for beginners. It's a family-oriented place that also has a small lodge where you can get some hot cocoa or an IPA.
Tickets/rentals: An all-day ticket will cost you $38 for the 2019/2020 ski season. With this ticket, you can also ski or snowboard on Bruno's Chair as well. Bruno's Chair is located at Timberline and is their beginner lift. An adult rental package for Summit Ski Area is $35. You can also go to Timberline to rent and purchase a pass for Bruno's Chair which will automatically include Summit Ski Area.
Timberline Lodge and Ski Area
Another gem on top of Mt. Hood is Timberline Lodge. Timberline has 41 runs that traverse 1415 acres of snow and forest.
The runs also span 3,690 feet in vertical elevation and give you some incredible views. There are 5 high-speed quad lifts, one triple lift, and one double lift. If you're looking for an all-you-can-eat buffet of winter sports, Timberline is a good option.
For the adventurous, Timberline also offers a wide array of park terrain. From jumps and pipes to boxes and rails, there's a lot to keep you occupied.
And if you're really ready to take it to the next level, you can access Timberline's Pro Park during the summer months. Now, they don't call it that for no reason. The Pro Park only features terrain that you'd see on the X-Games or Winter Olympics. You have to have skills, and you have to sign a waiver to even get on the lift.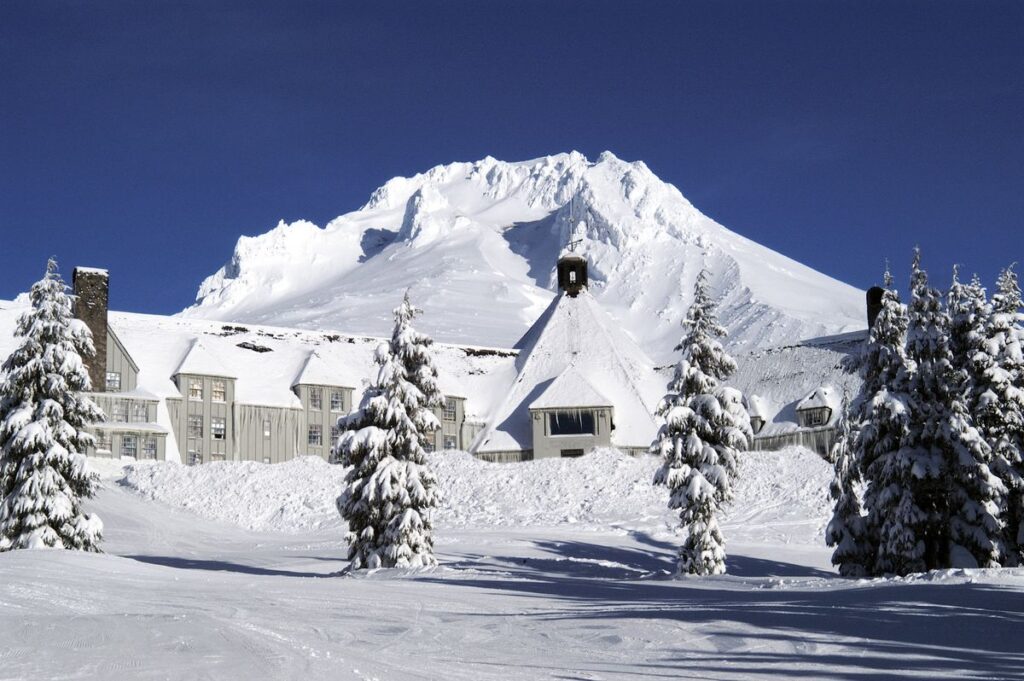 We can't leave Timberline without mentioning the Lodge. Chock full of dining, lodging, and more amenities, it's a winter paradise. The rooms are finished in a cozy log-cabin style and make a perfect home base to explore Mt. Hood in winter.
As for the exterior, it's famous for its role in The Shining. Movie buffs can participate in a group "Dinner and a Movie" package screening of The Shining and enjoy some Northwest eats.
Tickets/rentals: An all-day lift ticket at Timberline is $75. All-day rentals are either $46, $54, or $63 depending on whether you want older, recent, or brand new models of gear. Timberline also offers private and group lessons for a wide range of abilities. You can even learn how to become a ski or snowboard instructor yourself through Timberline.
Mt. Hood Meadows
Mt. Hood Meadows is another long-time favorite spot for winter sports on the mountain. The park has 11 lifts, 87 different runs, and covers 2,150 acres of skiable area.
Many would say that Meadows also has steeper runs and better accessible backcountry/cliffs.
One intense backcountry section is called Heather's Canyon. It's actually part of a gated access area. This means it's not regularly patrolled or groomed, and only highly experienced riders should go there.
If you have the skills, you'll be rewarded with deep powder and pristine views. Be aware that sections like this have a heightened avalanche risk.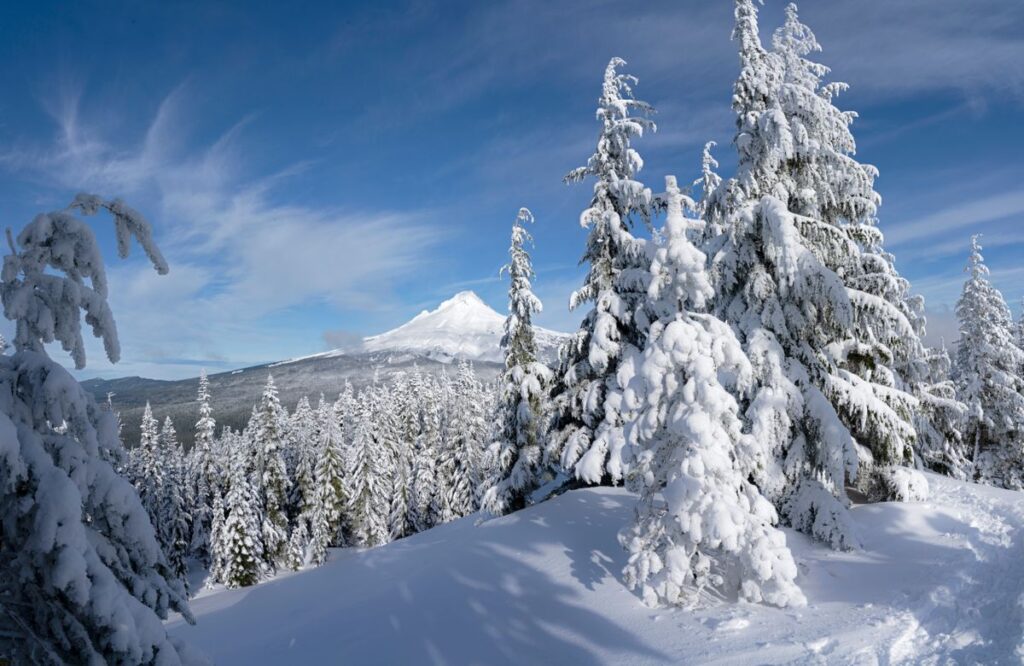 Basically, Meadows and Timberline are the two big dogs on Mout Hood for advanced snowboarding and skiing. While Meadows has more runs and lifts, it also has a larger parking lot and tends to get more crowded during peak times and on the weekend than Timberline. In terms of crowd, it's more popular with younger people and snowboarders.
Tickets/rentals: To encourage people to purchase off-peak tickets, Meadows now has dynamic ticket pricing. The price of a ticket is higher if there's more demand, and lower if there is less. A 4-hour ticket will still be $72, but the all-day price can fluctuate. A two-day rental package is $89, but Meadows is also applying dynamic pricing to single-day rentals.
It's recommended that you book your ticket and rental in advance to get a good price. Finally, Meadows offers some of the best ski and snowboard instruction on the mountain, for kids to adults.
---
RELATED: 13 Ski Areas & Resorts in Oregon for Winter Fun
---
Mount Hood's Cooper Spur Ski and Tubing Area
The Cooper Spur Ski Area is another place that's great for beginners and those who want to avoid long lines at lifts. Cooper Spur is located about 25 minutes past the turnoff to Mt. Hood Meadows along Highway 35.
Its size is similar to Summit Ski Area: Cooper Spur has one chairlift that leads you to ten different runs. Most runs are easy to intermediate difficulty, but they do have one black diamond run called the accelerator.
Tickets/rentals: A day-long lift ticket at Cooper Spur is $39, and a rental package is $29. The park also offers group and private lessons for a range of abilities.
---
RELATED: What to do at Mount Bachelor in Winter
---
Season Passes for Mount Hood
Now, if you're an avid snowboarder or skier, you'll know that a season pass gets you the best value for your money. That's if you can go enough to make it count.
This pass gives you unlimited access to both Skibowl and Timberline. For 25 to 64-year-olds, it will cost $649 (early season), $749 (after Nov. 3), or $849 (after Nov. 24).
It's cheaper if you're outside this age bracket. Factoring in a lift ticket price of $75, you'd have to go at least nine times to make it worth it.
If you just want to ski or snowboard at Skibowl for the winter, you can get a season pass for $443/$543 (before or after Nov. 3).
Summit Ski Area Season Pass
A season pass for Summit Ski Area (plus Bruno's Chair at Timberline) is $199.
If you just want to shred Timberline, you can get a pass for $549/$649/$749. This pass also includes unlimited lifts at Summit Ski Area.
If you're a complete beginner, you can also get the Discover Pass at Timberline. That pass includes Bruno's Chair, Summit Ski Area, plus unlimited beginner rentals for $159.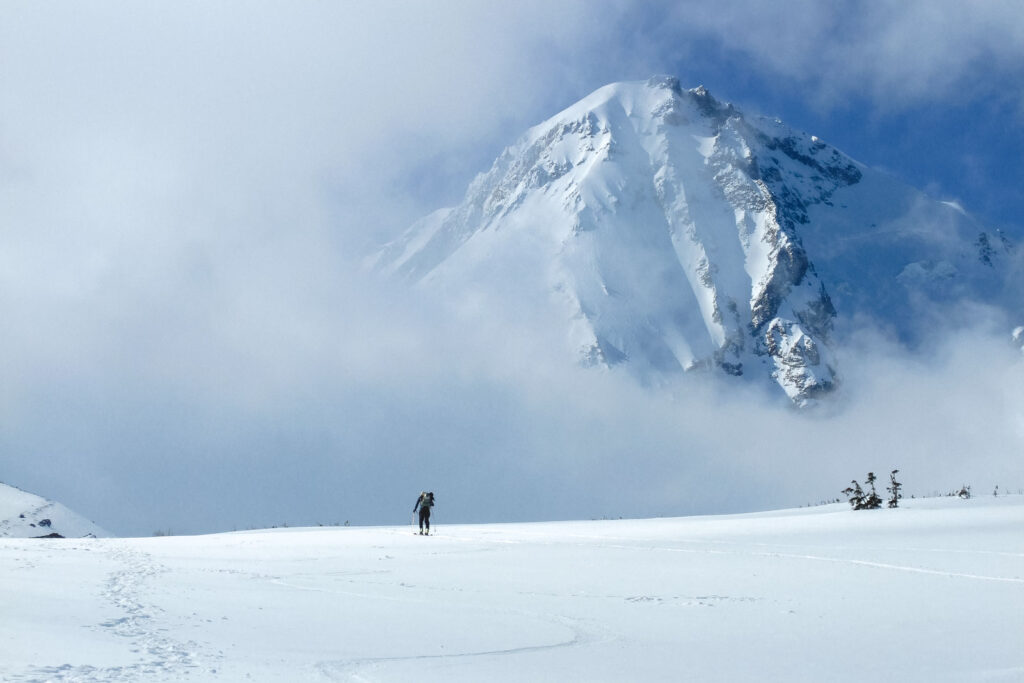 Mt. Hood Meadows Season Pass
After 50 years of offering an unlimited season pass, Mt. Hood Meadows recently switched it up. Now, the park offers a Value Pass with the option to upgrade to an All-Access Pass.
The Value Pass limits a rider's access on 37 different peak days. On those days, a Value Pass is only good for lifts after 3 PM.
The Value Pass is priced at $409 or $509 after Nov. 3rd. Upgrading to All Access will bring the total to $619 or $929. You can also pay extra for just a few peak days instead.
With the new pricing, Meadows hopes to reduce crowds on peak days, when the park can draw 7,000 to 8,000 people.
You can get a season pass to Cooper Spur for $214. You can also add a family pass for this park onto a Meadows season pass for $350—saving $89.
More Ways to Enjoy Mount Hood's Winter Wonderland
Here are a few other ways to enjoy Mt. Hood in winter beyond an afternoon of skiing or snowboarding.
Night Skiing on Mt. Hood
There's something magical about hitting the slopes at night. It has a whole different feel, especially as the bright lights don't always cover the whole ski area. It can also be much less crowded as people have packed up and left the mountain.
Skibowl's claim to fame is that it has the largest night skiing and snowboarding terrain in the country. It has 34 runs that are lit up at night, giving you plenty of space to explore. A night season pass for Skibowl is $189/$239 (early/late) for all ages.
Timberline also offers a good amount of night skiing, though it's not as large as Skibowl's and it doesn't get its own pass. It's available on Friday and Saturday evenings during the season.
Meadows also has some good night skiing and you can get a season pass for just that. The pass will cost $159 and is valid for night skiing and snowboarding when it's available—usually from mid-December and from Wednesday to Saturday nights.
Cooper Spur is open on Friday nights for night skiing, and a lift ticket is $12—cheaper than a movie and way more fun.
→ Take this guided moonlight snowshoe adventure in the Mount Hood Wilderness from Troutdale
Cross-Country Skiing and Snowshoeing on Mt. Hood
So far we've covered how to have fun on Mt. Hood and go down the mountain. How about going across it? Well, there are many places that offer great snowshoeing and cross-country skiing terrain. From nordic tours at resorts to solitary backcountry trails, there's a lot to explore.
Groomed options include Trillium Lake Snow Trails (one of our favorite lakes in Oregon!), Teacup Lake, Cooper Spur Nordic Center, and Mt. Hood Meadows Nordic Center. The Trillium Lake trails cover about 6 miles of terrain, though the main loop hike around the lake is a couple of miles long. Through the snowy trees, you can get some great views of the top of the mountain.
Teacup Lake and Cooper Spur are reserved for cross-country skiing and skating only. The Mt. Hood Meadows Nordic Center has separate trails for skis and for snowshoes, and Trillium Lake is open to both.
→ Do a guided snowshoeing tour around the foot of Mount Hood, including a trek along White River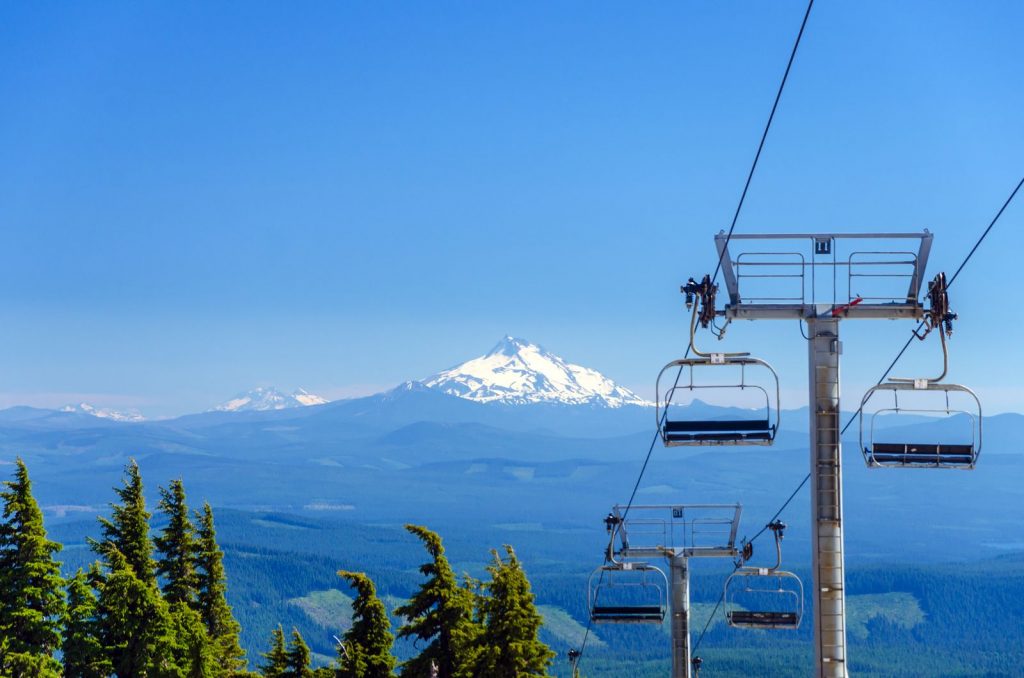 Dogs are typically not allowed on groomed trails. For a non-groomed option, Pocket Creek is a great choice. This trail system offers a few different paths, but you can easily make a 6+ mile trek out of it.
You'll ski or snowshoe through the forest and in view of the mountain. At one point, you'll cross a creek that has a little bridge made of snow.
There are dozens of trails on Mt. Hood. You can check out the USDA Mt. Hood National Forest cross-country skiing and snowshoe area list for more ideas.
Tubing on Mt. Hood
Just want to slide down some hills without putting on a bunch of gear? No problem. Tubing is a fun way to experience the mountain that anyone can enjoy.
Skibowl has Cosmic Tubing which is basically like a dance party on the snow. You can slide down the steep hills under music and disco lights. This happens during winter and spring breaks.
Aside from that, Skibowl offers tubing on weekends and holidays through the season. One two-hour adult session is $28 (or $33 for Cosmic Tubing).
Snow Bunny is the famous spot for jumping on a sled or tube and riding down a big hill. It's managed by Summit Ski Area and includes three tube hills. A day pass is $27.
Two no-fee, DIY areas are White River Sno Park and Little John Sno-Park. These are both on the east side of the mountain and all you'll need is a Sno Park Pass.
Little John is a bit farther away but it also offers the most backcountry tubing experience (only round tubes and sleds allowed, though).
---
RELATED: 9 Things To Do at Mount Hood For Adventurers!
---
Tips for a Successful Trip to Mount Hood in Winter
If it's your first time doing any of these activities, take some time and do a little research beforehand. For example, you may get hot while cross-country skiing or snowshoeing, so it's a good idea to wear multiple—but thinner—layers. That way, you can take layers off when you're hot instead of being stuck with just a shirt and a heavy coat.
If you have the schedule that allows you to go during off-peak days (mid-week and non-vacation weeks), do it. Meadows can get especially crowded on the weekends, and it can be hard to navigate around the crowd on the snow as a beginner.
Also, remember that everything is more expensive in a lodge and on the mountain. It's a bit like being at a sporting event. Bring some extra spending cash if you're planning to do an all-day type of excursion.
On your way back down the mountain, some local food favorites are the large maple bars at Huckleberry Inn and the huge burgers at Calamity Jane's.
Be sure to always check the weather conditions before heading out and what lifts are open, you can do that here.
Don't Forget Your Sno-Park Pass
Each parking area on Mt. Hood is on US Forest Service property. As such, you're required to have a winter parking permit to park at any of these spots.
The Oregon Sno-Park costs $20 for the season, $7 for one day or $10 for three days. You can get a pass at any Oregon DMV, in any ski shop, or any resort ticket counter on the mountain.
You can also find them at a number of private businesses leading up to the mountain, but be aware that those passes might be $5 or $10 more. The parking lots are regularly patrolled, so it's better to get a pass ahead of time than park and wait in line for a while to purchase one at your destination.
Best Places to Stay Around Mount Hood in Winter
Cozy Cedarwood Cabin
Stay at the rustic Cedarwood Cabin for an authentic cabin experience in the woods. Built in 1922, this beautiful cabin will make you feel like you have stepped back in time – in a really good way.
Alpine Hideaway
This delightful cabin is in Government Camp, but within walking distance from the skiing action. The timber A-frame gives it a true chalet feel, and here's a stone fireplace for added coziness after a day on the slopes.
Oberon's Junction
This super cute cabin is right on the river in Rhododendron, making it the perfect location for a winter vacation near Portland. And at the end of a long day of winter adventures, there's a cozy wood fire and a private deck with a grill.
SnoBird
This beautiful cabin is only a short walk to the cute village of Government Camp, and a short drive to ski resorts and other winter mountain adventures around Mount Hood. Warm up by the fireplace after a day of adventure on the slopes.
---
RELATED: Our Ultimate Guide to Winter in Oregon
---
More Things To Do During Winter in Oregon
We hope this post helped you plan your winter activities at Mount Hood! Check out more great activities near Portland and other fun adventures in Oregon.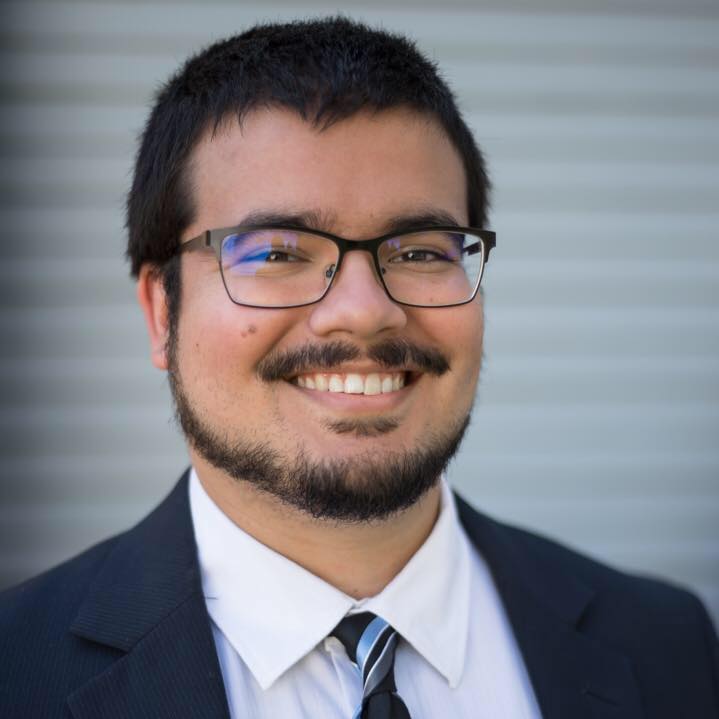 Brogan is a jazz guitarist and freelance content writer living in Portland, OR. His favorite spot in nature is Soapstone Lake. When he can't get outside to go hiking, he enjoys watching Anime and cooking.