Mount Hood is the iconic peak of Oregon and an outdoor playground for Portlanders and visitors alike. If you want to know all about the things to do at Mount Hood, you're in the right place!
This mountain is teeming with activities no matter the season. Grab your hiking boots, skis, tent, and camera, and get ready for a weekend (or week?!) of adventures around Mount Hood. We have the best hikes, lakes, campgrounds, lodges, and more for you to choose from, and trust us, at Mount Hood, you're spoilt for choice.
Things To Do at Mount Hood
---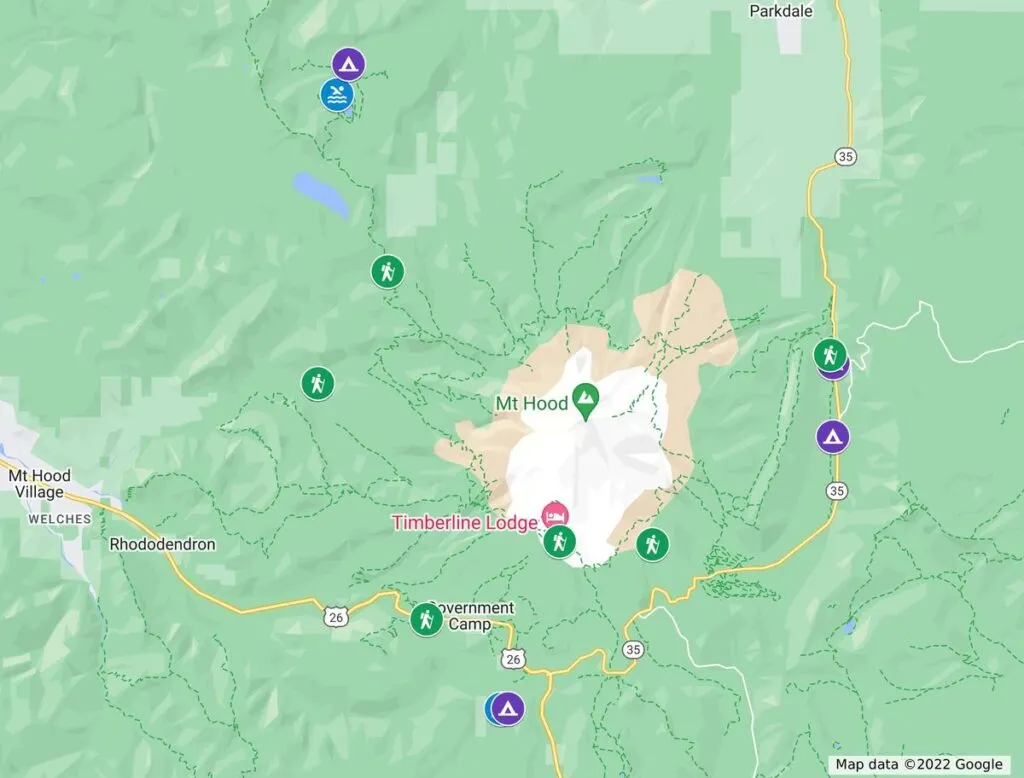 Things To Do at Mount Hood: Best Hikes
One of the best things to do in Mount Hood is simply to hike, and there are some incredible hikes to pick from. It was an arduous task to pick a few, but we think we have narrowed it down to some of the best.
1. Bald Mountain Hike
Distance: 6.7 miles
Type of Trail: Out & Back
Difficulty: Moderate
Up for a long hike? Get your steps in with a hike up Bald Mountain, a very doable hike that gets the steep bit out of the way at the beginning, with switchbacks to help you out along the way.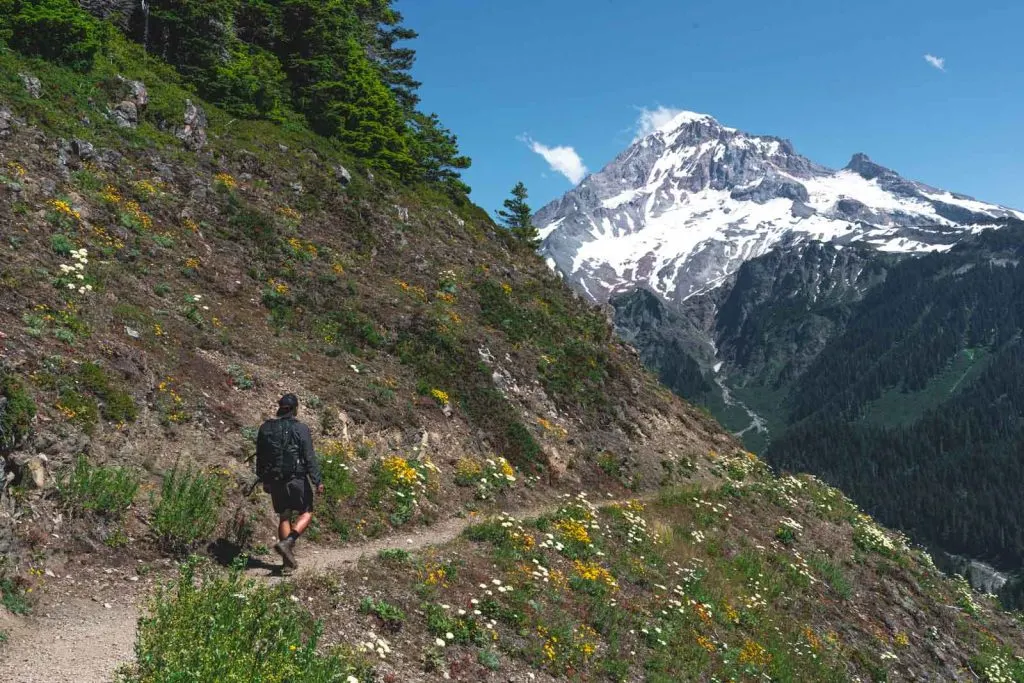 At one point in the hike, you'll have the option to summit Bald Mountain, ideal for those who want to tick another peak off their mountain summit bucket list. Or you can continue around the mountain to get a different view of Mount Hood. Both are excellent options and provide amazing views of Mount Hood.
2. Tom Dick and Harry Trail
Distance: 9.0 miles
Type of Trail: Out & Back
Difficulty: Moderate
The Tom, Dick, and Harry Trail will take you most of the day at 9 miles, but it is well worth it on your Mount Hood visit. You'll first hit the stunning Mirror Lake, named for the iconic reflection of Mount Hood in the still waters if you time it just right.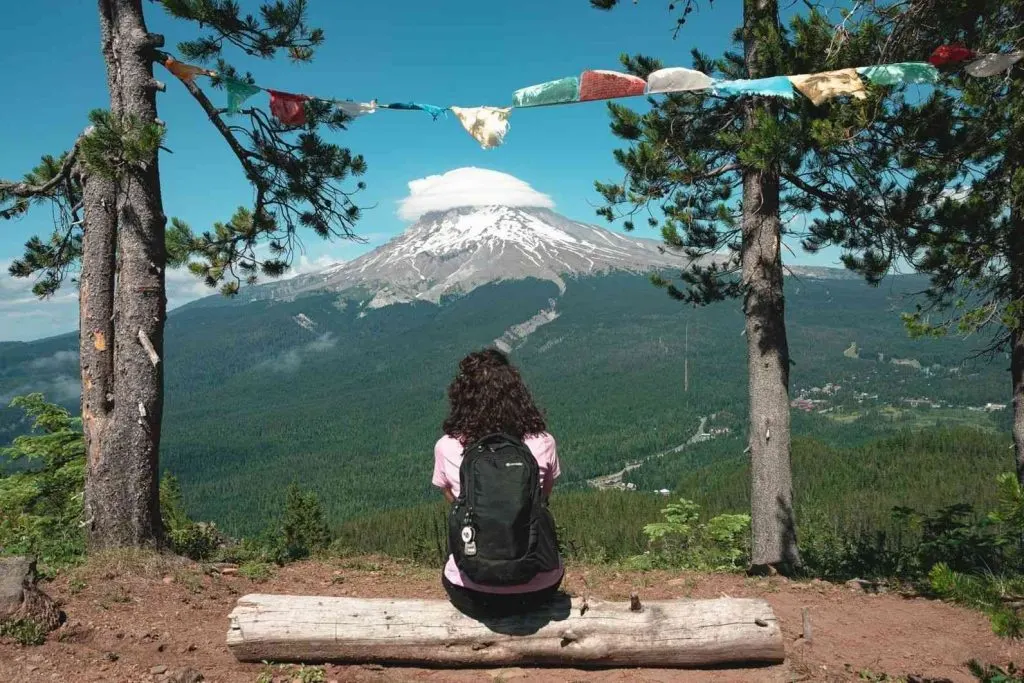 If you're eager for more at this point, carry on going up, up, and up the mountain, where the views get better and better and the chipmunks even more friendly (keep a tight hold of your hiking snacks!)
There are two main viewpoints, the first one has great views, so for those a bit too tired to carry on, feel free to take in the views here and head back down. The second viewpoint is a bit more of a scramble on some loose rocks and will take you to the actual summit.
---
READ MORE: Hiking Tom Dick and Harry Mountain and Mirror Lake Loop
---
3. Tamanawas Falls
Distance: 3.4 miles
Type of Trail: Out & Back
Difficulty: Moderate
Could we make a list of incredible things to do around Mount Hood without mentioning waterfalls? We didn't think so. Tamanawas Falls provides a perfect couple of hours hiking through lush forests, on the east side of the mountain, to the beautiful Tamanawas Falls.
A remarkable feature of this hike is that you can get behind the falling water and see what the falls are like from the inside! Just take care on the wet rocks you have to scramble over to get there.
---
READ MORE: Hiking The Gorgeous Tamanawas Falls Trail
---
4. Umbrella and Salahie Falls
Distance: 3.4 miles
Type of Trail: Out & Back
Difficulty: Moderate
Two waterfalls in one on this 3.4-mile out and back hike. Although on the shorter side, you'll get your sense of adventure thanks to the several rocky scrambles, and the bridges across the streams make for some effortlessly good shots.
Although you should aim to reach both of the falls, Umbrella is the most impressive, and a hike here is one of the best things to do near Mount Hood.
---
RELATED: 9 Awesome Mount Hood Hikes (Including Waterfall Hikes)
---
5. Ramona Falls
Distance: 7.1 miles
Type of Trail: Loop
Difficulty: Moderate
At just over 7 miles with stunning scenery every step of the way, the Ramona Falls hike is very popular. It's not hard to see why. You'll have a gradual climb through the thick forest the area is known for, and again, you'll get the most challenging bit over and done with at the very beginning.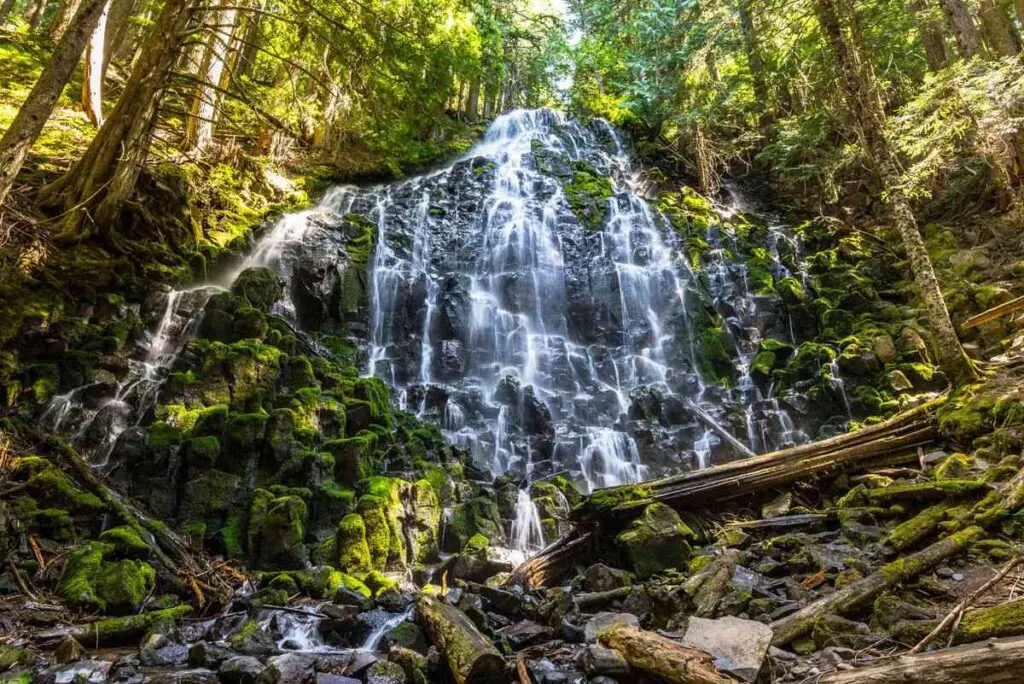 There are some beautiful Mount Hood views along the way, as well as the impressive 120-foot Ramona Falls cascading over the rocks. What's not to love?
---
RELATED: 10 Hikes to Waterfalls Near Portland—That Are Open NOW!
---
6. Hike The Timberline Trail
Distance: 41.4 miles
Type of Trail: Loop
Difficulty: Hard
The Timberline Trail is almost a right of passage for Mount Hood adventures. Yes, it is very (very) long at over 41 miles, but what do you expect when trekking around a massive mountain? The hike allows you to fully grasp the vastness of Mount Hood and the beauty that surrounds it.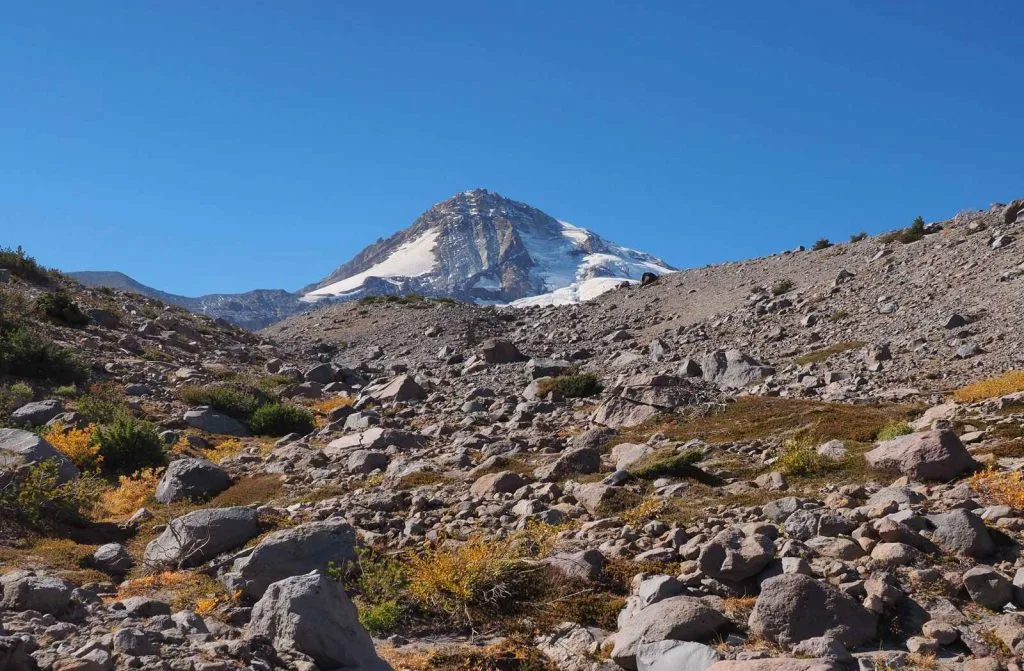 You'll trek through thick old-growth forests, wade knee-deep through meadows thick with colorful wildflowers, stumble across waterfalls both big and small, and admire some of the most impressive mountain views in the state.
It's a long, demanding hike, but plan accordingly, and it will be one of the most memorable multi-day hikes you ever challenged yourself to do.
Things To Do at Mount Hood: Best Lakes
Two of the best and most accessible lakes around Mount Hood are Trillium Lake and Lost Lake. You can drive up to and camp at each of these and they are perfect for adventures out on the water.
7. Trillium Lake
You may think you have seen the best views of Mount Hood on a hike, but just wait until you see it from the waters of Trillium Lake. Rent a canoe and waste no time getting out in that water.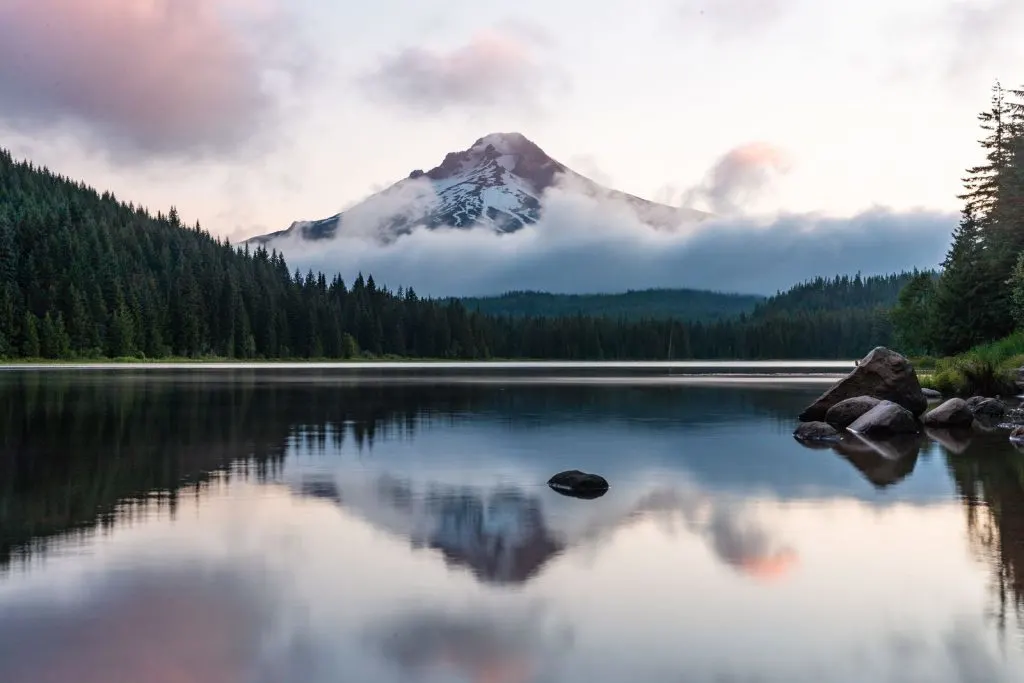 No motorized boating is allowed, meaning the water can be perfectly still, creating a mirror image of the mountain, a photographer's dream!
In addition to getting on the water, there are plenty of day-use opportunities around the lake. You can also walk the Trillium Lake Loop to stretch those legs and use the popular campsite as your base for more Mount Hood adventures.
---
READ MORE: Checking Out Trillium Lake: Paddling, Hiking, and Camping
---
8. Lost Lake
Lost Lake sits at the bottom of the towering Mount Hood so that you can enjoy plenty of lakeside activities with incredible views of the volcano. Activities include fishing, hiking, swimming, and a whole range of water sports.
In the summer, the water is full of swimmers, despite the freezing temperatures, but paddleboarding, kayaking, and tubing are also popular, with rentals available on the lakeshore.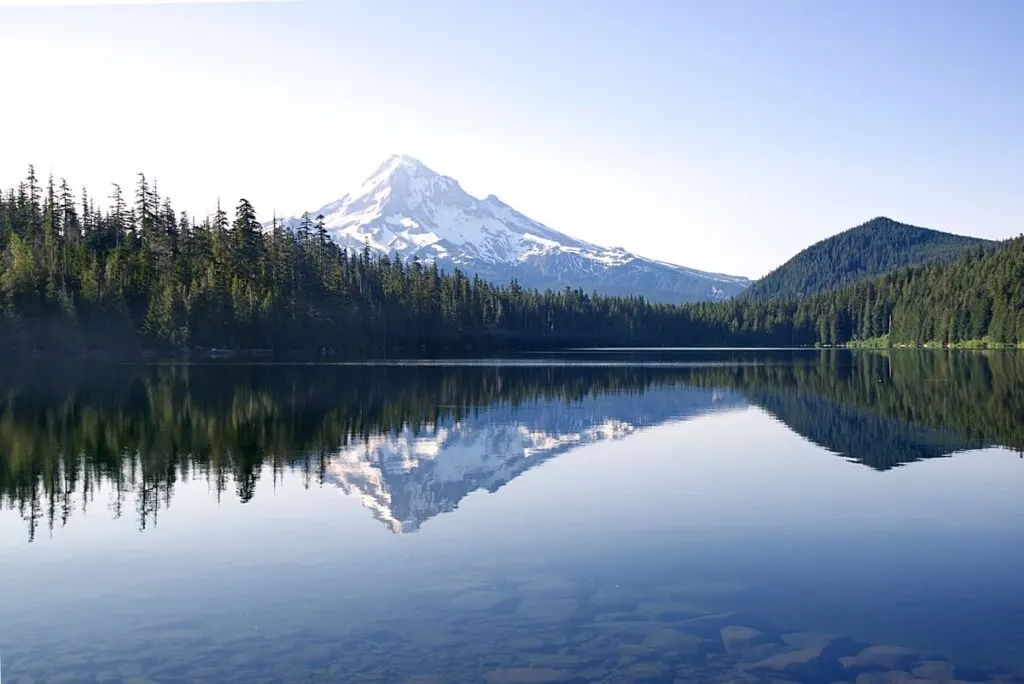 The Lakeshore Trail is 3.1 miles and will take you around the lake, much of which is a raised boardwalk. The Old Growth Trail and Huckleberry Mountain Trail are short and pleasant hikes. Surprisingly, Lost Lake is also a great area for bouldering, so don that climbing gear and hone that inner mountain goat.
Some of the biggest boulders reach over 40 feet tall, with overhangs, verticle faces, and all sorts of challenging climbing features, making it one of the most popular things to do near Mount Hood.
The lake is also the home of Lost Lake Resort, one of the largest campsites in the area, so you are very close to all the action.
---
RELATED: 25 Day Trips from Portland, Oregon + Road Trip Ideas
---
9. Things to do at Mount Hood in Winter
Winter, spring, summer, or fall, Mount Hood has it all. There are almost just as many things to do at Mount Hood in the winter as in the summer, and it will give you a completely different experience.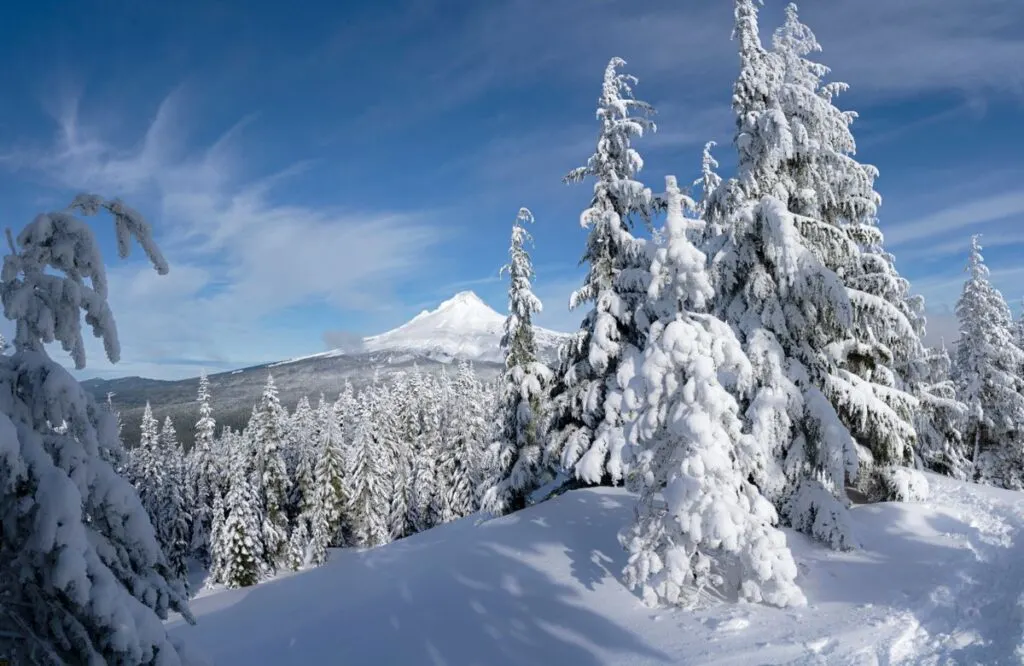 Skiing and Snowboarding
The best places to hit the slopes at Mount Hood are Skibowl, Summit Ski Area, Timberline Lodge, and amount Hood Meadows.
They are all great in their own right and cater from wobbly beginners to those raised on the slopes. We are talking hundreds of different runs altogether, so you definitely won't be bored.
Cross Country Skiing and Snowshoeing
Whether you've had your adrenaline fill or would just rather have a more gentle way to experience this alpine wonderland, cross country skiing and snowshoeing allow you to explore at a more leisurely pace.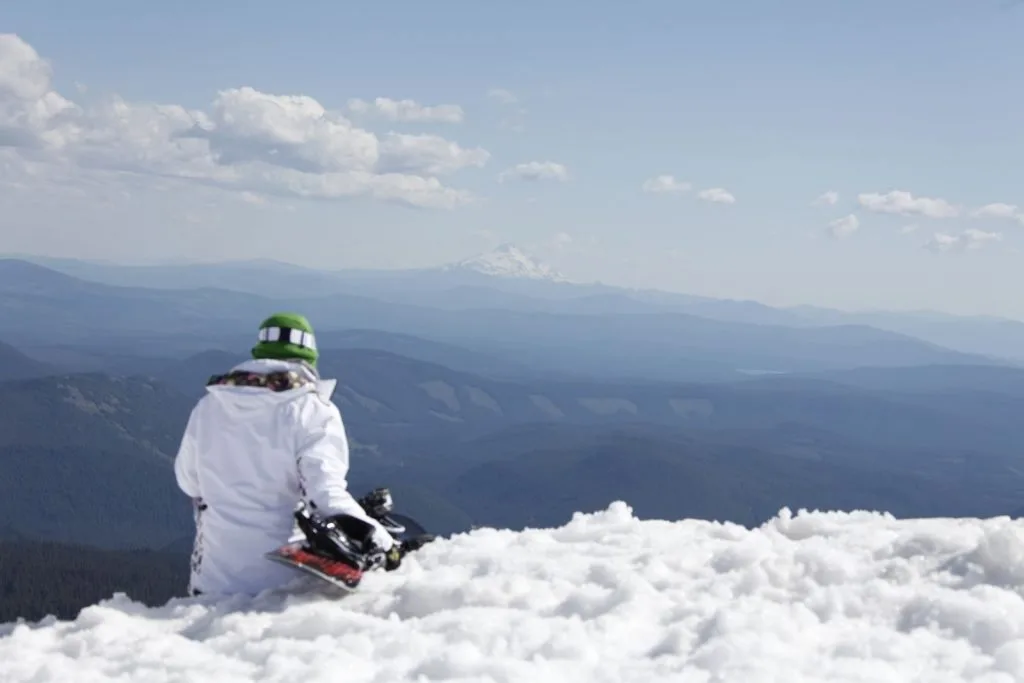 Choose from backcountry trails to nordic tours and everything in between. Some of the most popular groomed options include the Trillium Lake Snow Trails and the Cooper Spur Nordic Area.
Tubing
Tubing can be great fun, especially with a backdrop like the Mount Hood area. A few spots offer tubing, such as Little John, Snowbunny, and Skibowl, so you can sit back and let gravity do its thing. For a slightly different experience, Skibowl offers nighttime disco tubing, which is pretty much exactly like it sounds!
---
READ MORE: What to Do at Mount Hood in Winter
---
Where to Go Camping and Lodging Around Mount Hood
When it comes to camping at Mount Hood, there are a few options to choose from.
Each campsite offers a little something different and comes with its benefits and negatives, so you should see which one works for your needs.
Trillium Lakes Campground
Trillium Lake campground is undoubtedly the most scenic, but with views comes popularity, so you should expect the crowds. It is one of the more extensive campgrounds in the area, with 62 large campsites, some of which are for RVs and some are tents only, so there are different options available.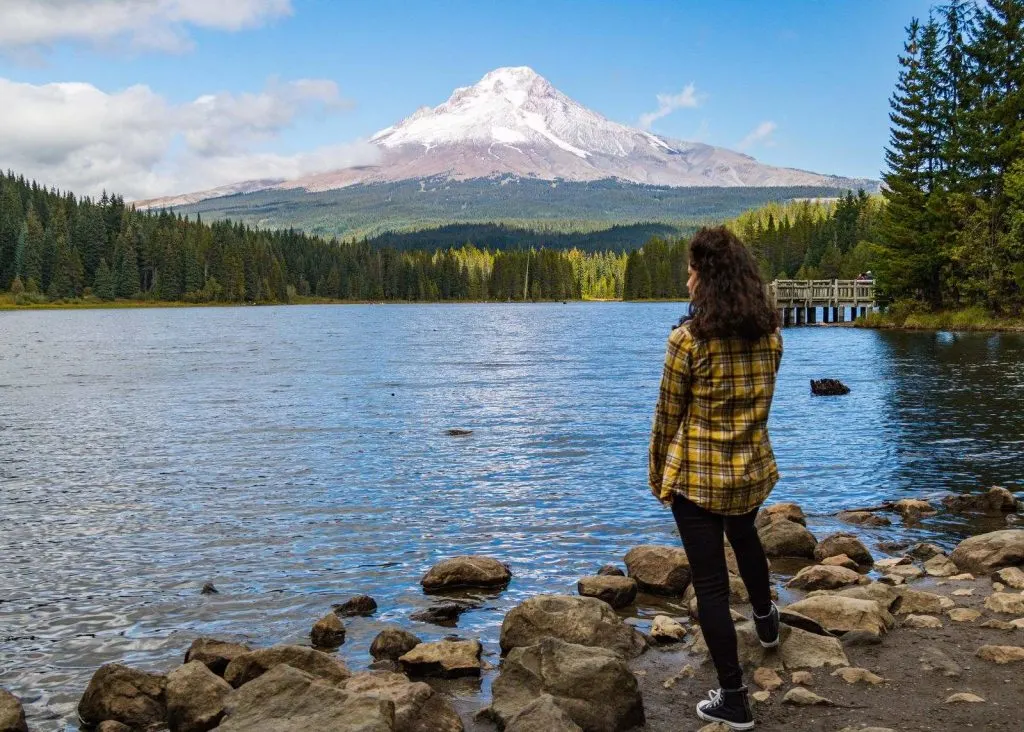 There is also the option of having lakefront and tree-shaded sites. There is a small boat ramp in the campground, and each table has a campfire ring, table, and grill.
Lost Lake Campground
Lost Lake is another great lakeside campground, but again, it is one of Mount Hood's most popular camping spots. The benefit here (or negative) is that it is a much more established campground, with more facilities, big group camps and even cabins if camping in tents cramps your style.
There are 148 campsites available, although no electronic hookups, there are other amenities such as food prep areas, pit toilets, and a general store.
Nottingham Campground
Nottingham Campground sits next to the Hood River, with most of its campsites having direct access to the water. This, and its close vicinity to many natural attractions, make it a desirable camping spot.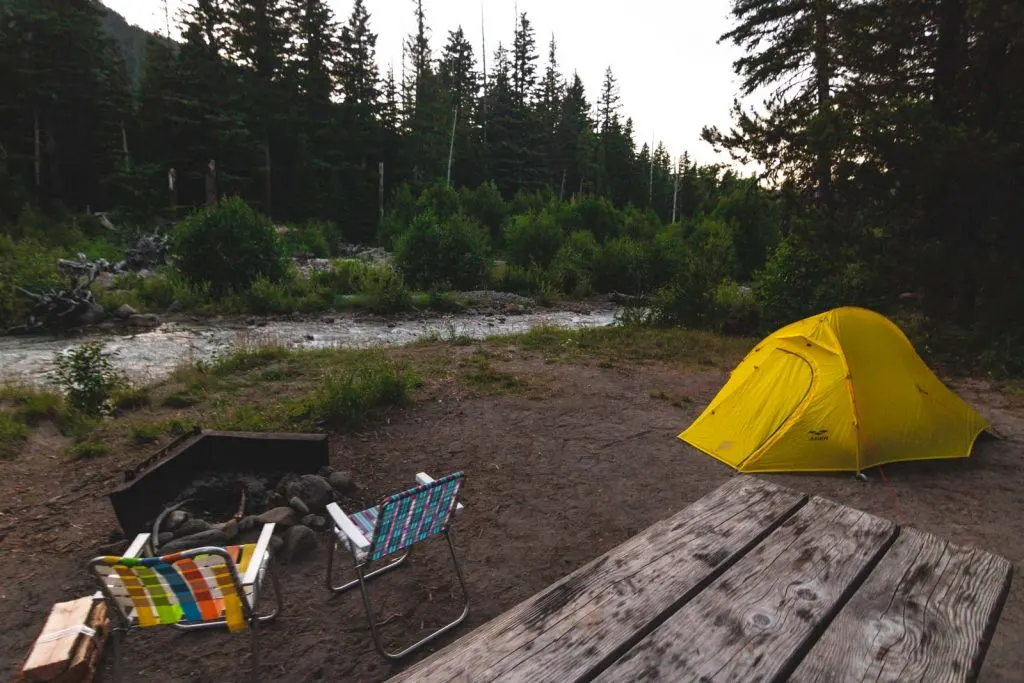 The great thing is, it is not as well known as some of the other Mount Hood campgrounds, so you might be lucky and have a quieter experience. Note there is no water, electricity, or sewer hookups and only pit toilets, so it is a bit of a rustic experience.
Sherwood Campground
Sherwood Campground also has the Hood River bubbling alongside it and provides easy access to many of the area's hikes and attractions. It has its downsides, such as being close to the highway and no running water, but small and provides an intimate camping experience.
---
RELATED: 23 of The Best Places for Camping Near Portland
---
Government Camp Lodging Options
Government Camp is located on the mountain's southern slopes. Sitting at 4000 feet, it offers a lot more than you would expect from a small ski town and provides an ideal hub for exploring the area.
What might come as a surprise is the Bavarian-style that dominates most buildings. With a pedestrianized town center, you can spend your days wandering the main street, tasting brews in the local brewery, and hopping in and out of eateries and ski shops.
Also located in the town is the Mount Hood cultural center and museum, where you'll be able to learn all about this mighty mountain and surrounding area.
Where to Stay:
Rhododendron and Mount Hood Village Lodging Options
Rhododendron sits on the western side of the mountain, right on the Mt Hood Scenic Byway, making it a popular spot for those heading through the area. The alpine town is also a hub for outdoor adventure, with plenty of amenities for a comfortable stay.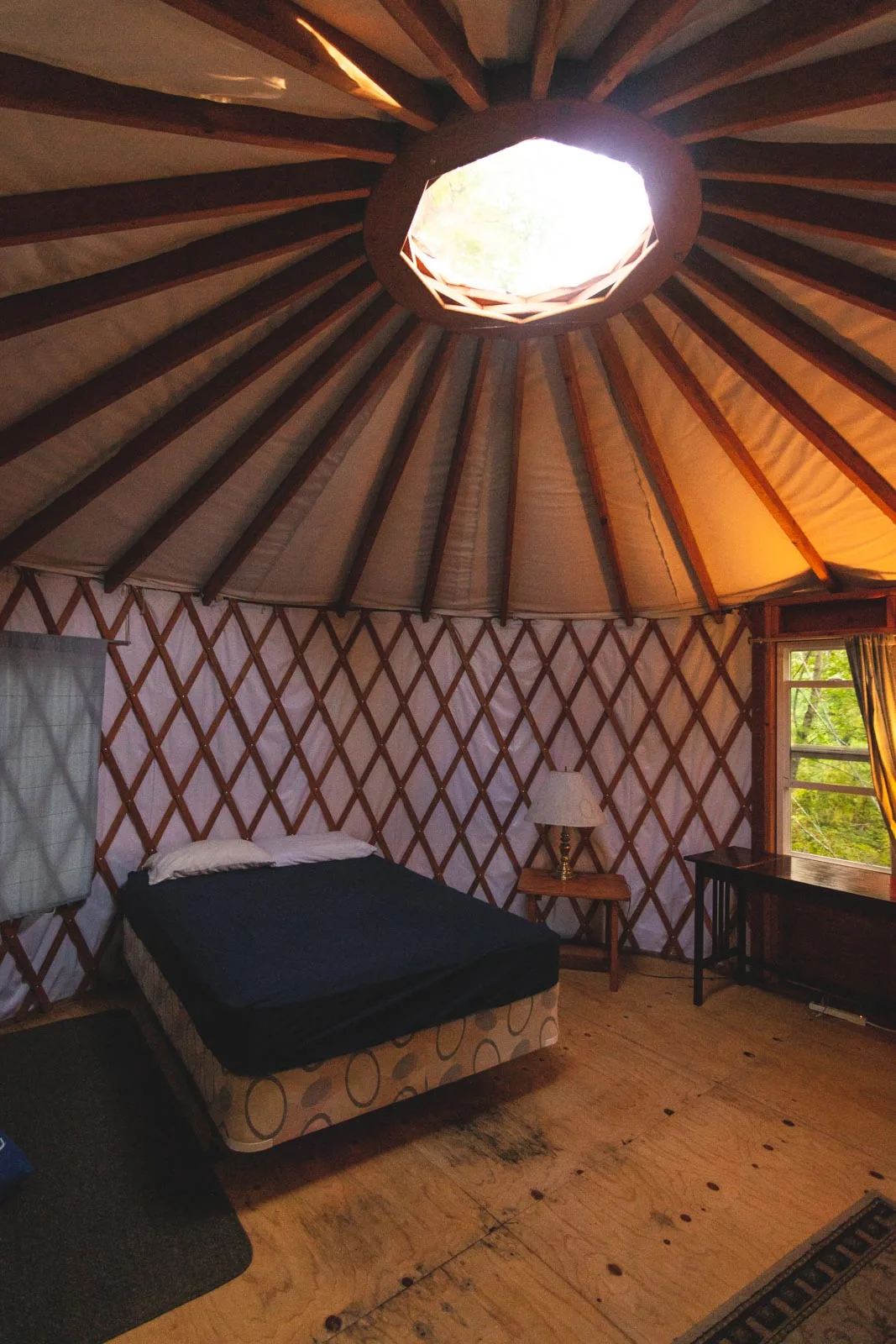 There are lodges, restaurants, and coffee shops; if you visit in April, you'll be able to see the town's namesake flower in full bloom, and it is quite a spectacle to see.
Mount Hood Village is an even smaller town just above Rhododendron. It is a prime position to stay with easy access to hikes and the lakes. Don't expect many amenities, but there are some neat little accommodation options.
Where to Stay:
More Things to Do Near Portland
We hope this post helped you discover the best things to do around Mount Hood! Before you go, don't forget to check out other things to do near Portland and hikes around Oregon.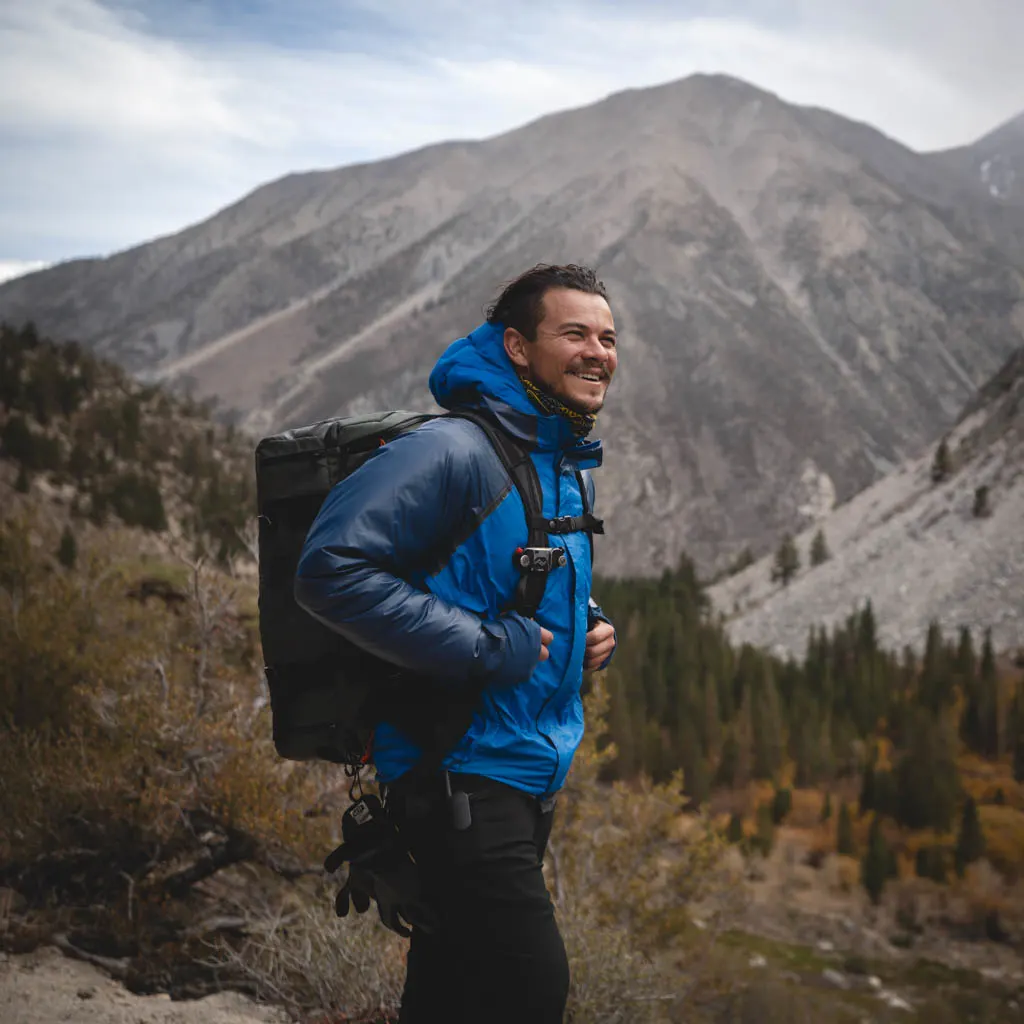 Oregon native and explorer at heart. Loves tackling expeditions around the world and drinking a good beer at the end of the day. PNW obsessed, VW nerd, and surf or snow riding fanatic.