If you're looking for a hike that will make you sweat, gets you up high, give you great views of Mount Hood, loops around a lake, and even provides entertainment in the form of adorable chipmunks, then you've found it!
The Tom, Dick, and Harry Trail around Mount Hood is a great hike and offers a small loop detour around Mirror Lake. Here's everything you need to know to tackle this hike.
The Tom Dick and Harry Mountain Trail and Mirror Lake Loop
Luckily, the trail is overall pretty darn easy. It gets a bit harry as you go (haha, see what I did there?) but it's straightforward and well marked. Here's what to expect…
Distance: 9 miles
Difficulty: Moderate
Type of Trail: Out and back
Elevation: 1,705 feet
Mirror Lake Trailhead
The Tom Dick and Harry Trail starts at the Mirror Lake trailhead.
Here's the exact location of the trailhead.
The trail starts off going downhill on a paved road. My immediate thoughts were, "oh, yay! We have to go uphill on the way back after we hike nine miles!" but it wasn't all that bad.
After you follow the path along and over a bridge, the trail turns to a dirt and rock trail through the forest. You'll hop over a few more bridges and enjoy the tree canopy protecting your skin from the sun.
The path continues uphill throughout a few switchbacks, nothing too steep and this leads you straight to the lake intersection.
Here you can follow the Mirror Lake Loop or continue on the Tom Dick and Harry Trail to the summit.
Mirror Lake Loop
This is the busiest part of the trail! Many people on the trail will be making this loop, and this loop only. And it's not hard to see why. A serene lake surrounded by those noble emerald green trees AND an epic view of Mount Hood? Sign us up!
If you're lucky, and the lake is still, it will live up to its name, MIrror Lake, and glint back a reflection of Mount Hood for you.
The loop is an excellent way to add a bit of mileage to your hike, but the best views can be had quicker by skipping the first pull off to the Mirror Lake Loop. Take the second one at the top of the lake, and within a few minutes, you'll be staring Mount Hood in the face from the shoreline.
If you're low on time, definitely cut out the loop and head to the northern part of the lake to get your view.
Continuing on the Tom Dick and Harry Trail
Passing Mirror Lake, the path narrows a bit and becomes a bit trickier. Just make sure to look down, so you don't trip. You'll eventually reach a bit of an opening with a pile of rocks in the middle and what seems like a trail intersection. Hang left!
As you approach a rock slip area, you'll need to do a quick scramble across but don't forget to look behind you! Here's where you get your first glimpse of Mount Hood (unless you stopped at the lake first!)
After traversing through the forest a bit more, you'll eventually reach your first real viewpoint. The trail opens up, and the path leads you over boulders, some are very loose so choose your steps carefully.
The Tom Dick and Harry Trail Viewpoints
The viewpoint is simply stunning with Mount Hood directly in front of you, rolling hills behind you, and adorable chipmunks scurrying at your feet!
Here are the exact coordinates for the viewpoint.
This viewpoint is where most people will stop and turn around, but if you're up for a view with fewer people and a bit of a challenge, you should keep going.
Following the rocky "trail" because at this point it's just walking along rocks and boulders in one direction—straight, you'll find yourself only a few minutes away from the crowds with the exact view but this time you can see Mirror Lake below much better and again—there will be pretty much nobody up here!
Follow the coordinates from the viewpoint just a few minutes further. You'll see a perfectly tree-framed view of Mount Hood like the picture above.
Summiting Tom Dick and Harry Mountain
To challenge yourself along this hike, we can recommend that you summit Tom Dick and Harry Mountain. It's a bit of a shame to give up now anyway, right? Here's where things get a bit trickier as your path will get a bit muddled. The rocks don't make the trail visible and also make for a great way to twist an ankle. Choose your steps wisely.
Eventually, after scurrying over the rocks, making your way through some scree sections, and then finding a bit of a forest path again, you'll summit Tom Dick and Harry Mountain.
At the summit, you'll notice some achievement flag waving in the wind, a similar view to what you had before, a sense of accomplishment and… a cougar and wild cat warning!
We saw the sign and a few minutes later heard something in the bushes, whether or not our mind was playing tricks on us, we decided to head back anyway!
Shortcut for Hiking Tom Dick and Harry Mountain
Should you be short on time, the Tom Dick and Harry Mountain summit isn't essential. Do it for the extra miles, to summit, and to challenge yourself but the views are best from the viewpoints described above (plus it's where the chipmunks are too).
If you're extra short on time, consider just making the Mirror Lake Loop. It's not going to have the majestic views from up above, but you'll still get that iconic Mount-Hood-from-a lake-view. This is also the busiest part of the trail, but hey, part of the path is better than none, I guess, right?
Don't Want to Leave? Camp at Mirror Lake!
You don't have to! You can camp just a few feet from the Mirror Lake's shore. The Mirror Lake Campsite can get busy so set your tent up first, then enjoy.
You'll need to hike in with all your stuff and hike it back out (parking is about two miles away), and there are no facilities at the campsite.
Glamping and Cabins Near Tom Dick and Harry Mountain
Little House on the Mountain – Relax and unwind in this custom-built, one-of-kind cabin that is furnished with art and furniture from local artisans. The cabin sits on four acres of private wooded land, bordering Mt. Hood National Forest Land.
Private Cabin With Hot Tub – This dog-friendly cabin at the base of Mount Hood has a wood-burning stove to keep the inside cozy, and a hot tub to relax in after a day of adventure.
Romantic Mount Hood Cabin – A cozy cabin with touches of home that is nestled in the Mt. Hood National Forest and is the perfect backdrop for any romantic getaway. Relax in the hot tub under a canopy of trees.
---
RELATED: Mount Hood's best hikes
---
Tips for The Tom Dick and Harry Mountain Trail and Mirror Lake
If you're trying to trail run, do it first thing in the morning to avoid the heat and the hoards of people that LOVE this hike.
People thin out a lot after the lake and even more after the viewpoint.
Hiking shoes or boots are pretty necessary. The are plenty of rocks and tree roots to stub toes on and at the viewpoints and beyond you'll be dealing with stone scrambling and some scree.
Beware of animals! Cute and scary… The cute will be the little chipmunks who are not afraid of people at the viewpoint. The scary will be snakes, which we did see one, and the potential for cougars and wild cats. Keep an ear and eye out at all times.
The summit is beautiful however pretty much the same view as the other viewpoints. So you mine as well not summit unless you want the extra work out.
The trailhead has a restroom, but there is no water here, so be sure to bring plenty for this long hike.
A recreation pass is required for this hike. Display yours or pay the fee on-site or you are subject to fines!
---
RELATED: What to Do at Mount Hood in Winter
---
Enjoy the Tom, Dick, and Harry hike, my friend! Check more of the amazing hikes in Oregon or things to do around Portland.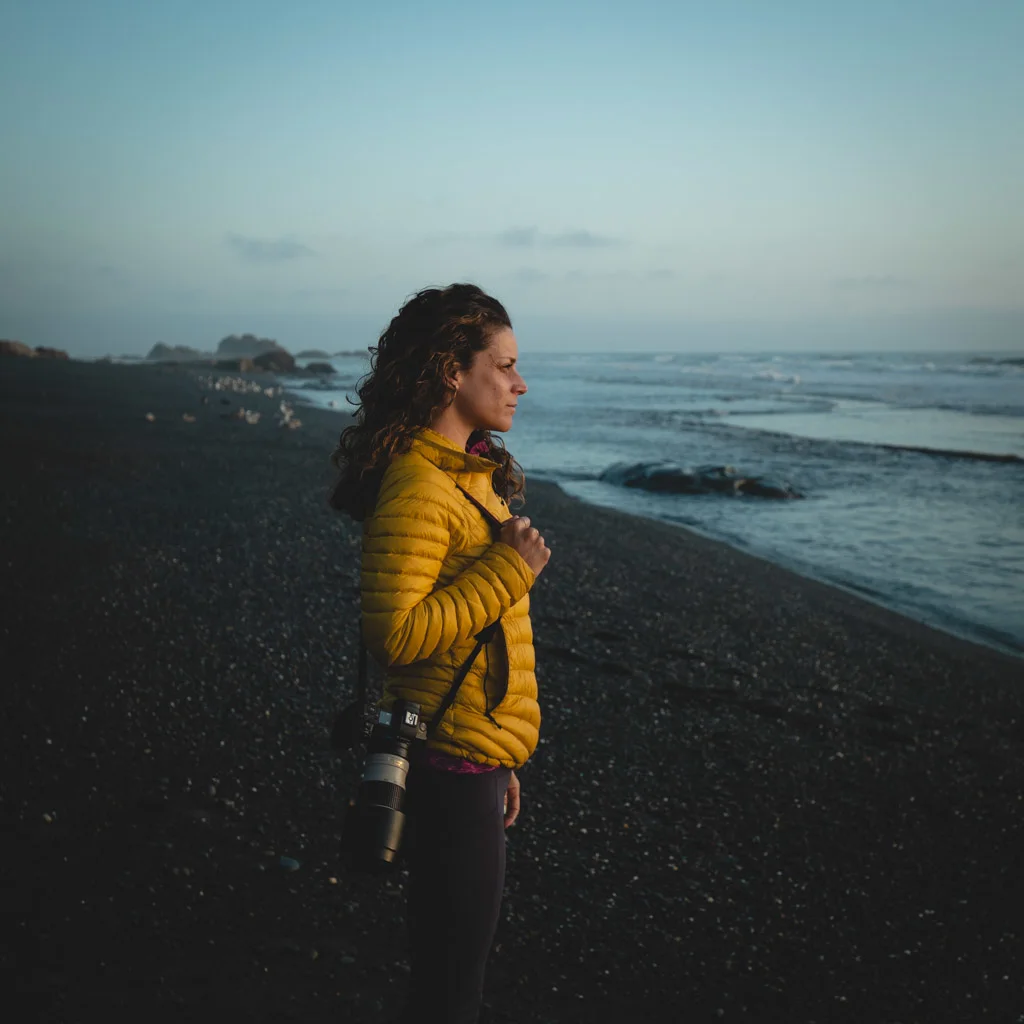 I've been perpetually traveling and living around the world for years but it's hard to beat Oregon and the PNW. After years of road-tripping the area, I guess you can say I know it pretty well! When I'm not writing guides for you, you can catch me somewhere petting a dog, attempting to surf, hiking a volcano, or stuffing my face with bread and cheese.