If there's one thing Oregon has a lot of, it's hiking trails. There are hundreds and hundreds of trails littering the state, all with their own unique rewards of epic landscapes, towering mountains, rugged coastlines, and yes, waterfalls too!
There are so many waterfall hikes in Oregon, and if I'm honest, it's one of my favorite hiking rewards. Chasing waterfalls is kind of a hobby of mine, and there couldn't be a better state to indulge in this minor obsession.
So which are our favorite waterfall hikes in Oregon? We have over 29 to share with you…
The Best Waterfall Hikes in Oregon
---
Below you'll find tons of our favorite waterfall hikes in Oregon with all of the necessary hiking info to help you explore better. We also made a handy map here for you to use to best see where all of these hikes are.
We've also separated our list into our four sections of Oregon for efficiency. Do be sure to click our other articles linked in this post as some of these areas have even more waterfalls and other cool adventures in their proximity.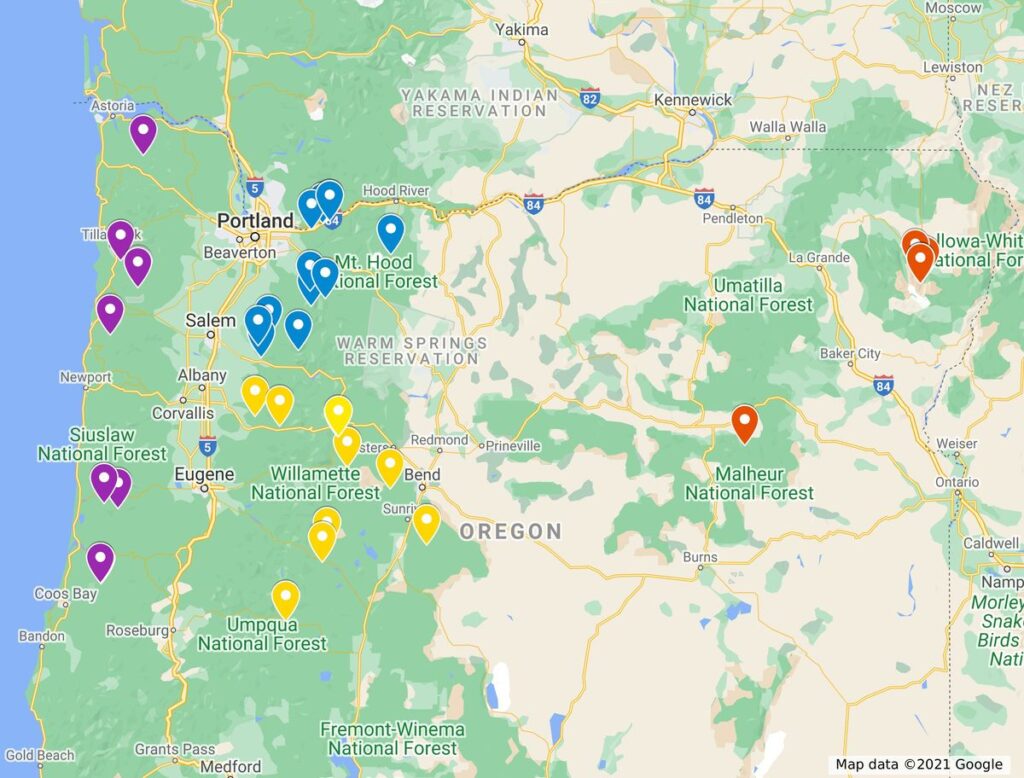 Waterfall Hikes Near Portland
1. Wahkeena-Multnomah Loop
Distance: 4.9 miles
Type of Trail: Loop
Difficulty: Moderate
This hike is a serious waterfall lovers' paradise, and for the most Oregon waterfalls on a moderate hike, it is hard to beat this one. Overall there are six main waterfalls on this trip, as well as plenty of other smaller falls along the route.
It includes the vast Multnomah Falls, the many smaller falls along Multnomah Creek, and then the gentle tumble of Wahkeena Creek.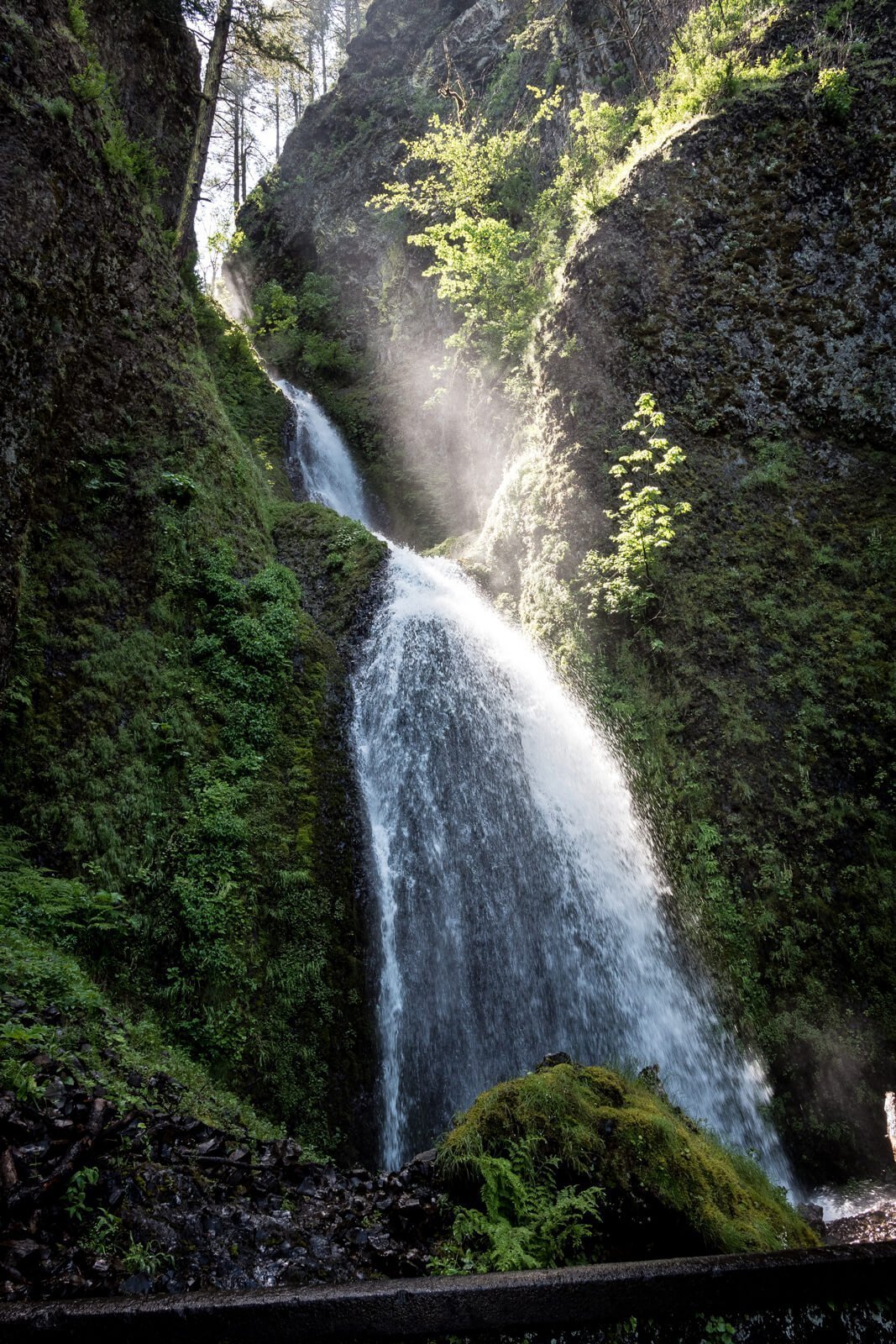 The loop can be hiked in either direction, either at the Wahkeena or Multnomah Falls trailhead. However, if you want to avoid most of the crowds and get out the way from the beginning, start at Multnomah Falls.
The initial climb with 11 switchbacks will be worth it when you hit the Multnomah Falls Viewpoint. From here, continue on the Larch Mountain Trail, where you'll be greeted with a series of smaller waterfalls.
As you begin to reach the end of the hike, the trail starts to switchback downhill to the base of Wahkeena Falls, offering beautiful views up the creek.
→ If you are traveling alone, join this awesome waterfall hiking tour to the Columbia River Gorge from Portland..
2. Abiqua Falls
Distance: 5.3 miles
Type of Trail: Out and Back
Difficulty: Difficult
The Oregon waterfall hike to Abiqua Falls is short and sweet, yet the end result is one of Oregon's most scenic waterfalls. The trail itself may take a little finding and is not very well marked.
From the parking lot, head back down the dirt road until you reach the forest.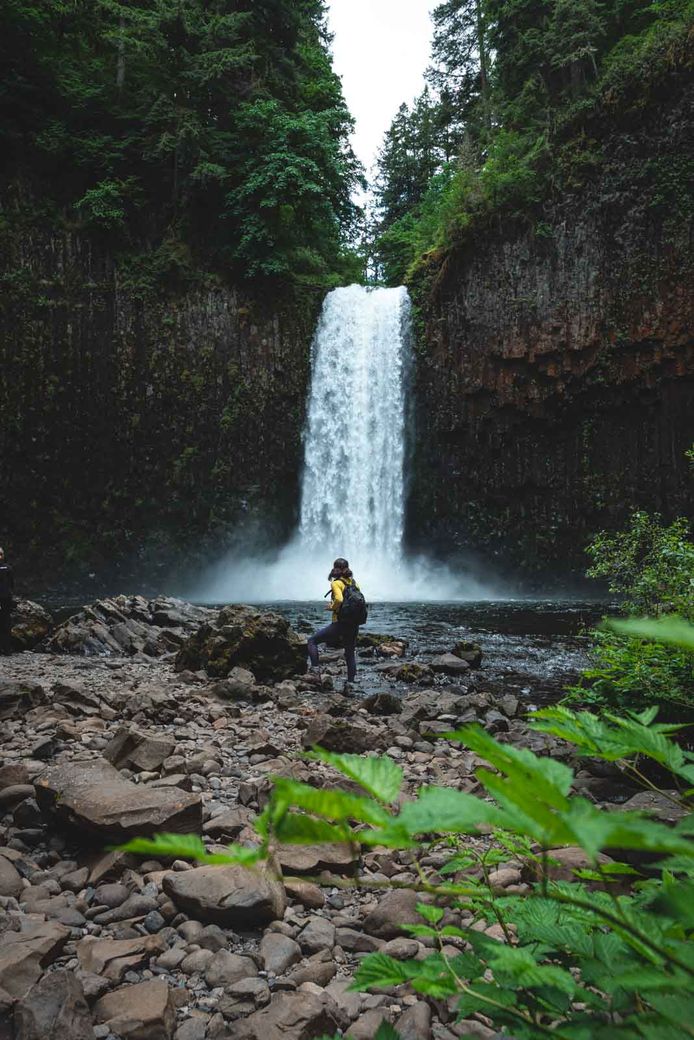 Follow the dirt path down to the creek, using the handily placed rope at the steeper parts, and simply follow it upstream until you get to the falls.
When you get a little closer to the tumbling water, be prepared to clamber over a few logs and boulders, but you will soon come across the 92-feet-tall waterfall that freefalls down into the pool below.
The road down to the trailhead is rough, rocky and steep, so ensure you have a car that can handle it or park earlier and walk.
---
READ NEXT: Your Guide to The Abiqua Falls Hike
---
3. Tamanawas Falls Hike
Distance: 3.3 miles
Type of Trail: Out and back
Difficulty: Easy
The broad curtain of water that is Tamanawas Falls is formed by Cold Spring Creek thundering over a 110-foot lava cliff near Mount Hood, and the results are pretty impressive.
With the right gear, the Oregon waterfall hike can be enjoyed at any time of year, and in the winter, the water freezes over, creating a massive icy amphitheater.
Start the hike at the Tamanawas Falls Trailhead and head through the forest, which is covered in wildflowers in spring and summer. The trail steadily climbs up from the highway and East Fork of the Hood River.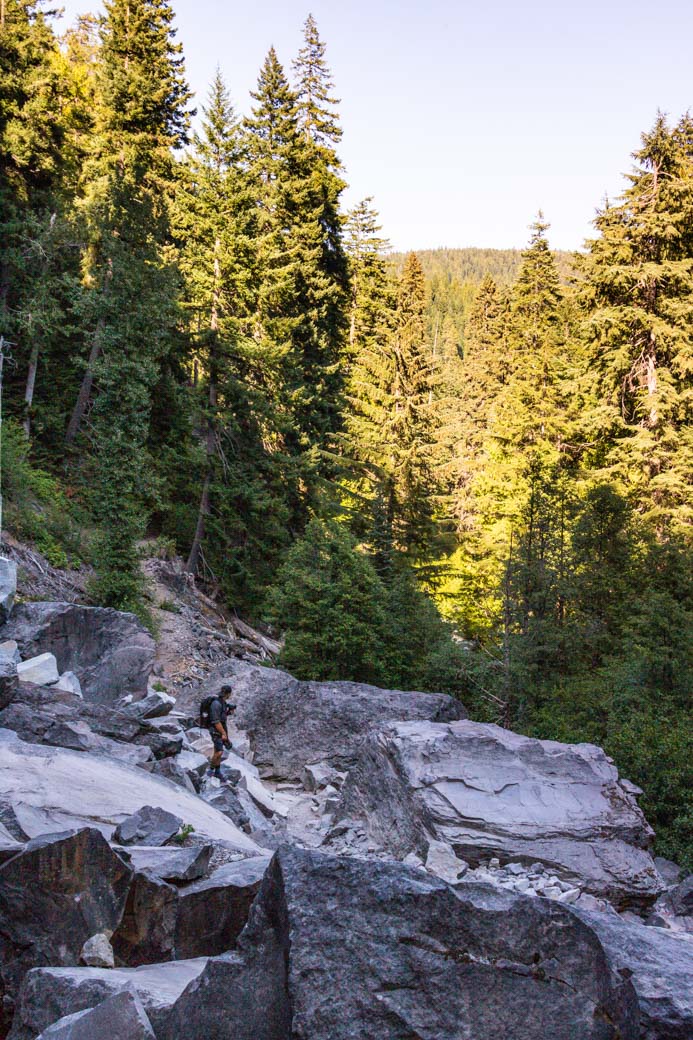 Following Cold Spring Creek, you will pass lots of smaller waterfalls before coming to a large boulder field, where you will have some switchbacks to tackle before getting a great viewpoint of the falls. You can then follow one of the well-used trails to get a closer look.
---
READ MORE: Hiking the Gorgeous Tamanawas Falls Trail
---
4. Memaloose and Clackamas Falls
Distance: 5.7 miles
Type of Trail: Out and back
Difficulty: Difficult
Those wanting to tackle the Memaloose and Clackamas Falls hike should be prepared for a bit of scramble. The path isn't too clear, but there are ropes in place to help you reach the bottom of the gorge.
The first 1.5 miles of the hike will be along the old logging road, keeping an eye out for the unmarked trailhead.
Along the way, you will come across some bat caves, a beautiful bridge across the river, and plenty of other unique features that will help offset the trouble you may have had in finding the trailhead in the first place. This is a well worth it Oregon waterfall hike.
There are three separate waterfalls along the route that have drops of up to 120 feet, as well as relics from past tunneling and waterworks.
RECOMMENDED GEAR:
5. Latourell Falls
Distance: 2 miles
Type of Trail: Loop
Difficulty: Moderate
Latourell Falls is a popular hike for several reasons. Firstly it is incredibly photogenic, and secondly, it is the closest of the Columbia River Gorge Oregon waterfalls to Portland.
The falls themselves are a 224-foot single plunge; however, this hike will also take you to see the two tied Upper Latourell Falls. In the winter, the trail is pretty dangerous, and the flow in summer is minimal compared to spring and fall.
Start at the Latourell Falls Trailhead and followed the paved path to the first viewpoint. You can then take the wide dirt path upwards and check out a side view of the falls.
Follow the trail to Upper Latourell Falls, and the trail will cross the creek at the base of the falls offering a great viewpoint before heading back down the west side of the stream.
→ For a fun and active tour to Latourell Falls and other beautiful falls in the Columbia River Gorge, take this hike and bike waterfall tour from Portland.
6. Horsetail Falls and Ponytail Falls
Distance: 0.8 miles
Type of Trail: Out and Back
Difficulty: Easy
Situated in the Columbia River Gorge, both Horsetail and Ponytail Falls can be enjoyed on this Oregon waterfall hike. Both the falls are glistening streams of water down the rock, Horsetail towering at 176 feet and Ponytail at 125 feet.
The trail begins at Horsetail Falls itself and immediately begins to climb up a series of switchbacks. It isn't long before you come across the smaller Ponytail Falls, with the trail passing right behind it into the cavernous area that has been eroded beneath a lava flow.
The trail then continues level for a while before you begin to make your way down, all the while being incredibly scenic, with stunning views of Oneonta Creek and Oneonta Gorge. You will also get a glimpse of some other falls along this route, including Middle and Lower Oneonta Falls.
---
RELATED: 19+ Awesome Hikes Near Portland to Escape the Bustle
---
7. Shellburg Falls
Distance: 2.8 miles
Type of Trail: Out and Back
Difficulty: Easy
This magnificent, easy Oregon waterfall hike is perfect for any hiker. The falls are the centerpiece in the tiny slice of Santiam State Forest along Stout Creek Canyon.
To start the hike, head down the single track with private pastures either side of you, filled with livestock, for about a mile until you reach the forest.
Once there, you can take a small side trail that will lead to a great viewpoint at the base of the tumbling waterfalls, making it a good photography spot. The main trail then circles behind the waterfall into a large, natural grotto.
During the summer months, the flow is pretty low, seeing as it depends on rainwater, but the 100-foot drop is still pretty impressive.
A few hundred yards downstream from the main fall, you may be able to glimpse Lower Shellburg Falls, which is visible from the Shellburg Road near the picnic area.
There are a few other miles of hikes you can do in the area, all of which start at the parking area at Lower Shellburg Falls Trailhead.
8. Henline Falls
Distance: 1.8 miles
Type of Trail: Out and back
Difficulty: Easy
It is hard to decide what is more impressive during this hike, the towering 125-foot Oregon waterfall, or the abandoned mine shaft. This is a great short hike in the Little North Santiam River area, with only a 200-foot elevation gain.
Start by signing in at the wilderness permit box, which can be found at the trailhead and begin the hike up Henline Falls Trail. The path is wide and level, as this section of the trail used to be a forest service road, and will take you through a forest made up of Douglas fir trees, red alder, and western hemlock. The trail gets a little narrower as you get closer to the waterfall.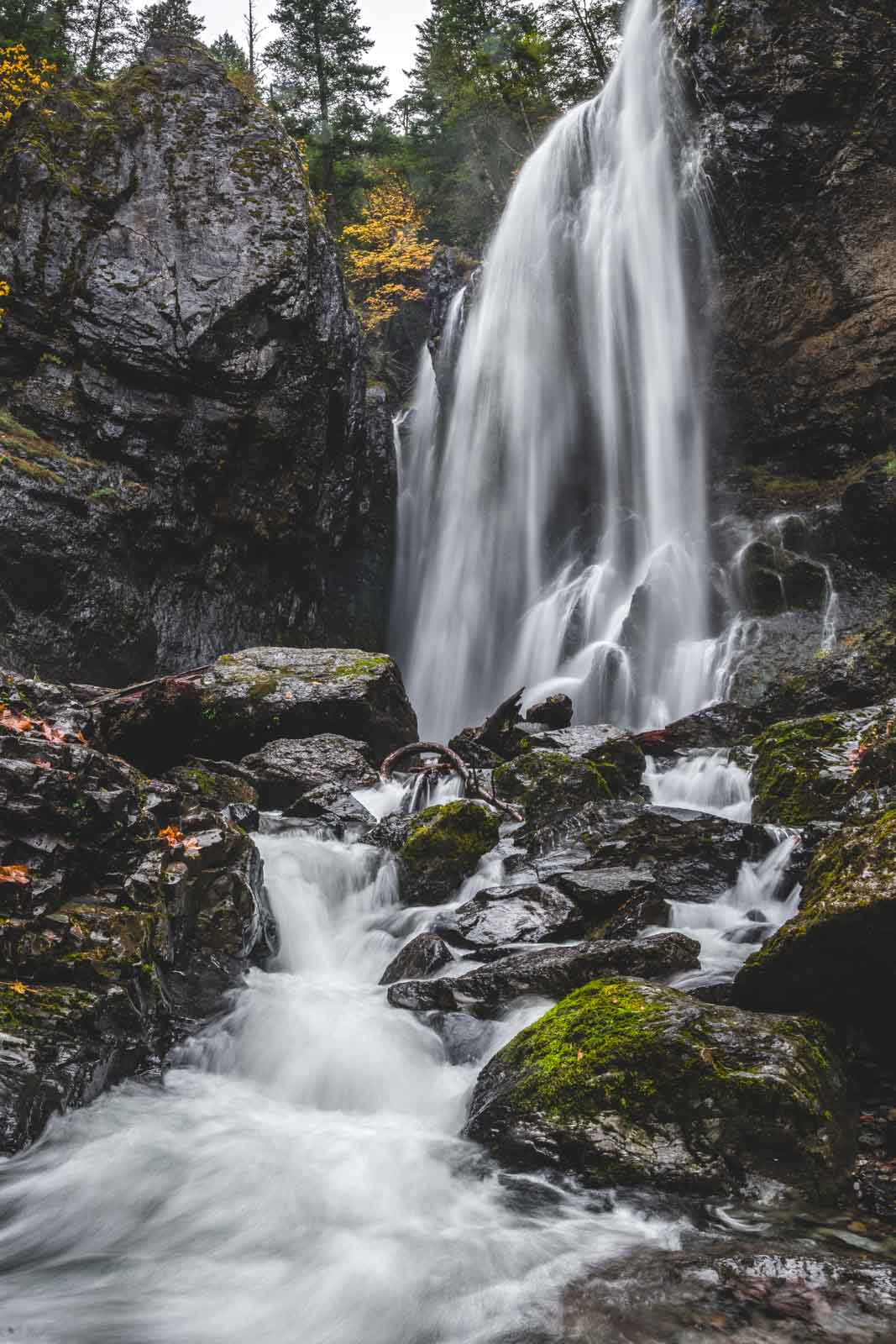 Once you get to the falls, you have the option of taking another trail which takes you to the top of the falls, and then runs along a creek, passing a few other smaller waterfalls. To the right of the falls, you will see the old mine shaft, drilled 1,700 feet into the hillside.
9. Pup Creek Falls
Distance: 7.3 miles
Type of Trail: Out and Back
Difficulty: Moderate
Pup Falls Trail is a popular Oregon waterfall hike since it is one of the few impressive waterfalls in the Clackamas River area that is actually accessible via trail.
Start the hike at the Fish Creek Trailhead and head up and down steep slopes by the side of the river. After around 4 miles, you should hit the spur trail for Pup Creek Falls, which is well marked.
The trail can be a little tricky to navigate, especially as at some points, the path seems to almost slide away, but you will be rewarded with a two-tiered 240-foot waterfall at the end.
The waterfall is at its most impressive during the spring, but it is still worth seeing no matter the time of year.
There are many other beautiful spots along the trail, including around three bonus Oregon waterfalls, which are worth a few minutes of exploring.
BONUS: Silver Falls State Park
Distance: 7.6 miles
Type of Trail: Loop
Difficulty: Moderate
It would be crazy not to include Silver Falls State Park on this list because it's only about an hour away from Portland. Oh, and it's STUNNING. The Trail of 10 Falls is no doubt one of the best waterfall hikes in the state, and to make the trek even more magical; you can walk behind four of the ten waterfalls here—a rare privilege.
Read our guide to Silver Falls State Park to best see this trail.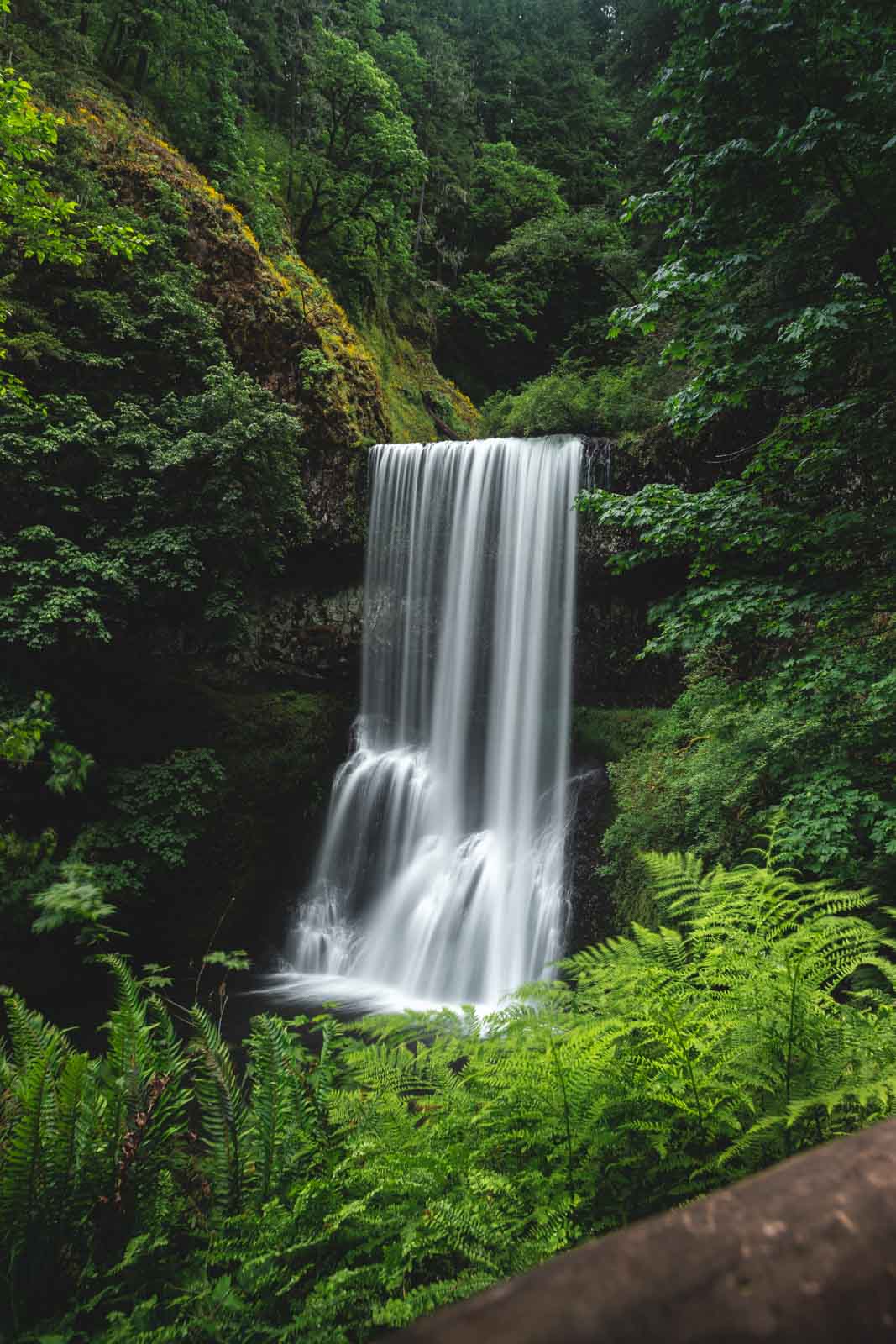 → If you don't have access to a vehicle or are traveling by yourself, take this hiking day trip to Silver Falls State Park from Portland to hike the Trail of Ten Falls.
Places to Stay Near Portland
Campgrounds: Ainsworth State Park, Trillium Lake Campground
Central Oregon Waterfall Hikes
10. Tumalo Falls
Distance: 6.5 miles
Type of Trail: Out and Back
Difficulty: Moderate
The Tumalo Falls Trail will take you along the beautiful Tumalo Creek, and can get pretty busy. It is located near the Three Sisters Wilderness, and the falls are right there in front of you almost before you even start the trek.
The falls themselves are awe-inspiring, so much so that they are considered one of the top tourist attractions in Oregon, so you want to go early to have it anywhere near to yourself.
It is worth carrying on, however, as there are more than seven other Oregon waterfalls to be found depending on how far you want to walk.
Most of the trail is up a slight incline, but only a gentle one, and you will traverse a path through pine and spruce forest, catching glimpses of the river along the way.
It really is one of the most picturesque Oregon waterfall hikes in the area, with the waterfalls along route just an added bonus.
---
READ NEXT: Tumalo Falls Hike and Bike Trail
---
11. Proxy Falls
Distance: 1.6 miles
Type of Trail: Loop
Difficulty: Easy
For those looking for a quick, gentle stroll in the beauty of Central Oregon, Proxy Falls Loop Trail has you covered. No matter your skill level, you will be able to enjoy this hike through beautiful forests, with several Oregon waterfalls along the way.
The loop starts to the southwest of the parking lot, and the first section is a little rocky as you are walking through lava flow, which is pretty cool in itself. As you get closer to the falls, the lava flow turns to lush forest.
At one point, the trail splits, and you can choose to head down to Lower Proxy Falls or continue on the loop to Upper Proxy Falls. The path down is quite eroded, but there is an excellent viewpoint of the lower falls from the top of the trail.
This waterfall is impressive in itself and worth seeing, tumbling down 100 feet of rock.
Head back up to the main trail where it is only a short walk to Upper Proxy Falls, which spills beautifully down into a large grotto. You can then head back to the path and finish the loop.
---
READ MORE: Proxy Falls Hike—Central Oregon's Most Epic Waterfall!
---
12. Toketee Falls
Distance: 0.8 miles
Type of Trail: Out and Back
Difficulty: Easy
With a beautiful flow all year round, Toketee Falls is a magnificent waterfall to hike to if you are in central Oregon. The waterfall is best known for the columnar basalt formation, which frames the two-stepped falls, where the North Umpqua River has carved a gorge out of the lava flow, resulting in the impressive 113 feet falls.
Although this is a short hike, be aware that it involves nearly 200 steps, ending at a viewing platform overlooking the falls. For most of the way, you will be passing through the old-growth forest made up of douglas fir, western red cedar, Pacific yew, and big leaf maple.
The word Toketee means graceful and pretty, which is precisely what you will experience when standing on the viewpoint.
---
RELATED: Guide to Umpqua National Forest: Waterfall Hikes & Hot Springs
---
13. Lillian Falls
Distance: 2.3 miles
Type of Trail: Out and back
Difficulty: Moderate
Lillian Falls is a beautiful waterfall, and you can use the Black Creek Trail to reach it. The trail climbs up the dramatic, unspoiled canyon through stunning old-growth forest.
For a more leisurely hike, you can stop at the falls and watch the 150 feet of water tumble down a series fo mossy cascades. For those that want something a little more challenging, why not continue your hike up to Waldo Lake?
---
RELATED: 37 of the Best Oregon Hikes You've Got to Check Out
---
14. McDowell Creek Falls Loop
Distance: 1.6 miles
Type of Trail: Loop
Difficulty: Moderate
McDowell Creek Country Park is a beautiful place to explore. There is a parking lot available very near the trailhead. Follow the beautiful McDowell Creek through a thick forest of alder, Douglas fir, and big leaf maple.
At the junction, head left to a footbridge that will give you a good view of the falls before backtracking to the junction and head straight uphill, making use of the stone steps to reach the first viewing platform where you will get a chance to see Royal Terrace Falls from above.
These are the most impressive falls on the loop, falling over two tiers down 120 feet. Head away from the creek towards your next Oregon waterfall on the creek, Majestic Falls.
This 39-foot tall waterfall can be viewed from all different angles thanks to a series of wooden stairs, platforms, and walkways.
On the way back, keep an eye out for a stunning spot on the river known as Crystal Pool, as well as the small, tumbling Lower McDowell Falls.
---
RELATED: 11 Worth It Hikes in Eugene, Oregon
---
15. Salt Creek Falls
Distance: 1 mile
Type of Trail: Out and Back
Difficulty: Easy
Salt Creek Falls is a large waterfall on Oregon's coast, at 286 feet tall it is the second tallest single drop waterfall in Oregon. They are one of the state's most powerful falls, with an average flow of 50,000 gallons a minute.
Two viewpoints will give you a great view of the cascading water. The first is a short walk from the parking area along a paved trail, and then down a steep slope for a full-on view of the falls.
The second will take you around the Salt Creek Falls Trail, taking you along the creek and through the forest near the upper lip of the falls.
---
READ MORE: Salt Creek Falls & Diamond Creek Falls Hike
---
16. Paulina Falls
Distance: 0.45 miles
Type of Trail: Loop
Difficulty: Easy
For such a small hike, the reward is enormous. Towering Paulina Falls is located in the Newberry National Volcanic Monument and is one of the most accessible falls in the area, you can hear them from the parking lot.
However, if you hike a little further, there is so much more to discover.
The hike to the main viewing area is just a gentle stroll away along a paved path, and from the main viewing point of the 60ft falls you can hike down a further quarter of a mile to the lower viewpoint via a series of switchbacks, this puts you in the perfect position for a dramatic photo opportunity.
If you wanted to go further still, you could take the loop trail of Paulina Creek Falls Trail or continue hiking along the Peter Skene Ogden Trail where you can see even more waterfalls like McKay Falls.
17. Sahalie and Koosah Falls
Distance: 2.17 miles
Type of Trail: Loop
Difficulty: Easy
Both Sahalie and Koosah Falls are beautiful and gushing no matter what time of year you visit. Although Sahalie is bigger, standing at 100 feet compared to Koosah's 70 foot, both are well worth seeing, especially as the hike is straightforward to reach them.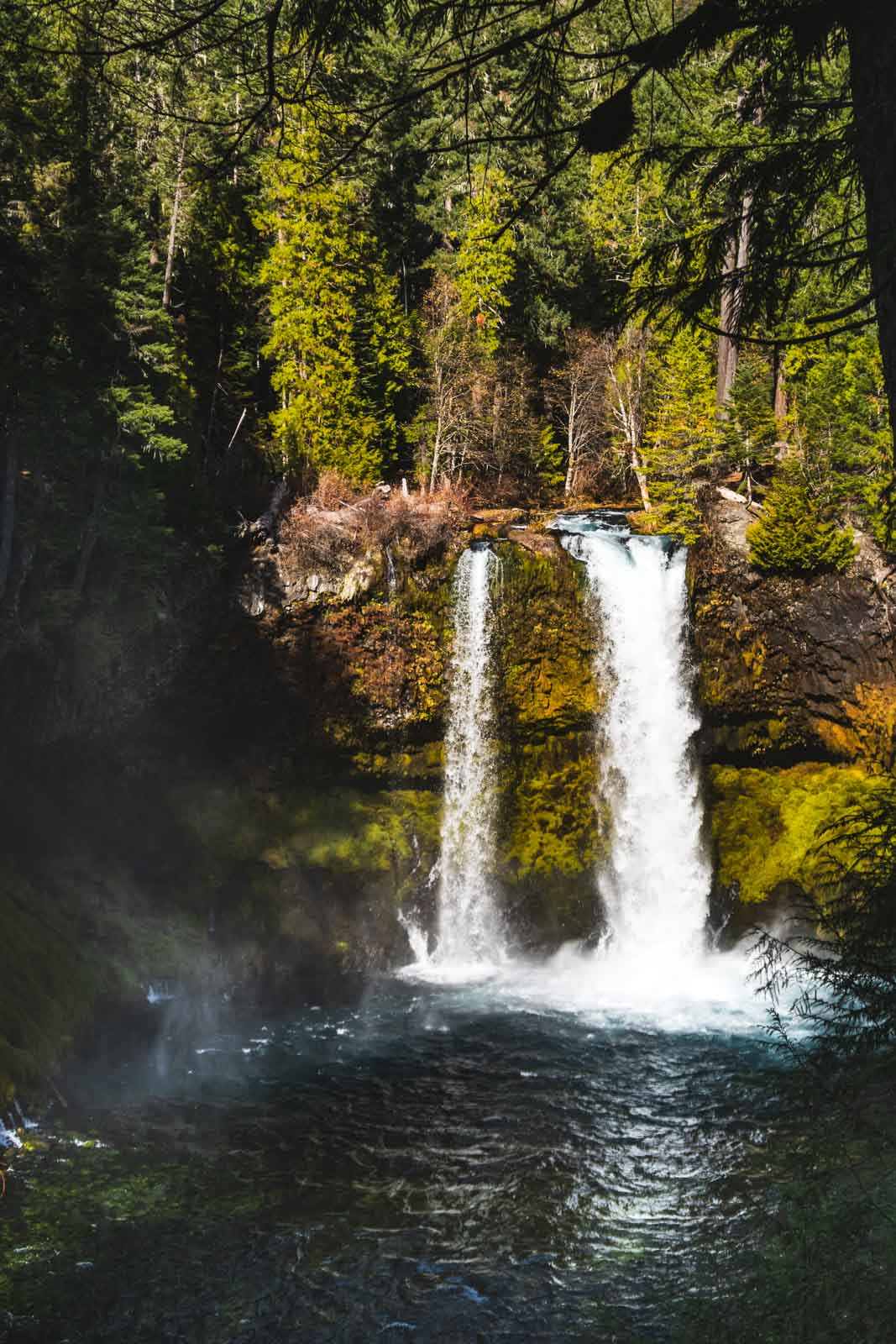 You will be able to see both of the falls after just a short stroll from the parking lot, and then if you fancy stretching your legs a little more, carry on with the rest of the 2-mile trek, which will connect you to the McKenzie River National Recreation Trail.
---
RELATED: Exploring the Sahalie and Koosah Falls Hiking Loop
---
18. Lower Soda Creek Falls
Distance: 1.4 miles
Type of Trail: Out and Back
Difficulty: Easy
The hike to Lower Soda Creek Falls is short and easy and is a great place to stretch your legs in Cascadia State Park.
The Oregon waterfall hike follows the creek for most of the way through dense forests of Douglas fir, hemlock, and cedar, with a couple of quaint footbridges to cross along the way.
Before long, you will reach the beautiful 150-foot waterfall, finding its way through cracks in the tall, basalt cliff face.
---
RELATED: 10 Waterfalls Near Bend, Oregon That Are Worth Visiting
---
Places to Stay in Central Oregon
Campgrounds: Bend-Sunriver RV Campground, Tumalo State Park Campground
Oregon Waterfall Hikes on the Coast
19. Drift Creek Falls
Distance: 2.6 miles
Type of Trail: Out and Back
Difficulty: Easy
There are plenty of stunning views on this hike. There is towering Drift Creek Falls itself, the beautiful coastal range forest, and a huge suspension bridge. The trail is wide and well maintained; however, it is going downhill first, meaning you have quite a climb back up to your starting point.
After walking for 1.5 miles through this quiet, coastal forest, you'll be treated to your first view of the waterfall from the dramatic 240-foot suspension bridge that hangs 100 feet above the canyon floor. If that is not enough to get you here, I don't know what is! The falls themselves are 66 feet tall and pours over a rugged basalt cliff into Drift Creek far below.
This spectacular waterfall hike can be found in Lincoln City on the Oregon coast. The falls look their best in winters and spring when the waterfall is at its most powerful.
---
READ MORE: 17 Breathtaking Oregon Coast Hikes
---
20. Munson Creek Falls
Distance: 0.5 miles
Type of Trail: Out and Back
Difficulty: Easy
The stunning 319-foot drop of Munson Creek Falls makes it the tallest waterfall in the coastal range, and one of the tallest in the whole state. The hike is rewarding for all levels of hiking enthusiasts, as just a half-mile stroll from the trailhead will give you an incredible view of the falls from its base.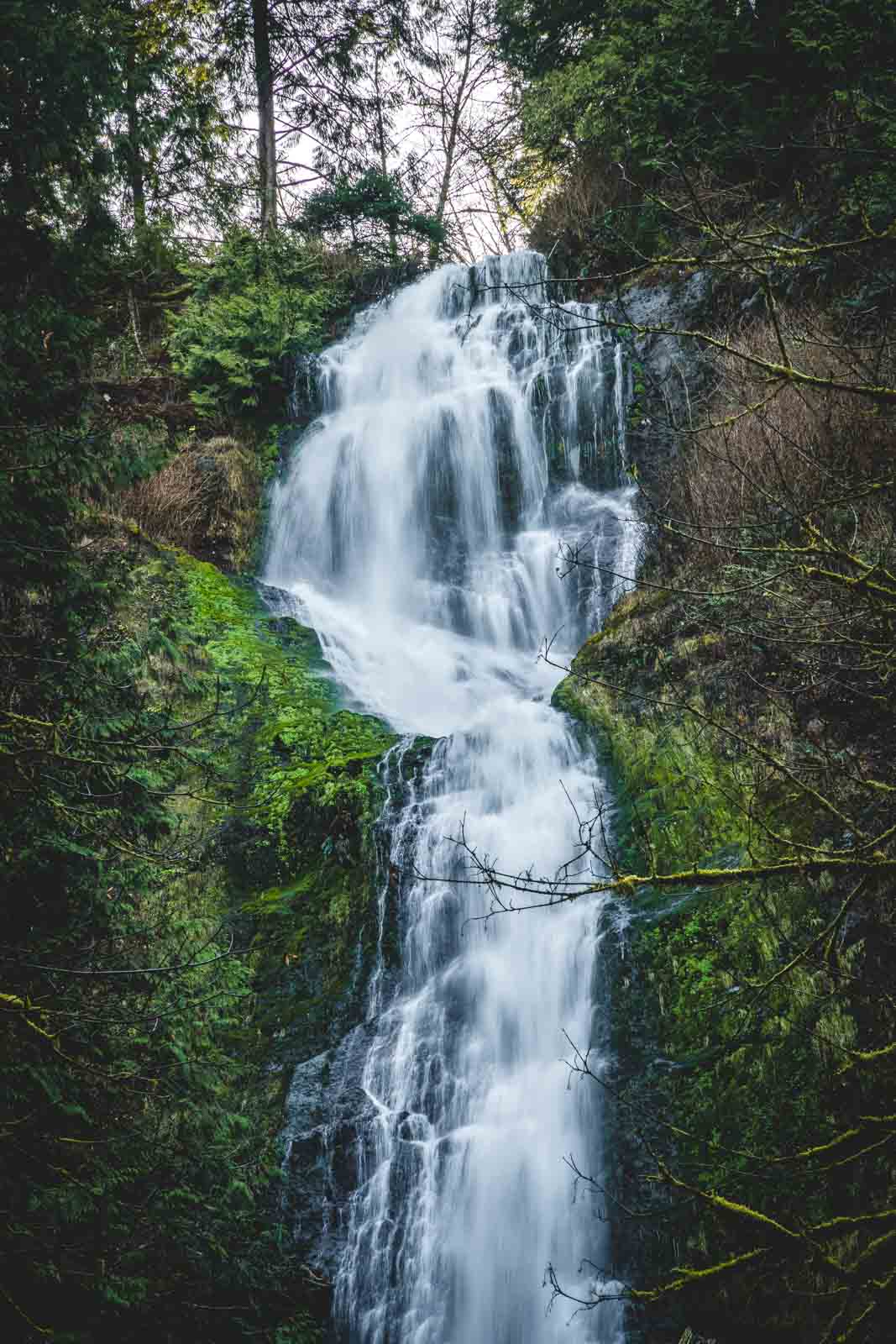 Here you will also find a nice picnic area where you can have a spot off lunch with the falls as you view, and big leaf maple trees your canopy. For those that have come to see the falls, you can simply turn and head back the way you came, but there is plenty more to explore in this scenic state park.
Most of the trail is wide and easy-going, heading up a box canyon along the scenic Munson Creek.
21. Kentucky Falls
Distance: 3.7 miles
Type of Trail: Out and Back
Difficulty: Moderate
The lightly traveled trail to Kentucky Falls is a slightly tricky Oregon waterfall hike, so it is best to expect the unexpected, form mudslides to fallen trees, it is a bit of adventure.
On the plus side, you will avoid the crowds of some of the more popular hikes in the area and will be rewarded with not one, but three stunning waterfalls.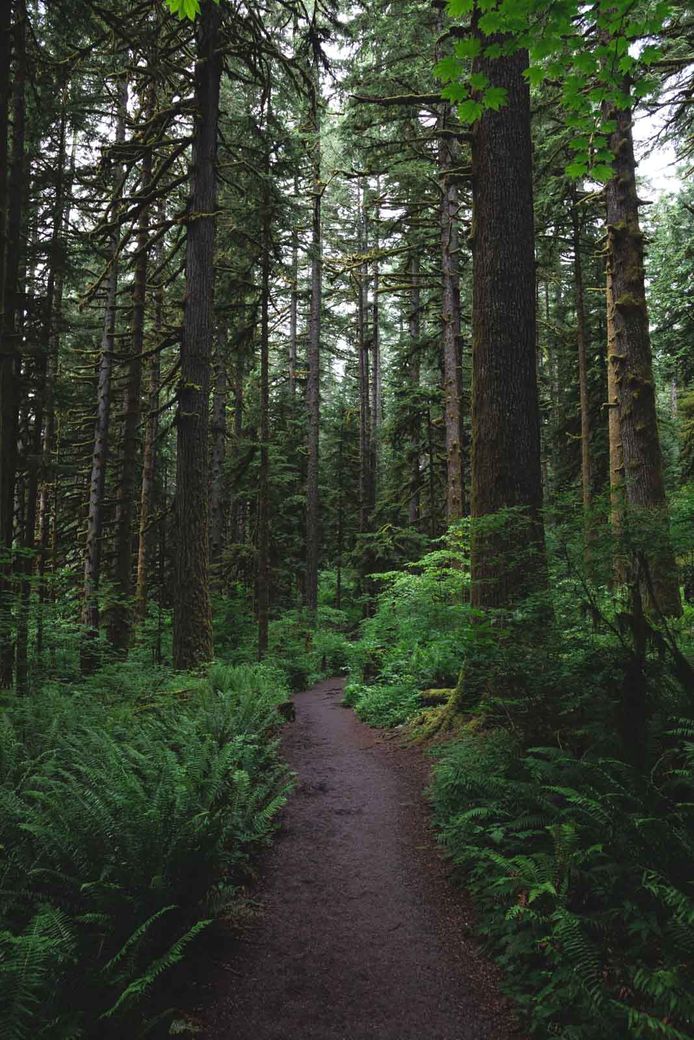 The trail starts at the Kentucky Falls Trail Head and immediately starts to go downhill to Upper Kentucky Falls, which you should reach in less than a mile. After taking in the views, continue for another 1.4 miles until you reach a split in the trail.
You want to take the path on the right which will take you to the viewing platform at the base of Lower Kentucky Falls, which is an impressive 117 feet tall.
There is one main cascade of water before it tumbles over several tiers of rock. Here you will also find North Fork Falls, which stands at 125 feet. Just be aware that you have been going downhill to the falls, which means it is all uphill on the way back!
---
RELATED: 9 Amazing Waterfalls Near Eugene, Oregon
---
22. Sweet Creek Falls
Distance: 1.9 miles
Type of Trail: Out and Back
Difficulty: Easy
Tumbling 70 feet over four distinct tiers, Sweet Creek Falls is a picturesque little waterfall that can be found along Sweet Creek Trail.
Overall the trail features 11 small waterfalls and is split into four distinct segments, all with separate trailheads and parking lots. For the full hike, you should start at the Homestead Trail.
The trail is short and easy, making it great for families and inexperienced hikers. Other points of interest along the way include a series of fun bridges and metal walkways that skirt the creek.
23. Fishhawk Falls
Distance: 0.8 miles
Type of Trail: Out and back
Difficulty: Easy
Fishhawk Falls can be found within Lee Wooden County Park. Some trees usually obscure getting a full view of the falls, so it may be necessary to either get your feet wet or climb up the hill adjacent to the tumble of water to get a full look.
There is plenty of parking within the park, and once parked, simply follow the graveled trail over a little bridge heading into the forest. Less than a mile in, you will be greeted by the huge Fishhawk Falls.
---
RELATED: A Legendary Oregon Coast Road Trip—35 Stops & 3 Itineraries
---
24. Golden and Silver Falls
Distance: 1.2 miles
Type of Trail: Out and Back
Difficulty: Easy
With such beautiful names, you would expect some beautiful falls, and luckily, that's just what Golden and Silver Falls provide. Silver Falls is a huge 259 feet, and Golden Falls are only slightly smaller at 254 feet, making them the second and third highest Oregon waterfalls in the coast range.
They are located in the Golden and Silver Falls State Natural Area, where there are three trails to chose from, one to each falls and one that visits both. The trail has several points of interest along the way, including crossing Silver Falls via a wooden bridge and hugging the cliff at the top of Golden Falls, 300 feet above the creek.
To see the falls at their very best, come in winter or spring.
25. Pheasant Creek Falls & Niagara Falls Trail
Distance: 1.4 miles
Type of Trail: Out and back
Difficulty: Moderate
Both Pheasant Creek Falls and Niagra Falls are about a 100-foot drop, and both are pretty impressive. They cascade off a high rim in Siuslaw National Forest.
Although the hike is short of reaching both of the falls, it is all downhill so that you will be climbing a series of switchbacks on the return journey.
It is here you may be thankful for the trail's short length. Despite being about the same height, both falls are pretty different. After you have rounded a corner, you will come across Niagara Falls, and be able to pass right below it.
---
RELATED: Your Ultimate Oregon Road Trip—1 Week to 1 Month Oregon Itinerary
---
Places to Stay on the Oregon Coast
Campgrounds: Fort Stevens State Park, Sunset Bay State Park
Eastern Oregon Waterfall Hikes
26. BC Falls
Distance: 3 miles
Type of Trail: Out and Back
Difficulty: Easy
BC Falls, which is located near Wallowa State Park, is a short trail, perfect for inexperienced hikers or families who want to experience the beauty of the area. There is a lot to see in just under 3 miles, including the falls, stunning views of Wallowa Lake, and two different rivers.
The trail starts on the Chief Joseph Trail and follows the right fork after about a quarter of a mile. As you head down the river, you will come across several spectacular overlooks of the river down below you until you reach the point where BC Creek merges with West Fork to create a great waterfall.
---
RELATED: A Comprehensive Guide to Visiting Wallowa Lake State Park—Adventures and Camping
---
27. Falls Creek on Hurricane Creek
Distance: 6 miles
Type of Trail: Loop
Difficulty: Easy
With towering mountains in the distance, and wide-open meadows and thick forest on the route, the Hurricane Creek Trail is certainly picturesque.
This trail is a long one at over 20 miles for those that want a long hike, but if you want to just see the falls, the junction is only about one-tenth of a mile south of the trailhead.
Head right to get on the Falls Creek Trail, and after about a quarter of a mile, you will be rewarded with a view of the falls.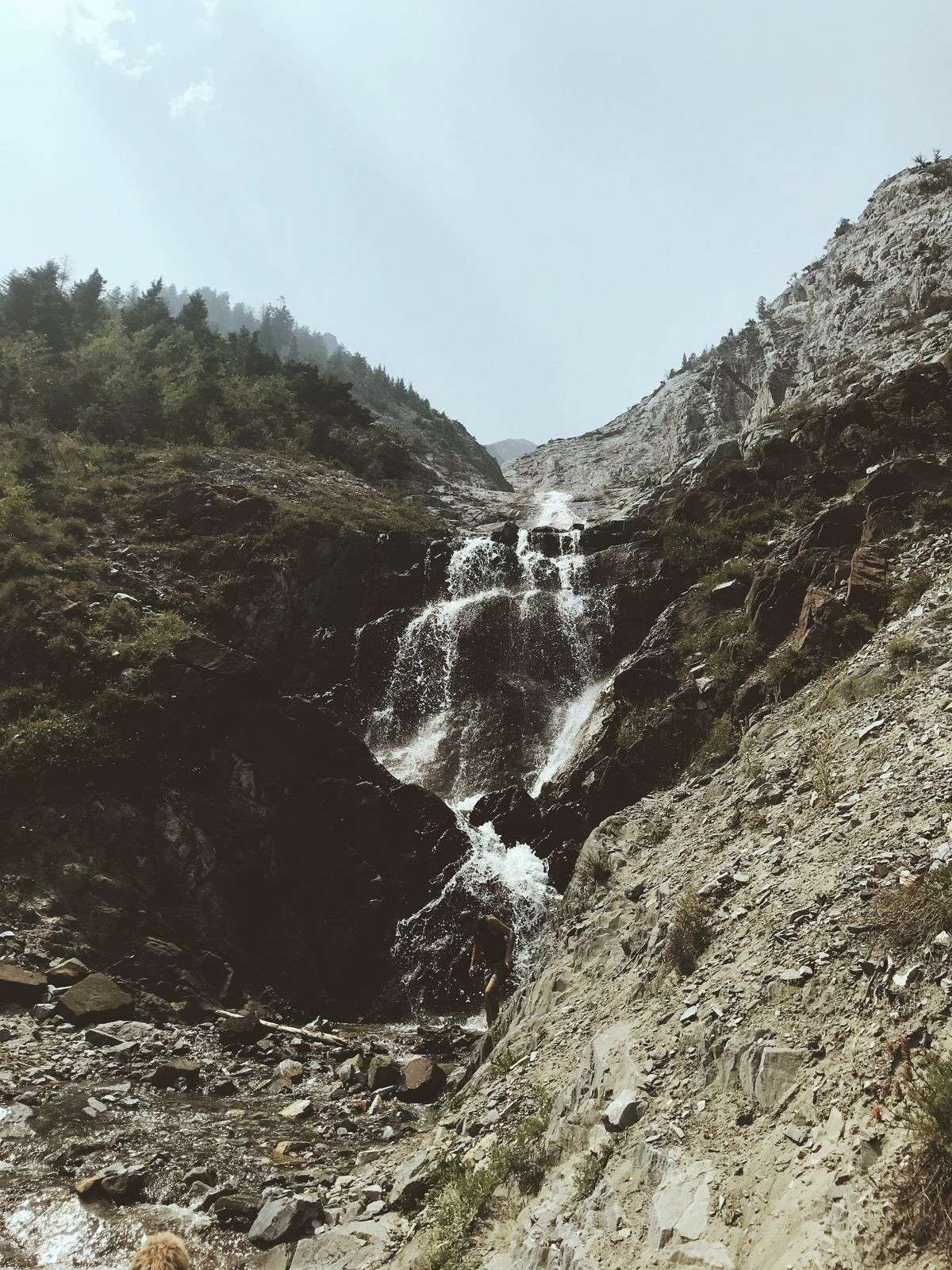 You can get a better view of the Oregon waterfall if you can reach the middle of the creek bed safely. The waterfall is not the tallest by any means at 50 feet but looks great with the backdrop of mountain peaks rising above it.
The great thing about Hurricane Creek is that you can choose from easy, medium, and challenging options. Most people go for the 6-mile option, which takes you as far as Slick Rock Gorge, which has several other waterfalls to view.
28. Strawberry Falls
Distance: 6.5 miles
Type of Trail: Out and Back
Difficulty: Moderate
This beautiful 50-foot waterfall is found on Strawberry Creek, falling over the rock to the creek below. The falls can be reached by following the Strawberry Basin Trail, a beautiful Oregon waterfall hike that goes both below and above the waterfall.
It is by far the most popular hike in Strawberry Mountain Wilderness, meaning on summer weekends, it can be pretty busy, but you will soon see why.
As well as the waterfall, the hike takes in two stunning mountain lakes, plenty of wildflowers, and an alpine meadow. You can fill out your wilderness permit in the parking area and head out from the strawberry Basin Trailhead, following a path through forests made up of grand fir, ponderosa and lodgepole pine, and western larch.
The waterfall is about 3/4 miles after Strawberry Lake and you don't need to complete the entire trail to see the falls. However, if you continue, you'll be rewarded with Little Strawberry Lake at the end with a stunning view of the Strawberry Mountain Wilderness.
---
RELATED: Guide to The Strawberry Mountain Wilderness & Strawberry Falls
---
29. Beauty Falls and Ice Falls
Distance: 15 miles
Type of Trail: Out and Back
Difficulty: Difficult
The stunning waterfalls of Beauty Falls and Ice Falls can be found on the hike to Ice Lake. The area is not known for its waterfalls, so these are real hidden gems, and many people don't even know they are there until they find them on the way to the lake.
The hike begins at the Wallowa Lake Trailhead and follows quite a steep climb, especially near the end of the hike.
Beauty Falls is the easiest to get to, but Ice Falls is the most spectacular on the route, a true giant of a waterfall, it tumbles almost 500 feet, thundering down the mountainside in great torrents of water. There are also two other notable waterfalls on Adam Creek, one below and one above Beauty Falls.
Once you have seen the falls, carry on the hike until you reach Ice Lake, a tranquil oasis below the Wallowas' highest ridge. You can either do this hike as a day hike, although it will be long, or you can turn it into an overnight hike.
---
RELATED: 29 Awesome Things to Do on an Eastern Oregon Road Trip
---
Places to Stay in Eastern Oregon
Campgrounds: Wallowa Lake State Park, Alvord Desert
Tips For Your Waterfall Hikes in Oregon
We hope you loved our list of Oregon waterfall hikes! Be sure to check out our other Oregon hike posts and other adventures around Oregon.