This Salt Creek Falls hike is solid evidence that you don't need to go far in Oregon to see its epic nature!
This loop takes in Oregon's second-highest single drop waterfall, which descends a whopping 286 feet in the Willamette National Forest. It's certainly a sight to behold!
This hike is perfect during late spring and early fall (from late June to August, the mosquitos are out), or if you want even more adventure, you could go snowshoeing around here during winter.
We'll describe exactly how to do this hike in this thorough guide.
Exploring Salt Creek Falls
---
Salt Creek Falls is a popular Oregon tourist destination in the Willamette National Forest, close to Oakridge. The viewing platform is actually just a short stroll from the parking lot.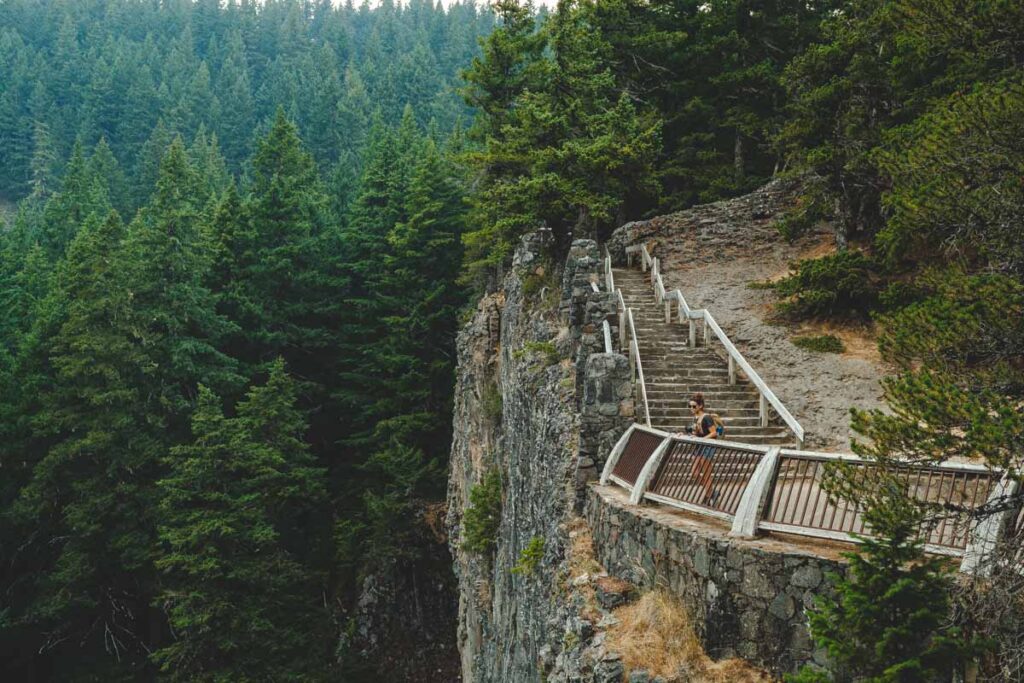 This means that this area can get very busy, especially in peak season – but don't worry, once you set off on your Salt Creek Falls hike, you'll be quickly whisked away into a blissful forest.
The trailhead begins right at the parking lot.
Salt Creek Falls Trailhead
You will need a car to reach the Salt Creek Falls Trailhead. It is located 23 miles from Oakridge and takes around half an hour.
Drive along Highway 58 in a southeasterly direction from Oakridge and take Forest Service Road 5893.
Once you are on this road, you will notice signs for Salt Creek Falls – just follow these until you reach the parking lot.
---
RELATED: 29 Stunning Oregon Waterfall Hikes
---
Hiking Salt Creek Falls Trails
Distance: 4.5 miles
Type of hike: Loop
Difficulty: Moderate
Once you're at the parking lot, it's time to pull up your hiking boots and get going!
Walk to the west end of the parking lot, where you should see a sign directing you on the Salt Creek Falls hike. You'll come to a bridge, which you can cross to get to the other side of the creek.
The trail then splits – most people walk clockwise, but don't worry if you go the wrong way! It's a loop, so everyone sees the same views and ends up in the same place.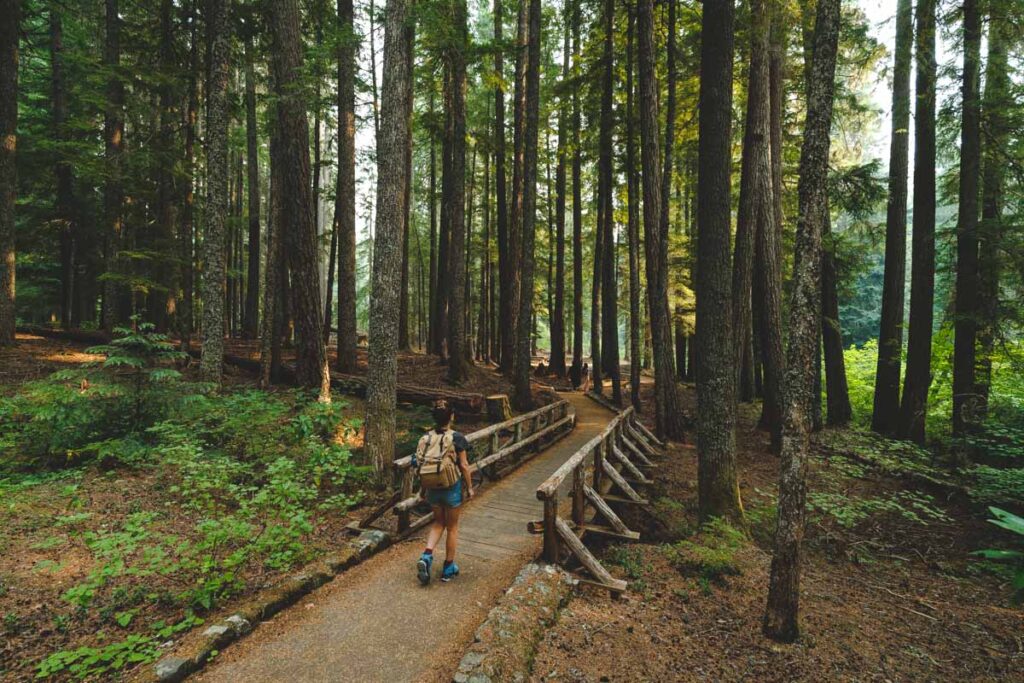 If you turn left, you'll walk through the woods for about 0.6 miles. There are three switchbacks, but the trail is waymarked clearly with the diamond logo – a bright blue diamond attached to trees. Keep an eye out for these markings as you hike – as long as you can see one, you're on the right path!
You'll eventually come to a forest road crossing – go straight over and walk for another 0.6 miles or so until you reach a second road crossing. You will eventually see a sign to Vivian Lake, but we recommend sticking to the Salt Creek Falls trail.
If you continue on Vivian Lake you'll eventually reach Dry Creek Falls with Vivian Lake shortly after but they aren't too special so perhaps don't go out of your way. Plus, Vivian Lake isn't well marked and can be a little dangerous if you don't have experience.
---
RELATED: 9 Amazing Waterfalls Near Eugene, Oregon
---
Diamond Creek Falls
If you carry on the Salt Creek Falls Trail, you'll reach Diamond Creek Falls after a walk of a few hundred more yards. These are spectacular whitewater streams in the middle of the forest, and they are a lot quieter than Salt Creek Falls!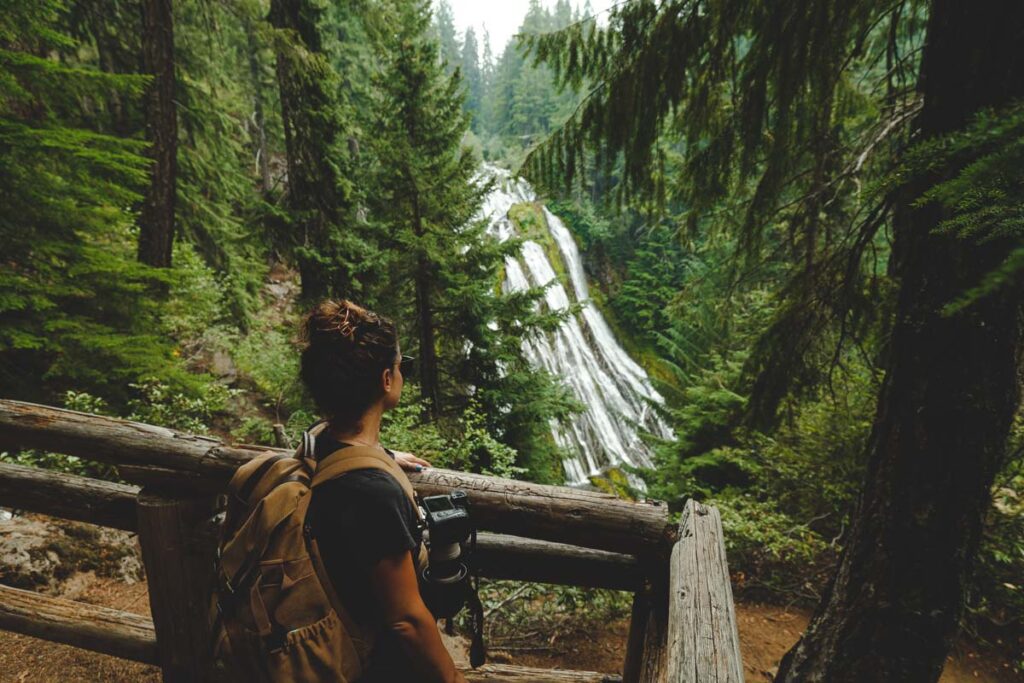 If you are hiking in the winter, you can stand at the viewing platform and watch the waterfall dramatically descend. However, in the summer, there is a small trail traversing down the hill.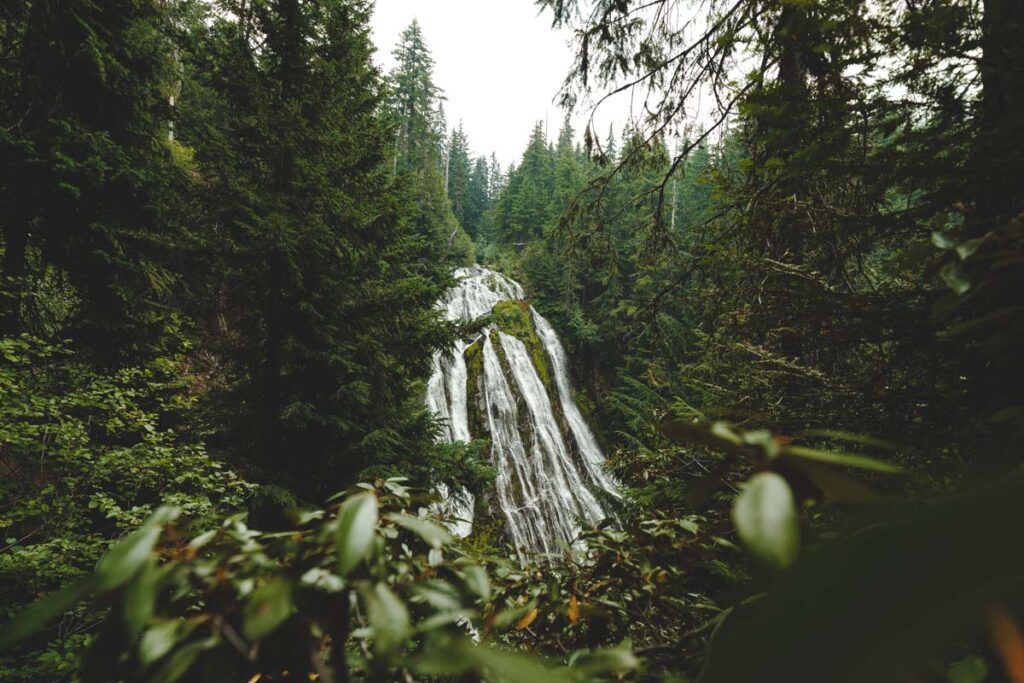 Eventually, this side trail crosses a bridge to reach the base of the falls. It is steep, but it is only 0.2 miles in length, and it's a beautiful lunch spot midway through your hike!
If you take this sidetrack, you will need to climb back the way you came to rejoin the main trail.
---
RELATED: 11 Worth It Hikes in Eugene, Oregon
---
Fall Creek and Too Much Bear Lake
Once you are at the Diamond Creek Falls lookout platform, you can hike 1.4 miles along Fall Creek, a quiet, magical-feeling woodland. Follow the trail, and you'll eventually be able to take in sweeping views of the Salt Creek Falls canyon.
Walk along the trail past the canyon. You'll eventually reach Too Much Bear Lake, which is allegedly where a man was unable to go fishing because he encountered too many bears! It's a beautiful pool of water that reflects the surrounding fir trees.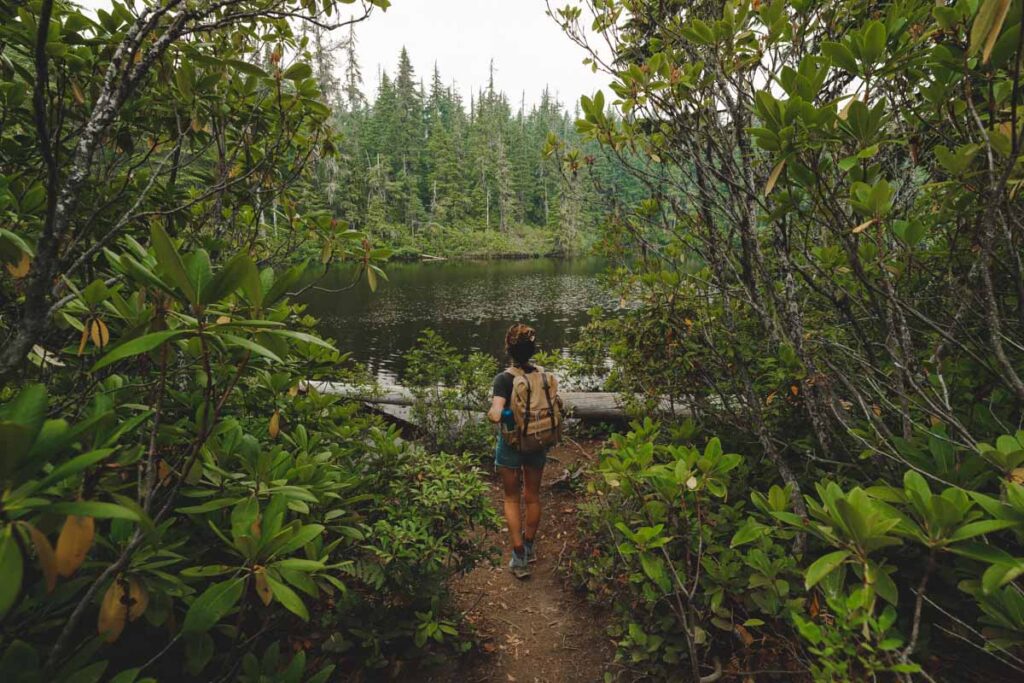 Continue following the path, and you will reach the bridge you encountered when you started your hike. If you cross this, you will end up back at Salt Creek Falls.
If you enjoyed your scramble to the bottom of Diamond Creek Falls, you could do the same here at Salt Creek Falls. The falls have a basalt lava ledge, and the beautiful rugged columns are a sight to behold.
The base of the falls is only accessible in the summer and should only be attempted in good weather. It can get slippery, so be careful as you walk down!
---
RELATED: 10 Waterfall Hikes Near Bend That Are Worth Visiting
---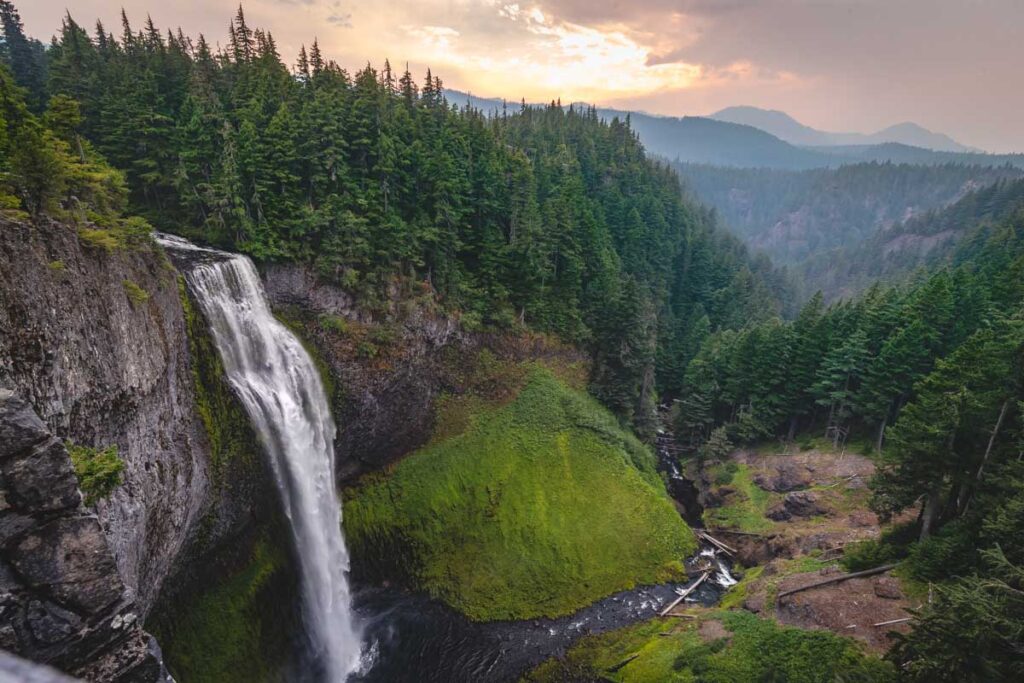 Tips for Hiking the Salt Creek Falls Trail
It is best to avoid the trail from the end of June to August. This is because the mosquitoes can be out with a vengeance! It is also the busiest time of year, as schools are off for the summer. Visiting during May, early June, September, or October is much more favorable. And yes, even in fall the water levels are still pretty great. The photos in the post were taken in August.
If you want to visit during the winter, you will need some snowshoeing experience. This is quite a good trail for people with only a little experience as it is not too long and waymarked well, but you may want to practice snowshoeing with somebody who knows what they are doing first. In the winter don't try to hike to any of the bases of waterfalls or take any other detours.
This trail is dog-friendly, but any canine friends must be kept on a leash for the whole route.
The Salt Creek Falls and Diamond Creek Falls hike is a fantastic loop walk near Oakridge, especially in late spring or early fall. With stunning views, a relatively easy route, and an accessible trailhead, this really is a hike for everyone!
We hope this helped you plan your Salt Creek Falls hike, but don't leave yet! There's more to see in Central Oregon and more adventures in Oregon to be had.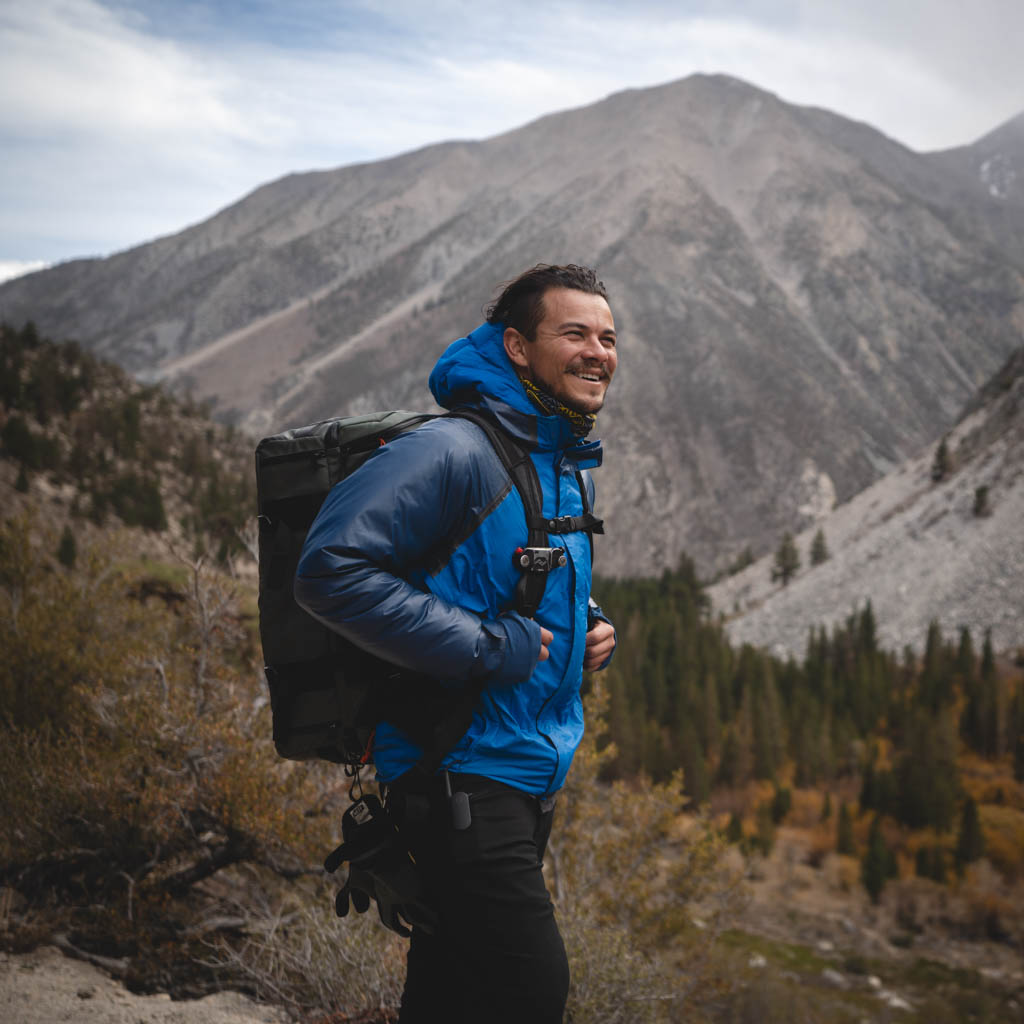 Oregon native and explorer at heart. Loves tackling expeditions around the world and drinking a good beer at the end of the day. PNW obsessed, VW nerd, and surf or snow riding fanatic.