If you're itching to get out of the hustle and bustle and into some nature, try out one of these awesome hikes in Eugene, Oregon!
We have a few options for you right in the center of the city, but for those wanting to explore just beyond in some greener pastures (literally), we gave you a few options on the outskirts. Get ready for amazing views, waterfalls, and wildlife while hiking around Eugene!
11 Awesome Hikes in Eugene, Oregon
---
1. William L. Finley Hike
Distance: 8.3 miles
Type of Trail: Loop
Difficulty: Moderate
Get up close to nature with the William Finley Hike, found in the William L. Finley National Wildlife Refuge. As a loop hike, you'll be able to see a lot of what the refuge offers without having to double back on yourself.
What makes this hike in Eugene so beautiful is that you'll traverse through multiple types of terrain, from wide-open meadows to forests of tall Douglas Fir and white oak. You'll also cross several streams via cute little bridges keeping your shoes dry.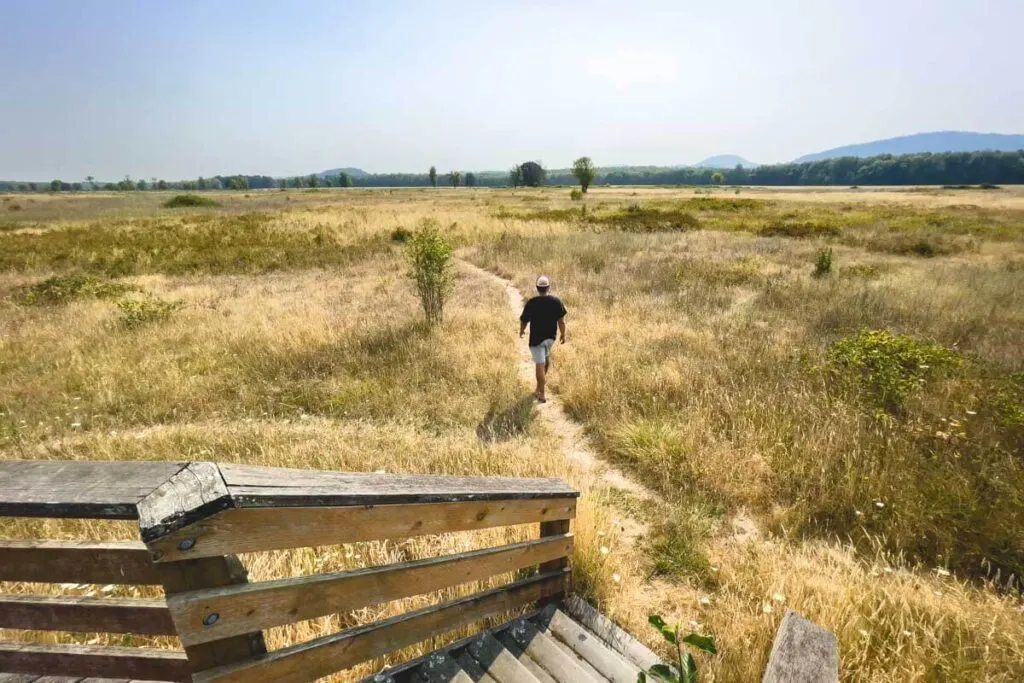 You'll be covering a lot of ground, which is one of the reasons this hike in Eugene has been classified as moderate. Expect to see wildlife and lots of if, particularly the birds, that use this area as a refuge.
Wildlife viewing is made even easier thanks to the designated viewing areas you'll pass along the way, such as the Woodpecker Observation Deck, with interpretative signs to help you identify what you see.
2. Delta Ponds Trail
Distance: 1.8 miles
Type of Trail: Out & Back
Difficulty: Easy
The Delta Ponds hike provides one of the best ways to view the wetlands and have a read of the interpretive signs that line the bank. It is mostly shaded, with some stunning lookouts across the pond, so this is one of the hikes near Eugene to bring your binoculars to, or as least a smartphone with a good zoom!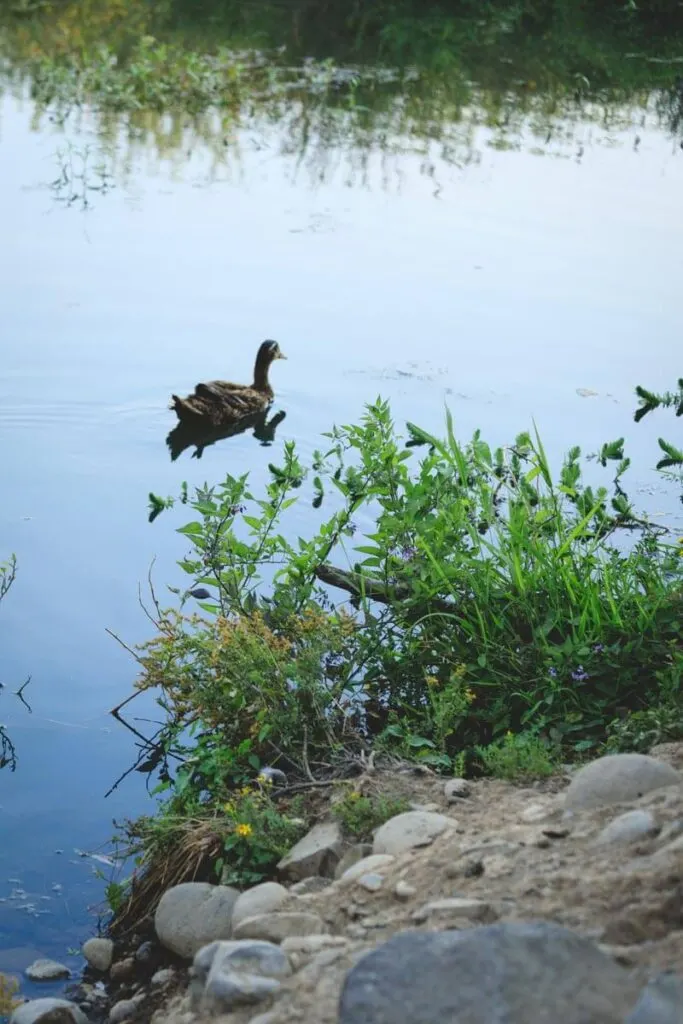 Along the path, you have a chance of spotting creatures such as western pond turtles, otters, and migratory songbirds. In fact, over 145 species of bird have been seen here.
Raised walkways and bridges criss-cross the wetlands, so after you have completed the 1.8-mile hike, you could always carry on the journey and delve deeper into the wetlands.
---
RELATED: 14 Outdoorsy Things To Do in Eugene, Oregon
---
3. Ridgeline Trail
Distance: 12 miles
Type of Trail: Out & Back
Difficulty: Moderate
Bored of the same old sights when out for your morning run? Give the Ridgeline Trail a go. This trail seems to be made for runners, although it's perfectly fine to walk it too, offering views of the forest pretty much the whole way.
The trail comprises several interconnected pathways that traverse through the tree-lined landscape of the Willamette Valley.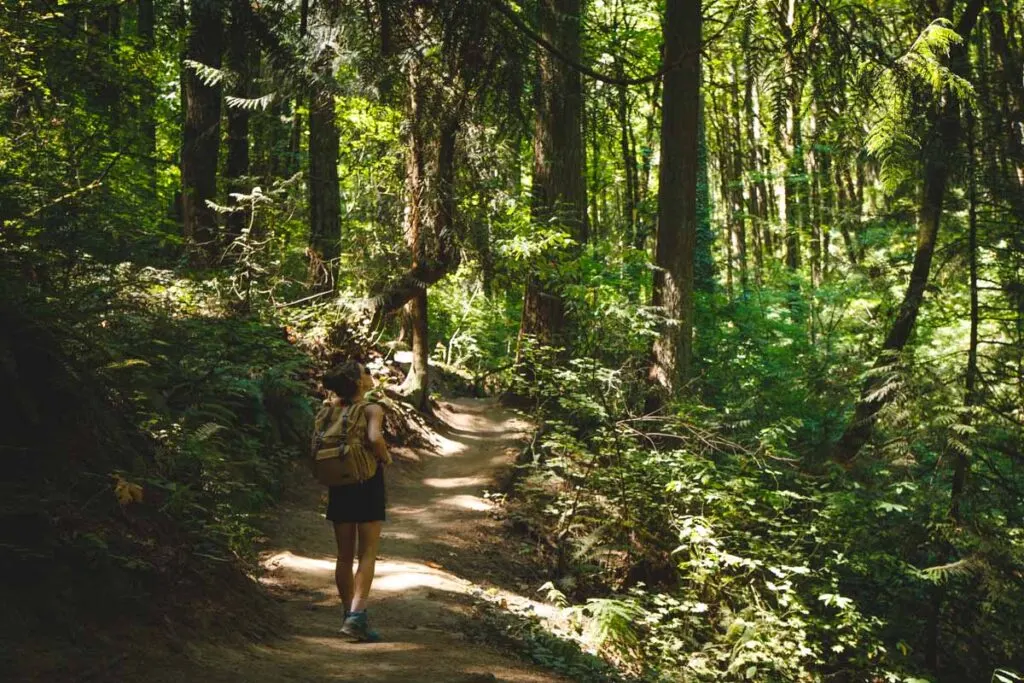 The trail is very well maintained and pretty solid underfoot, which is one of the reasons it is so good for running. So if you're looking for an uninterrupted stretch of path to get those legs pumping, Ridgeline is one of the Eugene hiking trails for you.
Of course, you don't have to make the whole trail; choosing just a part of it will suffice to showcase Oregon's beauty. There are no less than seven trailheads to pick to start from, so you really can tailor your itinerary based on how far you want to go and what you want to see.
Mount Baldy and Spencer Butte are both pretty tricky sections as there is some serious elevation gain, but for many, it is all about the challenge, and of course, the views of the city that will spread out below you as you gain in height.
4. Mossy Maple Trail
Distance: 4.4 miles
Type of Trail: Out & Back
Difficulty: Moderate
You can hike or bike around the beautiful Mossy Maple Trail, which is just as delightful as it sounds. Most of the trail is shaded, and although there are not as many incredible views as some of the other trails on this list, it is very well maintained and very close to town, making it a nice little walk to burn off those lunchtime beers.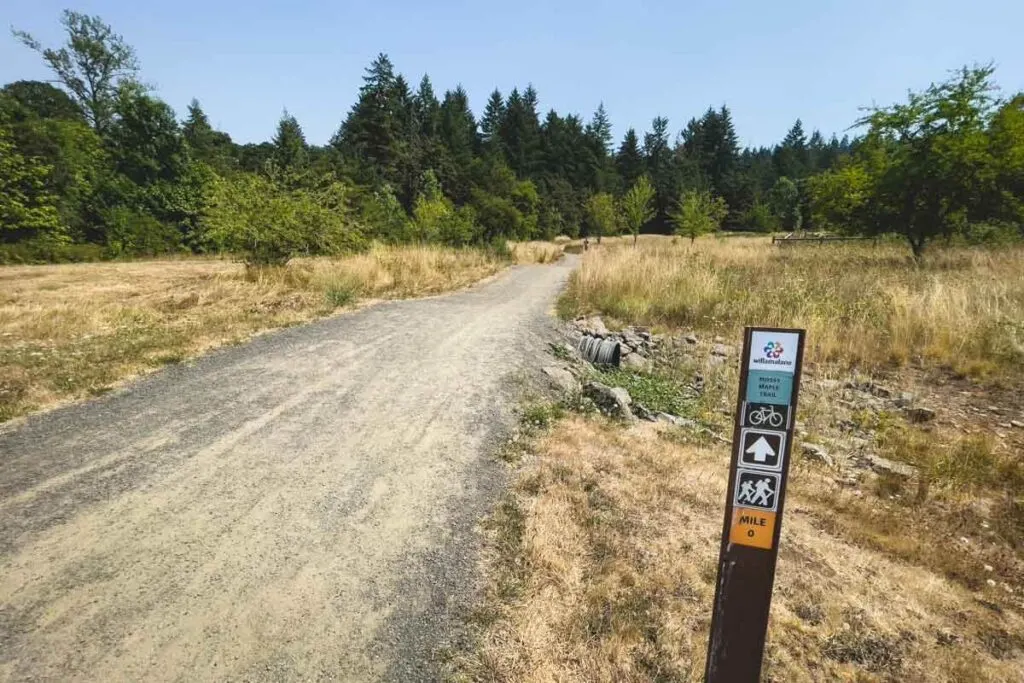 There is more than enough room for hikers and bikers, but it is a trendy spot for mountain bikers, so expect to see a good few. There are some steep switchbacks the higher to the top you go, and you will feel like you are in the middle of nowhere rather than just outside of town.
If you do decide to bring your bike down to this trail, you'll be happy to know there's a little bike cleaning and tuning station at the trailhead.
5. Spencer Butte Trail
Distance: 1.7 miles
Type of Trail: Loop
Difficulty: Moderate
You can't say that you have visited Eugene if you don't do the Spencer Butte Trail at least once. It is a city icon, a right of passage, and offers the opportunity to see the town from above. No matter where you are in Eugene, you will likely be able to see this hulking landmass dominating the skyline, just itching to be summited.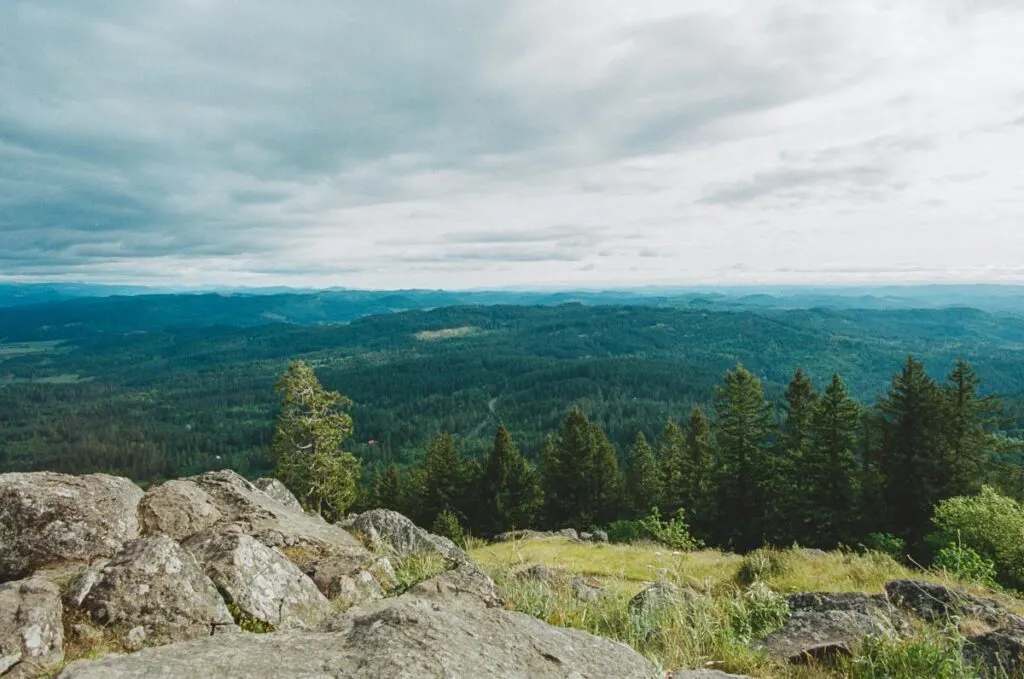 The hike forms part of the much longer Ridgeline Trail, so you could also combine it with other parts of this hike for an extended trip.
It is a steady climb, and although it isn't hard exactly, you will definitely start to feel the burn as you begin to reach the summit. Signposts mark each intersection, so you won't worry too much about losing your way.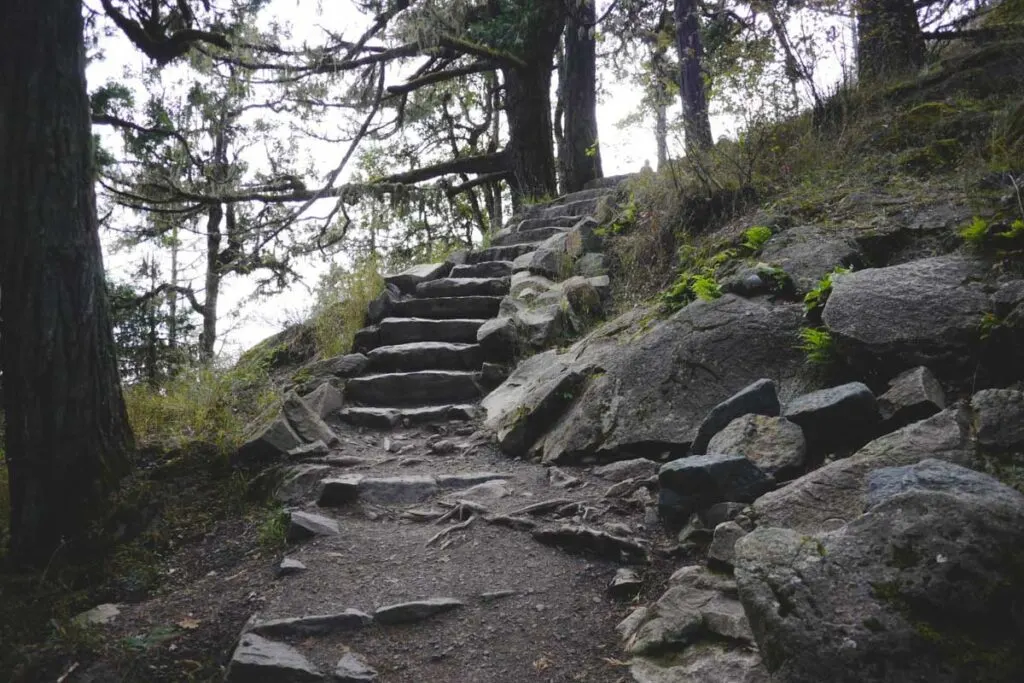 You'll be ascending some carefully carved stone steps for the last portion of the hike, making the final scramble a little easier. Once you come to the last few steps, the valley and its views are revealed, and on a clear day, you'll even be able to see the distant mountains, but they are for another day!
If you feel adventurous, take the 10k Butte to Butte Trail, with Spencer Butte serving as one of the two buttes! This really is an epic hike near Eugene!
6. Alsea and Green Peak Trail
Distance: 2.4 miles
Type of Trail: Out & Back
Difficulty: Easy
This is one of the greatest hikes in Eugene to see some spectacular waterfalls. In fact, we've written a whole post on the Alsea and Green Peak Falls hike if you want to get a little more detail.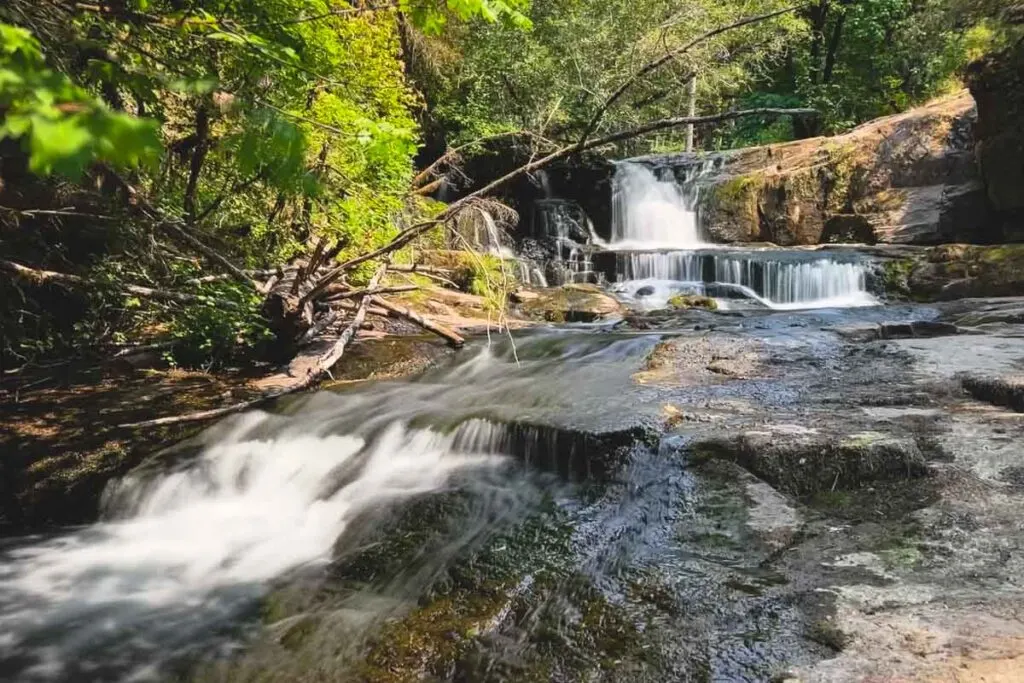 Alsea Falls is a very popular family area with plenty of amenities. Still, if it's the walk you are after, this one has the added benefit of taking to see an additional waterfall, Green Peak Falls, and will take you away from the crowds.
From Alsea Falls, head to the trailhead, which can be found by crossing a small bridge. You'll see several signs for the waterfall, showing you're heading in the right direction.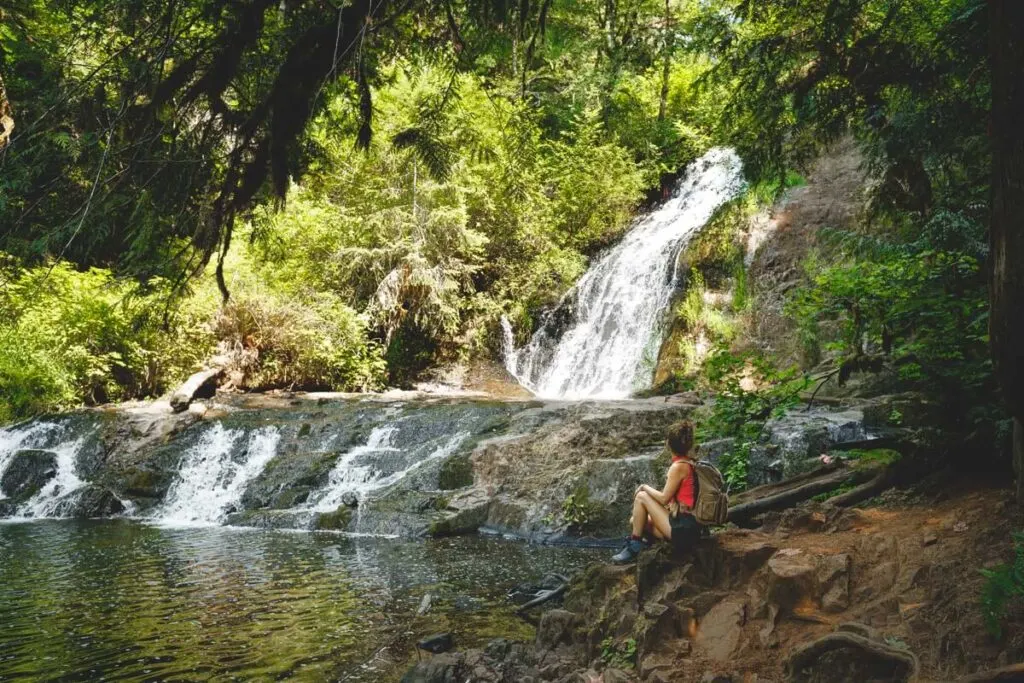 At one point, the trail will split, either taking you uphill or along a gravel path. It doesn't matter which you take, as they connect again. Once you reach McBee Park, you have nearly made it!
The waterfall sits at 45 feet and is always quiet compared to Alsea, making it the perfect place for a picnic lunch before heading back the way you came.
---
READ MORE: Hiking The Alsea Falls & Green Peak Falls Trail
---
7. Mt Pisgah Trail
Distance: 3.3 miles
Type of Trail: Out & Back
Difficulty: Moderate
Mount Pisgah is another rather prominent landmark in Eugene, and just a few minutes from downtown, it is easily accessible. At 1531 feet, it is quite a climb. All routes to the summit are relatively short so that you won't be in pain for too long!
The Mt Pisgah trail starts as a wide, even trail and doesn't take long to start climbing. Unlike many hikes in Eugene, most of the path is open to the elements, rewarding you with expansive views out over the city before you are anywhere near the summit.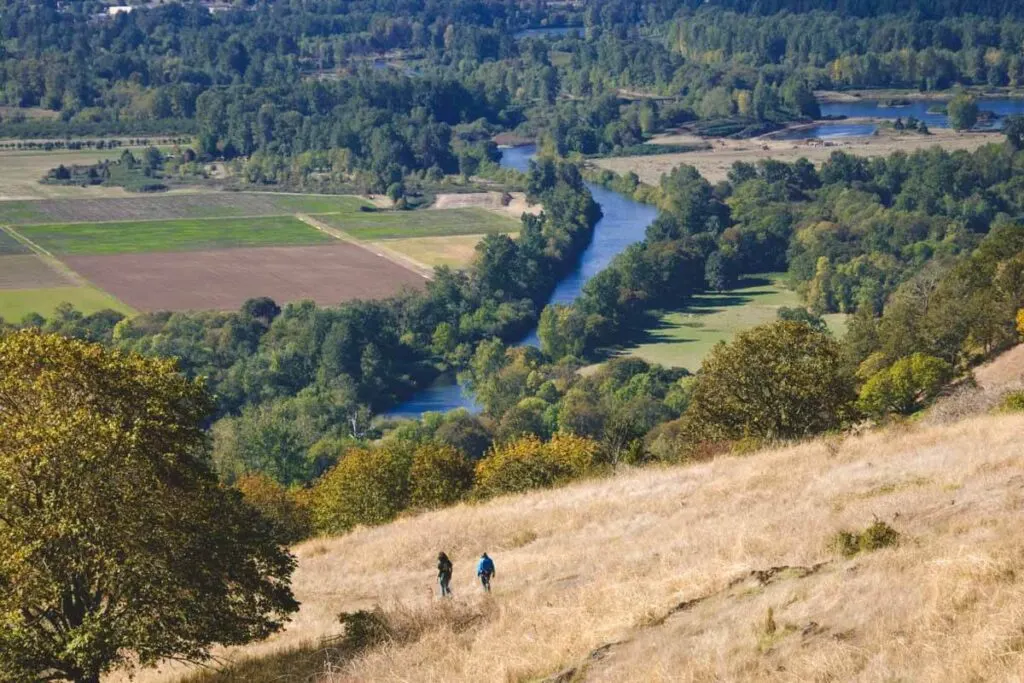 Choose when you make this hike wisely, as if you time it right, you'll be greeted with a beautiful wildflower display spanning almost all colors of the rainbow.
Once you have reached the summit, you can either go back the way that you came or pick one of the other trails to head downwards, letting you explore some of the different landscapes along the way.
If you still want to explore the diverse landscape of Howard Buford Country Park, where Mount Pisgah sits, there are around 20 miles of epic hiking possibilities, so take your pick.
---
RELATED: 14 Outdoorsy Things To Do in Eugene, Oregon
---
8. McDowell Creek Falls Trail
Distance: 1.6 miles
Type of Trail: Loop
Difficulty: Moderate
The McDowell Creek Loop takes you to two charming little waterfalls in the Cascade foothills. You'll see several other baby waterfalls in the river, so you get to see a lot considering it's a short hike.
Pack your swimming gear, as there are a few opportunities for a quick dip during the summer months. Trust me, the crystal clear waters of the creek are very inviting!
There are a lot of waterfall hikes in Oregon, but you won't have to wait very long to get a peek at the action with this one. The first waterfall you'll come to is the impressive Royal Terrace Falls, split into two large tiers totaling 119 feet.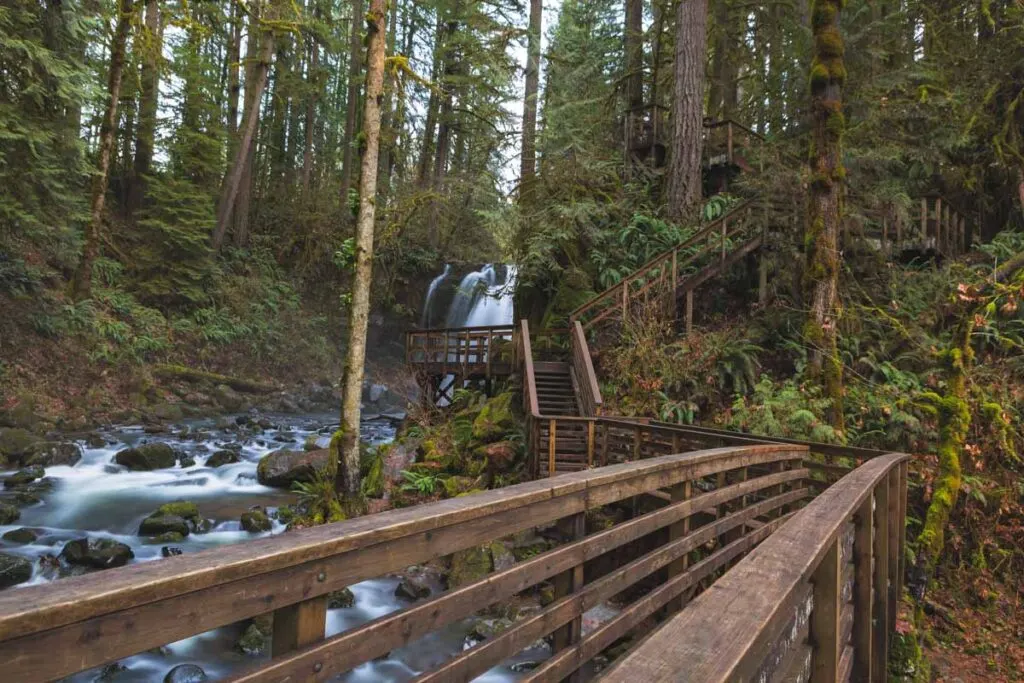 The water slides and splashes over the rocks, creating what looks like multiple waterfalls in one, and the strategically placed bridges offer excellent vantage points for you to drink in the sight of them.
Carry on following the river upstream, crossing a road to continue the trail. In the summer, keep an eye out for some of the shimmering pools in the river that can occur when the water level is low. You'll soon realize why this is a moderate hike as the path continues up, up, up, but keep going; it is well worth it.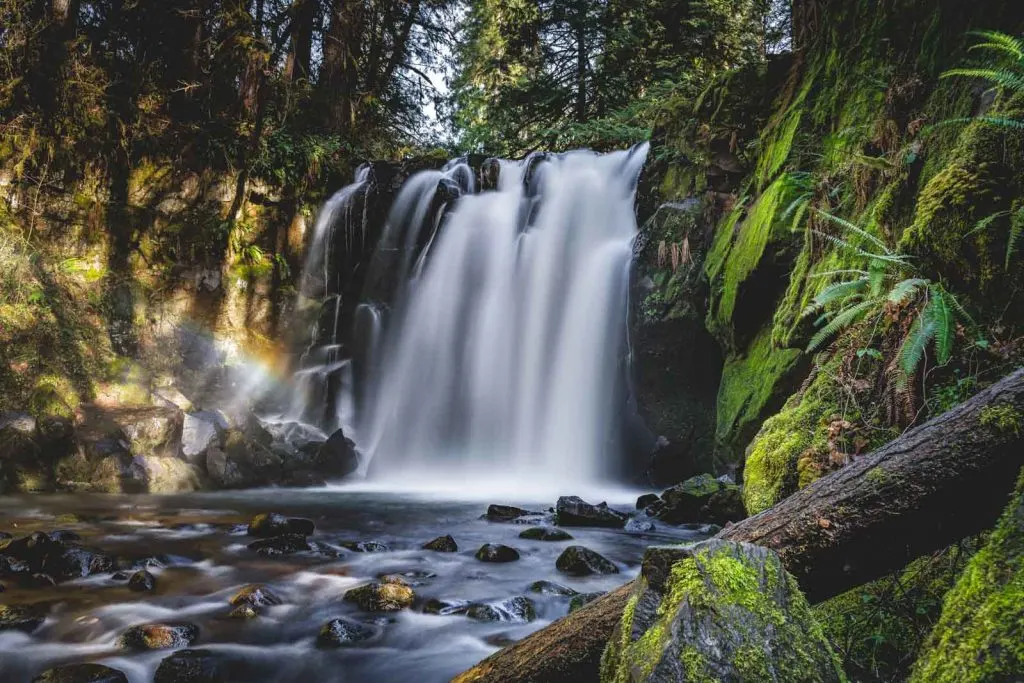 You will know you have reached the grand finale, Majestic Falls, when you reach the wooden stairs leading you up to the viewing platform. Although the smaller of the two, it is still a lovely sight. There is the option to go upstairs to the top of the falls for a different yet equally impressive perspective.
Although the hike can be made at pretty much any time throughout the year, you'll likely be pretty disappointed during the dry season. For full impact, come from late fall to early summer.
---
RELATED: 9 Amazing Waterfalls Near Eugene, Oregon
---
9. Salt Creek and Diamond Falls Trail
Distance: 4.5 miles
Type of Trail: Loop
Difficulty: Moderate
On the Salt Creek and Diamond Falls hike, you'll be reminded many times about the immediate danger, but they have placed plenty of barriers for cliffside safety, so no worries! Just don't do anything stupid like try getting on the other side of the fences.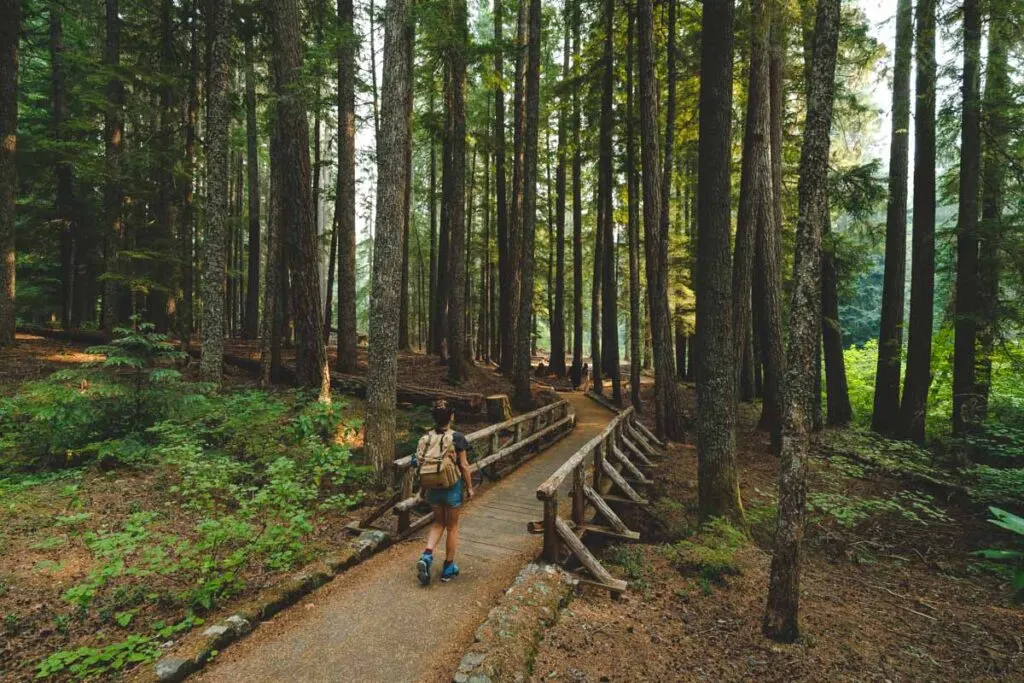 The waterfalls here are awe-inspiring, one a towering 286-foot drop and the other 120 feet, so it is hardly surprising it is a popular trek. The hike near Eugene begins with a walk down to Salt Creek Falls, one of the biggest in Oregon.
Many people will come to see Salt Creek Falls, not knowing that there is a seriously great hike just a little further along the path, with the opportunity to see another beautiful waterfall.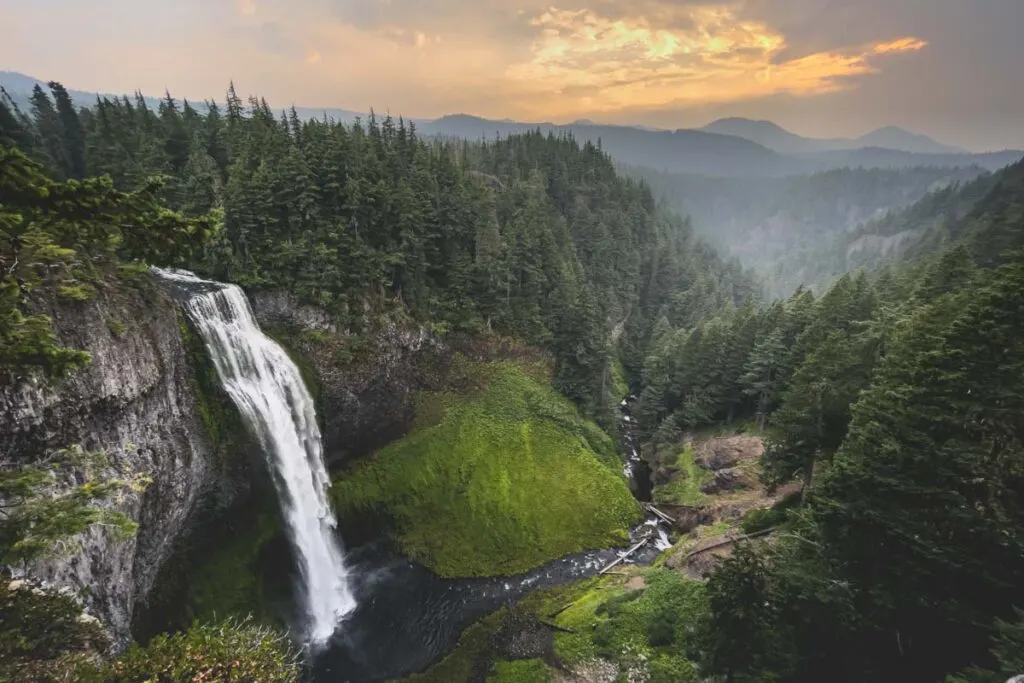 It's clear where the hike continues thanks to the paved path beyond the first set of falls. The reward for a slightly hairy scary hike is a view of Lower Creek Diamond Falls. This is a very different type of waterfall from the sudden drop of Salt Creek, with rivulets of water tumbling down the rock.
While this is one of the furthest hikes from Eugene, at just over an hour, it's SO worth it!
---
READ MORE: Salt Creek Falls & Diamond Creek Falls Hike
---
10. Trail of 10 Falls
Distance: 9 miles
Type of Trail: Loop
Difficulty: Moderate
There is always something new to see on the Trail of 10 Falls, whether you do it a couple of times or 100 times. With the changing scenery comes different viewpoints, so come rain or shine, go soak in the magic of this waterfall-drenched rainforest.
The trail has everything you could want from a Pacific Northwest hiking trail and more, with most people making it their go-to when in Silver Falls State Park. Although, as the name suggests, there are many waterfalls to see along this trail, and arguably one of the most impressive is the 177 feet South Falls.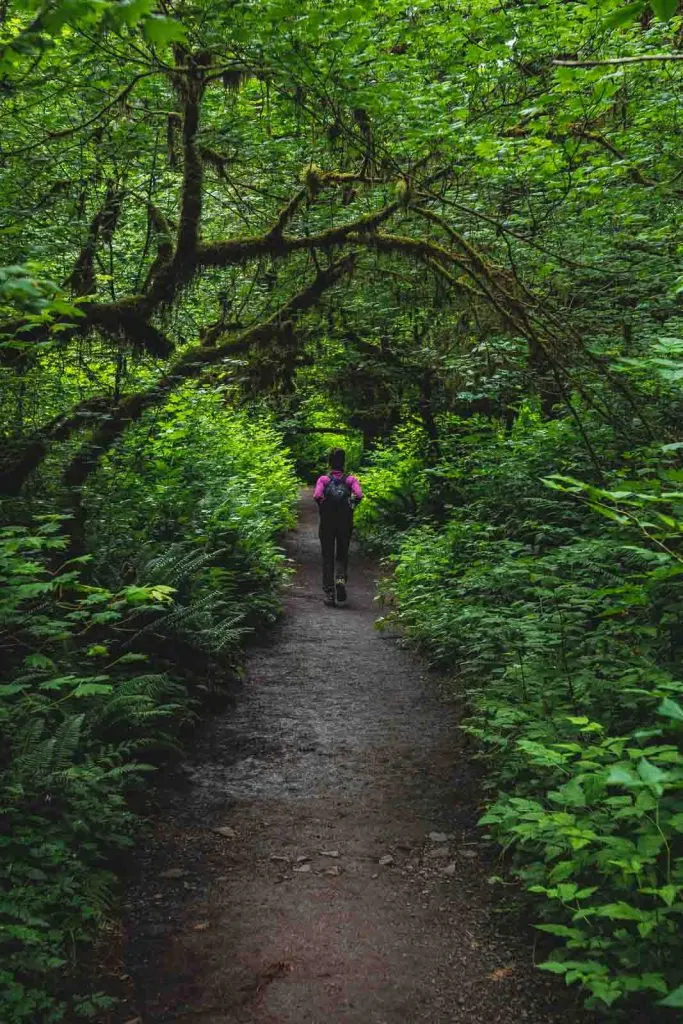 Not only is it magnificent to see, but because of the overhanging ledge that the water tumbles over, you are actually able to walk behind the waterfall! This can be done on a quick walk by itself if you don't have time to make the whole loop.
Another waterfall worth noting along the trail is the Lower South Falls, again, another waterfall you can walk behind! You'll struggle to find many other hikes with multiple waterfalls that you can walk behind, so enjoy it while you can!
This waterfall is seriously huge, and you'll be able to fully grasp how tiny you are in comparison as you see the water cascading in front of you.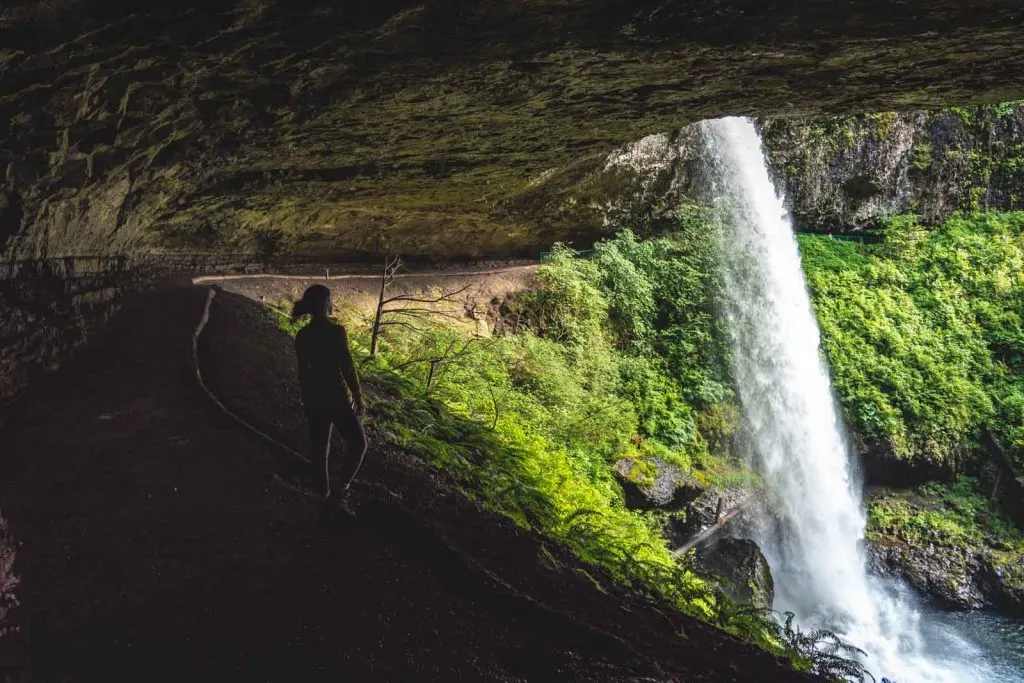 Then comes a series of smaller falls, such as Lower North and Winter Falls, but they are still all lovely and add to this epic hike. The last two waterfalls are North Falls and Upper Noth Falls, at 136 and 65 feet, with North Falls yet another waterfall that you can walk behind and feel the power of the water.
If you don't have the time to do the whole hike, it is possible to split it up into smaller sections.
---
RELATED: Your Guide to Silver Falls State Park—The Trail of 10 Falls & More
---
11. McKenzie River Trail
Distance: 24.1 miles* (can split into sections!)
Type of Trail: Point to Point
Difficulty: Hard
The McKenzie River Trail is one of the most celebrated hikes near Eugene or even the whole of Oregon. It is stunning, with so many vistas and things to see along the way. There are multiple waterfalls, lava fields, and the type of bright blue waters that you think have been Photoshopped.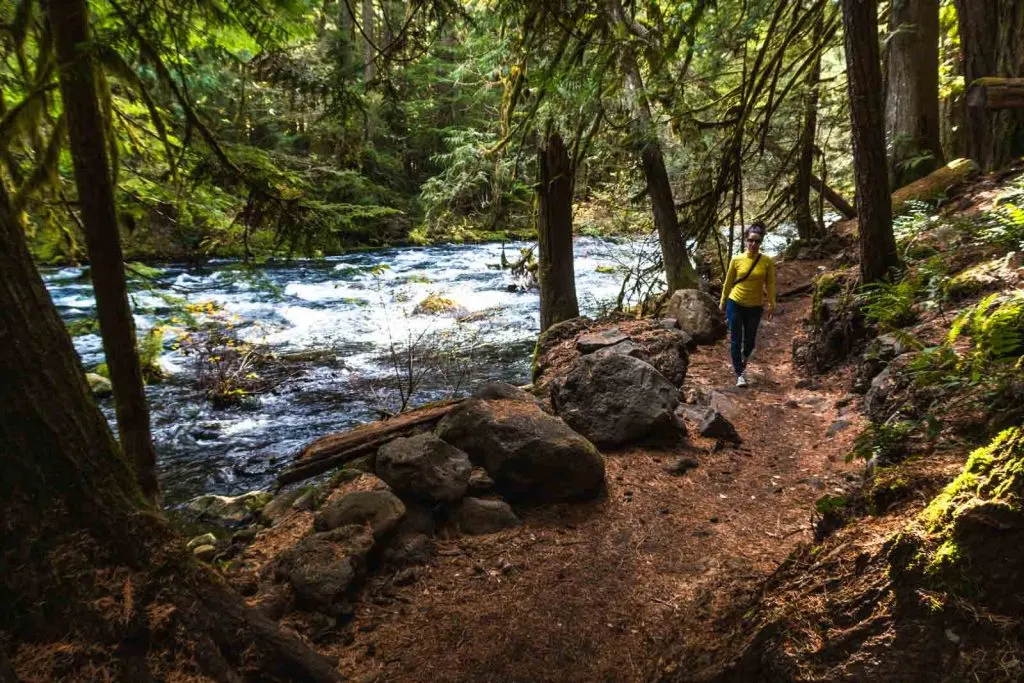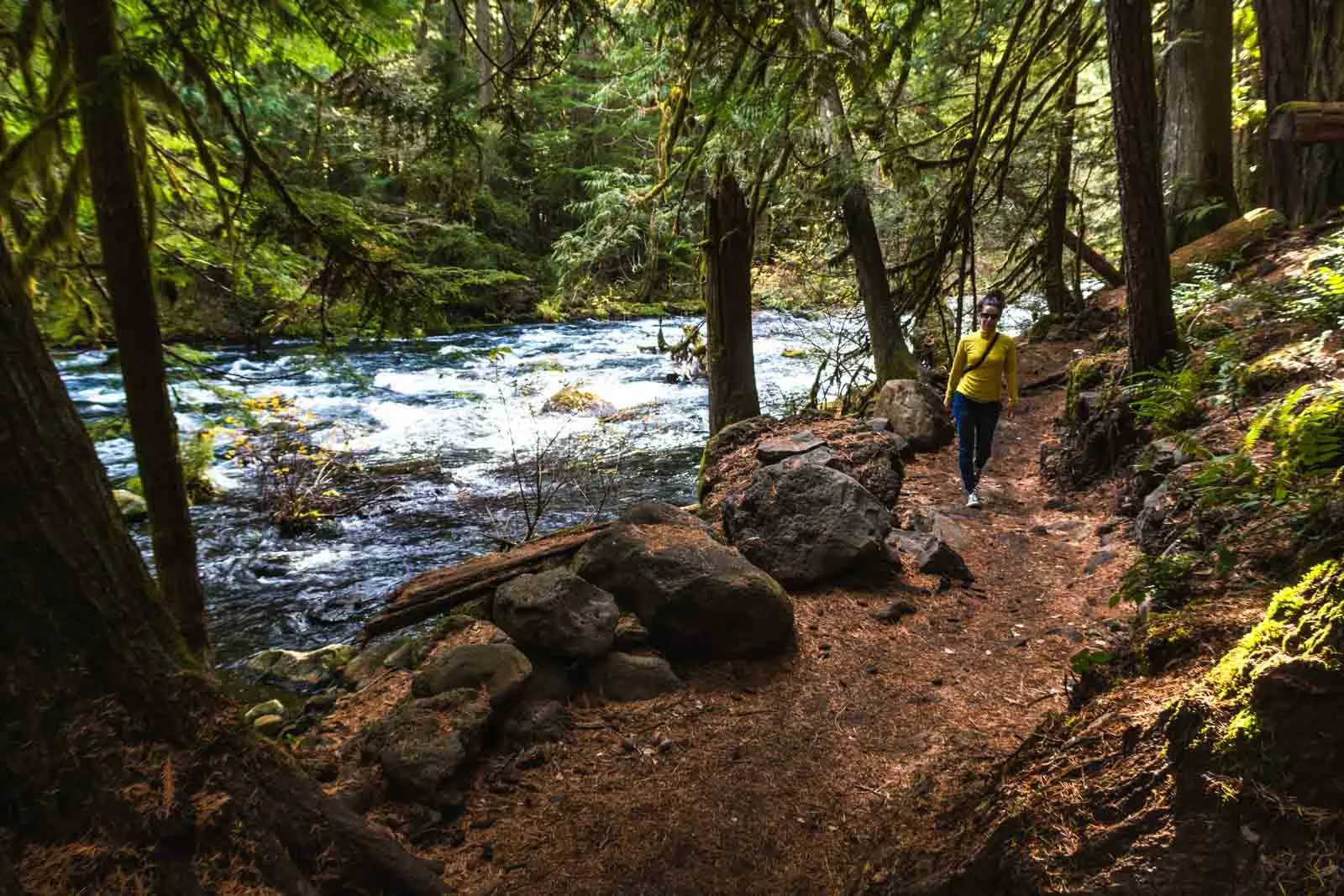 As it is such a long hike, many people don't have time to traverse the whole thing, although we highly recommend it. It is possible to split the hike up into smaller sections depending on what you want to see.
Here are a few of the many highlights along the McKenzie River Trail:
Clear Lake: If you are looking for the ultimate kayak place, you have it at Clear Lake. As you glide across the water, look down, and you'll be able to see a preserved forest through the crystal clear waters. The trail skirts along the shore of this gorgeous lake.
Blue Pool: The Blue Pool is a stop you can't leave off. The stunning waters are likely to be the most naturally blue you have ever seen, formed thousands of years ago by a lava tube. It is not surprising that it is one of the most popular spots on the trail and you can just do this 3.7 mile out and back trail if you'd like.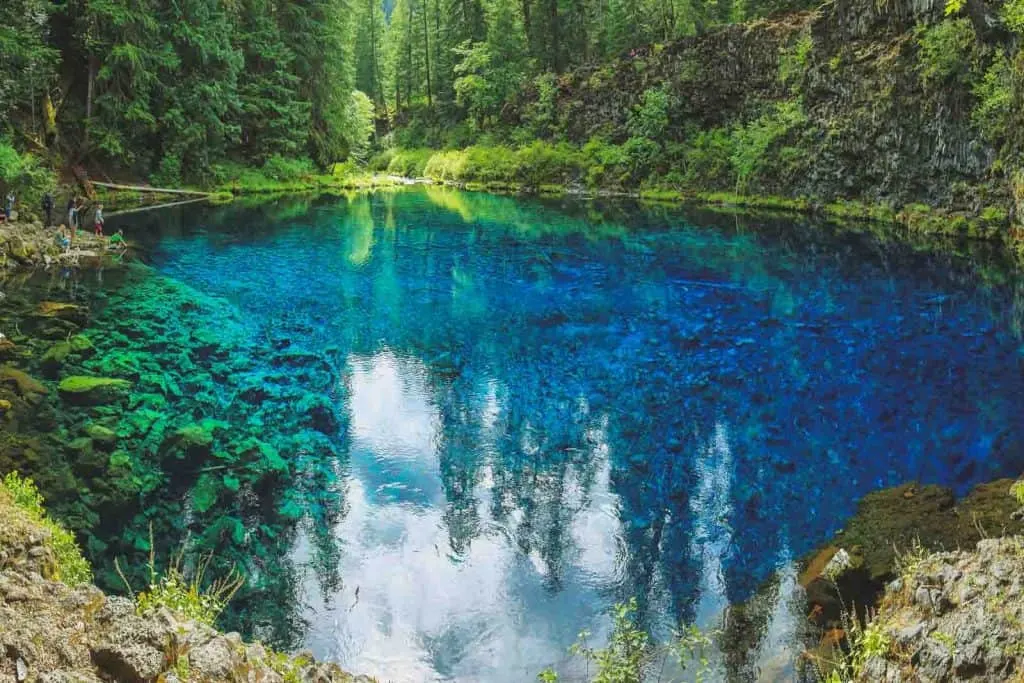 Hot Springs: Ease those aching muscles in the hot springs, with several options along the trails. If you had to pick one, though, try the Terwilliger Hot Springs-getting there is an adventure! You'll trek through the forest, and before long, wow, the trees open up, and 5 stunning hot springs appear in front of you, calling you in to enjoy their warming waters. Other options include Bigalow Hot Springs or Belknap Hot Springs.
Sahalie and Koosah Falls: These are two awesome falls on the hike. Sahalie is the larger of the two, tumbling 100 feet over the rocks, while Koosah is 70 feet, but still just as beautiful, and both run all year round. Reaching the falls is easy, so there is no excuse not to make a stop here.
---
READ MORE: Your Guide To Hiking The McKenzie River Trail
---
We hope this post inspired you to tackle some of the best hikes in Eugene! Don't forget to check out more adventures around the state.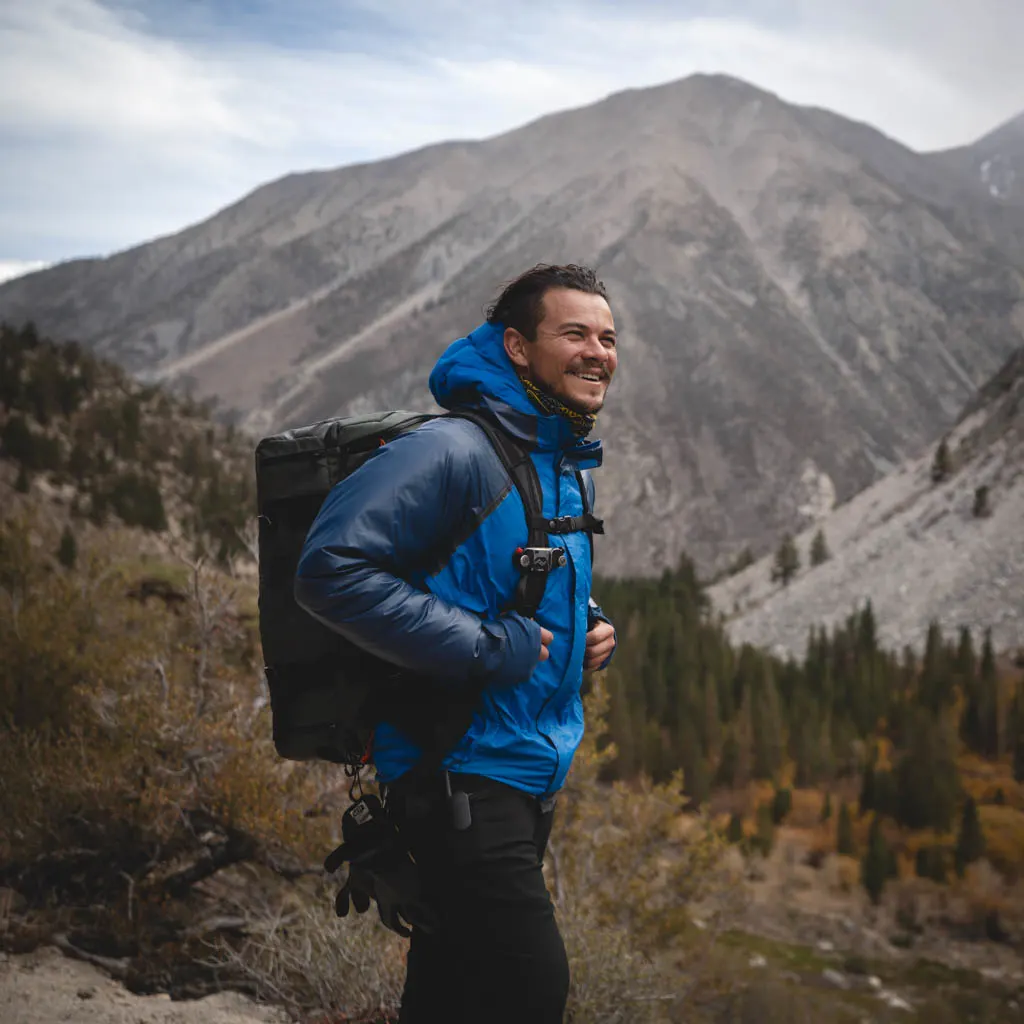 Oregon native and explorer at heart. Loves tackling expeditions around the world and drinking a good beer at the end of the day. PNW obsessed, VW nerd, and surf or snow riding fanatic.