Despite being one of the largest cities in the state, Eugene is most famous for its natural beauty. In fact, the access to green spaces and a wide range of recreational activities means it's considered one of the most liveable places in the US!
If you're just stopping for a visit, you'll find your list of things to do in Eugene packed full. There are, of course, parks and hikes galore, but you'll also find opportunities to explore the history, wildlife, and water-based adventures too.
The Best Things To Do in Eugene
---
1. Covered Bridges Scenic Bikeway—Iconic Thing To Do in Eugene!
For those that are not up to date with their Eugene trivia, the city is known for its numerous covered bridges, all of which have a certain charm. One of the best ways to take in as many of these bridges as possible is to take the Covered Bridges Scenic Bikeway, one of the best things to do in Eugene.
The route is 36 miles in total, but you can do as much or as little as you're feeling. Being smooth and mostly flat, it's a very pleasant ride that takes you from downtown Cottage Grove to pretty Dorena Lake.
You'll cycle right past four of the bridges, and will be able to see a couple more in the town, with the chance to pedal through a few of them! Chill out after your ride in one of the many cool pubs in Cottage Grove.
2. William L Finley National Wildlife Refuge
Explore the William L Finley National Wildlife Refuge and get the chance to experience one of the last remaining intact wet prairies in the valley. It is extremely easy to explore the refuge, with a driving route if you don't fancy walking, but also plenty of biking and hiking trails for those outdoorsy types like us!
There are some great trails in the refuge you should check out. For an easy jaunt, take the Woodpecker Loop Trail, or alternatively, a Host of Honkers will take over 6 hours, with a beautiful boardwalk section and ample bird-watching opportunities.
Wildlife lovers shouldn't miss the refuge, as there is a good chance you'll be able to spot Canadian geese, Roosevelt elk, and bald eagles to name just a few of the species that have made the refuge their home over the years.
---
RELATED: 11 Worth It Hikes in Eugene, Oregon
---
3. Fern Ridge Lake
Just 15 minutes from Eugene you'll find the sprawling Fern Ridge Lake. There is nowhere better in the area to slide gracefully across the water on a kayak, or any other water-based vessel you can get your hands on.
Whether you would prefer to stick to the wide-open waters of the lake or head to the channels of Coyote Creek, there are options for everyone.
There are plenty of waterfront parks and campgrounds, so pack up your tent or camper and take your pick of which one you fancy spending the day or night at. Richardson Park Campground was a great base for when we visited.
The numerous boat ramps provide easy access to the water, or alternatively, you can save your sea legs for another day and stick to the paths that run their way around the glimmering waters.
4. Alsea Falls and Green Peak Falls Trail
You didn't think I was going to write a list of things to do in Eugene without mentioning a waterfall or two did you? Alsea and Green Peak Falls are without a doubt some of the most beautiful in the area.
The hike is pretty easy at 4.2 miles, and along the way, you'll encounter some of the stunning Oregon Coast scenery that this part of the state is known for.
For those that don't even fancy walking, you'll be able to look over the top of Alsea Falls almost as soon as you step away from the trailhead, with Green Peak Falls a little further along, with spectacular views from the trail. Green Peak is bigger and more dramatic so it's definitely worth the extra effort.
---
READ MORE: Hiking The Alsea Falls & Green Peak Falls Trail
---
5. Covered Bridges—Unique Thing To Do in Eugene!
Just haven't got enough of those covered bridges? If you've already done the bike trail, but want to see more of those signature bridges, you have plenty of options. I would list them all here, but there are like, 20 of them!
You can find the full list and map here. If you really love them, your best bet is to take a self-guided covered bridge stroll, or maybe a drive since some are pretty far—why not see if you can hit them all?
Cottage Grove and Lowell should be your base for the route, with Lowell being the home of the Lowell Bridge Interpretative Center.
6. Thurston Hills
Feel the wind in your hair as you fly down the downhill bike tracks of Thurston Hills. Although there are over 6 miles of trails in the area, two of them are dedicated to mountain bikes, so you won't have to worry about hitting the odd stray hiker as you pick up speed.
Not your scene? The other trails in the park make prime nature-watching spots, for birds including the western bluebird and Lewis's woodpecker.
We also noticed one of the coolest things at this park, a bike tuning and cleaning station! So there's no excuse to avoid doing this trail, no matter the weather. You'll be able to wash up, pump some air in your tires, and be ready to take on another trail in just a few minutes.
7. Clearwater Park and Landing
Sometimes you need nothing more than a gentle stroll in the park to help clear the mind. Clearwater Park in Springfield is the perfect destination when it comes to more relaxing things to do in Eugene, with the Willamette River flowing calmly through.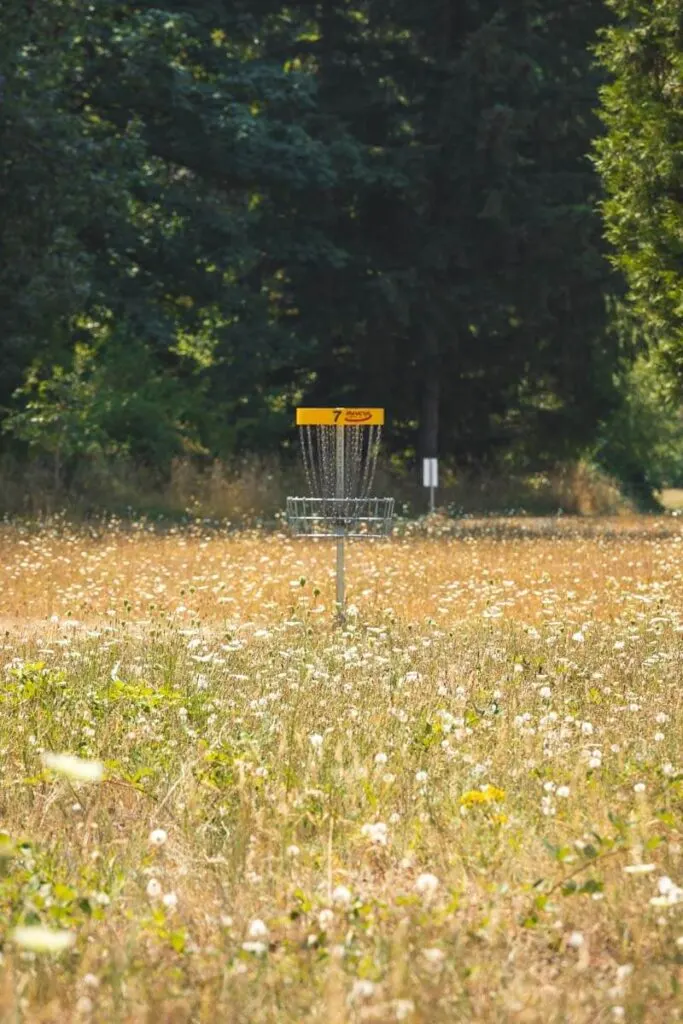 The Middle Fork Path runs parallel to the river, so grab a coffee and take a walk. However, if you find that the river is calling you as you walk along on dry land, then that's okay, the Willamette River doesn't disappoint.
There is easy access for boating, paddle boarding, fishing, and swimming, so you can cool off and enjoy the river from a completely different angle. As an extra bonus, the park is also home to a disc golf course, which provides hours of fun.
8. Mount Pisgah—Popular Thing To Do in Eugene!
It's time to get those calves burning and take a bit of an uphill climb to the summit of Mount Pisgah, as a list of things to do in Eugene wouldn't be complete without a mountain hike. The hike will take you through wide-open meadows, allowing you to soak up the beautiful sunshine and surroundings.
As mentioned, you should expect this hike to be quite a solid climb, but as always, the valley views from the top are worth it. The views reach out toward Diamond Peak in the distance.
The area is actually a maze of hiking trails if Mount Pisgah itself isn't for you, so pick one and go explore.
---
RELATED: 37 of The Best Oregon Hikes You've Got to Check Out
---
9. Alton Baker Park
Alton Baker is the largest developed park in Eugene. No matter what time of year you visit, there is sure to be some kind of event going on, be it a race, a festival, or some other kind of community event to bring visitors and residents together.
There is plenty to enjoy, even if you somehow stumble into the park when there isn't much going on.
Challenge a friend to a round on the 18-hole disc golf course, relax in the Nobel Peace Park, take a pooch to the fenced-off leash park, or take a walk along the Ruth Bascom Riverbank Path System (which extends for 12 miles if you are feeling up for it).
There are also two boat ramps, so during the summer months, you could take a canoe, kayak, or river floaters out onto the water.
10. Skinner Butte and the Columns
I'm not going to lie, the columns at Skinner Butte are pretty weird. How did they form like that, and why?? With such an interesting rock face, it is hardly surprising that the columns are a popular climbing spot, at 50 feet high and with over 50 routes to choose from.
It is crazy that they are right there in the middle of the city, and should definitely be on the list of things to do in Eugene.
If you don't fancy heading up and down the rocks, numerous trails litter Skinner's Butte, the main loop being only an easy 1.5 miles to tackle! Many trails will take you to the top of the Butte with some great views, but there is also a parking lot at the top if you don't have time to make the climb.
Just a little tip, the columns catch the light in the evening, so head down there late afternoon for that coveted golden hour.
11. Delta Ponds City Park
Delve into nature while maintaining that urban vibe in Delta Ponds City Park, a little green oasis in the heart of the city. In the 159 acres that the park inhabits, you'll come across trails, raised walkways, bridges, and wetlands, all of which offer a place to explore and wander at your leisure.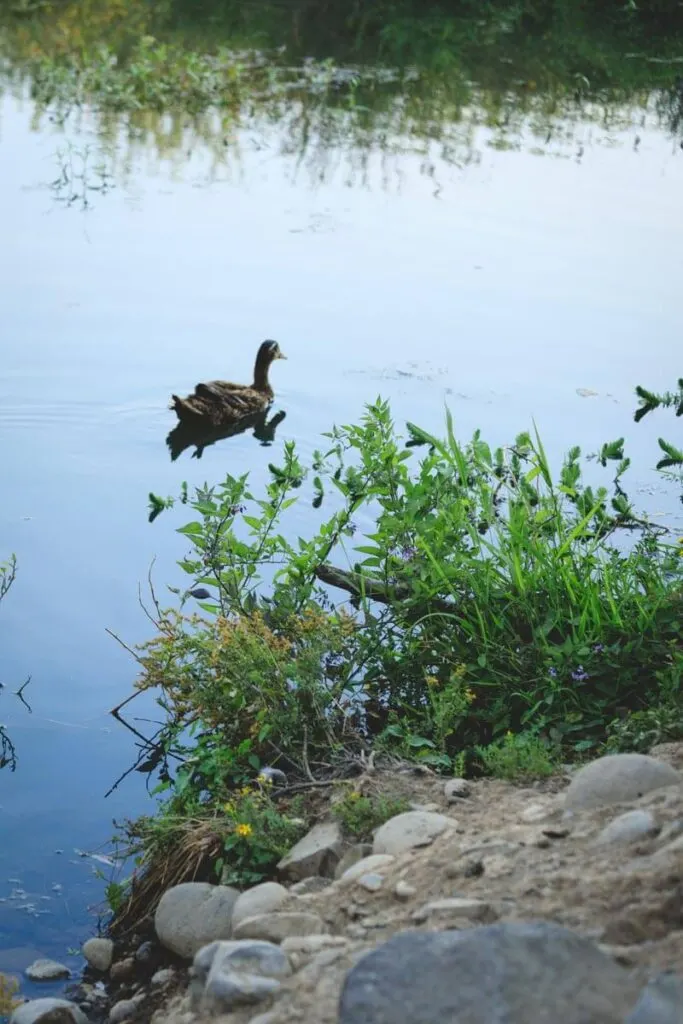 You're pretty much guaranteed to see some form of wildlife. If you are lucky you could even see beavers hard at work, or baby Northwest turtles. As you immerse yourself in nature, you will completely forget about the busy highway just a short distance away.
12. Fall Creek Lake
Spend the day at Fall Creek Recreation Area and I can guarantee that you won't regret it. The entire lake is surrounded by day-use areas, so you can pretty much take your pick of them. There is also a seasonal primitive camping area if you fancied spending the night and extending the fun.
With boat ramps, swimming areas, beaches, picnic areas, plenty of parking, and other amenities, it provides a great way to get out on and around the water. There is even a paddleboard rental if you fancied trying out something new.
You can contact Lakeside Paddleboards ahead of time and they will drop off boards for you, or you can drop by and pick them up. They aren't physically at the lake, so do try to reserve to save yourself time.
The prices are around $40-$70 for half-day to full-day rentals (4 hours-8 hours) and you can rent for the entire weekend at discounted rates.
The lake is actually man-made but surrounded by the lush greenery of the Willamette National Forest, you would never know it. Be sure to check out the 13.7-mile-long Fall Creek National Recreation Trail, which will take you past raging rapids and deep green pools.
---
RELATED: 16 Great Options For Camping Near Eugene Oregon
---
13. Peavy Arboretum
Nature lovers and outdoor enthusiasts alike flock to Peavy Arboretum year after year to enjoy the many activities and wildlife it offers.
In fact, it contains over 100 unique types of trees and shrubs, with trails full of information about them. Even if you didn't think of yourself as interested in plants, as you're walking the trails, the next thing you know you will be reading the interpretive signs with interest.
It is hard not to be drawn into the incredible site.
It makes for a stunning spot to stretch the legs, with one of the best trails to hit being the Peavy Arboretum Loop Hike, although all routes offer new viewpoints and interesting stops along the way.
14. McDowell Creek County Park
If you didn't get enough waterfall action at Alsea and Green Peak Falls, then a trip to McDowell Creek County Park is in order. The 60-acre park boasts four spectacular waterfalls, connected by a charming series of wooden staircases, bridges, and walkways.
It's a beautiful place for an easy stroll or a picnic, or even a swim in the pools below the falls.
The main hike in the park is the McDowell Creek Falls Trail, which will take you past three of the falls. It's an easy 1.6-mile trail that allows you up-close views of Royal Terrace Falls, Majestic Falls, and, of course, McDowell Creek Falls.
Listen and you'll hear the sound of Crystal Falls nearby, which you can reach by taking a detour from the trail.
---
RELATED: 9 Amazing Waterfalls Near Eugene, Oregon
---
Other Things To Do in Eugene—Best Day Trips
Eugene is a great base for exploring other areas of Oregon! Here are some other things to do in Eugene if you have a car and want to explore further. All of these are a bit over an hour from Eugene city center.
15. Abiqua Falls
2 hours from Eugene
Distance: 5.3 miles
Type of Trail: Out & Back
Difficulty: Difficult
Elevation Gain: 249 ft.
For those who are after a more challenging hike, Abiqua Falls will match your tenacity. While the waterfall only stands at 92 feet tall, the basalt columns create a sort of amphitheater, making for one of the most impressive locations and worth-it hikes, especially being 2 hours from Eugene.
The trail is definitely on the rugged side and will require you to follow the creek upstream from the parking lot. Being only about 2 miles to get there, it goes fairly quickly and you'll have no issue spotting the falls, just be mindful when climbing over any boulders for slippery spots!
Ropes are there to aid you when tackling the steep path to the creek. Again, it's a bit more effort than your average hike, but it's all part of the fun of capturing some incredible photos and memories.
---
READ MORE: Your Guide to The Abiqua Waterfall Hike Near Portland
---
16. Silver Falls State Park
1 hour 25 minutes from Eugene
Distance: 7.6 miles (full loop)
Type of trail: Loop
Difficulty: Moderate
Elevation Gain: 1,151.6 ft.
Sitting within Silver Falls State Park is the breathtaking Silver Falls. The park is home to 10 waterfalls, the many at over 100 feet tall, making for some truly awe-inspiring nature walks! Its nickname as 'the jewel of the Oregon State Parks' is absolutely fitting.
You'll get the opportunity to walk behind a few of the waterfalls, including North Falls, standing at 136 feet! This park is decently popular as it fosters well-known waterfalls, but it's worth dealing with some of the crowds.
An absolute must-do in Oregon is to take the Trail of Ten Falls hitting all of the falls along a forest pass.
The 7.6-mile loop trail is made up of several connecting trails, allowing you to determine the length of your trip. Be sure to keep an eye out for glimpses of the canyons in the cascades.
---
READ MORE: Your Guide to Silver Falls State Park—The Trail of 10 Falls & More
---
17. Florence
1 hour 11 minutes from Eugene
Florence is located on the coast of Oregon, situated in a prime spot for exploring tons of other great coastal towns. This town is perfect for those with an active, adventurous spirit with hikes, waterfalls, beaches, and even whale-watching tours!
One of the best things to do in Florence is to hit up the Sea Lion Caves (which are the largest sea caves in America!). Along with the epic clashing waves of the ocean, you'll see sea lions lounging around on the rocks below.
Another must-do activity is to give sandboarding on the dunes a go. Stretching for 40 miles, the landscape is always changing and gives you various sizes of mountains to slide down.
Since Florence is only just over an hour from Eugene, you can tick both of these activities off in a day!
---
READ MORE: 9 Adventurous Things To Do in Florence, Oregon
---
18. McKenzie River Trail
1 hour 19 minutes from Eugene
Distance: 24.1 miles
Type of Trail: Point to Point
Difficulty: Hard
Elevation Gain: 797 ft.
For both hikers and bikers alike, the McKenzie River Trail has a mostly flat terrain, but its length usually encourages the trek to be broken up into two or three days. You'll come across numerous natural landmarks as you pass through forests, lava fields, and waterfalls.
Two of the most popular attractions not to miss along the route are Cleak Lake and Blue Pool.
As this is a 24-mile hike, there are plenty of great camping opportunities along the way. Being a point-to-point trail, there are also shuttles that you can catch if you need/you aren't able to complete the full thing.
---
RELATED: Your Guide to Hiking the McKenzie River Trail
---
19. Proxy Falls
1 hour 15 minutes from Eugene
Distance: 1.6 miles
Type of Trail: Loop
Difficulty: Easy
Elevation Gain: 147.6 ft.
Proxy Falls doesn't present itself as a powerful singular waterfall, but rather it is a full wall made up of dozens of smaller waterfalls flowing gracefully over 226 feet of rocks.
The water dissipates at the end instead of meeting a larger river, and it ends up seeping through the porous lava ground.
Only 1.6 miles long, the Proxy Falls Loop is only accessible half the year in the summer months, making it an even more special trek. A snow gate cuts off all car access in winter.
Based on whether you go all the way to the base of the falls, this hike is generally deemed between easy to moderate. It's one of our favorites in the state!
---
READ MORE: Proxy Falls Hike—Central Oregon's Most Epic Waterfall!
---
Where To Stay in Eugene
While staying in Eugene downtown doesn't exactly come 'cheap', you'll get your money's worth at some of these extremely unique accommodations. Whether you're looking to stay right in the city center or want an option a little further out amongst nature, below are some of the most popular options.
The Gordon Hotel
Right in the heart of Eugene, The Gordon Hotel is an immensely sought-after location, prized for its walkability/proximity to activities and restaurants. There is a gym and restaurant on the premises, as well.
The architecture is modern and the decor, high-end eclectic. A beautiful spot, although it comes at a hefty price tag $$$. But if you're looking to splash out on an amazing vacation, by all means, this is your go-to!
Check Price:
Graduate Eugene
The Graduate is one of the absolute COOLEST places to stay in Eugene. A collegiate theme runs across the entire premises, from the bar to the bedrooms.
A more affordable but still slightly upscale option, this is also located downtown with an onsite gym and quick walking access to the popular 5th Street Market.
Check Price:
Campbell House Inn
Right across from Skinner Butte Park, the Campbell House Inn is a inner-city B&B giving you a bit more privacy and charm topped off with Eugene hospitality.
The rooms all come with antique decor and furniture, giving it a more country feel, and you'll enjoy a complimentary breakfast each morning during your stay. This is a good mid-range price option.
Check Price:
Mystical Rose Yurt
Have you ever stayed in a yurt before? If not, now is your chance! Sitting only 20 minutes outside of Eugene amongst a series of vineyards, you'll feel a whole world away in this little forest haven at Mystical Rose.
A traditional style yurt, you'll be surrounded by flower motifs and eclectic yet rustic decor. Sitting closer to the $100/night mark, this would be a memorable stay for anyone wanting to be a bit more removed from the bustle of the city. You also get free breakfast!
Check Price:
Eugene Lodge and International Hostel
A fantastic option for budget travelers, the Eugene Lodge and International Hostel is just shy of a 15-minute drive outside of Eugene. Sitting right next to Territorial Vineyards and Wine Company, you can enjoy a night out and walk home, then enjoy a free breakfast the next morning.
Very much your standard hostel with some bunk room options and double beds in others, you'll find this accommodation clean and basic with everything you need for a good time while saving some money for activities around Eugene.
Check Price:
More Things To Do Around The Valley
We hope this post helped you better explore Eugene! Don't forget to check out other adventures around the state.