It's true, you don't need to go all the way to the Sahara Desert to adventure on some dunes! Oregon has miles and miles of dunes right along its moody coastline.
From Florence to Coos Bay, you'll find pockets of sandy hills to explore, hiking trails, kayaking, ATVing, and even sandboarding and surfing! Here's how to adventure around this unique area of Oregon.
Oregon Dunes National Recreation Area
---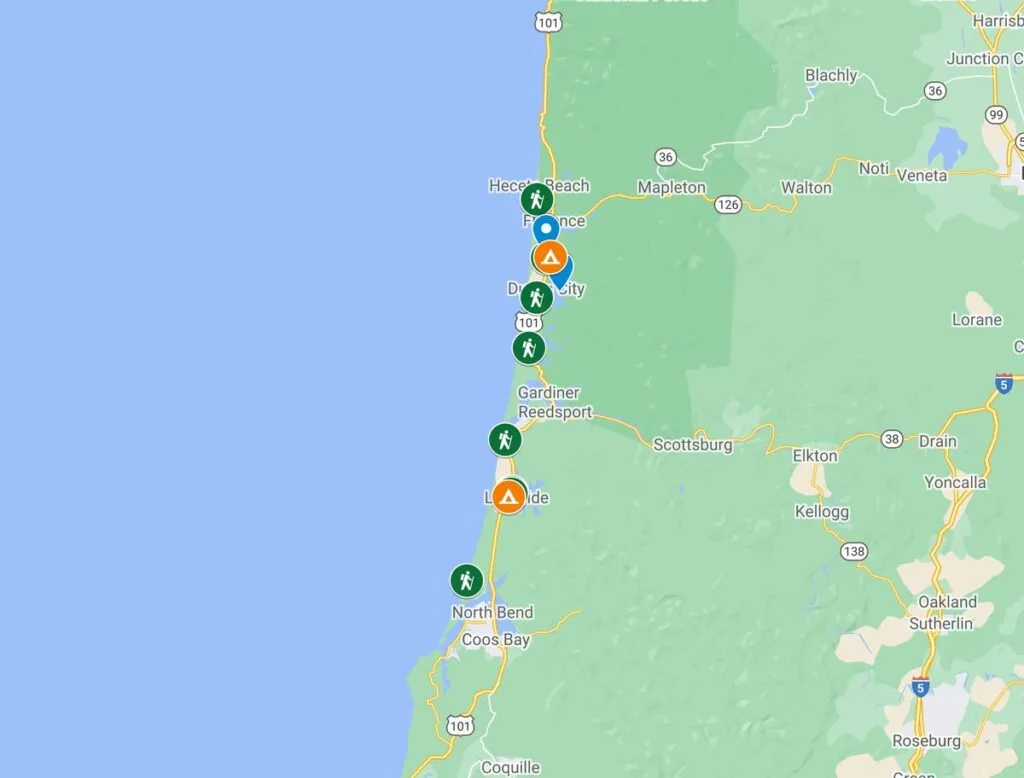 Oregon Dune Trails
There are tons of hikes, but we collected some of the well-worth it and most accessible ones here. Always make sure you're marked on a map somewhere, as sometimes hiking around the dunes can be confusing. One moment you're climbing up a dune, the next, you have no idea where you just came from.
Mark the entrance on your map, and get your hiking shoes…or flip flops on!
Umpqua Dunes & John Dellenback Trail
Distance: 1.8 miles/5.5 miles
Type of Trail: Loop
Difficulty: Easy/Moderate
The Umpqua Dunes trail is the shorter version of the John Dellenback Trail, and no matter which one you head out on, you'll reach the dunes rather quickly.
As you emerge from the shore pines, you'll lay your eyes and plant your feet in a little sandy oasis. The shorter trail is more like a colossal dune area to wander while the John Dellenback Trail will take you through the dunes and out on to the beach.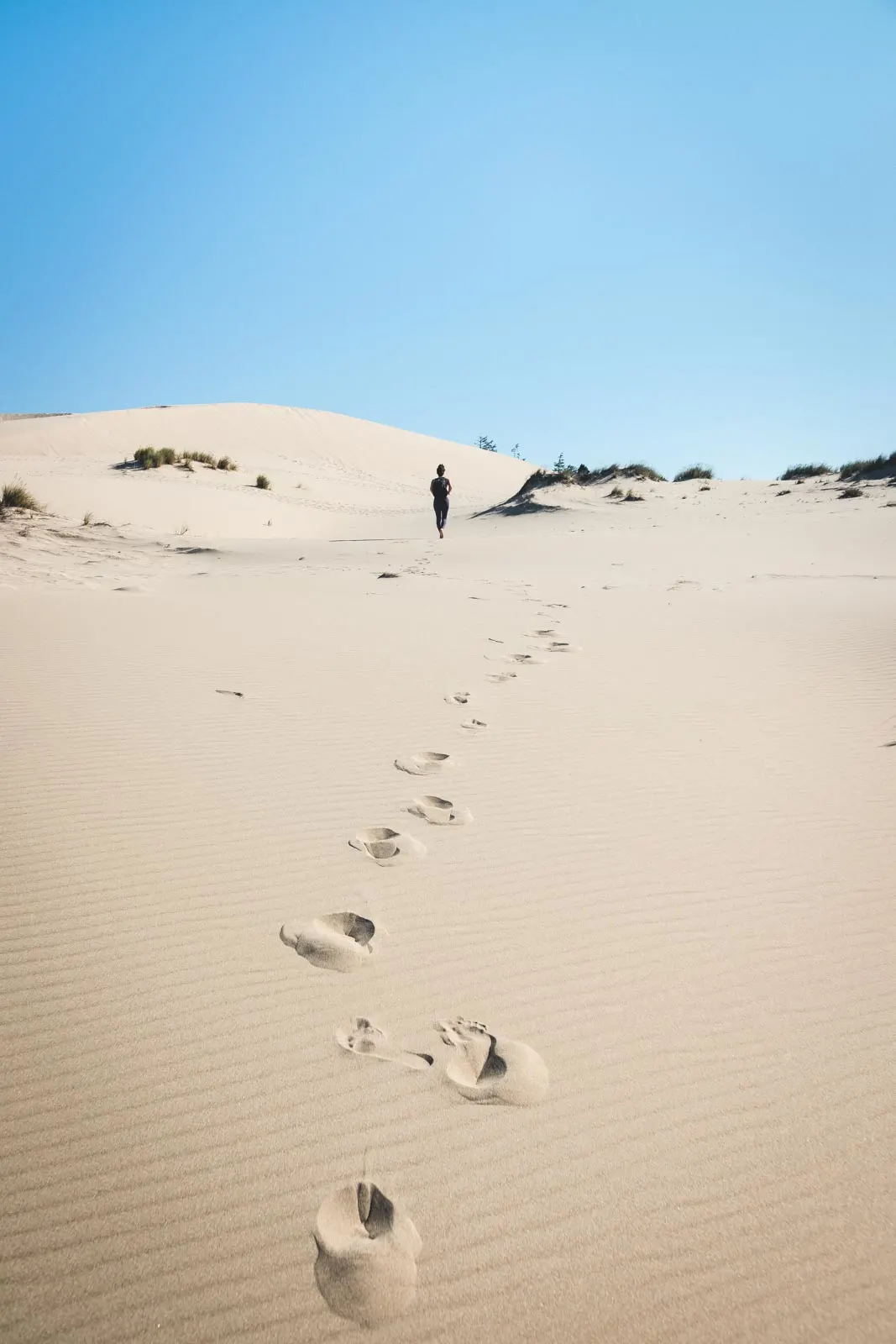 Don't let the trail fool you, it's not a total walk in the park. Heading out to walk in dry sand for a few miles is much harder than you think. Do be careful of the coastal fog that rolls in as the trail indicators get hard to see.
Oregon Dunes NRA
Distance: 4.2 miles
Type of Trail: Out and Back
Difficulty: Easy
This was a really cool and easy trail, mostly because we also happen to be camping right at the trailhead.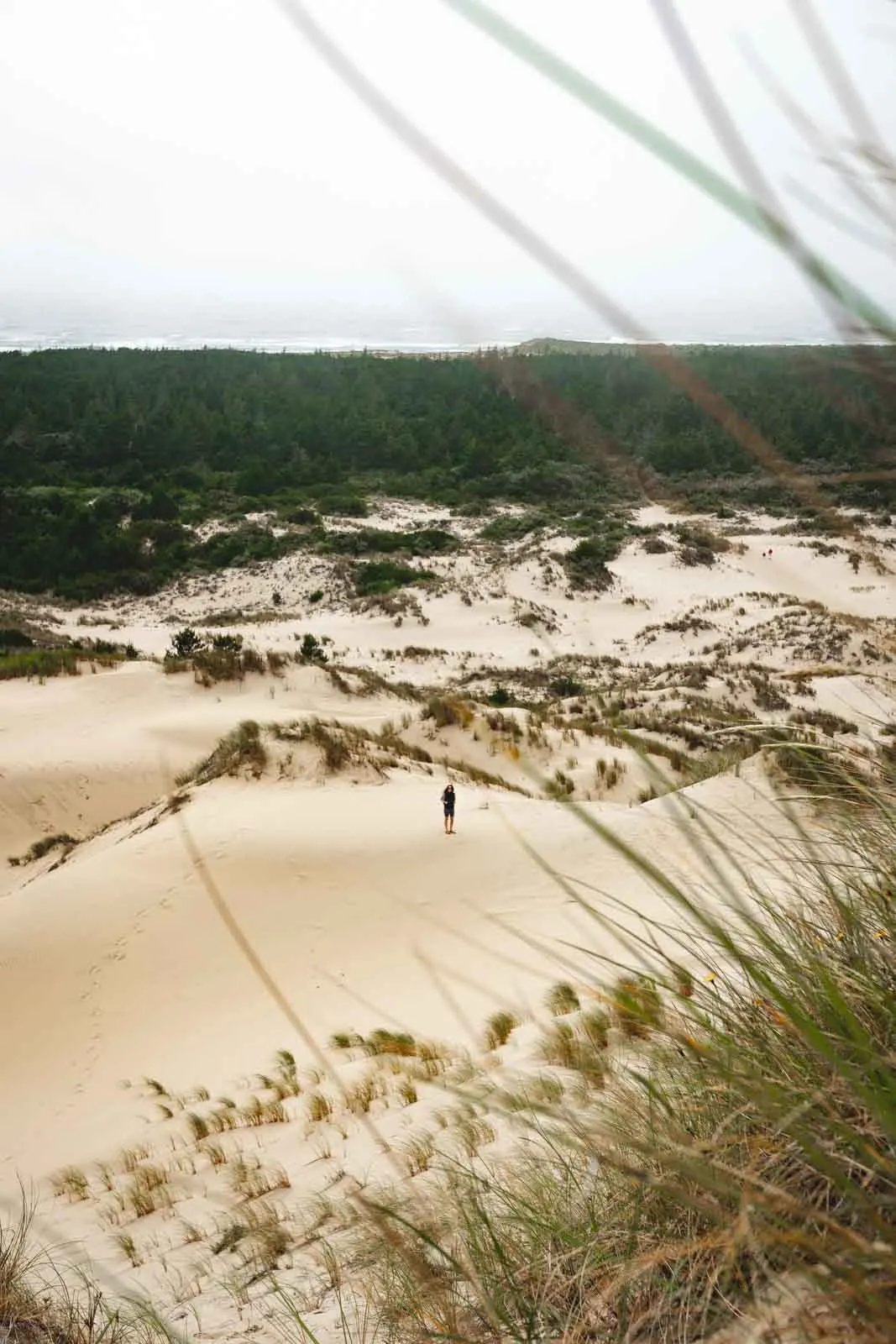 You'll find the trailhead at the parks ticket entrance, and within minutes, you're playing in the dunes. You can choose to stay in the sand or continue to the coast.
Tahkenitch Dunes Trail
Distance: 6 miles
Type of Trail: Loop
Difficulty: Moderate
The Tahkenitch Dunes Trail gives you dunes, forest, and beach. To reach the dunes first, you'll want to stay to the right of the loop. You'll walk through a bit of forest before you make it to a big opening with tons of dunes.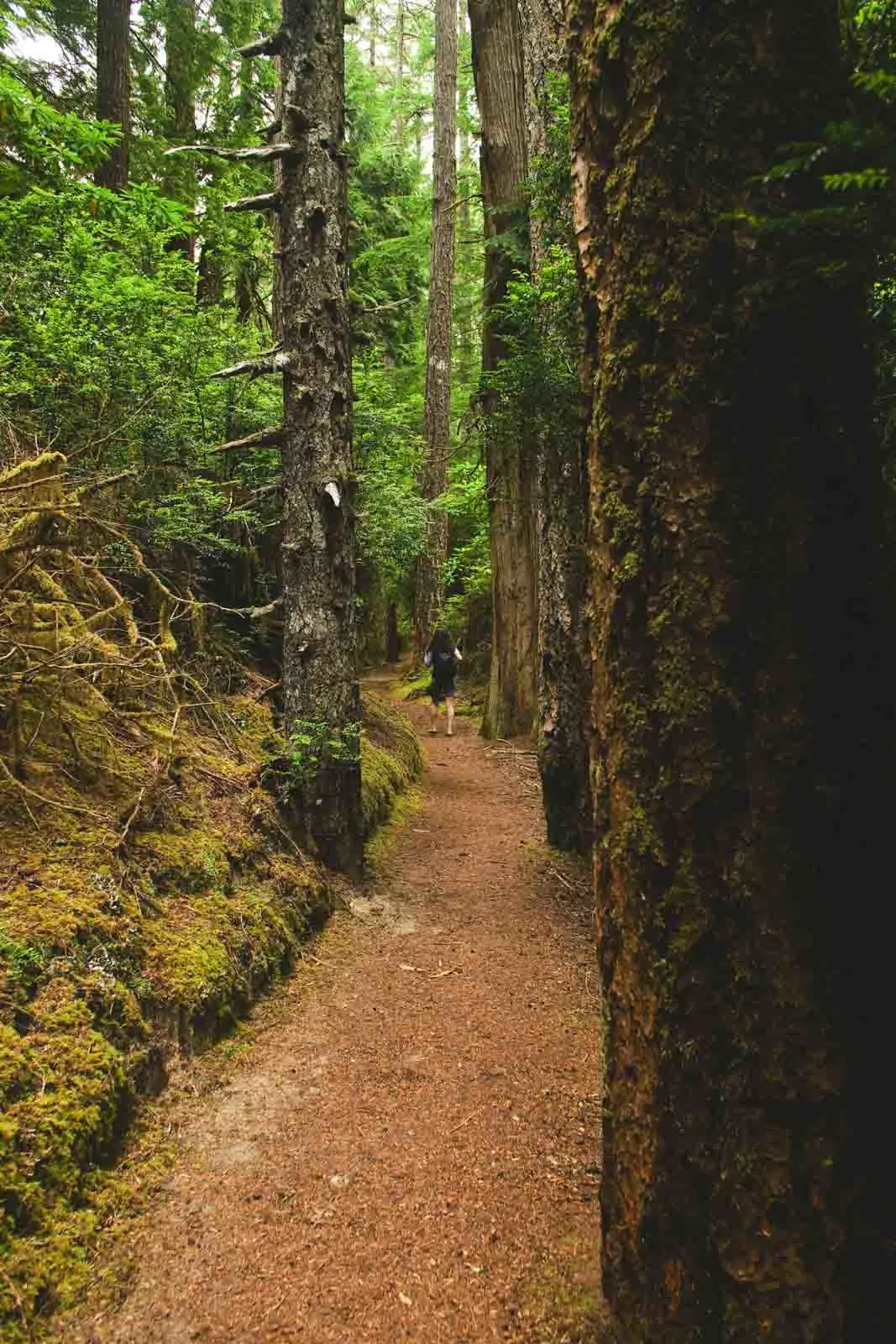 You slowly get closer to the shoreline where the snowy plover bird nest March through September. You'll see driftwood, creeks, the ocean, and then you'll loop back through a beautiful coniferous forest.
South Jetty Day Use Area
These aren't hikes unless you're dying for a walk along the rough, windy, and chilly coastline, but I loved these little hills. There are several South Jetty Day Use stop-offs as you drive to the end of the road.
Stop at any of them and climb up the hills for a unique view of the hairy grass-covered dunes at the crashing coast. The actual coastline can get pretty rough, so if you catch it on a calm and sunny day, take advantage and walk along the shoreline.
Siltcoos Lake Trail (Hiking or Biking)
Distance: 3.5 miles
Type of Trail: Loop
Difficulty: Moderate
You'll see below that Siltcoos Lake is a gorgeous lake to kayak and fish on, but there are a few trails in the area too. This Siltcoos Lake trail takes you right up to the lake, and you can ride it or trek it.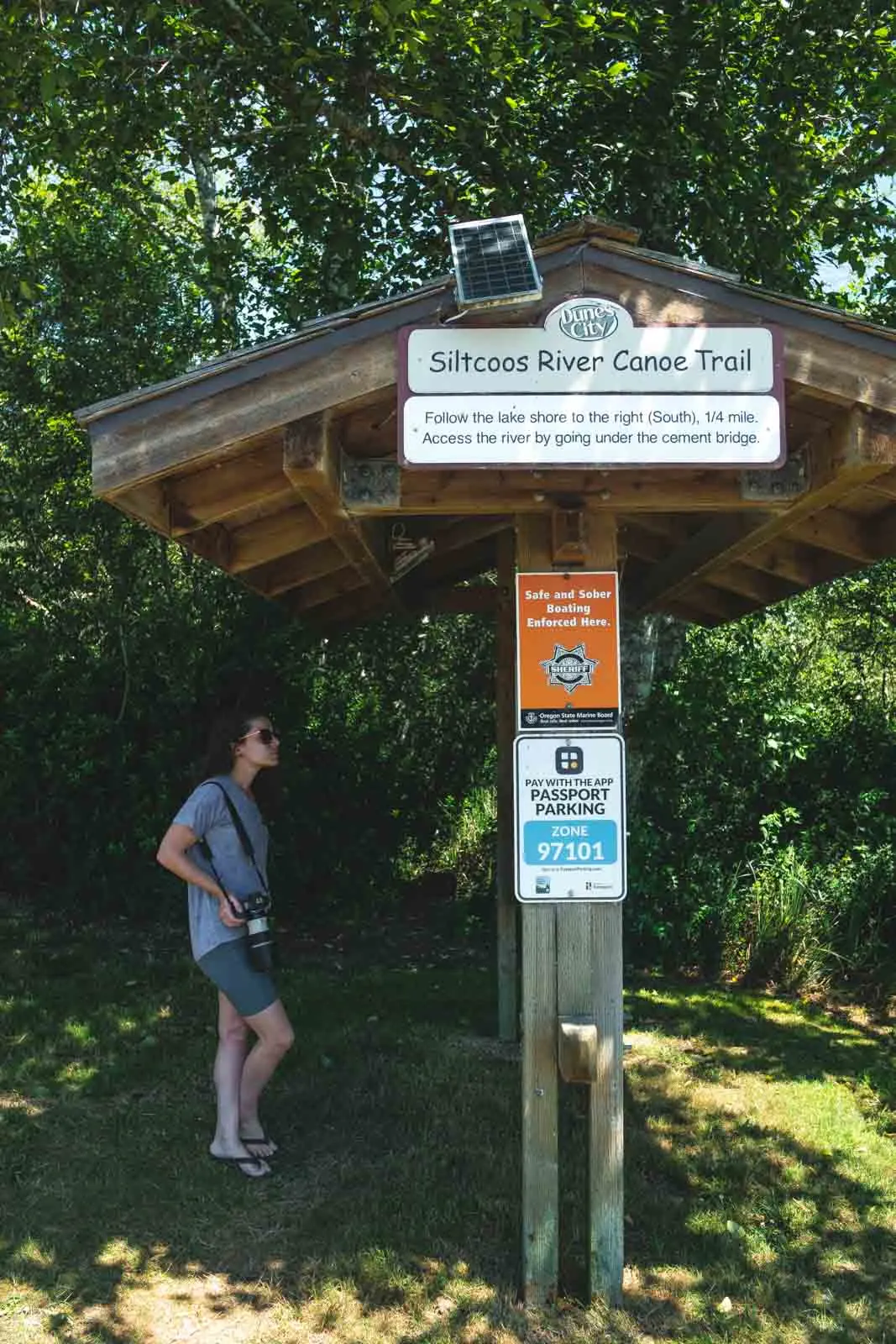 You'll go through mossy overgrowth forests and towering tree canopies, after about a mile and half or so, you'll finally make it to the glistening Siltcoos Lake. When you get to the lake, you'll notice there are a few tent sites if you want to make a whole camping trip out of it.
---
Read More: 17 Breathtaking Oregon Coast Hikes
---
Lake Marie Trail
Distance: 1 mile
Type of Trail: Loop
Difficulty: Moderate
The Lake Marie trail is a great easy trail to stretch your legs while you're near the Umpqua Lighthouse. It loops around the whole lake and is a serene stroll. You can put your kayaks or SUPs in this lake, too, for a fun float.
---
RELATED: 11 Oregon Lighthouses and the Adventures Nearby
---
Horsfall Beach Trail and More
Distance: .7 miles
Type of Trail: Out and Back
Difficulty: Easy
This trail is a bit more like a stroll on the beach but the dunes here are a great place to hang out. This spot has everything from this short trail, to the beach, ATVing and sandboarding opportunities, and even campsites.
On the Water Around the Oregon Dunes
The dunes are sprinkled along the coast and there are some well worth it lakes in the area too!
Siltcoos River & Lake
If you're tired of staring at the water and are ready to hop in, you're in the right place. The beautiful Siltcoos Lake is the perfect spot to put in for a day of fun. There's a trail that runs to the lake as mentioned above, but here is where you can park with your water equipment.
If you don't have your own, you can contact here for rentals.
Once you're in, you can explore the lake and river to your delight. The lake is vast, and you could go on for hours, but the most popular thing to do is to follow the river to the ocean!
The Siltcoos Canoe and Kayak Trail is one of the coolest things to do around the Oregon Dunes. Tangled tree limbs, egrets flying above you, boathouses, and yes, even some dunes can be seen on this epic paddle! You may even see seals, otters, and even a stealthy coyote roaming the riverside.
The lake is cool and calm, with no rapids or crazy currents to watch out for. Just breathe, paddle, and enjoy. Once you get closer to the beach, you'll see what's waiting for you, depending on the tides. When you're ready for a break, you can take a walk along the beach (if it's not mid-March through mid-September for snowy plover nesting), and then hit the river back in reverse back to the start.
Do keep in mind, the winds can be strong, and going the opposite way on the river will involve some strong paddling efforts. You'll also need to watch for down trees that want to tip you over.
Cleawox Lake
Cleawox Lake is a glistening clear saltwater lake encompassed by the nearby dunes, therefore damming is from the ocean. The dunes around the lake are continually changing with the ever blowing winds, and little by little, the wind blows more sand into the north side of the lake, filling it up a bit each year.
Cleawox Lake is still big enough for some great summer fun though! Take a refreshing dip, paddle around, or go fishing. The Jessie Honeyman campground is just behind the lake where you can set up for the night.
Surf
Just outside of Florence at the South Jetty, you'll slide into some waves in the jetty nook that has some great rides mostly in the summer months. Winchester Bay is another spot that sometimes has a few good runs available if the weather behaves.
For more surfing info, check here.
---
Read More: 11 Most Scenic Oregon Coast Towns (And What to Do There!)
---
Dune Buggy the Oregon Dunes
The Oregon Dunes National Recreational Area opens about half of the area to motorized vehicles. Rent or bring your OHV/dune buggy, and you'll have a playground of sand to rip through.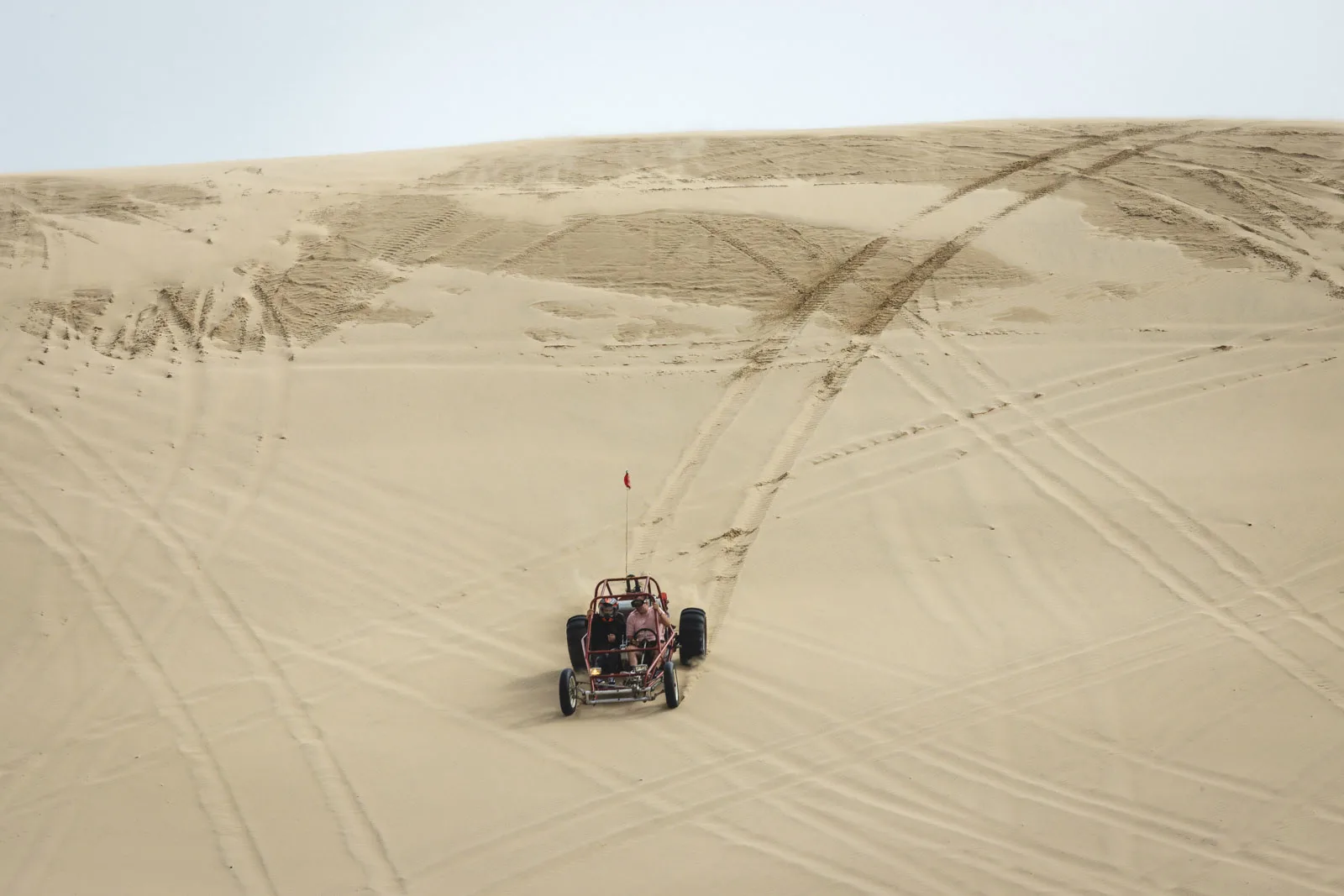 There are numerous areas where you're allowed to ride, but it's good to know where you can't ride too. Here are the exact areas with maps on where you can ATV on the Oregon Dunes:
You can expect to pay around $45/hour to rent a dune buggy to roar up dunes and fly down them again and again! It's thrilling to wizz around, leaving a dusty sand cloud behind you and no true road to follow, just a massive sandpit!
The most popular areas to go are South Jetty and the Umpqua Dunes.
Sandboard the Oregon Dunes
Don't forget, if you're not into dune buggies, there's also sandboarding down the dunes, which can be just as entertaining but also save you a buck or two. You can get them for as low as $10 an hour. No need to keep up with the dune buggies either, you can grab your sandboard and head almost anywhere else you see a dune.
The South Jetty Day Use area mentioned above is a cool spot to slide down dunes, as is the Umpqua Dunes.
Camping & Lodging Around the Oregon Dunes
There are plenty of camping opportunities, hotels, and cool, unique coastal properties to stay around here. The Oregon Dunes National Recreational Area spans over 40 miles and runs from Florence in the north to Coos Bay in the south. Reedsport would be in the middle of those two towns.
Staying anywhere in between is perfect, and you'll be close to something amazing either way.
Here are some beautiful and unique accommodation options for those not into camping:
Jessie M. Honeyman Memorial State Park Campgrounds
This campground has just what you need and are like most campsites around the state. Set up in your little cove, complete with a fire pit and an encompassing pine forest. The best part about this campsite is there are dunes hikes within walking distance.
There's a day-use area, fishing, and rentals available here as well. Remember this is where the beautiful Cleawox Lake is as well.
Eel Creek Campgrounds
The Eel Creek campground is another area perfect for setting up as you explore the Oregon Dunes. It's similar to the Jessie M. Honeyman campground. Jessie Honeyman offers more campsites, but otherwise, the campgrounds are quite similar. This campsite also has some trails within walking distance to enjoy.
There are several other camping opportunities in the areas, so if these are full, you'll have other spots to choose from.
---
RELATED: 25 Cool Oregon Coast Campgrounds to stay At
---
Tips for Exploring The Oregon Dunes
Don't forget your Northwest pass, you'll need it most places to park for the day.
Since there's a lot of sand, hiking around the dunes in flip flops and barefoot could be a great idea. We did it. If you choose hiking shoes, you'll need to empty the sandpit that accumulates often and may just end up barefoot too! There isn't a wrong choice in footwear here really, just whatever you'd be most comfortable in.
Since there's such a huge span of space to explore the dunes, there will be tons of opportunities for stores, gas stations, and anything else you'd need all around you. So no need to fret on the availability of items if you forgot something.
The Oregon Coast is MOODY! Bring layers, it can get cold anytime, even in summers, and bring a light rain jacket too.
More Things to Do on The Oregon Coast
We hope this guide helped you plan some amazing things to do around the Oregon Dunes National Recreation Area! Check out more posts on the Oregon Coast and even more adventures around the state.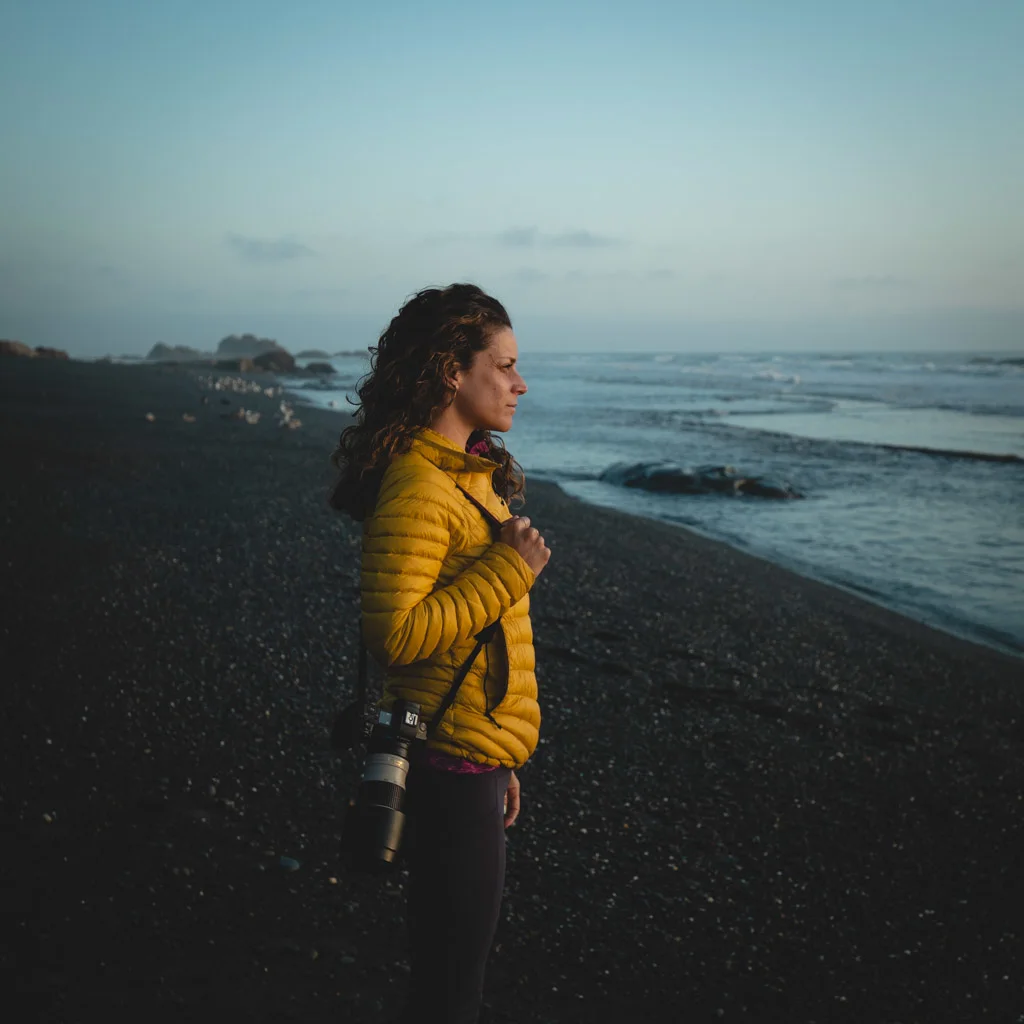 I've been perpetually traveling and living around the world for years but it's hard to beat Oregon and the PNW. After years of road-tripping the area, I guess you can say I know it pretty well! When I'm not writing guides for you, you can catch me somewhere petting a dog, attempting to surf, hiking a volcano, or stuffing my face with bread and cheese.