Are you hitting up the North Oregon coastline and wondering what are the best things to do here? There are so many places to visit in the region, from beautiful state parks to charismatic towns.
Whether you want to go hiking, laze out on a beach or go back in Oregon's fascinating history, there's something for you here!
This blog post details all of the best things to do on the North Oregon Coast to help you plan your visit!
Things To Do on the North Oregon Coast
---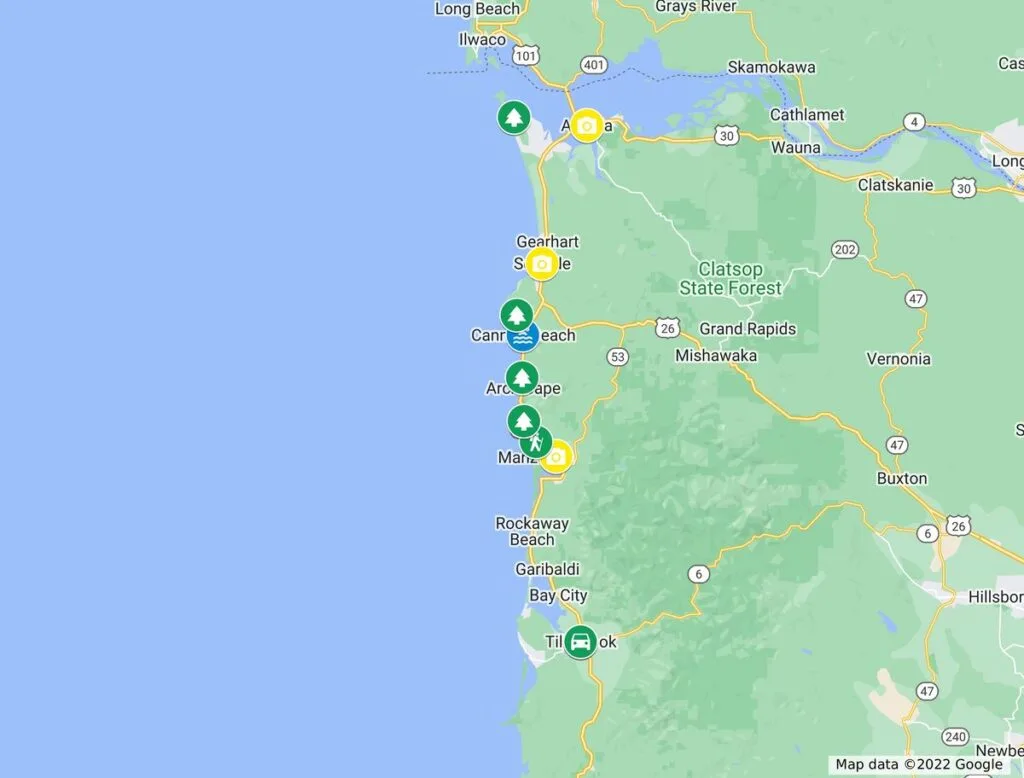 Don't Forget This!
A lot of the best adventures around Oregon will require a Northwest Pass. You can easily get one delivered straight to your door. Grab it now before you leave!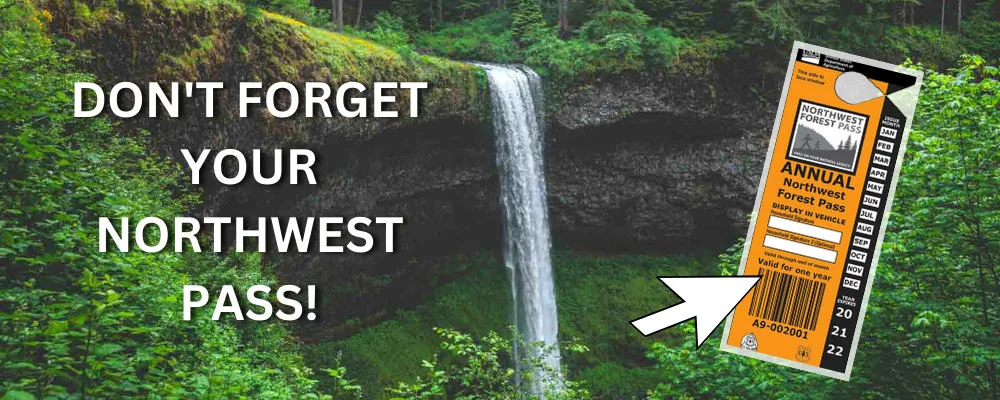 1. Astoria
Sprawled along the Columbia River, Astoria is one for history buffs – it's the oldest city in the state. Enjoy this as you walk around its streets lined with period properties and take the historic trolley along the riverfront area.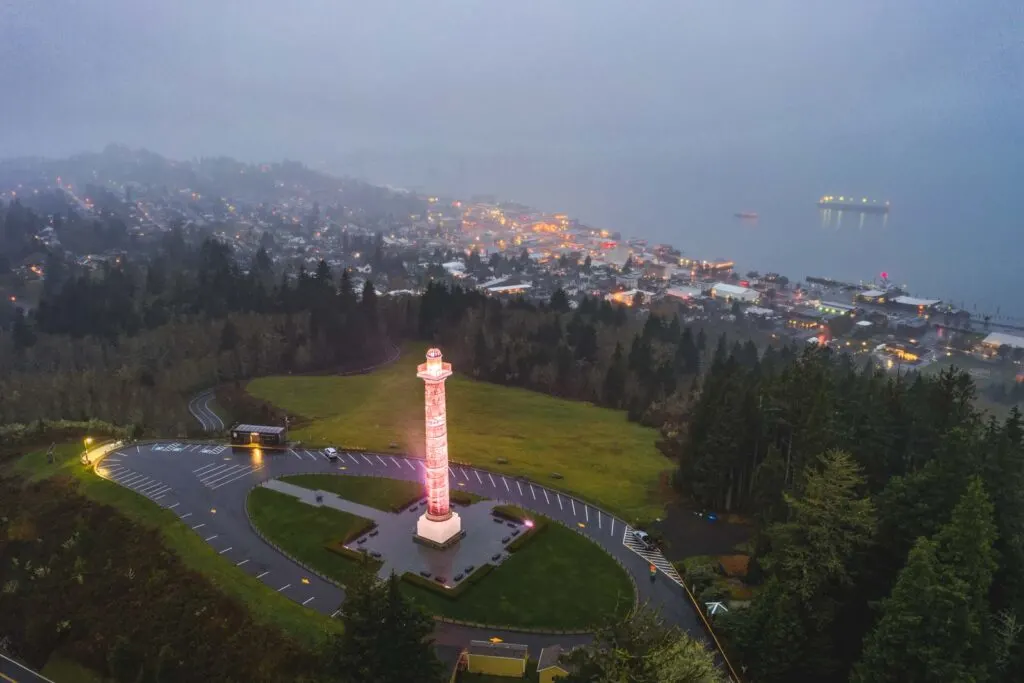 If you want to get a nature kick, try out the four-mile Airport Dike Trail, which leads to vistas of the city itself and Youngs Bay. Or, traverse the Bayfront Dike Trail, which leads through wetlands.
Another popular hike is the Cathedral Tree Trail, which leads to the Cathedral Tree itself, a Sitka spruce tree about 300 years old, as well as the famous Astoria Column!
---
READ MORE: 11 Adventurous Things To Do in Astoria, Oregon
---
2. Fort Stevens State Park
A 4,300-acre state park, Fort Stevens is an easy trip from Astoria, or it's well worth a visit in its own right. Hike, cycle or even drive the 9.1 miles of "Long Trail," which winds through meadows of wildflowers, encompassing beautiful vistas of the ocean and the park's lake.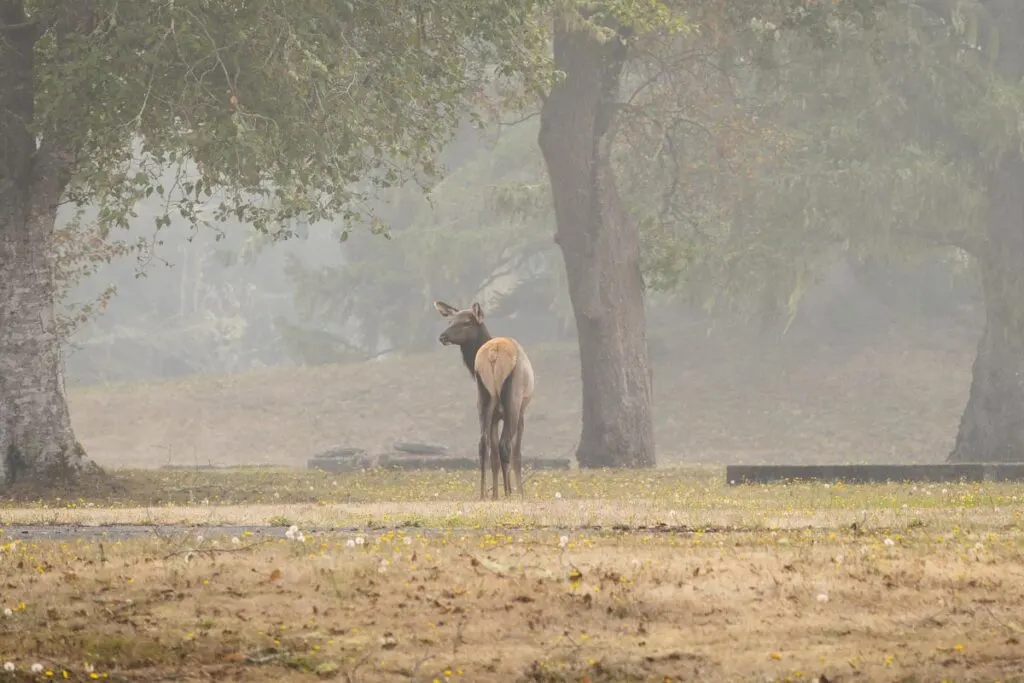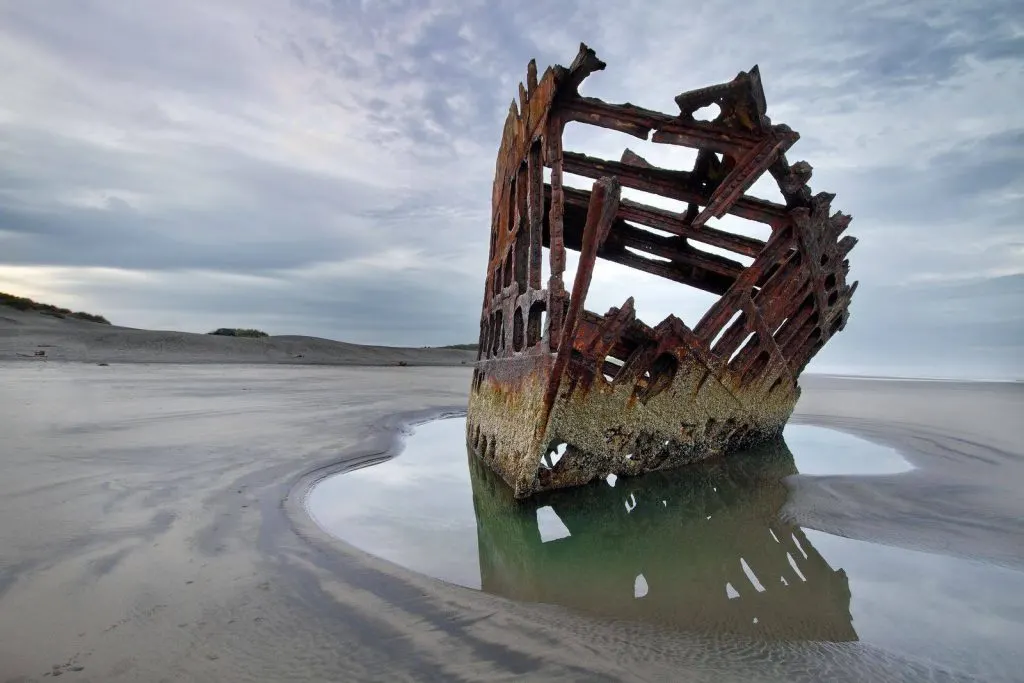 Fort Stevens State Park is renowned for its wildlife and the Peter Iredale shipwreck, an icon for the park. There's also plenty of space to fish and camp!
---
READ MORE: Your Guide to Fort Stevens State Park
---
3. Seaside
This Oregon settlement is right by the coast, as you'd expect from a city named "Seaside." The beachside town itself exudes charm, with plenty of rustic buildings and eateries to enjoy. However, there are lots of adventurous activities in the nearby area.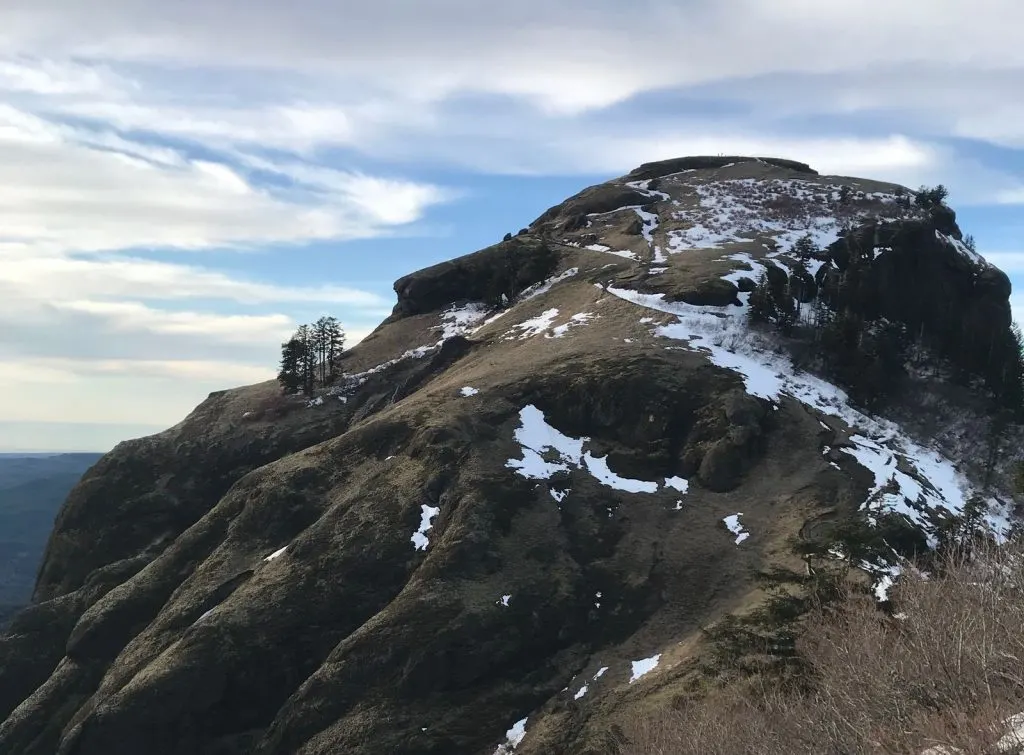 Start by hiking up the nearby Saddle Mountain, a 5.2-mile journey with some incredible vistas both on the journey and at the summit. You'll be able to see most of the peaks in this part of the state here, so it's well worth the climb! The Tillamook Head National Recreation Trail also traverses through Ecola State Park.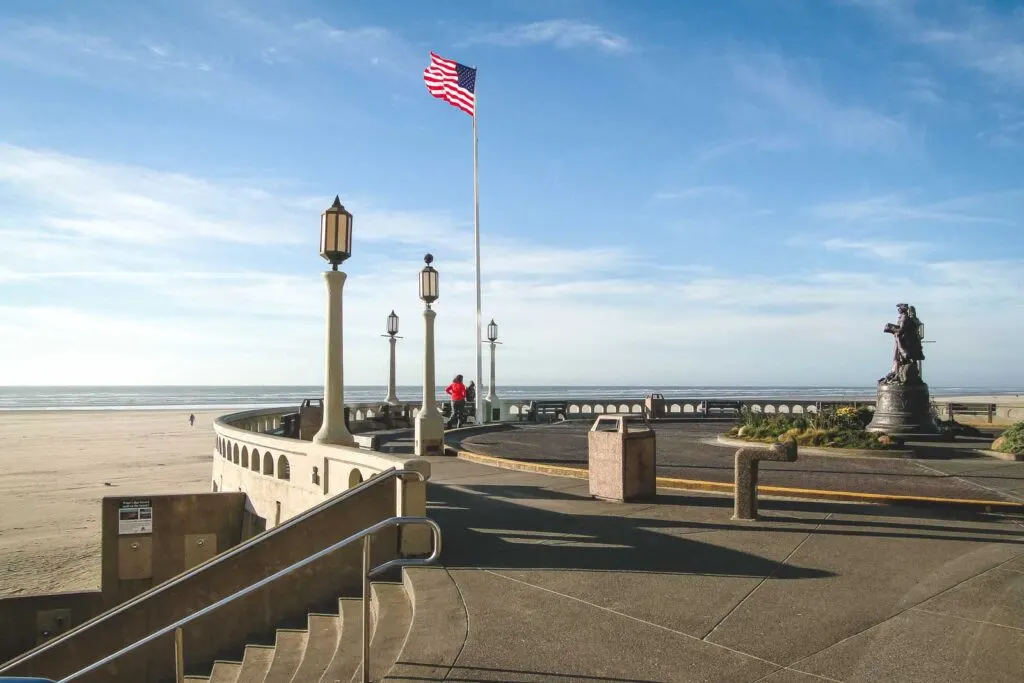 Or, if you fancy something a little more chilled, the Seaside Promenade Walk is a 1.5-mile walkway that takes in the beautiful coastline and allows relishing in the town's atmosphere.
---
READ MORE: 13 Adventurous Things to Do Around Seaside, Oregon
---
4. Ecola State Park
Ecola State Park spans nine miles of beautiful coastline, north of Cannon Beach and wrapping around Tillamook Head. One of the best things about this state park is that it's all connected by the Discovery Trail, which takes in the entire state park and its epic views and gorgeous beaches!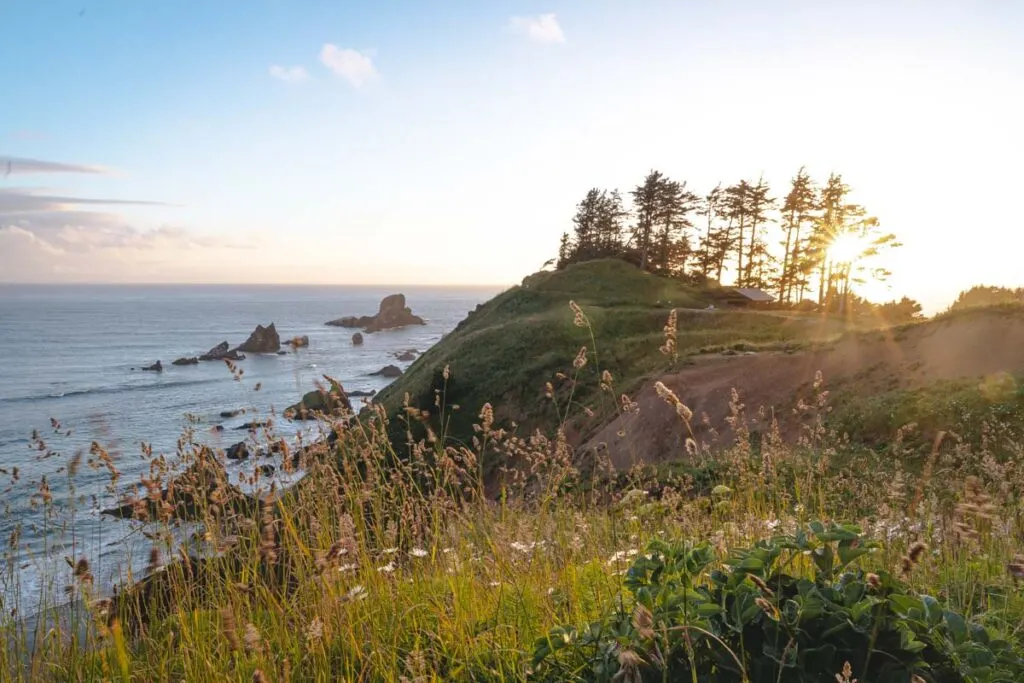 Suppose you haven't got the time to make the entire trail; there are plenty of shorter treks in the state park. Try out Clatsop Loop Trail from Indian Beach, a 2.5-mile hike with uphill climbing. Or enjoy the Crescent Beach Trail, which is 2.3 miles and leads you right down to the beautiful ocean.
If you don't want to hike at Ecola State Park, hang out at the beach instead! Crescent Beach is beautiful and not that touristy, or you could hang out at the coastline and look out for "Terrible Tilly," the Tillamook Lighthouse.
---
READ MORE: Your Guide to Ecola State Park on the Oregon Coast
---
5. Cannon Beach
Cannon Beach is a must-visit if you're exploring the North Oregon coastline. Home to Haystack Rock, the sight most synonymous with the state, Cannon Beach is a wild and rugged stretch of sand. It's perfect for walking along, photography, or even watching out for fish and other marine life.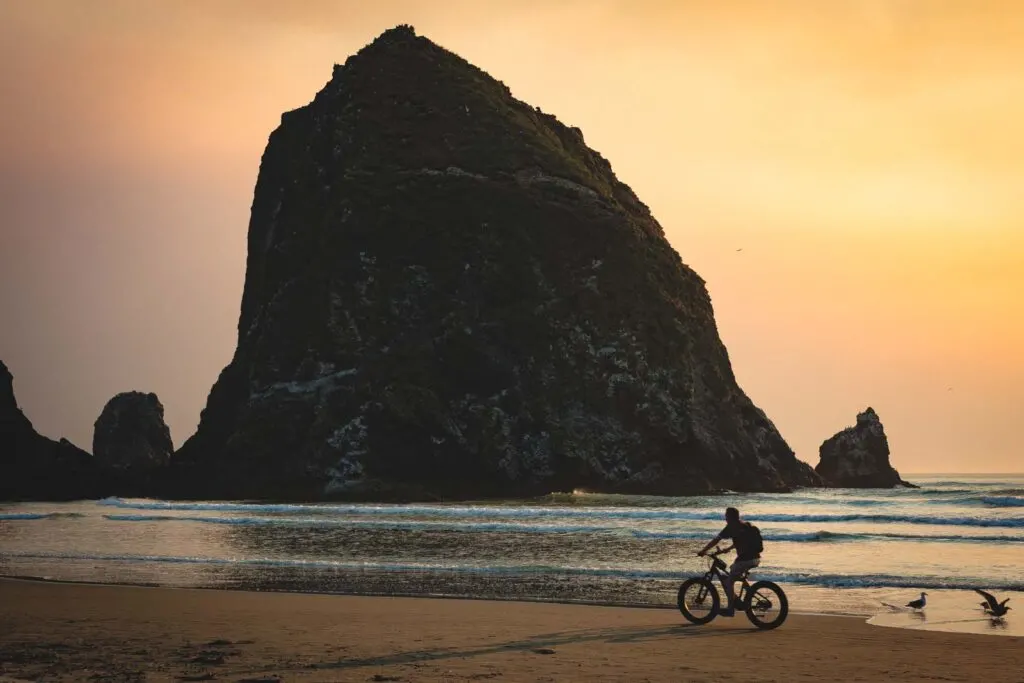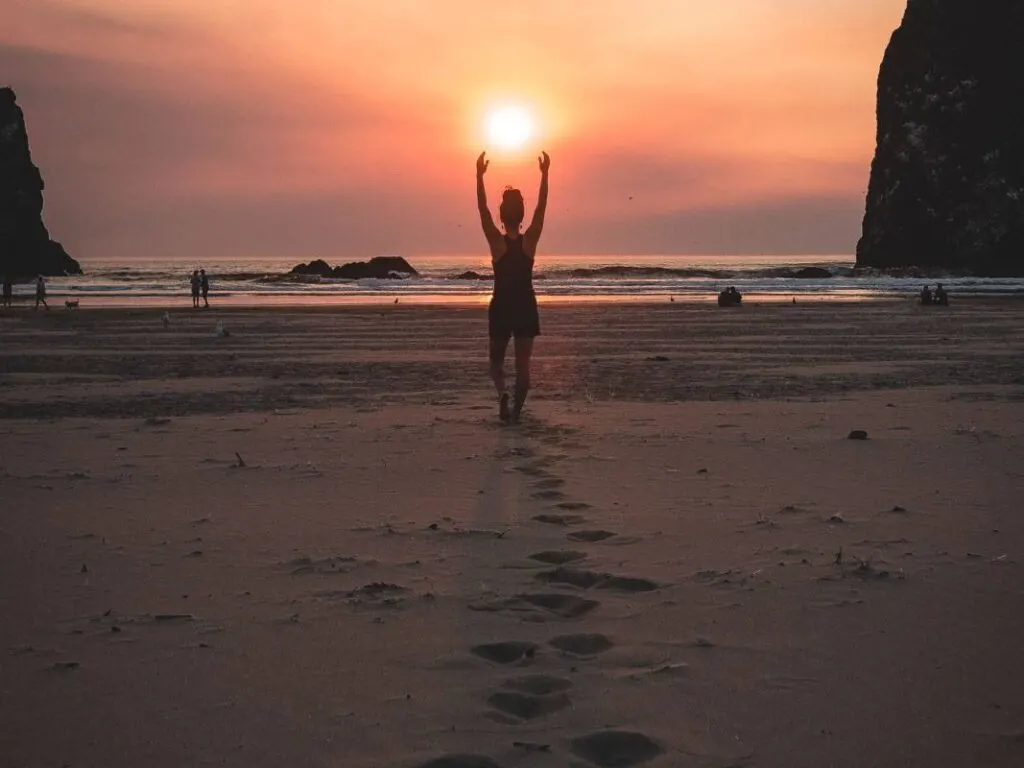 Get up close and personal with Haystack Rock at low tide and look out for marine life, or if you're here around April through August, look out for the adorable puffins!
---
READ MORE: 14 Adventurous Things To Do in Cannon Beach
---
6. Hug Point
Just a short drive from Cannon Beach, Hug Point is an area that's famous for its beautiful waterfall and sea caves. Hug Point is called this because travelers to the area had to "hug" the coastline as they descended into the caves.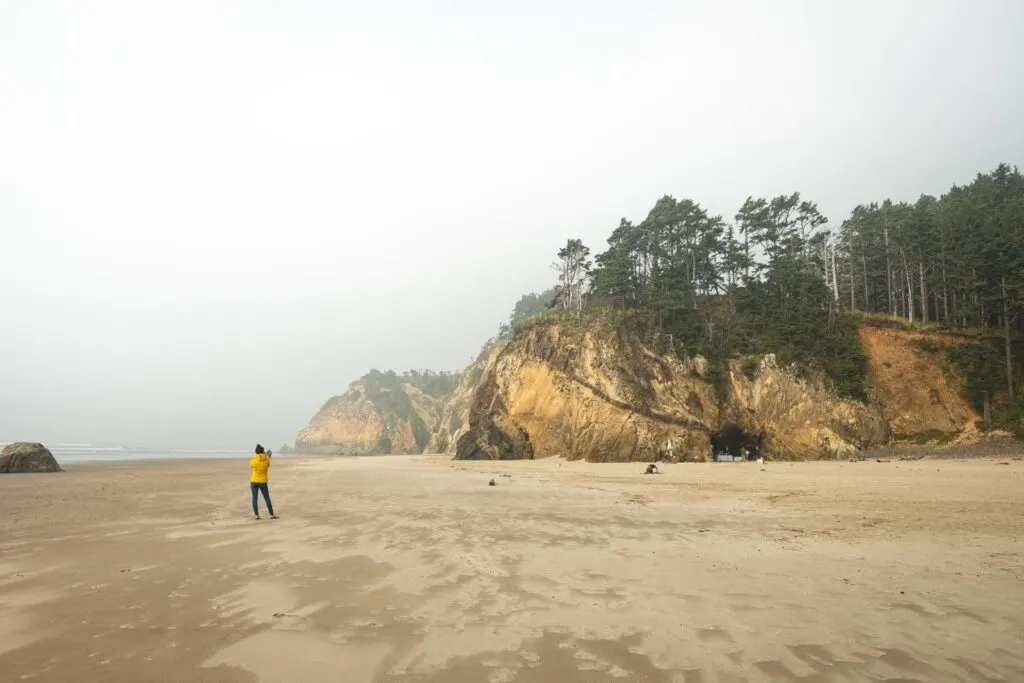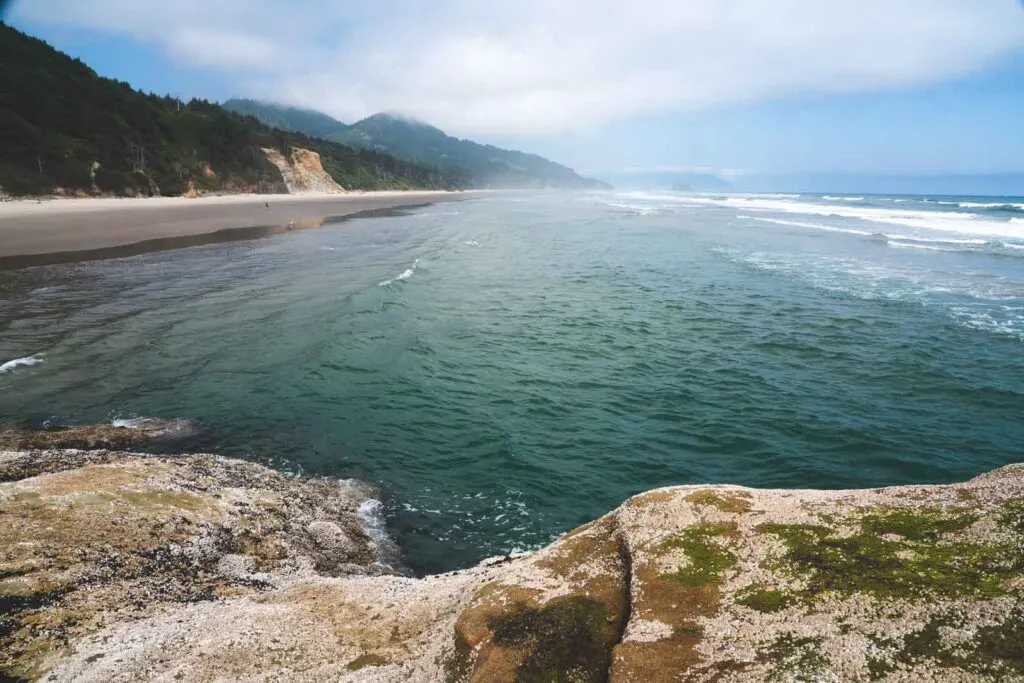 Nowadays, Hug Point is a little easier to access, but it remains just as beautiful, with views out toward Haystack Rock. Gaze at the spruce trees, explore the sea caves and traverse the beach, taking in this spectacular part of Oregon's coastline.
---
READ MORE: Your Guide to Hug Point State Recreation Site
---
7. Oswald West
Another wonderful state park on the northern Oregon coast is Oswald West. With many hikes, Oswald West State Park gives ample opportunities to enjoy the state's unique coastline.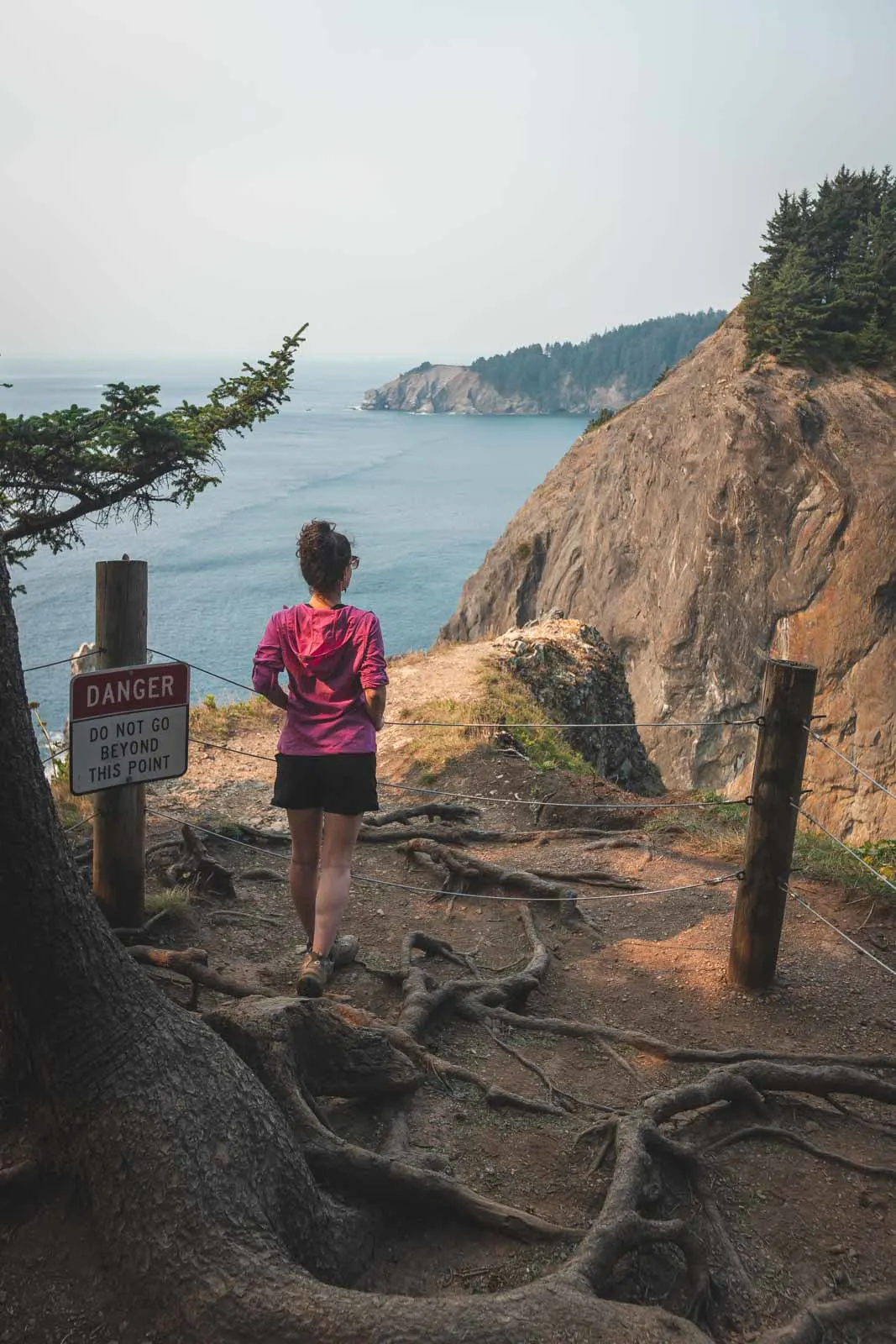 Devil's Cauldron is a must-visit. This out and back trail culminates in gorgeous views of a small cove with crashing waves inside just under three miles.
---
READ MORE: Your Guide to Oswald West State Park
---
8. Neahkahnie Hike and Beach
Distance: 2.8 miles
Type of Trail: Out & Back
Difficulty: Hard
Elevation Gain: 866 ft
You can also do the Neahkahnie Mountain Hike from Oswald West State Park. It leads to a phenomenal view of this part of Oregon's coastline and takes 1.5-2.5 hours to complete.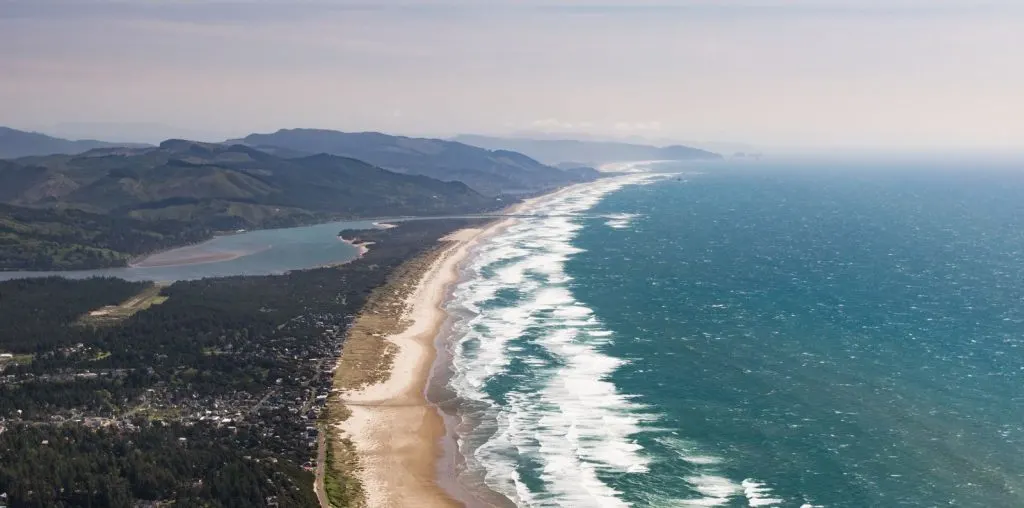 Although it's not the longest trail in the North Oregon Coast area, it's quite strenuous and very steep – expect your calves to be burning as you reach the summit!
While you're in the region, don't miss Neahkahnie Beach. As the tide rolls out every day, enjoy the epic rocks of the beach and the bottom of the mountain.
---
RELATED: 17 Breathtaking Oregon Coast Hikes
---
9. Nehalem
Situated on the picturesque Nehalem River, this settlement was a timber boom town, and its history is evident through just a short walk around.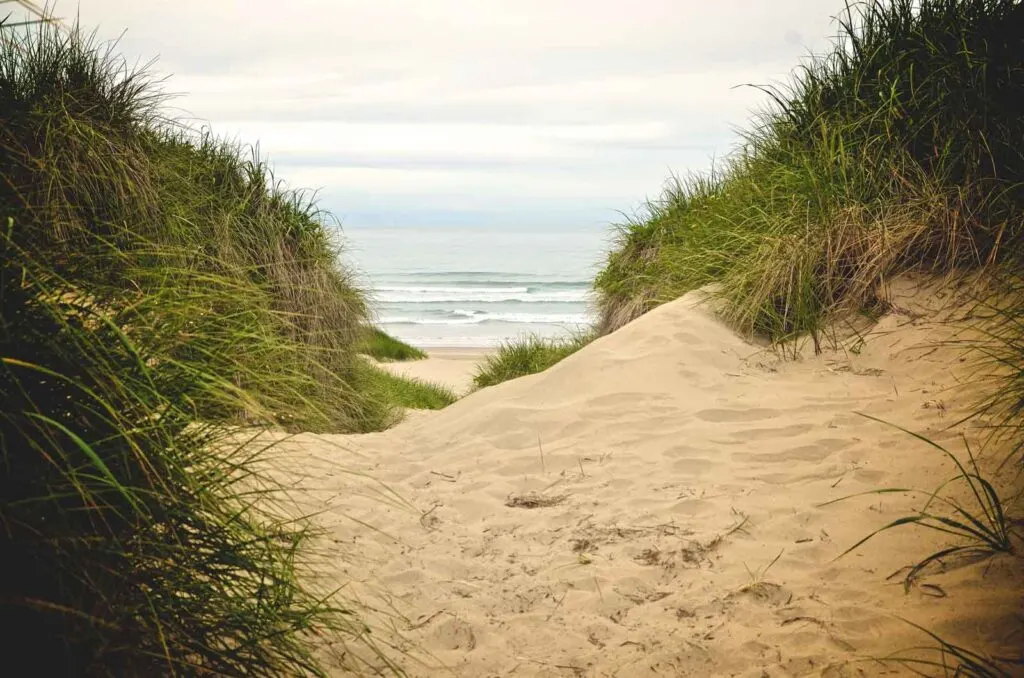 Enjoy the classic frontier-style buildings adorned in flowers, hang out at the riverside docks, take in the beautiful scenery, or try your luck at fishing; the area is rich in coho salmon.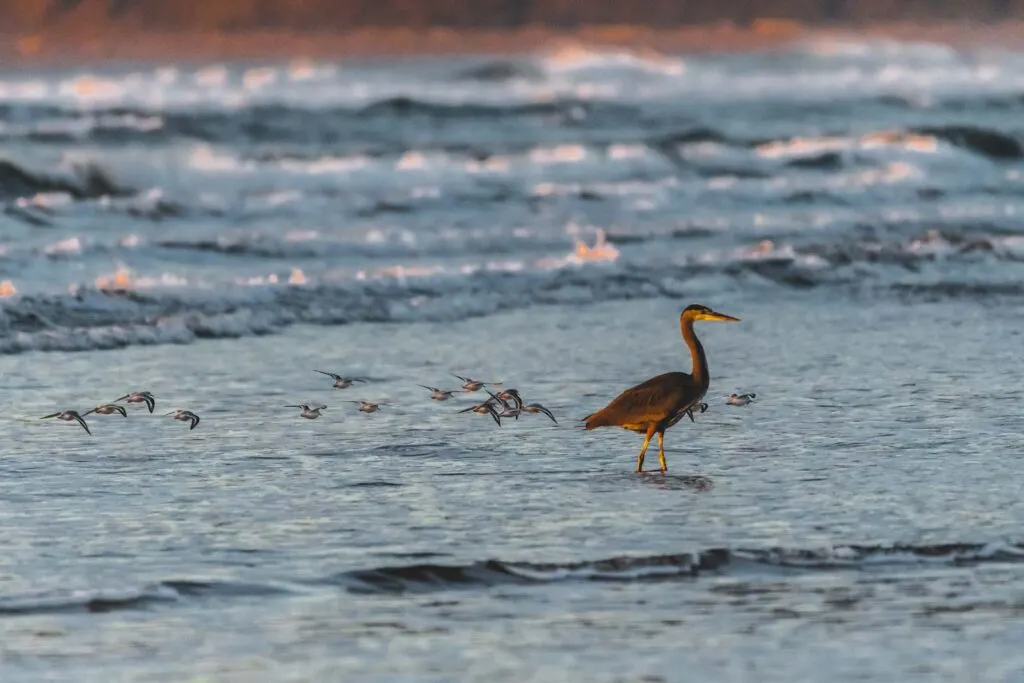 Nehalem Bay State Park is the gem of the area with a massive spit and trail to traverse and excellent camping opportunities.
---
RELATED: Your Guide to Nehalem Bay State Park
---
10. Tillamook
Situated right on the edge of the fertile Tillamook Bay, Tillamook is a gorgeous town, possibly most famous for its dairy industry. Visit here to enjoy the landscapes, but there's much more to Tillamook when you scratch beneath the surface.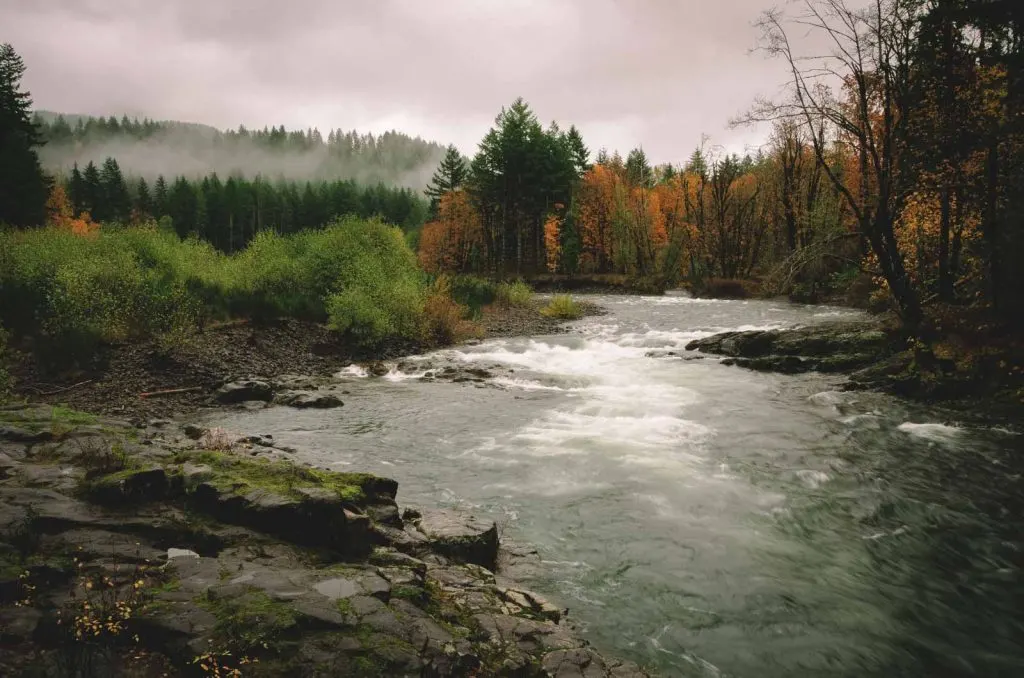 The town has an extensive aviation history, with an aviation museum showcasing historical planes and other air vehicles. Also, enjoy the plethora of hiking trails, 800 vast miles of navigable river for kayaking and other watersports, and the incredible state forest.
---
RELATED: 7 Tillamook State Forest Hikes to Tackle
---
11. Three Capes Scenic Loop
For one of the most gorgeous drives in the state, check out the Three Capes Scenic Loop. This is one of the best things in Tillamook, leaving the town and traversing along the nearby sea. It goes past some of the most mesmerizing views of this area of the state.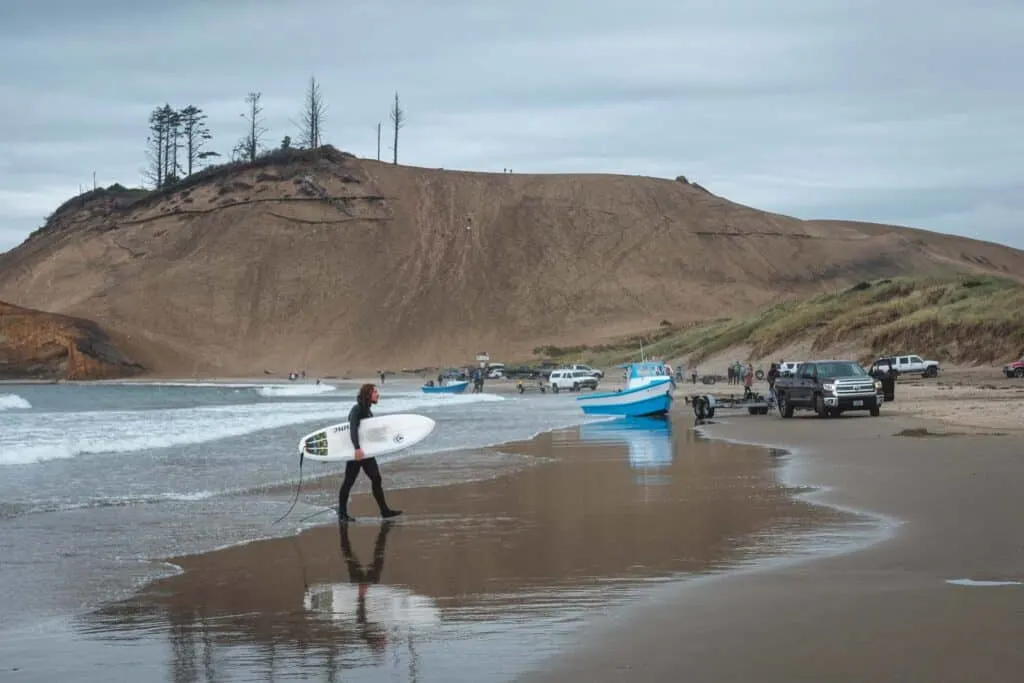 See the beautiful Netarts Bay (a popular location for clamming!), hike up to Cape Lookout, take in the Tillamook Coastline's views, and travel through the historic forest. Head to Cape Meares for the most dramatic views of the coast, a lighthouse, and more gorgeous coastal trails.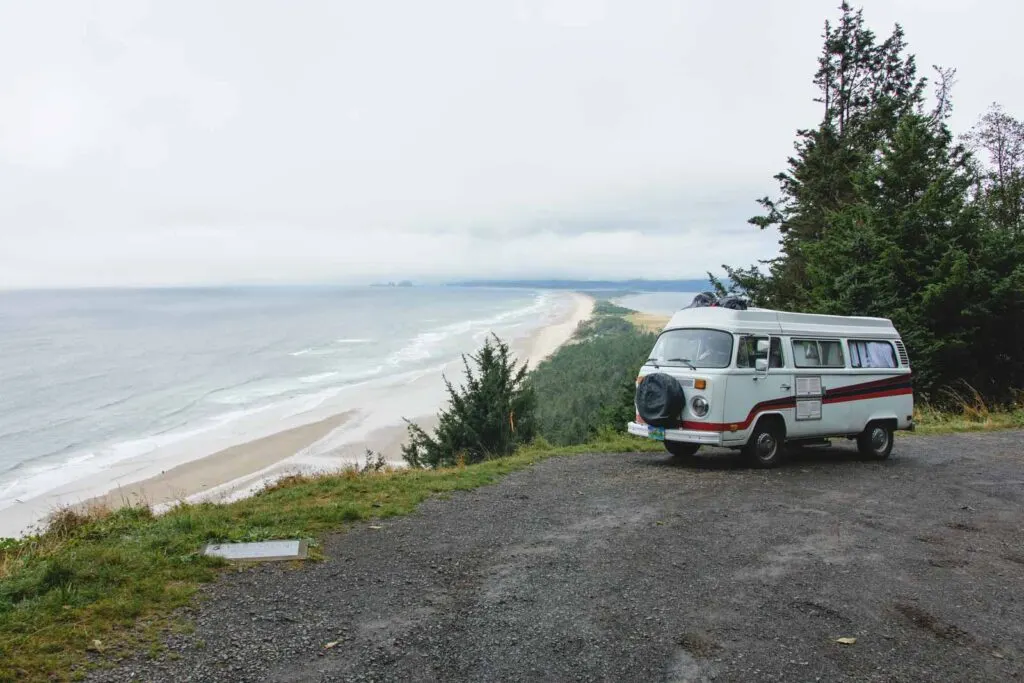 With this route, you can also check out the Sandlake Dunes and Pacific City, where you'll be able to hike up to Cape Kiwanda and take in phenomenal vistas of Haystack Rock (not the one from Cannon Beach another one!).
---
READ MORE: Three Capes Scenic Route on The Oregon Coast
---
Breathtakingly beautiful, the northern Oregon coastline is one of the most-loved parts of the state – and it's relatively easy to access from Portland. Whether you're visiting on a day trip or a longer vacation, bring this list of things to do on the North Oregon Coast with you, and make sure you check off as many as possible while you're there!
More Things to Do on The Oregon Coast
We hope this post helped you discover the North Oregon Coast! Before you go, don't forget to check out more Oregon Coast attractions and other adventures around Oregon.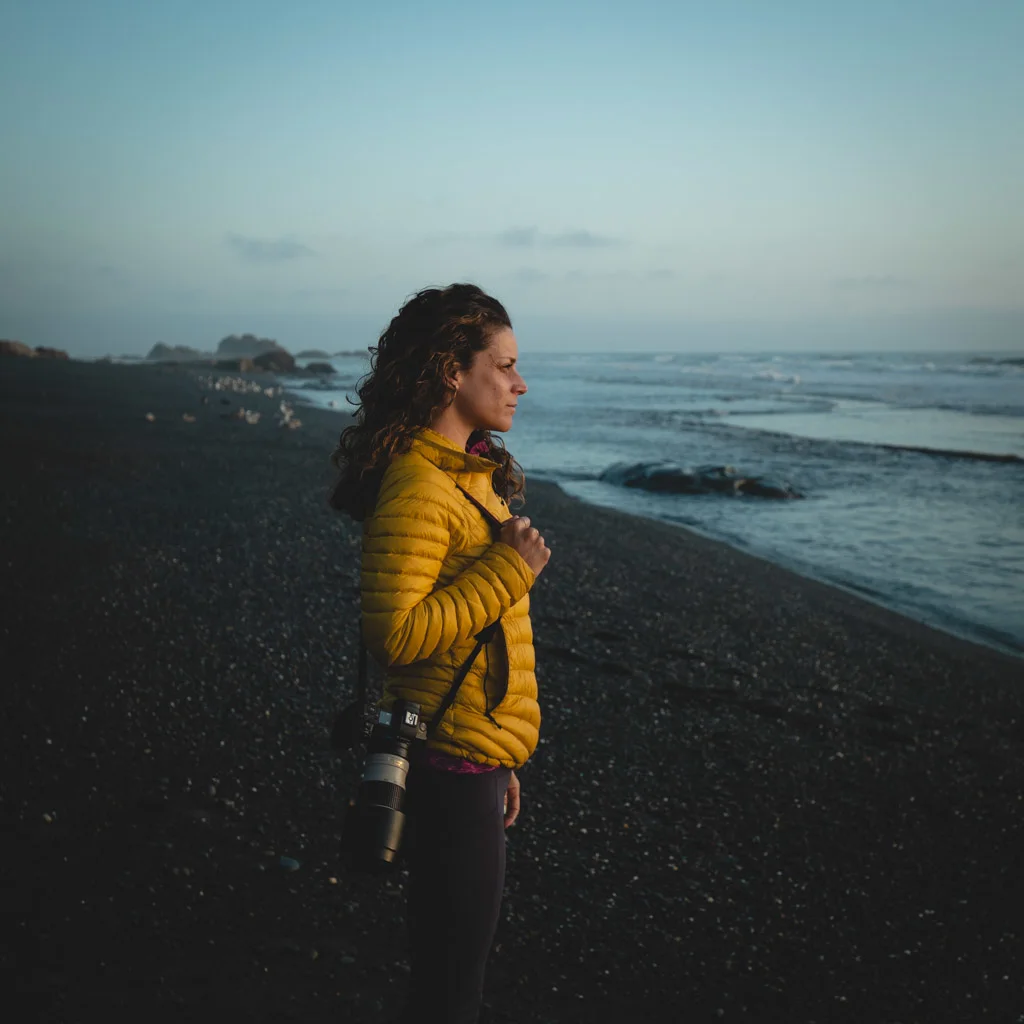 I've been perpetually traveling and living around the world for years but it's hard to beat Oregon and the PNW. After years of road-tripping the area, I guess you can say I know it pretty well! When I'm not writing guides for you, you can catch me somewhere petting a dog, attempting to surf, hiking a volcano, or stuffing my face with bread and cheese.