Cape Kiwanda is the smallest cape on the Three Capes Scenic Route, but it is just as beautiful, sitting within the Cape Kiwanda State Natural Area.
The Cape has some pretty spectacular wave action, and from the top, there are incredible views of Nestucca Bay to the south and Cape Lookout to the north.
Behind the Cape is the Great Dune, a huge hill made up of mudstone, sandstone, and drifting sands. Just to the side of the cape is Oregon's main dory launch site, which can be a lot of fun to see.
Exploring Cape Kiwanda
---
Cape Kiwanda State Natural Area Loop
Distance: 1 mile
Type of Trail: Loop
Difficulty: Moderate
If you don't mind a serious calf workout, then this hike is for you. You'll be heading up the big dune behind the cape. The trail itself doesn't go that far before the marked barriers, and you shouldn't go beyond these barriers as they are there to protect the sensitive areas from human defacement.
There are still plenty of stunning views from the end of the hike, where you'll be able to take in some great landscapes of the cape and the Pacific Ocean from a different, loftier perspective. Once you reach the barrier, walk along the fenceline to the Cape Kiwanda Viewpoint, where you can look down to the rocky cove and cave below the cape.
Don't stray too far as the rock can crumble away. The plod up the sand can be quite strenuous, especially as there is not much shade, but the views at the crest make it well worth it. Add on just a bit of milage and head over the sand dunes for more views. If you're there during low tide (check the tide schedule), you can get some pretty majestic views of the rocky landscape and even spot a gorgeous arch.
---
RELATED: 17 Breathtaking Oregon Coast Hikes
---
Pacific City Beach
Pacific City is located beneath the large headland of Cape Kiwanda, home to beautiful sandy beaches, and is a mecca for surfers. The coastal rocks act as a breakwater, sheltering the beach and making it the perfect spot for surfing and fishing.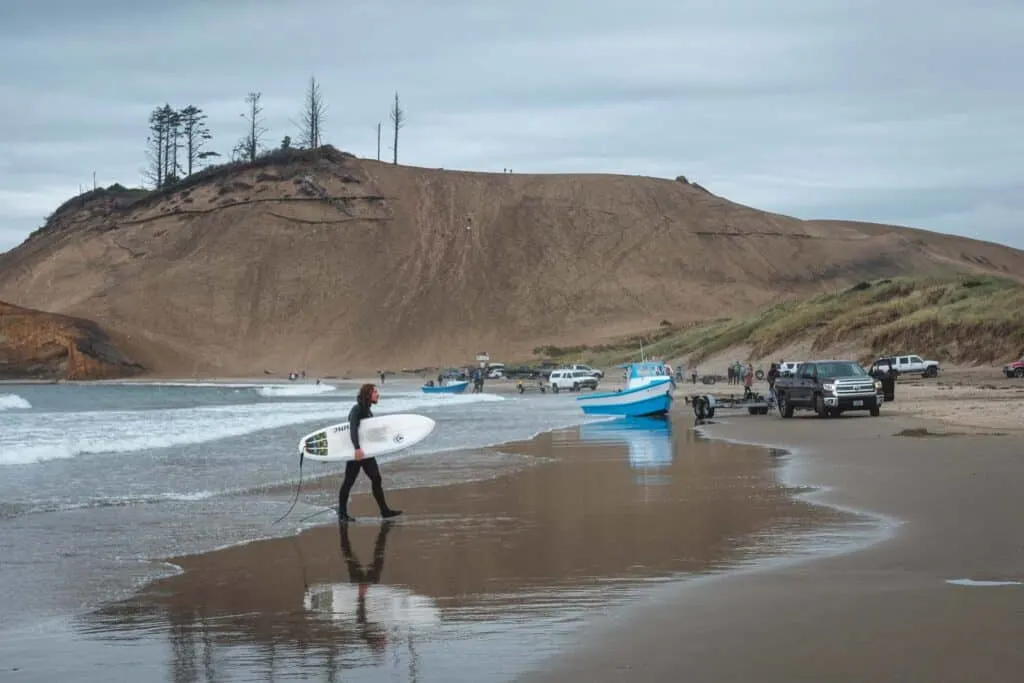 The grassy dunes spread down the coast for miles, and on a busy day, the sand overflows with families and friends, but it never feels too busy. The beach is perfect for seasoned surfers and newbies, with lessons and rentals available from the town's rental shop.
Handgliding, OHV riding, more beautiful state parks, and wildlife can all be enjoyed around Pacific City!
---
READ MORE: 11 Adventurous Things to do Around Pacific City
---
Three Capes Scenic Route
Cape Kiwanda is part of the Three Capes Scenic Route, one of the most beautiful drives on the Oregon Coast. The route stretches for 40 miles, including a huge range of natural features and geological features.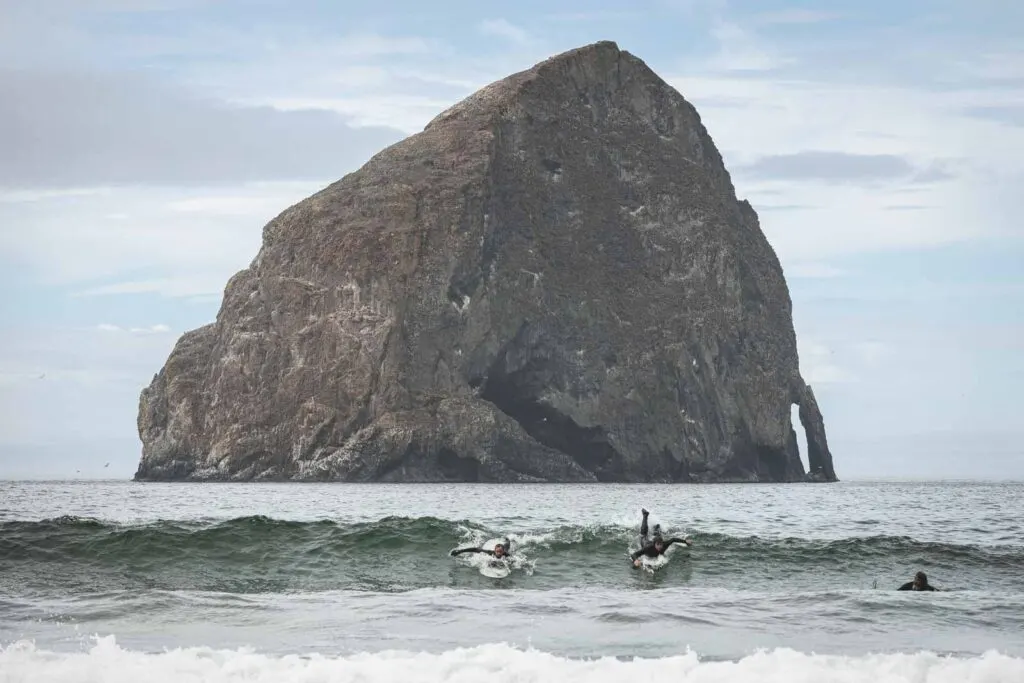 Cape Meares and Cape Lookout are the other capes along the route, both bigger than Cape Kiwanda. There is so much adventure to be had, from towering sea stacks and jagged rocks to long stretches of stunning coast—Make it a day or longer to see all three!
---
READ MORE: Three Capes Scenic Route on the Oregon Coast
---
Nearby Cape Kiwanda
Bob Straub State Park – Just a short drive away is Bob Straub State Park. Located in Pacific City, it is Cape Kiwanda's less busy neighbor. It has spectacular views, rock formations, a beautiful stretch of beach, and dunes – what more could you want from a coastal state park? Head to the park to explore the Nestucca sand spit, with a hiking trail that runs down the sand.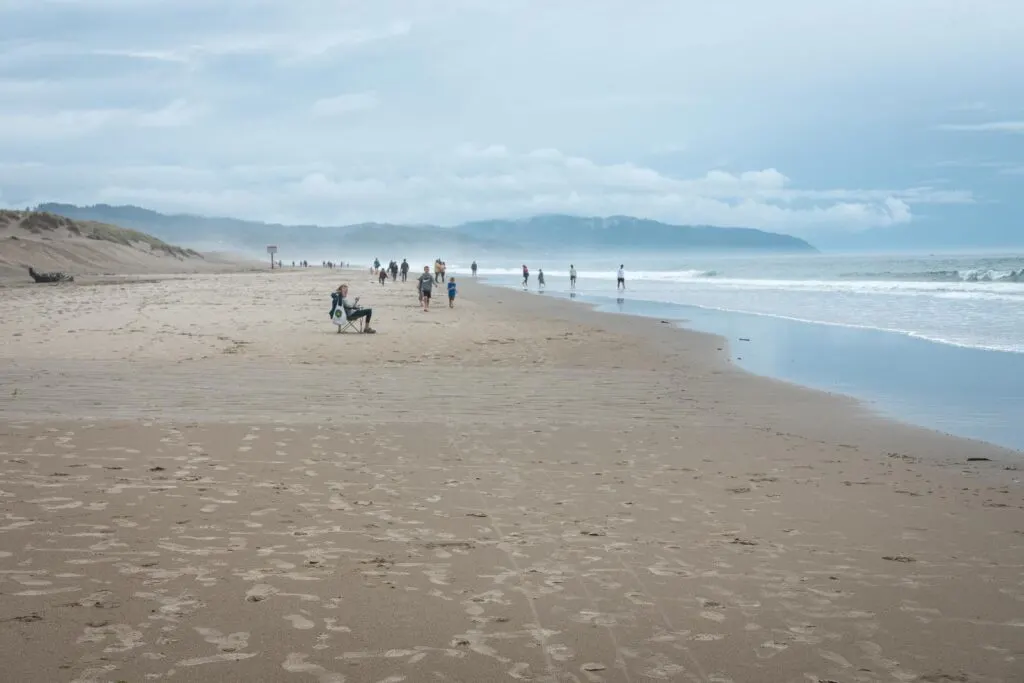 Nestucca Bay – Nature lovers should head to Nestucca Bay National Wildlife Refuge, containing seven types of habitat, including tidal marsh and mudflats. It is home to many interesting and unusual species with notable winged residents, including peregrine falcons, bald eagles, and a range of migrating shorebirds, so it is definitely worth checking out.
Where to Stay near Cape Kiwanda
Charming Beach House – This nautical-themed cabin puts you within walking distance of the Pacific City Beach and the Cape Kiwanda Natural Area. If you're not spending all your time exploring, you can enjoy the large wooden deck.
Fantasia – This three-bedroom cottage is located just north of Pacific City in the small community of Tierra Del Mar. It's a pet-friendly rental and features an enclosed yard with a deck. Beach access is just one block away.
Surf & Sand Inn – This affordable inn in Pacific City offers private rooms with flat-screen TVs, coffee makers, microwaves, and desks. It has a great location, only two blocks from the beach.
More Things to Do on The Oregon Coast
We hope this post helped you better explore Cape Kiwanda! Check out more posts on the Oregon Coast and even more adventures around the state.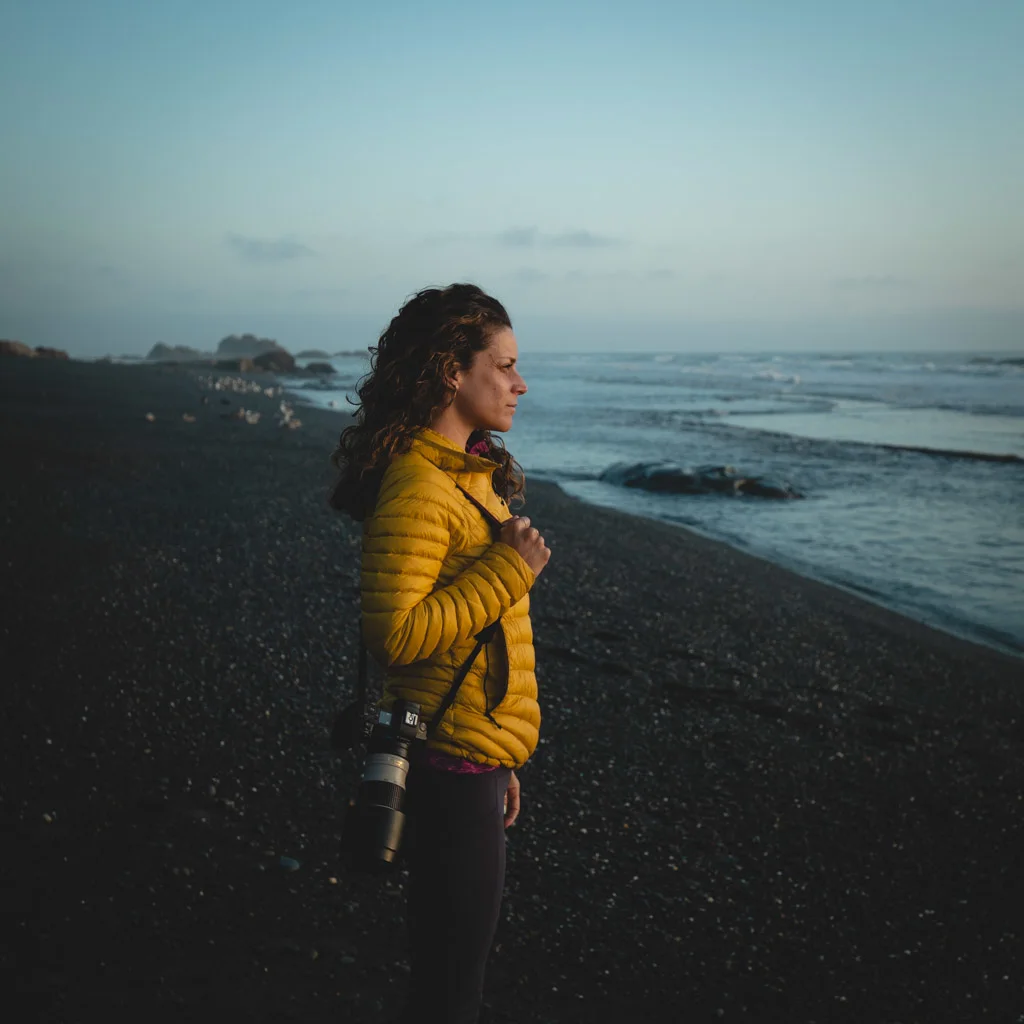 I've been perpetually traveling and living around the world for years but it's hard to beat Oregon and the PNW. After years of road-tripping the area, I guess you can say I know it pretty well! When I'm not writing guides for you, you can catch me somewhere petting a dog, attempting to surf, hiking a volcano, or stuffing my face with bread and cheese.