If you're keen to throw back a few fresh brews on the beach, catch some waves, scale huge sand dunes, ride down a scenic cape loop, and observe some wildlife, Pacific City is the place to be!
There are tons of adventurous things to do in Pacific City, and all around it, here's everything you need to know.
Things To Do in Pacific City, Oregon
---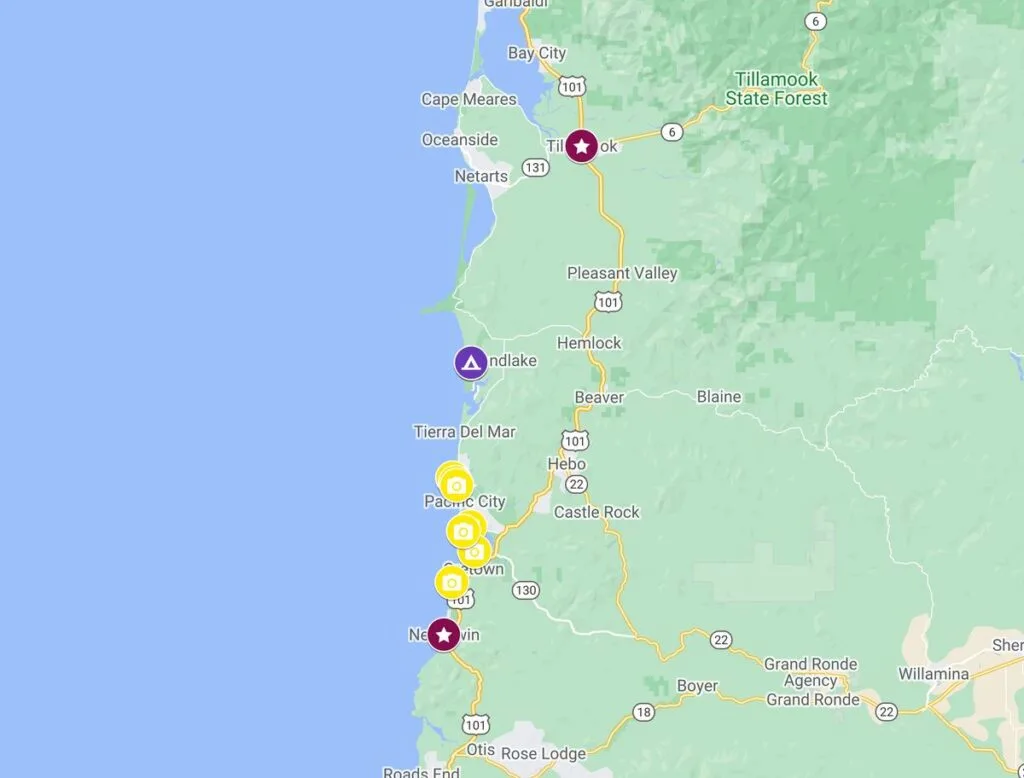 1. Cape Kiwanda State Natural Area
Cape Kiwanda is the smallest cape on the Three Capes Scenic Route, but that doesn't mean it should be skipped when it comes to adventures in Pacific City.
Featuring huge sand dunes and towering sandstone cliffs, there is plenty to see and do. There are opportunities for hiking, whale watching, hand gliding, and bird viewing.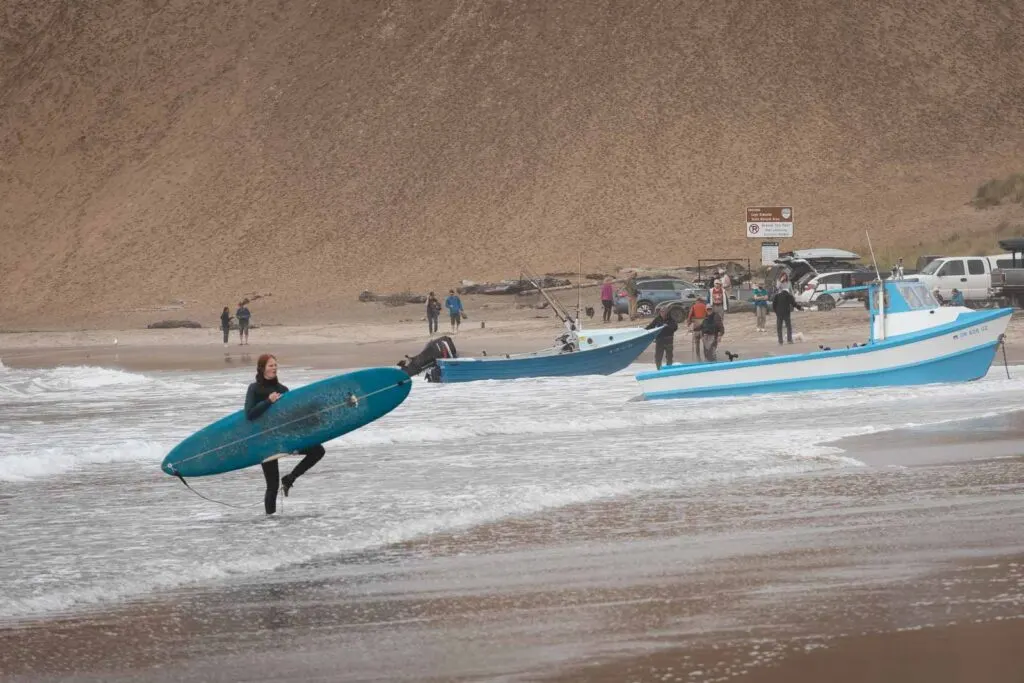 The day-use area here is particularly popular, as the beach is open to vehicles. It can get quite busy, but they are only allowed on the beach if they're needed for boating, such as towing and launching.
When the tide is low, you can dip your toes in the water or explore the tide pools, which are often filled with large red crabs, purple starfish, and other colorful creatures.
From the top of the cape, there are breathtaking views of Haystack Rock (a different one from Cannon Beach!) to the southwest and Nestucca Bay in the south, and Cape Lookout to the north.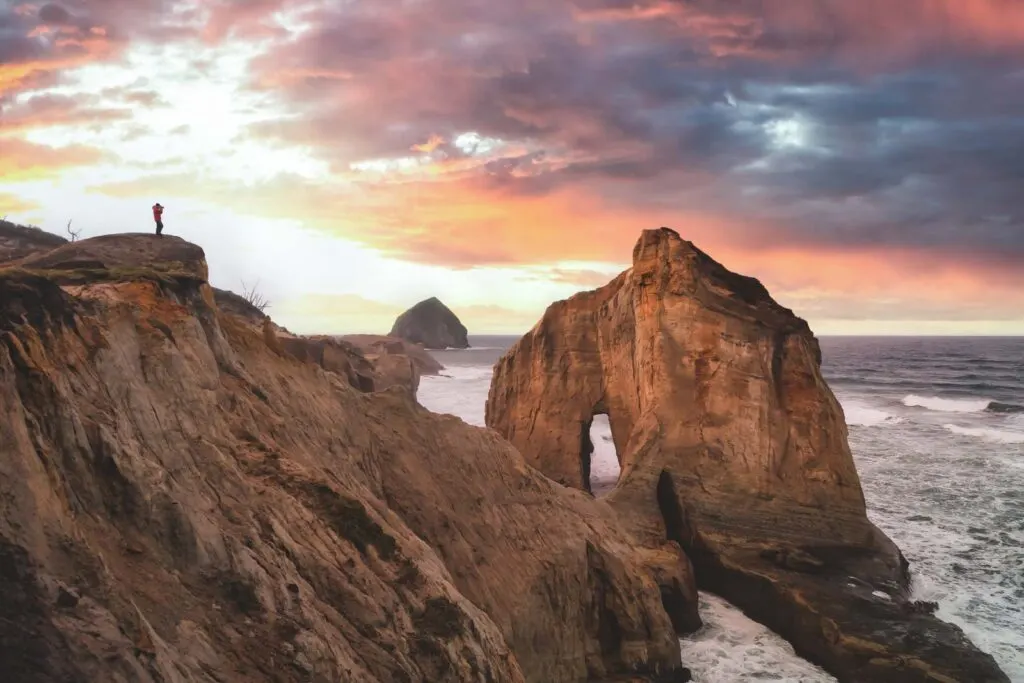 Behind the cape is the Great Dune, a massive hill made up of mudstone and sandstone, covered in drifting sand. From the parking area, walk up the dune for the views and then drop to the beach. It is a strenuous task hiking up on the sand, as you'll be climbing 193-foot elevation, but it is well worth the effort.
---
RELATED: Exploring Cape Kiwanda Near Pacific City, Oregon
---
2. Pacific City Beach Surfing
Pacific City is big on surfing. Nice beach and reef break with lefts and rights that are approachable and tend to be fairly consistent and well… there's a pub right in front of it too, so that's a bonus!
When this one is firing, get ready to grab waves like never before. However, like all Oregon Coast waves, you'll need to be equipped with at least a 3/4 wetsuit, booties, gloves, and if you don't want a painful brain freeze, I always throw on a hood.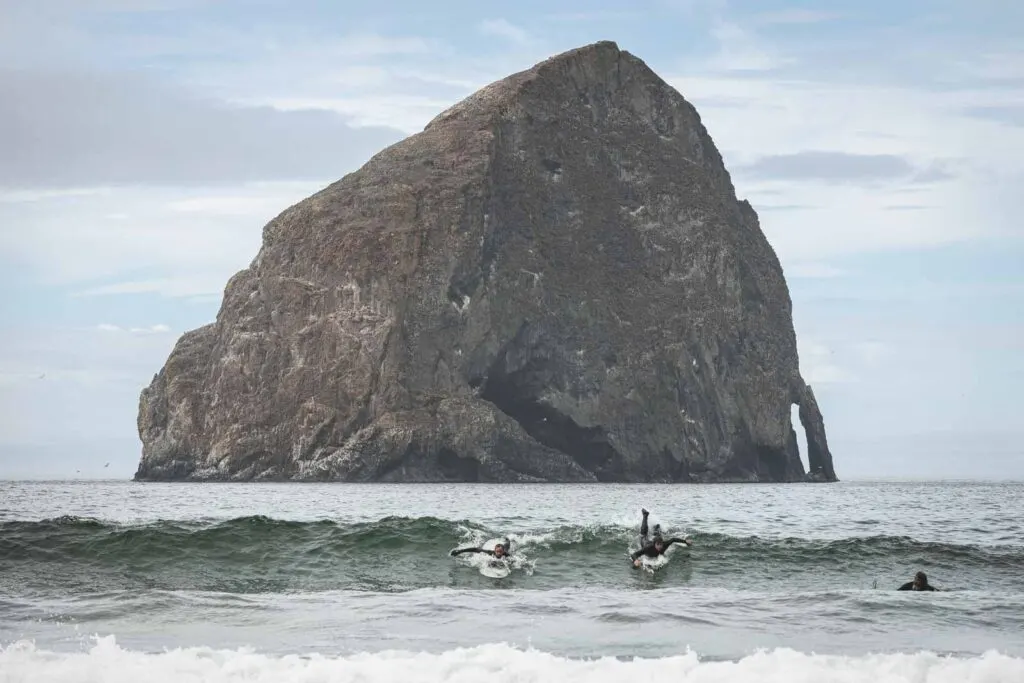 The best action is right after a storm, and it's then that you'll see many enthusiastic surfers getting their adrenaline rush. The waves here keep people out on the water for hours; it is no wonder it is one of the most popular things to do in Pacific City.
There is a lot of space on the beach, making it easy for you to set up camp for the whole day. The Pelican Brew Pub is just a short walk away for a beer after your day or surfing. It's a great spot for a brew, but food-wise you'll get better bang for your buck elsewhere.
3. Nestucca River Paddle
The calm waters of the Nestucca River make it the perfect spot for kayaking. You'll be able to enjoy the beautiful scenery from a different perspective as you paddle your way down the river.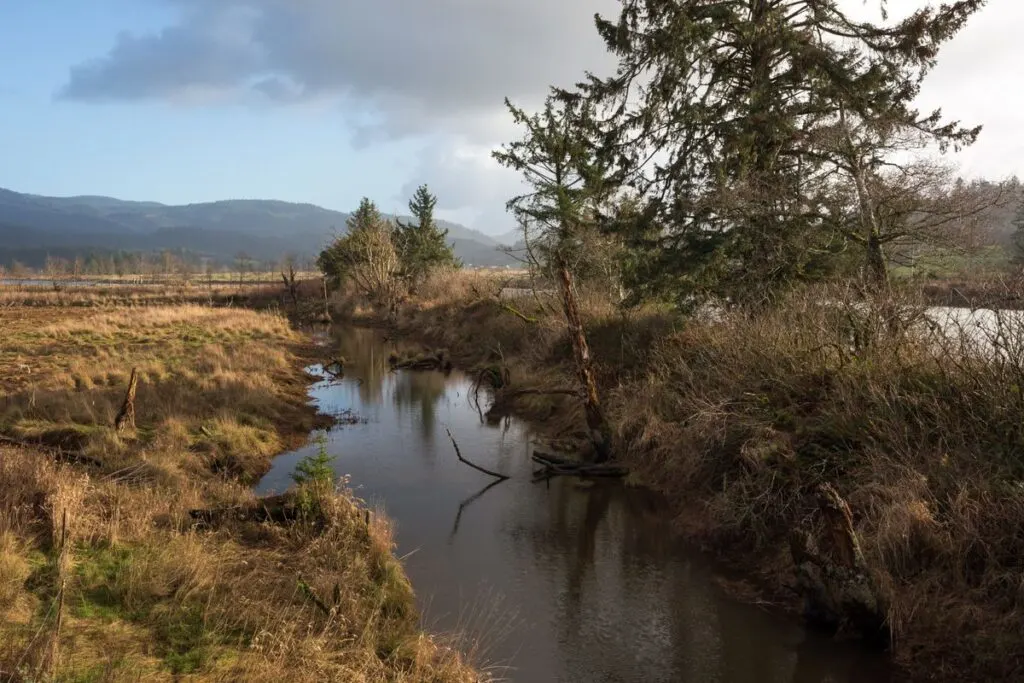 Because of the calm water, it is an activity that's suitable for all skill levels, or if you fancy, why not try your hand at stand-up paddleboarding?
If you're not keen on heading into the water by yourself, there are organized trips offered where you can travel as a group with instructors. A set route is the Nestucca River Paddle, a 5.5-mile route starting at a kayak rental company.
---
RELATED: A Legendary Oregon Coast Road Trip – 35 Stops & 3 Itineraries
---
4. Bike Trails
There are some fantastic bike trails in and around Pacific City. One of the most fun trails is the Cape Kiwanda Fat Bike route, where you'll head from civilization to solitude and then back again. The route starts from Pacific City itself, and from there, you can choose to head in either direction.
Bikes are allowed on the beach here, and a fat bike will let you ride directly on the sand, with the most leisurely riding found down on the hard-packed sand by the water. Be aware that vehicles are also allowed on the beach here, so keep an eye out for cars or other motorized vehicles.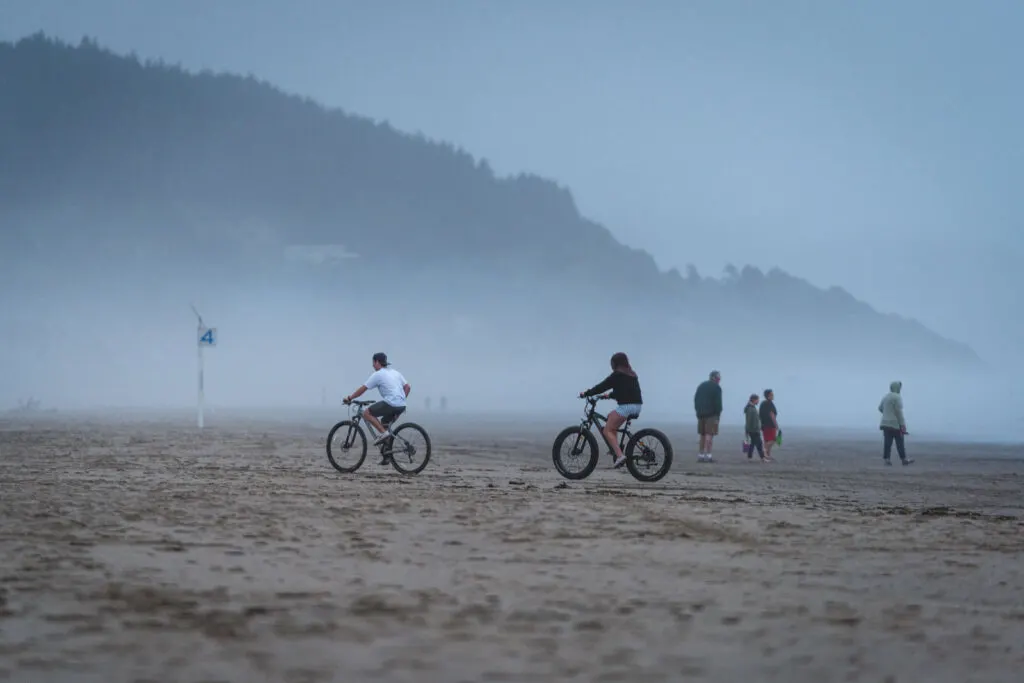 You could either ride down to the North Spit, through Bob Straub State Park if you head south, where the sand is soft and course, making for some pretty slow riding.
Heading north, you can skirt your way around rock features, leaving the masses behind before reaching the small town of Tierra Del Mar. You'll have to head back when you reach the dead-end at the mouth of Sand Lake.
5. Hang Gliding and Paragliding
With excellent winds, hang gliding and paragliding are popular activities around Pacific City. Lessons occur at the north side of the cape, or younger learners learn at the low dunes in front of the Inn at Cape Kiwanda.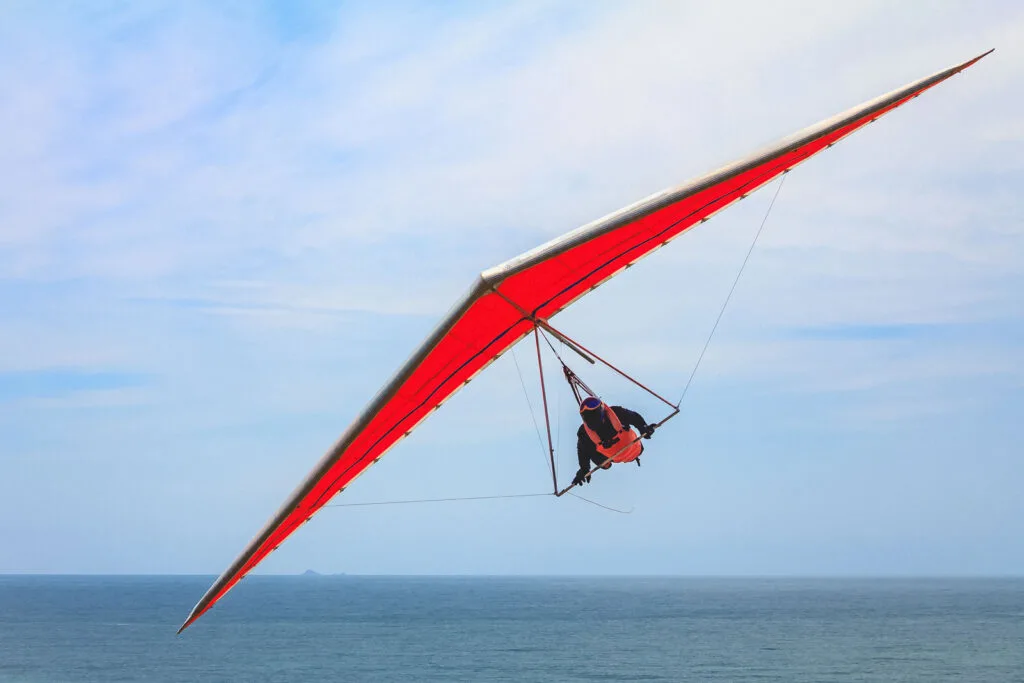 Pacific City is central to the development of the sport in the state, as the smooth winds have made it a well-known spot for nearly 40 years. With plenty of schools and instructors, the sport has become much safer over recent years, making it a great place to learn and take in the views.
If you're visiting in June, you may be lucky enough to experience the Kiwanda Single Surface Hang Gliding Festival. There are spot landing contests and dollars-on-a-pole grabs, which can be great fun to watch even if you're not taking part.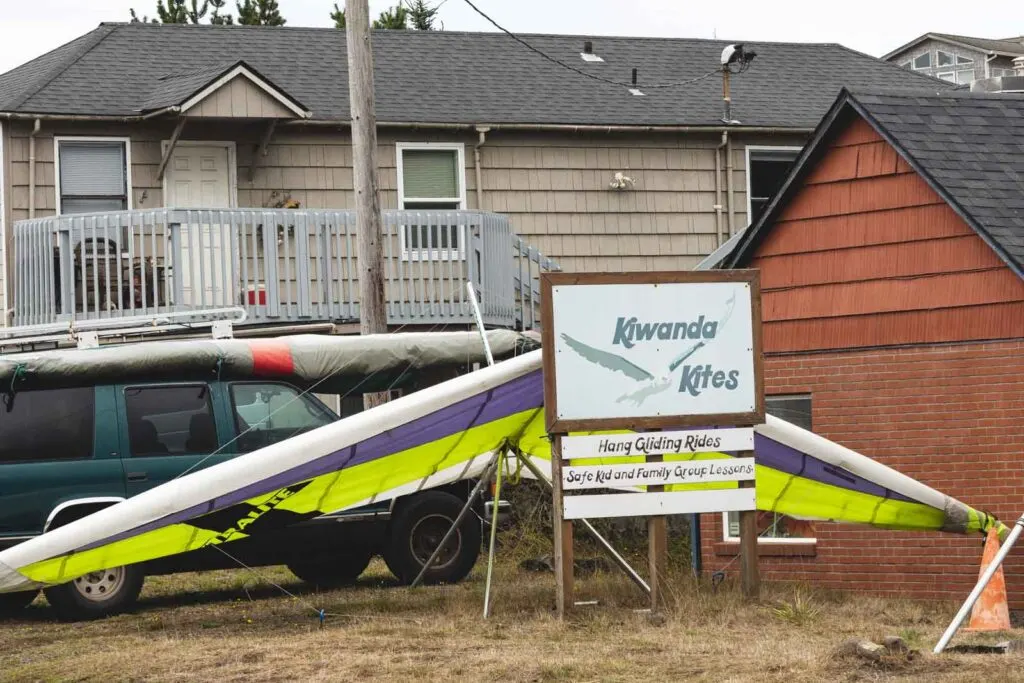 If you are interested in learning, it is not as scary as it seems. You will not be launching yourself off a cliff. The first few lessons will start on a flat beach, slowly progressing to low bunny dunes, so you'll always feel comfortable and safe. Students come from all over the nation to learn here, so they must be doing something right.
When in the air, you'll have gorgeous views of the Tillamook Coast below you, with red-tailed hawks circling overhead. There are six well-known 'airborne spots' that cater from the inexperienced student to the seasoned flying professional. Just be sure to check the weather and wind before you fly.
---
RELATED: 28 Cool Oregon Coast Campgrounds To Stay At
---
6. Wildlife Viewing
If you'd like to spot some wildlife, head to the Nestucca Bay National Wildlife Refuge for some wildlife viewing activities in Pacific City. It was established in 1991 to protect a tenth of the population of dusky Canada goose.
There are seven habitats to explore, including tidal mudflats, freshwater bogs, woodland, grassland, tidal marsh, forested swamps, and pasture, all of which are home to many fascinating creatures. Many migrating shorebirds, bald eagles, and peregrine falcon can often be spotted here.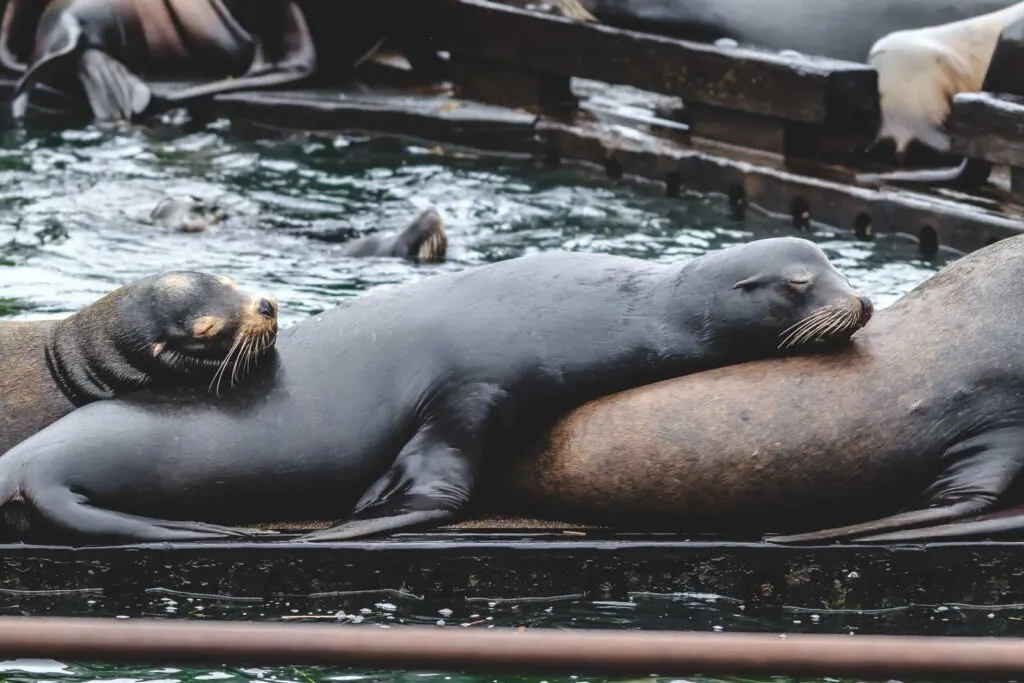 Just sitting on the beach at this stretch of coastline is likely to reward you with nature's parade of marine life frolicking in the shallows. Regular visitors include seals, sea lions, otters, and porpoises. A little inland, you are likely to spot deer, raccoons, and the famous beach bunnies.
Climb to the top of the cape for a great vantage point to watch the Gray Whale's migration between March and May, and then again in late fall.
7. Winema Beach Walk
When looking for what to do in Pacific City, the Winema Beach Walk is a 1.9-mile out-and-back trail that takes you along one of the most beautiful beaches in the state. The beach is actually lightly used, so there is a good chance you will have most of the beach to yourself if you visit in the off-season.
The area is even less known thanks to the lack of signage, so you really can escape and have a little bit of solitude to take in the beauty of the Oregon coast without the crowds. The beach itself is wide and sandy and is just a short walk from the parking lot.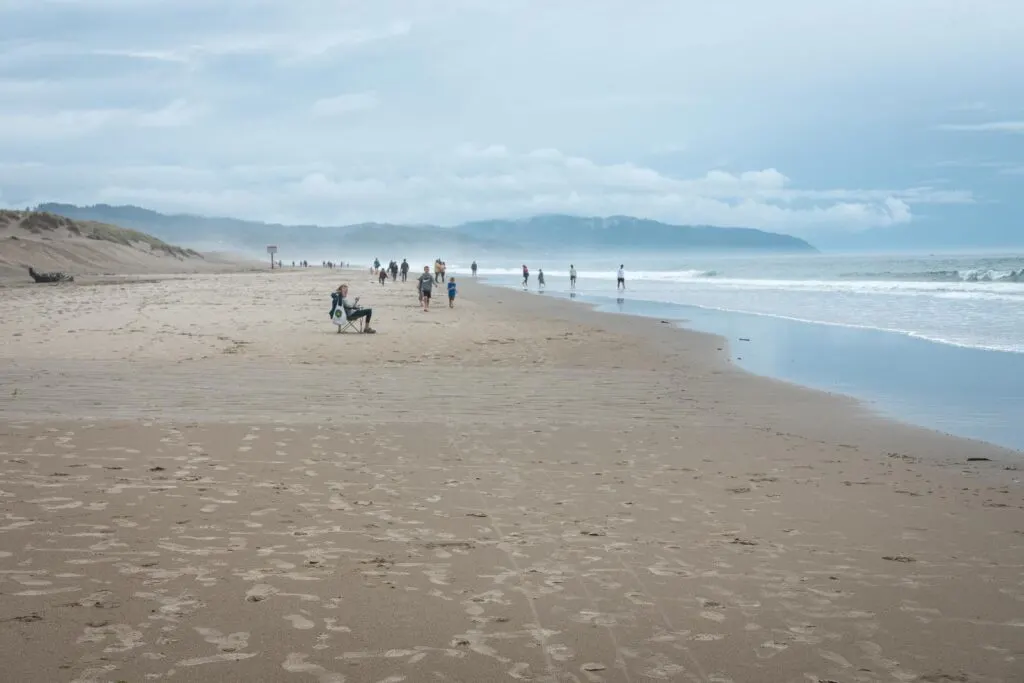 Views extend all the way to Haystack Rock and Pacific City in the distance. The short stroll along the edge of the surf will take you to the mouth of the Nestucca River, past large rock formations, a small cave, and waterfalls cascading down the cliffs at specific points throughout the year.
Once you have reached the mouth of the river, keep your eyes peeled for harbor seals and bald eagles soaring high above the water. When planning your walk, be aware of the tides, as the high tide can completely cover the beach right up to the cliffs, especially in the winter.
8. Bob Straub State Park
Stunning Bob Straub State Park sits on the Nestucca Spit, a narrow finger of land that separates the Nestucca Bay from the Pacific Ocean. The park offers plenty of recreational activities around Pacific City, with hiking, fishing, and horseback riding in abundance.
The land is kept as natural as possible, as no camping, OHVs, or bikes are allowed, making it a peaceful and quiet place to enjoy this stretch of the Oregon Coast.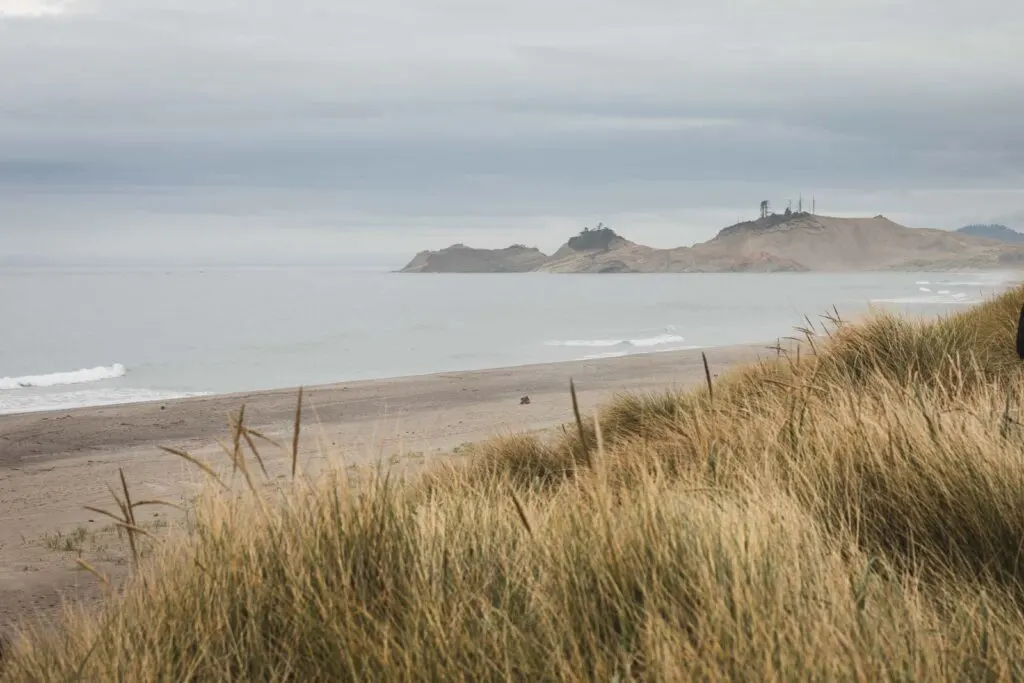 The Bob Straub hiking trail is one of the many exciting hiking trails located within Pacific City. It is about a mile long, taking you from the parking lot all the way down to the spit of the river.
There are two trails to choose from at the parking area, the first allows you to walk along the beautiful Nestucca, or you can choose to have breath-taking views of the Pacific Ocean along the way. Once you reach the split, chances are you will be greeted by playful harbor seals that call this area their home.
---
RELATED: 19 Must-Visit Oregon Coast State Parks
---
Things To Do Near Pacific City
9. Sand Lake Recreation Area
Just a few miles north of Pacific City, you'll find Sand Lake Recreation Area. Covering 1076 acres, the area is entirely made up of open sand dunes running alongside the Pacific Ocean and surrounded by thick forest.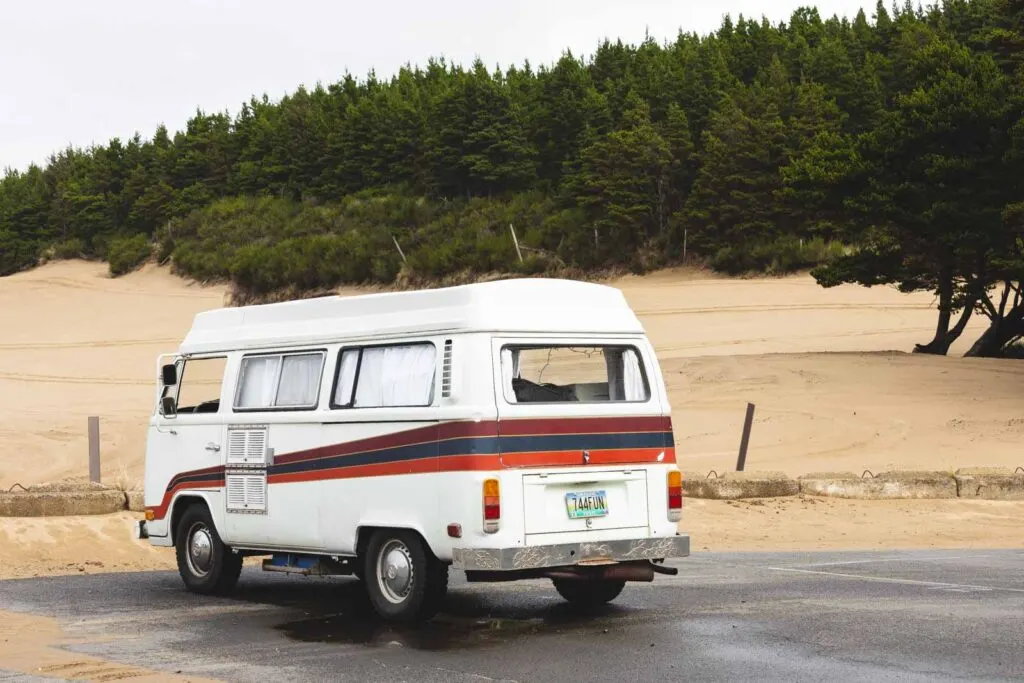 As well as stunning natural beauty, the site offers a variety of recreational opportunities. At just a fraction of the size of the dunes just outside of Florence, they are a bit quieter, so they are perfect if you want a dune experience without the crowds, especially with an off-season trip.
The area is well known for being a hot spot for OHV riding, with miles of sand dunes to ride over, which are sure to give an adrenaline rush. People come from all over the northwest to ride the dunes, with a campground within the park for easy access to the dune area.
If you don't have your own off-road vehicle, there are places nearby where you can rent one, so you don't have to miss out on the fun. Riding is available all year, summer and winter if you don't mind kitting up.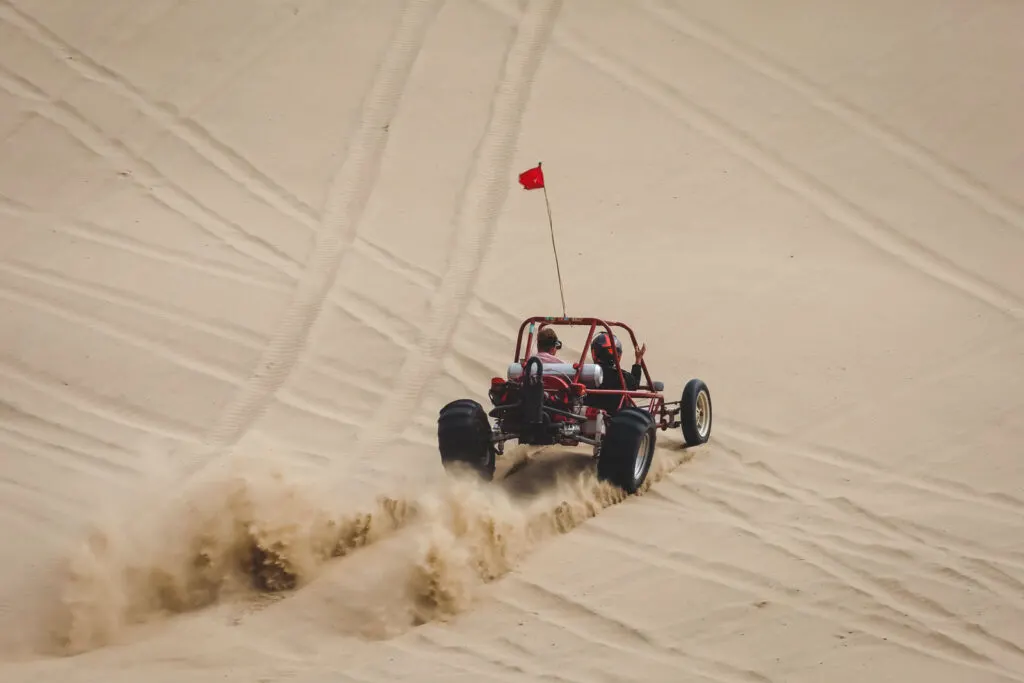 Along the coast is Sand Lake Estuary, a fun place to swim or go fishing, crabbing, or kayaking. The estuary is home to many birds and other wildlife, so pack your binoculars and see what you can spot. No OHV traffic is allowed in the estuary to allow it to keep its natural beauty.
---
RELATED: 17+ of the Best Lakes in Oregon for Adventures & Camping
---
10. Neskowin
The quaint little town of Neskowin is a lovely place to visit when exploring this part of the coast and looking for what to do in Pacific City. The neighborhood feel is very welcoming, and it has its own stretch of beach that is over 3-miles long.
The town is nestled in the forest and sweeping hills and is a place that seems to defy change, which is largely part of its appeal, staying away from big hills, chain eateries, and tourists.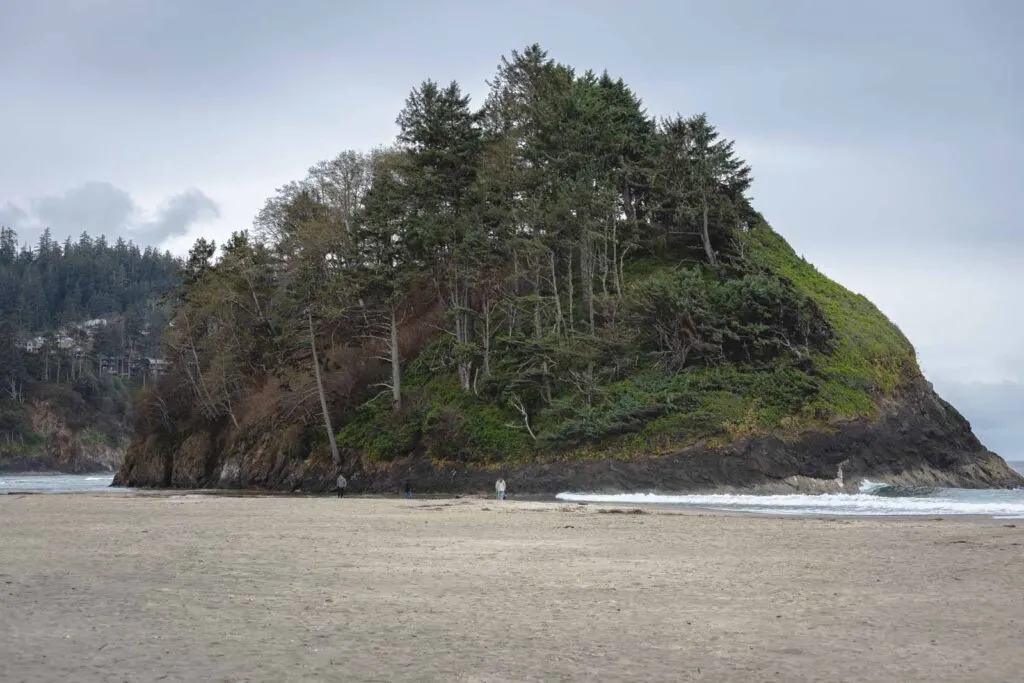 The highlight here is Proposal Rock, which you'll see as soon as you enter the beach, unusual thanks to the small forest sitting on top. At the top of the rock, there are a few trails meandering through the woods with incredible views; watch the tide so you don't get stranded.
Another highlight of Neskowin is the petrification of ancient tree stumps that dot the shoreline, leading to the area being nicknamed 'ghost forest.' It doesn't sound spectacular, but it is the sort of natural oddity that you won't appreciate until you look at it.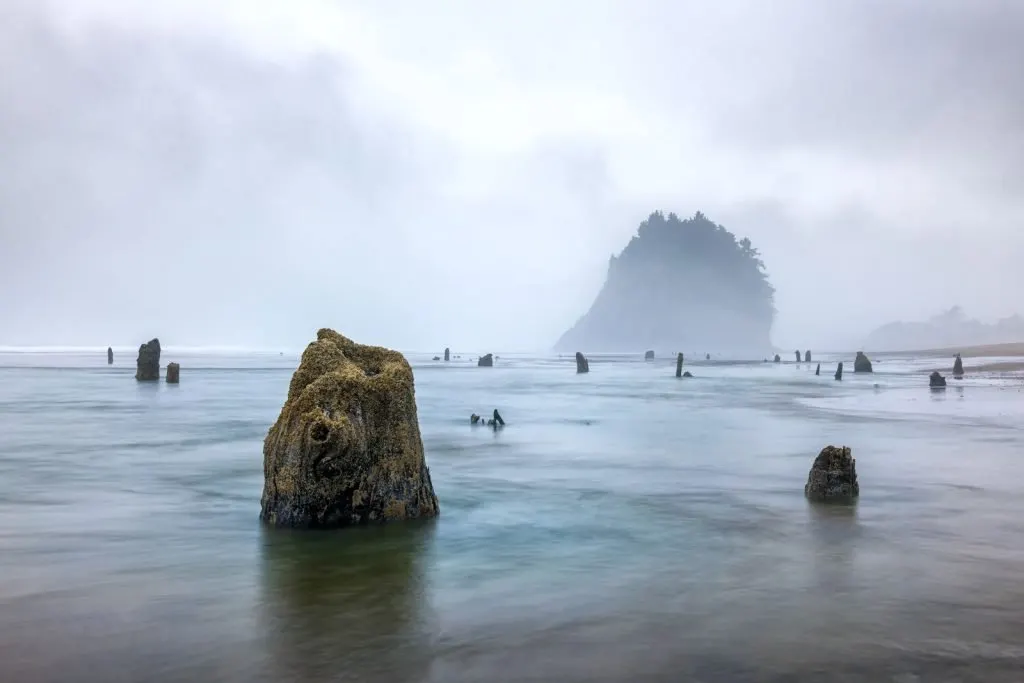 The town has lots to do when it comes to family fun, especially in the summer months when the town calendar is filled with events. There are plenty of places to stay if you fancy making Neskowin your base for exploration, including Neskowin Creek RV Resort, set within the forest.
There is a general store in the town and a restaurant where you can stock up on supplies. It is a popular spot for golfers thanks to the 9 hole, 35-par golf course built-in 1930.
---
RELATED: 11 Most Scenic Oregon Coast Towns (And What To Do There!)
---
11. Three Capes Scenic Route
Some of the Oregon Coast's most incredible views can be seen from the Three Capes Scenic Loop. The loop starts in Downtown Tillamook and will take you on a 40-mile journey along the water, revealing stunning new vistas around every corner.
From towering sea stacks to beautiful sandy beaches you'll have all to yourself, to forests of spruce and pine, this is a road trip not to be missed.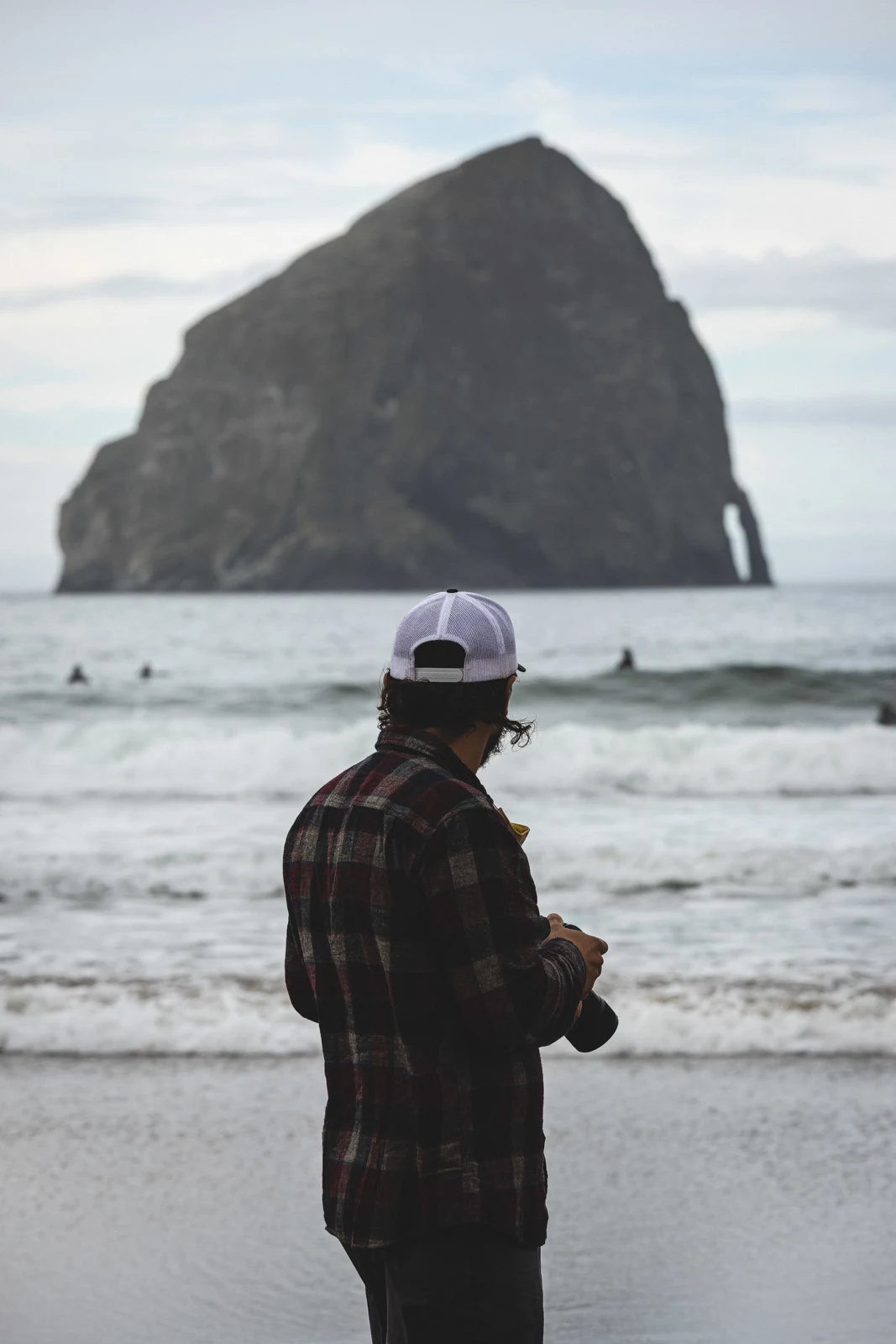 As the name suggests, the stars of the show are Cape Kiwanda, Cape Lookout, and Cape Meares, all of which stretch impressively out into the Pacific Ocean. Each is different in its own right, so you shouldn't settle for just seeing one.
Just be sure to pack your hiking boots, as there are some incredible hikes to enjoy along the way. Get an early start if you plan to make the trip all in one day.
---
READ MORE: Three Capes Scenic Route on the Oregon Coast
---
Where To Stay Near Pacific City
Camping: Sand Lake Recreation Area
Mermaid Cottage
This charming beach cottage is just one block from the beach and within a mile of downtown Pacific City. Enjoy the games and books, WiFi, full kitchen, and wood-burning stove.
Main Deck Cottage
This inviting two-bedroom cottage is close to the beach, has a fully-equipped kitchen, a patio with outdoor grill, and even a washing machine.
Surf & Sand Inn
This affordable inn offers private rooms with flat-screen TVs, coffee makers, microwaves, and desks. It has a great location, only two blocks from the beach.
We hope this post helped you better explore Pacific City! Check out more posts on the Oregon Coast and even more adventures around the state.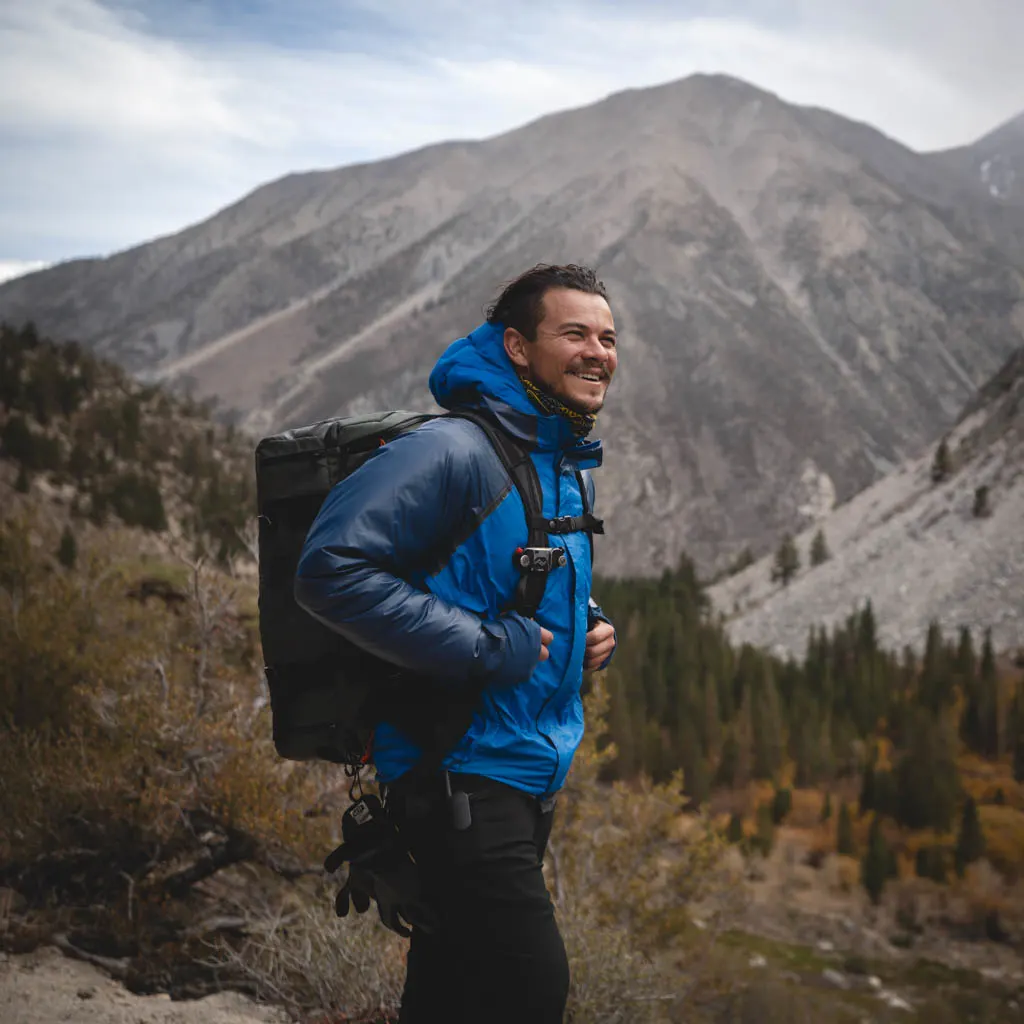 Oregon native and explorer at heart. Loves tackling expeditions around the world and drinking a good beer at the end of the day. PNW obsessed, VW nerd, and surf or snow riding fanatic.