The Oregon Coast is filled with jaw-dropping vistas and places to explore. It is hardly surprising that there are also some great campgrounds to be found along the coastline, some rustic and some with every amenity that you can dream of.
Whether you are living the RV life, enjoying the freedom of tent camping, or just want the 'feeling' of camping minus the tent… there is something for everyone. PS – Don't forget to check out our Oregon coast itinerary after!
Oregon Coast Campgrounds
North Oregon Coast Campgrounds
1. Fort Stevens State Park
Located way up in northwest Oregon in Astoria, Fort Stevens is a converted military space and is now one of the largest Oregon coast campgrounds.
It has almost 500 camping sites available set within two massive loops, with all the amenities you may need. During a stay here, be sure to visit the Military Museum and the ancient remains of the Peter Iredale shipwreck that lies on the beach.
Price: Tent $22, RV $32, Yurt $48-$58, Cabin $93-$103 | More Info: Website
RECOMMENDED GEAR:
2. Nehalem Bay State Park
Nehalem Bay State Park is pretty unique thanks to the fact that it is set on a four-mile sand spit that separates Nehalem Bay from the rugged ocean. The park has over 260 electrical sites suitable both for both tent and RV campers, as well as 18 yurts that are available to rent if you are looking for something a little different.
Just a short walk across the dunes will lead you to a beautiful beach, with the ocean stretching out before you. Only a few miles north of the campsite, the small town of Manzanita is worth an explore, even if it is for something as simple as a meal out or a shop. If beach camping on the Oregon coast is what you are after, you won't get much better than this.
Price: $31, yurts $47-$57 | More Info: Website
---
READ MORE: Your Guide to Nehalem Bay State Park
---
3. The Float House at Jack Creek
This is a houseboat situated on the John Day River just a few minutes away from Astoria. It has an old-world vibe to it with modern conveniences. It also sits next to 16 acres of farmland.
4. Dog-Friendly Beach Cottage
Enjoy the peace and quiet at this adorable dog-friendly cottage that is only a block from Cannon Beach.
---
RELATED: 11 of the Most Adventurous Coastal Towns to Explore in Oregon
---
Central Oregon Coast Campgrounds
5. Devil's Lake State Recreation Area
Downtown Lincoln City is just a few minutes away from this Oregon Coast campgrounds, making it one of the only Oregon coast campgrounds in the middle of a city. Campers can kayak on the lake, explore the coast and enjoy the East Devil's Lake Day Use Area.
Price: Tent $21, RV $32 | More Info: Website
6. Rock Creek Campground on Oregon's Coast
Within the Siuslaw National Forest, you'll find Rock Creek Campground, just a short half a mile away from the beach. These Oregon coast campgrounds are pretty rustic, with no electricity and potable water, but that only adds to the fun.
When in the area, pay a visit to the Cape Perpetua Visitor Center, which offers phenomenal views of the ocean and beyond. You may even be able to spot a whale. There are several great hikes around here through dense, old-growth forest and to coastal overlooks.
Price: $23 | More Info: Website
7. Heceta Beach RV Park
Located on the north side of Florence is Heceta Beach RV Park, the perfect base for exploring the Oregon Coast. Just 5 minutes to the beach and a short drive away from lighthouses, dunes, and state parks, all the coast has to offer is within easy reach.
The campgrounds have everything you need for a comfortable stay, such as laundry facilities, clean restrooms, picnic tables, and fire rings.
Overall the sites are large with plenty of privacy, with room for either RVs or tents, plus there is a fitness center, mini-mart, and dump station. Pets are also welcome, which is a bonus.
Price: $39+- $47 Tent $33 | More Info: Website
8. Umpqua Lighthouse State Park
Although Umpqua Lighthouse is one of the smaller state parks along the coast, it is still a beautiful location to go Oregon coast camping, plus it is near the center of the Oregon Dunes National Recreation Area. There are both tent and RV sites available that surround the freshwater Lake Marie, the perfect spot for swimming, fishing, and relaxing on a boat.
Take a walk up to the lighthouse itself for elevated views of the stunning surroundings. There are also yurts and rustic log cabins available to rent.
Price: Tent $19, full hookup $31, Yurts and cabins $43-82 | More Info: Website
---
RELATED: 19 Must-Visit Oregon Coast State Parks
---
9. The Otter Rock Surf Yurt
This yurt offers a unique coastal experience with amazing ocean views overlooking Devils Punchbowl Beach. It's also an easy one-block walk to Beverly Beach.
10. Mermaid's Rest Oceanfront Chalet
Enjoy the retro vibe of this 1969 oceanfront chalet set in a coastal forest in a community of chalets. Beach access is only a short walk away.
11. Anemone Vintage Trailer
Come stay at the Tiny Tranquility park in this beautifully appointed vintage trailer. Park amenities include a game room and grilling area.
12. Vintage Airstream Camping
If you have ever wanted to stay in a vintage Airstream – now is your chance! This comfortable Airstream can sleep four and is only a block from the beach.
13. The Chicken Coop
Stay in the Chicken Coop, a rustic but super cozy shed set in a peaceful garden with a fire pit.
14. Siltcoos Floating Cabin
Stay in this rustic but comfortable floating cabin on Siltcoos Lake for a unique lodging experience. The cabin allows up to two dogs.
---
RELATED: 21 of the Coolest Cabins in Oregon
---
South Oregon Coast Campgrounds
15. Sunset Bay State Park
Sunset Bay State Park has to be one of the most scenic spots when going Oregon coast camping, made up of towering cliffs and sandy beaches, with sites available very near the beach. Choose to stay in a tent, RV, or for something a little fancier, there are a few yurts available to rent.
One of the most popular activities in the area is hiking, allowing you to enjoy the coastal forests and incredible ocean vistas. There are several points along the trail where the views will take your breath away, such as Gregory Point and the Cape Arago Lighthouse.
Price: Full hookup $31, tent site $19, yurt $43 | More Info: Website
---
RELATED: 21 Amazing Yurts on the Oregon Coast
---
16. Cape Blanco State Park
These extra-large campsites are great if you want a little space, and you can work off your campers breakfast by hiking over 8 miles of trails, rewarding you with ocean vistas.
Located at the state's Westernmost tip, Cape Blanco is a pretty impressive sight, with the Cape Blanco Lighthouse well worth a visit. The 52 electric sights are first come first served, so make sure you don't miss out.
Price: $24 | More Info: Website
17. Humbug Mountain State Park
With 56 tent sites and 39 electrical sites with water, there is plenty of room for everyone at Humbug Mountain State Park. The park and campgrounds are centered around Humbug Mountain and enjoys some of the warmest weather on the coast, as the mountains offer some protection from the winds.
There are all sorts of activities to enjoy from the campground, such as windsurfing and scuba diving, or if you are up for a bit of a hike, the views from Humbug Mountain are pretty spectacular.
Price: RV $24, Tent $17 | More Info: Website
---
Check out: 17 Amazing Hikes Along the Oregon Coast
---
18. Harris Beach State Park
Boasting the largest island off the Oregon coast, Harris Beach State Park is one of the best Oregon coast campgrounds. Bird Island is a wildlife sanctuary full of rare birds, or on land, there are sandy beaches, tide pools, and rocky outcroppings, with the stunning scenery changing with the seasons.
It is a fantastic spot to view wildlife, and you may even spot a gray whale or two. The real appeal here though, is the surrounding, with just a short journey to Samuel H. Boardman State Scenic Corridor.
There is a paved pedestrian walk within the campground offering magnificent ocean views, and downtown Brookings is also nearby. There are tent sites and full hookup sites available, as well as a few yurts if you fancy Oregon coast camping in style.
Price: Tent site $20, full hookup $32, yurt $45 | More Info: Website
---
RELATED: Hiking the Samuel H. Boardman State Scenic Corridor
---
19. Coastal Tiny Home
Stay in this wood-accented tiny home in Coos Bay for a private retreat. It is dog-friendly and there is a detached garage with an additional bed.
20. The Hobbit House
Yes, this glamping cabin looks just like a Hobbit House! You can take walks on nearby trails and enjoy evening campfires. you can even hear the ocean, but you're out of the wind. That's a win-win!
21. Glowing Lotus
Don't be fooled by this tent. It has a queen-size bed in it! You'll also hear the sounds of the ocean and creek.
22. Heartland Treehouse
This is another treehouse and it overlooks a steep river canyon. You'll also hear a waterfall nearby. What a perfect way to fall asleep!
23. The Lighthouse Cottage
This whimsical lighthouse cottage has a hot tub and is dog-friendly. The lighthouse and hot tub both have stunning views of Humbug Mountain and Three Sisters.
24. The Cape Airstream
A dreamy vintage Airstream overlooks Nesika Beach and has a hot tub, an outdoor shower, and stunning views over the ocean.
25. The Yurt on Eagleview
The views of the Rogue River from this yurt are breathtaking! It's just a four-minute drive from town but you'll feel like you're in a secluded area.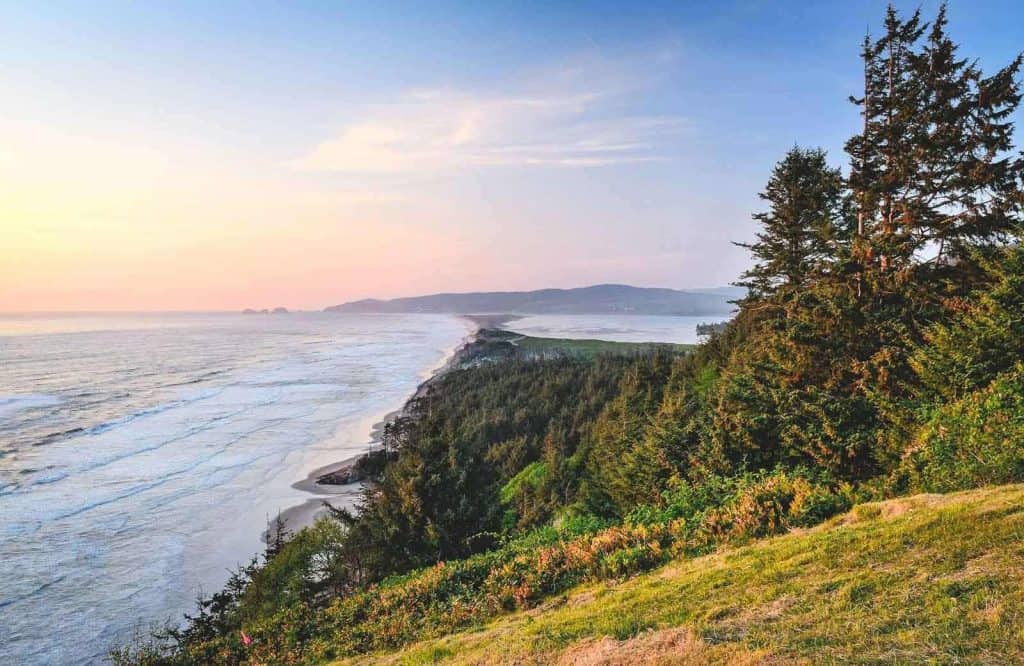 ---
RELATED: 21 Cool Yurts in Oregon for a Memorable Stay
---
26. Lilly Glen Tree House
A magical tree house overlooking a waterfall and nestled in a lush gully. Staying at Lilly Glen Tree House is an enchanting experience.
27. The Bluebird House
This is a fun treehouse experience! It's warm and cozy and you can watch the waves crash along the Samuel Boardman Corridor.
28. Solo-Sailed Circumnavigator
The guy who owns this boathouse sailed around the world with it as a vegan! How cool is that?! This boat is unique and very roomy.
Exploring more? We have you covered for camping all around in Oregon!
Check out more of what Oregon's coast has to offer and see what other adventures Oregon has for you to discover.