Oregon's rugged coastline and incredible beaches beckon thousands of visitors every year. It's easily one the busiest stretches of coastline in the USA and no doubt an epic bucket list road trip!
To make a visit to this iconic area of the state how about making it that much sweeter by staying in a unique yurt on the Oregon Coast? There are tons of these incredibly cool yurts sprinkled across the state but we gathered some of the coolest ones along the coast and near it for you.
Oregon Coast Yurts
---
There are some very cool yurts in Oregon, some are in a state park and some are owned privately. We've given you a mix of both below depending on your yurt needs! The state parks tend to be a bit more simple and the privately-owned yurts definitely have a few extra luxuries.
We have them split up from North to Central to South along the coast for you and included all the links you need for booking your stay.
North Oregon Coast Yurts
1. Fort Stevens State Park
Fort Stevens State Park really does have it all, including hiking, swimming, a huge sandy beach, and several historical attractions, making it the perfect place to set up camp in a comfortable yurt. There are around 4,300 acres to explore, with one of the main attractions being the huge shipwreck right on the beach.
The yurts sit in the large campsite, and they all have a bunk bed and a futon, a table and chairs, electricity, and heating. As the campsite is so large, it is great in terms of amenities, with clean restrooms near most sites.
---
RELATED: Your Guide to Fort Stevens State Park
---
2. Rustic and Traditional Pacific City Oregon Coast Yurt
These Pacific City yurts are locked on a camping resort, meaning you'll have all the amenities that you may want from a camping trip, but it comes with the added perk of each yurt coming plenty of privacy.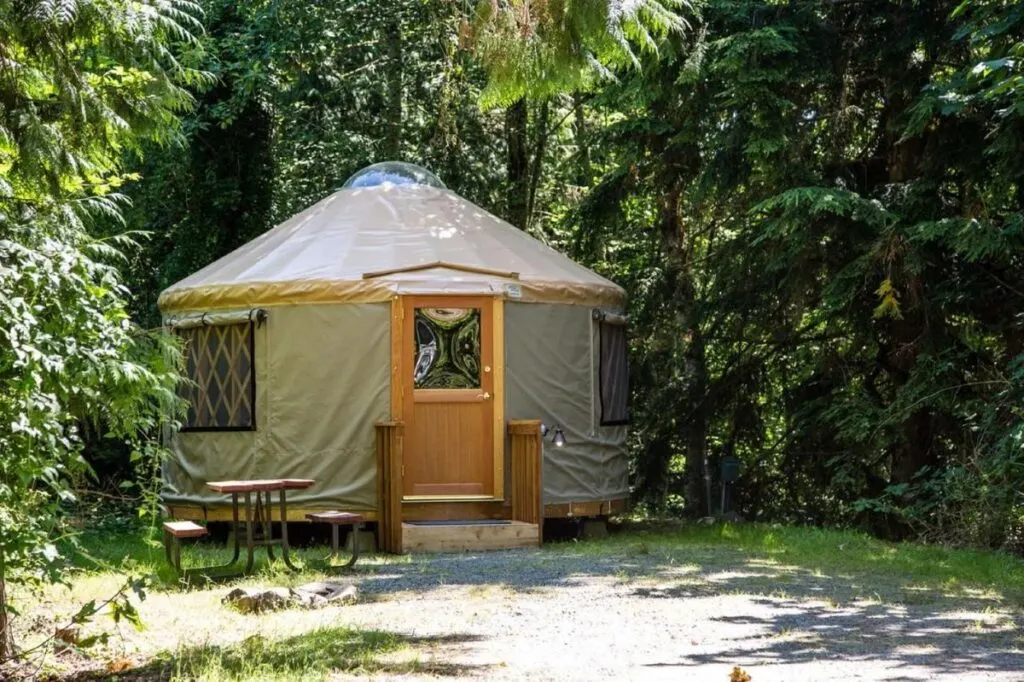 The Oregon coast yurts are wooden and rustic but will undoubtedly do the job when it comes to keeping you warm, dry, and comfortable. A path will take you right down to the beach, picnic tables outside for alfresco dining, and a gas grill for easy cooking.
This yurt is located very close to Pacific City, which offers plenty of adventurous things to do throughout the year. Scale towering dunes, watch for the local wildlife, or take in scenic cape views; the options are endless.
---
RELATED: 11 Most Scenic Oregon Coast Towns (And What to do There!)
---
3. Nehalem Bay State Park
Listen to the sound of the waves as you lay in your comfortable yurt on the Oregon Coast in Nehalem Bay State Park.
The campsite is set in a forest of conifer trees and is just a short walk to the beach over a series of grassy sand dunes. Once you cross these, you'll be treated by a wide, sandy beach on a spit on the Nehalem River.
All yurts come with a covered picnic table and fire pit for al fresco dining, with a basic yet comfortable interior, perfect for resting your head after a long day of exploring this part of the Oregon Coast.
---
RELATED: Your Guide to Nehalem Bay State Park
---
4. Cozy Oceanfront Oregon Coast Yurt With Private Hot Tub
With ocean views and a private hot tub, what's not to love? This cool yurt on the Oregon Coast is pretty big, covering 525 square feet, and offers a huge range of modern luxuries for a comfortable stay.
Situated on the edge of a bay, the exterior is just as nice as the interior, with a BBQ and fire pit and stunning bay views. There is a queen-sized bed under a clear dome so you can watch the stars at night, a fully equipped kitchen, a bathroom with fluffy robes, and, of course, a hot tub.
There is a lot to do in the local area if you can drag yourself away from the tub, including taking a hike to see the famous Octopus Tree or taking the Cape Meares Loop and admiring the mighty lighthouse.
5. Cape Lookout State Park
The yurts rentals on the Oregon coast at Cape Lookout State Park are a little bigger than the more traditional state park yurts found throughout Oregon.
They sleep eight people and have everything you will need for a comfortable stay, including electrical outlets, heating, lighting, and are just a short walk to clean bathroom facilities.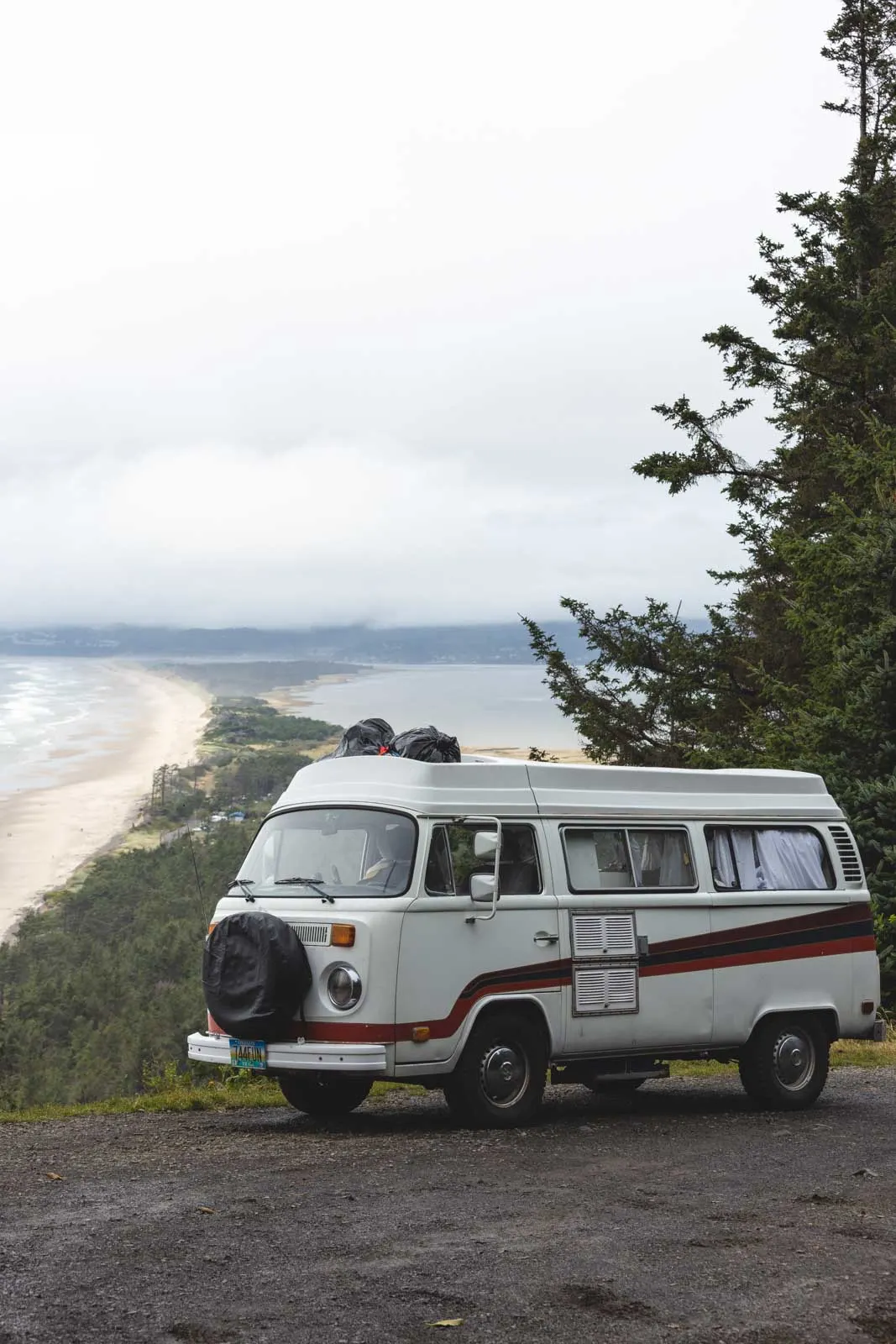 They have a covered porch outside as well, perfect for if it rains. If you want to go a little more upmarket, there is even the option of renting a deluxe yurt, which also comes with a private bath and shower and a kitchen, which is often a good option for those choosing a longer stay.
The beach is very close to the campsite and offers lots of different hiking routes, whether through the lush coastal forest surrounding the campsite or along the beach. An unmissable trail is the Cape Lookout Trail, which will take you all the way to the end of the cape.
6. Cute and Cosy Oregon Coastal Yurts at Long Beach
Compact and cozy are a few words that spring to mind with these yurts at Long Beach Camping Resort. But bigger doesn't always mean better, as these yurts have everything you need to keep you warm and dry through the night, with helpful staff and several on-site amenities to ensure your stay is as restful as it can be.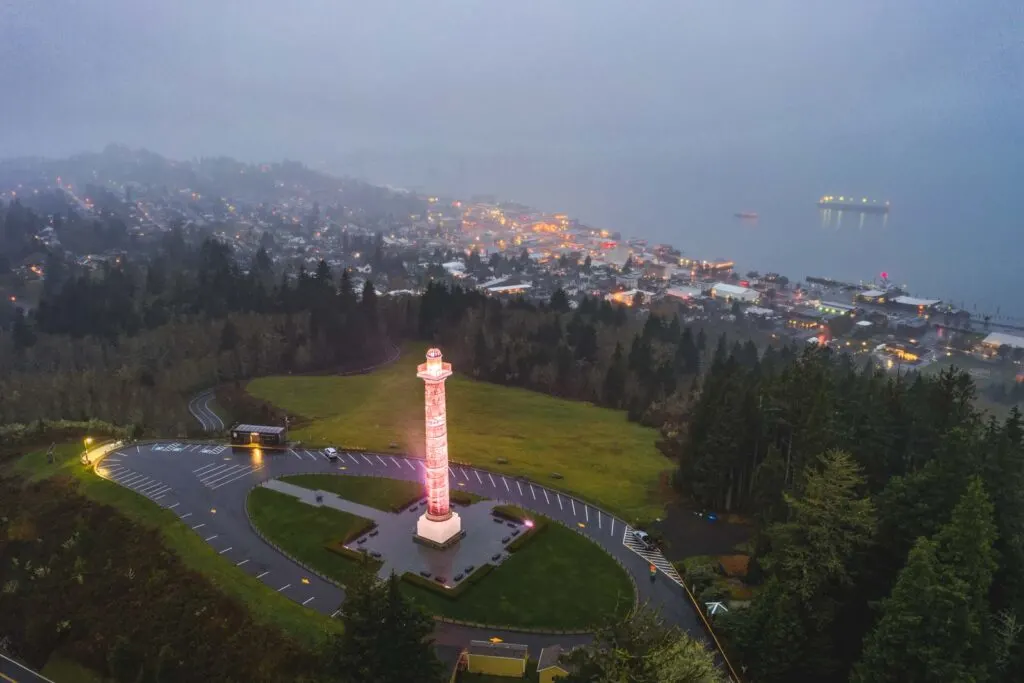 Inside these Oregon coast yurts are a bunk, sofa, and dining table, and outside there is a swimming pool, volleyball court, and a play area to keep kids entertained if you are traveling as a family.
Located very close to Astoria, you can delve into this unique settlement and enjoy the many adventurous things to do in the area. The oldest city in Oregon has a lot to offer; from exploring the vibrant riverfront via Historic Trolley to hiking to the mighty Astoria Column or Cathedral Tree, you could stay for a week and never run out of things to do.
7. Stay on the Doorstep of Cape Lookout
Within easy reach of Cape Lookout State Park, this yurt in Tillamook bay City RV Park puts you in a prime position for a spot of adventuring. The yurts are clean and well equipped, with showers and bathrooms nearby, which are also very well kept. Inside each yurt is a comfortable sofa, heater, and table, and a fire pit outside each one.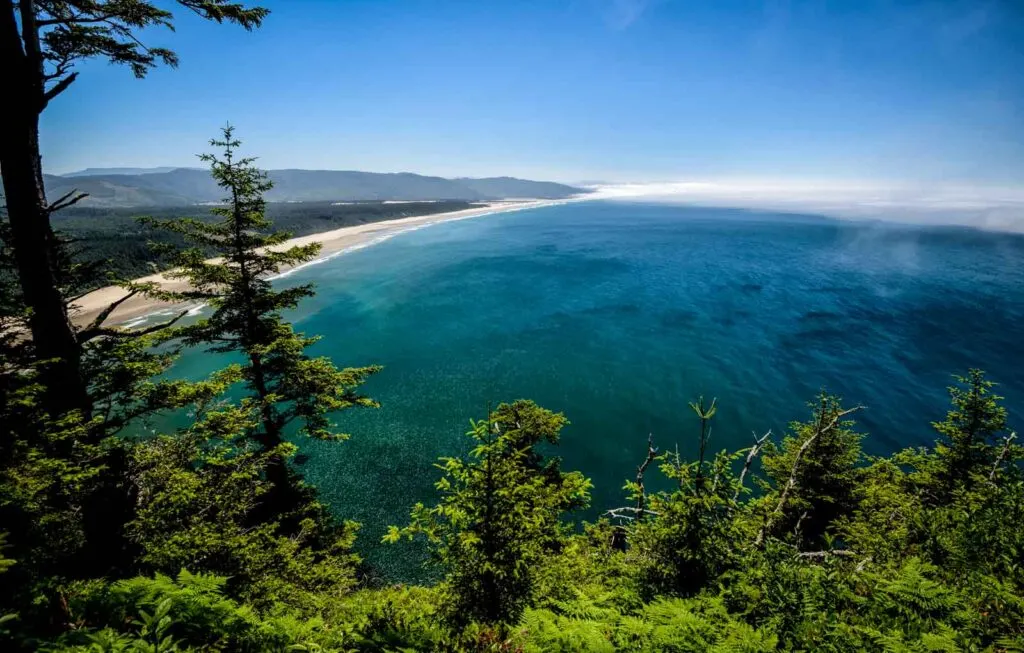 One of the most famous spots on the Oregon Coast will be right on your doorstep at this accommodation. Cape Lookout State Park certainly will not disappoint. Be sure to take the 4.7 mile Cape Lookout Trail, offering breathtaking views of the Pacific Ocean and this incredible stretch of coast.
---
RELATED: 17 Breathtaking Oregon Coast Hikes
---
Central Oregon Coast Yurts
8. Beverly Beach State Park
Beverly Beach State Park is one of the most popular places to stay in a yurt on the Oregon Coast, with bookings being made for the 21 rustic yurts sometimes nine months in advance. You'll soon see why a stay at Beverly Beach State Park is so popular.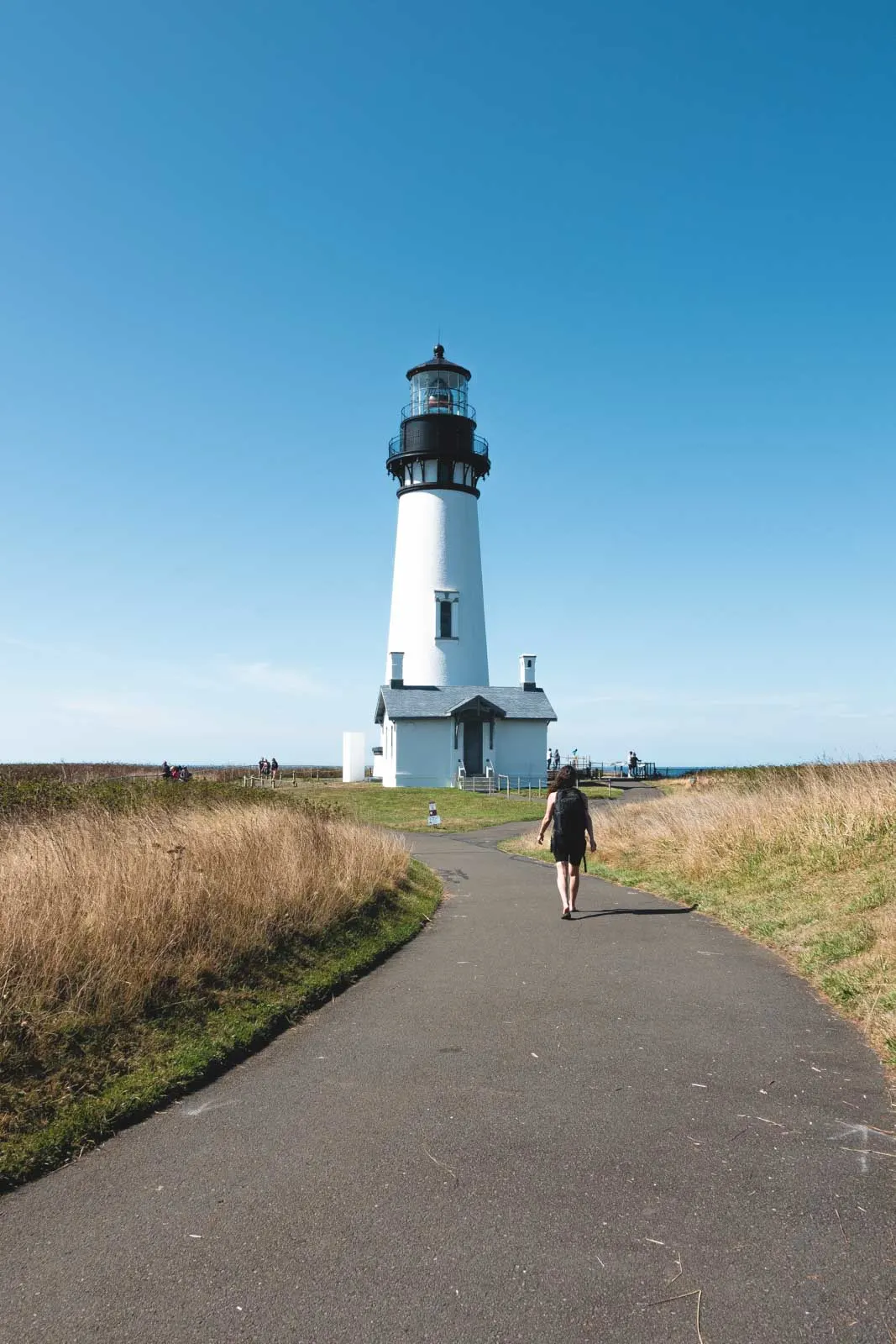 There is easy access to the beautiful beach directly from the campsite, where you'll find some incredible whale watching viewpoints, miles of untouched sand, and waves for surfing.
The yurts sleep five people at a push and have heaters for colder nights and firepits to help you stay warm if you fancy spending your evenings outside. There is electricity supplied with a water spout outside, meaning you'll have a pretty cozy, comfortable camping experience.
---
READ MORE: Beverly Beach State Park – Camp, Surf, Hike!
---
9. South Beach State Park
There are some lovely yurts on the Oregon Coast at South Beach State Park. These yurts are good for larger groups as they have two large double-sized bunks and an oversize twin.
There are multiple electric heaters to keep you warm on cold nights, and the covered deck allows you to cook meals in comfort even when it is raining. The campsite grounds are immaculate, as are the modern communal bathrooms. There is also a park hospitality center that serves snacks and sells ice and firewood.
The park is situated next to the Yaquina Bay Bridge, and from the campsite, it is around a 1.5-mile walk to the ocean. The paved jetty trail is a beautiful spot for a jog or to ride a bike, or kayak tours offer a different perspective of the park.
---
RELATED: 21 Cool Yurts in Oregon for a Memorable Stay
---
10. Beachside State Recreational Site
There is nothing better than staying in a warm and cozy yurt rental on the Oregon Coast, just a short walk from the crashing waves of the ocean. In many yurts, you'll even be able to fall asleep to the sound of the waves.
The yurts at Beachside State Recreational Site come with a covered area for when it rains and their own picnic table for alfresco dining. The nearby bathrooms have hot showers and flush toilets. Firewood is available to purchase on-site.
There are just two yurts available at the campsite, so if you fancy one, you should try to book well in advance, especially on summer weekends.
This small but picturesque spot on the Oregon Coast offers a beautiful place to spend the night, next to miles of soft, sandy beach. This section of coast certainly feels pretty remote, but there is no better place for secluded walks on the beach, with it not unusual to walk for miles and not spot another person.
If you fancy some more challenging hikes, head to Cape Perpetua Scenic Area or Heceta Head Lighthouse.
---
RELATED: 11 Oregon Coast Lighthouses & The Adventures Nearby
---
11. A Futuristic and Fancy Oregon Coast Yurt
I challenge you to find an Oregon coast yurt cooler than this Surf Dome at Otter Rock. The futurist, geometric dome, dotted with skylights, will ensure you enjoy a stay quite unlike any other Oregon Coast experience you will have ever had. As a guest, you have complete access to the top two floors and spacious decking.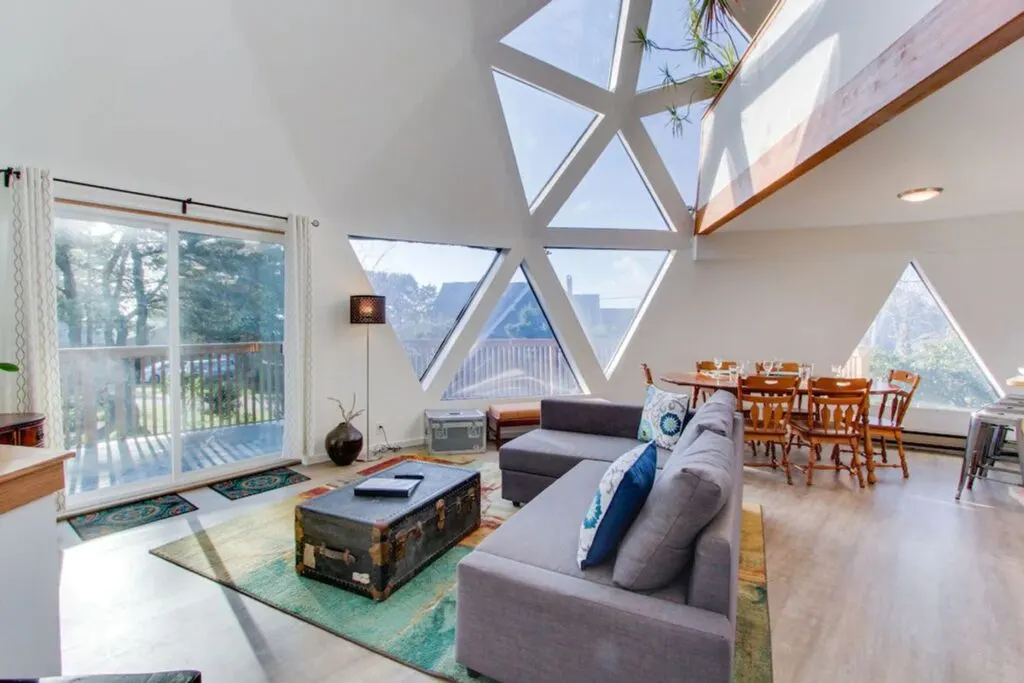 Inside the yurt, a modern, open-plan living room flooded with light, with a large kitchen and dining area and two comfortable bedrooms, one of which has a double, and the other some bunk beds.
This accommodation is located just three blocks from the thundering and mighty Devils Punchbowl, a must-see on any trip down the coast. This cavernous rock formation could be as old as 18 million years, and watching the waves crash in and out is pretty mind-blowing. The best way to reach the trail is via the accessible 0.8 mile Devils Punchbowl Trail, which will take you directly to the viewing area.
---
RELATED: Devils Punchbowl State Natural Area in Oregon
---
12. Stay Active at South Jetty Camping Resort
These yurts at South Jetty camping resort offer a great place to spend the night when looking to explore the area. Unlike many glamping accommodations, they come with full linens, so no lugging of sleeping bags and sheets across a campsite.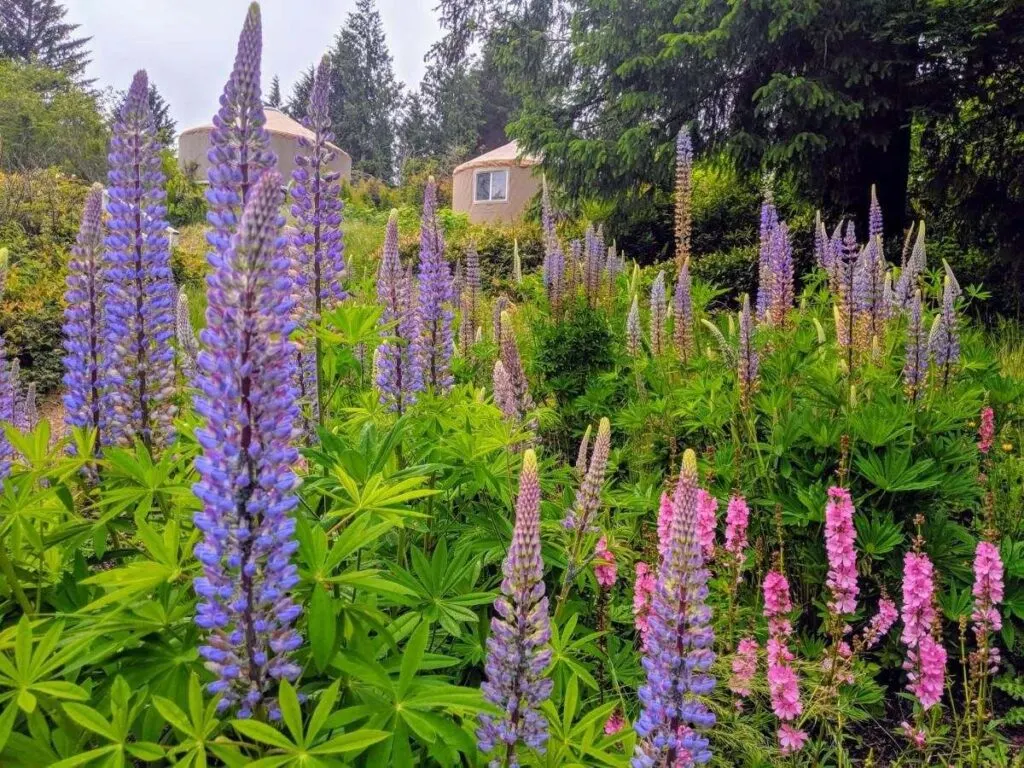 The yurts themselves are spacious and comfortable, with heaters that will see you through even the chilliest of Oregon nights. The Oregon coast yurts come with their bathrooms, kitchen, and quaint little decking area for those warmer nights. The resort offers lots of activities, so you don't even have to venture out if you don't want to, although we very much recommend that you do!
You have to check out the Oregon Dunes when you are in the area. You'll feel like you are in the Sahara rather than in the state of Oregon. Explore the hiking trails, or for a more adrenaline-fuelled way to take in the dunes, why not have a go at sandboarding?
13. Jessie M. Honeyman Memorial State Park
With a skylight, electricity, and a heater, staying in a yurt will provide a few of those essential home comforts when staying in Jessie M. Honeyman Memorial State Park. There is plenty of space between you and other campers, with many yurts surrounded by trees for even more privacy, and everything, including the bathrooms, are spotless and tidy.
There is a lot to do in the park, including going boating on the lake using the park's boat rental service, enjoying the Oregon dunes and sandy beach, tackling some of the stunning hiking trails admiring the views of the ocean.
One of the most popular activities here, however, is taking an ATV out over the dunes for a real adrenaline rush, or the more adventurous can give sandboarding a try. There are tons of trails around for hiking or biking, and you'll be minutes from the town of Florence.
---
READ MORE: Your Adventure Guide to the Oregon Dunes
---
14. A Luxury Oregon Yurt in the Forest
Be at one with nature at this forest yurt, where your closest neighbors might be the resident chipmunks or birds high in the trees that surround you. This Oregon coast yurt has a bit more of a camping vibe than others, so think of it more like a yurt/tent hybrid, but it has the benefit of a comfortable bed inside, made with plush memory foam for a restful night's sleep.
Just a short walk away; you'll reach the clean bathrooms and with campfire area and endless trails to explore right on your doorstep.
Sure, the Oregon Coast is just one natural wonder after another, but if you are this close to Yachats, then Thor's Well has to be on your to-do list. Even if you are on a flying visit, then you can see the well right from the parking lot, with the powerful ocean getting sucked down into the well before being thrust high into the sky time and time again.
---
RELATED: Visiting Thor's Well in Cape Perpetua, Oregon
---
15. Umpqua Lighthouse State Park
Pick from the standard or the deluxe yurt at Umpqua Lighthouse State Park, depending on the level of luxury you are looking for in your camping trip.
If you don't mind splashing out a little bit, the deluxe yurts come with a private bathroom and shower and a small kitchen area, which could be a good option if you are looking to stay for an extended period of time, or in the winter when outside bathroom runs are not very appealing.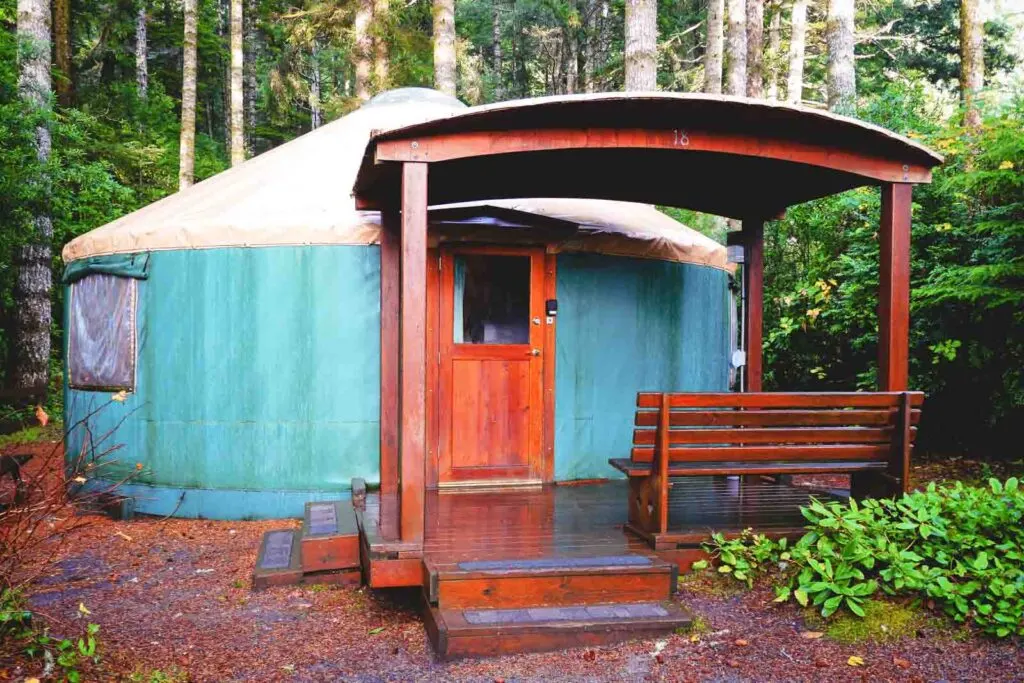 The yurts are quite large, some sleeping seven people with a mix of bunk beds and futons, but you have to bring your own bedding.
To get to the beach, you have to follow a trail for about a mile, so it may not be your first choice of camping if you want to be right on the beachfront. It is still a beautiful setting, with the campsite surrounded by forest and right next to Lake Marie, which is perfect for hiking around and fishing.
It is also very close to the Oregon Dune National Recreation Area, which is good for hiking and off-roading.
---
RELATED: 20 Epic Places to go Glamping in Oregon
---
South Oregon Coast Yurts
16. William Tugman State Park
Tucked away in a mature cluster of pines are 16 yurt rentals on the Oregon Coast, located in the campsite of Tugman State Park. Eight of these yurts are pet-friendly, perfect if you fancy bringing your furry friend along with you. The yurts are warm and cozy, the perfect alternative for those that don't fancy sleeping on the ground.
There is a futon that opens out to a double bed and a bunk bed with a double-sized lower bunk and a single upper bunk. There is a heater and several electrical outlets for charging cables and an electrical outlet, and a water faucet outside. There are benches on the covered porches, so you can sit outside even when it is raining, and a fire pit and picnic bench for dry evenings.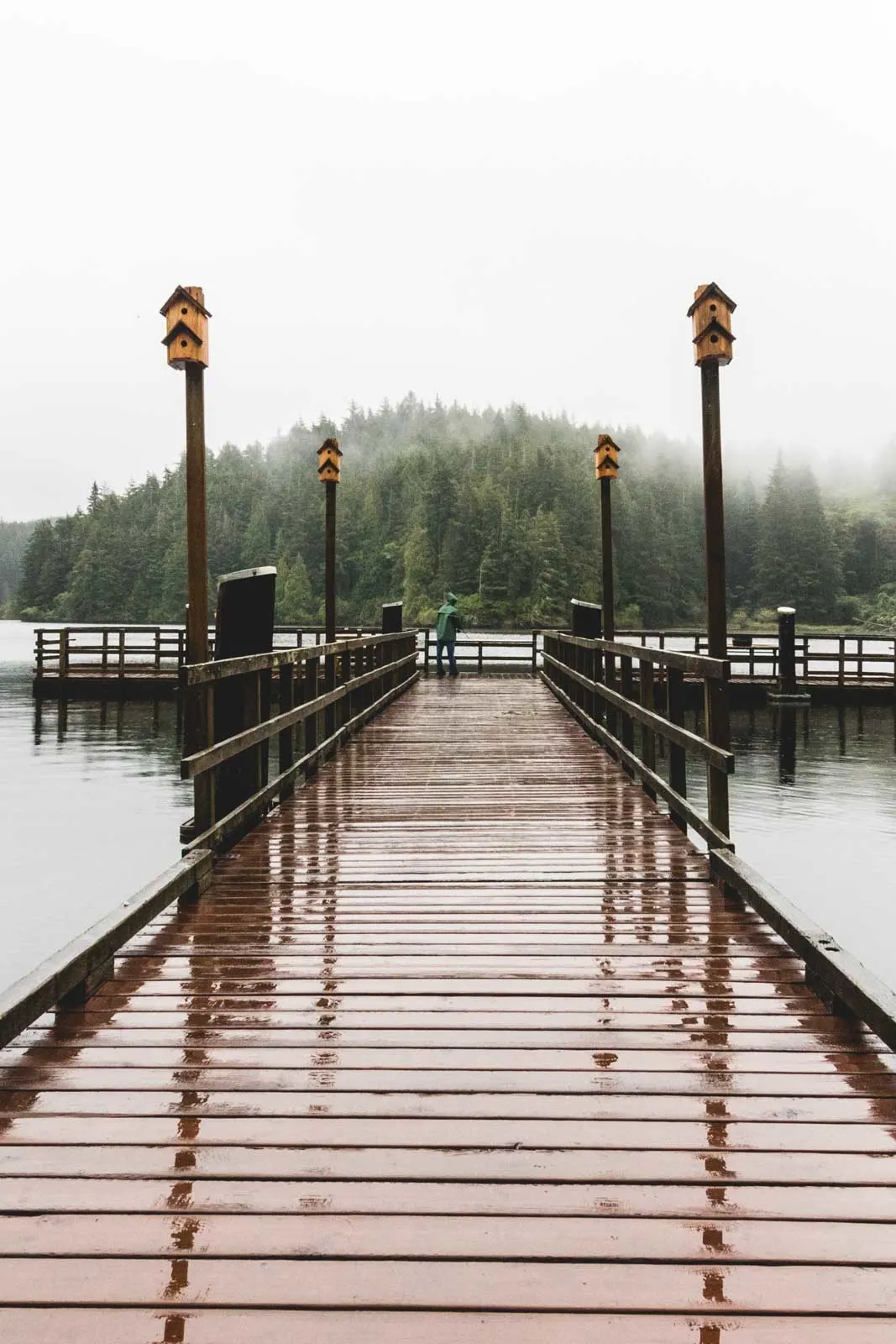 The grounds of the campsite are very nice and well kept, with a park ranger patrolling 24/7. Several baths and showers are dotted throughout the park,
Eel Lake, located very close to the campsite, is a beautiful place for a walk, with a hiking trail going all the way around it and with picnic benches for a lakeside lunch. Fishing and boating are also available at the lake, and trout, bass, and salmon are often caught here. Kayaking is also a popular activity on the lake, so it really does have a little bit of something for everyone.
---
READ MORE: 19 Must-Visit Oregon Coast State Parks
---
17. Sunset Bay State Park
Listen to the sounds of the ocean from the comfort of your warm yurt at Sunset Bay State Park. All yurts come with heating and electricity and are well-lit thanks to the windows and skylight in the roof.
There are wide and comfy bunk beds with an additional sofa, tables, and chairs. Some of the yurts are pet friendly if you wanted to bring your dog along with you for the adventure.
The park is a lot of fun to explore, with several easy to moderate hiking trails to enjoy. If you have time, you should also check out the nearby Shoreacres Park and the other lookouts along the coast.
18. Harris Beach State Park
The yurts at Harris Beach State Park offer the perfect place to spend the night, just a short distance away from the crashing waves of the ocean. There are six yurts on the Oregon Coast available to rent, located in the campsite at the state park, just a short walk to the beach.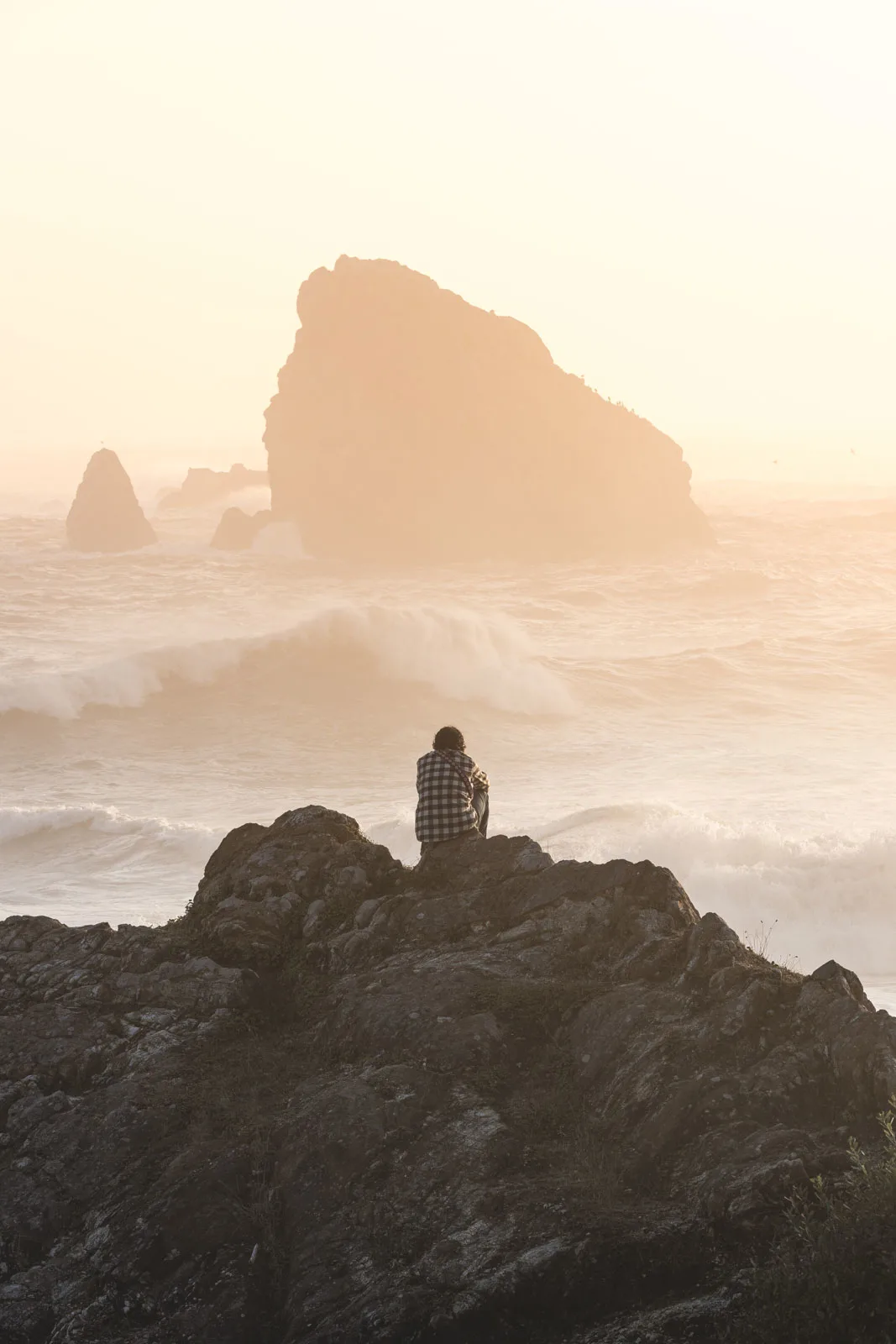 All yurts come with a heater, making them very popular in the colder months when traditional camping is too cold. They come with everything you need for a basic but comfortable stay, with clean bathrooms also nearby.
Harris Beach is a lovely place to set up camp for the night. There are miles of hiking trails where you can enjoy ocean vistas or the sandy shore and dramatic rocky outcroppings. Nature lovers have the opportunity to spot birds, whales, seals, and sea lions while there, so be sure to bring some binoculars.
We hope this Oregon Yurts post has helped you plan your trip. Here are more posts on Oregon's coast to check out and the best camping in Oregon.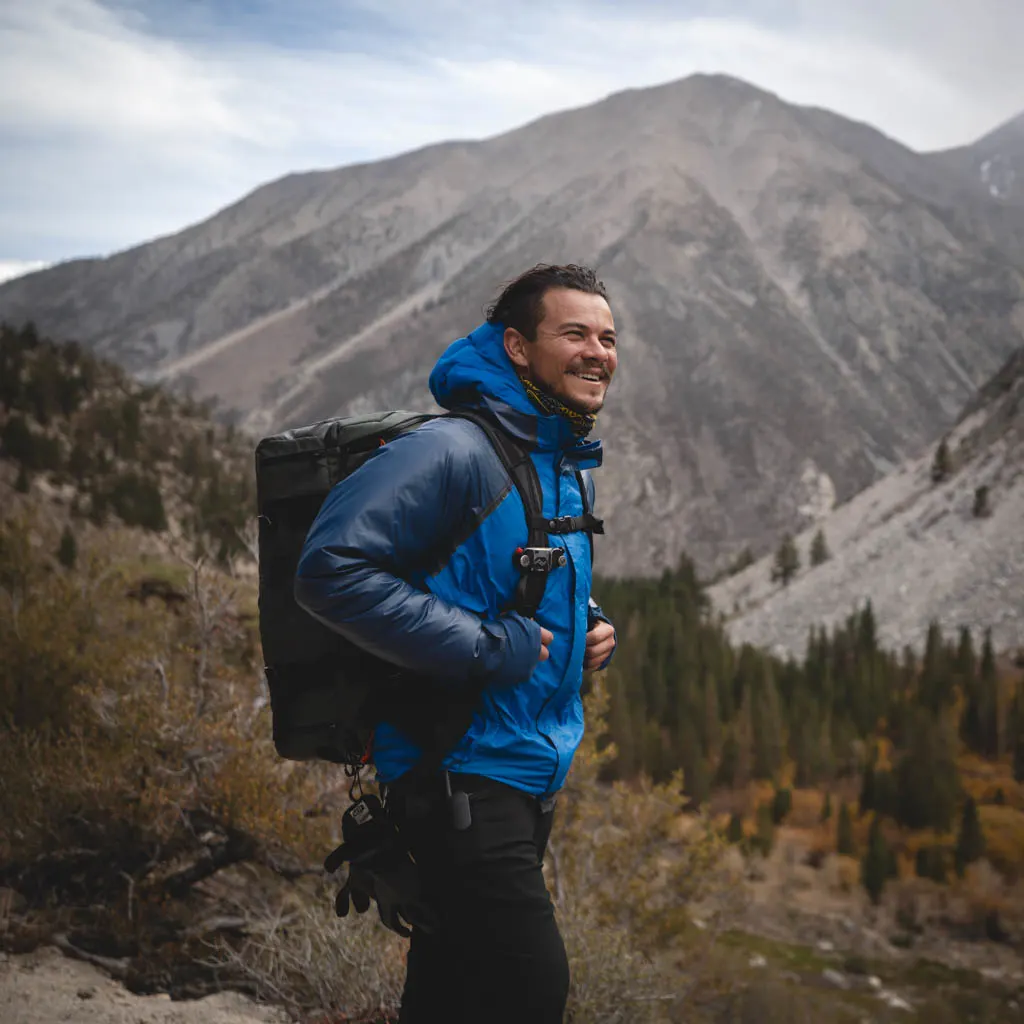 Oregon native and explorer at heart. Loves tackling expeditions around the world and drinking a good beer at the end of the day. PNW obsessed, VW nerd, and surf or snow riding fanatic.