The state parks in Oregon are simply incredible.
Wildlife spotting, alien landscapes, coastal beauties, momentous mountains—Oregon's State Parks really do have it ALL!
While there are over 300 state parks in the state, we chose our favorite ones to share with you here.
Oregon State Parks
---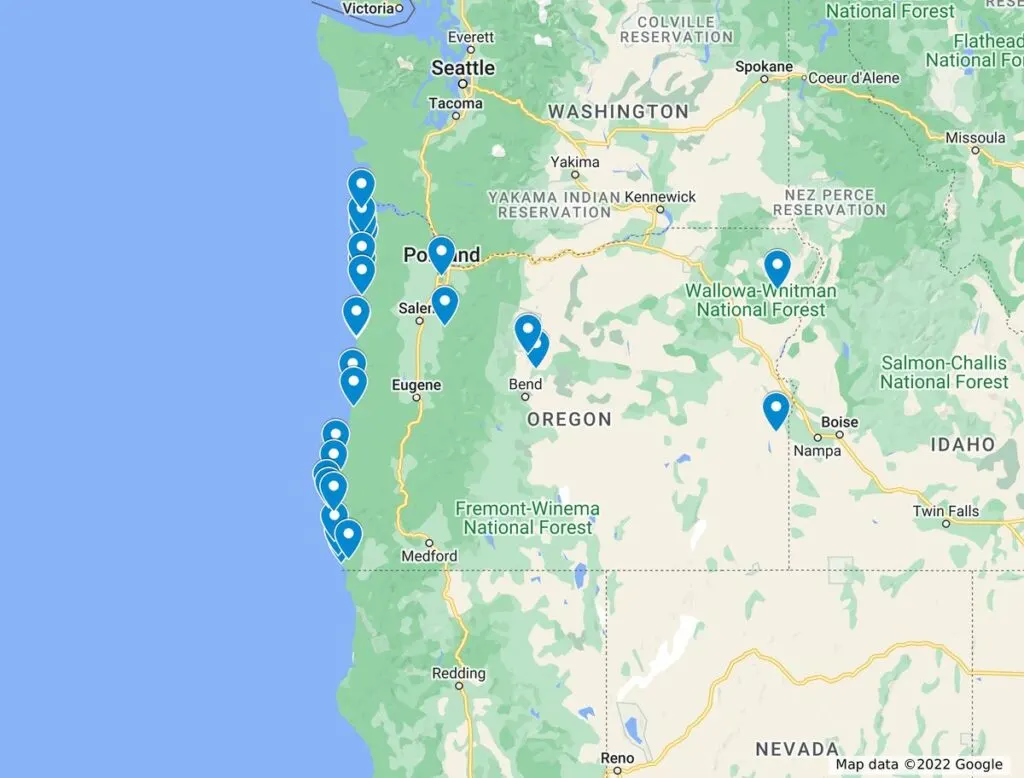 1. Lake Owyhee State Park
Lake Owyhee State Park stands apart from most Oregon state parks primarily because of its location in the desert. Eastern Oregon doesn't usually get much limelight.
Still, once you see the stunning canyon-like structure of Lake Owyhee, the bright colored rock formations, and surrounding mountain scenes, you will wonder why you ever stayed away.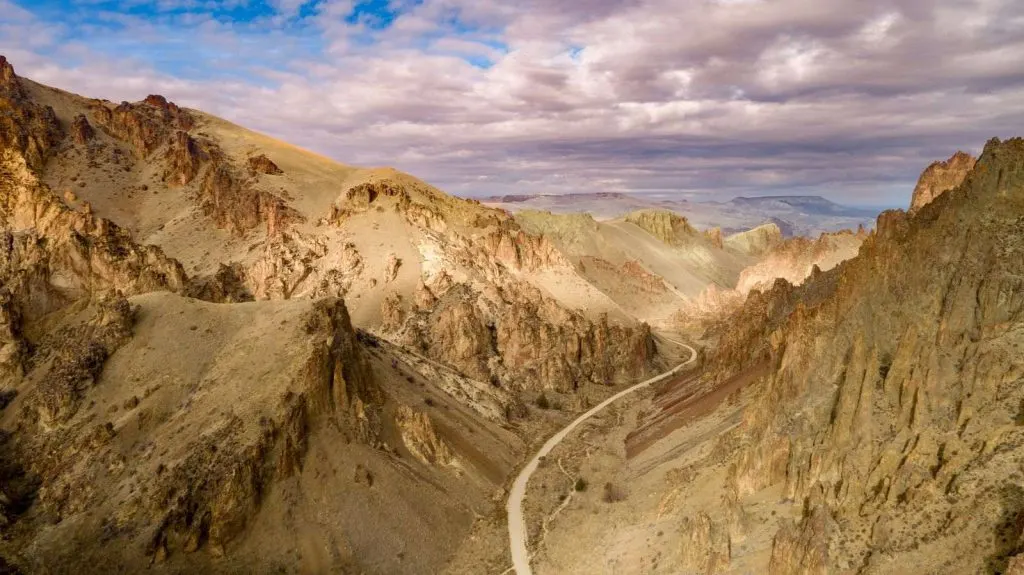 Fishing opportunities are excellent or use the boat ramp to spend the day floating around in the water on a boat, admiring the volcanic rock up close, keeping an eye out for golden eagles and wild horses.
There are two campsites to choose from, the McCormick Campground, which is seasonal, and Indian Creek Campground, which also has a couple of cabins.
---
READ MORE: Exploring The Owyhee Canyonlands: Hiking, Rafting, & Camping
---
​2. Wallowa Lake State Recreation Area
Whether you want to head out onto the water of glacial Wallowa Lake or would prefer trekking through the mountains or along the shore, Wallowa Lake State Recreation Area has you covered.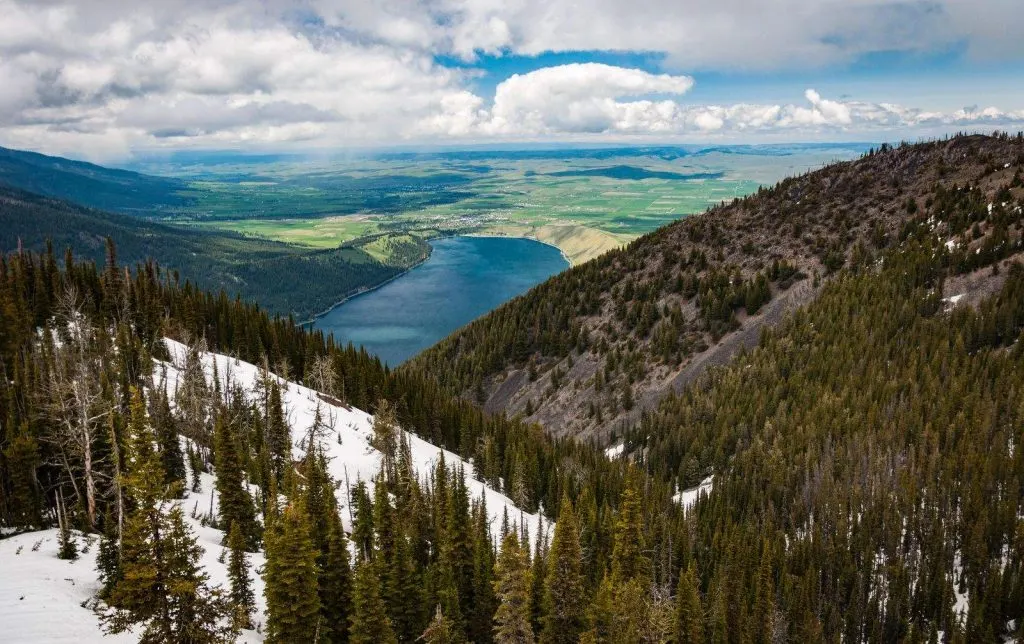 With a vast campsite of over 200 sites, there is plenty of room for everyone to enjoy the scenic picnic areas, boat launches, and boat rentals.
It is also an excellent place to base yourself if you are looking for high mountain trails, such as the Hurricane Creek Trail and the Ice Lake Trail.
The Chief Joseph Trail takes you up through the pines for something a little more laid back. Even the drive to the park is beautiful as you travel along the Hell Canyon Oregon Scenic Byway.
---
READ MORE: A Comprehensive Guide to Visiting Wallowa Lake State Park—Adventures and Camping
---
​3. The Cove Palisades State Park
The real selling point of Cove Palisades State Park is, without a doubt, the scenic 72 miles of shoreline along Billy Chinook Lake. There are 3 day-use areas that make it easy to get out onto the lake with services that include multi-lane launches and trailer storage.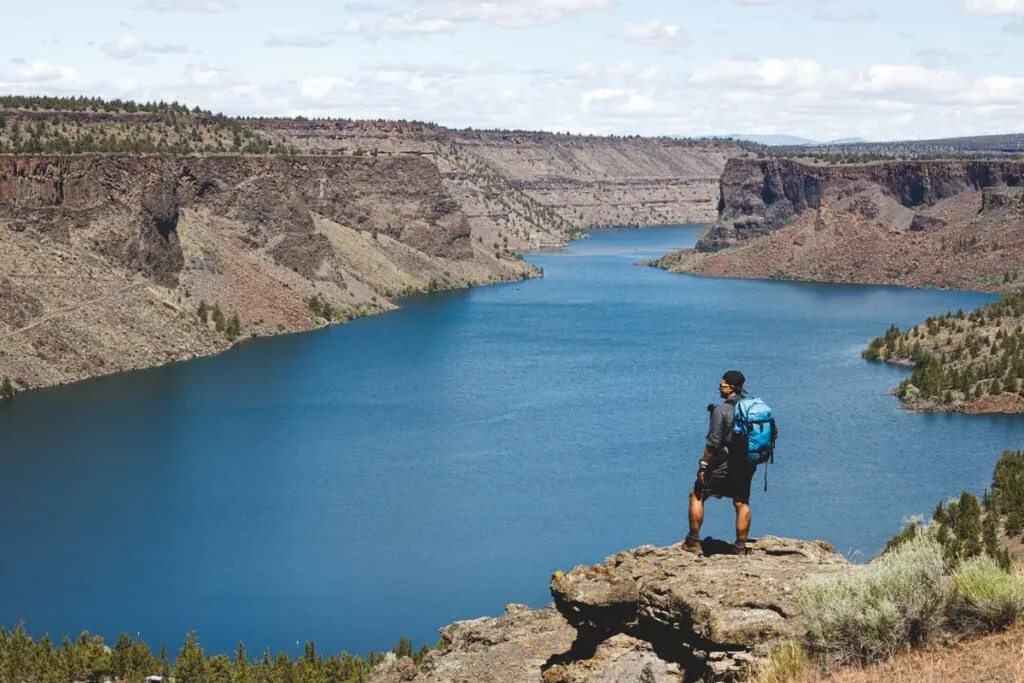 You can't leave this Oregon state park without hiking the 6.5-mile Tam-a-Lau Trail, which takes you to the Peninsula lava plateau, filled with several geological wonders.
There are 265 camping areas available, so you spend a few days enjoying all the park offers.
---
READ MORE: Your Guide to Cove Palisades State Park
---
​4. Smith Rock State Park
Smith Rock State Park has plenty to keep you entertained, but it is mainly known for its incredible rock climbing opportunities. Rig your slackline and pick one of the nearly 2,000 climbing routes.
Of course, there are way too many even to attempt to list, but some of the most enormous, most revered walls include the Christian Brothers, the Dihedrals, Red Wall, West Side Craggs, Monkey Face, Smith's Rock, and Monument Area to name a few.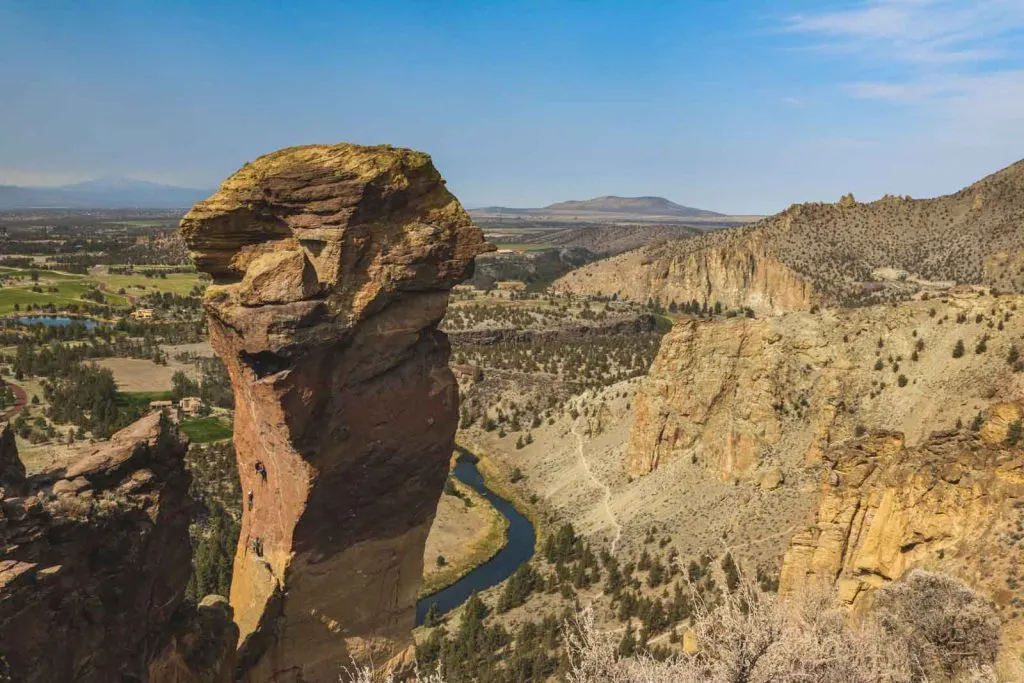 It is a seriously cool place to head to, even if you are not into rock climbing, with deep canyons and towering rocky spires dominating the surroundings.
Take a walk along the beautiful River Trail, or if you have brought your bike along with you, you could try the Summit Trail Loop, taking you to an incredible viewpoint with 180-degree views of the park and beyond.
---
READ MORE: A Guide to Smith Rock State Park's Hikes, Misery Ridge Trail & More
---
5. Humbug Mountain State Park
If you have traveled the Oregon coastline, you would have admired the mighty Humbug Mountain as it rises majestically out of the water.
It towers at 1730 feet above the sea and is almost entirely covered in thick forests rich with wildlife, and it is this mountain and the surrounding area that make up Humbug Mountain State Park.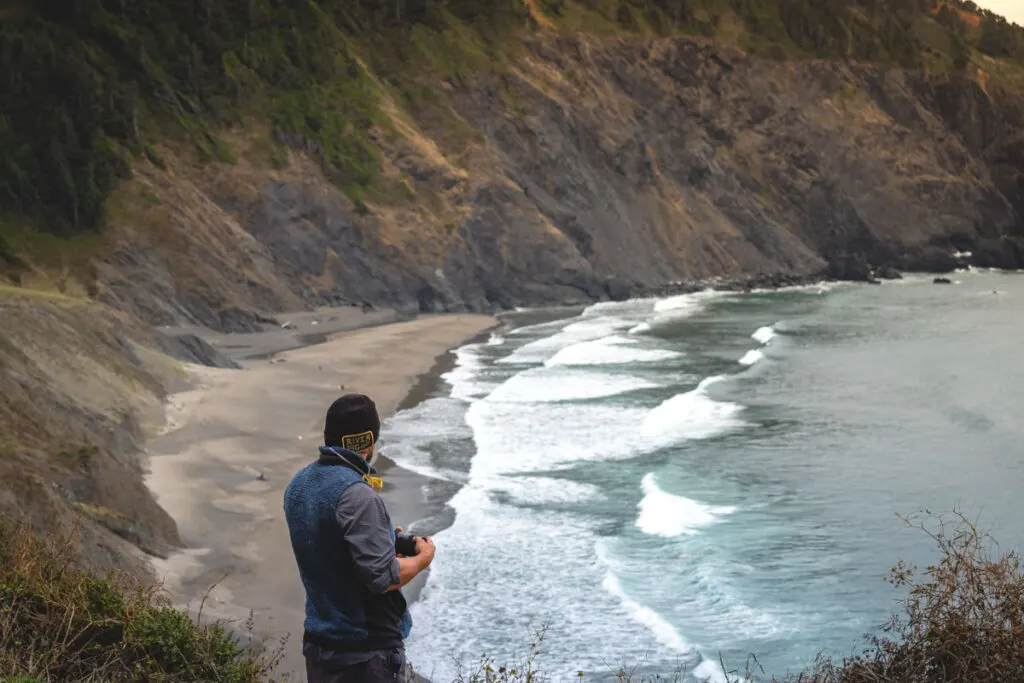 If you are up for it, the Humbug Mountain Loop is a must, taking you up the mountain itself via several switchbacks. You'll have to work for it, as you won't get the views until you near the top.
Enjoy some time on the beach via the Beach Access Trail, so you can feel the sand between your toes and admire the surrounding cliffs. There is also a small campsite, protected from the elements by the rocks if you are looking for a place to stay.
---
READ MORE: Your Guide to Humbug Mountain State Park
---
​6. Port Orford Heads State Park
Sea stacks and isolated coves make up Port Orford Heads State Park. Combined with a museum and a wildlife refuge, there is a lot to offer for a small Oregon state park.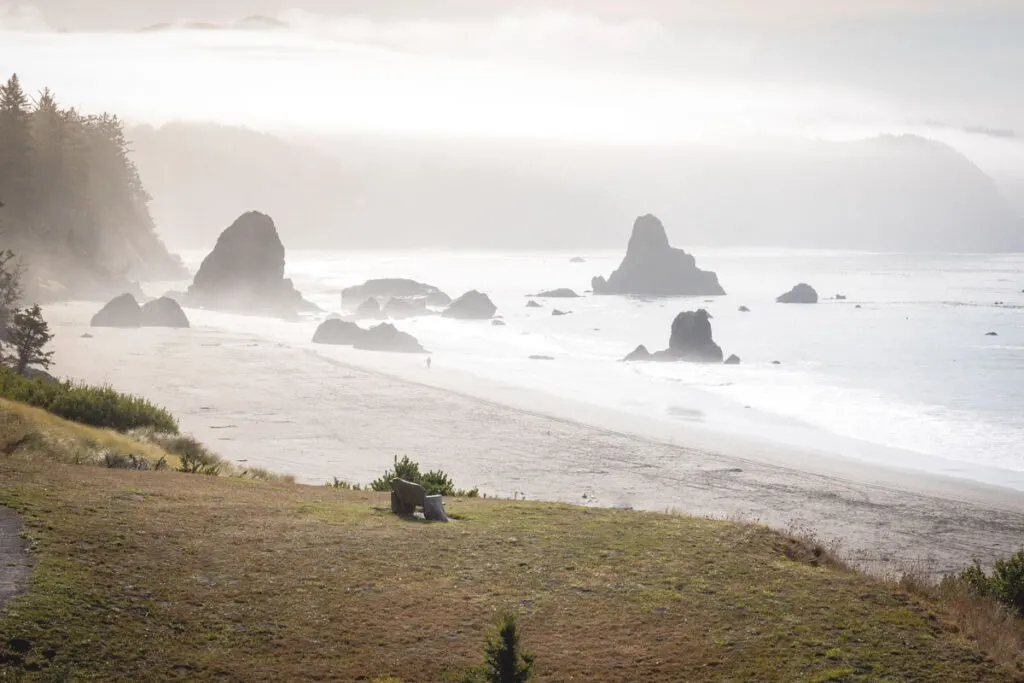 If you are into history, then pay a visit to the historic lifeboat station and think about the many lives that have been saved here, and take the 0.2-mile Tower Trail, so you can have a glimpse of where the lookout tower was positioned. The Nellie's Cove Trail is also great, offering one of the park's best views.
---
READ MORE: 7 Adventurous Things to Do Around Port Orford, Oregon
---
​7. Cape Blanco State Park
Cape Blanco is moody, scenic, and so very Oregon. This coastal Oregon state park offers natural wonders and large desolate beaches, where you can walk until your heart is content.
One of the most popular trails is the Pacific View trail, and it is the trail you will want to stomp if you are hungry for the views.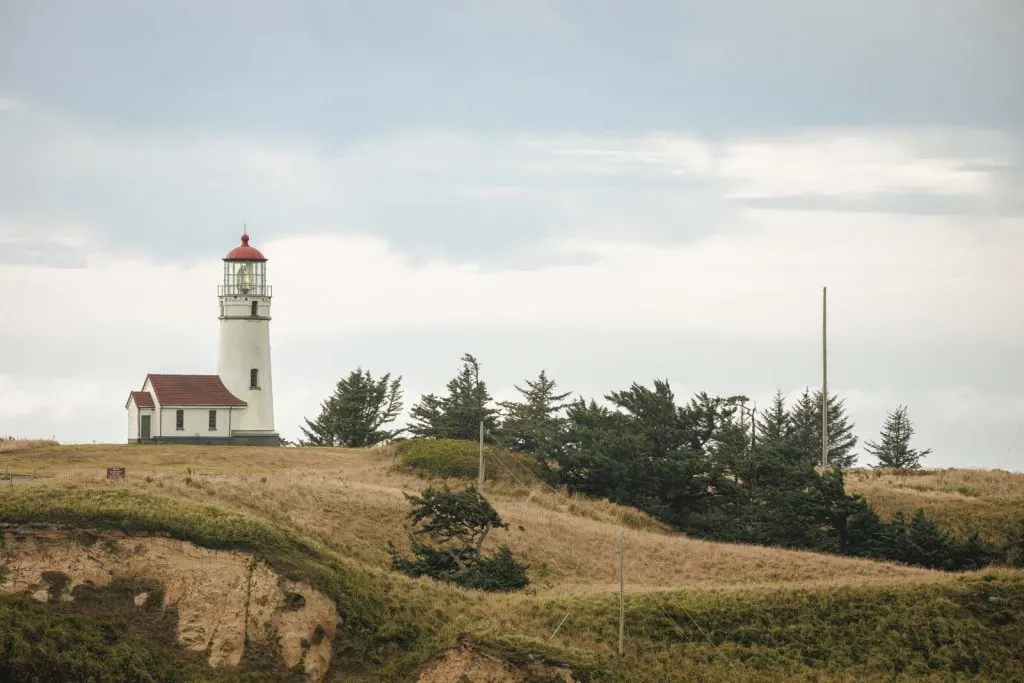 It is stunning and pretty easy, too, so you won't have to work very hard for some incredible viewpoints over the coast.
One of the most famous attractions in the park is the lighthouse, which is still operating to this day, and you can even pop in for a look around to see how everything works.
---
READ MORE: Your Guide to Cape Blanco State Park
---
​8. Bandon State Natural Area
Bandon State Natural Area comprises a beautiful stretch of beach, offering opportunities for long walks along the shore, beachcombing, nature watching, and just relaxing.
The place calls to professional and novice photographers alike to come and try and capture the essence of this rugged stretch of coastline and the dramatic rocks that reach out of the waves.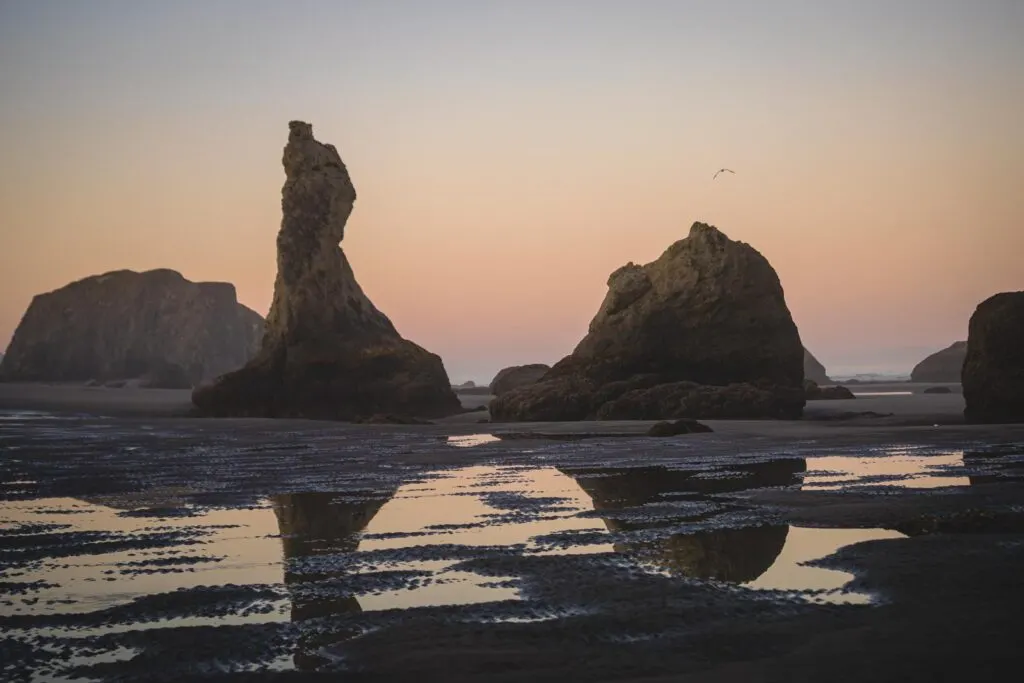 You can catch some of the best views at Coquille Point, nearby. While Bandon Beach is a well-known area, you will have a good chance of getting a little solitude, away from the crowds and near all the natural beauty.
There are three main access points to the park, with Devils Kitchen being the most developed with tables and picnic areas, but that is about as developed as Bandon gets; other than that, it is just you and nature.
---
READ MORE: 9 Cool Adventures Around Bandon Beach, Oregon
---
​9. Alfred A. Loeb State Park
Nestled on the banks of the Chetco River, covered in a blanket of ancient Myrtlewood trees, you could spend a very relaxing day at 'Loeb.'
Most people flock to the park to admire the towering Redwood giants that grow in the park, with the accessible Riverview Nature Trail offering a stress-free way to see these beasts up close. You could also choose to take a hike along the river banks.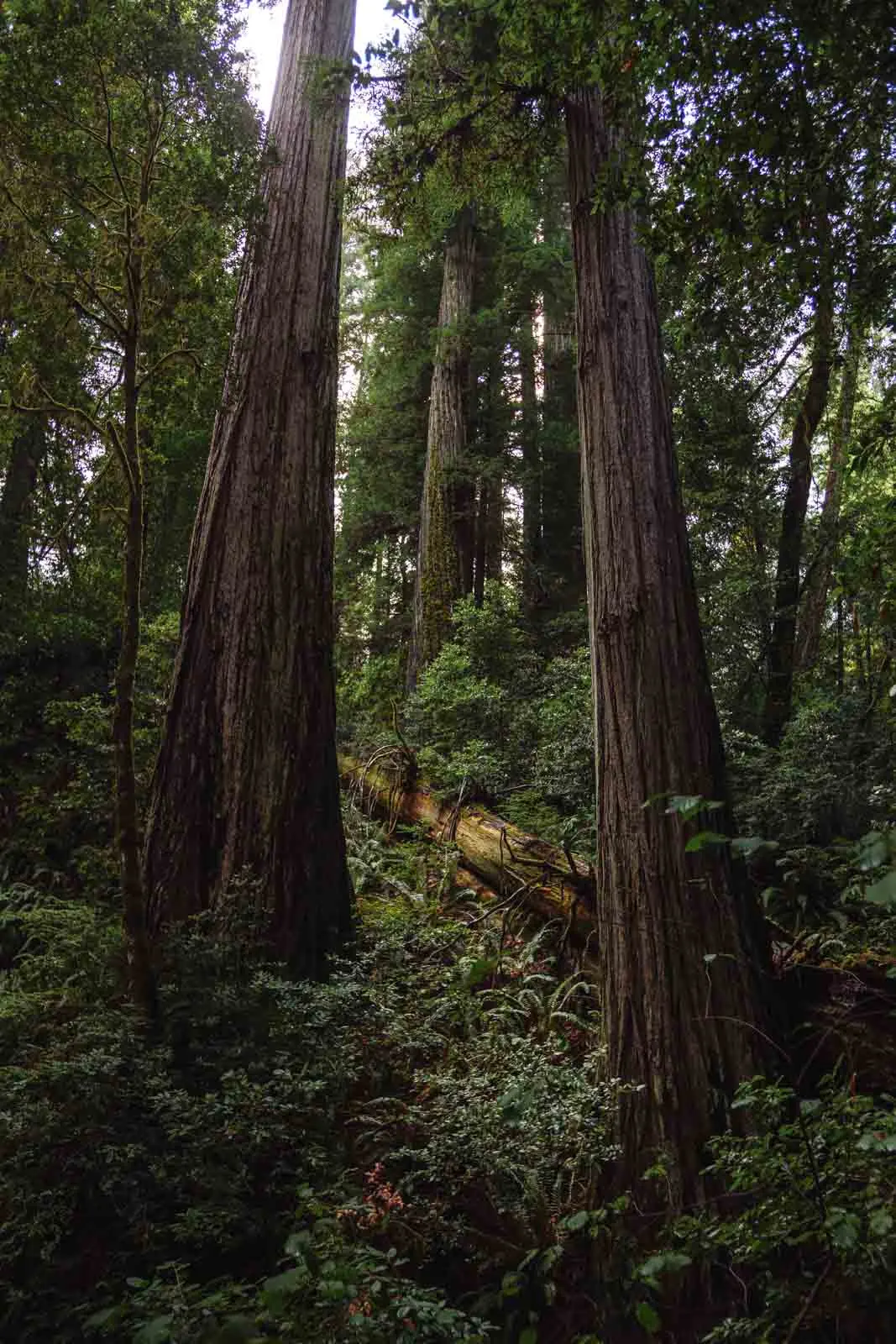 During the summer months, the water will be a busy hub of paddleboarders, swimmers, and white water rafters, with lazy evenings spent around the campfire of the campsite.
Whether for recreation or relaxation, or a healthy mix of both, it is clear why this park is loved by both visitors and locals.
---
RELATED: How to See The Redwoods in Oregon
---
​10. Cape Sebastian State Scenic Corridor
Cape Sebastian is stunning no matter the time of year you visit; you will be in awe without even leaving the parking lot.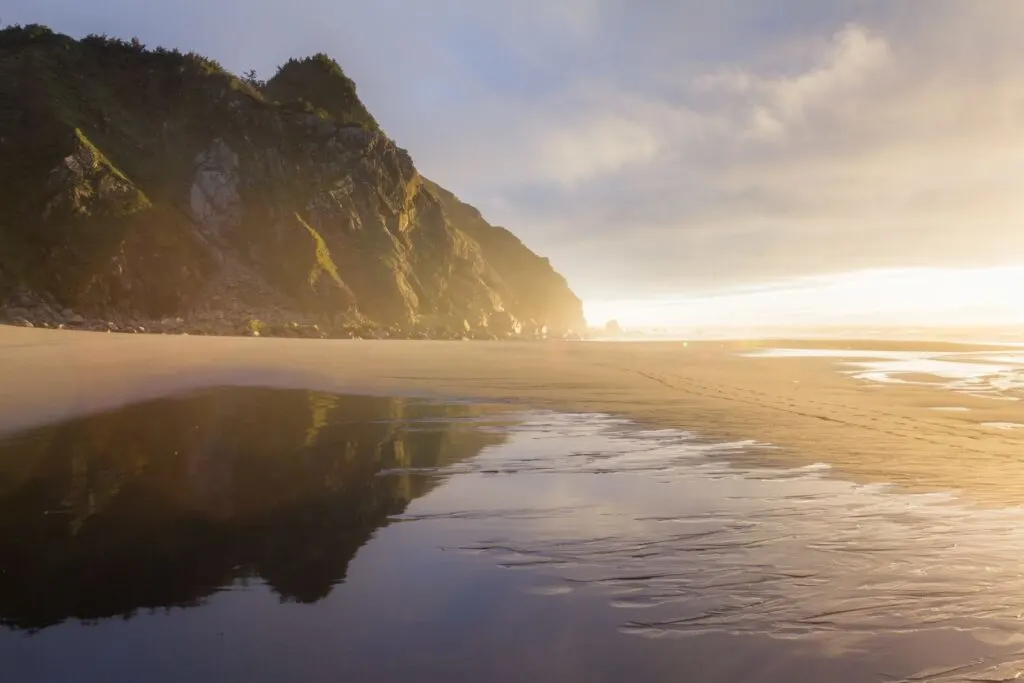 This coastal park offers stunning views along its hiking trails, such as the Cape Sebastian Trail, which will take you past lots of the park's highlights. These include incredible viewpoints and a walk through the dense vegetation that makes up much of the park.
Dramatic Hunters Cove is also a must-visit for those looking to tick off the most atmospheric of Oregon Beaches, and this one comes complete with grey sand and huge boulders dotted about the shore.
---
RELATED: Southern Oregon Coast: 13 Epic Stops—Bandon to Brookings!
---
​11. Samuel H. Boardman State Scenic Corridor
No matter which way you walk or what time of day you visit, it is hard to beat Samuel H. Boardman State Park when it comes to natural coastal beauty.
Planning a detailed trip here can be tricky as there are tons of short hikes with random offshoots leading to fantastic features and rocky viewpoints, so you could always 'wing it.'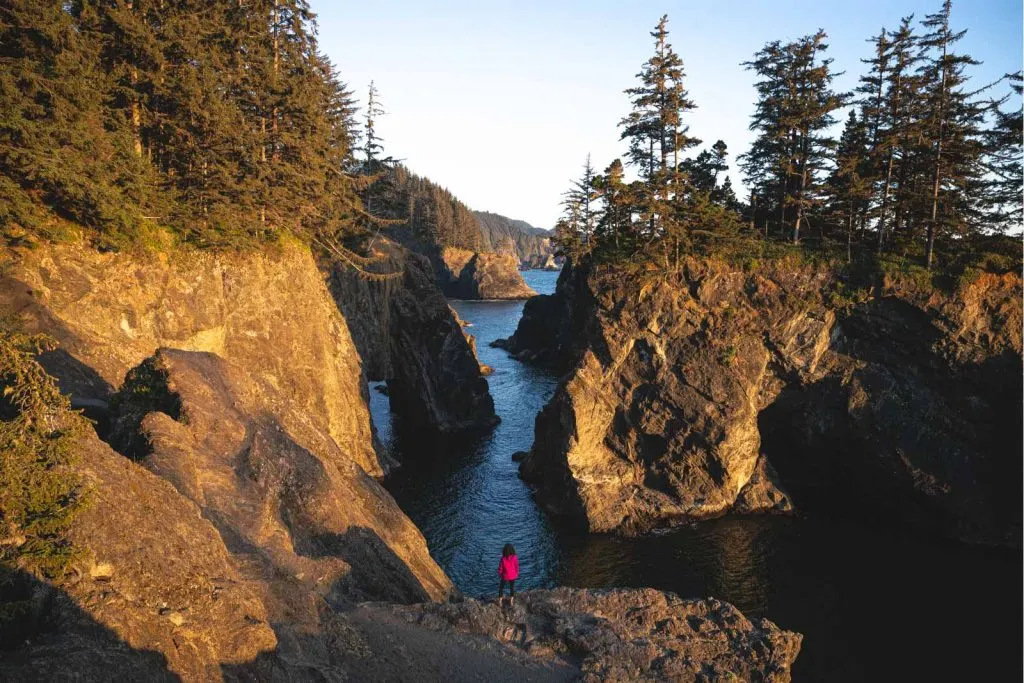 However, suppose you want a bit of structure in your life. In that case, a few of the must-do hikes include the Lone Ranch South Trail, which is an excellent intro to the area, the Natural Bridges that will take you to this natural wonder (be aware it is very steep and challenging), and the trail down to Secret Beach.
If you want to sit on the sand and take it all in, then Whales Head Beach is one best. There is a massive stretch of sand, scenic sea stacks to admire and explore, and a great view of a huge expanse of the coast.
---
READ MORE: Hiking the Samuel H. Boardman State Scenic Corridor
---
​12. Cape Arago State Park
Jutting dramatically out into the Pacific Ocean, Cape Arago is a prime spot for whale watching, but if you can't see any whales, you can count the ships sailing around Coos Bay.
Take the South Cove Trail that winds its way down to the sandy beach, where you can spend the day relaxing and tide pooling.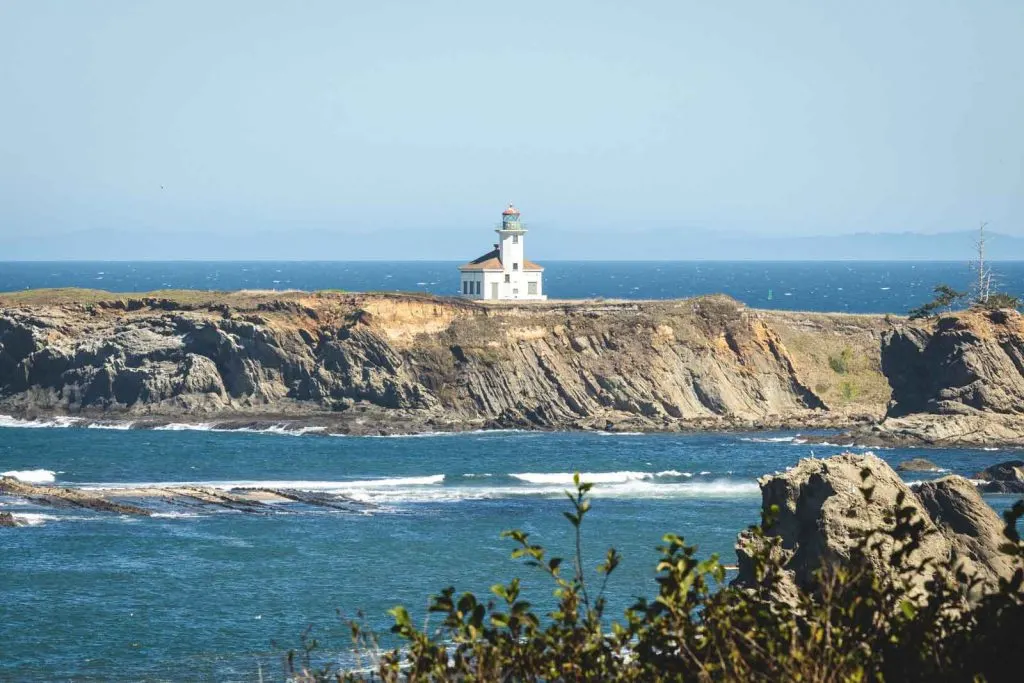 Alternatively, take the North Cove Trail that takes you down to a very different stretch of coast, where you can spot seals and sea lions at shell island or try your luck at a fishing spot.
The park is just one-third of the stunning Cape Arago Beach Loop, which explores three Oregon state parks in one easy drive. This also includes Sunset Bay State Park and Shore Acres State Park and some viewpoints and other points of interest.
---
RELATED: 17 Most Scenic Oregon Coast Towns (And What to Do There!)
---
13. Jessie M. Honeyman Memorial State Park
The Jessie M. Honeyman Memorial State Park has so much to offer, from miles of tall dunes that lead to stretches of ocean and large freshwater lakes.
Cleawox Lake is the perfect swimming hole, especially on those hot Oregon summer days, and Woahink is known for its boating possibilities. You can rent boats right on the shore and head out to explore the coast.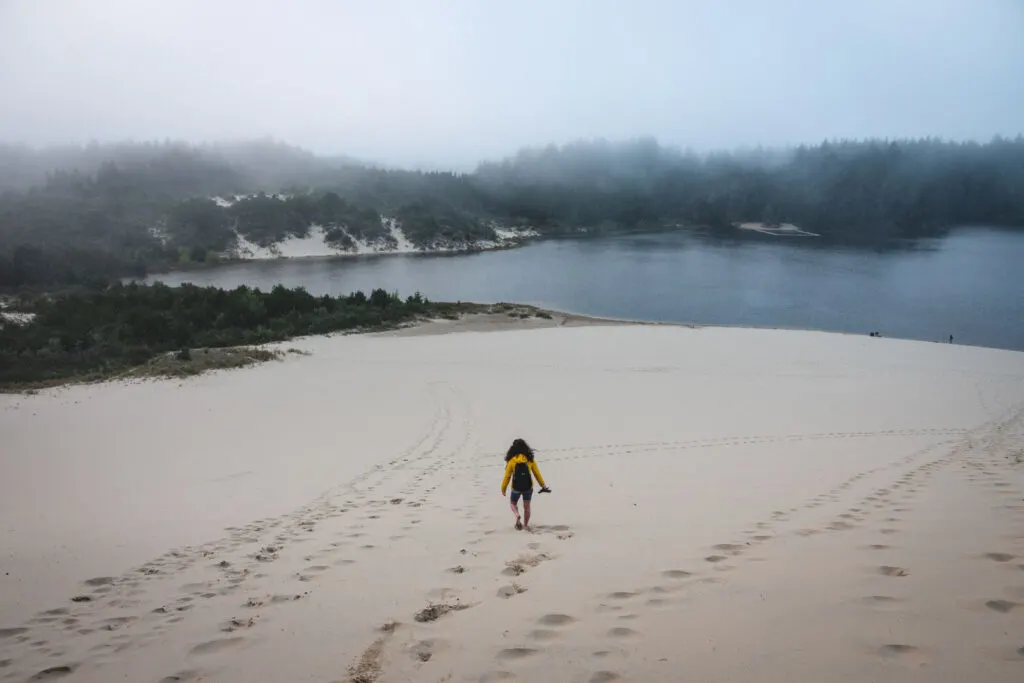 Other rentals include sandboard rentals, and trust us; you have not experienced adrenaline like hurtling down a dune on a sandboard.
The day-use areas are centered around the lakes and include amenities like picnic tables and restrooms, making it easy to spend the whole day at the park.
With more than 350 campsites, there are plenty of places to pitch a tent or park your trailer for the night and continue the explorations in the morning.
---
RELATED: Your Adventure Guide to The Oregon Dunes
---
​14. Tryon Creek State Natural Area
Tryon Creek is unique because it is the only Oregon state park located in a metropolitan area, just a short drive from downtown Portland.
This forested city oasis offers everything you could want for a short city escape, with 8 miles of hiking trails through a second-growth forest, a bubbling creek, eight bridges, and a boardwalk that spans the wetlands.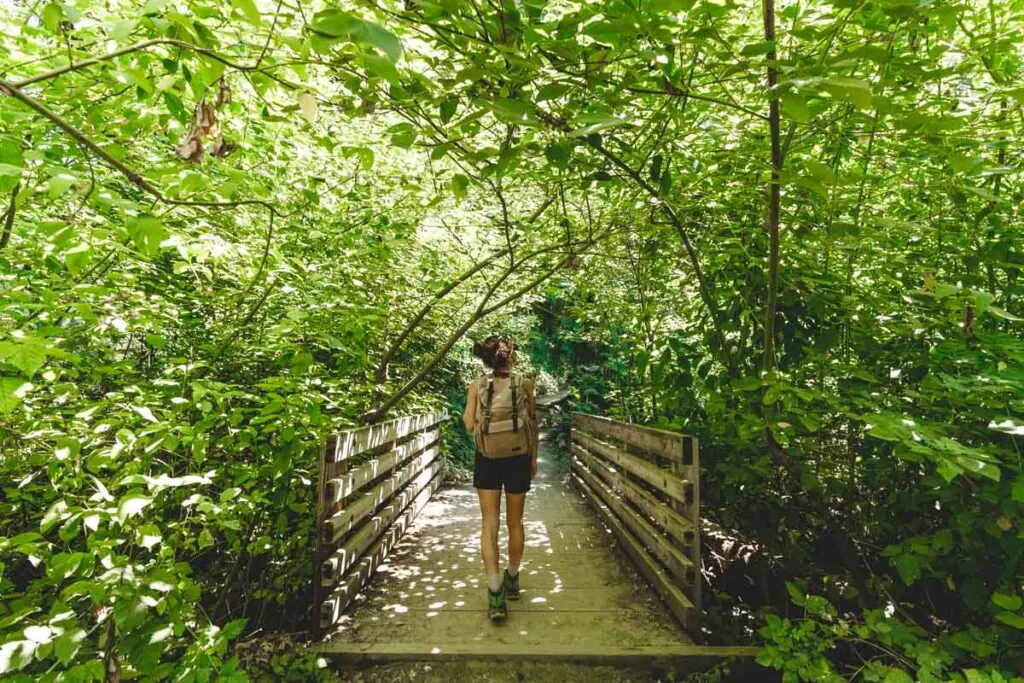 When you are immersed in the woods, with squirrels and birds surrounding you, you won't believe that you are just 15 minutes from downtown Portland.
The 0.3-mile Trillium Trail has been designed for all abilities, filled with benches and viewing decks, and there is also the North Horse Loop and West Horse Loop for equestrians and a 3-mile paved cycle path, so there are plenty of options for getting around.
---
READ MORE: Exploring Tryon Creek State Natural Area in Portland
---
​15. Fort Stevens State Park
Fort Stevens is one of Oregon's most popular state parks. Hikers flock here to take to the trails, be it the Long Trail, to see most of the park's highlights in one trip, the accessible Peter Iredale Trail, which will lead you to the iconic shipwreck or take a walk along the shore on the Coffenbury Lake Trail.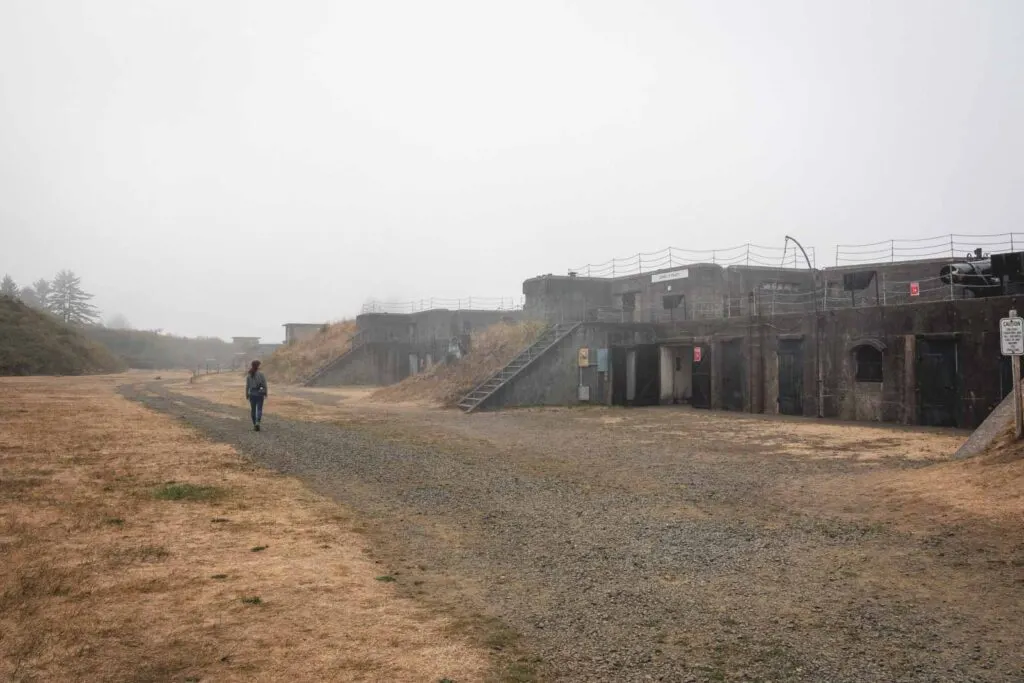 Once you've had your hiking fill, why not have a round of disc golf, try your luck fishing on Coffenbury Lake or take out a kayak?
Wildlife is abundant, history is rich, and there is plenty to entertain you. You will need to book up a space at the large park campground to fit it all in.
---
READ MORE: Your Guide to Fort Stevens State Park
---
​16. Cape Kiwanda State Natural Area
Cape Kiwanda is just one of the capes that make up the Three Capes Scenic Route, but it is a destination in itself. From the lofty viewpoint at the top of the Cape, you will see from Nestucca Bay to Cape Lookout.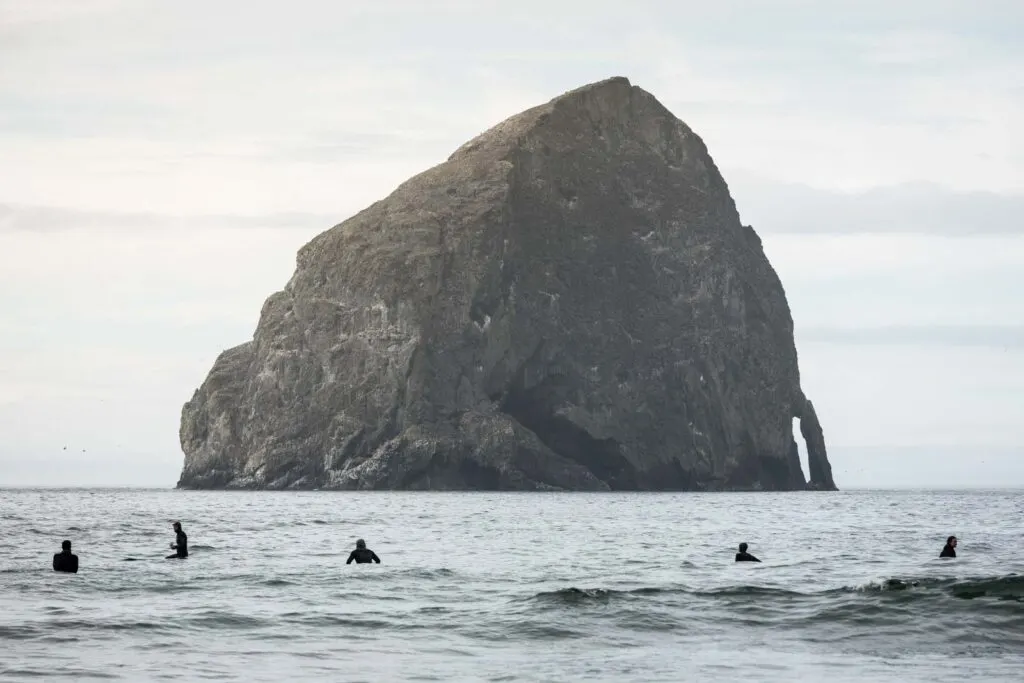 If you are up for a severe leg burner, why not attempt to climb the HUGE dune behind the Cape?
For a more chilled-out vibe, spend some time at Pacific City Beach, which is just below the headland. Polish off your surfboard and head out into the sea for great wave action.
---
READ MORE: Exploring Cape Kiwanda Near Pacific City, Oregon
---
​17. Cape Meares State Scenic Viewpoint
Don't leave Cape Meares State Scenic Viewpoint without ticking a few things off the list first.
For a start, admire the forest that surrounds you, this is some of the last native Oregon old-growth coastal forests, and it is beautiful. It is also home to the Big Spruce, Oregon's largest Sitka.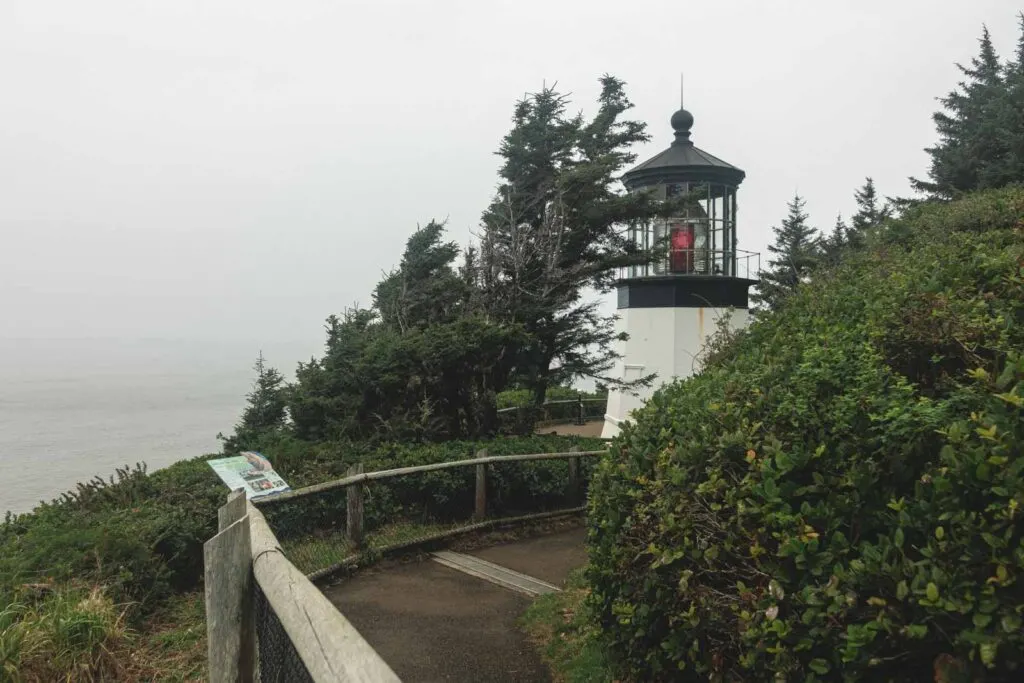 Pay a visit to Oregon's shortest lighthouse, which sits at just 38 feet tall, and is open to visitors for free in the summer months, and the short Cape Meares Lighthouse Loop will take you all the way there.
You must also take the Viewpoint and Octopus Tree Loop, as this combines two of the park's best attractions and is only 3 miles long.
---
READ MORE: Exploring Cape Meares State Scenic Viewpoint
---
​18. Cape Lookout State Park
If you have done your research about Oregon, we would be amazed if Cape Lookout didn't pop up somewhere when it comes to Oregon state parks.
It is a true Oregon coast landmark, jutting a mile and a half out to sea; with sheer cliffs of 400 feet on either side, you will feel as though you are on top of the world.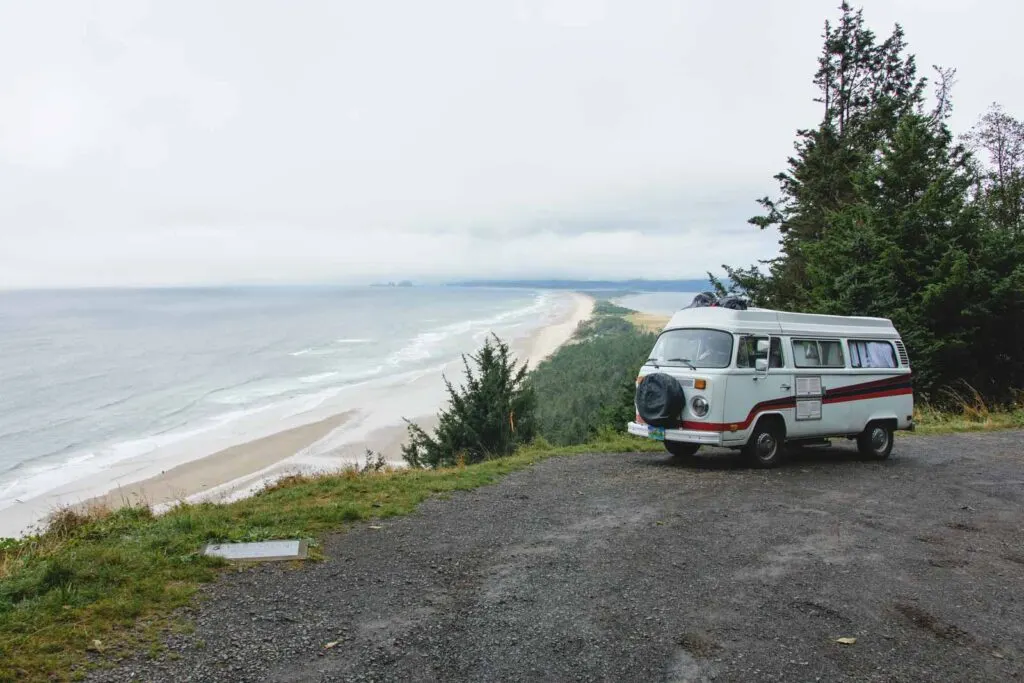 The park maintains a bit of a wild side, and this adds to its appeal, with hikes like the Cape Lookout Trail offering incredible vistas of the surrounding coast and Sitka Spruce and hemlock forests.
If you want to see the Cape from a different angle, take the Oregon Islands South Trail to the beach way down below, but remember you will have to hike back up again.
Keep an eye out for some of the local wildlife in the tide pools, full of colorful life. Look to the air for falcons and red crossbill, and if you are fortunate, spot migrating whales out at sea.
---
READ MORE: Your Guide to Cape Lookout State Park
---
19. Ecola State Park
Wet, wild, and windy, Ecola State Park is one of Oregon's most dramatic parks, high on the coast at Tillamook Head.
If you can cope with a hunk of uphill climbing, then give the Clatsop Loop Trail from Indian Beach a go, taking you up and up with some drop-dead gorgeous views of the coast and lighthouse as a bit of reward.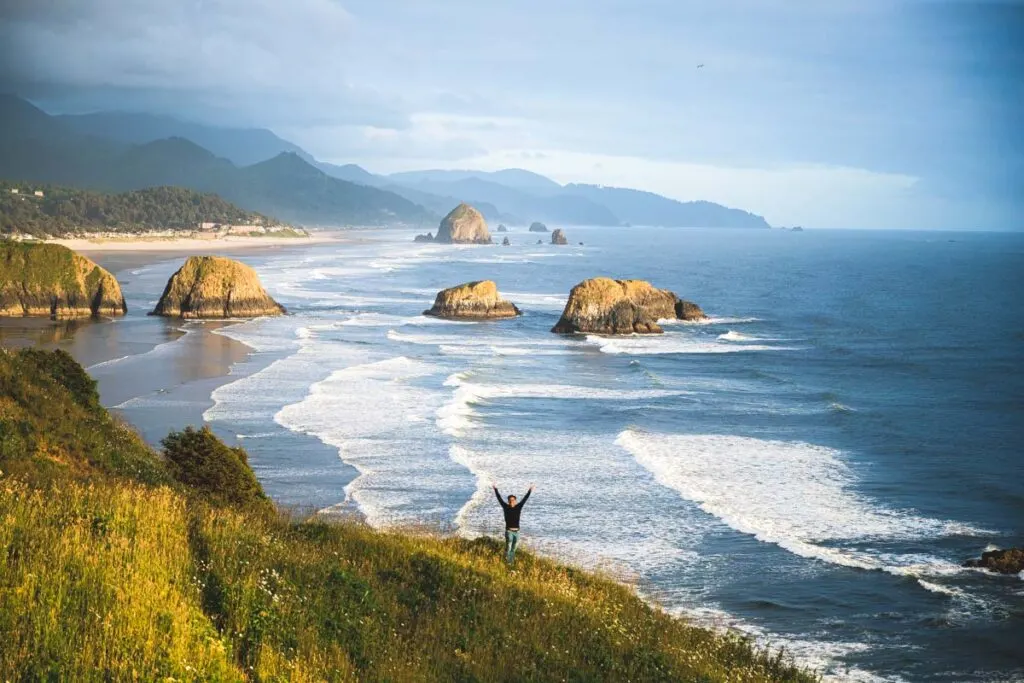 Be sure to stop and admire Terrible Tilly, the lighthouse located on the jagged rocks out to sea. Both Cresent Beach and Indian Beach are lovely places to go for a stroll, sit and relax or join the many other surfers trying their luck on the waves.
Don't forget to bring your binoculars and watch for Roosevelt elk, whales, and bald eagles.
---
READ MORE: Your Guide to Ecola State Park on the Oregon Coast
---
​20. Oswald West State Park
Oswald West State Park sits at a desirable part of the Oregon Coast and, for this reason, can offer incredible sea views, hikes, sprawling beaches, and fantastic waves for surfing.
The Cape Falcon Trail is one of the most well-trodden, and this is the hike to take if you want a bit of everything, including old-growth forest, beaches, cliff walks, and views.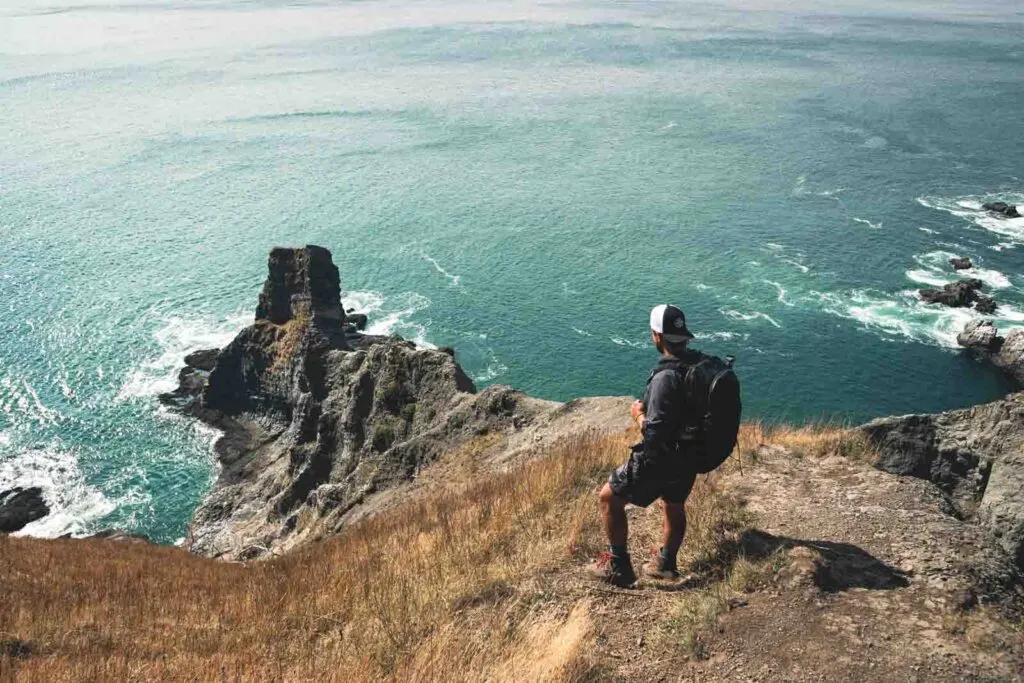 Alternatively, you could try the hike up Neahkahnie Mountain. Short Sand Beach is where you will want to head if you fancy getting your surf on.
Even just sitting in the sand and watching the surfers is an excellent way to spend the day, as the beach is protected from winds by the tall cliffs that surround it.
---
READ MORE: Your Guide to Oswald West State Park
---
​21. Hug Point State Recreation Site
Rough seas, stretches of scenic beach, and tons of exciting history make up Hug Point State Recreation Site.
Hug Point State Park was interestingly named due to the old stagecoach route that used to hug the cliffs on this coast; it was the only way to travel along this part of the coast before the highway was built. It's by far not the only reason people visit this Oregon state park.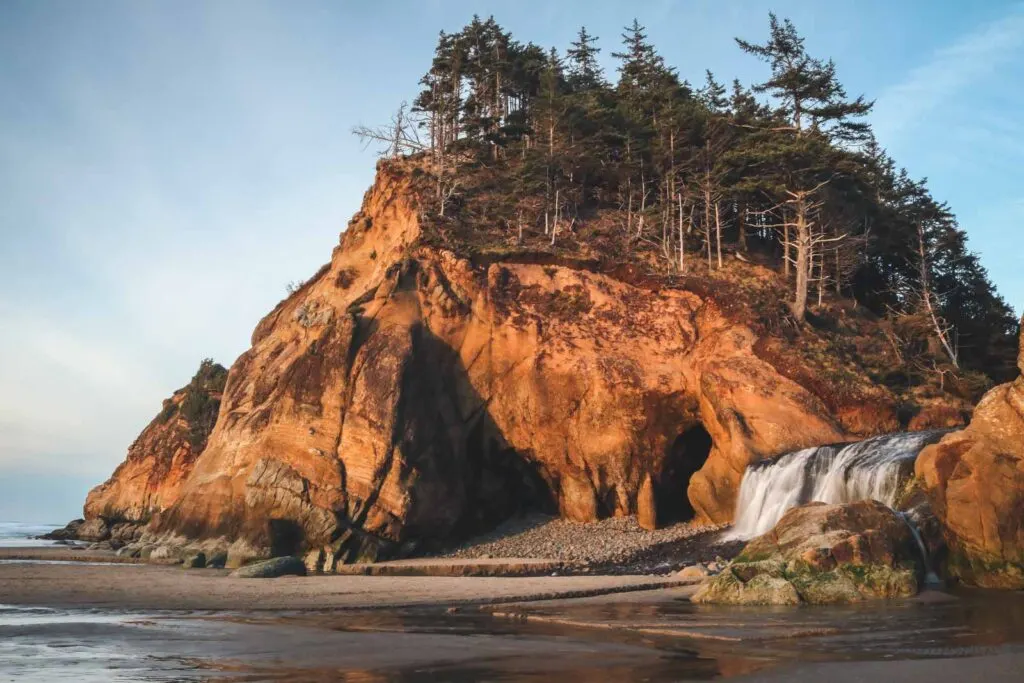 There is a ton of natural beauty, some extraordinary landmarks, and some great hikes. Hug Point Beach Walk is the main walk, not exactly a hike.
There are plenty of beaches to explore at your own pace, and be sure to keep an eye out for the seasonal waterfalls and interesting sea caves. Once you have had your walk, stop for lunch at the shaded, forested picnic area, and chill on the sandy beach.
---
READ MORE: Your Guide to Hug Point State Recreation Site
---
​22. Nehalem Bay State Park
Nehalem Bay State Park is located on a long sandy spit that stretches out to sea. If you are curious about what sits at the very end of this stretch of sand, then the Nehalem Spit Trail is the trail for you.
Taking you 5.2 miles out and back, along a boardwalk, or along the beach, so keep an eye out for wildlife along the way.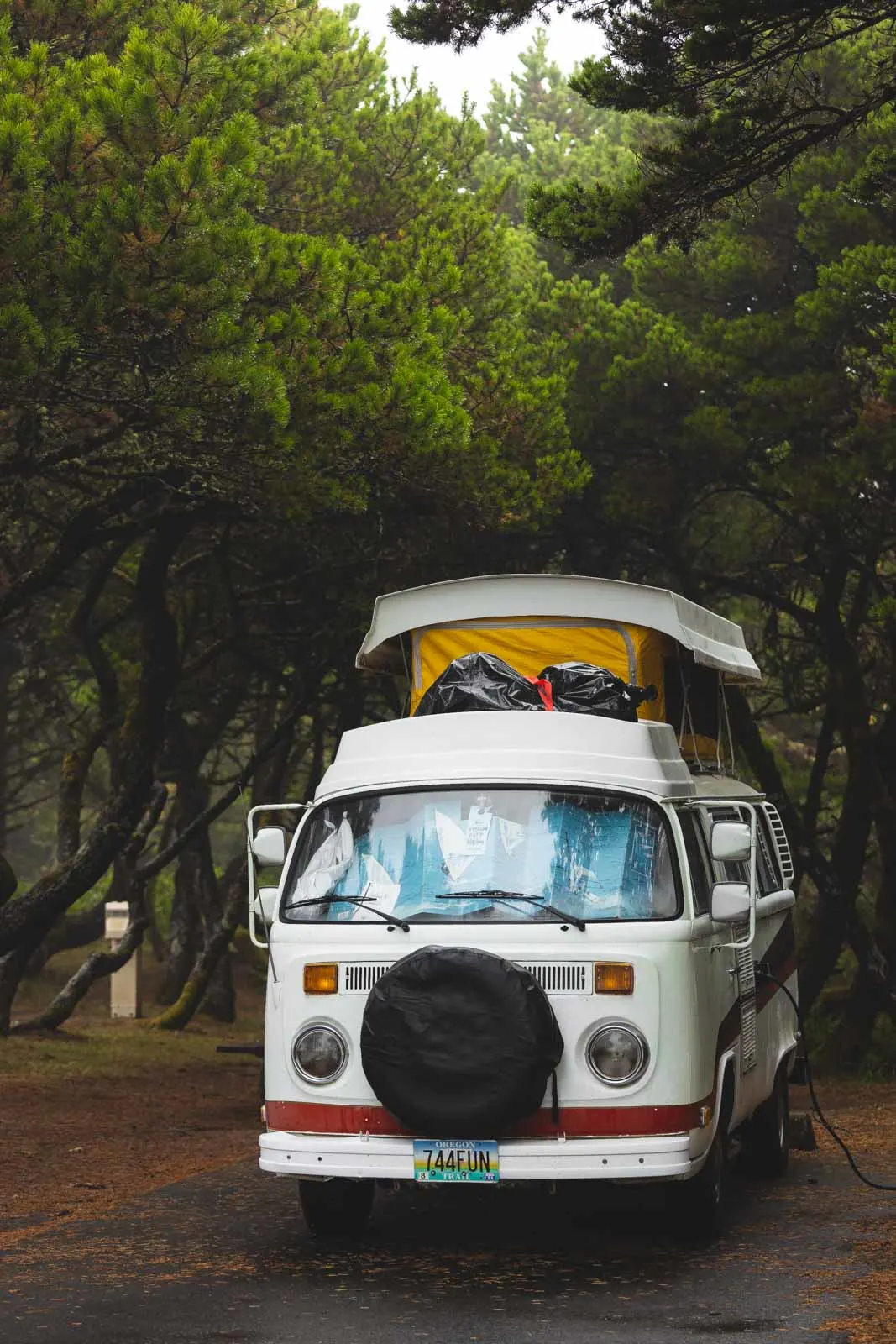 An alternative way to explore is via horseback or bike, or if the sea is calling you, you can launch a kayak from the boat ramp and explore the surrounding marshlands from a different perspective.
The camping grounds here are one of Oregon's most extensive, with 265 sites available and a few yurts for a spot of glamping.
---
READ MORE: Your Guide to Nehalem Bay State Park
---
​23. Silver Falls State Park
Silver Falls State Park is stunning and is the home of the legendary Trail of 10 Falls. The park is beautiful in many other ways, but let's be honest, it is this trail that people come for.
You can visit up to ten impressive waterfalls from one hiking path. It is 7.6 miles long, so doing the whole thing is very achievable.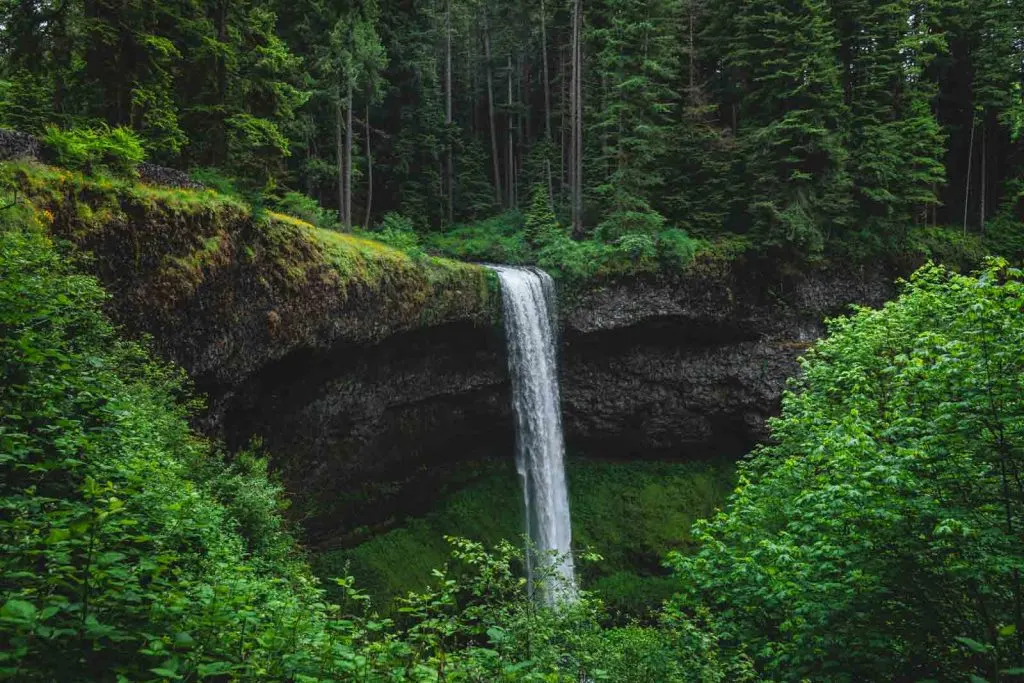 You can even walk behind some of the waterfalls for a bonus. The trail takes you behind the cascade to see what a waterfall looks like from the other side.
South Falls is the tallest waterfall at 177 feet and can be seen after just a short jaunt from the parking lot. Some other incredible waterfalls include North, Middle North, and Lower South, and the great thing is, you will be able to witness all of them.
---
READ MORE: Your Guide to Silver Falls State Park—The Trail of 10 Falls & More
---
​24. Devils Punchbowl State Natural Area
Whale watching and intriguing rock formations? Sign us up! Devils Punchbowl State Natural Area is most famous for its substantial hollow rock formation that, you guessed it, is shaped like a massive punch bowl.
The bowl is most impressive when the tide is in, and you can see the waves crashing and frothing within the bowl.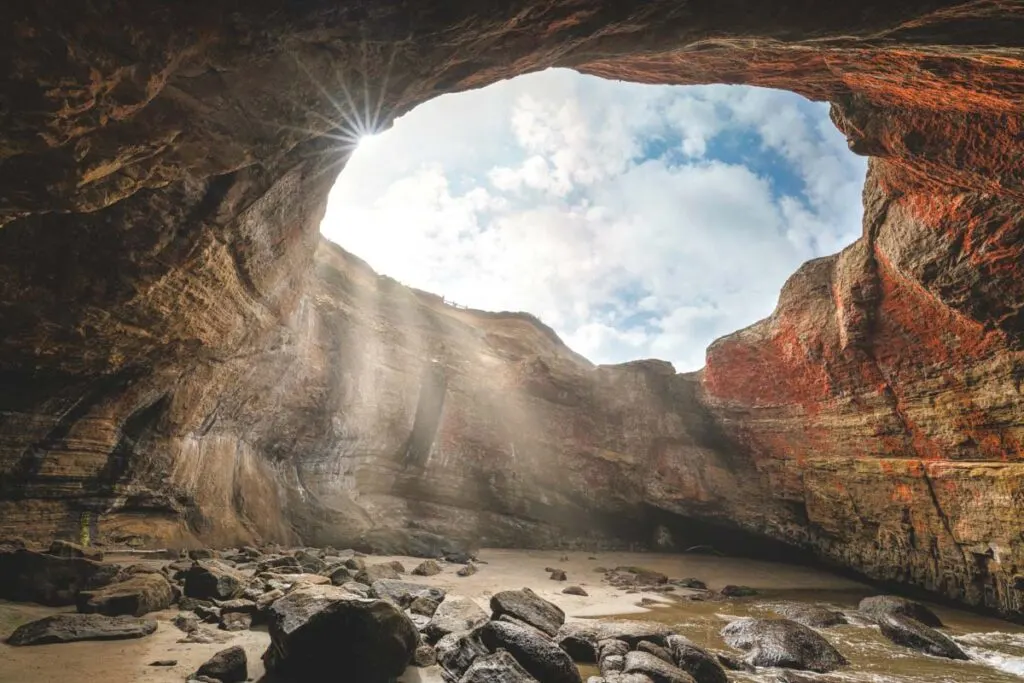 When the tide is out, it is possible to enter the bowl from the beach, but be very mindful of the tides, as it can be dangerous.
Outside of the bowl, there are some popular surfing spots, and it is also a great area for whale watching during migration season.
The north side of the punchbowl offers some of the best tide pooling opportunities along the coast when the tide is out, as they are home to a rainbow of species native to this area of Oregon.
---
READ MORE: Devils Punchbowl State Natural Area in Oregon
---
​25. Beverly Beach State Park
Beverly Beach is small and quaint, ideal if you are looking for a no-fuss place among Oregon state parks, with plenty to do in the surrounding area.
To the right, you will find the incredible Devils Punchbowl, a frothing sea cave that is magical to witness at high tide. To the left is Yaquina Head, with its lighthouse sitting on the cliffs overlooking the ocean.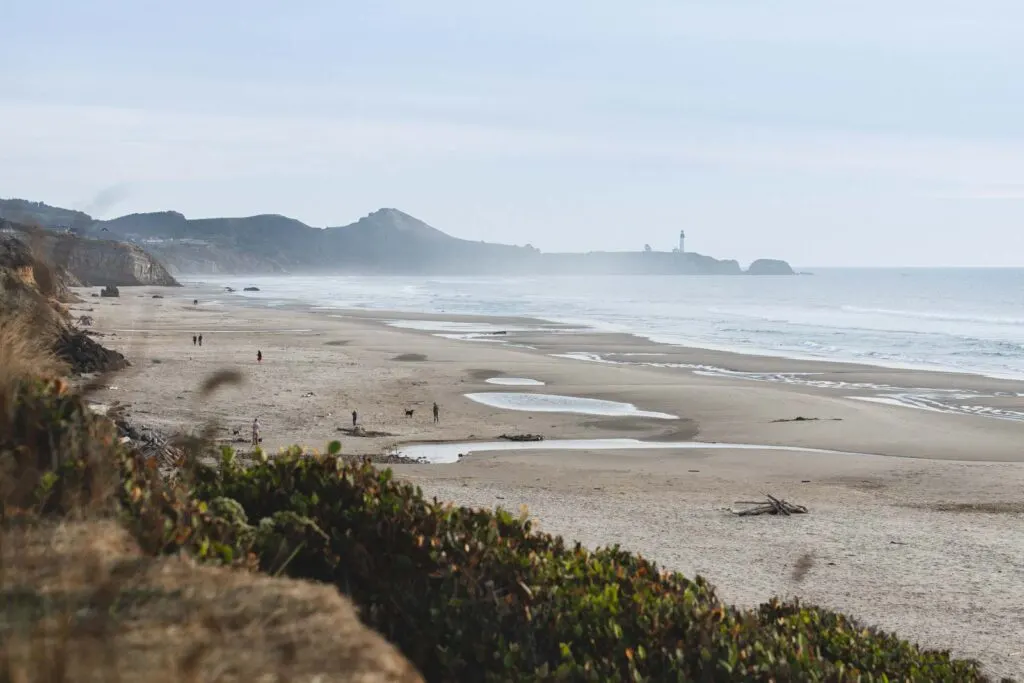 The walk to either natural attraction will take you along the long stretches of Beverly Beach, where you can dip your toes in the ocean and admire the tide pools. It is a great place to catch a wave, especially during winter.
In terms of camping, it has one of the biggest in Oregon, with over 100 tent sites, 100 RV hookups, and 21 yurts, so there are plenty of options for a place to stay.
---
READ MORE: Beverly Beach State Park—Camp, Surf, Hike!
---
​26. Harris Beach State Recreation Area
Harris Beach State Park is incredible, with towering rock formations and viewpoints that will take your breath away. One of the best ways to explore these rock formations is by paddling or kayak tour with an expert guide; even a novice can take the tour.
Some of the wildlife watching opportunities are incredible. If you love to tide pool, make Harris Beach your go-to, as it is one of Oregon's best, even designated as a Marine Garden, which is especially impressive at low tide.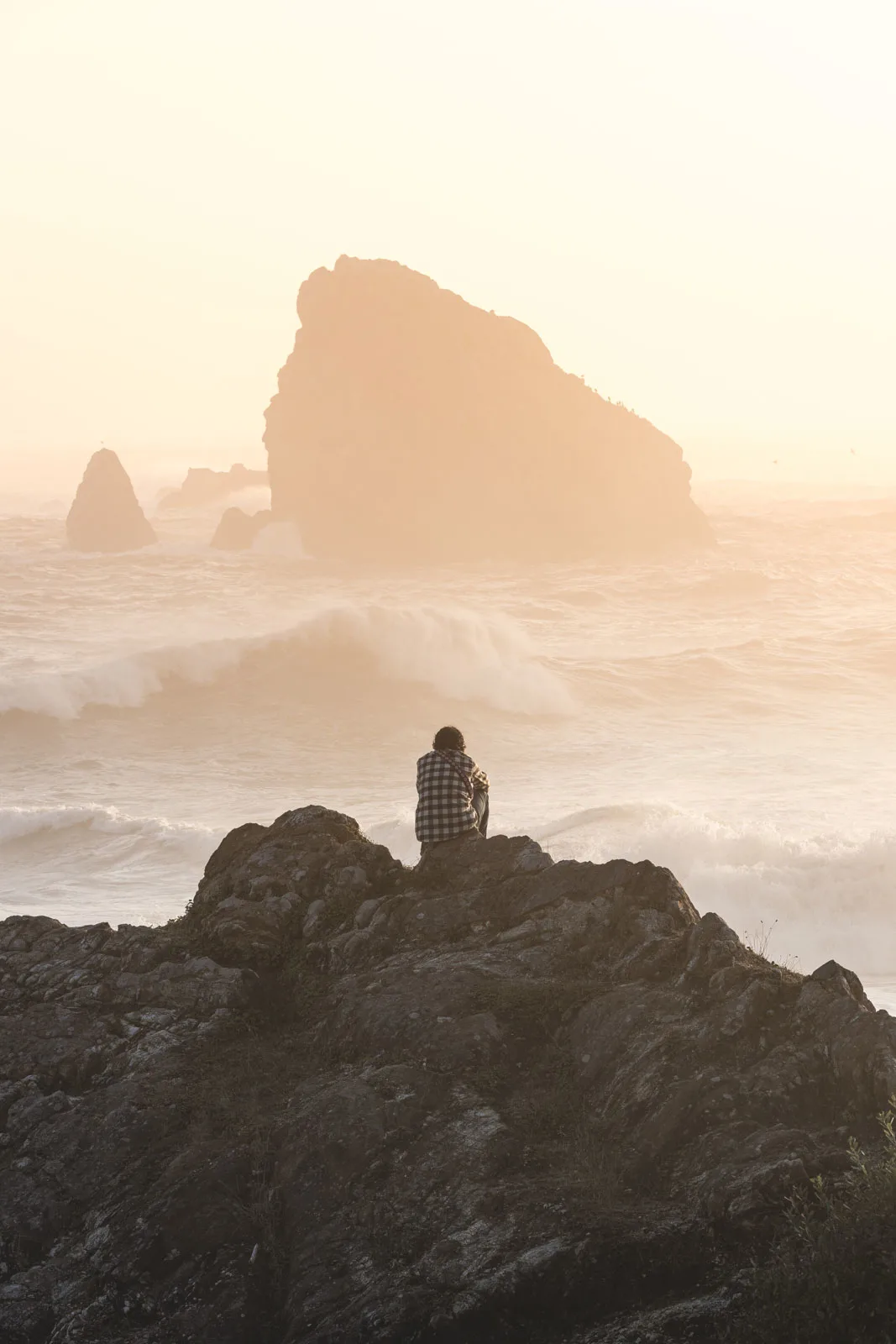 You should also keep an eye out for harbor seals and California sea lions, and if you are fortunate, you may even see gray whales. The hiking is also epic, with many hikes taking you to the viewpoints.
Most of the walks are along the beach, which can be split into smaller sections, such as Harris Beach Trail to Harris Butte. If time is on your side, you will be able to capture an incredible sunset from Harris Butte.
South Beach Trail is perfect for a simple stroll, the paved path making it particularly relaxing. The year-round camping makes it easy to stay for a few days and enjoy all the park offers.
---
READ MORE: Your Guide to Harris Beach State Park
---
​27. Heceta Head Lighthouse State Scenic Viewpoint
If you have traveled the Oregon Coast, you have seen Heceta Head Lighthouse. The lighthouse stands 1,000 feet on the rocky outcropping and is impressive both close and from afar. Although the lighthouse is the main attraction, Heceta Head offers much more.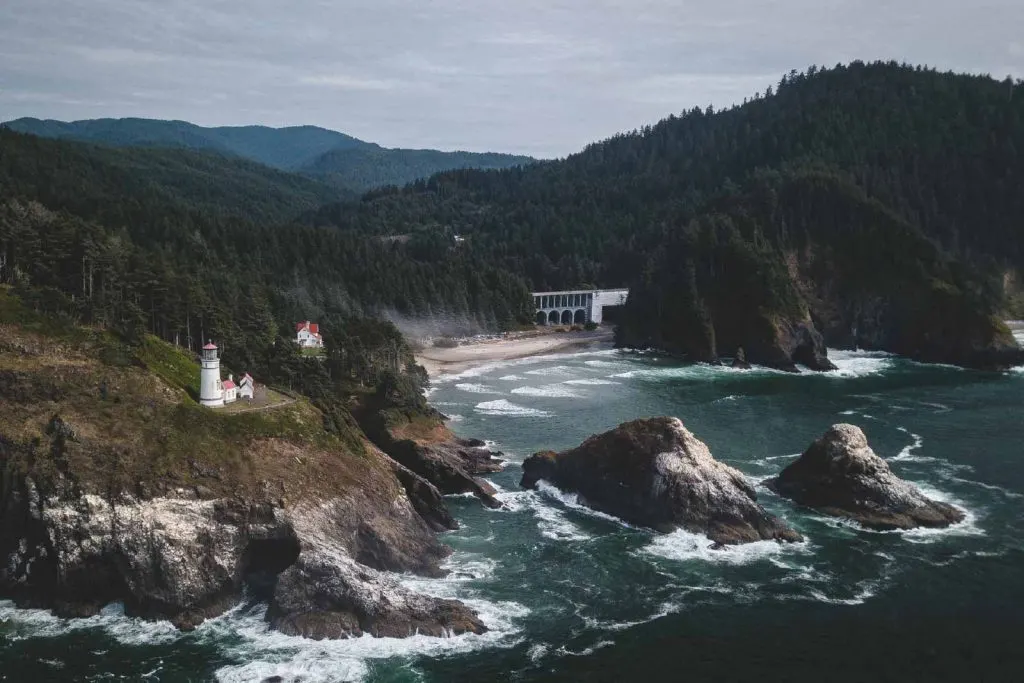 You won't have to look too hard to find the sheltered beach easily accessed from the parking lot, the perfect place to chill for a while before taking on a challenging section of the Oregon Coast Trail that runs through the park.
A much smaller and easier trail will take you directly to the lighthouse. It is just half a mile long, starting in the parking area, and once there, you are free to take a self-guided tour and learn a little more about the light's history.
The site is also one of the best spots on the coast to spot whales during their migration, so bring your binoculars if you visit between December and March.
---
READ MORE: Exploring Heceta Head Lighthouse, Beach, and Trail!
---
We hope this post inspired you to explore these Oregon State Parks! Before you go, don't forget to check out more of the best of Oregon.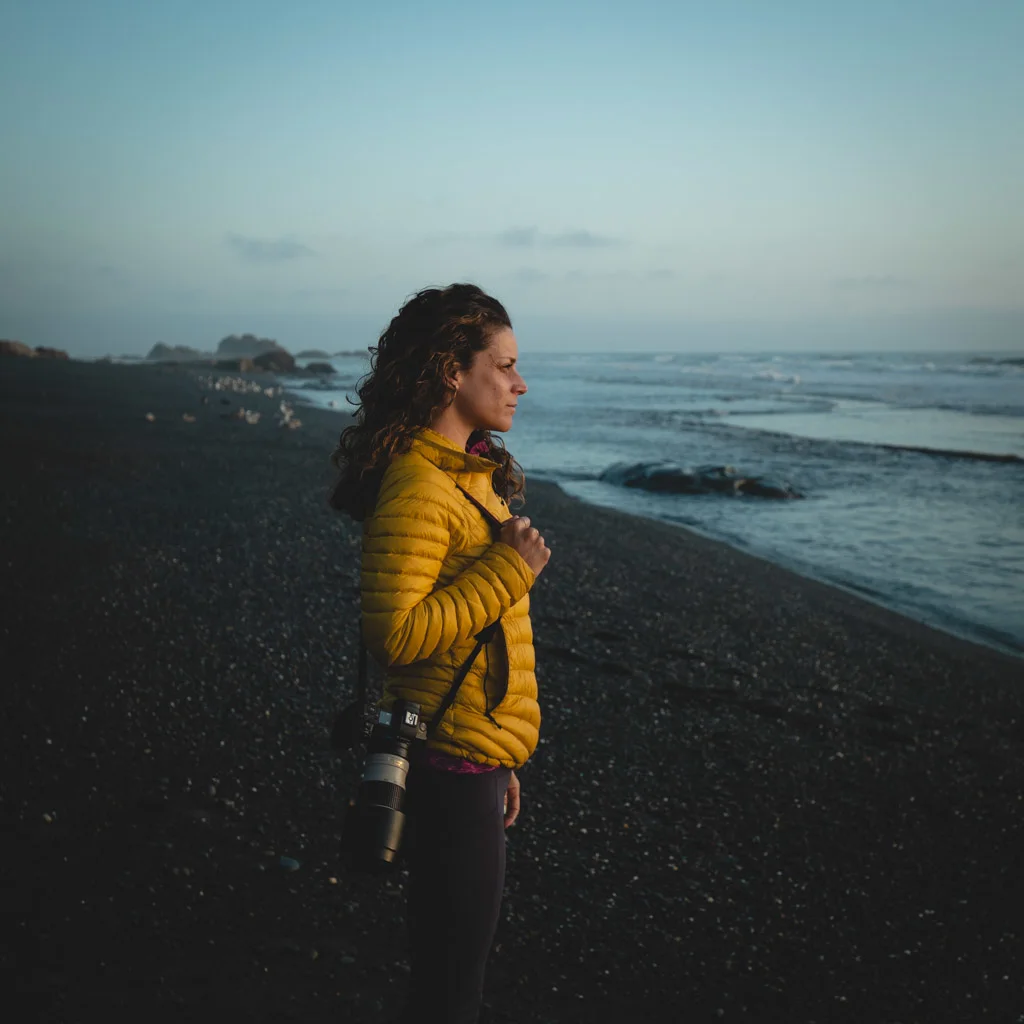 I've been perpetually traveling and living around the world for years but it's hard to beat Oregon and the PNW. After years of road-tripping the area, I guess you can say I know it pretty well! When I'm not writing guides for you, you can catch me somewhere petting a dog, attempting to surf, hiking a volcano, or stuffing my face with bread and cheese.