150+ miles of a federally designated Wild & Scenic River, jaw-dropping scenery, a bountiful reservoir, a wildlife haven and one of the last truly primitive recreation areas in the lower 48. No cell signal. No fast food. Miles from any major highway…
Yet the Owyhee Canyonlands is welcoming, full of life and a must-see adventure. Just a few miles from the Idaho border, this is easily Oregon's last frontier and by any measure, worth the drive.
Exploring The Owyhee Canyonlands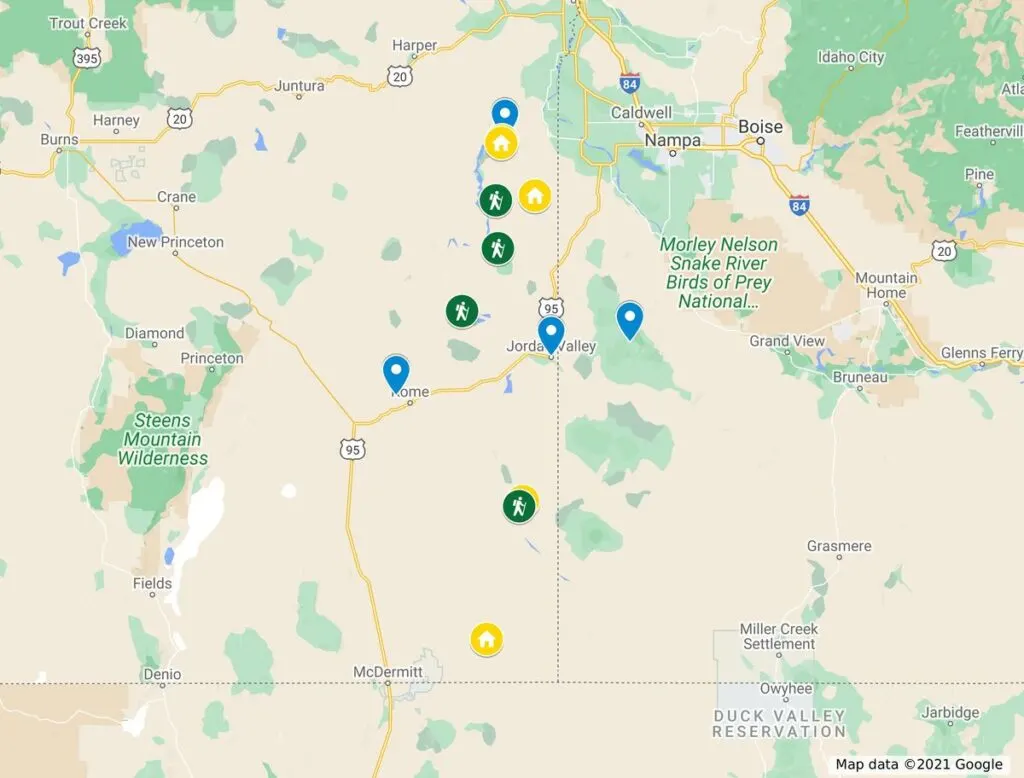 The Start of All Things Owyhee Canyonlands – Jordan Valley
Fewer than 200 call the town of Jordan Valley home but one does not, or should not, go the Owyhee Canyonlands without a stop here where you can provision, get repairs and generally learn all that is needed for a safe and memorable trip. The locals know, particularly the best routes, best times to go.
Conditions change dramatically seasonally, even from day to day when rain comes crashing into the canyons.
The Pillars of Rome
On the edge of the Owyhee Canyonlands are the Pillars of Rome so named for their resemblance of Roman Temple ruins. Standing alone in the flattened desert at a length of 5 miles and a width of 2 miles the clay formations run straight up 100′.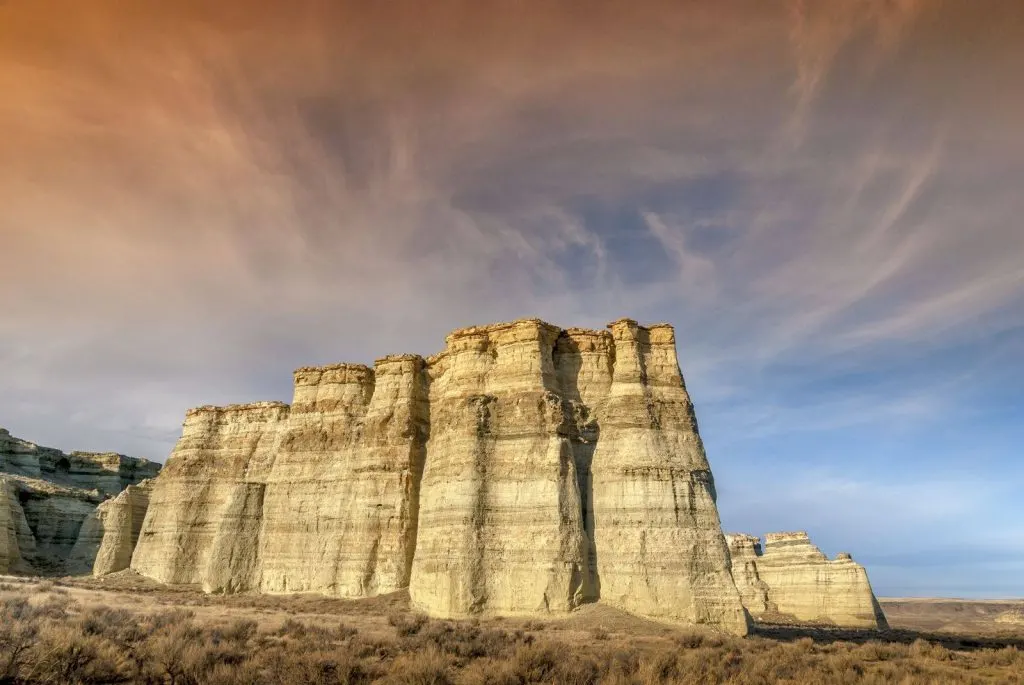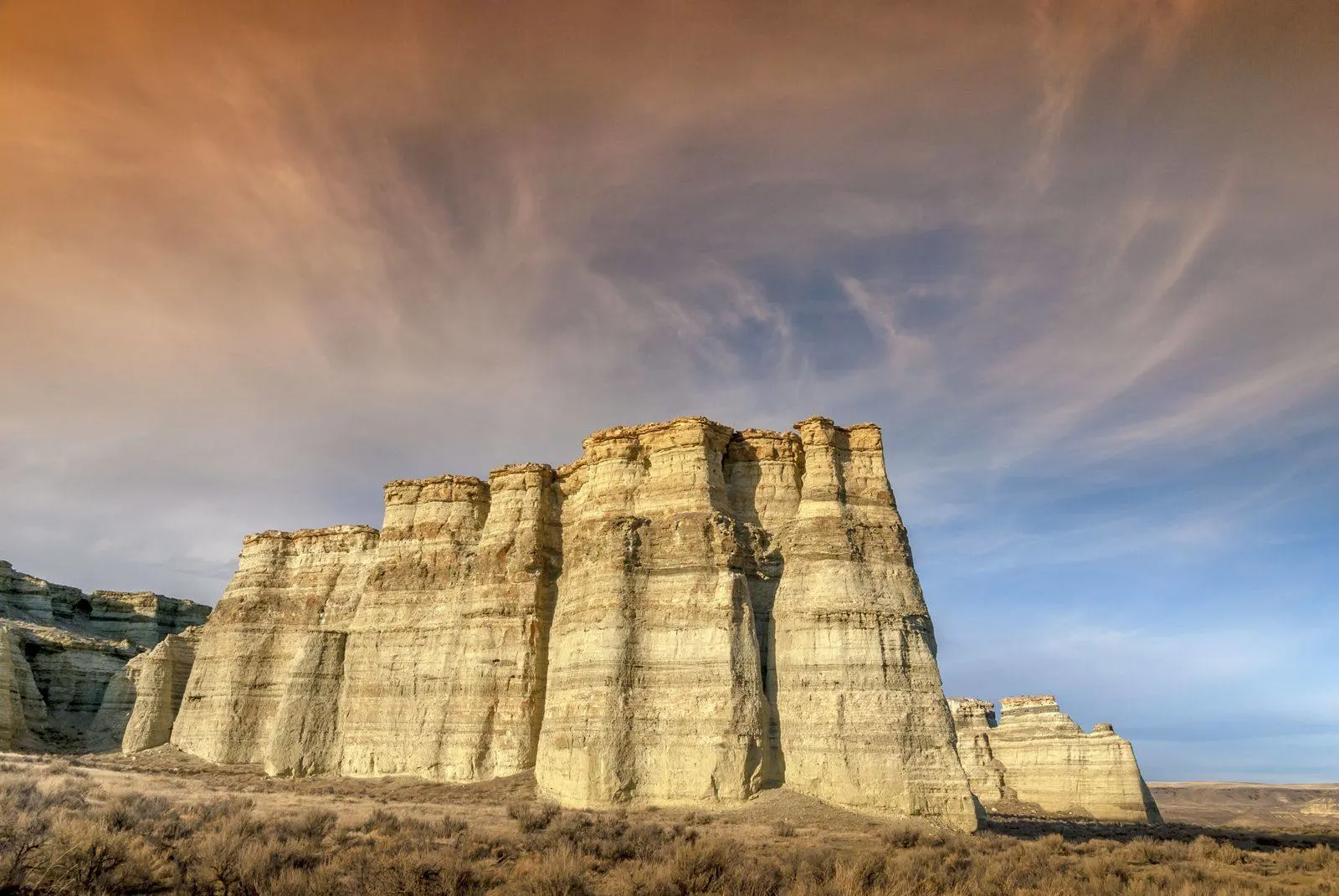 They create an imposing, fortress-like monument that is highly photogenic. The color of the rock changes by the hour as the sun travels overhead.
The rocks, apart from being so striking, are fossil laden.
Lake Owyhee State Park
Lake Owyhee is actually a 53-mile long reservoir resulting from the Owyhee River dam. True, the 'lake' is dominated by fisher folk.
Yet for some of the best views of the canyons being in the water gives some awesome vantage points not otherwise possible. See below for Lake Owyhee campgrounds simultaneously more accessible and booked out early.
An Idaho Ghost Town in the Owyhee Canyonlands?
See for yourself with the relatively short drive across the border into Idaho and Silver City, an old mining town that is full of history and well-preserved structures as the town was 150+ years ago. Mining was active for 70 years. The town was on multiple stage stops. In 1874 it was the first town in the Territory to have a newspaper, a telegraph and eventually telephones.
Some 300 homes housed workers for the nearly 250 mines and 12 ore processing plants.
One, especially history buffs, kids and photographers can spend a whole day here with so much to explore like burial sites, abandoned buildings, and various preservations.
Hiking in the Owyhee Canyonlands
You can hike here for days following popular trails or blazing your own provided you have a good compass or sat GPS. Remember, no cell coverage here. Among the most used trails are four worth noting: Three Forks Hot Springs, Painted Canyon, Jordan Craters and Juniper Gulch that takes you through Leslie Gulch one of the most dramatic landscapes in all of Oregon.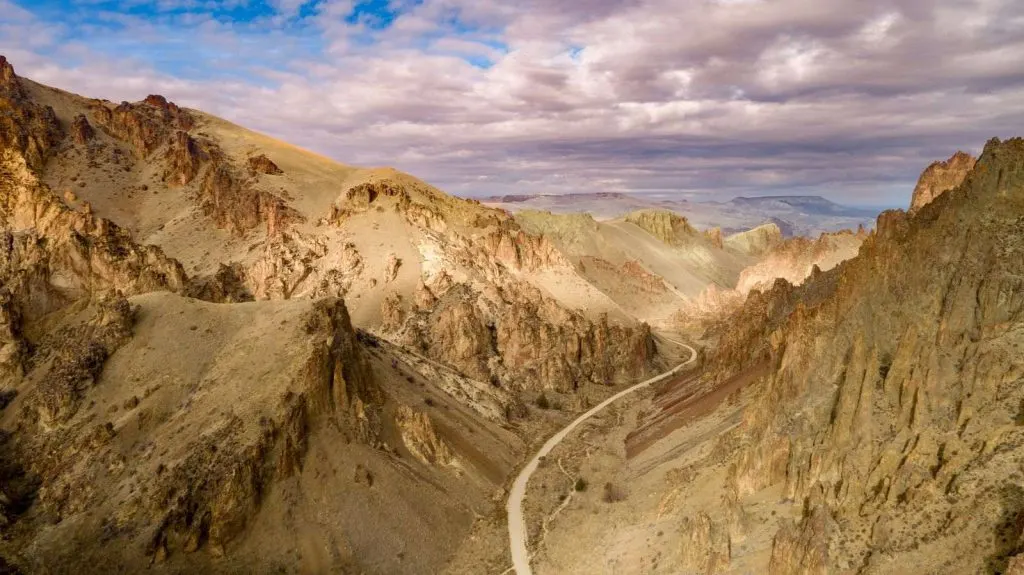 In fact, you might think you are in Utah given the color and structure of the geology.
---
Check out the best hikes around Oregon (with maps and tips!)
---
1. Juniper Gulch
• Distance: 3.4 miles (extendable to 6 miles)
• Type: Out and Back
• Difficulty: Moderate to Difficult
Juniper Gulch trail is only 3.4 miles roundtrip but the elevation gain is 1,028′ peaking at 4,412′ with a maximum grade of 64% although the average grade is 12%. Head north from the easy to find trailhead.
The first half mile will treat you to some caves and superb overhangs. Stay to the right when reaching .6 miles and follow the ridge to the rocky amphitheater where Mahogany Mountain comes into view.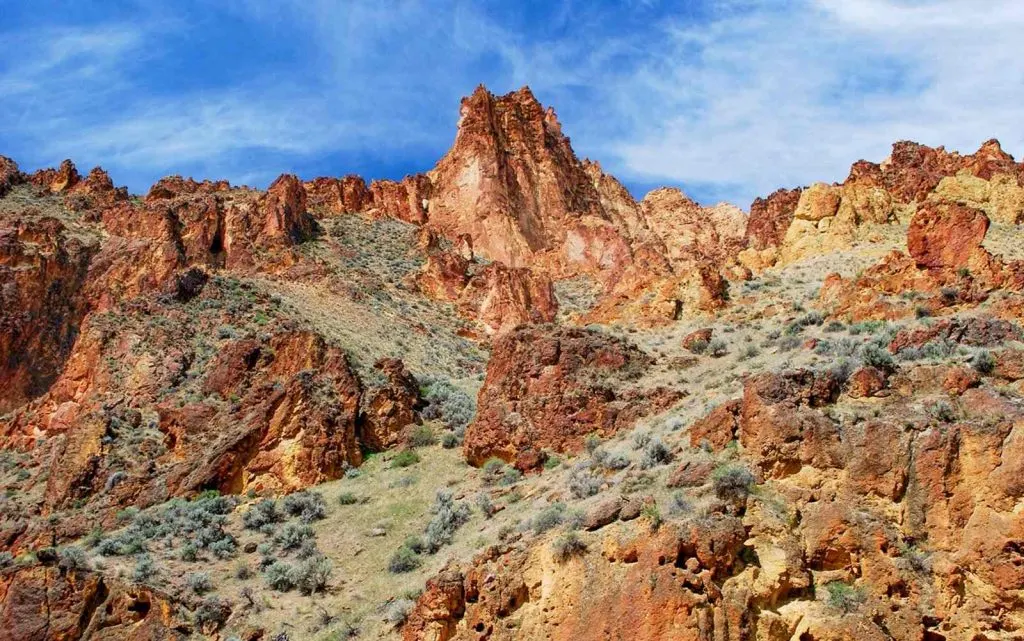 It gets challenging at this point. You will want to make the final push staying left along the narrow gulch and making the steep trek to the saddle.
Stop here for panoramic views of the reservoir and canyons. Your odds of seeing bighorn sheep are high and even an occasional wild horse.
The trail ends here but you can make a day of it and travel off-trail as far as 6 miles from Leslie Gulch to the top of Yellow Jacket Peak, a 1,200 foot gain. The rocks here are spectacular featuring catacombs, smaller canyons and Swiss cheese looking formations your camera will love.
2. Jordan Craters
• Distance: .5 miles
• Type: Loop
• Difficulty: Easy
A 27-square-mile lava flow is possibly Oregon's youngest – geologically speaking – volcanic flows originating at Coffeepot Crater at the farthest northeastern corner of the massive bed.
It's an easy loop around the rim. Drop 150′ onto the red cinder path to the center of the crater. Along the way, you will discover lava tubes and trenches in a lunar-like surface.
3. Painted Canyon
• Distance: 8.5 miles
• Type: Loop
• Difficulty: Difficult
This loop trail is an 8.5-mile outing with a difficulty rating of 5 but if adventure and a little solitude is your thing then this hike will not disappoint. The landscape boasts a vivid palette of reds, purples, and deep yellows.
Painted Canyon isn't for everybody considering its 1,870 foot gain. Don't rush it – not that you could. In the spring, the best time to go, the wildflower display is among the best in Oregon.
At any time though is a stunning array of formations – sky high towers and spires, hoodoos, caves, tuff and giant amphitheaters. It's a scramble, a rewarding test of your footwork with the occasional hand thrown in.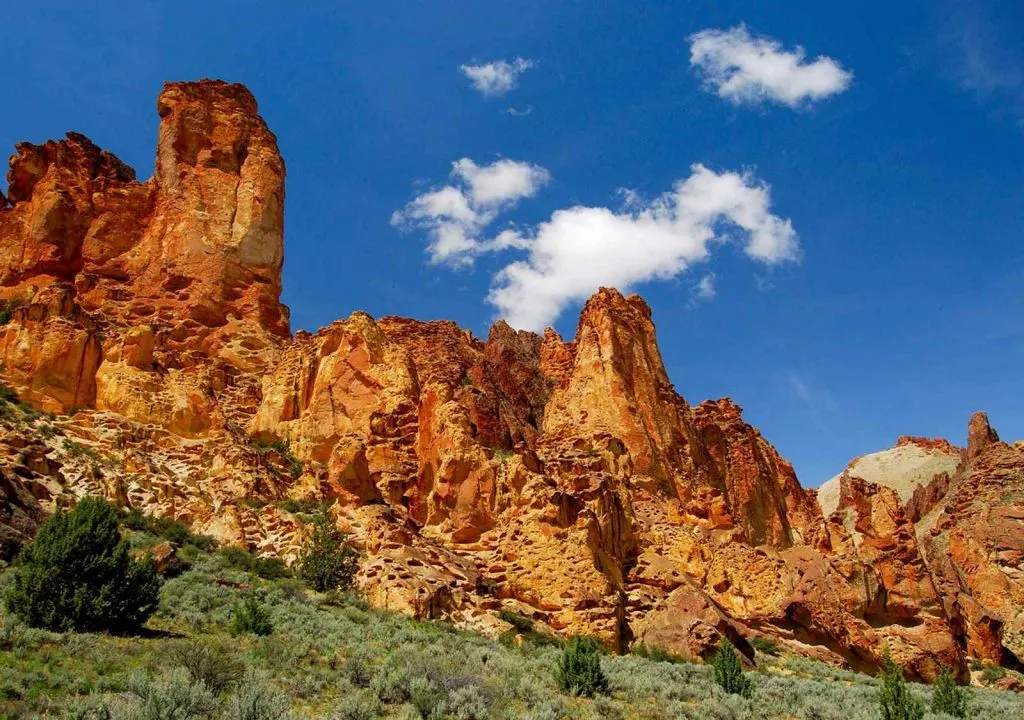 There is no water so bring plenty. And it's home to rattlers. Some navigation skills are required.
Go south on foot along the main road about 500 yards until you see the head of Carlton Canyon. Scamper down Carlton Canyon and at 3.75 miles Painted Canyon will come in from the right.
At the 5.25 mile point an amphitheater greets you on your left. Continue straight ahead as the climbing steepens including some hand to hand work. When you hit the 7-mile point there is an obvious jeep track for the 1.5 miles return to your car.
Three Forks Hot Springs
Not so much a defined hike on a designated trail as a perfect spot to walk in many directions, primarily alongside the river. This is where you access the hot springs, rated one of Oregon's five best.
The Springs are seated below a waterfall. You can walk about three miles to the Springs from the campground on the jeep road. This takes you to Three Forks Dome, a spectacular spot overlooking the canyon.
The dirt road is not as inviting as just striking out from the boat ramp, fording the Middle Owyhee and walking in the dramatic Canyon. In no more than 2 miles along a somewhat discernible path the falls and Springs appear.
It's also great fun to throw out a PFD and float the 2 miles back to the campground. See campground information below.
---
RELATED: 29 Awesome Things to Do on an Eastern Oregon Road Trip
---
Rafting the Owyhee Canyonlands
Dubbed "Oregon's Grand Canyon" by the New York Times, we are talking big time water. Catch some white water action or just meander as you gaze at 1,000 foot canyon walls such as you'd find in Green Canyon Dragon.
The 48 mile Lower Owyhee section will thrill you with Class III and IV rapids especially during spring runoff. The first 13 miles are slow going, with not much action.
Once past that point, at any time of the year this section is pretty much a rafter's utopia filled with hot springs, bighorn sheep, pronghorn antelopes, towering spires and sheer walls.
All along you will be entertained by your fellow river travelers – otters, beavers, turtles. Put in at the little town of Rome, 32 miles east of Jordan Valley and under 4 miles to the Pillars of Rome.
Now the 39 mile Middle Owyhee is pure adventure. Sure- the III's and IV's you'd expect for such a wild river, but V+ in late spring and early summer.
One rapid, the Half Mile Rapid, is a 2,600 foot long, heart-pounding rush. Two others – Widowmaker and The Ledge – well let your imagination take over. Many experienced rafters has forded these.
Challenging boulder gardens are interspersed among steep drops and tricky hydraulics. Thankfully there are frequent white, sandy beaches on both the Middle and Lower to catch your breath or have a picnic. Or just plain marvel at your surroundings.
---
Read more about white water rafting in Oregon!
---
Fishing in the Owyhee Canyonlands
Some would say – mistakenly – that there is not much adventure in fishing inland. Part of the adventure in fishing the Canyonlands is getting there.
Take for example the Upper Owyhee River and the confluence of its three forks (see hiking and camping sections). Fly casting for native redband trout is pure joy. You may not see a fellow angler the entire day. Just you and the fish.
Fishing man-made Lake Owyhee with three concrete ramps is best by boat and only in the high water spring and early summer season. Here you will find a fisherman's delight of mostly non-native fish including popular fighters large and small mouth bass, plus perch, crappie and catfish that are as good to eat as catch.
Below the dam is utopia for Owyhee fishing. Trophy size brown trout rule yet it's a strict catch and release species. Hatchery rainbows are present but not in abundance.
Camping in the Owyhee Canyonlands
There are four notable campsites from the easy access Slocum Creek to the remote Anderson Crossing. Each is peaceful with star-studded nights where you can see the Milky Way and otherworldly objects free of light pollution.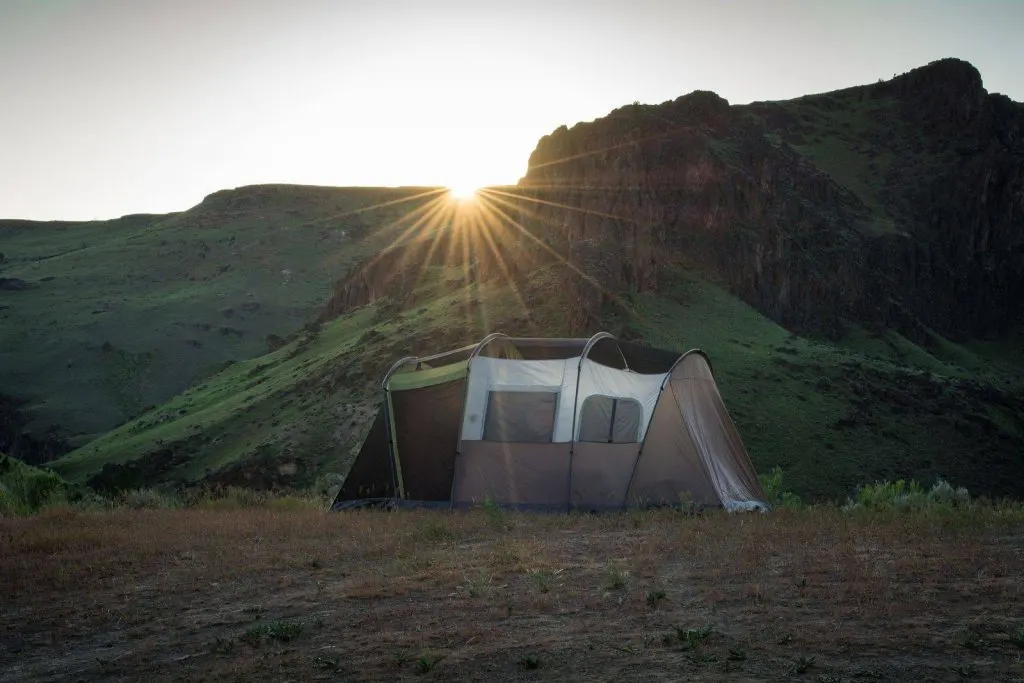 Slocum, 25 miles on a gravel road is the best jumping-off point for gulches – Juniper, Dago and the incomparable Leslie Gulch. Nearby Slocum is the best spot to get your boat, raft or kayak into the Owyhee River.
---
Check out all of our favorite camping areas in Oregon
---
Anderson Crossing is a somewhat rigorous 30+ mile trek on a washboard road and fording Antelope Creek. Most small and mid-size SUV's can manage. Just take your time as the endpoint will make it all worthwhile. Campsites are secluded and primitive, but that's the whole point, isn't it?
Popular as a starting point for multi-day backpacking, Anderson is the perfect launching pad for Louse Canyon, brim-full of smaller, horseshoe canyons, caves and trout ponds (late spring and early summer). Enjoy a sea of sagebrush and be prepared for a wildlife show.
The Succor Creek State Natural Area campground is about as good as it gets in the Owyhee Canyonlands especially if you're a birder or wildlife spotter. Treat yourself to heaps of raptors and bighorn sheep among the many species who call this home.
And if you are a rock hound, well hello. This is nirvana for thundereggs, Oregon's state rock. Succor is just the spot to get into the Honeycombs, Painted Canyon and Leslie Gulch.
Three Forks Campground is aptly named as the spot where three forks of the Owyhee River join. It's a popular area for redband trout anglers and just exploring. Wade across the river to the Three Forks Hot Springs and soak in the rock pools.
However, this is on private property and subject to the goodwill of the landowner. Respect of the Springs will ensure its continued access. It's a seldom-used road to Three Forks, truly and not to be taken when raining or with threatening skies.
If you are boating or want to be lakeside, Indian Creek campgrounds has 22 sites with electric and water plus two cabins. McCormack has 29 sites with water only, no electric, but much appreciated hot showers and flush toilets.
Both are at boat launches. You can pick up ice and firewood at either between April 15th and October 15th.
When you are ready to explore a truly wild and primitive section of Oregon, get yourself to the Owyhee Canyonlands.
Areas to explore nearby the Owyhee Canyonlands:
More Things to Do in Eastern Oregon
Don't leave yet! Check out more things to do in eastern Oregon and more posts on Oregon's adventures.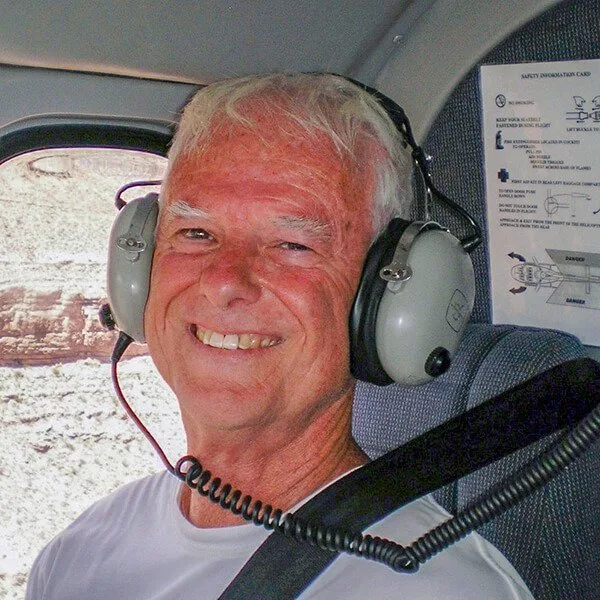 Bill Bartlett is owner of Cascade Travel & Photo. He has explored every county in Oregon and visited over 250 name places in the State over a 25-year span.
His passion is capturing the history and architecture of the lands he visits.