While Summer Lake may not be familiar nor at the top of your list of things to do in Oregon, we see the potential this beautiful part of Oregon has.
Summer Lake may often be shallow or nearly dry, but it's anything but dead. The lake is a year-round base for wildlife, particularly bird migration. And the surrounding rough and arid terrain makes for great hiking and biking trails.
When you're done with your adventures, a serene escape exists just off the lakeshore at the healing Summer Lake Hot Springs. Summer Lake, Oregon is truly an underrated spot to get lost in for a couple of days. Here's what you can do…
Adventures Around Summer Lake, Oregon
---
Here's a map to help you find the adventures around Summer Lake. I know we said this spot is underrated, but really, most of eastern Oregon is underrated! Make sure to check out what else there is to do in eastern Oregon while you're in the area.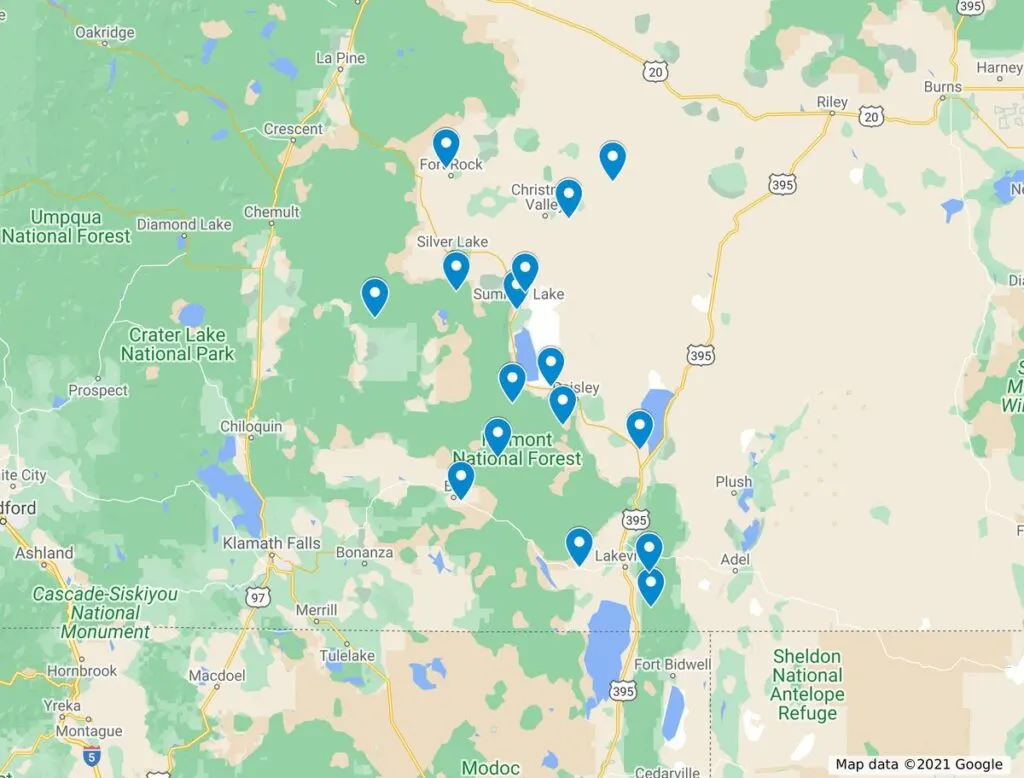 1. Off-Road Trails in Summer Lake
If ATV riding and off-roading is your style, there are several OHV designated trails in the Summer Lake, Oregon area. It is also legal to ride your ATV through the streets of Lakeview to Bullard Canyon, which is excellent for a change of scenery.
Crane Mountain OHV – Most of this trail is made up of fire roads and logging trails, and involves short sections of expert-level single track, and incredible mountain top views of Goose Lake.
High Desert MX – This level motor cross track is open year-round on the weekends, with the track regularly groomed and watered for some fun and smooth riding.
Christmas Valley Sand Dunes – The dunes near Christmas Valley are an oasis for ATV riders. The area consists of medium-sized dunes and sand bowls, making for some exciting riding experiences.
2. Biking Trails in Summer Lake
Summer Lake, Oregon, and the surrounding area are littered with biking trails, with the rocky and mountainous terrain offering some exciting riding opportunities.
Chewaucan River Loop – The Chewaucan River Loop is rated as an intermediate bike trail, and covers 56.9km. This ride offers some stunning 360-degree views, and on clear days you may be able to see as far as 100 miles in all directions when you reach the top of Morgan Butte.
The area is mainly open, with sparse forest and very few crowds. It is a fun, backcountry single track that is great if you are looking for a route that is a little off the beaten path.
Your first 1-.5 miles are on pavement; therefore, it is mostly flat before you start to gain elevation on a gravel track. Overall there is about a 2500'ft elevation gain to the top of Morgan Butte, but then the fun begins as you roll through the meadows of pine needles back to the bottom.
Mazama Trail – The intermediate Mazama Blowout Trail begins with a long climb to the summit of Yamsay Mountain. It then descends through the interesting fallout zone of the Crater Lake eruption, ensuring an exciting ride. Some of the trip is through sparse and open forests, ending in the small town of Chemult.
Rogger Meadow – This is the launch point into the Fremont Tier of the famed Oregon Timber Trail, and can be found near the town of Lakeview. Although this is only a portion of the vast 670-mile trail, the Fremont Tier is still a long stretch, reaching 207 miles of rugged ridgelines and valleys for a truly spectacular ride. Even if you can't do the whole section, it is worth hitting it for a few hours.
Winter Rim – Winter Rim is another section of the Timber Trail that runs right past Summer Lake. It runs for 57 miles and is made up of a single track and a little bit of dirt road. For a while, this section follows the Fremont National Recreation Trail to the rim of Fremont Point. If you have the energy, take a detour up Hager Mountain for 360 views and a reservable fire lookout tower.
---
RELATED: 17+ of the Best Lakes in Oregon for Adventures & Camping
---
3. Top 3 Summer Lake Hiking Trails
The Fremont-Winema National Forest has a few cool hiking trails to check out, here are three popular trails to take on near Summer Lake.
Hager Mountain Lookout Trail – One of the best trails in the area is the Hager Mountain Lookout Trail. This 7.3 miles out and back trail is located near Silver Lake and is rated as moderate. It is easily marked as it steadily climbs uphill, but at the end of the climb, you will be rewarded with some incredible views of the surrounding land. Plus, the great thing is, you will likely have this trail all to yourself.
Cat Canyon Trail – The Cat Canyon Trail is 6.1 km out and back. It is located near the town of Paisley and is rated as moderate. Overall the hike is very well maintained, with plenty of options to extend it if you are up for a bit more of an adventure.
You'll find some lovely views along the way as you head through the varied landscape. There are interesting rock formations along the route which are worth looking out for, and depending on the time of year you go, there may also be some blooming wildflowers and birds.
Gearhart Mountain – This trail is a hard 11 miles, out and back adventure. You'll walk between the ponderosa pines and groves of aspens, offering plenty of shade in the summer months and through lush, spring-fed meadows. As you near, you'll be rewarded with some truly insane looking rock formations.
4. Summer Lake Wildlife Area
The Summer Lake Wildlife Area is a popular place for those looking to go wildlife viewing. It is one of the best places to see some of the creatures that call this area of Oregon home.
Bird lovers will be in their element here, as it is the perfect place to view migrating waterfowl and other water birds. You can take the 8.3-mile tour around the area to really take it all in and explore the varied landscape. Be aware the route is closed during hunting season from early October to late January.
At the check station, you can pick up some bird checklists and maps as the range of birds you can see in this area is enormous. It is estimated that around 250 species can be found in the basin area, and over 100,000 birds flock here during the fall.
5. Summer Lake Hot Springs
Summer Lake Hot Springs sits on a 145 acres high desert and boasts a 100-year old bathhouse that has not only a couple of outdoor rock-walled hot springs tubs but a large indoor hot springs pool as well.
The springs are open 365 days a year, with the water bubbling out from the ground at a warm 106-113 degrees, with a 4-inch hot springs spout for a relaxing, natural massage. The calming, natural pools of the springs have been relaxing guests for decades, and there is nothing more peaceful than soaking in the warm waters of an evening with the stars as your backdrop.
The springs offer day use for non-guests, and is open 24 hours a day, with clothing optional at night! For those that want to stay at Summer Lake Hot Spring, the resort features geothermically heated cabins, several guest houses, a campground, and RV hookups.
6. Fort Rock—Quick Detour From Summer Lake
About 45 minutes away from Summer Lake Oregon, Fort Rock is well worth the detour. This incredible rock formation is called a tuff ring and is located on an Ice age lake bed. The ring of rock reaches about 4,460 feet in diameter and stands around 200 feet high. As soon as you see it, you will be able to tell where the name derives from. The tall, straight sides of rock resemble the palisades of a towering fort.
One of the best ways to see this incredible landmark is to take the half-mile hiking trail that is found within the crater of the old volcano. This inner outcropping trail is a 1.7-mile loop hike that offers some stunning panoramic views of the surrounding desert landscape.
Guided tours of Fort Rock Cave are also available for those that want to delve underground. The site is of significant historical importance thanks to the discovery of several sagebrush sandals that date back 9,000 to 11,000 years. Including a pair that is believed to be the oldest known shoes in the world!
The tour of this National Heritage site starts tat the Fort Rock State Natural Area parking lot, from which you will be transported to the caves. The journey is rich in history, with the knowledgable tour guides telling you about the site and surrounding area, from the current owners who now produce world-renown hay to the Native Americans who wove the Fort Rock style sandals.
7. Camping Around Summer Lake, Oregon
Ana Reservoir RV Park – Ana Reservoir is a great camping spot if you are looking for a little peace. The park is relatively small with only 24 sites, some of which are partial hookups, and some are full hookups. There are also some tent sites available.
There are plenty of amenities available, including large, well-maintained guest rooms, on-site laundry facilities, a cleaning shed, horseshoe pit, fire pits, and BBQ, and a large play area for the kids. Ana Reservoir is just a third of a mile from the park, which offers fishing, kayaking, canoeing, and hiking opportunities.
Lonepine RV Park – Lonepine RV Park is a quiet little park with 25 spaces for RVs to park up for the night. All sites come with full water, electric and sewage hookups. There are showers, laundry, and coin-operated laundry facilities. There is a really nice outdoor seating area around a fire pit, which makes a great spot for relaxing after a busy day of exploring.
Junipers Reservoir RV Resort – This serene resort is set on a working cattle ranch, so you will really get a glimpse at the Old West lifestyle during your stay. It offers free wifi, showers, propane BBQs, and laundry facilities. There is also an accessible access dump station and tent sites available.
We hope this post helped you find some fun things to do in Summer Lake, Oregon! Check out more things to do in Central Oregon and other adventures in Oregon.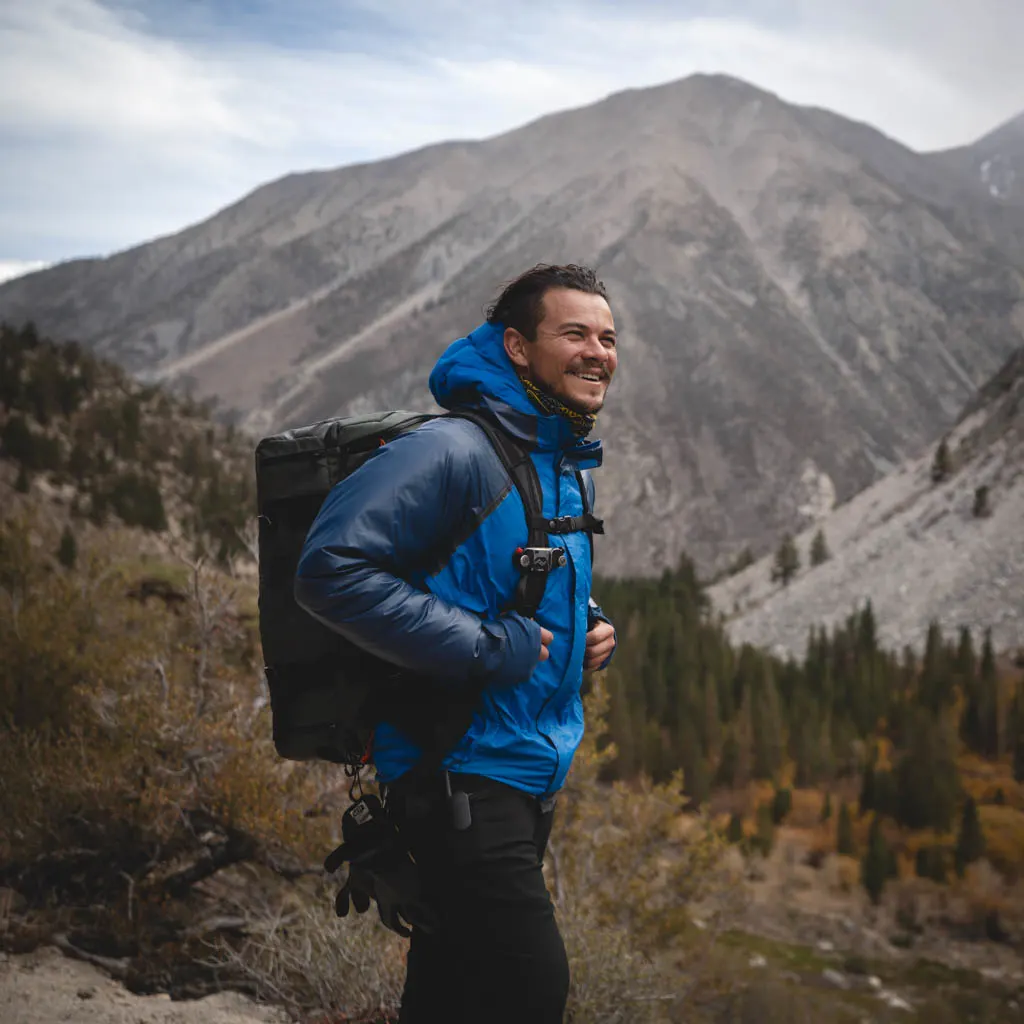 Oregon native and explorer at heart. Loves tackling expeditions around the world and drinking a good beer at the end of the day. PNW obsessed, VW nerd, and surf or snow riding fanatic.