Eastern Oregon is the least visited area of the state, yet it rivals the coast or the Cascade regions with its own beauty. Crackled deserts, soothing hot springs, towering snowcapped mountains, deep blue lakes, and wildlife galore… What more could you want?
Maybe we should keep this gorgeous area of Oregon to ourselves and maintain that untouched feeling? Or maybe we should shout it from the mountain tops, VISIT EASTERN OREGON!
Either way, you're now in the know, and if you're up for taking the road less traveled, then this list of things to do on an eastern Oregon road trip is for you!
Things to Do in Eastern Oregon
---
Below you'll find tons of things to do in eastern Oregon organized by a few regions. All of the things to do are also pinpointed in this map below for ease! Check out our itinerary at the bottom of this post too.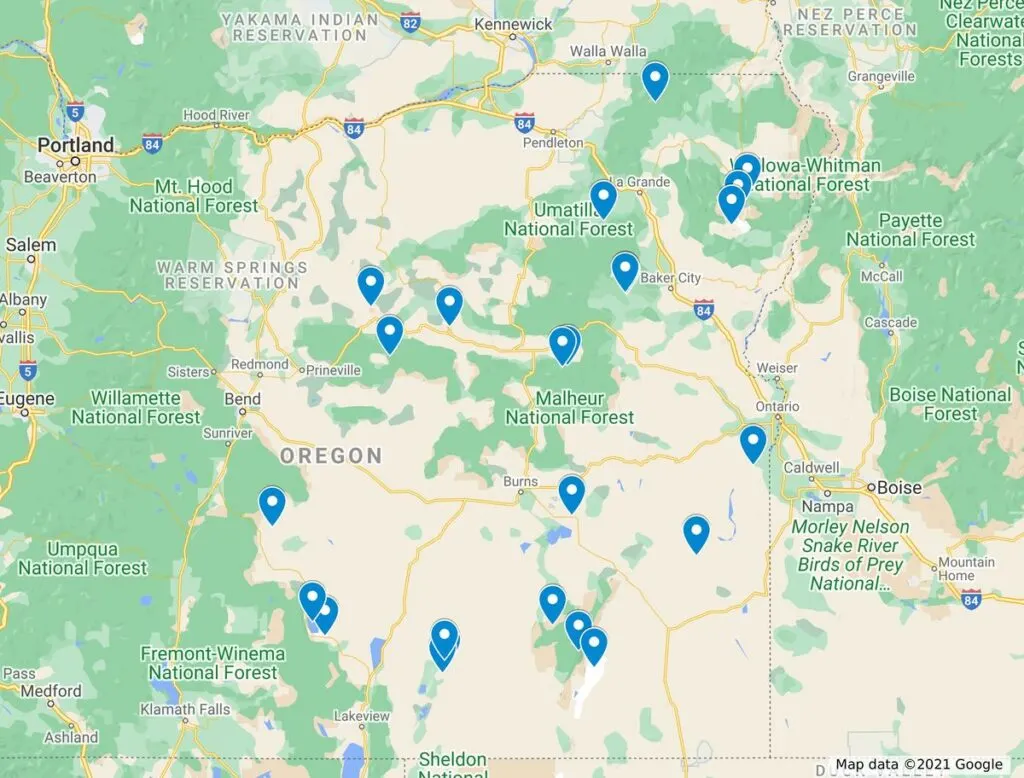 Don't Forget This!
A lot of the best adventures around Oregon will require a Northwest Pass. You can easily get one delivered straight to your door. Grab it now before you leave!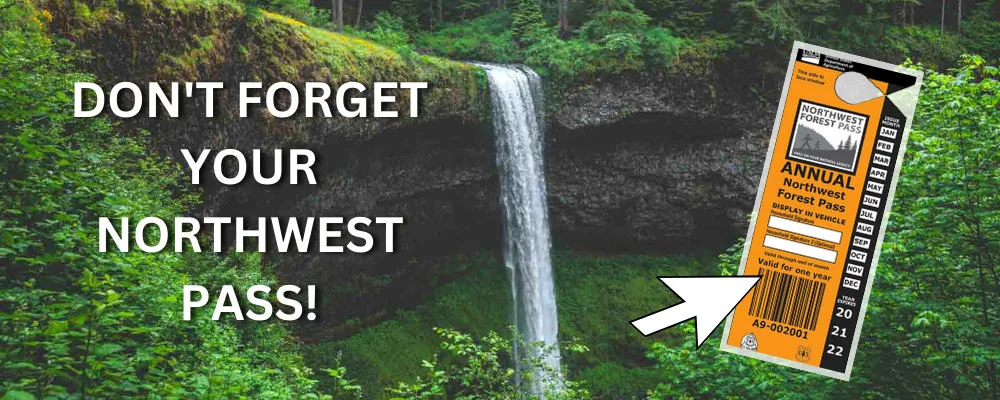 The Wallowas
One scenic drive through the Wallowa Mountains and you would easily confuse this alpine utopia with the European Alps.
A lifetime's worth of wild hiking terrain, crystalline ribbon lakes, and snow-capped panoramas make the Wallowas the crown jewel of your eastern Oregon road trip.
Nature enthusiasts and thrill-seekers will fall in love with the rugged landscapes and never want to leave!
RECOMMENDED GEAR:
1. Take a Dip in Wallowa Lake
Who said you couldn't have a beach day in the mountains? Bust out the bathing suit and go for a swim once the snow melts away for the summer!
The transparent waters of the lake are a snorkeling hot spot and cooling off with views of craggy peaks and lush forests cannot be matched.
2. Conquer Eagle Cap
Nestled within the heart of the Eagle Cap Wilderness, Eagle Cap is a treasure for adventurous trekkers. The iconic peak overlooks sweeping valleys, glacial lakes and vibrant fauna of the illustrious hiking trail.
Most choose to summit via the Mirror Lake to Eagle Cap trail which is 17 miles out and back.
Reaching the Eagle Cap summit is one of the most daring climbs you will encounter but it provides possibly the most exhilarating view in eastern Oregon.
3. Whitewater Rafting on Eagle Creek
If you fancy a high-octane ride in the water, then Eagle Creek must be towards the top of your list! Class III and IV rapids will make your pulse rate skyrocket as you maneuver around boulders downstream.
---
RELATED: A Comprehensive Guide to Visiting Wallowa Lake State Park—Adventures and Camping
---
Sumpter
This former gold rush haven is a blip off the radar that is brimming with adventurous activities.
Sumpter embraces its mining legacy and you will adore the old western vibe while searching for the next hiking path. Admire the stunning backdrop of the Elkhorn Mountains as the character of this charming community comes to life.
4. Stay at the Sumpter Stockade Motel
The cozy Sumpter Stockade Motel doubles as a blast from the past and your base for nonstop fun in the outdoors. The owners are so much fun, with a dash of wacky (in a good way!), who are knowledgable about the area (and are down to answer your questions) and they even have fire pits and a stage for a dressed up photoshoot (obviously we had to play there!).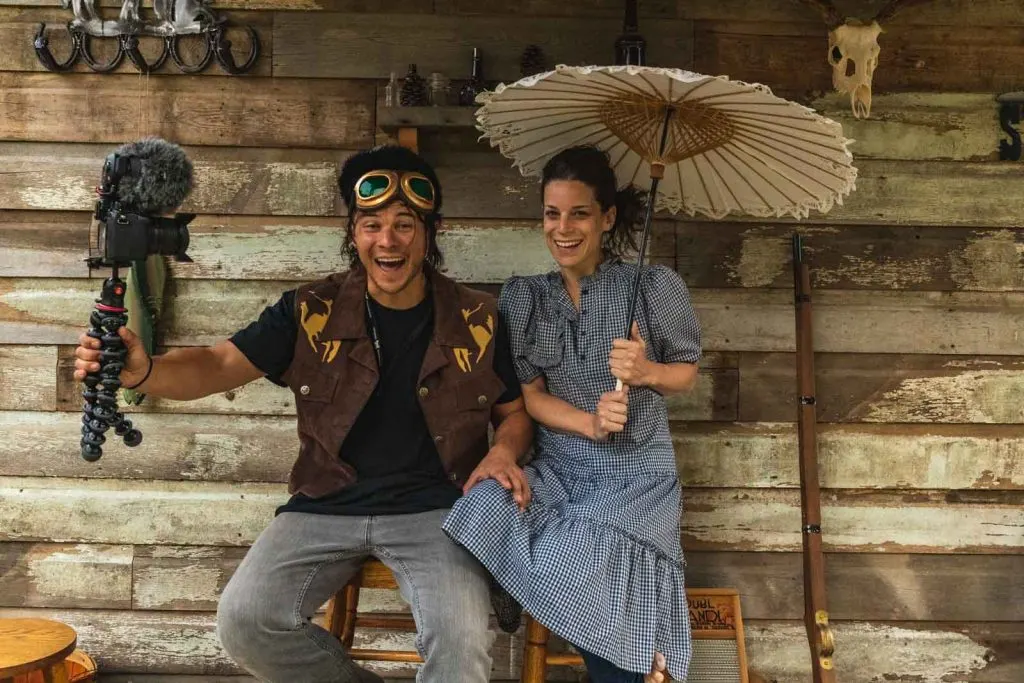 Wake up to old western décor before hitting the hiking paths and fishing for the catch of the day. During winter, hop on a snowmobile and have a powdery adventure along the nearby trails.
5. Ride the ATV Trails
Cruising through Sumpter on an ATV is hands down one of the coolest things to do in Eastern Oregon!
Head to the Sumpter Pines RV Park or the Blue Mountain OHV Trails for a four-wheel ride sure to get your adrenaline pumping. For easier access to the trails, spend the night underneath the stars at one of the neighboring campgrounds.
6. Take in the Views at the Sumpter Valley Dredge
An iconic landmark of Sumpter's gold mining history, the retired piece of machinery is now a gateway to some of the most picturesque hiking trails and peaceful fishing holes in eastern Oregon.
The enchanting Elkhorn Mountains tower over the valley and are a fairy tale for nature lovers!
→ Near Sumpter in Baker City, take this alpine stargazing photography and winetasting tour.
---
READ MORE: 7 Awesome Things To Do in Sumpter, Oregon
---
Mitchell
A trip to the charming, rustic settlement of Mitchell should be included in any eastern Oregon road trip.
Witness the rugged landscapes that surround the town and watch the magical history of eastern Oregon come to life. Colorful geologic formations, towering canyons, and enchanting forests make Mitchell the perfect spot for tons of outdoor adventures.
7. Wander the Ochoco National Forest
The mystical Ochoco National Forest has an activity for any type of nature lover in eastern Oregon.
Those who crave time on the water can kayak, canoe or fish along its peaceful lakes and rivers. Hikers and rockhounders will have a field day exploring the diverse geologic formations found within the forest.
8. Admire the Painted Hills
Staring at the Painted Hills is like watching a canvas beautifully crafted by the hand of Mother Nature. Contrasting shades of red, orange and yellow decorate rolling hills that have evolved over millions of years.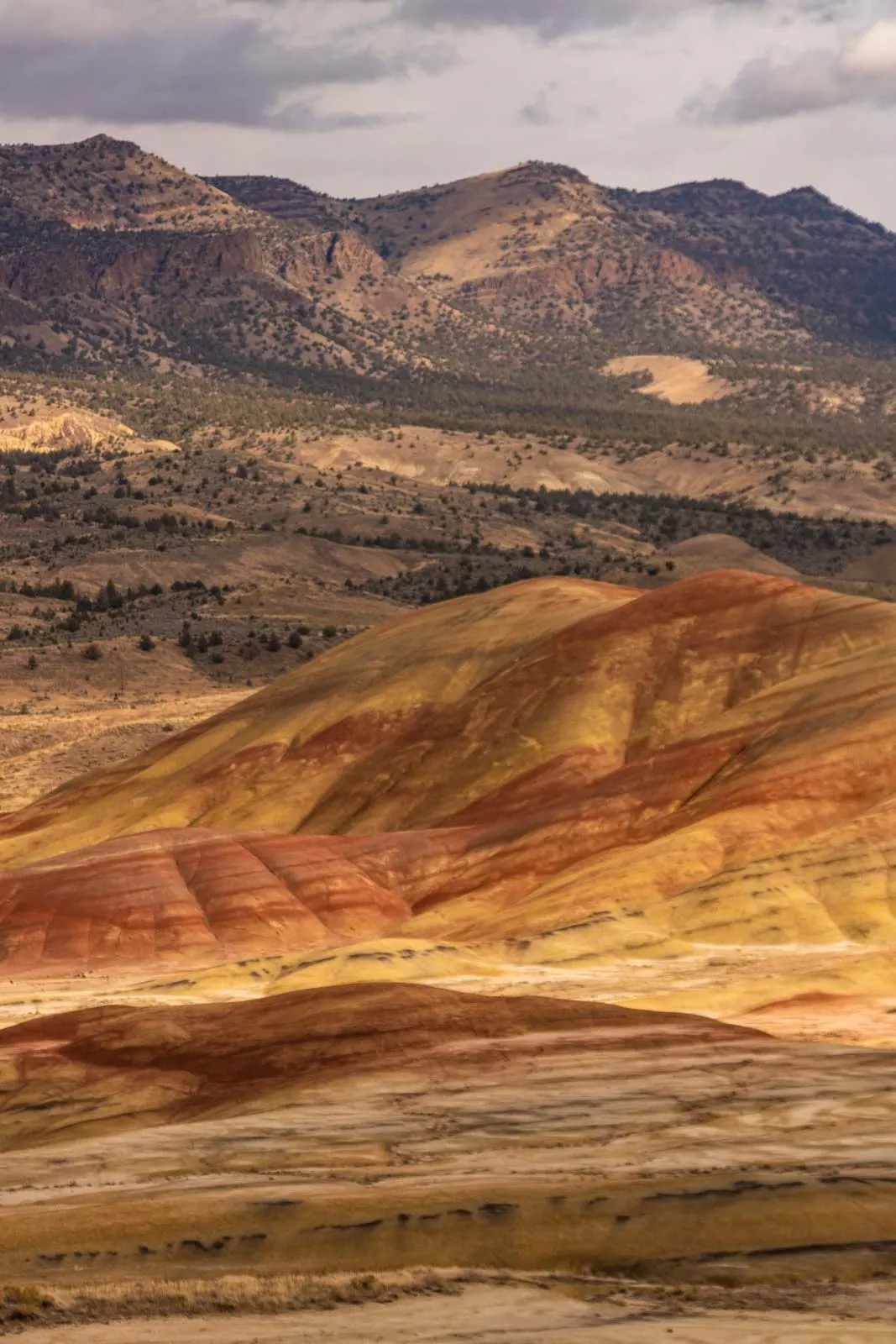 Hiking trails and campgrounds dot the landscape and are the best ways to see this artistic masterpiece from every angle. Even if you're on the move, most of the trails in the area are very easy and short and even the drive is beautiful!
9. Visit the Rest of the John Day Fossil Beds
Two other must-see natural wonders of the John Day Fossil Beds are the striations of Sheep Rock and the ancient fossils of the Clarno Unit. Numerous day hikes are available to get a closer look at volcanic landscapes and the remains of extinct species.
---
RELATED: Your Guide to Exploring the Painted Hills—Oregon's Most Alien Landscape
---
Strawberry Mountains
The Strawberry Mountains are a less explored mountain range in eastern Oregon capped with alpine lakes, forested valleys, and snow-covered peaks. With over 120 miles worth of hiking trails, stunning wildflowers, and sweet strawberries, it is a trekker's dream come true.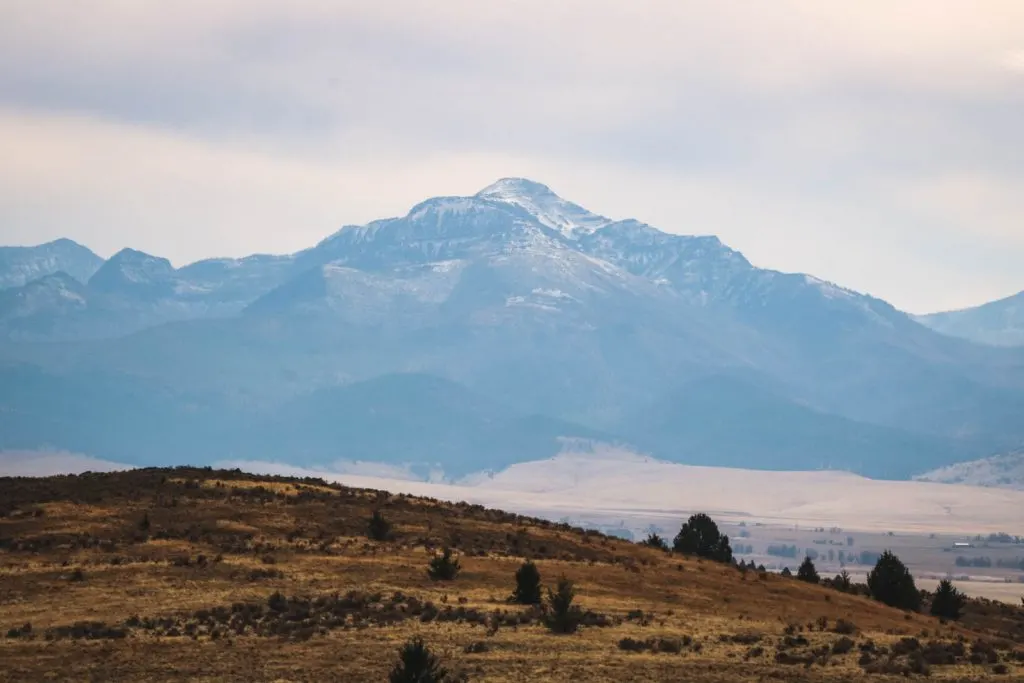 10. Camp at Strawberry Lake
The largest alpine lake in the Strawberry Mountain Wilderness, Strawberry Lake is a pristine location to set up your campsite. Tranquil forests and jagged peaks surround the lake and there are numerous trailheads for hikers to explore.
Reel in some trout and cook a delicious meal by the fire while you spend the night under the stars.
11. Hike the Strawberry Mountain Loop
Adventurous trekkers will be grinning ear to ear navigating this rugged terrain. Steep hills and switchbacks guide you to shimmering lakes, radiant flora, wildlife sightings and the misty Strawberry Falls.
12. Climb the Summit of Strawberry Mountain
The grand prize of this wilderness is the incredible 360° panorama from the top of Strawberry Mountain. No other mountaintop in the area boasts the same height and the heart-racing views along the horizon are a magnificent sight to behold.
Umatilla National Forest
Nestled in the Blue Mountains, Umatilla is guaranteed to have something for everyone in your group. Snaking rivers provide scenic trips on the water and the steep slopes are exhilarating any time of year.
Hikers and cyclists of all levels can enjoy the hundreds of miles worth of varied terrain cutting through the forest.
13. Explore the Wenaha River Trail
The vast wilderness of the Wenaha offers one of the most secluded hikes on your eastern Oregon road trip. Stretching roughly 30-miles through the eastern Oregon backcountry, this winding path offers spectacular views of rocky canyons and wildflowers in bloom.
Keep a watchful eye for rattlesnakes as they are known to frequent this isolated hiking trail.
14. Whitewater Rafting in the Grande Ronde River
Paddling downstream along the Grande Ronde is one of the most picturesque things to do in eastern Oregon. Sloped canyons, pine forests and a multitude of creatures make this a scenic trip of a lifetime.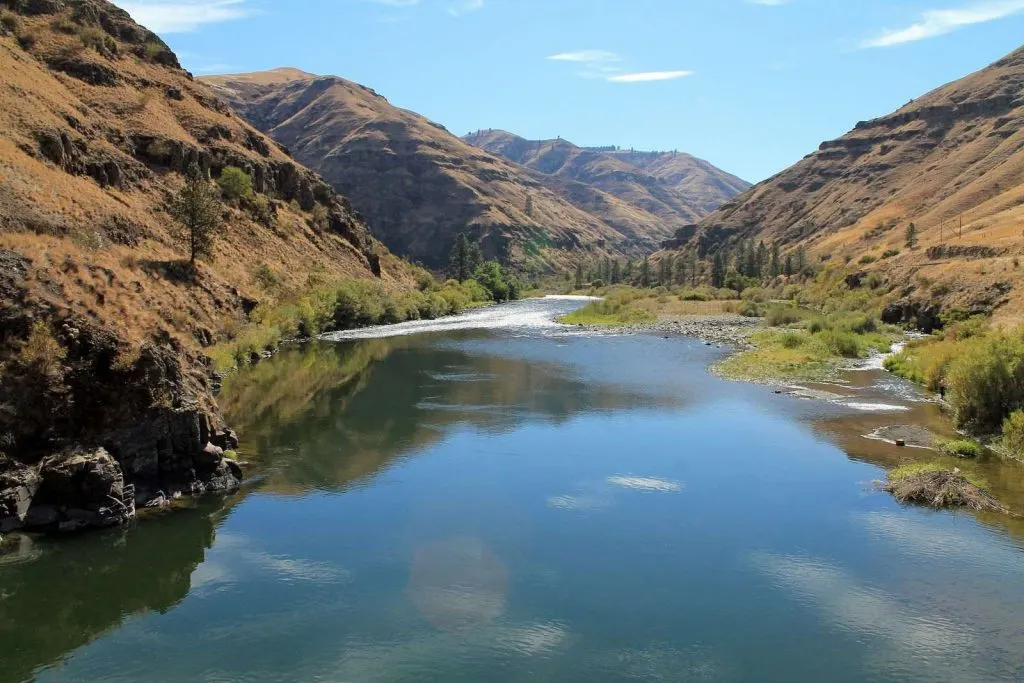 The navigable class II rapids make the Grande Ronde a breathtaking ride without requiring a high level of skill.
15. Cool Off at Jubilee Lake
Need a break from the summer heat? Head to the Jubilee Lake campground and jump in its refreshing waters for a swim. Surrounded by lush forest, the lake is a beautiful spot for a fishing or camping retreat.
Owyhee Canyonlands
Home to one of the last remaining untouched natural treasures of the United States, the Owyhee Canyonlands reveals a portrait only Mother Nature could create.
In fact, the towering canyons have earned this stretch of eastern Oregon landscape the nickname "Oregon's Grand Canyon." Once you discover the rugged scenery with your own eyes, you will know exactly why this might be the last American Western frontier.
16. Rafting Adventure on the Owyhee River
Cutting through a craggy, red-rock canyon and surrounded by basalt columns and dramatic spires, the Owyhee River offers a paddling journey like no other.
The arid and unforgiving wilderness provides a sanctuary for those looking to escape it all. Complete with class III and IV rapids, a paddling trip through this geologic wonderland might be the most mind-blowing thing to do in eastern Oregon.
17. Find Solitude Hiking the Upper Owyhee Canyons
Remote and lonely are two fitting terms to describe the paths along this section of Owyhee. Scenic cliffs, sheer-canyon walls and jagged columns provide some of the most striking landscapes in eastern Oregon.
From the Lambert Rocks Trail to Louse Canyon, do not be surprised if there is not a single soul in sight!
18. Experience Stargazing Heaven
With no major cities in sight, the Owyhee Canyonlands will be the best place to watch the night sky on your road trip through eastern Oregon.
Set up your campsite, rest your head, and be prepared for a show like never before!
---
RELATED: Exploring the Owyhee Canyonlands: Hiking, Rafting, & Camping
---
Steens Mountain
The surreal landscapes surrounding Steens Mountain are a true hidden gem of eastern Oregon. Steep canyons, barren deserts, cascading waterfalls and sapphire-blue lakes are among the incredible scenery you will witness.
Get ready to take your car places you never thought possible on this section of your eastern Oregon road trip.
19. Drive the Steens Mountain Loop
Set your sights for the charming township of Frenchglen for this once in a lifetime drive. The near 60-mile route cruises past glacial gorges, craggy cliffs and the cracked surface of the Alvord Desert.
To quench your thirst, make a pit stop at Fields Station for one of their world-famous milkshakes.
20. Hike the Wildhorse Lake Trail
Although not a lengthy trek, the path takes you past jaw-dropping panoramas on the way to Wildhorse Lake. Marvel at the steep valleys and rugged peaks as you gain a bird's eye view of the canyon.
After soaking up the incredible scenery, go for a swim in the frigid waters of the lake for a rejuvenating experience.
22. Spend the Night at Crystal Crane Hot Springs
For a little rest and recovery, head to Crystal Crane Hot Springs near Burns and soak in its enlightening pools. They have RV parking to tipis with hot tubs inside for accommodation.
Enjoy the alluring views of the night sky while you strengthen your muscles for another fun day of hiking the rugged landscapes of eastern Oregon.
23. Camp on Alvord Desert
Yes, that's right, camp right in the middle of Oregon's desert. For free!
Alvord Desert is at the base of the Steens Mountain which rises proudly in the dusty distance. Ride your car out on the desert and have a little fun, there's literally nobody out here! Set up camp (on the Steens Mountainside would be best) and then head to Alvord Hot Springs for a quick soak.
Read our guide to camping on Alvord Desert.
Hart Mountain
Dotted with scenic canyons and sweeping valleys, Hart Mountain is one of the best things to do in eastern Oregon's extensive desert.
Magnificent species roam the plateau and sightings of deer, antelope and eagles are a common occurrence. Whether you want to explore trails around canyon rims or admire the wildlife flocking the region, you will be living a nature enthusiast's dream.
24. See the Animals of the National Antelope Refuge
If you adore watching wild animals frolic in their natural habitat, the refuge should be a must-see sight on your road trip through eastern Oregon.
Pronghorns, bighorn sheep, coyotes, grouse, and rattlesnakes are just a handful of the hundreds of species you will find. Gain a closer connection with nature by photographing the animals or camping among them in the wilderness.
25. Relax at the Hart Mountain Hot Springs
Exploring this portion of eastern Oregon can really make you want to take a hot shower! How about an invigorating natural hot tub overlooking the desert terrain to clean up after a sweaty day of hiking?
Whether you want to climb into the developed pool with rocky walls or the warmer natural spring, you are in for a treat. Here's our guide to the Hart Mountain area and the hot springs.
26. See the Ancient Drawings at Petroglyph Lake
One of the most interesting things to do in eastern Oregon is hiking to the mysterious rock art along the walls facing Petroglyph lake.
The near five-mile trek will take you along an incredible ridge, through grasslands and to the granite barriers beside the lake. Study these fascinating images before trekking back along the rim to complete the loop.
Summer Lake
Nestled in the Great Basin region, Summer Lake is a cozy destination for downtime in the outdoors or a gateway to stunning discoveries.
The wetlands of the lake are a fabulous place for bird watchers to meet tons of new species. Geothermal wonders and craggy structures crafted by Mother Nature make this a unique area to explore.
27. Feel Refreshed at the Summer Lake Hot Springs
The rustic surroundings of these mineral springs offer a picturesque setting while you let all your troubles melt away. Located just off the shores of Summer Lake, you have gorgeous mountainous scenery overlooking the natural pools.
Head to the nearby Summer Lake Basin or winter rim for scenic hikes after you complete your session in the pool.
28. Stare at Fort Rock
Rising out of nowhere in the wide-open terrain, Fort Rock is one of the most bizarre landmarks you will find in eastern Oregon.
The road leading to the rock appears to stretch forever and creates a spectacular vista at sunset. The circular shape creates a remarkable hiking path with unbelievable views of the volcanic rock.
29. Birdwatch at the Wildlife Area
If you fancy a round of bird watching, the refuge along the Summer Lake Basin is a great stop on your road trip through eastern Oregon.
Hosting over 200 species of birds, you will have infinite chances to watch their migration and behavior patterns while enjoying the surrounding landscapes.
Eastern Oregon Road Trip Itinerary
There are TONS of things to do in eastern Oregon and honestly, this post has only scratched the surface. We know most people are working with a matter of a few days or a week or so, so here's how we'd organize our time if we were road tripping eastern Oregon and trying to get the most out of it.
Do keep in mind that driving takes quite a large chunk out of your day! Below, where we state the number of days, I'm talking about a full day of experiences without much driving place to place included. So one day equals an actual full day, not a driving day.
Factor in driving times and if you're coming in the winter months, do note some roads will be closed altogether.
Of course, more time is always better but if you're trying to squeeze things in and are trying to pack as much as possible in your time exploring eastern Oregon, here is the minimum amount of time you'd need for each area:
Wallowa: 1-2 Days
The summit hike and rafting would each take about a day! You could spend a single day just hanging out by the lake, doing some water sports, taking short walks (like the short 1-mile Wallowa Tramway Summit Trail) and call it day.
Where to Stay Nearby:
Sumpter: 1 Day
You could swing through Sumpter pretty quickly if you're in a rush. The ATV trails are great, the Dredge is interesting, and staying at the Sumpter Stockade is an experience but if you're on the move, just drive through it.
Where to Stay Nearby:
Mitchell: 1 Day
Luckily the Painted Hills are quite easily accessible. Drive through Mitchell, skip Clarno and Sheep Rock if you have to, and just do a short trail or two through the Painted Hills.
Where to Stay Nearby:
Strawberry Mountains: 1 Day
The Strawberry Mountains are a bit of a detour off the main road but if you have the time, come on down. You can spend your day at the lake and hiking around it or up to the summit. Perhaps set up camp for the night and then head back out in the morning.
Where to Stay Nearby:
Umatilla: 1-2 Days
If you're biking or hiking you may want to take the whole day to enjoy the miles and miles of the beautiful Umatilla Forest. If you decide to raft, that could take at least half a day.
Where to Stay Nearby:
Owyhee: 2 Days
The Owyhee region is an eastern Oregon highlight but the things to do can be a bit spread out. Rafting would take a good chunk of the day and the hiking trails would take another. Camping out here would be a great idea!
Where to Stay Nearby:
Steens: 1 Day
Considering you can drive up into the Steens Mountain and do some hiking while you're up there, you could probably smash out a good chunk of this thing to do in eastern Oregon, then set up your tent on Alvord desert and soak in the hot springs at night.
Where to Stay Nearby:
Hart Mountain: 1 Day
Just driving through and around Hart Mountain, doing a short hike and taking a soak in the hot springs will eat up a whole day! The roads here are mostly gravel too which will slow you down.
Where to Stay Nearby:
Summer Lake: 1 Day
You can pass through quickly and just enjoy the drive and the hot springs if you only have a day in the area.
Where to Stay Nearby:
How To Road Trip Eastern Oregon
Well by car would be the obvious answer, no?
And really, there's no other way to see Oregon, particularly eastern Oregon! You MUST have your own mode of transportation, there's no way around it.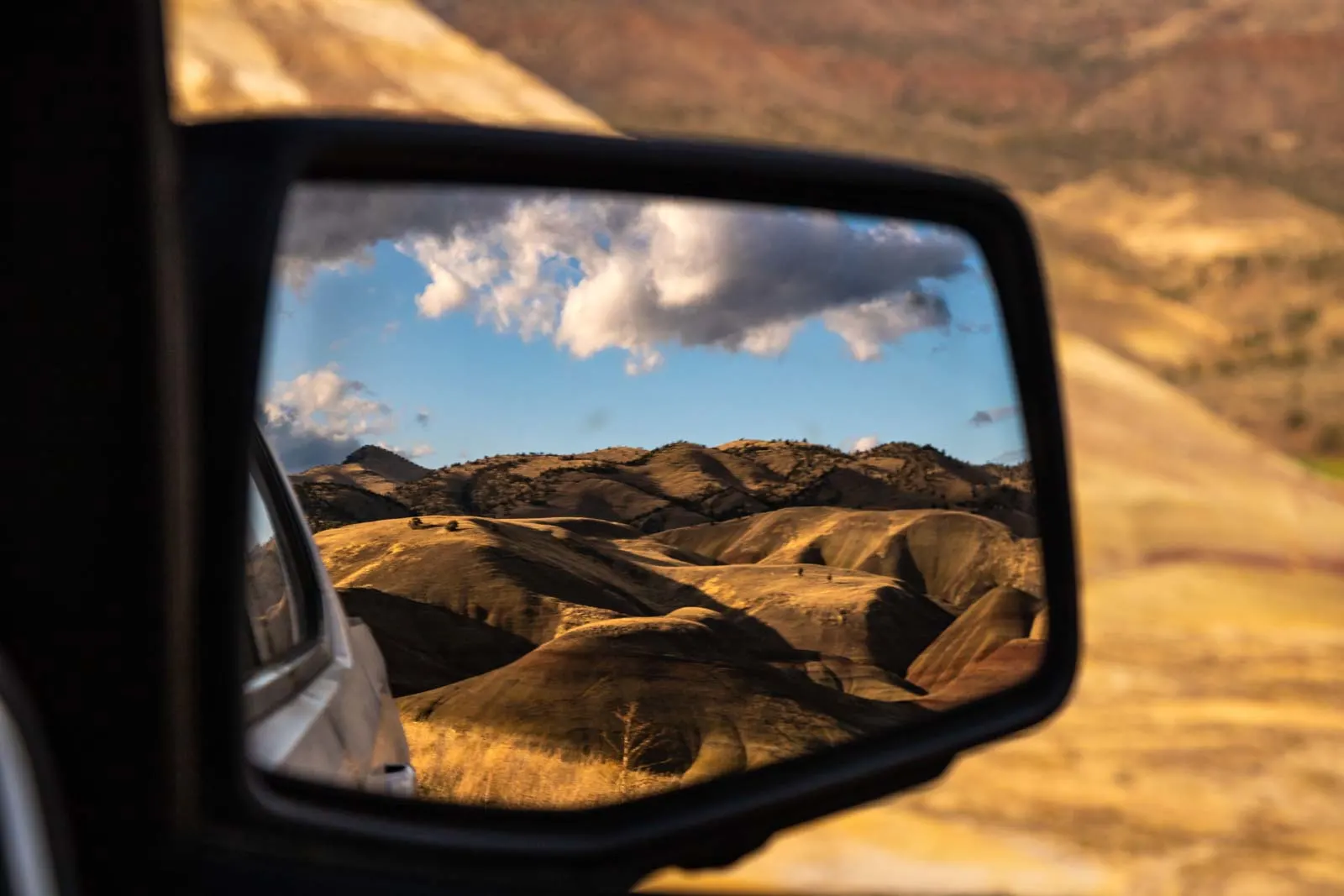 For those up for a more adventurous trip, you could grab yourself a dual-sport motorcycle and really see the things to do in eastern Oregon in style!
There are some gravel sections but in between those gravel and paved roads are off-road sections where you can take your dual-sport motorcycle (or a 4WD vehicle for that matter) and get a bit dirty on the dirt tracks.
You'll ride through hidden forests and see areas normal vehicles wouldn't have a chance of seeing!
Check out our friends at Ride Adventures for a motorcycle rental (or a 4WD) to road trip eastern Oregon!
We hope this post helped you plan your eastern Oregon road trip! Check out more of what eastern Oregon has to offer and other fun adventures in Oregon.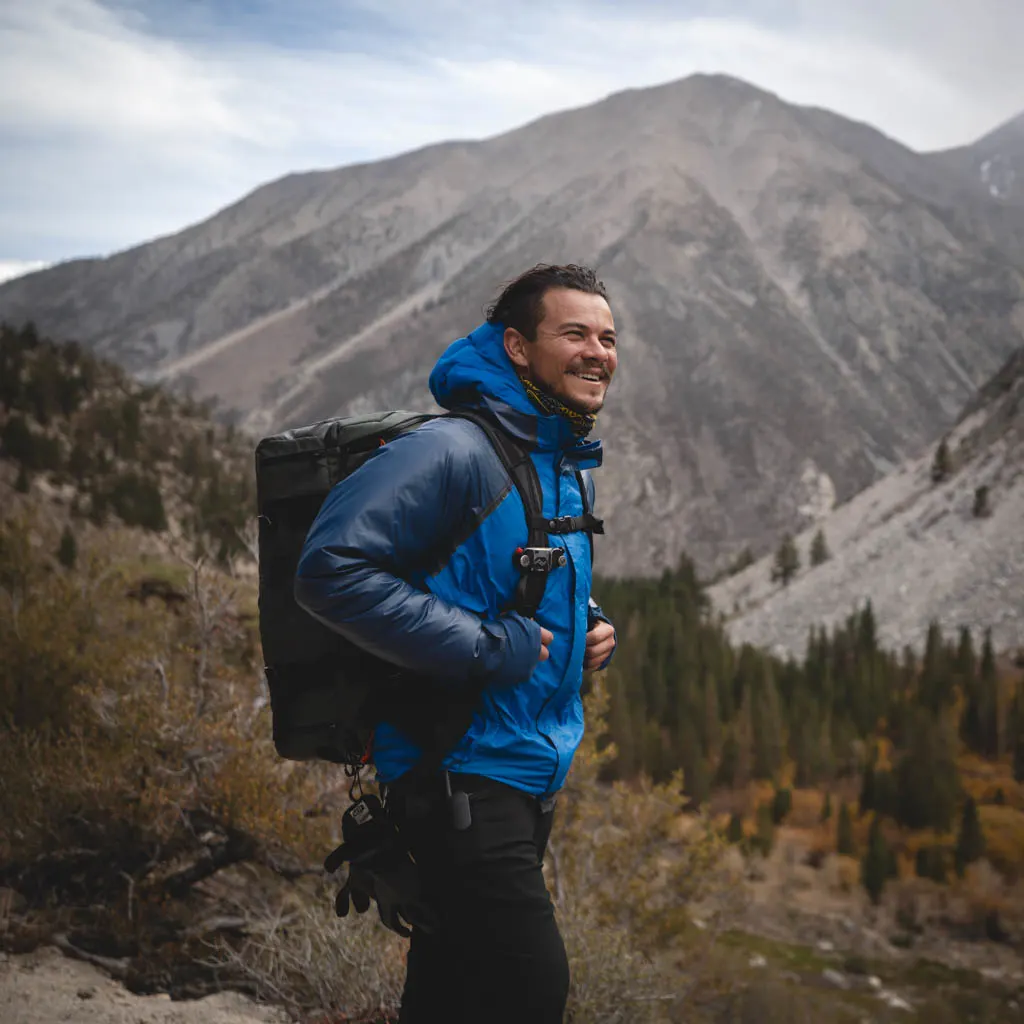 Oregon native and explorer at heart. Loves tackling expeditions around the world and drinking a good beer at the end of the day. PNW obsessed, VW nerd, and surf or snow riding fanatic.