There's something special about Oregon hot springs. Each one is an adventure. And there are certainly lots to choose from. The volcanic geology of the state makes sure of that.
You're never too far away from one whether it's in the Willamette Valley or Oregon's eastern high desert. However, some Oregon hot springs seem to pair with outdoor excursions better than others.
In this post, we've gathered 13 hot springs that you can do before or after a hike in the same area. That way you can take advantage of the geothermal energy to soothe your aching post-hike muscles.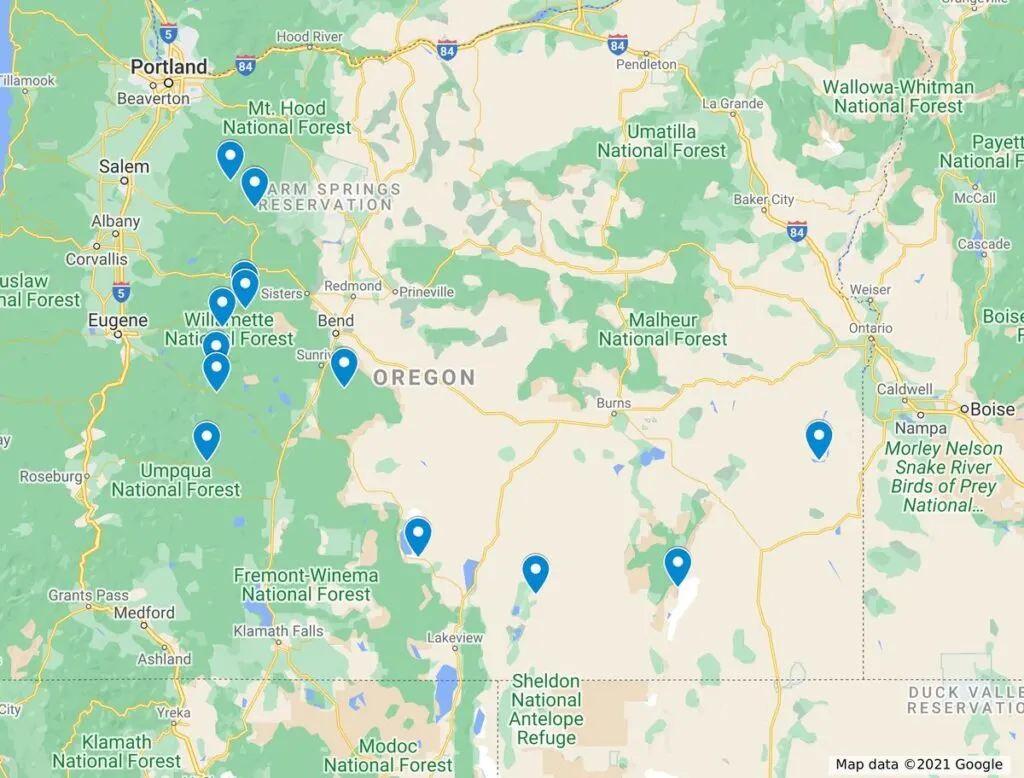 Oregon Hot Springs Near Portland
1. Bagby Hot Springs
68 miles from Portland
What's near here: Bagby Trail #544
If you've ever thought about going on a soak in Oregon, you've probably come across Bagby Hot Springs. This one-of-a-kind forest oasis can draw a crowd at different times of the year. But at other times, you can have these Oregon hot springs all to yourself.
Bagby is made of three different decks with a number of soaking options. First, you have a few private stalls with hollowed-out log tubs. Then there's a communal deck with three log tubs and a medium barrel tub.
Finally, there's another deck with a large barrel tub. Clothing is optional at Bagby.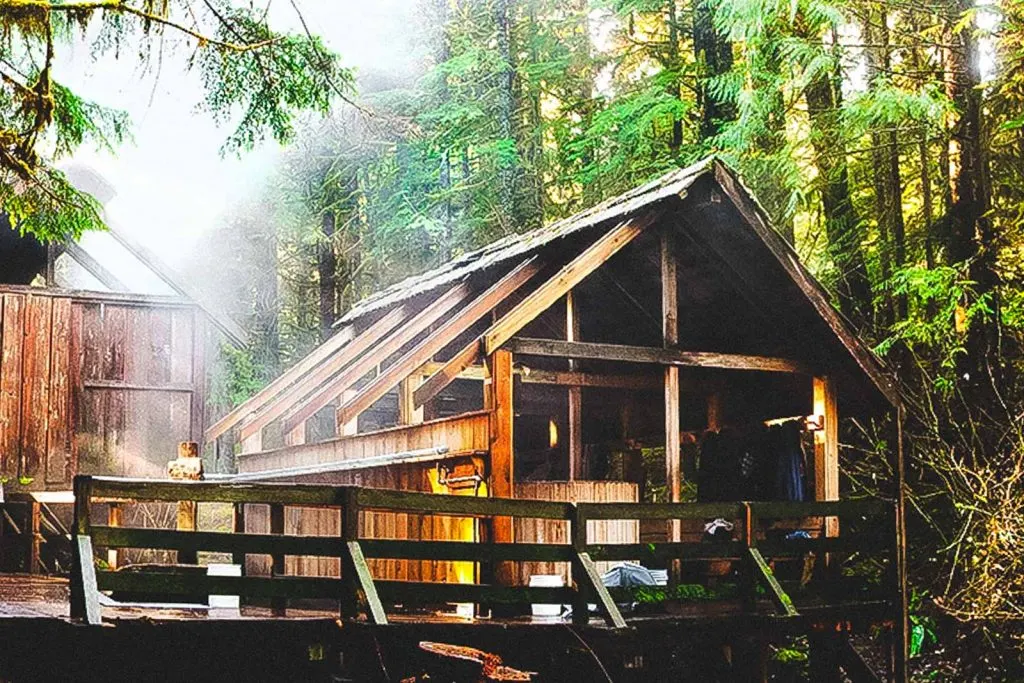 The water is brought up through a series of wood aqueducts. Each tub has its own wooden faucet. The water can get pretty hot here, but there's a cold creek nearby with plenty of buckets. Don't be afraid to mix in some cold water if the tub is too hot.
This hot spring requires you to walk a leisurely 1.5-mile hike from the parking lot. However, that's not all there is to the trail. This trail continues for quite a few miles.
If you did the whole thing as an out-and-back you'd hike 23.7 miles and gain 4881 feet in elevation. This is just one of the many great hikes near Portland.
Now, you could try to do the whole thing in one day. However, you can also do a good 5 or 10-mile hike on this trail before returning to soak at Bagby.
Lastly, Bagby hot springs require a $5 soaking bracelet that you can purchase from the nearby Ripplebrook Guard Station.
2. Breitenbush Hot Springs
106 miles from Portland
What's near here: Breitenbush hiking trails
Breitenbush Hot Springs isn't your average hot springs. You actually need to make reservations to go here, and they're about $22-$38 per person. However, it's worth the price of admission.
Now that might seem expensive. And it would be if you were just getting some holes in the ground. However, you get a whole lot more at Breitenbush.
The facility is a highly maintained retreat center and wildlife refuge. It's a resort with geothermal hot tubs, sunken springs, a stone labyrinth, sweat lodge, library, artisan gift shop, a sanctuary for meditation, and more.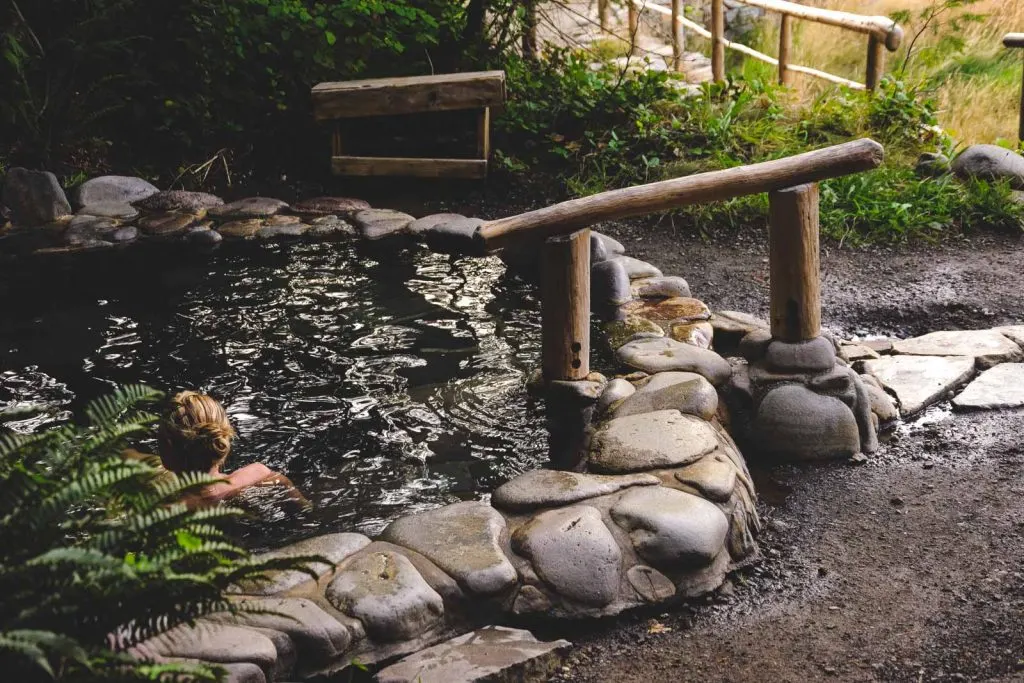 You can stay overnight in a tent, yurt, or cabin from $75-$169 depending on the time of year and type of lodging. Overnight visitors get three vegetarian buffets and can attend yoga and meditation programs.
It might seem comfy and chic from the description, but it's actually pretty rustic. The whole facility is off-grid: they generate their own electricity from hydropower and geothermal energy. There's no TV, cell service, or internet.
After you get acquainted with the facility, you can go on any number of hikes in the immediate area. Trails like the Ancient Forest Loop, Roaring Creek, and Devils Peak will help you work up a sweat before that organic vegetarian buffet.
Be aware, clothing is optional at these Oregon hot springs. Also, you need to make reservations even for day use. That's because they limit the number of people who can use it at once. And for those of us who prefer smaller crowds, that's a great thing.
Oregon Hot Springs Near Eugene
3. Wall Creek Warm Springs
53 miles from Eugene
What's near here: Heckletooth Mountain
We're traveling farther south in the Willamette National Forest to find this spot. One of the great things about Oregon is how many national forests it has. And the Willamette National Forest is just one of these.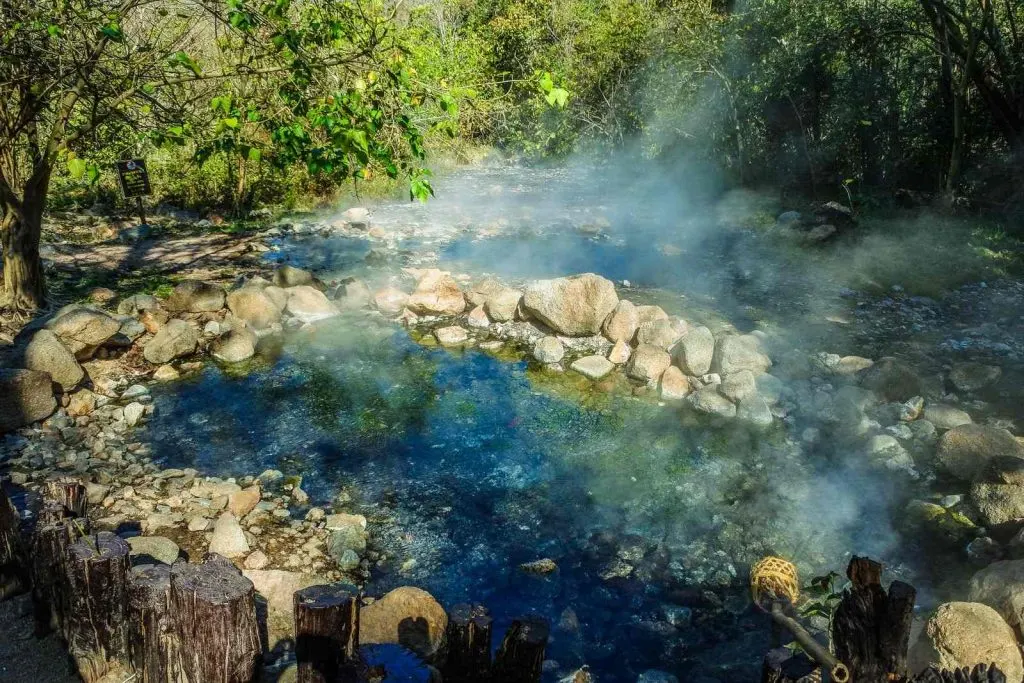 Wall Creek Warm Springs is nestled deep in these woods a few miles outside of the town of Oakridge (southeast of Eugene).
It's a small pool in a secluded forest. People call it the meditation pool, and once you get there you'll see why. Across, it measures about 8 feet. The temperature can fluctuate from lukewarm to 100+ degrees, and that depends on how much hot water seeps up from the ground.
This pool is also right next to a stream so you can go cool off if you get too hot. Once you park at the trailhead, you only have to walk for about 0.3 miles to reach the springs.
There's another natural attraction on your way to the hot springs, and that's Heckletooth Mountain. Be aware, the trailhead is a little hard to find since it's on an unnamed lane after mile marker 3 on Salmon Creek Road.
The 3.4-mile hike takes you up 1200 feet for some great views of the surrounding forest.
4. McCredie Hot Springs
53 miles from Eugene
What's near here: Bunchgrass Ridge Trail
McCredie Hot Springs is just down the main highway from the turnoff to Wall Creek. You could do these two hot springs in a day quite easily since McCredie is pretty close to its parking area as well.
The McCredie pools are on the south bank of the Salt Creek and are sunk into rocks and sand. The creek feels more like a river, and it's actually a tributary of the Willamette.
These two pools are open year-round, though there can be road closures in the winter. There are a plethora of hiking trails in this area as well, and one that stands out is the Bunchgrass Ridge Trail.
This trail follows a ridge—as the name suggests—and takes you through some heavenly bunchgrass meadows.
5. Cougar Hot Springs
55 miles from Eugene
What's near here: French Pete Creek Trail
Here's another one located east of Eugene. Cougar Hot Springs offers 5 rock wall pools that cascade down a slope. And it's a pretty scenic picture. Also, it's functional.
That's because the pool at the top is the hottest while the one at the bottom is coolest. It's a choose-your-own-adventure hot spring.
This Oregon hot spring had been infamous for break-ins and vandalism until a manned kiosk was installed at the site. Now it's open every day but closed at night—and it's patrolled all the time.
Don't let the tight security scare you away, though. This site offers a serene wilderness soaking experience that's hard to beat.
It costs $6 for a day or $60 for the year—and these passes are unique for Cougar Hot Springs. In the past, you could use a Northwest Forest Pass for these Oregon hot springs. However, the kiosk doesn't accept those anymore.
If you come out here in the morning, you can get your muscles all warmed up for a great hike only a few miles away. The French Pete Creek Trail is a tough 15.8-mile out-and-back that crisscrosses the creek a few times.
The creek is small during most of the year. That's good because there aren't any bridges to use when you have to cross it.
6. Belknap Hot Springs
58 miles from Eugene
What's near here: McKenzie River Trail, Foley Ridge Trail
Here's another nature retreat addition to the list. Belknap Hot Springs Resort offers two large geothermal pools that are sure to soothe your joints. The lower pool is large enough to swim laps in, and the upper is just a bit smaller.
Both are professionally built and chlorinated. The larger one is open to the public for a day-use fee, while the upper one is only available to guests.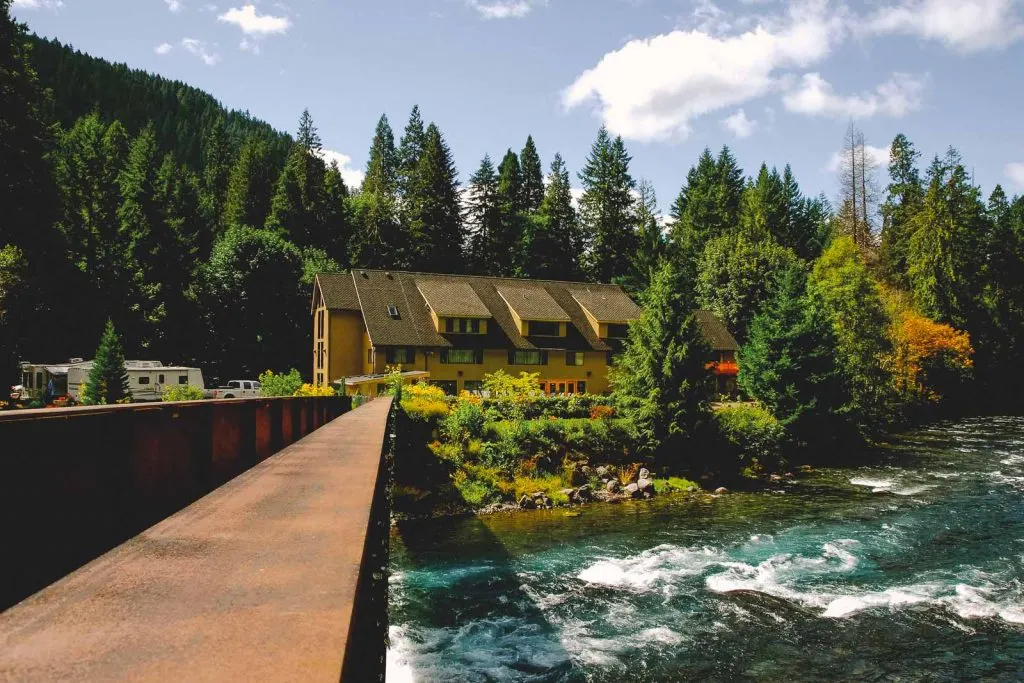 Day fees are $8 for up to an hour or $14 for the day. You can stay overnight in a tent spot for $30 per night or in a luxurious cabin for $135-$550. Also, if you're a guest, the day-use fees are waived.
Belknap Hot Springs Resort is located just a few miles from Bigelow Hot Springs. That means you also have the Tamolitch trail at your disposal (which is part of the longer McKenzie River Trail).
However, there's another option near here. That's the Foley Ridge Trail. It's located about 10 miles away, off of the Old McKenzie Highway. This hard trail is a 14.7-mile out-and-back with 2368 ft in elevation gain.
---
RELATED: Your Guide to Hiking the McKenzie River Trail
---
7. Bigelow Hot Springs
63 miles from Eugene
What's near here: Tamolitch Blue Pool Trail
Bigelow Hot Springs is also known as Deer Creek Hot Springs. That's because it's pretty much in the creek. The pool is sunk into the banks of Deer Creek and is pretty small. It's only big enough for 2-4 people.
Also, the best times to go are in summer and fall. During the warmer months, the water temperature is a modest 100-104 degrees.
If you venture out in the winter, your legs may go numb even in the hot pool. That's because the water in the surrounding creek makes this hot spring too cold to enjoy in the winter or spring.
The pool is located right off highway 126 east of Eugene. Before hitting this pool, you can continue on the highway for five more miles and park at the Tamolich Falls trailhead.
It's an easy 3.7-mile hike to see the turquoise Blue Pool on this trail, or you can continue on to Clear Lake for a 14.4-mile out-and-back.
---
RELATED: Hiking to Tamolitch Blue Pool in Central Oregon
---
8. Umpqua Hot Springs
130 miles from Eugene
What's near here: North Umpqua Trail—Dread and Terror Segment
Now we're getting far out. The Umpqua Hot Springs will add just under 500 miles to your odometer if you're coming from Portland round-trip.
And it's certainly worth the excursion. This site features three main pools that are stair-stepped into a mineral deposit. Also, in certain lights, the pools look turquoise while the edges have a yellowish sulfur tint.
As with most spots on our list, clothing is optional. This site also has a pit toilet in the ground as an added amenity.
Most of the year, you'll just have to hike a quarter mile up from the parking lot. However, snowfall can close the access road and require you to hike in from another spot a couple of miles away.
Speaking of hiking, there's a great one that starts from the same parking area. That's the Dread and Terror Segment of the North Umpqua Trail.
There are no supernatural phantasms on this trail, but there are natural ones. The trail is 12 miles end-to-end, or you can do a smaller section as an out-and-back. This tough trail follows the North Umpqua River and does have some obstacles.
People frequently report downed trees, washed-out sections of trail, narrow passes, and very steep areas. However, it's an adventure in the Oregon wilderness if there ever was one.
---
RELATED: 11 Things to Know Before Going to Umpqua Hot Springs
---
Oregon Hot Springs Southeast of Bend
9. Paulina Lake Hot Springs
39 miles from Bend
What's near here: Paulina Lake
The hot springs at Paulina Lake are five manmade pools dug into the edge of the lake. They are located at the northeast corner of the lake and you can access them by a short hike from a parking area. But that's not the full experience.
Paulina Lake is a gorgeous lake. The water is a tropical turquoise and is crystal clear. If you want to get the whole Paulina Lake experience, you'll start at the campground in the southwest corner.
From here, you can take the Paulina Lakeshore Trail around the rim of the lake. The whole loop is 7.5 miles long and you'll hit the hot springs about halfway through.
You'll also see some wildlife and trek over some obsidian and lava rocks. The lake also offers more recreational activities like kayaking, paddleboarding, and fishing if you're so inclined.
---
RELATED: Your Guide to Newberry National Volcanic Monument
---
10. Summer Lake Hot Springs
124 miles from Bend
What's near here: Fremont NRT Winter Rim Trail
Summer Lake Hot Springs is another retreat center plus hot springs combo. You can stay in a personal cabin for $100+ per night or tent camp for $20.
Day passes for the hot springs are $10, and at this price, it's worth it. There is an outdoor pool here as well as a large bathhouse pool.
The pool is open from 9 am to 7 pm each day, though you might want to camp to stay for the night sky. There's no light pollution in this area, so you can see the whole milky way and beyond.
Summer Lake Hot Springs is close to a number of trails in the surrounding hills. One of them is the Fremont NRT Winter Rim Trail.
This out-and-back hike is about five miles and pretty flat. However, it's on the rim of a hillside so the scenery is pretty fantastic.
11. Hart Mountain Hot Springs
232 miles from Bend
What's near here: Warner Valley Jeep Trail
Alright, we've broken the 400-mile mark. And out here you'll find some of the most beautiful parts of the state.
Hart Mountain Hot Springs is in the middle of the Hart Mountain National Antelope Refuge. Wild and expansive, this high desert plateau looks much like it did a thousand years ago.
There are two pools at this hot spring. However, one of them is a bit hard to find. That's because it's not built up at all. You just have to look for the steam rising over the field.
The main pool is surrounded by benches and rock walls. It can fit about six people and is a bit over 100 degrees. Also, be aware that the roads around here aren't maintained in the winter, so that's probably not the best time to go.
This stop also features a campground and some pit toilets. The place is very rustic, and you'll get to see some wildlife while you're there. Here's a more detailed guide to Hart Mountain Hot Springs.
The Warner Valley Jeep Trail is also close by. The trailhead is just a few hundred feet back on the main road. It's a 5.3-mile out-and-back that will give you more time to appreciate the wildlife and the scenic area.
---
RELATED: A Guide to Hart Mountain Hot Springs & What to Do in the Area
---
12. Alvord Hot Springs
237 miles from Bend
What's near here: Steens Mountain
Next, we have Alvord Hot Springs. Though Alvord Hot Springs has charged an entrance fee since 2013, it still offers dusty travelers a little oasis in the desert. The site has two large concrete pools that can accommodate many people.
It costs $8 per person per visit to soak, but you also have more options. You can get a campsite for $30 or sleep in a bunkhouse for $60 per night.
If you're on the fence about staying, the night sky might sell you on the campsite idea. With few lights dotting the edges of the landscape, the night sky really comes out to play here in Oregon's high desert.
Have your own tent and want to literally camp on the playa? Read our guide to camping at Alvord Desert.
We think there's another reason to camp out too. Why? Because the pools are right at the base of the majestic Steens Mountain.
John Work, one of the first European fur traders in this area of Oregon, called it the "Snowy Mountains." Some people mistake it for a mountain range, but it's technically one mountain.
There's a lot you can do on Steens Mountain. You can drive to a few different viewpoints—including the summit—on the highest road in Oregon (9,700 ft elevation).
Hikes in the Steens Mountain Wilderness include Little Blitzen Gorge Trail and Big Indian Gorge Trail. The mountain is also a popular spot for stargazing.
---
RELATED: Everything You Need to Know About Camping at Alvord Desert & Alvord Hot Springs
---
13. Echo Rock Hot Springs
309 miles from Bend
What's near here: Leslie Gulch (and whitewater rafting!)
For this excursion, you'll actually start out at the Leslie Gulch campground. And it's pretty far east in the state. The route from Portland will take you through Idaho for a little bit and back into Oregon. That's because it's 15 miles from the border with our eastern neighbor.
This hot spring is located alongside the Owyhee River, about 3.5 miles west of the campsite. And get ready to enjoy the trek. Your hike will take you through towering canyons and red cliffs. Also, you'll get to see some wildlife native to the region.
The hot springs are easy to spot: it's just one big pool made of poured concrete with a rock border. There's a fill valve and a drain valve, and it's consistently full of 100+ degree water.
If you're heading to Idaho after, you don't have to stop your search for hot springs. You might want to check out all the things to do in McCall, Idaho, like Gold Fork Hot Springs!
Back at the campsite, you can also hike up Leslie Gulch and enjoy more of this rugged Oregon landscape. Check out our guide to Owyhee Canyonlands for more things to do around this hot spring.
More of Our Favorite Places in Oregon
Which of these hot springs in Oregon are you running to first!? Be sure to check out some of our other adventures around Oregon.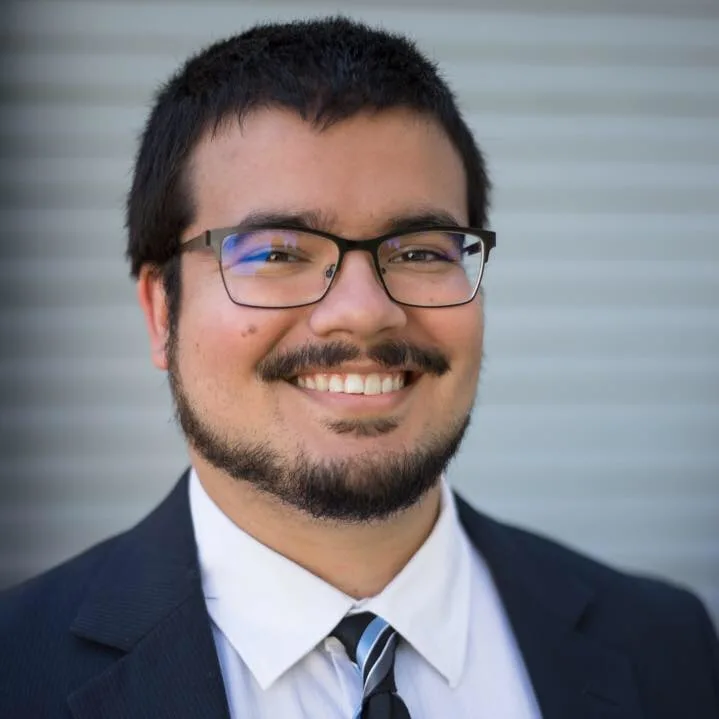 Brogan is a jazz guitarist and freelance content writer living in Portland, OR. His favorite spot in nature is Soapstone Lake. When he can't get outside to go hiking, he enjoys watching Anime and cooking.