Portland has many nicknames: the City of Roses, Rip City, Bridge City, and Stumptown, to name a few. If we could add one more name to the list, it would be the City of 1000 Hikes.
Portland loves the outdoors, and nature loves Portland back. Between the Gorge, Forest Park, the Willamette River, and the Cascades, there really may be 1000 hikes near Portland to choose from.
We're only going to cover a tiny bit of all the hikes out there today, but it's certainly enough to get you going for a while. Here are 21 awesome hikes near Portland that are waiting to be explored by you.
21+ Awesome Hikes Near Portland
---
1. Marquam Trail
3 miles from Downtown Portland
Distance: 3 miles
Type of Trail: Out & Back
Difficulty: Moderate
Elevation Gain: 748 ft
The Marquam Trail winds around Marquam Park which is just south of downtown. This main trail takes you through a forest and up about 650 in elevation.
There are a number of trails in this park, but there's only a couple of loop trails. Most trails end up in other parts of the surrounding neighborhood, so just keep track of where you turn if you want to explore more of the area.
If you continue past the end of the Marquam trail (by just crossing the street where it ends) you'll end up in Council Crest Park. Council Crest has an amazing view of downtown Portland, and on clear days, you can even see four mountains in the Cascade range: Hood, Adams, Ranier, and St. Helens.
There is an off-leash area just adjacent to this viewpoint as well, which is awesome. However, dogs need to be leashed up when on the trails.
---
READ MORE: Exploring Marquam Nature Park in Portland
---
2. Pittock Mansion and Witches Castle
3 miles from Downtown Portland
Distance: 5 miles
Type of Trail: Out & back
Difficulty: Moderate
Elevation Gain: 921 ft
A lot is packed into this Portland hike. Not only do you hit up two of the best attractions in Forest Park, but along the way, you can take in some amazing views and enjoy looking out for birds and wildlife. You will start the hike following a bubbling stream and walking under incredible old-growth trees, crossing a bridge and up, up, up to Pittock Mansion.
From here, you will get your first glance at the incredible Portland skyline. The mansion sits high above the city, known for its bright red roof, built in the early 1900s, it is quite a sight to see as you stroll through the forest.
The 'Witches Castle' is the other cool attraction on this hike. As you pass the moss-covered stone house, you would be forgiven for thinking it is the home of a spooky old witch. The reality is a lot more mundane, it is actually an old restroom built in the mid-1930s!
3. Washington Park Loop
3 miles from Downtown Portland
Distance: 3.4 mile
Type of Trail: Loop
Difficulty: Easy
Elevation Gain: 413 ft
Washington Park is beautiful. It has so much to offer its many visitors, and one of the best ways to enjoy them all is to take the Washington Park Loop Trail. On one easy path, you will be guided through some main attractions, including monuments, the park's old zoo, part of the Wildwood Trail, some of the impressive Hoyt Arboretum, and even redwood trees!
You will be transported to the far reaches of Asia as you wander through the Portland Japanese Garden, then around the world as you explore the famous International Rose Test Garden. If you powered through, you could complete the loop within a couple of hours, but spending a whole day here is easy, and we wouldn't blame you.
Every time you visit the park, you will discover something new, whether a monument that the surrounding plant life has captured for its own or a new pond that you hadn't spotted before. This is just one of the perks of having such an incredible park close to the city. It offers some of the best hikes near Portland.
Washington Park has so much more to offer, so it is worth making the time to come back another day and tackle one of the other trails, such as the White Pine, Wildwood, Mac, and Walnut Trail Loop, or you could tackle more of the Wildwood Trail, the options are seemingly endless.
4. Hoyt Arboretum: One of the Most Educational Hikes Near Portland
4 miles from Downtown Portland
Distance: 1.3 miles
Type of Trail: Loop
Difficulty: Easy
Elevation Gain: 213 ft
Portlanders love going to the Hoyt Arboretum. It's close to the city but far enough to have massive trees. It's also well-maintained and has many great spots for picnics and bird watching.
Hoyt Arboretum's mission is to foster endangered plant species and educate the public. Over 2,300 species of trees and shrubs currently reside in the park, and there are some fantastic ones to look at.
One of the most striking areas has to be the redwood deck. This is a raised deck that gives you a woodpecker's eye view of some enormous redwood trees. There are also a few benches in that spot so you won't lose your balance while staring straight up.
Hoyt Arboretum has 12 miles of hikes in total. Many trails loop back on themselves, so you could really spend hours walking around in the park.
One popular loop is made from the Overlook, Wildwood, Hawthorn, Maple, Wildwood, and Holly Trails (tip: park near the Visitor Center where you can snag a trail map). This 1.3-mile route takes about two hours to do.
If you want more of a guided experience, you can join a group walk on a Saturday or Sunday from April through October. The guided tours leave at 11 and 1 and have a suggested donation of $3 for non-members.
The Arboretum is open from 5 am to 10 pm daily, while the Visitor Center is open from 9 am to 4 pm during the week (10 am to 4 pm on weekends).
5. Springwater on the Willamette
4 miles from Downtown Portland
Distance: 3 miles
Type of Trail: Out & Back
Difficulty: Easy
Elevation Gain: 200 ft
Springwater on the Willamette is a paved path that goes right along the Willamette River. The path is part of the Springwater Corridor, a 21-mile long paved path that winds along an old railway route.
The section we'll talk about today is a great option for people with disabilities or anyone who wants to take it easy for a bit.
You can find the Springwater path at the Sellwood waterfront park just south of Oaks Amusement Park. Next, follow the path north and you'll soon be in the Oaks Bottom Wildlife Refuge.
The path continues right along the Willamette for a number of miles, and you can even take it all the way to OMSI. To make it a 3-mile out-and-back, just turn around when the path starts to curve to the left with the river.
Taking the path all the way to OMSI and back will make it a 6-mile trek, but it will also give you some great views of Downtown Portland on the river.
6. Mount Tabor Loop Trail: One of the Hikes Near Portland with Awesome Views
6 miles from Downtown Portland
Distance: 2.2 miles
Type of Trail: Loop
Difficulty: Moderate
Elevation Gain: 250 ft
Mount Tabor is another gem within the Portland metro area. When you start this trail, it can seem like you teleport from the city to the forest within just a few minutes.
Mount Tabor offers a few hiking trails, but there really isn't any chance for you to get lost. That's because all the trails circle around the top of the mountain, so it's pretty easy to keep your bearings.
Also, there are three main loop trails marked with colored signs: red, green, and blue. The green and red trails are a bit shorter and easier to do.
However, if you have the time, the 3.3-mile blue loop trail is the one to do. The loop trail takes a couple of hours to do at a moderate pace and offers quite a few awesome viewpoints.
Just start at the kiosk by the main parking area and follow the blue arrows at junctions. If you take this path, you'll go around three turquoise reservoirs and take the scenic route up the mountain.
From the top, you can see expansive views of the city as well as Mount Hood and Mount St. Helens. If you time it right, you can see the stars and the city lights come out at the same time.
7. Tryon Creek: One of Our Favorite Hikes Near Portland
6 miles from Downtown Portland
Distance: 2 miles
Type of Trail: Loop
Difficulty: Easy
Elevation Gain: 291 ft
The Tryon Creek natural area has been one of Portland's favorite hiking spots for years. About 15 minutes from Portland, a handful of trails give you 8 miles of hiking terrain.
There's a popular 2-mile loop on the Middle Creek, Cedar, and Old Main trails, though you can cut that in half if you stay on Middle Creek and go straight to Old Main.
Hikes at Tryon Creek are fairly easy with elevation gains under 300 feet, and the park is dog-friendly (on leash). Tryon Creek also has 3.5 miles of horse trails and 3 miles of paved bike trails.
The icing on the cake is a fantastic nature center located just off the main parking lot: it has exhibits on wildlife, geography, and history of the area.
There are no fees to park at Tryon Creek, and the park is open year-round just with shorter hours in the winter.
---
READ MORE: Exploring Tryon Creek State Natural Area in Portland
---
8. Elk Rock Island
7 miles from Downtown Portland
Distance: 1 mile
Type of Trail: Loop
Difficulty: Easy
Elevation Gain: 49 ft
Just south of Portland, you will find the hidden gem of the city, Elk Rock Island. The trail takes you around the island, and seeing as the island is so small, it is hard to get lost.
Interestingly, this island is the oldest place in the Portland area, made up of a 40 million-year-old exposed volcano, and that information alone should have you running there to check it out.
The island can be reached by crossing a rocky channel over the Willamette River from Spring Park Natural Area and is accessible during the dry summer months.
The trail continues to take you around the island, where you can spot some of the local wildlife and scramble over the large rocks formed from past lava flows. It's a beautiful place to stroll, and it is worth doing to say you have walked on the oldest part of Portland.
9. Forest Park: Ridge, Wildwood, Northwest Oil Line Loop
10 miles from Downtown Portland
Distance: 3.1 miles
Type of Trail: Loop
Difficulty: Easy
Elevation Gain: 331 ft
No list of hikes around Portland would be complete without mentioning Forest Park. At 5,100 acres, it's the largest city park in the lower 48 states that is totally enclosed by a city.
The park is about 10 minutes from downtown and is open year-round. It offers over 80 miles of hiking trails and some supreme vistas of the city.
Of course, you don't have rack up mileage in the double digits to enjoy Forest Park. The hike we're talking about is a great loop trail that has less traffic and is deep in the forest. You can do this loop by starting at the end of NW Springville Road and continuing on Firelane 7.
From there, take a left on Ridge Trail, a right on Wildwood Trail, and a right on Northwest Oil Line. This is a relatively easy 3.1-mile route that takes you up and down 331 feet.
Since the forest is so dense, you'll probably be able to spot some wildlife when you're on the trail. You can learn more about Forest Park's vast offerings at the Forest Park Conservancy.
→ For a fun private guided hike through Forest Park, join this highly-rated tour
---
READ MORE: 8 Top Hikes in Forest Park in Portland
---
10. The Ridge, Firelane 7, Wildwood Waterline Trail
11 miles from Downtown Portland
Distance: 6.2 miles
Type of Trail: Loop
Difficulty: Moderate
Elevation Gain: 1,141 ft
The Ridge, Firelane 7, and Wildwood Waterline Trail may be a bit of a mouthful, but luckily you shouldn't have to ask for directions when completing this great hike near Portland in Forest Park.
It is a lengthy loop but showcases some of the best the park offers, perfect if you fancy escaping the city for a while. Start at the far end of the Ridge Trail and start making your way into the forest. It is a bit of a mish-mash of trails combined, changing elevation and taking you through beautiful forest.
As the hike is mostly forested, you can enjoy it in all seasons, with each different time of year bringing something new. You can hike in either direction, but most tend to take the clockwise loop for better views.
11. Mary S. Young Park: Riverside Loop Trail
11 miles from Downtown Portland
Distance: 0.8 miles
Type of Trail: Loop
Difficulty: Easy
Elevation Gain: 118 ft
Mary S. Young is a state park in West Linn that stretches from Highway 43 to the Willamette River, and it's located about 20 minutes from Portland.
There are about 8 miles of trails in the park, but we'll focus on the beginner Riverside Loop Trail here. This loop trail is 0.8 miles long and open to dogs as well.
Dog lovers will enjoy this park for two special areas: Mary S. Young has a large off-leash field adjacent to the parking lot and also allows dogs to roam free on the bank of the river. Just make sure to keep your pooch on the leash while you hike the trails.
Much of the Riverside Loop Trail is actually paved, making this a great trail for people who need firm ground. However, once you get close to the river, the pavement ends.
Depending on the time of year, you may encounter some large spots of mud, so keep an eye out for that. The trail comes out at the river's edge to some sandy beaches and big boulders, great spots for a picnic. To head back, you can find the other entrance back into the trees and make your way uphill to the parking lot.
After you hit the river, you can follow the path south and turn back into the forest on the Heron Creek loop trail. That will wind back up to the parking area, giving you a good 3-mile hike.
12. Powell Butte Loop Trail
11 miles from Downtown Portland
Distance: 6.2 miles
Type of Trail: Loop
Difficulty: Moderate
Elevation Gain: 931 ft
Powell Butte is a little like Mount Tabor: you can always tell where you are. If you ever get turned around, just check to see which way the incline goes. Also, it helps that the city maintains signposts throughout the park to help you find your way.
This loop trail covers most of the hiking mileage on Powell Butte. Since it's 6.2 miles, it's a great trail for a whole day excursion.
However, be prepared to climb almost 1000 cumulative feet from the parking lot. It's a lot of elevation, but it's worth it. That's because this hike also gives you some great views of the surrounding city and mountains. In other words, you're going to run out of space on your phone before you're done with these hikes.
Moreover, you're climbing the elevation over a long distance. In other words, the path isn't that steep. In contrast, it would be much steeper if you climbed 1000 feet over 1 mile.
13. Mount Talbert Nature Park
14 miles from Downtown Portland
Distance: 2.9 miles
Type of Trail: Loop
Difficulty: Easy
Elevation Gain: 629 ft
Mount Talbert is an extinct lava dome located right off I-205 in Happy Valley. This is a great trail to take your kids on since it's only a bit hilly and not very hard. It's a 2.9-mile loop trail that winds through the forest up to the top of the dome.
You do gain about 600 feet in elevation, but the grade is pretty easy. However, this is one mountain hike on our list that doesn't actually have a spectacular view from the top. With that said, it's still a lush and beautiful trek and will make you forget that you're in a city.
The trail is well-maintained and it even has signage to inform you about the local plant and animal life. Like many hikes around Portland, it can get muddy in the winter. However, as long as you're prepared with some good hiking boots, the winter months can be just as beautiful.
---
RELATED: 25 Day Trips From Portland, Oregon + Road Trip Ideas
---
14. Sauvie Island
18 miles from Downtown Portland
Distance: 6 miles
Type of Trail: Out & back
Difficulty: Easy
Elevation Gain: 52 ft
Many people choose to take a hike to see the biggest, most impressive lighthouses in the state, but it is also worth taking a hike to see Oregon's smallest lighthouse. Warrior Rock Lighthouse can be found on the popular Sauvie Island, so is a great one to tack on to the end of a day of fruit picking and beach bumming.
Flat and easy, this out-and-back Portland hiking trail should be accessible for all abilities. Most of the way, you will be following the shores of the Columbia River, with plenty of shade from the surrounding black cottonwood forest.
Follow the path straight, and before long, you will reach the old lighthouse, which was once used to direct shipping traffic up the Columbia River, and a beautiful, secluded beach.
If you visit in August, be sure to bring a small pail with you, so you can pick some of the many blackberries that grow along the trail. They make for a tasty snack!
---
RELATED: 17 Best Beaches in Portland, Oregon!
---
15. Lacamas Park (This Hike Near Portland is In Washington)
23 miles from Downtown Portland
Distance: 4.9 miles
Type of Trail: Loop
Difficulty: Moderate
Elevation Gain: 518 ft
Lacamas Park is bursting with walks and trails that take you around the beautiful lakes and green meadows that characterize the park. Seeing as the park is relatively small, most of the trails that wind their way around the area are interconnected, so you easily walk and see where your feet take you.
As a first-timer to the park, we recommend the Lake to Lake Trail Loop. At 4.6 miles, it's the perfect length for a good walk and takes in most of the park's highlights. Witness the beauty of Round Lake and Lacamas Lake before delving into the forest.
If that's not enough, the trail also takes in plenty of waterfalls and enormous rocks for scrambling. Once you have finished the hike and want to see more, you could also take the hike to Pothole Falls, Woodburn Falls, or one of the smaller trails around the park.
16. Moulton Falls (Also in Washington!)
40 miles from Downtown Portland
Distance: .9 miles
Type of Trail: Loop
Difficulty: Easy
Elevation Gain: 127 ft
Take a day off from city life and explore the Moulton Falls area, and we promise you you won't regret it. The area has tons of incredible hikes, but one of the most popular has to be the Mouton Falls Hike itself. Predominantly flat, it is a great hike for a range of abilities; with the river on one side of you and a large cliff to the other, it's hard to get lost.
If you have the time, don't just stop at one waterfall. You could also tick off Yacolt Falls, Lucia Falls, and Sunset Falls, all nearby, making it one of the best hikes near Portland.
17. Abiqua Falls
53 miles from Downtown Portland
Distance: 1-4 miles (depending on where you park)
Type of Trail: Out & Back
Difficulty: Moderate
Elevation Gain: 250 ft
Abiqua Falls is one of the most incredible waterfalls in Oregon and is just a short distance south of Portland. It's not just the waterfalls themselves that are impressive; the hike there is a fun adventure that offers some of the best of the Oregon landscape.
You will take a slick and slippery path down a hill to the falls from the parking lot. Some areas are so steep that there are ropes to help you scramble down. You are doing better than most if you can make it down without being covered in mud!
Make your way down to the river and take the rock trail that takes you along the water. Before long, you will be standing in front of Abiqua Falls, with its crazy basalt-column surroundings. There are a few different places to start this hike, and a few different routes, which we have delved deeper into in our Abiqua Falls post.
18. Silver Falls State Park: Trail of Ten Falls
53 miles from Downtown Portland
Distance: 7.6 miles
Type of Trail: Loop
Difficulty: Moderate
Elevation Gain: 1,151 ft
Silver Falls State Park is one of Oregon's natural wonders. The area includes a campground, many miles of hikes, a day-use area, a conference area, and more. It is a bit farther from Portland, but it's definitely worth the trip.
→ If you don't have access to a vehicle, join this fun day trip from Portland to hike the Trail of Ten Falls Loop at Silver Falls State Park and visit a local winery
To get the best experience at Silver Falls, we recommend doing the Trail of Ten Falls loop. This trail does gain about 1200 feet in elevation and is moderately difficult, but once you start you won't want to turn back.
The Trail of Ten Falls is made up of the Ridge Trail and the Canyon Trail. Be aware, pets are only allowed on the Ridge Trail. The Canyon Trail has some narrow areas and the park disallows animals on that path to keep everyone safe (there's an off-leash spot near the day-use area).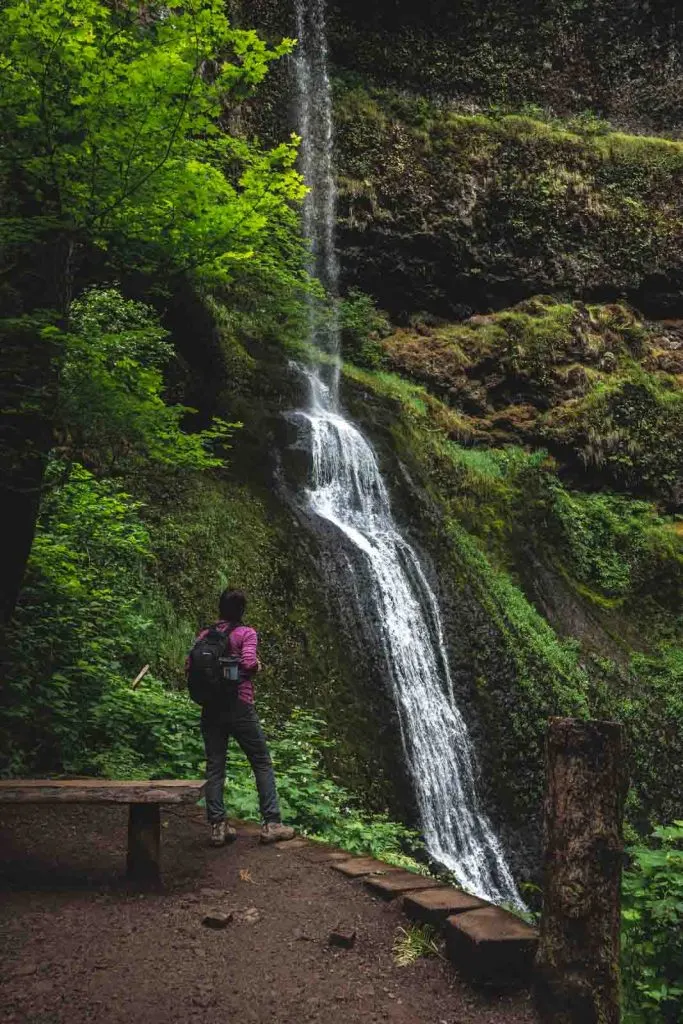 As you hike along, you'll come across ten different waterfalls throughout the 7.6-mile hike including Winter Falls, Twin Falls, and Drake Falls. The trail even goes behind a few of these waterfalls to give you a truly majestic view.
---
RELATED: Your Guide to Silver Falls State Park—the Trail of 10 Falls & More
---
19. Beaver Falls
60 miles from Downtown Portland
Distance: 0.6 miles
Type of Trail: Out & Back
Difficulty: Moderate
Elevation Gain: 78 ft
This is a great trail to do when you're on your way to or from Astoria. It's located in Clatskanie just off of Highway 30, and it's about an hour and fifteen minutes from Portland.
This trail is a great addition to a day of exploration: it's a short 0.6-mile out-and-back and can be done in half an hour (though you may want to stay longer).
There's no parking fee and dogs are allowed on leash. Even though it's short, it's no less breathtaking. Beaver Falls is the star here, and it's gorgeous during any time of year.
The length of this trail makes it doable even in cold or dreary weather, and it's an easy route with less than 100 feet in elevation. However, since it's so short, people tend to bring their snacks and cigarettes and leave garbage at the waterfall, which is a shame.
20. Soapstone Lake Trail: Most Secluded of Our Hikes Near Portland
70 miles from Downtown Portland
Distance: 2.7 miles
Type of Trail: Out & Back
Difficulty: Easy
Elevation Gain: 360 ft
Our penultimate entry on this list of awesome hikes near Portland is Soapstone Lake Trail. It clocks in at about an hour and twenty minutes from downtown, but the drive is certainly worth it.
Soapstone Lake is a tiny, pristine lake in the Tillamook State Forest located just a few minutes off of Highway 26. Saddle Mountain is close by and tends to attract most of the hikers in the area, making the experience at Soapstone a little more intimate.
The parking area is only large enough for a few cars, and there's just the one trail leading off from it. It's a 2.7-mile loop trail that is fairly easy and only gains 360 feet in elevation.
You're already deep in the woods when you park so you can enjoy the trees for the entire hike. Once you make it to the lake, you'll see why it's on our list.
It's really the size of a large pond: 2/10 of a mile long and 1/10 wide. You can walk around it in about 30 minutes, or you can stay by the fork in the trail and hang out at the water's edge. This trail is open year-round, requires no fee, and allows dogs on a leash.
21. Saddle Mountain Trail
72 miles from Downtown Portland
Distance: 4.5 miles
Type of Trail: Out & Back
Difficulty: Hard
Elevation Gain: 1,791ft
Saddle Mountain offers panoramic views of the surrounding area, great foliage, and an exhilarating hiking experience. It's called Saddle Mountain for a reason, though. You'll climb 1791 feet on this hike, and it starts right from the parking lot.
As you climb, you'll notice changes in the foliage with the altitude. Springtime is a great time to see wildflowers and succulents growing along the upper portions of the trail. When you near the top, the foliage thins out and you really feel like you're on a mountain.
The first major viewpoint is on the lower part of the saddle (the top of the mountain is in a saddle shape). You can walk out to the edge of this lower saddle and get a great view of the peak. Don't do the second part of the hike in bad weather.
You can see all the way to the Pacific Ocean in the west, the Columbia River and Astoria to the north, and the Tillamook State Forest on the surrounding sides.
If you have one day to explore hikes near Portland, this is the one to do.
Are There Other Hikes Near Portland?
---
Of course! In fact, there are tons, but those were some of the best and closest hikes in Portland to start you off. If you are willing to head out a bit further from Portland, you'll be opening your doors to even more gorgeous hikes with better views and scenery.
Mount Hood is at your doorstep, the Columbia River Gorge is teeming with waterfalls, and the coast can be visited in a day too! So here are some ideas for where you can hike just beyond Portland…
The Closest Portland Hikes on The Oregon Coast
The coast is about two hours away from the Portland city center. The entire northern area of the Oregon Coast is for the taking!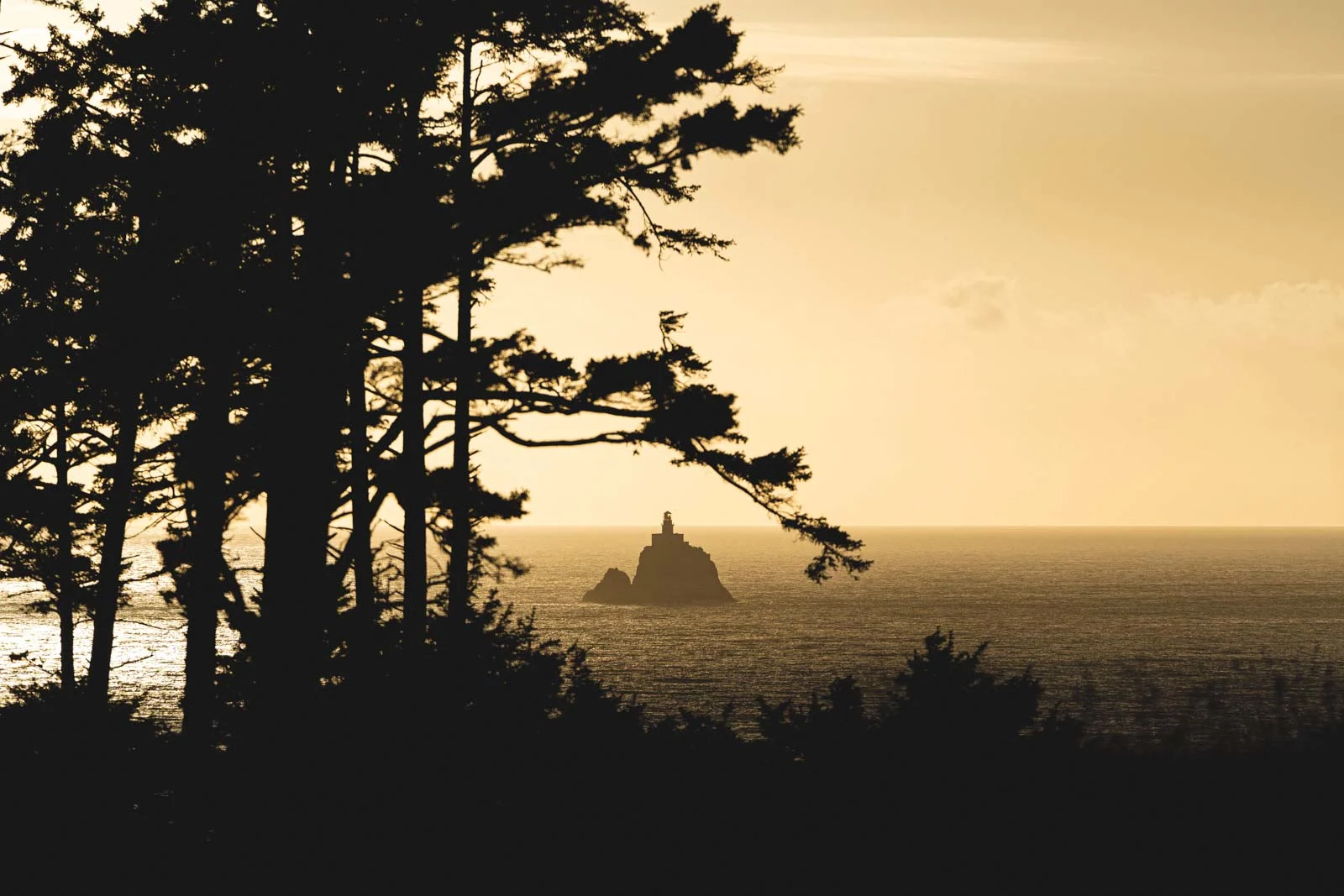 Explore Astoria and hike around historic forts at Fort Stevens State Park. Tackle the epic Cape Falcon trail, camp and walk along the beach at Nehalem Bay State Park and hike around Ecola State Park until you can see the famous Tillamook Oregon Lighthouse in the distance!
Mount Hood Hikes Near Portland
You've seen Mount Hood in the distance while in the city and it's close enough to head out for the city for the day or even the weekend and get those trail shoes worn in a bit more.
→ If you don't have access to a vehicle, join this full-day trip to Mount Hood, Hood River, and Multnomah Falls from Portland
There are tons of hikes outside of Portland in Mount Hood and you'd certainly need multiple trips to catch them all. If you're up for chasing waterfalls or a jaunt around a lake, the Mount Hood Wildness is for you.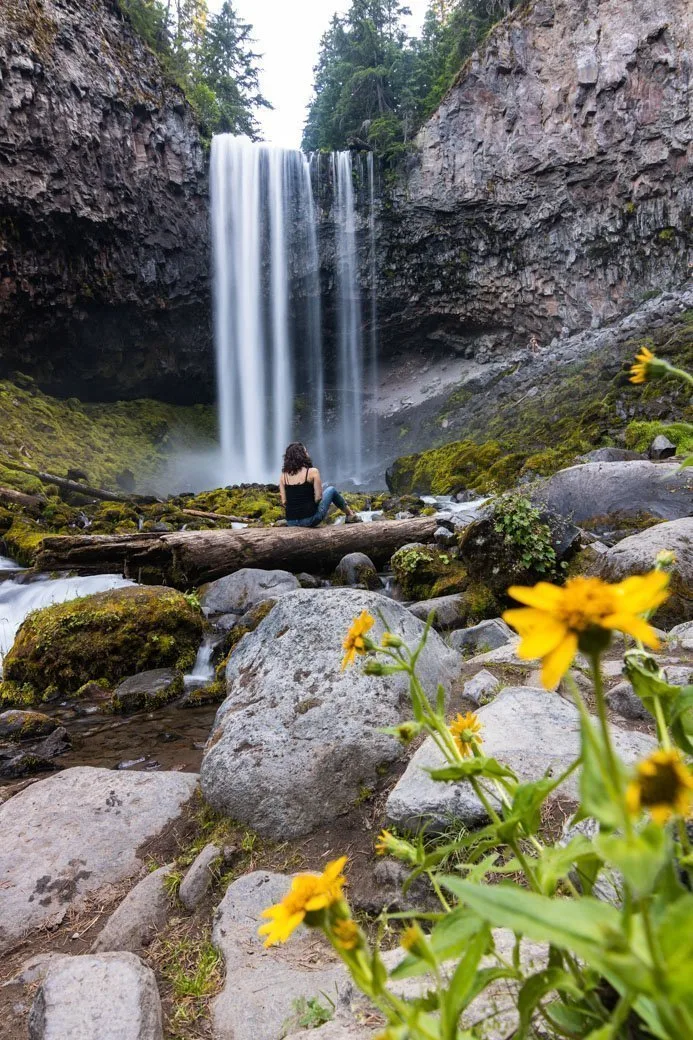 You can even do a bit of a combo adventure where you hike and kayak or SUP on the lake. There are a few lakes with incredible views of Mount Hood looming in the distance, take a walk around Trillium or Lost Lake and then paddle or wade your around the shimmering lake later to cool off.
Two of the coolest hikes in the Mount Hood area is the Tom, Dick, and Harry hike and the Tamanawas Falls hike.
---
RELATED: 9 Awesome Mount Hood Hikes (Including Waterfall Hikes)
---
Waterfall Hikes Around Portland
With the Columbia River Gorge to the east of Portland, there's a magical playground of treks leading to incredible views over the Gorge and to fantasy-like waterfalls hidden in the forest.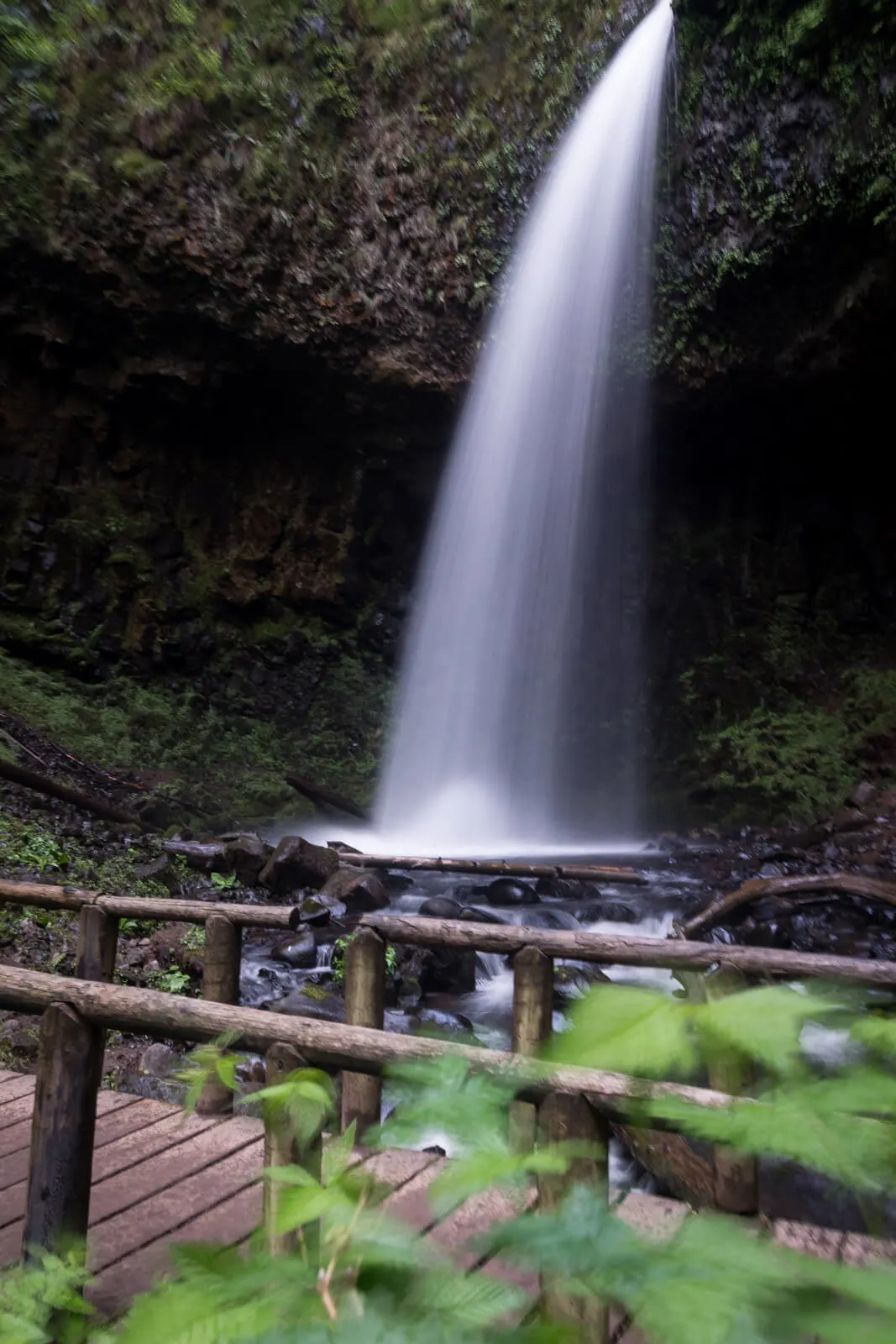 → There are a lot of fun waterfall tours from Portland to the Columbia River Gorge you can take too, like this half-day waterfall hiking tour, or this Hike and Bike Waterfall tour.
Surely Multnomah Falls rings a bell as the State's most popular waterfall, it's so easy, you barely have to leave the parking lot to enjoy its roar. There's a vine of trails around this waterfall that leads to even more spectacular falls, like Fairy Falls and Wakeenha Falls.
Latourell Falls is a relatively easy hike near Portland as well featuring two stunning waterfalls. Dry Creek Falls is rarely crowded and is usually gushing over crazy basalt cliffs despite its name.
---
RELATED: 10 Hikes to Waterfalls Near Portland
---
Where to Stay Around Portland
We have a list of some great campsites near Portland to check out, but here are a few quick recommendations that are dotted around Portland and close to nature and these hikes!
Nottingham Campground: Located off of Highway 35, this campground is centrally located and is next to Mt. Hood and Hood River. It's also next to Tamanawas Falls, and you'll have a peaceful experience here.
Oxbow: Oxbow Park features 74 campsites, and the cost is $22 per night per site. You can even hike twelve miles of trails around the area.
Devils Lake State Recreation Area: This campground is situated amid lots of wildlife, and beaches are a ten-minute walk away. (This is two hours from Portland but one of the closest beach camping spots)
Columbia Waterfront & Downtown Camas: This is a cozy and spacious 2-bedroom, 2-bathroom duplex unit located within walking distance of the Columbia River with amazing views. The downstairs bedroom has a comfy king bed, a 60″ TV, and a private bathroom. The upstairs has an open kitchen and living area, balcony and whirlpool tub. Enjoy a picnic with views of Mt Hood from the waterfront or check out a local hike.
Two Rivers Relaxing Retreat: Experience the best of Alberta Arts in Portland with the Two Rivers Relaxing Retreat, a brand new cozy two-bedroom basement apartment that has everything you need for a comfortable and convenient stay. This spacious 800sq ft unit features a kitchenette, dining and reading areas, and a desk for work.
Tiny Forest Cabin: This adorable tiny cabin is located on 2.3 acres of forest, while still being close to Portland. Enjoy the peace and quiet of nature on your patio, or gaze at the treetops through the skylight in the loft bedroom.
Enjoy these hikes around Portland! Here are other adventures near Portland and here are some more trails in Oregon to take on.