If you're spending a few days in Oregon's largest city, you might be wondering where the best Portland beaches are…
OK fine, maybe not, because really, who thinks of beaches when they think of a big city? BUT you may be needing a little sandy getaway from the hustle and bustle, right? And yes, you can find beaches near Portland to get your fix (wahoo!)

Portland is about 80 miles from the Pacific coastline, so it's entirely possible to visit coastal beaches on a day trip. But, there are also numerous lake and riverside beaches closer to the city so you won't have to go too far.
This guide will detail all of the best beaches near Portland (and a few beyond)!
Best Beaches Near Portland
---
While you're here to learn more about Portland beaches, let's all make sure we're on the same page. We're in a HUGE city, a place that almost shouldn't have beaches. So we're going to use the word "beach" lightly. Some of these "beaches" may not have sandy shorelines and some may be located on rocky cliffs…
One thing is for sure, you'll love these escapes from the city! Let's just keep our expectations in line as you won't find lovely, white, soft sand beaches with gentle rolling ocean waves here. I think we already knew that but it bears a mention.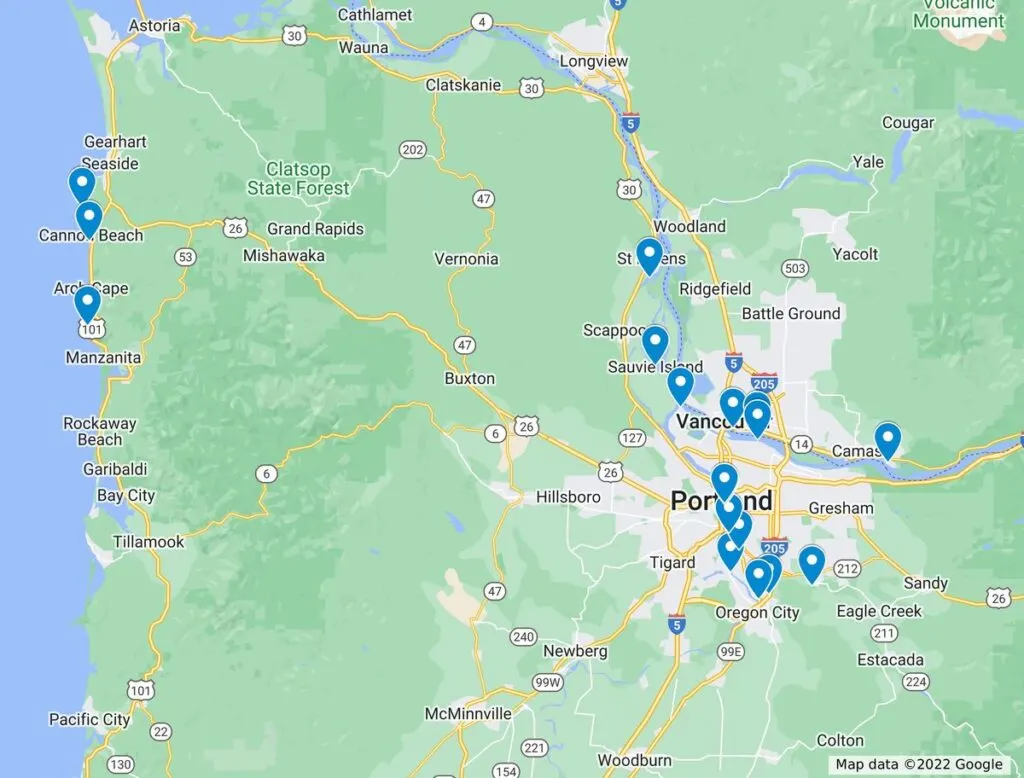 1. Scappoose Bay Kayaking
This is one of the most popular beaches near Portland for adventurers! Located just northwest of Portland in the Scappoose Bay area of the Columbia River (which separates Oregon and Washington), there's plenty to see here.
Look out for birds and other wildlife, take in views of Mount St Helen and rent a canoe to enjoy the mangrove waterways.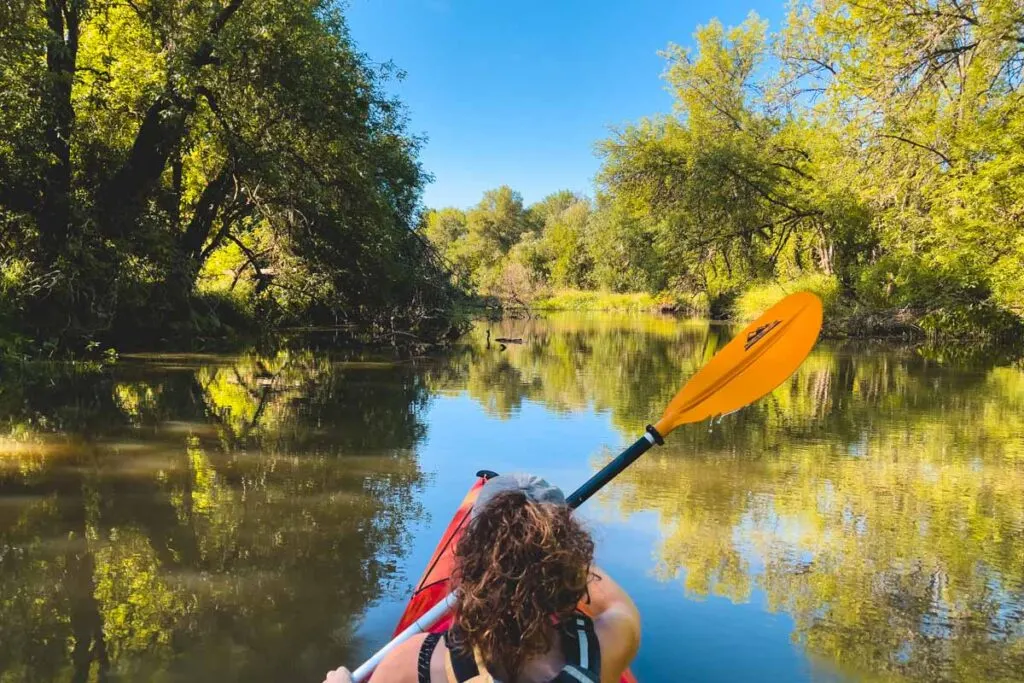 Next Adventure hires out kayaks and is a great source of information for when you are visiting. You can contact them in advance of your trip to check that kayaking will be possible, or check the tides independently – try to go at a time when they are most accessible (the higher the tide the better).
Take the US-30 W for about 24 miles to reach Scappoose Bay and turn down Old Portland Road just after Warren. Scappoose Bay will be on your right. It's a 39 minute, 28-mile drive from the city center.
While there isn't necessarily a beach here, there is a dock and you can float around the mangroves in your kayak and bask under the sun (if it's a good day), which is sometimes better than roasting on a beach!
2. Sauvie Island (Definitely Where Some of The Best Beaches Near Portland Are!)
Sauvie Island is in between the confluence of the Columbia and Willamette Rivers and is a whopping 24,000 acres in size – about the same as Manhattan!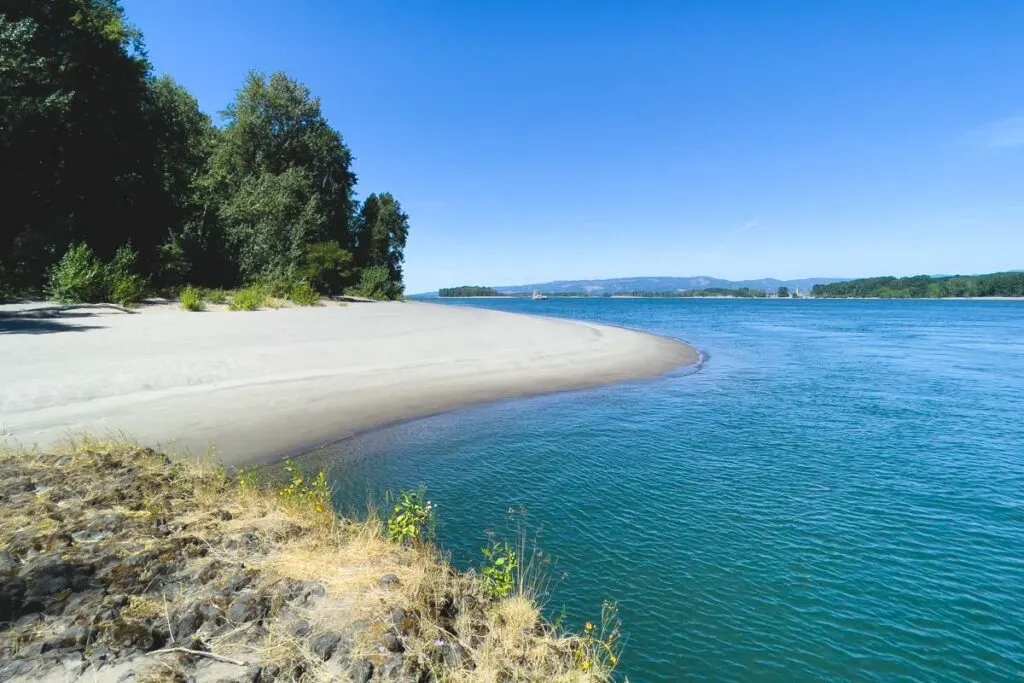 The beaches here are all riverside, but they're well worth visiting. Head to the north and east coast of the island for sandy beaches and swimming spots!
You can also do a nice 6-mile round trip hike around Warrior Rock Lighthouse, which is relatively easy and mostly shaded. There is a long beach right next to the lighthouse, where you can stop to rest or eat lunch! You'll probably have this beach to yourself too.
Also on the island is a lovely winery called Bella Organic Farm and other places to try local produce.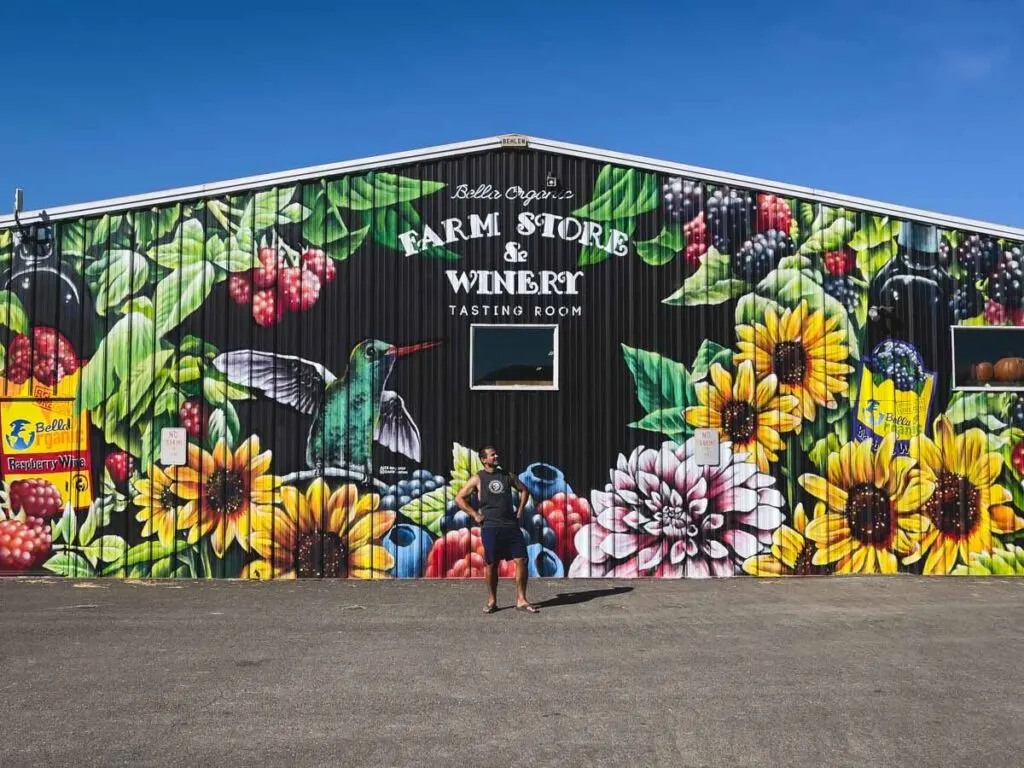 You can drive to the island via a bridge, but it costs $10 to park pretty much anywhere on the island. Stop at Cracker Barrel Grocery to purchase your parking ticket.
Driving down US-30 W for around 9.8 miles to reach Sauvie Island before turning right over Sauvie Island beach. This will take you onto the island – once you're here, follow signs for parking. It's a 25 – 35 minute (around 18 miles) drive, depending on where you park.
---
READ MORE: 7 Awesome Things To Do on Sauvie Island Near Portland!
---
3. Kelley Point Park
Also situated between the Columbia and Williamette Rivers, Kelley Point Park is one of Portland's most easily accessible beaches.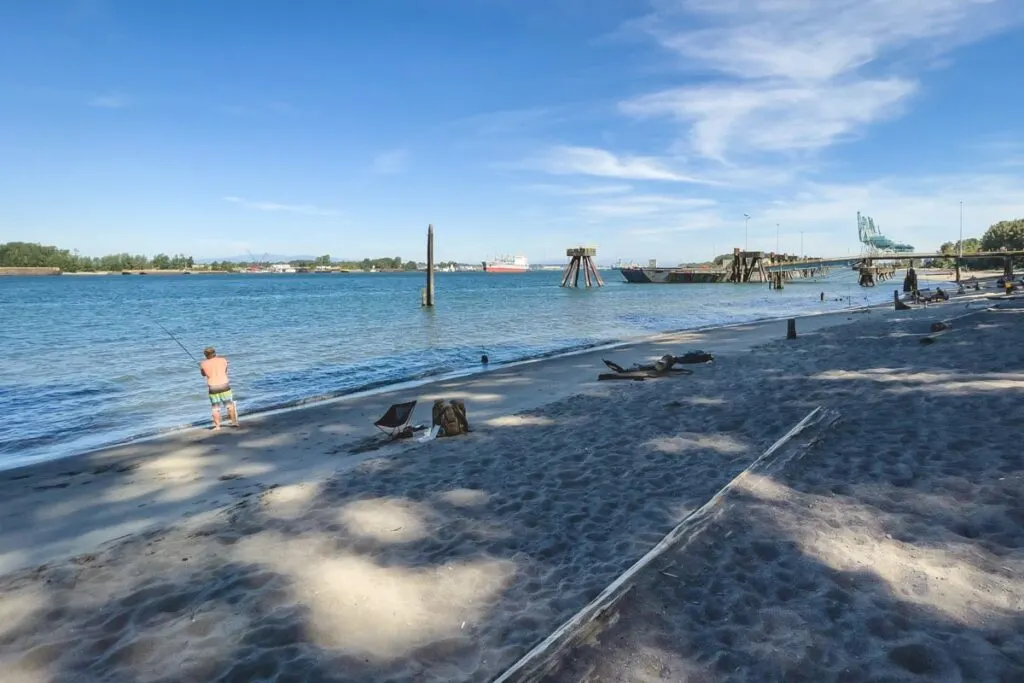 It's not necessarily the most scenic – the area is very industrial, and it's only just out of the city – less than a 20-minute drive away, it's a practical beach to know about!
There are some paved walking trails and a sandy area where you can kick back and relax. This is a bustling area with boat traffic, so it's not recommended to enter the water – but it's still a nice nature fix close to the city.
4. Clackamette Park
Positioned on the confluence of the Willamette and Clackamas River, Clackamette Park is a lovely place to take in the riverside scenery and try a few watersports.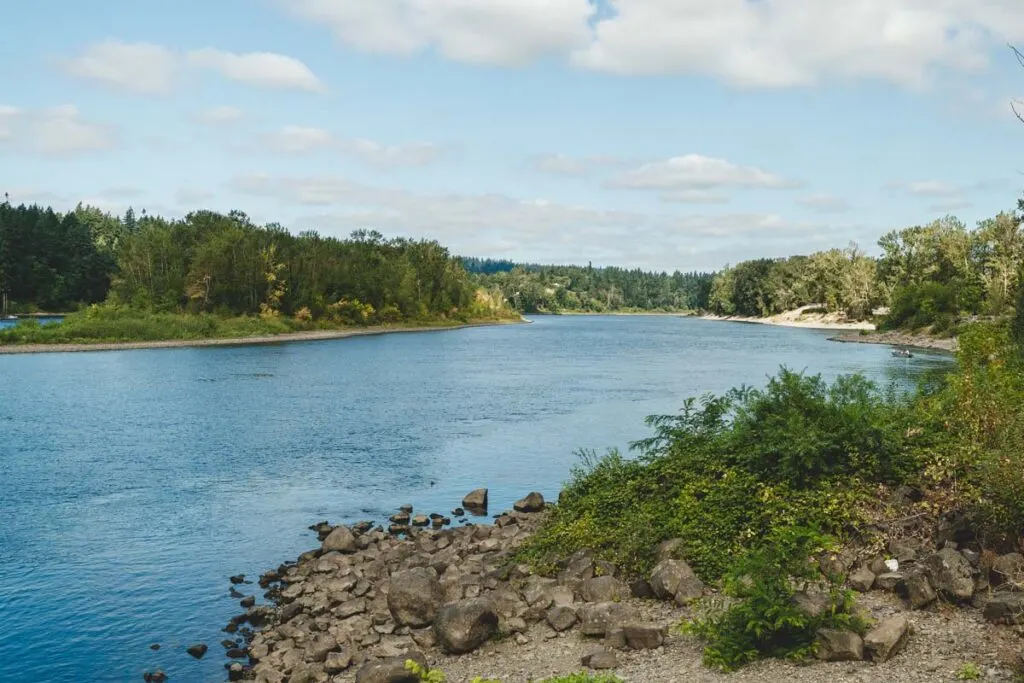 It's a popular destination for paddleboarding, with a few launch sites around the peninsula. Alternatively, there's plenty of space here to chill out and enjoy the scenery!
5. South Waterfront Park and Poets Beach
South Waterfront Park is a popular part of the city, with paved walking trails and hidden beaches. These paved walking trails lead to Poets Beach, a popular river swimming spot close to the town, which is a must-visit during the summer months!
There is no lifeguard on duty, and swimming is at each individual's own risk. It's also recommended to wear swimming shoes while you're in the water.
It's also a lovely spot for cycling, kayaking, and paddleboarding. If you're into watersports or outdoor activities but don't want to go too far from Portland, this is your place.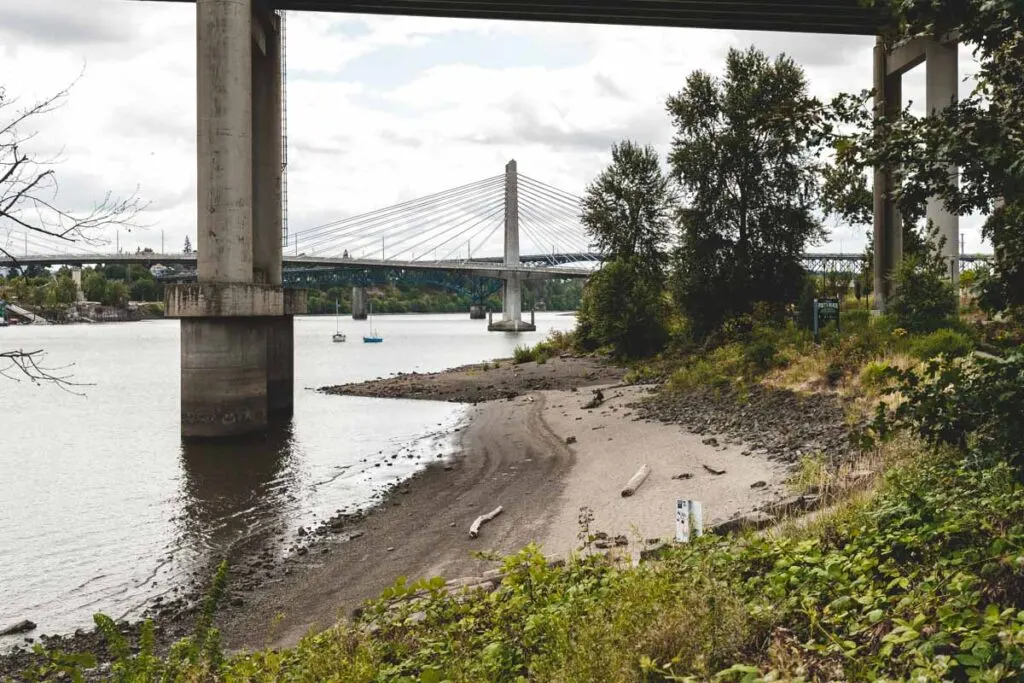 This is the closest of all the Portland beaches – it's walkable from downtown! Walk or drive towards the Williamette River and the Tilikum Crossing Bridge (this will be south for most people). The South Waterfront Park is just before.
---
RELATED: 20 Parks in Portland for The Adventurous!
---
6. Sellwood Park and Spring Water Willamette Trail (A Popular Beach in Portland)
The beautiful Sellwood Park and the Spring Water Willamette Trail are just south of Portland. There's a small marina and docks here for kayaks, as well as a beautiful beach area to chill out.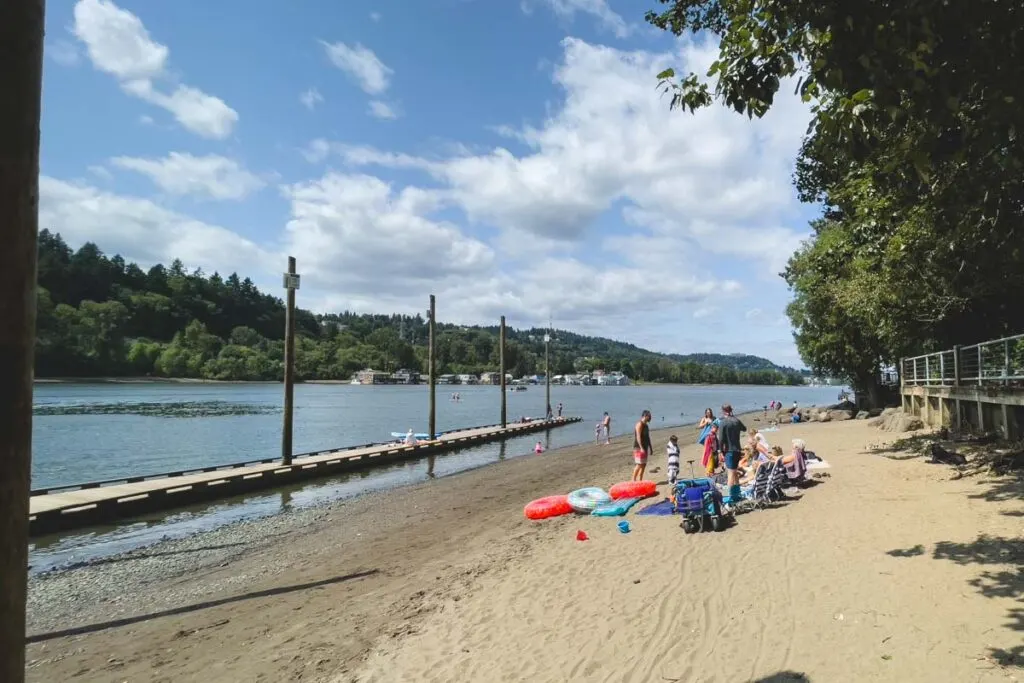 There are trails for hikers, bikers, or runners and plenty of space to fish. There's also a small market that operates on Sundays!
7. Milwaukee Bay Park
Located in the Willamette River, Milwaukee Bay Park is a scenic landscaped park.
It was created in 2019 as a place for recreation for locals and tourists in Milwaukee and the surrounding areas. With enviable river views and a mini beach to relax, you could be forgiven for thinking you're at the coast!
There are also opportunities for boating, kayaking, and fishing – so if you want a little more adventure, Milwaukee Bay Park is your place!
8. George Rogers Park
Sitting close to Lake Oswego, George Rogers Park is the oldest of the area's community parks. It has an extensive history, with Native Americans living on the land as far back as 10,000 years.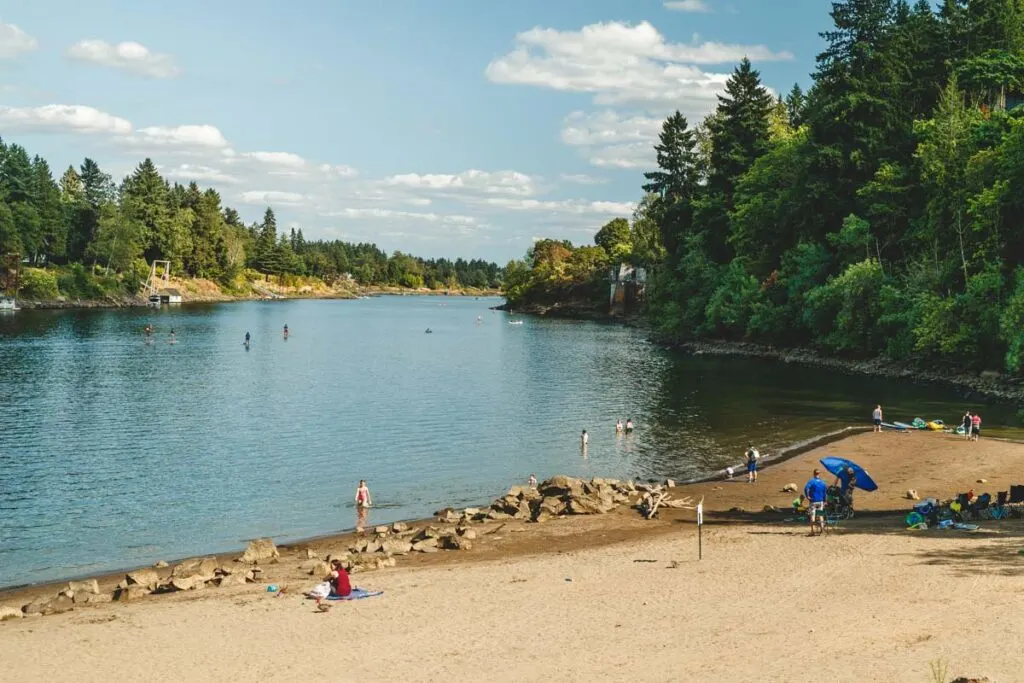 It occupies 26 acres and has walking trails and recreational activities. There's also a historical site called the "iron furnace" that nods to this area's industrial past.
You can take in some beautiful views of the Willamette River from here. Or, head down to the waterfront, where there is a small beach and opportunities for kayaking and other watersports.
9. High Rocks
High Rocks is one of the closest Portland beaches – it's technically within the city's metropolitan area, but you'll feel world's away as you gaze over the beautiful water!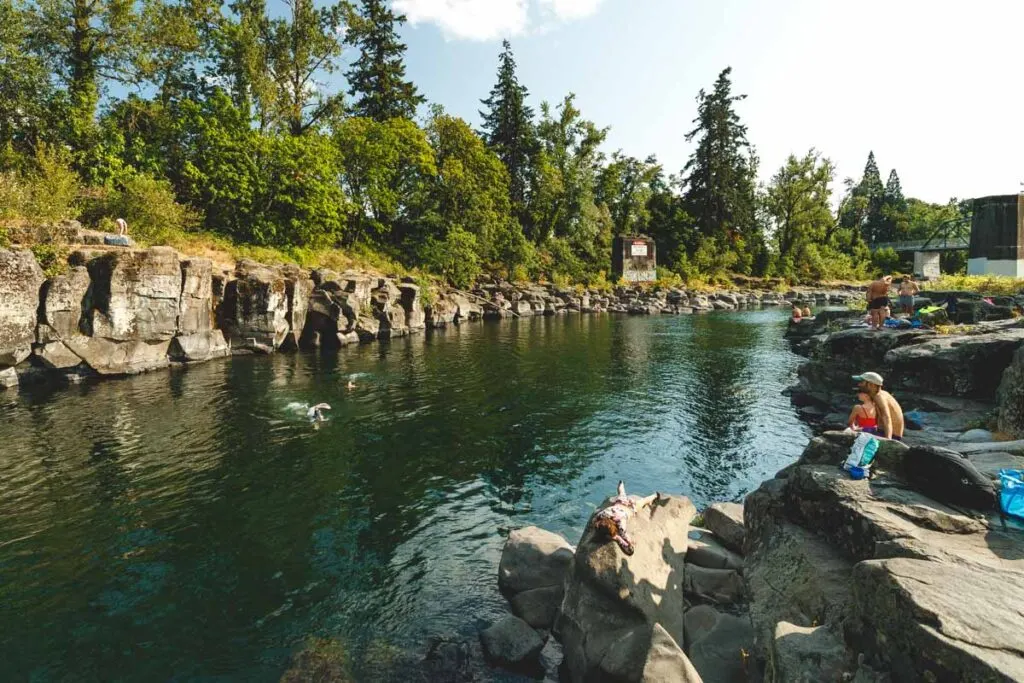 This is part of the Clackamas River and is a popular swimming spot, especially during the summer when the city can be roasting.
It's also famous as a cliff jumping site. Jump at your own risk; the area can be dangerous, with strong currents and rocky ledges. The water can also be surprisingly cold.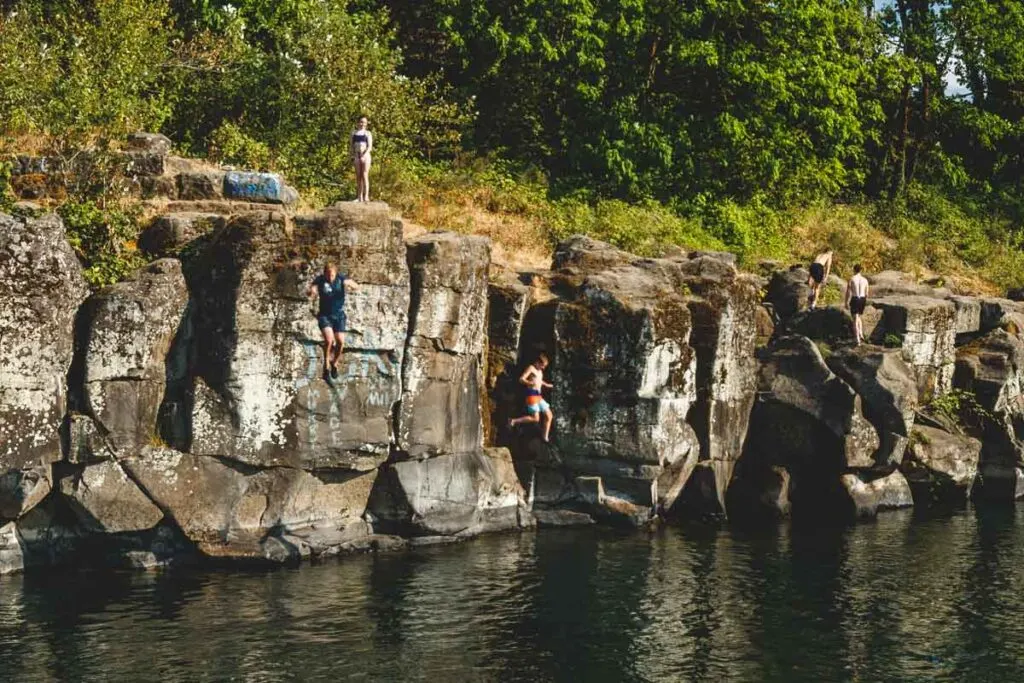 If cliff jumping doesn't appeal to you, there are also opportunities to kayak. There are seasonal lifeguards, so check the conditions with them before kayaking.
If you don't fancy taking to the water, there are also a few trails to enjoy in the vicinity. High Rocks is very close to the freeway, but while you're walking around, you won't believe that you're in proximity to the city.
10. Carver Park
Carver Park Reserve is a small area running alongside the Clackamas River. There are a few small beaches within the park where you can chill out on the lake.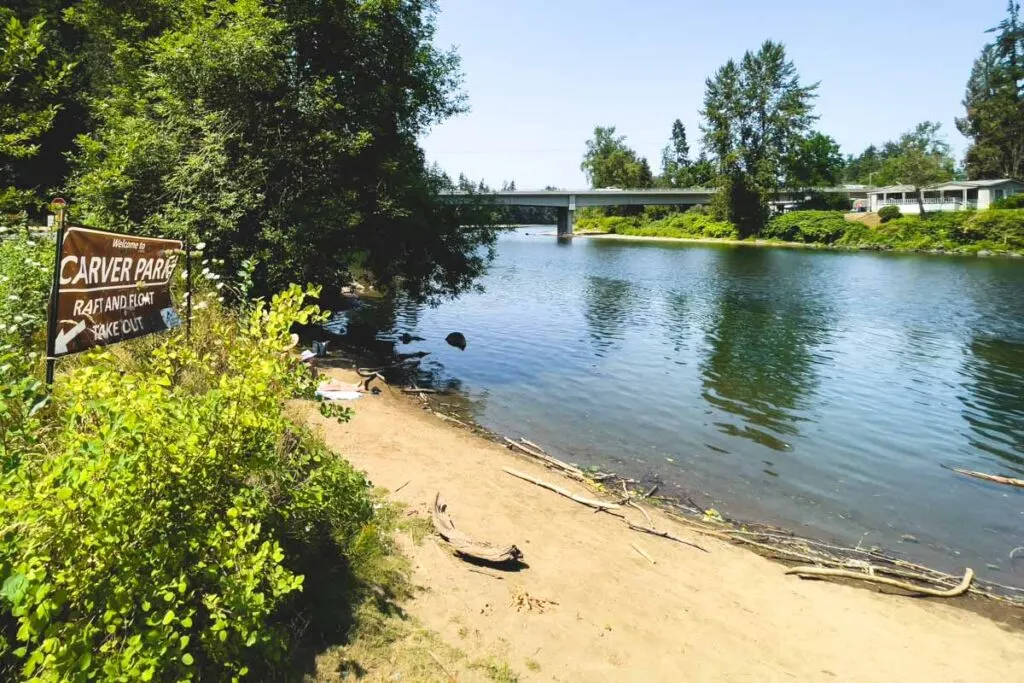 There's also a boat ramp so that you can travel on the water, and opportunities to go fishing.
Parking is $6 per day, and there are restrooms on-site. It's the perfect quiet place to picnic or chill outdoors when the weather is warm!
This is also a take-out area for floating the river! Head to Barton Park and enjoy 6 miles of floating on the Clackamas River. You'll see the big Carver Park take-out sign and the beach so you know when to exit.
11. Broughton Beach
Broughton Beach is primarily considered one of the best urban beaches near Portland. It runs along the Columbia River, but it's a vast sandy expanse (1.3 miles in total length) that looks like it should be at the shores of the Pacific!
This is a popular swimming spot, but be aware of currents and river conditions before entering.
You can also go kayaking or boating from the beach.
There's a marine drive bike path that goes along the river too, past Broughton Beach. This path is also for hikers. It costs $5 for car parking, but this is free if you have an annual pass. Do note this Portland beach is awesome, but you're directly in front of the PDX airport so it might not be the quietest spot.
If you're feeling munchy, take a seat at Salty's on the River, a four-decade-old restaurant right on the river with delicious seafood on offer.
---
RELATED: 43 Best Things To Do in Portland, Oregon For Adventurers
---
Portland Beaches Just Over The Bridge in Washington
It's not surprising the Columbia River Gorge offers up some gorgeous beaches and this slice of paradise is shared with Washington. So just make a quick hop over the bridge and you'll find more cool beaches near Portland.
12. Wintler Park and Beach
Vancouver-based Wintler Park is a riverside beach park. Sitting on the banks of the Columbia River, the park encompasses 12 acres and is a lovely place to relax.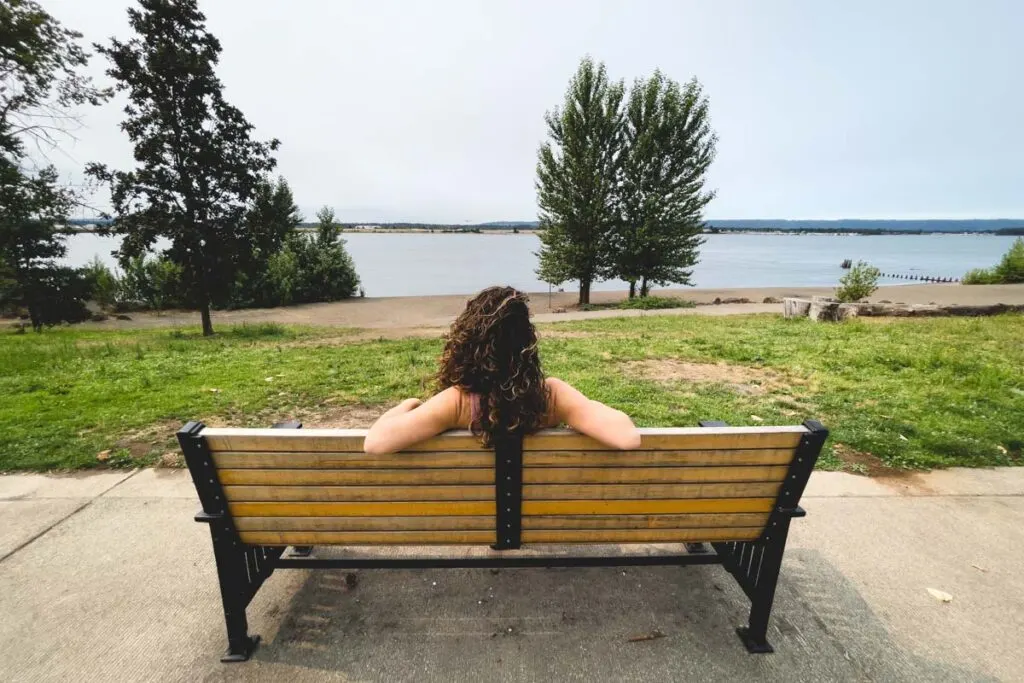 There is a paved walkway where you can take in the whole park, and picnic tables and restroom facilities make this a lovely day trip from the city. On a clear day, you can even see Mount Hood from the beach!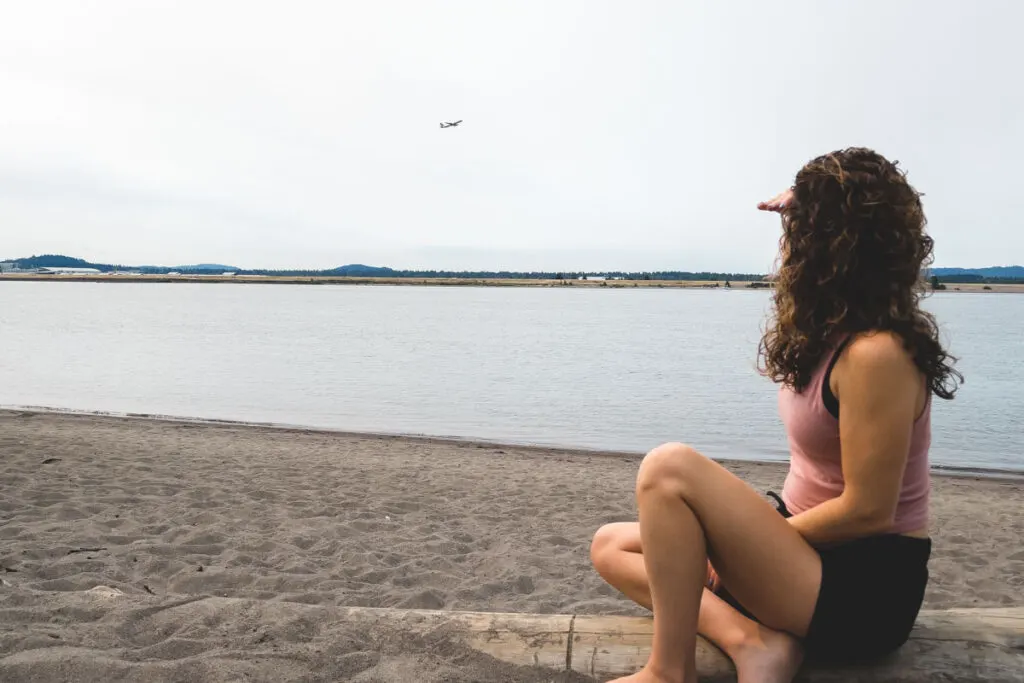 Wintler Park is over the border in Washington. Take the I-5 N, cross the state border, and drive along WA-14 E to junction 3. Then Wintler Park is just off the highway. This is a good spot to watch the planes from PDX too!
---
RELATED: 19+ Adventurous Things to Do on a Washington Road Trip
---
13. Surprise Beach
Just over the border in Vancouver, Washington, is Surprise Beach. This is a small beach along the Columbia River. From the banks, you can look across the river into Oregon.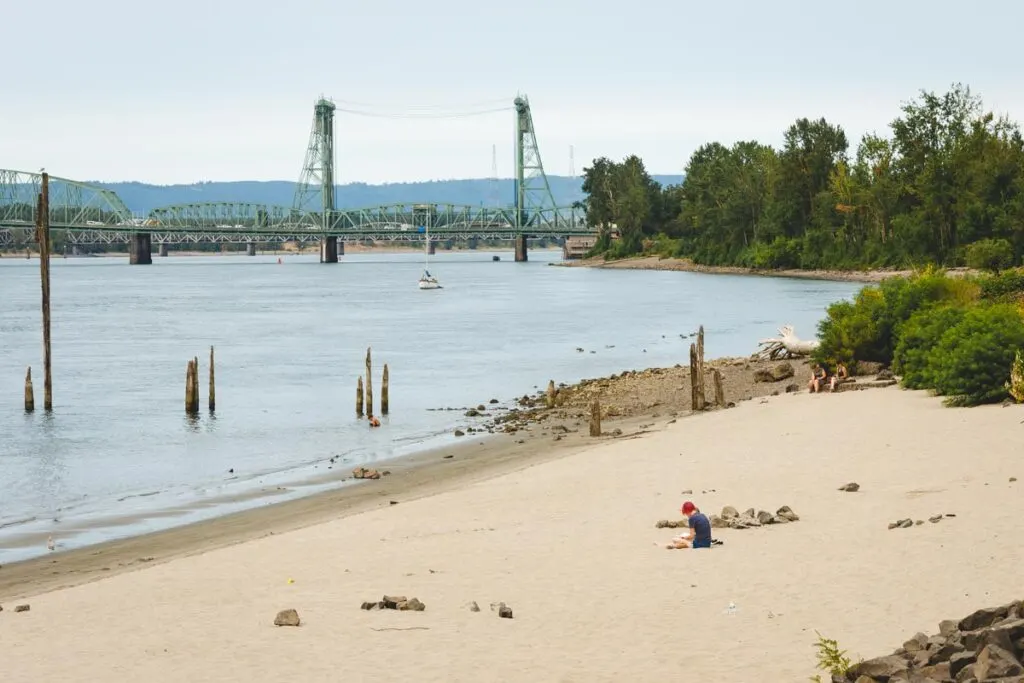 It is close to Fort Vancouver and other downtown attractions, making it the perfect place to chill out if you're visiting Vancouver for the day. There is also a great view of I5 bridge.
14. Captain William Clark Park and Cottonwood Beach
This park dates back to 1806, when it was established by Lewis and William Clark. They built a park while finding provisions to help them sail through the Columbia River Gorge.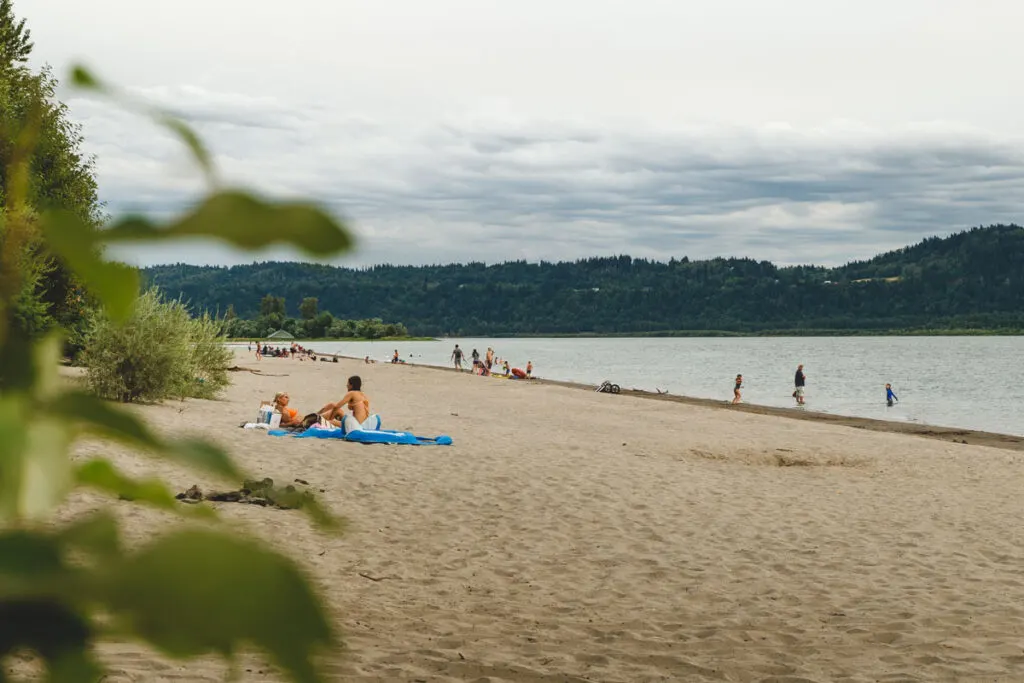 Nowadays, it is a popular park, with one of the best Portland beaches along the Columbia River, despite technically being in Washington! You can relax on the beach and soak in the beautiful river scenery, take your bike and cycle along the river, or go hiking on one of the popular trails.
The park spreads over 93 acres and has important historic sites, picnic benches, and restroom facilities.
Portland Beaches That Are a Day Trip Away
The Oregon coast is only about 1.5 hours away from Portland's city center which means it's totally possible to rent a car (or hop into your own) and head to the ACTUAL beach. Like at the ocean, where beaches are often found. 🙂
While it's still going to be a bit of a drive compared to some of our Portland beaches on this list, the Oregon coast is worth it. In fact, may we convince you to make it a long weekend if you can? Maybe some of our other posts can help you plan your Oregon coast trip!
15. Cannon Beach
Around an hour and a half from Portland, Cannon Beach is a spectacle. This section of the Oregon coastline is famous for the momentous Haystack Rock, beautiful sunsets, and endless sands and was voted as one of the most romantic beach areas in the US.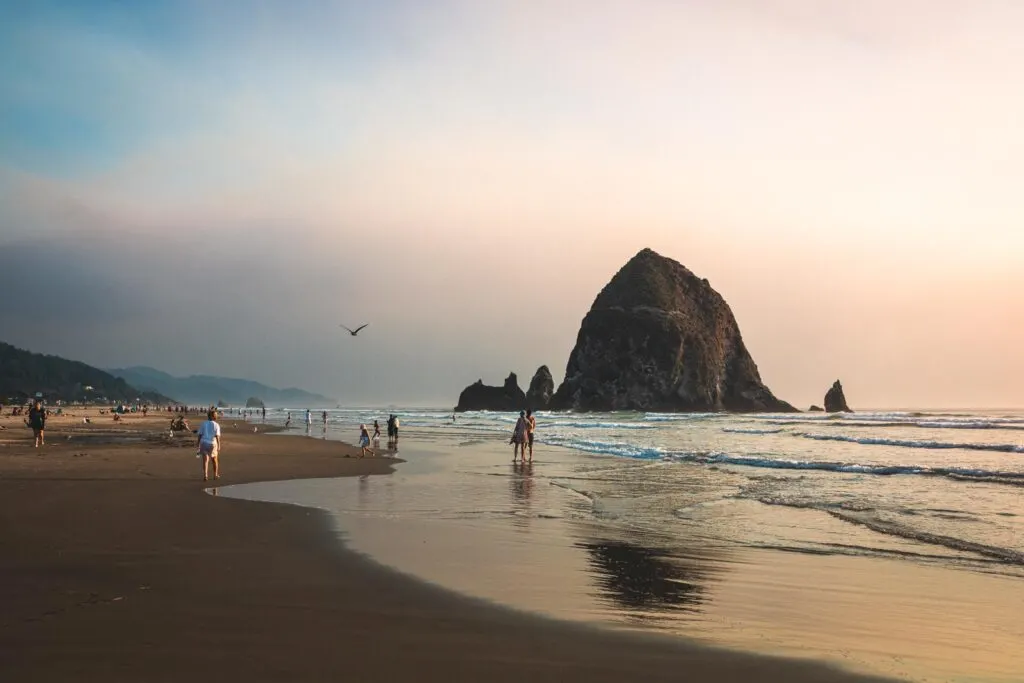 Don't miss the nearby Oswald West State Park, which has many hiking trails and epic viewpoints. Or, visit Hug Point, which has a beautiful waterfall.
---
READ MORE: 14 Adventurous Things To Do in Cannon Beach
---
16. Indian Beach
Located in Ecola State Park, Indian Beach is a small bay that is quite secluded from the rest of the coastline. It's a lovely place to catch some solitude, go surfing, or explore the tide pools.
It's also got a lot of nature – look for eagles, elk, deer on land, and migrating gray whales in the sea.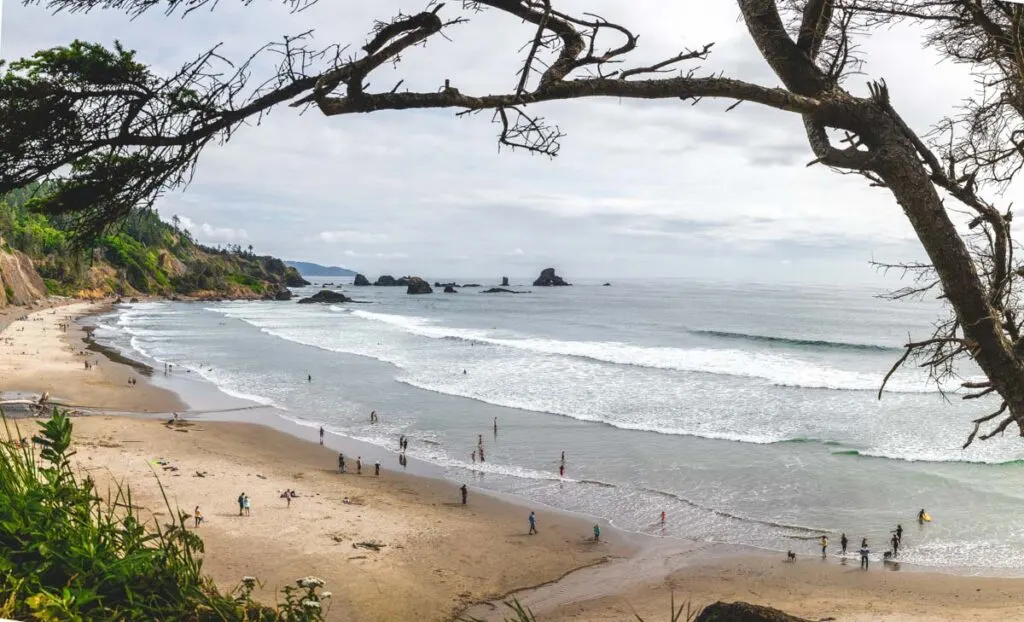 It's worth exploring the rest of Ecola State Park, too. This park spans nine miles of Oregon's coastline and has plenty of hiking trails. There are places to surf, enjoy a picnic and look out for wildlife and you might recognize countless vistas which have made their way into landscape photography books!
It's about an hour and a half to Indian Beach from Portland – around 81 miles.
---
RELATED: Your Guide to Ecola State Park on the Oregon Coast
---
17. Short Sands
Short Sands Beach – or Shorty's, as the locals say – is a prime surfing destination in Oregon. It has good surfing breaks, and the cove is quite well protected from all-weather events.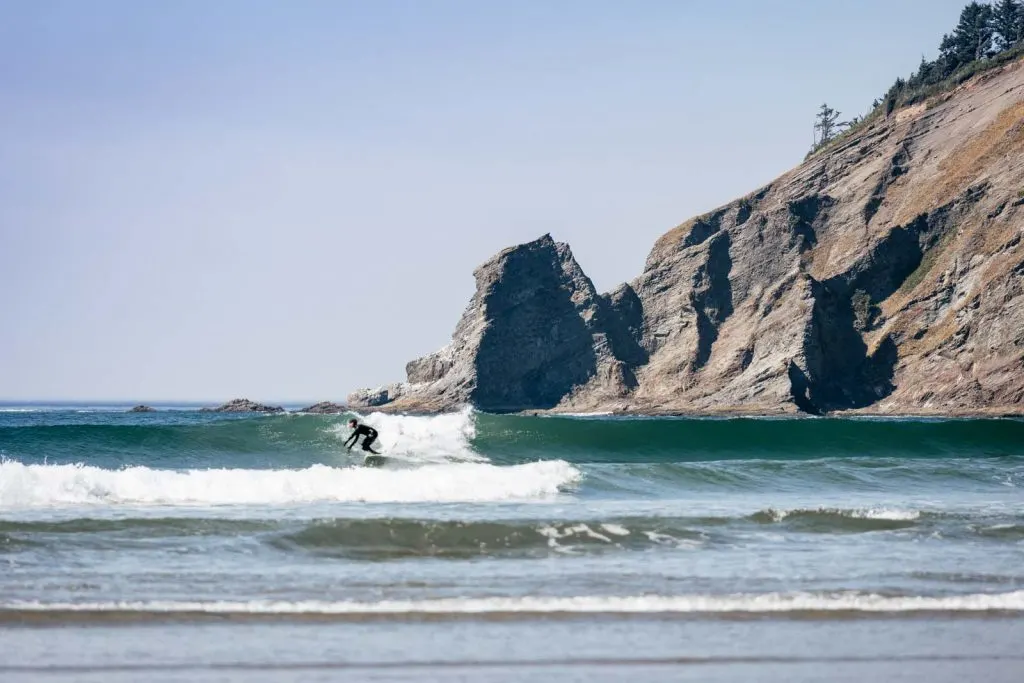 However, don't worry if you don't surf – it's still well worth heading to Short Sands, and it's definitely one of the best Portland beaches! It's a popular beach, especially during the summertime. However, it's beautiful across seasons- even during winter.
Short Sands Beach is located in Oswald West State Park. There's no direct access from the main parking lot – there's a half-mile trail through Sitka spruce trees to get there.
If you fancy a hike, you can walk from Short Sands beach to Cape Falcon, which is a moderate route that takes in some of the best of this state park.
It's around an hour and 40 minutes to reach Short Sands Beach from Portland (just under 90 miles).
---
RELATED: 9 Epic Beaches for Surfing in Oregon—Beginner To Experienced!
---
From small riverside hangouts to vast sandy expanses, there are so many beaches near Portland to enjoy. So if you're in the city in the sweltering summer, don't worry. Just refer to this list and head to one of the swimming holes, kayaking spots, or sandy shores. These Portland beaches are most popular in the summer, but adventurous souls can enjoy hiking, biking, boating, and surfing throughout the year!
More Things to Do Near Portland
We hope this post help you plan your trip to the best Portland beaches! Before you go, don't forget to check out other things to do near Portland and more beaches in Oregon.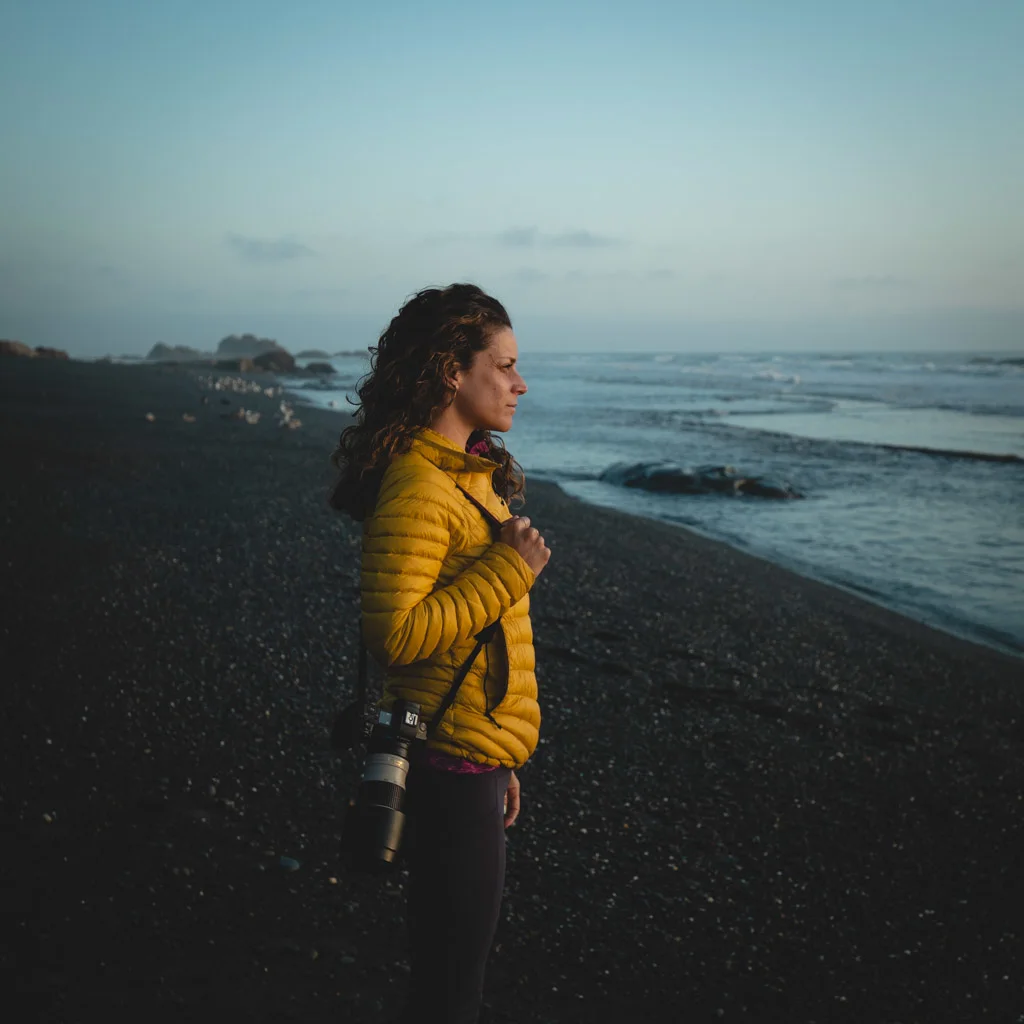 I've been perpetually traveling and living around the world for years but it's hard to beat Oregon and the PNW. After years of road-tripping the area, I guess you can say I know it pretty well! When I'm not writing guides for you, you can catch me somewhere petting a dog, attempting to surf, hiking a volcano, or stuffing my face with bread and cheese.