We know adventure isn't the first thing you think of when you're surrounded by high-rises and 9-5ers bustling about the city, but there are some Portland parks that will surprise you!
Portland is lucky enough to have some beautiful green spaces that can whisk you away and make you forget you're in a concrete jungle. Whether you want to hike, paddle down a river, stick your toes in the sand, or take in some of Portland's best views—This is the only list you'll need!
We gathered our absolute favorite spots to get a dose of adventure while sticking to the Portland area.
Best Parks in Portland
---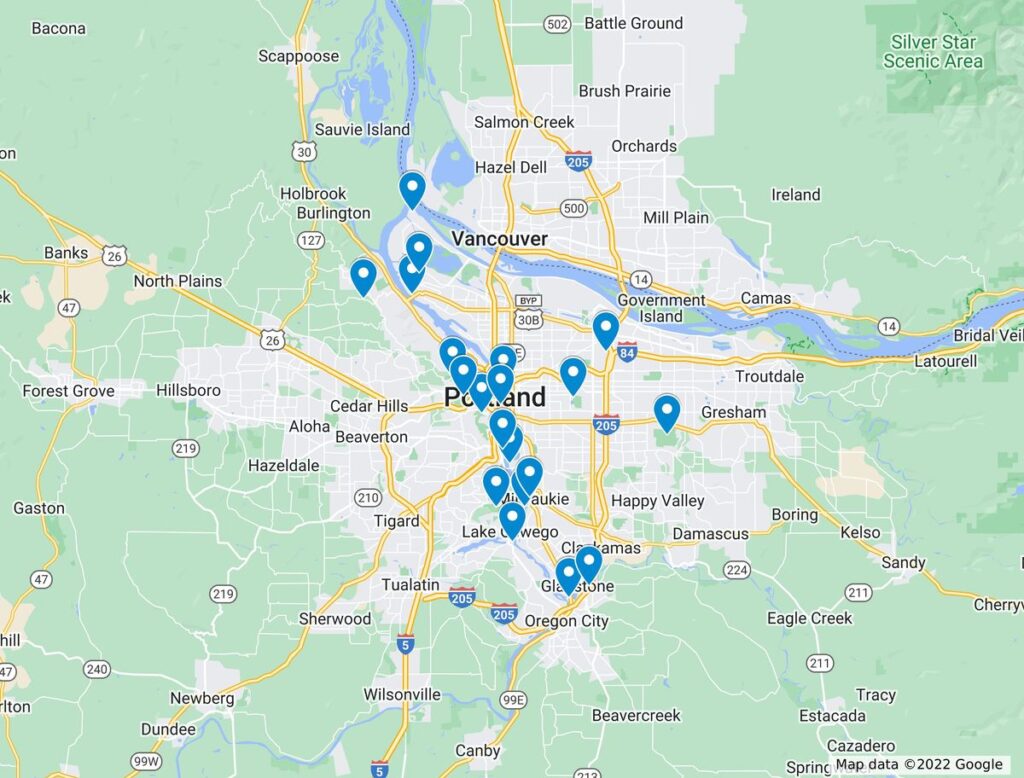 1. South Waterfront Park and Poet's Beach
South Waterfront Park is a city gem. Here you can find people relaxing on their lunch break, bringing the kids for a picnic, jumping on a bike, or walking the trails. When it comes to the best parks in Portland, this is an excellent place to start the list of all lists.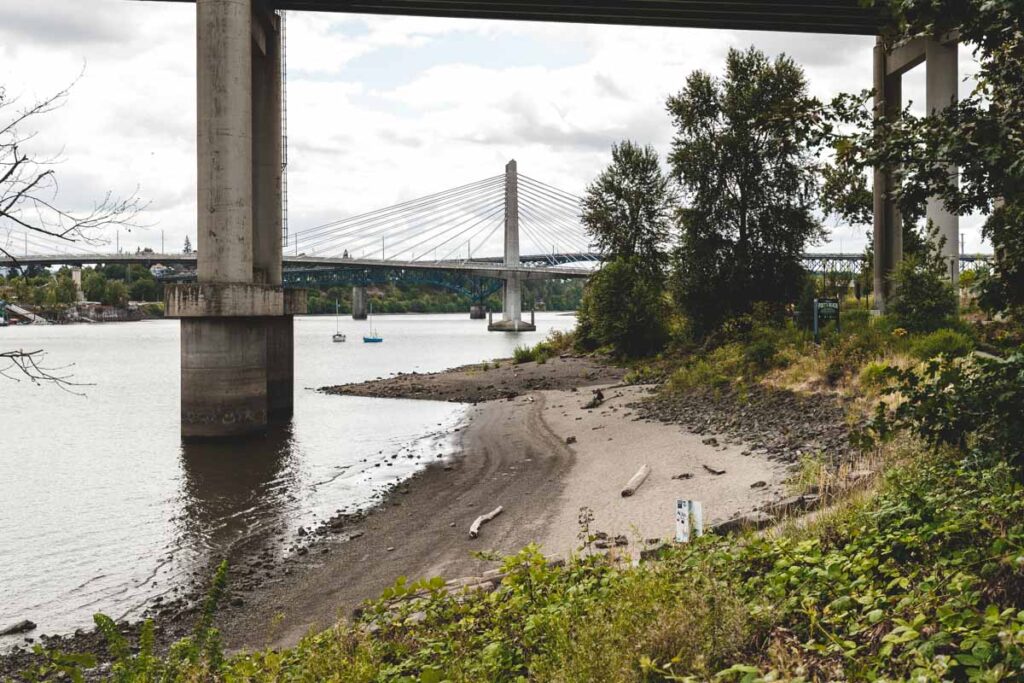 As Portland's only official swimming beach, expect the crowds to gather at Poet's Beach as soon as the sun comes out.
A cute little fact is the beach was named so because the path down to the beach has been etched with poems written in the stone by local elementary school children. Cute!
2. Willamette Park
When you're looking to escape the city without actually escaping the city, make Willamette Park your go-to park in Portland. This city center park isn't large at 15 acres, but there is a lot packed into those 15 acres.
One of the biggest draws is the sizable boat ramp, which offers easy access into the water, whether on a kayak, a larger boat, or even a jet ski, to go and explore the Willamette River.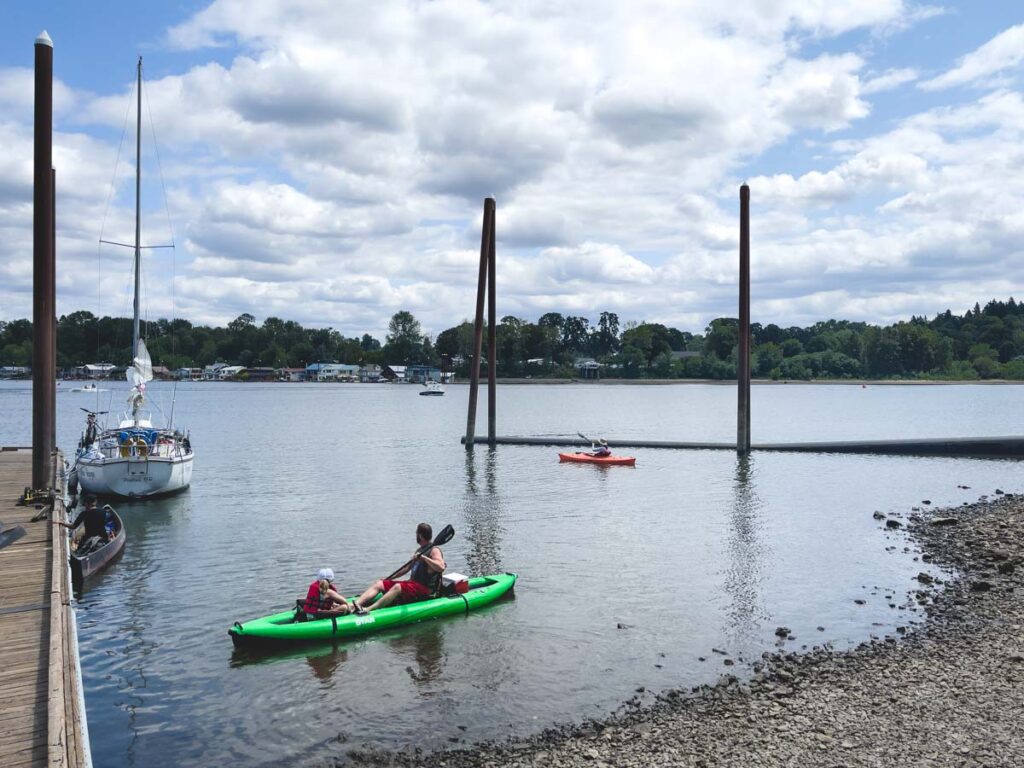 In addition to the boat ramp, the park is great for sports enthusiasts. There is a volleyball court, sand volleyball court, two softball fields, a baseball field, and five horseshoe pits.
You have to wonder how they have packed it all in and still managed to leave space for a couple of picnic shelters, a wading pool, and a playground!
However, you don't have to head to Willamette Park to DO anything. It is one of the best parks in Portland to just go for a stroll on your lunch break, with winding trails and plenty of green spaces to sit back and relax.
3. Sellwood Park and Spring Water Willamette Trail
Located just to the southeast of Portland on the Willamette River, Sellwood Park is easily reachable.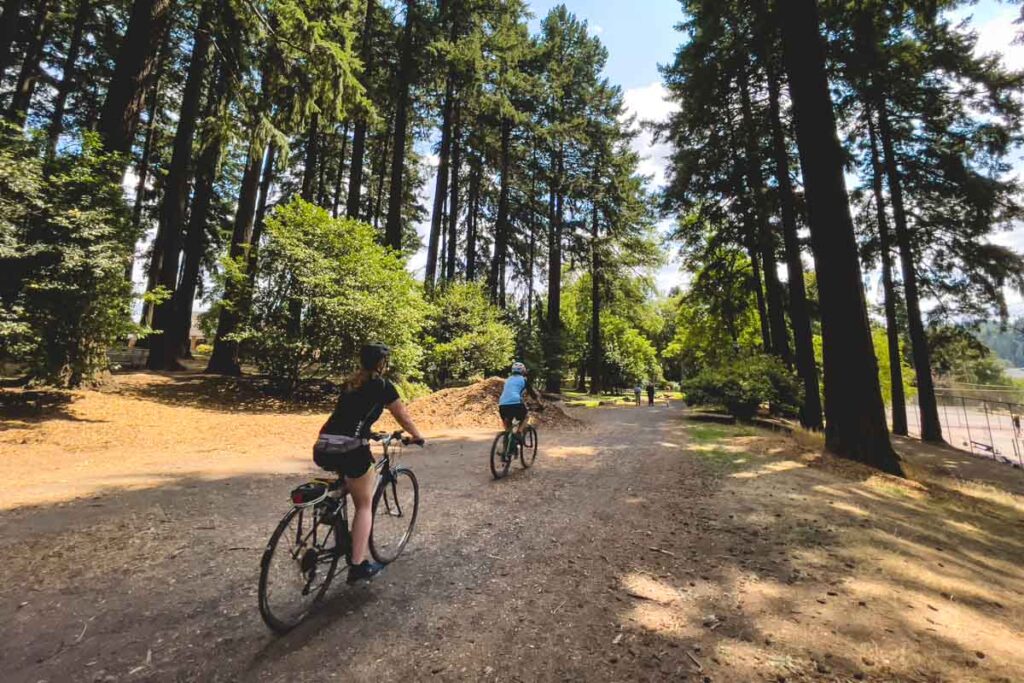 During the summer months, the park transforms to have almost a beachy vibe, with locals and tourists heading to the waterfront to enjoy a day or evening of swimming and tubing with friends, especially now that the Willamette River has had a proper cleanup.
You'll find a marina to easily put in your kayak as well as a network of biking and hiking trails to explore.
4. Milwaukie Bay Park
Easily accessed from downtown Milwaukie and surrounded on three sides by water, Milwaukie Bay Park is a tiny little gem of a park in Portland that offers a lot.
The Willamette River runs to the west, with Kellogg Creek to the south and Johnson Creek to the north, so there are a fair few stretches whether you want a riverside stroll or want to go all out with a kayak.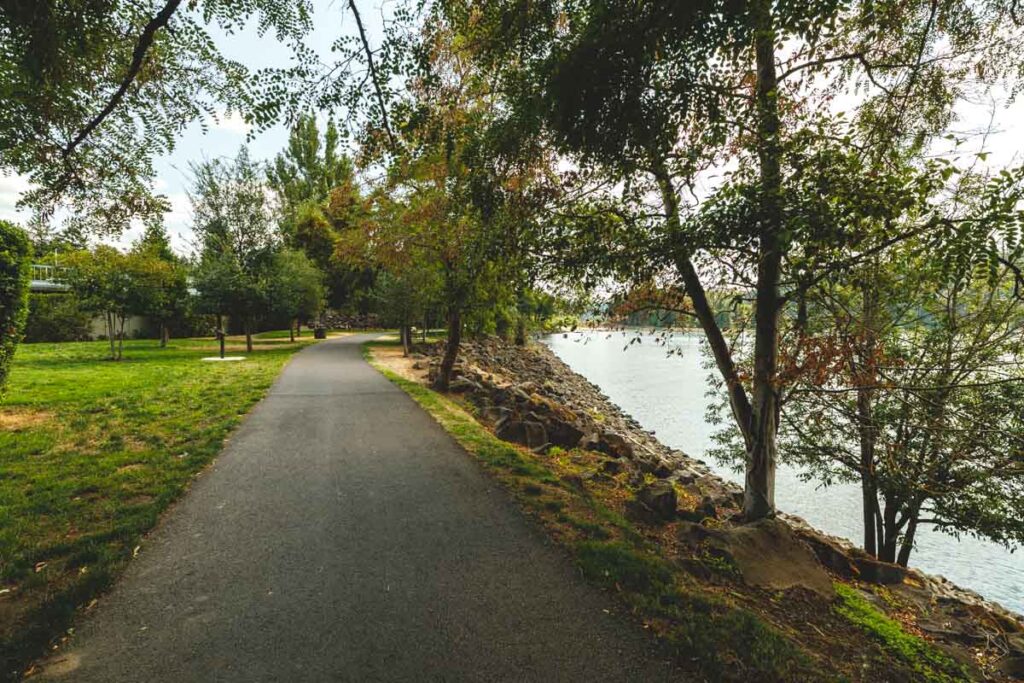 There is a boat ramp, so access into the water is easy, and then there are even parking spaces designated for cars with boat trailers, so you won't have to worry about finding a spot to set up.
Keen anglers usually line the river bank or are on boats hoping for a catch, but if that's not your scene, you can always hang out at the mini beach and catch some summer rays instead (if the Portland weather gods allow).
There is always some form of development to make the park better and with even more amenities, so watch this space…
---
RELATED: 17 Best Beaches in Portland, Oregon!
---
5. Elk Rock Island
Elk Rock Island sits in the middle of the Willamette River, and just the fact that it is an island alone makes it one of the most exciting parks in Portland to visit. Incredibly, it was formed around 40 million years ago by an erupting volcano!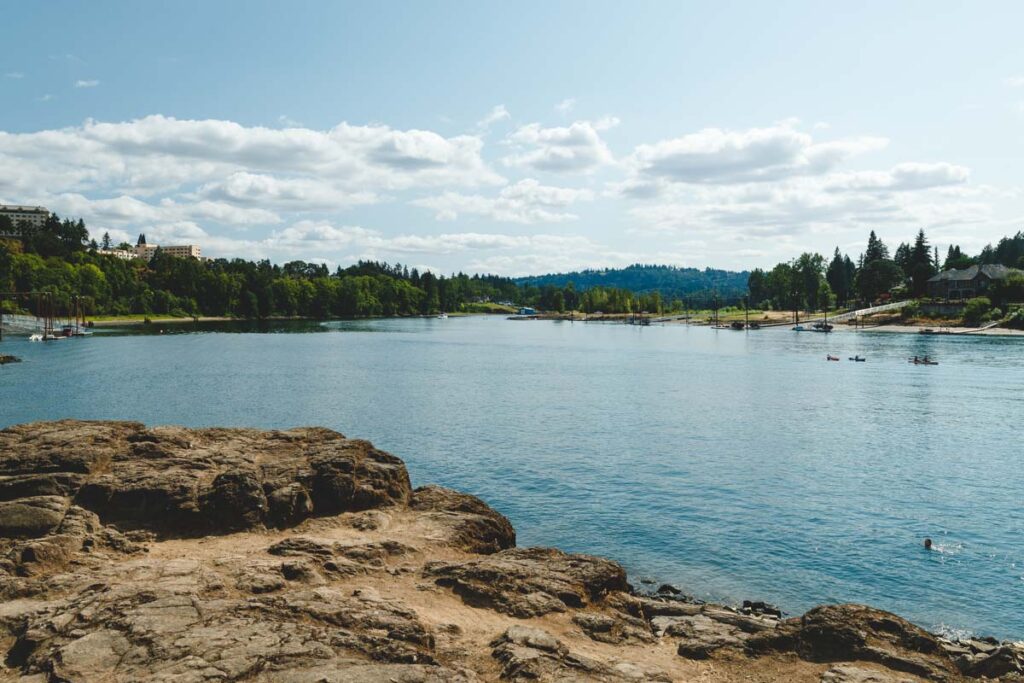 You can reach the island at low tide via a land bridge that spans the river. Many people will hike around the bay and carry on going to Elk Rock Island, taking the hiking trails that wind around the trees.
It is a haven for nature and nature lovers alike, with more than 50 rare or unique plant species and many wildlife for such a small place.
6. George Rogers Park
George Rogers Park is a relatively big park spanning 26 acres along the Willamette River. There are plenty of things to do in the park, but the strangest attraction has to be the Oregon Iron Company furnace that sits on the trail and is now on the register of National Historic Places.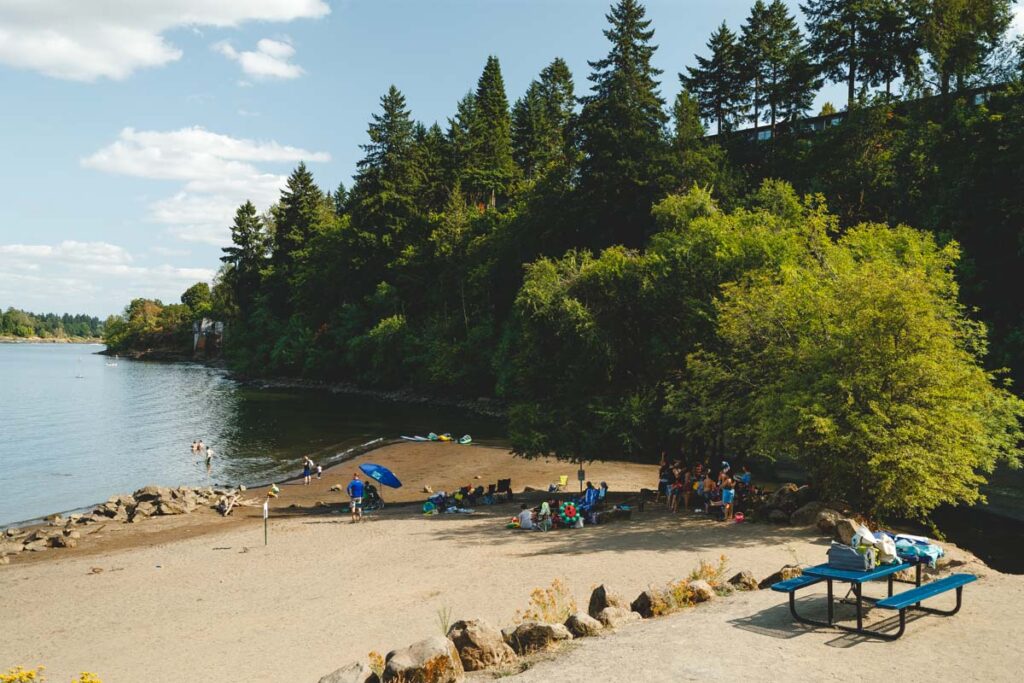 Sports enthusiasts can use the sporting facilities, which include a soccer field, two baseball fields, and two tennis courts, while the little ones will be entertained on the small playground.
There is an excellent track around the park which can easily be extended by crossing Oswego Creek and walking the trail alongside Old River Road for some lovely views.
The park is also often used for access to the Willamette River, as it is a prime location for launching a kayak and having a paddle up and downstream. If you didn't bring your own, you cant rent kayaks and paddle boards here.
7. High Rocks Park in Portland
High Rocks Park is likely to be one of Portland's busiest swimming holes, especially in the summer months when people come to cool off and splash around in the Clackamas River.
The area is formed where both the Clackamas and the Willamette River merge, resulting in a naturally occurring, deep pool. The bank around the pool is mainly made up of towering cliffs, which is too much of an adrenaline-fuelled opportunity for adventure seekers to miss!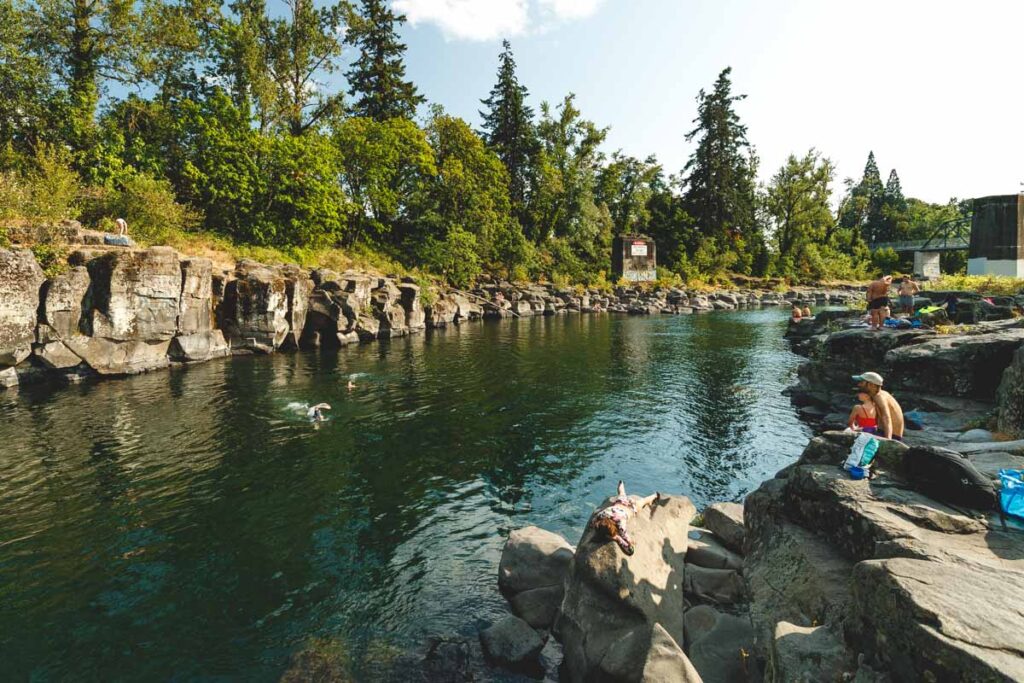 Many people will use the rocks to jump off and plunge into the icy waters below. There are many hazards to be aware of here, so be sure to use your common sense when visiting, as not everyone does!
Although the water may look still on the surface, underneath the water is a dangerous combination of hidden ledges and undercurrent. There is now a lifeguard at the park, which can help put swimmers' minds at ease, but you still need to be careful.
You can also expect to find fishermen, picnickers, and nature lovers adorning the banks. Although the cliffs are high, it is also possible to put a kayak in the river and explore the area this way.
---
READ MORE: 43 Best Things To Do in Portland, Oregon For Adventurers
---
8. Washington Park in Portland (Confusing Name, We Know!)
You'll feel as though you have stepped into a different world when visiting Washington Park when in reality, you are just two miles west of Downtown Portland.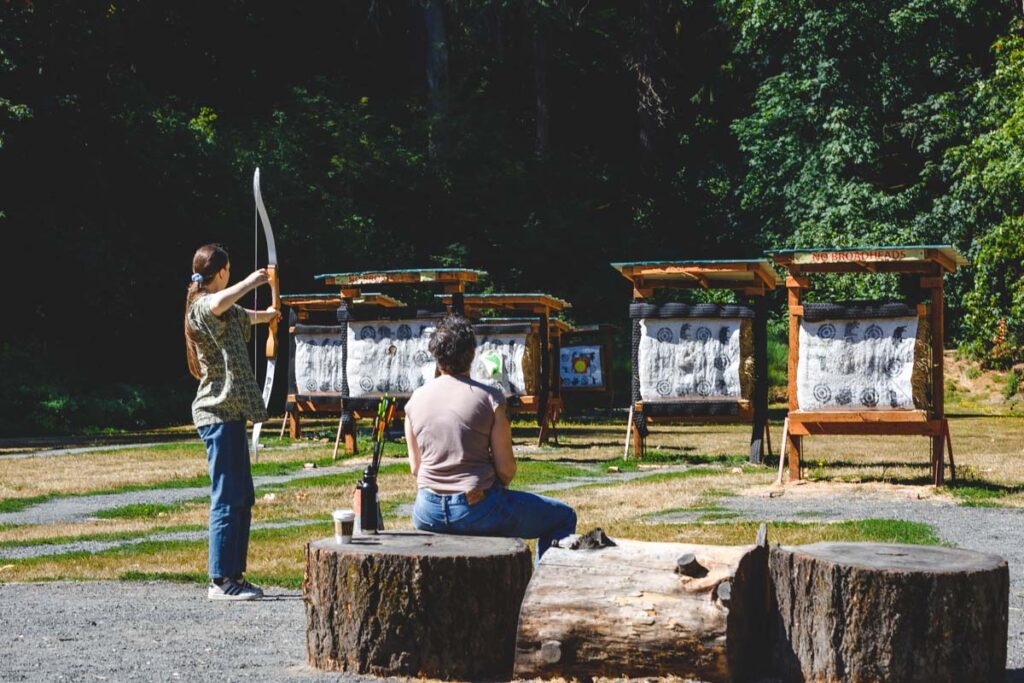 As a signature park in Portland, it is unsurprisingly a lot bigger than others on this list. Covering 410 acres, there is SO much to do! Here you'll find an outdoor archery range that is free for keen archers to drop in and use; you just have to bring your equipment.
There's also a zoo, two museums to help you learn a little more about the landscape, and free memorials that dot the park, such as the Oregon Holocaust Memorial or the Vietnam Veterans of Oregon Memorial. You'll find picnic tables all over Washington Park and a playground to entertain the little ones.
Garden lovers will enjoy wandering around the many gardens, such as the International Rose Test Garden, which contains 722 roses, which is quite stunning to see, especially when framed by the vistas of Mount Hood.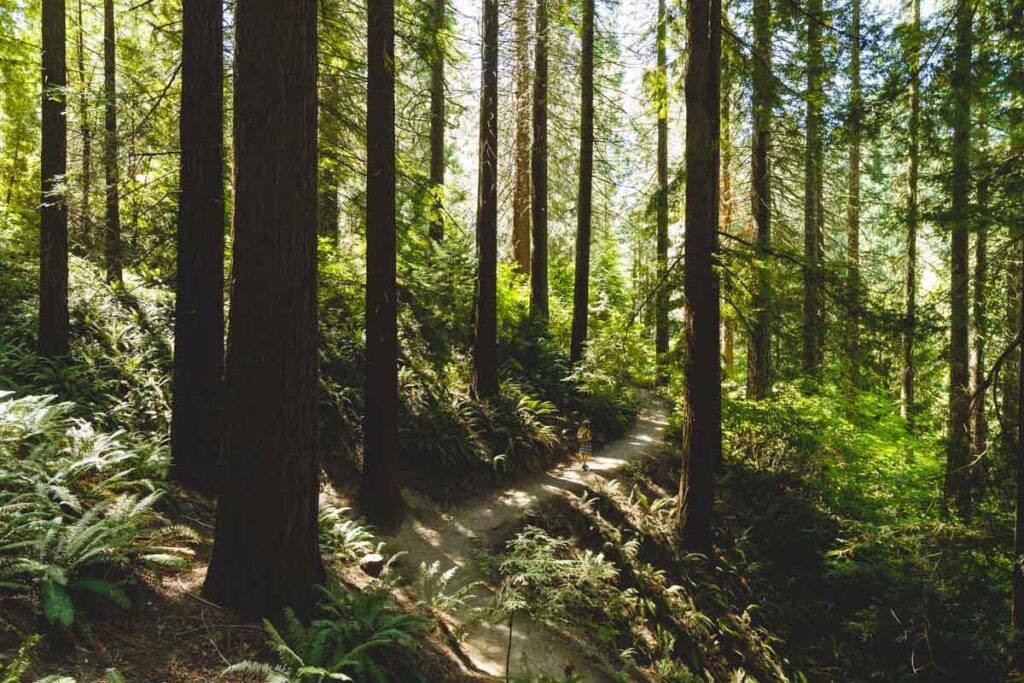 The Japanese Garden is also impressive, filled with cherry trees, Japanese maple, bamboo, and even a ceremonial teahouse.
Want more? Grab a map and walk among the 12 miles of hiking trails in the Hoyt Arboretum. The highlight here is, without a doubt, the collection of coast redwoods, many of which are over 150 feet tall!
---
READ MORE: Exploring Washington Park in Portland, Oregon
---
9. Forest Park in Portland
Immerse yourself in trees and nature in Forest Park, and you'll forget that you have only just left the city. It's one of the most extensive urban forests in the states, covering an area of 5,200 acres, with over 80 miles of trails and pathways to explore.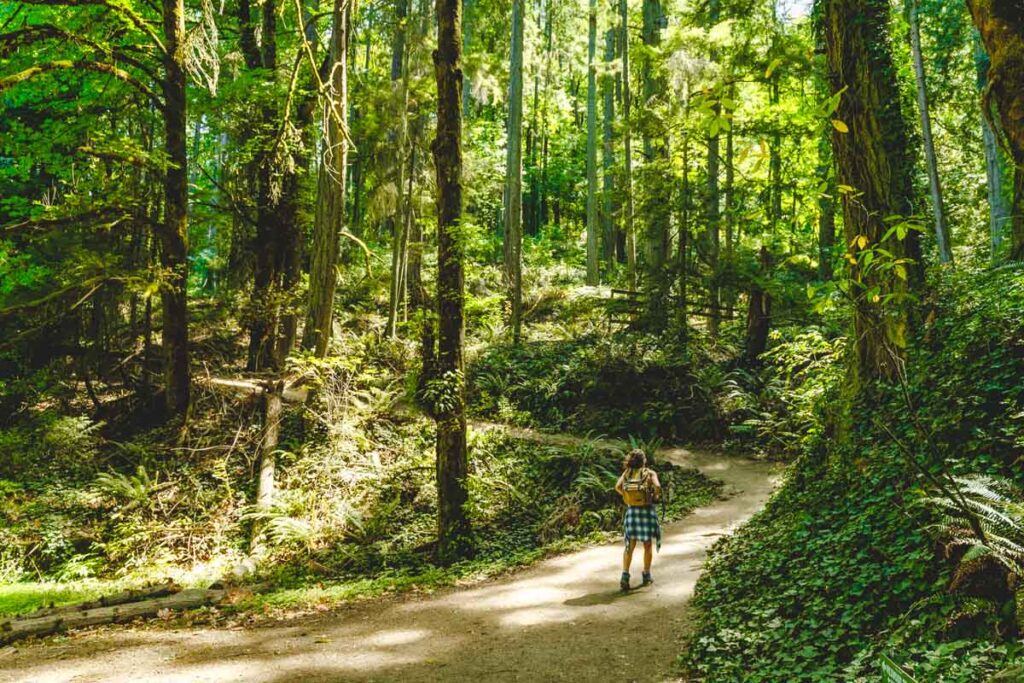 You could spend days delving into the forest and still not see it all. A good alternative is to take the Wildwood Trail, which stretches for 30 miles, taking in the whole length of the park.
Yes, 30 miles does sound a lot, so don't worry; there are plenty of smaller loops you can take depending on what parts of the forest you want to explore. You'll be able to experience a true Northwest forest without actually leaving the city of Portland, perfect if you're limited on time and can't travel too far out.
Bring your binoculars as there are over 122 species of birds and 62 mammals calling this urban wilderness home, and this is just one of the reasons it is one of the best parks in Portland.
---
READ MORE: 8 Top Hikes in Forest Park in Portland
---
10. Macleay Park
Near the expanse of Forest Park is another awesome park in Portland, designated as Macleay Park. And it's here you'll find some of the best points of interest, the Pittock Mansion. This mighty house offers incredible views of the city below and is also a good stop if you're interested in learning a little more about the history of Portland.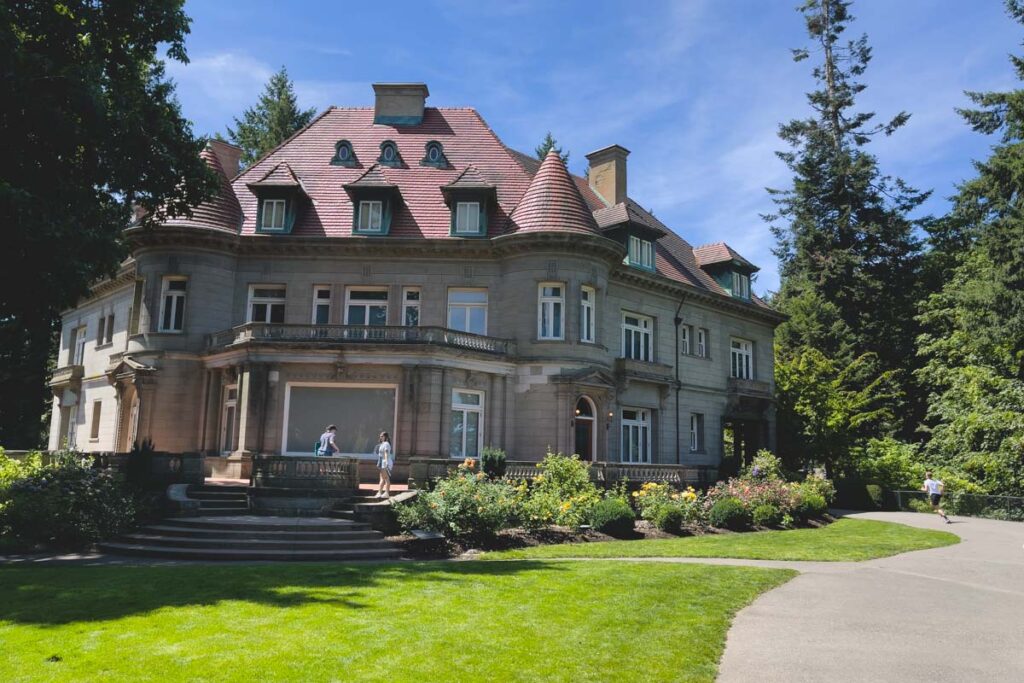 You could visit the atmospheric and aptly named Witch's Castle (or Witch's House). As you admire this moss-covered, stone building on the Macleay Park Trail, you would never know it was a former restroom!
The Macleay Park Trail is also very popular, as it is relatively short at 5 miles compared to the Forest Trail and will take you to some of the park's main attractions. So, if you are short on time but still want to see all that the park has to offer, this is the hike for you.
You'll see birds aplenty at the Pittock Bird Sanctuary. Take the nature trail from the visitor's center to see the best of the sanctuary, and with viewing platforms and easy paths, it is the perfect place for a gentle stroll.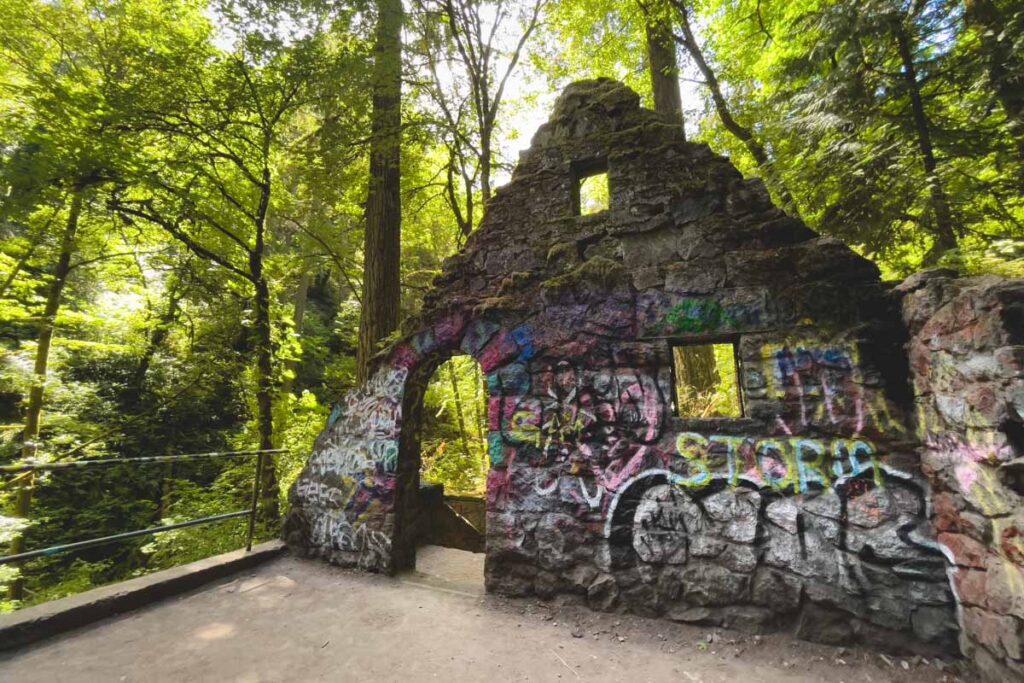 The Nature Audubon of Portland is the perfect place to break in those hiking boots, offering tree-filled tranquillity along the 4.5 miles of interpretive trails.
11. Kelley Point Park
Kelley Point Park is a little on the industrial side, but that doesn't stop it from being a great park in Portland. There are easy paved trails to follow that run right alongside the river, with beautiful views the whole way, places to stop for a picnic, and wide-open fields.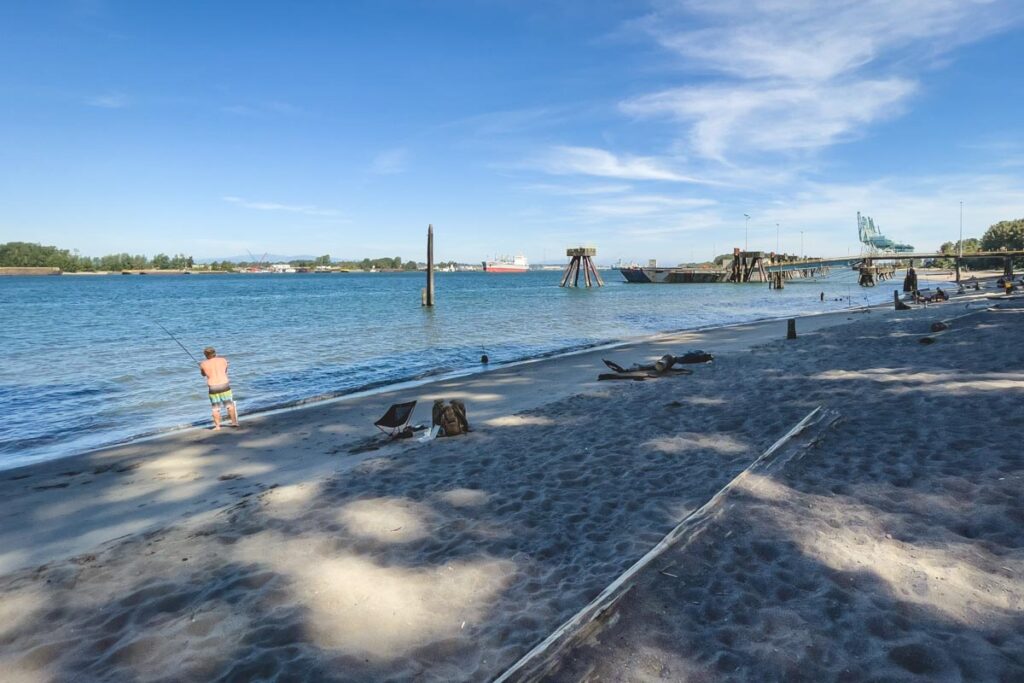 Due to its location at the confluence of both the Columbia and Willamette Rivers, it is the perfect spot for canoeing or kayaking.
Sandy beaches line the shores of both rivers, so if you would rather sit back and sunbathe, this is a very doable option. We wouldn't suggest swimming though, as the undercurrent of the rivers are very strong. You could almost describe it as Portland's hidden beach, as very few people tend to visit.
12. Clackamette Park
Located at the mouth of the Clackamas River, Clackamette Park is a lovely place to sit with a picnic and enjoy the sprawling river views that surround you.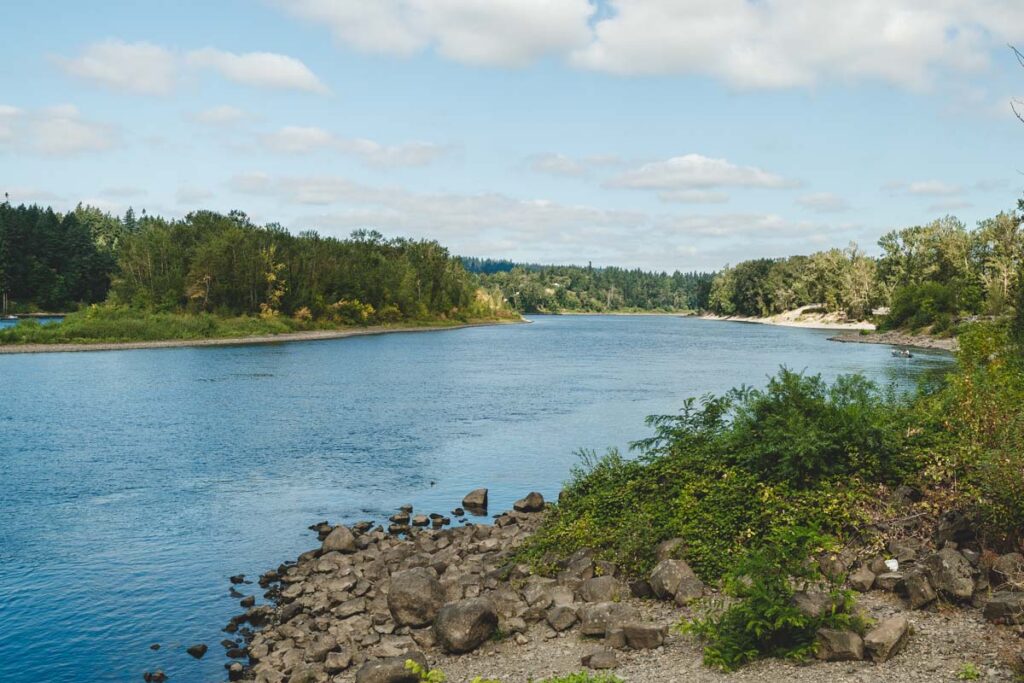 This is the sort of park you'll want to head to if you're looking for a little downtime and want nothing more stressful than feeding the ducks or going for a gentle paddle.
The Clackamette Park is an excellent point for launching your boat out into the river and spending the afternoon bobbing lazily around on the waters.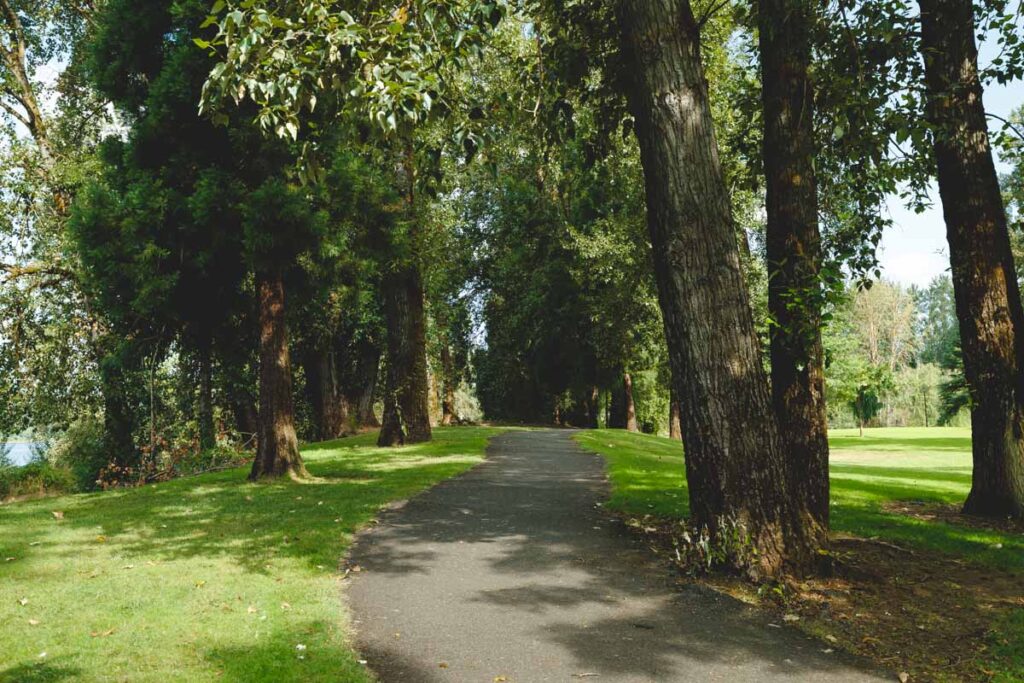 Due to its accessible location, the park often hosts several seasonal events, so check out the calendar before you visit to see if anything is exciting.
There are a few handy amenities here to make the visit a bit more comfortable, such as a seasonal RV park, restrooms, a playground for the kids, horseshoes, and a skate park.
13. Tryon Creek State Natural Area
Pay a visit to Oregon's only urban state park and spend the day admiring the wildflowers while hiking along scenic pathways. The natural area is a joy to visit at all times of the year, with new things to see every season.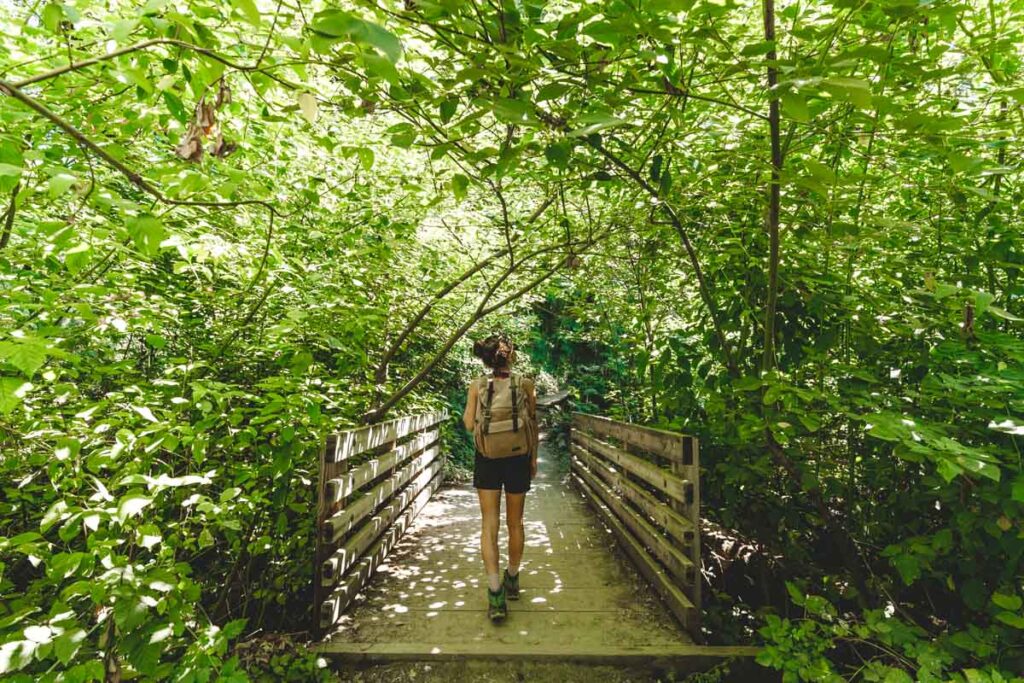 You would never believe this canyon is just 7 miles from downtown Portland. No matter which trail you traverse, you'll feel like you are a million miles from civilization.
The area is rich in plant life, and this dense forest makes an idyllic home for an assortment of creatures and critters, be it woodpecker or black-tailed deer, or even a flying squirrel.
The Tryon Creek State Natural Area is great for just getting out and exploring, with eight wooden bridges helping you cross the spring, which trickles through the ravine. These can be crossed via some of the 8 miles of hiking paths that snake their way around the landscape.
Newbie to the park? The best trail for you to take is, without a doubt, the Trillium Trail, as it is paved and less than half a mile long.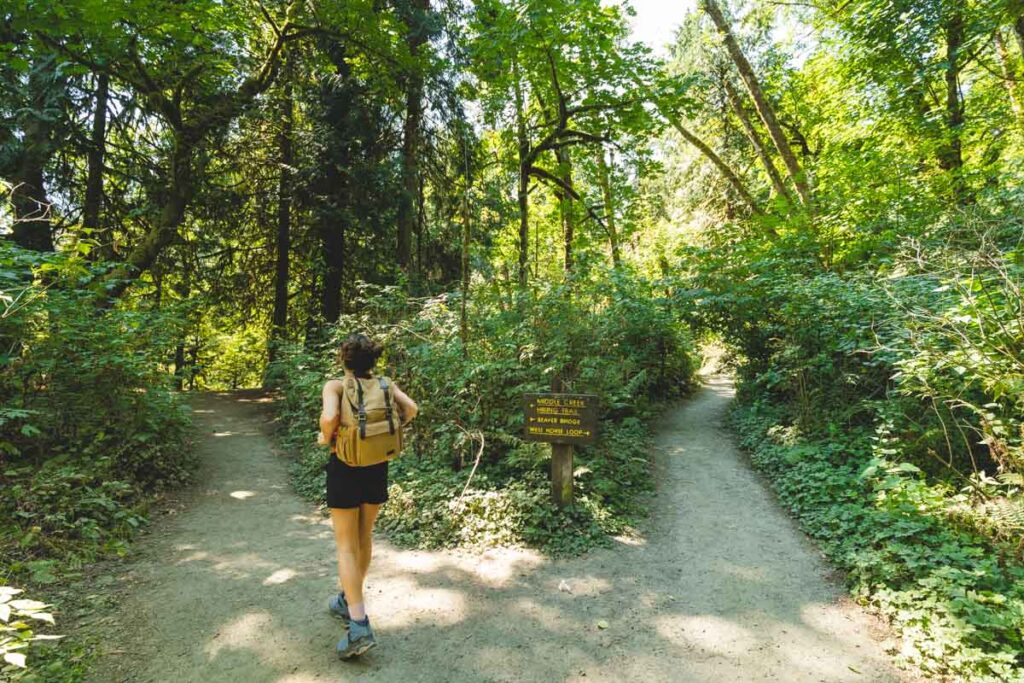 Stretch your legs, get acquainted with the landscape, and then take one of the longer, trickier trails. Old Main Trail will take you deeper into the center of the park. The park also allows horses and bikes.
Pick up some free park maps and chat with the knowledgeable staff at the nature center, which is full of helpful information to help you get the most out of your trip to one of the best parks in Portland.
---
READ MORE: Exploring Tryon Creek State Natural Area in Portland
---
14. Marquam Park and Council Crest
Take a walk along the miles and miles of dirt trails found at Marquam Park, surrounded by towering trees the whole time.
You won't find any incredible stretching vistas here, but what the park lacks in views, the beauty of nature, and the canopy above you more than make up for it. With seven miles of trail to enjoy, you won't run out of places to explore for a while.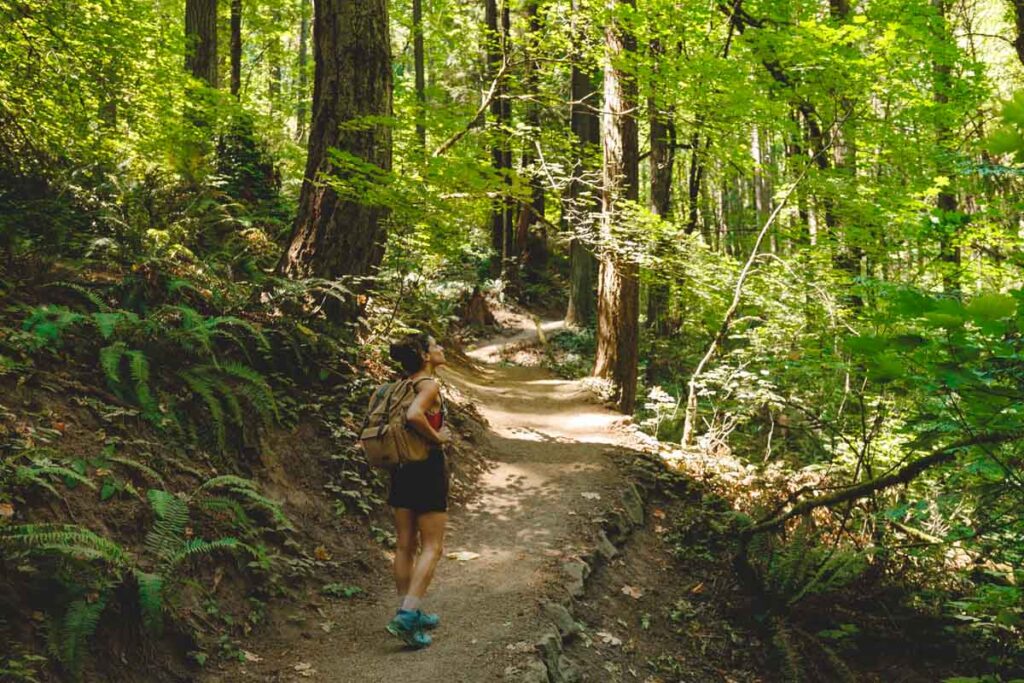 Although Marquam Park is a destination in its own right, it is also a vital part of the Portland Trail system, as it connects Terwilliger Parkway to Council Crest.
Council Crest is thought to be one of the highest points in Portland, reaching 1073 feet above sea level. Once you reach the top, you'll be able to see five different mountain ranges and a stunning view of the city below you.
---
READ MORE: Exploring Marquam Nature Park in Portland
---
15. Pier Park
Pier Park is actually a little misleading, as it doesn't even contain a single pier. Instead, the park is primarily made up of thick evergreen forest. It does, however, have a lot to enjoy for those that visit it. One of the biggest draws to this park in Portland is the massive disc golf course.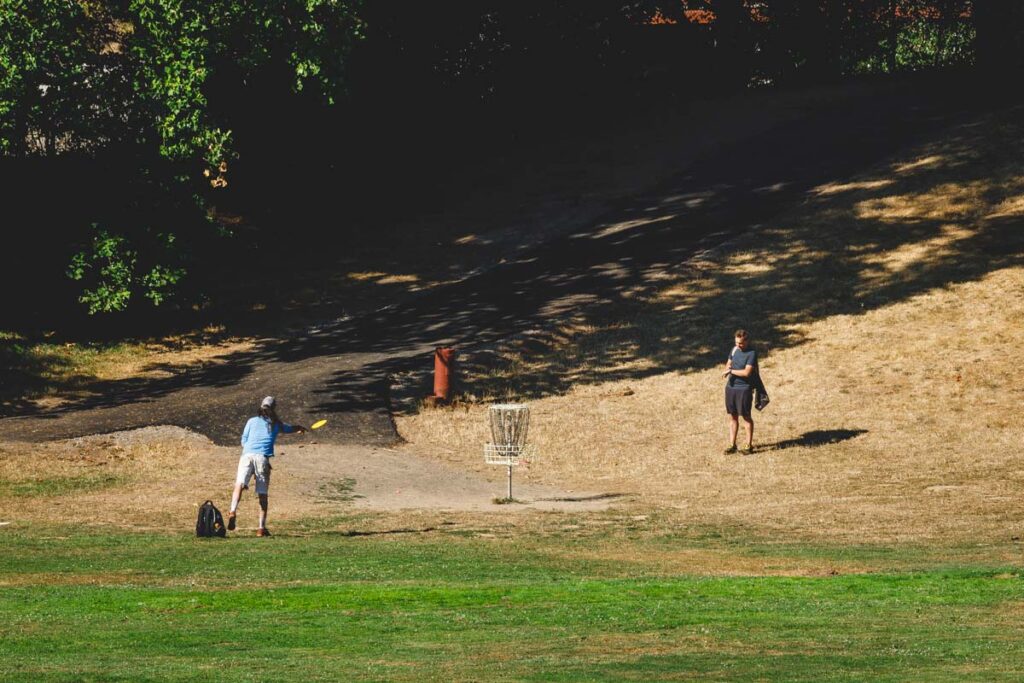 The course uses the surrounding forest, wiggling its way through the Douglas fir and red cedar trees, making it an exciting course to play on. From November to May, the course has the advantage of transforming into a winter layout, with some holes removed and others added for a new challenge.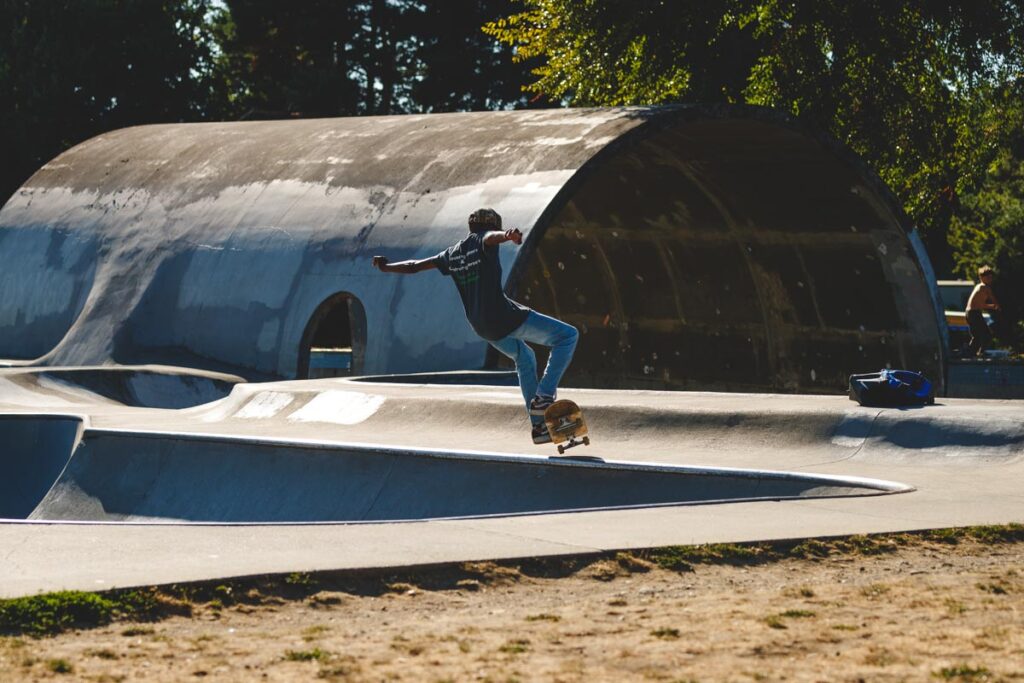 That's far from all there is to do at Pier Park. There is also a playground for the children, tennis courts, a swimming pool, and another park focal point, the skate park. People get their skates on and come from all over the city to hit the ramps.
16. Cathedral Park in Portland
All the parks on this list are unique for different reasons, but there is something distinctly special about that tiny bit of land that makes up Cathedral Park. You'll find Cathedral Park in North Portland, along the banks of the Willamette River, sitting peacefully underneath the St. Johns Bridge.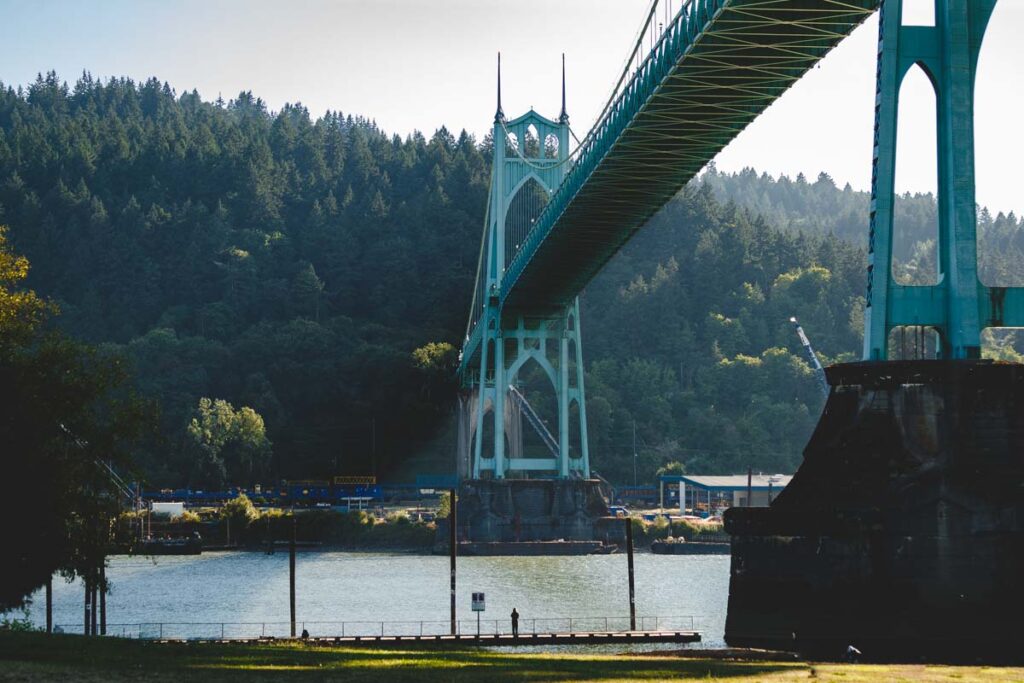 What makes this park so remarkable is that you can actually walk underneath the towering, cathedral-like structures that make up the foot of the bridge.
Bring your boat down and use the boat ramp, bring a picnic and soak in the views or toss a frisbee for your furry companion. It is a great little park!
The site is full of history, with perhaps its biggest claim to fame being that it was one of the 14 Lewis and Clark landing sites in the Vancouver-Portland area.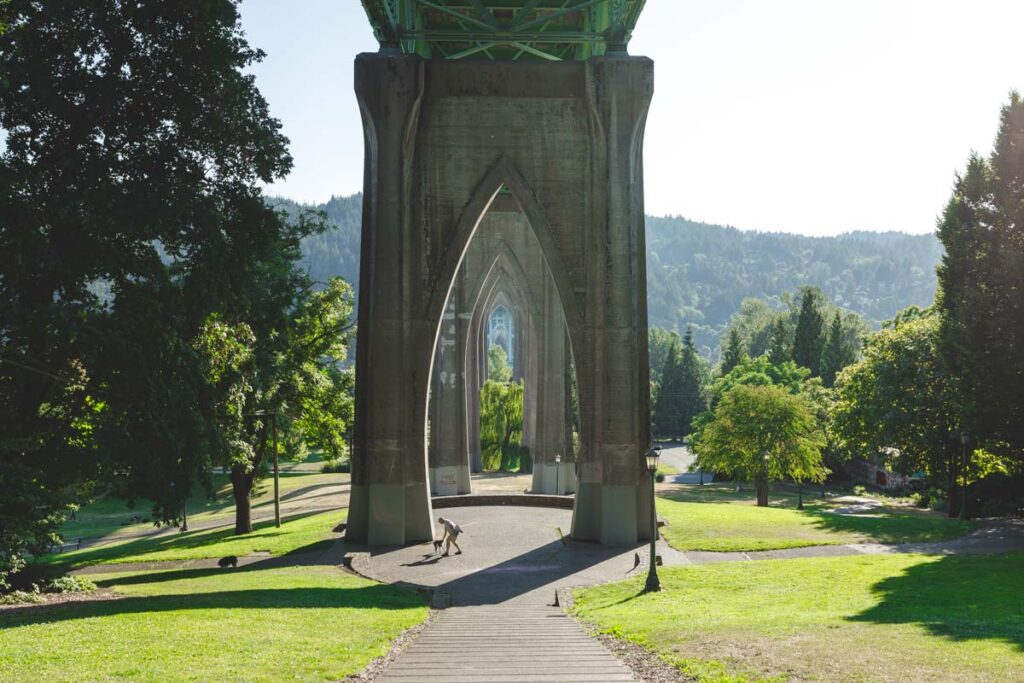 You should be able to spot the swaying trees of Forest Park in the distance, and maybe you could head there after for an even longer walk. Head here during the summer months to be swept up in one of the many festivals or events enjoyed here year after year.
17. Rocky Butte
Rocky Butte is a history lesson and a viewpoint all rolled into one. You can drive to the top of the butte, which sits in Joseph Wood Hill Park. In addition to those relaxing and picnicking, don't be surprised to find the odd few roping up and attempting to rock climb to the very summit.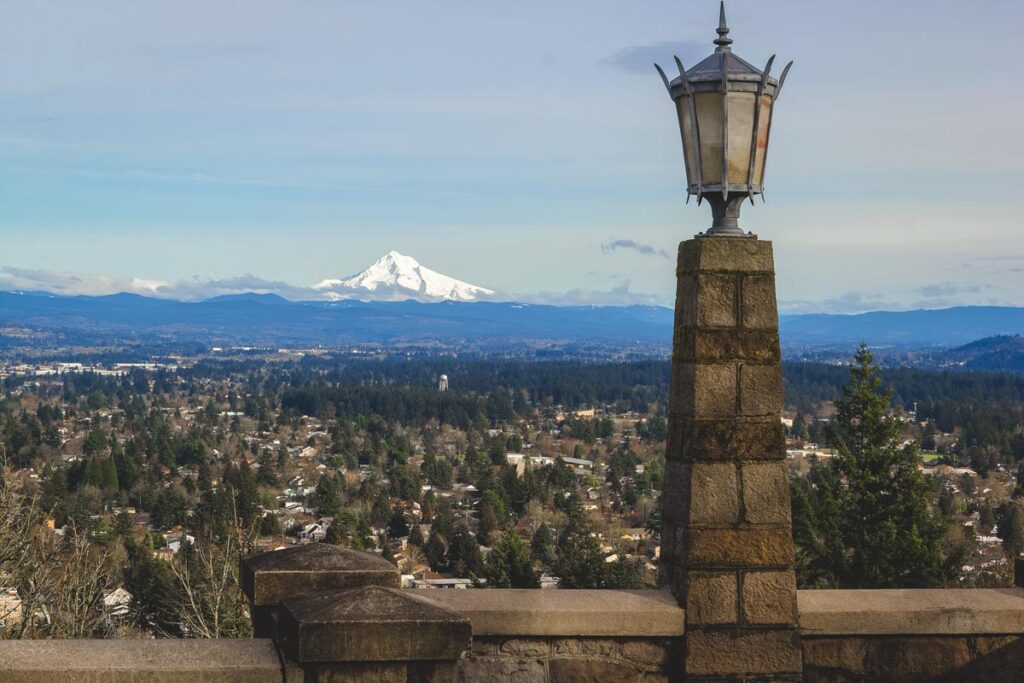 Other than the rocky walls, most of the park is entirely flat, so you can do pretty much what you would do in any park, be it kicking a ball around, sunbathing, or walking your dog.
It comes with the added benefit of having incredible views every way you look. You can even see planes taking off and landing at Portland Airport, which is pretty cool, but the surrounding mountain ranges steal the show.
This park in Portland is open until midnight, so visit when the sun goes down and the city lights up before you for something extraordinary.
18. Mt Tabor Park
Portland may have its fair share of parks, those with lofty views, those on the waterfront, and those in the depths of downtown, but Mt Tabor is on top of a volcano, and indeed that fact alone is enough to visit.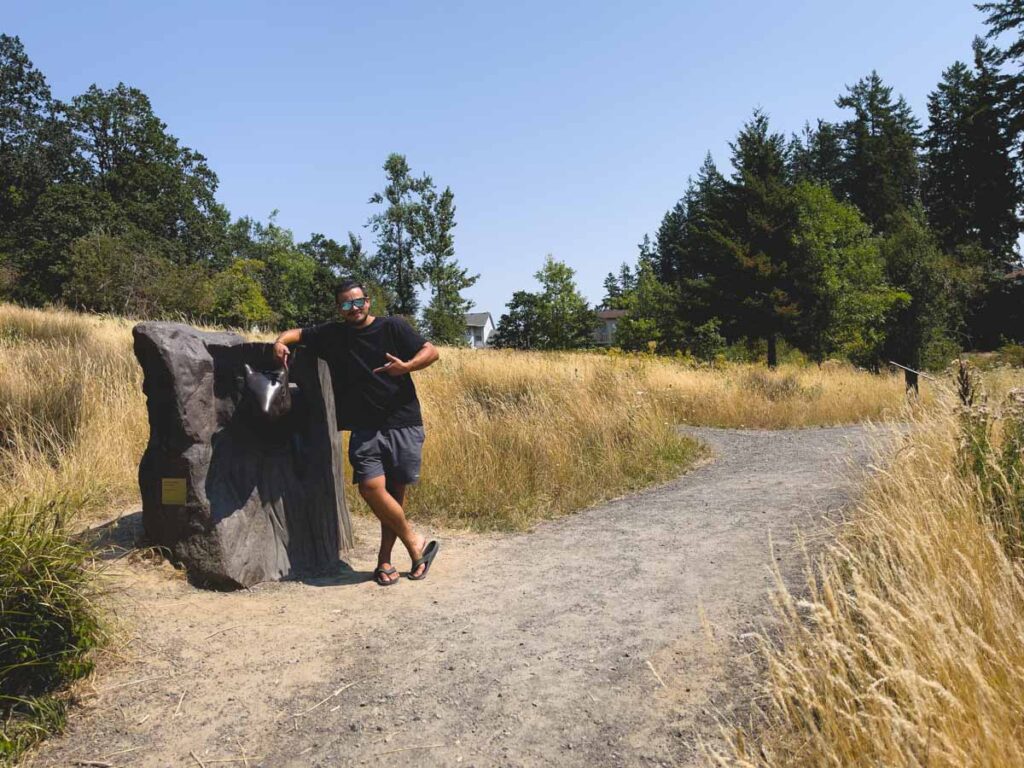 At 636 feet, the volcano is a pretty dominating landmark, and from the top, you'll be able to take in the city skyline from one of the many strategically placed benches.
There are three official trails to choose from that range from 1 mile to 3 miles, but there are also plenty of other footpaths that crisscross the park, making exploration a breeze.
If there is one date to put in your calendar, make it the PDX Adult Soapbox Derby, where daring (or crazy) racers design some of the most crowd-pleasing cars and cascade down the side of the volcano.
---
RELATED: 19+ Awesome Hikes Near Portland to Escape The Bustle
---
19. Tom McCall Waterfront Park
A park in the center of downtown?! That means you can shop until you drop, dine out in fancy restaurants and still walk the paved paths of this beautiful park all within a day.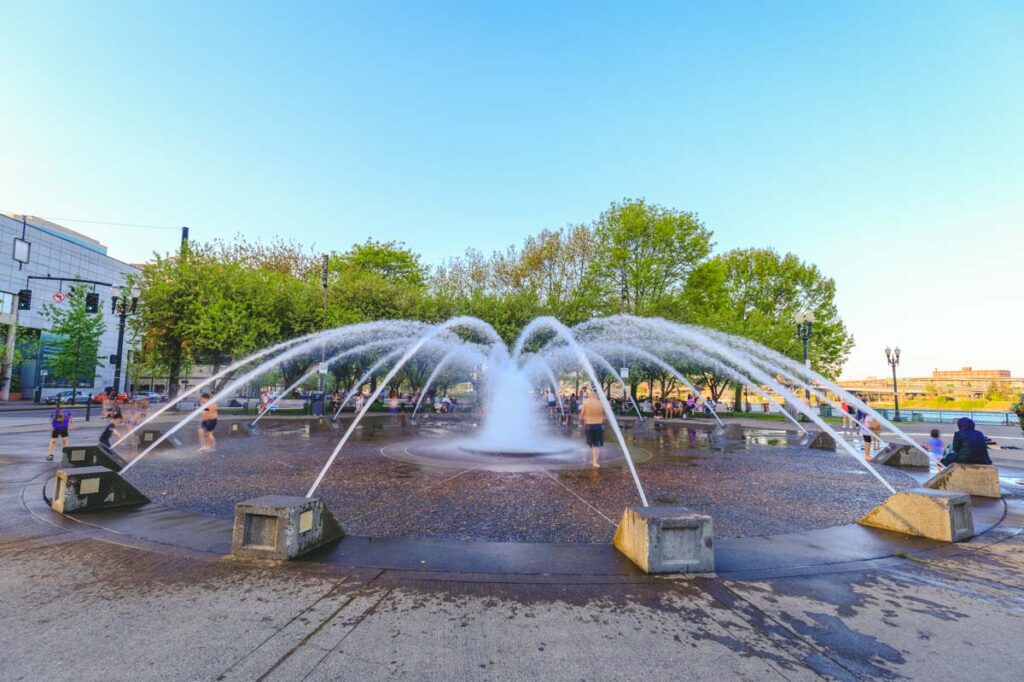 The park was once a bustling highway, but we think it has turned into something a lot better. At 36 acres, it is not huge, but there is still plenty of room to cycle, take a walk and enjoy being in the great outdoors while still very central to the city.
It hugs the Willamette River with several points of interest across its 1.5 miles. Stop off at the Japanese American Historical Plaza, built to honor Japanese American history in the Pacific Northwest.
You'll feel like you have been whisked off to Japan if you visit in the spring, as the 100 Japanese cherry trees burst into blossoming life.
---
RELATED: 13 Portland Tours for The Adventurous!
---
20. Powell Butte Nature Park
One of the best parks in Portland and the second largest park, Powell Butte Nature Park has a lot to offer its many visitors.
The landscape has been created on an extinct volcano, and on clear days, you'll be able to spot the surrounding ranges from its lofty viewpoint. At 600 feet, you'll feel like you are on top of the world as you enjoy picnics on the grasslands atop the butte.
The park covers 612 acres and sits in distant corners of southeast Portland. Use the 9 miles of trails to explore Powell Butte and everything it offers, either on foot, by bike, or on horseback; the choice is yours.
There is a short trail that is completely paved, making it accessible for all. Each of the trails is very well signposted, so you shouldn't have any trouble sticking to the one you have chosen to explore.
The Mountain View Trail is a great one as it leads you up to the summit, where, on a clear day, the Cascade Mountain peaks look their towering best.
We hope this post help you plan your trip to the best parks in Portland! Before you go, don't forget to check out other things to do near Portland and more adventures in Oregon.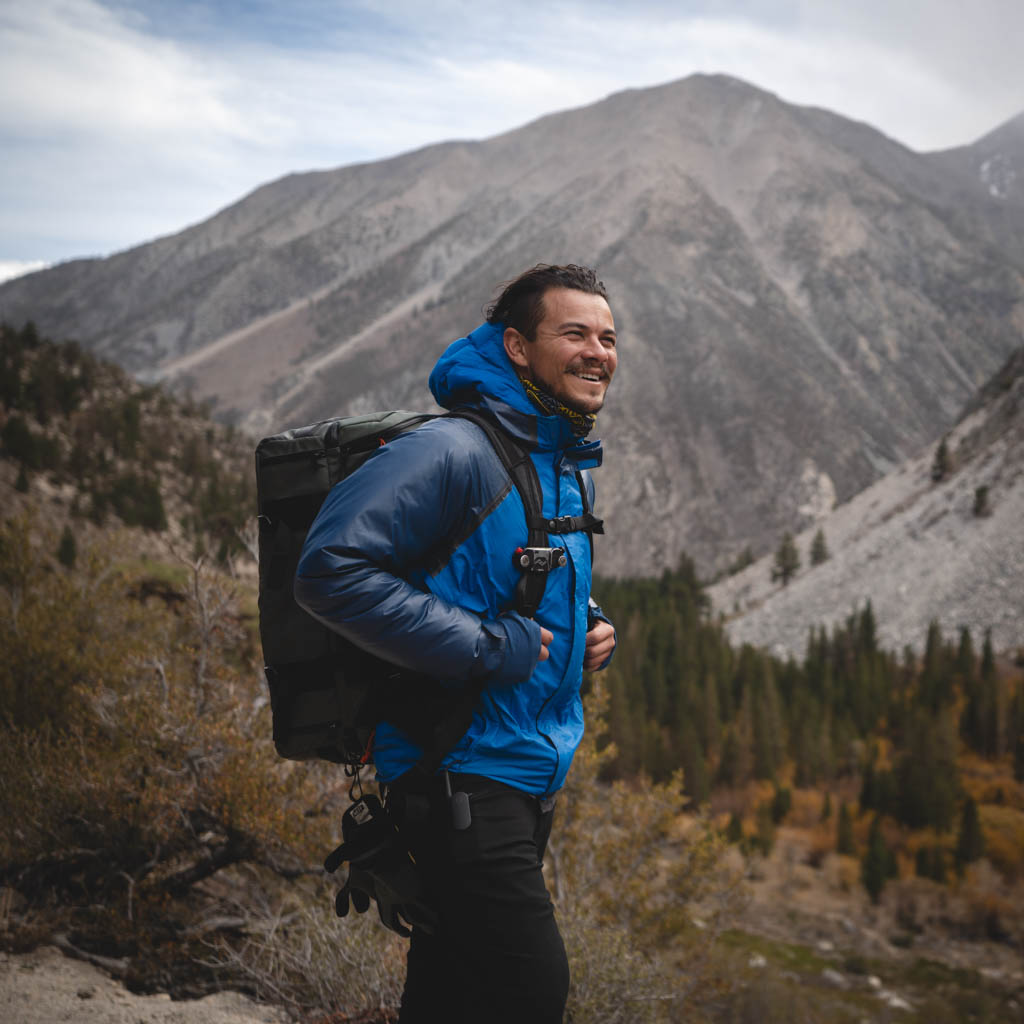 Oregon native and explorer at heart. Loves tackling expeditions around the world and drinking a good beer at the end of the day. PNW obsessed, VW nerd, and surf or snow riding fanatic.