One of the best things about living in (or visiting) Portland is that you're never far from far nature. While the city itself is greener than most large metropolises, those in search of some true solitude amongst nature should look just outside city limits in the nearby Forest Park.
This massive area is one of the most extensive urban forests in the country, with over 70 miles of hikeable and bikeable trails. The best part is that the park is just a few miles away from downtown Portland, making it highly accessible to anyone in the city.
However, this area's sheer size makes it a bit daunting. For this reason, we've created this comprehensive guide to the best hikes in Forest Park!
What to Expect Hiking in Forest Park
The landscape within Forest Park is true PNW terrain, with towering moss-covered trees, verdant valleys, and tons of native flora and fauna. Although it's technically located within Portland city limits, you'll feel worlds away from the hustle and bustle of everyday life.
As we mentioned above, this urban forest is HUGE. There are over 50 different Forest Park trailheads, and whether you've been here once or a hundred times, it's relatively easy to get lost. Most of the trails are loops, so you're likely to be spit back out where you started eventually!
Another thing to note is that many of the trails in Forest Park overlap, so you don't need to follow each path's specifics.
There are no seriously challenging trails within Forest Park. Most are moderate, and there are many easy treks to tackle. So, whether you're looking for an excellent long Saturday escapade or a quick after-work stroll, there are plenty of hikes in Forest Park.
Best Hikes in Forest Park
If you only have time to conquer one hike while in the Portland area, or if you're looking for some of the most enchanting hikes in Forest Park to tackle one by one, we've compiled some of the best ones below (listed from the north end of the park to the south).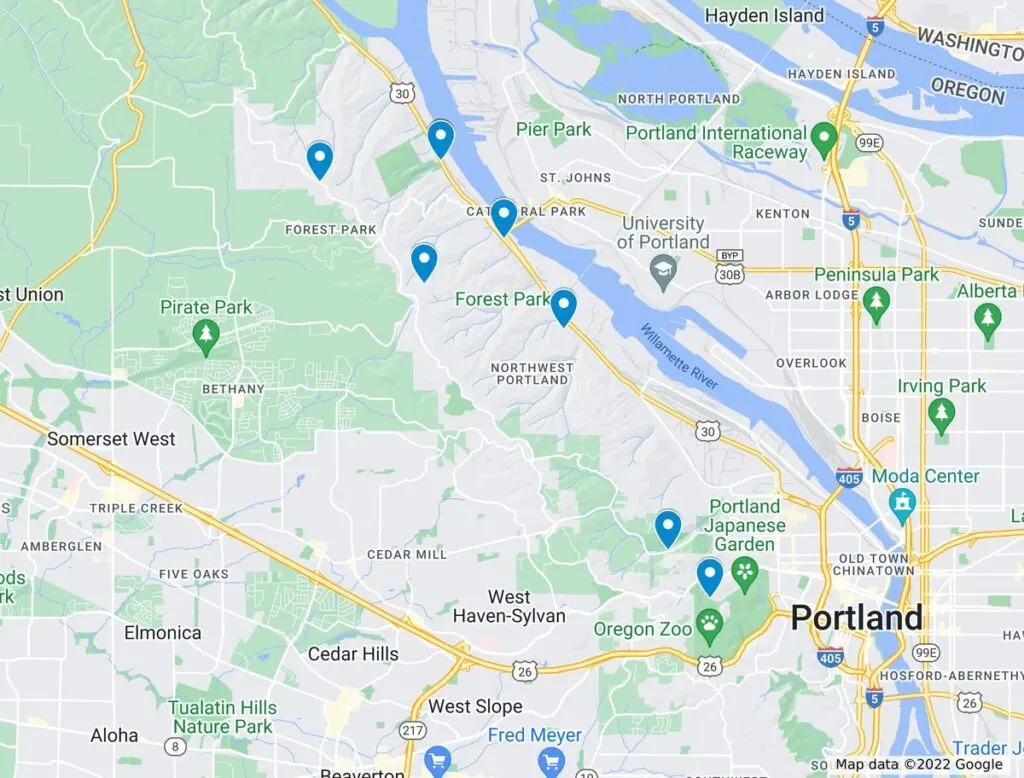 1. Skyline Cruise Loop Trail
Distance: 2.8 miles
Type of Trail: Loop
Difficulty: Moderate
Elevation Gain: 502 feet
The Skyline Cruise Loop Trail is one of Forest Park's shortest and easiest hikes. It's an ideal route for those looking for a quick hike to get the blood flowing and the heart pumping.
Unlike some of the other trails in the park, the Skyline Cruise Loop trailhead is located on the western side, off NW Skyline Boulevard. While it is slightly further away from Portland, it is still a heavily trafficked trail.
This isn't too surprising when you take the views into account. On a clear day, you can see snowcapped mountain peaks in the distance, along with the lush forests and undergrowth that the park is renowned for. If you want to extend your hike, there are plenty of options to do so along this loop.
2. Firelane 10, Wildwood, Newton, and BPA Road Loop via Linnton Trailhead
Distance: 9.1 miles
Type of Trail: Loop
Difficulty: Moderate
Elevation Gain: 2,037 feet
This is one of the longer loops in the park, encompassing parts of five different trails. It's the perfect route for those looking for a challenge. Steep switchbacks, high elevation gains, and the sheer length of this trail are part of what makes it difficult.
If you're searching for a good burner near Portland, then look no further. While it may be challenging, the varied terrain and wild beauty make this loop worth the extra effort.
---
RELATED: 43 Best Things To Do in Portland, Oregon For Adventurers
---
3. Linnton Trail
Distance: 3 miles
Type of Trail: Loop
Difficulty: Moderate
Elevation Gain: 830 feet
If you'd like a taste of the rugged beauty of the loop listed above but not the length and difficulty that goes with it, stick to the Linnton Trail.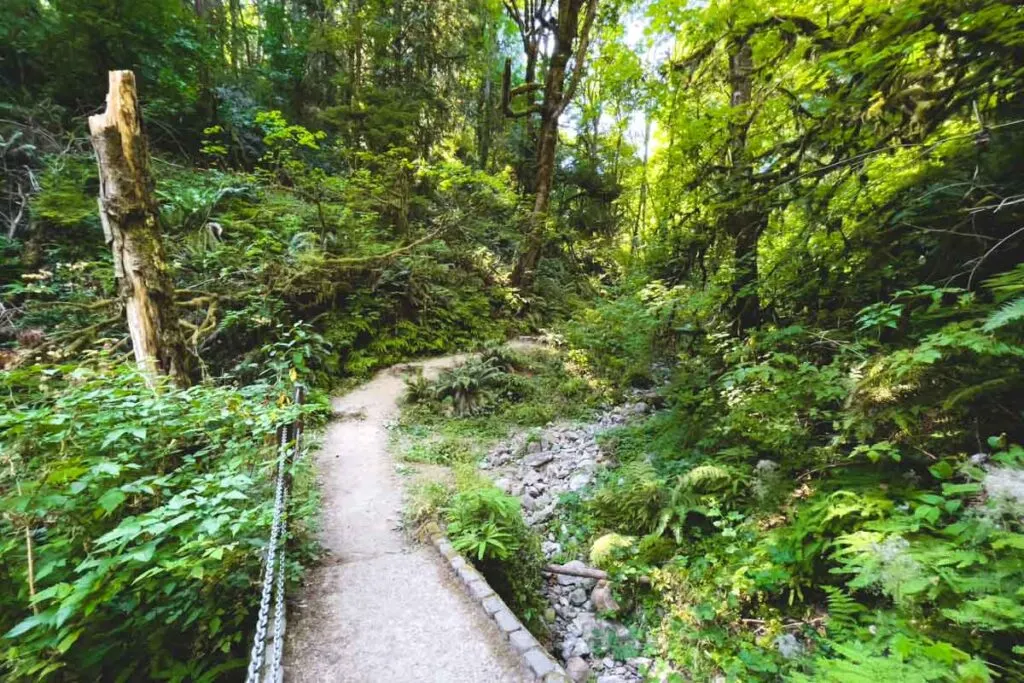 This three-mile loop is an excellent alternative if you don't have the time for a long hike, and you'll still get to experience some of the beautiful forested views featured on the longer loop.
For obvious reasons, this is one of the most popular hikes in Forest Park, and the trail is usually pretty busy. Parking at this trailhead is minimal, so plan on getting here early or walking in from a different lot.
4. Forest Park Ridge Trail
Distance: 4 miles
Type: Out & Back
Difficulty: Moderate
Elevation Gain: 835 feet
The Forest Park Ridge Trail is a great choice for a nice, moderate hike with great views. This is an easy route to check off your list at just four miles round trip. Not to mention the views to effort ratio is excellent.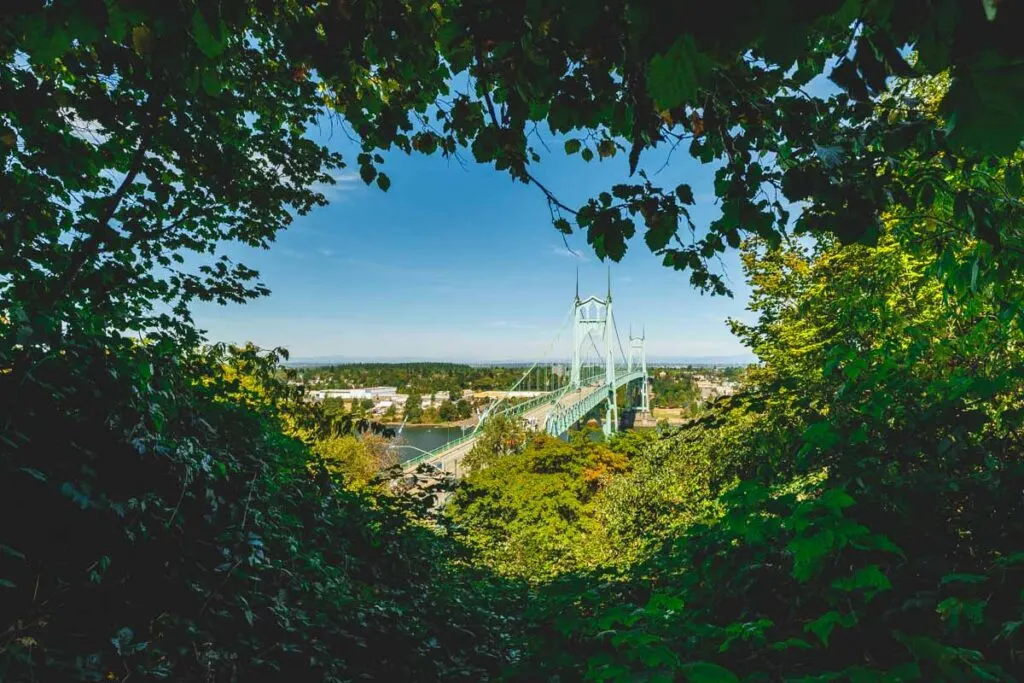 This is another of the Forest Park trailheads that are just off NW Skyline Boulevard. Take Springville Road and you'll find a parking lot that marks the start of the walk. The trail crosses the park from west to east, culminating in amazing views of Saint John's Bridge. It's worth doing the entire hike just for this!
---
RELATED: 20 Parks in Portland for The Adventurous!
---
5. Ridge, Firelane 7, Wildwood, Waterline Trail Loop
Distance: 6.5 miles
Type of Trail: Loop
Difficulty: Moderate
Elevation Gain: 1,142 feet
This lengthy loop starts at the far point of the Ridge Trail listed above but extends further into the forest and encompasses various trails. This hilly hike is primarily forested, and the scenery is splendid no matter the weather or season.
Most people hike this loop clockwise for the best views and more steady inclines. That being said, the first part of the trail is fairly steep but then levels off after a mile or so.
6. Maple and Wildwood Trail Loop
Distance: 7.6 miles
Type of Trail: Loop
Difficulty: Moderate
Elevation Gain: 1,027 feet
The Maple and Wildwood Trail Loop is another one of the best hikes in Forest Park. Featuring lovely wildflowers, mature Douglas Firs, and various creeks, canyons, and wild undergrowth, the loop shows off some of the very best scenery in the entire park.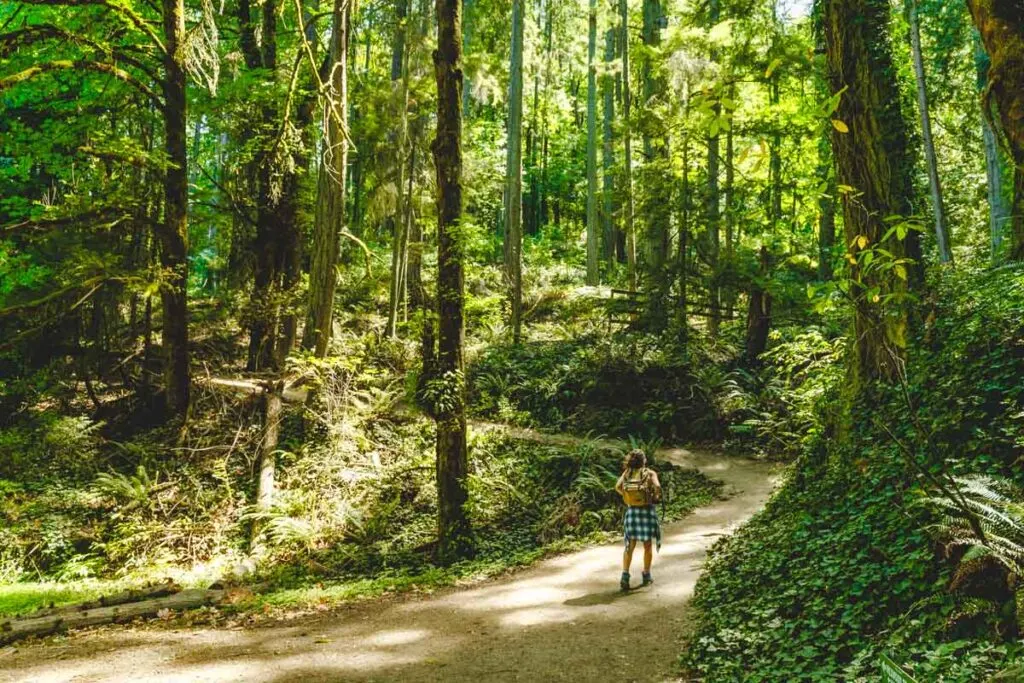 In addition to the forest views, several lookout points along the trail offer peaks of the city below. While there are many switchbacks, the overall elevation gain is just over 1,000 feet. The Maple and Wildwood Trail Loop is also extremely accessible thanks to the trailhead's location just off US Hwy 30.
---
RELATED: 19+ Awesome Hikes Near Portland to Escape The Bustle
---
Trails Near Forest Park
While technically not part of Forest Park, the trails we've highlighted below border the park and are often considered the area's highlight. These trails are often done in tandem as they traverse all the area's main highlights.
7. Pittock Mansion via Upper Macleay and Wildwood Trail
Distance: 3.2 miles
Type of Trail: Loop
Difficulty: Easy
Elevation Gain: 577 feet
This short hike features incredible views of Downtown Portland and the mountains beyond, along with verdant forest terrain and the majestic Pittock Mansion.
Although it is rated as easy, the trail does present some steep sections and a few switchbacks, so be prepared to get your blood pumping. But don't fret. You'll forget all about your troubles once the views come into focus.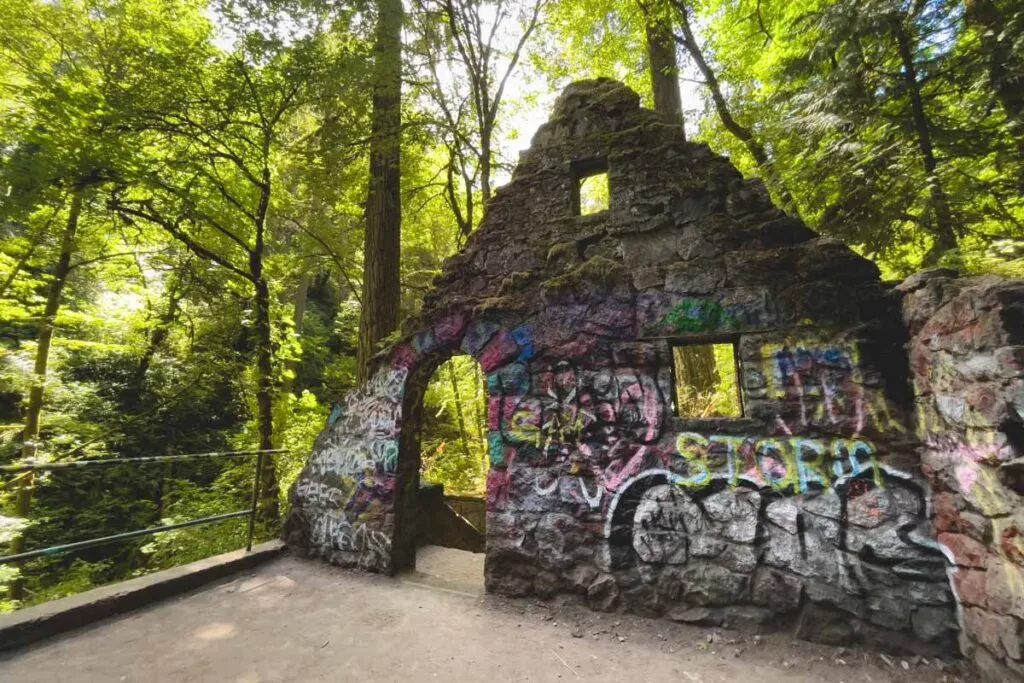 The trail starts on the southern end of Macleay Park. One of the hike's highlights, the Witch's Castle, is located just a short distance from the trailhead.
It's really just an old restroom, but the moss-covered stones definitely give it a mysterious aesthetic. And then the accessive graffiti give it a touch of grunge. Definitely a bizarre find for a hike!
From there, you'll continue climbing until you reach the Pittock Mansion. This old estate is impressive in its own right, but the views across the city and the Cascade Range are what make this trail a standout.
For a good reason, this is one of the most popular hikes near Portland, so you can expect to encounter plenty of other hikers on the trail.
8. Pittock Mansion via Wildwood Trail
Distance: 2.7 miles
Type of Trail: Out & Back
Difficulty: Moderate
Elevation Gain: 390 feet
This trail leads you to the scenic Pittock Mansion from the opposite side, walking up from the south. If you have the time, don't miss this section of the trail.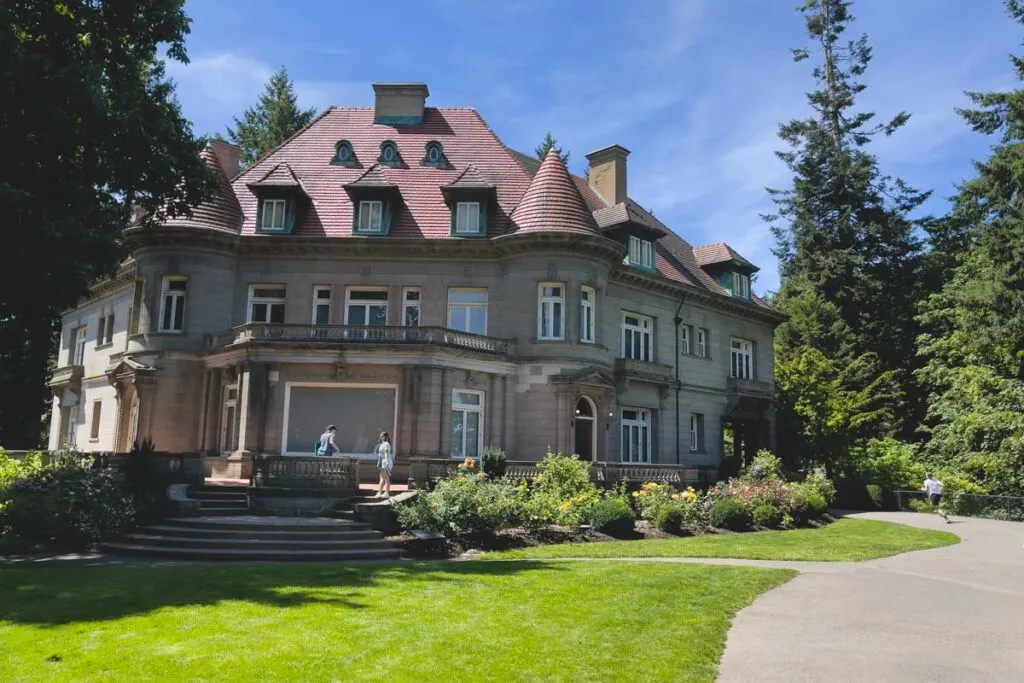 You'll start your hike at the Hoyt Arboretum, which is a destination in itself, with giant sequoias (redwoods) and other towering species. The highlight of this trek is the wooden viewing platform that looks out across a growth of 150 trees.
From there, take the Barbara Walker Crossing to continue along the Wildwood Trail and reach the Pittock Mansion grounds.
---
RELATED: 10 Hikes to Waterfalls Near Portland—That Are Open NOW!
---
Where to Bike in Forest Park
Biking is also quite popular in Forest Park, and while not all the trails allow bikes, there are plenty that do.
Some of the best biking trails in Forest Park include the following:
Leif Erikson Road: A relatively smooth 25.6-mile out & back mountain biking trail that follows the contour of the park line. This is a pretty popular route for both hikers and bikers, so watch for pedestrians as you ride.
Saltzman Road: For something short and sweet with great views, Saltman Road is the way to go. Even skinny tires can handle this stretch just fine.
Springville Road: This is a great route for bikers searching for a challenge. Don't be fooled by the short length (about 1 mile) – the hefty incline and rocky terrain make this stretch a real burner.
---
RELATED: 37 of The Best Oregon Hikes You've Got to Check Out
---
Tips for Exploring Forest Park
Parking is a bit tricky depending on which trail you decide to hike. There are usually at least a few spots to park near each trailhead, though you may have to park further away and walk to the trail.
Be sure to lock your car. Unfortunately, car break-ins are not uncommon in Forest Park, so keep your doors locked and don't store any valuables in your vehicle.
Feel free to bring your pooch – just be sure to keep them on the leash and pick up after them.
Don't stress if you get lost – most of the trails are loops and even if you get turned around you will find your way back out eventually.
We hope this post inspired you to discover all the best hikes in Forest Park! Don't forget to check out other hikes in Oregon and more adventures around Portland.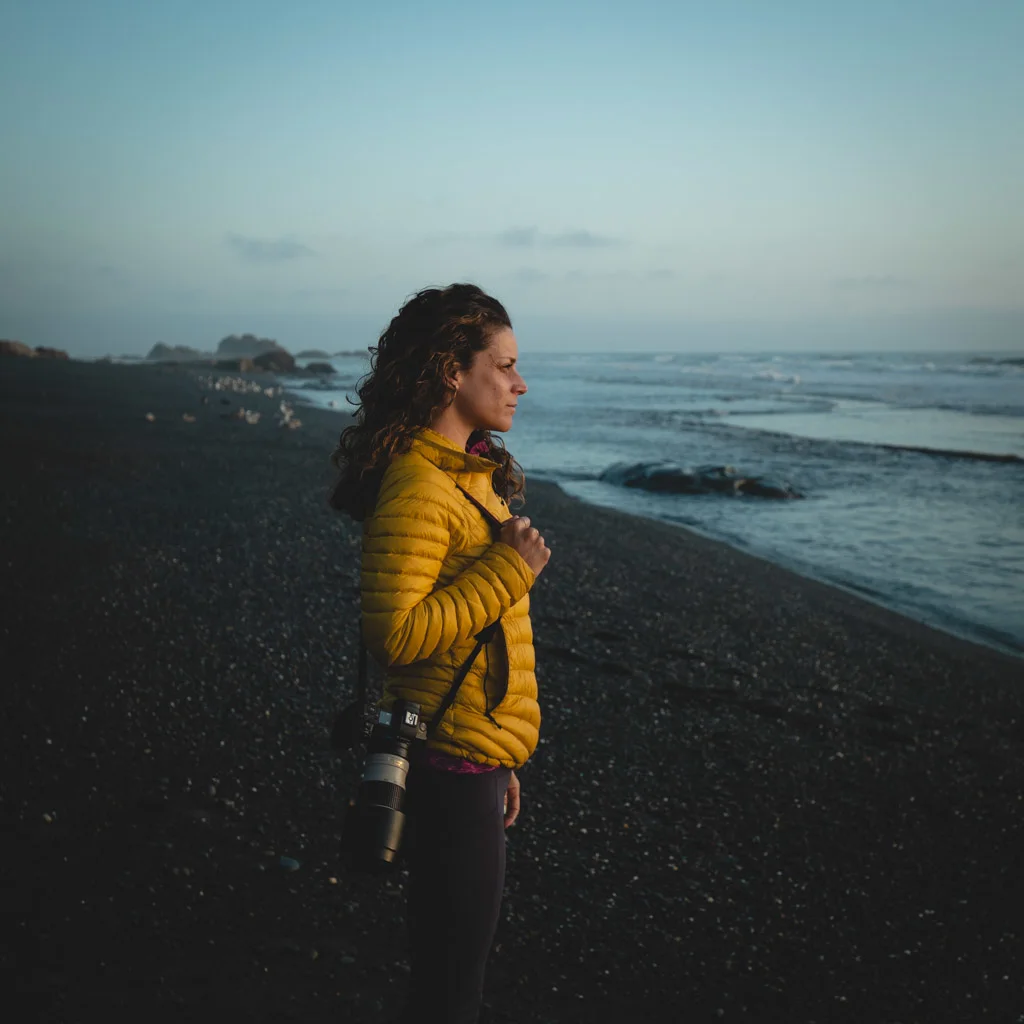 I've been perpetually traveling and living around the world for years but it's hard to beat Oregon and the PNW. After years of road-tripping the area, I guess you can say I know it pretty well! When I'm not writing guides for you, you can catch me somewhere petting a dog, attempting to surf, hiking a volcano, or stuffing my face with bread and cheese.