Camping on one of the largest playa lakes in the state will be something else! You'd think that a bunch of planning is involved, special gear is needed, or perhaps you'd need to get a permit or to jump through hoops to be able to camp at such an epic place…
Nope.
Camping at Alvord Desert couldn't be any easier. And the best part? It's pretty much free!
Located in Southeastern Oregon is a place where you'll find a 12-mile long and 7-mile wide dried up lake bed that was formed when water evaporated and left behind its salt minerals. What's left is an alien landscape.
The dusty white crackled land that's backed with the majestic Steen Mountains is a playground for few in-the-know people looking for a different type of adventure.
Consider yourself in the minority as this spot isn't too popular and we're here to share with you everything you need to know about camping at Alvord Desert.
Get ready to feel like you've been transported out of Oregon and on to another planet…
---
RELATED: 29 Awesome Things to Do on an Eastern Oregon Road Trip
---
Camping at Alvord Desert, Oregon
First, how does one even get to Alvord Desert?
It's actually really easy, simply route yourself to Alvord Hot Springs and use their access road. This will be the wisest choice as other roads aren't obvious or in good condition (Frog Springs is the other option).
It's $5 to use this access road as it's private. However, if you're a guest of theirs, it's included. (More info on this place below!)
Once you get here, set up camp. That's always step number one no matter what you're doing. Nobody wants to set up camp in the dark so get that part over with.
After that, you're free to roam the desert by bike, foot, or car. You'll see tire tracks from others who had a bit of fun swerving here and peeling out there… Have your fun but also be respectful of anyone else out on the desert and of the potential farmers and neighbors on the outskirts of the desert.
Camping on Alvord Desert is an experience, and the views are just jaw-dropping.
The sun will set behind the Steen mountains and then rise opposite of them; I suggest you watch them both!
The playa is dusty, and it's seriously a photographer's paradise with so many angles, frames, and different lighting, it's truly magical.
I can't recommend camping at Alvord Desert enough, but you'll need some more info and tips…
What to Pack for Camping at Alvord Desert
Luckily, you don't have to pack much to enjoy Alvord Desert. What you want to eat, what time of year you're going etc does all play into it though.
Tent. Unless you're bringing a vehicle you can sleep in; a tent is the next best thing. The winds are intense here sometimes so buying the cheapest tent at Walmart could find you at 3 am with your tent shredded by the wind. You don't need anything fancy but get something durable.
Gas burner. You'll need one of these to cook anything, especially to boil water for your coffee so you can get up for sunrise!
Utensils and cookware. Whatever you're cooking, make sure you've got the right utensils, plates, pots or pans, etc.
Food. Bring something good to enjoy under the stars and first thing in the morning. There's virtually nothing in the area, so you'll need to bring in everything you need to have decent meals and snacks. You can make it easy and carry items that don't require cooking so you can forgo the gas burner.
Water. A lot of it. You never know and bringing more water never hurt anyone. You must bring water here as there isn't a water source, and hello, you're going to a desert!
RECOMMENDED GEAR:
Clothing
In terms of what to wear for this camping experience, it depends on when you come. We came around July and it was hot but a bit chilly at night. Be sure to pack a few layers, and if you're thinking of arriving in the winter, you may want to think again.
You'll be freezing and you'd need to pack some serious gear to keep yourself warm at night. So just make sure you're checking the lows and the highs, so you know what temperature it's going to be and can pack accordingly.
Another thing to note, everything you bring will get very dusty. So maybe don't bring your favorite black sweater!
Tips on Camping at Alvord Desert, Oregon
If it's a windy night, I'd recommend camping closer to the Steen Mountain Range side as the mountains provide a bit of shelter from the ever-strong wind that rips through Alvord Desert, however…
The west side of the desert is mostly private land, so try camping on the north or south end (or the far east if it's not too windy). Landowners can't fence this area off, so it's not obvious! Use your best judgment and avoid the western edge for camping.
It can get cold here! Even in summer, bring something to snuggle up in at night.
Drop a pin at the desert entrance for yourself so you don't have trouble finding it when it's time to exit. (No cell service)
The desert isn't frequented, but this doesn't give you a free ticket to be a wild man, take precaution driving on the desert, keep an eye out for wildlife roaming, and people too!
Again, this area has a lot of private property. Please keep this in mind when in the area and be respectful to your neighbors.
Did you know you can get 100 extra karma points for bringing out your trash out? Seriously, pack whatever you bring in back out and let's leave Alvord Desert the way we found it. There is often an issue at the Frog Spring entrance with trash and human feces, please don't be that person. There's a bin and bathroom too!
Make sure your vehicle can handle the drive on the playa! We were in an old VW Jetta and she held up just fine, so no need for a big 4WD vehicle or anything. However, large camper vans and other such vehicles may find it difficult to navigate the bumpy trail that actually leads to the desert.
On a similar note, coming between December-June could bit a bit risky. Winter will be cold but if it's been raining? It could be muddy which wouldn't equal a desert but instead, a mud patch in which you'd surely get stuck in. Not good!
Speaking of mud patches, if you're entering through Alvord Desert Hot Springs (info below) don't turn left onto the desert from the access road, it's where the hot spring water runs off to and it'll sink a car. Drive straight for a while then turn where you want.
There's limited/no phone signal out here so get whatever info you need prior to getting out here and enjoy your digital detox.
Look up if there are fires in the area. We came in July and there was one nearby which clouded the Steens in the morning. It made for a cool look as it seemed the desert was never-ending but of course, this could be disappointing to others, and the smokiness in the air wasn't the greatest either.
And speaking of fires, usually, no campfires are allowed July-September.
Burns and Fields both have gas stations, fill up before you head out here.
Field's Station Milkshakes are all the rage, and the hype is REAL. It will be the best milkshake you've ever put in your mouth. They are the thickest, creamiest, and tastiest milkshakes in the State. You deserve one after a night (or a few) in the desert.
---
RELATED: 29 Awesome Things to Do on an Eastern Oregon Road Trip
---
Alvord Hot Springs
Hot Springs? At a desert? I know, a bit bizarre and why would one want to dip into hot water when it's hot outside, right?
Well, the desert does get chilly at night, and if you're here later in the year, it's downright cold. So the Alvord Hot Springs will be a little oasis for anyone shivering and sporting a red nose.
Now, don't let me paint a picture for you that you'll enter some magical place with a beautiful pool surrounded by intricate tiles and the sweet, soothing sounds of spa music in the back…
Alvord Hot Springs is very simple and if we're honest with each other (we're friends, right?) the hot springs are a bit rough looking.
This isn't to say they aren't worth going to as the stars look mighty magnificent as your body sizzles in the natural pool and soon you'll forget that you're kind of sitting in a human-made hole in the ground with some corrugated metal as a mini shelter and a wooden bench.
If you come to Alvord Hot Springs with the need for warming up and relaxing under the stars, you're in the right spot. If you think you're coming here for a spa getaway, you should look elsewhere.
If You Don't Want To Camp at Alvord Desert…
If you get to Alvord Desert and decided, eh, camping ON the desert may not be my thing after all (what?! really!?), Alvord Hot Springs has rooms to rent right outside the desert!
Go frolic on the massive salt flat, snap some photos, get those feet extra dirty and dusty, and come back to a place with four walls to lay your head at night.
The fun thing about it is that they have bunker style rooms. So again, nothing fancy, but it's all part of the experience, right?
Seriously though, camping in Alvord Desert is where it's at, and I think you'll do just fine spending a night on the playa.
Regardless if you're using the Alvord Hot Springs or staying at their property, you'll probably end up here at the least, to use their access road to the desert as mentioned. Their prices are reasonable for their rooms, the hot springs, and their access road.
You can check out more about Alvord Hot Spring here.
Costs of Camping at Alvord Desert, Oregon
Camping at Alvord Desert is FREE.
The payment to Alvord Hot Springs to use their facilities are all optional.
Currently, it's $8 for the hot springs, $5 for the access road, and $60 a night for a bunker. The access road is the only needed thing to camp on Alvord Desert.
So you'll come out of this experience having spent $5. Not too shabby!
Don't forget, you can access at Frog Springs too, for free! But the road to get to the playa might be too much depending on the vehicle you have.
Don't forget, there's so much more to do in the area. Check out what to do in east Oregon.
SPOILER ALERT: There are more alien landscapes and hot springs!
More Things to Do in Eastern Oregon
We hope this helps you plan a really cool Alvord Desert camping experience! Here are more helpful posts on camping in Oregon and more adventures around Oregon.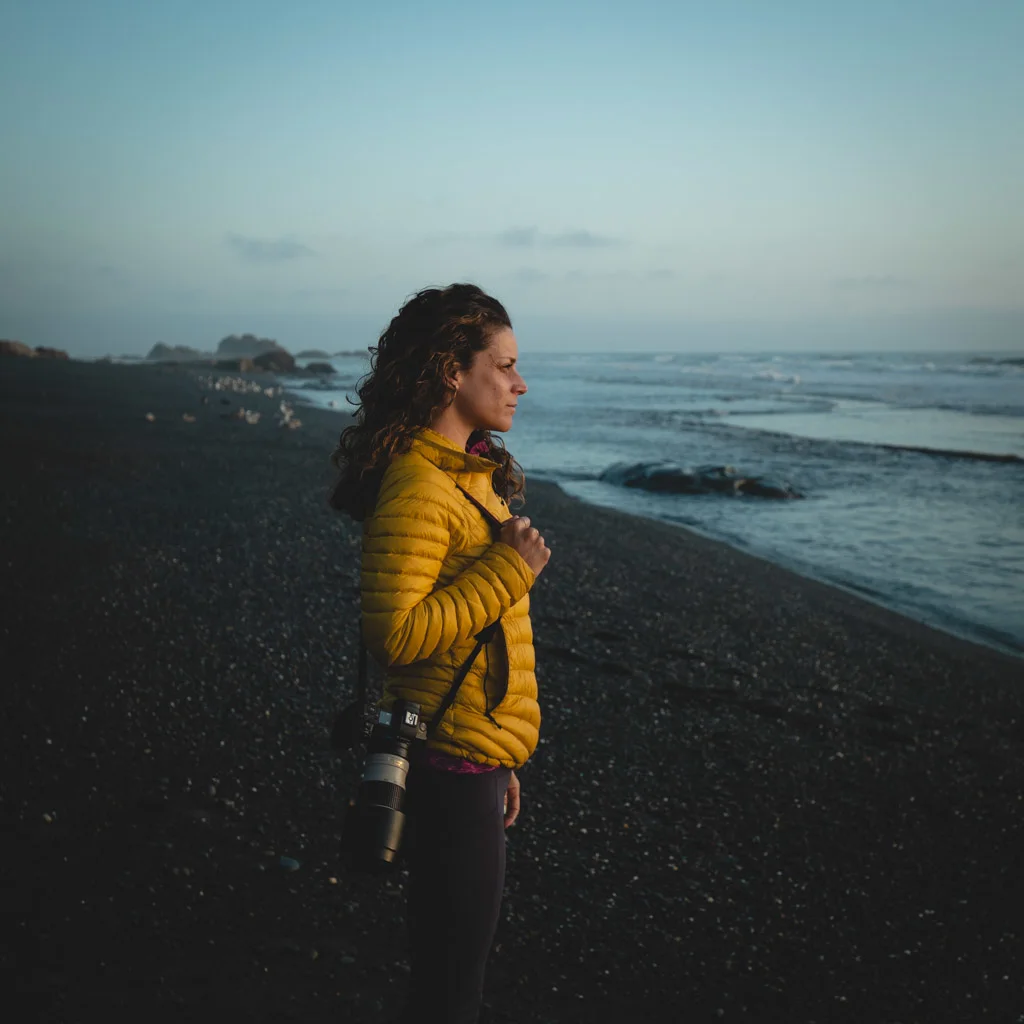 I've been perpetually traveling and living around the world for years but it's hard to beat Oregon and the PNW. After years of road-tripping the area, I guess you can say I know it pretty well! When I'm not writing guides for you, you can catch me somewhere petting a dog, attempting to surf, hiking a volcano, or stuffing my face with bread and cheese.