The Ochoco National Forest is just a little over two hours east outside of Bend, Oregon. Here you'll find rimrocks, canyons and geological peculiarities strewn over high desert terrain and grasslands.
If you're looking for some unique hikes with history, lakes to adventure, and biking trails to conquer, the Ochoco's are your spot!
Ochoco National Forest
---
The Ochoco's are a different slice of Oregon, and if you're coming from Bend, it's an introduction into the more arid (and bizzare looking) side of the state. There are three main areas in Ochoco National Forest:
Mill Creek Wilderness at 17,400 acres
Bridge Creek Wilderness at 5,400 acres
Black Canyon Wilderness at 13,400 acres
The Mill Creek Wilderness is the most heavily used and accessible of the three areas, and it's what you'll find below.
In 2008 there was a fire that burned through the Bridge Creek Wilderness, and trails aren't maintained. The Black Canyon Wilderness has a few sporadically maintained trails, but it's still pretty wild, and rattlesnakes are prevalent.
If you're ready to explore the Ochoco National Forest, we have the most accessible and beautiful spots right here for you!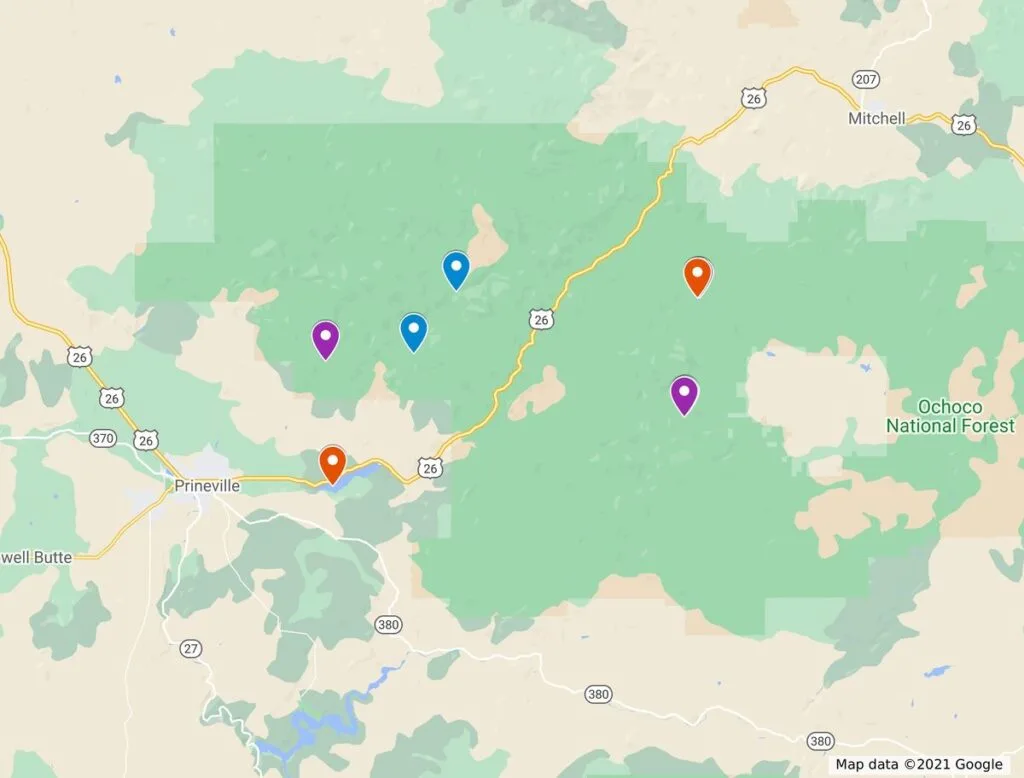 Hiking in The Ochoco National Forest
Steins Pillar Trail
Distance: 3.8 miles
Type of Trail: Out and Back
Difficulty: Moderate
The Steins Pillar Trail will take you through lush ponderosa pines and around giant boulders. When you get to the meadow and see the pillar in the distance, you'll know you're almost there. Eventually, you'll follow some switchbacks down a hill until you're front and center with the huge pillar.
The Steins Pillar can also be seen from Mill Creek Road at a small viewpoint.
Twin Pillars Trail
Distance: 12 miles
Type of Trail: Out and Back
Difficulty: Moderate
For an even bigger view of these bizarre geographic wonders, head to Twin Pillars Trail. The sounds of Mill Creek will follow you along for the first three miles until you make it an open burn area. There is no more forest to shade you, but it opens up the views to the pillars. You can walk up to the base and get a panoramic view.
Independent Mine to Lookout Mountain Trail
Distance: 7 miles
Type of Trail: Loop
Difficulty: Moderate
The Independent Mine to Lookout Mountain Trail offers a few extras beyond views. You can start this hike from the Ochoco campsite to add on some miles and difficulty, or you can start at the trailhead off of road FS42. About a mile or so into it, you'll stumble upon Independent Mine and then Mother Lode Mine.
These historical mine shafts are abandoned mercury mines. You can see the third mine in the network, Blue Ridge Mine, just off the side of the road before this trailhead.
As you continue, you'll then stumble upon a winter shelter for snowshoers and cross country skiers. Once you pass this hut, you'll know you've almost made it. Eventually, the trail opens up even more as you reach the summit and the cliff's edge with the Cascade Mountains seen in the distance.
Round Mountain
Distance: 7.5 miles
Type of Trail: Out and Back
Difficulty: Difficult
This is a challenging ascent without much of a break, with the last push to the summit of Round Mountain being the toughest. The views will be worth your efforts with mountain meadows leading you to view of the verdant buttes and the Cascades in the back.
---
Read More: Guide to the Strawberry Mountain Wilderness in Malheur National Forest
---
Mountain Bike & OHV Trails in the Ochoco Forest
There are two main areas in the Ochocos for mountain biking.
The first trail isn't too far from the Steins Pillar trail. Head to Green Mountain for a challenging but fun 8.4-mile ride.
The rest of the biking trails are all around the areas I've mentioned above. You can bike to Lookout Mountain, over Round Mountain, and you can start from Walton Lake, too (mentioned below).
All of the biking trails combined make a giant loop covering around 40 miles. For a full map of the mountain biking loop here in the Ochoco Forest, you can check here.
There's a vast network of OHV trails in the Ochoco National Forest as well. You can check here for more info on routes.
---
Read More: Your Guide to Exploring the Painted Hills—Oregon's Most Alien Landscape
---
Where to Fish, Boat, Camp, & Kayak in The Ochoco Forest
Ochoco Reservoir
While most of the land around the Ochoco Resoviour is private, the Ochoco Lake County Campgrounds are open for all. You'll find a day-use area where you can play on the lake all day with your kayak, take your boat out, or go fishing. You'll share the lake with plenty of shorebirds and tons of rainbow trout.
If you're having too much fun, of course, there are RV and tent sites available here as well, so feel free to stay longer.
Walton Lake
If you're after something a bit more tranquil, a lake without motorized sports, and almost total seclusion, head to Walton Lake. Here, you indulge in the serene setting of those reddish ponderosa pines and mountain meadows surrounding you on the lake.
There's rainbow trout to fish, plenty of space for a nice paddle, and if it's scorcher outside, take a dip in the cool and clear water.
For a leg stretcher, you can take a stroll on the trail around Walton Lake; otherwise, the Round Mountain trailhead starts from here for a more challenging climb.
Walton Lake has a campsite as well with RV and tent sites available, drinking water and vault toilets.
---
Read More: The John Day Fossil Beds in Oregon—Painted Hills, Sheep Rock & Clarno
---
What's Near The Ochoco National Forest?
Don't go too far! You're so close to many other cool adventures.
We hope this post helped you plan an epic trip to Ochoco National Forest! Check out more of what eastern Oregon has to offer and other fun adventures in Oregon.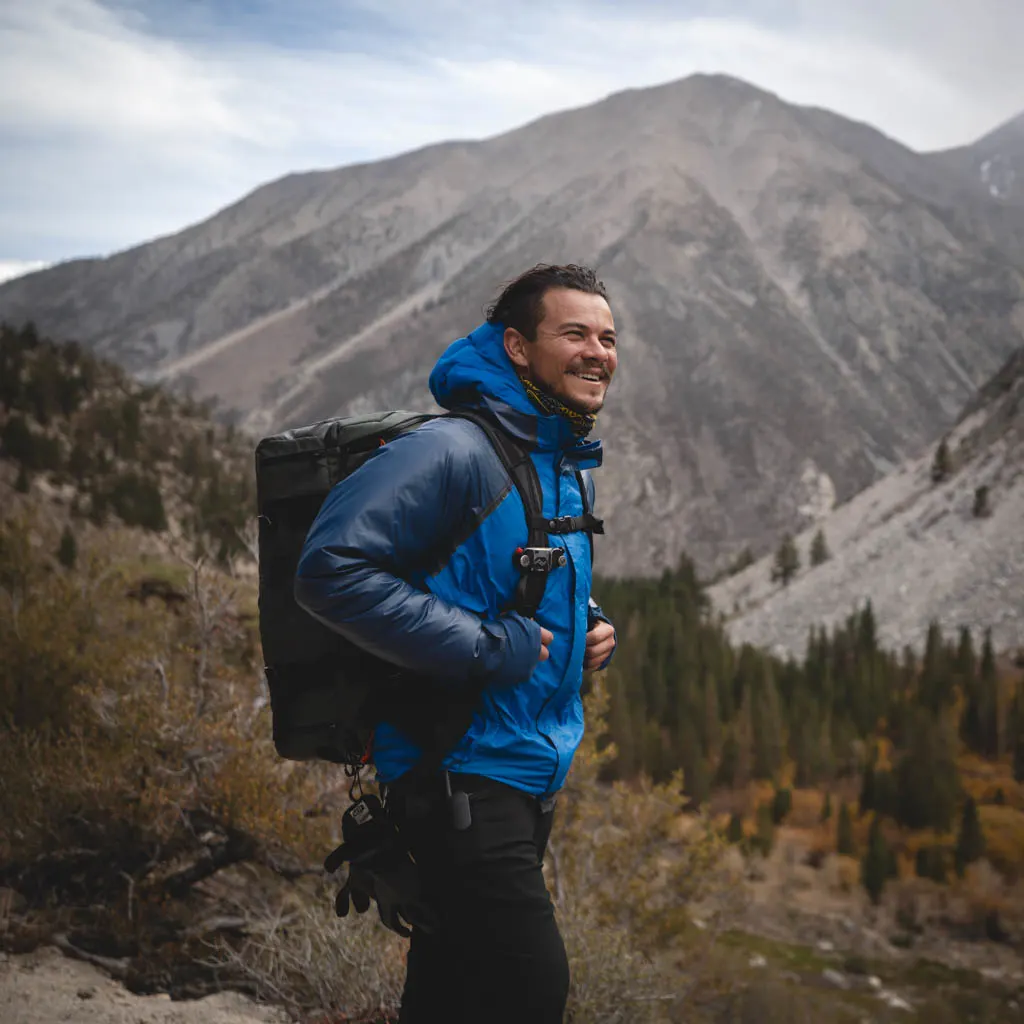 Oregon native and explorer at heart. Loves tackling expeditions around the world and drinking a good beer at the end of the day. PNW obsessed, VW nerd, and surf or snow riding fanatic.