If you're looking for fun and scenic hikes, a refreshing waterfall, and total seclusion, you might be looking for the Strawberry Mountain Wilderness in Malheur National Forest.
This slice of eastern Oregon is stunning and steeped in the snow-dusted Strawberry Mountain Range. With lakes to explore, hiking trails to conquer, and vistas that will make your jaw drop, consider yourself lucky to have stumbled on such an epic area of Oregon.
Here are our favorite adventures in the Strawberry Mountain Wildness.
Strawberry Mountain Wilderness in Malheur National Forest
---
I think I'm going to have to say it… So far, we think The Strawberry Mountain Wildness might be one of the most underrated places we've been so far. We kind of can't believe it's not more crowded or popular. So maybe don't tell too many of your friends, cool? 🙂
The best place to park is at Strawberry Mountain Campground. From here, you can camp and be at the trailhead for the hike.
Strawberry Mountain Wilderness Hiking + Strawberry Falls
The best thing to do in The Strawberry Mountain Wilderness is hiking. Without hiking, you'll miss out on the gorgeous lakes, Strawberry Falls, and views from the Strawberry Mountain Summit too.
After you park at the trailhead, take the main trailhead call Strawberry Basin Trail. This is where most of the hikes stem from.
From here, you'll hike less than a mile until the forest opens up to Strawberry Lake. It's a glistening blue lake with the snow-laced Strawberry Mountains towering in the distance.
If you dare, take a dip in the freezing lake, or wait for your opportunity to take a chilly shower. Just about another mile further, you'll find Strawberry Falls, a 50-foot waterfall gushing over a rocky face. If you're here a bit early in summer you'll even see huge ice blocks stuck in the crevices of the cliffside like you see in the pictures here.
It's at this point that you're presented with two options, to continue to Little Strawberry Lake or summit Strawberry Mountain. Both hiking details below are including the entire hike from the trailhead and back.
#1 Hike to Little Strawberry Lake
Distance: 6.2 miles
Type of Trail: Out and Back
Difficulty: Moderate
After the waterfall, you'll follow the signs to Little Strawberry Lake. You are less than a mile away from the next lake, and all that's left is another push through the forest.
You'll eventually come out of the treeline and reach Little Strawberry Lake backed by the rugged mountains.
#2 Hike to Strawberry Mountain Summit
Distance: 10.3 miles
Type of Trail: Out and Back
Difficulty: Hard
After the waterfall, you'll follow the signs to the Strawberry Mountain Summit. You'll walk along a ridgeline before heading into a meadow. Enjoy the vista of the jagged peaks and Strawberry Lake down below. After a set of switchbacks, you'll make it to the top with views across the Strawberry Mountain Wildness.
---
READ MORE: 29 Awesome Things to Do on an Eastern Oregon Road Trip
---
Other Hikes in the Strawberry Mountain Wildness
Onion Creek Loop (hard, 16 miles) – For a real leg burner, you can try this hike that takes you through the Strawberry Basin Trail, the Strawberry Mountain summit, and then you'll come down the northside of the mountain to loop back around. Some choose to backcountry camp on this trail due to its distance.
Slide Lake Trail (hard, 7.7 miles) – If you've seen Strawberry Lake and Little Strawberry Lake and want some more, try out a butt burning hike to Slide Lake.
Strawberry Campground
Strawberry Campground is where you'll find the trailhead for Strawberry Bain, which reaches many other deviations for the trail as well as the campground itself. Strawberry Campground has tent campsites, a vault toilet, and costs $8 to camp at.
Each campsite has a parking spot, picnic table, and fire pit. It was great to finish up our hike and immediately enjoy our campsite with a fire, beer, and some dinner!
If you happen to catch the area on a busier day, there are another few tent sites just before Strawberry Campground called Slide Creek Campgrounds.
Magone Lake in Malheur National Forest
Magone Lake is another excellent spot to visit if you're already in the area.
Head out of the Strawberry Mountain Wildness and just a bit north; you'll find Magone Lake. From here, you can access several things to do.
Grab your SUP, kayak, canoe, or even your boat, and spend a beautiful hot summer day out on the lake. Take a dip on the refreshing water and have a picnic along the shore.
If you want to stretch those legs from your drive, there's the Magone Lake trail, which goes for just under two miles around the lake. If you're in no hurry to leave, you can camp here as well to properly enjoy the area.
Magone Lake Campground
At the Magone Lake campground, you'll find 22 sites, most accommodating RV or vans, and a few for tents. The campground is just off the shoreline of the lake with a sandy entrance leading to the lake.
Tips for Visiting The Strawberry Mountain Wilderness
Don't forget to display your Northwest pass or purchase a day pass when you arrive.
Download your offline maps; there's no service out here.
You're about 11 miles away from Prairie City from the Strawberry Mountain Campground. This will be the closest place to grab any supplies you forgot or gas.
Bring your bug spray, the mosquitos can be relentless at dusk.
It's best to visit in Septemeber-October or around July although that will be a busier month to visit. If you come in June, you can have great weather, but there still may be too much snow to finish your hikes.
Even in summer months, it can get quite chilly here, come prepared with extra layers.
We hope this post helped you plan an epic trip to the Strawberry Mountain Wilderness! Check out more of what eastern Oregon has to offer and other fun adventures in Oregon.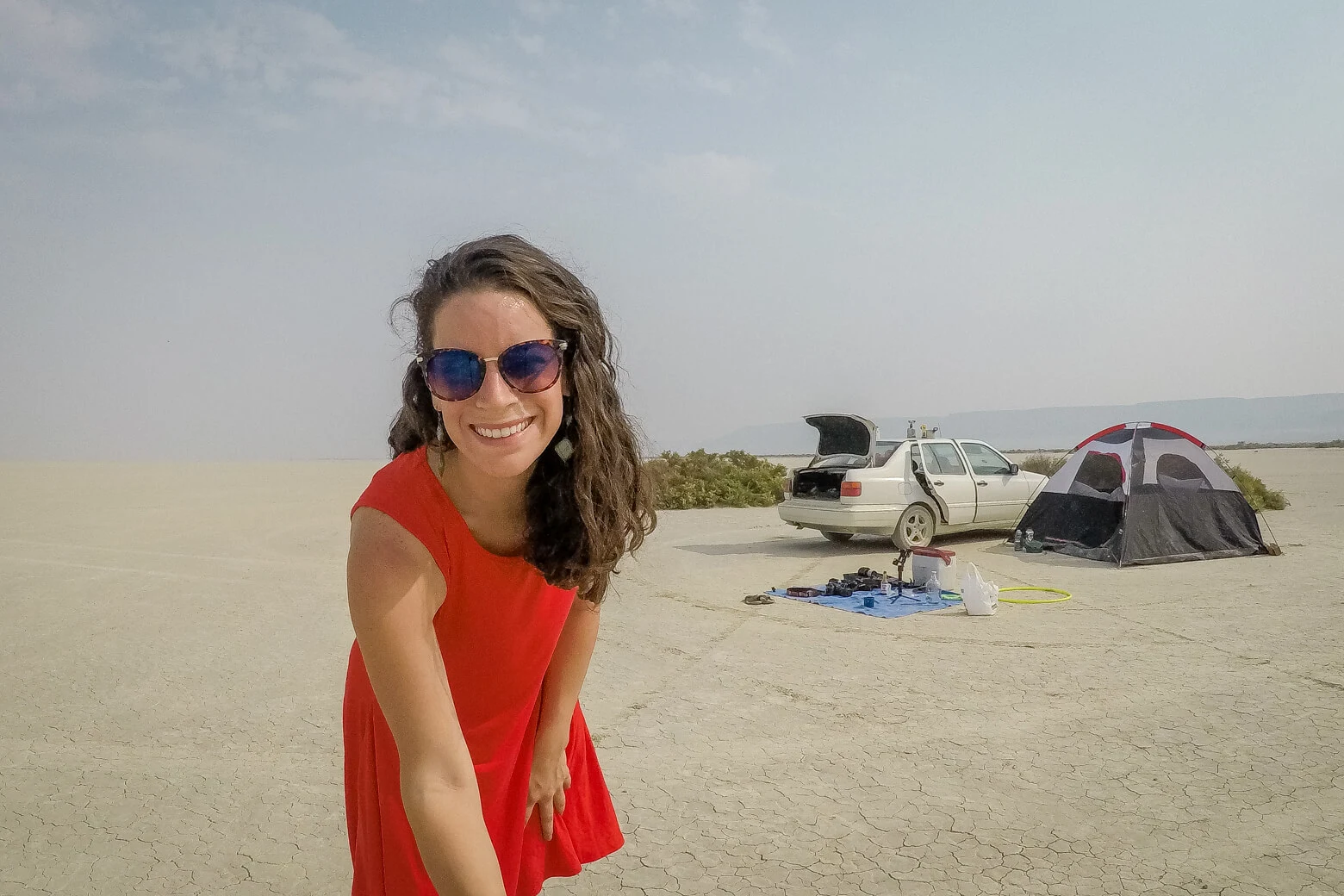 For the last 7+ years, I've been traveling around Oregon and the PNW. I'm an adventure seeker, travel blogger, lover of bread, cheese, and wine, dog person, master of the messy bun, and geography nerd.