Of all the things to do in Bend, Oregon, the adventurous ones are our favorite. *shocking news*
OK, fine, we also love all the beer-related things as well, I mean, Bend breweries are really good at this whole epic marriage of hops and flavors, but anyway, I digress.
Bend is great, and the great thing about it is that it's an adventurer's playground. It's no wonder we base here part of the year (all for research purposes for this blog, not at all because we're addicted to Bend and good beer…)
While there's a book worth of epic stuff to do here, we're going to hand you our favorites on a silver platter so you can plan your visit to Bend, Oregon, the best you can.
Things to Do in Bend, Oregon
Here's a map to help you visualize what to do in Bend.
Be sure to visit some of the other posts we mention below for more in-depth guides on the things to do in Bend.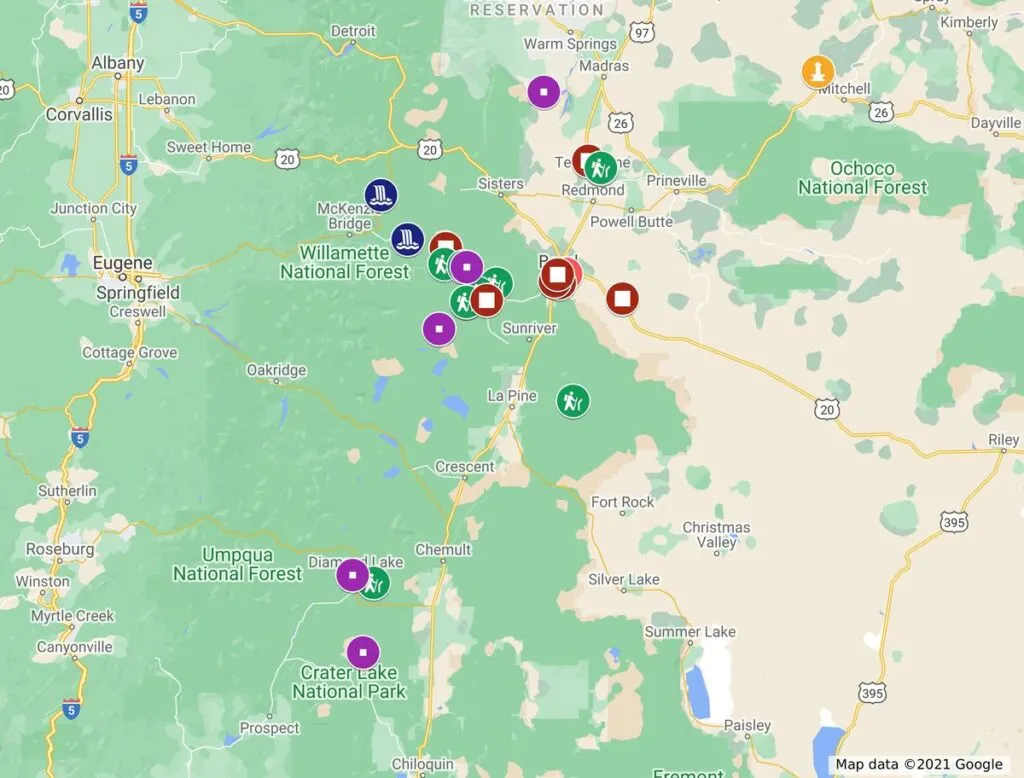 Things to Do in Bend: Best Hiking
We could spend all day talking about the hikes in Bend, but instead, we will cherry-pick some of our favorites or classic must-dos for you.
Here are some of the best hikes around Bend to do during your visit.
Deschutes River South Canyon
3 miles, easy
You are likely hanging out near the city center, so this will be one of the easiest things to do in Bend! Take a loop around the Deschutes River to enjoy an evening stroll or work off all that beer you're likely sampling. It's a loop that goes along the river and crosses a bridge at the half waypoint.
You'll share the path with bikers and watch river floater, and kayakers cruise down the current.
Deschutes River Trail North
6 miles, easy-moderate
It starts at First Street Rapids Park. I used to run this quite a bit when I was younger. I always enjoyed that it was usually uncrowded and peaceful. There's one section where you will have to walk along the road to a connecting trail, but for the most part, it is a tranquil, secluded trail. The canyon at the end is the ultimate reward.
→ You can also go horseriding along the Deschutes River with this excellent tour.
Pilot Butte
2 miles, easy
For less than two-miles, this view is a steal! Hiking up to Pilot Butte is a quintessential thing to do in Bend, everyone has to do it. If you are low on time, it's OK if you drive up to the top, we're not judging. Just make sure you come for a sunset where the colors paint the background of quite literally all the mountains in the area! On a clear evening, you can even see Mount Hood from here.
Tumalo Falls
7 miles, moderate
This trail is a bit deceiving, but that's what makes it fun. You get the main attraction straight from the parking lot! Tumalo Falls is an easy few steps from your car door, and there's even a convenient platform for you to snap a photo. But we, of course, suggest you take to the trails and get a bit closer.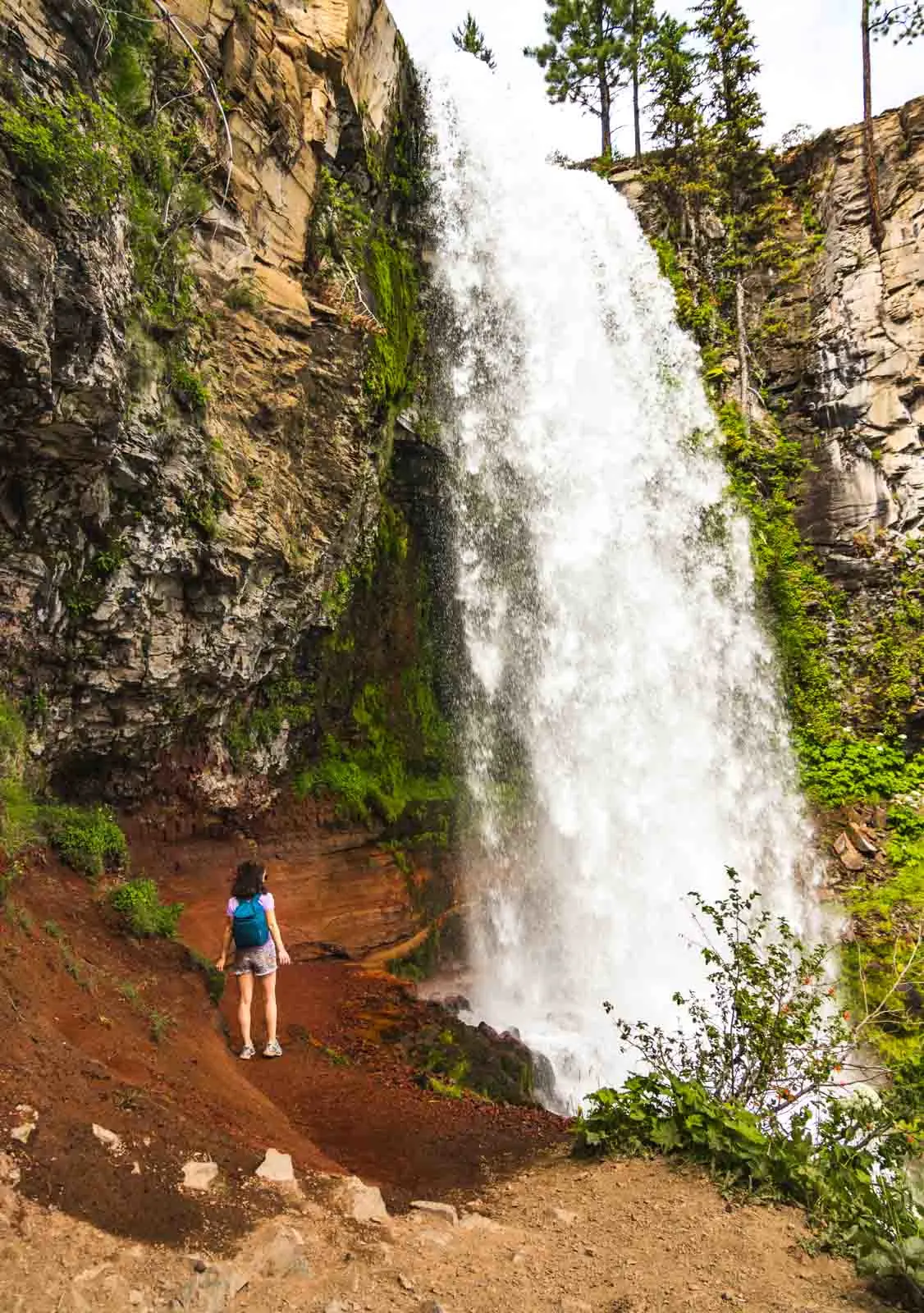 There's a side trail that leads to the base of the falls and another to the top of the falls. Continue along the path, and you'll find a bunch of smaller falls and great views along the way.
Do keep in mind there's a gravel road to reach the trailhead of this hike, and you will be sharing this trail with some bikers.
Paulina Peak
6 miles, hard
Steady and steep and luckily, mostly shaded, this trail will make your legs burn a bit. The views from the top stretch for miles being that this peak is the tallest point in the Newberry Caldera Rim with Paulina Lake down below.
For those in a hurry, you can cheat and drive to the top. There's also a hot spring to relax in afterward and a lake to play in when you make it back down.
Don't have a lot of time but want to see more? Check out this epic tour that takes you all around Newberry and Paulina Peak!
Misery Ridge Trail
2.2 miles, hard
Smith Rock State Park has a bunch of trails you should try and tackle if you have the time, but a short and sweet hike that gets you some magnificent views of the park is the Misery Ridge trail. While it's short and sweet, you'll have to work for it. It's a steep climb to the top, but you have some breathtaking views on the way to take your mind off it.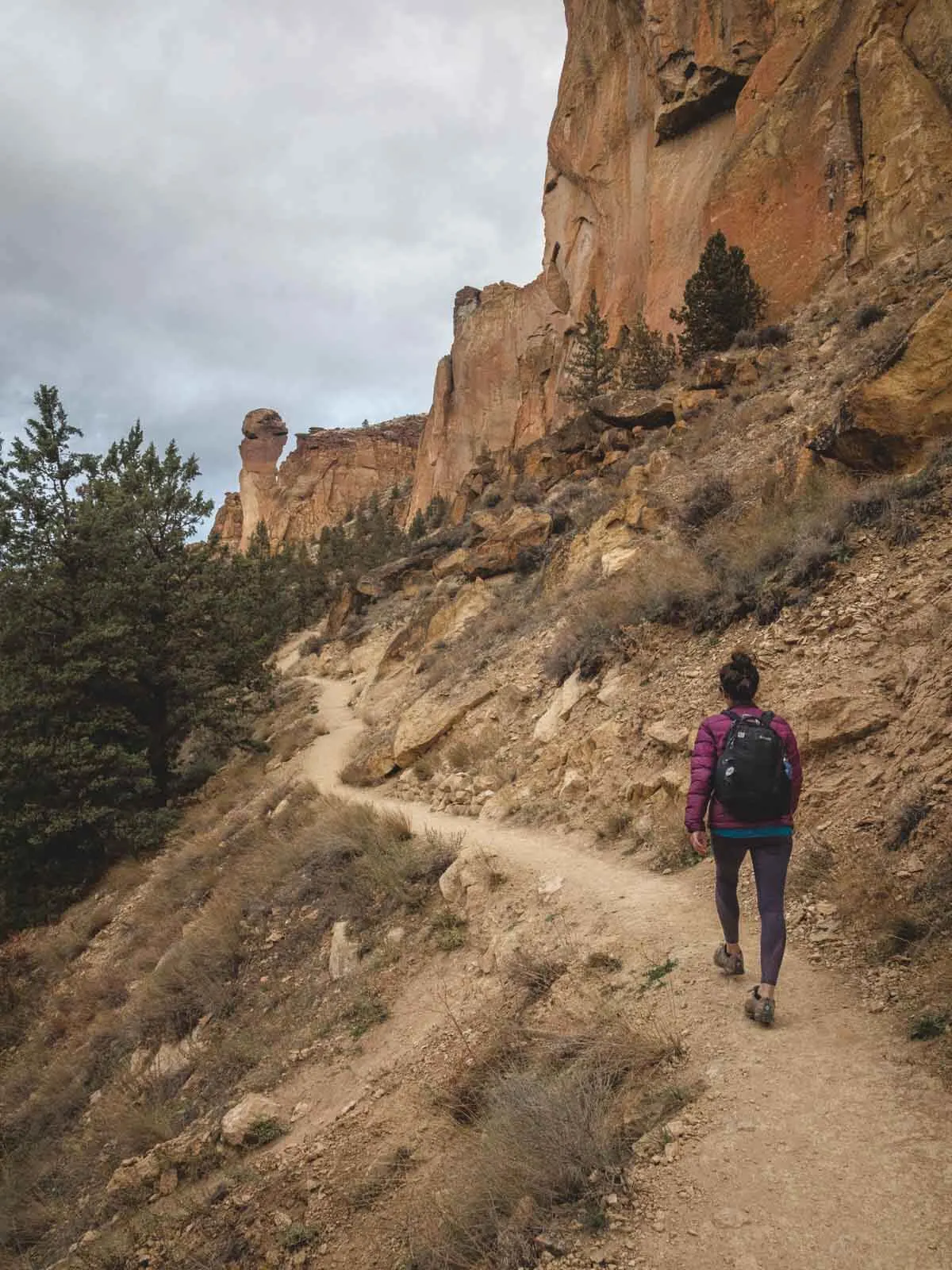 Tumalo Mountain
4 miles, moderate
A steady incline to the top of the mountain and the reward is stunning views of the Three Sisters, Broken Top, and Mount Bachelor. This is the perfect hike to do in the morning and then spend the rest of the day swimming or SUPing the Cascade Lakes straight after.
South Sister
12.2 miles, hard
Two steps up, one step down. That was my tagline for hiking South Sister. Despite the sometimes frustrating scree towards the summit, and the grind it takes to the lake, and the mosquitos in the forest, the South Sisters hike is crazy good and a favorite!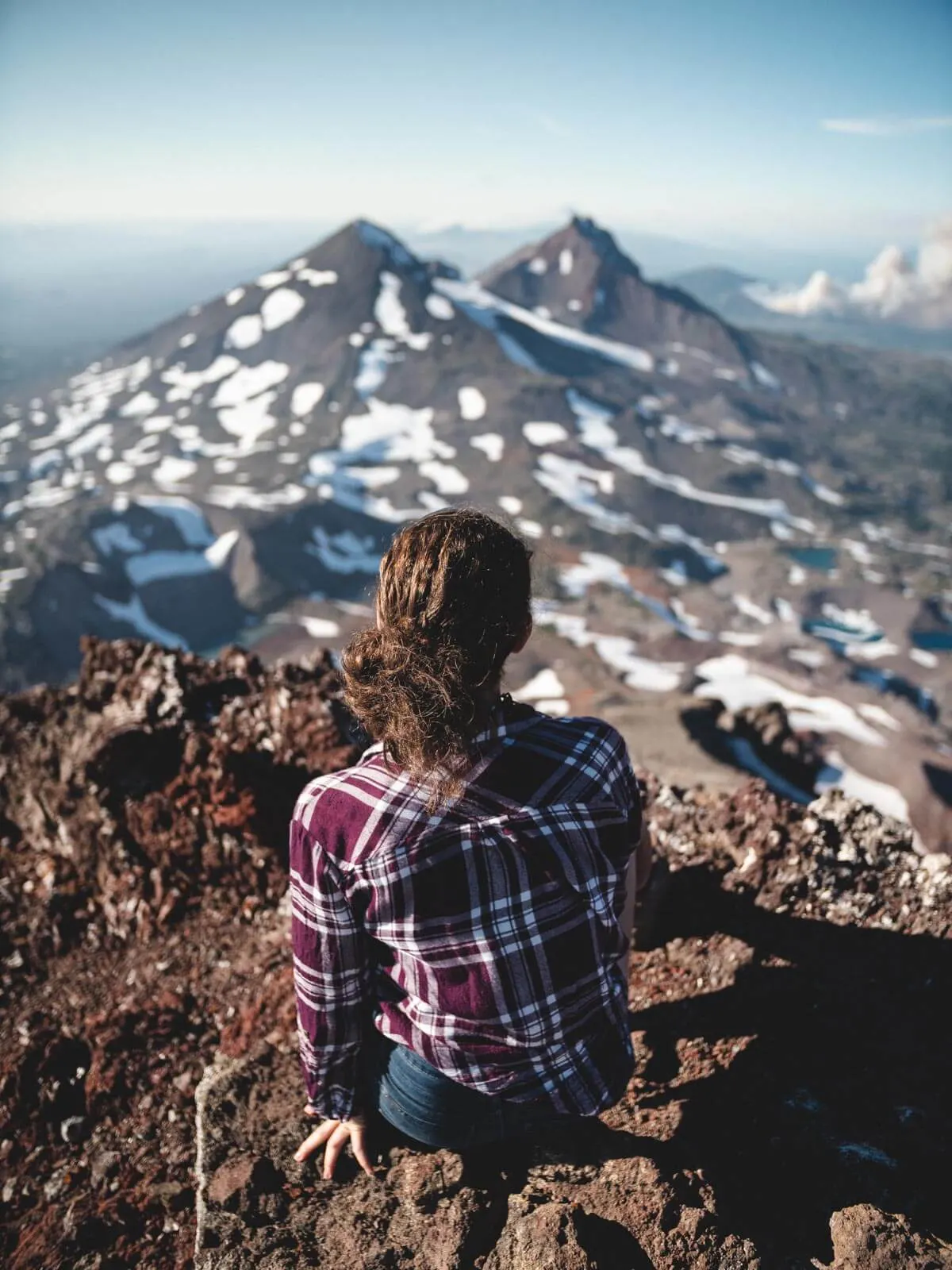 The views of Broken Top help you on your mission on getting to the top, and Teardrop Pool makes the perfect pitstop on the way up. When you finally make it, you're greeted by a blinding glacier that leads you to a jaw-dropping view of the two other sisters right before you.
---
READ MORE: Your Guide to Hiking South Sister in Bend, Oregon
---
Broken Top
15 miles, hard
If you're doing South Sister, you'll see Broken Top almost the whole way up! While summiting Broken Top is a bit technical, you can instead hike up to No Name Lake and Bend Glacier. At the top are up close and personal views of the craggy summit and a turquoise blue glacial lake.
To make the hike less strenuous, you can camp around the lake for the night and take in the starry sky before heading back down bright and early. Another option is to take a 4×4 up the forest road 370 and 380 to the Broken Top crater trailhead. It's easy to find on Google Maps, but you will need a serious 4×4 as the trail has gotten worse lately.
More Adventurous Things to Do in Bend
You love being strapped up and dangling over edges or throwing yourself over cliffs, huh? Here are the best things to do in Bend for you to scratch that itch.
Bungy Jump
Chuck yourself 300 feet over a bridge and down into the Crooked River Gorge in Ogden State Park if you're into that type of thing. Oregon Bungee Adventures is the tallest commercial bungee jump in North America. When you're not screeching during your free-fall, you'll enjoy gorgeous views of the Cascade Mountains in the distance.
Caving in a Lava Cave
Yep, with a bunch volcanoes nearby, you bet there's a vast network of lava caves to explore! You can take tours of the caves to get down deep into them safely.
White Water Rafting & Kayaking
Swish down the Deschutes River for some class three rapid and a day of fun. The river takes you through a gorgeous western canyon ride. Here's more on white water rafting in Oregon.
You can get in some great water white kayaking right in town. If you do the Deschutes Trail mentioned above, you'll see some crazy dude kayaking right into town.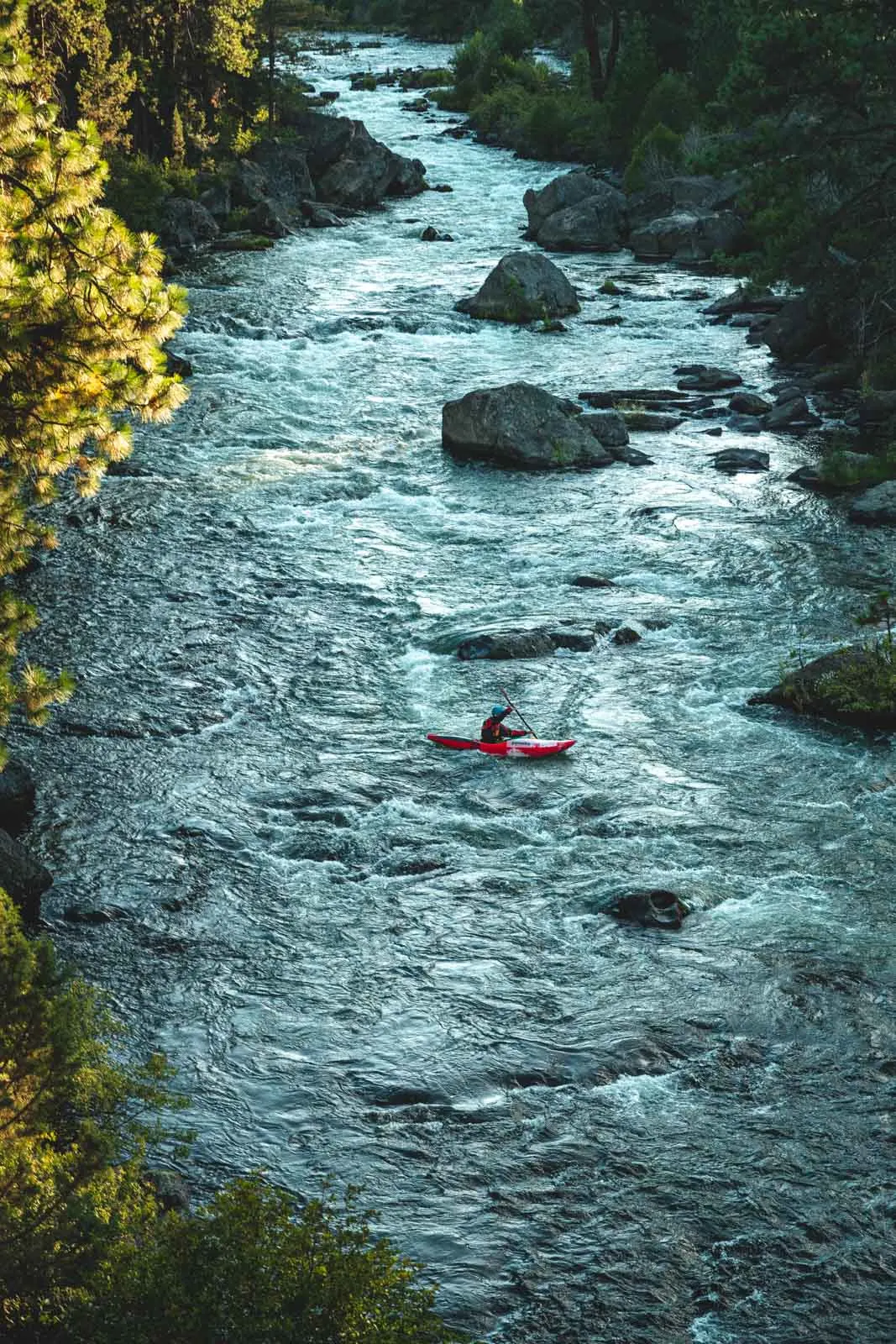 Cycle the Three Sisters Scenic Bikeway
There are hundreds of miles to bike on in the area, and the Three Sisters could not be a more perfect place to whizz through on your bike. A popular trail is Sisters to Smith Rock at 36 miles.
Go Mountain Biking
Prefer to bike in the mountains? Of course, Bend has that too. Here are all the bike trails in Bend.
Rock Climb at Smith Rock State Park
Smith Rock has over 2,000 rock climbing routes and is essentially a mecca for lovers of the sport. Not to mention the wildlife, a beautiful river that flows through, and the stunning hikes that I've mentioned already. There are plenty of guides for the greatest routes, but Monkey Face has some challenging and impressive routes and is probably the most well-known.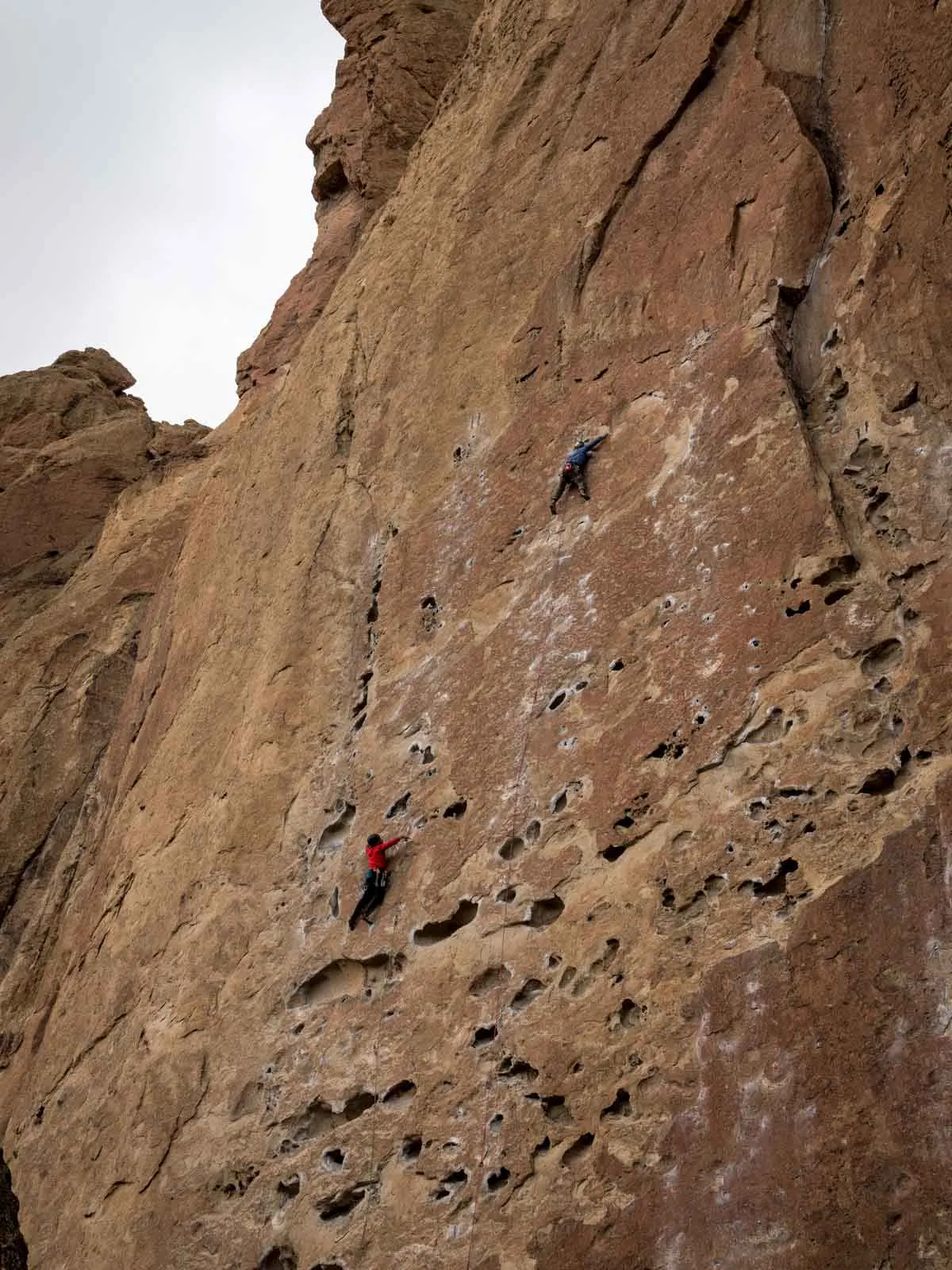 → You can take a rock-climbing tour in Smith Rock State Park too – they provide all the gear.
Badlands ATV
Aside from hiking Oregon's Badlands, you can go on an off-road ATV adventure as well surrounding yourself in an epic volcanic landscape just outside of town. An ATV ride is not only fun but quite an efficient way to adventure, wouldn't you say?
Things to Do in Bend on the Water
Deschutes River
The best thing to do in Bend for surfing, floating, kayaking, SUPing…
We've already told you to do the quick hike around the river, but there's so much more! It would be sacrilegious to visit Bend and not float down the river. Buy a cheap air mattress or donut floaties and baptize yourself in the Deschutes River!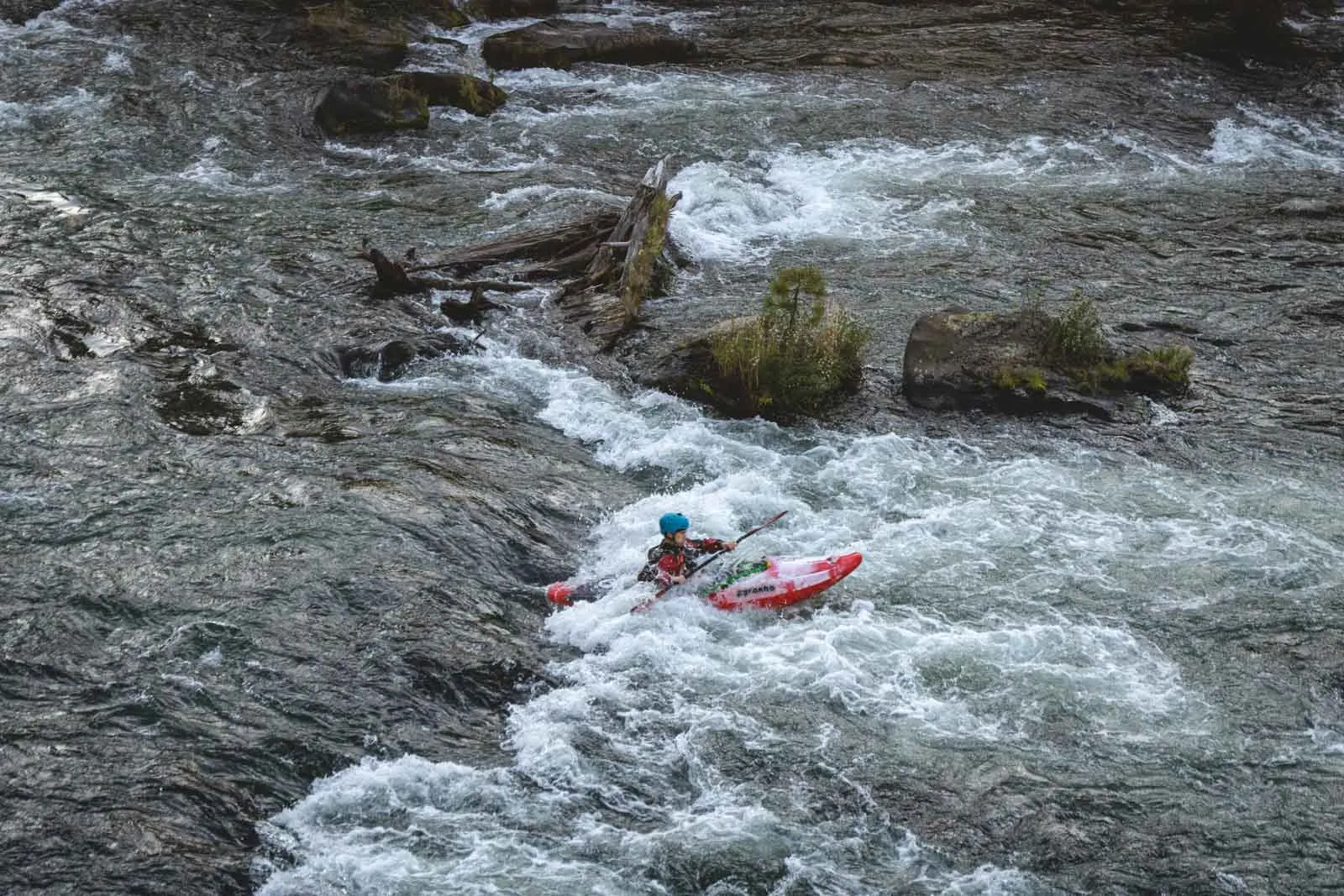 Grab your kayak or SUP board and float down the river or get a work out in by paddling upstream. For those who need a rental, you can go to Riverbend Park and pick one up.
And yes, the Deschutes River can even accommodate those who miss the coast and are looking to catch a wave. Head to Bend Whitewater Park for a surf sesh, it's not the beach, but there is a wave to practice on right in town. Read our guide on the Deschutes River in Bend for more info.
Cascade Lakes
The best thing to do in Bend for snowshoeing, SUP and kayak, and hikes.
This pocket of incredible lakes is Bend's playground, especially in the summer. The lakes are bustling with locals and tourists SUPing, kayaking, fishing, and boating.
For those without equipment, you can rent kayaks and SUP boards at Lava Lake and Elk Lake.
Tons of trailheads begin at the lakes, including some of our favorites mentioned above. Broken Top starts at Todd Lake, and the South Sister hikes start at Devils Lake. Most of the lakes have easy trails that go all around them.
If you're exploring the Cascade Lakes during winter, don't worry, you can still have fun. Swampy Lakes Sno-Park is excellent for snowshoeing, Vista Butte caters more towards Nordic skiers, and Edison Butte offers a bit for everyone including skiers and snowmobiles.
Things to Do in Bend in Winter
Make no mistake; Bend is still a haven for visitors in winter. And while it does get downright cold here, the sun is still perpetually shining. So get your snow gear ready and go! Here's a quick rundown on what to do in Bend in the winter.
Snowshoeing – Tumalo Mountain, Tumalo Falls, or go for a quick and easy walk at Vista Butte for excellent views of Bend. Check out this epic snowshoeing tour!
Sledding – Drake Park for those wanting to stay in town or the Dutchman Flat Sno-Park in Sisters.
Skiing and Snowboarding – Mount Bachelor!
What Else is There to Do in Bend?
Only a million things that would take us way too long! But I'll be quick… The McMenamins Bathhouse is a refuge for soaking your muscles that hiked and biked all day. We have exceptional places to eat because the competition is so stiff. The Bend Ale Trail is pretty crazy, but you can make it a goal to eat and drink at a brewery once a night (pick up a "passport" at any brewery).
There's constantly something on—Concerts at the Amphitheater, festivals downtown, Marches, farmers markets, you name it, there's something happening during your visit.
Watch out for Brew Fest every year (sometime in August), WinterFest in February, First and Friday Art Walks… There's always something to do in Bend, no matter the season.
→ Take this highly rated Bend city and brewery tour if you don't have a lot of time or if you want to meet other travelers.
Sample Bend Itineraries
Here are five fun days in Bend, but let me warn you, doing all five of these days in a row would be pretty exhausting. So be sure to take some time for hanging out and drinking a few beers.
Day 1 – If you just got in, take a stroll through downtown Bend and keep going on the Deschutes River Trail. If you have time and it's summer, float the Deschutes river as your first day in Bend initiation! Then catch the sunset from Pilot Butte and have a beer at literally almost any brewery.
Day 2 – Spend the day out on the Cascade Lakes. Go hang out on Elk Lake or Lava Lake if you need to rent a SUP or kayak.
Day 3 – Go for a big hike or some other big adventure! Summit South Sister? Go mountain biking? White water rafting? Go for it!
Day 4 – Go hang out at Newberry National Volcanic Monument for the day. Hike Paulina Peak, stroll around the lakes, see some crazy lava rocks, and then soak in Paulina Hot Springs. You'll also be near Sunriver, a small tourist town just south of Bend. Perhaps stop in at Sunriver Brewing for a beer and a bite (A Rippin Pale Ale and a massive hot Pretel is a winner).
Day 5 – Take on Smith Rock State Park, do some hikes, have a picnic, and if you want, maybe sign up for a rock climbing course.
---
READ MORE: Your Guide to Newberry National Volcanic Monument
---
Day Trips From Bend: (Over an Hour Away)
If you're getting sucked into staying in Bend longer—good! The list doesn't end, and we don't blame you for wanting to stay. But if you're down to take a few day trips to see a bit more just beyond Bend, we have you covered too.
Lake Billy Chinook
hour and twenty minutes from Bend
The Cove Palisades State Park offers a stunning view over Lake Billy Chinook, and as soon as you step foot in the area, you know it's something special. The lake is set in a dramatic deep canyon surrounded by towering rimrock basalt cliffs; this isn't your average lake.
There are kayak tours available here, or you can put in your board or kayak at the Deschutes day-use area.
There's the Deschutes Camp and Group Camp campsites just behind the day-use area to extend your stay here. Just down the street, there's the Tam-a-lau Trail for a moderate six-mile walk around The Cove Palisades so you can take in more of those views.
---
RELATED: Your Guide to Cove Palisades State Park
---
Proxy Falls & Tamolitch Blue Pools
hour and a half to two hours from Bend
Proxy Falls is quite possibly the most picturesque place in Oregon, and it's easily reachable from Bend. It's an easy 1.6-mile trail that brings you to the foot of a majestic cascading waterfall.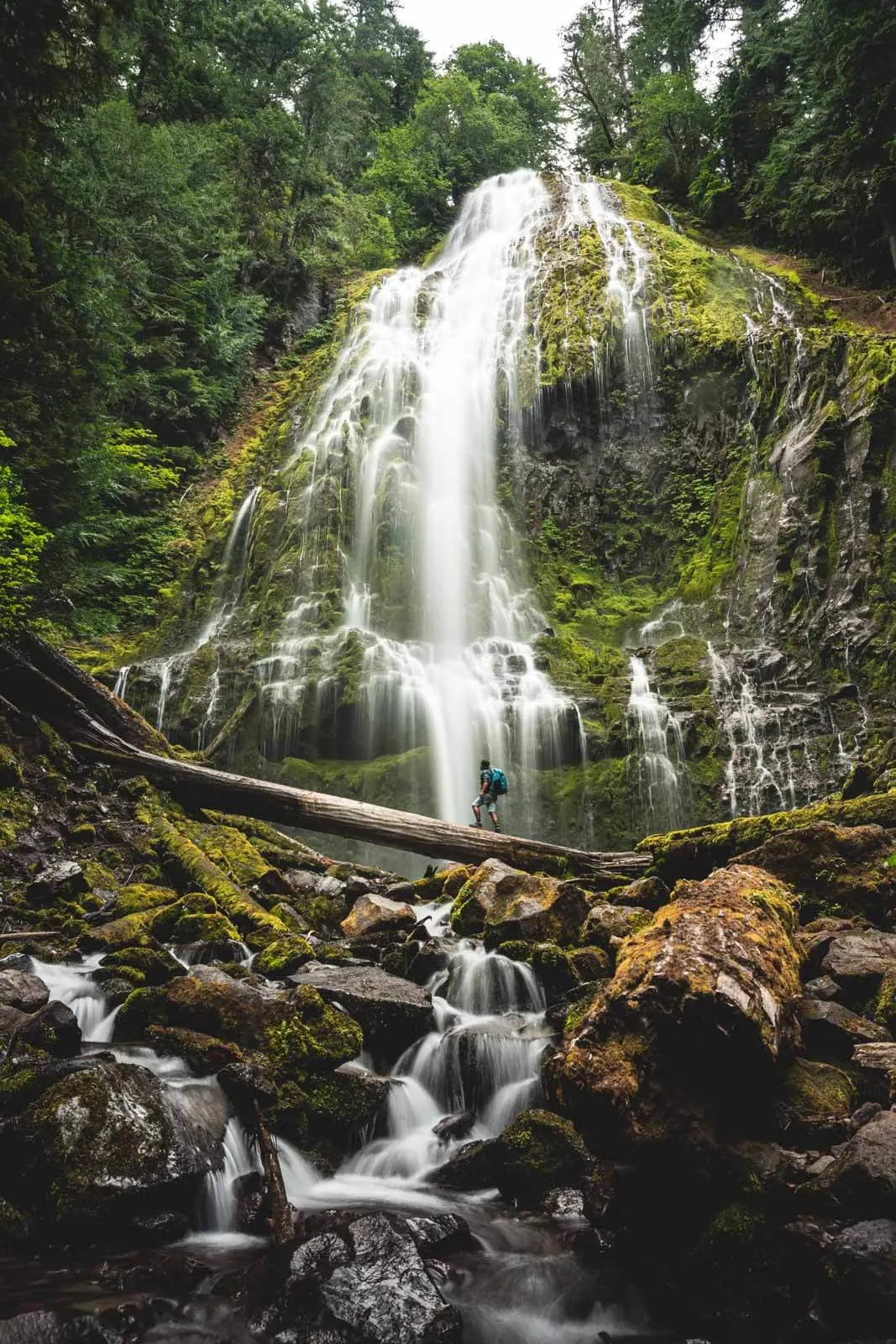 Since it's a bit of a drive out for such a short trail, another quick and easy path you could add on while you're here is Tamolitch Blue Pool. It's only a four-mile hike along the beautiful McKenzie River, which leads you to the Blue Pool.
Speaking of the McKenzie River, just between these two beautiful spots is the McKenzie River trail, which is perfect for mountain biking and hikers.
---
READ MORE: Proxy Falls Hike—Central Oregon's Most Epic Waterfall!
---
Mount Thielsen and Diamond Lake
hour and a half from Bend
You could spend a few days around this area and not get sick of it. The hike to Mount Theilsen will be a feat, it's a hard 9-mile trek, but luckily there's Diamond Lake just below where you can cool off.
Take a dip, kayak, paddleboard, fish, or almost any other lake activity you can think of is here. Take a wander towards the north, and you'll have a streak of waterfalls in the Umpqua National Forest to explore, and if you'd like to stay and play, just camp at Diamond Lake.
Here's more info on hiking Mount Thielsen and camping at Diamond Lake.
Painted Hills at the John Day Fossil Beds
two hours from Bend
Nerd out on the history and paleontology and then hit the trails. The majority of the trails are straightforward walks that only go a short distance but transport you to an alien landscape of colorful multilayered hills for miles.
There are more trails in either direction from the Painted Hills at Sheep Rock Unit and Clarno, but you won't be able to fit these three areas in one day.
While you're in the area, a drive-through Mitchell is inevitable. Grab a brew and a bite to eat at Tiger Town and fill up your tank if needed.
Crater Lake
two hours from Bend
There are around twenty or so trails sprinkled around Crater Lake, and it will easily take days to enjoy them all, but if you are looking for things to do around Bend, it's possible to squeeze in a well-worth it visit here.
You can pop in to see Plaikni Falls and easy two-mile trail, then come back out for The Watchman Peak Trail, which is a moderate 1.6 miles up a peak for some truly spectacular views of the lake.
There's a trail on Wizard Island as well if you plan on taking a boat tour out, and if you're strapped for time, you can quickly drive around the west rim and get some great views.
---
READ MORE: Things To Do at Crater Lake National Park: Hikes, Camping & When to Visit
---
Best Time to Visit Bend
Anytime, seriously! Bend, Oregon has some of the best weather, even for winters. In summer it's nice and warm but dry and usually in the 80s. You'll want to bring a jacket at night, though. Fall is gorgeous, and winters are very snowy and cold. But that sun is still out, which certainly does help.
You can expect the 40's during the day and drops to the 20's at night. The spring brings minimal rainfall and starts creeping into the 60s. No matter what time of year, there's something to do in Bend, and the weather is more often than not, just right.
Don't forget to go back up and click the links in this post for more info on the specific adventures.
More Things to do in Central Oregon
We hope this list helped you decide what to do in Bend and beyond! Check out more about Bend and the other adventures in Oregon.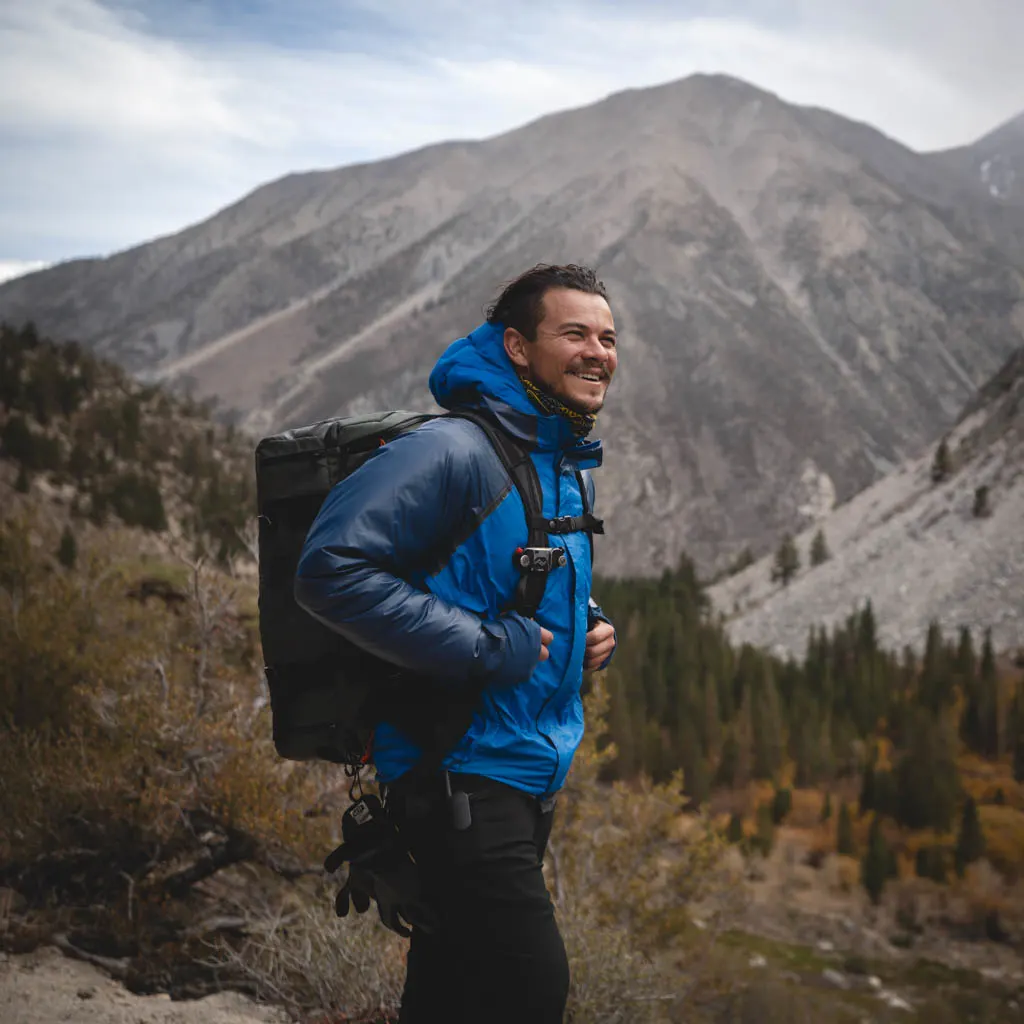 Oregon native and explorer at heart. Loves tackling expeditions around the world and drinking a good beer at the end of the day. PNW obsessed, VW nerd, and surf or snow riding fanatic.