There's no doubt that the hikes in Bend are some of the best in Oregon.
And the best part? There are TONS of them just in Bend's backyard, so you'd need a few solid months to conquer them all. While I'm sure most of us can't spend our days hiking all day (although we wish we could), we think this list of cool Bend hikes will start you off well.
We have everything from quick hikes to challenging, to multiday treks listed here. Plus, a few are just a tad further outside of Bend but still doable within a day.
17 Badass Bend Hikes to Conquer
---
For our visual people, here are all the hikes listed here in map form. Feel free to save the map and check them off as you go. If you're going beyond Bend to hike, we got you covered! Here's our epic list of amazing things to do in Bend and more of our favorite hikes in Oregon.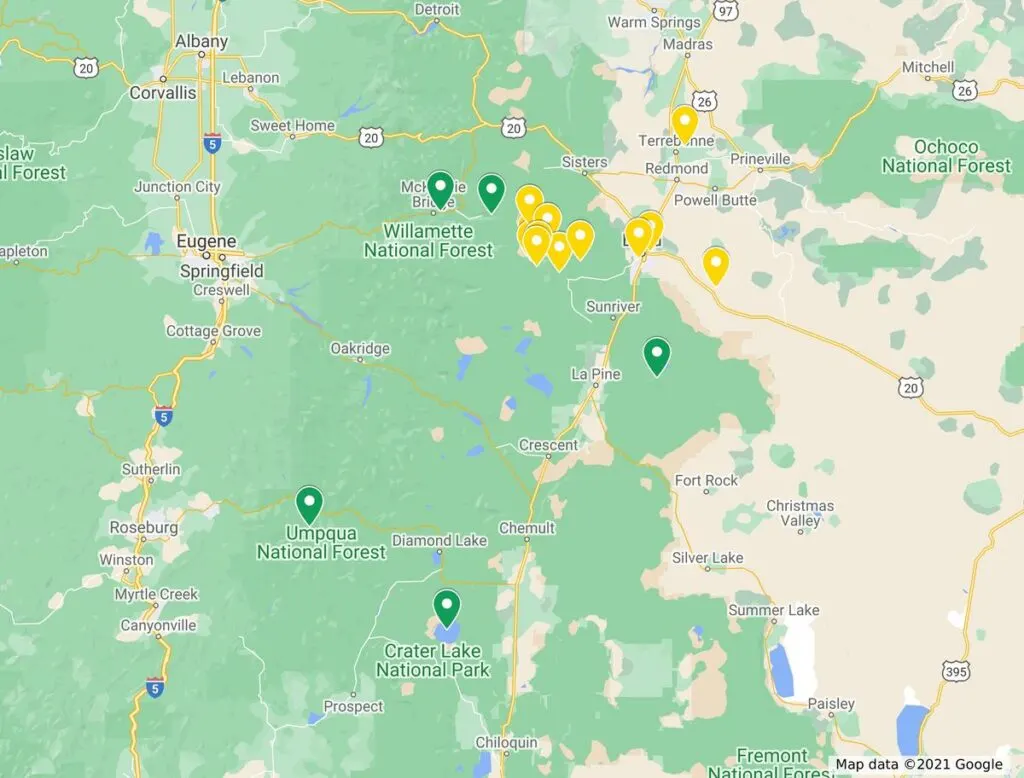 1. Moraine Lake Trail
Distance: 5.1 miles
Type of Trail: Out & Back
Difficulty: Moderate
Easily accessible off the Cascade Lakes Highway, this Bend hike provides a sturdy uphill climb. With upwards of 1,500-feet in elevation gain and some patches of loose terrain, make sure your hiking boots have solid traction.
Don't let the first couple miles of dense forest fool you; some heart-racing views are waiting on the latter part of the trail. Once you pop out of the forest, you'll be perched above a scenic plateau with South Sister and Broken Top looming on the horizon.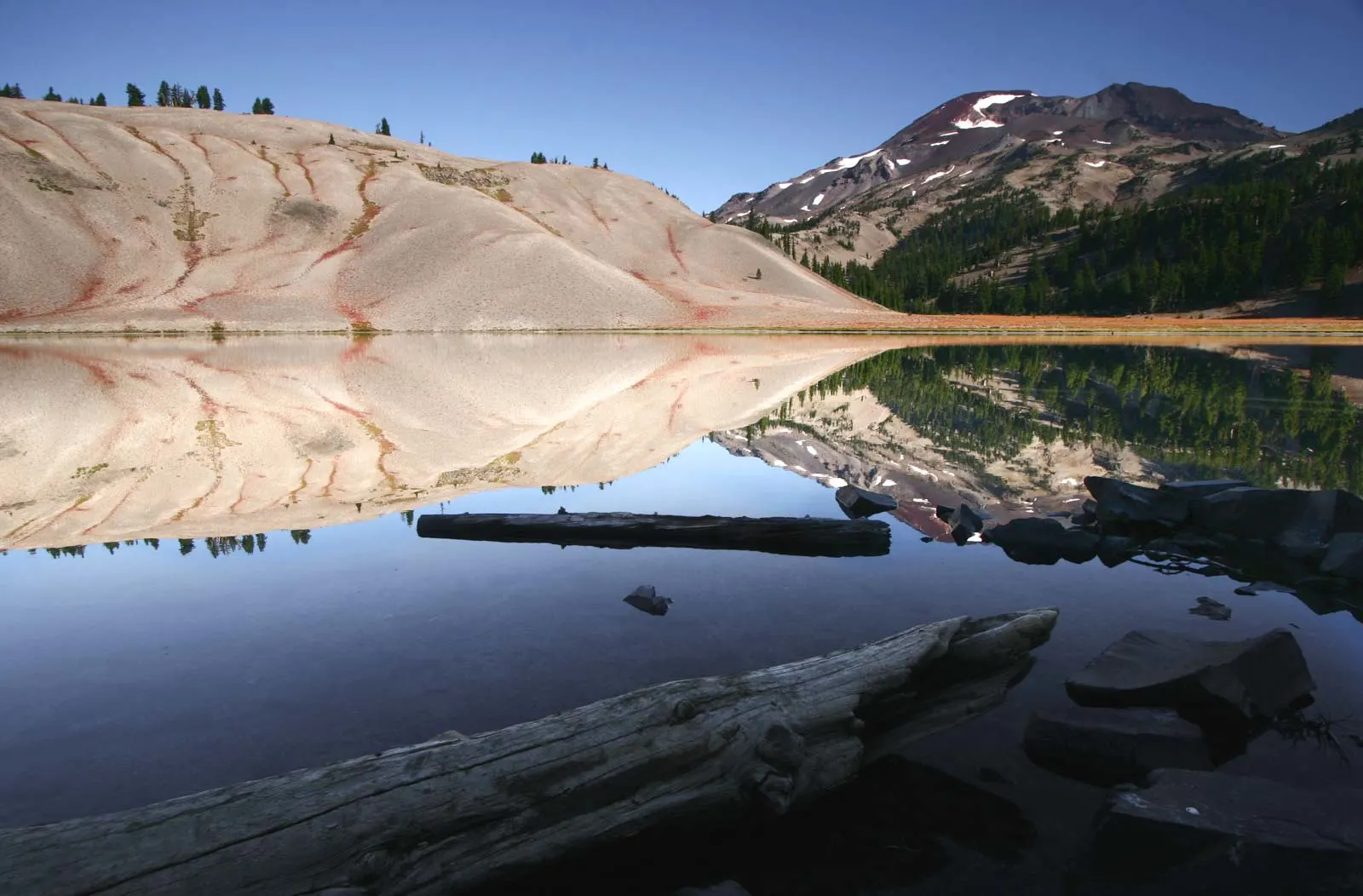 Take the signs pointing towards Moraine Lake and march along until you're greeted with a crystalline lake facing the snow-lined peaks. Moraine Lake provides a refreshing swim to cool off if you find yourself drenched in sweat. If you're up for a more challenging climb, you can connect to the South Sister Trail to ascend the mountaintop.
Bug spray is a must for this path as mosquitoes are relentless in this forest!
---
READ MORE: Hiking Moraine Lake Trail in Oregon—2 Spectacular Routes!
---
2. South Sister Trail
Distance: 12.2 miles
Type of Trail: Out & Back
Difficulty: Hard
When it comes to mountain hikes in Bend, Oregon, it doesn't get any better than South Sister! A successful summit of this iconic mountain will take you to Oregon's third tallest peak and present a life-changing adventure.
With just under 5,000-feet of elevation gain, be prepared to have your heart pounding for much of the journey. This hike will not require as many technical skills as others in Oregon, but trekking poles, spikes, and gaiters are advised.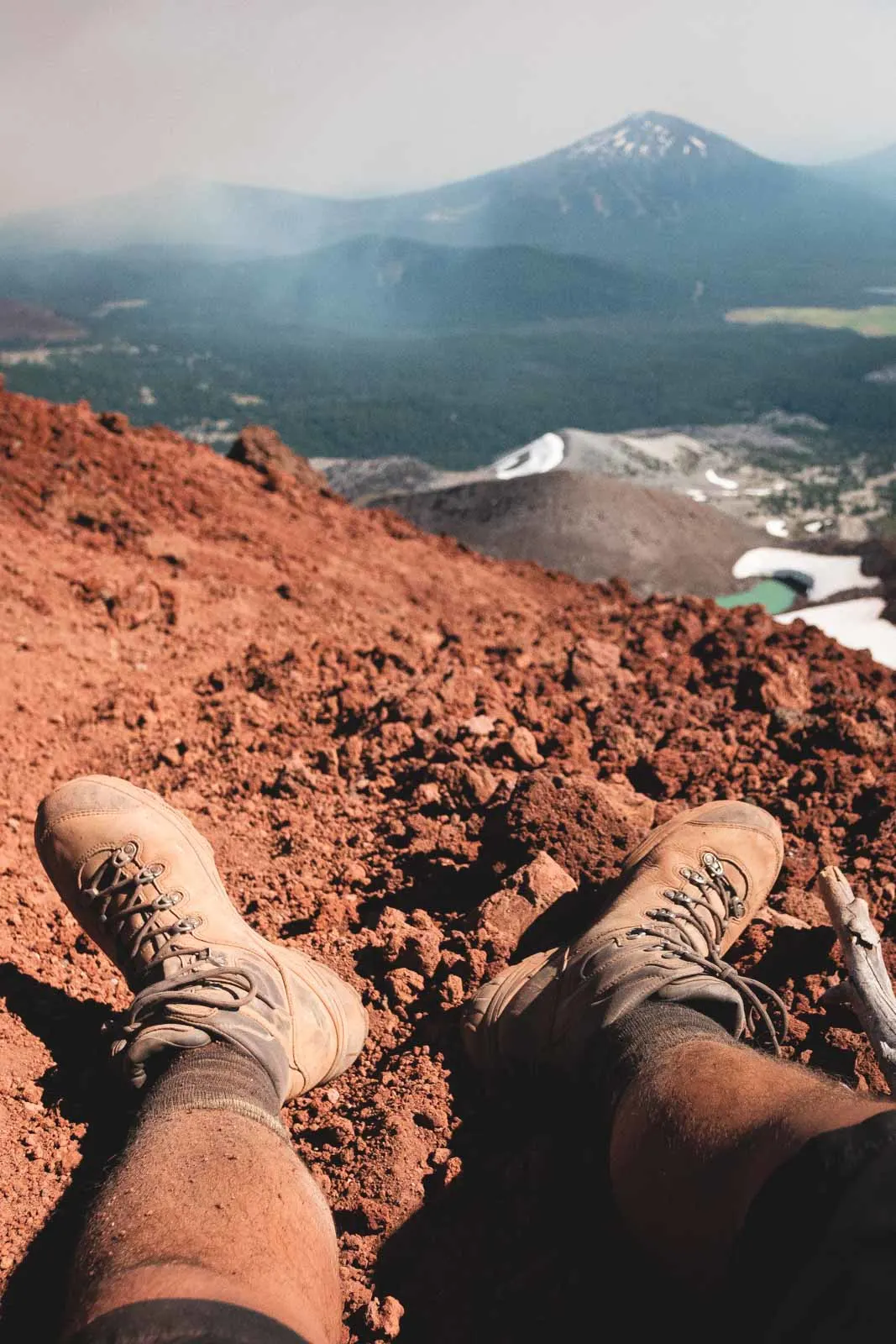 The first few miles will be through the dense forest but soon becomes exhausting with a steep climb along rocky terrain. Also, try to begin your ascent before sunrise to avoid slush caused by melting snow.
Whether you witness the sunrise above the horizon or have clear skies, the otherworldly vistas from the summit are pure magic. Admire neighboring peaks such as North Sister, Three Fingered Jack, and Mount Bachelor, and spot the spellbinding crater below.
---
READ MORE: Your Guide to Hiking South Sister in Bend, Oregon
---
3. Three Sisters Loop
Spanning nearly 50-miles, the Three Sisters Loop is the ultimate hiking adventure on Bend's doorstep. Typically completed in three or four days, this thrilling journey will give you excellent views of several famous Cascade Mountain Peaks, including the Three Sisters, Broken Top, and Mount Bachelor, to name a few.
You'll also find mesmerizing lava fields, alpine meadows, turquoise lakes, verdant forests, and enchanting streams in every direction.
In general, the elevation gains along the loop are not the steepest but expect some steady climbs throughout the trip.
If you have time for some side trips, there are lots of shimmering lakes nearby for breathtaking panoramic snapshots. Plus, you'll discover a diverse range of terrain, including spruce forests, blooming wildflowers, rocky riverbeds, pumice material, and volcanic landscapes.
Just keep in mind that there are fewer camping options and places to find drinking water compared to other long-distance hikes.
Prepare for crowds around famous landmarks and day hikes along the loop, especially during the peak hiking period of July-August. If you decide to hike during a later part of the season, always check weather forecasts for potential snow.
And don't forget to fill out a permit at your starting trailhead before beginning this incredible voyage.
RECOMMENDED GEAR:
4. Broken Top Summit
Distance: 14.0 miles
Type of Trail: Out & Back
Difficulty: Hard
Experienced mountaineers only on this Bend hike!
A proper mountain climbing experience is definitely recommended for this exhilarating adventure. Expect a full-day climb of upwards of 10-hours with an elevation gain of nearly 4,000-feet.
Be prepared for a scramble part of the way, and trekking poles are advised when hiking along the ridge. Much of the trail is exposed, and loose rocks can potentially cause a dangerous stumble. Also, spikes are a must, and bring a rope for further safety precautions.
Once you reach the summit, the views of the surrounding peaks are jaw-dropping, and the feeling of adrenaline turns into pure ecstasy. Standing face to face with other mountains like North Sister and South Sister makes you feel on top of the world.
5. Smith Rock State Park
Nestled in Central Oregon's high desert, Smith Rock offers some of the best hikes near Bend, Oregon, outside of verdant forests and snowy peaks. Sheer canyons, basalt cliffs, and craggy geologic formations create an otherworldly atmosphere when exploring the region.
The Misery Ridge Trail is one trek that should top your list for unbelievable views of the canyon rim and rocky spires. There is much elevation gain on the unstable terrain, and trekking poles will help if you have bad knees.
Once you reach the summit, take in the breathtaking views of the jagged pinnacles from the Monument Area and spot the famous Monkey Face.
There is no shortage of exhilarating hikes to conquer in Smith Rock State Park, and you could spend days exploring the canyon.
Summit Loop is an adventurous 7.3-mile trek that offers incredible views of the Crooked River cutting through the landscape, and the rocky spires from a different vantage point. The Wolf Tree to Burma route ventures off the beaten path gives you fantastic scenery of the nearby gorge, and you may even spot nesting golden eagles. Read more about Smith Rock State Park.
→ If you are interested in rock-climbing in Smith Rock State Park as well, this is a great rock-climbing tour.
6. Tumalo Mountain Trail
Distance: 3.8 miles
Type of Trail: Out & Back
Difficulty: Moderate
For spectacular alpine scenery, this Bend, Oregon hike MUST be on your list when in central Oregon! The relatively short path is nearly 100 percent uphill, but you'll be grinning ear to ear with the panoramic views of the snowy mountains that dominate the horizon.
Broken Top, Mount Bachelor, and pristine alpine meadows decorate the landscape as you reach the final stretches of the trail. Ensure your hiking shoes have plenty of traction as the steep inclines and loose gravel could lead to a fall if you're not careful. The trail can potentially be icy and snowy, and bringing some spikes along will make the climb much easier during colder months.
Otherwise, the trail is well marked and maintained to reach this jaw-dropping vista of the Oregon Cascades.
7. Pilot Butte
Distance: 1.8 miles
Type of Trail: Out & Back
Difficulty: Easy
This brisk walk is perfect for its central location in Bend and to get your blood flowing for lengthier hikes in the region. However, don't underestimate the phenomenal views of the Cascades from this vantage point.
Although the trail won't even surpass two miles, there is still a fair elevation gain of over 450 feet. If you're not in relative shape, then the trail might eclipse the easy scale for you.
The path is well maintained and provides a gravel route to the top, with cars passing alongside you, and a natural route. Save this hike in Bend for a clear day as you'll be rewarded with a breathtaking bird's eye view of Bend and all the surrounding peaks near town.
Also, we won't judge if you just drive to the top but this is definitely one of those spots in Bend you should visit, particularly at sunset.
8. Deschutes River Trail
Distance: 22.2 miles
Type of Trail: Out & Back
Difficulty: Easy
Despite a recent fire that charred some of the landscape along the Deschutes River, positive signs point the road to recovery. Blooming wildflowers, vibrant grasslands, and other vegetation should make this one of the most peaceful hikes in Bend. Elevation gain is modest along the long trail and should not present a significant challenge for less experienced hikers.
Gorgeous rolling hills dot the landscape around the river, and you'll often spot kayakers and fishermen in the water. Search for the cliffs of the Deschutes Canyon nearby as the path is nestled along the outskirts of the desert.
Lots of wildlife can be found, but it's essential to be mindful of rattlesnakes that sometimes frequent the area.
Another cool feature about this Bend, Oregon hike are the trains that sometimes coast along the tracks beside the trail. It gives you a peek into the life of the old west when locomotive travel was more common.
Here's our guide to hiking (and floating) the Deschutes River.
→ You can also go horseriding along the Deschutes River – take this horseriding tour from Bend.
9. Tumalo Falls
Distance: 6.5 miles
Type of Trail: Out & Back
Difficulty: Moderate
The Three Sisters Wilderness is packed with some of the most dramatic terrains near Bend and Tumalo Falls is one of its many magical settings. Surrounded by evergreen forests, the falls plunge over the edge of basalt cliffs into a soothing creek below.
The viewpoint of Tumalo Falls is easy to spot from the trail, and the viewing area can get quite crowded during peak hiking time.
Venture further along the path and hear the Tumalo Creek peacefully flowing beside you as the crowds fall further behind. Keep your eyes peeled for numerous viewing areas of other cascading waterfalls along the river.
Elevation gain on the trail is minimal, but several sections become incredibly narrow, and it is crucial to watch out for mountain bikers who share the route.
10. Green Lakes
Distance: 9.1 miles
Type of Trail: Out & Back
Difficulty: Moderate
Located only 27 miles from Bend, the Green Lakes hike near Bend, Oregon, provides some of the most awe-inspiring images in the area.
Meander around peaceful rivers, listen to cascading waterfalls, and gaze at snow-capped mountains. With ideal conditions, the area around the trail is excellent for camping should you wish trek at a slower pace and fully appreciate the magical setting.
Fall Creek peacefully flows along obsidian rocks through the verdant forests revealing lots of incredible photo opportunities. Once the trail exits the forest, admire the craggy mountaintops towering above shimmering lakes and lava fields.
Plan to arrive early if hiking during the summer as the enchanting scenery and short distance from Bend makes this a popular trek. You may want to invest in some crampons if tackling this route during the winter as ice and snow build-up is common.
---
READ MORE: Tackling the Green Lakes Trail Near Bend, Oregon
---
11. Badlands Rock Trail
Distance: 12.5 miles
Type of Trail: Out & Back
Difficulty: Moderate
Get to know another side of the unearthly terrain near Bend by wandering the Badlands Wilderness Area. Located only 16 miles east of Bend, this flat trail will take you through central Oregon's high desert and barren landscapes.
The path is surrounded by gorgeous Juniper trees and lava systems while showing you the nearby peaks looming on the horizon. Sage and gorgeous wildflowers dot the landscape, and you'll likely get a glimpse of desert wildlife.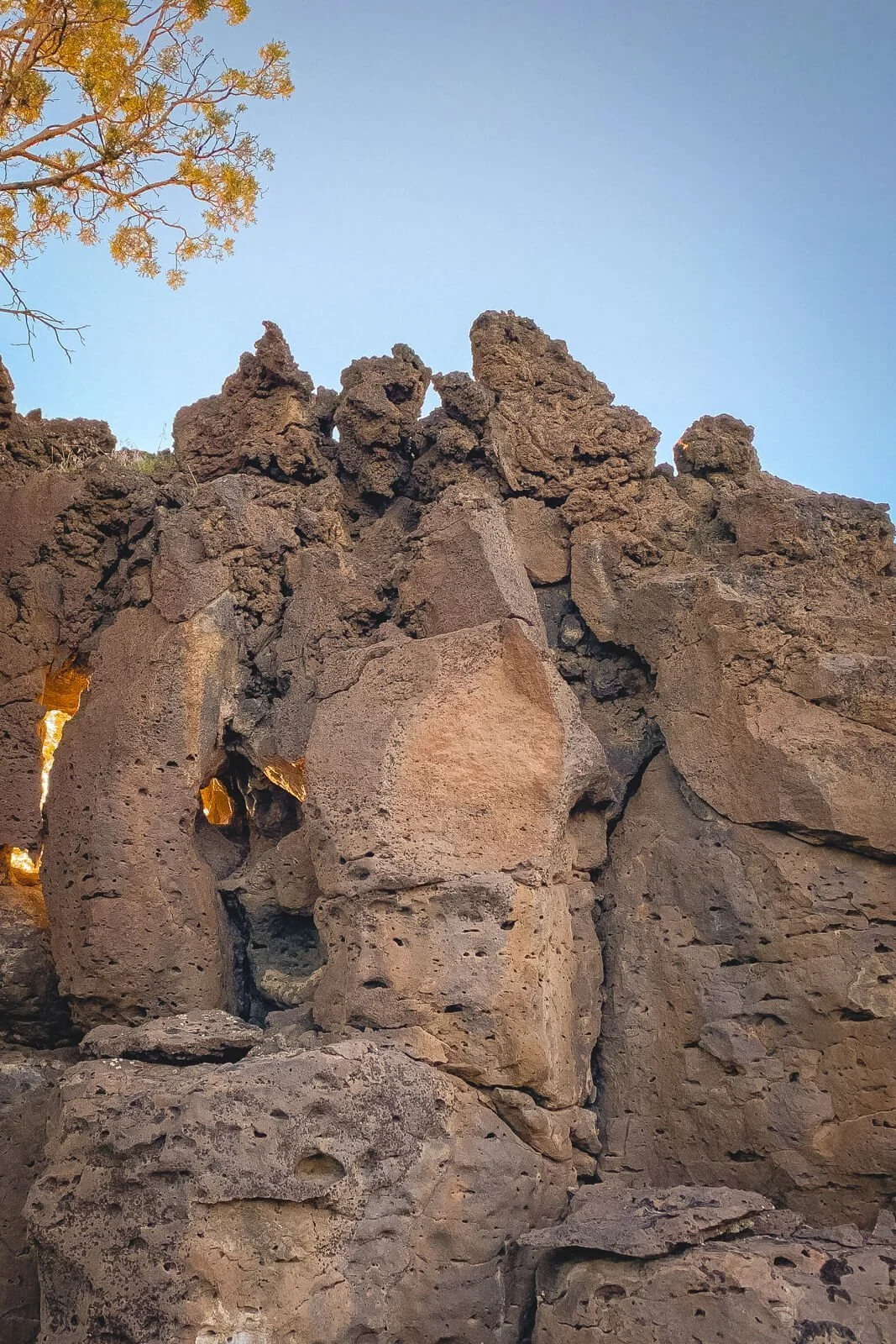 As you venture further into the desert, admire the striking 360-degree views of the wide-open terrain before reaching the craggy geologic formations.
Since this Bend hike is exposed, sunscreen and a hat are critical to protecting yourself from the sun. For more comfortable temperatures, consider this trail outside of summer.
12. Sparks Lake Trail
Distance: 19.5 miles
Type of Trail: Out & Back
Difficulty: Moderate
Although this is one of the lengthier hikes near Bend, Oregon, the terrain is manageable for less experienced trekkers. Part of the trail is paved, and there is a steady elevation gain of nearly 1,600-feet.
Much of the trail is through dense pine forests but opens to incredible alpine scenery around Lava Lake.
Rugged peaks soar above the lake in the distance, and you'll see lots of activity on the water and in the adjacent forests. It's not uncommon to see lots of kayakers and furry animals scurrying near the trees.
For a better vantage of Sparks Lake, take the Ray Atkeson Loop for a shorter trek through the forest. The roughly 2.3-mile loop hugs the shores of the lake and provides breathtaking panoramic views.
The Cascade Lakes, in general, almost all have hikes going around them and are some really easy Bend hikes to explore for the day. This area is known for having some of the best lakes in Oregon.
More Hikes in Bend (But A Bit Further Out)
13. Paulina Peak Trail
Distance: 6.1 miles
Type of Trail: Out & Back
Difficulty: Hard
This is one of the more strenuous hikes near Bend, but the views from Paulina Peak are worth it! Being the highest point of the Newberry National Volcanic Monument, conquering this hike is no small feat.
The steep climb presents roughly 1,600-feet of elevation gain, but you'll get a unique glimpse of Oregon's volcanic past. Notice the extensive lava fields around the ancient Newberry Caldera rim, the result of numerous volcanic blasts.
Admire the pristine forests next to the sparkling shores of Paulina Lake as you ascend to the craggy summit. Walk further along the Crater Rim to see breathtaking images of lodgepole pines, hemlocks, and other species.
Don't have a lot of time? Check out this epic tour that takes you all around Newberry and Paulina Peak!
---
READ MORE: Your Guide to Newberry National Volcanic Monument
---
14. Proxy Falls Loop Trail
Distance: 1.6 miles
Type of Trail: Loop
Difficulty: Easy
For some incredible scenery that's not as rough on the knees, this is the Bend, Oregon hike for you! This quick loop takes you through lush forests, tumbling waterfalls, lava fields, and radiant foliage. The terrain is flat and easily walkable for all skill levels for a relaxing stroll.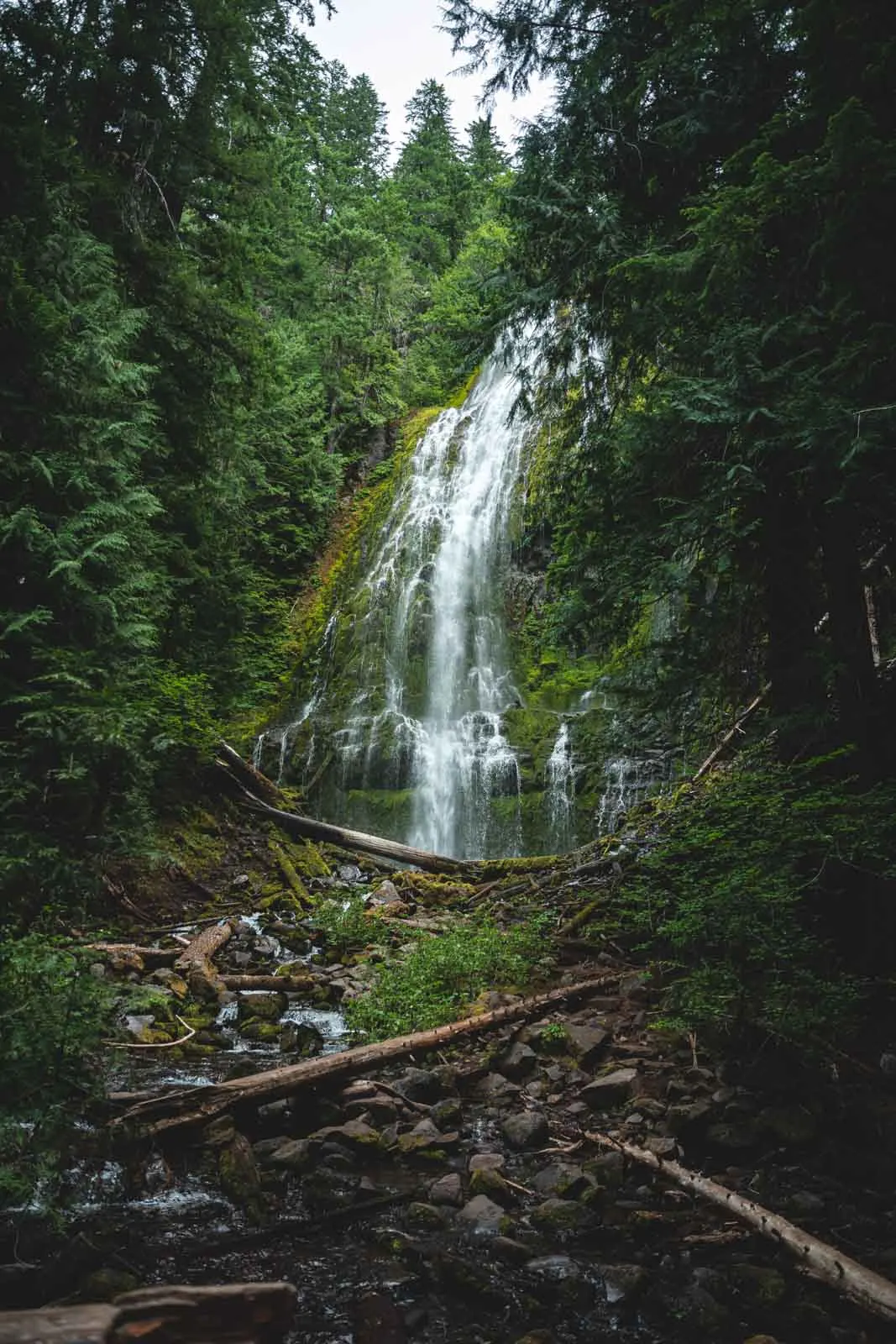 It's possible to shimmy down to the base of the Lower Falls but can be a scramble getting back up. Should you venture down the steep descent, the pool at the bottom is a mesmerizing sight. Be prepared for your socks to get a bit damp, though.
If you're coming in winter and from Hwy 126, check to see if the gate to reach the trailhead is closed. If you find the gate shut, add an extra two miles to your hike in each direction.
---
READ MORE: Proxy Falls Hike—Central Oregon's Most Epic Waterfall!
---
15. Crater Lake
Unsurprisingly, there are endless hiking opportunities to explore one of Oregon's greatest natural wonders. Crater Lake is the deepest lake in the country, and its alluring blue waters attract hundreds of thousands of visitors every year.
The 3.4-mile Garfield Peak Trail is one of the most popular for its convenient location to Rim Village and spectacular views overlooking the caldera. Take this path if you're searching for that inspirational panorama of the entire lake and the surrounding Cascade peaks.
For a vantage of the lake beside the water, wander down the Cleetwood Cove Trail for a unique view. The short two-mile path has an elevation of over 600-feet and can be a challenge for novice trekkers.
Take the Watchman Peak Trail for a 360-degree view from the historic Watchman Fire Tower or the Wizard Island Trail to see the caldera from the inside.
---
READ MORE: 9 Best Crater Lake Hikes You've Got to Take On!
---
16. McKenzie River National Recreational Trail
Distance: 24.1 miles
Type of Trail: Point to Point
Difficulty: Hard
Be prepared to share this path with mountain bikers, given its renowned reputation as a biking paradise. However, you'll be just fine cruising along on foot, and there are plenty of ways to enjoy the beauty surrounding the trail.
Despite the substantial length, this Bend hike is almost entirely flat, and there are lots of camping spots to spend the night. Split the trek into three days for a more relaxed pace or two days for a tougher challenge.
Much of the trail is through the old-growth forest but offers splendid views of enchanting pools and cascading waterfalls. The 73-foot Sahalie Falls sits next to the rushing waters of the McKenzie River and is not to be missed. Also, make sure to stop by the idyllic waters of Clear Lake and Blue Pool.
Scoot across log bridges, gaze at lava fields, and immerse yourself in the tranquility of the forest for one of Oregon's most captivating adventures. Here's our guide on how to hike to Sahalie and Koosah Falls.
---
RELATED: Your Guide to Hiking The McKenzie River Trail
---
17. Umpqua National Forest
This may be a bit out of the way and quite the trek from Bend (about 2 hours one way), but it can be done. Or you could camp out here for a night, then heading back to Bend or perhaps hit it up on your way south, either way, Umpqua National Forest is certainly worth it.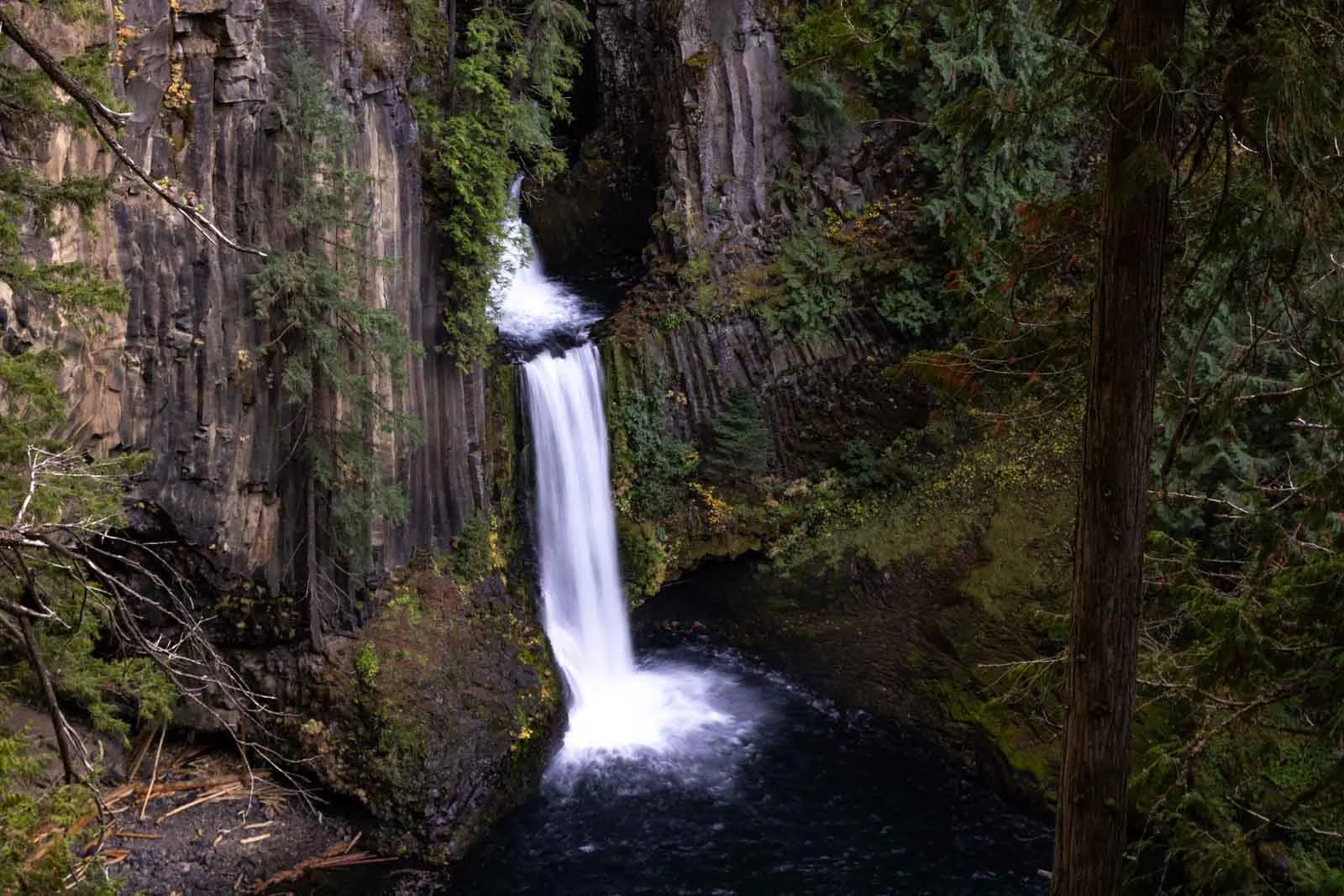 There are waterfall hikes galore, a gorgeous stream rivering running through the area, and of course, Umpqua Hot Springs! You could spend around two days exploring the hikes and waterfalls and a third day if you wanted to summit Mount Thielsen and hang out at Diamond Lake.
Where to Stay Near Bend
We have a massive list of great camping spots in the Bend area, but here are a few quick recommendations…
Tumalo State Park Campground: One of the closest campgrounds to Bend, beautiful Tumalo State Park Campground is right on the Deschutes River and has lots of tent and full hook-up sites.
Driftwood Campground: Driftwood offers beautiful views of the Three Sisters Lake, and is a peaceful campground to relax in nature.
Bend Sunriver RV Campground: This campground is located on the Little Deschutes River and offers full hook-up and tent sites, as well as yurts, cabins, and cottages.
Hummingbird Cottage: Hummingbird Cottage is an adorable craftsman style Bungalow in a quiet part of Bend that is close to breweries, hikes, and more.
Tall Pines A-Frame: This cute A-Frame in La Pine sits on an acre of Ponderosa Pine and has a full kitchen, bathroom, and two bedrooms.
Cozy Sunriver Cabin: Located right in central Sunriver, this cute woodsy cabin is surrounded by trees and has a wood-burning fireplace, a full kitchen, and WiFi.
We hope this helped you choose some epic Bend hikes to conquer! Be sure to check out our other posts on Bend and adventures in Oregon.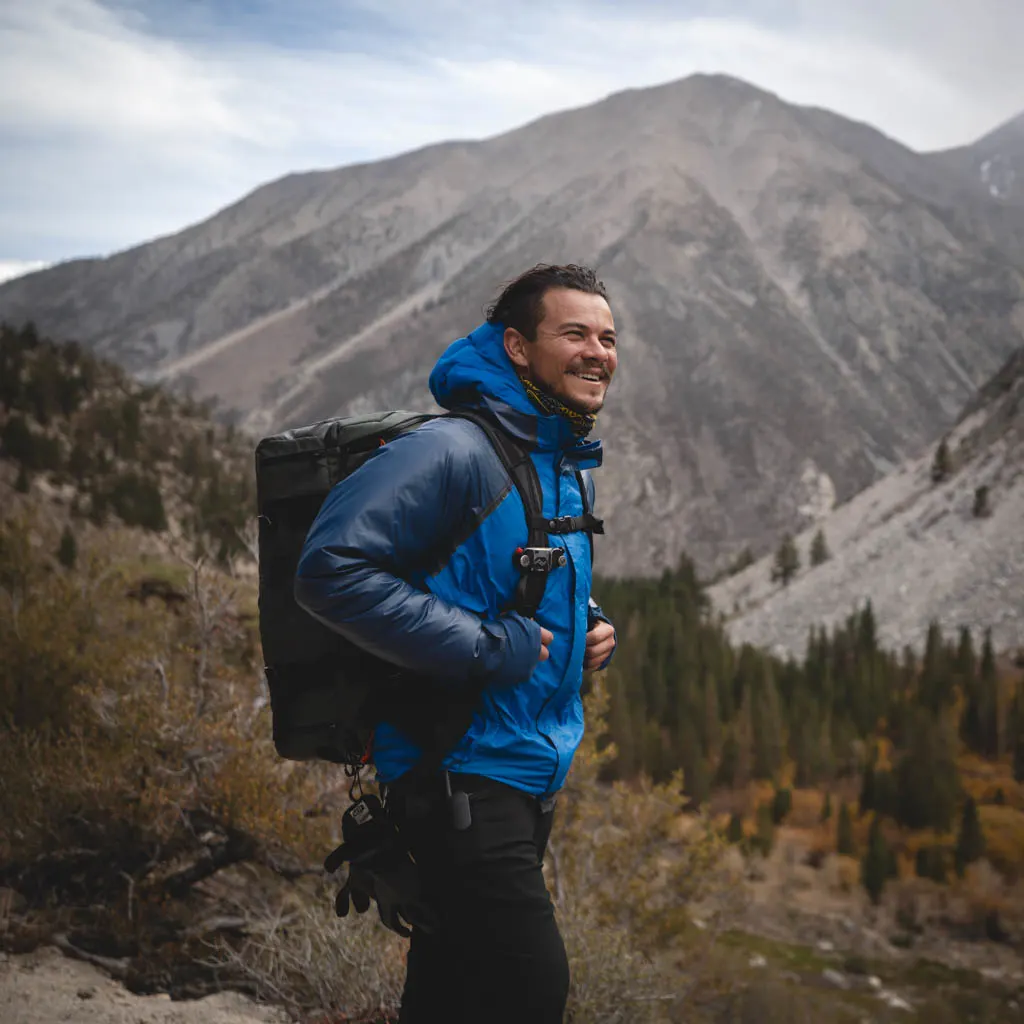 Oregon native and explorer at heart. Loves tackling expeditions around the world and drinking a good beer at the end of the day. PNW obsessed, VW nerd, and surf or snow riding fanatic.