With so many trails near Bend and TONS just waiting for you to explore in the Cascade Lakes area, it might be hard to choose which ones to tackle.
While we won't tell you which ones you should do, because that's your choice, we really love the Green Lakes trail.
This one is a good option for those unsure which gorgeous hike to tackle because you get AMAZING views of South Sister and Broken Top with less effort and milage. This hike gives you a taste of both of these mountains plus beautiful alpine lakes.
So we think it's a good choice for getting a bit more "bang for your efforts."
Here's everything you need to know…
Green Lakes Trail Hike Near Bend, Oregon
---
Distance: 9 miles
Type of Trail: Out and back
Difficulty: Moderate
The Green Lakes trail is a great spot for tackling other trails too. You honestly could make this a multiday backpacking trip! More info on that below. The trailhead is located here.
There's plenty of parking at this trailhead because, again, it's shared with other hikes. You could summit South Sister from this spot as well as Broken Top (technical summit).
There's also Soda Creek Trail and even a little loop out to Moraine Trail. But, let's not get sidetracked; Let's tackle Green Lakes for now.
---
READ MORE: Your Guide to Hiking South Sister in Bend, Oregon
---
Fall Creek Falls
From the parking lot, you'll start the trail off with an easy and small bridge over Fall Creek. The trail is pretty easy at this point, and very shortly after you begin your hike, you'll stumble upon the beautiful Fall Creek Falls. The water is rushing down the creek and can be heard from the trail.
To get the best peek of the falls, you'll need to wander off the trail slightly, but be careful as there is a bit of a drop if you lose footing. You'll follow the creek for quite a while and pass a few more small cascades.
Obsidian Flow
After Fall Creek Falls, you'll be walking in a gorgeous canopied forest for a few miles. The incline is consistent and not too steep. The climb is very doable and not strenuous, even for a beginner hiker.
The trail eventually starts to open up more and more, and before you know it, you're in a totally different world.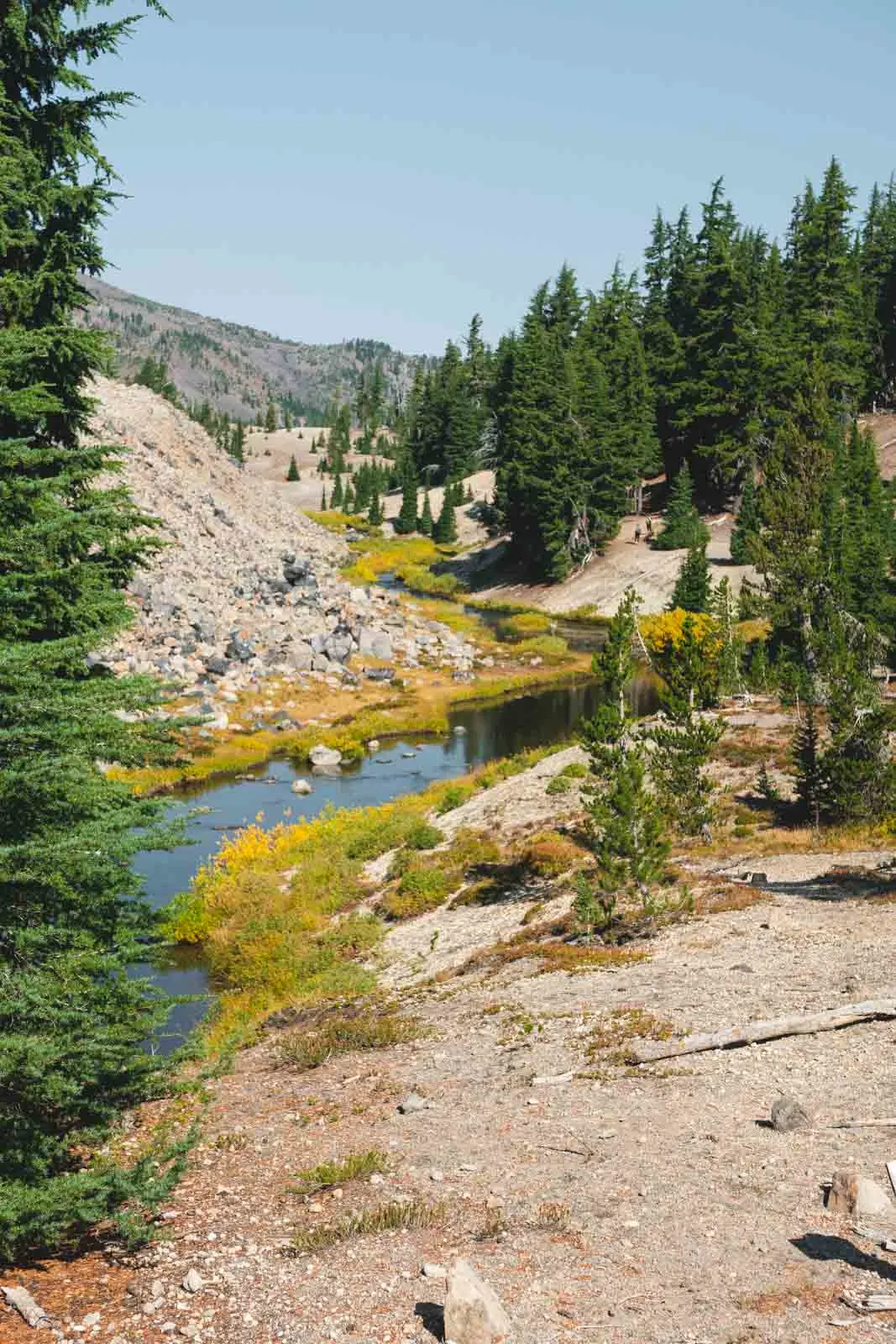 You'll be surrounded by a bizarre obsidian "forest." Shiny black rocks and volcanic boulders are strewn all over the side of the creek as South Sister looms in the background.
You know you're getting close!
---
RELATED: 17+ Badass Bend Hikes to Conquer During Your Visit
---
Moraine Lake Detour
This detour is pretty obvious and well marked on the Green Lakes Trail. You'll be pointed to the left to branch off towards South Sister. This is about a 2.5 mile out and back detour.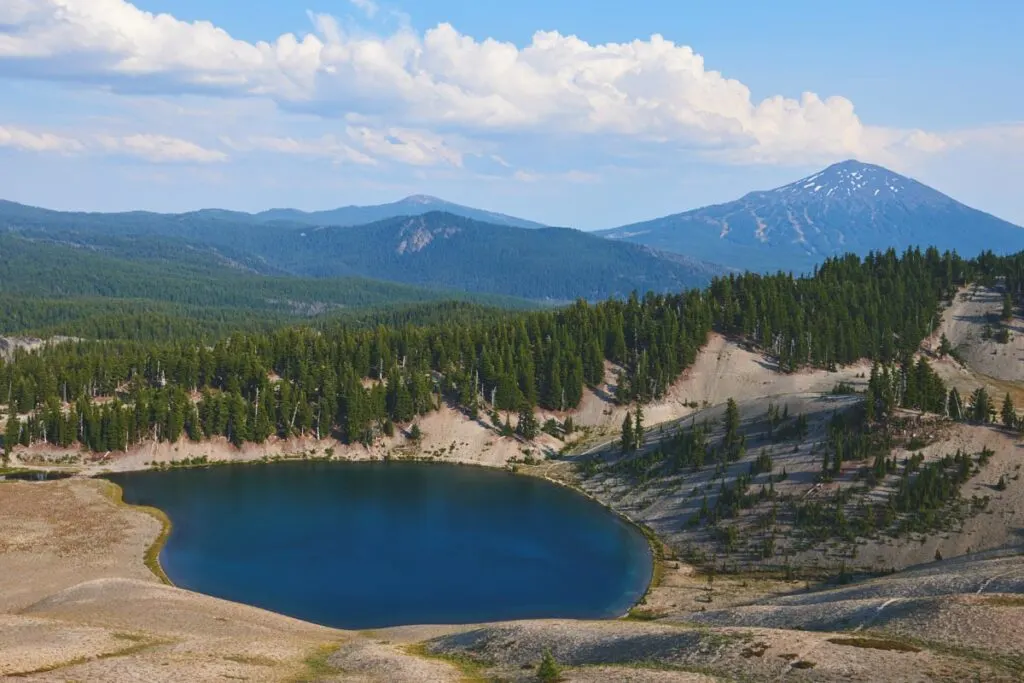 So before getting to Green Lake, head to Moraine Lake to check it out, take a cheeky dip, or even camp for the night! Read more on this awesome detour to Moraine Lake.
---
RELATED: Hiking Moraine Lake Trail in Oregon—2 Spectacular Routes!
---
Arriving at Green Lakes
Once you make it past the bizarre and beautiful obsidian flow area, you'll come to an intersection.
Here's where you can branch off to summit South Sister, head to Moraine Lake, and tackle the technical side of Broken Top.
But you'll want to head straight to get to the Green Lakes. This intersection is well signposted, so there should be little room for confusion. Many see the first Green Lake and then start heading back—DON'T do that! You've made it this far, so keep on going.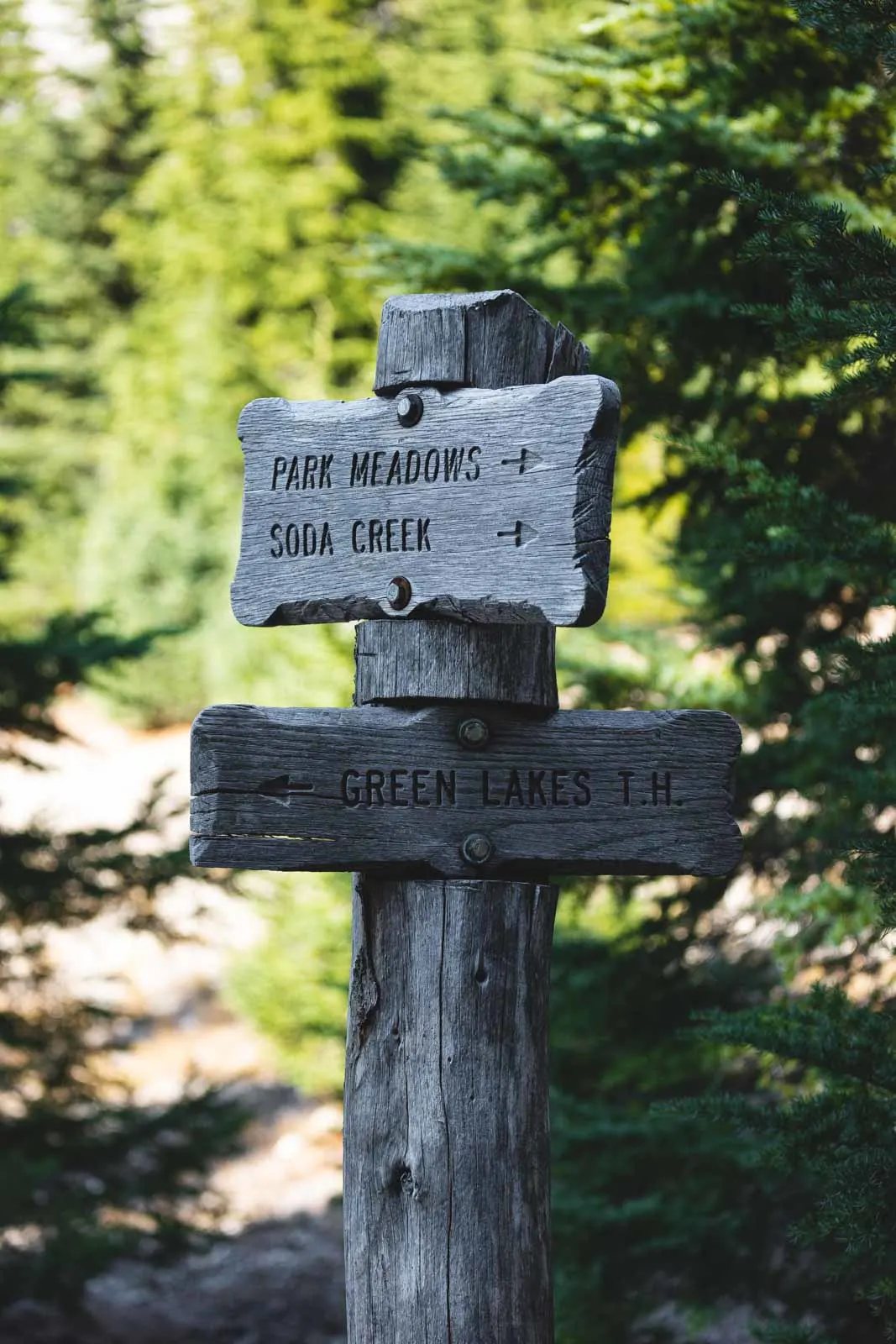 There are actually three lakes here for you to explore. The huge middle lake has a great loop trail that skirts alongside the largest of the three Green Lakes and brings you up to the top lake and then back down to the first lake.
Here you'll be in awe of the views! You have South Sister towering over the lakes to your left and on your right, the incredible and intimidating Broken Top mountain.
The sparkling Green Lakes create an incredible foreground for taking in these monster mountains that dominate the Cascade Lakes area! This is definitely one of the most rewarding hikes in the area, as the hike is relatively easy considering the views you get at the end.
---
RELATED: Exploring the Cascade Lakes in Oregon – Hiking, Camping, and Water Sports
---
Camping at The Green Lakes
Remember how we told you you could make this a multiday backpacking trip? The Green Lakes is one of the best bases to pitch your tent to explore the area better.
The campsites here are first-come, first-served, and are sprinkled around the lakes.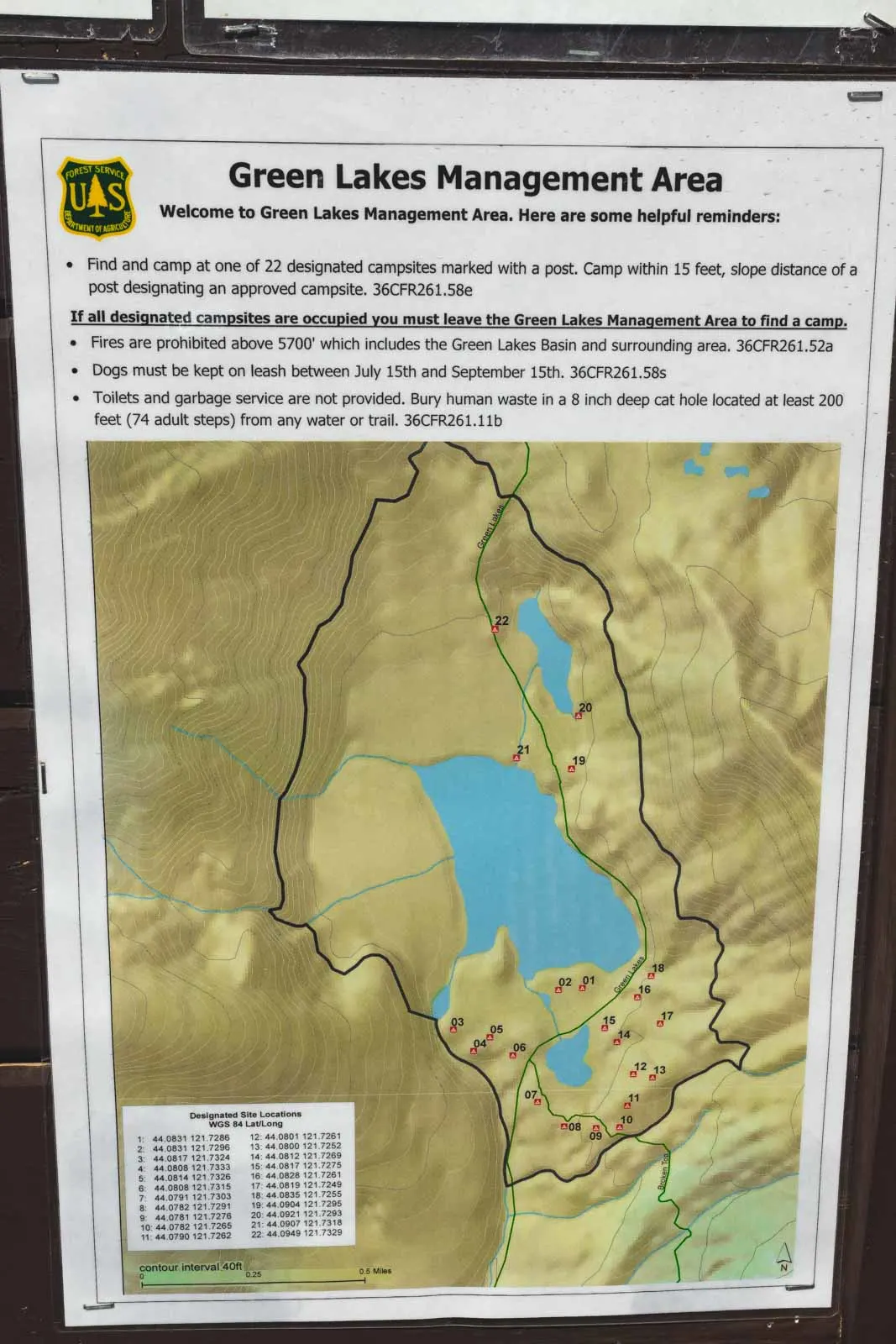 There are 28 camping sites here, and at the trailhead, you'll notice the sign that tells you the exact coordinates of each site. I'd take a picture of that or save our photo from this post, so you know you're camping at the correct spot.
There are no fires allowed here, but dogs are welcomed. Note, you are only allowed to camp at the designed spots; There are no other options on the Green Lakes Trail.
---
RELATED: 23 Prime Spots to go Camping Near Bend, Oregon
---
RECOMMENDED GEAR:
Tips for Hiking The Green Lakes Trail:
While the parking lot is pretty big, considering so many trails start here, you can still expect it to fill up pretty quickly. Get here early or be prepared to park further and walk over.
You must pay the $5 fee or display your Northwest Pass.
Bring plenty of water or a filter water bottle to fill up at the creek.
Dogs are welcomed but must be leashed between July 15th and September 15th
DON'T be the person who sets up camp at a random spot, please! You can be fined for doing so.
Check the weather as it changes drastically in this area. Some people have reported strong winds nearly tearing their tent at night, so be sure to bring a sturdy tent or grab a more sheltered spot.
You can swim in the lakes if you can brave the icy waters.
This trail is also used for horseback riding, so be prepared for dodging lots of poop on the trail.
We hope this helped you plan your visit to the Green Lakes! Be sure to check out our other posts on Bend and adventures in Oregon.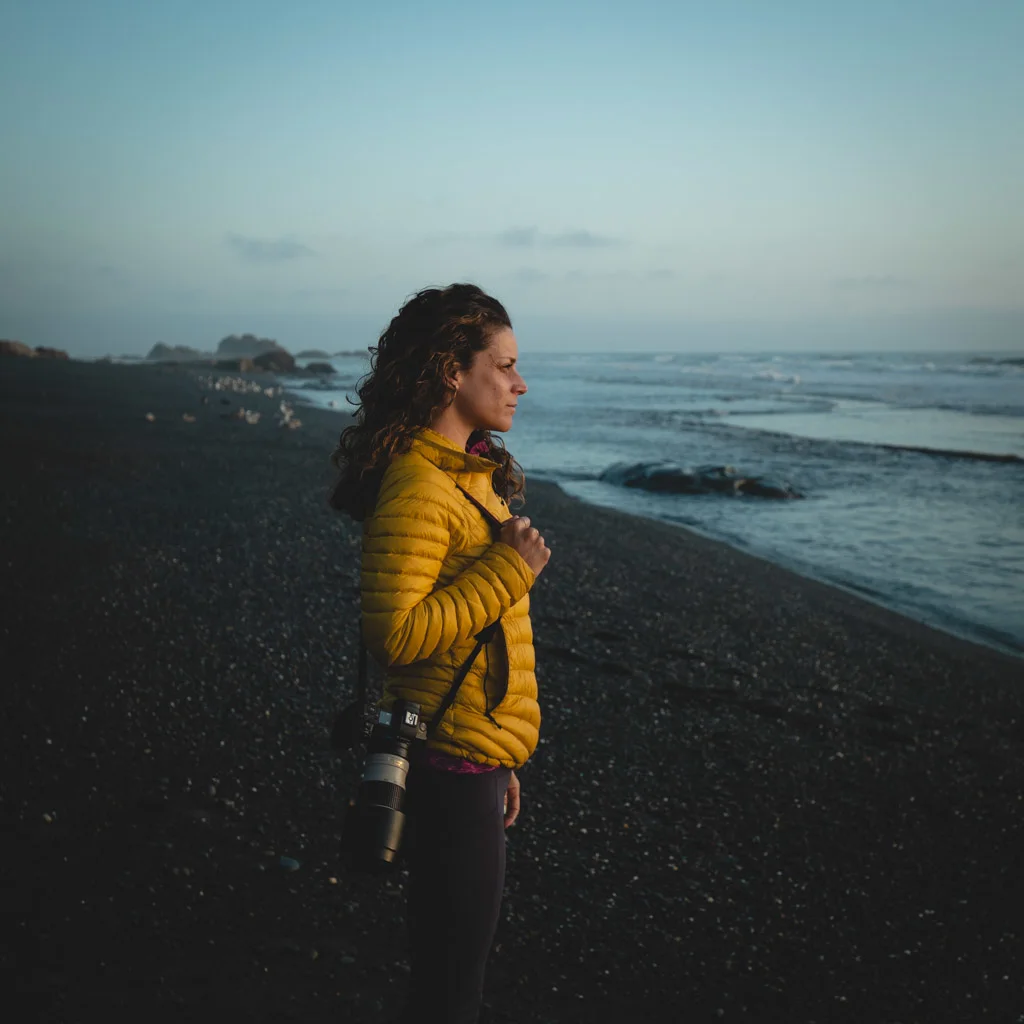 I've been perpetually traveling and living around the world for years but it's hard to beat Oregon and the PNW. After years of road-tripping the area, I guess you can say I know it pretty well! When I'm not writing guides for you, you can catch me somewhere petting a dog, attempting to surf, hiking a volcano, or stuffing my face with bread and cheese.