Hiking South Sister is one of Oregon's most incredible hikes.
You can see this mighty mountain for miles around, just waiting to be summited. Plus, you know the feeling of reaching the top, coupled with the views, will be out of this world!
Here's everything you need to know about summitting this insanely beautiful mountain just outside of Bend, Oregon.
Hiking The South Sister Trail
---
Distance: 11.6 miles
Type of trail: Out and back
Difficulty: Hard
South Sister Trailhead
You'll find the start of the hike at South Sister Trailhead at Devil's Lake, where there is plenty of parking.
Note – You will have to pay a $5 parking fee unless you have the Northwest pass.
Be aware that there are quite a few different trailheads from this parking lot, but you will want to take the main one as the others are not as well marked and can be a bit more difficult.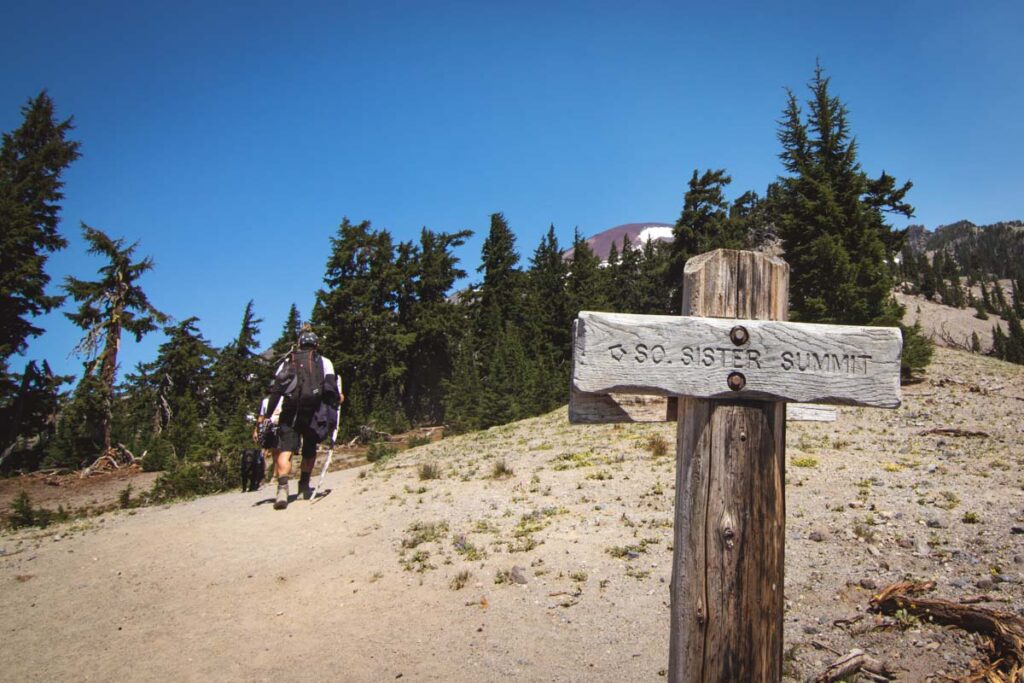 South Sister may lull you into a false sense of security as this route starts pretty easy. After crossing Tyee Creek over a small footbridge, you really start the hike.
Starting the South Sister Hike
The beginning part of the hike is definitely the easiest segment. You will still be going uphill, but it is through a pleasant forested area that offers plenty of shade.
This section lasts for around 1.5 miles, and before long, you will emerge from the cover of the trees and onto a broad and sandy plateau.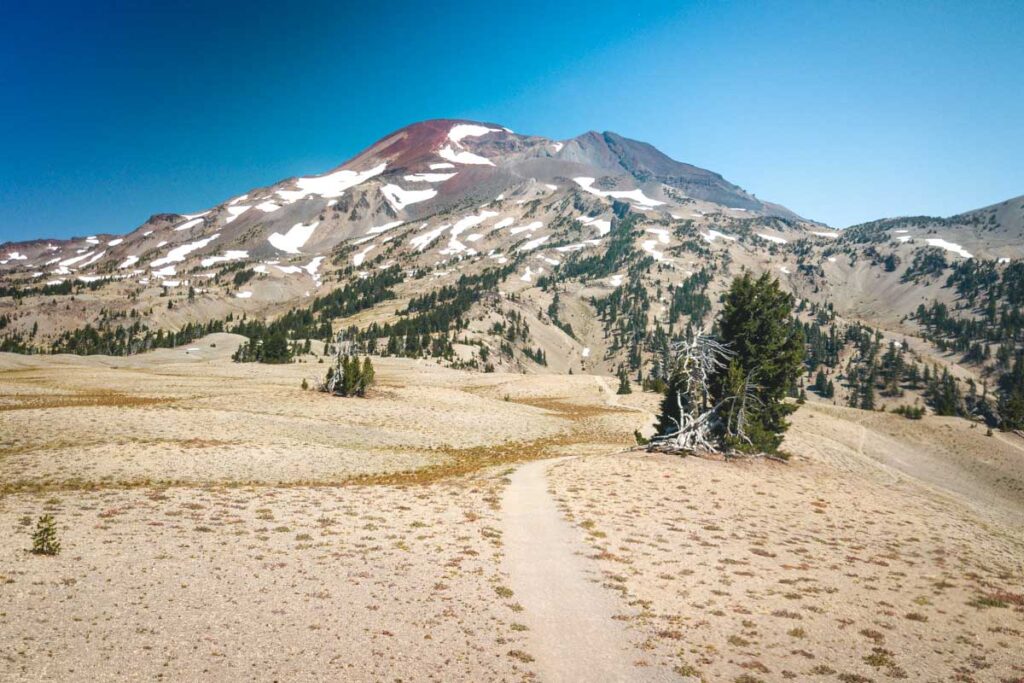 From here, you will get the first glimpse of your beautiful surroundings, so take some time to admire the views and catch your breath.
On a clear day from here, you should be able to see Moraine Lake and Brokentop Mountain to your right and the summit stretching in front of you, making it pretty clear what direction you have to head in to continue hiking South Sister.
Again, please make the most of this easy section while it lasts, as the walkway is relatively flat and sandy, with views in almost all directions. Then this is where the real climb begins.
---
RELATED: 17+ Badass Bend Hikes To Conquer During Your Visit
---
Hiking Up South Sister Mountain
You will know when the climb starts to get real as you will feel it in your calves. Suddenly, you are not walking on flat sand anymore; instead, the terrain gradually changes into a mix of rock and sand.
The soft texture of the ground beneath you makes the climb even harder, but you know it would be tough when you decided to climb this mammoth mountain!
Teadrop Lake
By the time you reach Teardrop Lake, you will be well ready for a little rest; this is a good spot for a picnic lunch, so make the most of it.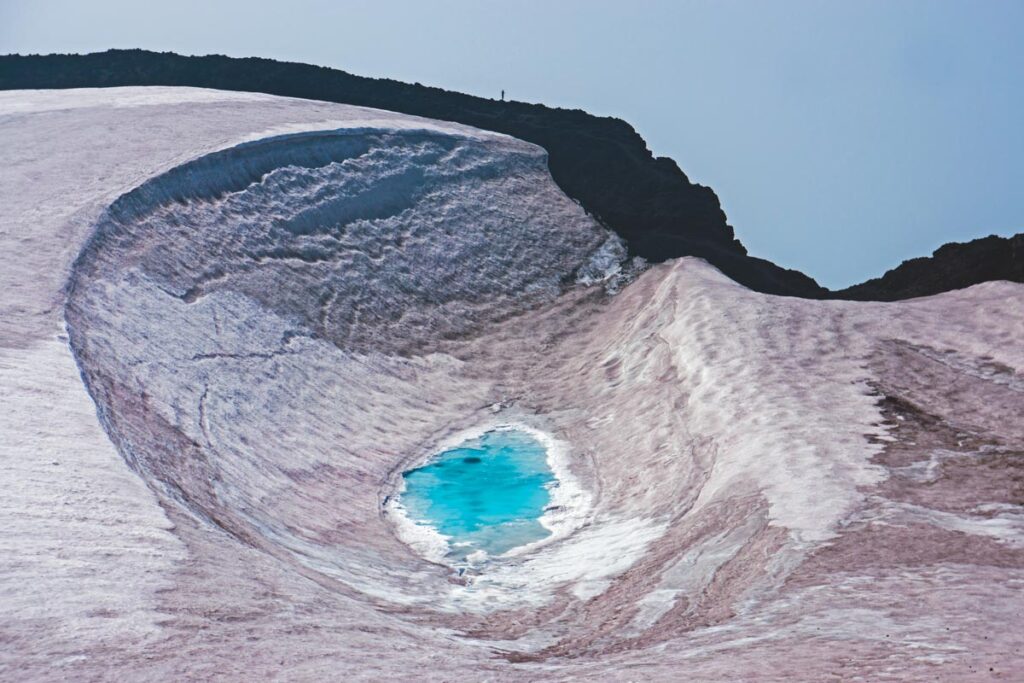 Heading to the South Sister Summit
If you thought the last few miles were hard, wait until you get to the hike just past the lake. The terrain gets really tricky here. We are talking about very soft sand and rocks, both big and small. It's going to be a long slog of two steps up, one step back.
You will be climbing up a very steep mountainside, sidestepping huge boulders that block your path. As you are up so high, don't be surprised if your breathing starts to get a little more tricky the higher you climb.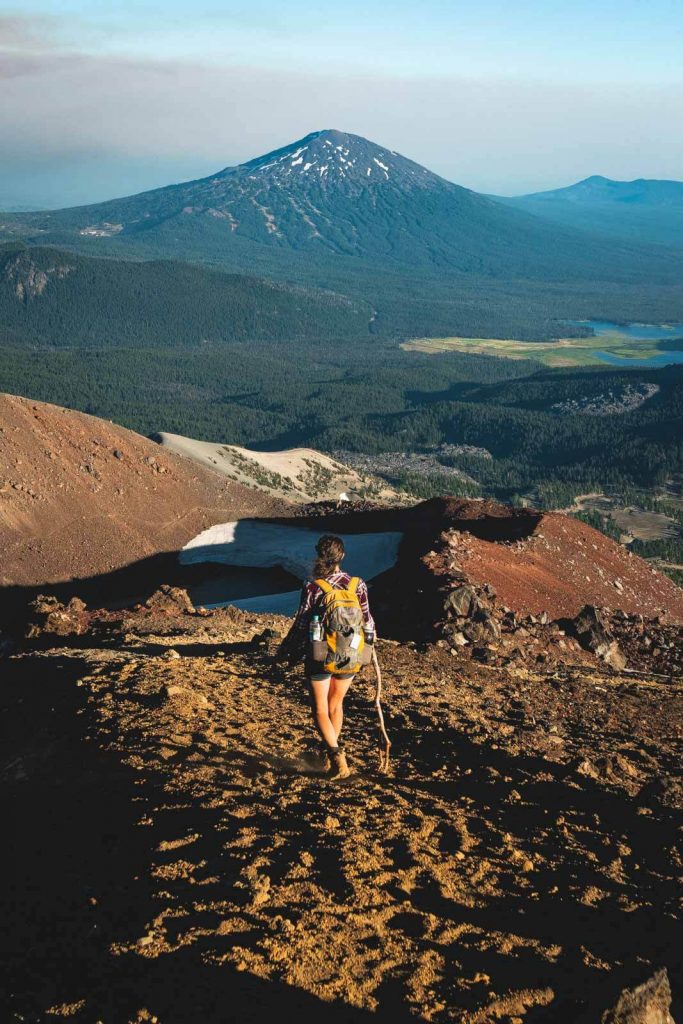 What makes it worse is that you can see the summit in front of you the entire time you are climbing up through this section. It looks so close, but you never seem to get any closer. There is no denying that hiking South Sister is a very challenging hike!
The South Sister Summit
You know you are extremely close to the summit when the sun glints off the white glacier in front of you, the crown of this mighty mountain. Follow the trail along a rocky ridge, and before long, you will catch your first sight of the other two sisters.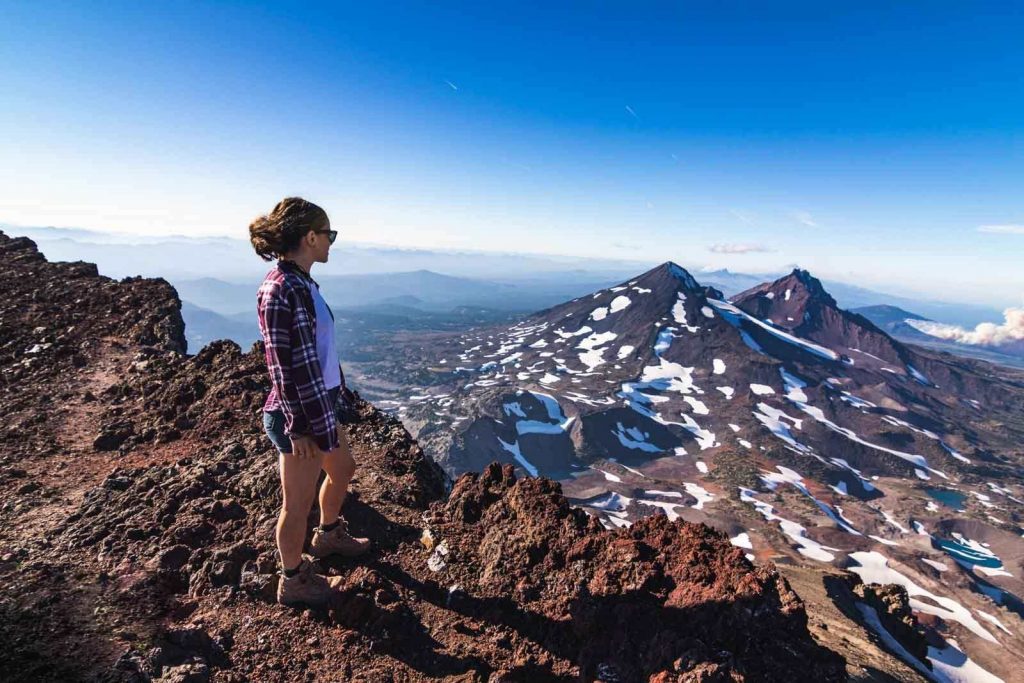 The view from up here will really take your breath away, so take some time to take it all in.
---
Related: 37 of The Best Oregon Hikes You've Got to Check Out
---
Tips for Hiking South Sister
Be aware, when starting this hike, that it can take a long time. Even if you think you are starting early enough, if you want to stop multiple times to take photographs, you have to consider this, as you do not want to be hiking down in the dark.
Always check the weather before starting this hike, as it can have a big impact on how your day goes. You don't want any clouds on top of the mountains, not even small ones, as the weather can change quickly and you want those all-important views from the top (and to be safe!)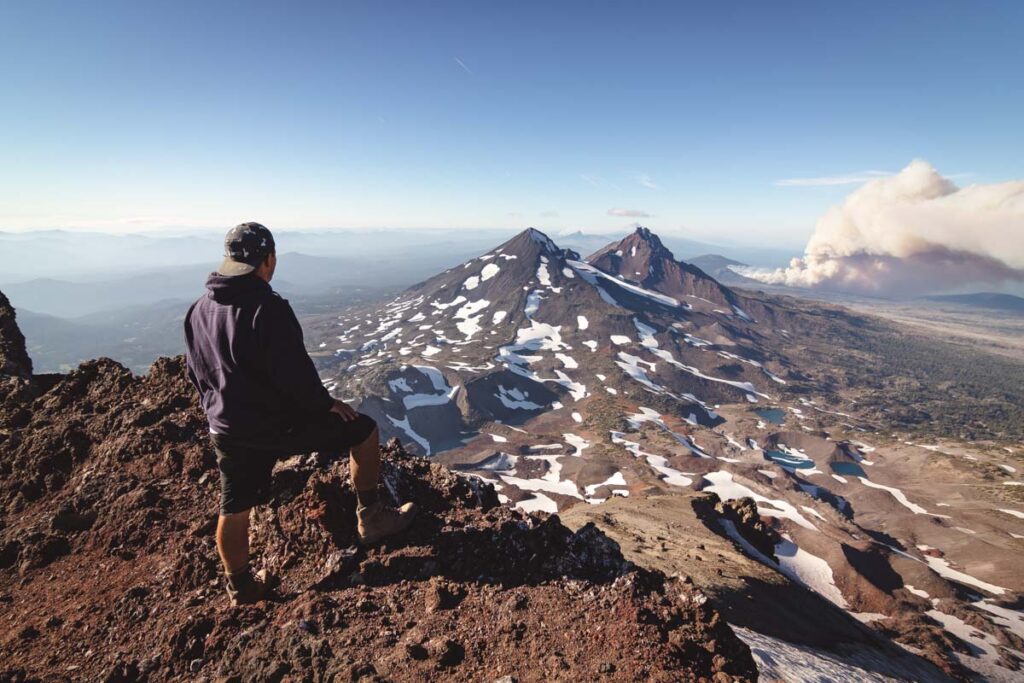 The trip is rated as hard, and for a good reason, only attempt it if you think you are able. In total, it is a 12-mile roundtrip, but you will be climbing a mountain, and coming down can be just as hazardous. It's a rocky, slidey, steep way down.
Bring snacks and lunch with you, and plenty of water, as you will be out all day, and you will need all the sustenance you can. This is our favorite hiking water bottle that can filter water from the lakes too.
Make sure you are wearing the correct footwear, as the terrain can really be tough. Proper hiking boots are a must, and preferably ones that have some form of ankle support. You may even have to walk through some snow.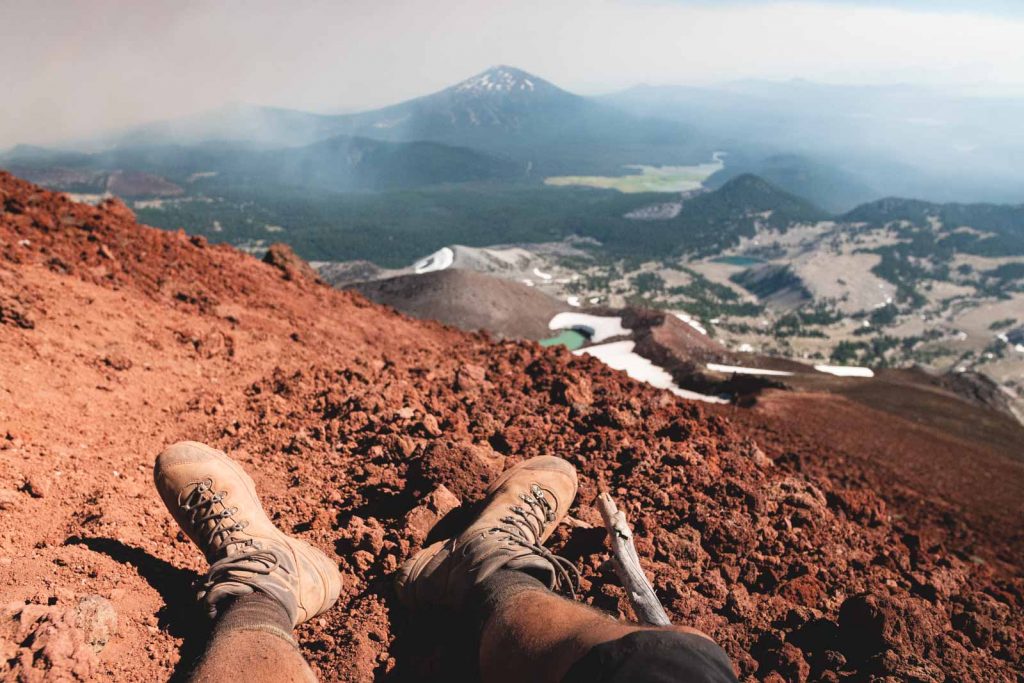 After your short stint through the forest at the start and the end of the hike, you are completely exposed to the sun, so make sure you're wearing sunscreen and reapply throughout the day.
You should wear layers, as even in the summer, it can get a little cool at the summit.
Other Routes For Hiking South Sister
Moraine Lake to South Sister Summit
Start this route at the same place as the main route, at the Devil's Lake/ South Sister parking lot, and it is a 6-mile out and back route. Some of the walks will take you along with the water, and although it is uphill the majority of the way, it is nothing too crazy or difficult.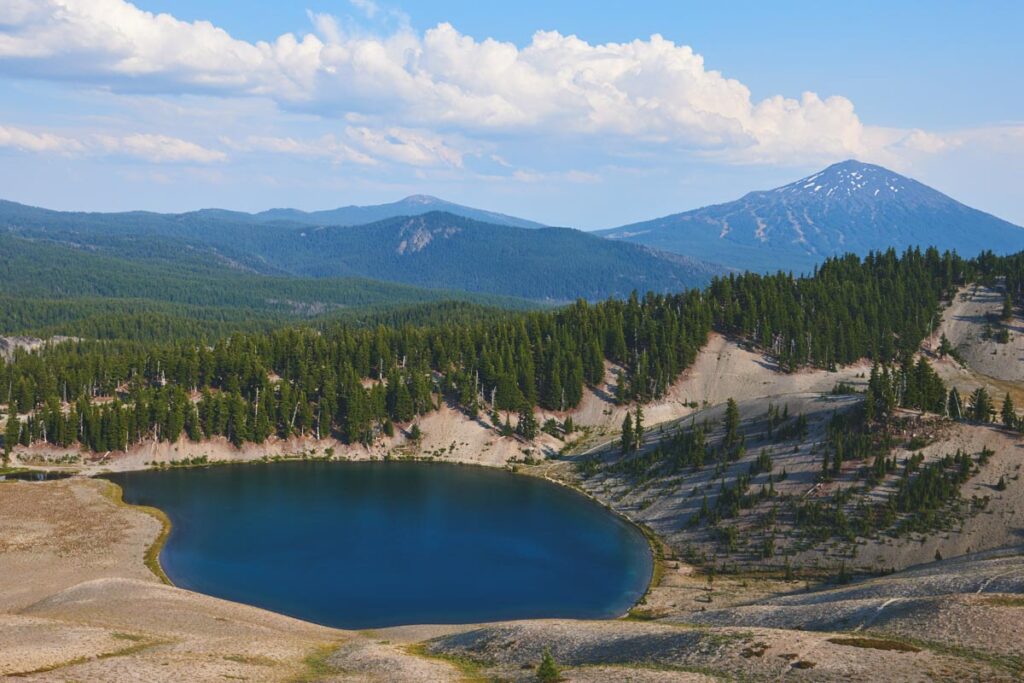 The route allows you to explore the shores of Moraine Lake, where you'll get incredible panoramic views of Broken Top and South Sister. As most people head to Green Lakes, you will likely have the shores of this picturesque lake all to yourself.
You can access the South Sister summit route from the lake to continue to the peak if you want a longer hike. It's about 12 miles as well and the same strenuous route as the main trail after you depart from Morraine Lake.
---
READ MORE: Hiking Moraine Lake Trail in Oregon—2 Spectacular Routes!
---
South Sister and Green Lakes Loop
If you are up for an even longer hike, then this 20-mile loop is for you. It is a pretty difficult hike, but you will be following a beautiful stream for some of the hike, complete with multiple waterfalls, and the first 6 miles is made up of flat hiking into the Three Sisters Wilderness.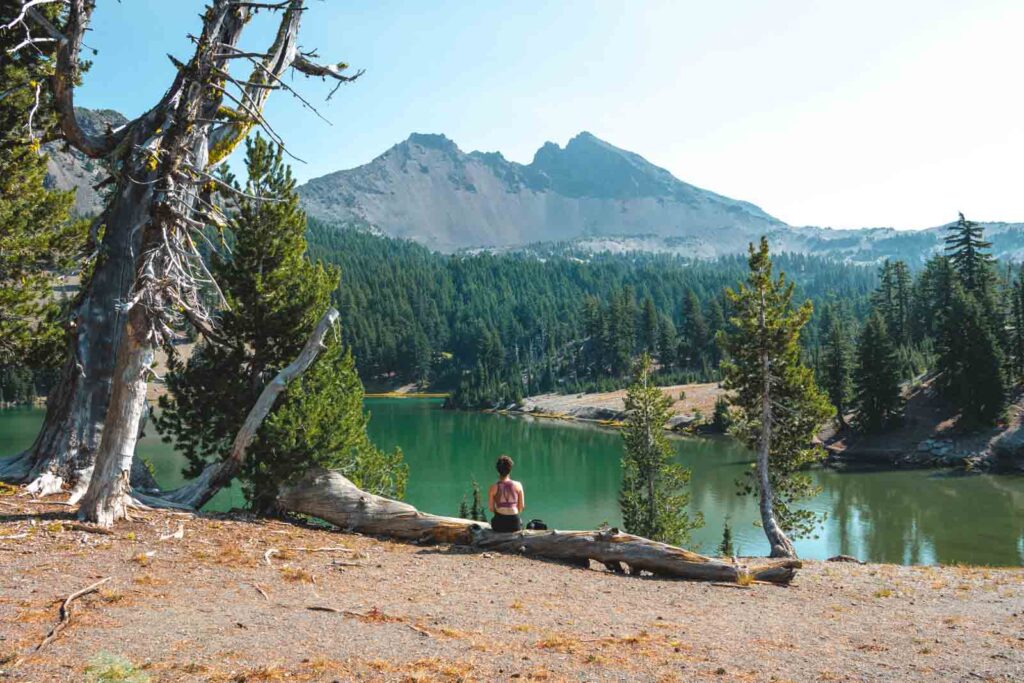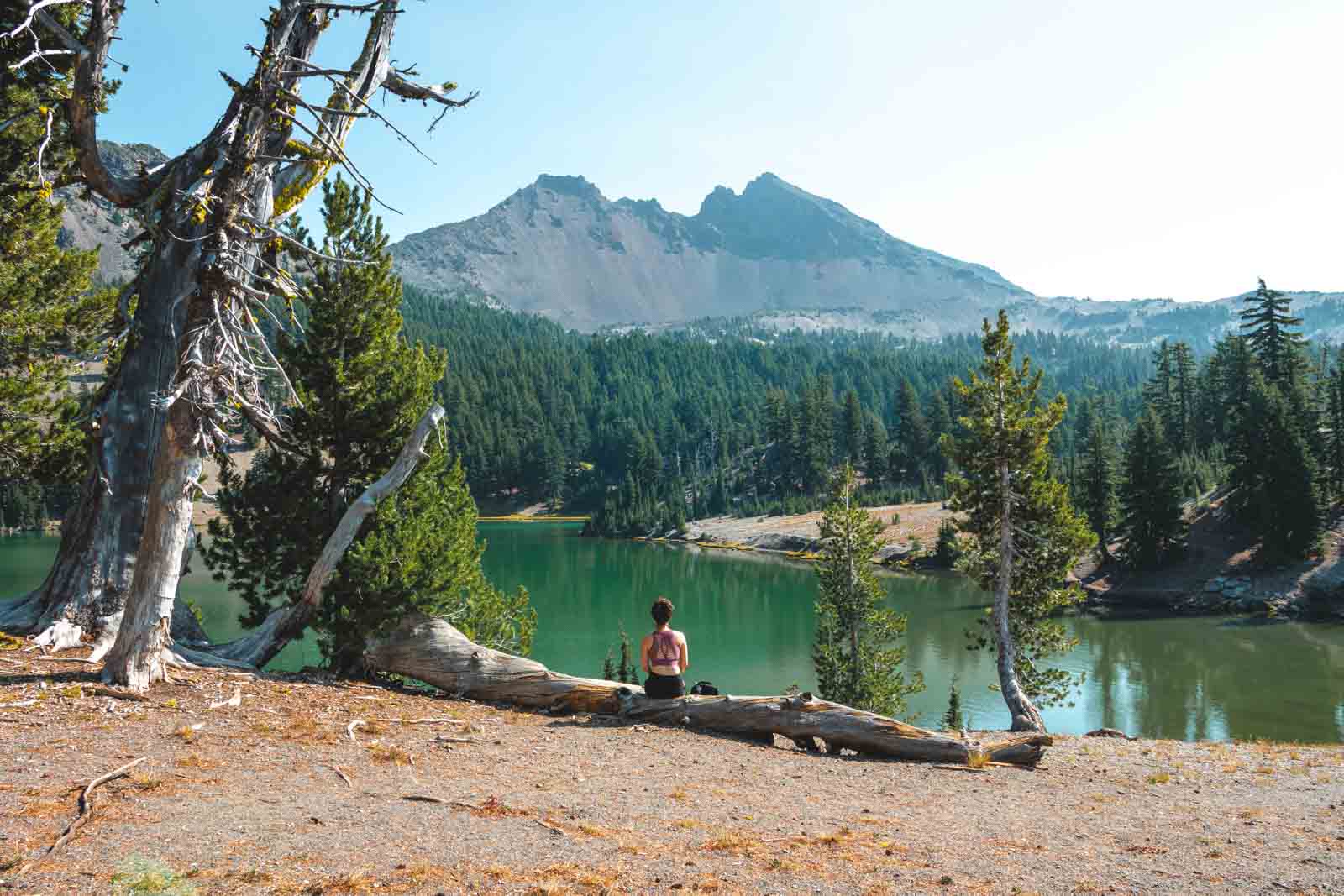 Green Lake really is stunning when you reach it, with Broken Top and South Sister painting the perfect backdrop, and three bodies of water making up the lakes. Although be aware that some parts of this hike are often filled with hikers that are also eager to see this incredible display of nature.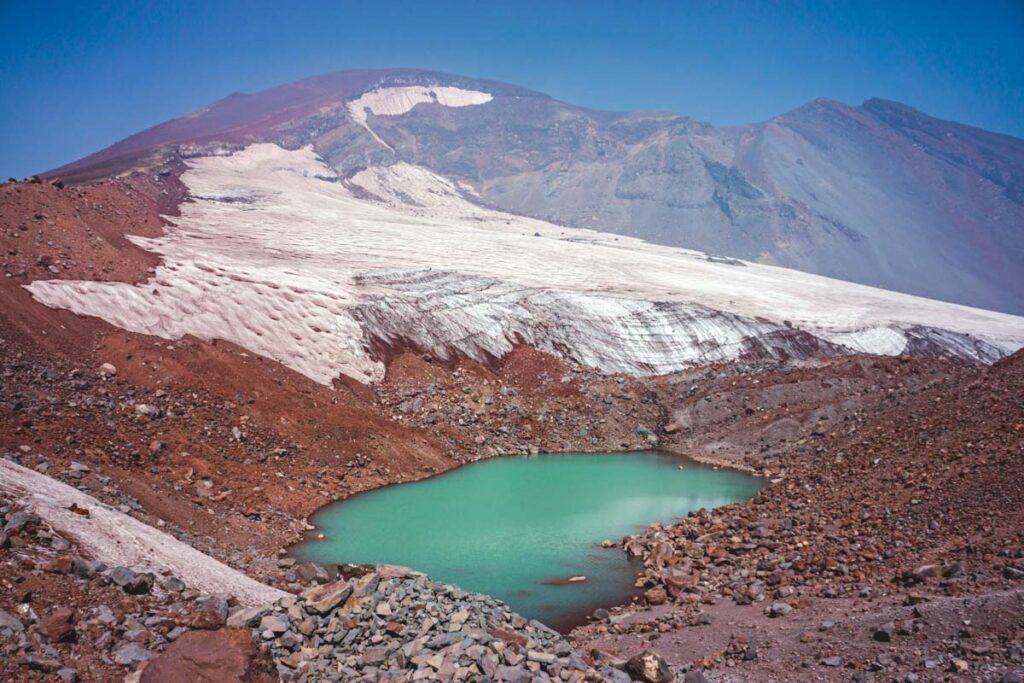 After the lakes, the climb really begins as you follow a trail that leads up the east side of the South Sister. This trail is jagged and is not very well managed, so make sure you don't lose it. You may even have to forge your own route through a glacier at some parts, so be careful. It will lead you to Teardrop Lake.
Eventually, you will merge with South Sister Climber Trail, and at this point, you have just over a mile of calf burning climbing the rest of the way to the summit. You descend down the main trail for South Sister to complete the loop.
---
READ MORE: Tackling the Green Lakes Trail Near Bend, Oregon
---
We hope this helped you plan your South Sister Hike! Be sure to check out our other posts on Bend and adventures in Oregon.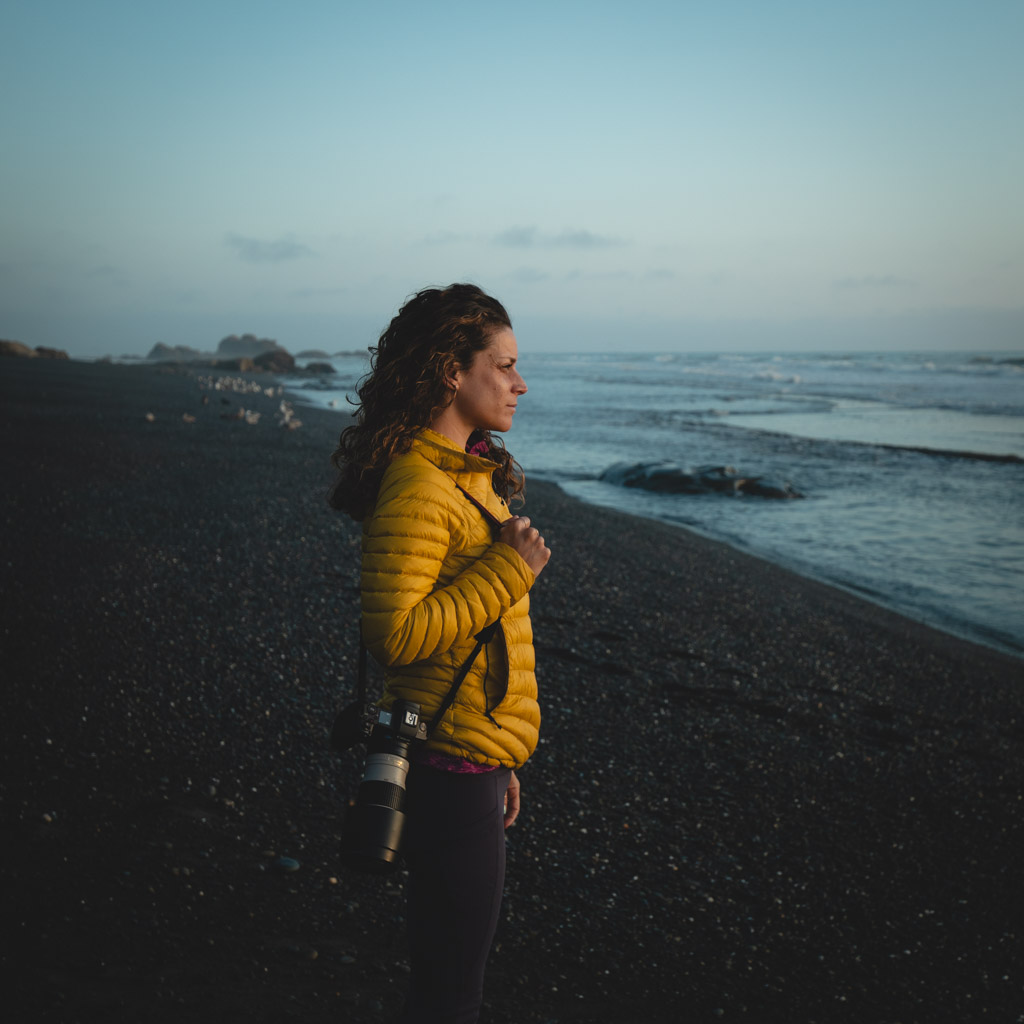 I've been perpetually traveling and living around the world for years but it's hard to beat Oregon and the PNW. After years of road-tripping the area, I guess you can say I know it pretty well! When I'm not writing guides for you, you can catch me somewhere petting a dog, attempting to surf, hiking a volcano, or stuffing my face with bread and cheese.