Fancy seeing one of the best lakes in Oregon?
The Moraine Lake Trail is a popular out and back trail with two hiking options – so you can choose whichever interests you the most.
Featuring a brilliantly blue alpine lake with the rugged peak of South Sister in the background, this is a fantastic moderate hike to enjoy while you're staying in Bend!
Hiking Moraine Lake Trail in Oregon
---
Located just off the Cascades Lakes Scenic Byway you'll find two different trailheads that will take you to Moraine Lake. Depending on which route you want to do, you can either park at:
Devil's Lake and take the South Sister Route or
Green Lakes Trailhead and take the Green Lakes Route.
If you're staying in Bend, feel free to hike BOTH ways on two different days and take on the challenge of going beyond Moraine Lake to either summit South Sister or head to Green Lakes!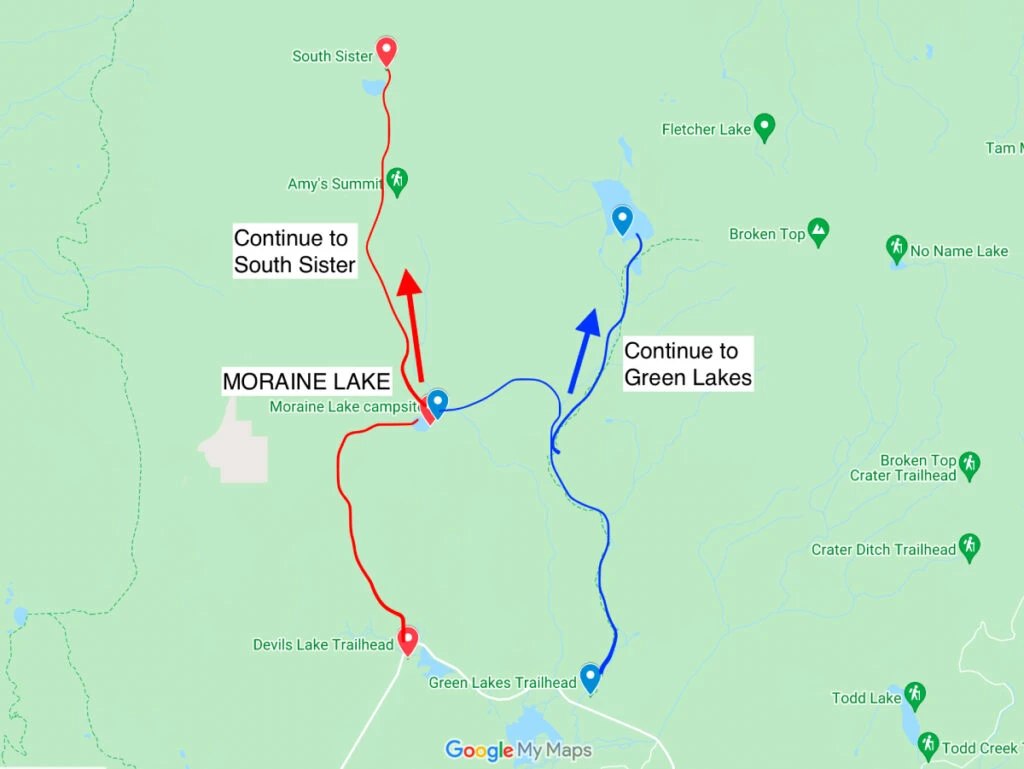 1. The South Sister Route to Moraine Lake
Distance: 5 miles
Type of Trail: Out & Back
Difficulty: Moderate
The first route is around 5 miles in length and traverses from the Devil's Lake trailhead up to Moraine Lake. From here, it's possible to continue hiking up to South Sister – or you can just enjoy the view from the trail itself.
It's a reasonably easy-to-follow trail – but it is fairly strenuous, as you'll gain 2,000 feet just by hiking between the lakes.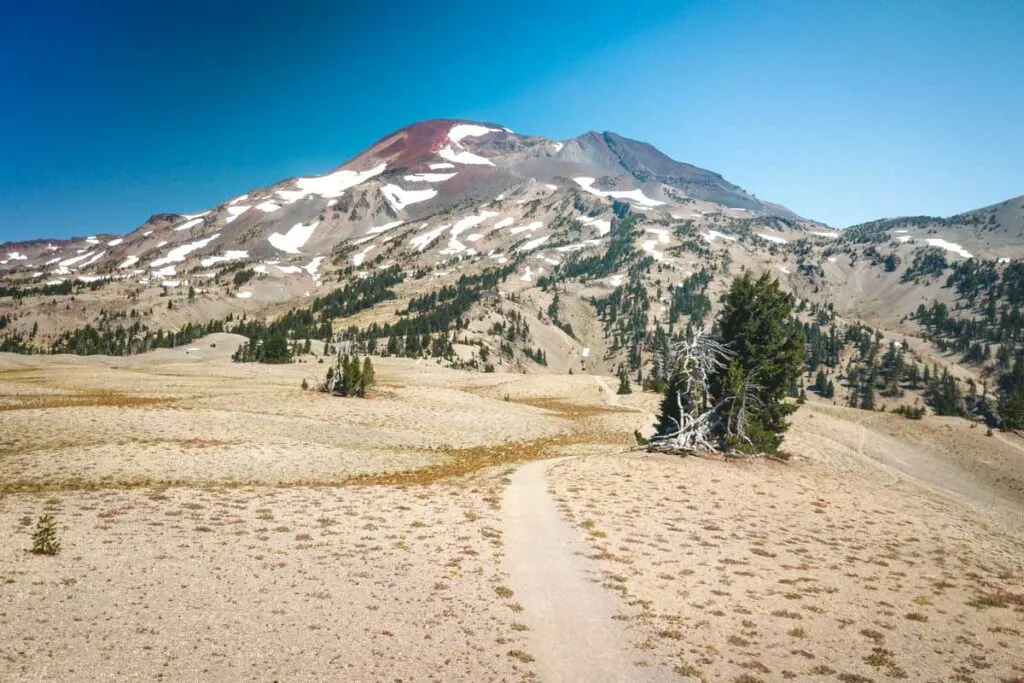 After starting your hike at the Devil's Lake trailhead, walk through a pleasant forest with plenty of shade. You'll eventually reach a plateau as the trail levels out. Moraine Lake will be on your right (you can see it on a clear day), whereas the summit to South Sister will be on your left.
South Sister is Oregon's third-highest mountain, and climbing to the top isn't for the faint-hearted. It's a tough trail! The good news is that Moraine Lake Trail isn't quite as challenging. There's still a bit of up and down, but it's shorter and not as steep.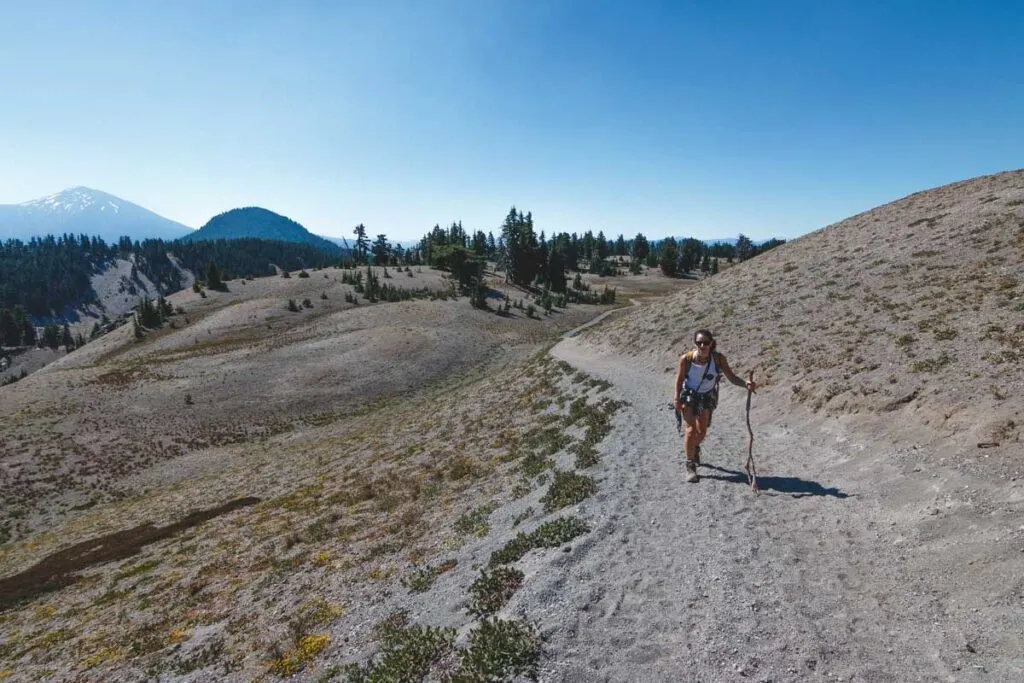 You'll be rewarded when you reach Moraine Lake. Alpine mountains soar from a brilliantly blue lake, and the water perfectly reflects every cloud in the sky. It's the dreamiest place to stop for lunch, enjoy the sun or just take some photos.
To return, follow the same route in reverse. Again, it's a bit up and down – but a little easier on the way down!
How To Get To Devil's Lake Trailhead
From Bend, take the South West Century Drive from the southwest corner of the city. Follow this road as it changes to the Cascade Lakes National Scenic Byway, for around 27 miles. You'll drive past Devil's Lake first. Keep driving along the road, and then make a right turn to get to the trailhead.
It costs $5 to park unless you have the Northwest Pass, enabling you to park for free.
---
RELATED: Your Guide to Hiking South Sister in Bend, Oregon
---
2. The Green Lakes Route to Moraine Lake
Distance: 7 miles
Type of Trail: Out & Back
Difficulty: Moderate
The Green Lakes Route is about 7 miles in length and is another out and back trail. You essentially hike the Green Lakes Trail, but instead of finishing at Green Lakes, you will branch off to Moraine Lake.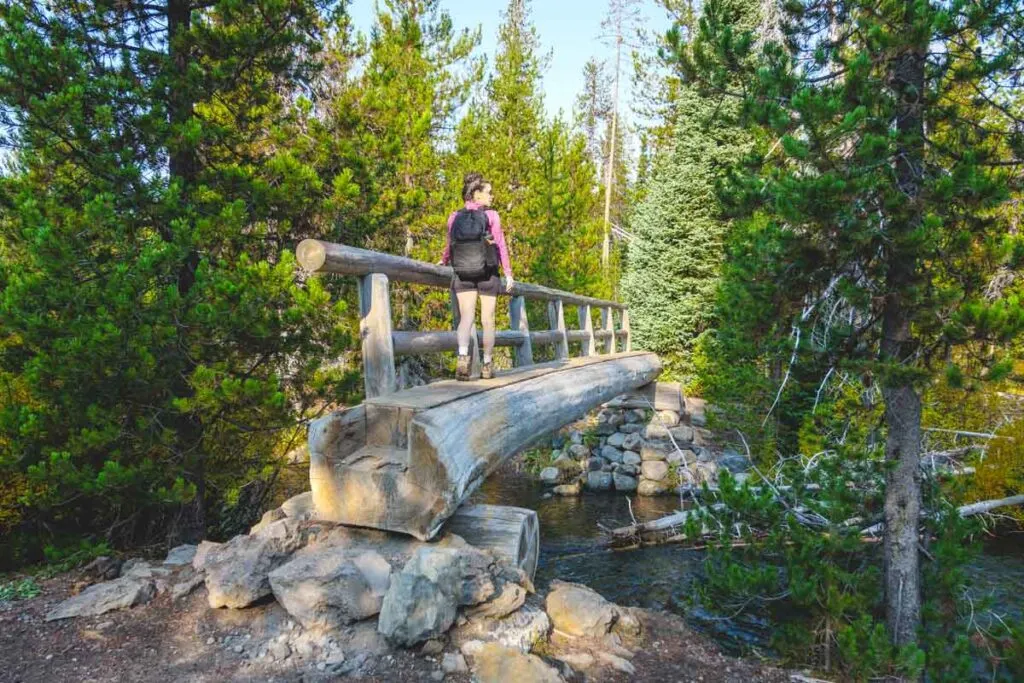 You'll start this trail at the Green Lakes Trailhead. Cross a bridge over Fall Creek, enjoying beautiful scenery along the way. There's a stunning waterfall to see!
The trail runs alongside the creek. Be careful if you venture off the track – there is a slight drop at some points.
For the first few miles, you can follow the trail as it runs through a forest. This provides a lot of shade and the incline isn't too steep.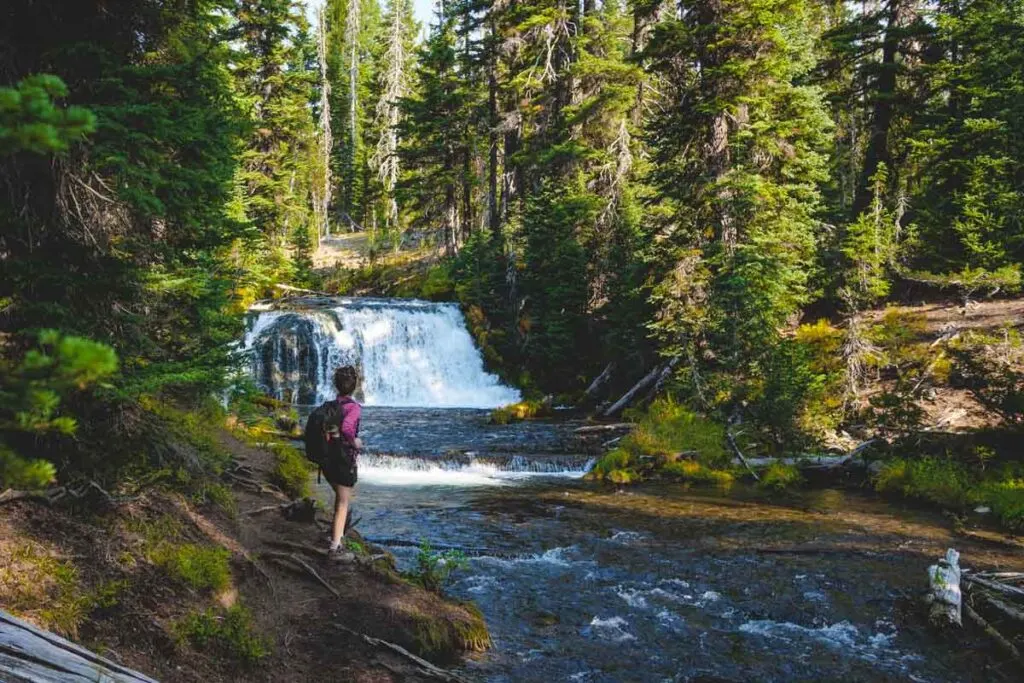 However, before too long, the trail will open out, and you'll reach an obsidian flow area with black lava rocks strewn around a barren landscape. Eventually, the skyline will be dominated by South Sister mountain.
Keep on walking past this section and reach a turning point. It is here where you'll turn right to reach Moraine Lake. You will climb a bit as you approach the lake, but it's doable for anyone with a decent level of fitness.
Finally, you'll reach the glorious Moraine Lake!
How To Get To Green Lakes Trailhead
Follow the same route out of Bend – take South West Century Drive and then Cascade Lakes National Scenic Byway. After driving for about 25 miles, you'll reach a right turn to the Green Lakes Trailhead. Take this turn and drive into the parking lot.
---
RELATED: Tackling The Green Lakes Trail Near Bend, Oregon
---
Other Things to Know Before Hiking to Moraine Lake
Before tackling this hike there are a few extra things to know like when to go and what permits are needed!
Camping at Moraine Lake
There are small, back to basics camping facilities available at Moraine Lake.
You can't just pitch your tent anywhere – it's essential to set it up in a marked camping spot. If you pitch it elsewhere, you will be asked to move.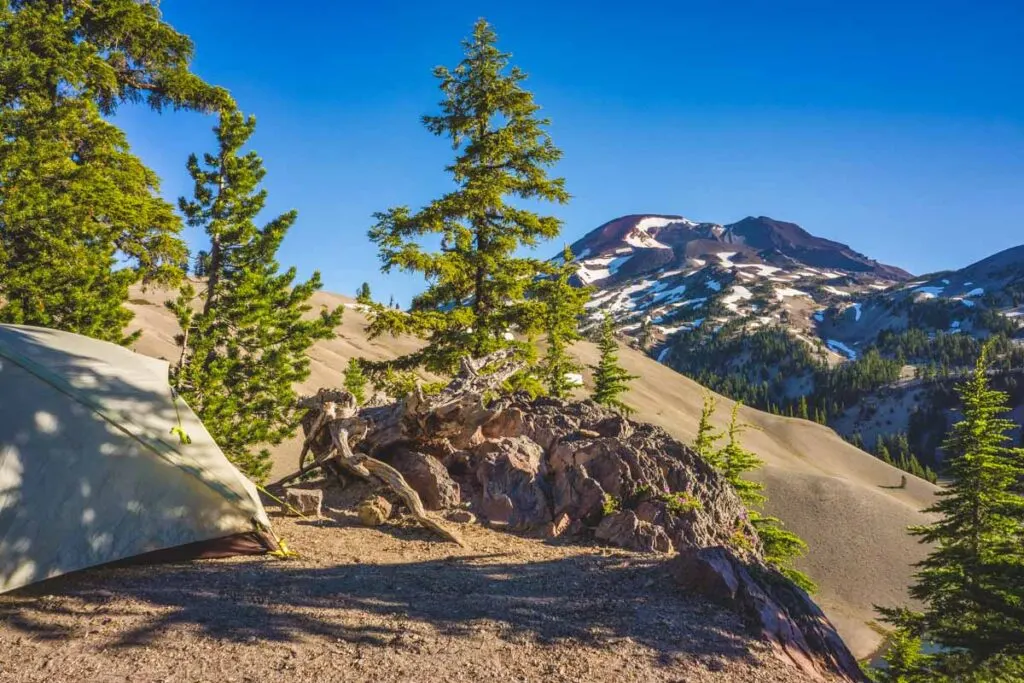 There are 22 pitches, and if they are all full, you will need to leave. So, if you'd like to camp, don't leave it until too late in the day. Make sure that you are able to hike back to your vehicle if you reach the campsite and it is full.
There are no toilets or other facilities. No fires are permitted, and dogs must be kept on a leash from July 15th to September 15th.
Remember to leave no trace after camping and take all of your trash with you.
---
RELATED: 23 Prime Spots to Go Camping Near Bend Oregon
---
When Is the Best Time to Hike the Moraine Lake Trail?
This trail is best in the summer months. It starts to get a bit snowy and icy by October – you are in the mountains, after all! It's inaccessible in the winter due to its mountainous position.
There are, however, lots of mosquitoes in July especially, so you might want to avoid the trail during this month as well.
---
RELATED: 17+ Badass Bend Hikes to Conquer During Your Visit
---
Swimming at Moraine Lake
You can swim in Moraine Lake in the summer months – it isn't too deep, so it can be relatively warm in August and September.
It's worth planning to spend the whole day here if it's sunny and you want to be outside! And remember that you can always camp here.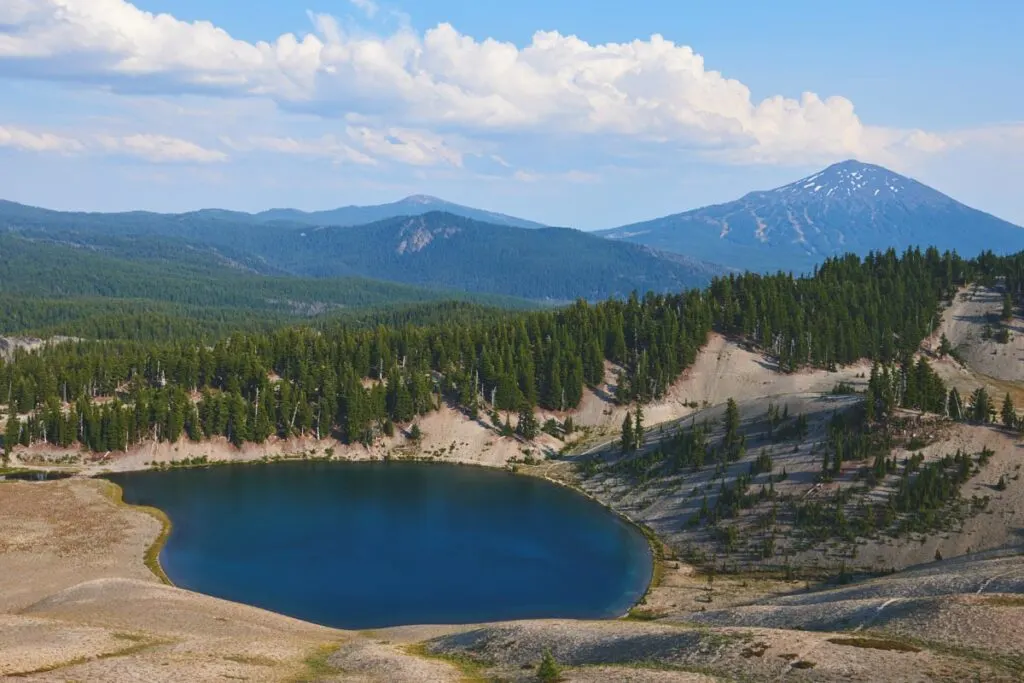 Entry Permits
You will need an entry permit for hiking from the end of May to the end of September. This is called the Central Cascades Wilderness Permit, and you can organize them on this website.
There is a small reservation fee to secure your permit (usually $1.00), but the permit itself is free.
You can also secure a Northwest Forest Pass for parking or pay for your parking if you visit outside of permit months.
The Moraine Lake Trail is a fantastic hike for intermediate hikers – people who want a bit of a challenge but don't want to commit to a seriously tough route, like the South Sister Trail.
Even though it's not too challenging, this hike will truly take your breath away – it's so incredibly beautiful!
We hope this post help you plan your hike on the Moraine Lake Trail! Be sure to check out our other posts on hiking in Oregon and adventures around the state.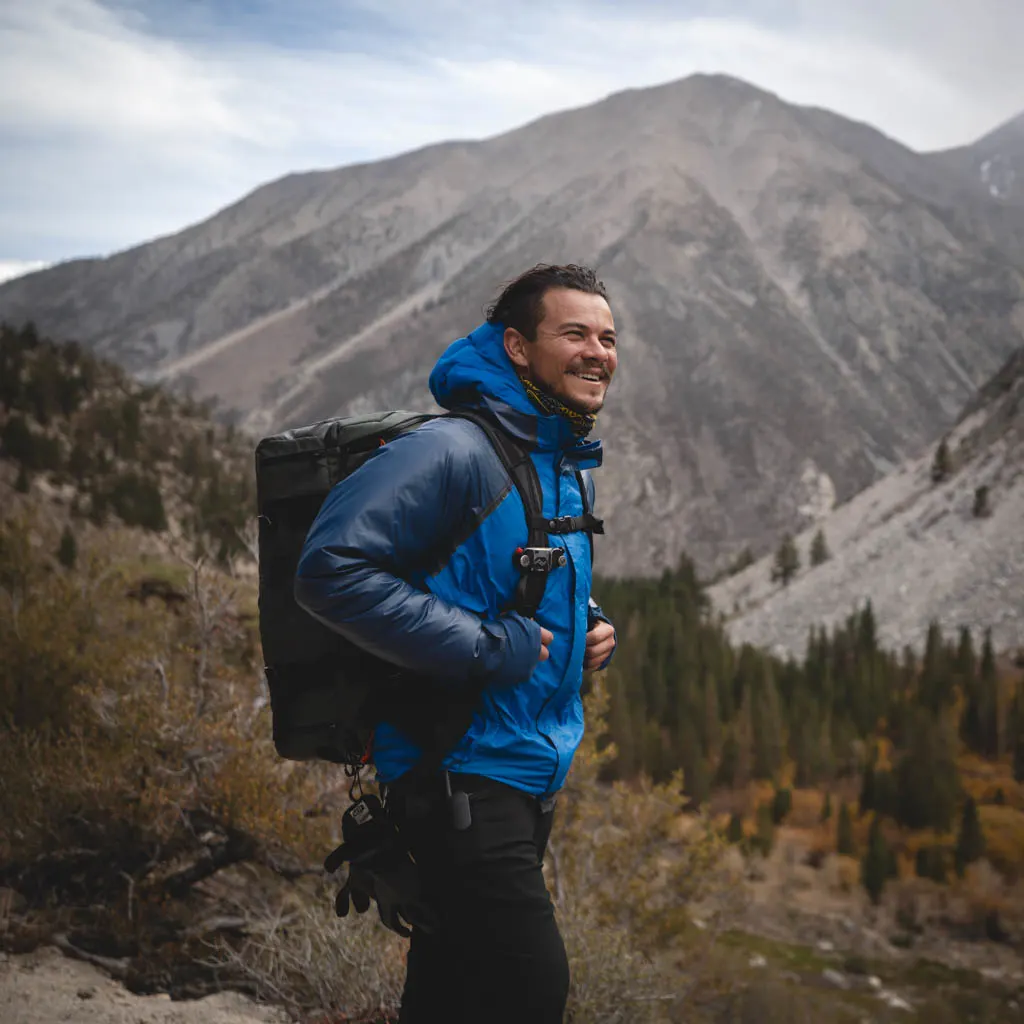 Oregon native and explorer at heart. Loves tackling expeditions around the world and drinking a good beer at the end of the day. PNW obsessed, VW nerd, and surf or snow riding fanatic.