Camping near Bend, Oregon, is a great alternative to staying in a hotel or vacation rental in town. You'll still have the benefit of being able to enjoy all of the city's attractions and facilities while being immersed in the great outdoors.
If you don't mind roughing it a little, there are plenty of campgrounds to choose from, many of which offer incredible views of lakes and mountains.
Camping Near Bend, Oregon
Here's a handy map to see which campsites are near your adventures! All of these sites have hiking, climbing and a slew of other adventures right outside your tent.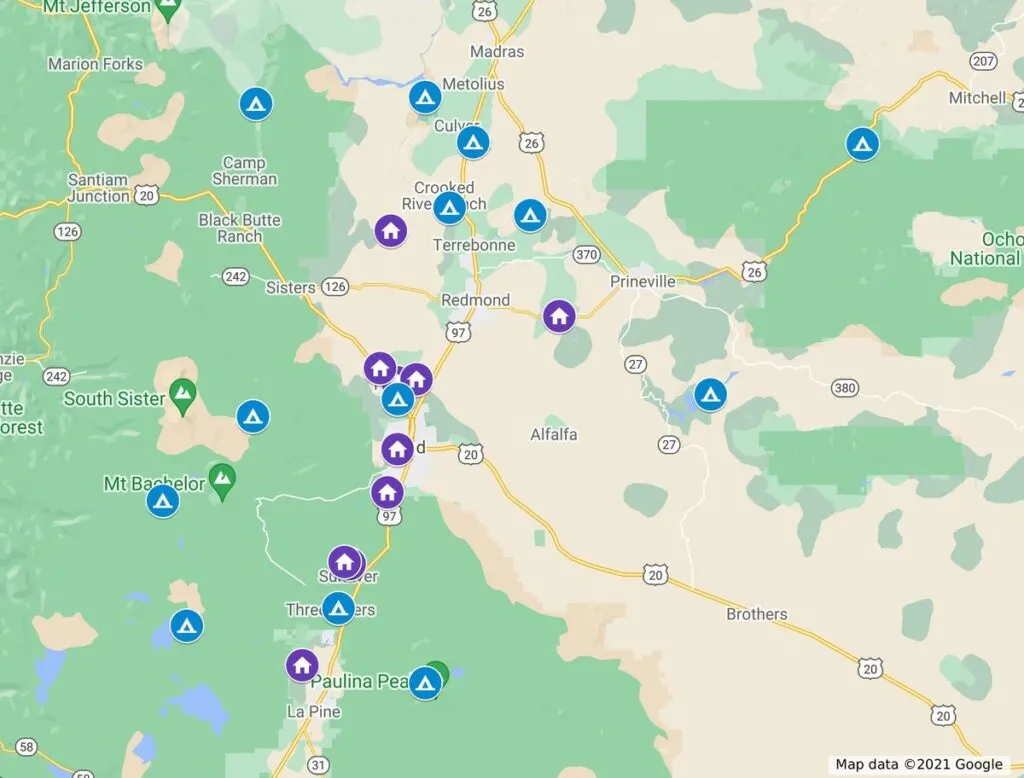 1. Elk Lake Campground
This small, hillside campground is located on the popular Elk Lake which is known for its stunning transparent waters and ample hiking trails. There are a day launch and a boat launch within the campground with both tent and RV sites available.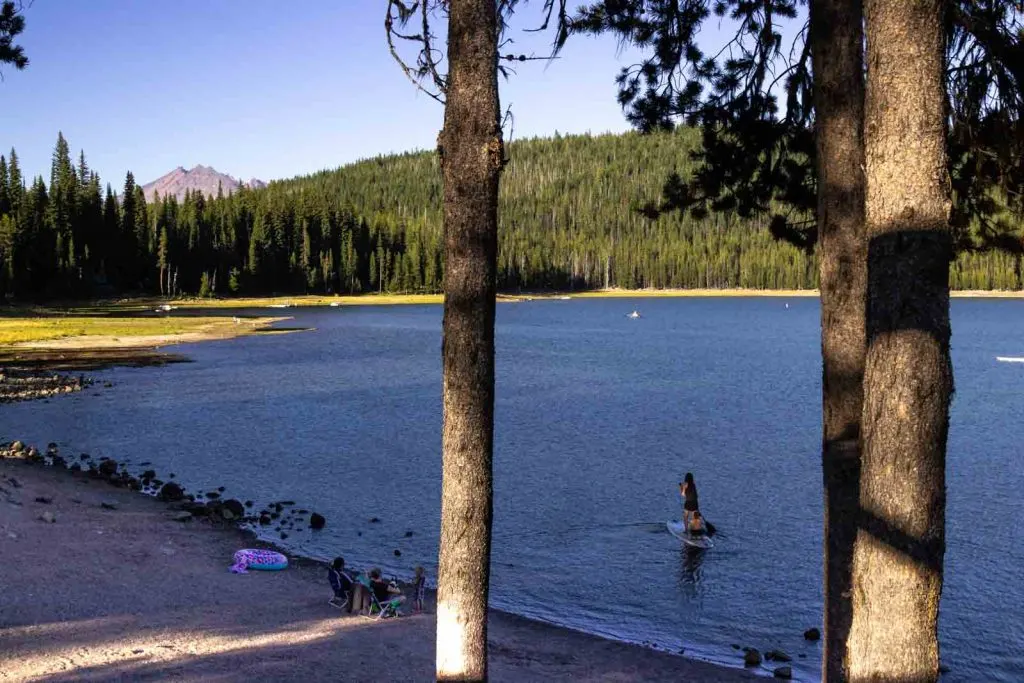 There is also potable water and restrooms for a comfortable camping experience, but the biggest draw here is the lake itself. Ideal for picnicking, swimming, boating and fishing, Elk Lake in Deschutes National Forest is a destination in itself, and an ideal place for camping near Bend, Oregon.
Price: $14 | More Info: Website
---
RELATED: Your Guide to Elk Lake in Oregon
---
RECOMMENDED GEAR:
2. Lower Bridge Campground
Lower Bridge Campground is pretty visually stunning, and you'll see its beauty as soon as you enter the grounds. The sites are pretty shaded thanks to the towering Ponderosa Pines.
There are 12 sites to pick from when camping near Bend, Oregon, all of which are best suited to tent camping, with potable water and vault toilets available. The Lower Bridge area is great for bird watching opportunities and fishing, with the town of Sisters just a short distance away.
Price: $18 | More Info: Website
---
READ MORE: An Adventurer's Guide to Things to Do in Bend, Oregon
---
3. Jasper Point Campground
In the Prineville Reservoir State Park, Jasper Point is one of the two campgrounds, ideal for camping near Bend, Oregon. It has 27 sites which have book electricity and water hookups, with some offering waterfront views.
There are also flush toilets, hot showers and a boat ramp, plus a trail head for hiking into the State Wildlife area is located in the camp itself. The reservoir is located in a vastly deep desert canyon, and the Ochoco National Forest is just a short drive away.
Price: $31 More Info: Website
4. Crane Prairie Campground
Located in the Deschutes National Forest, just off of the Cascade Lakes Highway, sits Crane Prarie Campground. The great thing about this campground is that it is close enough to the Cascade Lakes for them to be in easy reach, but far enough away to avoid some of the crazy tourist crowds when camping in central Oregon.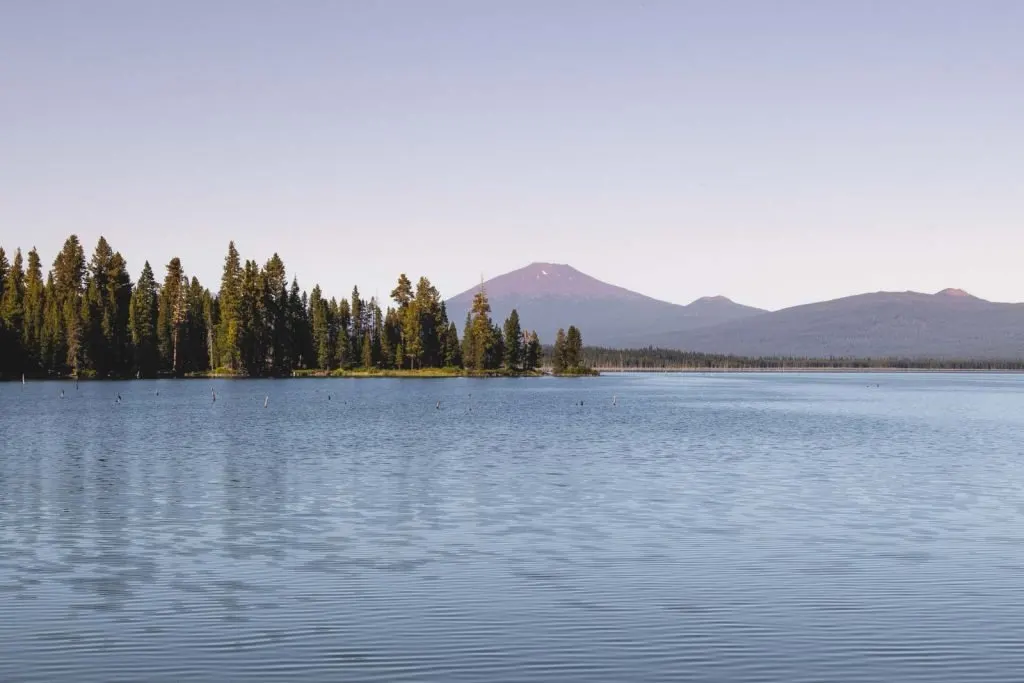 There are multiple campground loops to choose from, all of which are either on or just a short distance from the shores of Crane Prairie Reservoir. The area is a popular bird watching spot, although it is not too uncommon to also spot Rocky Mountain Elk, or even the occasional black bear.
The site can accommodate both tents and RVs with tables and campfire rings. Drinking water and vault toilets are also available.
Price: $16 | More Info: Website
5. Panacea at the Canyon
Panacea is pretty impressive. It is a 40 acre luxury tent resort anf spa, encouraging guests to disconnect from the modern world and instead focus on themselves.
This glamping resort offers a truly unique experience for those that stay there, largely thanks to the fact that it is completely signal free, and this is one of their main selling points.
Although you will be completely immersed in nature, it offers 5-star resort amenities, surrounded by the Wild and Scenic Crooked River Canyon.
It is the ideal escape if you are looking just to relax around the pool for a few days, or alternatively explore all that central Oregon has to offer with somewhere luxurious to head back to.
Price: Varies depending on the package booked. | More Info: Website
---
READ MORE: 10 Waterfall Hikes Near Bend That Are Worth Visiting
---
6. Lake Billy Chinook Cabins
Billy Chinook Lake is stunning, and the Cove Palisades State Park is a good option for camping near Bend Oregon and the lake. The park as more than 200 campsites, some of which have RV hookups.
However, if you want something a little more luxury, you could always book one of the deluxe, lakeside cabins which can sleep up to 8 people.
There are two main campgrounds in the park, the Crooker River Campground and Deschutes Campground, both of which are surrounded by nearly 10 miles of hiking trails, boat rentals, and the towering cliffs that surround the unique Lake Billy Chinook.
Price: tent site $20, electrical $30, deluxe cabin $87 | More Info: Website
---
RELATED: 21 of the Coolest Cabins in Oregon
---
7. Ochoco Divide Campground
The individual campsites at Ochoco Divide are offered on a first-come, first-served basis, so make sure you get there at a reasonable time to secure your spot.
It is a very convenient place to stop if you are traveling across the scenic State Highway 26, as it sits on top of the Ochoco Divide surrounded by a beautiful ponderosa pine forest.
It is very easy to reach despite the fact that it sits at an elevation of 4,700 ft. There are 28 campsites, all of which have picnic tables, fire pits and vault toilets.
Just a mile down the road is the Bandit Springs rest stop, the trailhead to several great hiking trails.
Price: $13 | More Info: Website
8. Redmond/Central Oregon KOA
KOAs are a well-known tent and RV camping company, with campgrounds scattered all over America. Central Oregon KOA offers RV camping, a stay in an on-site cabin or grass padded tent sites.
There are numerous amenities in camp, such as a saltwater swimming pool, peddle bikes to rent, a rock garden and a dog park. There are also plenty of outdoor activities to keep you entertained such as badminton and volleyball courts.
There are also many attractions in the surrounding area, such as 15 minutes south is Smith Rock, which offers some amazing hiking, or a short drive west will mean you can spend the day at Lake Billy Chinook.
Price: Varies | More Info: Website
→ If you want to go rock climbing, this great rock climbing tour operates in nearby Smith Rock State Park.
9. Bend-Sunriver RV campground
This friendly campground can be found on the Little Deschutes River. As it is also surrounded by lakes, fishing, boating and swimming are all very popular activities in the area.
When camping near Bend, Oregon, the campground also offers cabins, cottages and yurts if you don't have your own form of accommodation to use.
Mt. Bachelor, which is a world-class ski resort, is just a few minutes away from the camping resort, offering activities in both the summer and winter months.
Price: tent $38, RV around $50+ | More Info: Website
10. Skull Hollow Campground
Skull Hollow Campground is pretty rustic, and is located around 8 miles from Smith Rock State Park. It is particularly popular with explorers and rock climbers who want to go camping in central Oregon, with 28 spacious sites to choose from.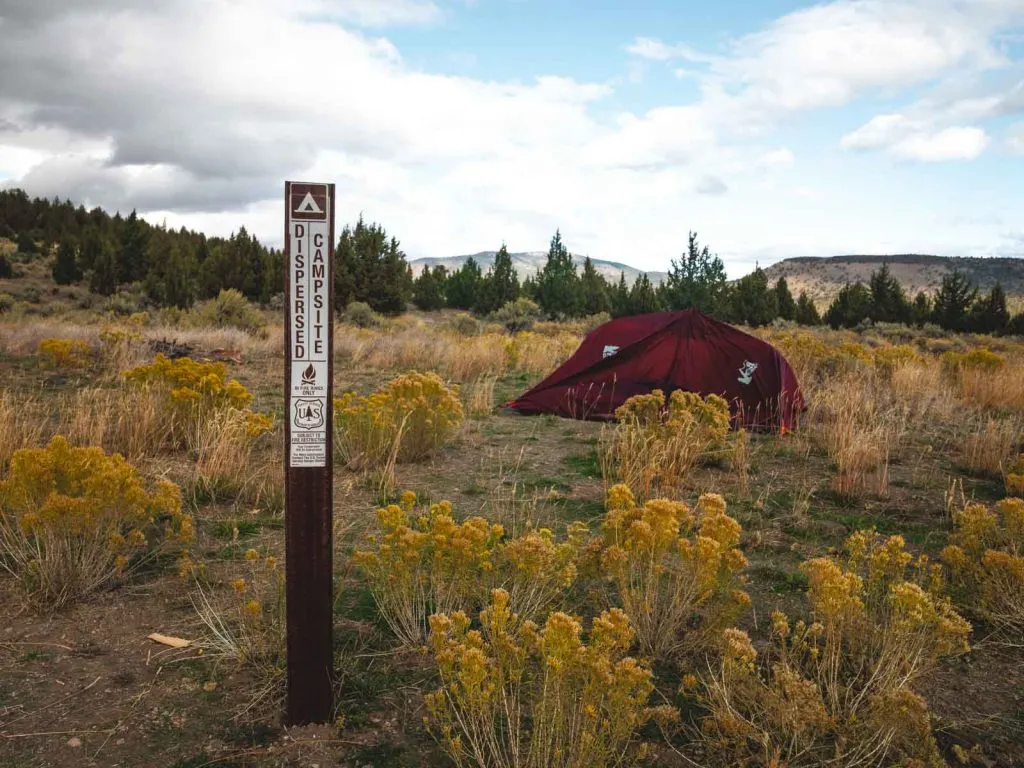 There are two pit toilets, but no water, so you'll have to bring your own. Each site has its own fire ring and picnic table and offers a really peaceful setting for all those that stay there.
There are many places around the campsite to explore such as the Skull Hollow Trailhead and the Cole LoopTrail. Smith Rock State Park is also worth checking out.
Price: $10 | More Info: Website
11. Driftwood Campgrounds
An option when camping in central Oregon is Driftwood Campgrounds, providing stunning views of Three Creeks Lake, no matter if you are camping in an RV or in a tent. Electric and RV hookups are not available at this site, but the views more than make up for this.
However, all sites do all have a firepit, grill and picnic table for alfresco dining. The campground is at the head of the Tam McArthur Trail, a relatively easy hike that offers incredible views of the Three Sisters Peaks, some of the highest in Oregon.
Boating and fishing are available in the lake, and the nearby town of Sisters offers other amenities and attractions.
Price: $14-$16 | More Info: Website
---
READ MORE: 17+ Badass Bend Hikes to Conquer During Your Visit
---
12. Tumalo State Park Campground
In the Tumalo State Park on the banks of the Deschutes River, you'll find this beautiful campground. You will have access to the river and all the many activities associated with it, such as boarding and rafting, plus there are plenty of nearby hiking trails.
There are full hookup sites, lots of tent sites and a couple of pet-friendly yurts.
Price: $20-$80 | More Info: Website
13. Paulina Lake Campground
Another great place to camp near Bend Oregon is Pauline Lake Campground. As the name suggests, this campground is located near Paulina Lake, a lofty 6,350 feet above sea level in Newberry National Volcanic Monument.
The site is suitable for all types of camping, and is a great place to highlight the volcanic landscapes and think forests that central Oregon is known for. The views from the shoreline trails around the lake are incredible.
Price: $18 | More Info: Website
---
READ MORE: Your Guide to Newberry National Volcanic Monument
---
More Camping Near Bend + Glamping and Cabins
14. Canvas Cabin at Rainshadow Organics
This cabin sits on two acres of an organic vegetable garden and has gorgeous views of Smith Rock State Park and the Three Sisters Mountains. The owners of the cabin also offer an authentic farm-to-table dining experience.
15. Heart of Central Oregon
If you're looking for a centrally located campsite, this is the one! It's in the country with desert views. Downtown Tumalo is only 2.5 miles away. The host also provides locally roasted coffee, wood, and ice.
16. HoneyBee Ranch of Tumalo
A cozy camping option near Bend is this private campsite. It's within walking distance to food trucks, fire pits, and bars. It feels private and peaceful. The host even offers fresh organic chicken eggs.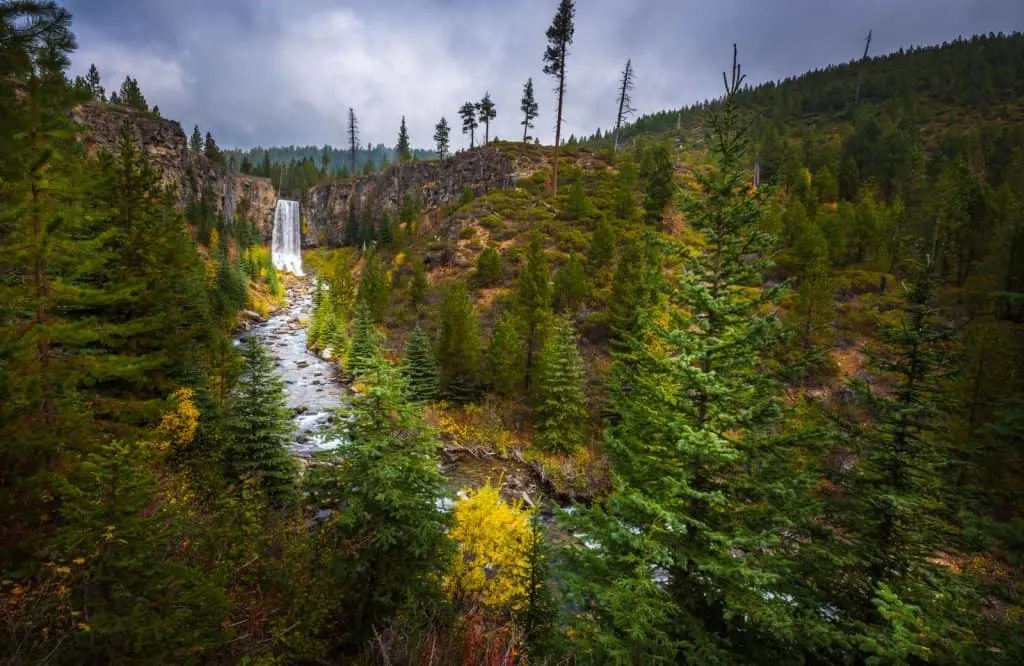 17. Bluestone Natural Farms
You can rent camping space at this beautiful family-run farm. You'll get a panoramic view of the Cascade Mountains and there are five ponds on the property. You can also rent one of their claw-tooth bathtubs to relax in after a long day of exploring.
18. Hummingbird Cottage
Hummingbird Cottage is an adorable craftsman-style blue bungalow in a quiet part of Bend that is close to breweries, hikes, and more.
19. Tall Pines A-Frame
This cute A-Frame between Sunriver and La Pine sits on an acre of Ponderosa Pine and has a full kitchen, bathroom, and two bedrooms.
20. Enchanting Sunriver Cabin
Located right in central Sunriver, this charming cabin is surrounded by trees and has a river rock fireplace, large deck and a private hot tub.
21. Private Pond Cottage With Hot Tub
This lovely one-bedroom cottage sits right on Baker Pond where you can fish and SUP. There is a hot tub and an outdoor grill on the private deck, and you are only minutes away from Bend.
22. Cozy Ranch Cabin
This cozy two-bedroom cabin in Sunriver includes free loaner bikes and use of the complex pool. Relax on the deck and do some grilling on the gas BBQ, and enjoy the fireplace in the house on cooler evenings.
23. Private Farm Apartment With Mountain Views
Located in lovely Tumalo, this recently remodeled private apartment is on a working farm and has one bedroom, a full kitchen and bathroom, and a private entrance. There is a gas grill on the private deck and local breakfast fixings are provided included coffee and eggs.
Exploring more? We have you covered for camping all around in Oregon!
Don't leave yet! Check more of what Bend has to offer, other camping options around the state and more adventures in Oregon.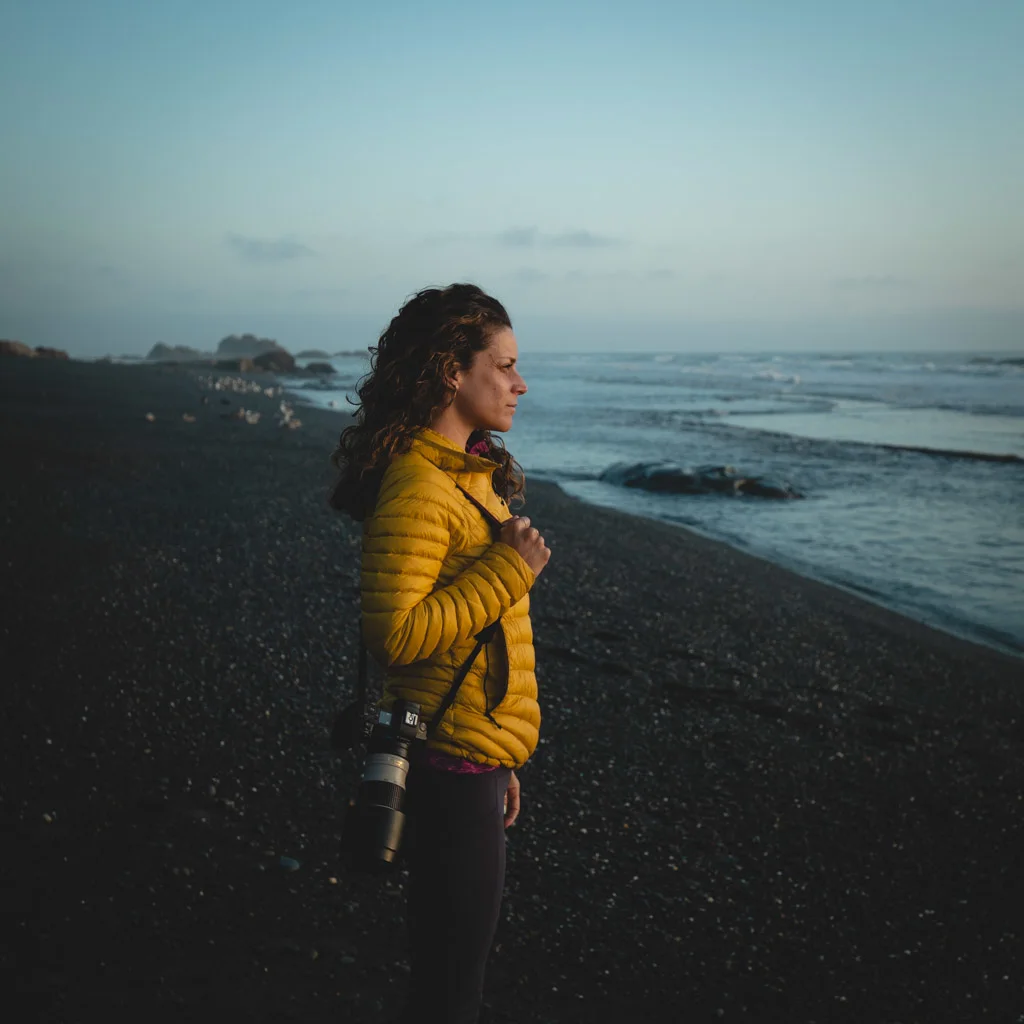 I've been perpetually traveling and living around the world for years but it's hard to beat Oregon and the PNW. After years of road-tripping the area, I guess you can say I know it pretty well! When I'm not writing guides for you, you can catch me somewhere petting a dog, attempting to surf, hiking a volcano, or stuffing my face with bread and cheese.