Cozying up in a yurt, snoozing to the sounds of nature in your treehouse, or even catching some z's in a chicken coop, there are some seriously cool places to go glamping in Oregon!
No matter where you want to tuck yourself in under the stars, we have you covered with these cool Oregon glamping opportunities!
Glamping in Oregon
---
There are TONS of places to go glamping around Oregon. Some of the best-located spots even include state parks with their cute and quaint yurts. But while the yurts at the state parks are nice, they won't be anything like you'll find below.
The following are some of the coolest and most unique glamping experiences out there for those who are in love with the idea of camping but still want their creature comforts.
We also have posts on yurts in Oregon and yurts on the Oregon Coast if you are looking to stay in a yurt.
Glamping Near Portland
1. Tiny Farmhouse Sanctuary
This custom-built tiny farmhouse is nestled in the woods but is only a 30-minute drive from Portland. The 247 square foot space is warm, comfortable, and modern.
Enjoy being in the countryside surrounded by forest. There are some great hiking trails nearby as well as horseriding.
The tiny home has everything you need for a comfortable stay including a sitting area, kitchenette, a sofa on the main level which folds out into a bed, and a sleeping loft with a queen bed.
The kitchen has a full fridge and freezer, a two-burner induction stove, and a microwave oven.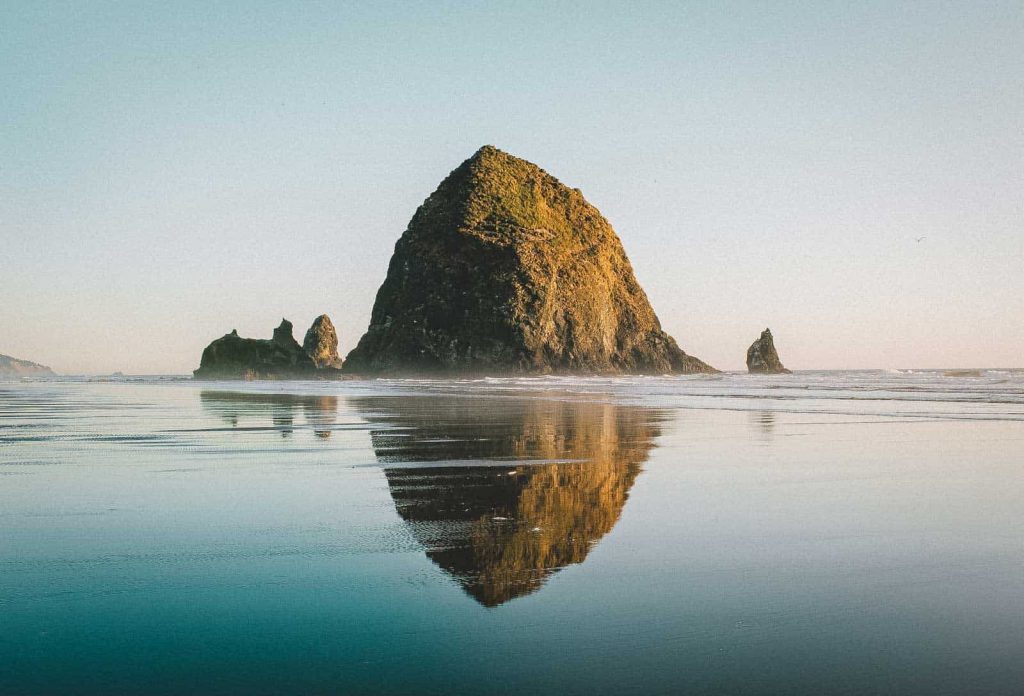 As well as being close to Portland, Cannon Beach is just 55 minutes away, easily achievable for a day trip, and the Banks-Vernonia State Trail runs right past Buxton.
2. Glamping at Camp Heaven
Get all the hard work done for you at this glamping set up for a rustic yet luxurious camping in the woods experience. The large campsite has an outdoor shower and camp bathroom, fire pit, and a covered outdoor seating area nearby to chill out in.
Although they are literally tents, inside you'll find fluffy white robes and warm bedding, quite unlike a usual camping experience. If the whole property is rented, it can accommodate eight people, or there is the option of hiring just one or two tents for smaller groups or couples.
Onsite there is an established walking trail that offers a great chance to spot some local wildlife, especially from the bridge over the creek. In the summer, guests are welcome to use the above-ground pool for cooling off.
If you venture further than the property, just a short drive away is the Tualatin River National Wildlife Refuge to explore. Being to the east of Portland, the Oregon Coast is also an easy drive away.
3. Bali House
Sleeping two guests, the Bali House offers a pretty cool glamping in Oregon experience. Located on an organic farm an hour away from Portland, it epitomizes the term 'glamping,' and is created from a converted greenhouse.
The bedroom is located in the loft, meaning it provides some lovely views of the surrounding farm, and the bed is covered with luxury cotton sheets and two down comforters. Downstairs there is a cozy seating area and a hot tub. In the colder months, use the infrared space heaters provided or the fans to cool you down in the summer.
Cook dinner on the BBQ or open fire, or separate kitchenette, and eat at your own picnic table, plus you can help yourself to teas and coffees. The barn bathroom is also yours exclusively.
Many private hiking trails are located behind the property, so guests can truly enjoy the natural surroundings. The Willamette Valley Foothills surrounds you, with one of the highlights in the area being Silver Falls State Park.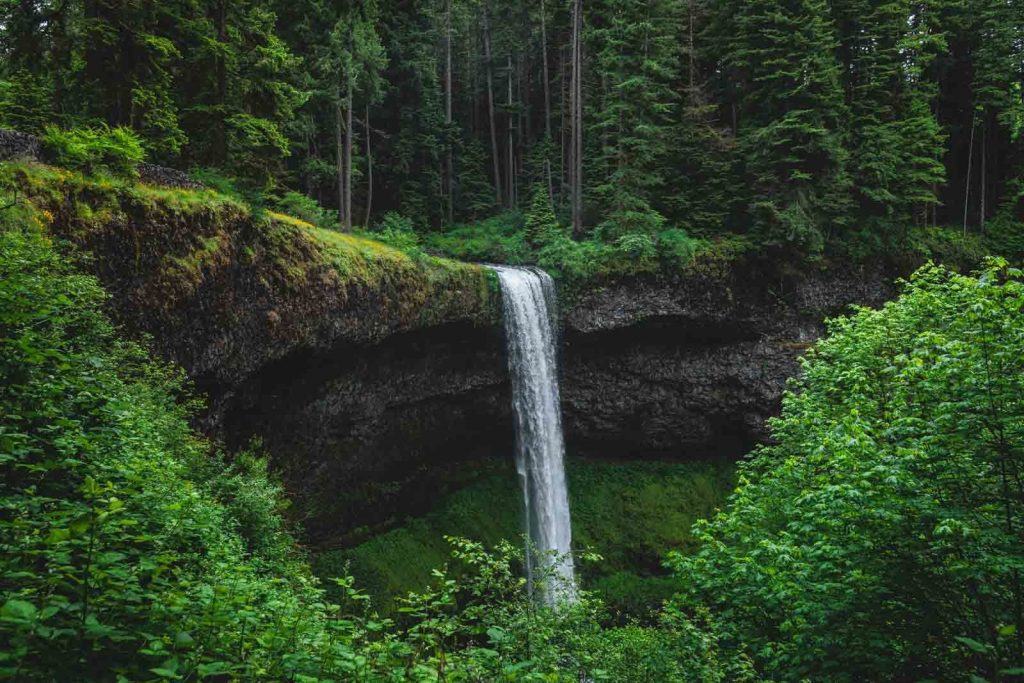 This stunning park is home to the famous South Falls, where you can actually walk behind the 177-foot curtain of water. Take the 7.2-mile Trail of Ten Falls and see some seriously impressive cascades of water along the way.
---
READ MORE: Your Guide to Silver Falls State Park – The Trail of 10 Falls & More
---
4. Private Luxury Glamping
Just two minutes from downtown Molalla, you'll find this cool luxury safari tent. Inside the tent, there is a queen-sized bed with plenty of extra pillows and blankets, and outside you'll be greeted with stunning mountain views.

A complimentary breakfast is included within the rental price. Go for a morning swim in the warm outdoor pool, and soak away a day of strenuous hiking in the hot tub. There is even a solar-heated outdoor shower and wood stove for cooler nights.
Molalla is located just south of Portland, within easy reaching distance of Mt. Hood and all this mighty mountain has to offer. There are countless hiking trails to enjoy, many of which offer spectacular views of the mountain. The slopes turn into a mecca for skiing and winter sports in the winter, with multiple resorts to choose from.
---
RELATED: 7 Awesome Mount Hood Hikes (Including Waterfall Hikes)
---
5. Quaint and Cozy, Affordable Glamping
Four of these cool little tiny houses make up My Tiny House Village, a unique place to go glamping in Oregon. Tucked away at the end of a road, you will feel like you are in the middle of nowhere while still being close enough to many restaurants and shops.

The house is just 48-square feet in size but has everything you'll need for a comfortable stay; plus, it all comes with a small deck where you can sit and enjoy your morning coffee. Inside there is a comfortable bed and even a small kitchenette, and the fluffy robes make the dash to the warm outside shower not too bad.
When you want to stretch your legs, there are some great hikes this side of Portland. The Molalla River State Park Trail is one of the closest. It starts along the Willamette River and continues up the Molalla River.
6. Yurt With Queen Bed
A yurt is one of the coolest forms of glamping in Oregon, and this one is no exception. The Yurt is located at the base of Mount Hood, and there are a few other glamping and camping accommodations onsite too.

Each of the yurts is set up with a queen bed and they have their own private deck, although you'll have to provide your own linen. All the bathrooms have hot running water. There are plenty of additional amenities guests can make use of, such as the organic garden, campfire circle, picnic area, campers kitchen, and multiple hiking trails.
North Zigzag Mountain Trailhead and Castle Canyon Trailhead are within walking distance of the property, and both are great hikes. Alternatively, you could try one of the hikes around Mt. Hood. There are plenty to choose from, but some of the best include the 6.1 miles Bald Mountain Hike, the Trillium Lake Loop, and the moderate Tom, Dick, and Harry hike.
---
READ MORE: The Tom, Dick, and Harry Trail and Mirror Lake Loop in Mount Hood
---
Central Oregon Glamping
7. Prospector and Pioneer Luxury Tents
These luxury handcrafted wood and canvas tents – Prospector and Pioneer – are what welcome you at this glamping site, inspired and built to honor the Oregon prospectors who came to the area 150 years ago.

The tents both have solid wood floors with rugs, king-sized beds complete with bed linen, period furniture, and LED light fittings. During your stay, you can also make use of a water dispenser and coffee maker.
Outside, each site has a charcoal BBQ, picnic table, and fire ring, and it is just a few steps to the heated bathhouse. On-site, there is also a short, forested path that takes you to a shaded swimming hole and waterfall, ideal for a hot day.

The site is located in the Umpqua National Forest, right next to the North Umpqua River. It is centrally located to the North Umpqua Trail if you fancy a longer hike, or there are many other trailheads just a short drive away.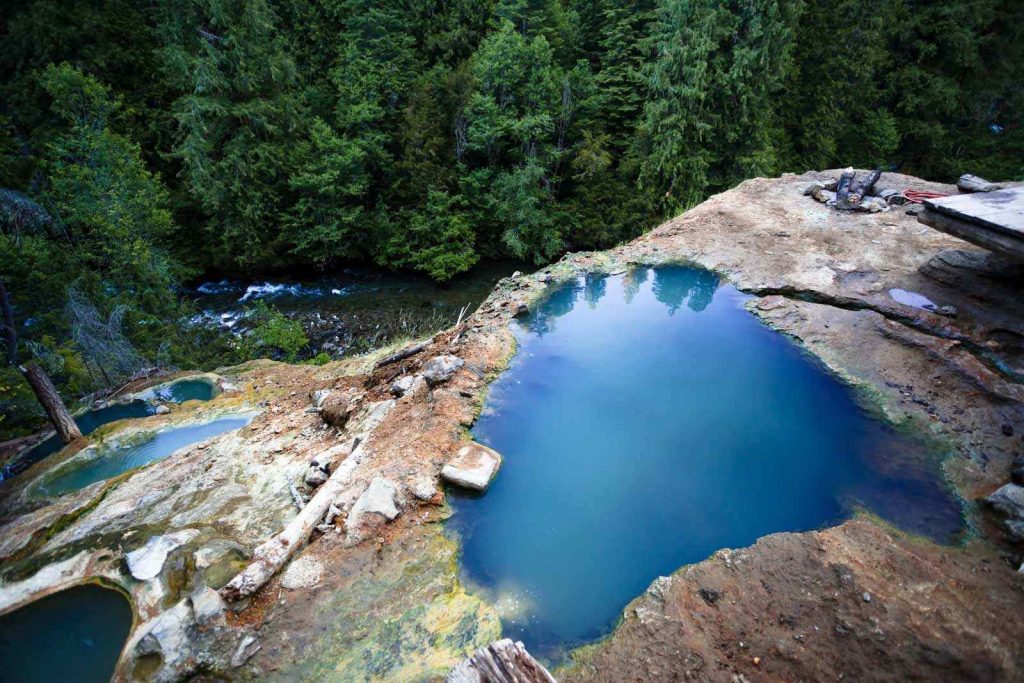 Finish the day with a trip to Umpqua Hot Springs for a little rest and relaxation. Although the immediate area is stunning, it is just a short drive to Crater Lake National Park, one of Oregon's jewels.
Check Price: Prospector | Pioneer | Discount Code
---
READ MORE: 11 Tips for Visiting Umpqua Hot Springs in Oregon
---
8. Cozy Tumalo Tipi
Staying in a tipi offers an alternative glamping experience. This beautiful tipi was locally made with a natural style and sits on a handcrafted deck. Although located in Tumalo, it is in a quiet and secluded neighborhood.

It is equipped with a propane heater to keep it toasty, a queen-sized bed with a memory foam mattress, and a fit pit with firewood included in the booking. If you are traveling in a group, there is also the option for extra guests to bring and pitch tents around the tipi and use the bathroom, which is just a short walk away along an illuminated path.
There are so many adventurous things to do in the Bend area of Oregon. There are a few hikes along the Deschutes River, plus you can go horseriding along the river via a tour if you fancy seeing the sights from a loftier perspective.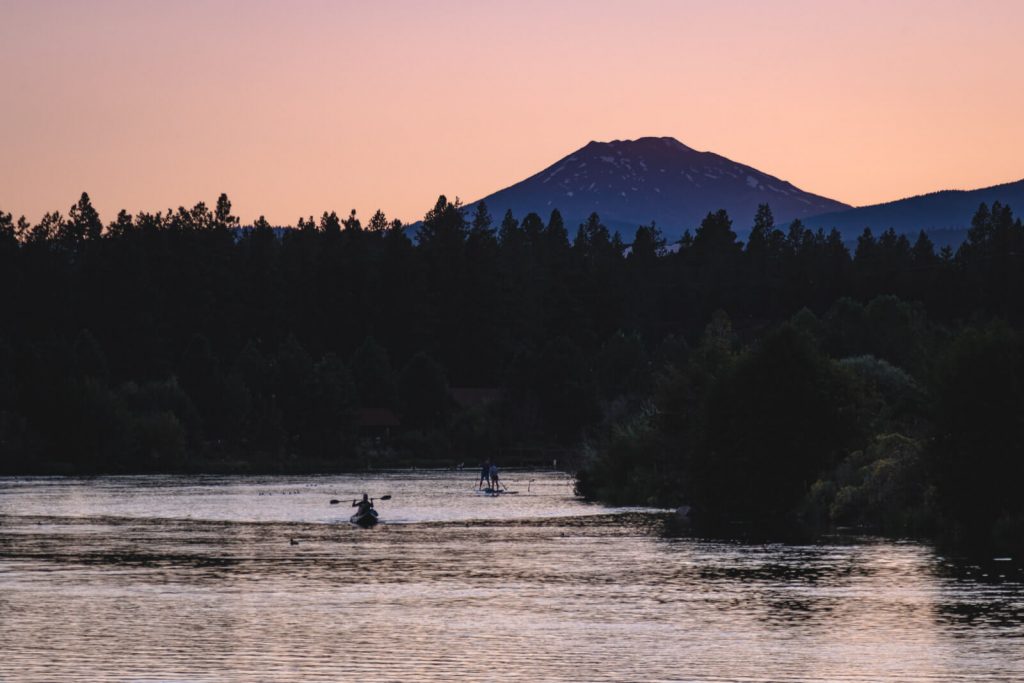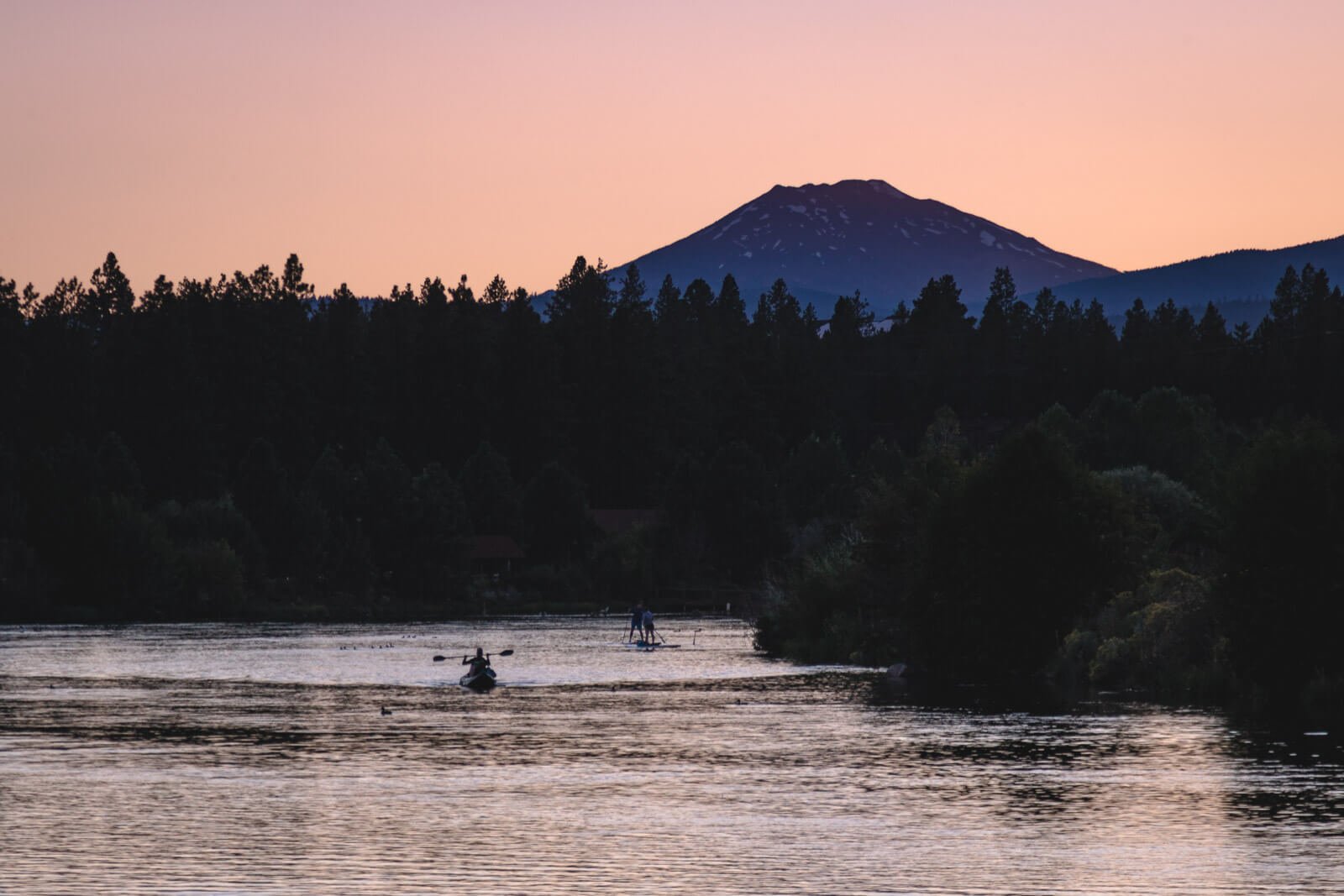 The Pilot Butte hike is a short 2-miles, but the view will take your breath away, or if it is waterfalls you are after, take the 7-mile moderate hike to Tumalo Falls. Hiking isn't the only activity; you could try bungy jumping, caving in a lava cave, white water rafting, kayaking – the list goes on…
---
READ MORE: Tumalo Falls Hike & Bike Trail Near Bend, Oregon
---
9. Yurt on Historical Vineyard
Calling all wine lovers! This beautiful yurt sits on a historical vineyard, so you can admire the views out over the vines as you sip on a glass of wine while glamping in Oregon. The private yurt sleeps two people, with an additional pull out mattress if needed, and has its own private bathroom, shower, and kitchenette.

The idea of this retreat is for you to switch off the tech and immerse yourself in nature, with the classic vinyl collection as technologically advanced as it gets. Purchase a bottle of the vineyard's finest wine and spend your evenings sitting around the fire pit and enjoying the sound of the birds and the mountains in the distance.
The vineyard is located near Elkton's town, meaning you have easy access to the natural wonders that are the Willamette and Umpqua National Forests. Think hikes, trips to waterfalls, and endless views of forests and mountains.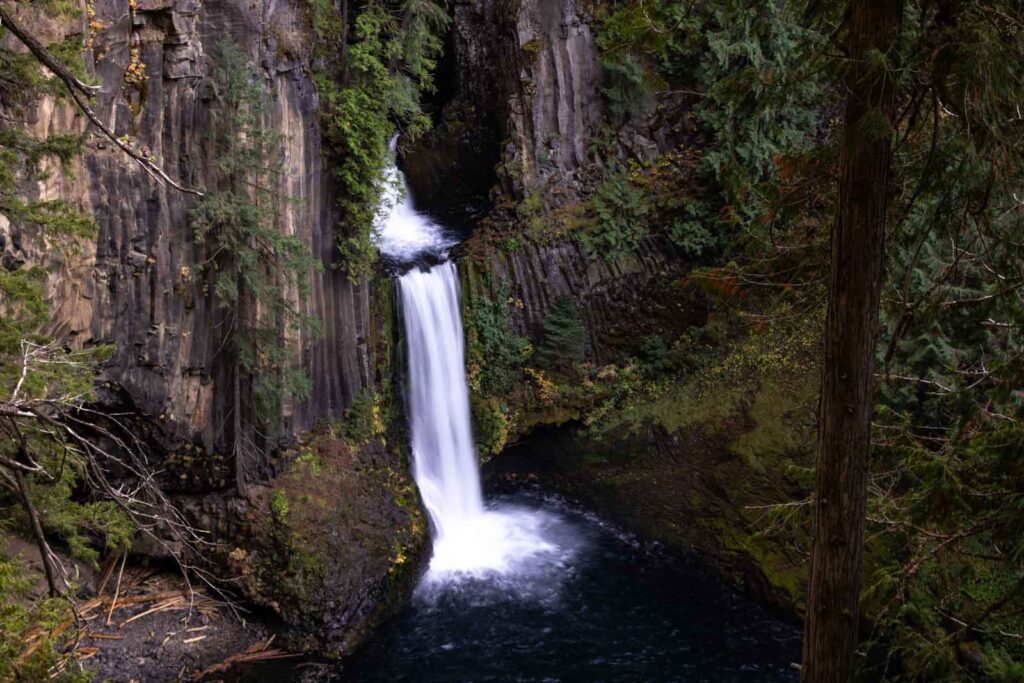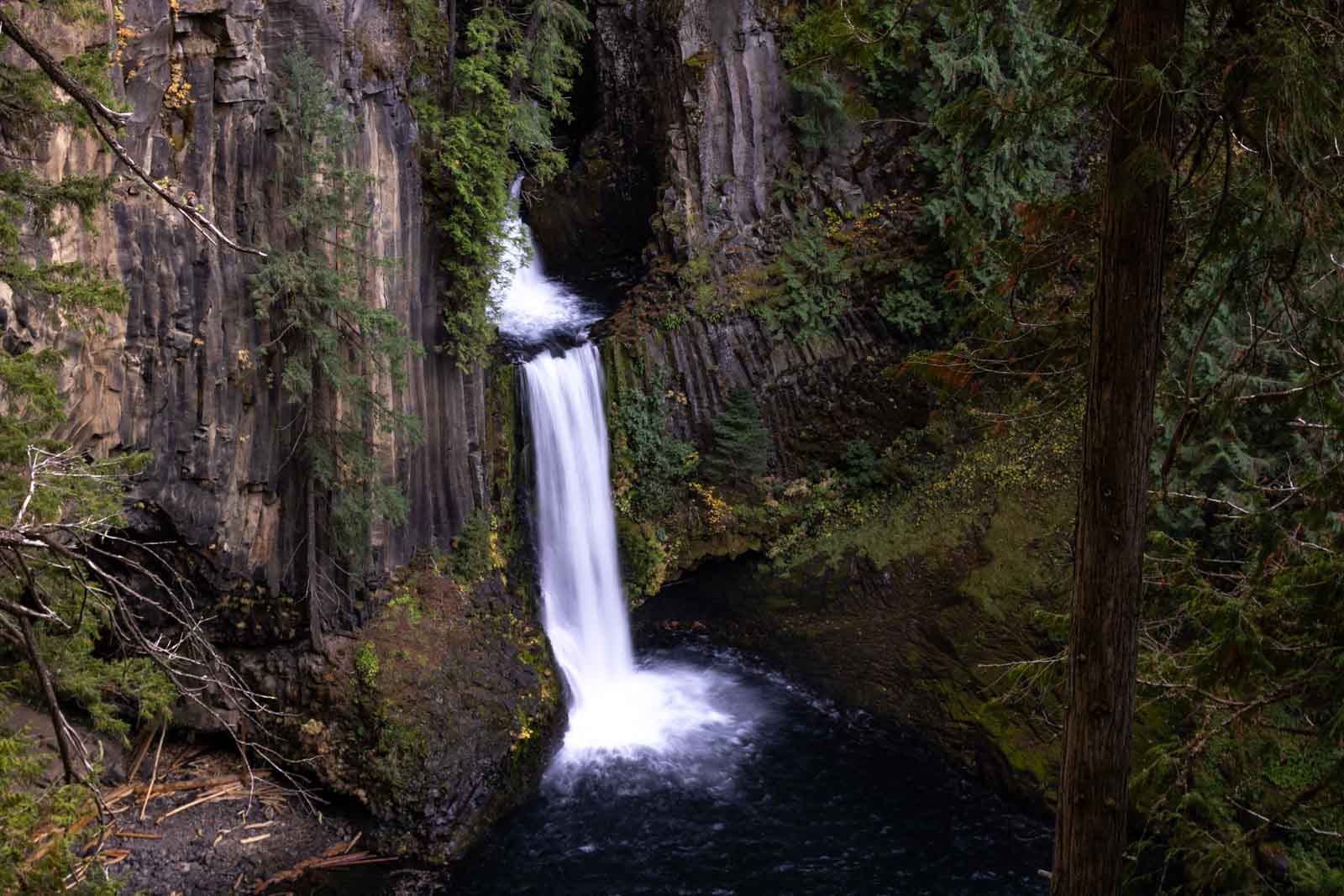 To the west, it is just a short drive to the coast, with state parks such as Umpqua Lighthouse and William M.Tugman State Park just waiting to be explored.
---
READ MORE: Guide to Umpqua National Forest: Waterfall Hikes & Hot Springs
---
10. Central Oregon Glamping
You don't have to have your own motorhome to live the motorhome experience. You can experience central Oregon in style in this comfy 40-foot toy hauler. There is a very comfortable living area, complete with reclining leather couches, an electric fireplace and smart TV, and a kitchen with all the basics.
When it comes to sleeping arrangements, the loft can easily sleep two people, plus the private master suite sleeps two. The dining chairs fold into a bed that can sleep another two people, and at the end of the home, there is a separate 'garage' that hosts bunk beds.

Guests are welcome to use the private outdoor area with outdoor seating, a BBQ, and a propane fireplace. You can even mount the TV outside and watch a film under the stars.
The home is located on a one-acre lot in a quiet neighborhood between Redmond and Bend. It is just 3.5 miles to Tumalo State Park, 16 miles from Smith Rock State Park, and 31 miles from Mt. Bachelor, so you won't run out of things to do when it comes to outside recreational activities.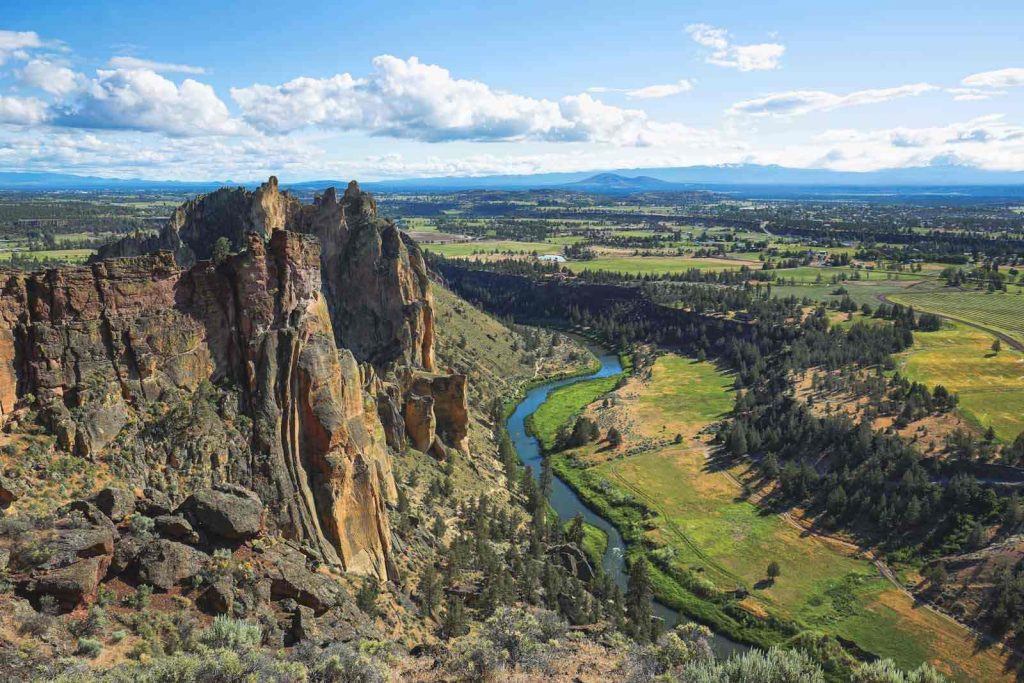 The motorhome owners can provide you with snowmobile rentals and SXS rentals for a bit of an adrenaline rush, and there are many places to ride them very close to the trailer.
---
RELATED: A Guide to Smith Rock State Park's Hikes, Misery Ridge Trail & More
---
South Oregon Glamping
11. Chenin Blanc Tent and Pinot Noir Tent at Applegate Valley
Both the Chenin Blanc Tent and the Pinot Noir Tent in Applegate Valley offer a lot more than just your average camping experience, and they are glamping in Oregon at its finest. These luxurious glamping sites offer private bath facilities for their guests.

Both tents feature a large bed with all bedding included, a covered deck area complete with chairs to sit out and enjoy the fresh air, indoor seating, and a small area to prepare teas, coffees, and drinks.
The Pinot Noir tent is the larger of the two, so this is the one to pick if you are looking for a little more space, but both contain carefully curated furnishings to give your stay that extra, added comfort.
No matter what tent you are staying in, you will have access to the site's 5-acre woods with beautiful mountain views. Conveniently located on the Applegate Wine Trail, you can sample some of the area's finest wines during your visit from one of the many vineyards in the area. Just ask for a wine trail map, and you are good to go.
Check Price: Chenin Blanc Tent | Pinot Noir Tent | Discount Code
12. Glamping Geo Dome
Sleep under the stars in this Glamping Geo Dome, perfect if you love stargazing. It is something you need to experience at least once in your life. There is a firepit outside the tent, a picnic table, and a couple of chairs, so you can enjoy an evening around the campfire.

Although rustic, there is remote control lighting within the dome, a small heater, and even thoughtful touches like flashlights so you can navigate your way around outside. There is a portable bucket toilet provided, as well as two jugs of drinkable water. If you are traveling with more than two people, you are welcome to bring an additional tent and pitch it outside the dome.
The dome is literally walking distance from the stunning Klamath Lake and Harriman Springs Resort. If you have a car, then Crater Lake is just 45 minutes away, and Lake of the Woods is 12 miles away, so you have plenty of places to visit to keep you entertained during your stay.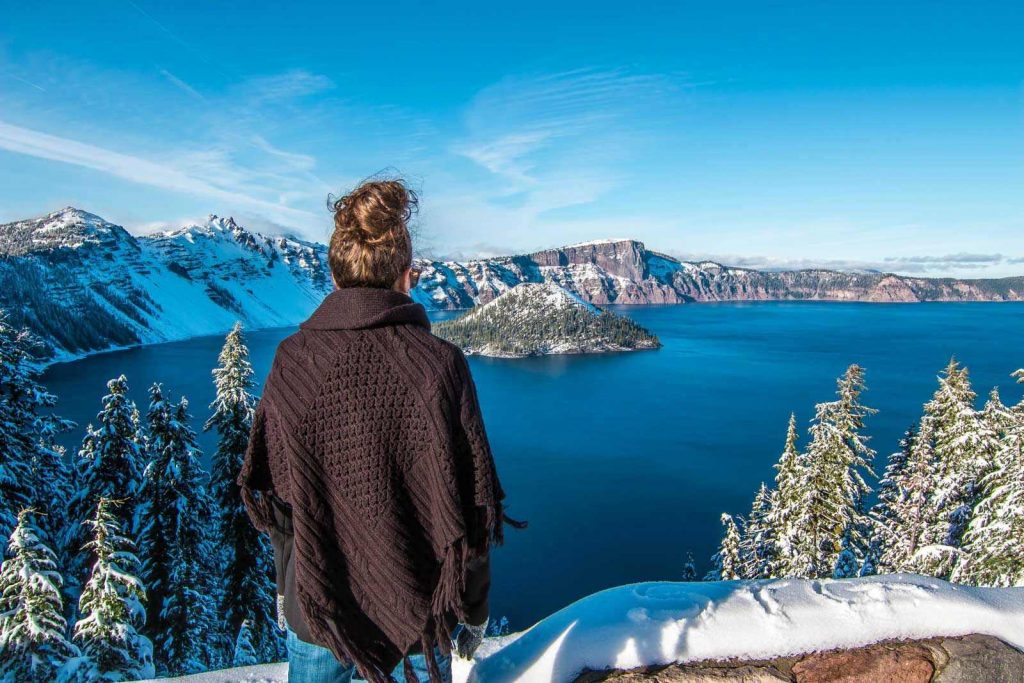 There are numerous hiking trails to enjoy on a visit to Crater Lake, from short, accessible trails to longer, strenuous routes that will allow you to explore the backcountry; there is a hike that will suit your experience and pace.
---
READ MORE: Things to do at Crater Lake National Park: Hikes, Camping & When to Visit
---
13. Forestree @ Out 'n' About Treehouse Resort
Standing 32 feet off the ground, this treehouse accommodation is certainly a unique place to spend the night. It sleeps four to five people in the open-plan space, with a queen bed, a bunk bed, and an additional single cot.
Also, in this cool cabin, there is a mini-fridge and even a toilet and sink. Be aware that the toilet is just behind a curtain, but it's better than having to climb down to the forest floor! If you are not comfortable with this, there are plenty of regular bathrooms for guests to use in the resort where the treehouse is located.

Live the full treehouse experience as you sleep as it is actually supported by the trees themselves, so when the wind blows, you might move a little. A bonus is that breakfast is included in the stay, plus there is a seasonal outdoor swimming pool fed by freshwater from the East Fork of the Illinois River. There is also a small kitchen area guests are free to use.
Located in the forest, it is hardly surprising that there is an abundance of adventurous outdoor activities to enjoy in the surrounding area. The treehouse is close to the Oregon Caves National Monument, the Redwood National Forest, and close enough to the coast for an easy day trip.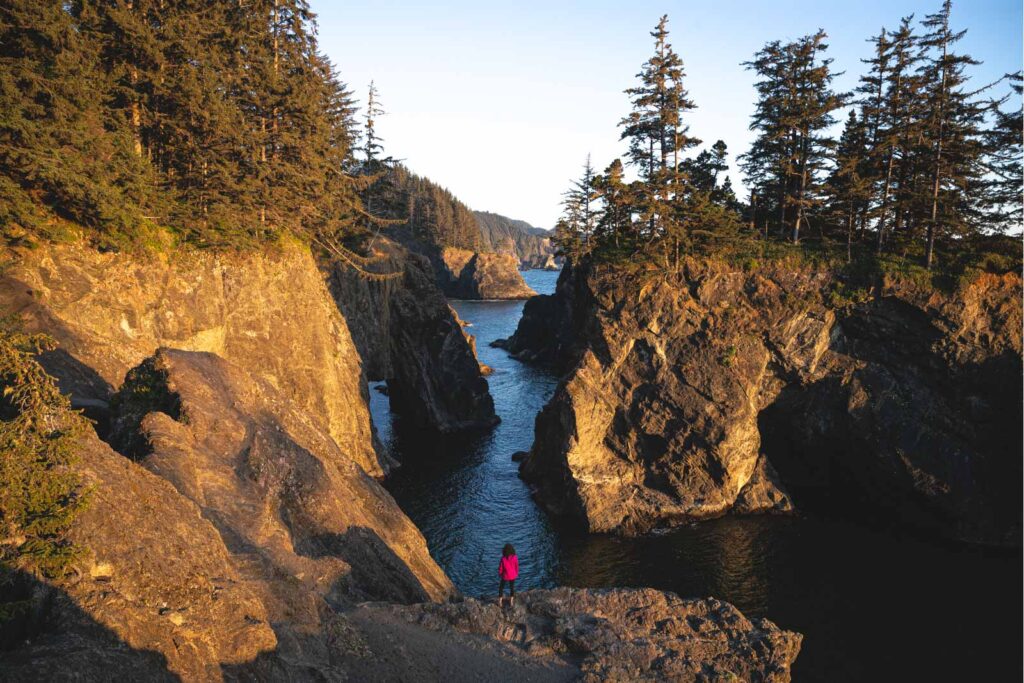 The stunning Samuel H. Boardman State Scenic Corridor is one of the main coastal attractions worth visiting, with beautiful hidden beaches, towering rock formations, and endless hikes.
Although it is easy to spend a few days touring the country roads and drinking the local wines, during your stay, you could also pay a visit to the English Lavender Farm if it is the right season, or head to the Grouse Gap Trailhead if you are up for a bit of a hike.
---
READ MORE: Hiking the Samuel H. Boardman State Scenic Corridor
---
Eastern Oregon Glamping
14. Glamping Tent at Evans Farm
Enjoy camping in the outdoors but with more luxuries in this canvas wall tent that sits on a solid pine platform. The view from the tent is incredible, with panoramic views over the Wallowa Mountains.
The tent has electricity, a platform bed with a new foam mattress, and all bed linens. There is a wood stove with wood provided to keep you warm at night, an outdoor shower with hot water, and a portable toilet.
If you want to make yourself a meal, there is a propane cooking stove, plates, cutlery, pots and pans, as well as a small fridge and even a coffee maker. Enjoy the outdoor fire pit in the evenings and do some stargazing.
The glamping tent is located just outside the charming town of Joseph and is very near Wallowa Lake State Park. There are lots of trails and other adventures to be had there, including kayaking, fishing, white water rafting to name a few.
The Wallowa Mountains are one of the most beautiful and remote places to visit in Oregon so make sure to take your time exploring the area.
15. Haiku Hollow and Big Tree at Guyon Springs
Guyon Springs offers a couple of different options for glamping in Oregon – Haiku Hollow and Big Tree. The two tents are located at different points along the canyon, with trails adjacent to each camp.
Big Tree sits in the shadows of the rimrock, looking out over the valley that sits below it. A large tent sits on a larger Red Fir deck, and inside there is a plush queen bed with a memory foam mattress topper and a kitchen with all the cooking amenities you'll need for your stay.

Outside there is a cold tub, picnic table, and a fire ring, so you can sit outside with your coffee or meal, enjoying the serenity and views.
Haiku Hollow is similar, and again the tent sits on a deck with a comfortable bed and kitchen facilities inside. There is a wood-fired hot tub and a wood stove to use on colder evenings. With this property, you can use the two additional single mattresses if you are traveling with more people.

Guyon Springs offers 120 acres of gardens and springs in this rugged part of Oregon. There are animals on the property, such as horses, chickens, and dogs and cats, all of who will be waiting to greet you when you arrive.
The property is located only 3-miles from the Philip P. Schneider Wildlife Area, so be sure to bring your binoculars with you, and there is easy access to the South Fork of the John Day River with plenty of places to hike or even have a swim if the weather is warm enough.
Check Price: Haiku Hollow | Big Tree | Discount Code
Oregon Coast Glamping
16. Shipping Container Glamping
The thought of staying in a shipping container may not be the most appealing, but wait until you see this incredible shipping container accommodation. You'll be able to experience a little bit of luxury just 6-miles south of Astoria.

The container covers 320 square feet, and inside it comes complete with a full kitchen, a laundry area and bathroom, a queen-sized leather sleeper sofa, and a flat screened TV. Outside, a huge wrap-around, covered deck hugs the property. What is even cooler is this tiny house was once a drive-thru coffee shop from Route 66!
The property owners will also supply you with an eight-person tent if you need it and six sleeping mats to accommodate more people, so they can also use the amenities inside the property. There are an outdoor fire pit and space to park an RV if you have one.
There is so much to do in iconic Astoria, located at the Columbia River's mouth. The rivers and streams in and around the town are known to have some of the finest fishing in the state; however, that is far from all there is to do in this coastal town.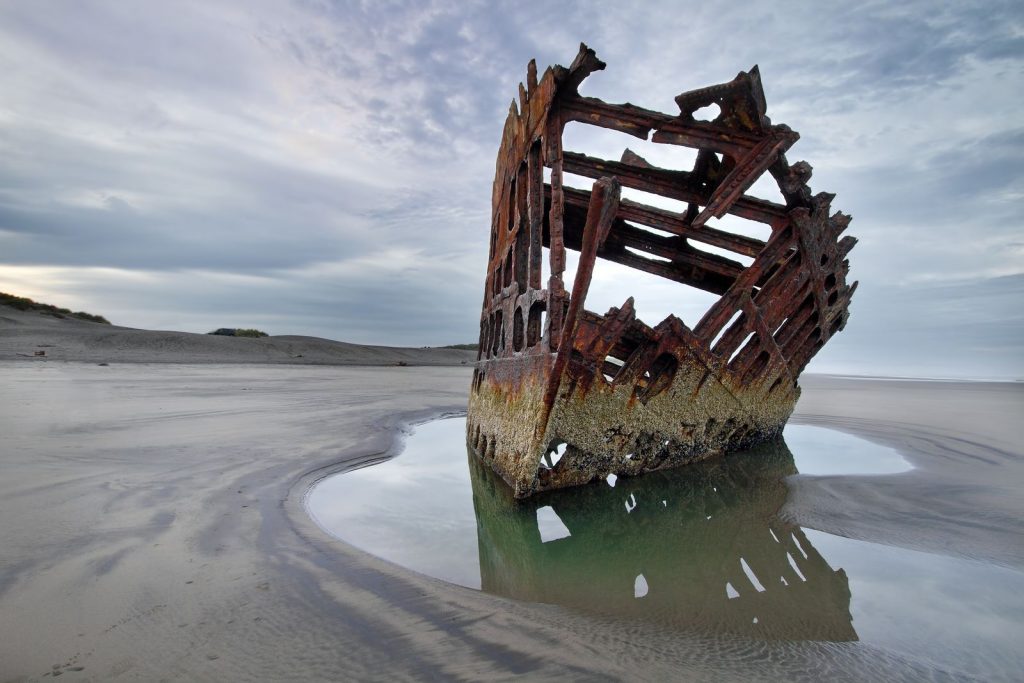 Fort Stevens State Park is very close to the property, filled with hiking trails, beautiful beaches, and even a shipwreck to explore.
---
READ MORE: 11 Adventurous Things to do in Astoria, Oregon
---
17. Cozy Oceanfront Yurt
Stay in this cozy, dog-friendly yurt right on Tillamook Bay in Bay City with 180-degree views of the lush surroundings and across the water.
The yurt has all the luxuries of home including a living room with a TV and movies provided, a full kitchen and bathroom, and a queen-sized bed that sits under a clear dome so you can stargaze at night without having to leave the comfort of your bed.
The futon in the living room folds out so you can sleep four people comfortably. Outside the yurt, there is a fire pit and a picnic table with a grill. And best of all – there is a luxurious hot tub for you to soak away the adventures of the day.
In the surrounding area, there are so many fun things to see and do. Drive the scenic Three Capes Scenic Loop, visit and do tastings at the Tillamook Cheese Factory, check out the beaches nearby, and do one of the many hikes in the area.
---
RELATED: Three Capes Scenic Route on the Oregon Coast
---
18. Unique Geodesic Dome Home
If you have ever fancied staying in a dome house, this glamping in Oregon site is for you. This unique geodesic dome home is located in lovely Otter Rock, and is only three blocks from the beach.
This stylish home has a full kitchen, bathroom, outside shower, a large deck, and a bedroom on the top floor. It is dog-friendly and there are lots of trails nearby to take your canine companion.
You will have access to the top two floors of the dome, and there is a large sitting area with a TV and free internet. There are sea views from the deck and the unique triangle windows.
You will be right by the impressive Devils Punch Bowl as well as beautiful Beverly Beach State Park, which has a number of hiking trails, a historic lighthouse, as well as a gorgeous stretch of beach for walking and surfing.
---
RELATED: 19 Must-Visit Oregon Coast State Parks
---
19. Glowing Lotus
Chances are, you will never have seen a glamping facility quite like the Glowing Lotus. This unique tent is located on a small ranch just 1.5 miles from the ocean. It is a very private place to stay, surrounded by tall swaying pine trees.
Guests staying in the Lotus will have access to their own private bathroom, but there are shared showers. Inside the tent, there is a queen bed and a small futon, alongside a table if it's too cold or wet to eat outside, and outside there is a picnic table and firepit.
There are a few walking trails and farm animals on the property, but if you really want to experience your surroundings, you should head to Bandon Beach, Bullard's Beach State Park, or take the trail to Coquille River Lighthouse.
All will give you a chance to view the stunning coastline at this part of Oregon and take some great hikes.
---
RELATED: 11 Oregon Lighthouses & The Adventures Nearby
---
20. Cranberry Overlook at Black Moon Farms
Within easy walking distance to the shore, this beautiful campsite provides a quiet and restful place to stay. This glamping in Oregon option sits on an organic farm that produces a range of fruits, including cranberries and blueberries, but the actual site is tucked away in a fenced area.
Guests will have access to a large canvas tent with a queen-sized mattress, plus a separate five-person pop-up dome tent. There is an outdoor camp shower and toilet nearby. Fresh towels, linens, and firewood are provided as part of your stay. There is no electricity or wifi, so it really is a chance for you to go off-grid for a little while.
Guests are welcome to explore the farm and even take a tractor or ATV tour, or if you fancy going a little further afield, it is very close to the town of Bandon.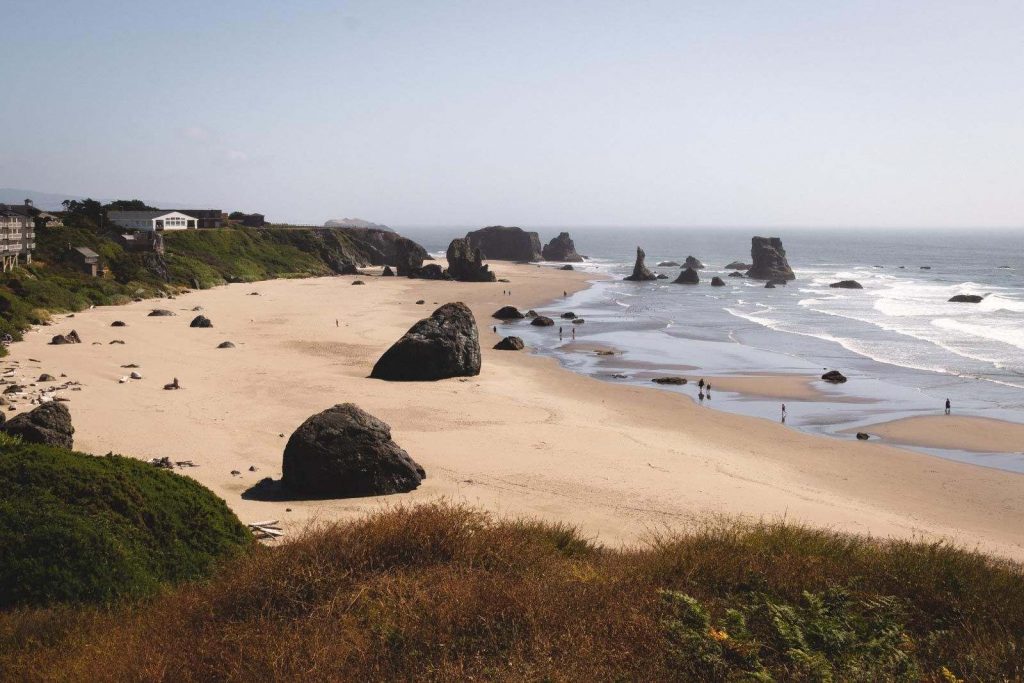 One of the best things to do in the area is to walk up to Coquille River Lighthouse in Bullard's Beach State Park. There are 4.5 miles of sandy beach to enjoy here; whether you fancy a hike along the sand or a picnic looking over the river, it is a lovely place to explore.
When staying at the farm, don't miss out on one of the legendary sunsets that can be seen at Face Rock Scenic Viewpoint; it will take your breath away.
More Accommodation in Oregon
We hope this glamping in Oregon post has helped you plan your trip. Here are more posts on epic adventures around Oregon to check out, and the best camping in Oregon.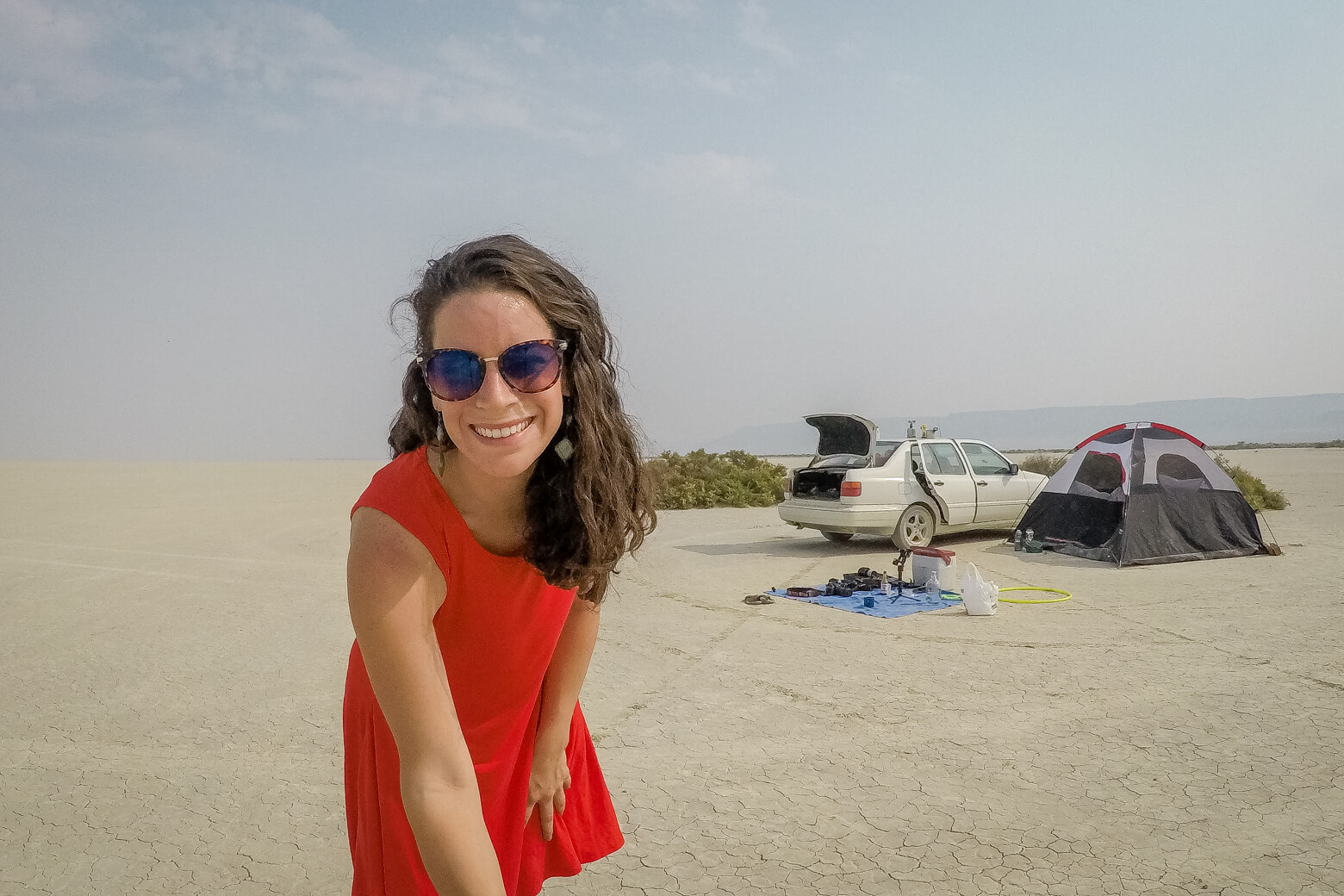 Oregon lover, adventure seeker, travel blogger, beer and wine drinker, dog person, master of the messy bun, and geography nerd.