We think you'd be hard-pressed to find any hotel that could compare to staying at a yurt!
If you're looking for a unique stay, don't care for a typical Holiday Inn room, and want to be even closer to your adventures, then this list of badass yurts in Oregon will serve you well.
You'll find yurts on the Oregon Coast, around Portland, and sprinkled around Central and Eastern Oregon too. Below we've gathered the coolest yurt stays across the state for you, all you need to do is choose which one and pack your bags!
21 Cool Yurts in Oregon
---
Yurts on the Oregon Coast
The Oregon Coast actually has a ton of yurts but here are some of the top yurts in the area. We have a whole other list of Oregon Coast yurts for you to check out if you're looking for more in the area.
---
READ MORE: 21 Amazing Yurts on the Oregon Coast
---
1. The Yurt on Eagleview
You won't get a better view from any other yurt in Oregon than the one from the Yurt at Eagleview. Literally perched on the side of a mountain, the yurt looks out over the Rogue River and the wildlife that is lucky enough to call this area home.
Sit on the cedar deck and keep an eye out for elk, osprey, and eagles. The accommodation is located just a four-minute drive from Gold Beach and ocean beaches, as well as a number of stunning hiking trails.
The accommodation has everything you need for a relaxing night away or longer, with added perks such as a claw foot bathtub, a fully equipped kitchen, sofa, and a TV.
The decor is quirky and comfortable, but with a view like this one offers, you are more than likely going to want to spend the majority of your time outside on the wraparound decking.
2. Cozy Oceanfront With Private Hot Tub
Enjoy your own little area of peace and tranquility, complete with incredible ocean views, your own private hot tub, and some pretty luxurious furnishings in this yurt in Oregon.
The yurt is large, covering 525 square feet, and is situated on the edge of a large bay on the Oregon Coast. The queen-sized bed is handmade and sits below a clear dome so you can do some stargazing.
The kitchen area is fully equipped with everything you may need to cook your own meals, and the bathroom even comes with fluffy robes, you could almost imagine you were at a spa. Outside, there is a fire pit and a BBQ, so you can fully enjoy the great outdoors, especially as the sun begins to set.
There is so much to do in the immediate area, especially if you are into the great outdoors and adventure. Take the scenic Cape Meares Loop to see the beautiful lighthouse, with a hike to see the famous Octopus Tree, and visit the numerous sandy beaches along the coast.
There are also countless hiking opportunities all around you.
---
RELATED: 17 Breathtaking Oregon Coast Hikes
---
3. Otter Rock Surf Yurt
With ocean views to die for, a stay in a yurt in Oregon doesn't get much better than the Otter Rock Surf Yurt. It directly overlooks the Devil's Punchbowl beach, so you can awaken to views of the ocean and of the incredible Oregon coastline.
The accommodation is equipped with everything you need for a comfortable stay, including a full kitchen, bathroom and shower, gas heated stove, WiFi with a TV, BBQ, and even an outdoor shower for when the weather is nice!
Also outside is a table and benches for alfresco dining, although inside there are plenty of windows and a skylight to let the light flood in, even when it's raining.
If you love to surf or whale watch, or simply sit with a cup of coffee watching the waves on your private deck, look no further than Otter Rock.
Although there is a beach in front of the yurt, you can also walk to the stunning Beverly Beach, where you'll find plenty of routes to walk, and of course, a stay here wouldn't be complete without admiring Devil's Punchbowl itself.
4. Harris Beach State Park
The yurts at Harris Beach State Park offer a wonderful alternative to camping. There are six rustic yurts available that all come with heaters so you'll stay toasty through the colder months.
One of the best things about the yurts here is the oculus in the roof that allows you to gaze out onto the night sky, which is particularly impressive on a clear night.
The campground where the yurts are situated is just a short walk from the beach and the campsite itself is very clean and tidy with a few amenities. These yurts in Oregon sleep 4-8 people comfortably, and there is a clean, shared restroom just a short distance away.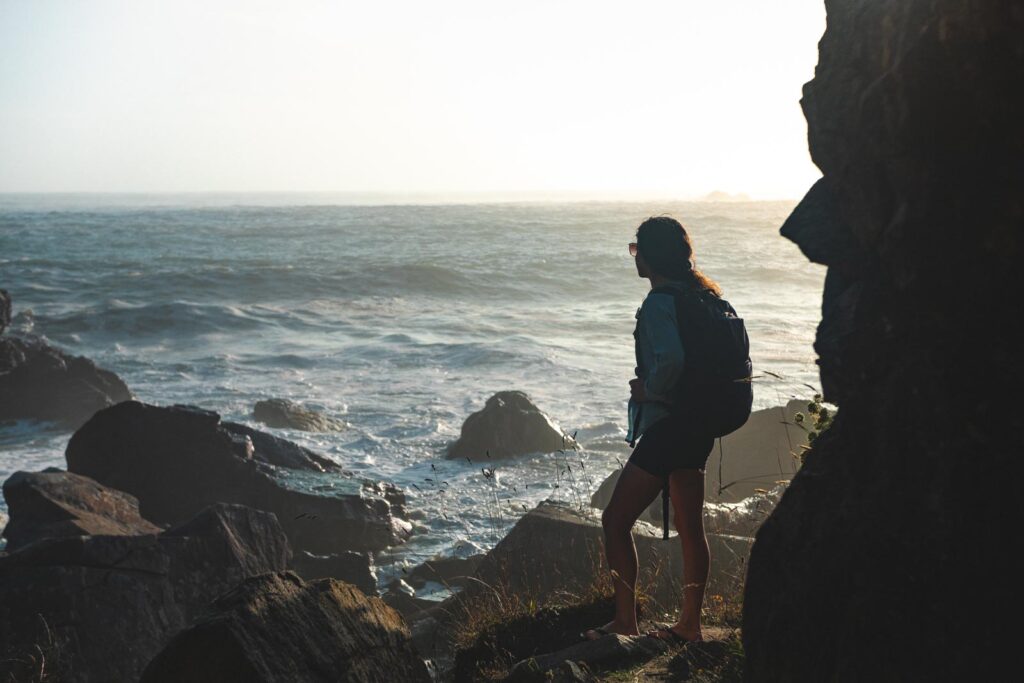 The yurts here are very popular, so make sure you book well in advance to secure a spot.
Harris Beach is a beautiful place to camp, with an incredible seascape, adventurous trails, and miles of sandy beaches and rocky outcroppings just waiting to be explored.
Bird Island is a wildlife sanctuary located just off the shore, and offers some incredible wildlife viewing opportunities, with chances to see rare birds, whales, seals, and sea lions.
Be sure to also check out the beautifully scenic Samuel H. Boardman State Scenic Corridor when in the area, just a few miles away.
---
READ MORE: Hiking the Samuel H. Boardman State Scenic Corridor
---
5. Beverly Beach State Park
There are 21 rustic yurts available at Beverly Beach State Park, but you better plan well in advance to get one, as they are often booked up to nine months in advance.
Each yurt roughly sleeps five people, as they come equipped with bunk beds and a futon. All yurts have a couple of heaters in them to help you stay warm, and a fire pit outside if you fancy Alfresco dining.
They also supply electricity and there is a water spout outside. They are located very close to the beach and the campground's facilities. Although the yurts are in the campground, there are a large number of trees and shrubs around that separate the sites and allow you a little bit of privacy.
The nature trail that leads away from the campground offers a wonderful experience through the trees, or if you fancy heading to the beach for a stroll or some surf, there is easy access via a path that takes you under the highway.
Tide pools here teem with marine life, there are some incredible viewpoints for whale watching, and there are miles of beach stretching from Yaquina Head all the way to Otter Rock.
---
READ MORE: Beverly Beach State Park – Camp, Surf, Hike!
---
6. Cape Lookout State Park
There are several yurts in Oregon available to rent at Cape Lookout State Park. They each sleep eight people and have heating, lighting, outlets, and individual little porch areas which is a nice touch. Most are situated just a short walk to the bathroom and hot showers.
Another option is to hire a deluxe yurt, which has added extras such as a kitchen and its own private bath and shower facilities.
The yurts here also have firepits outside and are surrounded by trees for a nice bit of privacy. They are located very close to the beach which is stunning no matter the time of year you visit.
A simple walk along the beach will reward you with views of waterfalls cascading down the cliffs. One hike not to miss is the Cape Lookout Trail, which will guide you through lush, coastal forests, with breathtaking views of the ocean at the end of the Cape.
Keep a lookout for the whales that pass this point in winter as they migrate from Canada to Mexico.
7. Umpqua Lighthouse State Park
If you like quiet campgrounds Umpqua Lighthouse State Park is for you. There are a couple of different yurt options here, from the standard yurt to the deluxe yurt.
Of course, you may have to pay a little extra for the luxury of a deluxe yurt, but for many, it's well worth it, as they come with the added benefit of their own bathroom and shower, plus a small kitchen area with a refrigerator and microwave.
Some of the yurts could very easily sleep up to seven people, making them perfect for larger groups. There are two futons with pull out full-sized beds, as well as a bunk bed with a full-sized mattress on the bottom bunk. Just be sure to bring all your own bedding.
Although the yurts are located about a mile from the beach, they have a very picturesque setting amongst old-growth trees and next to a fish-filled lake. There is a lovely walk around Lake Marie on a well-maintained trail that is around a mile long. Stay in an odd-numbered yurt if you fancy some views of the lake.
When in the area, the lighthouse is well worth exploring, especially if you fancy taking a tour and learning a little more about its history. You are also extremely close to the John Dellenback Dunes trailhead, which takes you through a variety of habitats, including the impressive dunes in the area, all the way to the ocean.
In the Oregon Dunes National Recreation Area, in which the campground is situated, many of the dunes reach heights of 500 feet or more, making them perfect for any off-road enthusiast.
---
READ MORE: Your Adventure Guide to the Oregon Dunes
---
8. Nehalem Bay State Park
Set amongst a sparse forest of wind-twisted conifers are the yurts of Nehalem Bay State Park. Although you can't actually see the sea from the yurts, you should be able to hear the roar of the ocean, which is located over a series of grassy dunes.
The beach is sandy and wide, thanks to its location on a large spit alongside the Nehalem River.
After a blustery day hiking in the park, there is nothing like coming back to a warm and cozy yurt in Oregon. They have lockable doors so you can store all your belongings inside, and the porch is covered with a picnic table, so you can sit outside even in the rain. There is also a fire ring provided.
Although they are not luxurious, they are the perfect combination of hotel and tent camping, with immediate access to the beauty of nature.
---
RELATED: Your Guide to Nehalem Bay State Park
---
9. Fort Stevens State Park
With a beach, lake swimming, a military fort, and a huge shipwreck, Fort Stevens State Park has it all, including a series of yurts to stay in for a fun and comfortable camping experience.
The small round rooms have a bunk bed and a futon that can also serve as a couch – depending on how many people are camping, a table and some chairs. Plus electricity and heating, with the bathroom just a short walk away.
The skylight in the ceiling stops the space from feeling too enclosed and cramped, and each comes with a small green area between its neighbors.
Overall the yurts are located in one of the biggest campsites in Oregon, with around 500 camping sites in all, which does have the benefit of some great amenities.
The state park has plenty to explore, covering 4,300 acres in the northernmost part of the state. There are several miles of wide beaches to enjoy, whether it's for a hike or a paddle, just be sure to check out the huge shipwreck right on the beach.
---
RELATED: 19 Must-Visit Oregon Coast State Parks
---
Portland, Oregon Yurts
While you won't find a yurt in the city, there are some yurts nearby and in the surrounding mountains that are well worth a stay and that will get you closer to the adventures nearby.
10. Zigzag Mountain Farm Yurt in Oregon
Just an hour's drive from Portland located at the base of Mount Hood, you'll find a hidden gem at the Zigzag Mountain Farm Yurt in Oregon. There are thousands of acres of forest right on the doorstep of this unique accommodation, meaning chances are your neighbors are raccoons, coyotes, deer, and even the occasional cougar or black bear.
As a guest, you can enjoy short hikes on the forested property, or there are two trailheads within walking distance, the Zigzag Mountain Trail and the Castle Canyon Trail.
The yurt is set up with a comfortable queen bed and all have their own deck so you can sit and take in the views. You will also have access to the shared campers' kitchen which sits in a unique, converted, city bus, as well as a BBQ area and large fire pit.
Perhaps the best part, though, is their two-person woodfire hot tub!
11. Garden Home Backyard Yurt Experience
No matter the time of year, a stay at the Garden Home yurt will be cozy and comfortable. Located in a safe Portland neighborhood, you'll be in a prime location to explore this vibrant part of Oregon.
If it is the city life you're craving, the yurt is just six miles from downtown Portland, while for those that like a bit of adventure – numerous beaches, a gorge, and Mt. Hood are all easily accessible.
The yurt is a spacious 24 feet, meaning there is plenty of room for a family or a small group of friends. The covered porch comes complete with a hammock for ultimate relaxation. Outside there is also a fire pit and chairs for an evening of smores.
When the weather isn't playing ball, head inside to the cozy interior, where you can watch the trees and sky through the 12.5ft clear copula at the ceiling's apex.
It's fully equipped for a comfortable stay including a dining table, lounge chair, storage, standard bed and queen bed, and a pull-out if there is a fifth guest.
In the kitchen, there are some added little luxuries like a coffee cabinet and hot and cold running water. There is a cast-iron natural gas fireplace to help warm up the space for those cold Oregon nights.
---
RELATED: 20 Epic Places to Go Glamping in Oregon
---
12. Yurt Meadow Retreat
You would never believe you are just minutes from downtown Portland when staying in the cool Yurt Meadow Retreat. It is located privately on the owner's farm in a forested area, boasting panoramic views of the city.
Watch the stars at night through the yurt's 'moonroof' and enjoy the peace of the forest surroundings by day.
The space has a few cool features such as a raw wood interior, hammocks, a French door that opens up onto a meadow filled with wildflowers, and a private shower under the trees.
Creature comforts include a queen-sized bed, insulated NASA wall interiors, and electric heat.
The farm is nestled on the banks of Powell Butte, and during your stay you can enjoy walks through old-growth forest, visits to the animals, and 360 views of the Sierras.
13. Yurt in Private Park
This yurt in a park near Portland is ideal if you want to be on the doorstep of one of the most well-known bike trails near Portland. The famous Banks-Vernonia Springs State Trail runs directly through the property and is one of the most amazing 'rails to trails' bike trails in the US.
There is also a nature trail and Beaver Creek running through the property.
Each yurt in the park is separated from one another for privacy, but also has a few shared amenities such as a bathroom and shower building, communal log pavilion, kitchen area, floating dock, fire pit, and plenty of games.
Inside each yurt, there is a queen bed and two additional single beds if needed.
Central Oregon Yurts
From around Bend to the outskirts of Eugene, here are some cool Central Oregon yurts to check out…
14. Yurt at Rainbow Ranch
Located just 15 minutes from Bend, the Yurt at Rainbow Ranch offers a quiet and cozy stay in the wilderness. A stay at this yurt in Oregon means you will have Sisters on your doorstep, perfect for a few days of exploration or just take some time to unwind and enjoy the natural landscape.
There are some seriously stunning views of Broken Top and the Sisters from the property, with plenty of incredible hikes nearby.
The yurt has gated entry for both security and privacy, and a private driveway for your car. Heading inside there is a pellet stove to keep you warm on those colder nights, and the kitchen is kitted out with everything you will need to cook yourself up something tasty.
There is a queen-sized bed but also a sofa bed to accommodate up to four people.
15. Starlight Meadow Yurt in Oregon
Starlight Meadow Yurt comes with everything you can possibly need and much more. This luxury yurt is miles away from a usual camping experience, complete with a modern kitchen area, claw-footed bath, reclining seats, and a comfortable bed.
The spacious deck is perfect for a bite to eat and watching the wildlife that can often be seen right outside the accommodation.
There is a quaint swing up on the hill which offers spectacular views of Mt Mcloughlin, and at night, the stargazing opportunities will take your breath away. The yurt is warm and cozy no matter the time of the year and the pantry is always stocked with plenty of snacks.
There is lots to do in the immediate area. The Rogue River is nearby and offers world-class salmon and steelhead fishing, and is also a great place for rafting and kayaking.
If hiking is a bit more your thing, then Table Rocks is just a 10-minute drive away and Crater Lake is also very close, so you can be close to all the action. Take the hike on Upper Table Rock which offers views of Mount McLoughlin, Mount Ashland, and Pilot Rock on clear days.
16. Tranquil Glamping Yurt Near Eugene, Oregon
Get away from busy city life at this tranquil glamping yurt near Eugene. This is a hot spot for nature lovers with plenty of recreational activities nearby.
You'll find the yurt in a secluded location in the Hills Creek area, very close to both the Willamette River and the Mckenzie River, meaning it won't take long if you fancy getting out on the water on a kayak, or do a spot of fishing.
There are also a few retired horses on the site which are lovely to see wandering the fields around the yurt.
The yurt has been designed to allow you to relax in comfort while still being immersed in nature. There is a clean and cozy four-poster bed, mini-fridge, tea, and coffee making facilities, and immediately outside are the clean toilet facilities.
17. Sunset View Yurt of Applegate Valley
One of the biggest draws to the Sunset View Yurt is the steaming hot tub that sits outside of the yurt. There is nothing like spending an evening in a warm hot tub under the stars, surrounded by the beauty of nature.
The yurt itself is huge at 24 feet and is set on a five-acre property. Inside, you'll find a kingsize bed, and a queen sofa bed, meaning there is plenty of room for four guests.
There is a private bathroom, which has indoor plumbing, located just 50 feet from the yurt, which has 2 sinks, a toilet, and a shower. An extra bonus is a continental breakfast is provided for guests, the perfect way to fuel your morning before heading off for adventure, and there is a kettle, microwave, and fridge if you want to do your own cooking.
The yurt is located near the town of Murphy. There are some great wineries nearby if you are looking to have a relaxing day, or the mighty Rogue River is around six miles north.
Crater Lake, Redwoods Park, and the Oregon Coast are all within a two-hour drive, so there are plenty of opportunities for outdoor recreation.
---
RELATED: Things to do at Crater Lake National Park: Hikes, Camping & When to Visit
---
18. The Hippie Shack
You'll have 24-feet of space to enjoy at the Hippie Shack, as well as the tiny house which is attached – it really is glamping at its finest. Although the yurt is pretty off-grid, it is still powered by solar and propane, with wood harvested on-site.
The owners provide everything you may need for a comfortable stay, including organic eggs and sausages from the farm and a range of other continental breakfast options. Spend your evening sitting by the fire pit by the creek that runs right outside the door.
Inside the yurt, there is a queen bed and a full-sized futon, a wood-burning stove, and a table. There is a kitchen and a bathroom in the tiny house.
Set in the Douglas Country Forest, it provides the ideal escape, complete with panoramic views and miles of hiking trails on the doorstep. If you fancy it, the yurt owners also offer farm tours on their ATV buggy.
19. Tumalo State Park
Tumalo State Park Yurts really do look at home in central Oregon, a region full of high desert air, much like Mongolia where the yurt originated from. There are several yurts available in Tumalo State Park, which sits along the Deschutes River and is pretty close to the city of Bend.
---
RELATED: An Adventurer's Guide to Things to do in Bend, Oregon
---
There are seven yurts available in the campground, each of which can sleep a max of eight people comfortably and come with heating, lighting, and plenty of electrical outlets.
The camping ground is just close enough to Bend to make a trip to the grocery store, and far enough away to make you feel as though you are in the middle of nowhere.
A stay in a yurt in Oregon here will put you right on the doorstep of the Cascade Mountains, which is filled with miles and miles of natural wilderness to explore.
It is an ideal base for pretty much any outdoor activity you can think of, be it fishing in the trout streams, taking some of the scenic yet challenging hiking or biking trails, or admiring the pristine mountain lakes.
Winter recreation is abundant at Mt Bachelor which is just down the road, so you can hit the slopes for some of the best powder in the state.
---
RELATED: Tumalo Falls Hike & Bike Trail Near Bend, Oregon
---
Eastern Oregon Yurts
Eastern Oregon yurts aren't as plentiful but these two are definitely worth it if you venture to the least discovered area of the state…
20. Yurt #1 La Grande
If you are looking for a little rest and relaxation, look no further than the yurts at La Grande. Not only will you get a beautifully rustic yurt experience, but also on-site are two vintage claw foot soaking tubs filled with hot spring water directly from the source, so you can enjoy a soak under the stars.
Union County has so much to offer, so you certainly won't be bored during your stay in this yurt in Oregon. Morgan Lake, Catherine Creek State Park, Mt.Emily Recreation Area are all on the doorstep.
And if you are happy venturing a little further afield you will be able to enjoy the beauty of Wallowa Lake, the incredible Hells Canyon and the Grande Tour Scenic Bikeway if you fancy exploring the area on two wheels.
The yurt itself has a queen bed and also has a couch, two end tables, a mini-fridge, and even a coffee maker, so you can camp in comfort.
In the winter the yurt is geothermically heated and there is AC in the summer. There is also a private patio with an outdoor shower, picnic table, and firepit.
---
READ MORE: A Comprehensive Guide to Visiting Wallowa Lake State Park – Adventures and Camping
---
21. Wallowa Lake State Park
Watch the stars before you go to sleep with a stay in a yurt at Wallowa Lake State Park, both of which come complete with a perfectly placed skylight.
There are only a few yurts available here, and they are in high demand, so think about booking early if you want to secure your spot. They are very well made and are always spotlessly clean.
They come with both heating and lighting for more of an upmarket camping experience. There are bathrooms nearby that are easily accessible and also clean.
There is so much to do at Wallowa Lake State Park, meaning you will be at the forefront of adventure as soon as you open the front door of your unique camping accommodation.
The stunning lake has boats, kayaks, and SUPs to rent for the day, plus there is a swimming beach, a river for fishing, and enough trails to satisfy even the most eager of hikers.
More Accommodation in Oregon
We hope this Oregon Yurts post has helped you plan your trip. Here are more posts on epic adventures around Oregon to check out, and the best camping in Oregon.