We think you'd be hard-pressed to find any hotel that could compare to staying at a yurt!
If you're looking for a unique stay, don't care for a typical Holiday Inn room, and want to be even closer to your adventures, then this list of badass yurts in Oregon will serve you well.
You'll find yurts on the Oregon Coast, around Portland, and sprinkled around Central and Eastern Oregon too. Below we've gathered the coolest yurt stays across the state for you, all you need to do is choose which one and pack your bags!
21 Cool Yurts in Oregon
---
Yurts on the Oregon Coast
The Oregon Coast actually has a ton of yurts but here are some of the top yurts in the area. We have a whole other list of Oregon Coast yurts for you to check out if you're looking for more in the area.
---
READ MORE: 21 Amazing Yurts on the Oregon Coast
---
1. A Futuristic and Fancy Option
I challenge you to find an Oregon coast yurt cooler than this Surf Dome at Otter Rock. The futurist, geometric dome, dotted with skylights, will ensure you enjoy a stay quite unlike any other Oregon Coast experience you will have ever had.
As a guest, you have complete access to the top two floors and spacious decking. Inside the yurt, a modern, open-plan living room flooded with light, with a large kitchen and dining area and two comfortable bedrooms, one of which has a double, and the other some bunk beds.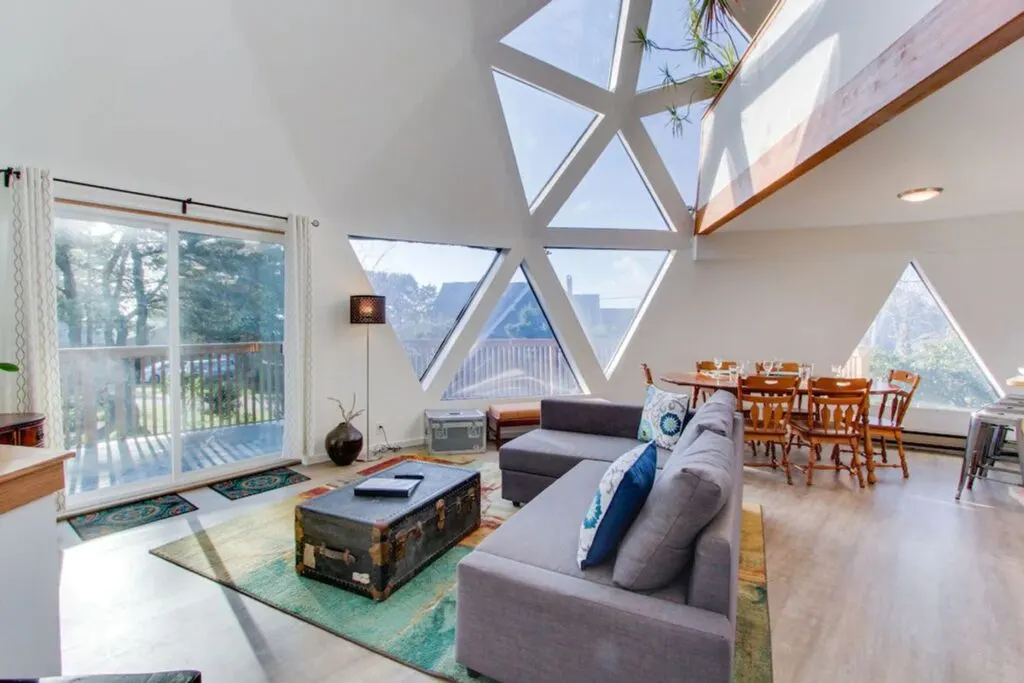 This accommodation is located just three blocks from the thundering and mighty Devils Punchbowl, a must-see on any trip down the coast. This cavernous rock formation could be as old as 18 million years, and watching the waves crash in and out is pretty mind-blowing.
The best way to reach the trail is via the accessible 0.8 mile Devils Punchbowl Trail, which will take you directly to the viewing area.
---
RELATED: Devils Punchbowl State Natural Area in Oregon
---
2. Cozy Oceanfront With Private Hot Tub
Enjoy your own little area of peace and tranquility, complete with incredible ocean views, your own private hot tub, and some pretty luxurious furnishings in this yurt in Oregon.
The yurt is large, covering 525 square feet, and is situated on the edge of a large bay on the Oregon Coast. The queen-sized bed is handmade and sits below a clear dome so you can do some stargazing.
The kitchen area is fully equipped with everything you may need to cook your own meals, and the bathroom even comes with fluffy robes, you could almost imagine you were at a spa. Outside, there is a fire pit and a BBQ, so you can fully enjoy the great outdoors, especially as the sun begins to set.
There is so much to do in the immediate area, especially if you are into the great outdoors and adventure. Take the scenic Cape Meares Loop to see the beautiful lighthouse, with a hike to see the famous Octopus Tree, and visit the numerous sandy beaches along the coast.
There are also countless hiking opportunities all around you.
---
RELATED: 17 Breathtaking Oregon Coast Hikes
---
3. Rustic and Traditional at Pacific City
These Pacific City yurts are locked on a camping resort, meaning you'll have all the amenities that you may want from a camping trip, but it comes with the added perk of each yurt coming plenty of privacy.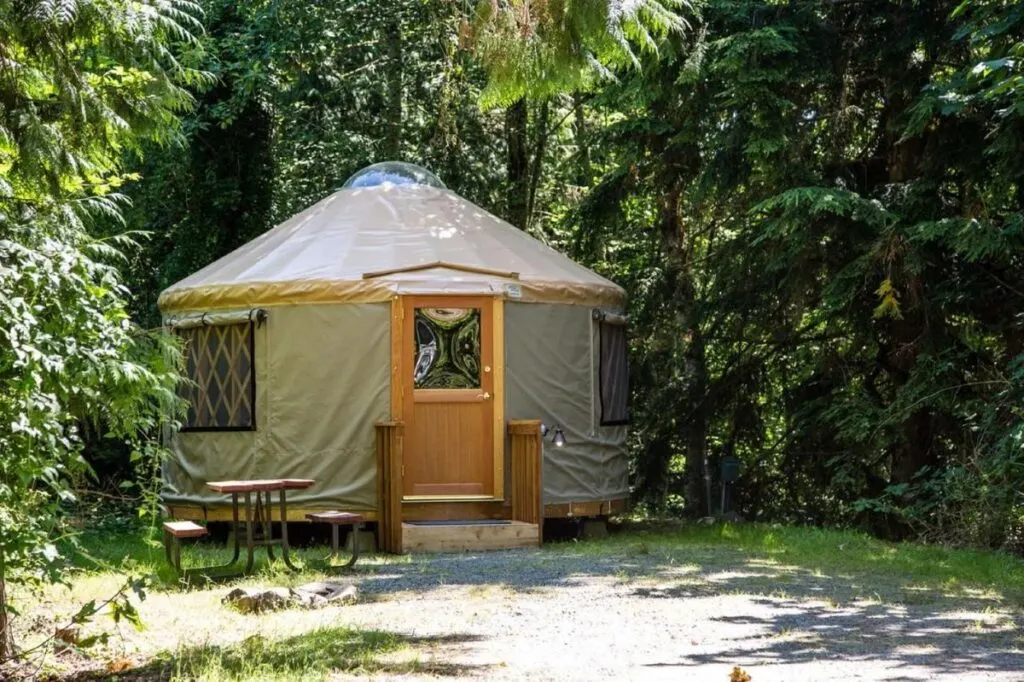 The Oregon coast yurts are wooden and rustic but will undoubtedly do the job when it comes to keeping you warm, dry, and comfortable. A path will take you right down to the beach, picnic tables outside for alfresco dining, and a gas grill for easy cooking.
This yurt is located very close to Pacific City, which offers plenty of adventurous things to do throughout the year. Scale towering dunes, watch for the local wildlife, or take in scenic cape views; the options are endless.
---
RELATED: 11 Adventurous Things To Do in Pacific City
---
4. Harris Beach State Park
The yurts at Harris Beach State Park offer a wonderful alternative to camping. There are six rustic yurts available that all come with heaters so you'll stay toasty through the colder months.
One of the best things about the yurts here is the oculus in the roof that allows you to gaze out onto the night sky, which is particularly impressive on a clear night.
The campground where the yurts are situated is just a short walk from the beach and the campsite itself is very clean and tidy with a few amenities. These yurts in Oregon sleep 4-8 people comfortably, and there is a clean, shared restroom just a short distance away.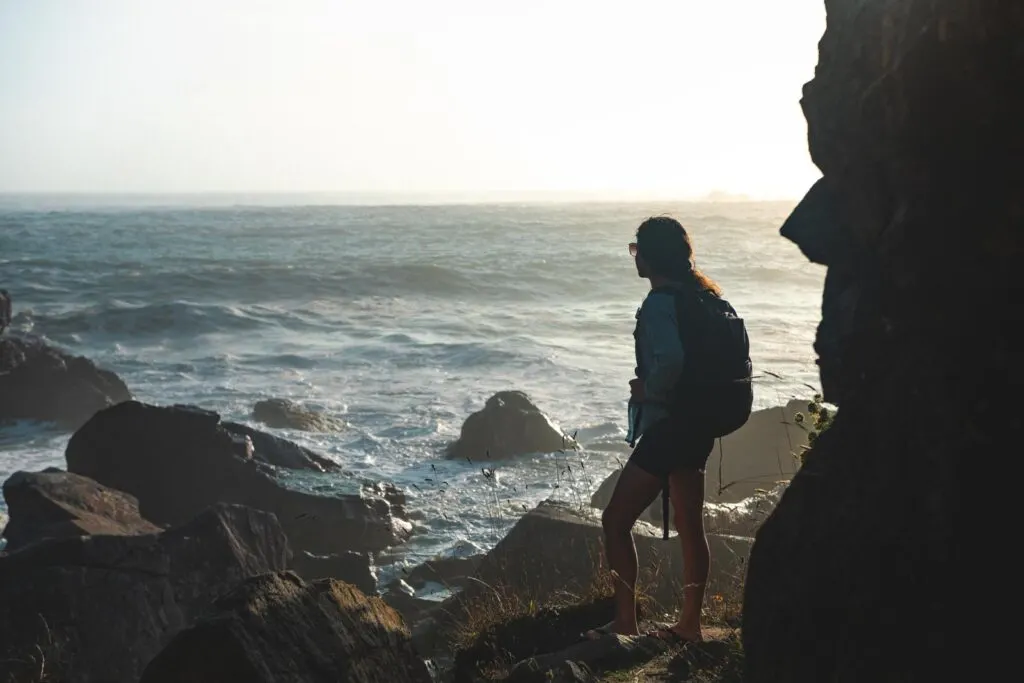 The yurts here are very popular, so make sure you book well in advance to secure a spot.
Harris Beach is a beautiful place to camp, with an incredible seascape, adventurous trails, and miles of sandy beaches and rocky outcroppings just waiting to be explored.
Bird Island is a wildlife sanctuary located just off the shore, and offers some incredible wildlife viewing opportunities, with chances to see rare birds, whales, seals, and sea lions.
Be sure to also check out the beautifully scenic Samuel H. Boardman State Scenic Corridor when in the area, just a few miles away.
---
READ MORE: Hiking the Samuel H. Boardman State Scenic Corridor
---
5. Beverly Beach State Park
There are 21 rustic yurts available at Beverly Beach State Park, but you better plan well in advance to get one, as they are often booked up to nine months in advance.
Each yurt roughly sleeps five people, as they come equipped with bunk beds and a futon. All yurts have a couple of heaters in them to help you stay warm, and a fire pit outside if you fancy Alfresco dining.
They also supply electricity and there is a water spout outside. They are located very close to the beach and the campground's facilities. Although the yurts are in the campground, there are a large number of trees and shrubs around that separate the sites and allow you a little bit of privacy.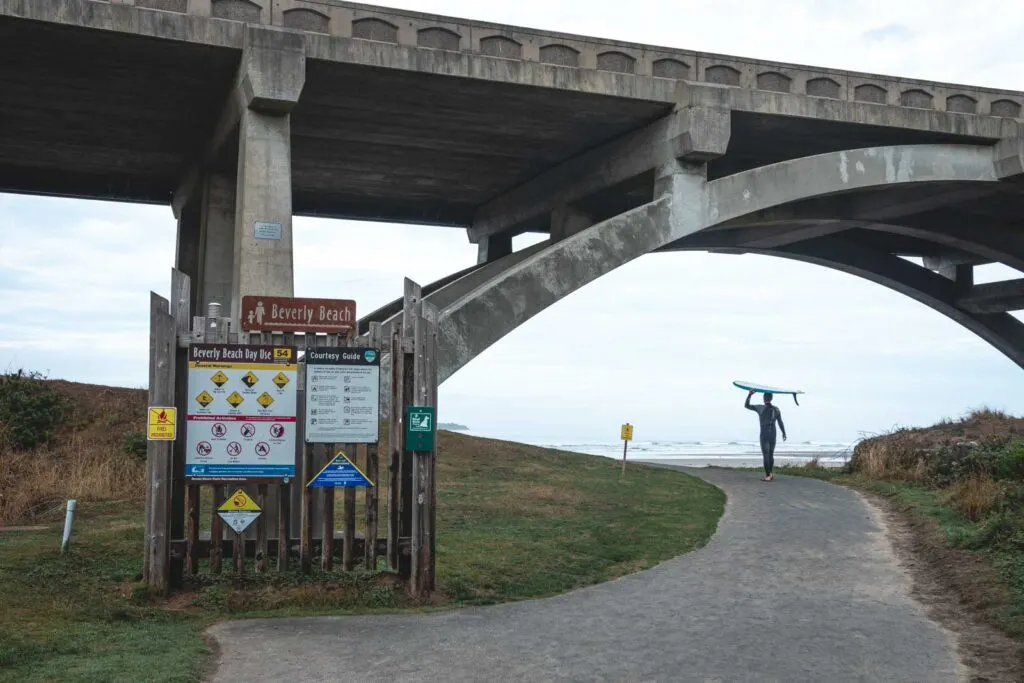 The nature trail that leads away from the campground offers a wonderful experience through the trees, or if you fancy heading to the beach for a stroll or some surf, there is easy access via a path that takes you under the highway.
Tide pools here teem with marine life, there are some incredible viewpoints for whale watching, and there are miles of beach stretching from Yaquina Head all the way to Otter Rock.
---
READ MORE: Beverly Beach State Park – Camp, Surf, Hike!
---
6. Cape Lookout State Park
There are several yurts in Oregon available to rent at Cape Lookout State Park. They each sleep eight people and have heating, lighting, outlets, and individual little porch areas which is a nice touch. Most are situated just a short walk to the bathroom and hot showers.
Another option is to hire a deluxe yurt, which has added extras such as a kitchen and its own private bath and shower facilities.
The yurts here also have firepits outside and are surrounded by trees for a nice bit of privacy. They are located very close to the beach which is stunning no matter the time of year you visit.
A simple walk along the beach will reward you with views of waterfalls cascading down the cliffs. One hike not to miss is the Cape Lookout Trail, which will guide you through lush, coastal forests, with breathtaking views of the ocean at the end of the Cape.
Keep a lookout for the whales that pass this point in winter as they migrate from Canada to Mexico.
7. Umpqua Lighthouse State Park
If you like quiet campgrounds Umpqua Lighthouse State Park is for you. There are a couple of different yurt options here, from the standard yurt to the deluxe yurt.
Of course, you may have to pay a little extra for the luxury of a deluxe yurt, but for many, it's well worth it, as they come with the added benefit of their own bathroom and shower, plus a small kitchen area with a refrigerator and microwave.
Some of the yurts could very easily sleep up to seven people, making them perfect for larger groups. There are two futons with pull out full-sized beds, as well as a bunk bed with a full-sized mattress on the bottom bunk. Just be sure to bring all your own bedding.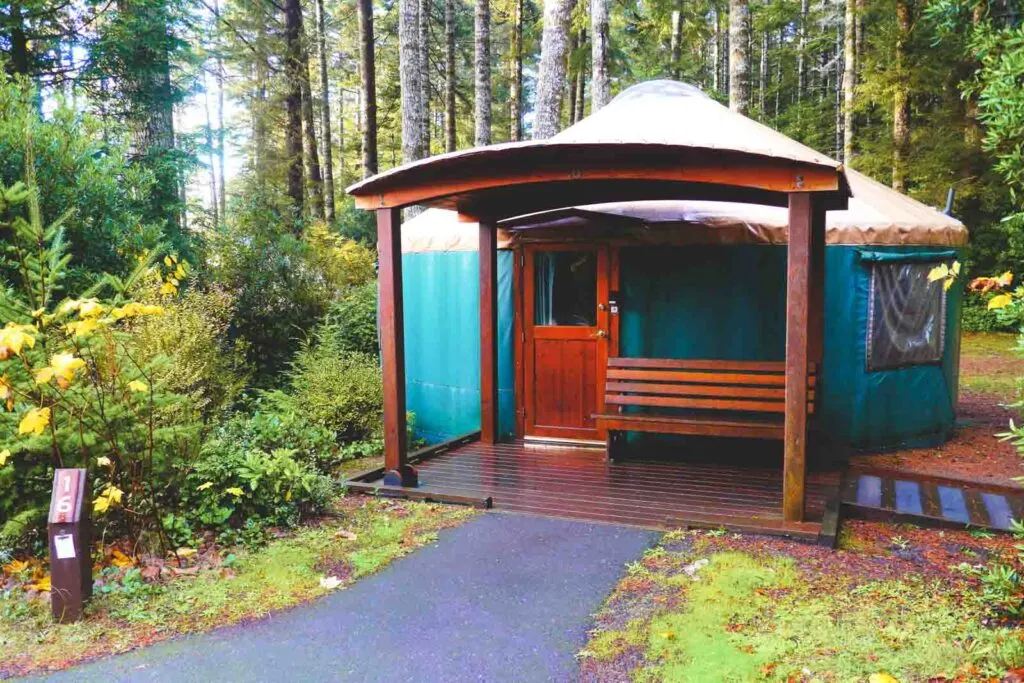 Although the yurts are located about a mile from the beach, they have a very picturesque setting amongst old-growth trees and next to a fish-filled lake. There is a lovely walk around Lake Marie on a well-maintained trail that is around a mile long. Stay in an odd-numbered yurt if you fancy some views of the lake.
When in the area, the lighthouse is well worth exploring, especially if you fancy taking a tour and learning a little more about its history. You are also extremely close to the John Dellenback Dunes trailhead, which takes you through a variety of habitats, including the impressive dunes in the area, all the way to the ocean.
In the Oregon Dunes National Recreation Area, in which the campground is situated, many of the dunes reach heights of 500 feet or more, making them perfect for any off-road enthusiast.
---
READ MORE: Your Adventure Guide to the Oregon Dunes
---
8. Nehalem Bay State Park
Set amongst a sparse forest of wind-twisted conifers are the yurts of Nehalem Bay State Park. Although you can't actually see the sea from the yurts, you should be able to hear the roar of the ocean, which is located over a series of grassy dunes.
The beach is sandy and wide, thanks to its location on a large spit alongside the Nehalem River.
After a blustery day hiking in the park, there is nothing like coming back to a warm and cozy yurt in Oregon. They have lockable doors so you can store all your belongings inside, and the porch is covered with a picnic table, so you can sit outside even in the rain. There is also a fire ring provided.
Although they are not luxurious, they are the perfect combination of hotel and tent camping, with immediate access to the beauty of nature.
---
RELATED: Your Guide to Nehalem Bay State Park
---
9. Fort Stevens State Park
With a beach, lake swimming, a military fort, and a huge shipwreck, Fort Stevens State Park has it all, including a series of yurts to stay in for a fun and comfortable camping experience.
The small round rooms have a bunk bed and a futon that can also serve as a couch – depending on how many people are camping, a table and some chairs. Plus electricity and heating, with the bathroom just a short walk away.
The skylight in the ceiling stops the space from feeling too enclosed and cramped, and each comes with a small green area between its neighbors.
Overall the yurts are located in one of the biggest campsites in Oregon, with around 500 camping sites in all, which does have the benefit of some great amenities.
The state park has plenty to explore, covering 4,300 acres in the northernmost part of the state. There are several miles of wide beaches to enjoy, whether it's for a hike or a paddle, just be sure to check out the huge shipwreck right on the beach.
---
RELATED: 19 Must-Visit Oregon Coast State Parks
---
10. Stay Active at South Jetty Camping Resort
These yurts at South Jetty camping resort offer a great place to spend the night when looking to explore the area. Unlike many glamping accommodations, they come with full linens, so no lugging of sleeping bags and sheets across a campsite. The yurts themselves are spacious and comfortable, with heaters that will see you through even the chilliest of Oregon nights.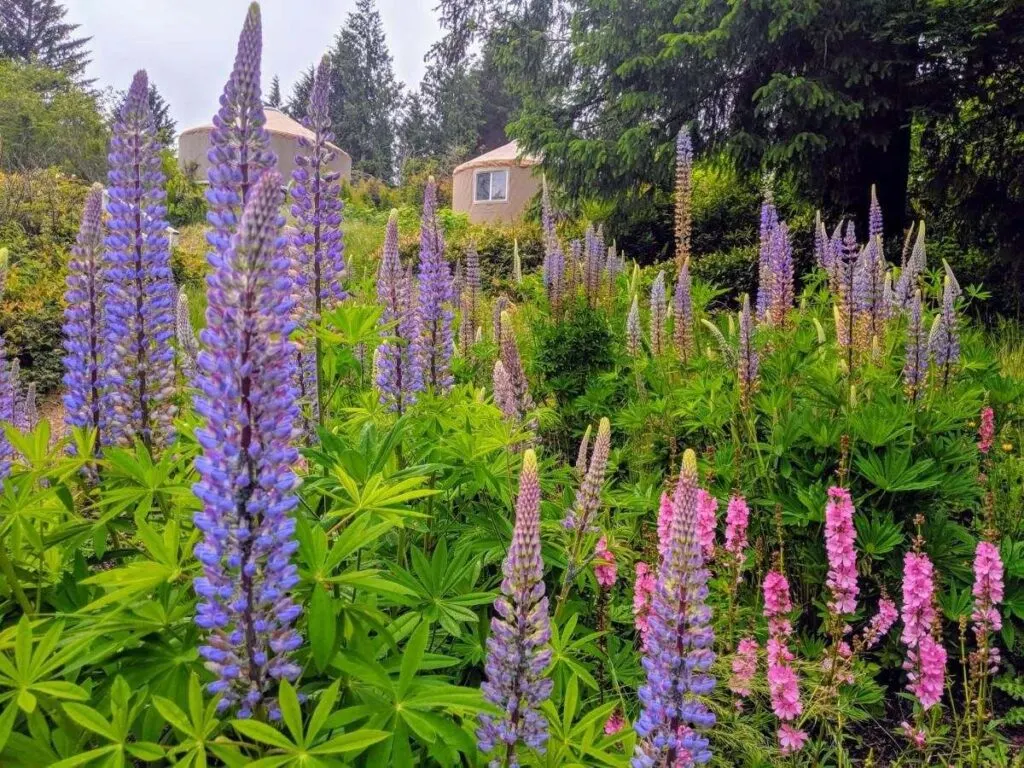 The Oregon coast yurts come with their bathrooms, kitchen, and quaint little decking area for those warmer nights. The resort offers lots of activities, so you don't even have to venture out if you don't want to, although we very much recommend that you do!
You have to check out the Oregon Dunes when you are in the area. You'll feel like you are in the Sahara rather than in the state of Oregon. Explore the hiking trails, or for a more adrenaline-fuelled way to take in the dunes, why not have a go at sandboarding?
Portland, Oregon Yurts
While you won't find a yurt in the city, there are some yurts nearby and in the surrounding mountains that are well worth a stay and that will get you closer to the adventures nearby.
11. A Yurt With All the Added Extras
This cute little yurt offers the best of both worlds. You'll be surrounded by the wonders of nature, tucked away in the forests near Mount Hood, and the accommodation features all you'll need for a comfortable stay. You could relax in the on-site hot tub, easing those achy muscles from a long day of hiking, let off some steam in the games room, or go for a swim in the pool.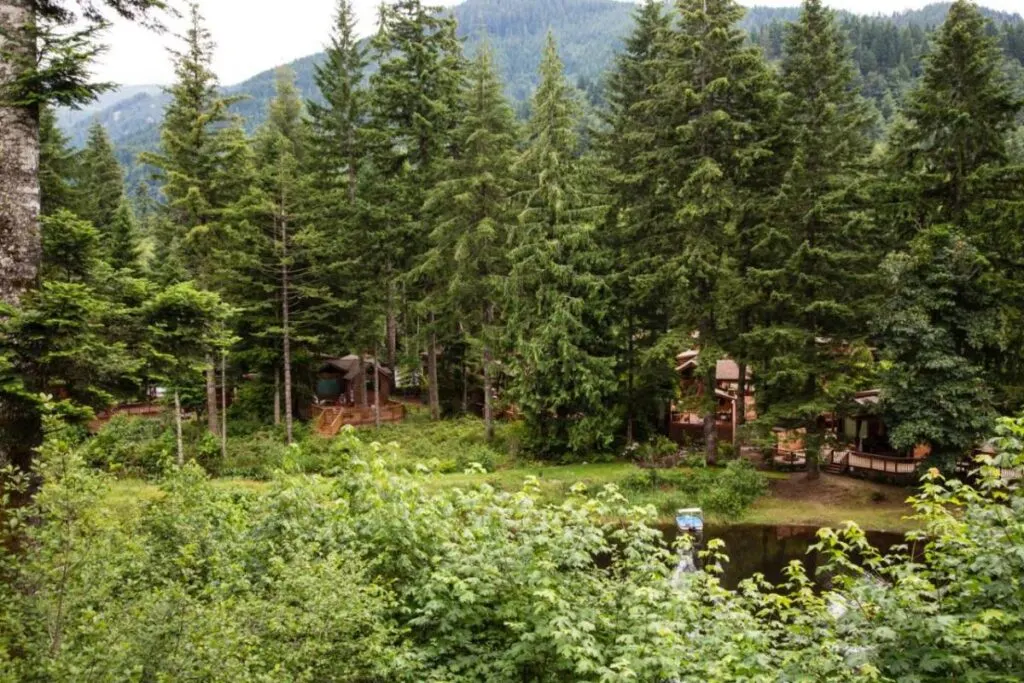 It would be rude not to embrace it when staying in the Mount Hood area, whatever the weather! There are some seriously fantastic hikes to enjoy around Mount Hood, such as the Tom Dick and Harry Trail at 9 miles or the stunning Trillium Lake Loop.
If you're staying in the area during the winter, there are plenty of things to do around Mount Hood when the snow falls as well, such as skiing, snowboarding, and tubing.
---
RELATED: What to Do at Mount Hood in Winter
---
12. Vineyards and Incredible Views
Gaze out over the Willamette Valley as you sip on a glass of refreshing wine in this yurt in Oregon, located in Yamhill County. There is double the fun with two stories to enjoy, making it the perfect retreat for a bigger group.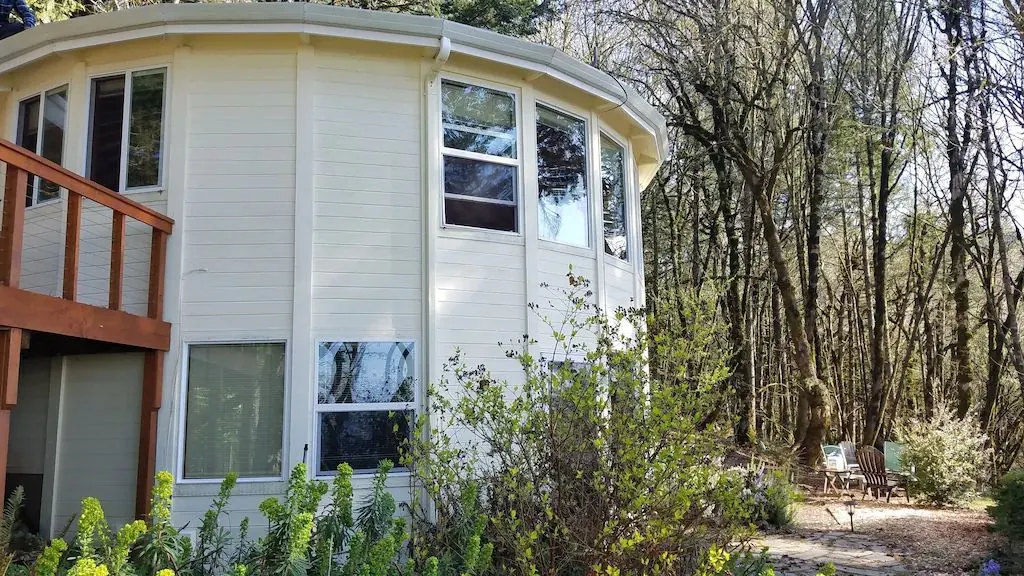 Surrounded by 20 acres of woodland, it offers the ideal escape from busy, everyday life with seemingly endless vineyards and wineries stretching in every direction. On the top floor, you'll find a full kitchen, living room, dining space, and wood stove, with downstairs hosting two bedrooms and a bathroom.
Once you have had enough of sampling the area's fruits, it is time to get out and explore Salem and the surrounding area. The stunning Clear Lake, located near the Willamette National Forest, is famous for its crystal clear waters. If you're feeling up to it, take the incredible McKenzie River Trail for a few days of some of the best of Oregon's wonders.
---
RELATED: 20 Epic Places to Go Glamping in Oregon
---
13. A Stay in Elk Moon
Elk Moon is your 'classic yurt,' so if you want a no-frills experience that's a little comfier than your average camping experience, get booking. You can tell that this lovely little lodge has been lovingly decorated to give it a warm and homely feel, with a clear dome on its roof so you can observe the stars.
You'll feel the magic when you step outside into the surrounding meadow, where the surrounding mountains and views will remind you why you wanted to go off-grid.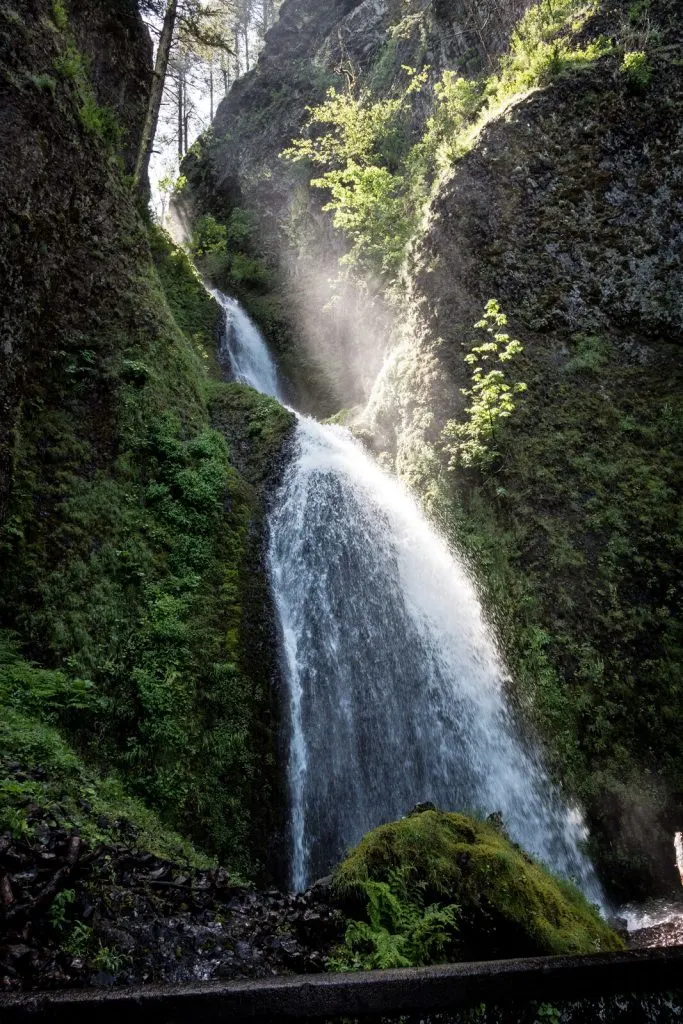 You could spend your days pounding the pavements of the vibrant city of Portland, ducking into the array of shops and eateries.
Alternatively, if it's nature you're after, there are countless day trips from Portland to embrace, including the Wahkeena and Multnomah Falls Loop Trail, the Herman Creek Trail, or the gorgeous Trillium Lake.
Central Oregon Yurts
From around Bend to the outskirts of Eugene, here are some cool Central Oregon yurts to check out…
14. Floral and Fabulous Mystical Rose Yurt
If you're looking for a yurt that is a little bit extra, Mystical Rose has you covered. As the name suggests, there are a lot of flowers, flowers everywhere, in the bedroom, kitchen, and even the bathroom! Yet somehow, it is not too much.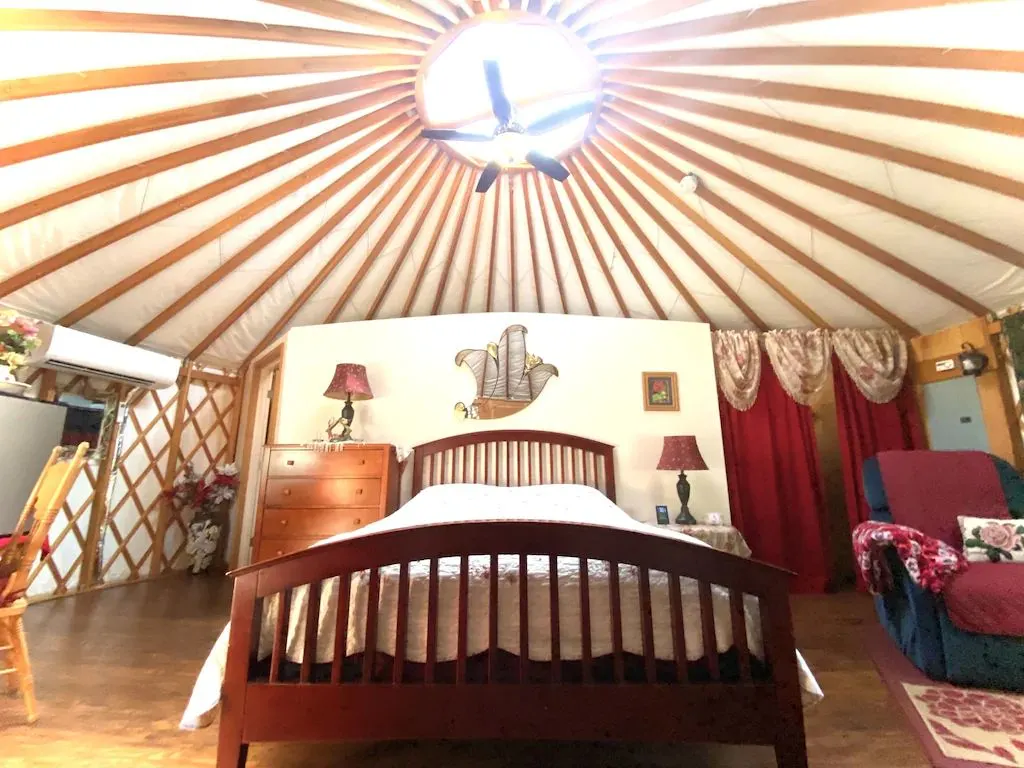 Fall asleep on the lookout for shooting stars in this yurt in Oregon, and spend your evenings sitting on the private covered deck. A complimentary breakfast is served every morning of your stay, plus there are added luxuries such as a faux fireplace, power chair lift for accessibility, a flat-screen TV, and fluffy robes.
Located just 10 miles from Eugene, there is plenty to do in the surrounding area, including the historic covered bridges sprinkled on the outskirts of town and plenty of trails!
15. Sleepover in Yogi's Den
Yogi's Den gives you that 'something different' when it comes to quirky yurts in Oregon. This yurt has a distinctly Yogi Bear theme, with bears lurking in the most unlikely places.
The two queen-sized beds make the perfect place to hibernate through the night, no matter the season, and when you can pull yourself out of bed, there is complimentary breakfast waiting to revive you. With so many luxurious features, you'll feel like you are staying in a hotel room.
Once you come out of hibernation, you are ready to go out and explore. The Mount Pisgah Arboretum makes for a great trip near Eugene, with 8 miles of all-weather trails to traverse, such as the Mount Pisgah trail at 2.8 miles long.
These trails twist and wiggle their way through flora and fauna and are a great way to stretch your legs. If you're staying in spring or fall, be sure to check out the Wildflower & Music or Mushroom festival.
16. A Yurt Fit for a King
You'll feel like you have stepped back in time when you enter this yurt, as everything is themed after the legend of King Arthur. Satisfy your inner history buff, with shields and swords adorning the walls, kingly beds, and even a castle wall separating the rooms.
You'll feel like royalty as you are served breakfast every morning of your stay, with other meals enjoyed at the knight's table or out on your covered deck.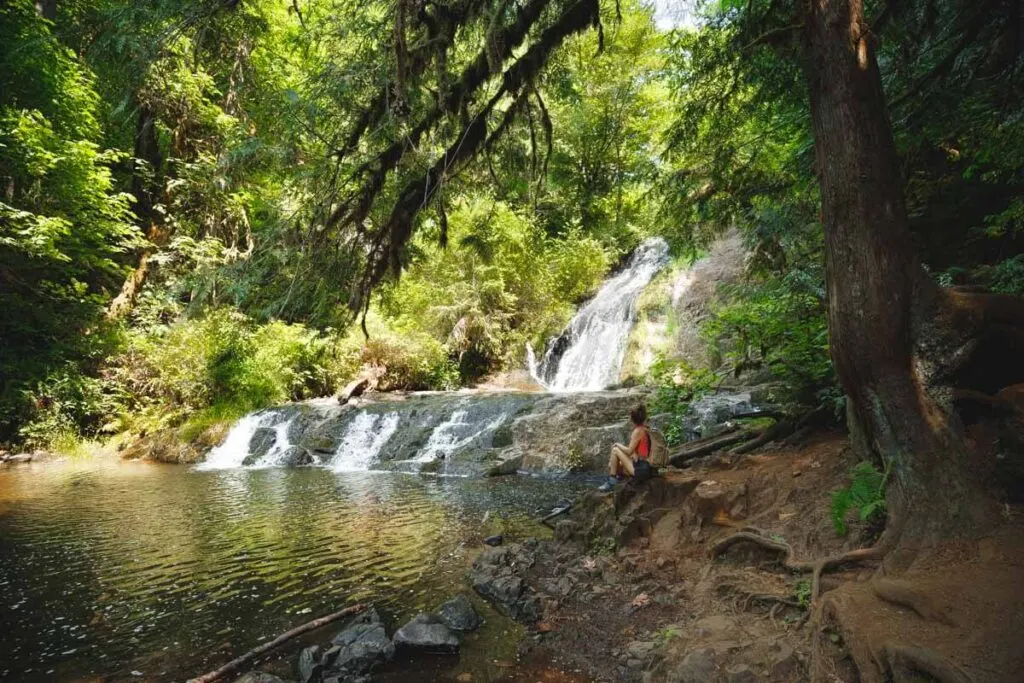 Waterfall lovers rejoice, as there is a pretty epic falls close by. Alsea Falls can be accessed via the Alsea Falls and Green Peak Falls trails, which combined make up 80 feet of cascading power. Green Peak Falls is a lot more impressive, but Alsea is just a short jaunt from the parking lot, so good to check out if you are short on time.
---
RELATED: Hiking The Alsea Falls & Green Peak Falls Trail
---
17. A Perfect Little Roundhouse
Stay in a cute little wooden roundhouse for a unique glamping experience in a yurt in Oregon; with a bed and comfy chair in your hut, it makes for the perfect little escape.
You'll find the bathroom and kitchen just a short stroll away in the main house, which keeps them nice a toasty, and they are close enough for you to not get too wet on a rainy day. What makes this property unique? The fact that the floor is made up of 59,206 pennies! Which is pretty cool!
Fern Ridge Lake is located just 12 miles from downtown Eugene and is the perfect spot for a day of water-based fun. Take a picnic, go for a swim, watch the wildlife, sit back and relax, and watch the world go by.
18. The Hippie Shack
You'll have 24-feet of space to enjoy at the Hippie Shack, as well as the tiny house which is attached – it really is glamping at its finest. Although the yurt is pretty off-grid, it is still powered by solar and propane, with wood harvested on-site.
The owners provide everything you may need for a comfortable stay, including organic eggs and sausages from the farm and a range of other continental breakfast options. Spend your evening sitting by the fire pit by the creek that runs right outside the door.
Inside the yurt, there is a queen bed and a full-sized futon, a wood-burning stove, and a table. There is a kitchen and a bathroom in the tiny house.
Set in the Douglas Country Forest, it provides the ideal escape, complete with panoramic views and miles of hiking trails on the doorstep. If you fancy it, the yurt owners also offer farm tours on their ATV buggy.
19. Tumalo State Park
Tumalo State Park Yurts really do look at home in central Oregon, a region full of high desert air, much like Mongolia where the yurt originated from. There are several yurts available in Tumalo State Park, which sits along the Deschutes River and is pretty close to the city of Bend.
---
RELATED: An Adventurer's Guide to Things to do in Bend, Oregon
---
There are seven yurts available in the campground, each of which can sleep a max of eight people comfortably and come with heating, lighting, and plenty of electrical outlets.
The camping ground is just close enough to Bend to make a trip to the grocery store, and far enough away to make you feel as though you are in the middle of nowhere.
A stay in a yurt in Oregon here will put you right on the doorstep of the Cascade Mountains, which is filled with miles and miles of natural wilderness to explore.
It is an ideal base for pretty much any outdoor activity you can think of, be it fishing in the trout streams, taking some of the scenic yet challenging hiking or biking trails, or admiring the pristine mountain lakes.
Winter recreation is abundant at Mt Bachelor which is just down the road, so you can hit the slopes for some of the best powder in the state.
---
RELATED: Tumalo Falls Hike & Bike Trail Near Bend, Oregon
---
Eastern Oregon Yurts
Eastern Oregon yurts aren't as plentiful but this one is definitely worth it if you venture to the least discovered area of the state…
20. Wallowa Lake State Park
Watch the stars before you go to sleep with a stay in a yurt at Wallowa Lake State Park, both of which come complete with a perfectly placed skylight.
There are only a few yurts available here, and they are in high demand, so think about booking early if you want to secure your spot. They are very well made and are always spotlessly clean.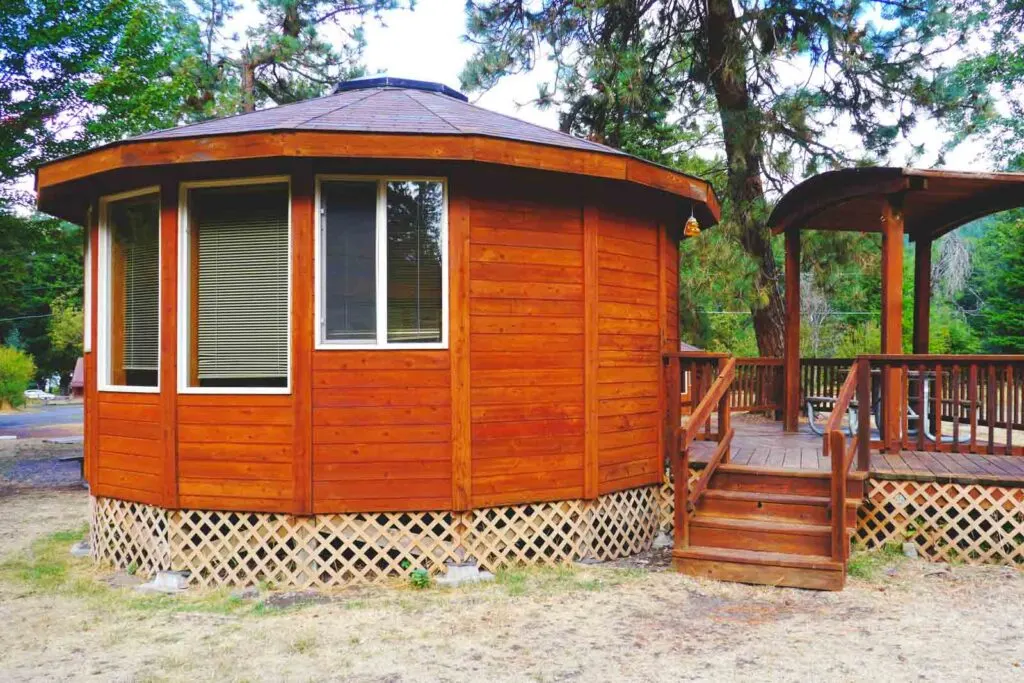 They come with both heating and lighting for more of an upmarket camping experience. There are bathrooms nearby that are easily accessible and also clean.
There is so much to do at Wallowa Lake State Park, meaning you will be at the forefront of adventure as soon as you open the front door of your unique camping accommodation.
The stunning lake has boats, kayaks, and SUPs to rent for the day, plus there is a swimming beach, a river for fishing, and enough trails to satisfy even the most eager of hikers.
---
READ MORE: A Comprehensive Guide to Visiting Wallowa Lake State Park – Adventures and Camping
---
We hope this Oregon Yurts post has helped you plan your trip. Here are more posts on epic adventures around Oregon to check out, and the best camping in Oregon.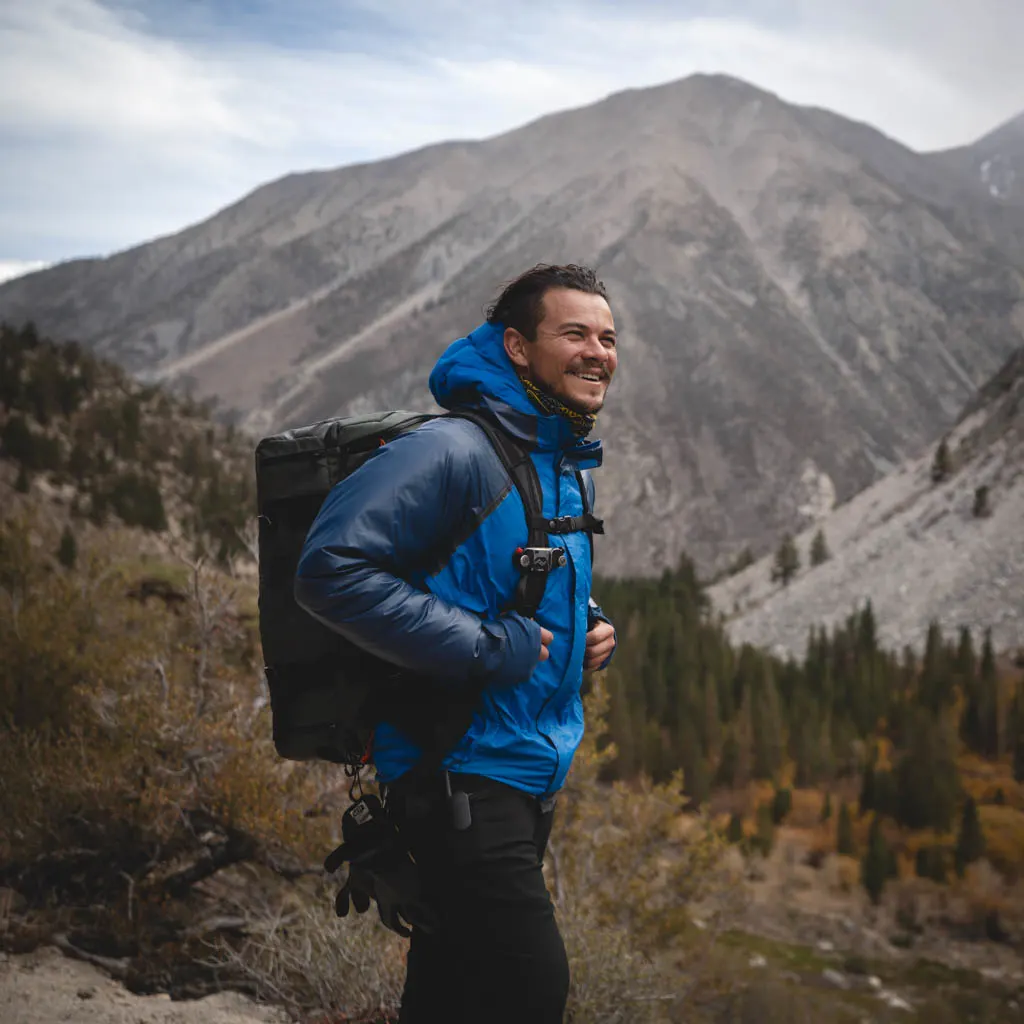 Oregon native and explorer at heart. Loves tackling expeditions around the world and drinking a good beer at the end of the day. PNW obsessed, VW nerd, and surf or snow riding fanatic.