Cape Meares, like most of the Oregon Coast, is simply stunning. It is the home to some of the last native Oregon old-growth coastal forest, and this alone should be enough reason for a visit.
In addition to the vertical sea cliffs and incredible views of the Pacific Ocean, it is also home to a historic lighthouse and the Big Spruce, Oregon's largest Sitka.
The area is so beautiful that the Oregon Parks and Recreation Department declared it a State Scenic Viewpoint. The cape is located at the south end of Tillamook Bay, just north of Tillamook.
Exploring Cape Meares State Scenic Viewpoint
---
Cape Meares Lighthouse
You can't visit Cape Meares without seeing the lighthouse, one of the Tillamook Coast's most cherished treasures. It is the shortest lighthouse on the Oregon Coast, at only 38-feet tall, but don't let this put you off visiting, especially as its powerful light could be seen for 21-miles out to sea.
It is open for visitors from April to October with free admission.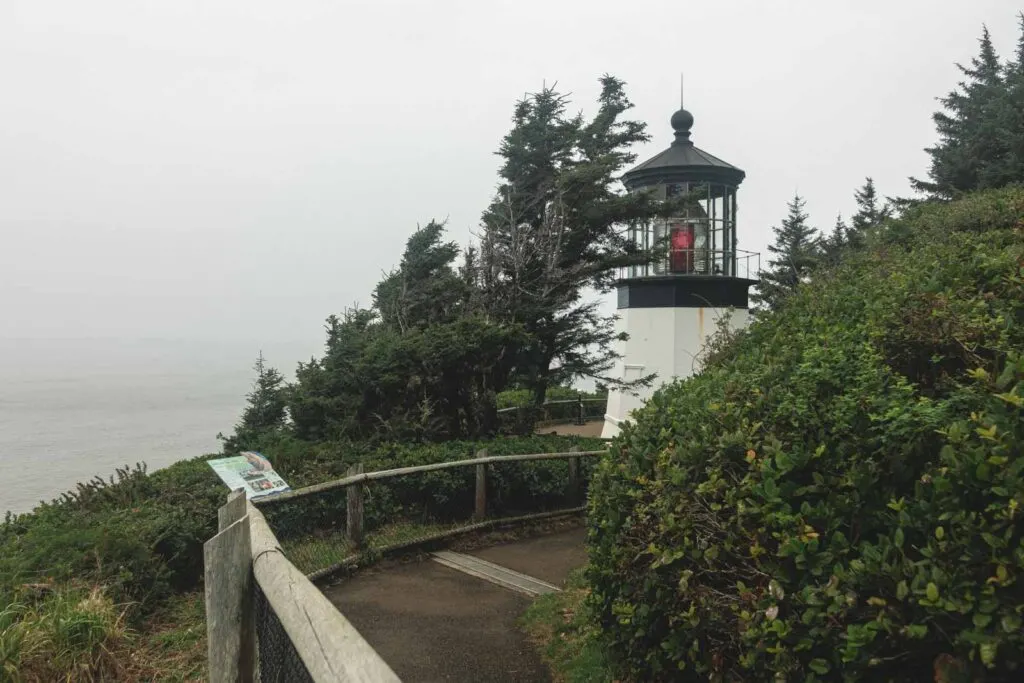 ---
RELATED: 11 Oregon Lighthouses & The Adventures Nearby
---
Hiking Trails in Cape Meares
Cape Meares Lighthouse Loop
Distance: 0.5 miles
Type of Trail: Loop
Difficulty: Easy
The Cape Meares Lighthouse Loop is ideal if you want a short walk to stretch your legs but still want to take in the views from this scenic cape.
From the parking lot, you'll walk down a wide, paved path to the lighthouse, with a few different lookouts dotting the way, with views of the bay to the north.
Once you reach the lighthouse, you can continue on the loop, which skims the south side of the cape, this time with views to the south of Short Beach and the Three Arch Rocks.
Cape Meares Viewpoint and Octopus Tree Loop
Distance: 3 miles
Type of Trail: Loop
Difficulty: Easy
Combining two of the main sights in the area, this hike is short and sweet but offers a lot, sort of a two-for-one kind of deal.
Start the trail by heading to the historic lighthouse on the cape, with incredible views of the Pacific, followed by another short hike to the incredible Octopus Tree, which is a Cape Meares must-see.
You'll see why this sprawling spruce is called the Octopus Tree as soon as you set eyes on it.
Cape Meares Beach Trail
Distance: 1.5 miles
Type of Trail: Out and Back
Difficulty: Moderate
This stunning trail will take you through thick forests to a majestic and secluded beach that is well worth the walk. From the main parking lot on the cape, you'll start heading down a series of switchbacks to the rocky beach, which you can admire in all its rugged beauty.
Although short, be aware that the hike down and back up is very steep, and can be slippery when it's muddy.
Octopus Tree Trail
Distance: 0.3 miles
Type of Trail: Out and Back
Difficulty: Easy
It won't take you long to get to the incredible Octopus Tree, which is a huge 14-feet across at its base. It has no central truck, instead of boasting a series of tentacle-shaped branches.
This unusual shape gave the tree its name and is estimated to be around 250 years old.
Big Spruce Trail
Distance: 0.3 miles
Type of Trail: Out and Back
Difficulty: Easy
Simple and short, this hike takes you to a towering old spruce tree, followed by an incredible overlook of the Pacific Ocean. The tree is the oldest Sitka spruce tree in Oregon, and at 144-feet high and 576 inches in circumference, it is a pretty impressive sight.
---
RELATED: 17 Breathtaking Oregon Coast Hikes
---
Wildlife Spotting Around Cape Meares
Nature-lovers should pay a visit to the Cape Meares National Wildlife Refuge, an area filled with old-growth forest and cliffs, home to thousands of nesting sea birds. It is not uncommon to find a peregrine falcon settles in the cliffs or bald eagles soaring overhead.
If you are at Cape Meares at the right season, you have a good chance of spotting gray or humpback whales right from the cape. Keep your eyes peeled as you enjoy the panoramic views of the Pacific Ocean.
Three Capes Scenic Route
Cape Meares is just one of the capes on the Three Capes Scenic Route, accompanied by Cape Lookout and Cape Kiwanda. All offer incredible views, beaches, hikes, and adventure.
This well-signed route is 40-miles long, and although it is doable in a day, there is a lot to see.
---
READ MORE: Three Capes Scenic Route on the Oregon Coast
---
What to Do Near Cape Meares
Tillamook – Be sure to visit the town of Tillamook which is very close by, and is best known as the home of the world-renowned Tillamook Cheese Factory. Nearby there is a gorgeous beachfront and plenty of things to do in the town.
Three Arch Rock Wilderness – At just 15 acres, the Three Arch Rocks is one of the world's world's smallest wildlife refuges. Despite its size, it is home to millions of seabirds and is a mecca for nature lovers. It is also a stopping site for Steller sea lions, so bring your binoculars.
Oceanside Beach Trail – A trail through a tunnel to a beach is what awaits you at this hike at Oceanside Beach State Recreation Site. The beach is beautiful and usually pretty quiet, but make sure you take the hike during the low tide. The tunnel is human-made, but you can explore the caves for an adventurous experience when the tide is low.
More Oregon Coast State Parks
We hope this post helped you better explore Cape Meares! Check out more posts on the Oregon Coast and even more adventures around the state.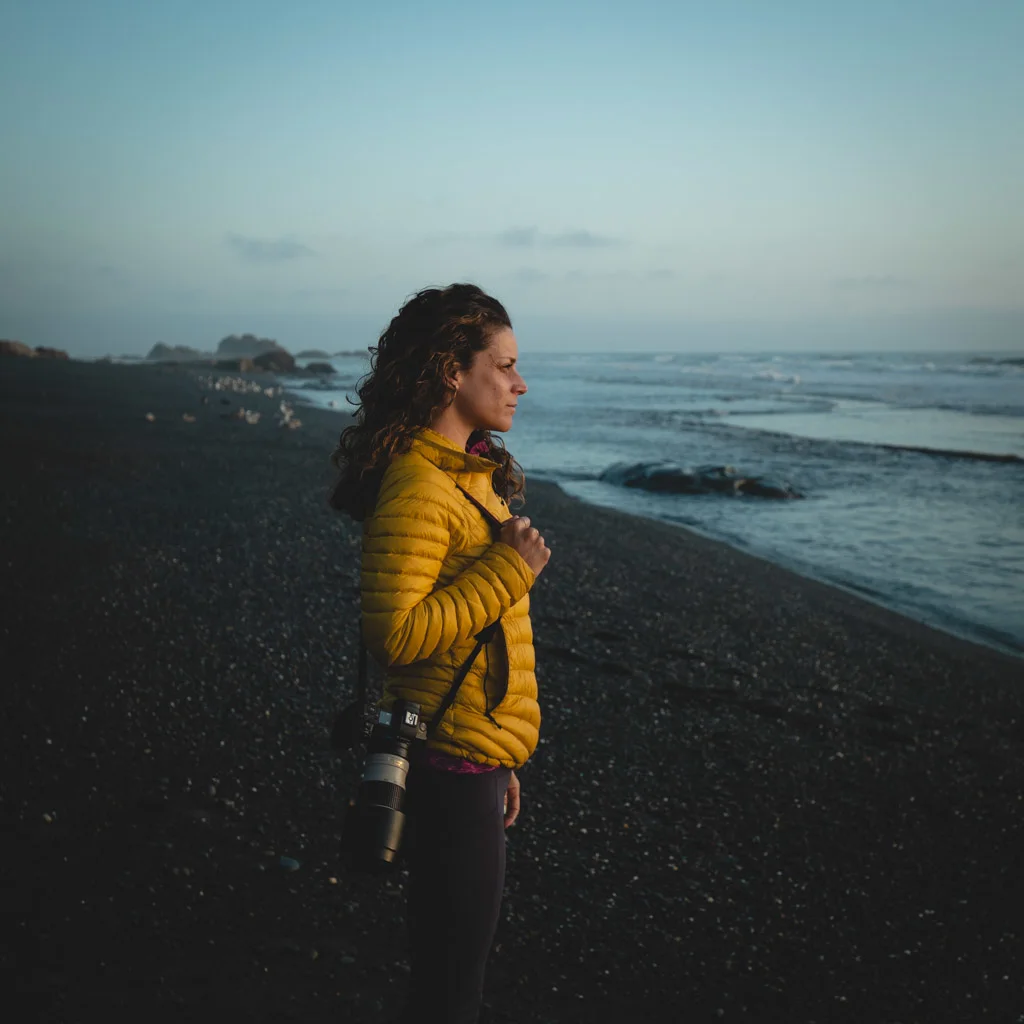 I've been perpetually traveling and living around the world for years but it's hard to beat Oregon and the PNW. After years of road-tripping the area, I guess you can say I know it pretty well! When I'm not writing guides for you, you can catch me somewhere petting a dog, attempting to surf, hiking a volcano, or stuffing my face with bread and cheese.