Beverly Beach State Park is a quaint campground without much fuss, but it's teeming with things to do just beyond your tent!
From this well-located state park, you can explore a historic lighthouse, stroll down miles of beautiful beach with surfable waves, discover a collapsed sea cave, and geek out on the marine life.
Here's everything you need to know about checking out Beverly Beach State Park and what's around it.
Beverly Beach State Park
---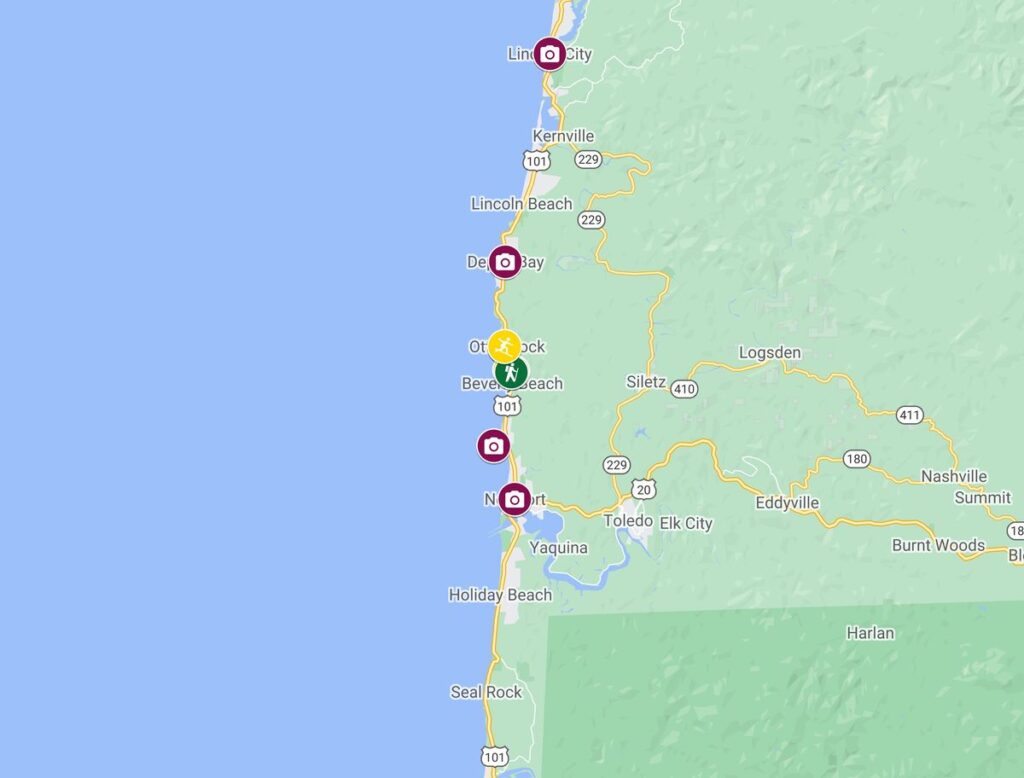 Hiking Around Beverly Beach State Park
While Beverly Beach State Park isn't known for any serious hiking, there are some gorgeous walks you can do from here.
Beverly Beach State Park Campground
Distance: 1.5 miles
Type of Trail: Loop
Difficulty: Easy
If you're after a quick stroll and an easy stretch after driving around, take a walk around the campground.
The trail skirts along the entire campground facility through a beautiful thick canopy of Sitka spruce forest alongside Spencer Creek and out to the beach, where you can continue exploring the area.
Strolling the Beach to Devil's Punchbowl/Yaquina Head
Beverly Beach is surrounded on both ends by two spectacular Oregon Coast highlights.
To the right lies Devil's Punchbowl. A collapsed sea cave with thunderous waves slamming into its center. The ocean churns inside, creating a large punch bowl and one magnificent spectacle!
To the left, there's Yaquina Head. A historic lighthouse sitting on a rugged basalt point jutting into the Pacific. There are tide pools, the lighthouse, and numerous other trails to enjoy around here.
While both places have their own parking, they are also within walking distance if you care for long walks on the beach and don't care to sit in the car any longer.
Starting from Devil's Punchbowl and walking to Beverly Beach, then Yaquina Head and back, it would be around 10 miles of beach walking!
---
RELATED: 19 Must-Visit Oregon Coast State Parks
---
Surfing at Beverly Beach State Park
Most beaches from Devils Punchbowl to Beverly Beach will be surfable beaches and the best in the winter months. After suiting up, because the water will be around 50 degrees, you can head straight from your campsite to Beverly Beach and duck into the waves!
If you have your own board, go for it, but if you're looking to rent, the Pura Vida Surf Shop rents and is next to Devils Punchbowl.
Check here for up to date surfing conditions around Beverly Beach.
---
READ MORE: 9 Epic Beaches for Surfing in Oregon – Beginner to Experienced!
---
Wildlife Around Beverly Beach
Around Otter Rock and Devils Punchbowl, you can witness whale migrations! If you're in the area either around the end of December to the beginning of January or mid-March to early April, then you're in luck. You'll catch Grey Whales migrating out in the Pacific; look out for the spouting water in the distance.
There are plenty of seabirds flying above you, and if you take a stroll to Yaquina Head, you can play around the tidepools in the area.
---
RELATED: 23 Amazing Beaches in Oregon and What To Do Nearby
---
Beverly Beach State Park Campgrounds
The Beverly Beach State Park campground is one of Oregon's largest campgrounds and is also very well located! There are over 100 tent sites, over 100 RV hookups, and 21 yurts to rent.
This is a popular camping area as it's so well located and a wonderful place to base yourself to explore the surrounding activities, so be sure to make a reservation.
What's Near Beverly Beach State Park?
You already know about Devils Punchbowl and Yaquina Head, both just a few minutes from Beverly Beach. Here are a few more highlights around 15-20 minutes from Beverly Beach.
Lincoln City – It's just 30 minutes north and has an incredible beach stretching for miles, crazy cool hikes like God's Thumb, and some of the best damn salmon jerky you'll EVER have.
---
READ MORE: Your Guide to the God's Thumb Hike in Lincoln City
---
Depoe Bay – This is a quaint seaside town where you can catch a whale watching tour and shop and dine right along the coast.
Newport – It's just south of Beverly Beach, and perfect for kayaking, seal spotting, fat biking along the beach, and having a brew at Rogue. That's a whole day of fun right there!
We hope this post helped you better explore Beverly Beach State Park! Check out more posts on the Oregon Coast and even more adventures around the state.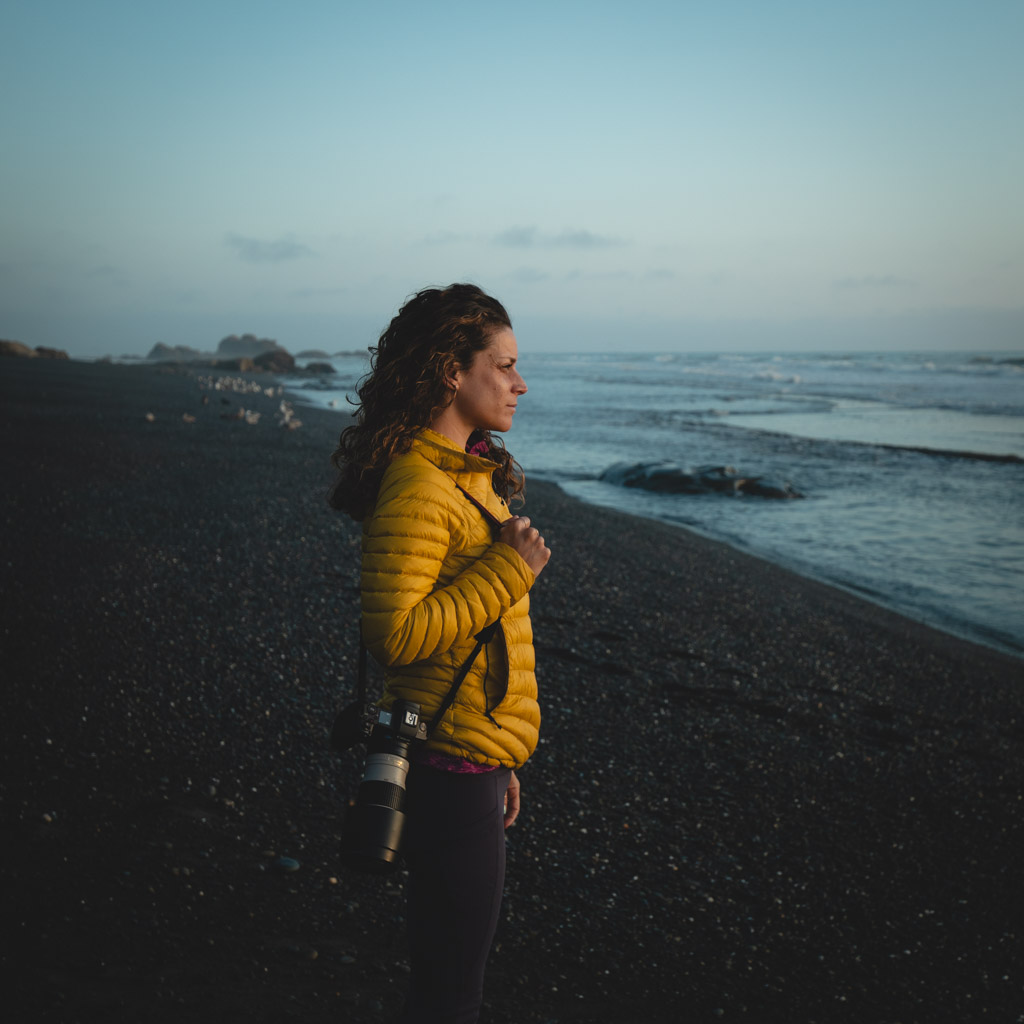 I've been perpetually traveling and living around the world for years but it's hard to beat Oregon and the PNW. After years of road-tripping the area, I guess you can say I know it pretty well! When I'm not writing guides for you, you can catch me somewhere petting a dog, attempting to surf, hiking a volcano, or stuffing my face with bread and cheese.