Considered the capital of the Oregon Coast, Newport is a special place to hang out during your jaunt along the famous rugged coastline. After about a two hour drive from Portland or a three-hour drive from Astoria, you'll find yourself in the naturally beautiful and funky town of Newport.
Known for its incredible marine life, hiking adventures, epic surf, and even its beer, there are plenty of awesome and adventurous things to do in Newport, Oregon!
Adventurous Things to Do in Newport Oregon
---
1. Devils Punch Bowl
Devils Punchbowl is a beautiful, natural area on the Oregon Coast, with a particular natural attraction that draws in visitors from all around. The Devils Punchbowl itself is a natural sandstone cauldron that has been sculpted by the power of the Pacific Ocean over the years and seeing it is one of the best things to do in Newport.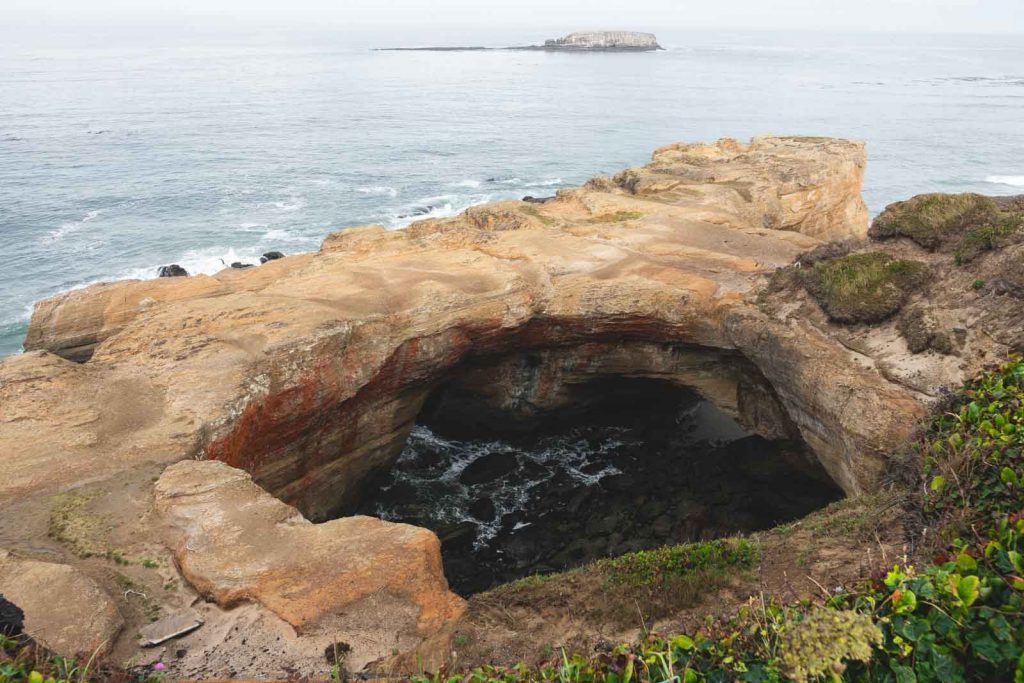 Once a sea cave, the undercurrents caused the roof of the cave to collapse, forming the crashing, foaming pit that can be seen today.
Just coming to view this natural wonder is an adventure in itself, but while in the area you may be able to get a glimpse of the seals or sea lions that call this part of the coast their home. It is also a great spot for gray whale viewing.
---
READ MORE: Devils Punch Bowl Oregon
---
2. Yaquina Head Lighthouse Hikes
The hikes in Yaquina Head will reward you with views that will take your breath away. It really is a jewel on the Oregon coastline, offering many trails of varying lengths that can easily be combined. The headland itself is the most impressive part of the area, jutting out into the ocean with the Yaquina Head Lighthouse perched on its tip.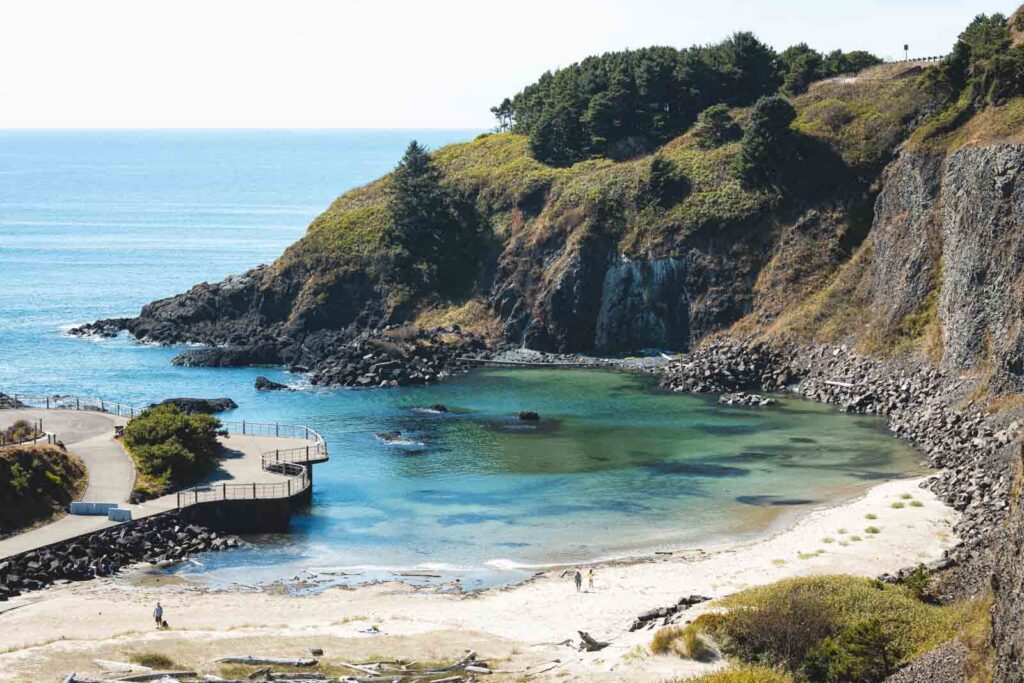 From the parking area, one of the shortest hikes is the trail to the lighthouse. From the parking lot, simply take the wide, paved path towards it. There is a viewpoint along the trail that offers a glimpse of the impressive sea stacks to the south, and then there is another viewpoint around the side of the lighthouse.
If you're up for something a little more strenuous, take the hike up to the top of Communications Hill or Salal Hill, for some even more incredible views of the coast, beaches, and lighthouse. Once you've had your fill of the coast, head inland into the beautiful Sitka spruce forest that lines the shore.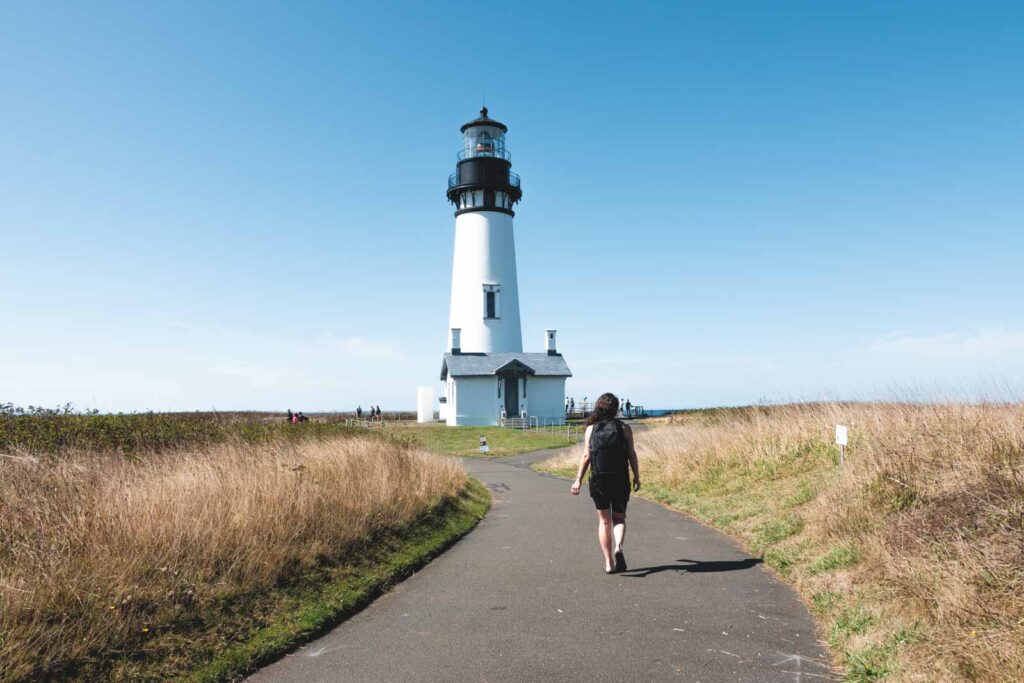 In addition to hiking, the area is a year-round, bird watchers paradise, and the vibrant tide pools are often teeming with life. Keep your eyes peeled for sea lions, harbor seals, and even gray whales.
---
RELATED: 11 Oregon Lighthouses & The Adventures Nearby
---
3. South Beach State Park
This stunning 498-acre park is tucked between the Pacific Ocean and Yaquina Bay and has plenty of opportunities for recreational activities to keep all sorts of adventurers entertained, making it one of the best things to do in Newport.
Whale watching is a popular activity in the park during the off-season when gray whales migrate down to California. You can often view them from the mile stretch of the beach, so you can have a picnic or walk while watching these incredible creatures.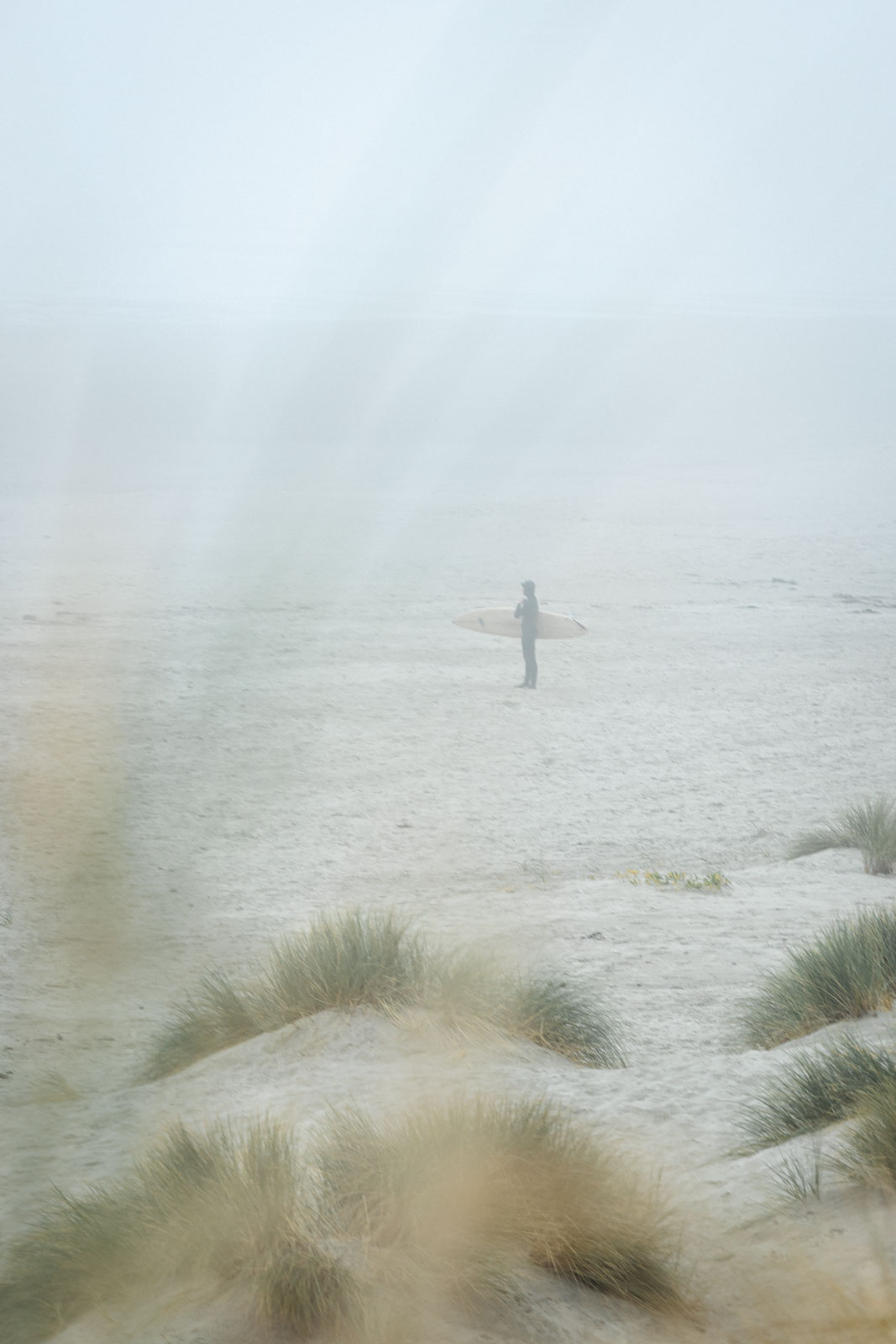 Hiking is also plentiful in this part of the state, with three great trails within the park itself. South Jetty Trail is a mile long, Cooper Ridge Nature Loop Trail is nearly 2-miles and circles the campground, and Old Jetty Trail follows the coastline with stunning views of the ocean. If you prefer being on two wheels, there is also a mixed trail system.
Surfing is perfect on the southern portion of the beach, offering ideal breaker waves, while windsurfers have easy access to the coastline with pretty consistent winds.
---
RELATED: 9 Epic Beaches for Surfing in Oregon – Beginner to Experienced!
---
4. Agate Beach Oregon
Nestled between Newport and Yaquina Head, Agate is the beach to head to if you are up for a bit of surfing. The beach has fairly consistent surf, meaning that it is good for any time of the year, with winds blowing in mostly from the east, and waves breaking on the beach both to the left and the right.
This vast stretch of sand stretches for 4-miles, so just a long walk along this rugged coast is a great way to pass the time. Razor clamming is another favorite activity here.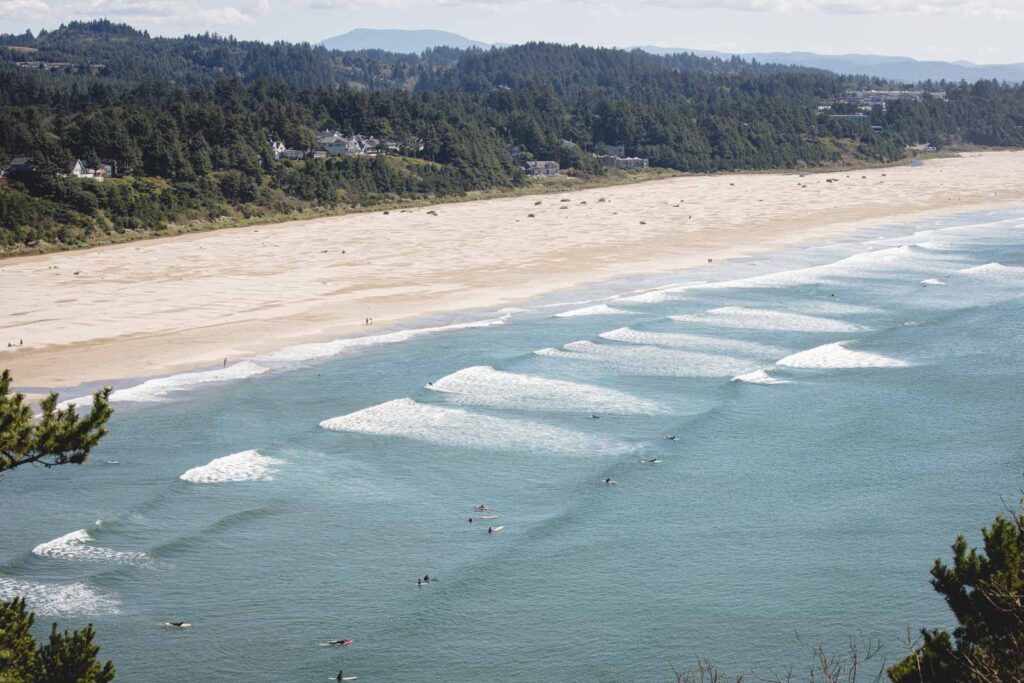 There are many other beautiful beaches up and down the coast just a short drive away. Moolak Beach is just a little north of Agate, on the other side of Yaquina Head. Manageable scrambles lead down to the beach, which is mostly flat but marked by some interesting clay and rock terraces.
There are some beautiful views northwards towards Cape Foulweather and the sea stacks that mark the Otter Rock Marine Reserve.
5. Fat Biking
For a brand new way to explore the coast and a very different thing to do in Newport Oregon, why not try your hand at biking across Otter Rock beach? Riding across the sand is made possible thanks to fat bikes, giant tire two-wheelers that can tackle even the toughest terrain, giving you a totally new perspective of the waves and cliffs.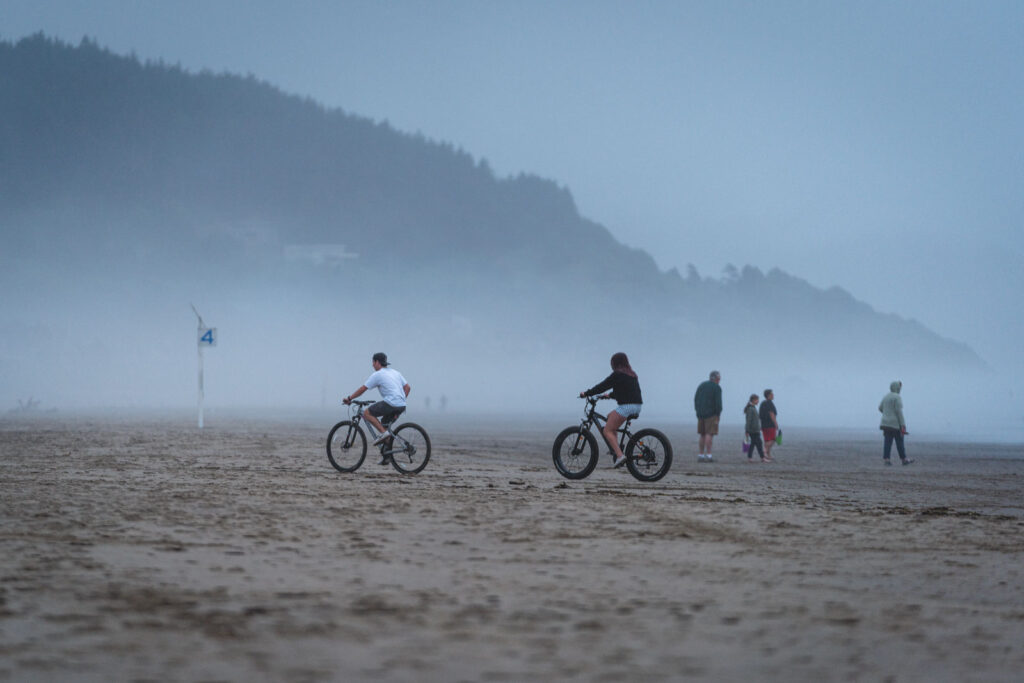 You'll be able to check out the lighthouse, and possibly even spot some gray whales. If you don't have your own fat bike, rentals are available from Bike Newport, where the staff will also be able to point you in the right direction and show you some of the best spots.
Chances are, you will have much of the beach to yourself, as many people will not walk as far as you can ride, so you can take in the beautiful sandy bluffs solo, with the salty spray occasionally hitting your face. The best time to ride is during the low tide, as you'll be able to get up close to the incredible rock outcroppings.
6. Beverly Beach State Park
If you want to see some of Oregon's iconic, rugged coastline, look no further than Beverly Beach State Park, offering miles of sandy beach, wind-sculpted trees, and dramatic rocks. There is a huge range of activities to enjoy here, ranging from a lazy day on the beach flying kites to biking, hiking, and surfing.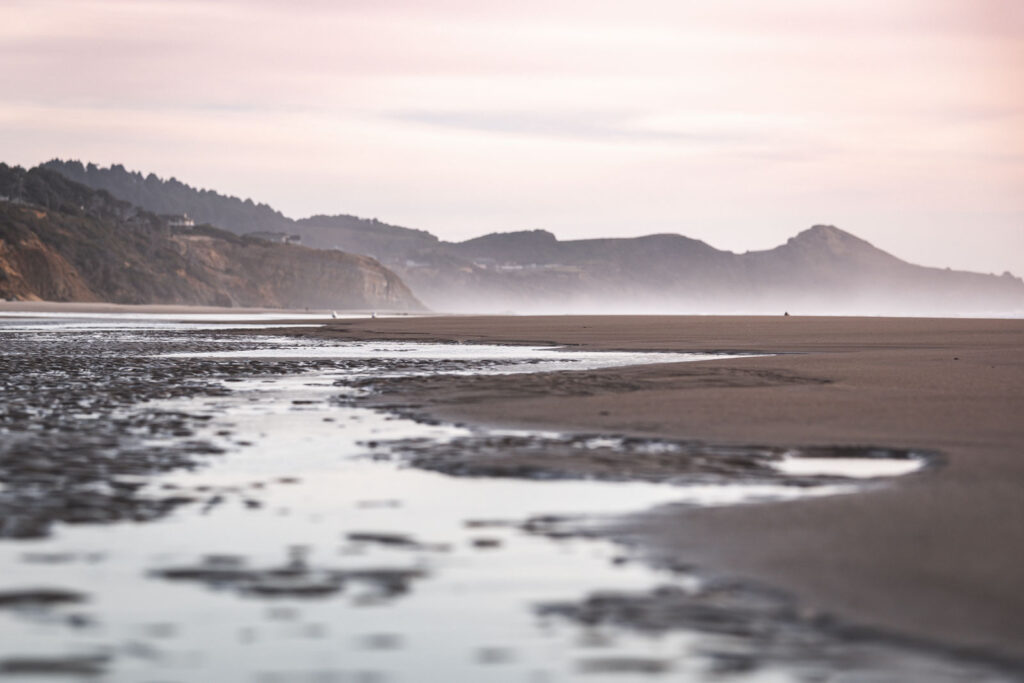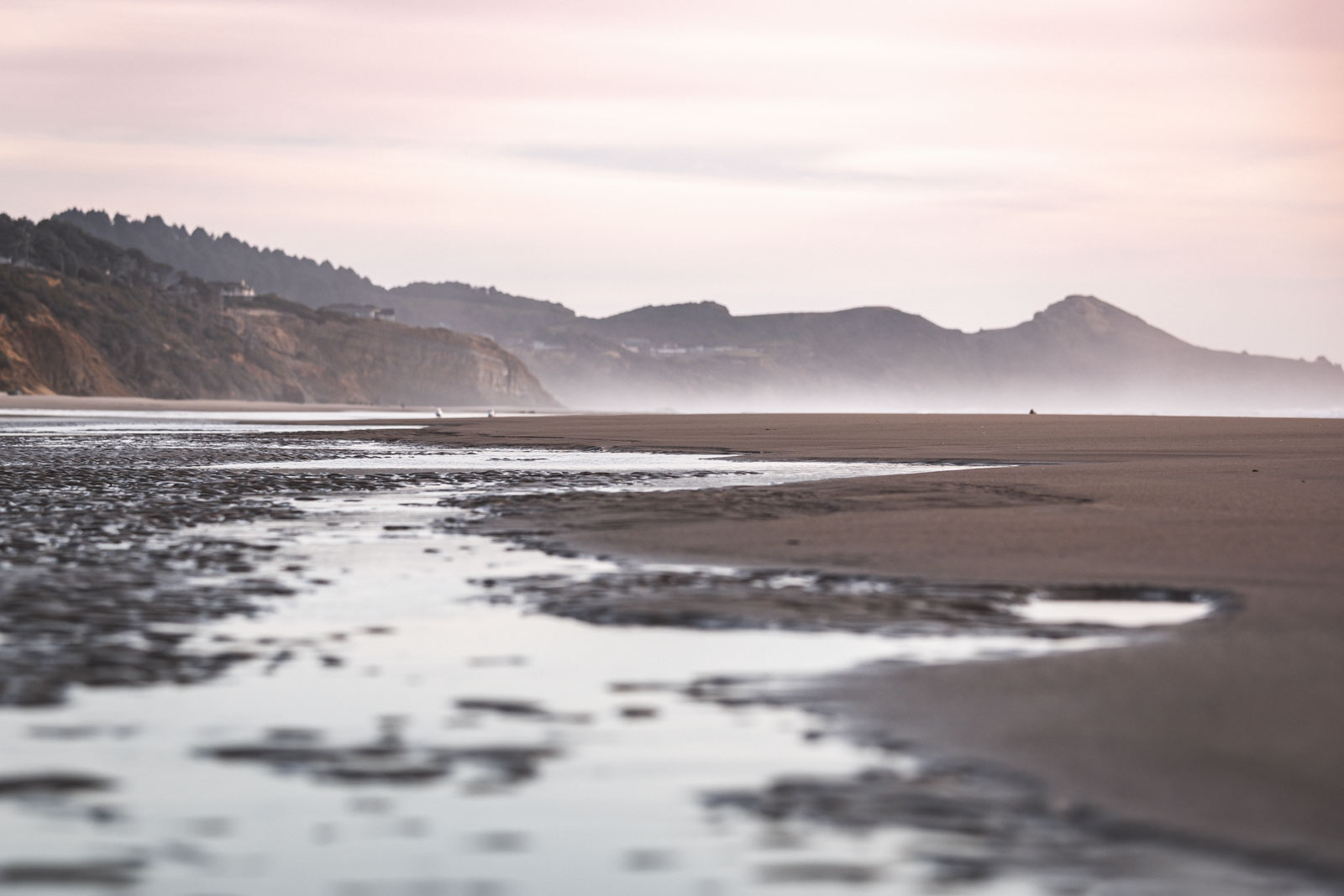 The constant winds provide excellent kite-flying conditions for both kids and adults alike. The wind isn't great just for kite flying either, it creates incredible surfing conditions, especially in the winter months where users will find the biggest waves. The best spots are found on the northern section of the beach.
Kayakers can enjoy the calmer waters in the summer to explore the coast, and windsurfers will be able to find constant wind along the coast. Whale watching is a popular activity during the winter months when hundreds of gray whales migrate to warmer climates.
If you fancy getting your hike on, the moderate 10.3-mile hike (round trip) from Devils Punchbowl down Beverly Beach to Molak Beach offers some stunning views of the waves and the lighthouse in the distance.
---
READ MORE: Beverly Beach State Park – Camp, Surf, Hike!
---
7. Seal Rock
One of the best hikes in the area is the Seal Rock State Recreation Area Trail, a 0.4 mile moderately trafficked loop trail. Although it is a short walk, there are some awesome views. Watch out for the pod of seals that are often bobbing around the rocks.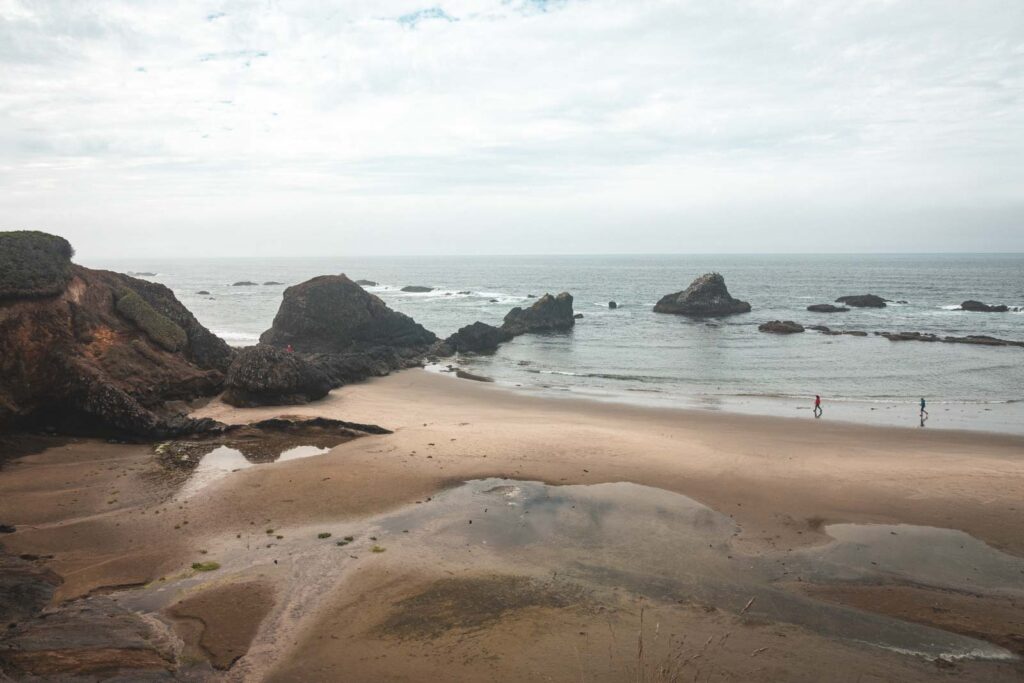 The area around Seal Rock is home to some large, offshore rock formations, and it is these formations that provide a habitat for seals, sea lions, sea birds, and a range of other marine life, so be sure to bring your binoculars for a better view.
The seals are very easy to spot from the beach, so chances are you shouldn't have to look too hard. There is also plenty of beach just to enjoy a relaxing stroll.
8. Brian Booth State Park
Brian Booth State Park is made up of two distinct areas, Ona Beach and Beaver Creek State Natural Area, both offering plenty of things to do in Newport.
Beaver Creek is the place to go if you have a passion for nature. You could take a hike through the upland forest or paddle through the marsh, which supports river otters, beavers, and many species of bird.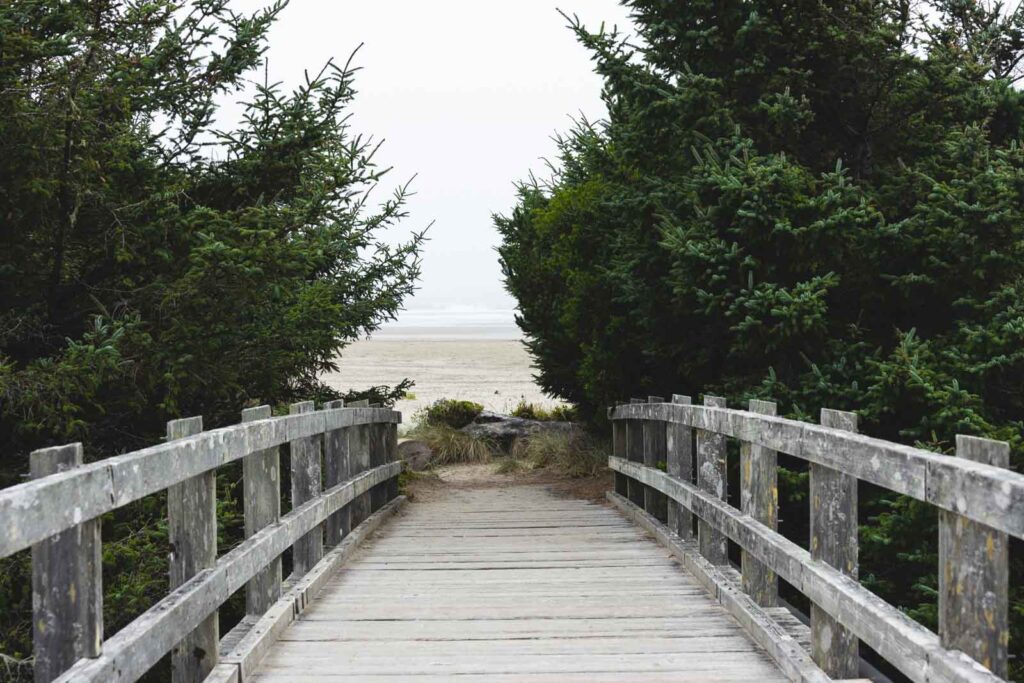 In addition to kayaking, Beaver Creek offers 5-miles of easy to moderate loop trails through the forests and meadows, some of which boast ocean views. Beaver Creek then opens to the Pacific Ocean at Ona Beach.
Ona Beach to Sea Head is a good hike in the area. It is a 5.5-mile hike that takes in some of the most scenic marvels of the central Oregon Coast. It will take you from the mouth of Beaver Creek, across fossil-rich, wave-cut platforms, and sandy beaches.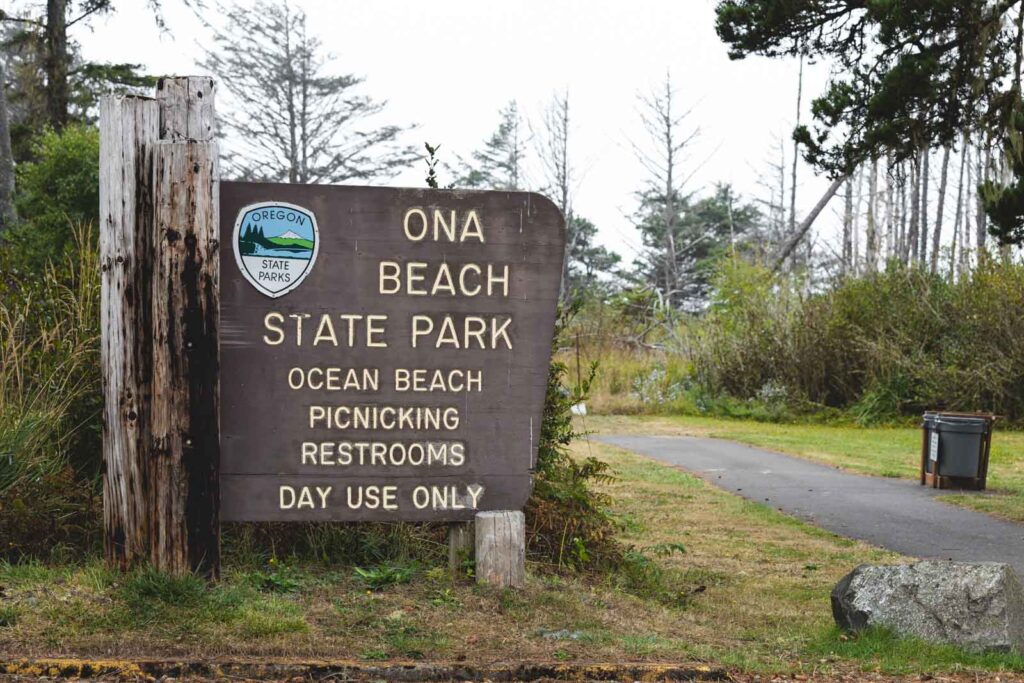 Ona Beach itself was designed with picnicking in mind, as well as being an access point onto the beach. Beachcombing is a popular activity year-round, as is flying a kite if you take advantage of the coastal breezes.
---
RELATED: 19 Must-Visit Oregon Coast State Parks
---
9. Kayaking Around Newport
Yaquina Bay – Yaquina Bay is a great spot for kayaking, offering a very different perspective of the bay area. The wildlife and scenery make for a great adventure, so keep your eyes peeled for a range of sea birds and even sea lions.
Once you have explored the bay area, you could even continue onto the Yaquina River, which offers miles and miles of water to explore.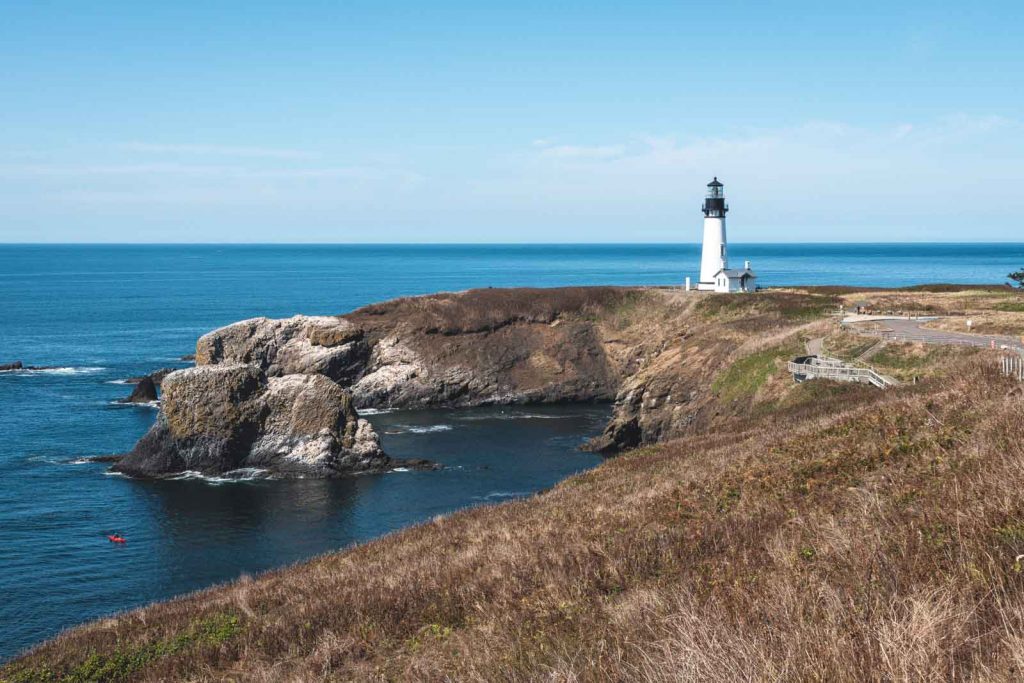 If you don't fancy heading out onto the water by yourself, there are many companies that offer guided tours of the bay. The knowledgeable guides will also be able to tell you a little bit more about the area. There are plenty of places that offer kayak rentals if you don't have your own.
Beaver Creek – Guided kayak tours are available on Beaver Creek, offering a great, alternative place to paddle. You can launch at Ona Beach State Park which is 5-miles south of South Beach, before winding through coastal wetland and keeping an eye out for some of the local wildlife.
No matter if you take a tour or go independently, kayaking Beaver Creek is a popular thing to do in Newport and offers a very different experience to the open waters of the bay.
10. Rogue Brewery & Crabbing Pier
Newport isn't called the "The Dungeness Crab Capital of the World" for nothing! The best months to get your claws on them are from summer to fall but red rock crabs are available year-round here. You can have a read on the rules regulations on crabbing in the area. It's a fun and relatively easy activity for the day for anyone wanting to catch their own juicy and meaty crabs.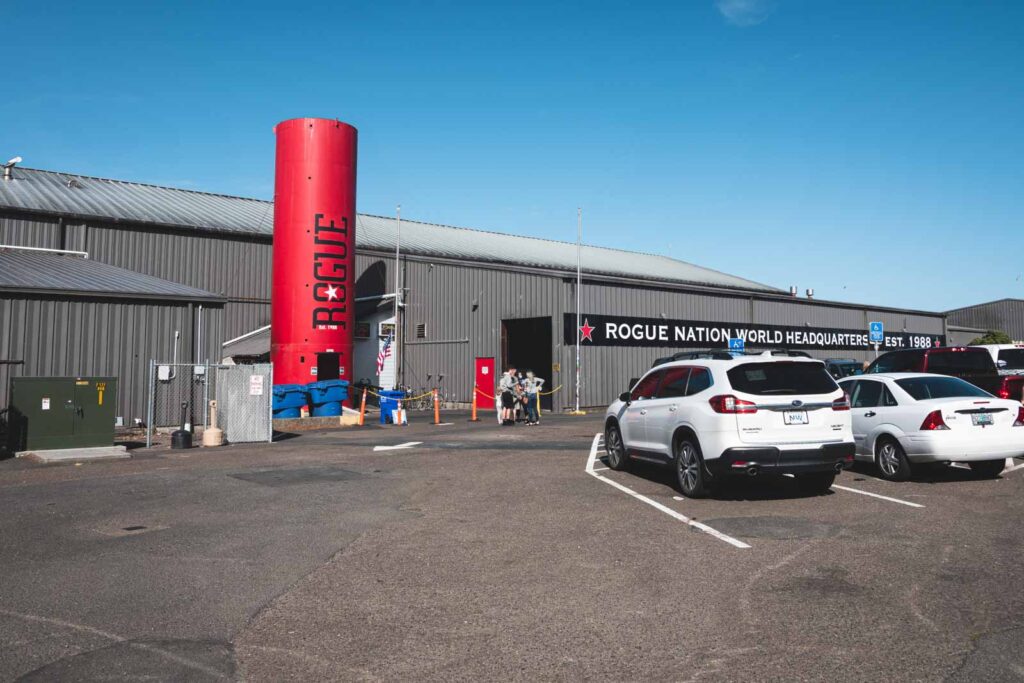 After a hard afternoon of crabbing, or if you've been adventuring at some of the other things to do in Newport, one of the best spots to have a breather and brew is Rogue Brewery. It's set just along Yaquina Bay and in front of the crabbing pier. It's a great spot to wander too as you can literally watch beer being made while enjoying their beers and food!
Things to Do Near Newport
Here are more things to do in Newport that are close by and worth the short detour!
11. Thor's Well
Thor's Well is just one of the incredible natural features along the Oregon Coast and is certainly worth seeing if you're in the area. It is a large, gaping hole sitting on the edge of the Pacific Ocean, spouting and swallowing the waves that constantly buffer the shores.
It is often called the 'Drainpipe of the Pacific', and you will see why as soon as you glimpse it yourself. It really is mesmerizing to watch. The well was created when the waves eroded the roof of a sea cave, causing it to collapse, leaving around a 20-foot hole in the rock.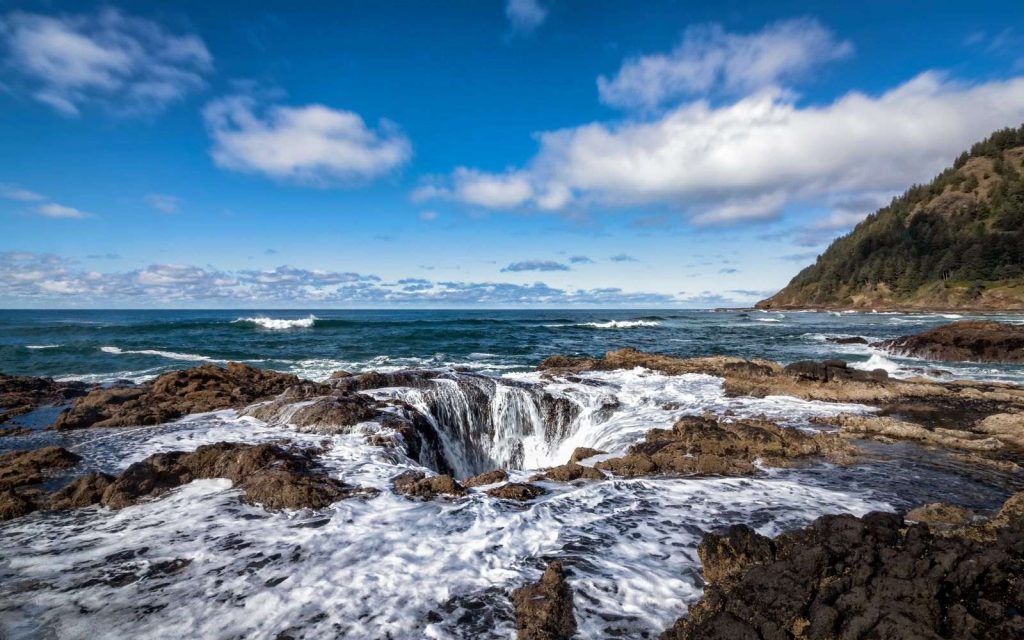 It is a particularly impressive sight when the tide is high or the weather is stormy, but you have to be very careful. Be sure to check the tide times before you visit as it can be pretty dangerous.
If you don't fancy getting too close to the crashing waves, it is also possible to see most of the action from the viewing area at the bottom of the path.
---
READ MORE: Visiting Thor's Well in Cape Perpetua, Oregon
---
12. Cape Perpetua State Park
There are some incredible hiking opportunities at Cape Perpetua State Park. The scenic area boasts an impressive 26-miles of trails, one of the most popular being the Big Spruce Trail. It is a 2-mile round trip that will take you through giant Sitka spruce trees, and lush old-growth forests.
If it is just a short stroll you are looking for, the Cape Cove Trail is 0.3-miles long and will take you on a paved trail down to the water for easy beach access. The Trail of the Restless Waters is just slightly longer at 0.4-miles and will bring you to Devil's Churn, an amazing natural landmark that features dramatic waves during the high tide.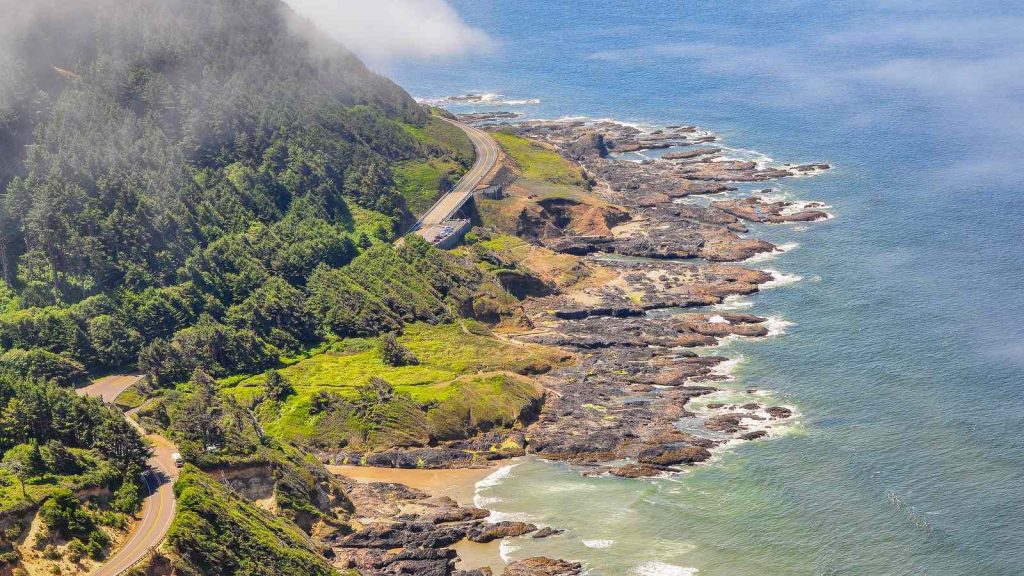 The Cape Perpetua Lookout is famous for the view of the curved road that runs down the Oregon Coast and is actually accessible by car at 800-feet above sea level. The tide pools in the area are teeming with marine life and other interesting finds.
You should be able to find several interpretive signs that will tell you more about the types of wildlife that live on this part of the Oregon coast.
Camping can be found at the Cape Perpetua Campground along the banks of Cape Creek. It is completely surrounded by trees, yet still provides easy access to recreation sites within the scenic area. Many sites are located right along the creek, and all come with fire pits and picnic tables.
---
RELATED: 9 Things to Do in Cape Perpetua, Oregon
---
13. God's Thumb Hike Lincoln CIty
If you are looking for another great hike near Newport and don't mind traveling a little further, the God's Thumb hike will not disappoint.
On this incredible hike near Lincoln City, you cross meadows, find your way through moss-covered spruce forests, and are rewarded with stunning views of the Pacific Ocean. It is a 4.6 mile out-and-back trail, with an elevation change of 1025 feet, making a moderate hike.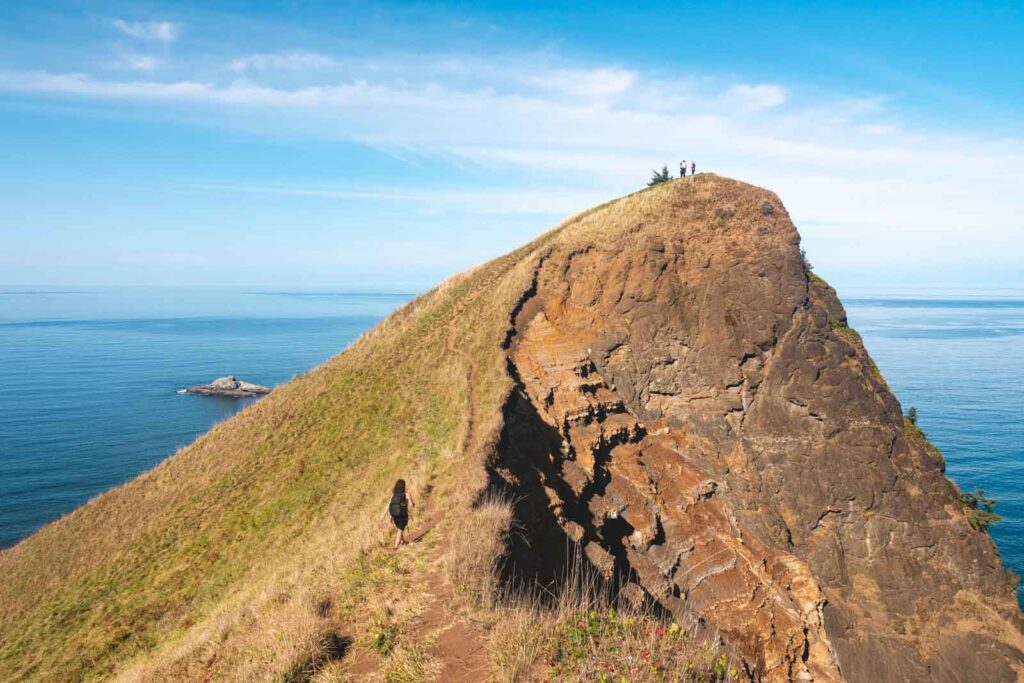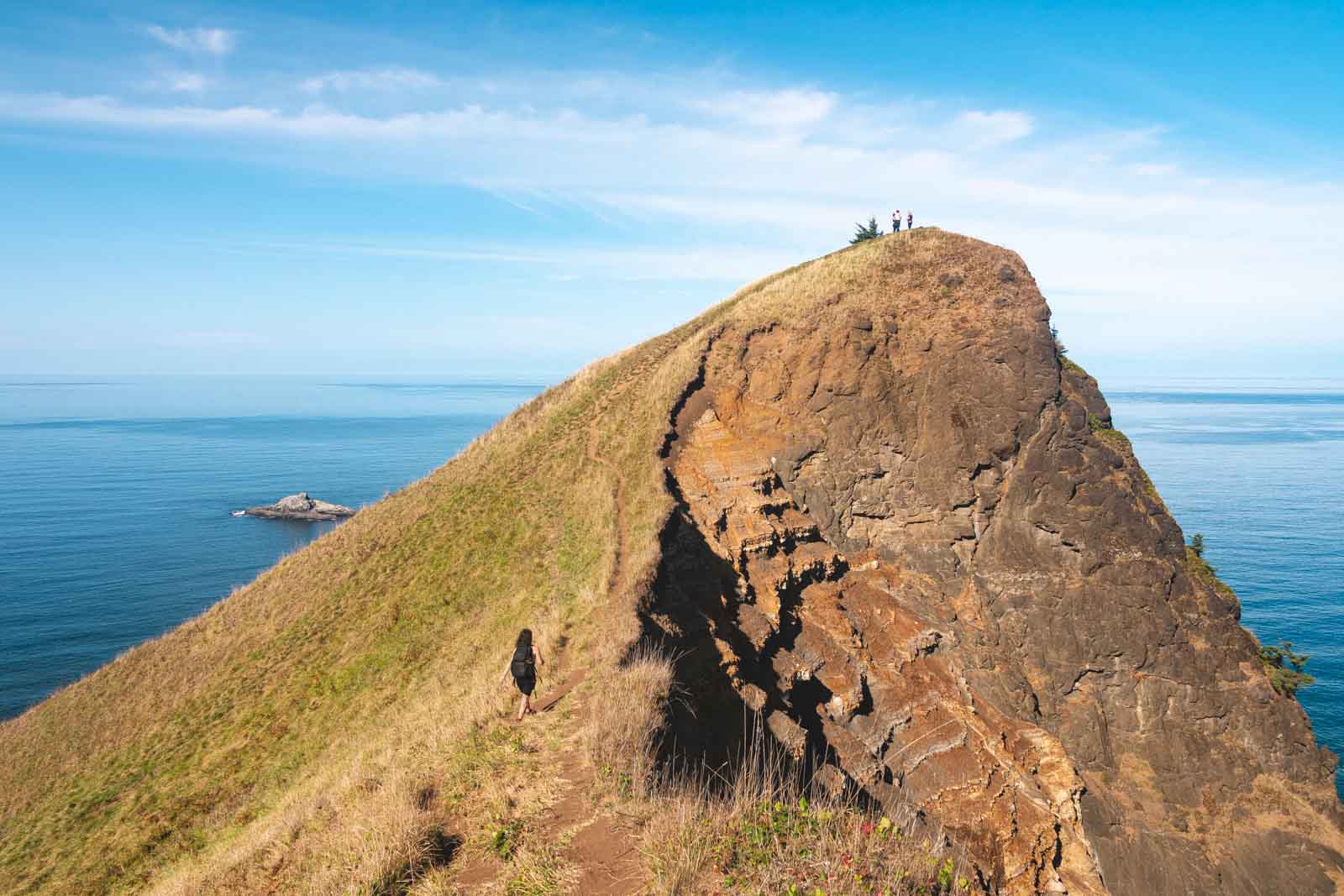 The 'thumb' itself is easily identifiable thanks to the meadow's dramatic curve upwards, jutting out over the water. With the waves crashing into the cliff constantly, over time it will eventually become a sea stack. There is no doubt that this is the main attraction of this hike, with its strange curve and incredible views in all directions.
You are able to climb right to the top of the thumb, just be sure to stay on the trail. Although this is the main reason people take this hike, the walk to the thumb is just as beautiful as well, taking you through some sheltered areas of mossy ferns and spruce trees and providing views over Lincoln City.
---
READ MORE: Your Guide to the God's Thumb Hike in Lincoln City
---
Camping & Lodging Options Near Newport
Beverly Beach State Park – There is plenty of camping at Beverly Beach, with more than 250 campsites available, including 53 full hookup sites. 128 of these sites are dedicated to tents, and then there are 21 yurts.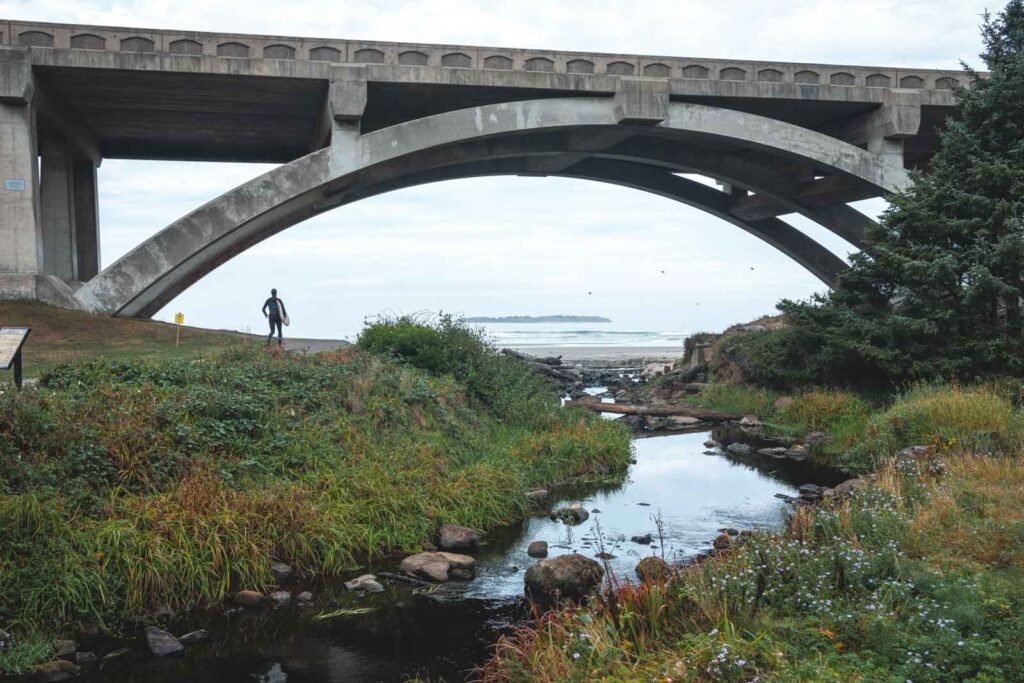 Each site is furnished with a picnic table and fire ring, so you can enjoy the great outdoors even when you eat. The campsite is nicely tucked away next to Spencer Creek, where the trees provide shelter from the sometimes harsh elements. Pets are welcome to join you during your stay.
South Beach State Park – South Beach State Park has a large campground, offering 227 campsites, with all of the RV-friendly sites equipped with both electricity and water hookups, with also a few full hookup sites. All the sites come with a picnic table and fire ring, with paved parking pads.
There are also 27 yurts available for a different type of camping experience, 14 of which are pet friendly. There are also some sites that are made specifically for tents.
---
RELATED: 21 Amazing Yurts on the Oregon Coast
---
Bayfront View Condo – Wake up to bay views every day from this modern one-bedroom condo. You'll have a private balcony that looks out over the bridge and marina, a fully equipped kitchen, and a fireplace for the colder months. In the common areas, you can also enjoy fitness equipment and barbecues.
South Beach Home – This comfortable three-bedroom home is nestled among a small community on the south side of Newport. You can enjoy the quiet surroundings while still being close to all that Newport has to offer, including the aquarium, state park, and hiking trails.
Cozy Beach Cottage – This three-bedroom cottage is just north of Newport near Yaquina Head. Here you can enjoy the garden from the private deck, get cozy around the wood fire, or take an easy stroll down to nearby Agate Beach.
We hope this post helped you better explore Newport! Check out more posts on the Oregon Coast and even more adventures around the state.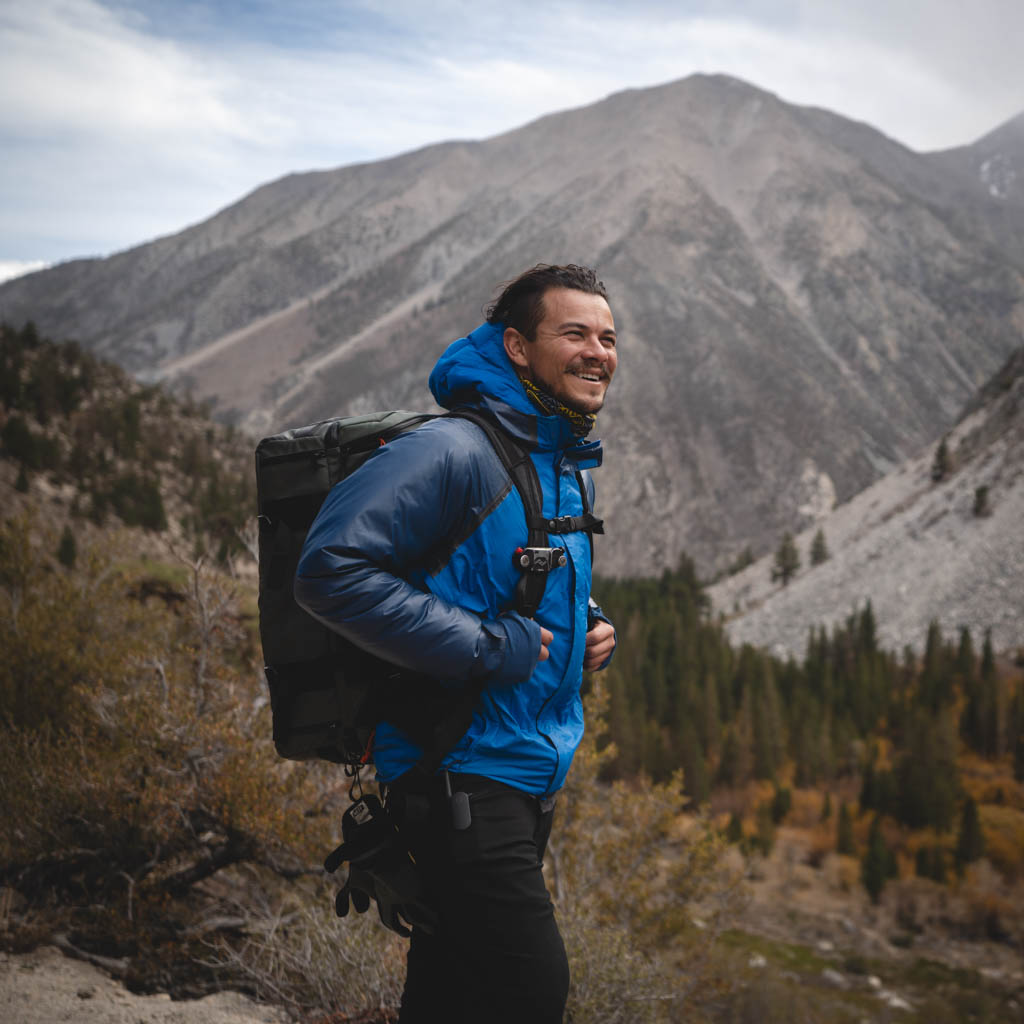 Oregon native and explorer at heart. Loves tackling expeditions around the world and drinking a good beer at the end of the day. PNW obsessed, VW nerd, and surf or snow riding fanatic.