With a name like God's Thumb, one would be intrigued.
"What the heck kind of hike is this?"
While you won't get blessed or get any holier from doing this hike, you'll surely get a nice journey with EPIC views. This is one of the most popular hikes in Lincoln City, and you'll very soon see why.
Here's everything you need to know before tackling God's Thumb hike.
God's Thumb Hike
---
Distance: 4.3 miles
Type of Trail: Out and back
Difficulty: Moderate
On the northern side of Lincoln City, the God's Thumb hike is one you shouldn't miss. With views of the strange thumb-like cliff covered in lush green grass, crashing waters at the edge of the cliffside, and a stunning view of Lincoln City and the beach from above—you'd be hard-pressed to find a more worthwhile hike in the area.
---
RELATED: 17 Breathtaking Oregon Coast Hikes
---
Where is The God's Thumb Trailhead?
YOU MUST READ THIS SECTION!
The trailhead is not as simple as you may think, as maps and info have been scattered and changed through the years. Previously, tourists were wandering private property, trying to get to God's Thumb.
The city had to do something about it, and the trailhead has changed over time.
The ONLY parking is here at NE Devil's Lake Blvd. This is the official parking area, but you won't see much signage. It's an empty cul-de-sac. You'll see signs for The Knoll (more on this in a sec), but there won't be any mention of God's Thumb.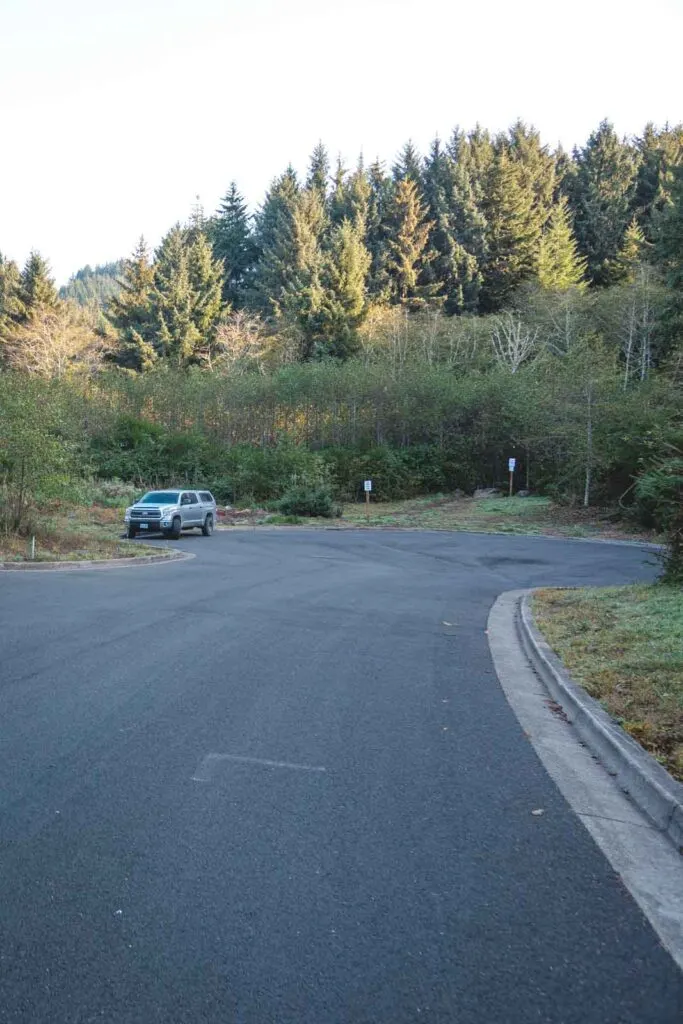 This is the correct parking area, though, so you're good and won't get ticketed or towed if you're here. Parking elsewhere? You could be risking a ticket or getting towed.
You might notice some parking on NE Sal a Sea Dr, but this is pretty much just street parking outside some residential homes. Do NOT park at the end of NE Logan St. This is a private area, and you'll get towed.
Let's keep this hike open by parking in the CORRECT areas. We have provided the exact parking spot above; however, there have been issues with people entering through private property—so please, don't be that person.
With all of this said, the official parking area isn't the biggest, and it does get full quickly during summers. I would highly recommend coming earlier rather than later to get parking and to avoid the hot afternoons.
RECOMMENDED GEAR:
Hiking God's Thumb
Starting the hike up to God's Thumb, is again, not signed! But you'll find signs for The Knoll, and you'll want to head in that direction. To avoid an unnecessary small detour, you'll want to hike towards your left, with the parking lot behind you.
There are a few trails in the area that eventually lead to the top of God's Thumb but going towards the left is the most direct route.
You'll go for a good mile at a good and consistent climb up until you reach The Knoll, which is actually a bit hidden.
The Knoll
The Knoll is often skipped when people hike up to God's Thumb, but we definitely recommended stopping by! If you can find the tiny trail that detours here, that is…
It's a bit hidden in the bushes, and the trail won't be clear, but it's about a mile into the hike and on your left.
The Knoll is a gorgeous spot overlooking Lincoln City and the beach as far as the eye can see. If you miss the side trail on the way up, you might notice it more on the way down, depending on the overgrowth.
---
RELATED: 11 Most Scenic Oregon Coast Towns (And What to do There!)
---
Continuing To God's Thumb
After emerging back on the main trail from The Knoll, you'll continue going up and through a thick forest. There will likely be downed trees depending on the recent weather, as this trail isn't always maintained.
After about another mile or so, you'll emerge from the forest and start to hear the crashing waves below you.
The next thing you know, once you climb up a bit more, there is God's Thumb—peeping out from behind some trees.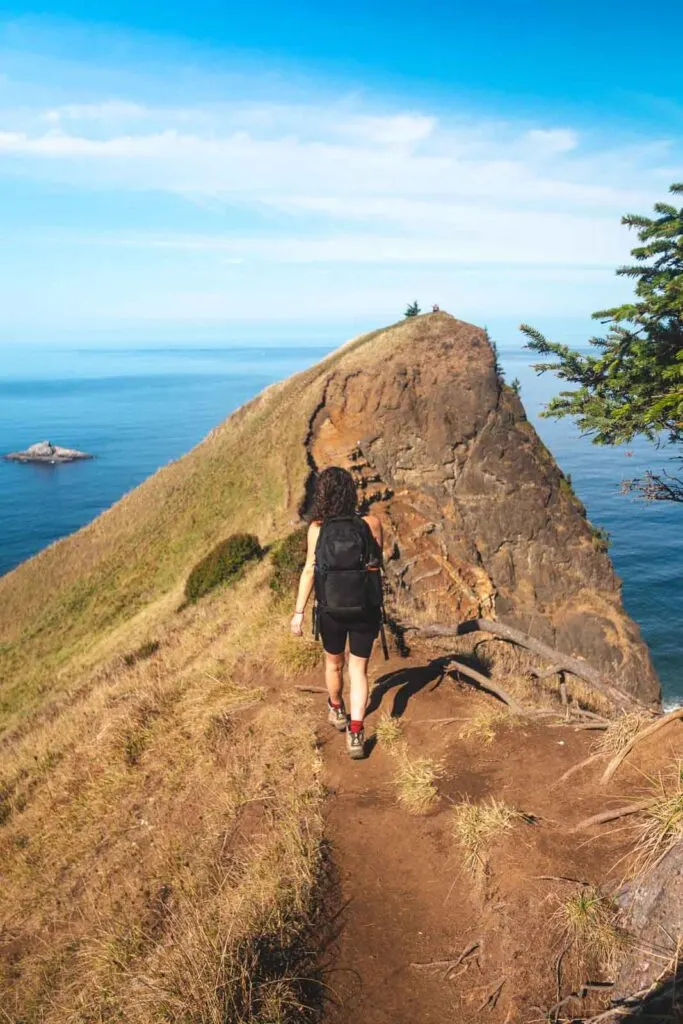 Now you're in the home stretch. Summiting God's Thumb may not be for everyone. It's a bit of a narrow path, and the trail skirts by the cliffside. Please take care when walking in this area. You'll then need to climb up once more to get to the summit.
The climb up is a bit "crumbly," and the path is pretty steep. But it's quite short, so go for it with confidence and hope that you wore the correct shoes.
From up top, you'll get some spectacular views of Cascade Head to the north and Lincoln Beach to the south. At the bottom, the waves topple over a craggy coastline.
The summit is STUNNING, but if climbing all the way isn't for you, you'll still get the view of the "thumb" from back on the trail after emerging from the forest.
It's worth noting that you should always stay on the trail, but I'll say it here as a reminder—definitely stay on the trail for this hike! It seems like an easy and unassuming hike; however, some people have fallen and got injured due to wandering near cliffs and unofficial side trails.
---
RELATED: 15 Adventurous Things To Do in Lincoln City
---
Tips for Hiking God's Thumb
It's worth mentioning again, please park in the correct areas! Read above.
Wear sturdy shoes and note that this trail can get VERY muddy. This also means getting to the top of God's Thumb will also be slippery. Take care.
DON'T skip The Knoll! It's a great bonus view.
There are steep sections and sections that are cliffside, take care!
There is no fee to park or hike God's Thumb.
Leashed dogs are allowed.
The summit isn't very large, so if there are many people at the top, wait for some to come down. God's Thumb has cliffs on all sides.
RANDOM SIDE NOTE: We couldn't leave this tip out of our post. It has nothing to do with the hike, but if you love salmon, get some smoked salmon or jerky salmon from Barnacle Bills down the road. It's SO good and a good protein boost after our hike. We personally went out of the way to stop here TWICE, it was that good.
Places To Stay Near the God's Thumb Hike
Campgrounds: Devil's Lake State Recreation Area | Lincoln City KOA Journey
Cottage by the Beach – Located just a short walk from the beach in Lincoln City, this adorable cottage has two bedrooms, a full kitchen, a deck with an outdoor grill, and is located in a secluded and peaceful setting.
Dog Paddle – This charming beachfront holiday home has beachy decor and a full kitchen, balcony, and access to a shared swimming pool.
Whale Watch – This cute beach cottage has sea views from the balcony and is fully self-contained with a full kitchen, a cozy living room with a fireplace, and even a laundry.
Check out more posts on the Oregon Coast and even more adventures around the state.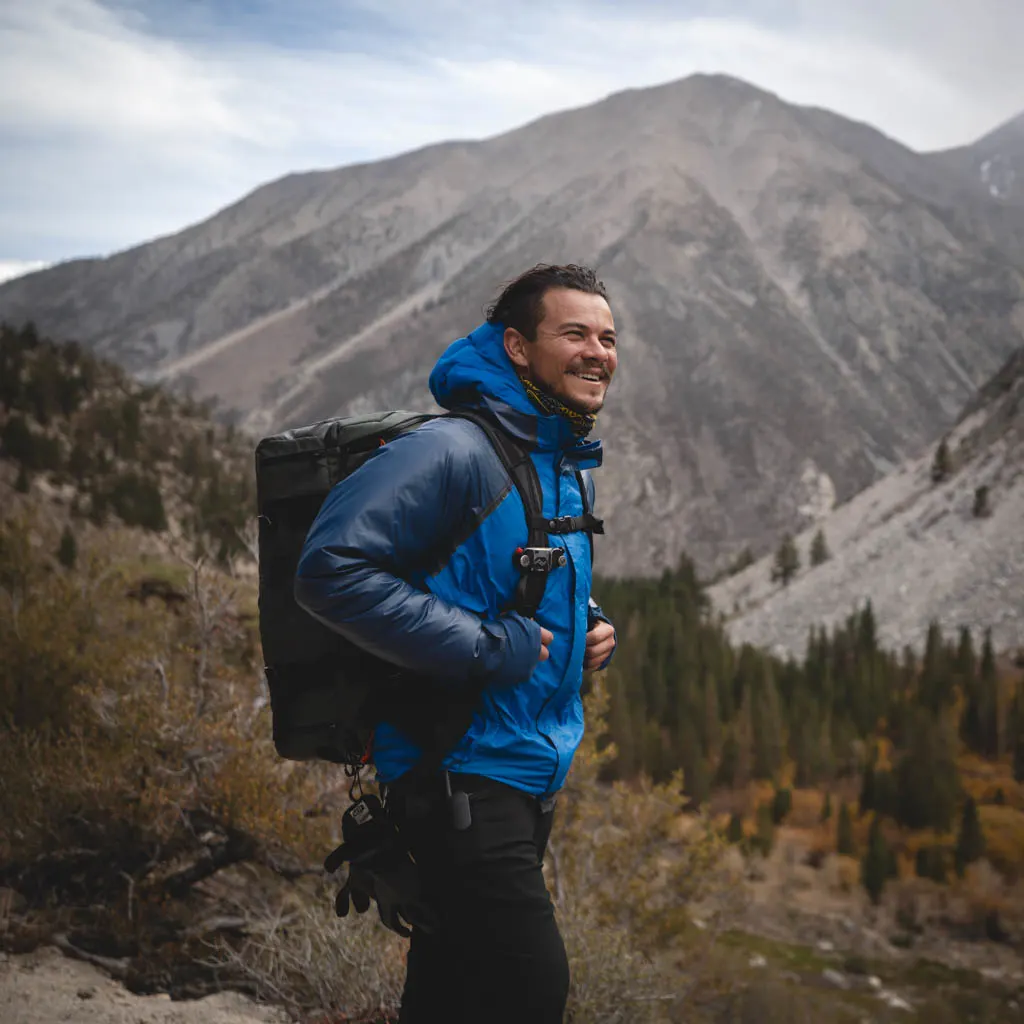 Oregon native and explorer at heart. Loves tackling expeditions around the world and drinking a good beer at the end of the day. PNW obsessed, VW nerd, and surf or snow riding fanatic.